Most people think that "Hawaii" and "budget" don't belong in the same sentence. After all, it's supposed to be a splurge to visit a gorgeous tropical paradise… right?
We're here to tell you that traveling to Hawaii on a budget is possible and can be even more rewarding than what the brochures from expensive resorts show you. There are so many opportunities for how to do Hawaii on a budget in every category – from airfares to discount accommodations in Hawaii to saving money on activities. Keep reading for our best tips to save money on a trip to Hawaii.
And listen – please only share this post with people you really like, because I'm sharing all of our very best secrets for visiting Hawaii on a budget. It's very long because I don't want to leave anything out, so you may want to save or bookmark the post to come back to later!
Pro tip: Be sure to reach out to Flytographer as soon as your itinerary is pinned down to schedule a 60 minute photo session! There's no better souvenir to bring home from your trip, and you have full rights to all the images to make a photo book or turn into a gorgeous canvas to hang on the wall. You can even save $25 on your first booking with code FAMILYVOYAGE.
Finding the cheapest way to go to Hawaii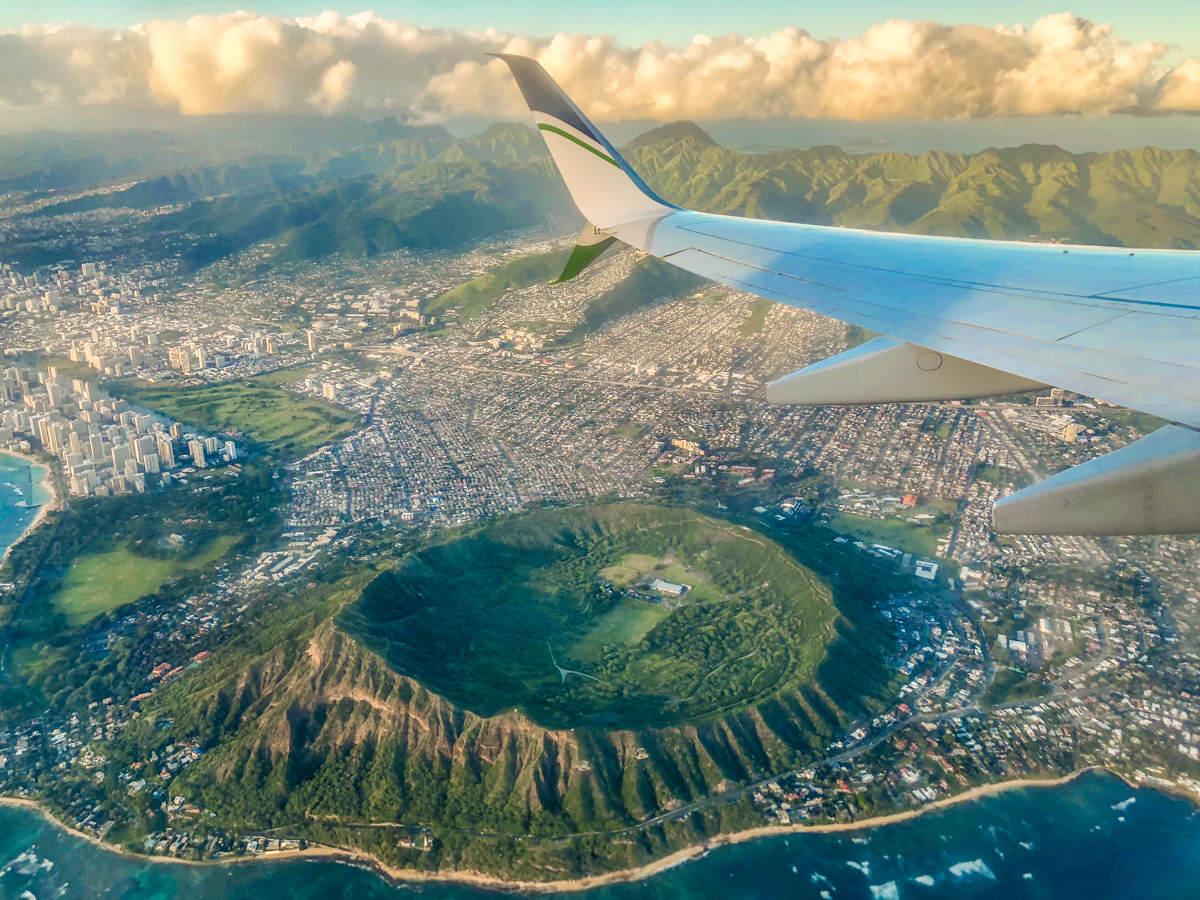 Trying to plan a Hawaii vacation on a budget? Make sure you don't blow it before your feet even touch the sand! If you're traveling from mainland US to Hawaii, there's a very good chance that you can score an awesome deal on your airfare to Hawaii and there are lots of ways to do it. Read on for insider tips on how to go to Hawaii on a budget.
First, be flexible about your dates and which island you visit – within reason. Since airfare and lodging are the two biggest components of your Hawaii trip cost, you'll want to balance those two to minimize your costs. Second, weigh the many options you have for using cash or points to book those plane tickets. Here are just a few ways to save money on airfare to Hawaii:
Find the cheapest airfare for cash payment
Sometimes the simplest thing to do is pay cash for a plane ticket, and with the great deals you can often find from America's west coast it just might make sense. The first place to start your search is on Skyscanner.
We love using Skyscanner to find flights because it allows us to reflect our total flexibility – we can allow nearby airports on both ends and search for whole months at a time to land the best rate. Even if you don't end up paying cash, it's always important to know the going rate for flights when evaluating whether or not an award redemption is worthwhile.
Look for special deals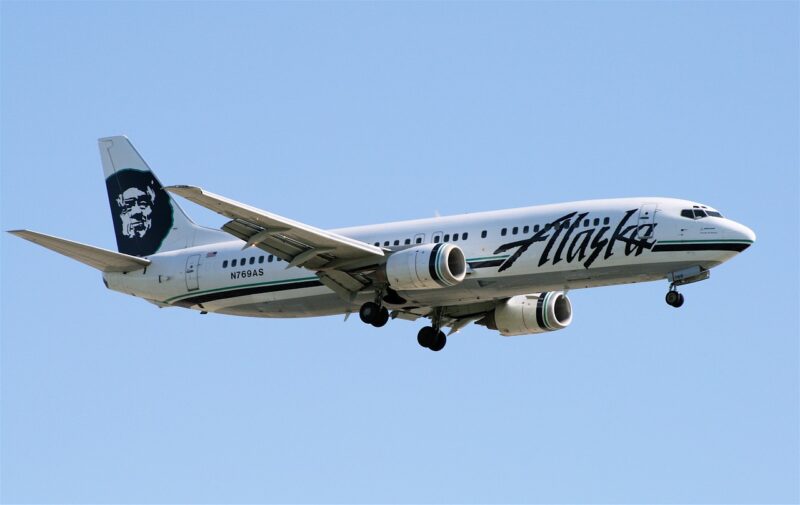 In early 2019 Southwest launched their much-anticipated service to Hawaii. Introductory fares were as low as $49 each way from select airports and eligible for Companion Pass! Now fares have settled in higher, but still cheaper than plenty of mainline carriers. Southwest's Companion Pass only requires that you pay taxes, so it can be a really great deal. The fastest way to earn your companion pass is by opening a Southwest credit card – even faster if you open a personal card and a business card.
The catch is that they don't have an extensive route map if you live outside of the West Coast: currently they only offer non-stop service from California, Phoenix and Las Vegas to Hawaii, with the most extensive service to Oahu in Maui. Some US cities also get flights to Kauai and Big Island. There are also inter-island flights, but it's definitely worth comparing prices versus local carrier Mokulele Airlines to find the cheapest option.
Still and all, the Companion Pass is such an amazing value that I recently opened two Southwest credit cards in anticipation of a return visit to Hawaii. I'l only have to pay $5.60 to bring another family member with me! See the latest Southwest credit card promotions to get your Companion Pass.
Many frequent flyers have heard of Southwest's Companion Pass that you can earn through credit card sign up bonuses, but did you know that Alaska Airlines offers a similar one too? Alaska's is a little different (only one per year and generally $99 per companion ticket plus taxes, but the base fare is often waived in the first year with promotions) but Alaska Airlines has tons of flights to Hawaii!
And it's not one of those gimmicks where you have to pay an exorbitant price for the first ticket in order to use a companion fare on the second one (as with some old Amex promotions), you can just buy any regular ticket on the website. Especially for west coasters who already have access to bargain plane tickets to the Aloha State, this might be one the cheapest way to travel to Hawaii.
Book with frequent flyer miles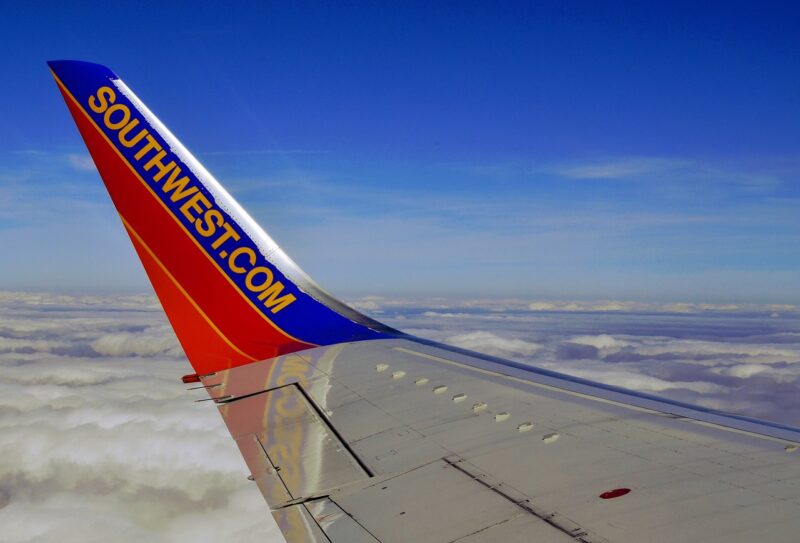 Obviously the cheapest way to go to Hawaii is not to pay for it! When your friends ask you how to go do Hawaii on a budget, this is usually the first trick you'll want to tell them about. "Free" is the cheapest way to get to Hawaii and one we've taken advantage of many times.
We recommend targeting at least 2 cents per mile, but sometimes it makes sense to redeem for as little as 1.5 cents per mile if you really don't want to spend the money out of pocket (after all, if you're buying four plane tickets to pretty much anywhere you're looking at a minimum of a thousand dollars). While many airlines now offer dynamic (= more expensive) point redemptions, here are the major airline baseline award redemptions for from the continental US to Hawaii as of October 2022 (economy class for us, folks):
American Airlines – 45,000 peak; 40,000 off-peak
United Airlines – 45,000
Delta Airlines – 45,000
Alaska Airlines – 40,000
British Airways – 26,000 from west coast, 51,500 from east coast (operated by AA)
From the chart above, it's clear where the value in frequent flyer tickets to Hawaii lies. Alaska Airlines and sometimes British Airways can offer far better value than the mainline US carriers. British Airways offers a distance-based award chart, so passengers coming from the west coast only need 26,000 miles for a round trip, while east coasters would need a whopping 51,500 miles!
Ok, so how can you earn enough British Airways Avios points as an American? Simple: open up a Chase Sapphire Preferred, Chase Sapphire Reserve or Chase Ink Business Preferred card and once your sign-up bonus hits, do an instant transfer to your Executive Club account! Then redeem here through your account BA account. As of May 2023, the Sapphire Preferred sign up bonus is 80,000 points, Sapphire Reserve sign up bonus is 60,000 points and small business owners get a 100,000 point sign up bonus with the Ink Business Preferred, which is almost enough to get a family to Hawaii and back from the West Coast. You can also follow our lead and get both cards to really juice up your award travel options.
For US flyers who had an account with Virgin America before its acquisition by Alaska, you may have more sitting in your Mileage Plan account than you thought! It turned out that we had each accumulated almost exactly 15,000 miles in our accounts, so we were each able to purchase a one-way ticket with our miles that had been sitting around unloved for a few years. Score!
Southwest's frequent flyer redemption is fare-based so it varies a ton, but you can combine it with your Companion Pass discussed above to get two tickets to Hawaii for just the miles you'd need for one ticket. If you can find an affordable time of year using their low fare calendar, it's a dynamite option to fly to Hawaii for cheap. Apply for a Southwest credit card here to start earning your Companion Pass. If you also have the Chase cards I mentioned above, know that you can transfer those Ultimate Rewards points to Southwest as well if you're a little short.
If you're in a city with lots of United flights, the most straightforward option might be to grab a United Mileage Plus Explorer credit card. The usual fee is $95 per year (though sometimes the first year fee is waived) and it comes with 50,000 bonus miles – enough to cover your ticket. We love that it includes free checked baggage when you use the card, even if you're just covering taxes on an award ticket redemption, and you'll get two passes to the United Club lounge. We carry this card and use it whenever we're booking United flights.
Redeem Chase Ultimate Reward Points
Wondering how to go to Hawaii on the cheap? The final way to save money on plane tickets to Hawaii is actually how we picked up three of our four tickets on one trip to Hawaii. Since we've accumulated a ton of Chase Ultimate Rewards points through our Sapphire Preferred, Sapphire Reserve and Ink Business Preferred cards, we've sometimes taken advantage of their flexibility to buy our tickets.
One of our favorite features of Ultimate Rewards points is that you can redeem them for almost any travel expense through the portal; your redemption rate is 1-1.25 cents per point with most Chase cards and 1.5 cents per point if you have the Sapphire Reserve card (even if the points were earned on a different Chase card and transferred or pooled).
In our case tickets on Alaska were $445 each if purchased with cash, so we redeemed almost exactly 30,000 points for each. Ultimate Rewards points do not transfer to Alaska Airlines, but by purchasing through the portal we had no out of pocket expense – not even taxes. Pretty sweet!
Save money by going carry-on only! Check out our full (but minimalist) women's packing list for Hawaii.
Where to stay in Hawaii on a budget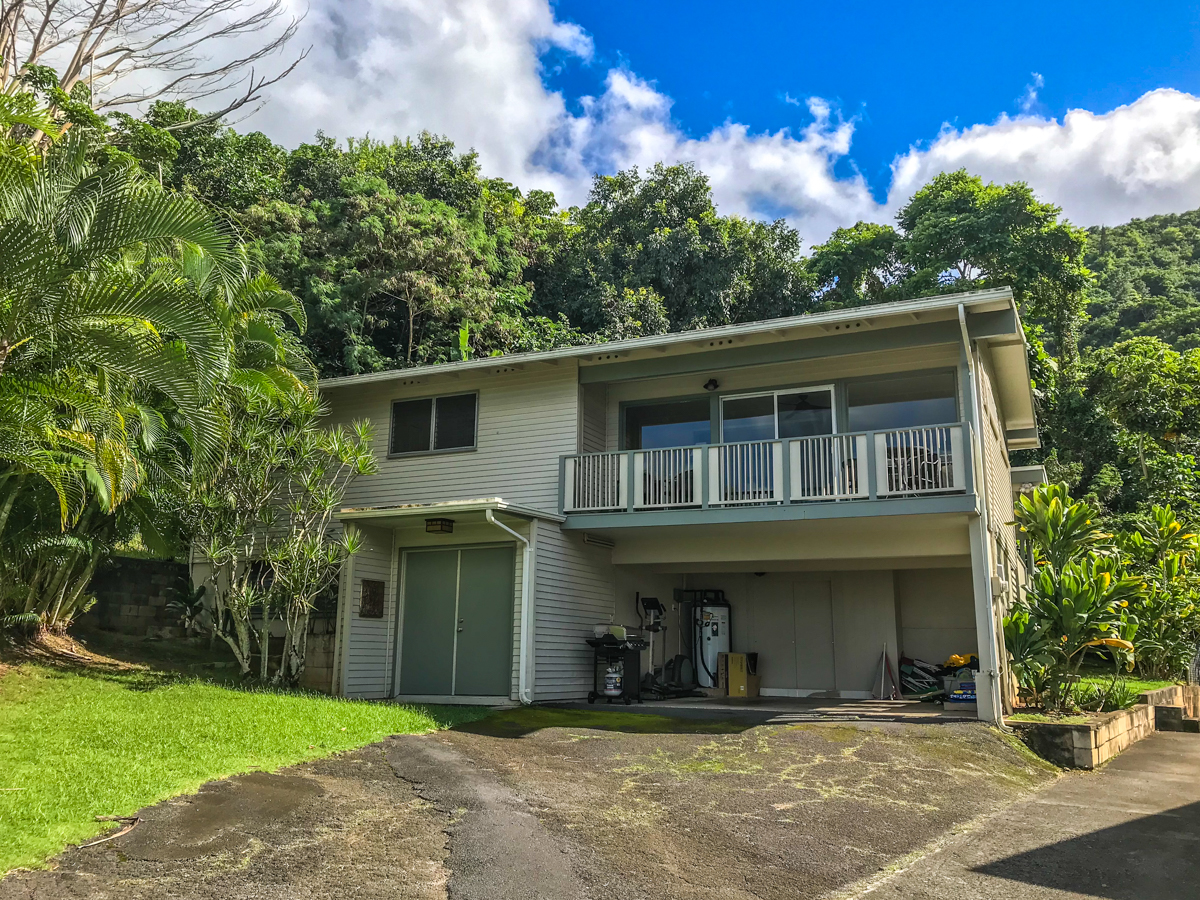 Hopefully we've gotten you to Hawaii without putting too big of a dent in your wallet. The other huge chunk of the cost of a Hawaii vacation is accommodation. If you really want to plan a budget trip to Hawaii, consider a home exchange.
Check out this map to find (slightly) more budget-friendly options:
Vacation Rentals in Hawaii
Vacation rentals can be a great option in Hawaii, but it's important to know what you're getting in to. In June 2019, the mayor of Honolulu enacted strict limits on unhosted short-term vacation rentals on Oahu – essentially stifling the market for Airbnb on Oahu outside of designated tourist zones like Waikiki, Ko Olina and Turtle Bay. Newer restrictions are even tougher.
Other areas will still have some vacation rentals available, but limited in number and they have to be licensed. Likewise, other parts of Hawaii have limits on short-term rentals. Vacation rentals can be one of the best options for how to do Hawaii on the cheap, but check listings carefully!
If you find an awesome legal rental in Hawaii, that can be a great way to stay! You'll be able to save money on groceries, parking and more while also enjoying a different kind of feel.
Here are some great options to consider for each island (though "cheap" is a relative term and varies somewhat by island):
Hotels in Hawaii
Would you rather just stay in a hotel in Hawaii? There are so many to choose from, even if you're planning a trip to Hawaii on a budget!
The cheapest way to stay at a hotel in Hawaii is for free, obviously. We recently grabbed a World of Hyatt credit card so that we can use the sign-up bonus for an upcoming trip to Kauai and Maui! While there are tons of hotel loyalty programs out there, Hyatt has the most generous award chart and often requires only half as many points per night as competitors like Marriott and Hilton. In addition, award stays pay no resort fee and still count toward achieving elite status. We really love the Hyatt program!
If that all sounds great, I have even better news for you. The Chase Sapphire Preferred, Chase Sapphire Reserve and Chase Ink Business Preferred cards credit cards that our family uses can transfer their points to Hyatt as well! Obviously you need to use your credit cards responsibly and pay the balances every month, but if you're strategic about your sign up bonuses you can land a mostly free trip to paradise by combining one of the airline programs I mentioned above with the Hyatt hotel program.
Another budget-friendly hotel option for Hawaii is to try to look for ones that offer a kitchen and laundry to avoid pricey meals out and laundry services. You'll still get the resort amenities like beautiful pools, on-site restaurants and quality staffing. Check out these great options on each island:
Oahu:
–Beach Villas at Ko Olina
–Marriott Ko Olina Beach Club (also check here for deals)
>>> Check out this area-by-area guide to where to stay on Oahu
Maui:
–Westin Ka'anapali Ocean Resort Villas (this is where we stayed during our first trip to Hawaii with a baby and it was wonderful!)
–Honua Kai resort
Kauai:
–Plantation Hale Suites (***bargain alert!)
–Marriott's Waiohai Beach Club
–Marriott's Kauai Lagoons
–Westin Princeville Ocean Resort Villas
–Koloa Landing Resort at Poipu
We haven't visited Kauai yet, but check out this detailed guide to the best of kid-friendly Kauai!
Big Island:
–Inn At Kulaniapia
–Orchid Tree B&B
–Hilo Bay Oceanfront Bed & Breakfast
–Kilauea Lodge & Restaurant
–Hilton Waikoloa Village
–Waikoloa Village vacation rentals (we stayed in one of these on our last visit and it was wonderful)
–Mauna Lani Point Villas
–The Islands At Mauna Lani
–Mauna Lani Resort (I felt so pampered when I stayed here many years ago!)
–Westin Hapuna Beach Resort
–Mauna Kea Beach Hotel (we love the beach here, arguably one of the Big Island's best)
Read more: Check out these simple hacks for saving more on your reservations!
If you or a loved one is a member of the US military, make sure to check out the Hale Koa Hotel on Waikiki Beach. As a "thank you" to service members, this fairly basic hotel offers a world-class location and comfortable amenities as prices that can be half or even a third of the price of surrounding resorts. Find more details here about this wonderful option for service members wondering how to visit Hawaii on a budget.
Home Exchange in Hawaii
There are so many reasons why we love home exchange, and a few that are extremely relevant to planning a Hawaii family vacation on a budget.
First, your cash expense to do a home exchange in Hawaii will be less than one night in a hotel.
Second, having a real home with a kitchen means you can avoid pricey restaurant meals – and they sure are pricey in Hawaii!
Third, being away from the main tourist areas means almost everything will be less expensive (not to mention less crowded) – groceries are cheaper, our long-term Home Exchange house on Oahu had its own parking and the house even came stocked with boogie boards and snorkel gear so that we didn't have to rent.
Beyond the economics, doing a home exchange in Hawaii had other amazing benefits. Everyone had plenty of space to stretch out. We had our own laundry facilities. We hung out at "locals only" spots rather than the crowded tourist beaches. There was a second fridge for all our Costco supplies. Oh, and we even had enough space that both grandmas came to join us for a few weeks during our slow travel on Oahu! Want more tips for planning a multigenerational vacation?
Camping in Hawaii and RV in Hawaii
Another option for the truly budget-minded is camping on Hawaii. Every island has some wonderful, gorgeous places to pitch your tent though the amenities vary tremendously by site. Check out this helpful roundup of where to camp on Kauai.
If you want to combine your accommodations and your transportation, consider renting an RV in Hawaii. There are tons of beautiful campgrounds on every island and you'll save money overall compared with renting a car and a hotel room.
Car rental for your Hawaii vacation on a budget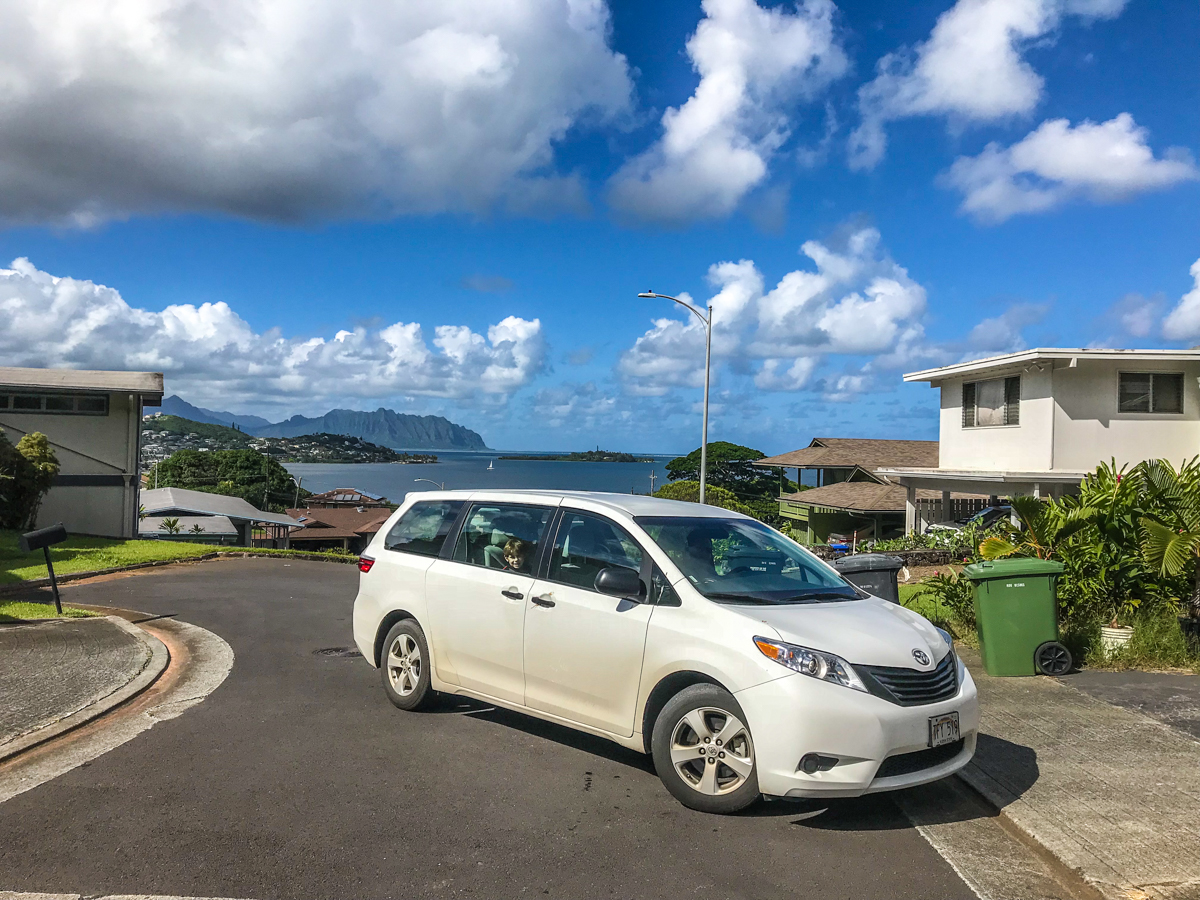 Renting a car in Hawaii seems, like many things, to be more expensive than on the mainland. In some places like Honolulu and Waikiki you can stay amidst the tourist throngs and get by without a car – walk to popular beaches, walk to mini marts, walk to tourist restaurants, and rely on hotel concierges to book activities on other parts of the island that include transportation. You can take buses to some places on Oahu, but they can be very time consuming.
Read more: 10 things you NEED to know before renting a car in Hawaii
If you are a solo traveler in Hawaii, it might make sense to go stay in one of the cities the car-free route since all of those small (or large) premia are only impacting one traveler. For couples or families, though, you'll more than make up the cost of a rental car by saving money on pretty much everything else. You'll also gain the freedom to explore beautiful, peaceful spots that most tourists don't get to see. Moreover, in many parts of Hawaii you absolutely need a car to get around.
Bringing the kids? Save money on your rental by bringing your own travel car seats. Click to read all the best hacks.
We have a few favorites for finding deals on car rentals in Hawaii (and everywhere else). The most straightforward is good old RentalCars.com. You can quickly search for the type of car you want across tons of providers of all sizes and reserve without any upfront payment. Nearly every reservation can be cancelled, so we often check back weekly leading up to our travels and rebook if we see a better rate.
Kayak car rentals offer a wide range of providers, from the big national brands to smaller options that might be a good alternative during this period of extremely high rental car prices. Click here to check pricing for your dates.
A great local option is Discount Hawaii Car Rental. They work with all of the major Hawaii car rental companies and have Hawaii-based customer service in case an issue comes up. That can be especially helpful if you're arriving when it's late in the day on the mainland.
Another option to consider is joining AARP. The membership costs about as much as a Starbucks run but can save you up to 30% on rental car rates (in addition to discounts on some hotels)! Surprisingly, you don't have to be a senior or retired to join AARP.
Our rental car ended up being by far the most expensive component of our 5 week trip to Hawaii. We needed a minivan for part of our trip, but it would have been the same price as renting one compact car for five weeks and a second compact car for a week and a half in the middle when we were joined by a few grandmas.
Though the minivan was pricey at $1600 for five weeks, it was handy to have for hauling around a big stack of boogie boards, beach towels and cases of food from Costco (more on that below). If you plan to shop at Costco and haul around lots of beach gear, you may want to consider sizing up from the smaller options. For reference, the quote we received for an intermediate car for 10 days was just shy of $500. Thanks to rental car shortages after the pandemic, rates may be significantly higher if you're booking a shorter rental period.
What's the best place to get gas in Hawaii? It's often Costco. Seriously, folks. On average gas was 70 cents cheaper per gallon at Costco than at other local gas stations during our last visit. That's more than $10 saved every time you fill up! That said, other local gas sellers have upped their game by lowering their prices so it's worth peeking at Safeway and Sam's Club prices when you drive by, as the Costco gas lines can be long. My favorite tip for comparing gas prices in Hawaii is that on the store detail page for each Costco warehouse you can expand the "Gas Station" section to see hours and the current price! (Note that Hawaii Kai does not have gas, but all other Costco warehouses in Hawaii do.)
Not sure which island to pick? Find the best Hawaiian island for your family vacation.
Vacation packages for cheap travel to Hawaii
If you prefer simplicity in your travel arrangements, one option to consider for Hawaii vacations on a budget is a package deal. That's how we went on our first Hawaii vacation!
Before booking a package deal, you need to carefully consider the value of everything that's included to make sure it's actually the cheapest way to vacation in Hawaii for the dates you want. We booked ours as a Black Friday special, so it was deeply discounted.
Here are some great places to look for discount Hawaii vacation packages:
Expedia (that's where we booked ours)
TravelZoo (we've gotten great deals for other destinations)
Saving money on food in Hawaii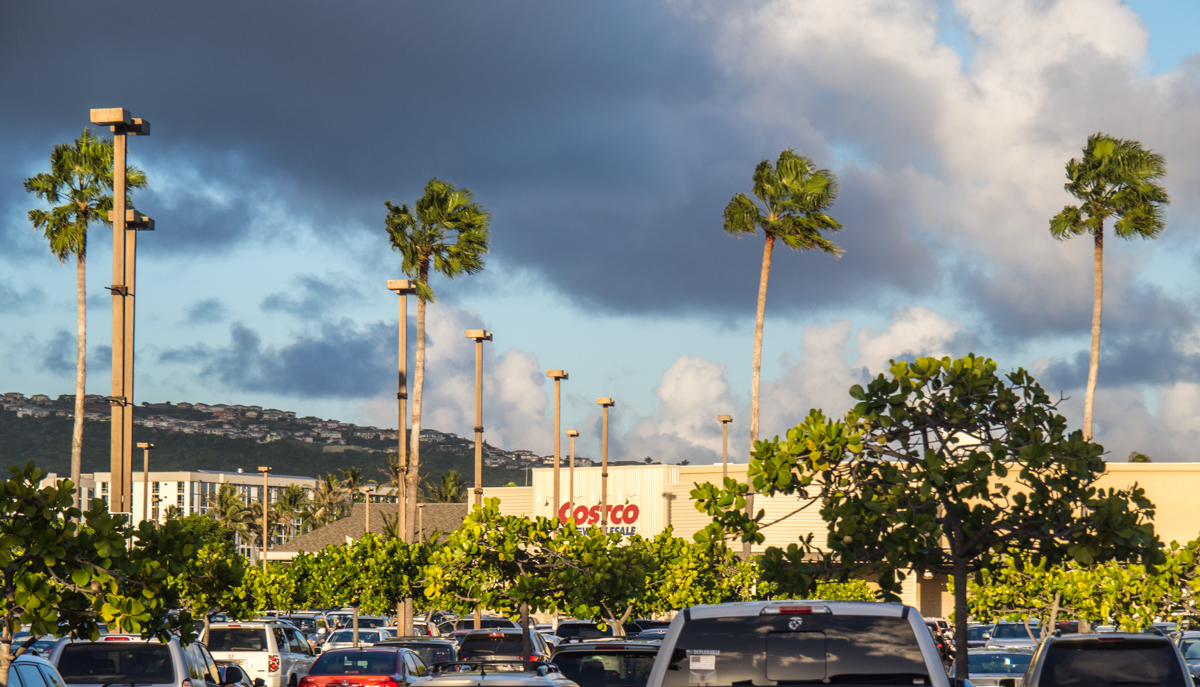 If you're planning a budget Hawaii vacation, you'll need to think carefully about how and where you'll eat. Many items have to be transported to Hawaii by ship, so food prices in Hawaii can be anywhere from a few cents to a few dollars more than on the mainland. Having a plan for food is one of the keys to how to travel to Hawaii on a budget.
Of course the best way to save money on food in Hawaii is to book a vacation rental with a kitchen and prepare food yourself. But even if you plan to make all your meals at your home away from home, you'll have to be judicious in you grocery purchases. But we've done some scouting for you and have a few suggestions to help you through since grocery prices in Hawaii can be quite daunting.
First, let's discuss Costco. If you already have a membership and you'll be visiting Hawaii with a few other people, Costco in Hawaii can be a great value! Prices are nearly the same as at Costco on the mainland, and prices are much cheaper than local grocery stores for items like dairy, eggs and meat. There are seven Costco locations in Hawaii, including four on Oahu.
In addition to food and pantry staples, you'll find some beach gear, Hawaiian shirts and other handy items. While you're there, grab a meal at Costco – it doesn't require membership and the whole family can eat for less than $10! It's not a nutritious choice to make every day, but if you're going to Costco in Hawaii once every week or two it's a great way to save a little money without cooking at home.
Pro tip: If you don't have a Costco membership but know someone who does, have them buy you some Costco Cash cards (gift cards). You can use these without a membership!
All that said, before you dive in on a Costco membership for your cheap trip to Hawaii consider whether or not you'll actually make it through a 20 pound bag of rice during your vacation. And where will you store all that food? What should you do if you'll only be in Hawaii for a short time or you aren't bringing an entire football team? Head to Target!
That's right, the big red bullseye of value has made it to paradise! You'll find locations on Oahu, Maui and the Big Island and the stores are full of all your favorites from the mainland – plus some local specialties in the "Aloha Shop". Since Target carries groceries – both house brand and national brands, it might just be the best place to do your grocery shopping in Hawaii. Similarly, if you prefer to shop at Walmart you'll find tons of stores on Oahu and one or two on the other islands.
You may notice that prices in those stores are a little higher than what you'd find on the mainland, but fear not: both stores offer price match guarantees. Just pull up the item you want on your phone from the store's website – or another major website – and they'll give you the lower price right there at the register! I saved 20% on our sunscreen that way. Target will definitely be your friend when you travel to Hawaii on the cheap.
Another local option is Foodland. We found many items there that were only a little more expensive than at our local grocery stores on the mainland, though some things (like dairy and eggs) were much more expensive than we found at Costco. Sign up for their Maika'i card for extra discounts and make sure to check out the poke counter in the back of the store – we got an inside tip that many locals hit Foodland for their own poke fixes.
Discount activities in Hawaii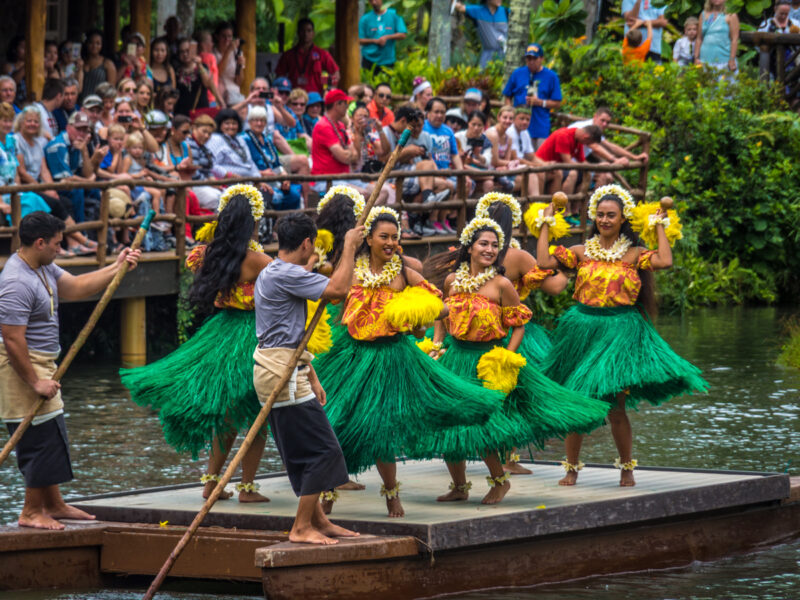 One of the great things about a vacation in Hawaii is that there are so many amazing things to do for free that take full advantage of what makes the Aloha State special. You can relax on the beach, hike to a waterfall, go on a scenic drive and even attend a hula performance – all for free! It's one of the best places to travel to without a passport if you're American.
We've had plenty of days in Hawaii when we didn't spend a dime (except on shave ice, but that's a different story). But what about big ticket paid activities? Can you still do them even if you're visiting Hawaii on a budget? Here are a few ideas for how to have those special experiences without busting your budget.
Read more: 10 things to do on Oahu under $10
Go Oahu Card
The Go Oahu Card by Smart Destinations bundles multiple activities together to save you money. There are two different options to choose from: All-Inclusive or Build Your Own.
With their All-Inclusive pass you pay a fixed rate based on the number of days you'd like to use the card (which can be spread over a two week period) and then you can do as many of those activities as you can squeeze in! There are options ranging from luaus to catamaran snorkeling trips to hikes to movie tours, and many activities offer free transportation from Waikiki in case you don't have a car.
You can choose cards for 1, 2, 3, 5 or 7 days – cards for 3 days or more include your choice of one "premium" activity like a luau, a sunset dinner sail, snorkeling with wild sea turtles or even a semi-private surfing lesson.
If you're visiting Oahu for a week, we think the 3 day card is the sweet spot for value at $219 per adult and $189 per child. Why? In addition to great activities like the Polynesian Cultural Center, you'll get to choose one premium activity like a snorkel boat tour. There are plenty of other high-value activities included for the other two days so that you'd easily get plenty of value from the 3-day card.
Read all about the Go Oahu card and how to make the most of it when you're traveling to Hawaii on a budget.
Check out just a few activities you can do with your Go Oahu card: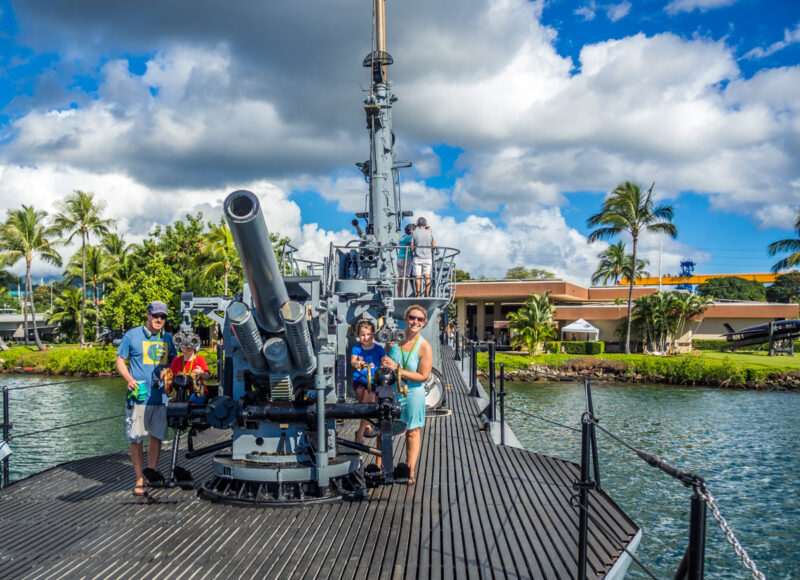 Entertainment Book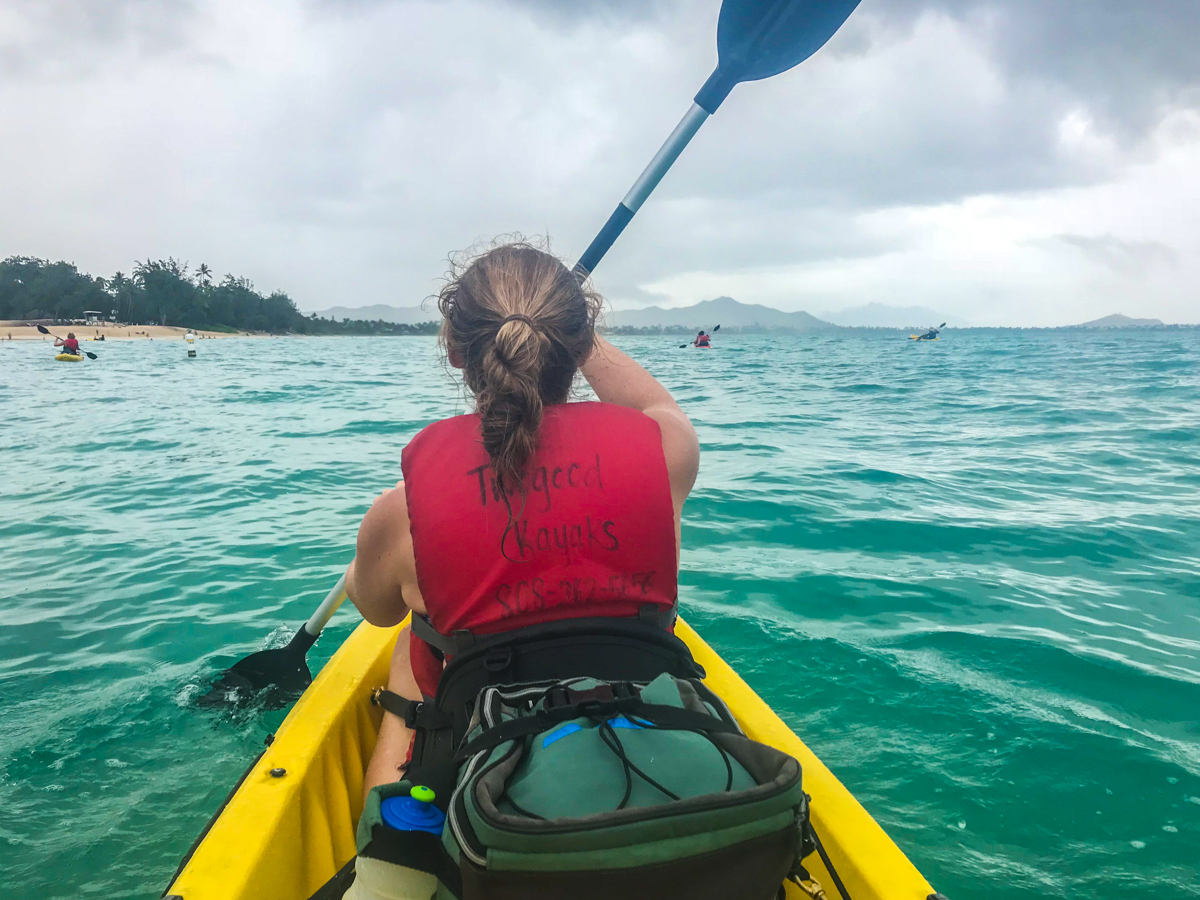 Remember the Entertainment Book that our families all used to buy during fundraisers in the 1980s? They're still around. And they actually offer some pretty good deals in Hawaii on several islands!
As with most deals in the Entertainment Book, you'll generally find 2-for-1 type coupons. You'll find coupons for plenty of restaurants, but also coupons for wonderful attractions like the helicopter tours, snorkel rentals, Twogood Kayaks, the Bishop Museum, the Pacific Aviation Museum at Pearl Harbor and more. If you use it for even one or two activities in Hawaii, it'll pay for itself. You can even choose a digital book to have all the deals at your fingertips!
>>> See all the deals available in the Hawaii Entertainment Book.
Check out more awesome things to do on Oahu with kids
Admission to National Parks in Hawaii
If you plan to visit Hawaii Volcanoes National Park on the Big Island or Haleakalā on Maui, you can get in FREE with your America the Beautiful annual pass. For just $80 per year, you can get into nearly all federal government-run recreational lands. It will generally pay for itself in just three or four uses (or even two if you're visiting some of the popular/expensive parks). Pick up your pass today.
Shopping for someone else? Consider these great National Park themed gifts!
Groupon and Living Social
Other great resources for saving money in Hawaii are daily deal sites like Groupon and Living Social. You can find discounts on sailing trips, helicopter rides, parasailing and more. If you're looking for things to do in Hawaii on a budget, make Groupon your first stop! Check out the deals here.
Use your memberships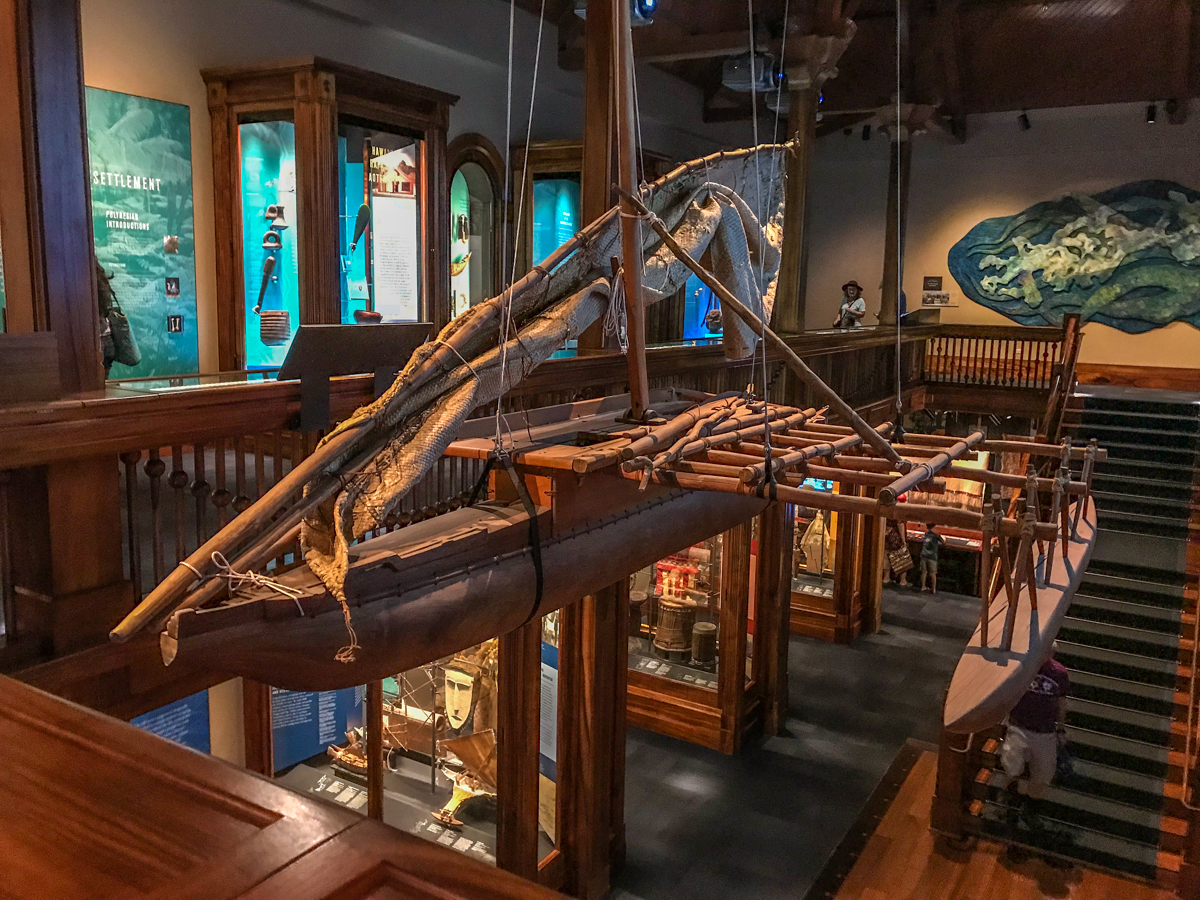 You might have the key to cheap and free activities right in your wallet! If you're a AAA member, always ask when booking hotels or activities if they offer a special rate.
And if you are a member of a science center back home that participates in the ASTC Passport program, bring your card to the wonderful Bishop Museum in Honolulu to receive free admission. We went twice (for free!) and even considered a third visit. It's the perfect free activity if you're trying to visit Hawaii with kids on a budget!
Military discounts
There are almost 50,000 US military personnel and their dependents living in Hawaii (population around 1.5 million). Military families vacationing in Hawaii will find discounts almost everywhere on admission to attractions. You'll also benefit from lower hotel rates and access to four commissaries on Oahu, plus an exchange where you can buy discounted gifts. Thank you for your service!
What about island-hopping? Does that fit with Hawaii budget travel?
There are two schools of thought about "island hopping" in Hawaii as it relates to the cheapest way to visit Hawaii.
First, the "pro island hopping camp": Flights from mainland US to Hawaii are generally long and expensive. It's cheaper to fly to Hawaii once and visit several islands while you're there than it is to pay for separate roundtrip airfares. This is especially true if you're coming from the east coast or if Hawaii is a once-in-a-lifetime splurge for you! The cheapest way to travel between Hawaiian islands is to look for a deal on Southwest and use companion pass if you have it, especially if you'll need to check a bag.
Second, the "anti island hopping camp": If you're trying to plan a trip to Hawaii on a budget, you'll economize more by staying in one place. Many vacation rentals offer a weekly rate. Rental cars are much cheaper by the week – often 5 days cost more than 7 days (see the difference here).
If you visit two islands (or more!) you'll have to either eat out all the time or buy small, expensive quantities of food – and then buy them again on your next stop.
Plus you have to pay to get from one island to another, often around $75 each way. You can limit that to one segment if you book an "open jaw" into one island and out of another, but check that pricing versus a regular roundtrip plus an inter-island roundtrip.
Where do we fall? We suggest that you sit back and enjoy the aloha on one island at a time! Hawaii will always be waiting for you to return. The exception is if you've already been to some of the islands and want to visit a new on, but flight availability isn't great. Now that we live in the Midwest it might work out better for us to stop on Oahu or Maui en route to Kauai since it has fewer inbound flights from the mainland.
Hawaii on a budget family tips
If you're planning a family vacation to Hawaii on a budget, some of the tips we've already mentioned will be extremely helpful! Here's a quick roundup:
Look for companion pass deals for airfare
Grab an Airbnb with a kitchen – make sure it has a decent sized fridge if you plan to shop at Costco in Hawaii
Encourage your kids to eat fresh, local food rather than food that's packaged and sent from the mainland (you can bring a box of cereal in your luggage if that's a must-have)
Bring your own car seat to avoid paying for one with your rental car
Use your science museum membership from home for free admission to the Bishop Museum
If possible, avoid major school break times
Hawaii on a budget FAQs
How much should I budget for a trip to Hawaii?
Obviously prices vary a ton depending on where you're coming from and style of travel. As a baseline, domestic plane tickets to Hawaii cost $400-1200 per person in 2022. Hotel or Airbnb accommodations cost $150-600 per night. The cost of food varies tremendously, but budget at least $40 per person per day if you'll be eating all your meals at restaurants. Even "cheap trips to Hawaii" aren't really cheap by true budget travel standards unfortunately.
What is the least expensive Hawaiian island to visit?
Oahu can be very inexpensive thanks to abundant choices for lodging and food, and staying in Waikiki can remove the need for a rental car. The Hilo side of the Big Island also offers good value for the money, as it's one of the less popular tourist areas. All things considered, the Big Island is probably the cheapest island in Hawaii.
What is the cheapest time of year to visit Hawaii?
We've found great deals almost anytime outside of school breaks! Fall is the quietest (and thus, cheapest) time for tourism in Hawaii. January and February can also be inexpensive times for flights as long as you avoid the end of winter break and the long weekends during the season.
How far in advance should I book flight to Hawaii?
If you're flying at an off-peak time of year, you can often snag deals just a week or two in advance from the west coast. For flights over holiday periods or from the east coast, you'll want to buy your tickets several months in advance for the best deals.
Prefer a visual version? Check out our Hawaii on a budget web story!
More resources to plan your trip to Hawaii on a budget
See all of our Hawaii travel planning resources in one place

Travel planning resources:
Compare rental car prices for Hawaii
5 simple money-saving hacks for booking.com

General Hawaii resources:
How to visit Hawaii on a budget
Renting a car in Hawaii: 10 things you NEED to know
What to pack for Hawaii
Is a cheap GoPro knock-off worth it?

Hawaii with kids:
What's the best Hawaiian island for families?
Is it worth visiting Hawaii with a baby?
Ultimate packing list for Hawaii with kids
Top 10 things to do with kids on Oahu
The best snorkel gear for kids of all ages

Oahu resources:
Best Oahu travel guide book
Perfect 7 day Oahu itinerary
Where to stay on Oahu
Family-friendly Oahu vacation rentals
Cheap Places To Stay On Oahu
10 Fun Things to do on Oahu for $10 or less
Getting the most bang for your buck on your Go Oahu discount card
Insider tips for visiting the Polynesian Cultural Center
The best beaches on Oahu (and why to visit them)
Where to find the best shave ice on Oahu
The best easy hikes on Oahu
North Shore Oahu complete visitors guide
Kayaking to the Mokes with Twogood Kayaks
Family-friendly kayaking with Holokai Adventures
Visiting Pearl Harbor

Maui resources:
Best Maui travel guide book
Perfect 3 day Maui itinerary
Cheap Places To Stay On Maui

Big Island resources:
Best Big Island travel guide book
Perfect 5 day Big Island itinerary
Cheap Places To Stay On the Big Island

Kauai resources:
Best Kauai travel guide book
Perfect 3 day Kauai itinerary
Cheap Places To Stay On Kauai
What are your secrets for how to do Hawaii on a budget?
Many thanks to our awesome partners in paradise, including Home Exchange, Smart Destinations, Polynesian Cultural Center and Twogood Kayaks; all opinions are my own.
Pin this article to save it for later!