We get it. Not everyone has the luxury of spending weeks on end whiling away the hours in a tropical paradise. Or maybe visiting Hawaii is a once-in-a-lifetime trip for you and you want to see a few different islands. Whatever you reason, lots of travelers choose to spend just 5 days on the Big Island of Hawaii.
Even though it's a much larger area (with slower driving) than you might expect, you'll cover a lot of ground with this Big Island itinerary for 5 days. You'll have a chance to experience what make the Big Island so unique and explore the best things to do on the Big Island of Hawaii! If this itinerary feels too rushed for your Hawaii vacation, feel free to spread it over more days or cut out anything that doesn't interest you.
Read on to find out where to stay on the Big Island, what to do on Big Island for 5 days, how to get around and more.
Pssssst… don't forget these essentials for your Hawaii packing list!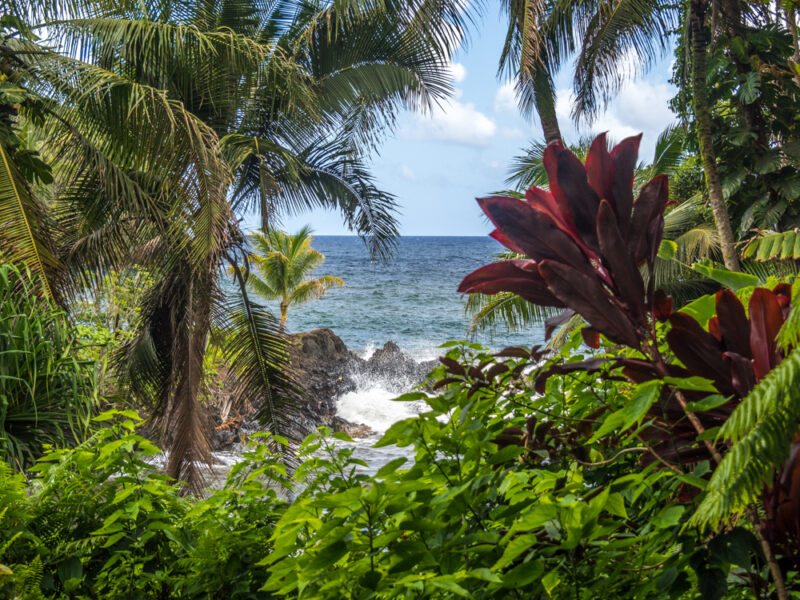 Our 2019 visit to the Big Island was actually my third trip. I've now visited as a geology student on a very rustic two week visit, as a business traveler at a luxury resort for a quick 5 days in Hawaii and finally as a slow-traveling family exploring on our own (and trying to visit Hawaii on a budget). Each trip was so different, but they've all given me great perspective to share with you as your plan your own Big Island trip. Fortunately you really can see a ton in 5 days on Big Island!
Quick Planning: What to book NOW for 5 days on Big Island
To avoid disappointment, extra expenses and last-minute schedule scrambled you'll want to book as much of your Big Island trip as possible well in advance. Go through this quick checklist and get everything arranged, then you can fill in the details later.
Rental car
Must read tips for renting a car in Hawaii
Compare prices between RentalCars.com, Discount Hawaii Car Rental and Priceline
Accomodations
Activities
Guidebooks
Getting To The Big Island And Getting Around The Big Island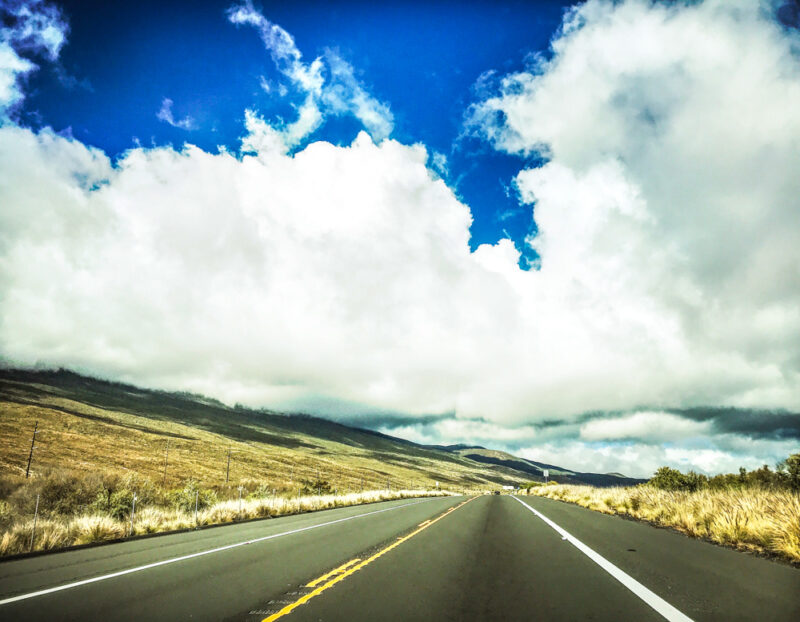 The Big Island is served by two airports, Kona and Hilo. They're an hour apart if you don't hit any traffic or challenging road conditions, though the beautiful drive across the saddle took us closer to two hours in the end.
If you can manage it without extra expense, I recommend booking an open jaw flight that arrives on one side of the island and departs from the other. That's an especially good choice if you're spending part of your time staying in Volcano Village, as I recommend below, because it would take more than two hours to drive to the Kona airport from there.
Once you get to the Big Island you'll definitely want a rental car. There are public buses, but they're sparse and can be inconveniently timed. Taxis, Ubers and Lyfts can get your around Kona town and Hilo town fairly easily but will get expensive (and possibly unavailable) if you choose to go much outside of those areas – and you'll want to. Check here to compare rental car prices across all the major brands.
Read more: 10 things to know before you rent a car in Hawaii
A quick note to those of you scouting for Big Island 1 day itinerary suggestions: Do yourself a favor and fly into Hilo. For as pleasant as the Kona side is, it's not especially unique compared to the other Hawaiian islands. With just 1 day on the Big Island, I'd fly into Hilo, grab a picnic lunch to-go at Island Naturals and then drive straight to Hawaii Volcanoes National Park.
Where To Stay On The Big Island Of Hawaii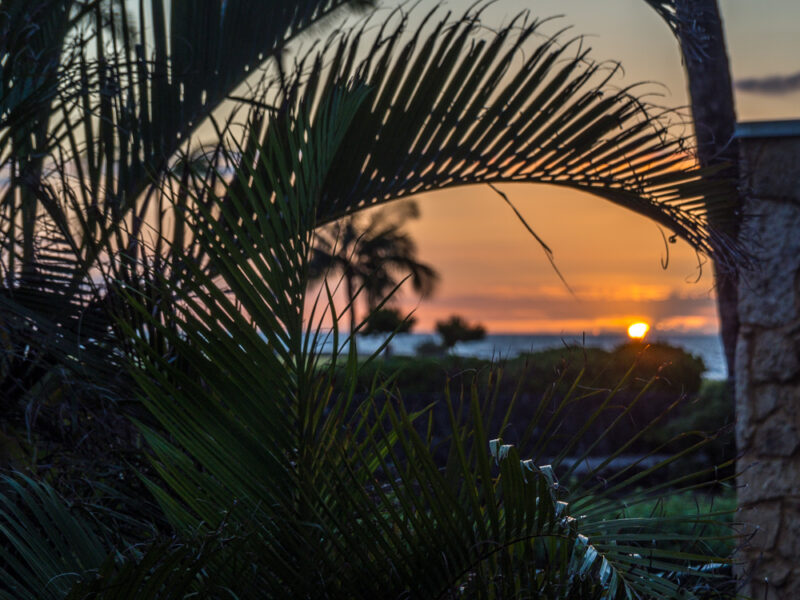 To make the most out of your visit to the Big Island and get a taste of the very distinct areas of the island, I recommend splitting your time between its two sides.
If you're interested in a vacation rental, check out some of my top picks for cheap places to stay on the Big Island – they're often cheaper than hotels, plus you'll save money on food, parking and even beach gear!
Where To Stay In Hilo
If you really want to see the rainbow over Rainbow Falls, spend your first night (or two) in Hilo. There are lots of wonderful small inns and b&b's in addition to a few big chain hotels.
Inn At Kulaniapia
Orchid Tree B&B
Hilo Bay Oceanfront Bed & Breakfast
Bay House Bed & Breakfast
Castle Hilo Hawaiian Hotel
Doubletree Grand Naniloa Hotel
There are also some fantastic rental apartments in Hilo, and many of them are a real bargain. Check out these best vacation rentals in Hilo:
Use the interactive map to find vacation rentals and hotels in Hilo, Hawaii
Where To Stay In Volcano Village
Since you're only staying in Volcano for one or two nights and you'll be very busy, I recommend choosing a place that offers breakfast; however, I've given some self-catering options in case that's your preference.
Kilauea Lodge & Restaurant
Aloha Junction Bed & Breakfast
Laukapu Forest Lodge
At The Craters Edge Guest House
There are so many great vacation rentals in Volcano Village too! Here are a few top picks to consider, all just a few minutes from the entrance to Hawaii Volcanoes National Park:
Use the interactive map to find vacation rentals and hotels in Volcano Village, Hawaii here
Where to Stay in Waikoloa Village/North Kohala Coast
You'll be spending three nights in Waikoloa Village or elsewhere along the North Kohala coast. Depending on your travel style, you can choose between fancy resorts, moderate hotels or even Airbnb! There are a million vacation rentals in the area.
Hilton Waikoloa Village
Waikoloa Village vacation rentals
Mauna Lani Villas
The Islands At Mauna Lani
Mauna Lani Resort
Paniolo Greens Resort
Westin Hapuna Beach Resort
Mauna Kea Beach Hotel
Check out these wonderful places to stay in Waikoloa:
Use the interactive map to find vacation rentals and hotels in Waikoloa Village, Hawaii here
The Perfect Big Island Itinerary For 5 Days
Day 1 – Exploring Gardens And Waterfalls Hilo Side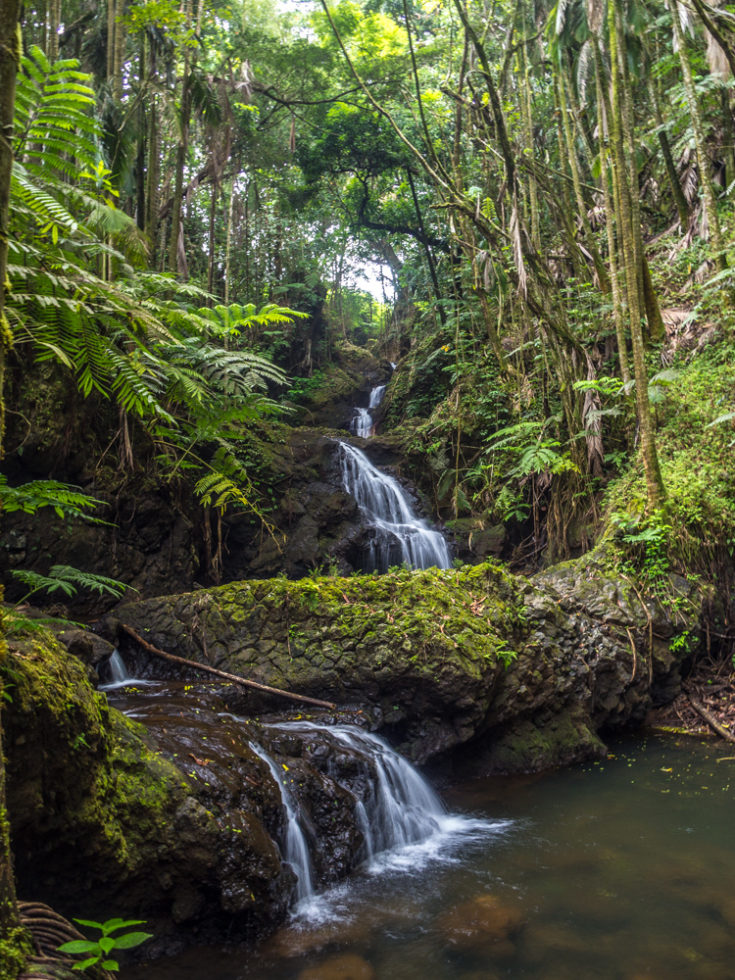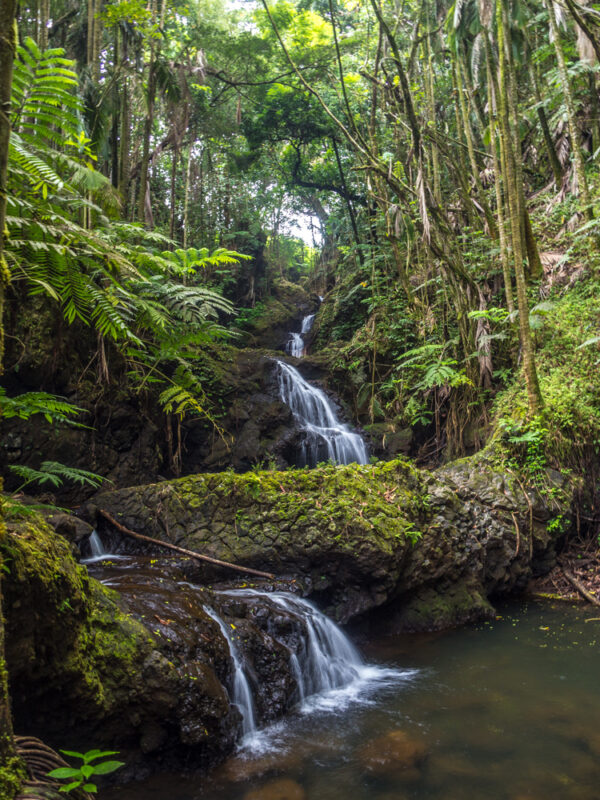 Arrive at the Hilo airport and pick up your rental car to start your 5 day itinerary on Big Island. How much you can accomplish depends a lot on what time of day you arrive. I'll assume you're arriving fairly early in the day, but if you arrive later in the day you may need to shuffle some of these activities to a later day.
If you happen to arrive on a Wednesday or Saturday morning, take a swing by the Hilo Farmer's Market (6am-4pm). It's a great place to pick up fresh, local product and even locally-made crafts.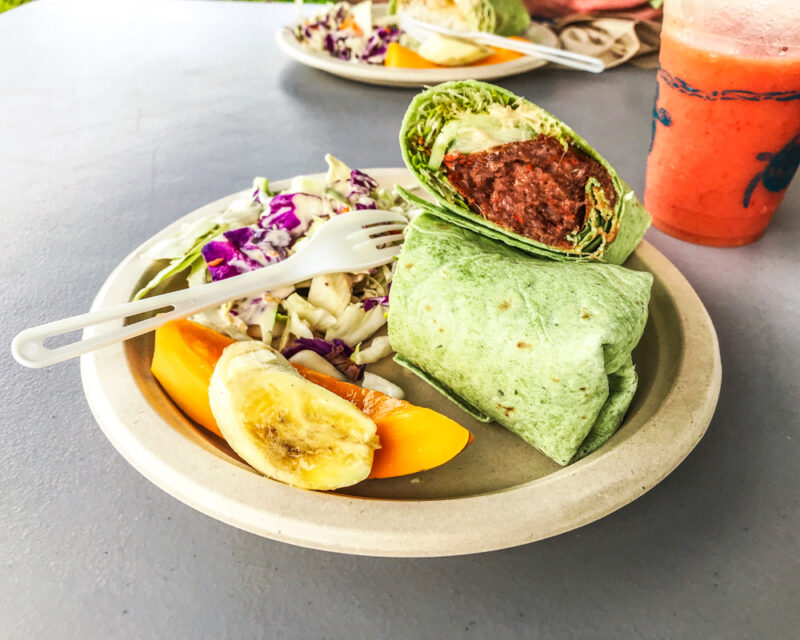 Drive 20 minutes up the coast to What's Shakin to grab a delicious wrap or sandwich for lunch and, of course, a smoothie. Heck, grab two smoothies – they're that good! They often have baked goods, which are delicious too.
Your first sightseeing stop is at Hawaii Tropical Botanical Garden. It's truly paradise on Earth, and our whole family loved it! The path down into the garden is fairly steep and can be slippery, but it's paved. In total we spent about 2 hours exploring the huge range of plants, the cascading waterfalls and the secluded coastal views. As with all of the lush areas of Hawaii, bug spray never hurts.
When you've had your fill of the Botanical Garden (or they kick you out at 5pm), head back on the road. I won't judge you for stopping back at What's Shakin for another treat if they're still open! But your destination now is Akaka Falls State Park, another 20 minutes outside of Hilo.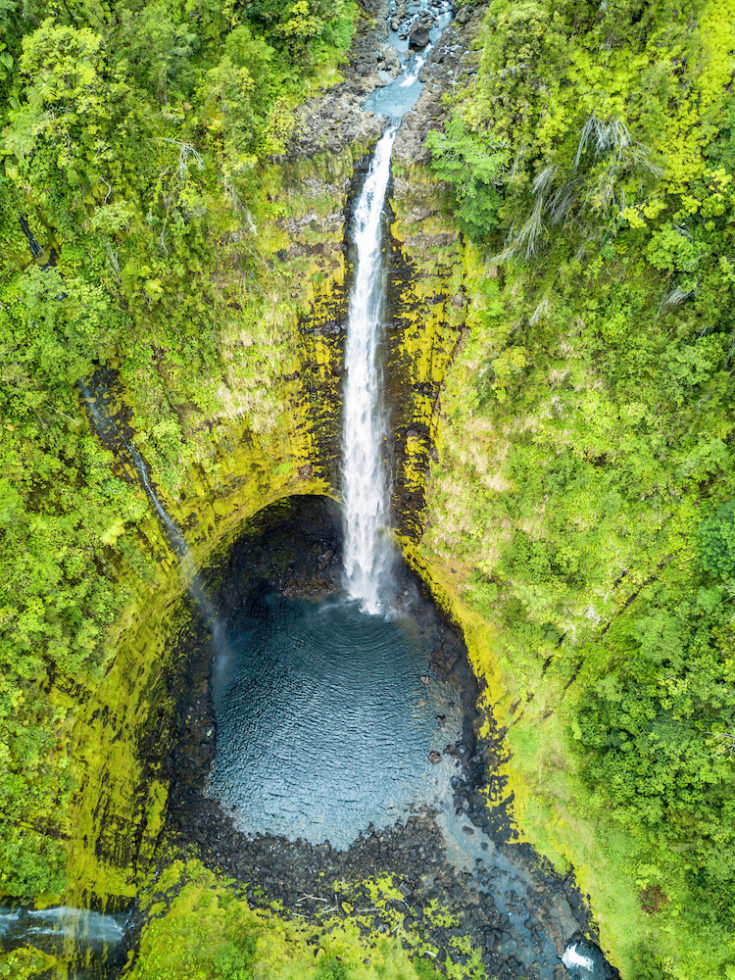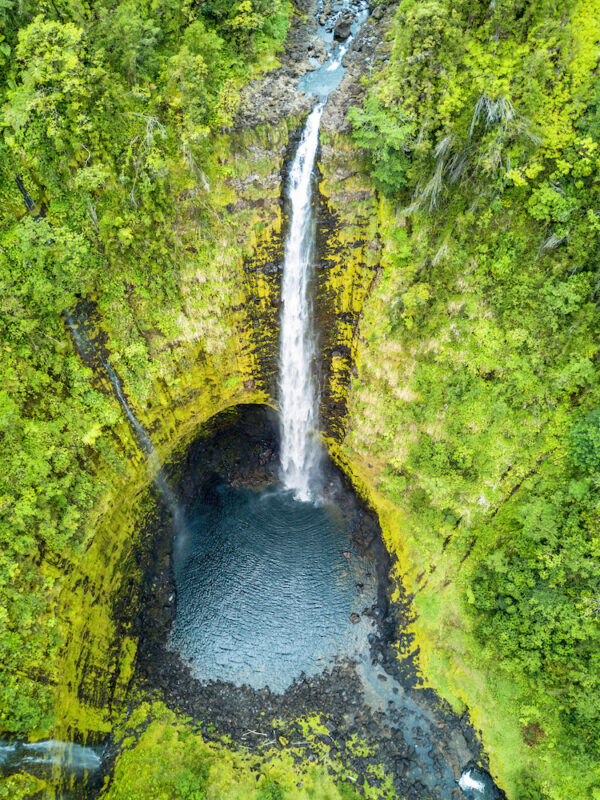 At Akaka Falls you'll follow a paved path walking through lush vegetation until you get to the towering 400+ foot high waterfall. The walk itself isn't long, but can get very crowded. The waterfall is thunderous, especially after a big rain!
If you still have time and energy, make a quick stop at Rainbow Falls as you head back south. It's just a few seconds' walk from the parking lot to the main viewing area, or you can head up the trail on the left side to catch a different view.
A word to the wise… you'll only see the rainbows after which the falls are nicknamed if you visit early in the morning when the sun is still fairly low and behind your back as you look at the falls.

If that's important to you, I recommend staying at this inn or elsewhere in Hilo to make a quick stop first thing the next morning. That'll also give you an opportunity to swing by the Hilo Farmer's Market if it will be Wednesday or Saturday (it opens at 6am).

If you're ok seeing Rainbow Falls sans rainbows, after dinner proceed on to your accommodation in Volcano Village to give you a jump on tomorrow's activities.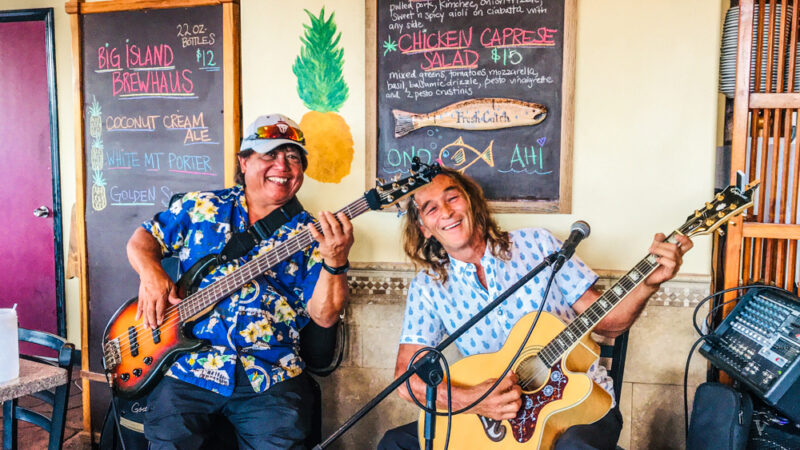 Grab dinner in Hilo town make sure to top it off with a healthy serving of shave ice! I recommend eating at Pineapples. While it's not cheap, the food is very good and they often have live music.
Overnight in Hilo or Volcano
Day 2 – Hawaii Volcanoes National Park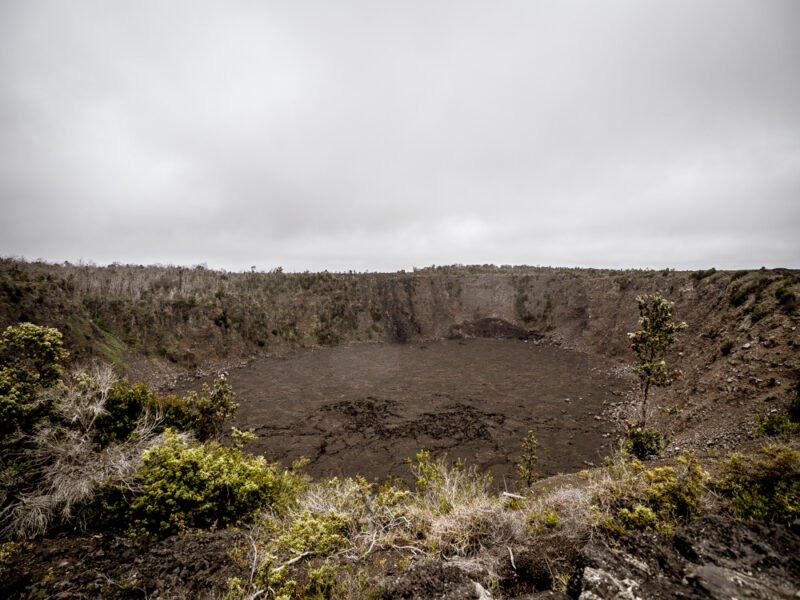 You'll spend a very full day today exploring Hawaii Volcanoes National Park – it's the most unique aspect of your 5 day Big Island itinerary. We spent two days exploring Volcanoes National Park, but I'll just give you the most impressive parts since I know you're trying to cram in the best things to do with just a 5 day trip to Hawaii!
How much does Hawaii Volcanoes National Park cost? Admission is $30 per car and valid for a full week – so if you don't see everything you want to, you can always head back first thing in the morning on day 3. The best way to save on admission to Volcanoes National Park and all of America's other gems is by purchasing an America The Beautiful National Parks annual pass. We've had it three years in a row and always get our money's worth.
Where can you see lava in Hawaii? When we last visited in June 2019, there was no active flow. At the very end of 2020, Kilauea began erupting again. You can find the current status here.

It's really important to check conditions before you plan your time. At various points over the last three years there have been closures of Thurston Lava Tube, Hōlei Sea Arch and more.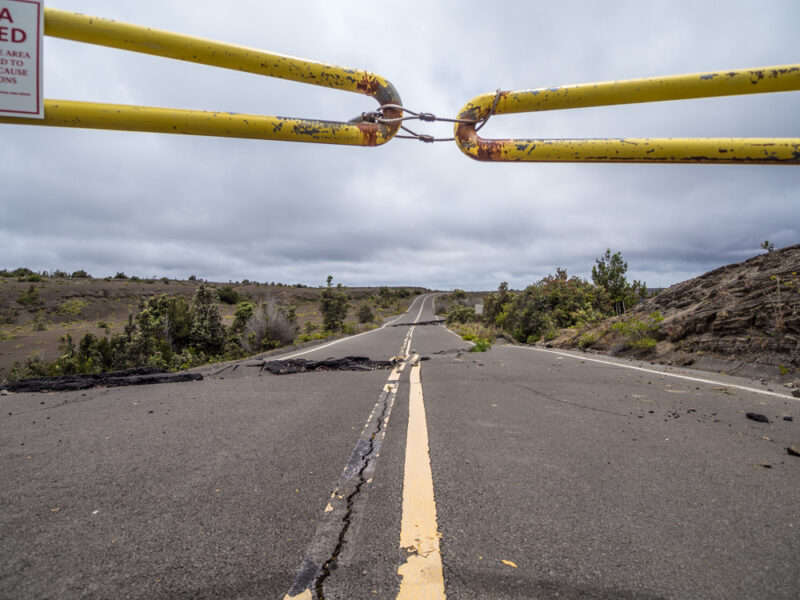 The National Park is open 24 hours per day. In theory, if you're a really early riser and/or not adjusted to the new time zone, you can get in there when the sun comes up (or before) to start exploring.
If you're not quite that ambitious, try to start your day around 9am when the Kīlauea Visitor Center opens. Catch the movie to give you some background about the geology of the National Park and its history. At 9:30 every morning, a park ranger gives an introductory welcome talk out front to get your oriented to the park, talk about the latest round of eruptions, review current conditions in the park and make suggestions for your itinerary if you want.
While you're there at the Visitor Center, pick up a Junior Ranger book! These are extremely informative for adults and kids alike, and they're completely free. You can get a sneak peek of the book here (and see the badge requirements, if you think it's something that might be a good fit for your family).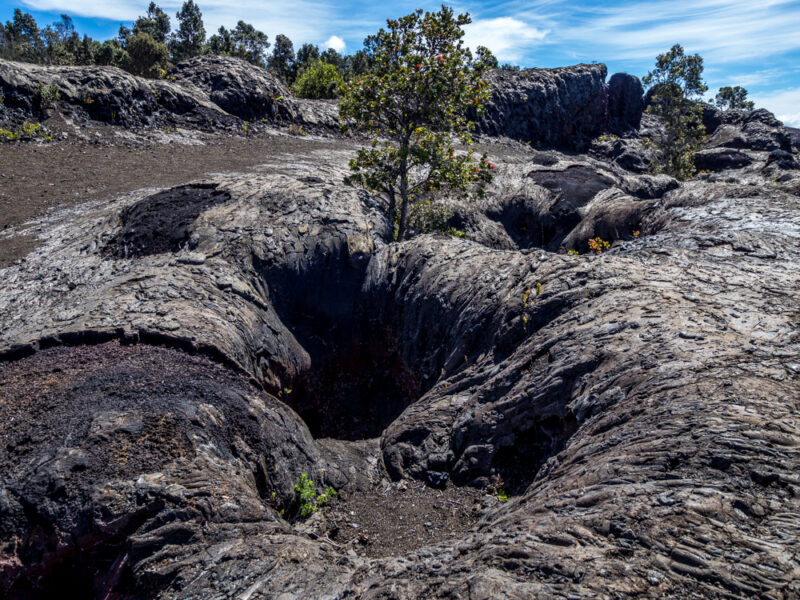 Once you finish at the Visitors Center, I recommend heading to Chain of Craters Road. One of our favorite things to do in Volcanoes National Park was the Cinder Cone Trail hike. It's a total of 2.5 miles roundtrip, but can take longer than you'd expect because you're walking over uneven lava fields for much of that time!
Pick up the extremely informative guide book at the beginning of the hike ($2 cash on the honor system) and follow the loop through the lava field (as best you can) to learn so much about different types of lava and how these bizarre structures were formed. This loop at the beginning is absolutely fascinating and very manageable for nearly all visitors (though it is not flat or paved).
The second portion of the hike goes along a hard-packed trail, with solidified lava in some places, and eventually to a massive lava field and a dormant cinder cone. If you're short on time, energy, water or snacks I won't snitch on you for turning back at the bottom of the cinder cone; in all honesty, it was the least interesting part of the hike (though the view from the top is pretty great). But the lava field sure is fun!
If the Hōlei Sea Arch was open, I'd send you down there next – it was my second favorite activity in Hawaii Volcanoes National Park. But it isn't, so I won't.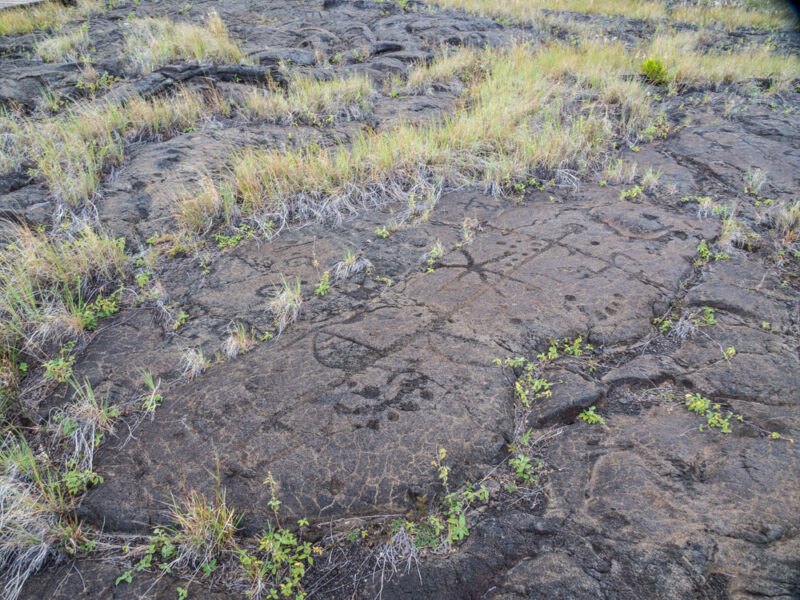 For those who haven't gotten their fill of walking over lava fields or with a keen interest in Hawaiian culture, you can take the flat 1.5 mile roundtrip Petroglyphs Trail. There are some interesting ones there, and if you don't plan to visit the ones in Waikoloa Village it's worth visiting these. The actual walk around the petroglyphs is on a boardwalk (to protect them from human hands!) but much of the walk is over lava fields.
Since the sea arch is closed, at this point I'd head back to the main area of the National Park near the visitors center to explore some of the calderas. In case you missed my note above, you won't see any glow. All the same, it's impressive to see just how large these volcanic pits are! Kīlauea Iki Overlook and Keanakāko'i Crater are both interesting stops, with Keanakāko'i Crater requiring a flat 0.8 mile walk once you park the car.
The good news is that the Thurston Lava Tube reopened in late February 2020 now that it's been deemed safe. To access it, head to stop 4 on Crater Rim Drive. Parking is very limited, but if you go around 4pm (or later) you should be able to find a spot. Lights are on in the tube from 8am to 8pm, but make sure your cell phone battery is charged in case you need to use it for extra light.
If you're very industrious, you might consider tackling the Kīlauea Iki Trail – it takes you down into the caldera and across it to see one of the steam vents in this former lava lake. I've done this hike, and the beginning descent and final ascent are tough. The whole hike takes several hours and you'll feel hot no matter what time of year it is!
Whew, that was a busy day. Treat yourself to dinner at Thai Thai in Volcano and then get some rest!
Overnight in Volcano
Day 3 – Punalu'u Black Sand Beach, Hawaii And Snorkeling On The Kona Coast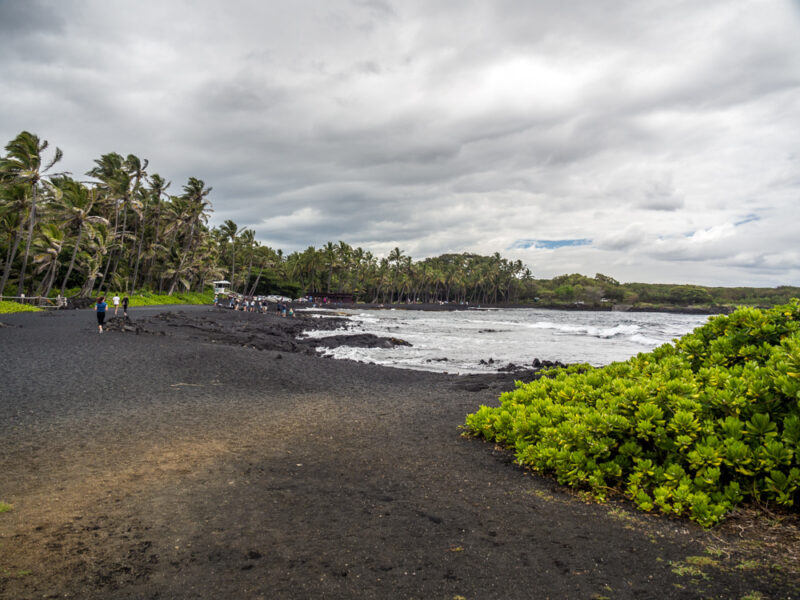 Pack up your stuff and hit the road! Now it's to to explore one of the most unique places on the Big Island of Hawaii – Punalu'u black sand beach.
This beach is on the southern end of the Big Island and there are a few things that make it very unique. First off, the black "sand" is actual very fine lava pieces. Second, it's one of the best place to see turtles on the Big Island.
On the day we visited, there were several loggerhead turtles relaxing on the shore and several more swimming in the shallow waters. Keep your distance, as per Hawaiian law and common sense.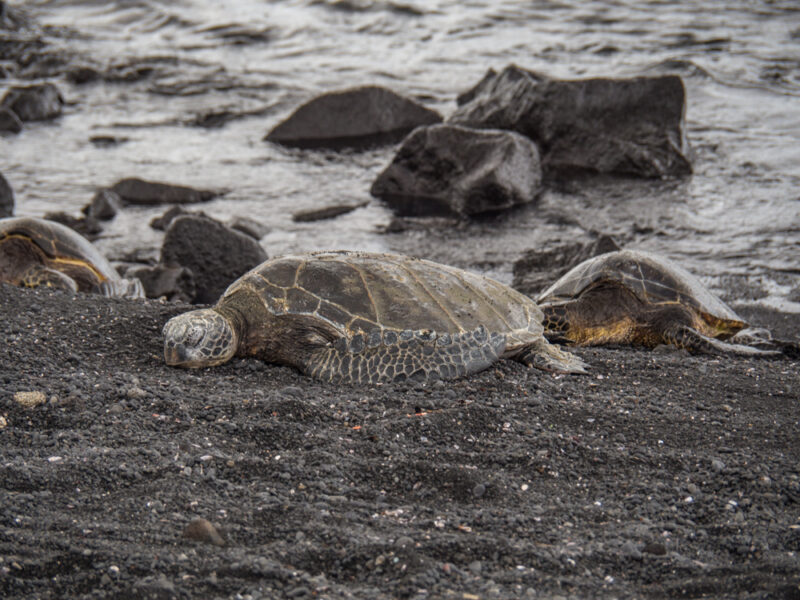 Though it's not always the case, we were lucky to encounter calm waters that were pretty good for snorkeling. The water is more turbid than you'll find in areas like Waikoloa, but you can probably spot some turtles when you're down there.
I recommend bringing a camera for snorkeling – it's fun to look back on since it's such a unique experience! We use this budget action camera (full review here) but if you only want the underwater feature I recommend this one.

Even more important? Make sure you're using reef-safe sunscreen to help protect the fragile coral reef ecosystem!
When you've had your fill of the beach and brushed the tiny bits of lava out from all the places head 15 minutes down the road to Punalu'u Bake Shop for lunch. They offer traditional Hawaiian plate lunches, sandwiches, salads, and of course their famous sweet breads of all flavors.
After lunch, hop in the car for a long drive, but with some interesting scenery. You'll be driving along the western coast of the Big Island to the snorkeling hot spots just south of Kona.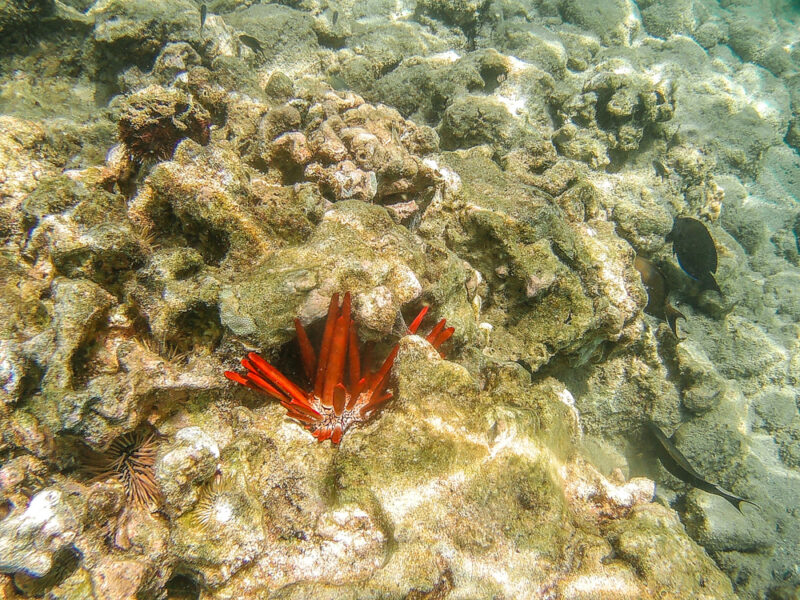 There are a few choices for which snorkeling beach on the Big Island you should visit on this day. They each have their pros and cons, but the similarity is that the aquatic life is making its home among the cooled lava that tumbled (or exploded) into the sea. Those lava rocks can be slipper and/or jagged – during our most recent trip to the Big Island both of us adults got sliced by lava while snorkeling. So watch out!
The best places to snorkel on the Big Island on this day are:
Kahalu'u Beach Park – Easiest access since you can just walk right in, but be mindful of the slippery lava rocks
Two Step – Probably the best snorkeling on the island, but entry can be tough for those who aren't sure on their feet (including little kids).
Kealakekua Bay (Captain Cook) – Take a boat tour to get to the good snorkeling, this highly rated one departs at 2pm. You may even see spinner dolphins!
If you're done with your snorkeling by 5pm, head to Da Poke Shack – my favorite place to eat on the Big Island! The food is incredibly fresh and the poke melts in your mouth.
Continue north to your accommodations along the Kohala Coast, either in the Waikoloa Village area or at one of the amazing beach resorts in the area. Make sure to find a great spot to watch the sunset!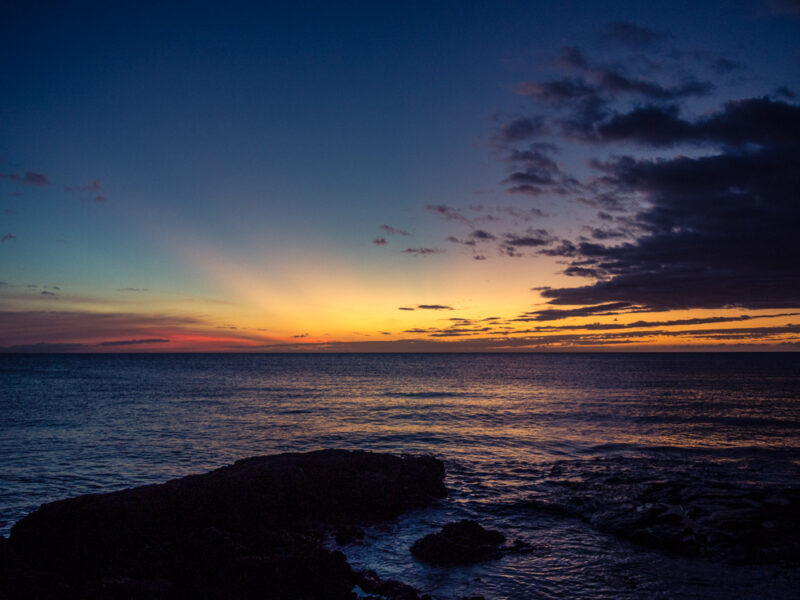 One fun option is to visit the Lava Lava Beach Club adjacent to the salt-and-pepper beach of "A-Bay". I'll be honest that the dinner experience wasn't amazing – it was a long wait followed by mediocre service at high prices. But the drinks are good, the location is awesome and they have a fun atmosphere for families. You can head to the adjacent lawn for mini golf, corn hole or even a rousing game of tag with other visiting families. And it's a pretty awesome spot for sunset too.
Overnight on Kohala Coast
Day 4 – Visiting The Mauna Kea Observatory Complex And Beach Time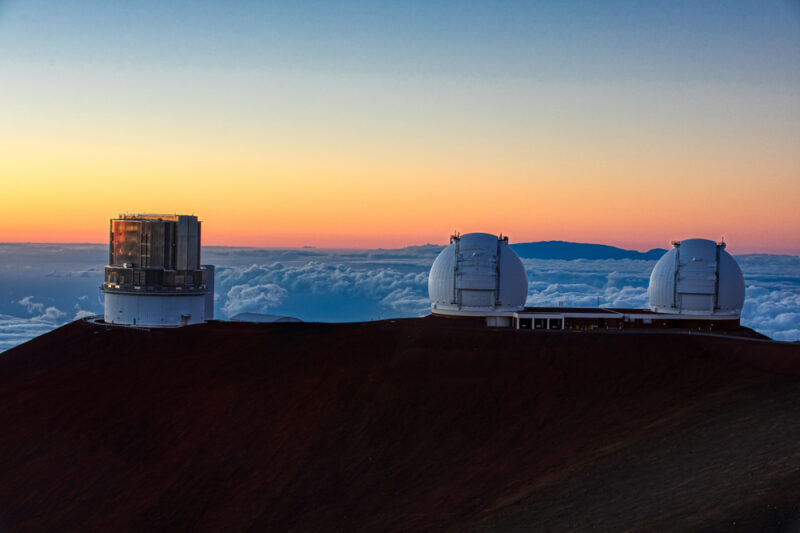 Since we want to show you all of the awesome unique things to do on the Big Island, we've gotta talk about visiting the Mauna Kea Observatory complex. I won't say if you should or shouldn't go, but I've been twice (in very different situations) and can tell you that there are many things to consider before you decided to go or how you're going to do it.
Here are some important things to know about visiting the observatories at Mauna Kea:
The observatories are not open to the public. Unless you're on an "insiders' tour" (lucky me!!!!!) you can only see the telescopes from the outside. The view from the top is still pretty cool.
Anyone can go to the MK-VIS (Visitor Information Services) from 9am to 6pm daily. They have rangers, a movie, informational displays, daytime programs and a solar telescope. You can also head up there on your own in the evening for stargazing but it will be very cold.
The VIS is at 9000 ft elevation. The summit, where the telescopes are located, is almost 14000 ft. Even if you plan to go to the summit, you need to stop at the VIS for a while to let your body adjust.
It is not recommended that pregnant women or children visit the summit.
The road to the summit is unpaved and steep. You need a 4WD and most rental car companies won't allow you to take their cars up. The exception is Harper Car & Truck Rental.
Hope I didn't scare you off! As I mentioned above, I've been twice. The first time I was with an official geology field trip that took us inside the Keck Observatory (which was truly amazing). The second time I was with a friend and we just… decided to drive to the top. We were young and invincible and didn't heed the warnings to acclimate at the VIS. Needless to say, it was an unpleasant experience. I felt way too ill to enjoy myself!
Even without going all the way to the summit, it's neat to head up to the VIS. You'll understand why Mauna Kea is such a fantastic place for the observatories and about some of the cutting-edge science going on. And the views are incredible too! Just put "Mauna Kea Access Road" in your GPS and you'll be there in a little over an hour from Waikoloa. You might want to stop at Island Gourmet Markets in the Queens Shops to pick up a picnic lunch on your way there.
If you want to go to the summit but don't want to drive the road yourself, one of these group tours will take you there.
Once you return to sea level, it's time to decompress and start exploring the beautiful beaches of the Kohala Coast. Remember that all of the beaches are public, it's just a matter of finding parking that's close enough for easy access! Here are a few to consider: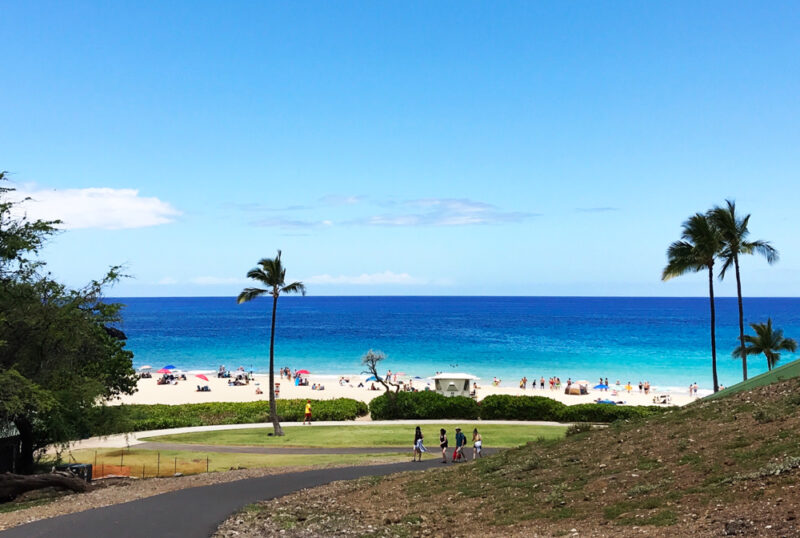 Best Beaches On The Kohala Coast
Hapuna Beach – One of the best beaches in America, with gorgeous soft white sand, plenty of parking and public facilities… and tons of people. No shade on the beach, only at the picnic pavilions above.
Beach 69 – Great snorkeling, plenty of shade, not as busy as Hapuna Beach. Sand isn't as nice year-round.
Mauna Kea Beach – Not generally crowded because it's only hotel guests and those who park in the small public lot. If you aren't staying there, tell the guard and the entrance kiosk that you want to go to the beach. Bring your own shade if you aren't staying at the resort. Nice, easy snorkeling on the south end of the bay; even better but a little rougher as you go further out.
Mauna Lani Beach – There are two areas of beach at the newly-reopened Mauna Lani: the one closest to the hotel and a tiny one further south by the condos. The tiny one is where I learned to snorkel 15 years ago! It's extremely shallow and calm, and the minute you walk in it's like you're floating in a saltwater aquarium of tropical fish. It's a small area so it can be very crowded with people staying in the condos, but it's a great place for little kids and first-time snorkelers.
Head 5-10 minutes further north to Kohala Burger & Taco for dinner (these days they close at 5:30pm). They have excellent burgers, fish tacos and fries at reasonable prices.
After dinner, hop right next door to Anuenue Ice Cream & Shave Ice. Normally I'd say "you're in Hawaii, get the shave ice!" But in this case, the ice cream gets my vote. Their Kona mud pie and caramel mac nut are amazing!!! Don't just take my word for it, go taste for yourself.
Head over to the Mauna Kea Hotel after your early dinner to watch the sunset and wait for the next show… manta rays! There are two ways to see the manta rays that like to congregate in the bay in front of the Mauna Kea Hotel. If you're done being in the water for the day, throw on a sweatshirt and walk over to "Manta Ray Point" where the hotel shines a floodlight in the water to attract these massive, graceful creatures.
If you're feeling more adventurous and don't mind being wet at night, you can schedule either snorkeling with the manta rays! The boat guides will bring flood lights with them to attract the rays and make it easier for guests to see them. This particular operator takes you out in a traditional double-hull canoe and you can safely hold on to the lines between the hulls while you float and watch rays swim beneath you.
Overnight on Kohala Coast
Day 5 – Culture, Beach Time & Snorkeling On The Big Island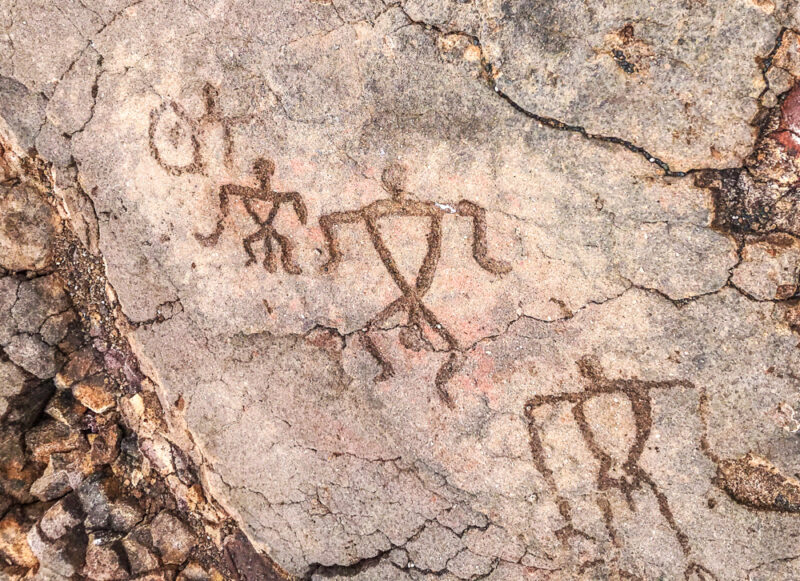 For the final day of your Hawaii itinerary of 5 days, try to get at least a little bit of culture. If you're staying in Waikoloa Village and don't want to go far, you can take a great little walk through Waikoloa Petroglyph Preserve just behind… the gas station. Scenic location, eh? But it's a neat little spot and there's very good signage to provide information about what you're seeing.
If you're willing to venture a little further, there are three National Parks on this side of the island (plus Hawaii Volcanoes, which you've already visited). Consider checking out one of these:
Hawaii Big Island National Parks:
Hawaii Volcanoes National Park
Pu'uhonua O Honaunau National Historic Park – Ancient "place of refuge" for Hawaiians who broke their community's laws and fled. You'll see archeological dig sites, impressive carved statues, a royal fish pond and a recreated temple. It's very close to the Two Step and Captain Cook snorkeling spots.
Kaloko-Honokohau National Historic Park – Preserves an ancient settlement, with the platforms of several buildings remaining. On weekends there are cultural programs in the morning. In between the Kona airport and Kona town.
Pu'ukohala Heiau National Historic Park – Great opportunity to see an ancient Hawaiian temple built for royalty. In the winter, park rangers run a humpback whale watching program ever Friday from 9am to noon. Just north of Mauna Kea.
Grab some lunch then enjoy some r&r in the afternoon at the beach of your choice! Try a different snorkeling beach in the Kona area or another pristine white sand beach in the Kohala area. But you've adventured hard on this vacation, so it's time to take a much-deserved break.
Head back to your hotel and clean up, and maybe put on something a little nice, because you're closing out your Big Island vacation itinerary with a bang. The Legends of Hawaii luau at Hilton Waikoloa Village is truly a fantastic night. We've been to numerous luau and this was one of our favorites – as we left, our son declared it the best night of his life!
The food was really excellent, the entertainment was top-notch and (unlike so many hotel luaus) the organization was great. Our kids loved that they were all invited to sit on pillows right in front of the stage to have an amazing view – it's a great way to keep the kids engaged through a long show. I've heard that it's the best Big Island luau and I believe it!
Overnight on Kohala Coast
Day 6 – Depart From Kona Airport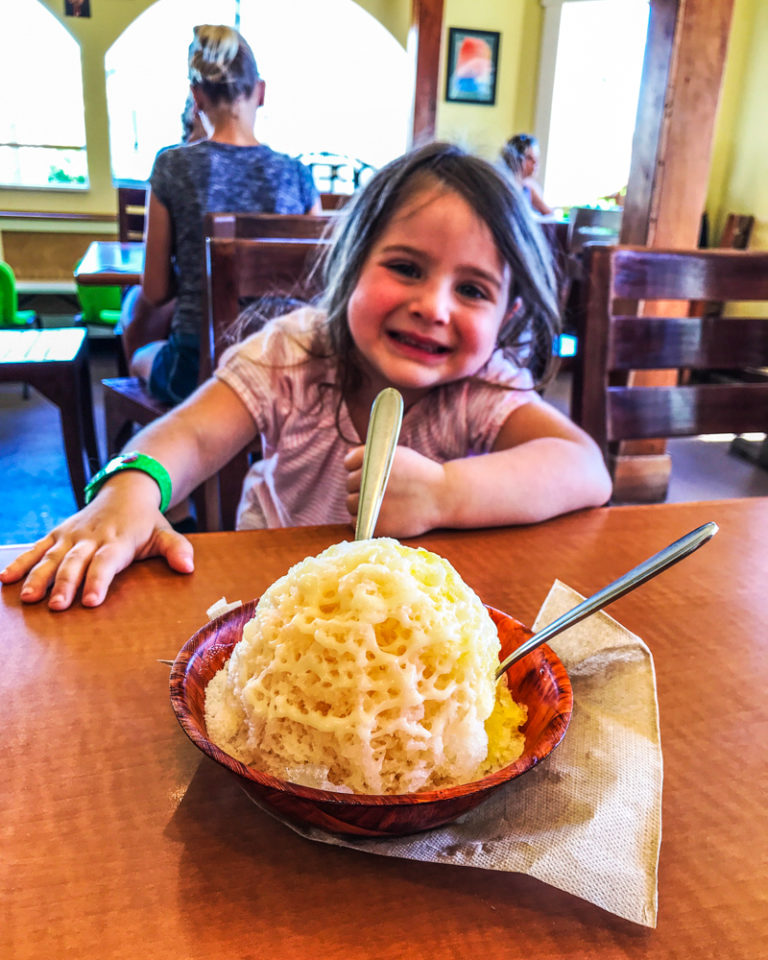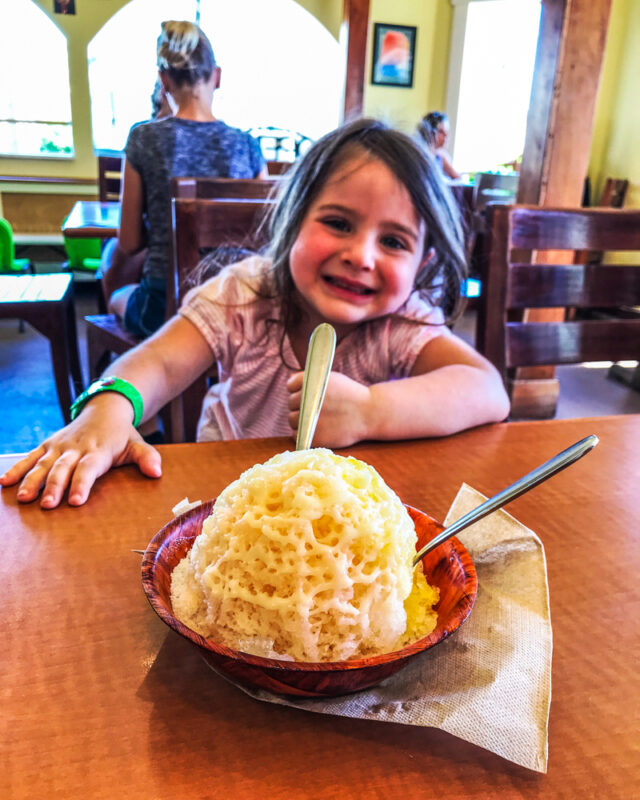 Whew! You made it through a busy 5 days on the Big Island. Hopefully you feel at least a little rested. Once you've packed your bags, it's time to head down to Kona for your flight.
But give yourself a little extra time for one last taste of island life. If you need a great meal, stop at Umekes Fish Market Bar & Grill. They have a variety of poke and cooked fish options to fill every belly. From Umekes it's a quick 15 minute drive to the Kona airport and you'll be on your way – or double your fun by sneaking in one last shave ice at One Aloha Shave Ice Co. Shhhhhhh… we won't tell.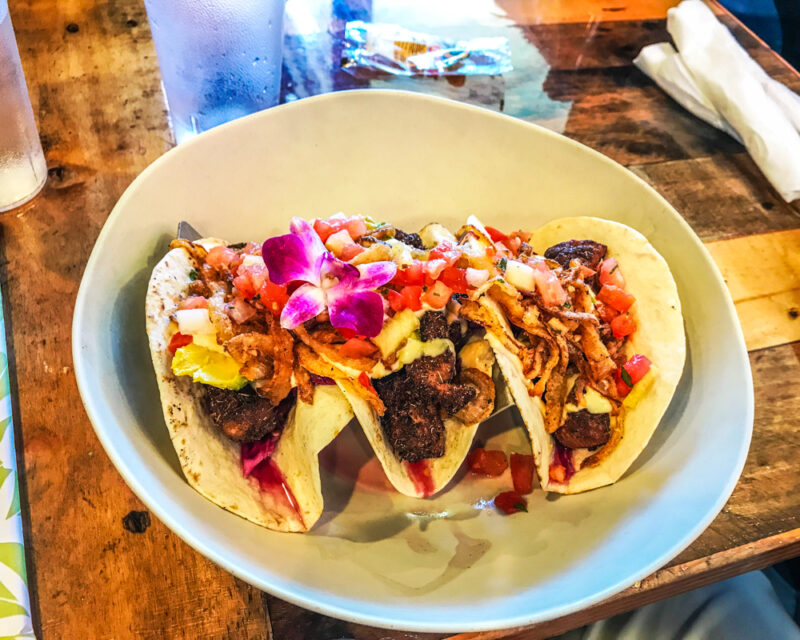 ---
I hope this guide has give you a flavor for the many amazing adventures that await you on the Big Island of Hawaii! You may not be able to squeeze everything in, but that'll just be more reason to plan another visit. Aloha!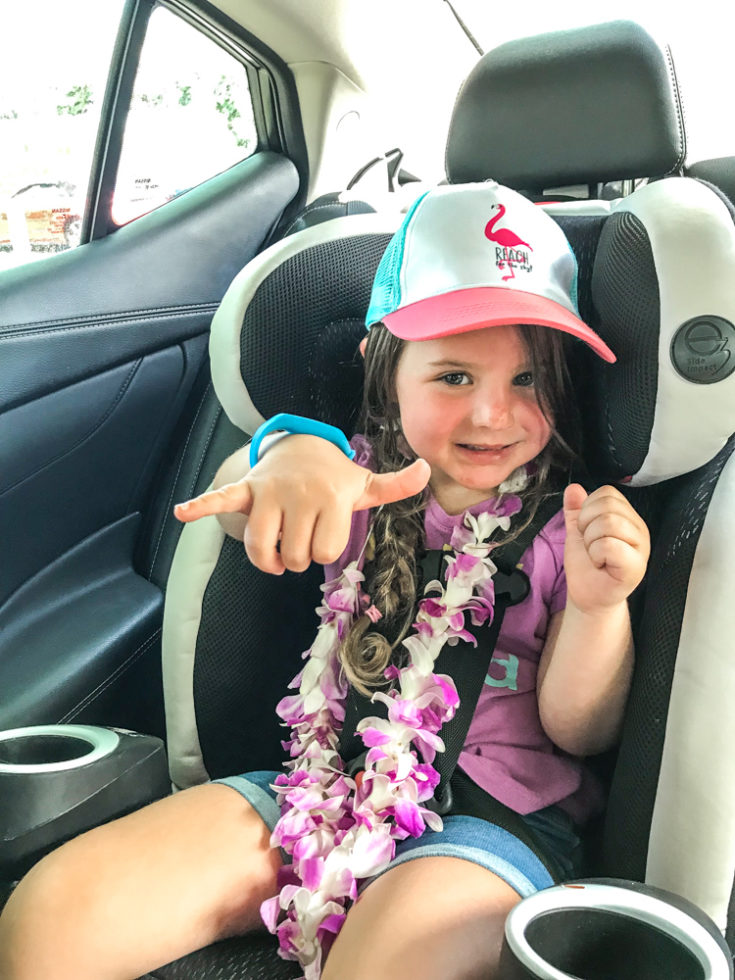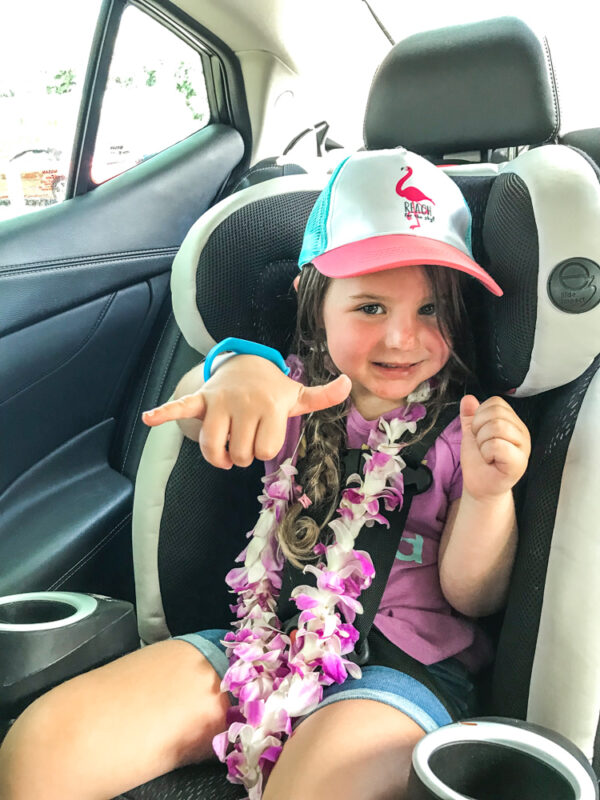 Plan your Big Island vacation
Need more planning help for your Big Island 5 day itinerary? This is the best Big Island guide book money can buy! We love it. Be sure to pick up a copy and bring it with you on your trip.
Don't miss these articles about visiting Hawaii:
See all of our Hawaii travel planning resources in one place

Travel planning resources:
Compare rental car prices for Hawaii
Buy a top-rated travel insurance policy
5 simple money-saving hacks for booking.com

General Hawaii resources:
How to visit Hawaii on a budget
Renting a car in Hawaii: 10 things you NEED to know
What to pack for Hawaii
Is a cheap GoPro knock-off worth it?

Hawaii with kids:
What's the best Hawaiian island for families?
Is it worth visiting Hawaii with a baby?
Ultimate packing list for Hawaii with kids
Top 10 things to do with kids on Oahu
The best snorkel gear for kids of all ages

Oahu resources:
Best Oahu travel guide book
Perfect 7 day Oahu itinerary
Where to stay on Oahu
Family-friendly Oahu vacation rentals
Cheap Places To Stay On Oahu
10 Fun Things to do on Oahu for $10 or less
Getting the most bang for your buck on your Go Oahu discount card
Insider tips for visiting the Polynesian Cultural Center
The best beaches on Oahu (and why to visit them)
Where to find the best shave ice on Oahu
The best easy hikes on Oahu
North Shore Oahu complete visitors guide
Kayaking to the Mokes with Twogood Kayaks
Family-friendly kayaking with Holokai Adventures
Visiting Pearl Harbor

Maui resources:
Best Maui travel guide book
Perfect 3 day Maui itinerary
Cheap Places To Stay On Maui

Big Island resources:
Best Big Island travel guide book
Perfect 5 day Big Island itinerary
Cheap Places To Stay On the Big Island

Kauai resources:
Best Kauai travel guide book
Perfect 3 day Kauai itinerary
Cheap Places To Stay On Kauai
Still planning? Pin it for later!