Creating an Alaska packing list can truly be a daunting experience: you want to make sure you have the right clothes for Alaska adventures without bringing your entire closet with you! At the same time, there are plenty of other Alaska travel essentials that can really help you along the way (including our most heavily-used item).
To help you narrow down your Alaska summer packing list to include just the things you really need, I've compiled this article from our recent travel to Alaska in June. I wrote everything in a spreadsheet as I packed our bags and later crossed off the items we didn't use so you're getting the most distilled version of our Alaska must-haves. In this Alaska summer packing list I'll also show you examples of how we used specific clothing and gear to help you plan out your own needs.
Psssst… this is an Alaska family packing list so it covers everyone's gear needs! It'll work as both an Alaska packing list for adults and an Alaska packing list for kids.
Don't have time to read a bunch of reviews and blog posts? Here are our top picks for visiting Alaska:
Alaska Guide
Need a quick day-by-day, open-and-go itinerary for Alaska? Get my guide and let me do the work for you!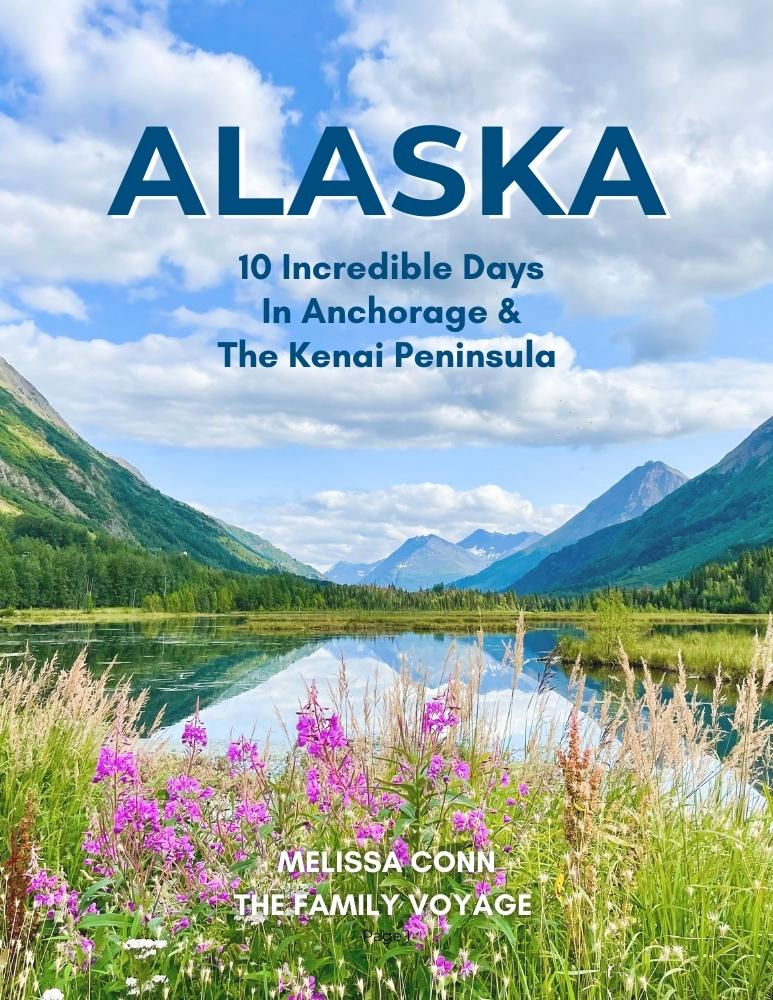 Our favorite hotels in Alaska
Getting around Alaska
Our favorite activities and tours in Alaska
Be sure to buy travel insurance to protect yourself and your vacation expenses! Compare the top companies here to find the right plan for you.
Book a photoshoot
We always love to book a photoshoot when we're traveling. As a mom, it's tough to get in the photos since I'm always behind the camera. We use Flytographer to capture our memories. You can get $25 off your shoot by booking with this link or using code FAMILYVOYAGE.
Alaska packing tips
Bring clothing that you don't mind getting dirty. Between hiking, dog sledding, fishing, kayaking and all of your other Alaska outdoor adventures the last thing you want to worry about is staying clean. It's just not going to happen and you'll enjoy yourself more if you don't have to stress about it.
By the same token, bring clothing that's easy to wash and dry. Ideally you'll stay in at least one place that has laundry facilities or build in a laundromat visit for the middle of your trip. Unless you love spending a lot of time standing over a sink and you'll be staying in one place long enough for your clothing to hang dry, pack easy-care clothes for Alaska. Consider your laundry situation when you're booking your Alaska accommodations.
Think layers. The weather in Alaska is unpredictable and ever-changing, so you may wear everything from short sleeves to a puffer and rain jacket all in the same day.
You won't need anything formal or fancy (unless you're traveling on business). Even the nicest restaurants we visited were full of jeans and fleeces. Go for comfortable options that won't impede your activities from dawn to dusk.
Read more: The Perfect 10 Day Alaska Itinerary
What to Wear in Alaska: Clothes for Alaska in summer
What shoes to wear in Alaska
No matter what time of year you visit, you'll want some sort of comfortable, walkable waterproof shoes. Exactly which ones will depend on what you plan to do.
We opted for low-top waterproof hiking shoes, sometimes with Superfeet insoles thrown in for extra support. They were totally adequate for nearly 10 miles per day of hiking on easy to moderate trails. If you're planning on longer or more technical hikes, you might prefer more traditional waterproof hiking boots. Whichever way you go, be sure to break them in before your trip! Pro tip: Most of the dust you'll encounter in Alaska is very dark gray. Plan accordingly!
Our kids aren't always great about puddle avoidance, so we deliberately brought taller waterproof hiking boots for them. One kid had this pair with toggle laces and the other had this Velcro pair, and they both loved them! They're great waterproof hiking boots for kids and the price is just right for a family that may not need such serious footwear all the time. That said, I'm confident my kids will wear them again for local fall and winter hiking because they rated them as extremely comfortable.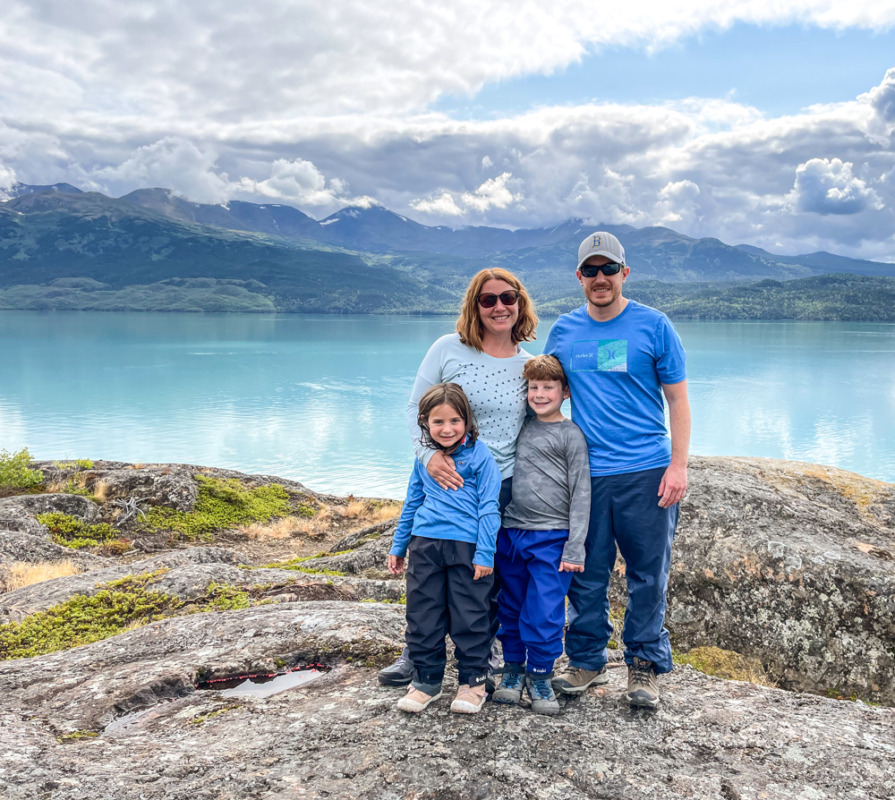 If you don't plan on such long hikes but you'll be doing a lot of fishing or other water activities, check out Xtratuf boots. They're kind of the official footwear of Alaska and you'll see them all over. Many Alaskans consider them the best shoes to wear in Alaska!
Another popular option, especially for kids, are BOGS insulated rain boots. These minimize complaints by keeping kids' feet warm and dry. If you're trying to plan what to wear in Alaska in September, when the weather is cooler and rainier, these might be one of your best options.
You may also want to bring a pair of casual sneakers to wear in the evenings. We didn't get a ton of use out of them but it was nice variety for our feet at the end of long trail days. We did spray them (along with our hiking boots) in advance for aesthetics and waterproofing. Our kids basically didn't wear their sneakers at all and we could have saved a little space by leaving them at home.
Read more: Alaska with kids: things to do and must-read tips
Alaska clothes in June: Best pants for summer
I'm not going to tell you not to bring shorts to Alaska, but I'll tell you why we stuck with pants. If you're deciding what to pack for Alaska in June or July, know that the temperatures may get up into the 80s during the warmest part of the day, but that mosquitos may devour your bare skin during those months. By the time we were packing for Alaska in August, the mosquitos had largely disappeared but temperatures were cool enough that we could wear lightweight pants without overheating.
What pants should you put on your Alaska summer packing list? In the interest of science, I brought a few different varieties with me. As I anticipated, I was happiest with my beloved Prana Halle hiking pants. They're so great that I'm on my second pair. They make a version of the best hiking pants for men as well, Prana Zion hiking pants.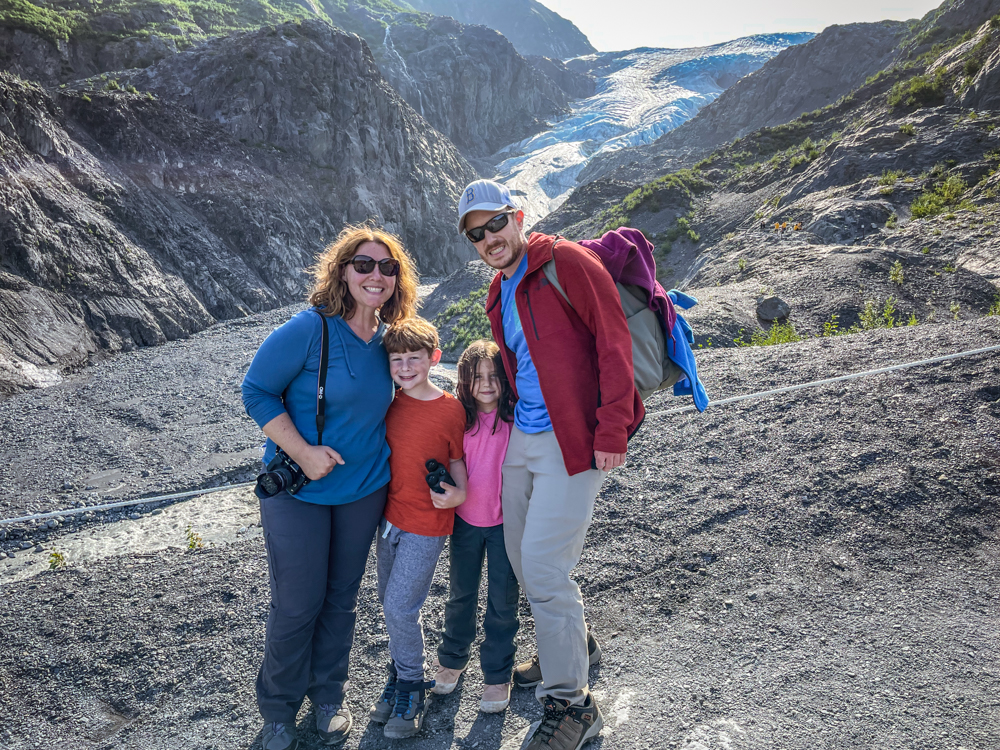 I find jeans to be too heavy for comfort out on the trail but if you have room for a pair to wear to dinner a few times, they make a nice change of pace. There were a few times in Alaska that I was over the moon to see them!
I also brought a pair of leggings with me and wore them a few times. I don't recommend black leggings when you're out on a buggy hiking trail, as mosquitos prefer dark colors and can easily bite through leggings (as I learned in Port Douglas). They were nice to wear under my rain pants (more on those below) for our Kenai Fjords cruise and in places where I was sure there wouldn't be mosquitos.
What to wear in Alaska in June: Shirts
You'll want to bring a mix of short sleeve and long sleeve shirts for your summer trip to Alaska. Ideally you'll even have a few that you can layer together so adjust for changing temperature throughout the day.
We found athletic wicking shirts to be the most comfortable option for hiking on warm days. They also travel well, wash easily and don't have to be expensive. I'm partial to these affordable ones and they come in a nice variety of colors. Pro tip: A simple white athletic shirt like this one (not shiny, no logo) travels and washes extremely well and make a versatile addition to your travel capsule wardrobe.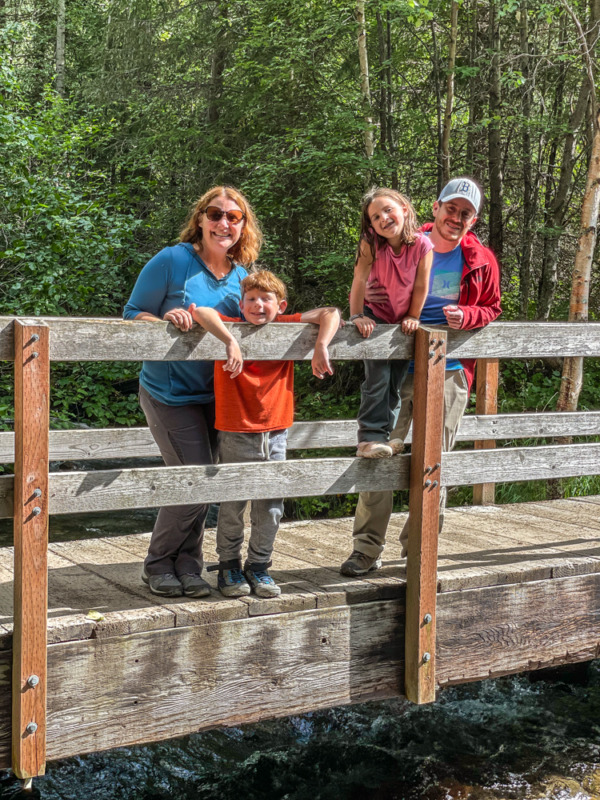 I did buy one new shirt for our Alaska summer trip and it was a great pick! I snagged a long-sleeve ExOfficio "bugs away" shirt (pictured above) on sale and it served me well. ExOfficio treats their clothing with mosquito-repelling permethrin that's good for 70+ washes. The long sleeves provide both sun and bug protection, but the breathable mesh was never too hot. This particular style was awesome because it also had practical details like thumb holes, a kangaroo pocket and a secret zipper pocket.
I snuck in one of my favorite sweatshirts too. I could have lived without it and worn my fleece more, but it was nice to have for some variety.
Socks for Alaska
You need to protect your feet when you're exploring Alaska and planning for hours of exploring at a time. The best way to do that? Wool socks!
Wool socks will keep your feet dry and stink-free, plus you can usually wear them a few times between washings. I like to wear medium-thickness crew height wool socks for hiking and thin no-show wool socks with casual sneakers.
Based on a few recommendations we read, we also brought waterproof socks. These are meant to go over your regular socks, as they're neoprene inside. They do feel a little funny, kind of like very fitted snorkel booties! They might be helpful if you'll be fishing in regular rain boots (which are generally provided by your fishing guide) rather than hip boots or waders. They were beneficial for our family members who judge water depth poorly and in general provided everyone with extra warmth, but I'm on the fence about whether or not they were really necessary. If you plan to do a bunch of fishing in rain boots they're probably worth bringing.
Best jacket for Alaska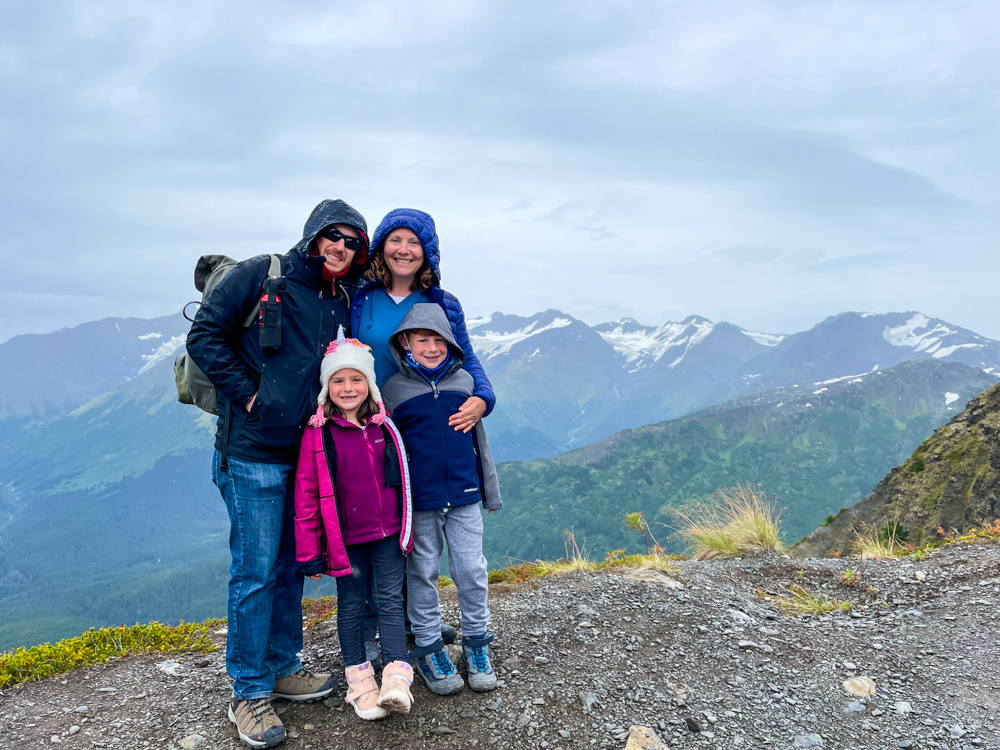 I recommend bringing at least two jackets for Alaska, but I won't fault you for sneaking in another. The key is choosing options that you can layer together for varied conditions. I brought three jackets to Alaska and they all got equal use. There's a very good chance you'll be wearing a jacket for at least part of every day of your Alaska trip, so be sure you have ones that are comfortable and that you like.
Rain jacket for Alaska
A breathable rain jacket should be high on your Alaska packing list for summer. You never know when a shower will begin, and it'll also keep you dry during activities like fishing and kayaking. When layered with one or both of the jackets below, it'll also keep you comfortable on the coldest of Alaska summer days. You may want to size up a little if buying a new one so that you can fit a warmer jacket or sweatshirt underneath.
Fleece
Fleece is the default jacket for an Alaska trip. It's water-resistant and will keep you warm even if it gets a little wet. Ideally your fleece will layer well under your rain jacket and over a long-sleeve shirt to keep you toasty and dry if you encounter bad weather. You definitely want a thicker high-quality fleece rather than a thin one from a big box store. Some nicer looking fleeces will do the trick both on the trail and out to dinner (at least in Alaska, where everything is extremely casual). Fleece is also easy to wash and dry. It's a winner!
Packable puffer jacket
I wasn't sure about bringing my packable puffer jacket to Alaska but it really came in handy! The rest of the family didn't bring them and they survived just fine, but I liked wearing it especially for evening walks and chillier days. I brought a hip-length jacket so it kept my legs warmer too!
Rain pants
As I alluded to above, our whole family brought rain pants for Alaska. While we never used them in the rain they were still extremely nice to have. They were great for our bear viewing/fishing and kayaking trips. If the weather had been worse we also would have used them in Kenai Fjords – we brought them aboard just in case.
Why use rain pants if we didn't really have much rain? For starters, they're a great wind-proof layer and we needed that from time to time. They'll also keep your legs feeling dry when you're out in a boat (and if you're traveling with kids that means less complaining!).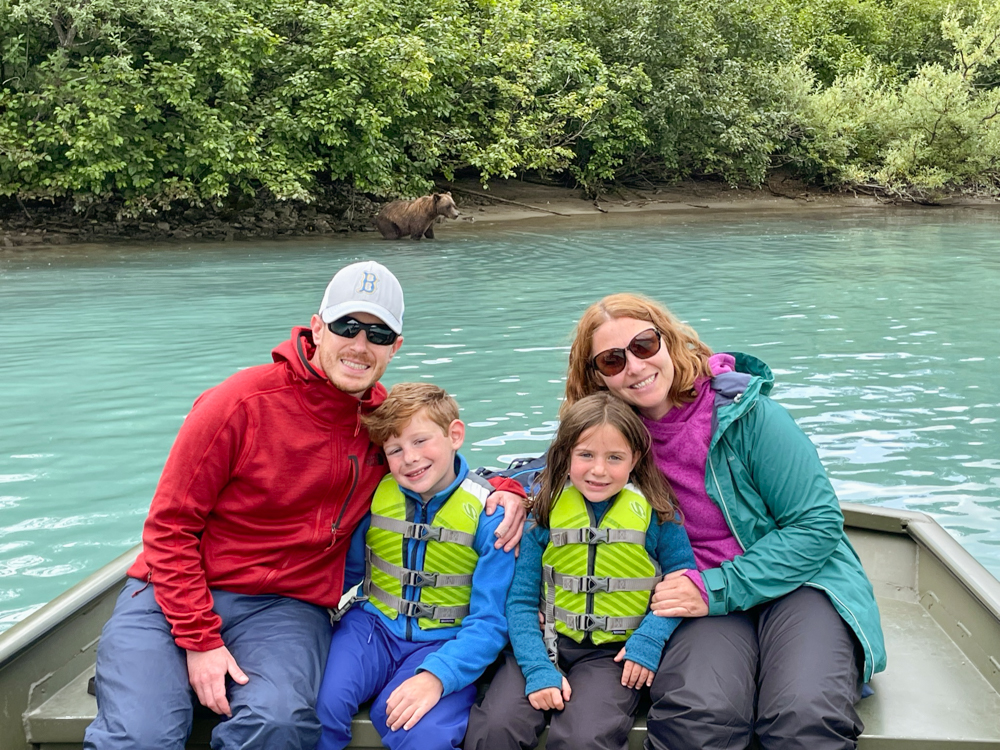 Finally, they'll keep your regular pants from getting gross so that you can re-wear them during your trip without laundering. We only did laundry once during our 10 days in Alaska in part because proper outerwear kept everything underneath clean. If the rain pants themselves are gross, they're easy to just wipe down with a damp washcloth (even with a little soap on it).
Truly, I'm a fan. I'll definitely keep them around for snow days and winter hikes! We especially like these rain pants that we got for the kids. They fit extremely well and are so reasonably priced for their quality.
What to pack for Alaska in the summer: Cold weather accessories
Most Alaska visitors will want to bring (or maybe buy) a winter hat. It'll be essential for a cruise through Kenai Fjords or Prince William Sound. The wind was too intense to rely on a hood alone, and there were even a few times when I was literally holding on to my hat!
We brought gloves with us but they weren't really an Alaska packing essential for that time of year. They might come in handy if you plan on glacier hiking or if you're packing for Alaska in September. At least we left our scarves at home, and I'd leave them off of a land-based Alaska summer packing list (though I might bring one when we eventually take an Alaska cruise).
Polarized sun glasses
You'll spend plenty of time in Alaska out on the water, near snow and covered by bright cloudy skies. Do yourself a favor and bring some decent polarized sun glasses. They'll protect your eyes from UV exposure, cut glare and generally make you more comfortable. For some activities like dog sledding they'll also provide crucial eye protection against debris.
Comfortable pajamas
If there's one thing I reliably forget when packing for a trip, it's pajamas! It's easy to overlook such a basic item when your mind is swirling with all of the really specific things you need for your trip. So this is your friendly reminder to pack those jammies – you'll want something comfy to lounge in after you shower off the day's activities. If you only plan to do laundry once, you might want to bring two sets so try to pick ones that pack down small – I like these shorts pajama sets.
Other Alaska packing list essentials
Alaska daypack
Every Alaska traveler is going to have different daypack needs, but it's worth spending a little time thinking about yours. This will probably be your most-used piece of Alaska travel gear!
If you're going to be doing highly technical all-day hikes, you'll be best off with a traditional hiking daypack. Look for something with a capacity around 20L (you might prefer closer to 30L if you have extra gear or are lugging for a little person), a slot for a water bladder, attachments for trekking poles if you anticipate using them and a nice, supportive hip belt. This one is extremely popular while this one is more budget-friendly and still excellent (I bought it, returned it and almost bought it again because I regret returning it). Both come in several fun colors.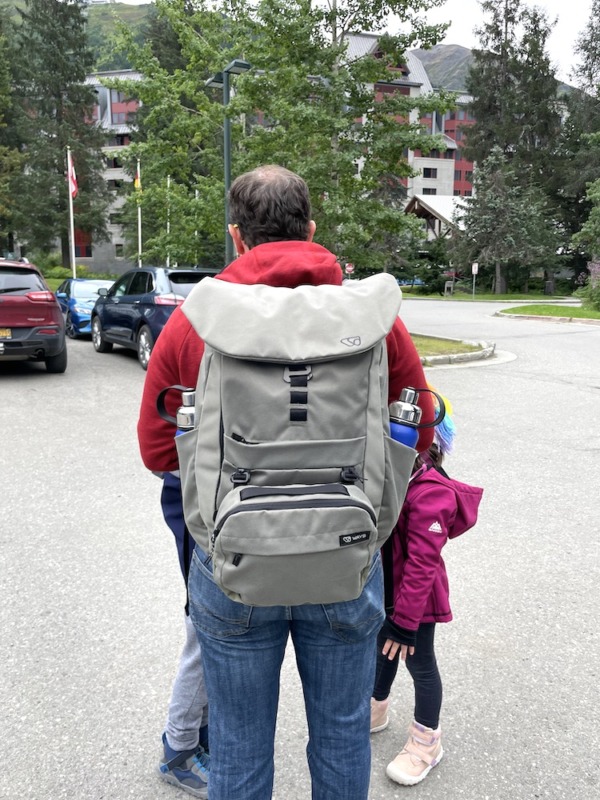 We're not quite at that point with our younger kiddo yet. But we are at the point of spending a few hours out on the trail and needing basic provisions for everyone – food, water and layers. We absolutely love love love our WAYB Ready to Roam backpack. They sent it to us to review last year and we've gotten more use out of it than we had ever imagined. We have the Catchall attached to the front of it to hold odds and ends (masks, bug spray wipes, sunscreen, hand sanitizer etc).
What fits in our Read to Roam backpack? A ton. Lunch containers for all four of us, a water bladder (which tucks perfectly in the laptop sleeve on the back), two binoculars and a spare packable jacket for each of us. There's even a loop on the front to attach holstered bear spray!
The material is durable and cleaned up well from whatever dripped on it while we were fishing. The organizational system is versatile enough that it made the perfect carry-on backpack as well, with plenty of room for my laptop, camera, binoculars, snacks and everything else that TSA required us to take out at the security check. Bonus: in addition to opening from the top, it has a full zipper on one side so that it's always convenient to access whatever you need.
Bear spray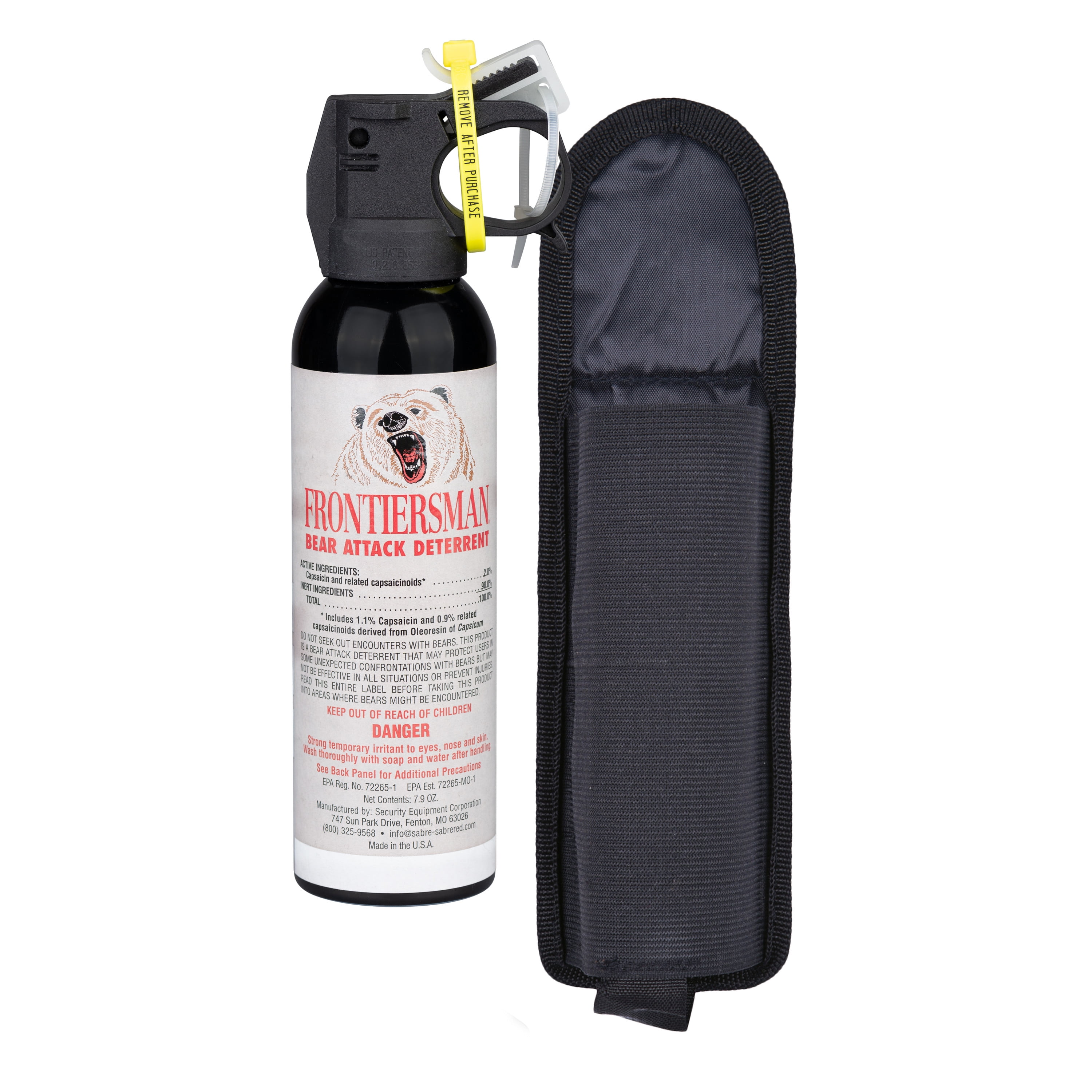 Speaking of bear spray, we might as well discuss that now. Yes, you should have it. No, you probably won't need it. Your most important first line of defense is to be bear aware. Whether it's that video or a different one, educate yourself before your trip about bear behavior and safe practices.
But if you're hiking in Alaska you're almost certain to need bear spray. You can't fly with it so you'll need to get it in Alaska. We were fortunate to bump into a departing tourist at the airport who gifted us an unused canister in a holster (which we later re-gifted). You can order it online for delivery to your hotel before you arrive so that you don't have to worry when you get there.
I do recommend a holster so that you always have it handy when you hike – no sense having it in your backpack when a bear comes charging at you! You'll see it attached to the strap of our daypack in a few photos in this article, always ready for action.
Alaska guidebook
I definitely recommend bringing an Alaska guidebook with you. If you're driving around Alaska, you can have someone in the car read up on your destinations as you go to provide context. It's also a great way to add impromptu stops if you find that you have more time than you expected.
Which Alaska guidebook should you buy? It depends on what type of trip you're planning, and I'm about to drop some heresy here so please forgive me.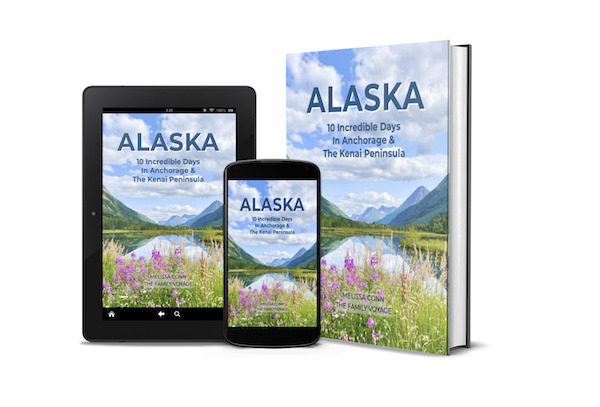 Ultimate Alaska 10 Day Itinerary: Anchorage & The Kenai Peninsula
If you're looking to plan an incredible trip to Alaska without spending endless hours pouring over guidebooks and a million blog posts, accommodation choice and tour options, I've put everything you need into one handy guidebook.
The core of this book is a 10 day itinerary that covers Anchorage and the Kenai Peninsula, but is also has a longer option for those who want to include Denali as well as three options for 5 days in Alaska (for cruisers and non-cruisers). It explains how to break down each day to make the most of your time in Alaska, without a ton of planning time in advance.
When you grab your copy, you'll actually receive three files: a beautiful full-color version to enjoy on your favorite device, a photo-free version that's been condensed to print and take to Alaska with you, and as a bonus you'll even get a 10 page printable Alaska activity book (which is geared toward kids but has some beautiful coloring pages and other activities that adults will enjoy too).
The Milepost
The most popular Alaska guidebook is The Milepost. It's a mile-by-mile encyclopedia of nearly every road in the entire, enormous state. It includes highway exits, accommodations, points of interest and a little background broken down by region.
Why wouldn't you want such a detailed, comprehensive Alaska guide book? First up, it's huge. It has the footprint of a magazine and weighs nearly 3 pounds! Second, if you're a typical Alaska traveler going to one region of Alaska for just a week or two and staying in hotels or vacation rentals that you've booked in advance, The Milepost is just more than you might need. We found it overwhelming and, for our purposes, hard to use.
The Milepost is indispensable if you're slow traveling Alaska with a flexible itinerary. It's also a great guide book for people who are planning an Alaska RV trip.
Moon Anchorage, Denali & the Kenai Peninsula
In addition to The Milepost, we brought Moon Anchorage, Denali & the Kenai Peninsula on our 10 day trip to Alaska. It was the perfect companion for our visit.
The Moon guide doesn't have as much detail as The Milepost, but it has all the info you need if you've done most of the trip planning leg-work before you get on the plane. We appreciated the history and context for each location and the prioritized recommendations to fill in unexpected gaps in our plans. It's also a much more compact book and will fit much more reasonably in your luggage.
Of course this book is only useful if you visit is focused on southcentral Alaska, but that covers the vast majority of land-based Alaska travelers.
Alaska by Cruise Ship
If you'll be visiting on a cruise ship through southeast Alaska, it'll be helpful to pick up Alaska by Cruise Ship: The Complete Guide to Cruising Alaska. It goes port-by-port starting in Seattle and covers excursions, walking tours and more. It also includes history, geology, wildlife, cruise tips and even some more inland activities in southcentral Alaska up to Denali National Park.
Cell phone car charger
This may sound fairly obvious, but I strongly recommend that you bring a spare charging cable to use in your rental car. You never know when you'll get stuck somewhere for hours on end, and you definitely want to be able to use your phone for navigation (if you have service) and emergency calls.
Binoculars
Binoculars take up almost no space, don't have to cost a ton of money and make wildlife experiences so much richer! We love these binoculars so much that we now own two pairs. We brought both to Alaska to maximize everyone's time with them and it was a great decision.
Camera for Alaska
If you're planning on doing any wildlife photography in Alaska, you'll want to bring a real camera rather than just your smart phone. Don't get me wrong – smart phone cameras have evolved so much and area great for 90% of situations (with a little editing, of course). I found that I used my swanky new phone with three lenses so much in Alaska because it was always handy and fast.
Smart phone cameras can't compete with well-chosen stand-alone cameras for wildlife or tricky lighting situations. I saw well-chosen because ultra-compact cameras won't do much better than a smart phone.
What should you look for when you're choosing the best camera for Alaska? Here are a few features:
Strong optical zoom
Compact package for travel (that's in the eye of the beholder)
Large sensor if possible (that's in the wallet of the beholder)
Camera choice is intensely personal and really depends on your priorities. In Alaska you'll find dedicated birders and wildlife enthusiasts carrying massive full-frame cameras with lenses that weigh as much as a small child.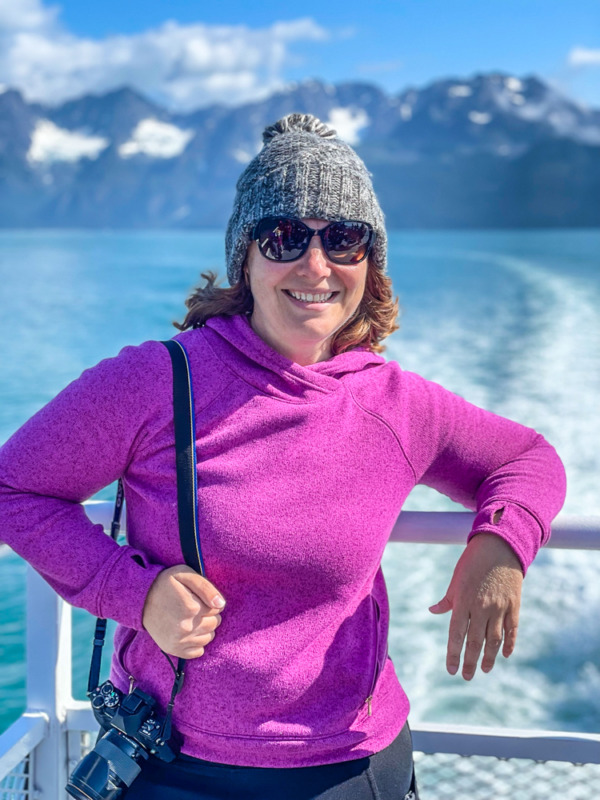 I find that the right balance for my travels is a mirrorless camera system. I always travel with this camera body and this zoom lens (plus a circular polarizing filter to cut water reflections, UV filter for scratch protection and several name-brand spare batteries). You can see in the photo above just how compact this system is!
I prefer to use that one lens rather than pursuing a less-expensive two lens option, as I'm always ready to shoot and don't risk my sensor getting dirty during a swap on the fly. No, the photos are not totally professional quality. But they're pretty great for my purposes.
Sony makes another popular mirrorless camera system and the quality is fantastic. However, it's priced accordingly. If you're interested in the Sony Alpha series for your Alaska trip, I'd pick up the Sony A6000 package (there's basically no option to buy new body only in the US) and pair it with the E 18-200mm lens (which is the equivalent of 27-300mm, the same range that I have with the system above).
If you don't have as large of a budget for a new Alaska camera set up or just want something simple, the Panasonic Lumix FZ80 has a lot to offer! It's not as flexible as the mirrorless cameras above in that you can't add more lenses to your collection later and it doesn't offer the same degree of manual control, but it packs in a ton of zoom for well-lit wildlife photography. The price is hard to beat.
The similar Panasonic Lumix FZ1000 doesn't give you quite as much zoom (equivalent to 400mm when accounting for crop factor) but has a much larger sensor so it will perform better in low-light situations or with fast-moving creatures.
Sunscreen
Though Alaska is very far north, Alaskan summers feature abundant sunshine! Protect yourself with sunscreen, even if it's a little overcast. You'll definitely want to slop it on your face if you're going out on the water on a sunny day!
Don't forget the lip sunscreen as well.
Bug spray (or wipes)
There's a common joke that the mosquito is Alaska's state bird. To some degree it will depend on when and where you're visiting. Mosquitos are out in full force in June and July, particularly in humid areas in the evening.
We got far fewer bites hiking through forests in Alaska than sitting in our back yard in the midwest, but I know that's not a universal experience. For the most part we avoided issues because we were wearing long, loose clothing (and my super awesome ExOfficio shirt).
Traveling with bug spray can be a little tricky. If you're going to Alaska in June or July you can either plan to buy it once you arrive in Alaska or bring a small one with you. Just remember that you can't pack an aerosol in your checked luggage and carry-on bottles are limited to 3.4oz. This carry-on size bottle is perfect to take along for occasional use or you can grab this pack if you think you'll need more.
An even better option are wipes pre-treated with mosquito repellant. They pack easily, they're mess-free and they don't count toward your carry-on liquid allocation. These wipes are 30% DEET so they'll work for the vast majority of situations. We brought similar wipes and I'm so glad we did!
Sleep mask… maybe
I saw a sleep mask on nearly every Alaska essentials list so I dutifully ordered adult masks and these adorable kid masks.
At least for us, they were totally useless. We had no need for them. We went to sleep late after busy days and slept hard every single night. Most of the places we stayed had blackout shades installed, and one didn't even have windows in the bedrooms.
A sleep mask is probably useful if you're camping or staying in RVs in Alaska. Otherwise I'd bring one if you have it on hand but don't make yourself crazy searching for the right one.
Reusable water bottle
You will need to hydrate in Alaska and the worst thing you can do is rely on disposable bottles the whole time. Alaska's pristine land needs protection, so please do your part. We brought two water carrying solutions with us and they were both very useful.
First, we brought my two beloved Thinksport insulated bottles. These keep water ice cold all day and they're narrow enough to fit in the water bottle compartments of standard daypacks and cars. They're also extremely easy to grip with one hand while you drink!
If you have a sensitive tummy, you can consider bringing a GRAYL filter bottle – we love ours! The GRAYL filters water when you fill it rather than when you drink. Therefore, you could bring one GRAYL and one Thinksport with you to Alaska and pour from GRAYL to Thinksport when you're getting ready for the day (or the night before). Then refill GRAYL and drink that one first – that'll give you a total of 33oz to take with you. (Note to self: bring GRAYL to Mexico later this year!)
We also brought our largest Camelbak bladder to sneak into our daypack for long hikes. It worked better for us than bringing the entire Camelbak backpack, since our preferred daypack has higher overall capacity and better organization for the family's needs.
Lunch containers
On a whim I pickup up a set of collapsible silicone lunch containers and they were so handy! Days in Alaska are busy and active, so you probably won't want to stop for a sit down lunch or to make lunch in the middle of something. With these containers we were able to slap together peanut butter sandwiches and some baby carrots in the morning and then take them on a scenic drive, float plane, kayaking trip, long hike or anywhere else.
We're big on reusable items but the one dispensation we gave ourselves was plastic knives. I brought some pre-wrapped ones that we annoyingly receive (and never use) from take out orders and that was the perfect solution for us. They even came with napkins!
Packable bag
We found a spare packable bag to be extremely useful (we actually brought two!). That "swing bag" meant we could unpack all of our extra outerwear and keep it conveniently in the trunk for weather changes. We also brought it for our Kenai Fjords cruise and bear viewing when we needed major extra layers. It was just great to have and took up virtually no space.
We bought this packable duffel bag and were beyond pleased with it! It packs down to nothing but it's extremely well constructed, comfortable to carry and even has a few organizational pockets and elastic water bottle compartments! I wish I'd had it for years.
What luggage should you bring to Alaska?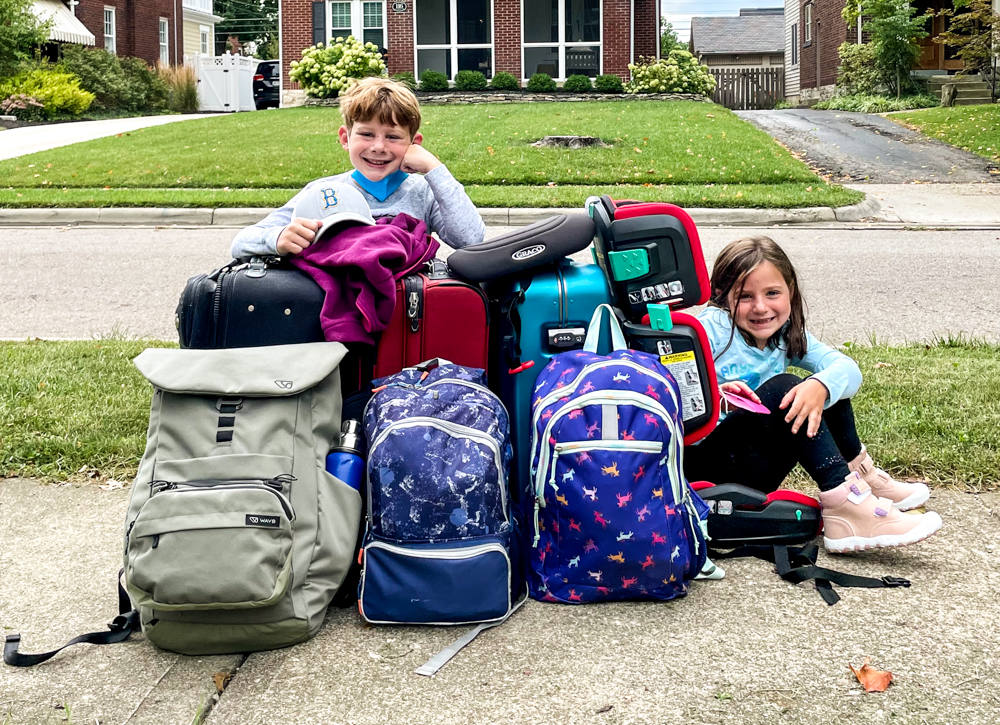 As travel bloggers and former full-time travelers, we have a wide-ranging arsenal of luggage options to choose from. Fortunately Alaska is a destination that doesn't require any particular style of luggage. Chances are the longest walk you'll be doing with your luggage is in the airport (unless you're planning to take the train).
We found that carry-on size suitcases were the ideal luggage for Alaska. For our family of four we brought three suitcases and three personal item sized backpacks. I'm not going to lie – it was a little tight! On the way back we expanded into our packable duffel bag as well (mostly to accommodate the kids' stuffed souvenirs) and even checked two of the suitcases. We stuck with carry-on for the outbound leg so that we wouldn't wind up in Alaska missing any important warm clothes or layers.
In general I would recommend one 22″ suitcase and one personal item sized backpack per person. If you really want to make your life easy, look for a backpack that has a sleeve to fit over your suitcase handle! Our favorite daypack (which I mentioned above) offers that feature and it's really handy for the mad dash through the airport.
If you already have a travel backpack on hand, that can be a great option for your trip as long as you have enough space for all of the layers you'll need. It's also a wonderful long-term investment if you plan on lots more adventurous travel ahead! One travel backpack that would work really well for a trip to Alaska is the Osprey Ozone 60/65 (capacity varies by gender). It's a modular travel backpack that includes a 40L cargo bag for clothes and a 20L daypack for everything else; use them together for travel and separately once you get on the ground for Alaska. It's a little on the heavy side but would work perfectly for this type of trip. Check out more women's travel backpack options.
Plan your trip to Alaska
Packing for Alaska in summer, winter or anytime in between can really be a daunting proposition! Hopefully this in-depth Alaska packing list for a summer vacation has helped you decide what you really need to bring and what you can leave at home.
As you prepare for your trip, don't miss these other articles to help you plan an incredible trip to Alaska: