A trip to Alaska is incredible, exhilarating and worth including on any bucket list. But to fully explore this remarkable state could take a lifetime. What should you do if you can only spend 10 days in Alaska? You'll need to narrow your focus to construct thae best 10 day Alaska itinerary without making yourself crazy.
While I consider myself a competent travel planner after years of experience, even I got tripped up trying to fit together the puzzle pieces of our 10 day Alaska trip. We wanted to squeeze in everything but also be realistic. In the end, I'd say our trip was a smashing success and has just made us want to return again to explore the rest of the state.
In this article I'll take you through the nuts and bolts of how to plan your own incredible Alaska itinerary for 10 days. I'll share where to stay in Alaska, the top Alaska attractions you won't want to miss, restaurant favorites, must-stop scenic views and more.
Want to skip all the planning and just access my detailed Alaska Itinerary complete with interactive maps, printer-friendly version, daily schedule, extra itinerary options and bonus Alaska activity book? Click the blue button below.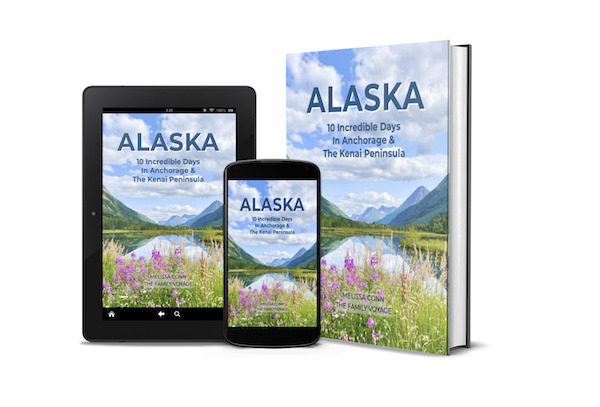 Quick Planning: What to book NOW for 10 days in Alaska
To avoid disappointment, extra expenses and last-minute schedule scrambled you'll want to book as much of your Alaska trip as possible well in advance. It's easy to get stuck in "analysis paralysis" as we did, but hopefully I can help you avoid that fate. Go through this quick checklist and get everything arranged, then you can fill in the details later.
Must read tips for renting a car in Alaska
Be sure to check prices at GoNorth with coupon GONTFY
Accomodations
Activities
Guidebooks
The Perfect Alaska Itinerary for 10 Days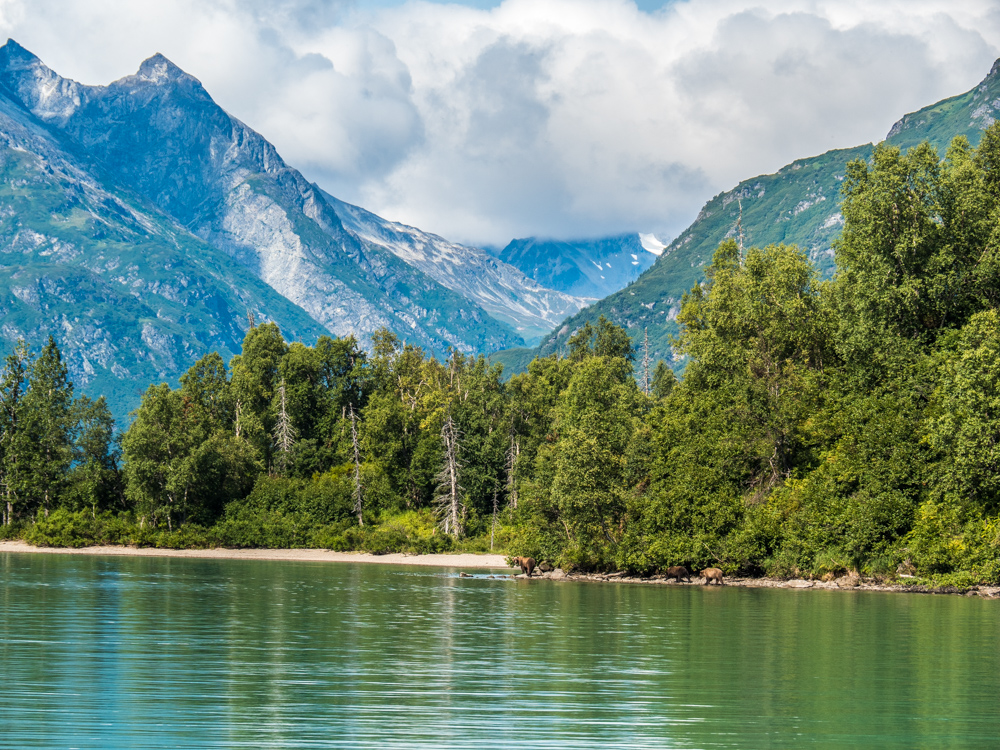 With just 10 days in Alaska, it's a good idea to narrow your geographic focus. Remember that Alaska is the largest state and not by a small amount: it's 2.5 times the size of Texas, the next largest state.
Not only is Alaska big, but much of the state is spread out. If you're planning an Alaska itinerary of just 10 days, spending your time in Anchorage and the nearby Kenai Peninsula will give you a great sample of the best of Alaskan scenery, wildlife, activities and more.
We normally like to travel at a slower pace, but in order to see everything we wanted to squeeze in to our limited time we stayed in all of the following places:
Anchorage
Soldotna
Homer
Seward
Girdwood
On a map these all look fairly close to each other, but in reality they all offer distinct activities and are worth staying in! For a 10 day trip to Alaska, I recommend staying two nights in each place.
Our itinerary was slightly different in that we visited Homer before Soldotna and just stayed down there for one night (since we had 9 nights/10 days). I don't recommend that! The drive straight from Anchorage to Homer was too long and we happened to have cold, rainy weather in Homer… but locals now tell me that's common. If I were planning our trip over again, I'd follow the order above.
Read more: Must-read tips before renting a car in Alaska
2 Days in Anchorage, Alaska
Anchorage is by far Alaska's largest city and many people will tell you it's not worth spending much time there, but it also serves as the most affordable gateway to The Last Frontier and is conveniently located near some of Alaska's top attractions.
While Alaskans may feel like Anchorage is a big city, most visitors from the lower 48 will see it as a very small city – the population is about 10% of the metro Columbus population (where we live). There are just a few tall buildings that dot the skyline. Still, if you have the time it's worth spending a few days staying in Anchorage to explore the offerings of the city itself and further north in the day-trippable Mat-Su Valley. It'll also ease your adjustment after the long travel day and time change.
Where to stay in Anchorage
You'll be spending the first two nights in Anchorage. The city offers a wide range of accommodation options, but it's certainly nice to stay close to the Cook Inlet if you can. You can expect to pay extra for parking at most hotels in the area, so be sure to include that in your Alaska travel budget.
Check out more places to stay in Anchorage:
Day 1: Exploring Anchorage, Alaska
Start your morning at the famous Snow City Cafe, just around the corner from Hotel Captain Cook and across the street from Copper Whale Inn. They offer a cheerful interior, hearty breakfast staples (often with an Alaskan twist) and a delightful selection of lattes to kick off your morning. The wait can be lengthy, so if you're staying nearby you can have the first person in your party who's read (me, in this case) run down to put your name on the list and then return to finish getting everyone else ready. They also offer take-out and online ordering that you can eat at the picnic tables outside if the weather is nice.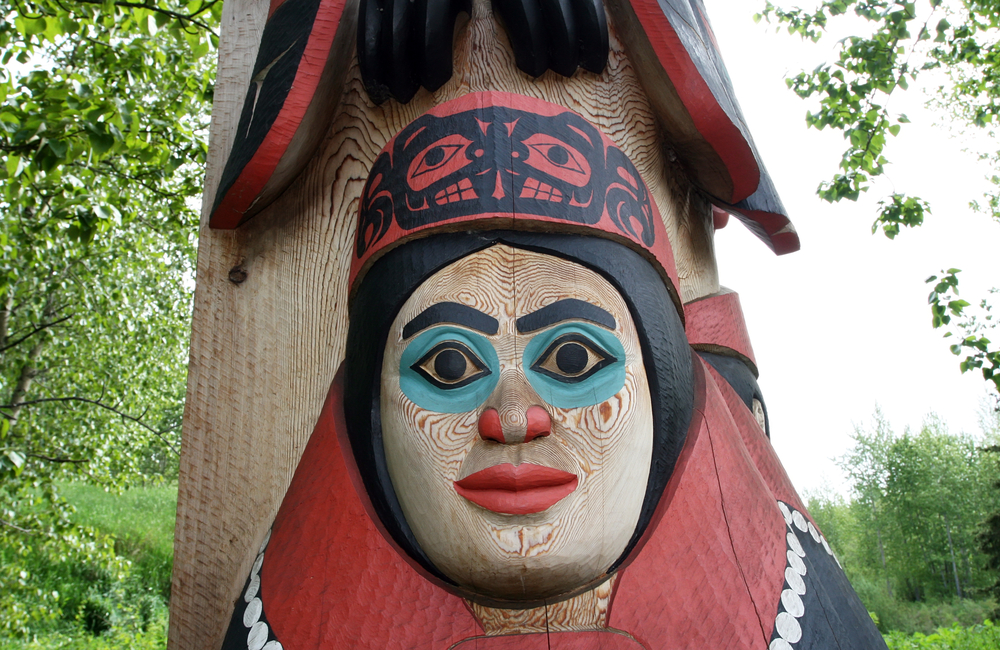 Your first activity is a visit to the Alaska Native Heritage Center to learn about Alaska's Indigenous communities. This is not a history museum – it's an opportunity to explore the traditions and culture of Alaska's many Native groups. The grounds of the Center include six different life-size dwellings to explore, interactive crafts for the whole family, games, performances, story telling and more.
There's a schedule posted online of the day's events, and you'll want to allow at least three hours to explore. You can easily spend most of the day!
We weren't able to visit due to the limited schedule in summer 2021 – it wasn't open any of the days we were in or near Anchorage sadly. If swapping Day 1 and Day 2 means you'll be able to visit the ANHC, I recommend it.
Grab a quick lunch when you're done, perhaps a hot dog from Red Umbrella Reindeer if you want to try something different and uniquely Alaskan! (The also offer beef and veggie dogs for something more conventional.)
Head back toward the coast and drop the car off – you won't be needing it for the next few hours, because you'll be exploring the lovely Tony Knowles Coastal Trail. Pablo's Bike Rental is located right next to Snow City Cafe, just up the hill from the trail entrance. They have a huge range of bikes for adults and kids – all the way down to 16″ kids bikes for young riders. There are even e-bikes if that's your speed. All rentals include a helmet and lock.
The trail extends a full 11 miles along the coast and then into Kincaid Park. You'll have to judge your travel crew's level of fitness to decide how much of the trail to do; the first half offers spectacular views along the Cook Inlet, while the second half presents some wildlife-spotting opportunities. If you want to conquer the entire trail out and back and have time to stop for photos and snacks, plan on renting your bikes for 3-4 hours. The good news is that for conventional single bikes, Pablo's charges just $5 per hour after the first hour. The shop closes at 8pm, so you have plenty of time to enjoy the road.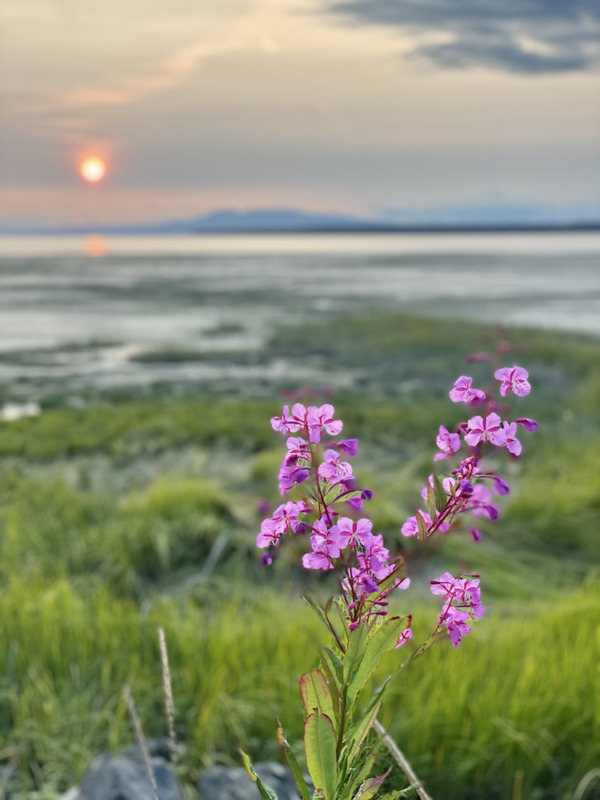 If biking isn't your thing, you can also walk along the Coastal Trail. It's absolutely lovely! You obviously won't get as far but it's still a wonderful way to experience Anchorage and move your body. If you stay out on the trail as the sun sets, I promise you won't be disappointed.
For dinner, you can check out staple Moose's Tooth for pizza. Unfortunately the wait times can be extreme – up to two hours! So here's an inside tip for you: pay a visit to the less-busy sister restaurant, Bear Tooth. You can still order the same delicious pizza but with a much shorter wait! Bear Tooth will also put you on a call ahead list, while Moose's Tooth is first-come first-served.
Read more: Alaska Travel Tips to Read Before You Go
Day 2: Mat-Su Valley, Alaska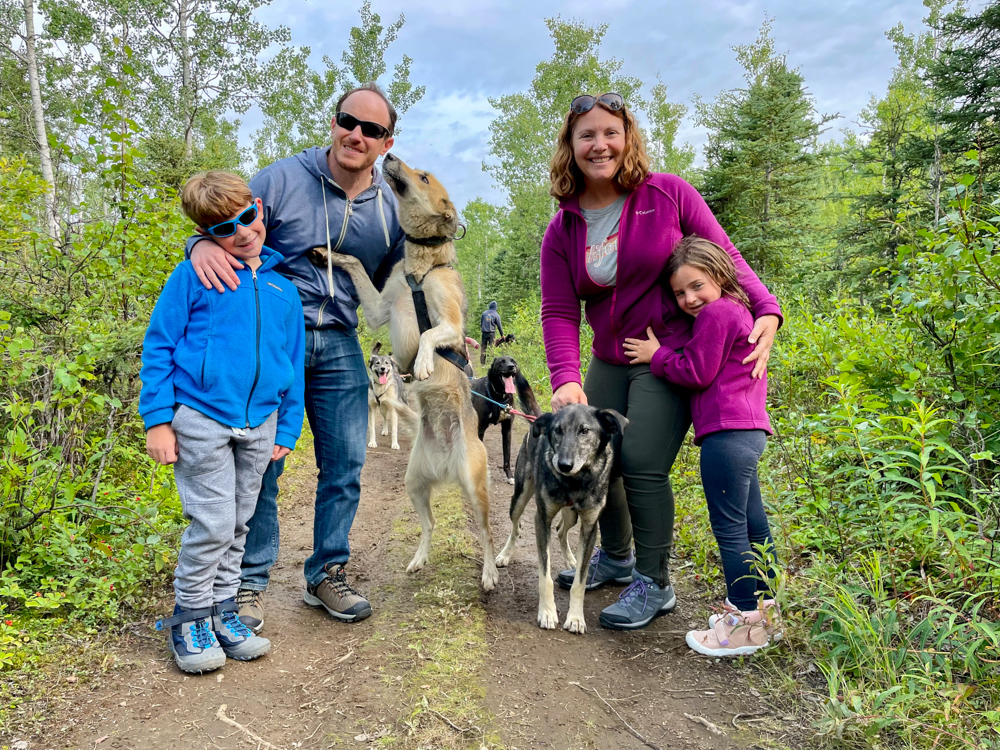 Get an early jump on the day and head north toward the Mat-Su Valley area. You've got a long day ahead, so your first stop is at Crema Coffee House in Wasilla. Grab an assortment of pastries, both sweet and savory, along with your favorite hot drink. You might also want to save a few treats for a snack later in the day!
If you're done with breakfast by 9:30, head a few minutes up the street to the Iditarod Headquarters and Museum. I'll be honest and say that it's more gift shop than museum (which my kids didn't mind at all) but it's still a fun stop. If you get there closer to 9:15, you'll have time to catch the 33 minute movie to learn all about The Last Great Race. It's shown on demand, but you do want to make sure you leave the Museum by 10am for your next stop…
Because your next activity is one of our family's favorite things to do in Alaska with kids or without: huskies! We had an amazing experience with Alaskan Husky Adventures in Willow, home of the 17th Dog sled team. Musher Matt Failor and his awesome wife Liz recently expanded their operation to include tours and they've done an incredible job.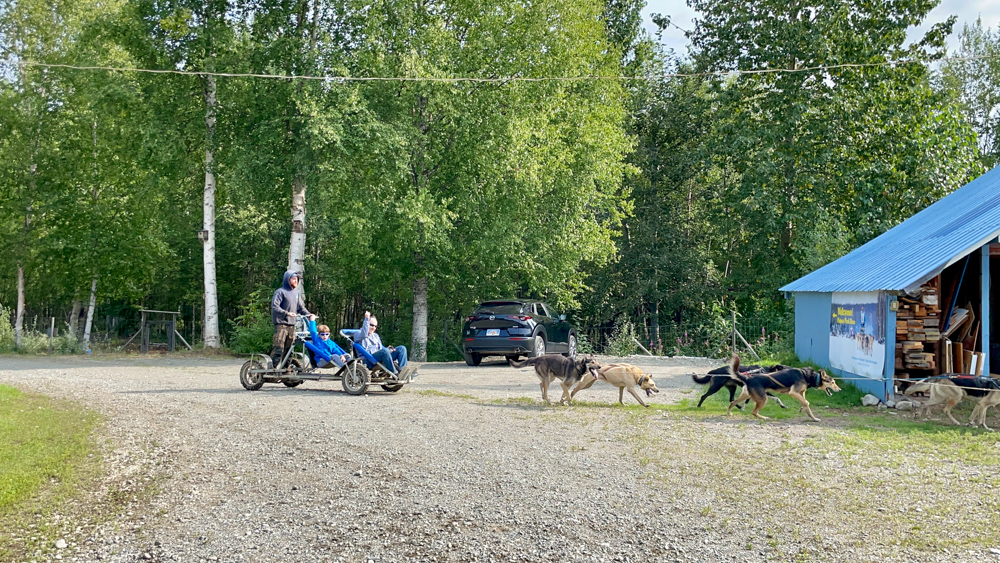 During your 1.5 hour tour you'll learn all about what it takes to compete in the thousand-mile Iditarod race, check out Matt's custom-made gear, meet his team of very excited dogs, go for a thrilling ride in a two-passenger cart and maybe even play with a litter of future racing dogs.
Alaskan Husky Adventures was by far our kids' favorite experience in Alaska, and I can't say they're wrong. Liz, Matt and the other members of the team have put together an engaging and intimate experience that you won't find elsewhere. Our family had a private experience as did the groups before and after us.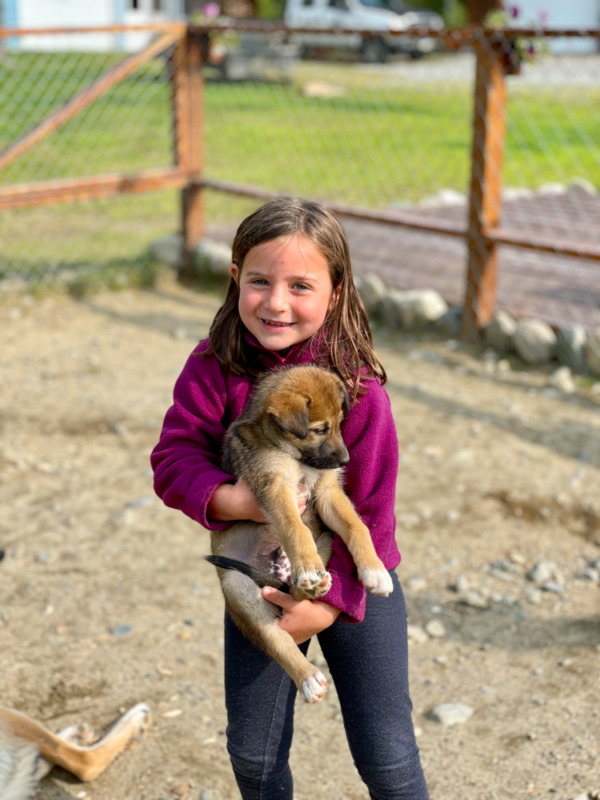 We did consider some of the more established Alaska dog sledding options, but those tours are big operations that have bigger groups. They use much larger carts for their summer rides, but once my son saw that Alaskan Husky Adventures' carts looked so similar to traditional dog sleds he was 100% convinced. I'm glad we trusted his good judgement!
You'll finish at Alaskan Husky Adventures between 12:30 and 1pm. Munch on any leftover pastries and hop back in the car to keep heading north toward Talkeetna, roughly a 1 hour drive.
Alaska Road Trip Itinerary
Why go all the way up to Talkeetna? If you're lucky and it's a clear day you'll get a stunning view of Denali, the highest mountain peak in North America. As the crow flies, you're closer to Denali in Talkeetna than you are at the entrance to Denali National Park! You can try the scenic pullout around mile 13 of the Talkeetna Spur Road or in the village head to Talkeetna Riverfront Park and look toward the right.
Even if you can't see Denali, Talkeetna is still a fun town to visit. There are lots of small shops to check out and several good options: Mountain High Pizza Pie, where we ate the best pizza we had in Alaska, available by the slice along with lots of local brews on tap; Denali Brewpub, which gets solid reviews but often has a lengthy wait; and Talkeetna Roadhouse, which has a storied history and reputation for lively family-style meals but wasn't serving anyone other than overnight guests in 2021.
Around 3:15 it's time to say goodbye to Talkeetna and head back south to Palmer, about 90 minutes away. This is where we hit a snag in our own adventure, as a major accident on the Parks Highway closed it for 6 hours and left us stuck north of Willow. Our plans for the rest of the day were foiled, so I'll just have to live vicariously through you!
The Reindeer Farm in Palmer is consistently recommended as a fun opportunity to see some of North America's biggest animals up close. There's a heard of 100 reindeer, a wood bison, a yak, bunnies and more. Tours are one hour, with the last tour at 5pm through most of the summer.
If the Reindeer Farm doesn't sound like your speed, another option in the area is the Musk Ox Farm. This non-profit seeks to protect and grow the musk oxen population and provide musk ox fur (qiviut) to Alaska Native women to craft into deliciously soft handmade garments.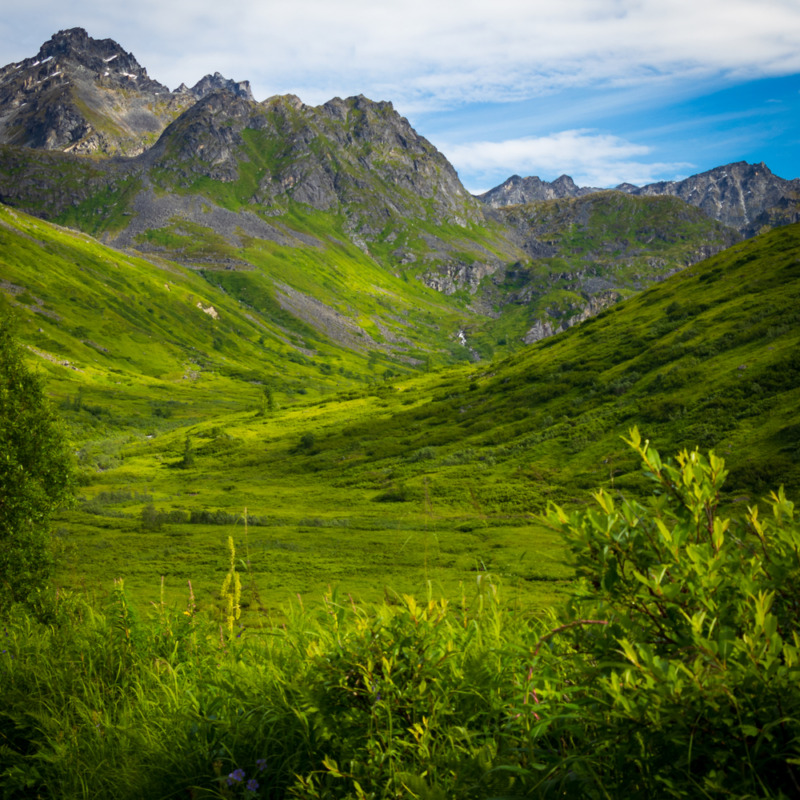 Not interested in farm visits? One of the other great things to do between Talkeetna and Anchorage is take a detour through Hatcher Pass. It was once a busy mining area and today offers fantastic scenery for Alaska road trippers like you. While you're there, you can stop to check out Independence Mine State Historic Park.
Once you've worn yourself out, head back down to Anchorage for dinner and to pack up your stuff for departure in the morning.
Read more: Best things to do in Alaska with kids
2 Days in Soldotna, Alaska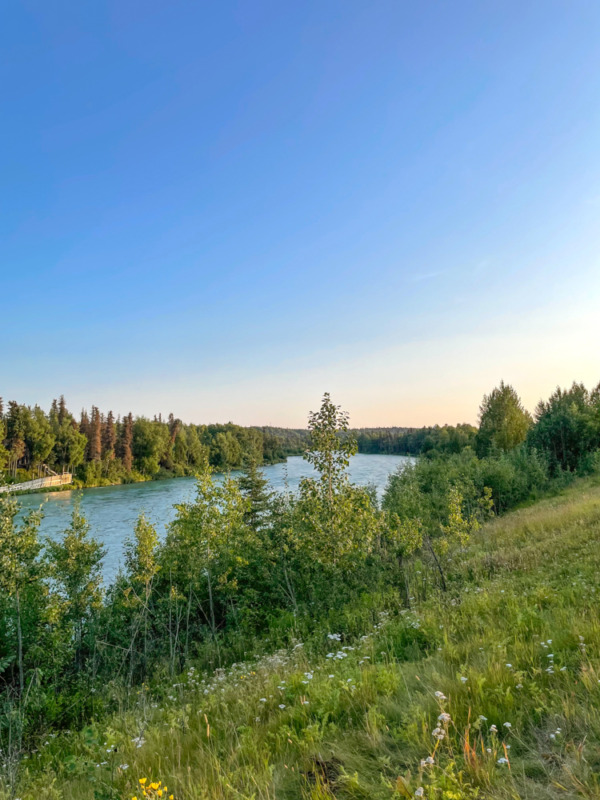 It's time to start exploring the Kenai Peninsula, one of the most scenic and accessible areas of Alaska. This region is perfect for first-time visitors to Alaska because it offers so many experiences on an Alaska bucket list in a geographically compact package: glaciers, wildlife, hiking and much more! You definitely want to include it in your 10 day Alaska itinerary, and I'd recommend it if you are making a 7 day itinerary too.
One quick personal note: As I mentioned above, when we took our family trip to Alaska, we visited Homer first and then doubled back up to Soldotna. In all honesty, I couldn't tell you why I chose to do it in that order other than that our two nights in Soldotna were a (good) last-minute decision but I didn't give enough consideration when I was making our arrangements. Please learn from my mistake and stop in Soldotna first!
Soldotna and its neighbor Kenai are among the largest towns on the Kenai Peninsula. If you need provisions for your time in Alaska, you can stop at Walmart or Fred Meyer (alternatively there's a Target on the way out of Anchorage if you need anything before your drive).
Where to stay in Soldotna, Alaska
The town of Soldotna is comparatively bustling, but there are plenty of tranquil places to stay in Soldotna just a little off the main road. You'll be driving everywhere so it's not especially important to stay in a specific neighborhood. We stayed in this lovely Airbnb that backs to the forest and was perfectly cozy for our family of four.
Here are some more great places to stay in Soldotna:
Day 3: Scenic drive to Soldotna, Alaska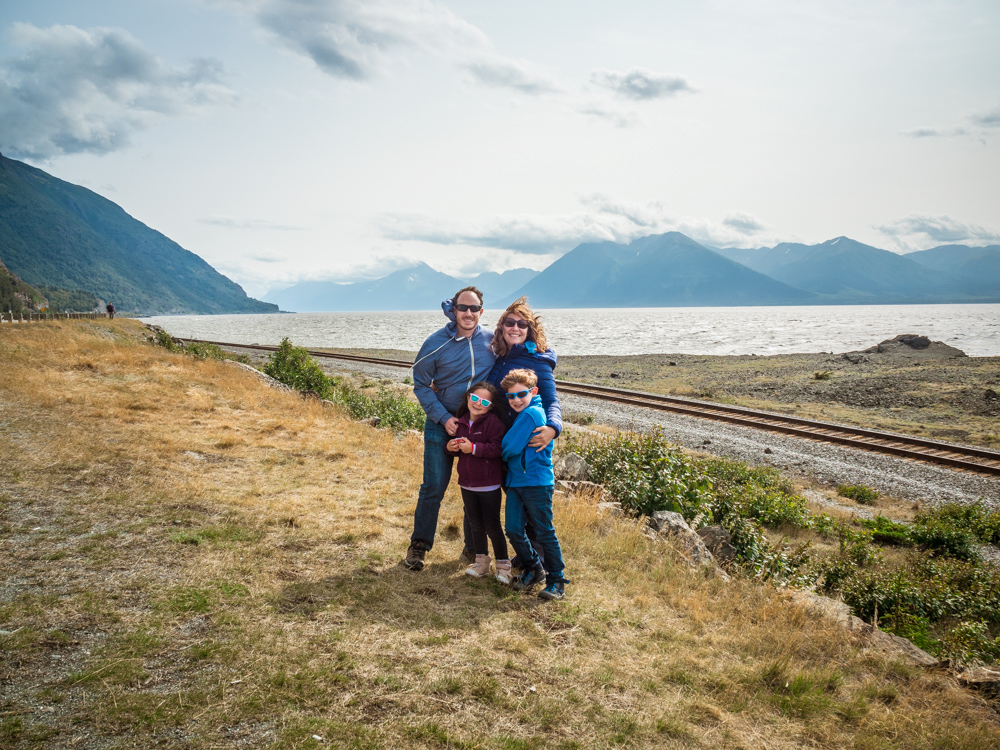 Today you'll be driving south from Anchorage along the scenic Turnagain Arm and into the heart of the Kenai Peninsula, stopping to stay two nights in Soldotna. The total drive time is just under three hours, but you'll be stopping a few times along the way to taking in the stunning scenery.
As I mentioned above you may want to stop at Target or a grocery store on your way out of Anchorage to pick up some non-perishable lunch provisions for your time exploring the Kenai Peninsula. We brought a few of these to hold peanut butter sandwiches, carrots and more for our daily adventures. I'm so glad I thought to bring leftover plastic utensil sets left over from takeout meals as well!
The famous Turnagain Arm extends west from the Cook Inlet to separate Anchorage from the Kenai Peninsula. The Seward Highway traces the coast before turning south on to the Peninsula. Take your time during this drive, as there are plenty of lovely stops. One of the best known is Beluga Point, so named because from mid-July through August lucky visitors may spot some of those little white whales as they chase running salmon.
I won't judge you harshly for any other stops you make, but you'll want to set your GPS to Bear Mountain Trail. You'll take Seward Highway to Sterling Highway, and then a few miles past Cooper Landing turn left on Skilak Lake Road.
Technically, some rental car companies don't want you to drive on Skilak Lake Road. We didn't know that when we went, so thankfully it worked out. It's a gravel road so rental companies can't tow you from there if you break down, but many times of the year the road's condition is just fine as long as you are slow and careful. Cars rented from Turo and similar services may not have the same limitations. Your car will get dirty, but ours was already dirty by the time we got there. Obviously you need to judge your own risk tolerance, but this road was part of the Peninsula's first highway system and is maintained regularly.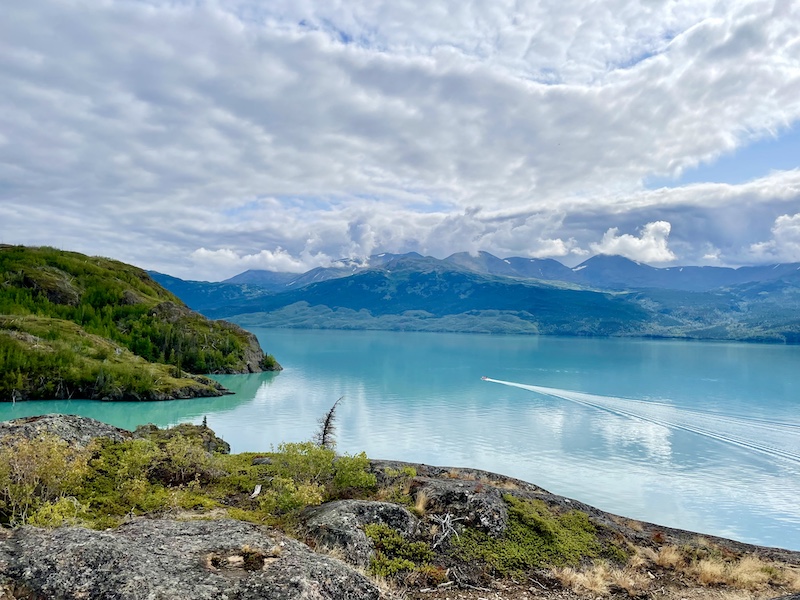 Skilak Lake is a little slice of heaven! The photo above was taken from a different part of the lake, but not far from where the Bear Mountain trail will take you. If you visit in June you'll still see snow on those mountains. In this area you're likely to see all sorts of Alaskan wildlife; while kayaking on the lake we saw a bald eagle, a black bear and more. The Bear Mountain hike is less than a mile each way and should take most visitors about two hours.
If you aren't able to access the Bear Mountain trail, another option in the area is the Carter Lake trail. It's a little longer and a little tougher but also offers beautiful views.
After you've finished hiking, hop back in the car to continue on to Soldotna (1 hour from Bear Mountain). For those who arrive early enough in the day, you can stretch your legs on the Keen Eye and Centennial Trails near town. This is also a great time to stop at Trustworthy Hardware to grab a one-day fishing license for tomorrow if you didn't already purchase one online.
Once you've checked in to your accommodations, head to Addie Camp for a delicious dinner. Be sure to make a reservation at least a few days in advance, especially if you want to dine in the train car!
Day 4: Bear viewing excursion
Today's going to be a bucket list kind of day!
Fuel up with a hearty breakfast at Brew@602, a new spot opened in a retired Alaska Railways train car on Whistle Hill. Don't miss the Truffle Shuffle and Mother Clucker waffles. If I'm being totally honest, it's so good that we went twice.
If you haven't already done so, purchase your fishing license while you wait for your food to be delivered.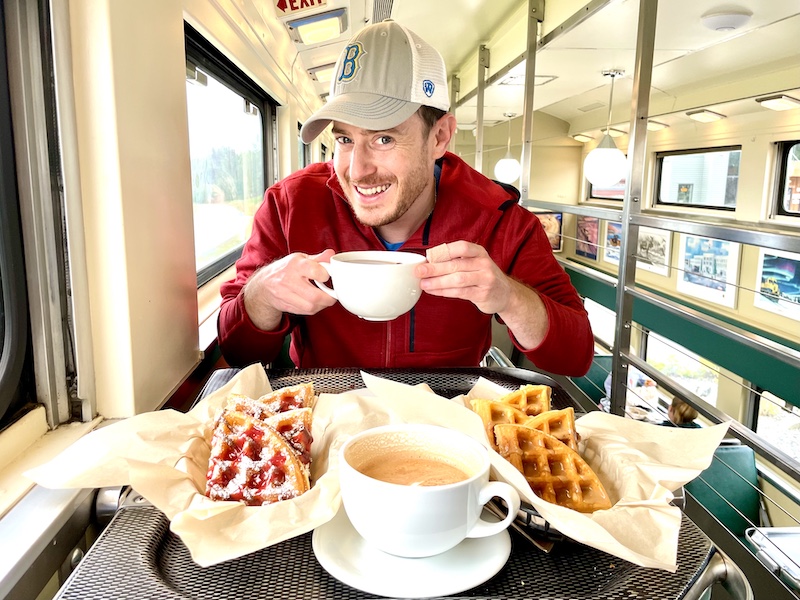 From there, head up the street to Talon Air's "terminal"… that is, the lake where your bear viewing flight will take off and land! You'll get outfitted with heavy-duty rain boots (starting with youth size 3) and have an opportunity to use the restroom.
Your stunning 30 minute flight across Kachemak Bay will take you to Lake Clark National Park, the third least-visited National Park in the United States. I can't say the photos due justice to the park's postcard-like beauty, but here's a try: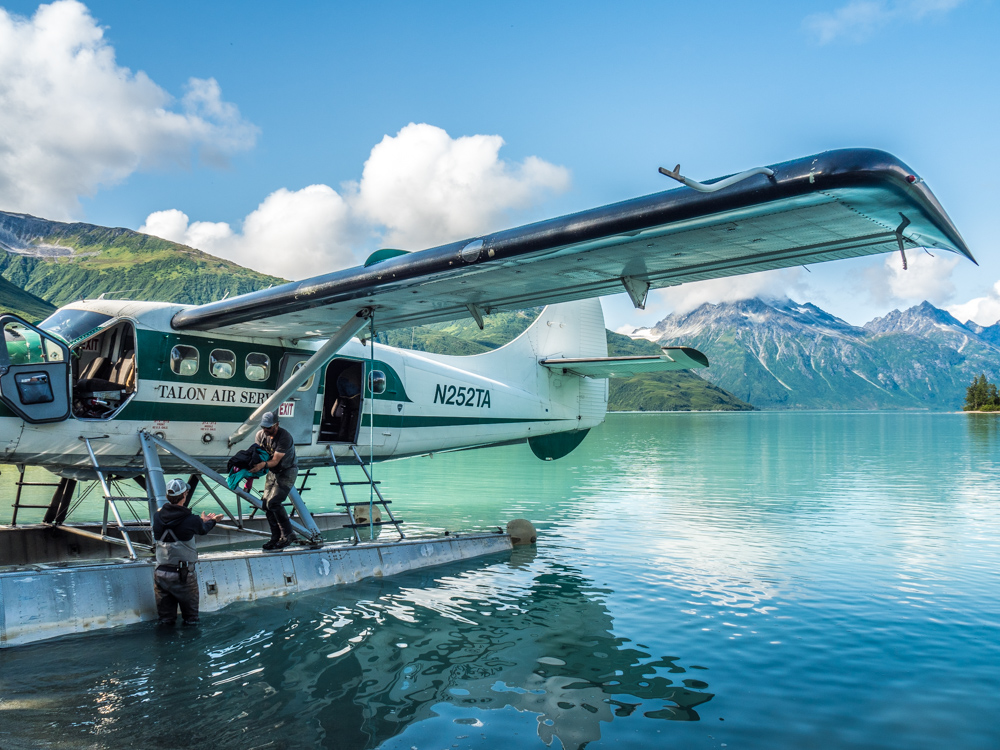 It'll be an unforgettable day for sure! Our trip left Soldotna around noon and returned around 7pm. In between, you'll motor around Crescent Lake in search of grizzly bears and then try your hand at fishing. During our visit we saw about a dozen bears, including a mama and her three cubs! Our guide, Morgan, did an excellent job explaining everything we saw and later teaching the kids to fish. The day concluded with a tasty snack on the beach of fish our party had caught that afternoon.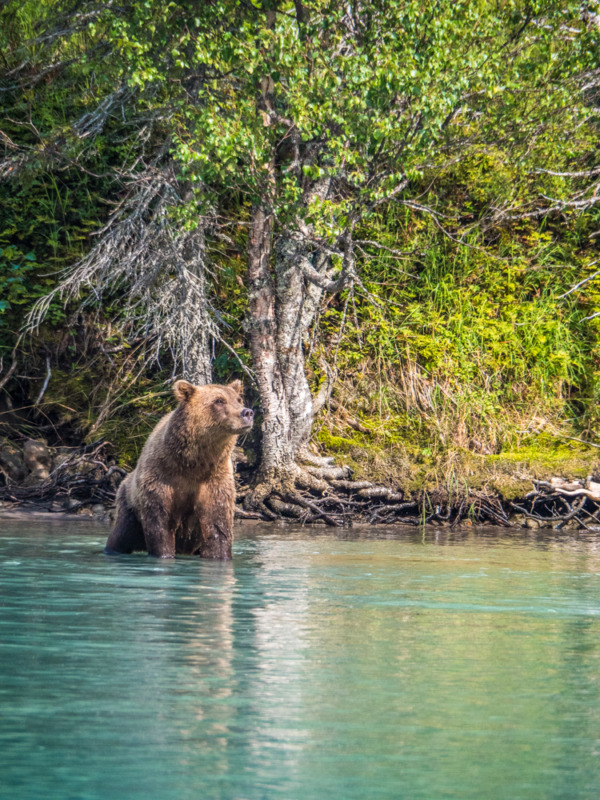 It'll probably be on the later side when you return to Soldotna so you'll head straight to dinner. If one of your evenings there happens to be a Wednesday, head to Soldotna Creek Park for lovely sunset views, food trucks including plenty of local specialties and live music. There's also an excellent playground behind the stage for those of you planning to visit Alaska with kids.
2 Days in Homer, Alaska
Your next stop on this epic Alaska 10 day itinerary is Homer, Alaska at the far southern tip of the Kenai Peninsula. We didn't have as much time as we would have liked, but once the skies cleared on our second day there we could see why it's special to so many people who have visited.
Where to stay in Homer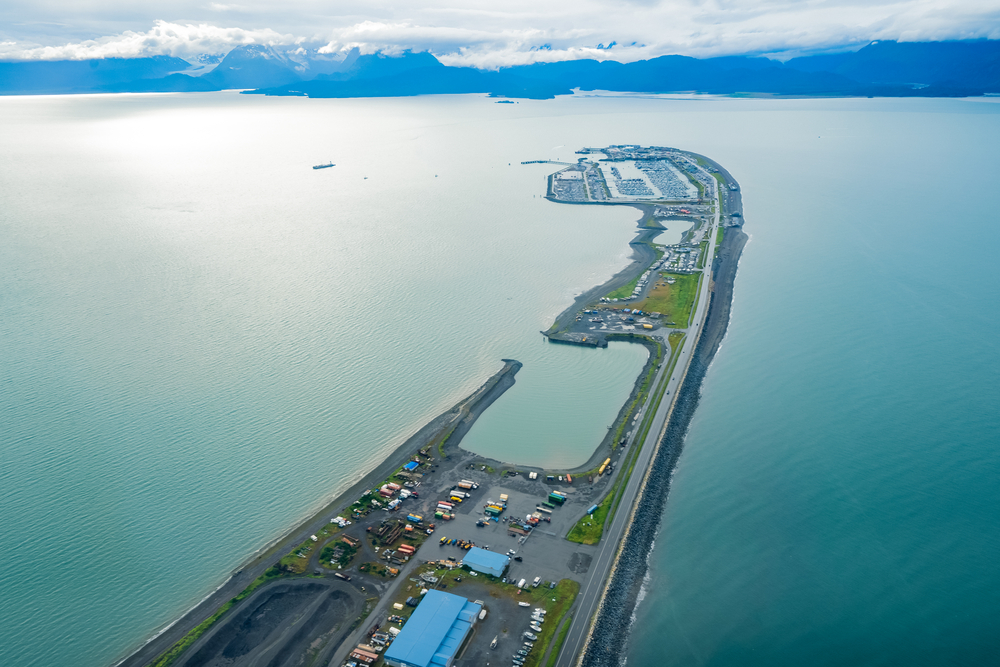 The most unique thing to do in Homer, Alaska is explore "the Spit" so lots of visitors aim to stay there too! It's nice to be able to walk to shops, restaurants and tour outfitters while enjoying views of Kachemak Bay but be advised that there are only a few places to stay on the Homer spit and the book quickly (sometimes with high prices)! Here are a few nice options:
If there's nothing available within your budget on the spit, we had a fine stay at the Best Western in Homer. It's just a few minutes' drive from the spit, comes in at a great price including breakfast and even has coin-operated laundry on-site. We were able to substantially decrease our Alaska luggage by staying there. It's also just up the hill from Bishops Beach; you can walk down the foot path just south of the hotel and enjoy plenty of solitude except for the nearby nesting bald eagles. Check prices for your stay (don't forget the AAA discount!) and be sure to compare with booking.com rates.
Day 5: Exploring Homer
Your drive from Soldotna to Homer is about 90 minutes without stops… but of course you'll want to stop.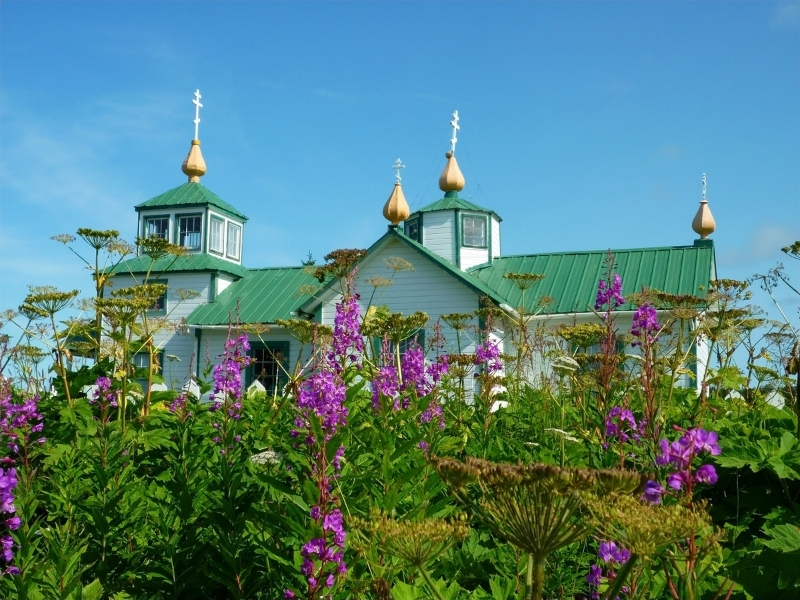 If you're interested in the history of Russian influence in Alaska, don't miss the famous Holy Transfiguration of Our Lord Chapel in Ninilchik. This photogenic Russian Orthodox church was built in 1901 and has views of the village as well as the towering mountains of Lake Clark National Park on the other side of Kachemak Bay.
Further south, Anchor Point is a great place to spot bald eagles along the beach. As with all bird watching, patience is a virtue and don't forget your binoculars.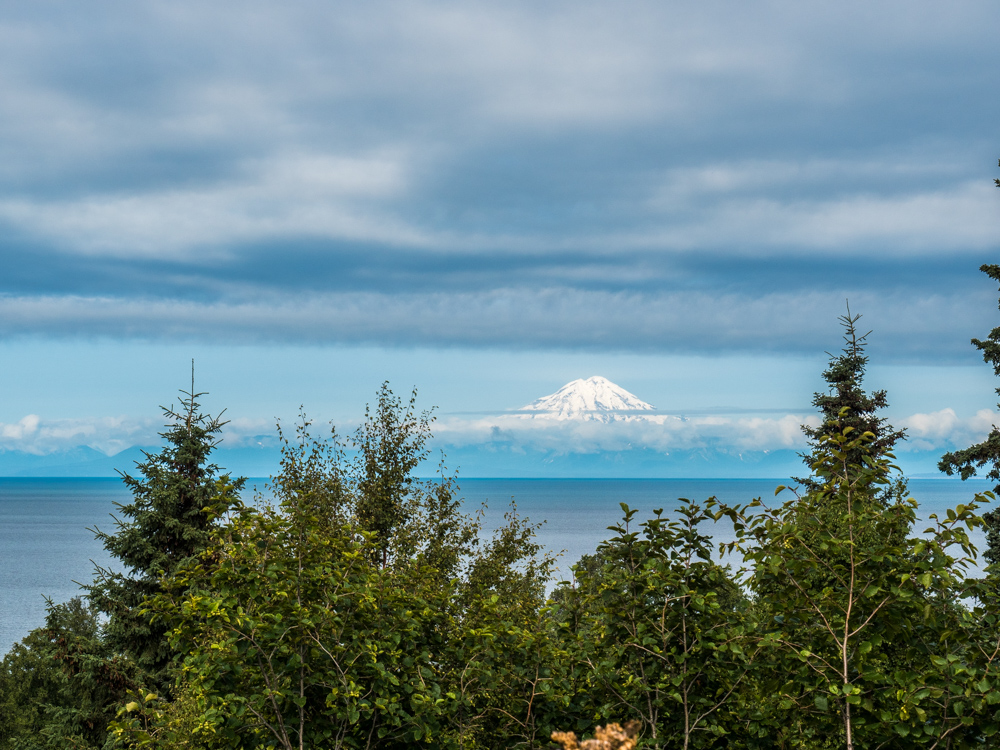 As you get closer to Homer, there's a large turn-off on the right side for sightseers like you. Pull in and enjoy the view! If it's clear, you'll have incredible views of the bay, the mountains and volcanos on the other side and the Homer spit.
Another great stop is Bishop's Beach. It's a lovely stretch offering miles of unobstructed views of the bay, driftwood, wildlife watching and tranquility. There's also plenty of opportunity to explore Homer's unique tide pools. If you visit during the summer season, you can start your experience at the Islands & Oceans Visitors Center to learn more about the local wildlife and even go on ranger-led program.
With extra time on your hands today or tomorrow, visit the Pratt Museum to learn about the natural and cultural history of the area.
After you check in to your accommodations, spend the rest of the afternoon and evening exploring the Homer spit. There are plenty of small shops, restaurants, gelato and stunning views to keep you busy for a few hours.
Be mindful that dining options on the spit can be limited at times; during our visit in summer 2021, we found that many restaurants were unexpectedly shuttered due to staffing and food shortages and some are entirely closed on Monday and/or Tuesday. They're also generally open only for the summer season.
Day 6: Pick your favorite Homer excursion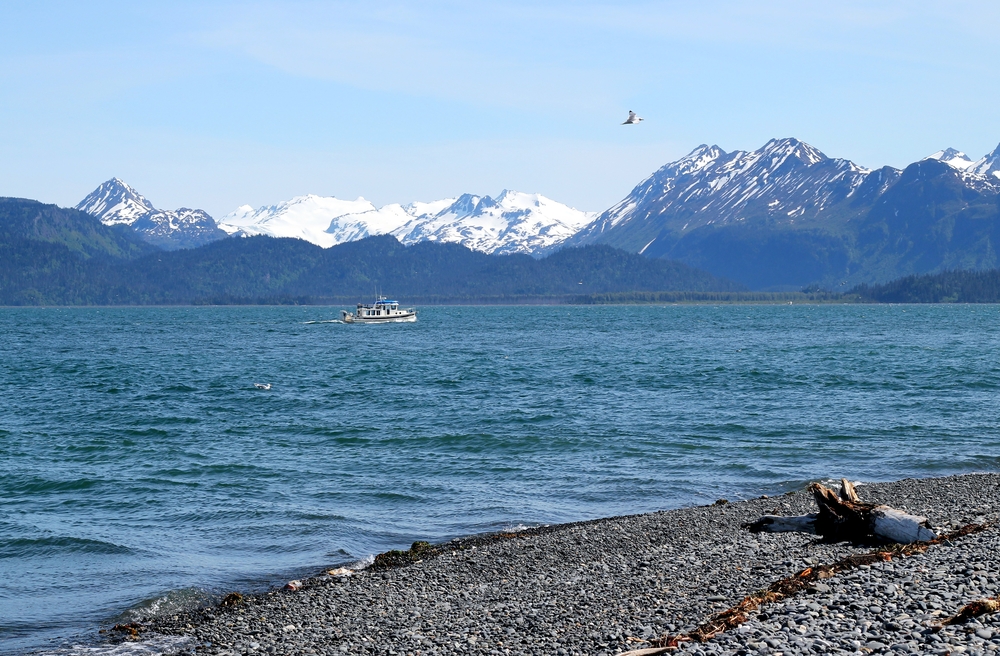 There's one main motivation most people have for visiting Homer: it's the halibut fishing capital of the world! Many visitors feel that fishing is one of the best things to do in Homer, Alaska. That said, there are a few activities in Homer that you can consider for the day.
So what do you need to know about fishing in Homer? First off, nearly all fishing is done from a charter boat in open water. Excursions typically range from 5 to 8 hours and are around $200 per person; you'll be limited by law to two halibut. One great option is a full-day trip that combines salmon and halibut fishing, which is generally a little more expensive but allows you two different experience and the opportunity to take more fish home with you. Most fishing charter operators are independent; you can read reviews here.
If fishing doesn't sound like your cup of tea but you like the idea of spending the day on the water, there are several great options for kayaking in Homer that allow you to explore the nooks and crannies of Kachemak Bay while getting a close up view of stunning wildlife including eagles, otters and maybe even whales!
For those looking for a calmer pursuit, you can take a day trip to the nearby town of Seldovia. It's a charming seaside community just across the bay that's only accessible by ferry. You can stroll the boardwalk, take a hike, go clamming, rent bikes for the day and more. Swing by the Seldovia Visitor Center & Museum to learn about the many cultures that have lived in the village over the centuries and millennia. Find out more about things to do in Seldovia.
3 Days in Seward, Alaska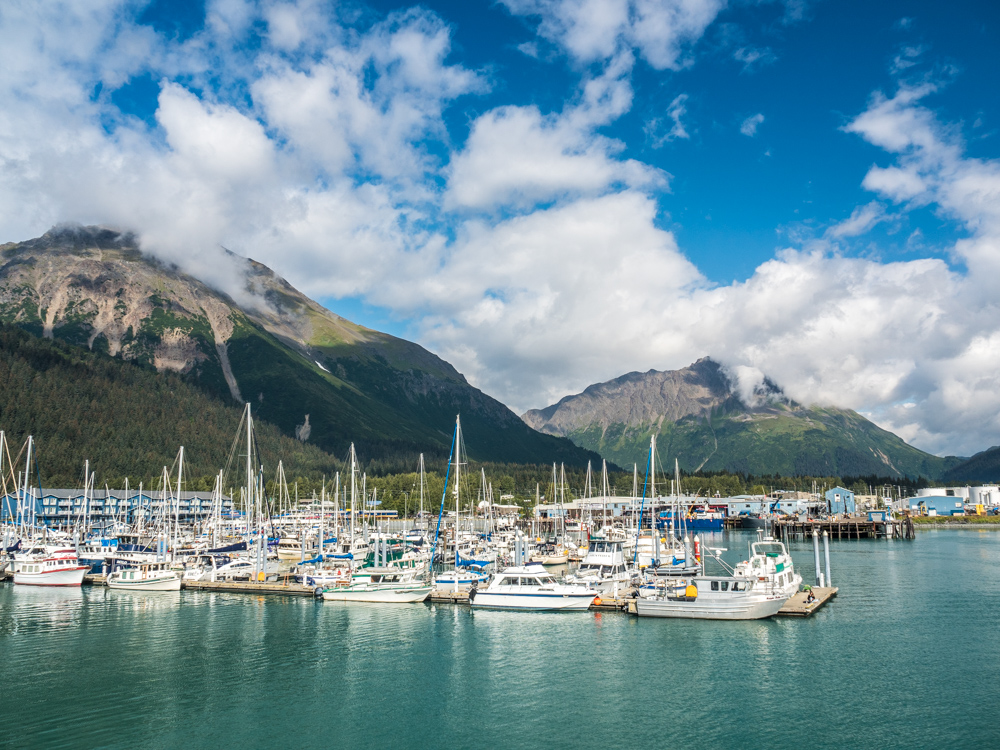 Where to stay in Seward
After hanging around Seward for a few days as independent travelers, I'd recommend staying on the south end of Seward close to the Alaska Sea Life Center. Especially in a "normal" year with plenty of cruise and rail arrivals, you'll find it much quieter and the restaurants are better overall.
Be sure to book early – we delayed and wound up staying outside of town, which was fine but a little less convenient and charming.
Seaside townhouse for 10 people – This townhouse is so beautiful and is in such an incredible location that I actually took a photo of it when we walked by so that I could be sure to recommend it to you! With three bedrooms and four bathrooms, it's plenty large for a family or even a multi-generational trip to Alaska. Also available here, so be sure to compare prices for your dates.
Sea Treasures Inn – Small, welcoming b&b that's an easy walk to shops, restaurants, Sea Life Center and the historic Iditarod Trail that runs along the coast. Rooms available for two or four people.
Best Western Plus Edgewater Hotel – Great location, generously sized rooms and breakfast is included. We find Best Western to be a reliable brand for traveling families and we appreciate the flexible cancellation policy.
If you'd rather stay near the hustle and bustle of the small boat harbor, look no further than the Seward Harbor 360 Hotel. It's owned by the same company as Major Marine cruises (more on that in a minute) and the tour check in is on the ground floor! You won't have to worry about scrounging for parking across the street and can check in before the lines get long. The hotel offers lovely rooms and stunning views to boot. Check prices here.
We were late to booking and stayed outside of town at Exit Glacier Lodge. It's conveniently located for those spending a few hours at the Exit Glacier area of Kenai Fjords National Park. It's basic and affordable, but wouldn't be my top pick if options in town are available and within your budget.
Day 7: Exploring en route to Seward
You'll start your morning en route from Homer to Seward, which is about 3.5 hours of drive time.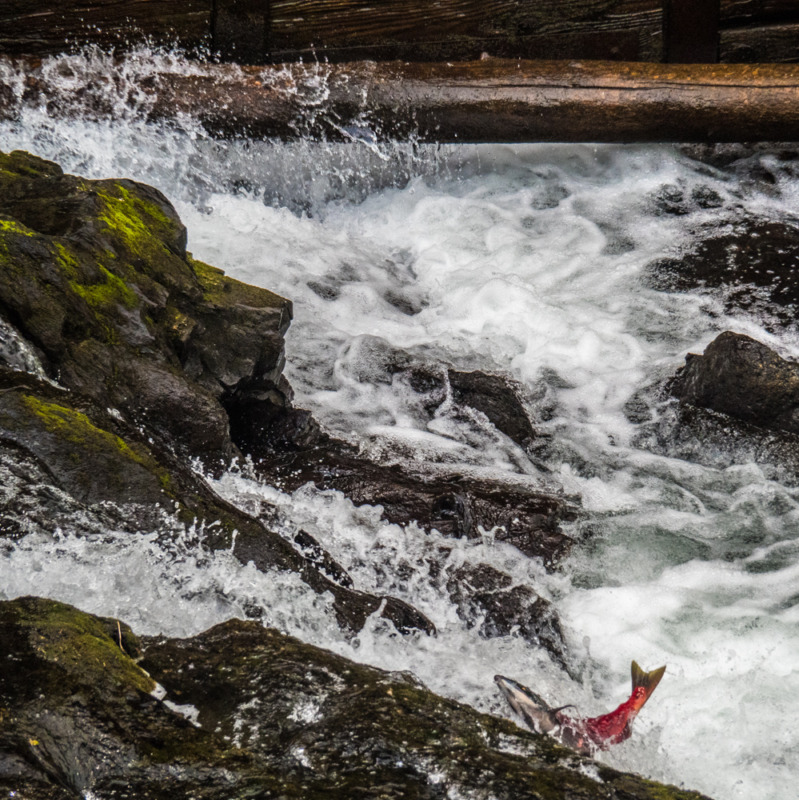 Your first stop along the way is a the Russian River Falls hike, one of the best hikes on the Kenai Peninsula. The Upper Russian Lakes route is just under 2.5 miles each way but overall an easy hike – we even saw one family pushing an all-terrain stroller (though I'm sure several of them carried it up the stairs at the beginning of the trail). The highlight of this hike is watching salmon swimming upstream and jumping up the falls. It's a remarkable sight!
You will have to pay to enter the park, and there are a few parking areas. We parked in the second one, Pink Salmon, which added a little more than a mile to our roundtrip. If you can get closer parking that'll help those in your group who don't have as much stamina! That said, after we returned I got a hot tip that you're more likely to see bears feasting on salmon if you park in the Grayling lot (all the way at the end of the access road) and take the trail to the river from there.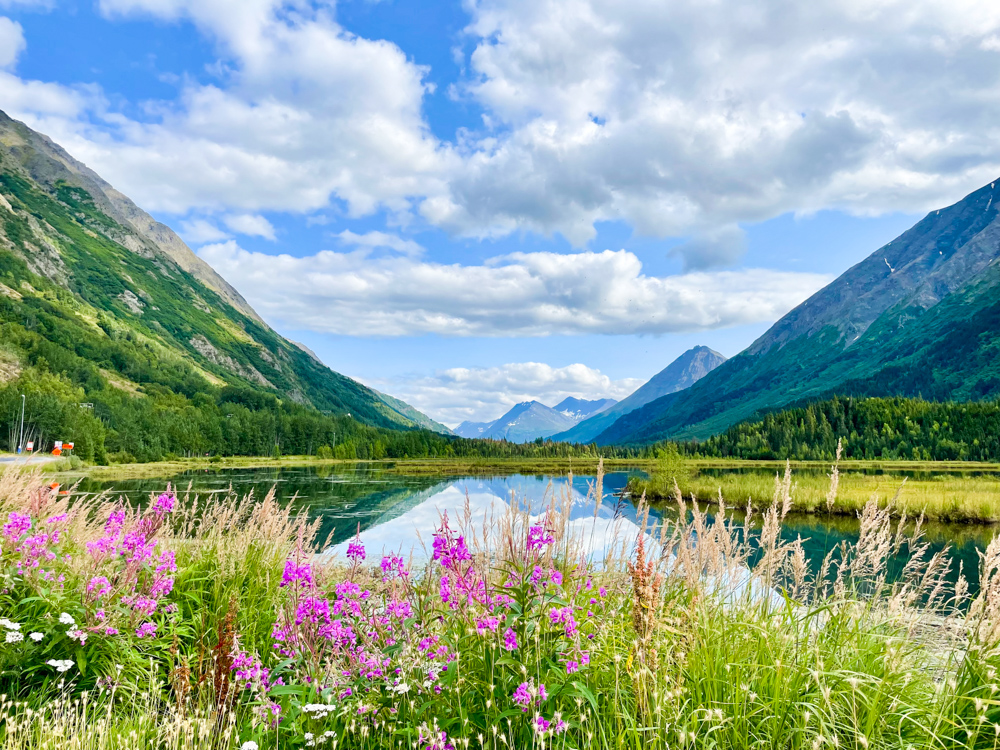 As you continue north on your drive, be sure to stop at Tern Lake to take in the afternoon view. There's a pull-off right at the end of Sterling Highway, before you'll need to turn right onto Seward Highway. If you have time, there's a viewing platform where you may spot all sorts of wildlife with your binoculars. Yes, it really is as lovely as the photo above (which I took during our drive).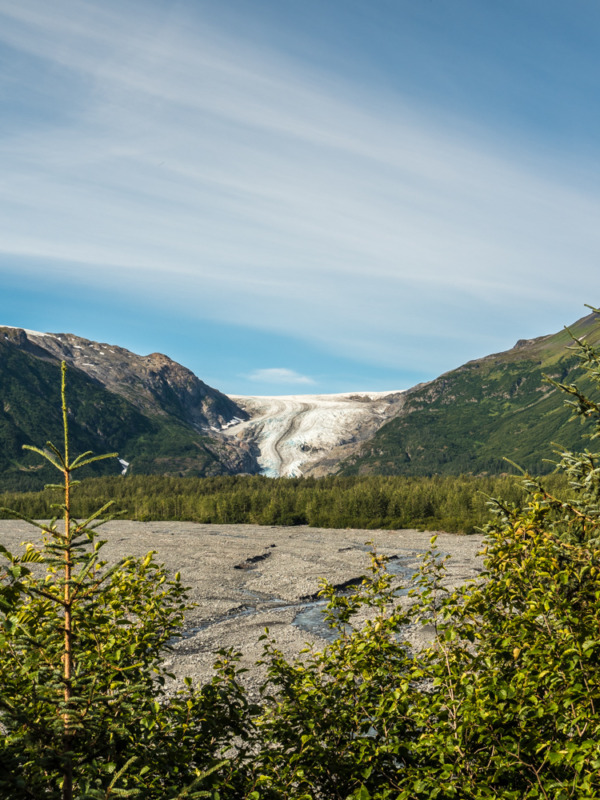 Before you get into the town of Seward, take the turn for Exit Glacier – this will be your first stop in Kenai Fjords National Park. It's a unique opportunity to get up close to a glacier, but also see the impact of climate change on this region of the world. If you're visiting Kenai Fjords with kids, you'll want to pick up a Junior Ranger book at the nature center. They also offer a cool Junior Angler book that teaches kids about responsible fishing as well as the Kenai Fjords Explorer book for teens and adults.
As you begin your walk to along the paved trail (I recommend veering left at the beginning) you'll see signs noting the glacier's end by year. Astute travelers will even notice one out on the road before arriving at the nature center.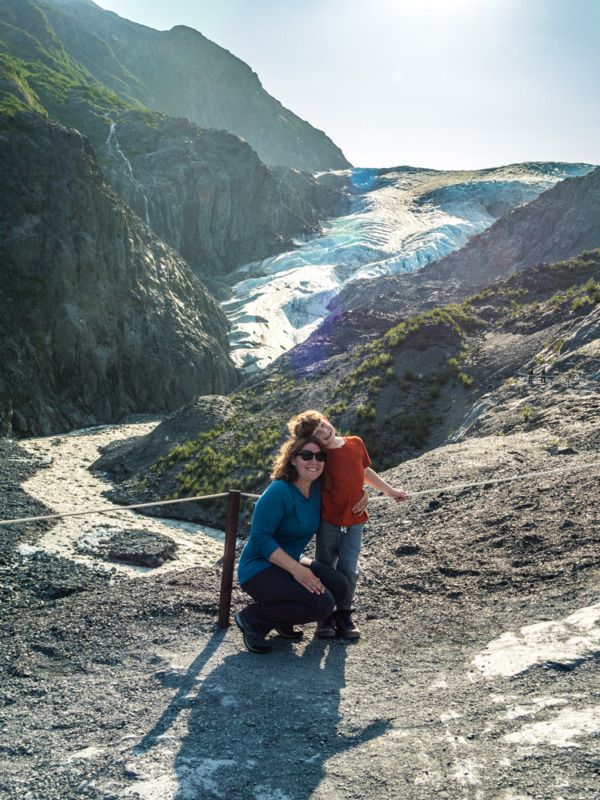 Once you get to the pavilion at the far end of the paved trail, continue up to the left to visit Glacier Overlook. At the end you can see just how quickly Exit Glacier is disappearing – more recent signs show just how much this glacier has receded in just 5-10 years. The walk to Glacier Overlook is about 2 miles and will take 1-2 hours depending on your pace.
Head into Seward to check into your lodgings and have dinner. We had an excellent meal at The Cookery, for which you'll want to make reservations at least a week in advance.
Day 8: Kenai Fjords National Park cruise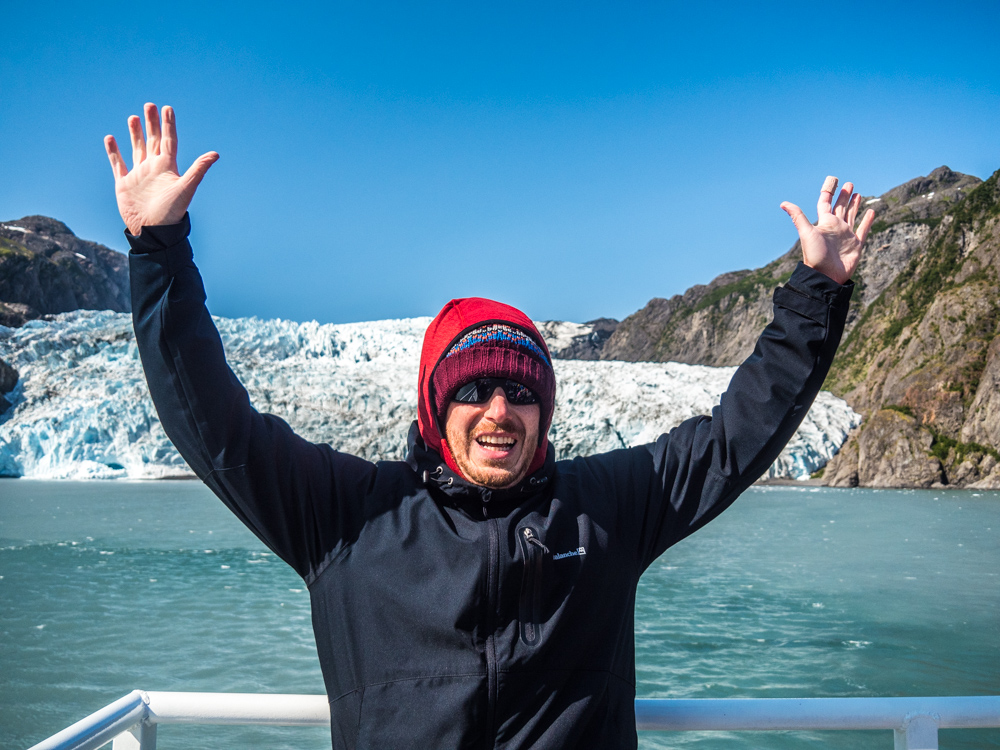 You've got a real treat in store today! Grab a gourmet coffee and some pastries at Resurrect Art Coffee House, where you can also spend some time perusing the locally made artwork and handicrafts. It's a great place to pick up a memorable souvenir of Alaska! You can order and sit down inside or use the outdoor window and sit in the lovely garden.
Once you've filled your belly, head up the road to the Seward small boat harbor. You'll be spending your day cruising Kenai Fjords National Park with Major Marine. Try to arrive at the Harbor 360 hotel around 10:30 to check in for your 11:30 cruise. You'll need the time to check in, walk to the dock where your boat is and stake your claim to a primo spot on the upper deck.
Our cruise with Major Marine was one of the highlights of our trip to Alaska – you can read all about it here. This is one experience you won't want to miss, as it'll show you some of the best scenery in all of Alaska and you'll enjoy tons of wildlife spotting. Here's a sampling of what you might see on your Kenai Fjords National Park cruise: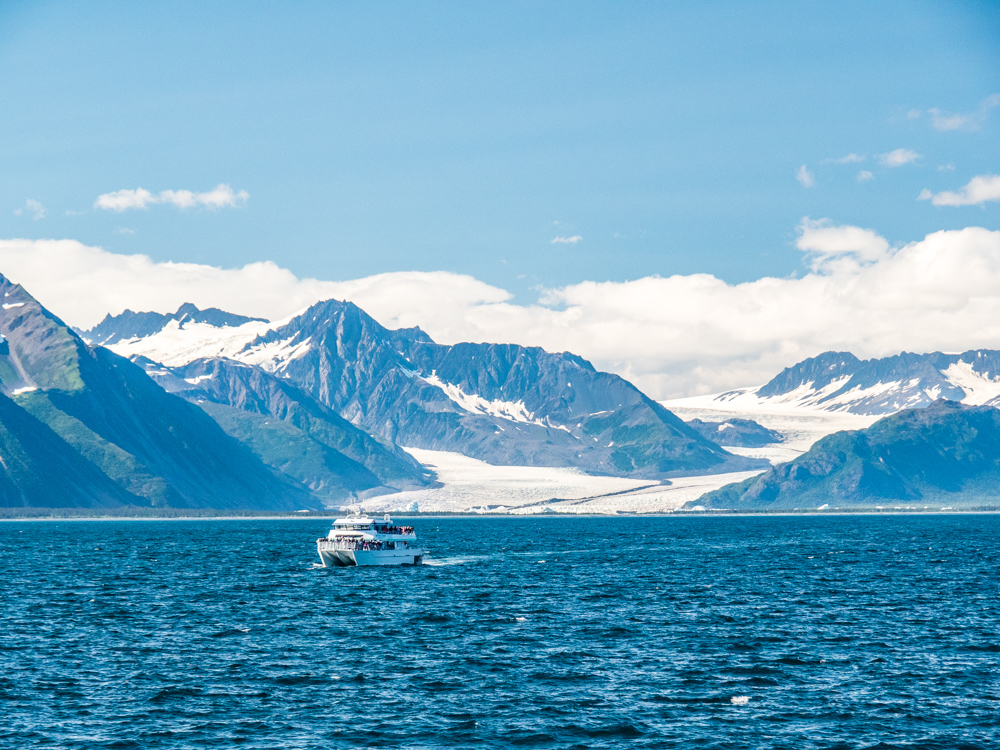 You'll return to the small boat harbor around 5:30pm. Head to Gold Rush Bistro on the south end of town to put your name on the wait list. They offer great fish and chips along with other fishy favorites. The wait list will notify you by text message when your table is ready, so you're free to roam the area.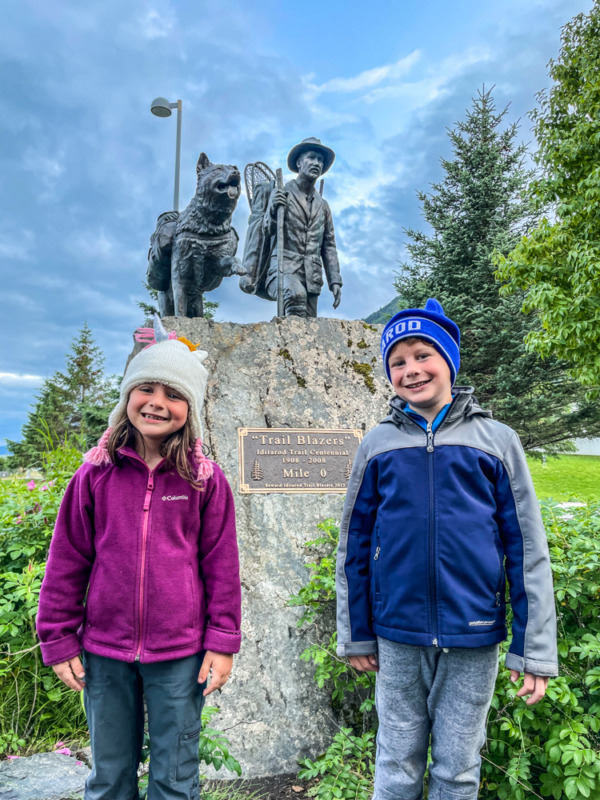 While you wait it's a great time to walk across the street and stroll along the historic Iditarod Trail. You'll find informational panels explaining the trail's history and wonderful views of Resurrection Bay. The trail is so lovely that we walked it each night we were in Seward! For those visiting with kids, there's also a lovely playground along the paved path that our bunch enjoyed.
Day 9: Fun things to do in Seward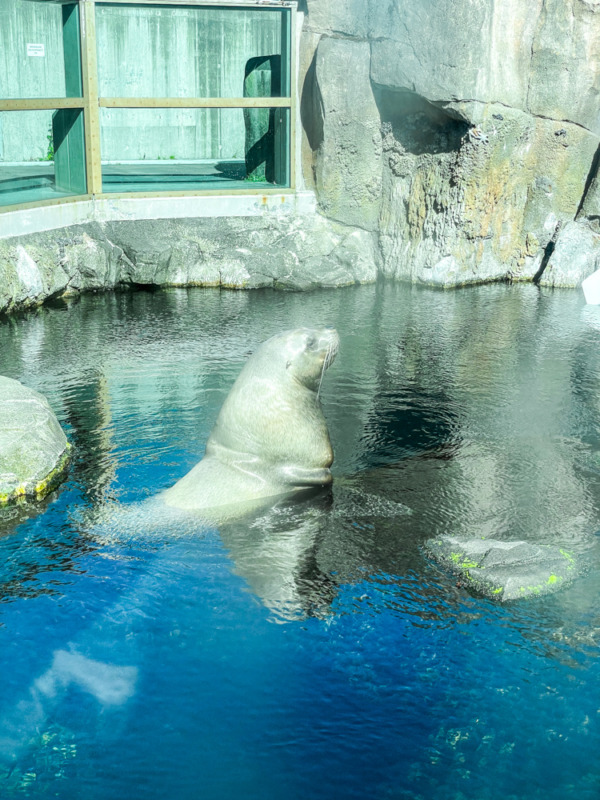 You'll spend the majority of today exploring Seward and nearby before driving on to Girdwood (below). Fortunately it's only a 90 minute drive so you have plenty of time!
Start your day at the Alaska SeaLife Center, a locally-focused aquarium that does great research, rehabilitation and conservation work as well. They have a great exhibit that even includes seals and sea lions. In the summer it opens at 8-9am depending on the day of the week, so I recommend an early start if possibly. Pro tip: If you're a member of your local zoo or aquarium, bring your membership card to save 50% on admission.
Your visit will take about 90 minutes and then you walk a few steps to Zudy's Cafe for a sandwich with a view.
Around mid-day, hop back in the car and head south past the SeaLife Center for your next adventure: the Tonsina Creek trail. The Tonsina Creek trail comes in at a roundtrip distance around 3.5 miles, but with a 700+ foot elevation change that mostly comes in a short span. Both of our kids managed the hike without issue, but I'd rate it as "moderate" – there's nothing accessible or stroller-friendly about this trail.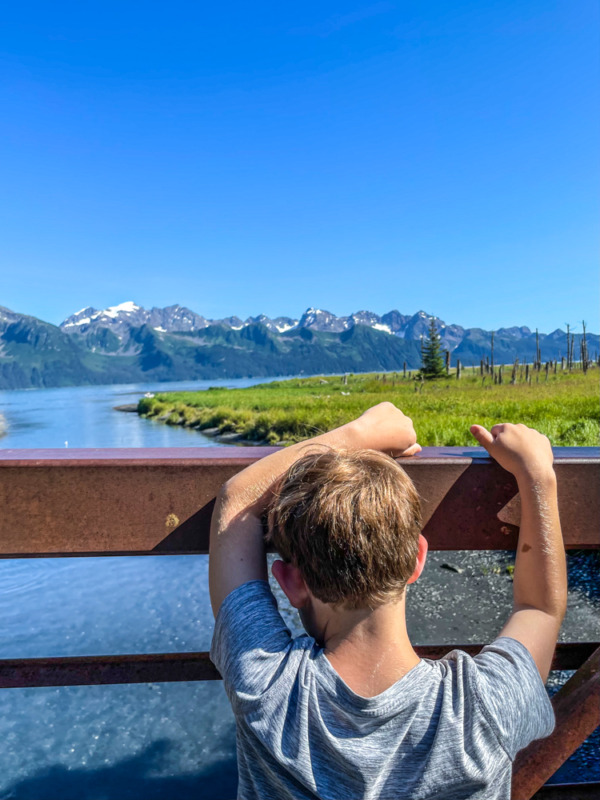 But the payoff at the end is absolutely magical! You'll find yourself at a secluded beach along Resurrection Bay with just a few other hikers, some driftwood and the wildlife. Artists will want to bring their sketch books and watercolors for this one. The Tonsina Creek trail is unquestionably one of the most beautiful hikes on the Kenai Peninsula. The total walking time is around 2 hours, but allow yourself additional time to stroll and relax on the beach. Watch for bears – we saw fresh scat right near the beach, which isn't surprising because of the huge number of salmon congregating at the mouth of the creek.
The hike wraps up your time in lovely little Seward. Hop back in the car, where you'll drive about 90 minutes north to Girdwood – the final stop on your 10 days Alaska itinerary. Hit up Jack Sprat or Spoonline Bistro for dinner; both are excellent but don't take reservations, so I recommend putting your name down before you go check in to your accommodations.
1 Day in Girdwood, Alaska
Where to stay in Girdwood
Girdwood is unique among Alaska tourist towns in that it has a solid year-round presence thanks to its combination of summer mountain adventures with a robust ski resort in the winter. It's also just 45 minutes from Anchorage, so lots of people maintain vacation rentals in Girdwood.
We stayed in this 2-bedroom rental and it was absolutely perfect! There's plenty of space for a group of four or five people and the bedrooms are totally dark (which helps with sleep quality and quantity in Alaska's abundant summer sun). There's easy parking in front and you're just a stone's throw from some of the best restaurants in Girdwood. You can also hop directly on a ski lift from the front door if you're planning a trip to Alaska in winter (it's used as a mountain biking lift in the summer if that's your preference). If we go back and visit Girdwood again, I'll definitely book the same condo.
Want a little more luxury for your last night in Alaska? Check out the famous Alyeska Resort. The hotel and grounds are beautiful and it has lots of great on-site amenities like spa, pool and restaurants. The location is extremely convenient for accessing the Alyeska Aerial Tram and the Winner Creek hiking trail, which are just on the back side of the hotel.
Day 10: Girdwood & Portage Valley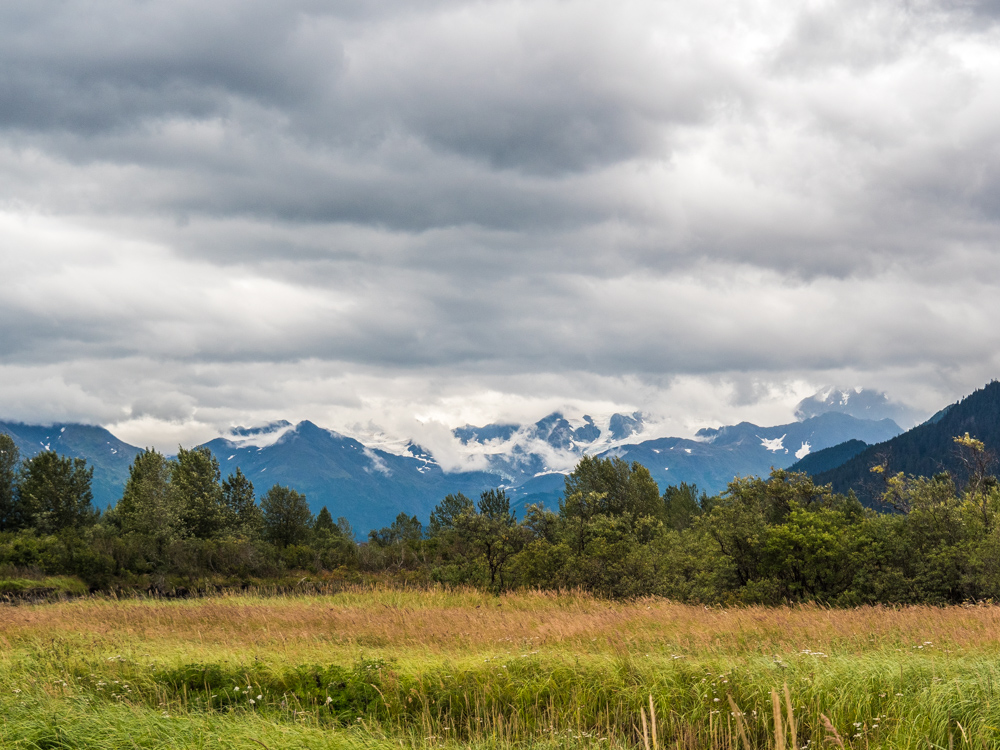 Your final full day in Alaska will be packed, so start your day with a hearty pancake breakfast at The Bake Shop. They're best known for their sourdough pancakes (which I can confirm are excellent) and we also enjoyed their French toast and omelettes. It was about a 30 second stumble from our lovely condo, so the rest of the family was able to finish getting ready and packing up for the day while I waited for our food in the charming picnic area outside.
After breakfast, head to the Alyeska Hotel for a ride up the tram. You can drive your car and park in the hotel parking lot. There is also a free local shuttle bus with a variable schedule by season; the ride itself is just four minutes from the bottom of Olympic Mountain Loop, but you'll have less flexibility in terms of timing during some seasons.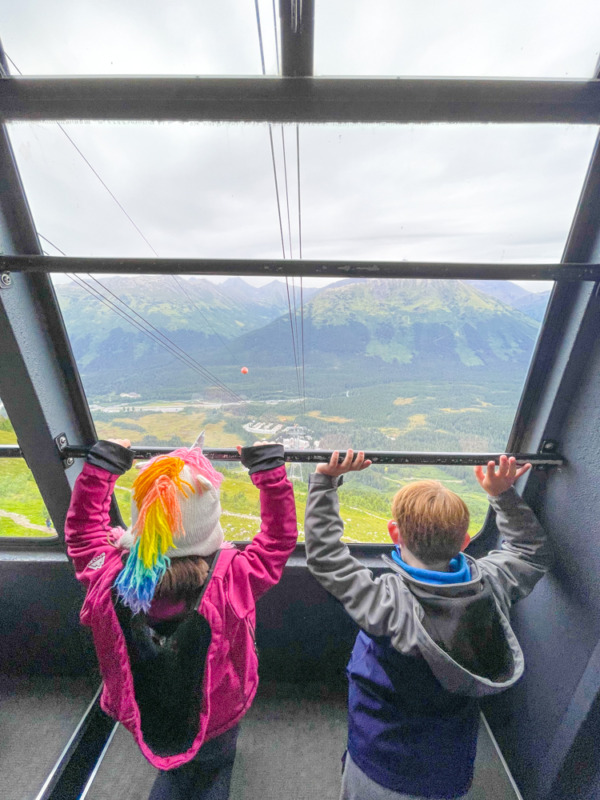 The Alyeska Aerial Tram is one of the best things to do in Girdwood by far. It takes you more than 2000 feet up to the top of the mountain during a smooth and beautiful 7 minute ride. If you can, I highly recommend going to the downhill side of your tram car as soon as you board; you'll get the best view from there. Tickets can be purchased on arrival, and I recommend choosing the "Dine & Ride" option for at least some members of your group; it's a great value for $20 credit at the Bore Tide Deli up top.
Once you're at the top of the mountain, the views across the valley to Turnagain Arm are lovely. If you're up for it, I recommend walking up the fairly steep path to the left when you exit the tram. You'll pick up some additional elevation and it'll give you even better views of the nearby glaciers (you even walk on a small one near the top of the path). While at the tippy top we spotted a roaming black bear down below and picked some (very tart but not poisonous) wild berries. It's also a fantastic vantage point to watch the mountain bikers careening down the mountain!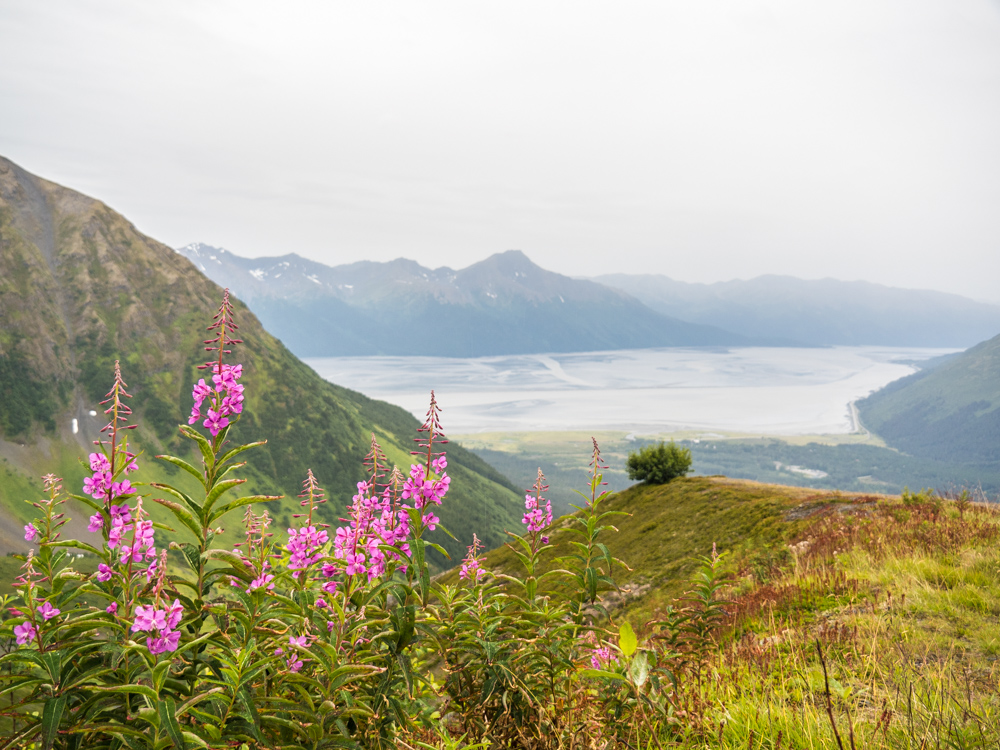 Back down at the tram depot, there's a small museum and gift shop, a nice observation deck, the fancy Seven Glaciers restaurant and the affordable Bore Tide Deli. We hadn't planned to eat at the Deli but stopped in for a hearty snack and were pleasantly surprised by the quality of the food and the prices (by Alaska standards, at least). We enjoyed the bison chili ($9), chicken tenders ($15) and plenty of hot cocoa ($2.50 each).
Overall allow 2-3 hours for your time at Alyeska including lunch at the top. You'll depart at mid-day and leave the Girdwood area to visit the Alaska Wildlife Conservation Center. This non-profit provides education to visitors about Alaska's native creatures and does critical conservation work as well. There's no capacity cap; just pay as you drive in.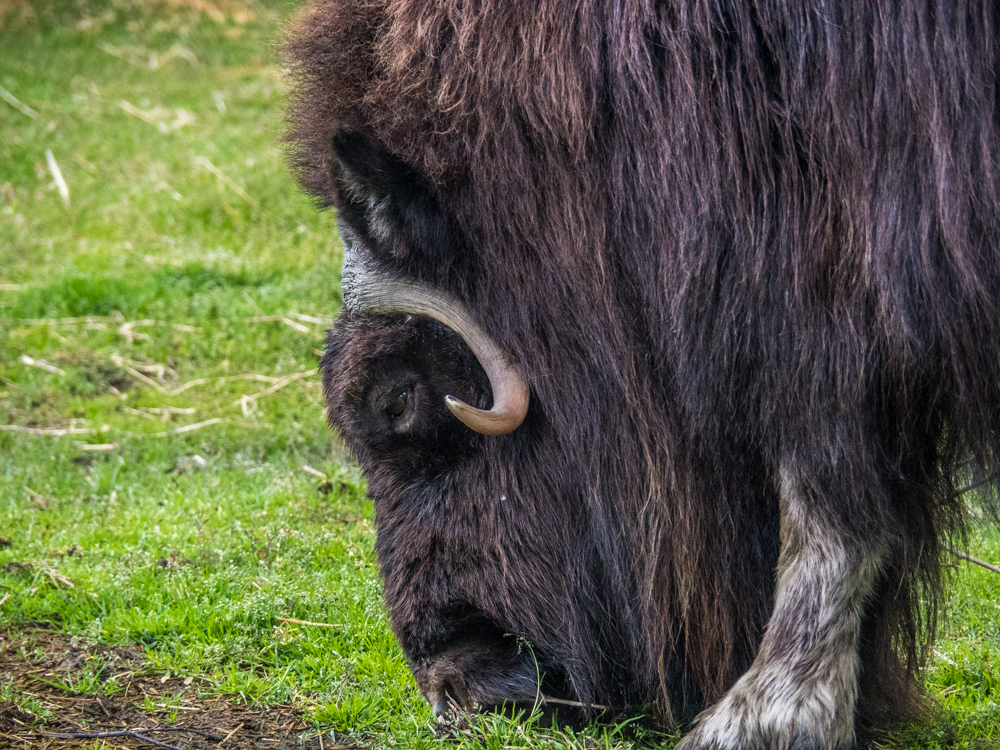 During your self-guided visit (lasting 1.5-2 hours), you'll see everything from porcupines and coyotes to big game like bears, muskox and wood bison. The informational panels at each exhibit are loaded with fascinating facts. Those with limited mobility can drive the loop, but it's a flat easy walk all around the complex after parking in the main lot. Fair warning, the road can be muddy and puddly after a big rain!
Your final stop on your Alaska adventure is a lovely little gem, Byron Glacier. It's in the heart of Portage Valley, a few minutes down the road to Whittier. The drive itself in this area is especially lovely, with incredible glaciers all around. We even saw a moose along the way, checking off one of Ronnie's Alaska bucket list items.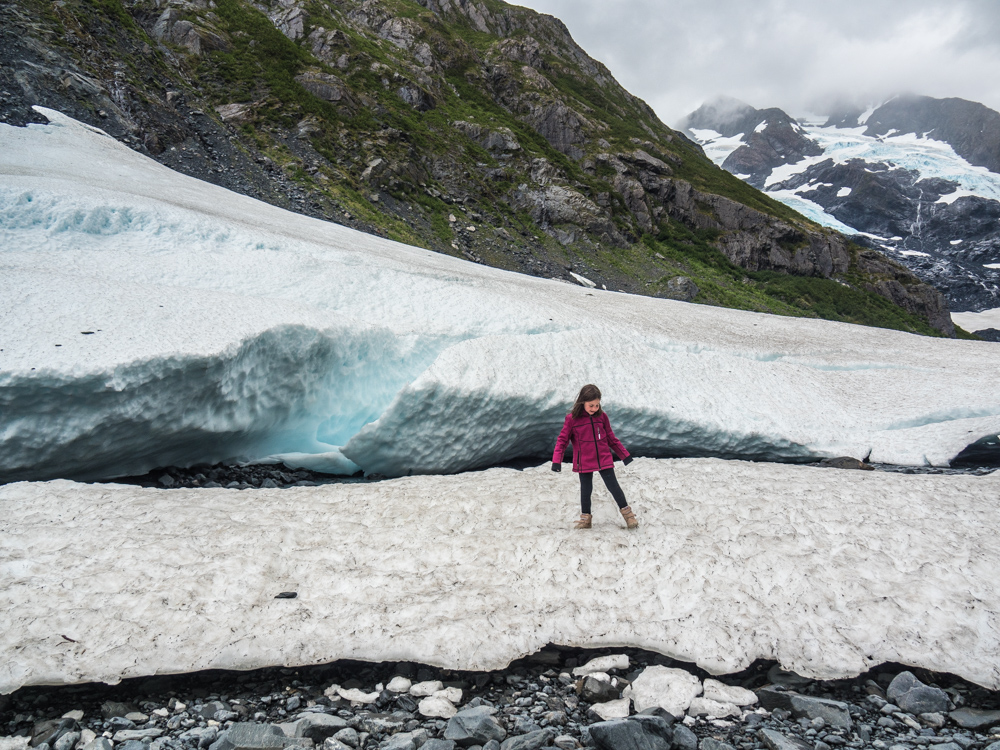 The Byron Glacier trail is just over a mile in each direction and almost completely flat – it's perfect for hikers of all ages and abilities, making it one of the easiest hikes in Alaska. At the end you'll be rewarded with an up-close-and-personal experience with a real glacier! Byron Glacier wasn't originally on our Alaska itinerary with kids but we added it in real-time thanks to a little more time than we anticipated and I'm so glad we did. It was the perfect way to end an epic family trip to Alaska.
If you have extra time on your hands (or prefer to skip AWCC) you can take an hour-long cruise around Portage Lake to see a stunning glacier up-close. You can book on-site when you arrive or at least 5 days in advance online, but be sure to print their $5 off coupon from the website. If you chose to do the shorter 3 hour trip in Kenai Fjords and missed the glacier there, this is a great option. It's a smaller boat, a shorter trip and the waters are smooth.
Mapping Your Alaska Trip Itinerary
It can be hard to understand how your entire Alaska trip itinerary comes together, so I've put together the map below to help you visualize it. It includes the main driving routes, places to stay, where to eat and the best things to do in Alaska that you won't want to miss. This truly is the best Alaska itinerary without doing an Alaska cruise.
Alaska Itinerary FAQs
How many days do I need in Alaska?
A 10 day Alaska itinerary will get you to most of the highlights on land. Add another week if you plan to do a cruise too.
What is the best month to go to Alaska?
That depends on what you want to see and the activities you'd like to do during your Alaska trip. A winter Alaska itinerary will be quite cold and dark, so it may offer fewer activities unless you are really into snow and ice sports. The summer months offer a different array of activities. There really isn't a best month to plan an itinerary for Alaska!
Is 3 days enough for Alaska?
You will only be able to see one or two cities during a 3 day Alaska itinerary versus 7 or 10 days. Keep in mind that Alaska is the largest state in the United States with a lot of land to cover.
Can you visit Alaska in 7 days?
You can see a fair amount with a 7 day Alaska itinerary, but it would take double the time to really give the state justice.
Planning your unforgettable Alaska trip
Ready to dive deep into your Alaska travel planning? Don't miss these helpful articles when planning your Alaska itineraries: