Italy is on the top of so many travelers' bucket lists, and between its ancient history, famous art, and great food, it's easy to see why. And while Italy is not the most expensive vacation, the cost of accommodations, food, transportation, and activities can definitely add up if you're not careful. How much does an Italy trip cost anyway?
If you think that dream trip to Italy is out of your budget, these ideas will help you save money while still having the trip you always imagined. In this article you'll find all the tips you need to plan an amazing trip to Italy on a budget.
How Much is a Trip to Italy?
I've asked my friend and fellow Italy lover Vanessa to share her best tips for how to travel to Italy cheap. So how much does a trip to Italy cost? The answer is it will vary depending on your travel choices. These are the tricks Vanessa used to backpack around Italy with her four kids for an entire month without breaking the budget – though that wasn't her first visit and certainly won't be her last. Vanessa will cover budget-friendly transportation options to and around Italy, how to save money on Italy trip accommodations, how to find cheap eats in Italy and more.
Want her expert guidance in planning your trip to Italy? You can get it all right here in her awesome 10-day Italy itinerary! She gives you the skinny on the tours you need to take, the places you need to stay and (of course) the gelato you need to eat. Grab your copy here.
Andiamo!
Don't have time to read a bunch of reviews and blog posts? Here are our top picks for visiting Italy:
Get an Easy Italy Itinerary
Need a quick day-by-day, open-and-go itinerary for Italy? This guide does the work for you!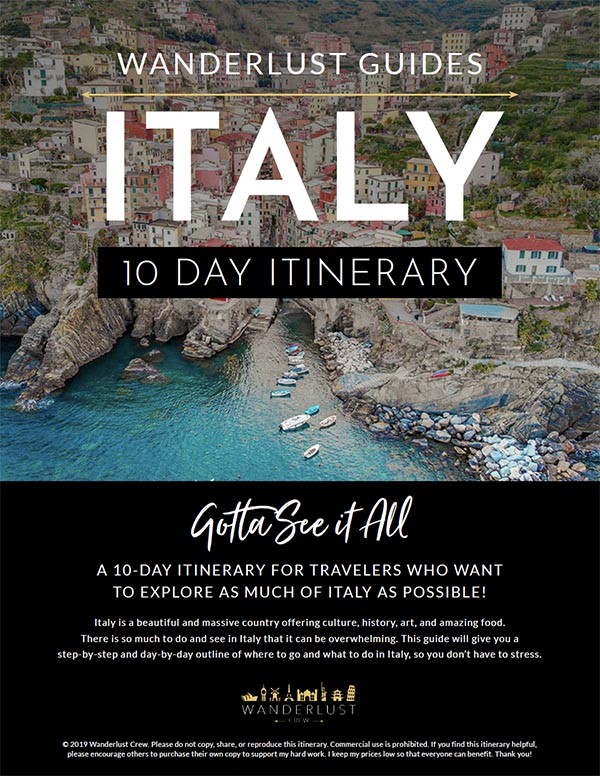 Awesome hotels in Italy
Fantastic tours in Italy
Renting a Car in Italy?
If you want to see the Italian countryside, I recommend you drive yourself. We prefer to use Rental Cars and Expedia Cars. We have had no issues with them and have been able to find the best prices available. Be sure to read these tips for renting a car in Italy.
Book a photoshoot
We always love to book a photoshoot when we're traveling. As a mom, it's tough to get in photos since I'm always behind the camera. We use Flytographer to capture our memories. You can get $25 off your shoot by booking at this link or using code FAMILYVOYAGE.
Be sure to buy travel insurance to protect yourself and your vacation expenses! Compare the top companies here to find the right plan for you.
What is the cheapest way to go to Italy?
If you are traveling to Italy from the USA, the cheapest way to get there is to use Skyscanner to book a flight. Check various dates and several cities in Italy to find the best deal. Traveling during the off seasons, during spring and fall, often have cheaper prices too.

Even better, open a Chase Sapphire Preferred credit card to earn points for your daily spending! The sign up bonus is enough to cover your round-trip ticket and the points can transfer to nearly a dozen different airline partners so you can be sure to find an awesome points redemption.

If you're planning a budget family trip to Italy, be sure to check out the best credit cards for travel with a family.
Is Italy cheap or expensive?
Vacationing in Italy can be as cheap or as expensive as you make it. There are many ways to travel Italy on a budget from booking lodging outside the city to taking walking tours to eating at grocery markets.
Is Italy cheap to travel?
Traveling Italy by train is more cheap and convenient than by car. In fact, traveling by car can be quite expensive for tourists.
How much should I budget for a month in Italy?
Budgeting for a trip to Italy depends on many factors, such as where you will stay, how you will travel and how often, access to a kitchen for cooking meals, etc. I recommend you create a budget based on the amount you are willing to spend, then make your travel plans accordingly.
How to find cheap flights to Italy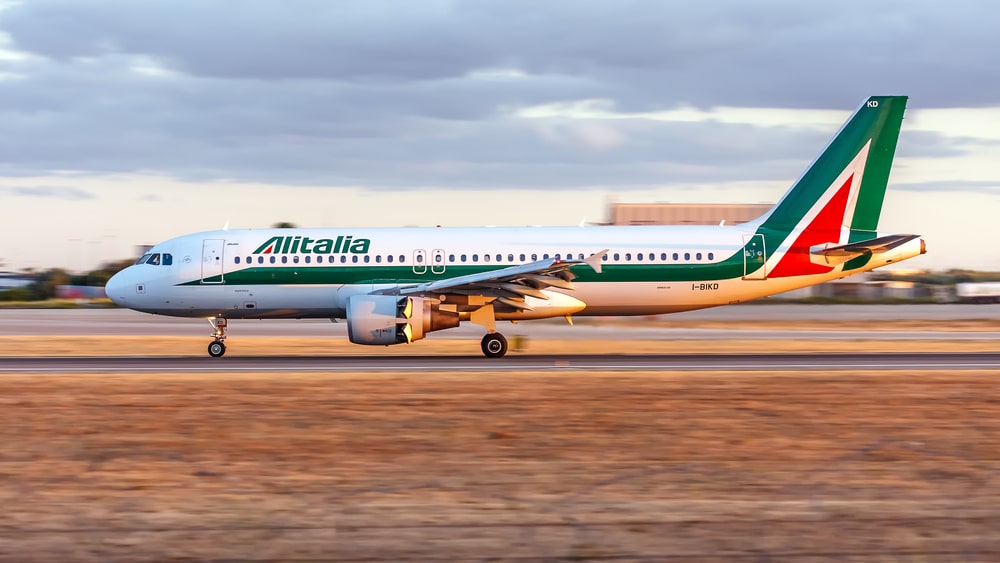 One of the biggest ways to plan a cheap trip to Italy is to get a good deal on flights. Flights will generally be cheaper during the off-season, like fall and spring, and flying in mid-week, rather than the weekend, can also save you a lot of money. Those are the best times to travel to Italy cheap. It's always good to be flexible with your dates if possible – sometimes incredible sales pop up!
For a cheap way to travel to Italy from the USA, look at all the major airports in Italy rather than restricting yourself solely to the city you want to visit. Many cities are just an inexpensive train ride away from each other, so flying into Milan and then taking the train to Venice, for example, may be much more cost-effective, and if you can fit that into your schedule, it's a great way to see more of the country.
I recommend checking Skyscanner for ticket prices for the cheapest way to get to Italy. You can check the cost to travel to Italy by searching entire months to find the cheapest dates. You can set your destination to the entire country of Italy to see where the most economical routes are from your home airport. Click here to try it out – in my experience the web browser interface works better than the app.
Award travel is also an amazing way to get to plan a trip to Italy on a budget. Depending on the exact route you're looking for, you can snag an award ticket to Italy for as little as 44,000. This article lays out the best options for flying to Italy on points. I strongly recommend opening either the Chase Sapphire Preferred or Chase Sapphire Reserve – they have great sign up bonuses and the Ultimate Rewards points you earn can transfer to almost a dozen partner airlines.
How to travel Italy on a budget
You can save a lot of money on your Italy vacation by being smart with your transportation options. The good news is that train travel in Italy is excellent and affordable. You can get almost anywhere by train quickly and efficiently. See all the schedules and prices here.
Many people will tell you to buy a rail pass to save you the hassle of booking separate train tickets, but if you know where you're going ahead of time, purchasing individual tickets is easy, and can actually save you a lot of money if you're willing to do the cost comparison ahead of time. Another great way to save on the Italian trains is by using the regional trains vs. the high-speed trains.
Your experience traveling Italy by train will be much more pleasant if you minimize your luggage. Hopping on and off the train with a 50lb suitcase will make you crazy! Be sure to read this packing list to make sure you bring what you need without overdoing it.
If you're traveling with a family or want flexibility to travel beyond the train routes, renting a car doesn't have to be expensive. It's often ideal to just rent a car for several days at a time rather than for your entire trip to Italy. For instance, you could rent a car when you're leaving Florence and drop it off in Rome after a few days of exploring the Tuscan countryside. Click here to check prices for your dates.
Cheapest way to travel in Italy
Driving in Italy can be expensive in some important ways and quickly blow your trip budget. The most significant unbudgeted expense for many visitors is traffic tickets! Many Italian cities and towns don't allow visitors to drive in the ZTL – Zona Traffico Limitato. Every time you cross the line, you're subject to a fine (often automatically photo-enforced). By avoiding city driving and being extremely careful at times when you don't have an option, you can keep your "ZTL budget" in check.
Some premium travel-focused credit cards like the Chase Sapphire Reserve also include primary rental car insurance as long as you reject all coverage offered by the car rental company. If you have a different credit card, be sure to check the rules – many specifically exclude Italy.
More basic credit cards offer rental car coverage that is secondary, meaning your normal auto insurance provides the first line of coverage; be mindful of filing claims that can increase your auto insurance premium in the long run (especially if you have it bundled with your home owners insurance).
If you're only interested in exploring the city centers or taking train-friendly day trips, you can skip the car altogether.
Traveling to Italy on a budget: Cheapest places to stay in Italy
Staying at the most popular locations in Italy like Rome, Venice, Florence, Cinque Terre, and the Amalfi Coast, are not going to be cheap. Don't be afraid to explore other, lesser-known parts of the country to stay within your budget for an Italy trip.
Italy offers a huge range of accommodation styles – you can choose from hotels, vacation rentals and even agritourismos. To maximize your budget while also having a unique visit, I recommend mixing a few different types of stays into your itinerary.
As you plan your itinerary, just be sure to factor in transportation costs. Staying in a place that's off the train routes will force you into renting a car, which may wind up costing more in the long run.
Read more: Where to go in Italy with kids
How to save on accommodations: Best places to stay in Italy on a budget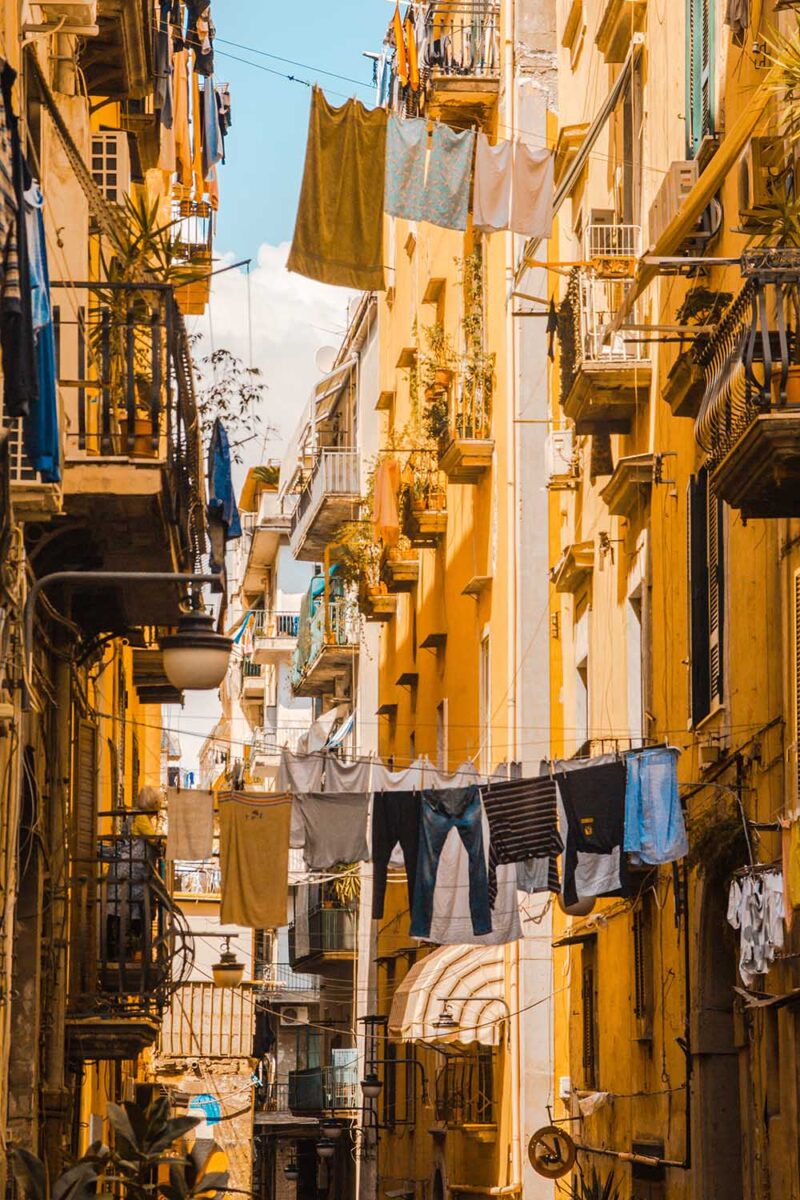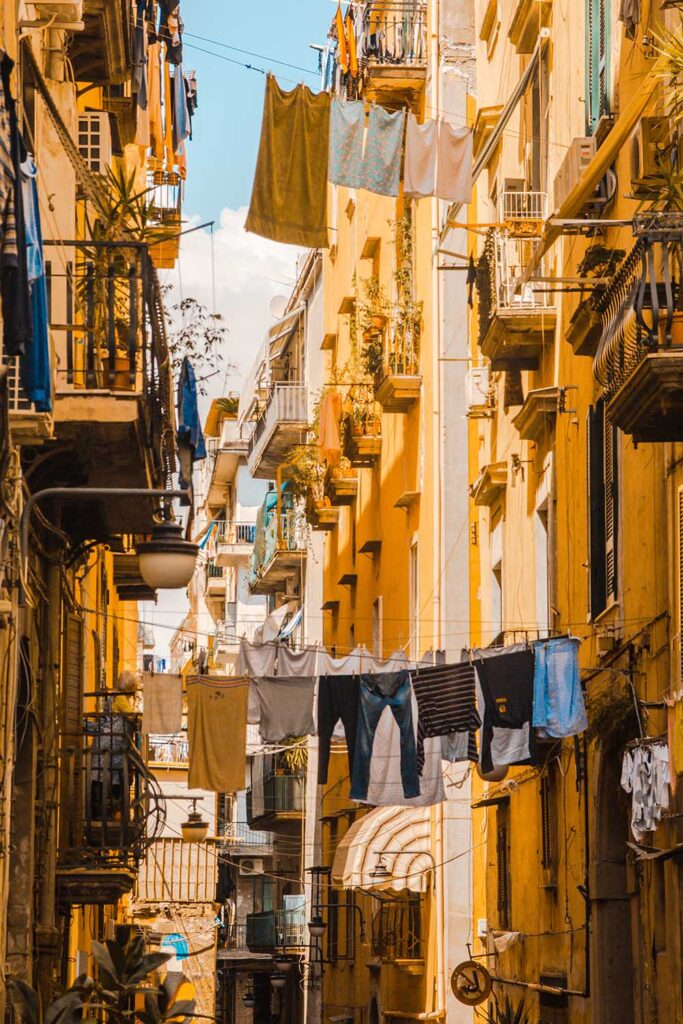 If you're trying to plan an affordable tip to Italy, accommodation is probably where you'll need your biggest savings. The price difference between a luxury hotel and a small vacation rental can be in the hundreds and even thousands of dollars.
My best tip is to stay outside the city center. The closer you get to the more touristy part of the cities, the more expensive hotels and vacation rentals will be. It may be a hassle to trek into the city each day, but you'll also get a more authentic experience during your stay. Having more locals and fewer tourists near your accommodations may also mean better, and more authentic food.
Be sure to factor in the cost of local transportation to your budget. That includes transportation from the train station (with all your baggage in tow) in addition to daily transportation to tourist sites. If you'll be arriving or departing by plane in a given city, be sure to check out the cost of ground transportation to the airport. Many airports in Italy are quite far from the city center, and if your accommodation is far away in the opposite direction you might obliterate your savings completely if you need to take a taxi because you have a lot of luggage.
You can use this handy map to find convenient places to stay in Italy on a budget:
Even better, you can use credit card points to stay for free at beautiful hotels in the city centers. Whether you transfer points from your Chase Sapphire Reserve credit card or Chase Sapphire Preferred, or use points earned on the World of Hyatt credit card directly (or both!) you'll be able to book amazing properties without spending a dime. It's the best way to snag a free hotel in Italy!
Where to find cheap food in Italy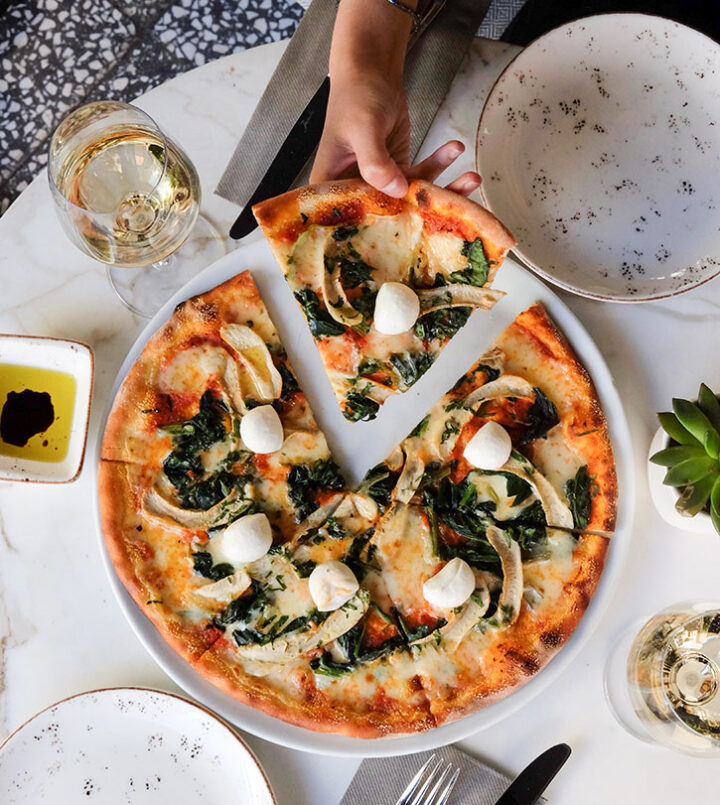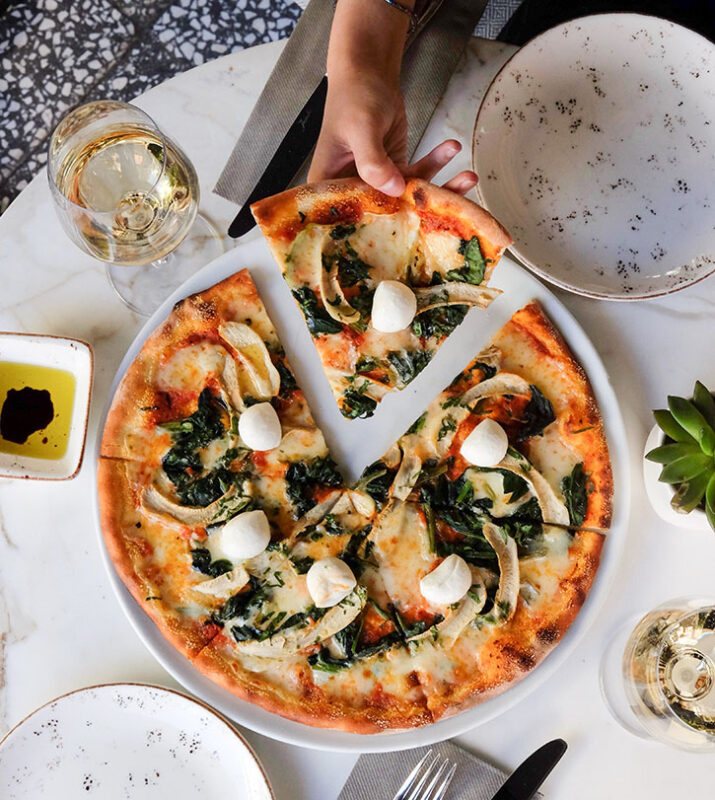 One of the biggest draws of Italy for many people is the food! From pasta to panini to pesto to Pannacotta to pizza, Italian food is incredible, and there are so many great places to eat in Italy without blowing your budget. You'd be surprised and what amazing food you can even discover at the grocery store. Eating frugal, but tasty, is a great way to plan a cheap Italy vacation.
The best way to avoid overpaying for food is to get away from the highly trafficked tourist areas. A restaurant with a view of the Colosseum in Rome is going to cost a lot more than one several blocks away. Watch out for a coperto charge, which is an extra cost for sitting in the restaurant to eat. It's usually only a few Euros per person, but it can really add up, especially if you have a big group. The coperto charge will usually be listed on a menu, but be sure to ask if you're not sure.
You can always pop into a forno, or bakery, for pastries or a slice of focaccia or pizza for only a few Euros. If you're traveling with kids, this will be the easiest and most budget-friendly way to feed the littles.
Another way to travel cheap in Italy is to drink tap water. As a tourist, you will generally automatically be given bottles of drinking water, but if you're comfortable with tap water, then go for it.
Read more: Must-Know Italy Travel Tips to Plan Your Dream Trip
How to save on activities in Italy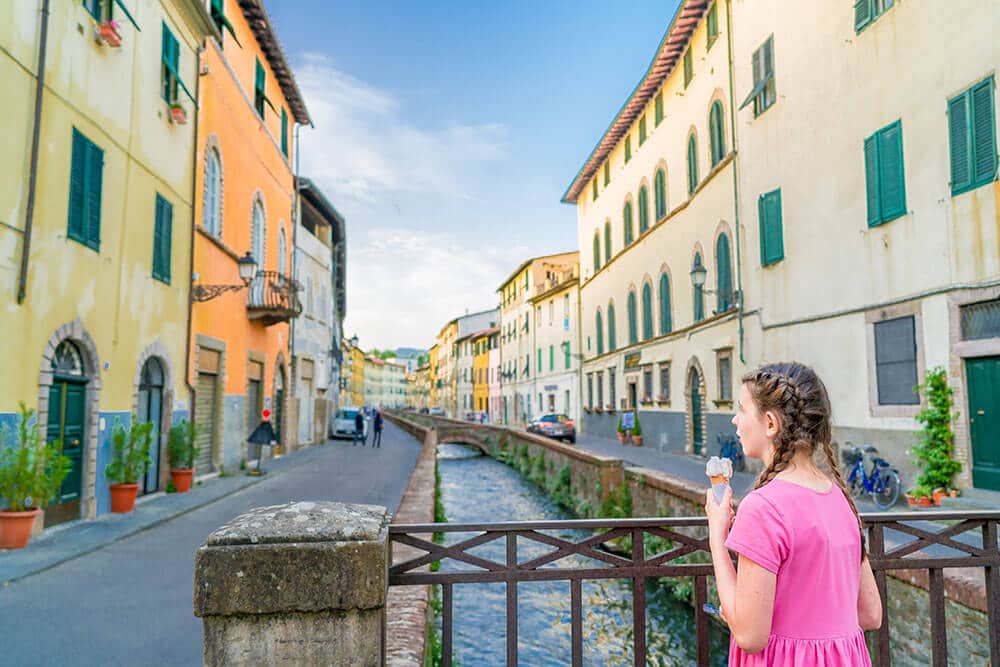 There are a lot of tour options in Italy that can be a great way to see the country, but they do come at a cost, especially if you do several. It's easy to explore Italy on your own without a tour guide. And even if you do want a tour guide, many cities in Italy offer free walking tours.
There are also a lot of great free and cheap online museum guides that will walk you through Italy's most famous museum and offer descriptions of many works of art.
How to go to Italy for cheap: Italy travel insurance
Especially in this day and age, travel insurance is extremely important. No matter how diligent you've been in planning a budget-friendly trip to Italy, it would be terrible to lose the money you've laid out for advance bookings and deposits!
A premium travel credit card like the Chase Sapphire Reserve provides excellent coverage for things like trip interruption and lost luggage at no additional cost. There's also a small amount of medical coverage.
World Nomads is providing one of the most generous and lenient travel insurance policies. They've been a trusted partner for long-term travelers and vacationers for many years and have earned that loyalty. Check out their site for full information on coverage.
Planning your budget trip to Italy
What is the cost of a trip to Italy? I recommend writing up your budget before planning your trip. Knowing exactly what you have available to spend will help you as you book your transportation, accommodations, activities, and even thinking about where and what you plan to eat. The great thing about Italy is that you don't need to have a luxury trip to experience a beautiful, authentic Italy.
Don't miss these additional resources as you plan your trip to Italy:
About Vanessa
Vanessa Hunt is the voice behind Wanderlust Crew and I Heart Italy. She has spent months at a time backpacking around Europe with her four kids and currently calls California her home (again).