One of the most common questions we get over in our Tiny Globetrotters Facebook group is "What's the best Hawaiian island for families?" The answer, of course, depends on what you want out of your trip. Do you like huge resorts or quiet villages? Do you want to spend most of your time lounging on the beach, trying out crazy adventures or exploring cultural highlights?
We asked some of our fellow family travel bloggers to weigh in on where to stay in Hawaii with kids – and some of their answers may surprise you! In this article you'll find out about the best Hawaiian island for kids of different ages and with different interests. After all, no two kids are alike and no two families are alike.
Which Hawaiian island has the best weather?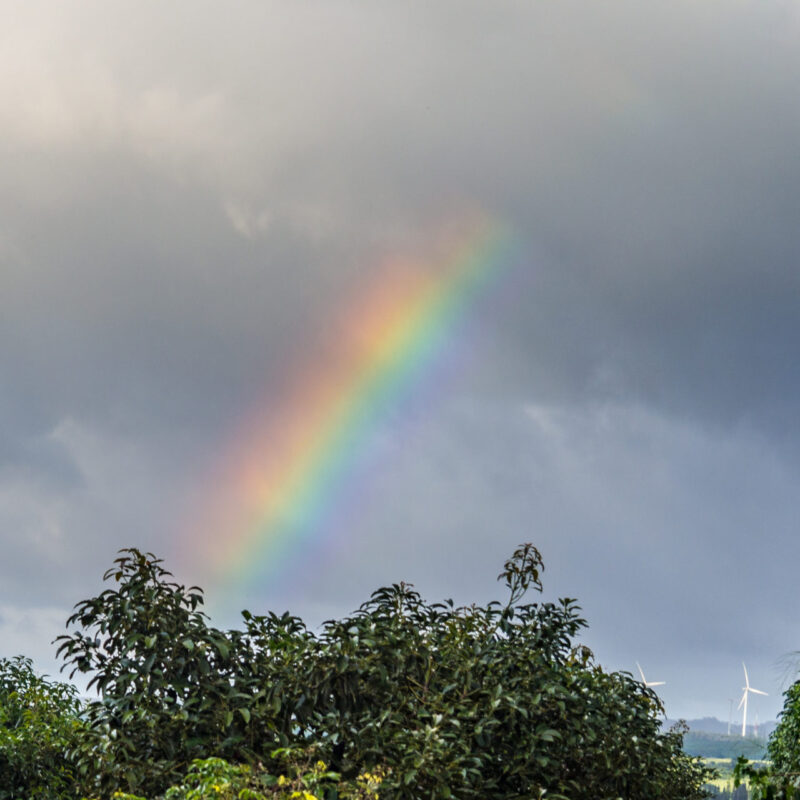 So many of the best things to do in Hawaii are outside that it's worth considering the different Hawaiian island weather patterns before you book your vacation. Check out this excellent website for detailed information on the weather on each part of each island – and notice that the rainfall scales on the maps are completely different for each island! Oahu and Maui are the driest Hawaiian islands in the areas frequented by tourists, while Kauai and the Big Island are the wettest – and lushest – Hawaiian islands in the areas frequented by tourists.
But visitors need to plan carefully their places to stay in Hawaii, as each island is made up of numerous microclimates that are impacted by both persistent atmospheric patterns as well as the varied topography. Generally, the eastern side of each island gets much more rain as moist ocean air that's blowing toward the west is lifted by each island's mountains and volcanoes, causing the humidity to condense and form rain clouds near the tops of the mountains. These are referred to as the windward coasts, while the mostly-dry opposite sides are the leeward coasts. Some parts of Oahu's leeward coast get so little rainfall that they're considered deserts!
For a successful trip, it's important to be aware of these microclimates as you decide on the best places to stay in Hawaii with kids. Each family will have a different tolerance for rain, and even neighboring towns can have different levels of precipitation! The good news is that even in many rainy areas, the rain is patchy and can be followed by rainbows and then clear blue skies. That was certainly our experience in Kaneohe!
---
Visit Oahu with kids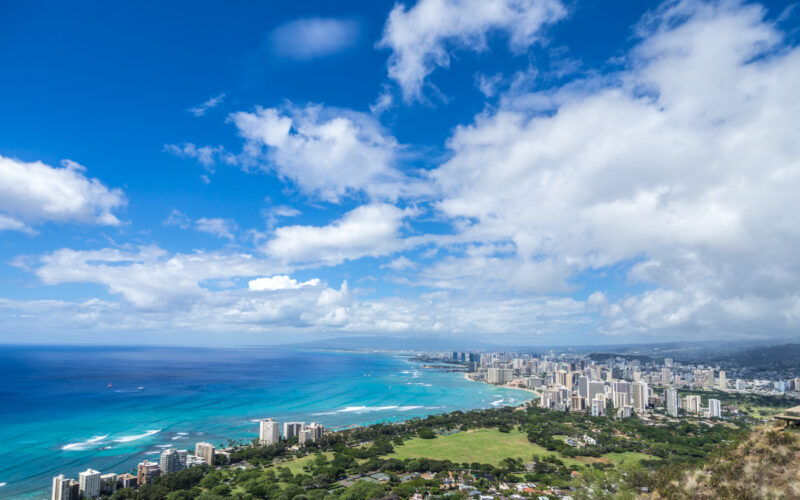 What makes Oahu the best Hawaiian island for a family vacation? What are the best things to do on Oahu with kids?
The best thing about visiting Oahu with kids is the variety of things to do. There are stunning beaches, but also wonderful activities like the Polynesian Cultural Center, several excellent museums and Pearl Harbor. You could stay for months without exhausting the possibilities, making it the best island in Hawaii for families who like a mix of urban and outdoor travels.
Read next: The perfect one week Oahu itinerary
It's a very populous island and each area has a different vibe: busy Honolulu, "Beverly Hills on the beach" Waikīkī, resort-central Ko Olina, magical surfer haven North Shore and residential Windward Coast. With so many different places to stay on Oahu, it's easy to choose the type of vacation you want! Check out our complete guide to the best areas to stay on Oahu.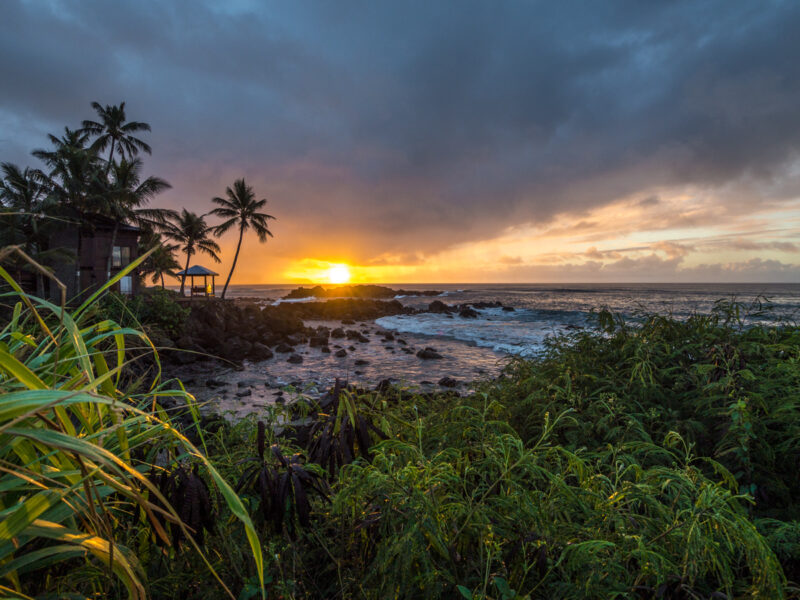 Thanks to its large population and well-developed infrastructure, Oahu is also the cheapest island in Hawaii. You can easily stay in a vacation rental and do grocery shopping at Costco. Flights from the mainland to Hawaii often go through Oahu, so it's usually the least expensive island to fly to. Check out more great tips for saving money on a Hawaii vacation.
We also found Oahu to be the best choice for a Hawaii vacation with family members of all ages thanks to the diversity of activities. While the grandmas might not have loved spending every day at the beach (and weren't able to hike or kayak) there were plenty of other offerings for them. Oahu is perfect for a multi-generational trip to Hawaii with grandparents!
What are potential challenges of a family trip to Oahu?
There can be two big pitfalls to a vacation on Oahu. The most obvious is traffic: though the island is heavily-populated and heavily-touristed, the mountainous terrain makes it difficult to build roads to keep up with congestion.
Read more: 10 things you need to know before renting a car in Hawaii
Fortunately there's a rail system under construction that will eventually connect Kapolei with Ala Moana – and, pending funding, even down to Waikiki; however, the first phase (which won't be of much use to tourists) won't open until 2020 and then the second phase will open in 2025. Traffic in Honolulu and Waikiki is notorious, but easy to avoid if you stay in the walkable areas like near Hilton Hawaiian Village and then arrange with your activities to provide van transportation. The North Shore can also have serious traffic from Haleiwa to Sunset Beach, but you can avoid that by staying at Turtle Bay in Kahuku if you're set on enjoying that part of the island.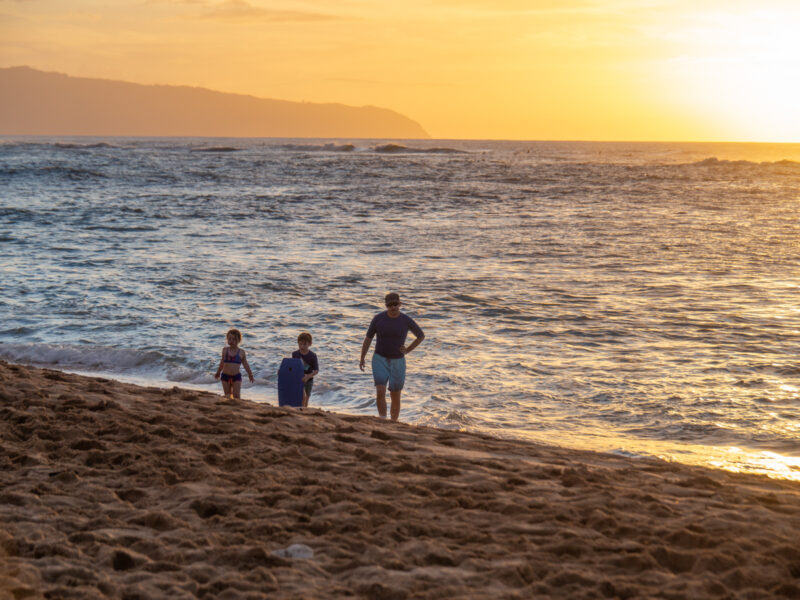 The other challenge of a family trip to Oahu is the potential that it won't feel like you're visiting a remote island in the Pacific. How could you when you're surrounded by office towers in the state capital? The solution to this challenge is to stay elsewhere on the island (either North Shore or Windward Coast), but that necessitates a rental car – check here to see how much it'll cost you for your trip.
What's the best age to take kids to Oahu?
Oahu is great for kids of any age! Families with babies will find calm waters at Ala Moana, Ko Olina and Lanikai, while those with teens and tweens can take on challenging hikes like Koko Head and Lanikai Pillbox or take surf lessons. It might be the best Hawaiian island for toddler travelers thanks to kid-friendly attractions like the Bishop Museum and the Honolulu zoo and aquarium.
I also think Oahu is the best Hawaiian island to visit with family of multiple generations, as we did. The two grandmas who visited with us were extremely happy to have museums, gardens and historic sites to mix in with beach days.
How long should you stay on Oahu?
Families can get a flavor of the best of Oahu in about a week, but there's enough to do that we stayed busy for over a month. Here's the perfect itinerary for one week on Oahu.
Where's the best place to stay on Oahu?
Here's a full breakdown of where to stay on Oahu, area by area!
We highly recommend staying on the Windward Coast. It's close enough to "town" (meaning Honolulu) to visit Pearl Harbor and museums and save money at large grocery stores, but has a quieter, local feel and stunning scenery thanks to the higher rainfall. We loved our amazing HomeExchange in Kaneohe.
For families who want to settle in and stretch out, check out these great family-friendly vacation rentals on Oahu.
There are lots of wonderful vacation rentals in Kailua (somewhat drier than Kaneohe), which has a great combination of top-notch beaches and cute town with shops and restaurants. There's even a small resort in the area that looks wonderful!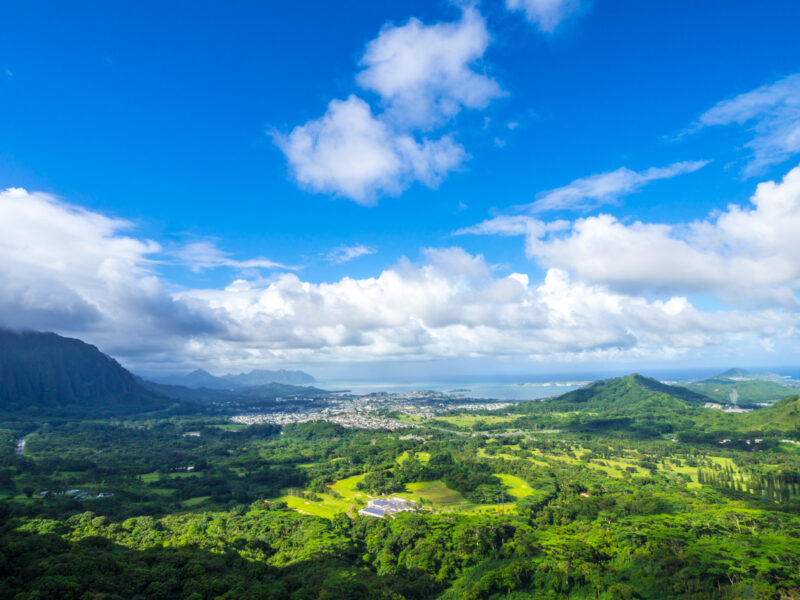 If you don't mind the crowds and want to avoid renting a car, there's no better choice than Hilton Hawaiian Village in Waikiki. There's excellent beach access, plus the resort has five pools – including water slides!
If you prefer quiet luxury, the iconic Turtle Bay resort in Kahuku is worth considering. While it's normally very pricey, my researched showed that you can sometimes find rooms at a deep discount in the off-season. There are also lots of vacation rentals at Turtle Bay like this one, which gives you access to the resort amenities with all the comforts of home:
Airy Turtle Bay Condo For Families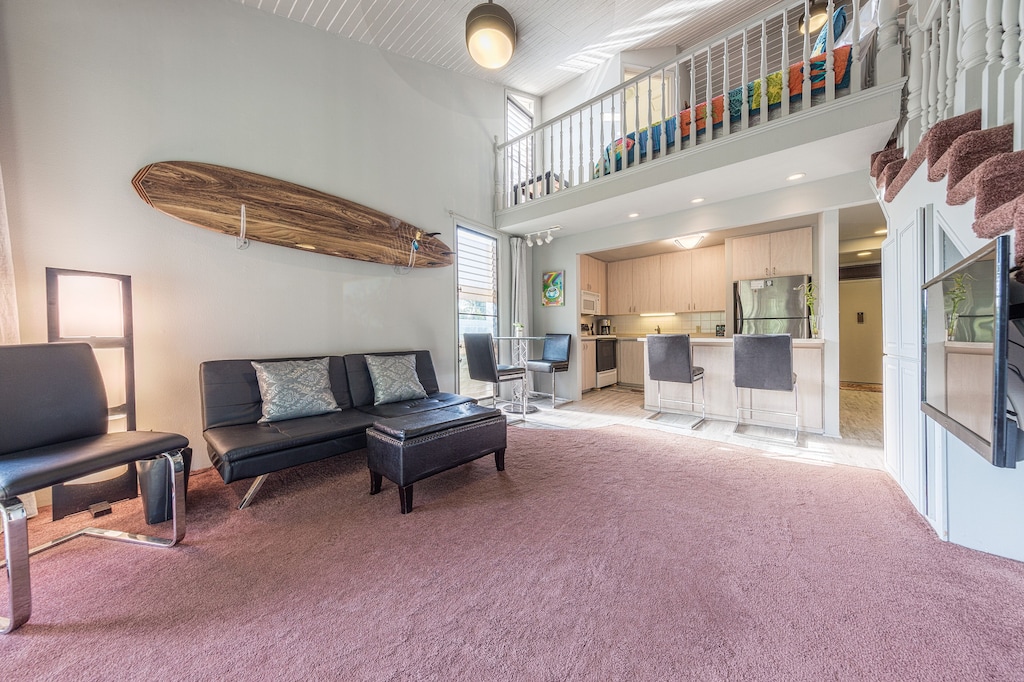 If you want to stay at one of the best resorts on Oahu for families but also enjoy space to spread out and a kitchen to make your own meals, you'll love this condo at Turtle Bay! It's on the peaceful North Shore and gives you the best of both worlds. This unit even comes with a crib.
Location: Turtle Bay (North Shore)
Max guests: 6
Beds: Queen + twin (bedroom 1), Queen + crib + sofa bed (bedroom 2)
Bathrooms: 2
Outdoor living: beautiful balcony; resort has pool, BBQ, tennis, stables and walkable beach access
Extra features: laundry in-unit, snorkel/beach gear, exercise room
Parking: reserved outdoor parking
If your main goal is to escape from everything at a beachside resort, Disney's Aulani in Kopolei offers Hawaiian relaxation with a touch of Disney magic. The youngest visitors will find easy splashing in the nearby man-made lagoons. It's the best place in Hawaii for families with really young children who are just looking for a relaxing getaway rather than an immersive Hawaiian experience.
Plan your Oahu vacation
We've got lots of great Oahu tips here on The Family Voyage! Check out all of our Hawaii articles. Need more info or prefer a paper guidebook? This is the best one money can buy.
---
Visit Maui with kids

What makes Maui with best Hawaiian island for kids? What are the best things to do on Maui with kids?
Maui is one of my favorite places to bring kids because it's the perfect mix of all the Hawaiian islands. There are fantastic beaches, scenic drives, tasty food, cultural activities, shopping, and a bit of nightlife (perfect for date nights!).
Read next: The perfect 3 day Maui itinerary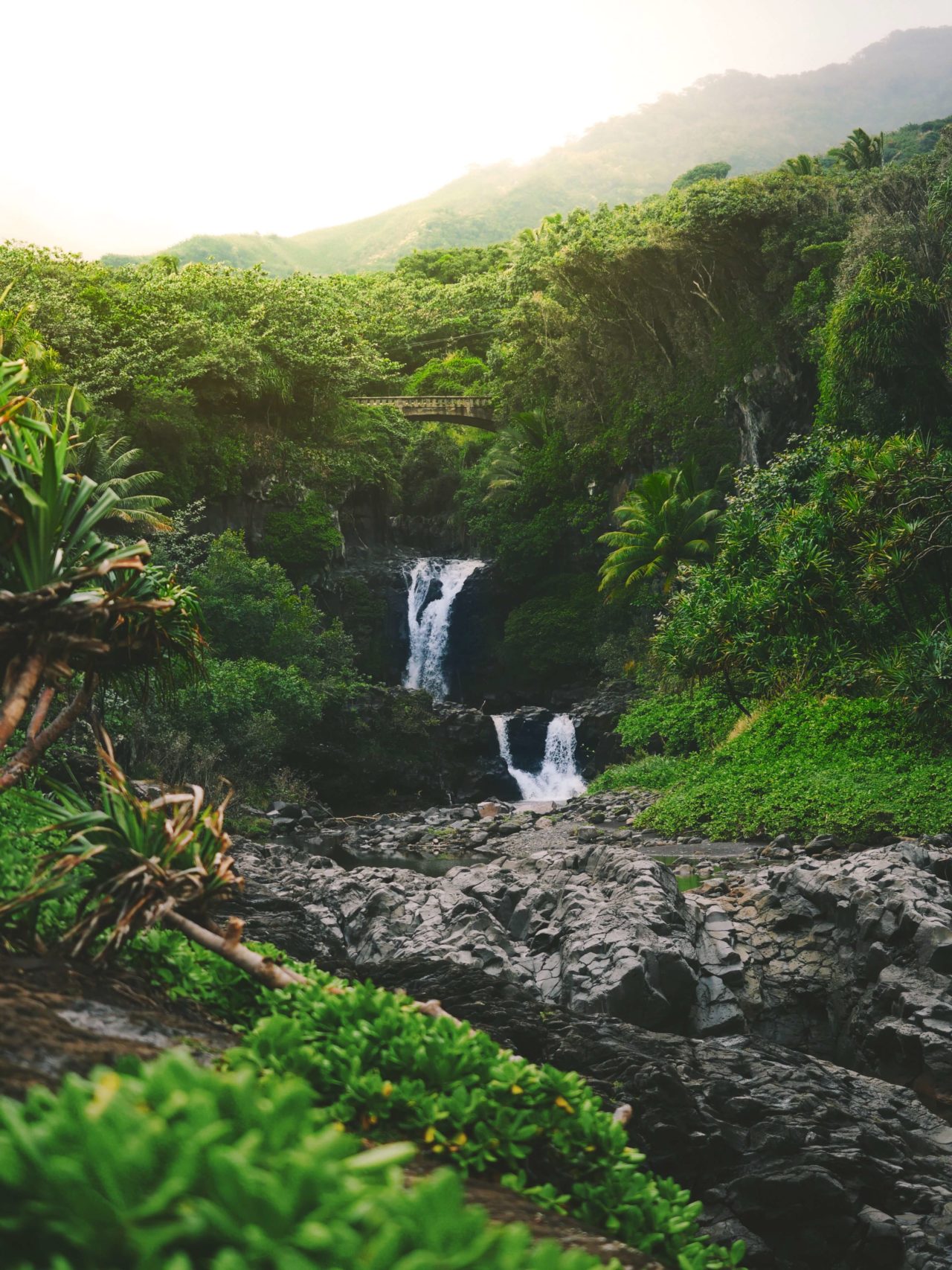 Note from Melissa: Our absolute favorite experience on Maui was a whale-watching cruise with the Pacific Whale Foundation. Find out more and book your tour here.
What are potential challenges of a family trip to Maui?
The biggest challenge for families with young children visiting Maui is that you really do need to rent a car, so you'll need to either bring or rent car seats. Get all the info you need about traveling with car seats.
What's the best age to take kids to Maui?
I've taken kids to Maui as early as 9 months old, so I'd say it's great for kids of any age! Perhaps the most fun age is 2-4 years old because they can spend all day playing in the sand or splashing in a pool – perfect for a Hawaii vacation with a toddler in tow.
Thinking of heading to Hawaii with a baby? Read this first to decide if it's a good idea!
How long should you stay on Maui?
Personally, I think 7-10 days is the right amount of time to explore Maui, especially if you have little kids and factor in nap times and early bed times. That way, you can do a few day trips, spend time at the beach, attend a luau, and just relax!
Where's the best place to stay on Maui?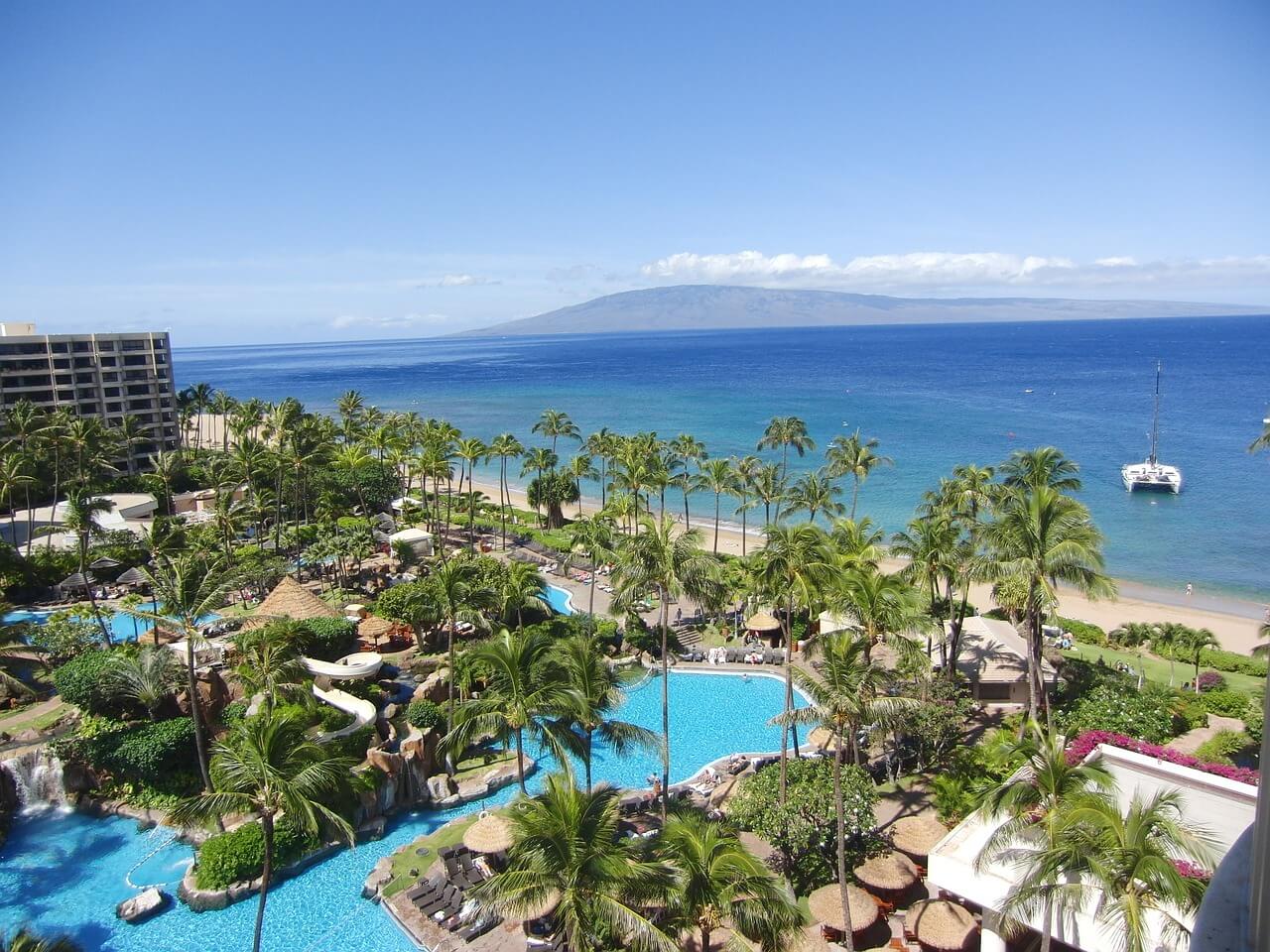 Finding the right place to stay on Maui will vary depending on your family's needs. We've stayed at the Honua Kai Resort in Ka'anapali several times and the kids love playing in their pools (they have FIVE!) and building sandcastles at the beach. It's perfect if you are traveling to Maui with extended family and we usually stay at one of their condos. But, Ka'anapali can feel a bit isolated if you are planning to explore Maui every day.
For families looking to do the Road to Hana, Haleakala Crater, and explore Upcountry Maui, I'd recommend staying in Kihei. It's affordable and centrally located. Plus, they have plenty of amazing food options (including Da Kitchen, Coconut's Fish Café, and Ululani Shave Ice!)
There are plenty of affordable vacation rentals on Maui and family-friendly stays for those who want a little more space and don't want to commit to eating at pricey restaurants every day.
Wherever you stay, make sure it has a nice lanai so you can sit out with a tropical drink after the kids go to bed!
Thanks to Marcie of Marcie in Mommyland – find out more about visiting Maui with kids
Plan your Maui vacation
Need more info or prefer a paper guidebook? This one has all of the best info!
---
Visit Kauai with kids

What makes Kauai the best island in Hawaii for kids? What are the best things to do on Kauai with kids?
When it comes to Kauai, you can't go wrong in bringing the entire family. Known as the Garden Island, Kauai lives up to its name at every turn with lush green landscapes as far as the eye can see.
The island is home to surfing legends like the late Andy Irons as well as Laird Hamilton and Gabrielle Reece, but that's not all it's home to. Kids get a kick out of the chickens that run wild nearly everywhere you go, and the monk seals that crawl right onto the beaches. It's the best island in Hawaii for kids who can appreciate a slower pace.
Kauai is as laid back as the other islands but seems to go out of its way to accommodate families. There are numerous playgrounds and kids' activities at the local attractions abound. From lei making at the Kauai Cultural Center to scavenger hunts at many of the hotels, no one will be bored on this vacation.
Read next: The perfect 3 day Kauai itinerary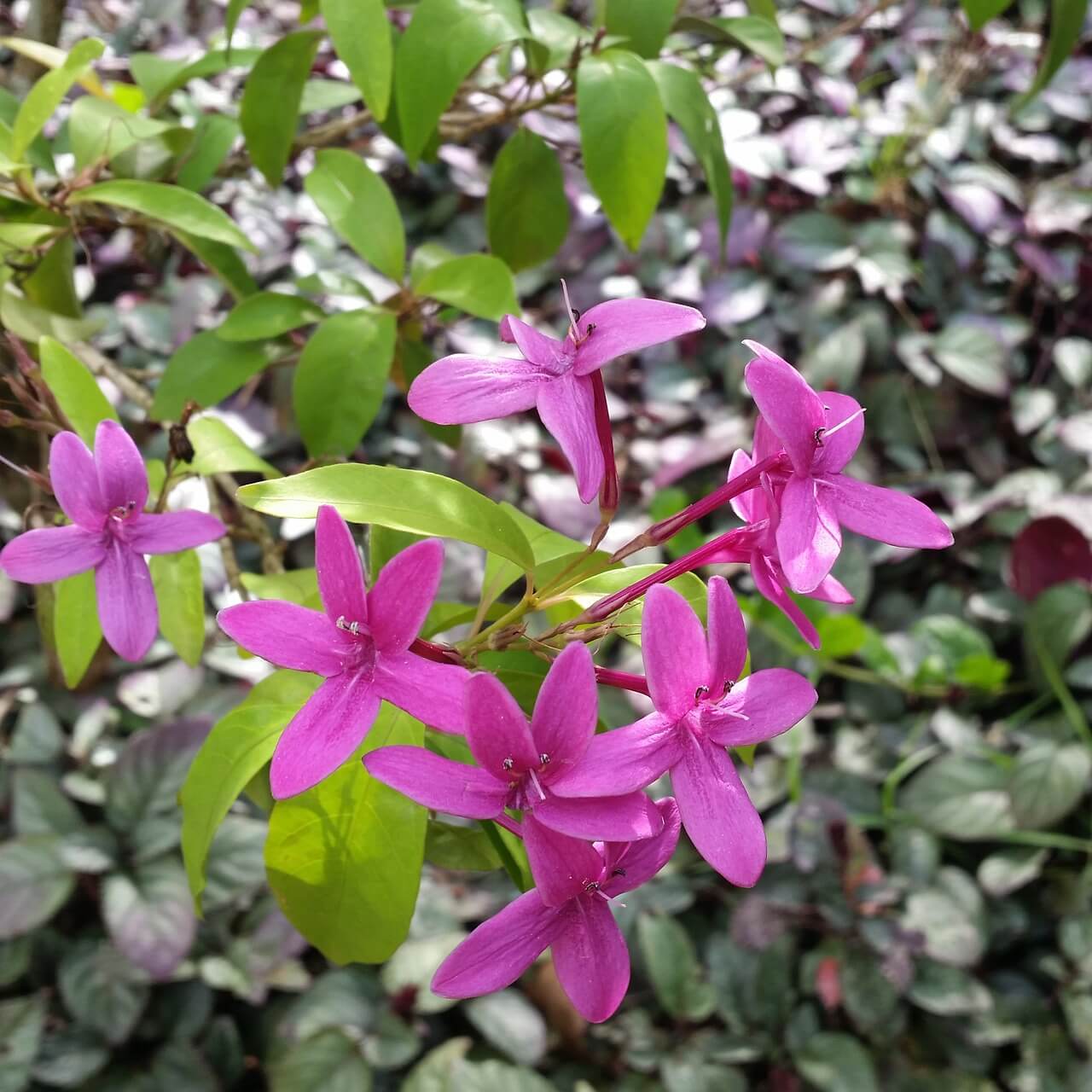 What are potential challenges of a family trip to Kauai?
As with other islands, eating out can be pricey, but there are usually children's menus and a good meal is enjoyed nearly anywhere you decide to stop.
Rent a car so you can traverse the entire island on your own, just check local reports for driving conditions as flash floods can cause road closures. As of January 2019, the northern part of the island is closed to non-local traffic due to landslides that occurred in 2018. This is a great website to check for roadwork closures and delays.
The main roads on the island run along the outer edge so there's often only one way in and out of places. This can cause HEAVY traffic at certain times of day. And while it's not exactly rush hour in Atlanta, plan extra time when driving around 8-9 am and 4-6 pm.
What's the best age to take kids to Kauai?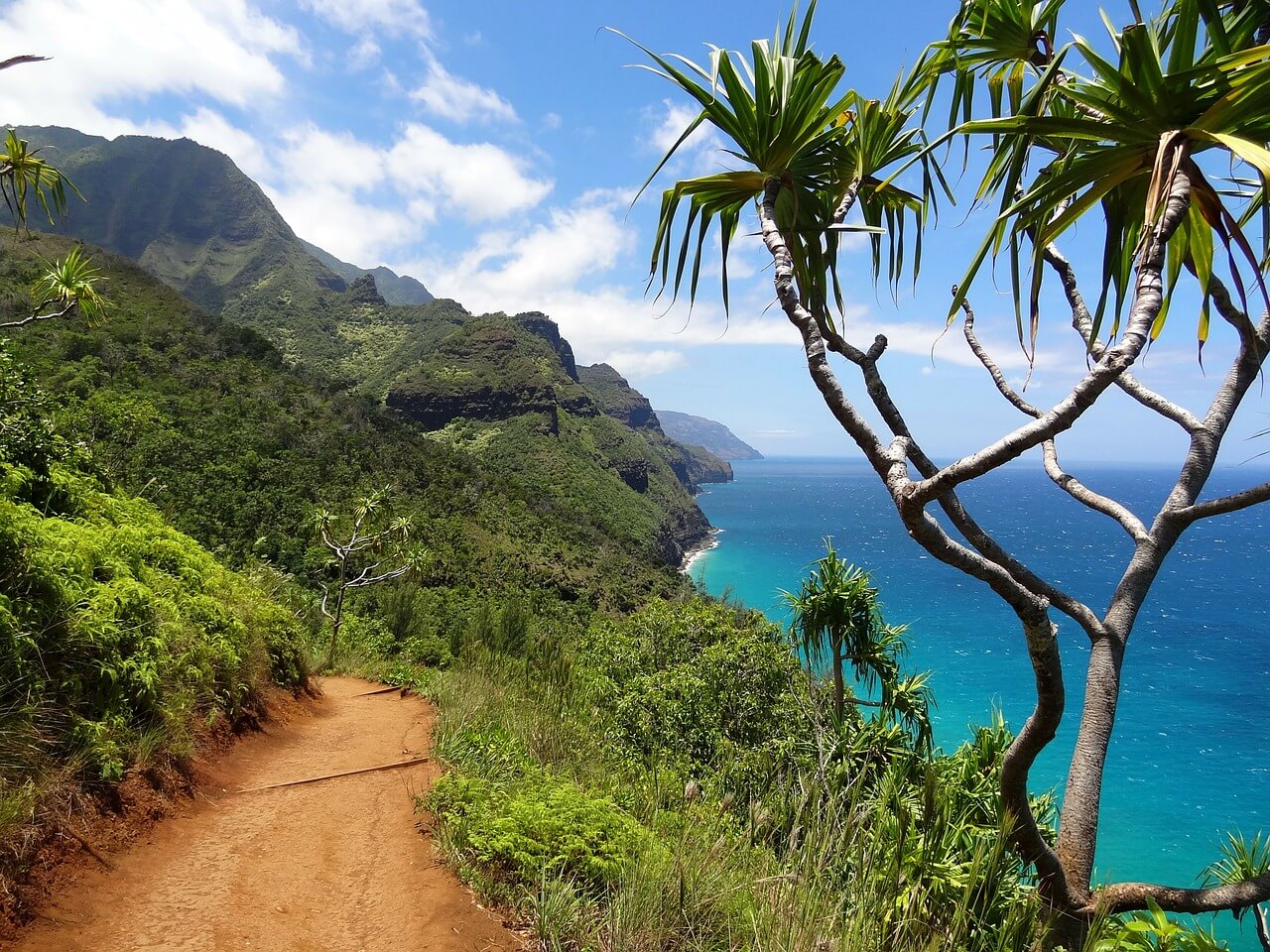 Families with kids 6 and up will find that nearly all activities are available to them. For ages 5 and under, there are a few limitations on the catamaran cruise, and potentially the Secret Falls tour if the river waters are high.
How long should you stay on Kauai?
I recommend at least one week on the island. From cruising the Na'Pali Coast on a catamaran to hiking Waimea Canyon, exploring the beaches to kayaking the Wailua River to Secret Falls, there's no shortage of things to do for all ages.
Get started planning with this one week Kauai itinerary
Where's the best place to stay on Kauai?
There are plenty of options for places to stay, but I recommend the Waipouli Beach Resort. Here, you'll find two-bedroom condos that offer full kitchens and all the amenities, perfect for the entire family. The resort pool is spectacular – with a lazy river, slides, sand-bottom hot tubs, and more. Plus, you have direct access to the beach on property.
Kauai offers plenty of vacation rentals in all the major tourist areas. Wherever you choose to stay, Kauai is the perfect island for an unforgettable family vacation.
Plan your Kauai vacation
Need more info or prefer a paper guidebook? This one can't be beat!
Thanks to Cat of The Compass is Calling
---
Visit the Big Island with kids

What's great about visiting the Big Island with kids? What do you consider the best of Hawaii island for families?
I love the adventurous nature of the Big Island. It's filled with big bucket list items like night time swimming with the manta rays, getting up close to live volcanoes, hikes into spectacular beaches and snorkeling in pristine marine sanctuaries. Make sure to pick up an America the Beautiful National Parks Pass to save money on admission fees!
Check out these other great National Parks inspired gifts!
You can go as remote or as civilized as you like on the Big Island. The town of Kona will offer you beach activities, restaurants and gorgeous sunsets to enjoy with a cocktail or two and you can stay in family friendly resorts that will keep the kids entertained and happy for hours.
What are potential challenges of a family trip to the Big Island?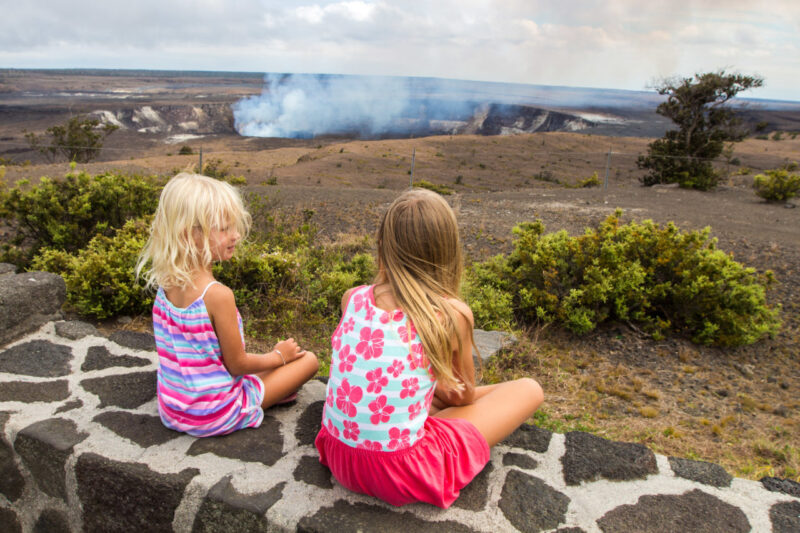 Recently, a challenge has been the erupting volcano, which really impacted people's travel plans. There is not a lot you can do about that except monitor its conditions and follow advisories – and of course get travel insurance in case of any trip cancellations. 2020 update: there is currently no active lava flow in Hawaii
Wondering what to do on the Big Island? Check out our perfect Hawaii Big Island 5 day itinerary!
Visiting the Big Island of Hawaii won't be as relaxing as a vacation on Oahu or Maui, where the attractions lie on the beach fronts. Days will be more intense with the adventurous nature of the island. Be sure your children are prepared for it and able to cope. We were unable to visit the spectacular Green Beach, as you either needed a 4WD to get into it, or hike in. Our children were too tired, and our time limited to fit that in.
As it is the largest of the Hawaiian Islands, getting around to various sites will take longer so plan accordingly.
The town of Kona can get pretty busy so you may want to ensure you book ahead and look at traveling outside of the busy season.
Note from Melissa: One of the best ways to minimize drive times is to spend part of your time staying on the windward coast, closer to Hawai'i Volcanoes National Park; however, this area can be extremely rainy.
What's the best age to take kids to the Big Island?
My youngest was 5 when we visited and she had a great time. As it is more of an adventurous island I wouldn't recommend taking children too much younger than this. She was a little freaked out with the night time manta ray swimming and didn't stay too long in the water. I think now that she is 7 she'd embrace it a little more. I wouldn't put an upper age limit on it. The Big Island of Hawaii has so much to keep older kids happy and engaged.
How long should you stay on the Big Island?
We stayed 5 days on the Big Island and I think this was great amount of time. I would even have liked to stay a couple more days. I wouldn't recommend less than five as there is just so much to do. Check out some fun things to do on the Big Island!
Where's the best place to stay on the Big Island?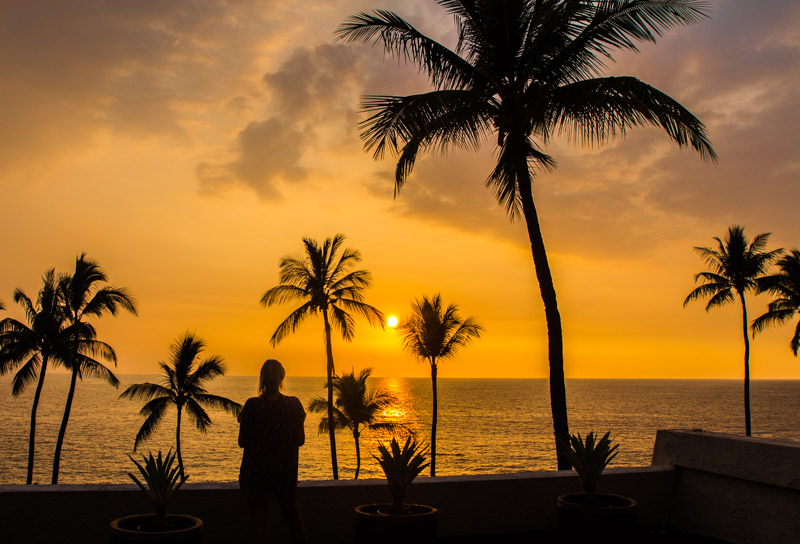 We loved the Sheraton in Kona. They have several pools, one with great views of the ocean, especially at sunset. The rooms here were spacious and comfortable and the service great – it's a Sheraton! We also loved eating at their restaurant Rays on the Bay: delicious food (especially their lava cake) music, fun ambiance and great views over the water. You can even watch the night time manta ray swimmers.

We also stayed at the Hilton Waikoloa Village, which is hugely popular with families. It was quite isolated from other areas and things to do so it felt like once you checked in you were there to stay. With several restaurants, pools and waterslides was definitely plenty to do in the resort to keep you occupied, but we preferred the Sheraton in Kona as we could easily access the town. We didn't want to visit Hawaii just to stay in a resort the whole time. However, we did find one of our favorite bar/restaurants just down the road from here. The Lava Lava Club is the place to go for a relaxed sunset dinner and drinks.
Note from Melissa: We heard a fantastic report back from our family members who stayed at the Mauna Kea Beach Hotel with their two young children! This is an especially great choice for those who are very involved in the Marriott rewards program.
If you're trying to visit Hawaii on a budget, one of your best options is to stay in a family-friendly Airbnb on the Big Island. There are plenty to choose from in all areas, and the prices are extremely reasonable.
Plan your Big Island vacation
Need more info or prefer a paper guidebook? This one will show you all the Big Island's hidden gems.
Thanks to Caz of ytravelblog
Bonus: Big Island for National Parks lovers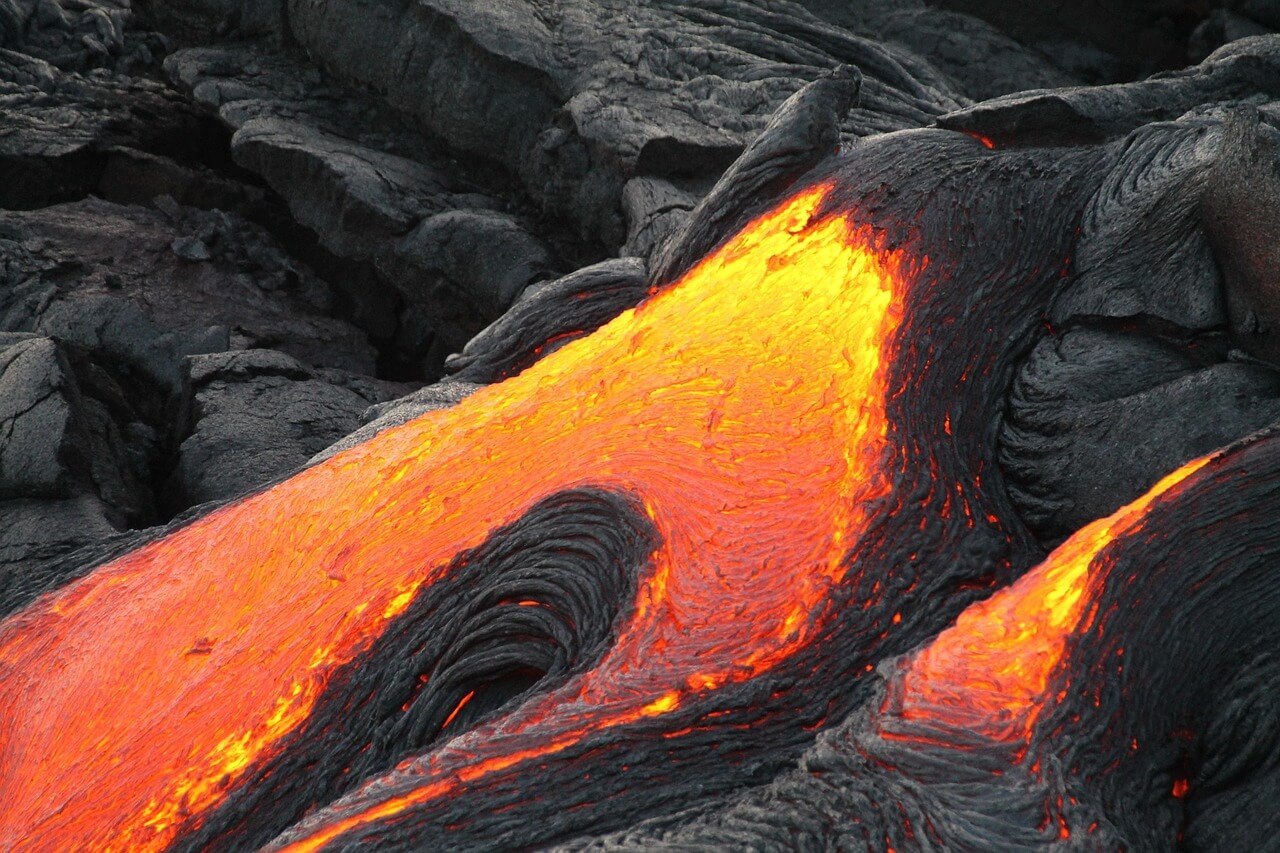 What makes the Big Island the best Hawaii island for kids? What are the best things to do on the Big Island with kids?
The island of Hawaii, also known as The Big Island, is the largest of the Hawaiian Islands and has the slowest and most laid-back vibe. The aloha spirit is alive and well here with friendly people, warm winds, diverse landscape, and rich culture. Despite its slow pace, there are so many things to do on the Big Island with kids that you could stay busy for weeks! It's the best Hawaiian island for kids with a sense of adventure.
Note from Melissa: This was written while the lava flow was still active in 2018. As of 2020, there is no active lava flow anywhere in Hawaii and the Thurston lava tube is closed indefinitely due to damage.
Hawaii Volcanoes National Park is located on The Big Island. It is home to Kilauea Crater, the most active volcano in the world. Walk through a lava tube and view ancient petroglyphs carved into lava rock during the day, then drive up to the visitor center overlook and gaze at the glowing Kilauea Crater at night. Three other national parks on the island are definitely worth visiting. Kids between the ages of 5-12 years old can earn a Junior Ranger badge from each one while learning about the history, culture, and nature of these beautiful, sacred sites. This is the best Hawaiian island to visit with kids if you're worldschooling and looking for educational opportunities. Make sure to pick up an America the Beautiful National Parks Pass to save money on admission fees!
Pu'uhonua o'Honaunau National Historic Park translates to Place of Refuge, where those who broke a kapu (law) fled to avoid punishment. This place is so beautiful and rich in historical culture, with several archaeological sites and a reconstructed temple. Kaloko-Honokohau National Historic Park focuses on sacred land used to farm and fish. A gorgeous small lagoon provides refuge where the honu (green sea turtles) sun themselves on the beach and eat algae off the lava rocks in the shallow water. Pu'ukohola Heiau National Historic Site preserves the ruins of a large temple where King Kamehameha I came to power. Here, you can walk in the footsteps of Hawaii's great king and learn all about the history of these islands.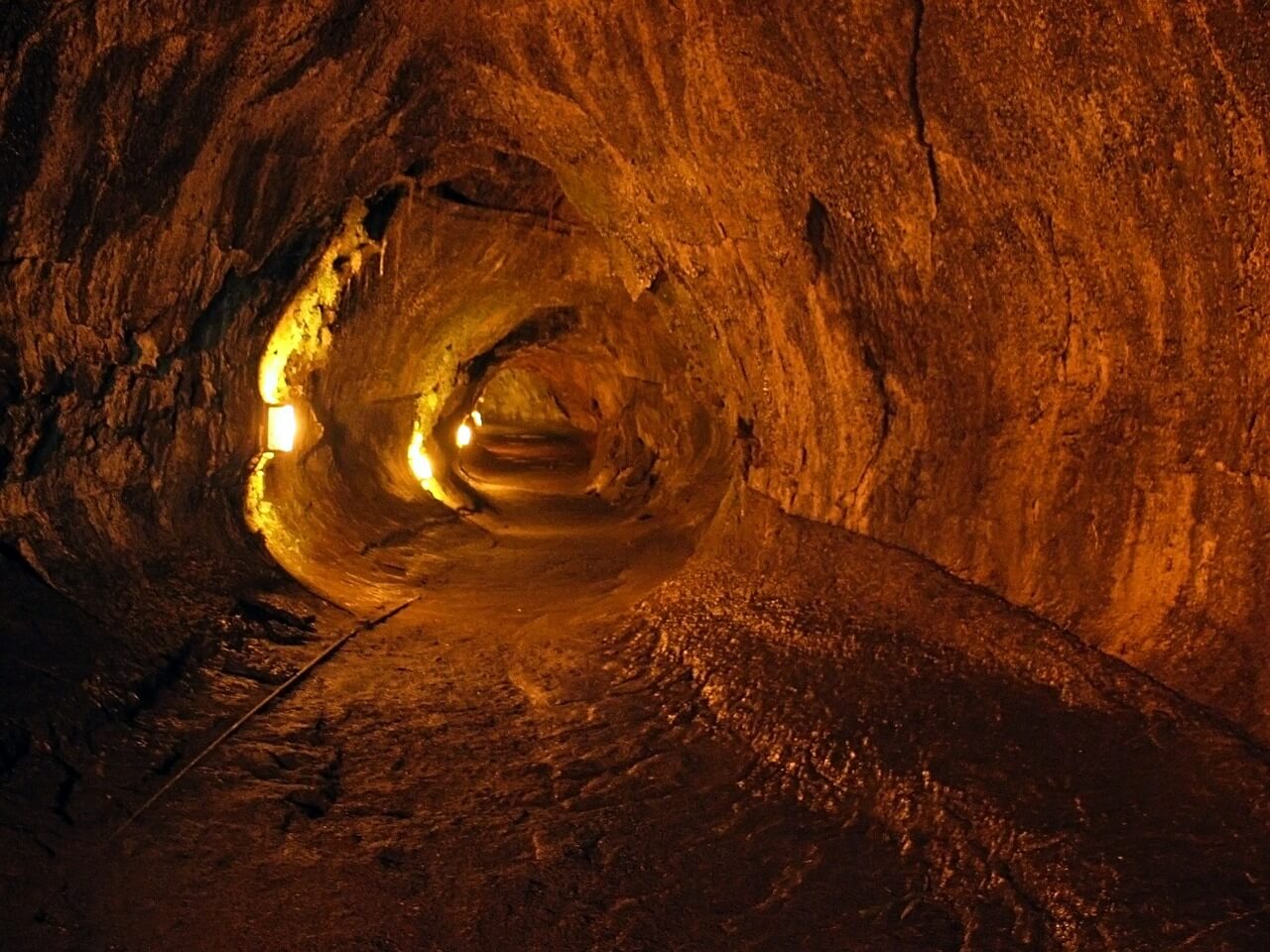 What are potential challenges of a family trip to the Big Island?
The Big Island is the largest of the Hawaiian islands and there are lots of great things to do all over the island. Getting around the island can be challenging for visitors. For families, a rental car will provide convenience and freedom to visit points of interest with ease. Check prices here for Big Island rental cars.
What's the best age to take kids to the Big Island?
Hawaii is family friendly and fun for all ages. The Big Island is full of National Parks and Kona coffee and may be more interesting and educational to kids who are around 8 years old and up.
How long should you stay on the Big Island?
All of these places can be seen in one week, but two weeks would be less rushed.
Where's the best place to stay on the Big Island?
We stayed on the windward side to be closer to the parks, but the windward coast of the Big Island can be very rainy.
Thanks to Theresa of The Globe Trekker Family
What about visiting Lanai with kids or Molokai with kids?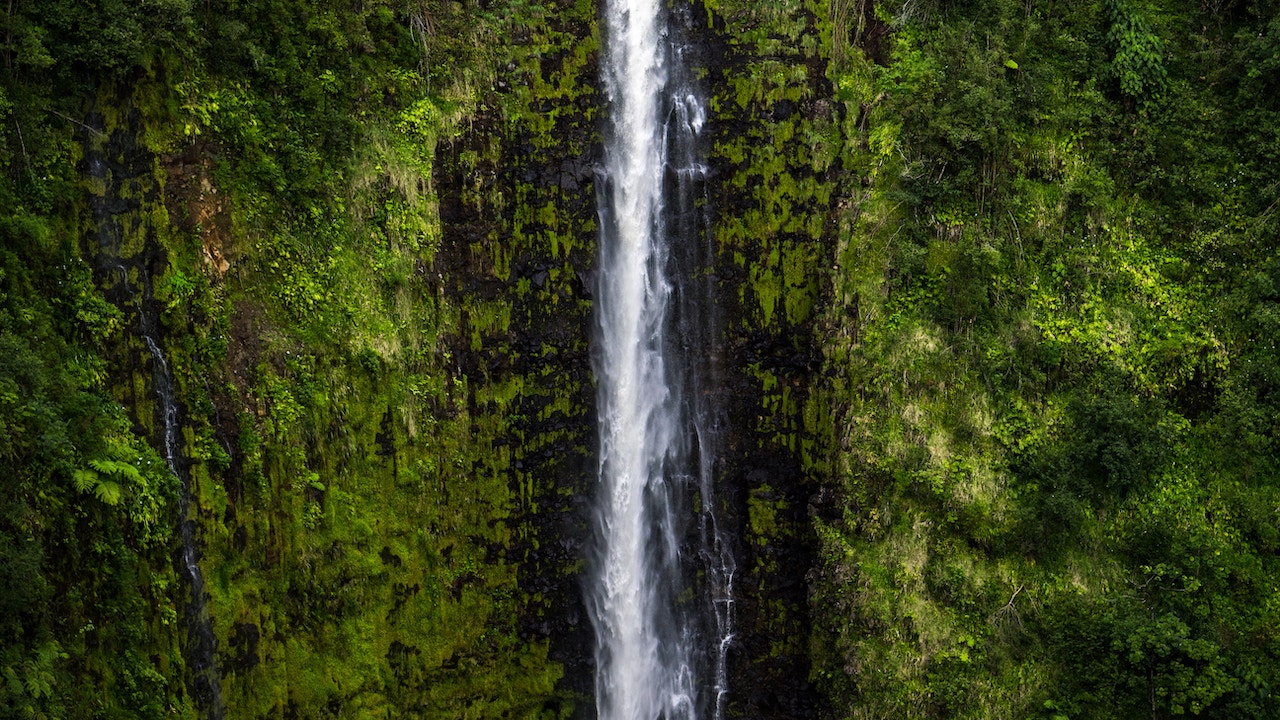 Confession time: I dug through my networks of travel bloggers and experienced family travelers and couldn't find anyone who had visited Lanai with kids, much less Molokai with kids.
And I kind of get why.
Lanai is the more developed of the two, but the real draw of Lanai are the fancy resorts and world-glass golf courses. Not exactly the best options for families traveling with kids. If you do decide to go, you might as well splash out in true luxury and stay at the stunning Four Seasons Lana'i. There are also a few budget-friendly places to stay on Lanai.
Molokai is even less developed and would certainly offer the opportunity to slow WAY down and see "old Hawai'i" up close and personal. There are only 8,000 inhabitants (40% of whom are native Hawaiian) and around 1,000 visitors at a time – a far cry from Oahu or Maui! The island has one hotel and several condo projects, and no traffic lights at all. But for families who don't need a strong tourism infrastructure and want to relax on the beach and and enjoy the company and culture of Hawaiians… Molokai just might be your place.
How to prepare your kids for a family trip to Hawaii
Most of us think of a family vacation to Hawaii as a chance to kick back on the beach for some r&r while the kids splash in the waves. It offers that, for sure. But no matter which Hawaiian island you visit with kids, it's also a chance for so much more. Opportunities abound on every island to learn about Hawaii's unique wildlife, history and culture. Before you get on the plane, grab a few of these books to get your family in the spirit of Aloha!
You can also read over these fun Hawaii facts for kids to help them learn more!
To prepare for Hawaii's fun beach activities, it's worth bringing the kids to the pool a few times right before your trip to brush up on their swimming or general water comfort. Lots of kids (including one of our own!) intensely dislike the texture of sand especially the first few times they encounter it; if there's a sandy playground (or beach) near your home, plan a few barefoot visits to start getting them acclimated.
What to pack for Hawaii with kids
The good news about visiting Hawaii is that you don't need to pack much! We found dresses to be extremely convenient for our daughter (often with her swim bottom underneath), and our son spent most days in swim trunks and a shirt. If you're staying in a vacation home that has laundry facilities, we'd recommend the following basic kids packing list for Hawaii:
-4 outfits (dress or shorts and top)
-2 swim suits – for those still not fully toilet-trained, we love these reusable swim diapers for girls and boys; kids of all ages should wear a UV-blocking rash guard to avoid sunburn
-a hat that can be worn in water and offers great sun protection like this one
-sunglasses – these have polarized lenses and lots of fun color choices!
-light sweatshirt or jacket if your child gets cold on flights or at night
-flip flops and sneakers (if you plan on any hiking – one pair of socks to go with the sneakers should suffice)
–kid-friendly and reef-friendly sunscreen – our family has used and loved this one for almost a decade (and it's available on Amazon too)
-children's snorkel gear – my top picks by age
Best Hawaii island for families FAQ
More resources to plan your trip to Hawaii
Hopefully this guide has given you some inspiration to plan your family trip to Hawaii! Which island will you choose? Check out these great resources to help you along in the rest of your planning:
See all of our Hawaii travel planning resources in one place

Travel planning resources:
Compare rental car prices for Hawaii
Buy a top-rated travel insurance policy
5 simple money-saving hacks for booking.com

General Hawaii resources:
How to visit Hawaii on a budget
Renting a car in Hawaii: 10 things you NEED to know
What to pack for Hawaii
Is a cheap GoPro knock-off worth it?

Hawaii with kids:
What's the best Hawaiian island for families?
Is it worth visiting Hawaii with a baby?
Ultimate packing list for Hawaii with kids
Top 10 things to do with kids on Oahu
The best snorkel gear for kids of all ages

Oahu resources:
Best Oahu travel guide book
Perfect 7 day Oahu itinerary
Where to stay on Oahu
Family-friendly Oahu vacation rentals
Cheap Places To Stay On Oahu
10 Fun Things to do on Oahu for $10 or less
Getting the most bang for your buck on your Go Oahu discount card
Insider tips for visiting the Polynesian Cultural Center
The best beaches on Oahu (and why to visit them)
Where to find the best shave ice on Oahu
The best easy hikes on Oahu
North Shore Oahu complete visitors guide
Kayaking to the Mokes with Twogood Kayaks
Family-friendly kayaking with Holokai Adventures
Visiting Pearl Harbor

Maui resources:
Best Maui travel guide book
Perfect 3 day Maui itinerary
Cheap Places To Stay On Maui

Big Island resources:
Best Big Island travel guide book
Perfect 5 day Big Island itinerary
Cheap Places To Stay On the Big Island

Kauai resources:
Best Kauai travel guide book
Perfect 3 day Kauai itinerary
Cheap Places To Stay On Kauai
Still planning? Pin this article for later!