We've tried to pare down our electronics as we travel longer and farther – we want a light load with multi-function gear and we can't possibly remember to charge any more devices than we already have. We resisted cameras similar to GoPro for years in an effort to minimize our gear, save money and not get distracted by yet another gadget. But as we do more and more (soft) adventure travel, it was finally time to bite the bullet and look for a cheap GoPro alternative to document some of our awesome experiences – without breaking the bank. We quickly hit on the latest Akaso 4k camera, which ticks a lot of our boxes, and we've now had a chance to play around with it in a few situations. Read on for our full Akaso Brave 4 review to see if it might be the right GoPro substitute for your next adventure!
Update January 2019: The company recently released the updated Akaso Brave 6. The main changes seem to be in the size and placement of the buttons, so the following should be largely applicable as an Akaso Brave 6 review as well.
Why we wanted a cheap GoPro alternative
Why not just buy a real GoPro?
Because we really don't need one.
In the end, money was a big driving factor in our decision and utility was a close (and related) second. If there's one thing we've learned from traveling full-time, it's to critically assess needs versus wants. We already have phones that take pretty decent snapshots and videos, and I have a camera and lens set up that I thoroughly enjoy. Those cover the vast, vast majority of our needs with the notable exception that it's frustrating to use the phone's camera underwater when it's in a water-tight pouch (like this one) and the photos come out hazy. How much do we value the marginal benefit of being able to take a few extra moments of footage per week versus a few hundred dollars extra in our pockets? At the moment, we'd rather have the money!
We also wanted something affordable in case it gets lost or broken. We travel extensively and don't have the bandwidth to worry about another thing that needs special treatment.
At the same time, we were looking for a real action camera to take quality footage. No toys allowed! Could a cheap GoPro alternative – at a small fraction of the price – really produce decent results worthy of showing on our blog and social media channels?

How we chose the Akaso 4k camera
These days there are quite a few cameras like a GoPro but cheaper. Since we didn't need one and mostly wanted it for water activities like snorkeling, we knew we'd need a waterproof action camera or one that comes with a waterproof housing.
Obviously we wanted decent photo and video quality – if the end product isn't usable, there's no point in buying one. Our goal was to find the best action camera under $100 that would work underwater. We weren't too picky about touch screens or other bells and whistles.
How'd we end up with the latest Akaso 4K camera? First off, it's under $100 including the waterproof housing – there are plenty of options out there than don't include it and the total price for your gear can really jump once you add in the necessities. Second, it has a huge number of positive reviews (check them out here) with very few complaints so we know the product has been well-vetted.
What's included with the Akaso Brave 4?
The first thing that struck me when opening the Akaso Brave 4 package was the feeling of being overwhelmed – it literally comes with dozens of parts, most of which are non-descript mounts of different shapes and sizes. Quite frankly, we don't need them and they sit happily in a big ziplock bag that we may never open again. In terms of useful items in the box, here's what we like:
-Akaso 4k camera
-waterproof housing
-2 batteries (woohoo!)
-double battery charger (the manufacturer is downright saintly)
-extra back for the waterproof housing that has slits for a velcro band – perfect for attaching to a life vest while kayaking
-basic remote control with wristband (not waterproof)
-a really basic manual
The camera comes attached to one of the mounts in the high-quality packaging, but it was so tightly secured that I needed a screwdriver to detach it the first time. In general the mounts should be "finger tight".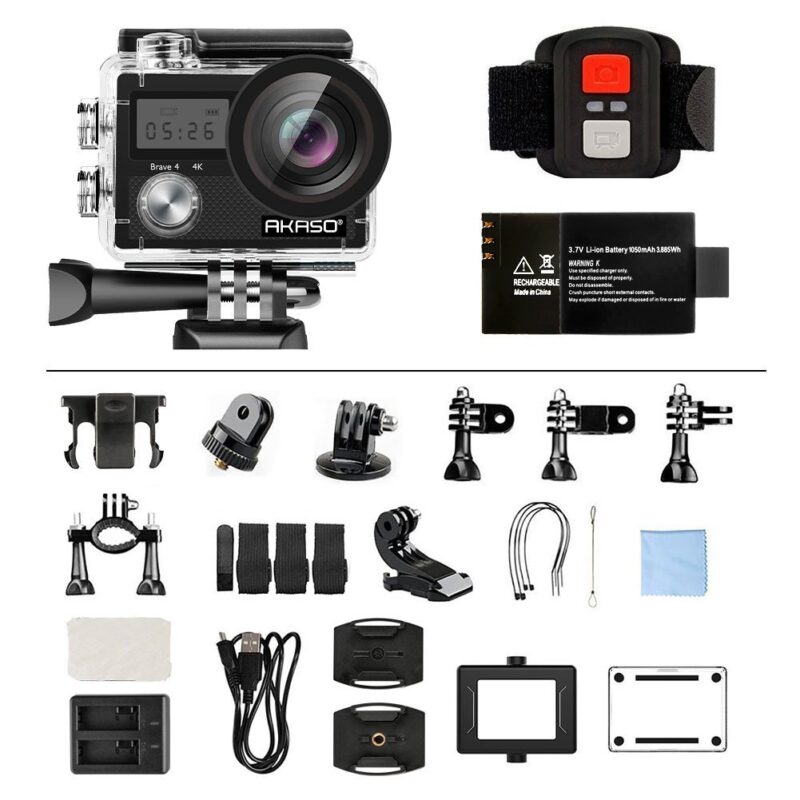 What's missing? You'll want to pick a few inexpensive items to go along with your new action camera:
-A fast microSD card (we have this one – it's working well and a fantastic value)
-A USB card reader to quickly transfer photos/videos without draining the battery (we love this one for our Mac, and there's even an equivalent one for PCs)
-A way to attach it to you in the water – even just a simple wrist band like this one
Fortunately we haven't needed to buy anything else to use our new action camera, which makes it truly budget-friendly.
When you first receive the Akaso Brave 4, make sure to hop into the menu and adjust some basic settings. Change the resolution to 20MP (I made this mistake in the kayaking photo below – taken at only 8MP) and the image quality to superfine, make sure stabilization and anti-shake are turned on, and set it to wide dynamic range for colors if you want.
How to use an action camera underwater
If you want to use an action camera underwater, there are three important things to ensure:
-You need a waterproof housing (provided in the package of the Akaso 4k camera)
-It's ideal to have some way to attach the camera to your body so it doesn't sink
-Make sure to adjust your settings appropriate for underwater use (and then change them back when you're above water!)
There are many ways to secure your action camera underwater. Some people like to use a floating selfie stick to take pictures of themselves and fish. I prefer a simple wristband, as I like to swim in tight spaces sometimes and would rather not worry about damaging fragile corals with a stick. With the wristband, it's easy to grab the camera in-hand and take pictures quickly. Since the Akaso waterproof case doesn't seem to have a loop for a wrist strap, I left one of the mounts attached and connected the loop that way. It was nice and secure!
The settings have given me a little frustration with the Akaso 4K action camera, as sometimes I forget to change them when I come out of the water. The relevant settings for underwater use are:
-Diving mode: on
-Viewing angle: your choice 70-170, but I prefer a wider field of view in the water than above water
I do wish that Diving Mode was higher in the menu of options, as it's a common setting to change! I've forgotten to do so several times and been severely disappointed by the results when I downloaded my photos.
Akaso Brave 4 review
The most important question: is the Akaso Brave 4 any good???
For my purposes, it does just fine.
The image quality above water is, in my opinion, not as high quality as shots I get from my iPhone. It doesn't seem to be an issue of megapixels, but even with the camera set to the highest quality it doesn't produce images that I'd generally consider "blog worthy" and I haven't found any way to control exposure (or anything else). As you can see in the example below, stills from the Akaso action camera are somewhat grainy and improperly exposed. I don't usually get amazing iPhone photos, but they're passable and at least I can easily control the exposure to prevent blown-out skies. As I mentioned above, I don't need a GoPro alternative to provide day-to-day snapshots, as I'd much rather use my real camera system!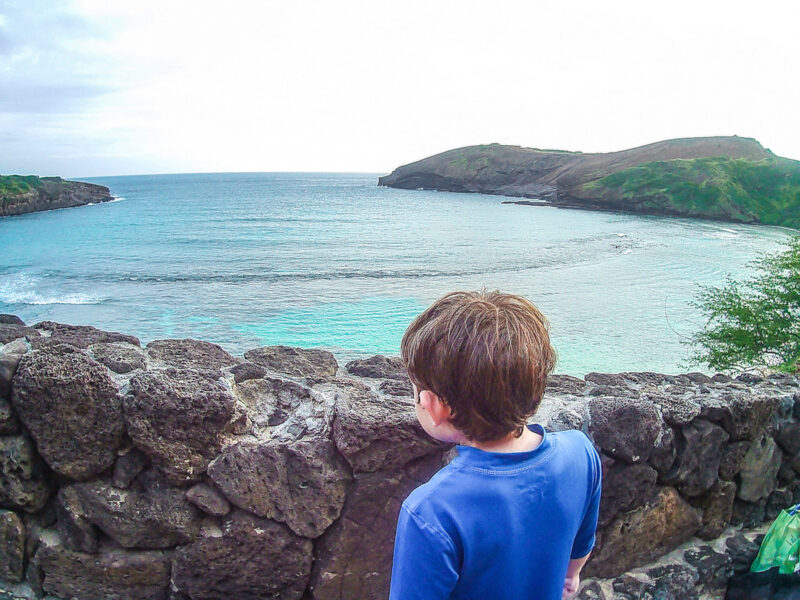 But the image quality underwater? Giddy up! Where the waterproof pouches we had previously used to take underwater photos with our phones left a hazy look, the Akaso Brave 4 underwater photos are crystal clear! Check out this humuhumnukunukuapua'a we spotted in Hanauma Bay! It needed only a little basic color correction in Lightroom, but truly nothing major.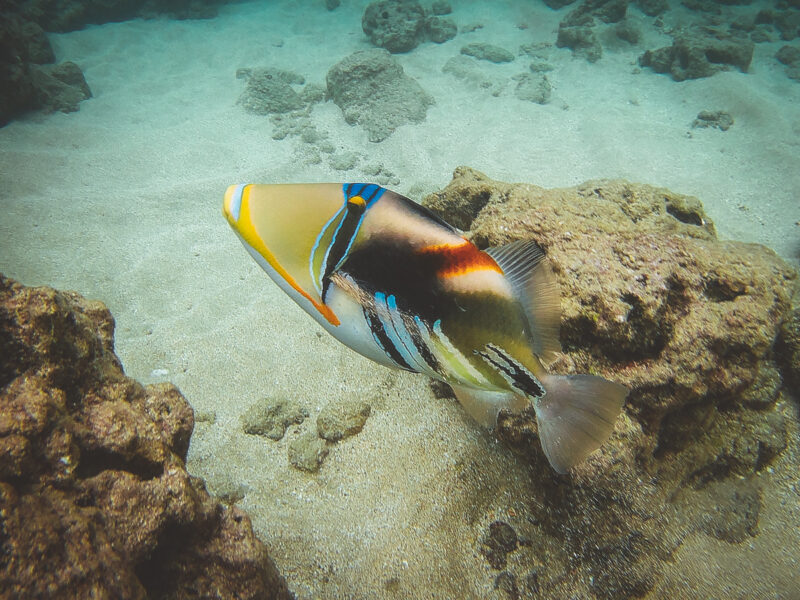 It's also great for underwater videography. It stays focused pretty nicely and produces a smooth image. Note that it's advertised as 4K, but based on technical information out there it seems to only be 2K hardware that extrapolated to 4K. As such, I've only been filming in 2K. It's not going to win any awards from National Geographic, but for most of us having a little fun underwater it'll do the trick.
In general the Akaso action camera pretty straightforward to use, with the front button change modes and the top button executing commands (whether changing a setting, taking a picture or starting and stopping video). It only takes a few minutes to get comfortable even for kids. The side buttons scroll through setting choices or through old photos and videos.
The two main gripes I have both come down to ease of use.
First, as I mentioned earlier in this review some of the settings seem a little buried. The menu isn't organized in any way, and you'll have to scroll pretty far to find Diving Mode. Maybe we're unique in our usage of the Akaso action camera, but I would have liked to see that option first on the menu!
The second issue I have is that it lags a little too much when starting video – maybe even a full second. This can be frustrating for two reasons: first, because a video-worthy moment may have disappeared; second, when you're underwater it can be hard to see the screen in some situations and (if you're anything like me) you might push the button thinking that it hasn't registered. Your button push probably worked, but it just didn't start recording right way! If you push the button again, it will stop right away – or did you just start it? It can be confusing, but try to peek at the screen to look for the red dot and updating second count.
On balance, I think the value and underwater photo and video quality outweigh the negatives. It will never beat the GoPro for image quality (or maybe even ease of use), but at just 20% of the price (that's of, not off) the Akaso 4K action camera makes an awesome GoPro substitute.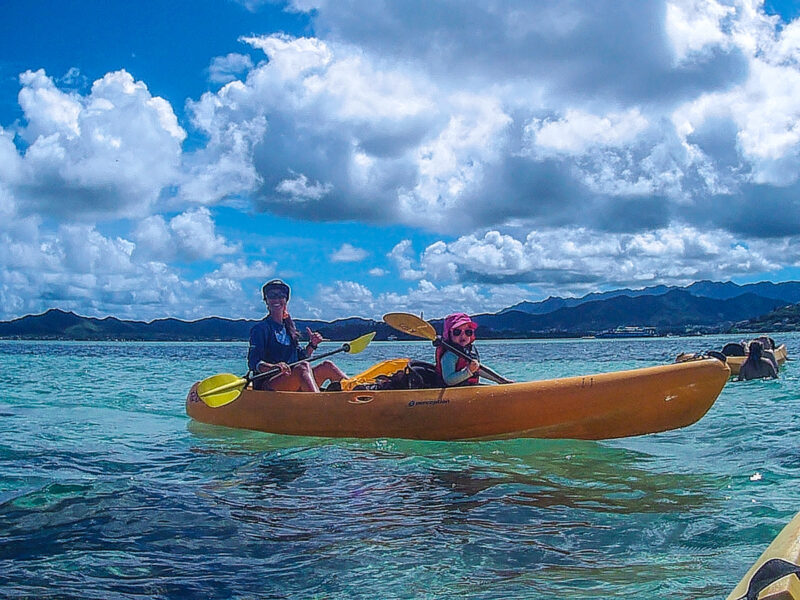 The best action camera under 100?
Assuming you're a value-oriented consumer, you'll want to know if this is really the best action camera under $100. There are actually lots of GoPro knockoffs available today, and most of them basically look them same but there are some subtle differences.
This one gets very high marks for quality, but if you want the waterproof case it may cost more than $100 – but prices fluctuate, so it's worth checking the current price on Amazon.


Another option is basically the same as the Akaso action camera but doesn't include a battery charger – you have to charge in the camera – and only takes 16MP still images. This might be a great action camera for kids thanks to the ultra-low price, simple features and fun color choices.

The older Akaso action camera, the Akaso EK7000, has a fixed 170 degree "fisheye" lens and only captures 12MP still images.

Akaso now has a newer (more expensive) model that offers true 4K video, a touchscreen and built-in waterproofing. Check the latest price here. Apart from the higher price point, it looks like a great choice!

The updated version of the Akaso Brave 4 is the newer Akaso Brave 6, which has slightly different buttons, an improved battery cover and a slimmer underwater case. Prices fluctuate so it's worth checking whether of the two similar Akaso Brave models is less expensive.

How does the Akaso Brave 4 budget action camera compare to the competition? We think it stacks up favorably on features and performs reasonably well for the price. If you're just interested in cameras similar to the GoPro for occasional use (especially underwater) we think the Akaso action camera is a solid bet.
Want to learn more? Click to see today's price and more reviews for the Akaso Brave 4 or check out the newer Akaso Brave 6 reviews.