Are you shopping for the best travel backpack for women? I was! I checked out some of the best travel backpacks for women and there really is nothing like feeling a product in your hands and putting it through its paces in your own home. I happened to have our clothes packed for our upcoming Europe trip, so I even tested out the capacity and loaded comfort once I had narrowed the field to my top contenders to find the best womens backpack for travel.
Thanks to my Amazon Prime subscription and a lengthy scouting mission at my local REI, I was able to do side-by-side comparisons of some awesome backpacks for traveling. Read on to find out what factors I considered when making my decision, reviews of the best women's travel backpacks or jump straight to my recommended travel backpacks for women. (Looking for a daypack for women? Check out the ones I'm lusting after!)
Why Use a Women's Travel Backpack?
We love to pack light, as it gives us the flexibility to move around more easily (and cheaply). More importantly, we need to keep our hands free. A travel backpack may seem like the province of 20-something nomads, but it's equally helpful for all types of travelers.
But not all backpacks are created equal – men's (or "unisex") backpacks just aren't built to fit women's bodies as I discovered in my research. Read on to learn how to choose a travel backpack and to see hands-on reviews of the best women's backpack for travel.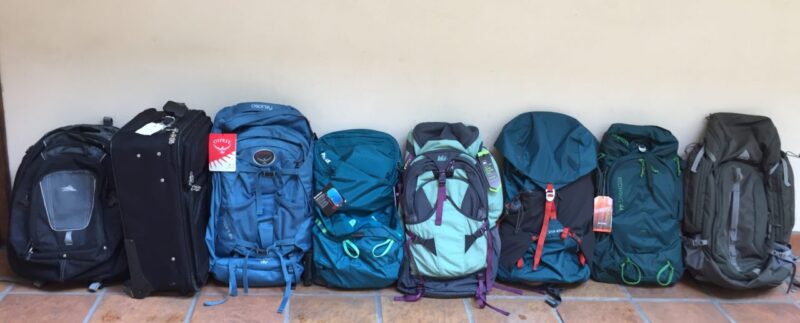 Quick comparison of best travel backpacks for women
If you don't feel like reading the in-depth reviews below, check out our top picks for the best travel backpacks for women:
Name
Price
Volume
Torso Height
Exterior
Dimensions
Osprey Fairview 55

$$
Main pack: 42L (S/M)
39L (XS/S)Day pack: 13L
~15″ fixed (XS/S)

~17″ fixed (S/M)

25H x 13W x 12D (S/M)

50 linear inches

Osprey Fairview 70

$$
Main pack: 57L (S/M)
54L (XS/S)Day pack: 13L
~15″ fixed (XS/S)

~17″ fixed (S/M)

24H x 13W x 12D (S/M)

49 linear inches

Kelty Sira 45

$$
45L
~17″ fixed
26H x 12W x 10D

48 linear inches

Tortuga Setout 35

(Tortuga)

$$
35L
~14″ fixed
22H x 14W x 9D

45 linear inches

REI Ruckpack 65

(REI)

$$
Main pack: 63L

Day pack: 15L

S: 16-18″
M: 17-19″
25.25 x 14.5 x 9.75

49.5 linear inches

Kelty Coyote 60

$$
Main pack: ~53L

Sling pack: ~7L

14.5-18.5″ adjustable
32 x 16 x 13
61 linear inches
Kelty Coyote 70

$$
Main pack: ~63L

Sling pack: ~7L

14.5-18.5″ adjustable
33 x 17 x 14
64 linear inches
Thule Versant 60

$$$
Main pack: ~50L

Sling pack: ~10L

14-18″ adjustable
25.6H x 16.9W x 13.4D
56 linear inches
Osprey Ozone Duplex 60

$$$
60L
14-19″ adjustable
20H x 15W x 13.5W
48.5 linear inches
Eagle Creek Global Companion 65

$$$
65L
15-20″ adjustable
26H x 13.25W x 12.25W
51.1 linear inches
Osprey Porter 46

$
46L
~17″ fixed
22H x 14W x 11D

47 linear inches

Kelty Redwing 44

$
44L
~18″ fixed
25H x 15W x 12D

52 linear inches

Osprey Farpoint 55

$$
Main pack: 39L (S/M)

Day pack: 13L

~17″ fixed (S/M)
24H x 13W x 12D (S/M)

50 linear inches

Osprey Porter 65

$$
65L
~17″ fixed (S/M)
26H x 19W x 15D (S/M)

60 linear inches
How to Choose the Best Women's Backpack for Travel
Travel Backpack Fit
Fit is the most crucial factor in choosing the best backpack for travel. The most important aspects to look at are torso height and hip belt adjustability. You can have a friend measure your torso height or you can be sized at a local outdoors store. Some backpacks have fixed sizes, while others are adjustable. When the backpack is reasonable loaded and the hip belt fastened and adjusted, the shoulder straps should wrap around your shoulders to the back without leaving a big gap – the straps should attach to the backpack near the tops of your shoulder blades.
Your backpack's hip belt is crucial – it puts the weight on your strong hip bones to avoid straining your shoulders and back. Hip belts have a wide range of adjustability, and the best traveling backpacks for women will fit most wearers. However, women with narrow waists should be cautious before ordering a men's or unisex travel backpack, as many of them start at 28″ (roughly equivalent to a US size 6).
Travel Backpack Capacity
Do you need a travel backpack for a round-the-world trip or for a weekend away? Are you a minimalist packer or do you bring a full wardrobe? Do you need a travel backpack for family travel? Capacity is a very personal choice. My current travel backpack has a capacity of around 32L in the main compartment, plus a detachable daypack; that has been fine for me when traveling solo – it was all I brought for three weeks in Israel in my younger days. On the opposite end of the spectrum, many women looking for a backpack for a round-the-world trip might want 60L (or more!).
Travel Backpack Comfort
Of course the comfort of a backpack is tied to its fit. Assuming that the backpack is properly fitted, a few additional features can make it more comfortable. Ample padding on the shoulder straps and hip belt can prevent the load from pushing on your bony parts. Compression straps, either internal or internal, keep your backpack's load fixed and centered on your back. Load lifters above the shoulder straps
Travel Backpack Features
Many travel backpacks for women come with extra "bells and whistles" that all have advantages and disadvantages. Here are a few distinguishing features you might find on women's travel backpacks:
-Opening style: I'm only interested in a front loading travel backpack with a zipper opening that exposes most of the inside – in other words, a backpack that opens like a suitcase. Top-loaders need not apply! That said, manufacturers have come up with so many ways to open their backpacks: luggage-style (like the letter 'C') front loading bacpack, combination panel zipper and top draw string, and panel zipper shaped like the letter 'U'). As long as you can easily access most of the main compartment, opening style is a matter of personal preference.
-Removable daypack: Usually this is in the form of a backpack, but sometimes it's a messenger style. These daypacks are often basic but serve their purpose well enough. Some attach with a zipper, some with clips, and others slide into a pocket on the main backpack. Often times these are heavier than a basic packable backpack but not as feature-rich as a "real" daypack, but it can be convenient to only carry one item when you're walking through the airport or public transit.
-Exterior pockets: Smaller pockets on the outside of the backpack can improve organization, but they either reduce the volume of the main compartment or make the exterior shape odd (and less likely to meet modern standards for a carry-on sized travel backpack).
-Rain cover: Travel backpacks for women may come with an attached rain cover, a detached rain cover that stores in a special pocket or with no rain cover at all. We've never had them on our backpacks and never felt the need for them, but then we usually travel when the weather is decent. If your backpack's rain cover fully encloses the backpack, it can provide protection for the harness if you have to check your bag.
-Stow-away harness: Some women's travel backpacks feature a zippered panel to fully enclose the harness when checking. My current backpack has this feature and I love it! When not in use, the harness cover rolls up and stores in its own pocket with Velcro. If your travel backpack doesn't have this feature, make sure to fasten all of the buckles before checking it.
Where to buy the best traveling backpacks for women
In looking around for good travel backpacks for myself, I've found the Amazon and REI are the best sources. They both have plenty of choices, reasonable prices and free returns. If you're an Amazon Prime member, you'll receive your backpack quickly… important for the procrastinators among us! Try it free for 30 days if you're in a rush.
REI doesn't offer the same expedited shipping benefits as Amazon, but they have a few other advantages. First, Co-Op members receive a 10% "dividend" annually to apply to their next purchase, or they can opt to receive cash back at mid-year. There are also 20-25% off member coupons throughout the year. Membership is just $20 for life – seriously. Click to find out more and join today. The second reason to shop at REI is that you can only find Co-Op brand travel backpacks at REI, and the store often gets some Osprey women's travel backpacks before other retailers (including Amazon). Finally, REI has an extremely generous one-year return policy. Don't like your travel backpack? Just bring it back. If you're a Co-Op member, they'll even look up the receipt by your phone number.
Deal alert! Members save 20% on one item through November 25th
What I'm looking for in travel backpacks for women
Torso height 16″ (probably a little less) and overall height short enough for my comfort
Preferably short enough to be carried on (we generally fly major carriers, which have more generous allowances than budget carriers)
Main compartment capacity close to 45L
Front panel opening
Removable daypack and stow-away harness would be nice, but not required
Related: Why you should pack light and how to do it (even with kids!)

.
Reviews of Best Women's Backpacks for Travel
Osprey Farpoint 55 S/M Review
The Osprey Farpoint 55 is probably the most popular travel backpack around, and with good reason. It has so many features a traveler could want: quality that will last forever, internal and external compression straps, a really nice removable daypack (padded laptop sleeve and all!) and even a zippered panel to keep your harness safe in flight.
Deal alert! On sale now through November 25th at REI
For a long time Osprey didn't offer a women's version of this pack and just labeled the Farpoint as "unisex"; instead, they offer size S/M and size M/L. You'll find plenty of average and tall women rocking the Farpoint on their travels! The two primary differences between the sizes are the harness height and the capacity. Osprey advertises on their website that the S/M can work for torso lengths 15″-19″; however, with a fixed harness, I don't understand how it's supposed to work for such a range of bodies (indeed, it didn't work for me)! This smaller size also has about 3L less capacity than the M/L size – not a huge issue, but it leaves the main compartment with a capacity of only 39L. Check prices and reviews now at eBags, Amazon and REI.
What I liked:
Great quality
Nicely designed daypack
Stow-away harness
Internal compression
What I didn't like
Main compartment capacity is less than I prefer
Harness is just a little too tall for my comfort
Way too tall for carry-on with discount carriers and many EU carriers
Continuously bonked the back of my head since it's so tall
Daypack may be hard to attach if the main backpack is very full or bulging in the middle
Osprey Fairview 55 Review
I guess I'm not the only one who would prefer a travel backpack made for women! Osprey answered the call and has released the new Fairview line. It now comes in an XS/S size that fits 13-17″ torso heights and waists down to 24″. Both the XS/S and S/M models feature a women's specific backpack harness fit. Note that the main pack of the Osprey Fairview 55 XS/S is only 39L, while the Osprey Fairview 55 S/M has main compartment capacity of 42L.
Deal alert! On sale now through November 25th at REI
The 55L packs are still a little too tall for carry-on worldwide unfortunately, but you might be able to get away with it on more generous airlines. Though the Farpoint has long been a favorite among travelers of both genders, in the Osprey Fairview vs Farpoint smackdown, there's a clear winner for female travelers. The Fairview comes in three capacities: 40L (no daypack but sized to carry on), 55L and 70L. For most women, the 55L (also available at REI and eBags) will probably be the "sweet spot".
What I liked:
Great quality
Nicely designed daypack, wide enough to accommodate a laptop
Stow-away harness
Internal compression
Women's specific design in two sizes should offer a good fit for most female travelers
What I didn't like
Main compartment capacity is less than I prefer
Footprint is too small to fit my favorite packing cubes flat so that they stack nicely
55L and 70L versions are too tall for carry-on with discount carriers and many EU carriers
Daypack may be hard to attach if the main backpack is very full or bulging in the middle
.
Osprey Porter 46 and Osprey Porter 65 Review
If you're a medium or tall traveler on a budget and you don't plan to walk a lot with your pack, the Osprey Porter 46 or Porter 65 may be worth a look. Unlike the Farpoint and Fairview above, it's a much simpler backpack: one torso size, minimal harness, and essentially one large compartment with a small front organizer.
In fact, Osprey advertises it as a duffel that can be used as a backpack. Unfortunately, it's such a basic pack that the sizing is intended to be "one size fits all" – and anyone who's ever worn a proper backpack knows that a properly fitting one is essential. I would have loved to see a women's version with at least a 1″ shorter torso height and narrower shoulder straps. Alas, there's no way that either Porter model would be a good fit for smaller (or even average but short-waisted) women.
What I liked:
Great quality
Affordable price
Excellent external compression thanks to the "Straight Jacket" system
Cavernous main compartment
Stowaway harness for easy check-in
46L backpack works as a carry-on for nearly all airlines
What I didn't like
Fixed 17″ torso height won't work for all travelers **dealbreaker for me
Minimal padding on the harness **dealbreaker for me
Tortuga Setout 35 women's review
One of the newest womens travel backpack options out there is the Tortuga Setout 35 for women. Tortuga sent me one to review and I'm impressed! The quality is great, the design is simple but functional and it fits me well. It has sleek styling that won't look out of place when you're wandering around urban areas.
Tortuga did a great job of designing from scratch for a woman's body and this just might be the best backpack for petite female travelers. Those with longer torsos will probably want to look elsewhere. Read my full review here or buy yours today.
What I liked:
Sophisticated design
Fits petite women well
Just enough organization, but a nice big main compartment
Carry-on friendly, even on stingy European airlines
What I didn't like:
I'd love to see higher capacity (though I've heard it's on the way!)
Won't fit taller travelers well
REI Grand Tour 80 Review
Update: Sadly in July 2017 this backpack was been discontinued! If you really need huge capacity, check out the excellent Thule Versant 70 Women's here or the Osprey Fairview 70 here. If you love the REI brand's balance of quality and price, keep reading to find our preview of their brand new Ruckpack 65 for women. Why do I still have the Grand Tour listed in this article? To give you a sense for what awesome features you might want to look for in your next pack and to remind REI that they should bring it back!
If you're a card-carrying member of Overpackers Anonymous, the REI Grand Tour 80 is the women's travel backpack for you. Honestly, it's a great backpack and I would put it as my #2 pick for myself. The torso height adjusts from 15″-19″ so it will comfortably fit nearly all women. It has both internal and external compression straps to make it easy to pack your load well.
The daypack slips into a front pocket and then clips into place for security, or if you don't have the daypack in there you can use the external compartment for jackets. Other than the daypack slot, this backpack is light on organization. That huge pocket on the side is actually full of a rain bag big enough to hold this entire monstrous backpack and protect it from both inclement weather and rough baggage handlers.
What I liked:
Excellent torso adjustment makes for a very comfortable backpack
Enough room to pack for an entire family
Daypack should be pretty easy to slide into its compartment even when the main backpack is pretty full; it also has a hidden zipper pocket that goes against your back to stash passports or other valuables
What I didn't like:
It's just SO big – the main backpack is nearly double the capacity of my current backpack, which has almost been enough for our typical family travels
Too tall to carry-on, and also tall enough that it periodically bonked the back of my head (but not as badly as some of the other backpacks in this review)
Heavy
Only one external compression strap (though it connects across both top and bottom)
.
REI Ruckpack 65 Review
Many of our readers love the concept of the REI Grand Tour 80 above – I know because you keep clicking the links even though it's discontinued! They heard you and decided to offer a new REI travel backpack for women, the Ruckpack 65 (also available in 40L capacity if you prefer something a bit smaller). The concept is still the same – big main pack, and a smaller daypack that slides into the front. The main pack has a generous 63L capacity, and the smaller backpack has another 15L. Overall it looks like it will be a solid choice for travels of a few weeks.
My biggest gripe is that for long-term, full-time travel many people travel with a laptop; unfortunately, the narrow and tapered design of the removable pack won't accommodate a standard computer like my 15″ MacBook Pro. It will, however, hold a high-capacity hydration reservoir (not included) so this could be a great backpack for a woman who's traveling low-tech. The daypack's small profile and low-key design shouldn't stand out too much when traveling in busy cities either. Check the latest prices here.
What I liked:
Adjustable torso height and lots of padding make for a very comfortable backpack
Enough room to pack for an entire family or for long-term solo travelers
I love a good stow-away harness!
What I didn't like:
The daypack looks fine for a day out for one person, but not wide enough or high enough capacity for a family's needs, and also not enough space for a laptop and camera if you plan to use it as your airplane carryon
Footprint at the bottom is too small to fit my favorite packing cubes flat so that they stack nicely; higher up where the pack is wider, they would probably fit
Too tall to carry-on, and also tall enough that it periodically bonked the back of my head
Heavy – the first thing I noticed when picking it up – almost 5lbs
.
Kelty Redwing 44 Review
Our family is very familiar with the Kelty Redwing 44 , as it's basically the little brother of the Kelty Redwing 50 that Ronnie carries. Note that I said "little brother" – the women's-specific travel backpack in this line is the Kelty Redwing 40 Women's backpack. I didn't try that travel backpack, as the capacity is lower than my needs. As you can see from the pictures, the two Redwing backpacks are very similar in structure – large central compartment, an organizer section on the front, side pockets for shoes and a compartment for small items at the top. Both of these backpacks also have similar harness heights around 17″. There is no removable part for a daypack.
Note: After ordering all of these backpacks, I saw that the *new* Kelty Redwing 50 has an adjustable harness that fits from 15.5″-21″. It's possible that it may fit better than the Kelty Redwing 44, but I'm still at the very bottom end of the fit range and unfortunately didn't have an opportunity to try it.
What I liked:
Great Kelty quality
Side pockets for shoes!
Stash pocket for a jacket is accessible just by unfastening the hook
What I didn't like:
The harness is way too tall for me; the Kelty Redwing 40 Women's pack also lists the same harness specifications of 14.5″-18.5″ despite being fixed
The main compartment capacity is only ~40L
If there's anything even remotely heavy in the top pocket, opening/closing becomes very cumbersome due to the shape of the zipper
.
Kelty Sira 45 Review
I couldn't find many reviews of the Kelty Sira 45 backpack, as it was just released in early 2017. This is more a backpack for trekking than traveling, but it has a cool "shark's mouth" opening style that would work great for travel: a zipper most of the way down the front, but also a draw-cord collar that unsnaps to give great access to the main compartment. The front has big stretchy stash pockets, but there's no removable daypack.
What I liked:
Great access to the main compartment
What I didn't like:
Harness was too tall even though it's a women's specific design **dealbreaker
Hip belt is way too rigid and very uncomfortable for me – YMMV **dealbreaker
No internal compression straps
.
Kelty Coyote women's backpack (60L & 70L) review
Unfortunately I haven't gotten my hands on the Kelty Coyote women's backpack yet. But but but – we sure have spent a lot of time with the men's version! Ronnie's picked one up to replace his Kelty Redwing 50 when we were in Chile and we traveled full-time with the Kelty Coyote 80 for another 8 months. It's a pretty straightforward travel backpack for women, but it has a lot to offer for women who want to stay organized.
The main opening is a big U-shaped zipper – and unlike the Redwing, the lid is separate so it doesn't flop around annoyingly when it's full. There's also a separate zipper compartment on the bottom that's designed for a sleeping bag but that we prefer using for shoes or toiletries, both to segregate them and for easy access. Much like the Redwing, the Kelty Coyote has separate front organization compartment for small items and two side compartments. The top lid separates to make a sling pack for days out (just like the Thule Versant below, but with a more padded strap and smaller capacity). The footprint is nice and wide to accommodate our medium packing cubes.
The fit of the Kelty Coyote 60 should work for most women, as the harness height adjusts from 14.5″ to 18″. However, the tall profile (33″ for the 70L pack!) means that petite women like me will probably get bonked on the head when walking. To put that in perspective, the next tallest women's travel backpack in this round-up is only 26″ tall.
Check latest prices at Amazon and REI
What I liked:
Adjustable harness height and women's-specific fit should fit most female travelers nicely
Very organized backpack
Nice, wide opening that accommodates packing cubes
Great capacity in the main compartment
Plenty of external compression straps
Removable sling pack may come in handy as a carry-on or just storage for small items
What I didn't like
The height may be unwieldy for some women (I'm 63″ tall, so this backpack is more than half my height!)
Required for check as luggage every time due to its height
Thule Versant Women's backpack review
I've heard of Thule before because they make bike racks for cars and they recently acquired Chariot, maker of high-end bike trailers. However, until I started shopping for a women's travel backpack I had no idea that the company offered them! The Thule Versant 50L Women's backpack is a good, but very expensive all-around choice and there is a size for everyone: the torso height is fully adjustable from 14″-18″, and you can order the pack in 50L, 60L or 70L versions. The 50L and 60L use the same frame, but the 60L has additional depth in the fabric; thanks to external compression straps, a properly loaded 60L can have the same packed dimensions as the 50L.
The backpack has a stretchy stash pocket in front and a messenger-style removable daypack on top that is secured with clips – it's nice not to have to fumble with zipper on top of a fully-loaded (possibly bulging) backpack. The overall height is slightly shorter than my rolling carry-on suitcase, so on major carriers it may be possible to stow this in the overhead bin. While Thule doesn't have measurements for the volume of the removable sling pack, I'd estimate it around 10L which leaves 40L or 50L in the main compartment, depending on which model you're considering. The bottom of the bag is waterproof and it comes with a removable rain fly that covers the remaining 3/4 of the backpack. Check prices at Amazon.
What I liked:
Great torso adjustment – easy to use, fits well
Short enough to squeeze through generous carry-on rules
Nice capacity in main compartment
Big enough "footprint" to put my favorite packing cubes in flat
Thule bags are always extremely high quality
Removable sling pack would be handy for carry-on if forced to gate-check the backpack, or can be separated to act as smaller "personal item"
What I didn't like:
Price: this is (by far) the most expensive bag I tested
Backpack straps on removable daypack might have been more practical (**New for 2019, the Thule Landmark women's travel backpack now offers a 20L daypack that clips to the front and fulfills all of your daypack dreams!)
No internal compression straps, only external
Eagle Creek Global Companion 65 backpack review
If you're a long-term traveler used to a traditional suitcase, the Eagle Creek Global Companion 65 might be for you. Its most distinctive feature is that it opens in half sideways like a hard-sided suitcase, giving you great access to the roomy interior. Since the two halves are nicely separated, this would be great to use if you're only carrying your own stuff – you could put all of your clothing on one side and put shoes and toiletries on the other to stay well-organized. This is probably the best backpack for organization – three different ways to access the main compartment, plus several different exterior pockets (some of which have internal organization as well. Read more reviews and check prices at Amazon and REI.
What I liked:
Easy torso height adjustment that will accommodate nearly all women
Opens nice and wide, one section can be accessed through the front panel as well
Mesh zipper pockets and panels provide nice organization
Great padding on the harness
Generous laptop sleeve
Built-in rain/airplane cover
What I didn't like:
HEAVY – over 5lbs and it feels like more
Very tall, lots of head bonking
Which travel backpack for women did I choose?
Of the top women's travel backpacks that I purchased and tried (excluding an REI backpack below that I had already returned for its small size), my favorite was the Thule Versant. I love the adjustable torso height that makes for a custom fit – and if need be, Ronnie can just move the harness up 2″ and carry it while I carry a kid!
Thule doesn't provide an exact breakdown of the volume in the main compartment and the removable sling pack on top, but I prefer not to overload that top compartment. With the sling pack separated, I've managed to carry on the whole bag. But the 50L option I initially tried didn't seem like quite enough – excluding the ~10L daypack that would have left me with a main backpack of only ~40L, which is a little less than I was hoping for. What's a girl to do? Order another backpack, of course.
While my initial testing included only the Thule Versant 50L Women's, I subsequently ordered the Thule Versant 60L pack as well. As I mentioned in my Thule backpack review above, the only difference between the two versions is extra fabric in the depth dimension – the back panel (the only rigid part of the backpack) is exactly the same. However, if I don't need the full capacity and I load/compress correctly, the 60L Thule Versant Women's doesn't take up any extra room compared with the 50L version. As you can see below, the frames are identical in size. For short trips try leave 10-20% of the backpack empty at the start of a trip.
I ended up taking the Thule Versant 60 on our family gap year and it worked out great!
.
The Best Women's Travel Backpacks of 2020
Best Travel Backpacks for Petite Women
When you're a petite women, the selection of travel backpacks that fit is pretty narrow. But that doesn't mean the choices aren't high quality! Some of the best backpacks for women come in smaller sizes or are highly adjustable. These would also make great travel backpacks for girls who are ready to start carrying a little more.
Tortuga Setout 35L Women's (our review, get more info)
Thule Versant 50L Women's (our review, read more reviews and buy)
Osprey Fairview 55 Travel Pack (buy at REI or Amazon) – comes in XS/S size
REI Ruckpack 65 (buy at REI) – comes in two sizes and each one has an adjustable torso height
Best Women's Travel Backpack for Long-Term Travel
Thule Versant 60L Women's (our review, read more reviews and buy)
Thule Versant 70L Women's (read more reviews and buy; same features as the 50L and 60L, but taller — great capacity, no chance of carry-on)
REI Ruckpack 65 (buy at REI)
Osprey Fairview 70 (buy at Amazon)
Best Backpack with Detachable Daypack on Travel Backpacks for Women
Osprey Fairview 55 Travel Pack (buy at REI or Amazon) – travel backpack designed for women!
Osprey Farpoint 55 Travel Pack (our review, read more reviews and buy)
Small Best Travel Backpack for Women: Best 40L Backpack 2019
REI Trail 40 Womens
The REI Trail 40 backpack was actually the first backpack for travel I ordered in this search, and I loved it! The fit on a petite woman is perfect and it's extremely comfortable. The price is very reasonable as well. Unfortunately, the capacity just isn't large enough for our current needs. This would be a great budget backpack for a solo female traveler who packs light.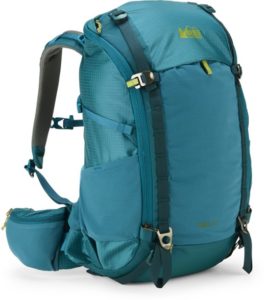 Osprey Fairview 40 Travel Pack for Women
Just like the brand new Osprey Fairview 55L I mentioned above, Osprey has updated their 40L backpack for women to bring better sizing and fit. With it's new shorter profile, you should be able to take the Osprey Fairview 40 backpack as a carry-on even in the EU! While it's a little more expensive than the REI Trail 40, it also has some nice travel backpack features: zip-away harness, padded side carry handle, and minimal loose straps on the front to get snagged. Check this out if you're looking at small travel backpacks for women!
Kelty Women's Redwing 40
The "little sister" of the venerable Kelty Redwing series could make another great choice if you don't need huge capacity and are average height rather than petite since the harness height is fixed at 17″.
More resources to choose the best travel backpack for women
Want to get more helpful travel tips like this? Sign up for our email list!
You might also like…