For so many people (us included!) Italy is the stuff travel bucket lists are made of… amazing food and wine, world-famous museums, unparalleled hospitality, sweeping countryside hills and snow-covered mountains. With charm oozing from top to bottom, it's no wonder Italy is one of the best destinations in Europe.
And autumn may very well be the best time of year to visit! The crowds are thinner, leaves are turning and the weather is moderate. But that moderate weather leaves would-be visitors with an important question: what to pack for Italy in October?
Packing for Europe in October can definitely post a challenge – this packing list is specific to Italy because its wide array of microclimates poses a major challenge, but it can apply similarly to what to wear in Europe in October for other countries as well. The first time we were going to Italy, I struggled with exactly that question and I'm not afraid to admit that i didn't pack especially well.
So here's your opportunity to learn from my mistakes. Whether you're wondering what to wear in Venice or what to wear in Rome in October, keep reading to help you pack light, look good and (most importantly) stay comfortable.
Planning a family trip? Don't miss our in-depth guide to visiting Italy with kids!
Don't have time to read a bunch of reviews and blog posts? Here are our top picks for visiting Italy:
Get an Easy Italy Itinerary
Need a quick day-by-day, open-and-go itinerary for Italy? This guide does the work for you!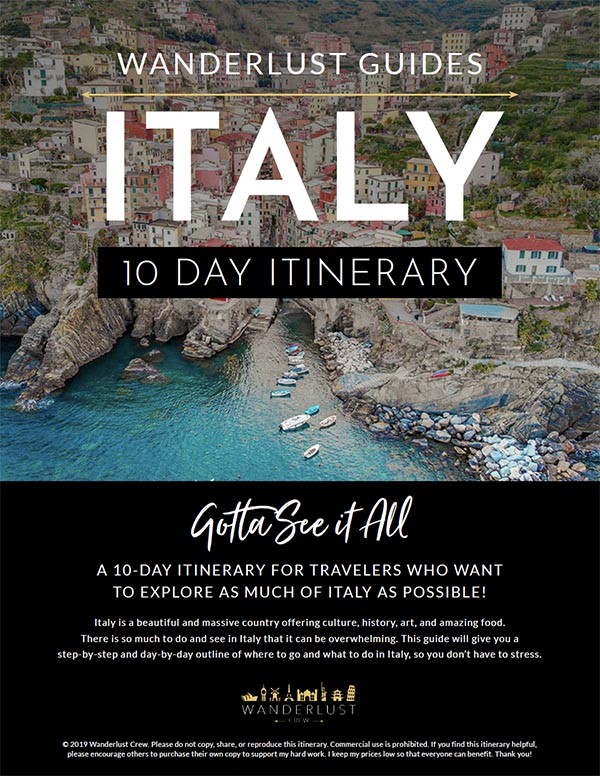 Awesome hotels in Italy
Fantastic tours in Italy
Renting a Car in Italy?
If you want to see the Italian countryside, I recommend you drive yourself. We prefer to use Rental Cars and Expedia Cars. We have had no issues with them and have been able to find the best prices available. Be sure to read these tips for renting a car in Italy.
Book a photoshoot
We always love to book a photoshoot when we're traveling. As a mom, it's tough to get in photos since I'm always behind the camera. We use Flytographer to capture our memories. You can get $25 off your shoot by booking at this link or using code FAMILYVOYAGE.
Be sure to buy travel insurance to protect yourself and your vacation expenses! Compare the top companies here to find the right plan for you.
Wondering how to dress in October in Italy in terms of style? It may be a futile effort to try to keep up with the insanely chic Italian women while also packing light for an active vacation, but it's always wise to try not to stand out too much as a tourist – in this case, your "what not to wear in Italy" would be shorts, bulky white athletic shoes and a baseball cap (the stereotypical "ugly American tourist" look from the movies). But you'd do well to shoot for something in between that looks put-together without being overly fussy.
Many of these suggestions will be helpful in choosing travel clothes for Europe in fall, just remember that temperatures will be cooler as you move north from the Mediterranean.
Still planning your trip? Check out this awesome in-depth guide from the Italy experts!
Use this map to finalize your accommodations:
Start from the bottom: the best shoes to wear in Italy
One of the charms of most places to visit in Italy is that they're so walkable! But all of that walking takes its toll on your feet if you don't have comfortable shoes for travel – these will be the most important things to bring to Italy. The other factor to consider is the weather, which could vary from cool and rainy to blazing hot. My advice for how to pack for Italy is to start with comfortable, weather-appropriate shoes and then choose bottoms and tops that work with them. What are the most comfortable, stylish travel shoes that will also work with the weather in Italy in October? Here are a few ideas.
On our last visit to Rome, cute "athleisure" shoes shoes were very in among Roman women! I'll admit that I was a little surprised, given the stereotype of Italian women in stilettos, but seeing practical footwear was a relief. Saucony seems to have cornered the market in Italy, and I saw lots of women wearing Saucony sneakers nearly identical to the ones I own. The best part? They come in dozens of colors and even can span the spectrum from toned-down to sporty to trendy.
Since my feet can be cranky, I also bring along these babies to swap in when I need to. With the upgraded insoles, you have the best travel shoe for women with plantar fasciitis – comfortable and stylish. I've also been known to swap laces on my sneakers for a different look – I think my black Sauconies looks much sharper with black laces, making these great shoes to wear in Rome. Don't forget these amazing merino wool no-show socks to keep your feet comfortable and dry – they're pricey, but also extremely durable and can be worn a few times between washing thanks to the anti-microbial properties of wool.
It's always a good idea to bring two pairs of shoes in case your feet need a rest or you need something a little nicer. If you're visiting Italy in early October (or even late September) and the forecast still looks warm, throw in a pair of TOMS Avalon slip-ons. They are extremely light, pack down small and have much more support than TOMS classics. I own the coated canvas, which stayed nice looking well into our year-long travels, and you can also pick up Avalons in leather or in fun patterns and colors. They look great with simple skirts, day dresses, pants or jeans – win for versatility in your travel capsule wardrobe for Italy in October! I think the Avalons make an ideal comfortable walking shoe for travel. They're also good travel shoes for women with wide feet. These low-cut merino wool socks pair perfectly with TOMS and don't show at all – plus they prevent the shoes from getting stinky. A similar alternative is the Sketchers GoWalk line.
If you'll be spending more time in rain-prone areas of the country, or will be visiting Italy in late October or early November you might consider low-heeled black leather boots. These will also be handy if you're figuring out what to wear in Tuscany in October, as you'll probably encounter both mixed weather and terrain – the last thing you want to worry about on a winery visit is your footwear!
Personally I'd advise sticking with ankle boots so that they don't take up too much room in your luggage when you aren't wearing them. Make sure to choose comfortable boots for walking – don't wreck your holiday with painful feet! I'm a big fan of Clark's for their comfort and durability; if you're debating what shoes to wear in Venice in October, these would be a solid choice. I recommend bringing one or two pairs of ankle-height merino wool socks if you plan to bring boots.
Alternatively, if you tend to the more casual side I can't recommend the new Nike Air Max Thea Mid enough! I picked them up for our trip to Japan and wore them for 10 miles every day with basically no issues (beyond the expected exhaustion after that much walking for 10 days). They're some seriously great shoes and I love them so much that I just bought the sneaker version too.
Heading out for the day: what purse to bring to Italy
Many travelers worry what purse or daypack they should bring to Italy. You want to look good, you want to carry your water/scarf/sweater/guidebook/phone/lip balm, but you don't want to get robbed. Obviously, this is important stuff! Especially in the major tourist destinations of Italy, security is a big concern. Knock on wood, we haven't had an issue so far with anything being stolen from our bodies – and most tourists don't. So while it's important to consider, there's no need to stress.
My preference is for a lightweight crossbody bag that zips, and maybe even has a magnetic flap closure over the zipper – this one is basically perfect. Why? Most of the stories I hear about thefts in Europe actually involve whole bags being stolen at cafes and restaurants, or someone lifting a phone out of a purse on public transit. My usual cross-body that I take out for evenings is light enough that I generally leave it on my shoulder and rest it in my lap rather than hanging it from my chair. When walking around, I keep it in front of me – sometimes with a hand on it if we're in a theft-prone area like the Vatican or the Colosseum. Here are some of the best cross-body bags for travel:
If you want to step it up a notch in security, you can check out these options that add features like locking zippers and slash-proof straps. There are tons of options now that range from cute to practical, but personally I find the steel cable in the shoulder straps isn't as comfortable – especially if I'm bringing a water bottle. That said, my husband doesn't have the same issue and really enjoys his Travelon Urban Tour bag.
What if you're carrying around a camera and worried about theft? A great solution from my buddy Kyla at Where is the World? is this PacSafe camera strap! A slash-and-grab wouldn't be possible, and your camera is always at the ready to photograph the amazing sites.
Alternatively, my suggestion is to bring a camera case that doesn't scream "I have an expensive camera inside!" In Australia I picked up a small, nondescript camera case that perfectly fits my mirrorless camera with a big superzoom lens, plus an extra battery and memory card (and I can even sneak my iPhone into the outer pocket). It looks generic enough not to stand out in a crowd. I love that it's barely bigger than the camera itself, so for travel I can easily consolidate it inside another carry-on bag for flights. While touring, I carry it cross-body and keep a hand on it.
Sadly the specific one that I use has been discontinued, but you can pick up this similar option from Peak Design in the 3L size. The company's roots are in making camera bags. I have some other Peak Design bags that I love – their quality is top-notch and the designers really consider user needs in creating their thoughtful products. If you have a bigger camera quit or want to add a few more items to this day bag, you can bump up to the 6L or even 10L size!
Choose your clothing: what to wear in Rome in October
If your travels will take you to the Eternal City, you'll have to check the forecast closely! During our visit to Rome in October, the temperature climbed close to 80F (27C), and the intense light reflections from the buildings combined with the hours of endless walking to make for one warm vacation. Keep in mind, though, that you'll need to have your shoulders and knees covered to enter churches – make sure to plan what to wear to the Vatican carefully so you aren't stuck with a plastic wrap around you! We found temperatures in Florence and the Tuscan countryside to be a tiny bit cooler, but nothing an extra (removable) layer can't fix. Layering is definitely your best friend when you're picking your travel clothes for a Europe fall trip!
I'm a big fan of the capsule wardrobe concept – basically, make sure everything works together so that you can make an endless number of outfits from a limited selection of clothing. Pick your neutrals, pick one main accent color, and maybe pick one more secondary color for some accents.
For me, black bottoms are the easiest to work with (and they seem ubiquitous in Rome!) so if I'm packing for two weeks in Europe in fall I'd bring one pair of black jeans (these Prana ones are perfect for travel and come in a variety of lengths), a black skirt, a few tops to match (including a mix of sleeve lengths and dressiness), a lightweight cardigan and one dress (I like a black t-shirt dress like this one because it works with the same shoes as everything else). I always like to bring at least one short necklace and one long necklace (my fave!) to add interest to my fall travel capsule wardrobe, and sometimes a scarf as well. Since evenings are cool, throw in a tailored black faux-leather jacket. Simple! Even if you don't have laundry facilities, you can plan to wear each shirt two or three times and hand-wash an item or two in the sink in between if need be.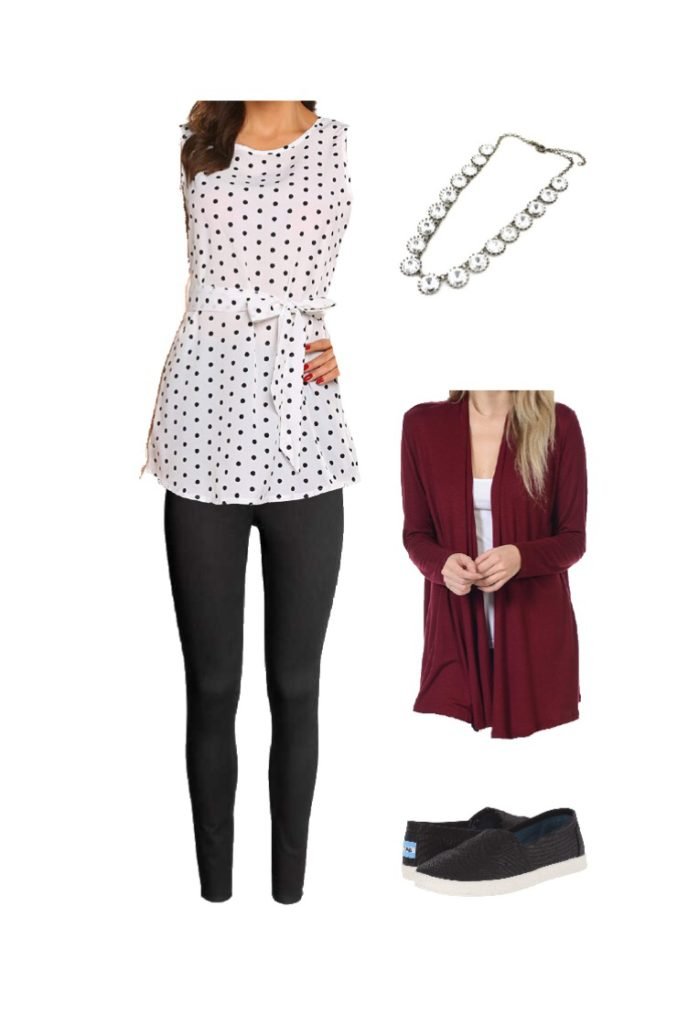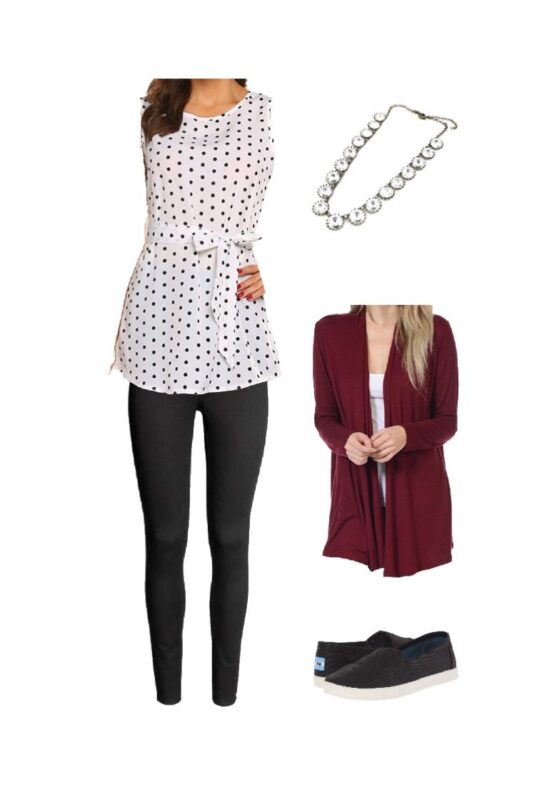 Looking for a wonderful activity in Rome? Consider a visit to the Appian Way.
Make sure you hit the best of Rome with this 4-day itinerary.
Cooling off: what to wear in Venice in October
The weather in Venice in October can be much cooler and rainier than in Rome! During our visit in early October, I was so chilly that I almost bought myself some warmer clothing. Whoops! On average, you can expect daytime high temperatures in the mid-60s F and nighttime lows around 50F. There's also a reasonable chance of rain, and boat rides can be chilly. Keep in mind that you'll be walking non-stop over cobblestones, including lots of bridges. Choose your footwear wisely!
If your travels are restricted to northern Italy and other cooler areas, consider bringing two pairs of black pants (jeans and another pair of black pants like these), a black skirt, black tights to layer in case it's cold, four tops, one sweater, a scarf and a mid-weight jacket in your Italy capsule wardrobe. I might skip on a dress in favor a skirt because it's easier to work in a sweater for layering with a skirt. That combination should give you lots of options for mixing and matching to accommodate different levels of dressiness and temperature. Any two of the three shoes listed above should work nicely with this capsule wardrobe as well.
If you like wearing leggings, these awesome wool leggings are a big step up from athletic wear and they can be worn several times between washes without getting smelly. They're also cozy enough to wear on the plane and to double as lounge wear!
Use the interactive map to find vacation rentals and hotels in Venice, Italy here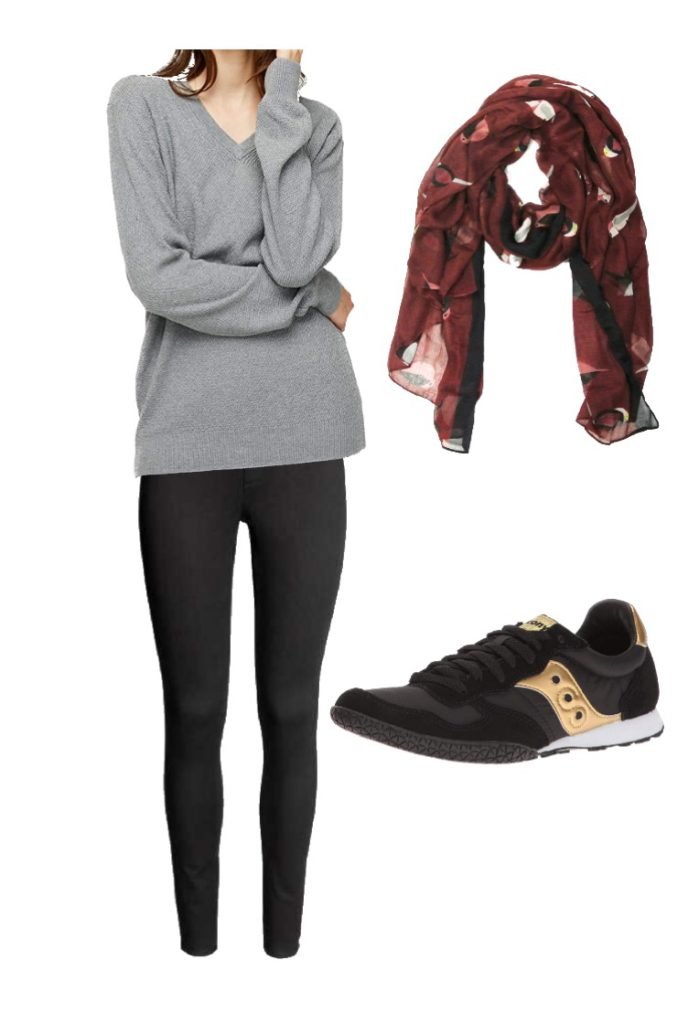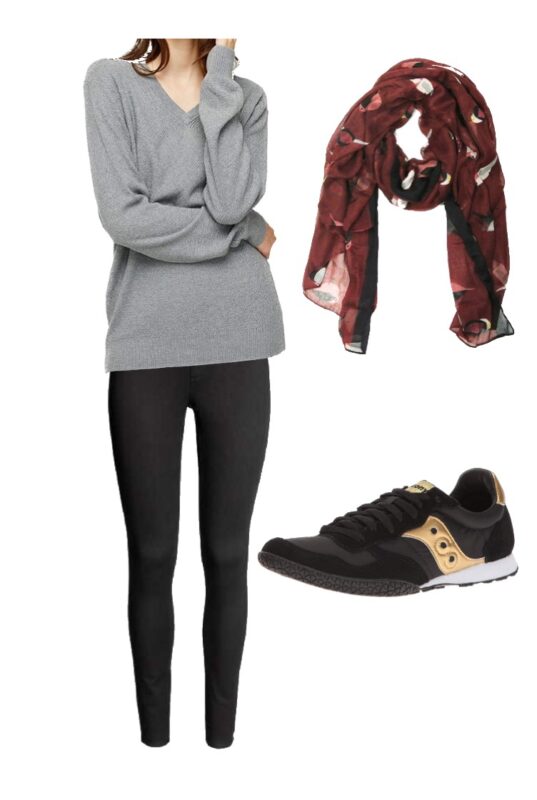 Putting it all together: what to wear in Italy in October
Most people packing for Italy in October plan to visit several areas, and will likely encounter plenty of different climates and microclimates. What what should you pack for Italy in fall if you've got an epic cross-country trip planned? I'd go with a mix of what's listed above for Venice and Rome (and maybe skew even more toward dresses and skirts if heading further south to places like Naples, Amalfi or even Sicily). This list should also help you plan what to pack for Europe in October if you're planning a multi-country hop.
-2 black pants (these jeans and these pants)
-1 black legging
-1 black skirt
-1 dress
-4 tops (mix of long and short sleeves, casual and dressy. I like bringing patterned black and white tops that I can jazz up with a colorful accessory or two like this one and this one, but I'd also bring something like this one that coordinates with my scarf and can easily be layered under a sweater or jacket.)
-1 sweater and 1 cardigan
-1 mid-weight jacket
-1 scarf
-2 necklaces (one short/one long)
-2 shoes (athleisure/slip-ons/boots)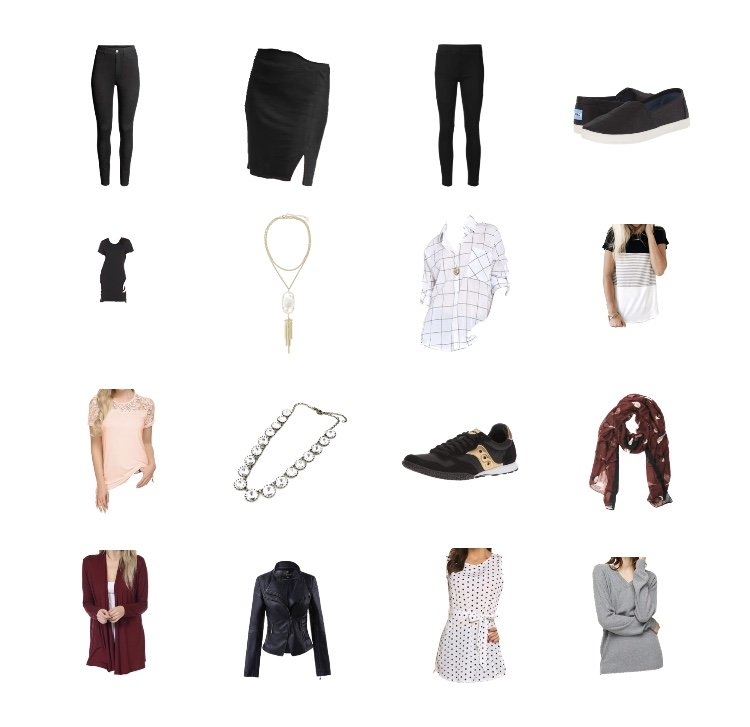 If you're trying to decide what to wear in Italy in September, you can plan on warmer weather all over the country. That means fewer or lighter layers and cooler shoes. Rainfall is also much lower in September.
Odds and ends: other Italy travel essentials
Italy power adapter
What power adapter do you need for Italy? If your needs are simple, you might be able to get by with these cheap Europe plug adapters.
After bringing tons of them with us for years, we've come up with a better strategy! These days we have this high-quality global power adapter. It accepts plugs from anywhere and converts them to plugs for any destination. To meet modern needs, it has two USB-A plugs and three USB-C plugs in addition to a traditional three-prong outlet. It's even my daily power adapter at home since it can simultaneously charge two phones, two smart watches, my extra USB power pack and my laptop! I can't recommend it enough.
When you're deciding what to bring to Italy, make sure to put it on your list!
By the same token, we always find that our phones are running low on battery after a full day of Waze, TripAdvisor, photography and more. We love this compact external battery pack because it plugs directly into our phones – no cables necessary! We always make sure to bring at least one with us (note: most airlines now require battery packs to be in your carry-on luggage, not your checked bag).
Italy SIM card
Want to use your American cell phone in Italy? It's easy! As long as your phone is unlocked, just use a paperclip to pop your SIM card out and replace it with this one. We used it in several European countries without issue (make sure to turn roaming ON once it's in if you want to switch countries).
The card includes 10 GB of data, 1000 texts and 120 minutes of talk time – plenty for a few weeks of travel. By default the card is active for two weeks, but if you plan to be in Europe longer you can just register it online and even purchase top ups! Unlike some cheaper Europe SIM cards, Orange even allows tethering – so you can potentially purchase just one card for your group and then share the pool of data. Check prices here.
Italy guide books
When you're planning your travels, be sure to check out a comprehensive travel guide or two for building your itinerary. This one written by our friends at Wanderlust Crew is thorough and constantly updated with the latest info – see more details here!
Check out these other top picks, which you can buy in paperback or Kindle eBook format depending on how light you want to travel:
Lightweight travel camera
Want to capture memories of all those stunning churches and charming piazzas? If you want something that's a big step up in quality from your smartphone, check out a "bridge camera". You'll get lots of manual controls (only if you want them) and tons of zoom in a compact, affordable package. Just make sure to bring a big memory card and a spare battery!
Organize your luggage
Make sure to grab a set of packing cubes to stay organized on your trip. Use the biggest one for clothing, the middle size for intimates and jewelry and the smallest to consolidate charging cables and other electronics accessories. EBags also makes a great flat-pack toiletry kit that hangs conveniently in your hotel bathroom to keep the counter uncluttered while still giving you access to your necessities.
A frequent question what what luggage to bring to Italy. Especially if you plan to go to Venice, I strongly recommend that you consider a backpack – between the cobblestones and the bridges, a wheeled suitcase isn't easy to manage! The good news is that there are lots of excellent backpack options that are spacious, comfortable and still small enough to carry on-board.
>>> Read next: hands-on reviews of the best travel backpacks for Europe
How to dress in Italy in October FAQs
Is there a dress code in Italy?
There's no formal dress code in Italy except in houses of worship, where you're expected to cover your shoulders and usually knees as well. Some restaurants may have a dress code (stated or unstated) just as they do everywhere else.
What do tourists wear in Italy?
Tourists in Italy usually dress for comfort, though some (maybe you, since you're here reading this article) make an effort to step up their style game a bit. As a practical matter, you may find tourists wearing more sensible shoes than locals as smart visitors know that they need to be comfortable for a full day on their feet!
What should you not wear in Italy?
The only thing you absolutely should not wear in Italy is something that's uncomfortable for you, physically or otherwise. You're most likely traveling there to explore and have a great time, and you can't do that if your feet hurt or your clothes feel awkward.

If you're trying not to stand out too much as a tourist, you may want to leave the athletic wear behind. It's uncommon to see Italians out in the street wearing gym clothes and running shoes unless they're actually heading to the gym. This video sums it up pretty well.
Is it cold in Italy in October?
Italy has numerous climate zones thanks to its range of latitudes and topographies. If you're visiting the Dolomites in October you'll definitely want to add a packable puffer jacket and cozy wool socks to the list above.

On the other hand, if you're planning a visit to visit the far south like Sardinia in September or October you can trade the long sleeves and jackets for dresses and even a swim suit! A packable sun hat will be the perfect completer piece.
Don't miss these additional resources as you plan your trip to Italy:
Still packing? Pin it for later!