All it takes is five minutes driving through the Tuscan countryside before you realize that this place is much more stunning than the pictures you see online. Rolling hills and small towns dot the region. The sun radiates down on beautiful lush green landscape as far as the eye can see. Much has already been written about the planning a visit to Tuscany in major publications like Conde Naste and U.S. News Travel. One thing is for certain, no visit to Tuscany is complete without eating great food and tasting fine wine.
Read more: What to pack for Italy in fall
Melissa and I were based in a small town near Cortona for our visit with our two year old son. I desperately wanted to have wine tasting tours that would be both memorable and child friendly. Through extensive research I came across a winery by the name of Avignonesi. As soon as I read the Tripadvisor reviews, I knew that we had to make the tour and gourmet lunch with wine pairing a part of our family trip to Tuscany.
Don't miss this killer list of what to eat in Italy!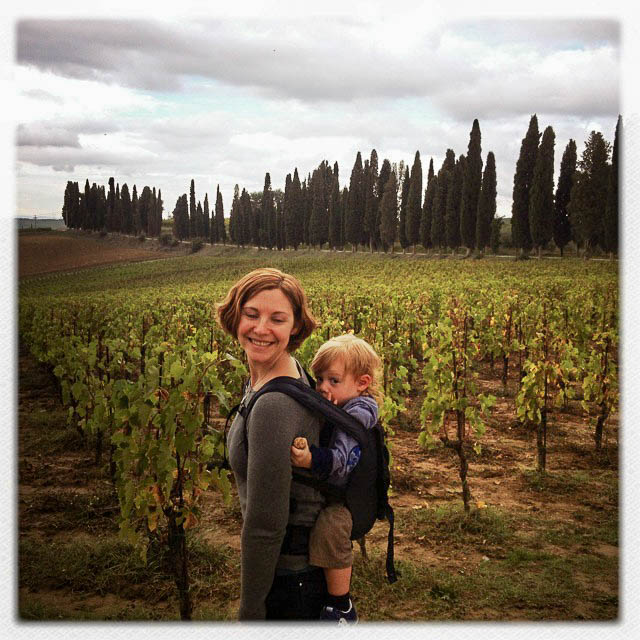 Situated in the heart of Tuscany, in the region of Montepulciano, Avignonesi is a sprawling estate with beautiful yet simple architecture and rows upon rows of grapes growing. One of the distinct landscaping features is that one section of their vineyard is planted in a unique circular formation called 'The Vigna Tonda'. In 1990, they planted the vines in close proximity to one another in the round as an experiment to see how plant density affects the grape quality. They concluded that the higher density of the plants improved the quality of the grapes by forcing the vines to grow deeper into the soil and get more nutrients. La Tonda wine is produced from this section of the vineyard and is only available in their wine shop.
Don't have time to read a bunch of reviews and blog posts? Here are our top picks for visiting Italy:
Get an Easy Italy Itinerary
Need a quick day-by-day, open-and-go itinerary for Italy? This guide does the work for you!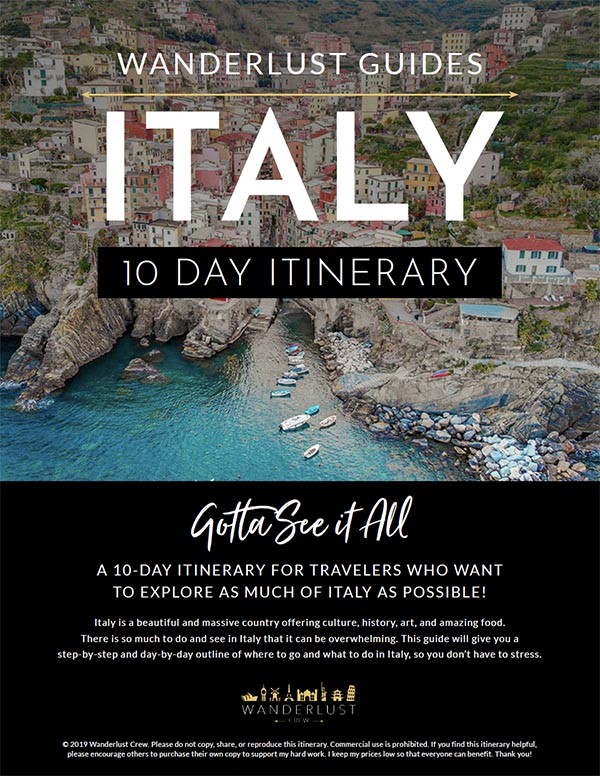 Awesome hotels in Italy
Fantastic tours in Italy
Renting a Car in Italy?
If you want to see the Italian countryside, I recommend you drive yourself. We prefer to use Rental Cars and Expedia Cars. We have had no issues with them and have been able to find the best prices available. Be sure to read these tips for renting a car in Italy.
Book a photoshoot
We always love to book a photoshoot when we're traveling. As a mom, it's tough to get in photos since I'm always behind the camera. We use Flytographer to capture our memories. You can get $25 off your shoot by booking at this link or using code FAMILYVOYAGE.
Be sure to buy travel insurance to protect yourself and your vacation expenses! Compare the top companies here to find the right plan for you.
Read more Italy articles or get Europe travel inspiration
Pro tip: Use these GPS Coordinates: 43.17306 N / 11.93306 E (43° 10′ 23″ / 11° 55′ 59″ E). We got lost and drove clear to the other side of Tuscany! Make sure you check out these important tips before you drive in Italy.
Avignonesi uses biodynamic and organic growing practices and places a huge emphasis on being purveyors of socially responsible wine. All of their grapes are hand-picked to ensure the highest quality. They also have their own garden where they grow fresh vegetables used at their restaurant.
If you'd rather not drive yourself on a wine tour (which is sensible if you'll be visiting multiple wineries in one day), check out this awesome wine tour that departs from Siena.
Use the interactive map to find vacation rentals and hotels in Tuscany
---
Fine Wine Tasting Tours
As the winery is on the smaller side, advance reservations are required. We signed up for the tour, winetasting, and wine and food pairing lunch. It has now been three years since we visited Avignonesi and Melissa and I still talk about our experience. When you arrive at the winery, you are greeted with a friendly smile and a glass of Prosecco to start the wine tasting experience. The tour is informative and engaging. You explore their wine production facilities and storage rooms. The tour guide provides interesting facts and is happy to answer any questions you might have along the way.
By the end of the tour our legs needed a break and our stomachs were grumbling. We were ready to sit down for our extra-fancy lunch and paired wine tasting. The setting is breathtaking, as the restaurant is situated in an all-glass room with nearly 360 degree views of Tuscany. When we arrived at our table there was a high chair setup and an immaculate table setting. Information cards are placed in front of each glass of wine so you know all of the details about what you will be drinking throughout your meal.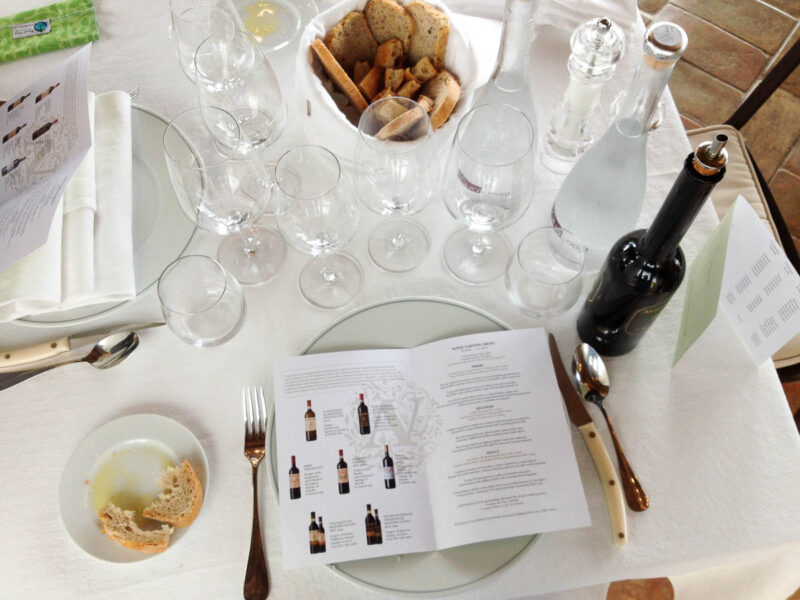 The food pairing is out-of-this-world good. Think Italian farm to table. Homemade bread, incredible soup, fresh pasta, delicious entrees, and must-eat desserts (leave room!). The waitstaff are attentive and keep the wine flowing throughout the meal. My wife and I don't eat pork or shellfish, but we notified them in advance and they were able to create a meal that fit our dietary needs. Check out the extensive menu and wine pairing guide above. They made sure that our son Jacob had everything he needed including kid-friendly fare or miniature portions of the adult food depending on his preference for each course. Between courses, Jacob and I walked through the garden, admiring the vegetables and the occasional butterfly flitting by.
I loved every single wine they poured but the one that stands out the most is their Vin Santo di Montepulciano DOCG. I am not traditionally a desert wine guy but their Vin Santo is off the charts. Vin Santo is made by fermenting crushed, dessicated grapes – essentially raisins — with a yeasty starter (Avignonesi has its own with a unique flavor profile). The byproduct is aged in small oak barrels for at least three years by regulation, but Avignonesi ages their Vin Santo for a full ten years. You can read more about the production process here, but the best way to learn about Vin Santo is to go try some! You'll be amazed by the flavor profile. Fortunately, the staff at our wine tasting lunch at Avignonesi was generous with refills.
If you are debating how to spend three hours in Tuscany… a visit to Avignonesi is well worth it! You can even manage it as a day trip from Florence. Go for the tour and paired lunch tasting, stay for the Vin Santo. We promise you won't regret it.
Click here for help with your two-week Italy itinerary.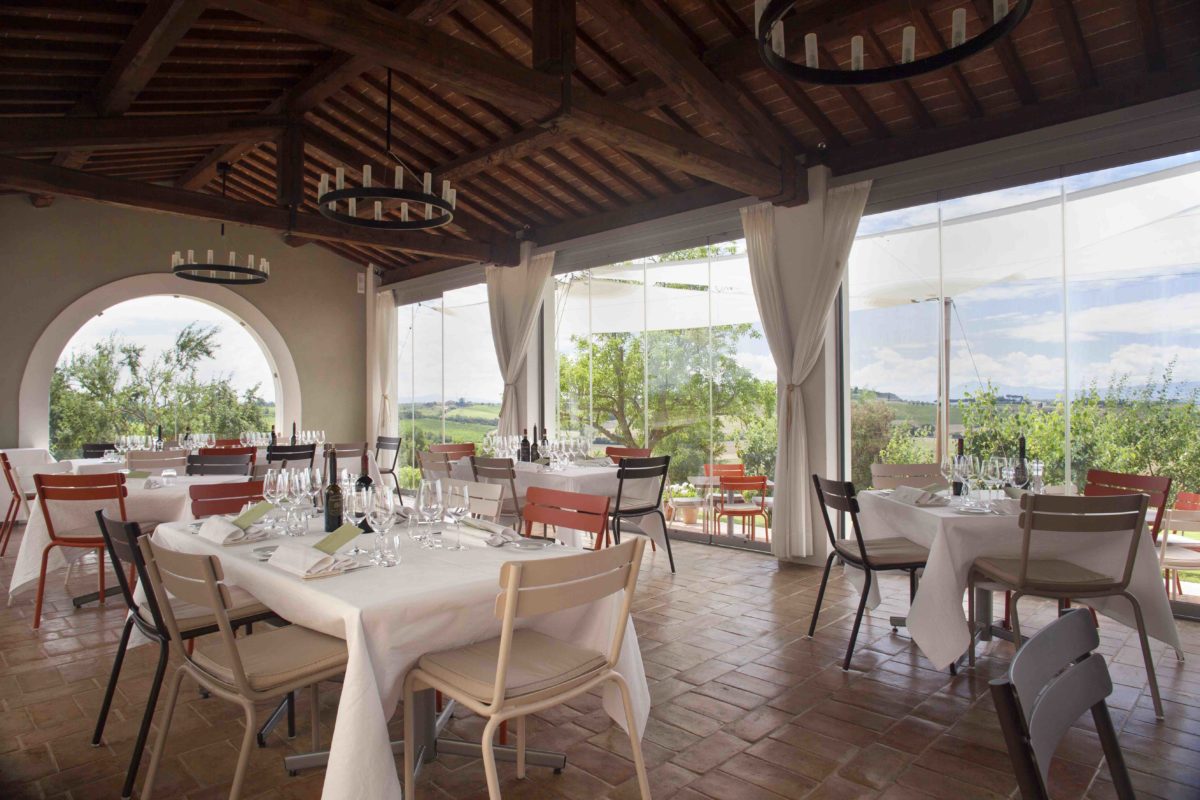 Wine tasting menu
Italian white wine poured:
Il Marzocco Chardonnay Toscana IGT
La Tonda Sangiovese Toscana IGT

Italian red wine poured:
Grandi Annate Vino Nobile di Montepulciano DOCG
Desiderio Merlot Toscana IGT
Grifi Sangiovese – Cabernet Sauvignon Toscana IGT
50&50 Toscana IGT
Vin Santo di Montepulciano DOC
Occhio di Pernice Vin Santo di Montepulciano DOC

If you're new to wine, check out this complete guide to Italian wines.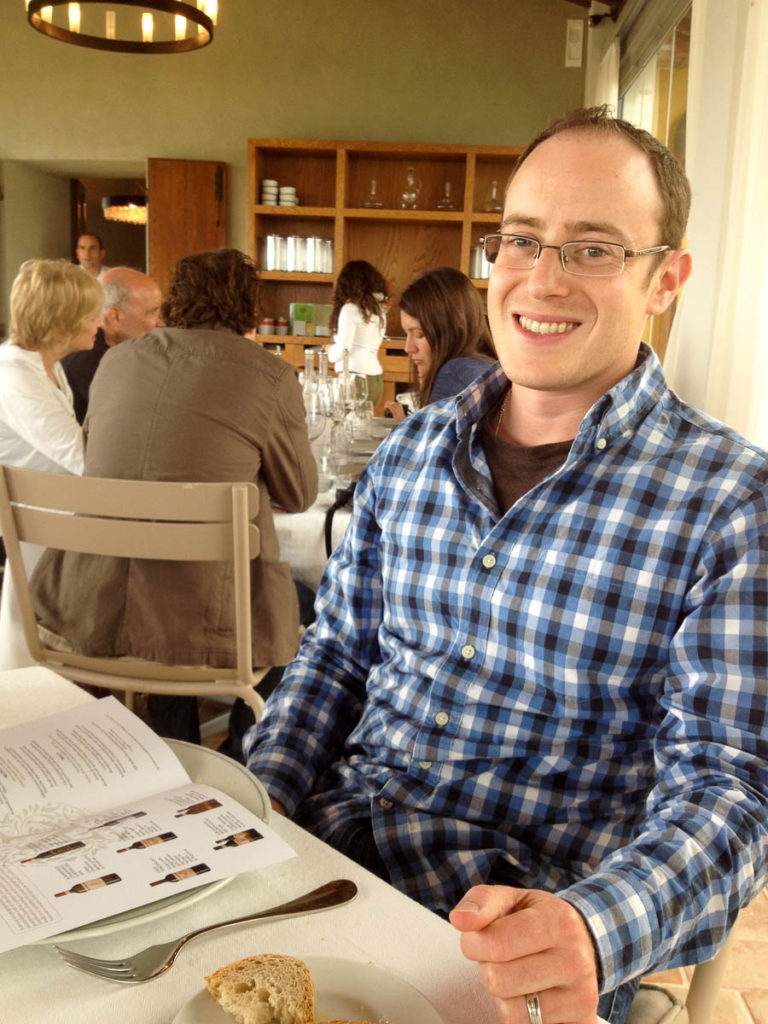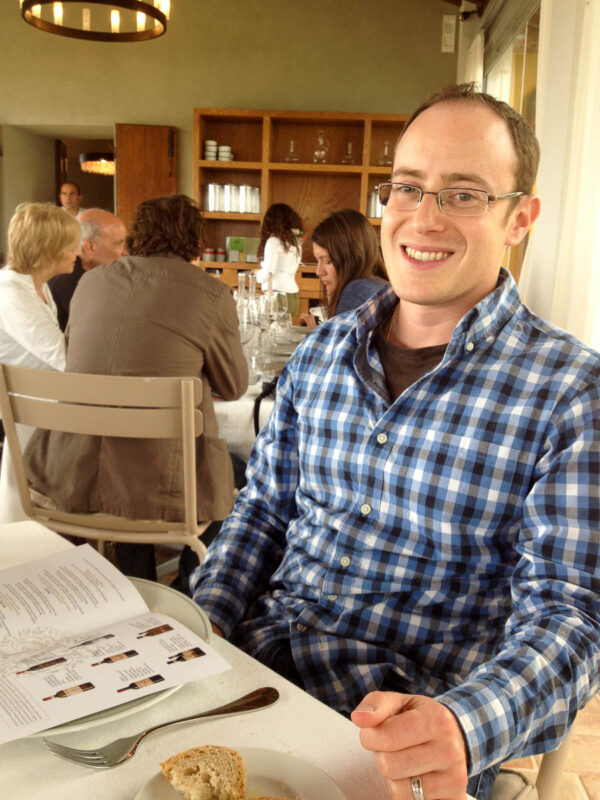 Food and wine pairing menu
The menu, created by winery Chef Luca Biancucci under the directions of owner Virginie Saverys, features seasonal, organic dishes with locally sourced products, many of which come from our own biodynamic vegetable garden.

Vegetarian and gluten-free options are always present on the menu.

Max 12 guests per reservation. Maximum seating capacity of both luncheon terrace and inside dining room: 35 guests.

Cost: The prices quoted here are as of 2013. You should reach out to Avignonesi to get the most current pricing, as they do not post it online. For the tour and wine paired lunch we paid 75 euros per adult. They offered a tiered pricing structure for kids, 0 – 2 (Free), 3 – 6 (25% of full charge), 7 – 12 (50% of full charge), and 13 and up (full charge).
How to book Tuscany wine tours
The Tour & Winelover's lunch is available from Monday to Friday, March 21st through November 18th, and Saturdays from May through October. The total duration of the winery tour and the food and wine pairing lunch is 3 hours.

Tours and paired lunch tasting made by reservation only. Check their website for wine tasting events as well! Book your wine tasting experience here.

If your Tuscan travels will also take you to Florence, don't miss these amazing museums. Heading to Rome instead? Check out some great tips for visiting Rome with a baby. If you plan to venture further east to, make sure you take the opportunity to see Cinque Terra by bike.
Have you had a special wine tasting experience? Tell us about it in the comments!