Explore the old city and climb the walls of Dubrovnik… check. Take the aerial tram up to the lookout above the city… check. Dine at one of the many delicious restaurants… check. Looking for day trips from Dubrovnik to get a better feel for the surrounding area? Consider exploring the Peljesac Peninsula to taste Dalmatian wine.
The Peljesac Peninsula is one of the central hubs of wine growing in Croatia, an inlet filled with beautiful mountain ranges reaching out to the Adriatic, creating a series of microclimates perfect for producing tasty Peljesac wine like Posip and Dingac wine (make from the Plavac Mali grape, sometimes also referred to as Plavac Mali wine).
Read more Croatia articles or get Europe travel inspiration
Little known fact: Croatia is one of the oldest wine growing regions in the world. Croatian wine production began as far back as 2200 B.C. by the Illyrian tribes that populated the region. Later the Greeks and later the Romans advanced the wine growing process. It wasn't until after The Homeland War in 1995 that a formal wine making industry began to flourish.
Today, there are over 80 wineries throughout the Country growing over 60 indigenous varietals of Croatian wine grapes. Croatia does not export a whole lot of wine, so it can be hard to find in other parts of Europe or the United States. The two major growing hubs for wine in Croatia are southern Dalmatia (the Peljesac Peninsula) and Istria to the north (think Tuscany in Croatia); in those areas you'll find the best wineries in Croatia!

In planning our day trip to the Peljesac Peninsula we hoped to taste at two different wineries; however, family travel requires flexibility to keep the whole crew happy and in the end we visited one winery in Peljesac (though we later visited Bibich Winery in Skradin). Our agenda for the day was to taste wine, eat at a good restaurant and spend some time at the beach.The drive from Dubrovnik to the Peljesac Peninsula takes roughly 1 hour 30 minutes, so make sure to build that time into your day's itinerary. Read on for some great Peljesac wineries to jump-start your Dubrovnik day trip planning.
Peljesac Wine Tasting Experience Options
Saints Hills Winery
Are you looking to recreate the magic of our Avigonesi wine tasting experience? We initially considered scheduling a wine tasting tour and wine pairing lunch. Saints Hills Winery offers a tour and three course lunch with five wines for a reasonable $62. This winery could be a great wine tasting tour for couples and solo travelers in Croatia.
Unfortunately the charge for our two preschool-age children would have been $92 – for a three course lunch with juice. Given how little food kids of this age eat, we felt that the price was too high for a family. Saints Hills Winery gets great reviews but did not feel entirely welcoming to families traveling with children given their current pricing structure. Visits are by appointment only.
Use the interactive map to find vacation rentals and hotels near Grgic Vina Winery here
Grgic Vina Winery
Grgic Vina Winery is owned by a world renowned Napa Valley wine grower/maker from Croatia by the name of Miljenko "Mike" Grgich. They offer a tasting of their two wines, a Croatian white wine and a Croatian red wine, but no lunch option. Though the winery was damaged in July 2015 by a massive fire that devastated the area, they have since rebuilt their facilities and are back to full production. Grgic produces some of the best Croatian wine, so it's well worth a visit if you have an opportunity. The downside of visiting Grgic is that you'll only be able to taste two wines; even so, if I had more time then I would have scheduled a visit. Their tasting room is open daily 9am – 5pm during the high season, but be sure to check their website for the most up-to-date information.
Use the interactive map to find vacation rentals and hotels near Grgic Vina Winery here
Korta Katarina
Korta Katarina looks incredible and has a stellar reputation similar to Grgic winery. The tour, lunch and paired tasting are quite pricey at $107.50 per adult, though the lunch is larger than Saints Hills (five courses instead of three) and includes five different wines to taste. Similar to Saints Hills Winery, we were disappointed that there is no discount at all for children (though they obviously aren't drinking any wine). Their winery is located further along the peninsula, which is not a problem if you have a full day to explore and are set on having their tasting and lunch experience. In peak season Korta Katarina is open from 9am – 9pm for tastings; lunch is by reservation only.
Vinarija Milos
Vinarija Milos is a low key, family-friendly, family-run winery and their warmth shone through in my communications with them. They offer a wine and cheese tasting experience, including olive oil made on their own property! While we didn't end up visiting Vinarija Milos, their online reviews indicate that the wine is good and the Croatian olive oil is outstanding.
Matusko Vina
Since we could only pick one winery to visit on the Peljesac Peninsula, we gladly visited Matusko Vina. There is a restaurant on-site that is open during the peak season, though it was closed during our May visit. Matusko is one of the largest wine producers in Croatia and is located half-way along the Peljesac Peninsula, close to Saints Hills and Grgic.
When I reached out to Matusko, I received a prompt and friendly response encouraging us to visit their winery with our kids. When looking for wineries to visit with kids, so much of what influences our decision is whether or not we will feel welcomed. The team at Matusko was outstanding. We arranged our visit time in advance (highly encouraged) and they coordinated with us to make sure that we didn't overlap with a large tour group. When we arrived we were warmly greeted by three members of the team and we had the whole place to ourselves!

The winery itself is beautifully situated in a valley below one of the mountain ranges in the Peljesac Peninsula. The property includes outdoor shaded tables, an intimate wine tasting room, and private tasting rooms with cellars below. Our private tour was informative, as we learned about the history of the vineyard, the terroir, and their wine growing philosophy. They have invested a tremendous amount of resources into their facility and the results are reflected in the winery's beauty. One really fun fact about Matusko is the meaning of their label that includes two donkeys. Before the advent of cars and modern machinery, donkeys were used by farmers and winegrowers in the area to help transport goods. Matusko added the donkey heads to their label to pay homage to the friendly creatures that helped them all of those years ago.
In California, the saying goes that 'Cab is King'; in Croatia, particularly the Peljesac Peninsula, 'Plavac Mali is King'. Genetic testing has revealed that the Plavac Mali grape is closely related to California's Zinfandel grape. It is used to create the premier wine of Croatia, dingac wine. There are four levels of Matusko dingac: Dingac (basic), Dingac Royal, Dingac Riserva, and Dingac Superior. The basic Dingac tastes dramatically differently from many of the Zinfandels that I have tasted in California. While California Zins have big overwhelming flavors, the basic dingac has more of chocolate undertone and is much more mellow – delicious and easy to drink, and a steal at only $14. We also tasted their Plavac Mali (Croatian red wine), Posip (the primary Croatian white wine of the region), Rukatac (another white wine in the region), and their cherry brandy. In the end, we bought the basic Dingac (silver medal winner), Dingac Superior (gold medal winner; a real bargain at $35 US given its quality) and a bottle of their exquisite cherry brandy. During our tasting, the warm staff provided our kids with grape juice so they could participate in the 'wine tasting' experience. We also enjoyed fresh bread and their homemade Croatian olive oil to go along with the wine tasting. If you are looking for a memorable and family-friendly wine tasting experience in the Peljesac Peninsula, I highly recommend visiting Matusko Vina.
Looking for more amazing wine in Croatia? Check out Rovinj.
Pro tip: Bring cash as they do not take credit cards and there is no ATM on site.
Check out these fun things to do in Dubrovnik
R&R on the Peljesac Peninsula: An afternoon at Prapratno Beach
After our time at the winery we had lunch at a nearby restaurant and then headed to the beach. In addition to having great wine, there are some wonderful Peljesac beaches. Our friends at Frank About Croatia put together a comprehensive guide to all of the beaches of the Peljesac Peninsula. We decided on Prapratno Beach, a favorite of locals and perfect for little kids. The beach is situated in a bay, with calm waters, soft sand, and some natural shade. The beach is adjacent to a small campsite, so there are restroom facilities on-site as well as a shop selling drinks and snacks; parking is free. I would recommend bringing some form of shade if you are going to be there for a long time. We arrived in the late afternoon so the sun was not a problem. Prapratno Beach is located near the beginning of the Peljesac Peninsula, so it's especially convenient at the end of your wine tasting tour of the area. The nearby town of Ston is home to many of the best restaurants on the Peljesac Peninsula, perfect for satiating your post-beach appetite.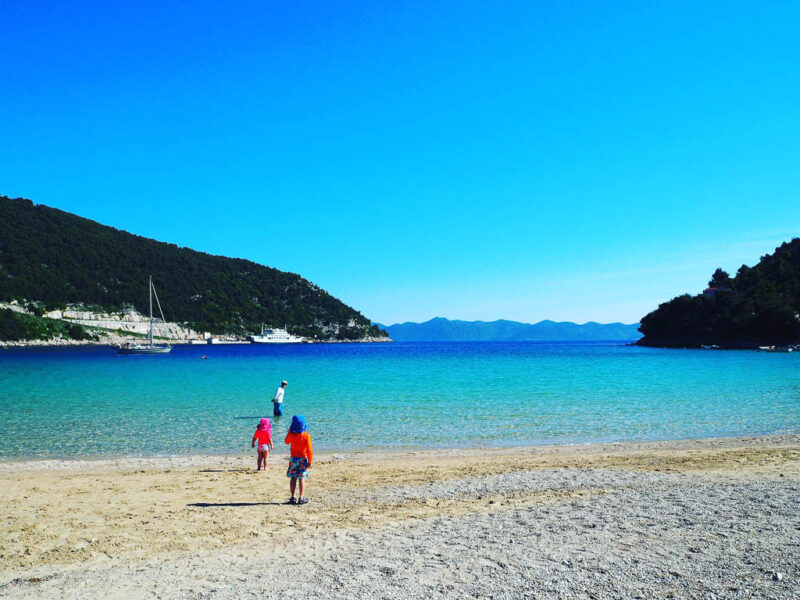 For a relaxing day trip from Dubrovnik head to the Peljesac Peninsula for some great wine, beautiful scenery and relaxing beaches. Click here to help you decide where to stay in Dubrovnik.
Bonus: If you're heading north toward Split, be sure to check out Bibich Winery in nearby Skradin, very close to the Krka National Park – more info here. They make some of the best Croatian wine and offer a variety of different tastings to suit every palette. Each of the three adults tasting in our group selected a different flight, so we collectively tasted about a dozen different options for Bibich wine! We collectively bought three bottles of Croatian red wine and two bottles of Croatian white wine, though somehow none of those bottles ever made it on a plane…
If you're looking for a great overview of all Croatia has to offer, check out The Traveling Pinoys' Croatia travel guide
You can also find more wine travel guides over at Carpe Travel