Part of being responsible long-term travelers is minimizing our environmental footprint even as we burn tons of carbon jetting around the world. We do what we can when we can, and years ago shifted our consumption to reusable products as much as possible. An easy way to create less waste is by investing in a good travel water bottle.
Good waterbottles will let you stay hydrated for free nearly anywhere in the world, and without adding to the trash heaps that burden so many countries. So I did what any avid comparison shopper would do: I tried to find the best water bottle for travel by ordering them all on Amazon to test at home! Check out these collapsible water bottle reviews to help you pick the best one for your next adventure.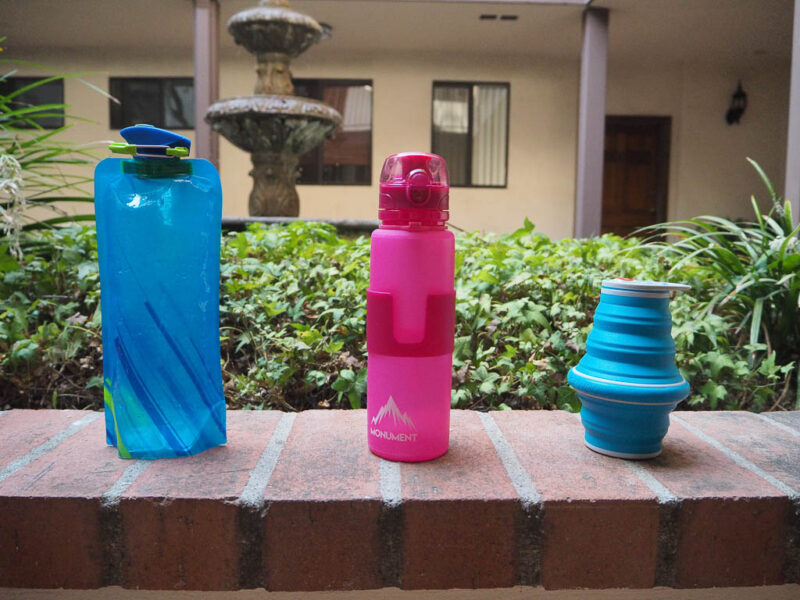 What are the requirements for the best travel bottles?
I only considered BPA-free water bottles, but fortunately that covers most of the travel water bottle market these days. Apart from that requirement, I consider the following criteria in seeking the best travel water bottle:
-Compact shape and lightweight (specifically a collapsible water bottle to fit easily in our backpacks)
-Leak-proof
-Capacity
-Easy to open
-Easy to drink
-Easy to clean
Three contenders for the best foldable water bottle
Vapur Element foldable water bottle
The Vapur Element is a lightweight water bottle, clocking in at just 2oz. When unrolled, its body is a completely flat water bottle and the only protrusion is at the top. The roll up water bottle is made of heavy-duty plastic.
>>> Get more details on the Vapur Element
Monument collapsible water bottle
The Monument silicone water bottle is a very functional collapsible drink bottle. It has a traditional water bottle shape and a carry handle attached at the top. It's the least expensive of the bottles I tested, but seems high quality. The only choices are pink and blue.
>>> Get more details on the Monument collapsible water bottle
Hydaway travel water bottle
The Hydaway foldable water bottle first caught my eye back when it was on Kickstarter. It comes in a range of vivid colors, and in addition to the regular adult size they even make kids water bottles in fun color combinations (spoiler alert: they hold less than the stated capacities, but I'll explain more below).
Construction quality is great and it just feels like a nifty little product. Why didn't someone come up with it sooner? These silicone water bottles are such a cool-looking product that they make great gifts for travelers in your life, especially if you throw in the protective case. Update: keep reading to see our review of Hydaway 2.0 below!
>>> Get more details on the Hydaway foldable water bottle
Evaluating collapsible drink bottle options
Compact shape and lightweight
The clear winner for the most compact collapsible drink bottle is the Vapur Element. It weighs only 2oz and collapses to nothing, and there's even an integrated caribiner to keep it rolled up or hook onto your backpack when it's open. Hydaway has a more sizable footprint when folded, but it at least slim enough to tuck just about anywhere. The Monument collapsible water bottle and Hydaway foldable water bottle both weigh around 6oz, but the Monument folds to an awkward shape that won't fit nicely anywhere. It was also very hard to roll the Monument into that not-so-compact shape, but it does cleverly use the woven carry strap to stay rolled up (which sometimes even works to keep it rolled!).
Winner: Vapur Element; Runner-up: Hydaway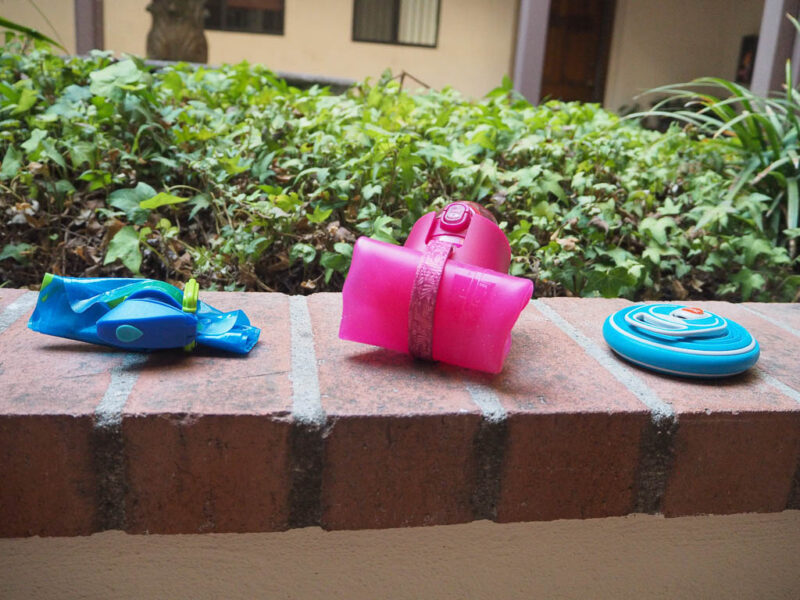 Leak-proof water bottle
I'm happy to report that all three bottles were leak-free!
Winner: three-way tie
Capacity
The Hydaway is stated to hold 21oz, but in my testing it only held around 18oz – a big difference! I reached out to Hydaway via Facebook Messenger and their customer service was extremely responsive and helpful; they explained that there's some shrinkage of the silicone during the cooling process, but they're working to address the issue for their spring 2018 version. The Monument foldable water bottle holds 22oz, while the Vapur Element is available in two sizes: 22oz or 32oz. How you judge capacity will depend on your own needs, but I'm a big water drinker when we're traveling.
Winner: Vapur Element; Runner-up: Monument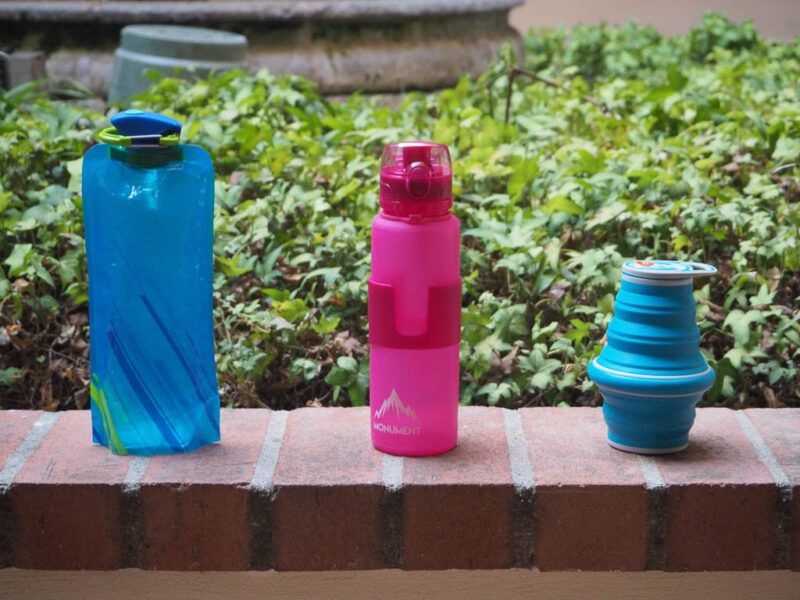 Easy to open
Whether you're running through the airport pulling a suitcase or out hiking while holding trekking poles, no one likes to fight with a water bottle cap. The clear winner here is the Monument silicone water bottle, with its push-button flip cap! Zero extra work required, so thank you for that. I find that the Vapur Element lightweight water bottle needs two hands to open, but opens pretty easily and quickly. Hydaway requires two hands AND some elbow grease, though it's possible that mine will ease up with time since it's brand new.
Winner: Monument; Runner-up: Vapur Element
Easy to drink
Ok, a water bottle can have all the features you want but the best travel bottles need to be easy to drink from. In this category, the Vapur Element absolutely falls flat in my opinion. We've had them for a few years, but basically sent them out to pasture after a few uses. Even when they're mostly full, as soon as you lift them to drink the pressure from your hand causes the bottle to mostly collapse on itself; combined with the relatively wide opening for drinking, it's a recipe for disaster. Ronnie has had some wet-lapped road trips thanks to the Vapur collapsible water bottle! Both Monument and Hydaway remedy that issue with rigid grip rings in their centers. On the Monument bottle it slides up near the lid when folded, while the expandable sections of Hydaway collapse into its grip ring. The ring on Hydaway is much narrower so it might be tough for big hands to manage but your worst case scenario is putting a little pressure on the flexible silicone – still not enough to cause the entire bottle to collapse like the Vapur. The flip-up straw lid on Hydaway slows water flow enough to make drinking a little cleaner, especially when you're driving or giving the bottle to little people (they even make a half-height version for kids, though I think the lack of a rigid ring in the middle might be tough for them to manage)..
Winner: tie between Monument and Hydaway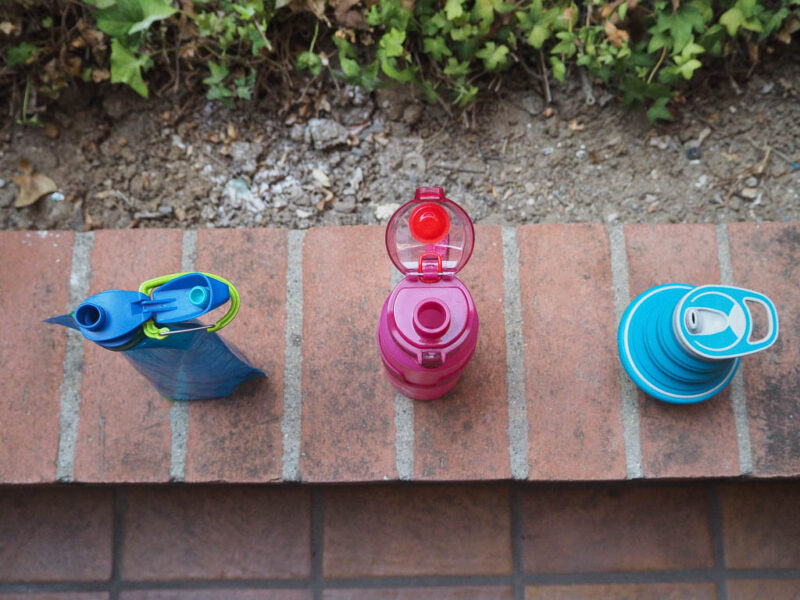 Easy to clean
We only use our reusable bottles for water, so cleaning the bodies is as easy as a good swish with hot, soapy water followed by a rinse. Don't judge. Years of cleaning sippy cups have taught me to judge a bottle's washability by the number and complexity of parts in the cap. Fortunately all three of these bottles have pretty simple caps. Hydaway's opening is a little smaller and so requires more care to clean, especially if you're using it for anything other than water. Only Hydaway and the Vapur folding water bottle specify that their bottles are dishwasher-safe but I'm not sure about Monument given the webbing wrist strap; however, the Vapur Element and Monument water bottles are too tall to fit in the top rack of our standard dishwasher.
Winner: three-way tie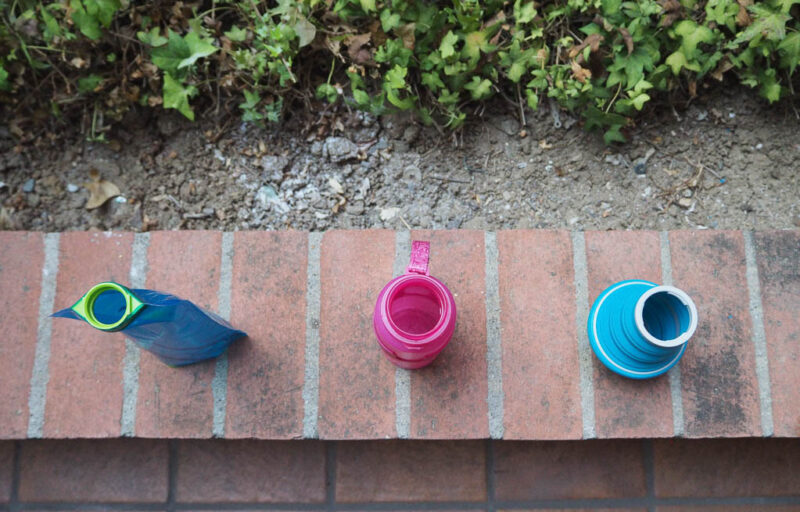 Odds and ends
The Monument bottle is the only one that's a standard size and shape when opened, so it will probably fit best in your car's cup holder for road trips or in the mesh water bottle pocket of your backpack.
Monument and Hydaway have wider necks when the tops are off, so take note if you like to fill up with ice before a long drive.
What's the best collapsible water bottle for travel?
So what is the ultimate water bottle for travel? As with all things, it probably depends on your needs.
Best hiking water bottles: Vapur Element
You just can't beat its light weight and compact form when rolled up! Even without rolling, this flat water bottle takes up almost no space. The integrated carabiner is also a handy feature.
Best water bottle for road trips: Hydaway foldable water bottle
It's cupholder-friendly shape and wide grip ring make it easy to drink while driving – just keep it to water for easier cleaning of the nooks and crannies.
Best water bottle for long-term travel: Hydaway foldable water bottle
Great balance of usability and space-saving design
So what did our family choose? We bought a full set of the Hydaway silicone water bottles! I chose the lovely Chili color for myself. They're the best collapsible water bottles for us thanks to the easy "drinkability" factor.
Wondering how to clean a collapsible water bottle? I recommend that you buy a cleaning brush like this one to keep the inside clean while you're on the go.
Update: comparing Hydaway v1 and Hydaway v2 collapsible water bottles
In summer 2018, Hydaway launched their updated collapsible water with a few tweaks to the original design. Hydaway was nice to send us to samples to compare versus our original bottles.
The major change was switching from a construction that included a mix of hard plastic and silicone in the body of the bottle to an all-silicone exterior design (there's still a hard plastic ring halfway up the body at the widest point, but it's only exposed on the outside.
The cap also changed in a few subtle ways. Instead of the carry loop sticking off the side, it now folds down around the spout when it isn't being used. On the inside of the cap there's a slot for a charcoal filter – woohoo!!!! Finally there's a collapsible water bottle with a filtering system! It's still not meant for non-potable water, but you could combine it with a product like this one to expand your safe drinking options. There's also the option now to buy a "cap lid" rather than a "spout lid", but after testing both I'm still not sure what the advantage is of the cap lid.
What's the verdict on the changes? I'd say it's a mix. We found that with frequent use the rings around the middle of our v1 bottles came off frequently, so ditching that was a great change. Removing the plastic base of the bottle cuts down on weight (which is good) but makes it a little too easy to set the bottle down askew or accidentally squeeze water out.
The new cap is great overall and I especially love the charcoal filter – I'm a stickler about bad tasting water. The filter does (understandably) decrease water flow, so it might not be the best addition if you like a fast-flowing bottle. The integrated carry loop is also a big improvement over the loop sticking off of the side. We do find the spouts on the new bottles a little harder to open than on the old bottles, but thankfully now you're using your (grubby?) fingers to pull on the sides of the spout rather than directly on the tip.
Another great development – which we haven't gotten to test out yet – is the update to capacities. While the original bottle (labeled 21oz) only held around 18oz, the v2 bottles come in sizes stated at 17oz and 25oz capacity! One of our big challenges in using the v1 bottles for a year was that they just didn't hold as much as we wanted, so we're excited to try out the 25oz packable water bottle soon. The larger bottle is… larger; it folds down to 1.5″ tall rather than the 1″ of the original.
>>> Get more details on Hydaway v2 (both 17oz and 25oz versions)
Best travel bottles that don't collapse
Best water bottle with filter – Brita Sports Water Bottles
I've used the 20oz Brita water bottle for years and they're some of my favorites! Great for those situations where you think the water may have a funny taste or you need one-handed drinking (like riding a bike). This filter water bottle is pretty light weight but it does require replacement filters after every 300 fills, so not the best choice for long-term travel.
>>> Get more details on the Brita filter water bottle
Best portable water purifier bottle system – GRAYL Ultralight Water Purifier
If you plan to travel to places with questionable water sources, you NEED a GRAYL system. Unlike the Brita, which is great for water with an off taste, GRAYL does the heavy lifting of actually removing nearly all viruses and disease-causing bacteria from your water regardless of the source. If you're focused on responsible travel, GRAYL is an amazing way to minimize your environmental impact by reducing your plastic consumption: each filter displaces 300 single-use plastic bottles. This is the best water bottle for travel in the developing world, where tap water is unpotable and recycling is painfully uncommon. Check prices and pick up your GRAYL today.
>>> Get more details on the GRAYL portable water purifier
Best water-carrying solution – Camelbak (various models, but I love the M.U.L.E. for men and the L.U.X.E. for women)
You can find Camelbak hydration packs in all shapes and sizes, but I love the larger versions. They combine huge 3L water capacity with enough extra cargo space for a sweatshirt and lunch. When you're out hiking or cycling, no need to mess with a water bottle at all! Just flip open your bite valve with two fingers and take a sip. I do recommend adding a bite valve cover to keep your mouthpiece clean and avoid the annoying little drips that happen sometimes.
>>> Get more details on Camelbak hydration packs
Pin this to read later!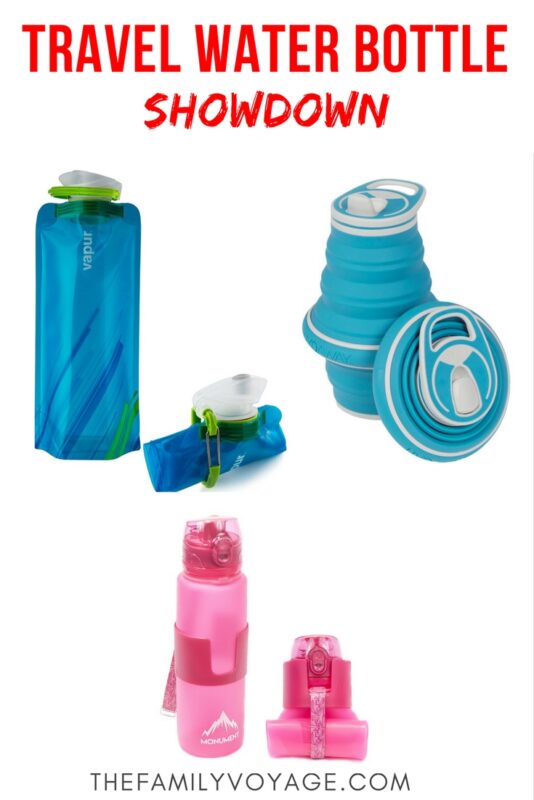 Thanks to Hydaway for sending us v2 bottles to add to our testing!