Frequent readers of this blog will know that our family generally chooses vacation rental apartments when we travel. We like the space and the feeling of homeyness. But when I was looking into places to stay in Flagstaff for our visit to the Grand Canyon on our big road trip, I kept coming back to the listing for Little America Flagstaff. The pictures looked lovely and the reviews were stellar. We decided to break out of our habits and try something new – after all, that's what this year is about!
Read more: What to do in Northern Arizona with kids
Where to stay in Flagstaff: the family-friendly choice
I'll give you the Bottom Line Up Front: the only thing I wish I could change about Little America Hotel Flagstaff would have been to add a third night! We will absolutely return the next time we're in the area, and we'll happily send our friends and family for a stay. What did we love? In a nutshell, everything. Clearly there's a reason it's listed as one of the best hotels in Flagstaff, AZ for families.
The owners are part of the way through a massive renovation that has given the space the feeling of a cozy but modern mountain lodge. So far the main building and two of the guest room buildings have been completed, and the remaining lodges will be renovated by spring 2018. Check below for more details about the guest rooms.
Beyond the comfortable and classy look of the property, its staff is absolutely exemplary. We were greeted with genuine warmth and smiles by every single person. They went out of their way to provide us with insider recommendations and help at every turn. We could tell that management has put a huge emphasis on running a property that is inviting in all ways. Though there are plenty of big chains among the Flagstaff hotels, in my mind there's no question as to where to stay in Flagstaff.
Related: Thinking about a family road trip? Don't miss these top tips!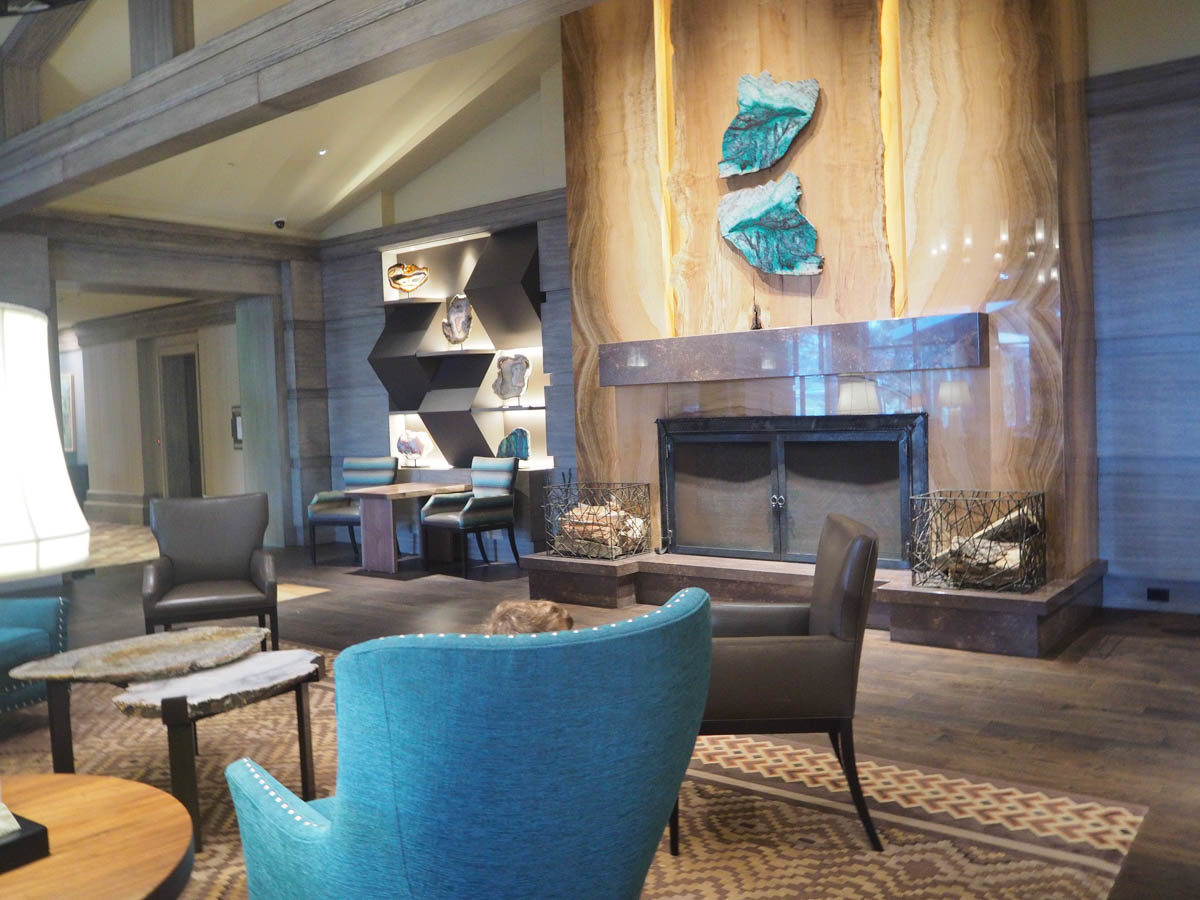 Activities at Little America Hotel Flagstaff
The pool was amazing and if you go there you'll get even more information from the guides and folks. Goodbye! -Jacob.
The hotel's layout is more like that of a mountain lodge, with one main building housing the lobby, gift shop, gym, restaurant and meeting rooms and four additional buildings for guest rooms. While these buildings are all accessible from the front via the parking lot, the better choice for guests is to walk the peaceful paths that connect that backs of all of the buildings and the outdoor amenities. All of the paths are nicely paved for strolling (or scooting – check here for top scooters for travel) but give the distinct feel of being out in nature rather than adjacent to the highway. There are even big grassy lawns for the kids to run on if they want to let loose.
Read more: Your essential Arizona packing list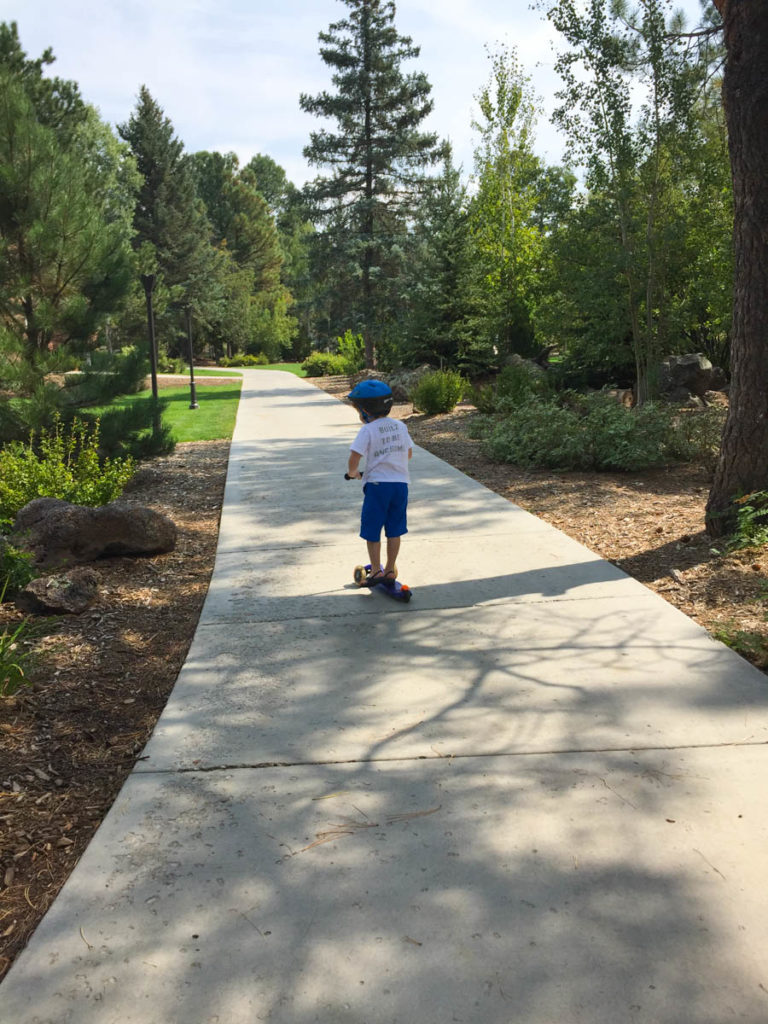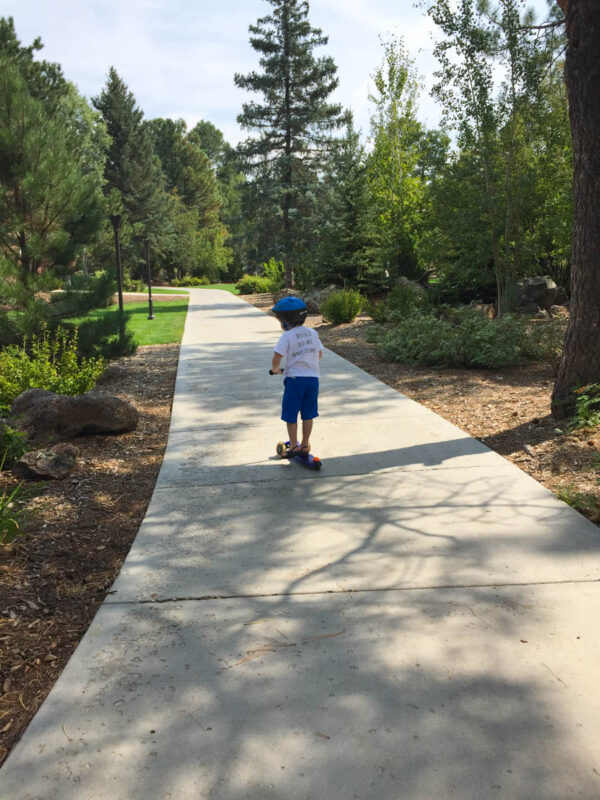 The amenities available at Little America make it a perfect choice for a family weekend getaway. While we Angelenos are used to lounging poolside under palm trees, imagine going for an evening dip nestled among pine trees while breathing in the fresh mountain air. Our family especially enjoyed a visit to the hot tub after our drive up from Phoenix.
Just coming for the weekend? Check out our guide to packing light with kids.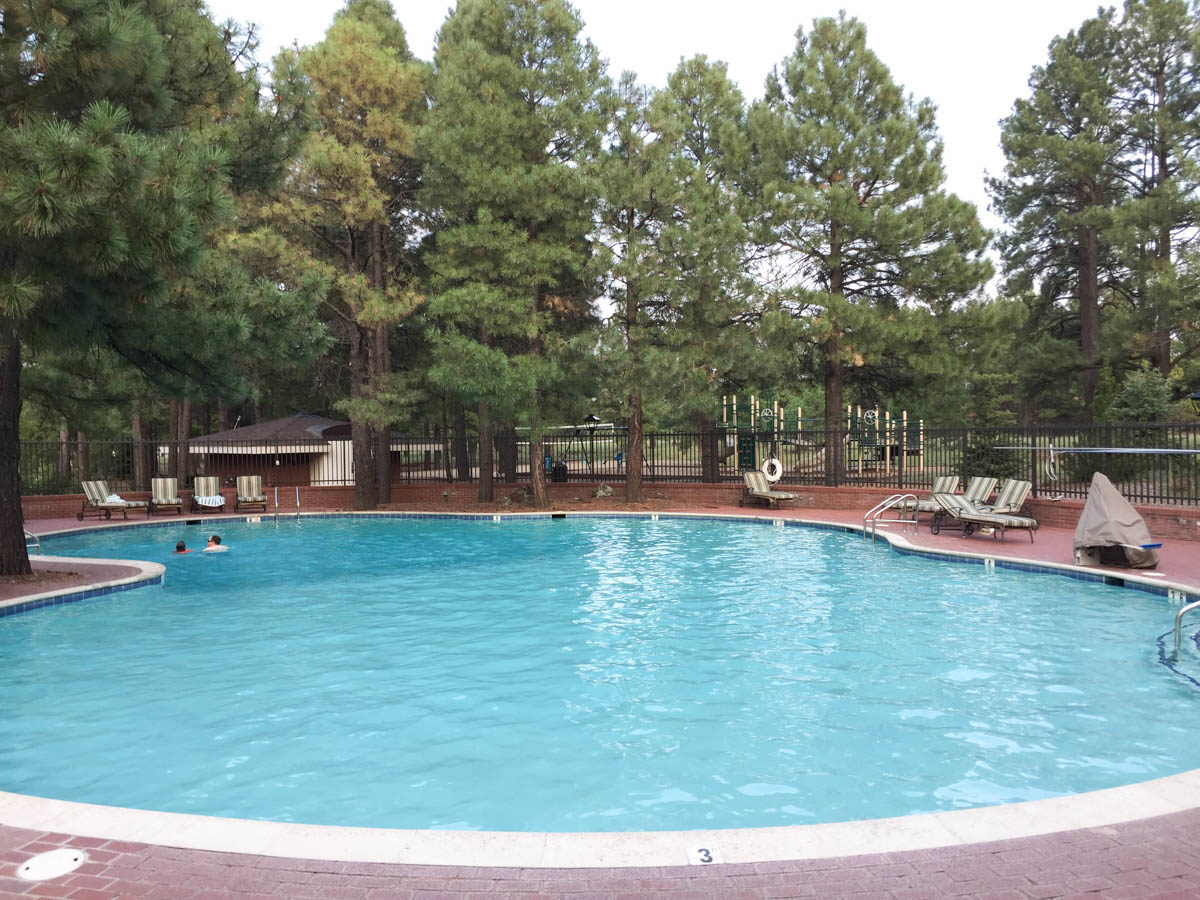 Just beyond the pool deck is a full-size play structure and a pair of swings (one baby, one big kid), which kept the kids busy for an hour while I relaxed and enjoyed the views. It's a big, modern structure that could easily accommodate a dozen kids during peak season, but since we visited just after school was back in session (which I highly recommend) we had the whole thing to ourselves. Poor Ronnie was stuck at the auto shop to get the car's AC repaired, but even that was made more convenient by the hotel's friendly shuttle service that ushered him to and fro.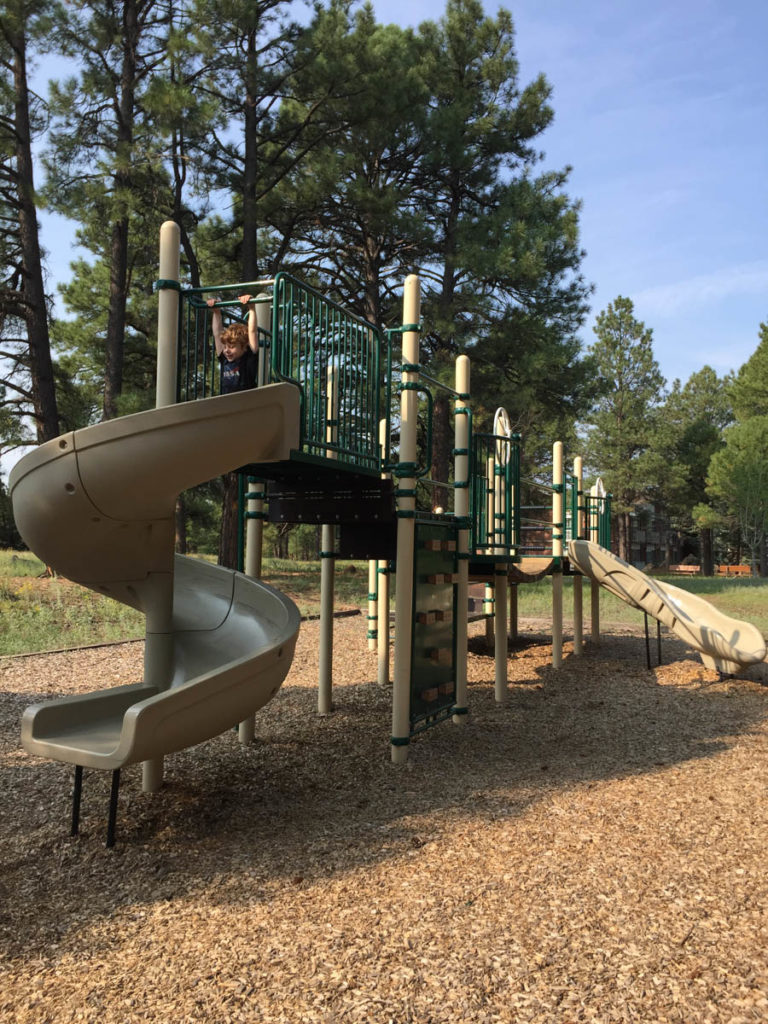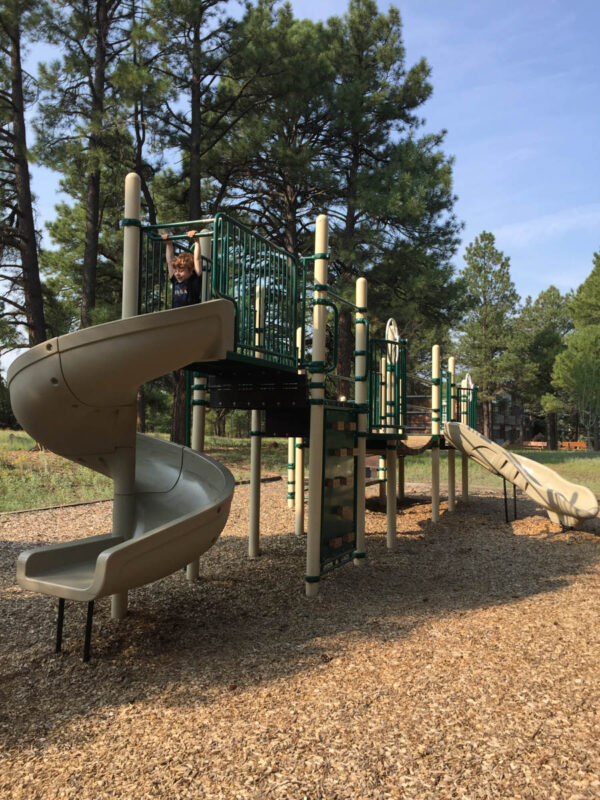 Unfortunately due to the aforementioned car trouble, we didn't get to explore the hotel's most unique feature: a 2.5 mile nature trail that begins just behind the lodges a winds through the 500 acres of Ponderosa pines that back the property. Don't miss it during your visit!
Perfect rooms for a family
Our newly-renovated room at Little America was a very generous size and easily accommodated our family. We had two queen beds as well as a sofa bed in 400 square feet of space. The aesthetic is contemporary but cozy. The beds and bedding were very comfortable, and the housekeeping staff made up the sofa bed for us while we were out at dinner. The kids loved watching Shark Tank on the big TV with the included DirecTV service and I was glad to hop on the free wifi to take care of some blogging. Our room also included a small bar with a mini fridge, microwave and Keurig. As I mentioned above, by Spring 2018 the remainder of the lodges will be renovated to reflect the more contemporary style of the room we enjoyed.
The bathrooms in the renovated rooms have a luxurious feel, with marble countertops, high end finishes and quality bath products. There are even two separate sink areas so that we could split up everyone's morning prep needs.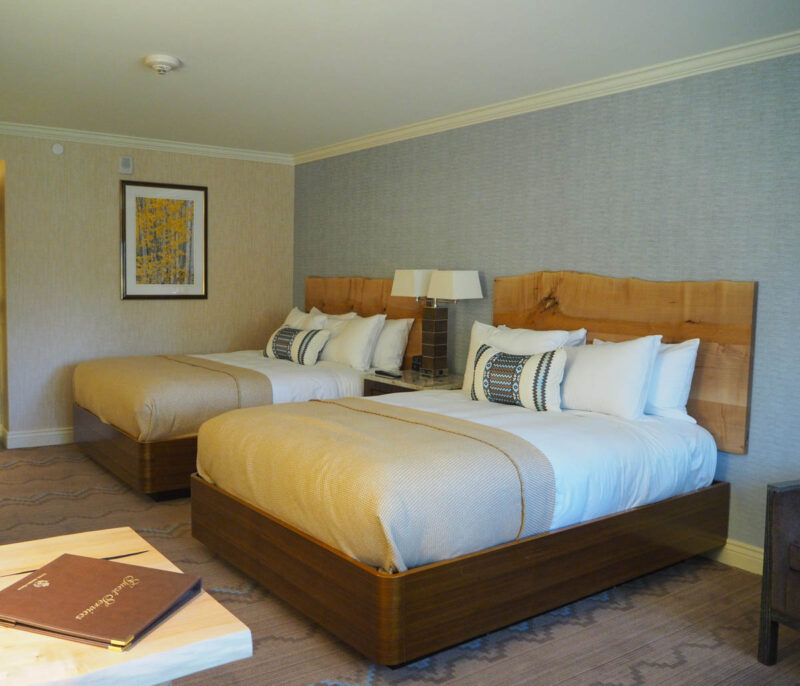 Dining to satisfy everyone's needs
The Silver Pine restaurant on site also got a beautiful remodel earlier this year and is a great place to enjoy a family breakfast or even afternoon happy hour. You can choose from a range of seating options depending on your mood, including the lounge and bar area, the light and airy dining room or the enchanting patio. My personal favorite was the patio, with its water feature and fireplace. As you can see, it's a beautiful spot for an evening cocktail or family breakfast.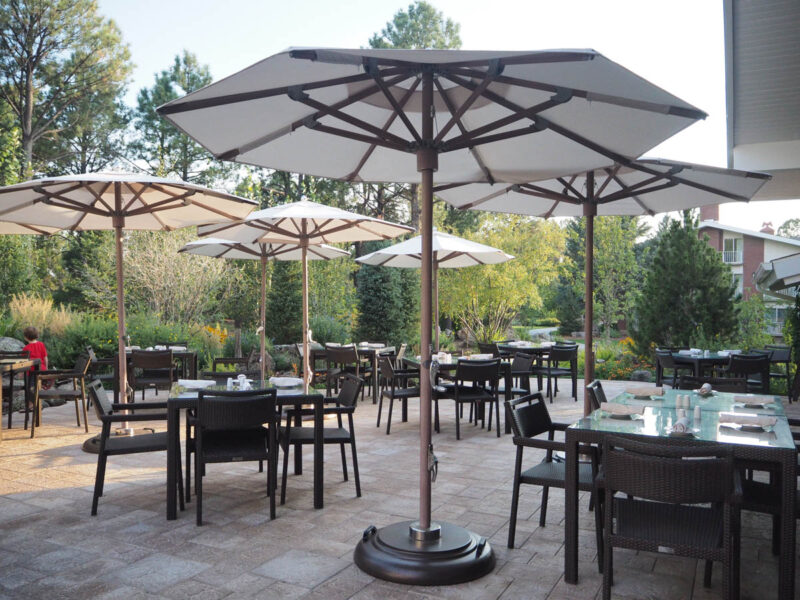 And speaking of food… the kids loved the breakfast buffet! It offered a huge range of both hot and cold options, including eggs, breakfast meats, oatmeal, cold cereal, fresh fruit and yogurt. We hear that the weekend brunch has even more choices! The kids were thrilled because they're both picky eaters, though with totally different tastes. Though the cost of breakfast isn't included in the room we found it extremely reasonable: $15 for adults, $7 for kids ages 5-10 and free for the littlest guests (with adult buffet purchase). While Ronnie and the kids enjoyed the buffet, I ordered from the regular menu and was very happy with the omelettes (only $9-10).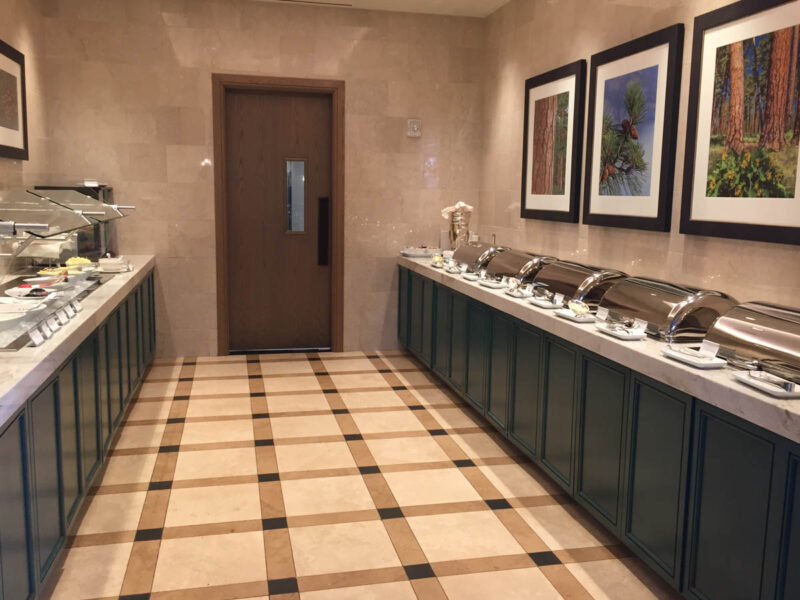 We didn't have a chance to check out the restaurant for lunch or dinner, but those menus look great as well. Lunch has a standard selection of sandwiches and salads, but also includes some items with a southwestern flair. The dinner menu is more formal and includes substantial options like steaks and fresh seafood.
Ready to book your stay at Little America Hotel Flagstaff? Check prices here.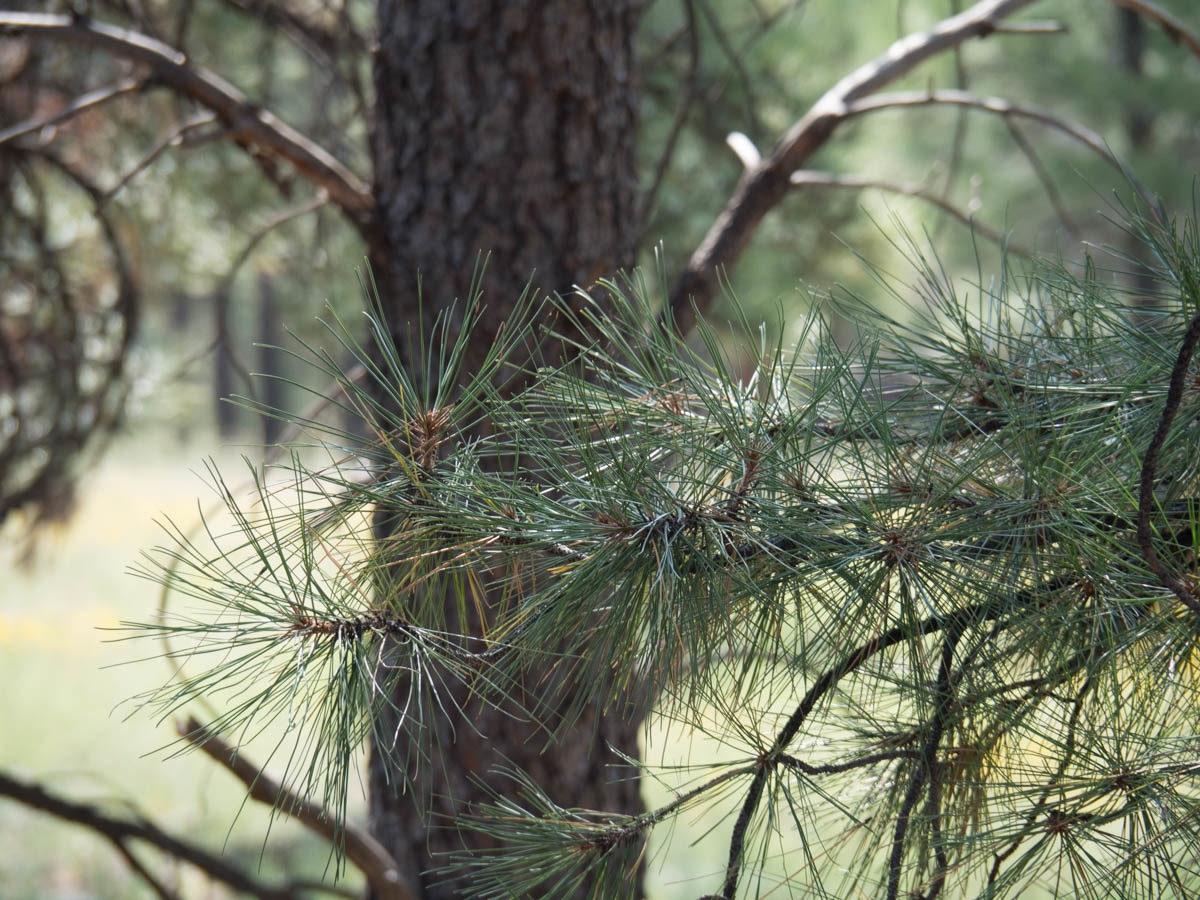 Fun things to do in Flagstaff with kids
You could plan an entire weekend just hanging out on the property at Little America, but you're probably coming to explore the beautiful surrounding area. And there's so much to explore! We wish we had been able to stay longer, but unfortunately we had to leave after two nights. We look forward to returning in the future to dive deeper, but in the meantime click over to read more about all the fun things to do in Flagstaff with kids.
Planning your trip to Flagstaff with kids
If you're interested in extending your family trip to Flagstaff into other Southwest destinations, consider these options:
Arizona:
Utah:
New Mexico:
California:
Texas:
Colorado:
Want to get more helpful travel tips like this? Sign up for our email list!
Many thanks to Little America Hotel Flagstaff for hosting one night of our stay; all opinions are my own.