Why you should visit Joshua Tree with kids
This expansive National Park sits at the intersection of the Mojave and Colorado deserts – a two-in-one for your budding naturalists. If you have city kids like I do, there's something special about getting them away to the outdoors – and Joshua Tree in particular borders on other-worldly. Joshua Tree is just a few hours from Los Angeles, so it makes for an easy weekend trip. Note that drive times in the park are longer than you might think! The main route through the park is 60 miles and you won't want to speed through and miss the landscape and sites. This is also a great time to introduce your kids to U2; ours haven't stopped requesting The Joshua Tree since our visit three months ago. If you keep your eyes peeled, you'll catch pictures in here from visits in 2010 and 2014 too – watch the family grow!
Use the interactive map to find vacation rentals and hotels near Joshua Tree National Park
---
Getting started in Joshua Tree National Park with kids
First up – you'll have to pay to get in. Admission is currently $25 per vehicle. A better bet is to buy an America the Beautiful National Parks pass, which gets you into tons of sites all around the country. We've used ours at National Parks, National Historic Sites, National Seashores and more!
Make sure to start your visit at a ranger station where you can pick up maps, get personalized suggestions from the ranger and get the excellent Junior Ranger Activity Booklet – even if you don't have the kids with you! It provides context for everything you'll see and has beautiful illustrations to help with identifying flora, fauna and even some of the rock formations. It's the perfect guide for visiting Joshua Tree National Park with kids. Jacob loves doing art, so I brought colored pencils for him to sketch what he saw. The visitors center is also a great place to pick up a National Parks Passport if you don't have one yet – start inspiring a lifelong love of getting outside.
Check out these other great National Parks inspired gifts!
In the southern part of the park, approached from the Cottonwood Springs entrance, you'll see spiny cholla cacti lining the roads — this is where we usually start our day and the (mostly) paved nature trail around back is perfect to give little legs time to run around and start identifying the wildlife around them. This is the best spot in Joshua Tree with toddlers. Before you get back in the car, make sure to use the bathroom, change some diapers, and fill up every water bottle you find buried on the floor of your car – even in winter, you can get dehydrated in the desert!
Read more: 10 Amazing Things To Do In California With Kids
Best easy hikes in Joshua Tree National Park
Cholla Cactus Garden
Another half hour's drive into the park will bring you to the Cholla Cactus Garden, which has easy paths snaking around groves of cholla of all shapes and sizes. On our recent trip for New Year's, Jacob decided the garden was a great place to work on his photography skills. Even Shoshana could walk the path on her own, but it's important to remind little ones that the cholla are NOT as soft and furry as they look! Two years ago Jacob didn't believe us… and he still talks about the results. There's no picnic area here, but we broke out some snacks while we stood on the sidewalk.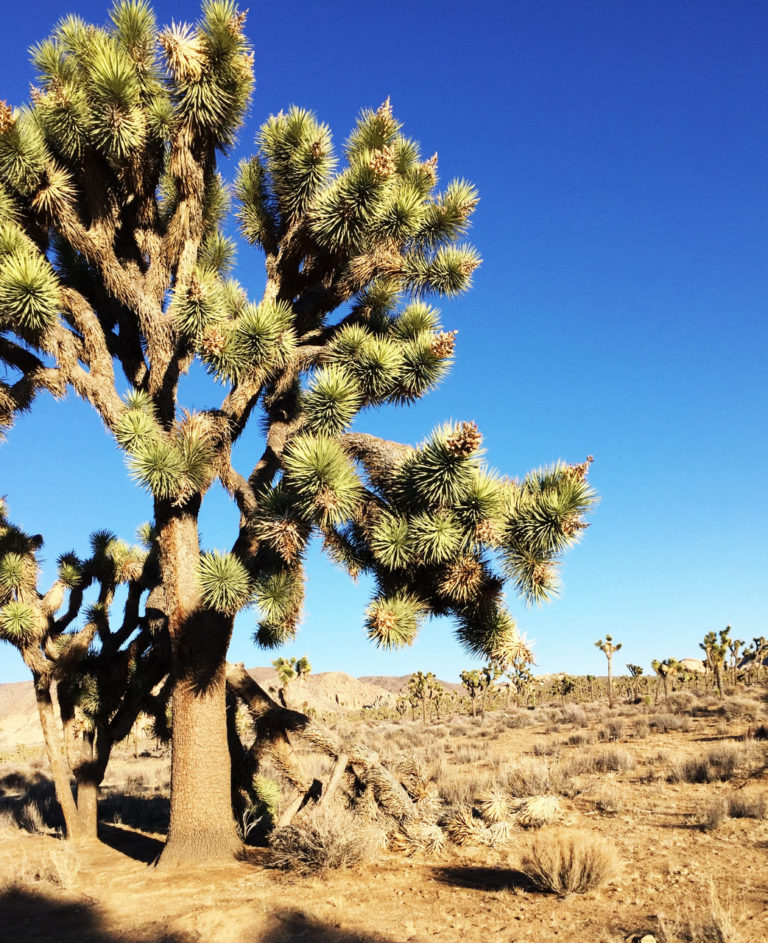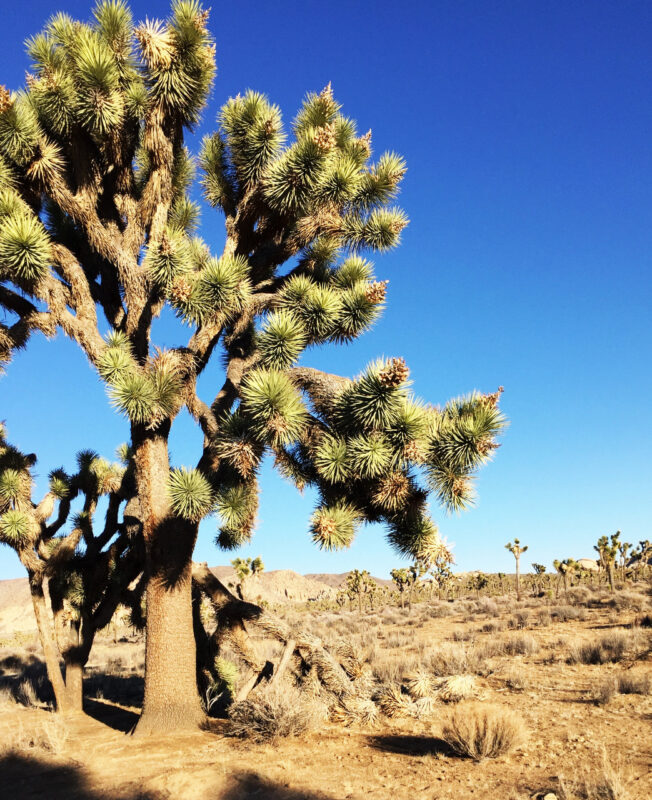 As you continue past the Cholla Cactus Garden, you'll quickly cross from the low Colorado desert and into the high Mojave desert — time to catch your first glimpse of a Joshua tree! When you get to the fork in the road, hang left to see many of the best sites in the park.
Skull Rock and Jumbo Rocks
On our recent trip we just did a drive-by of this landmark rock formation thanks to sleeping kids — no complaints from me! Clocking in at about a mile and a half, you'll have just enough time to answer questions about HOW those rocks formed. If you're looking for a longer walk with the kids, this stop is a great option. Older ones can even test their bouldering skills here (or watch the feats of others).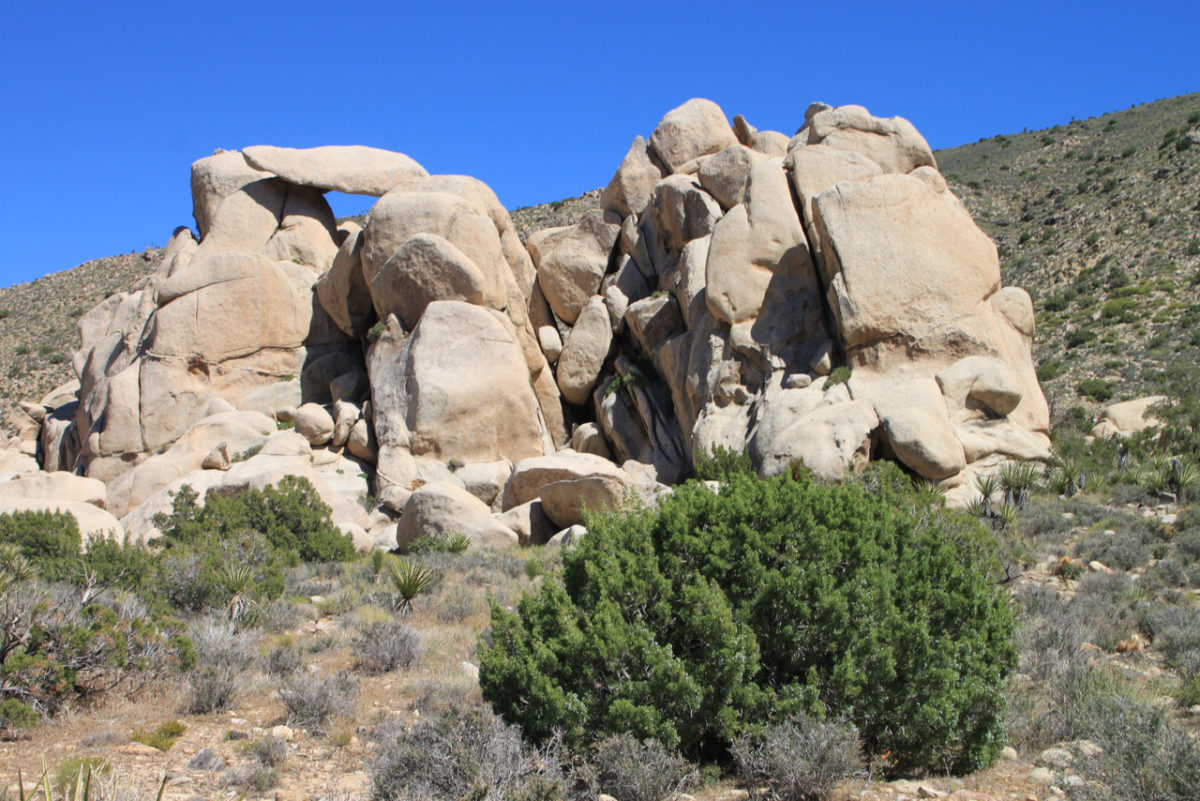 Ryan Mountain
Visiting Joshua Tree with older kids or teens? Ryan Mountain is a challenging hike, but you're rewarded at the end with expansive views. I've done this hike many times kid-free and it would be fine for hiking with a baby in a carrier if you're in good shape. I won't mislead you: this is a tough hike. The total distance is only 3 miles out-and-back, but with a quick 1,000 foot elevation gain. It's also deceptive on the trail, because subsequent sections are hidden from view until you round the next corner. My first time I kept thinking I was close to the peak when, in reality, I wasn't even close. Even so, this is a great way to spend a few hours of your day if you're in shape and bring lots of water with you. I've done it in the summer but don't generally recommend it — best to explore November through March.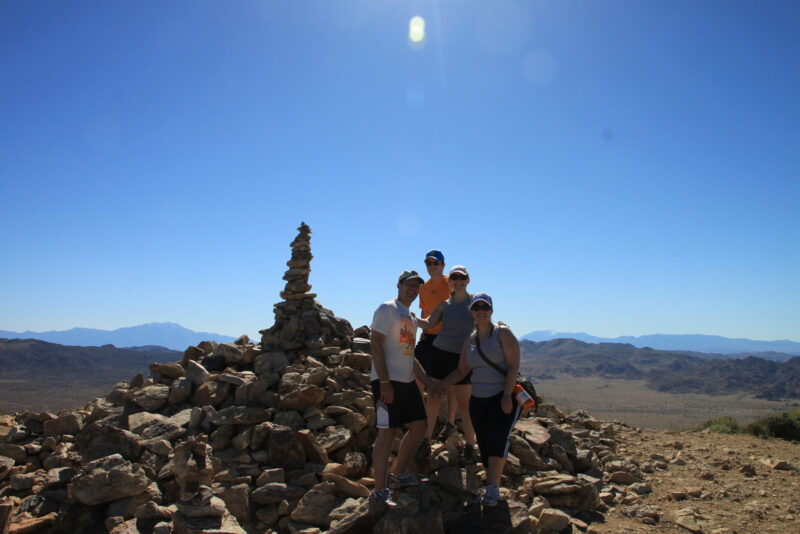 Keys View
If the little ones have gotten tired or cranky by now, Keys View is a great stop — go left at the fork and drive for a few minutes until the road dead-ends. The only work required is walking along the sidewalk from wherever you park. In exchange you get to take in a beautiful panoramic view of the San Bernardino mountains.
Hidden Valley
Heading back to the main road from Keys View or going right at the fork if you skipped it, you'll quickly come to the Hidden Valley area. The signs can be a little confusing, but take the first turn on the left. There are picnic tables and decent bathrooms around the abundant parking spaces.
When we visited in 2014, this was the first hike Jacob ever completed on his own; now two years later, it's Shoshana's turn! This hike is great for our preschoolers — it's a one mile loop, but with enough diversity to keep it interesting. There are a few little rock scrambles (Shoshana needed a hand on these), lots of spots for bouldering (perfect for Jacob's daredevil streak) and a changing view of the surrounding outcrops to keep things interesting. This is also a great hike for babywearing!
Pro tip: If you're going in the same order we did, it will probably be pretty late in the day. It get's cold quickly out in the desert, especially in the valley where the sun disappears earlier. As you can see, we were all wearing warm coats, hats and gloves by the end and some of us were still cold. Dress appropriately and bring water!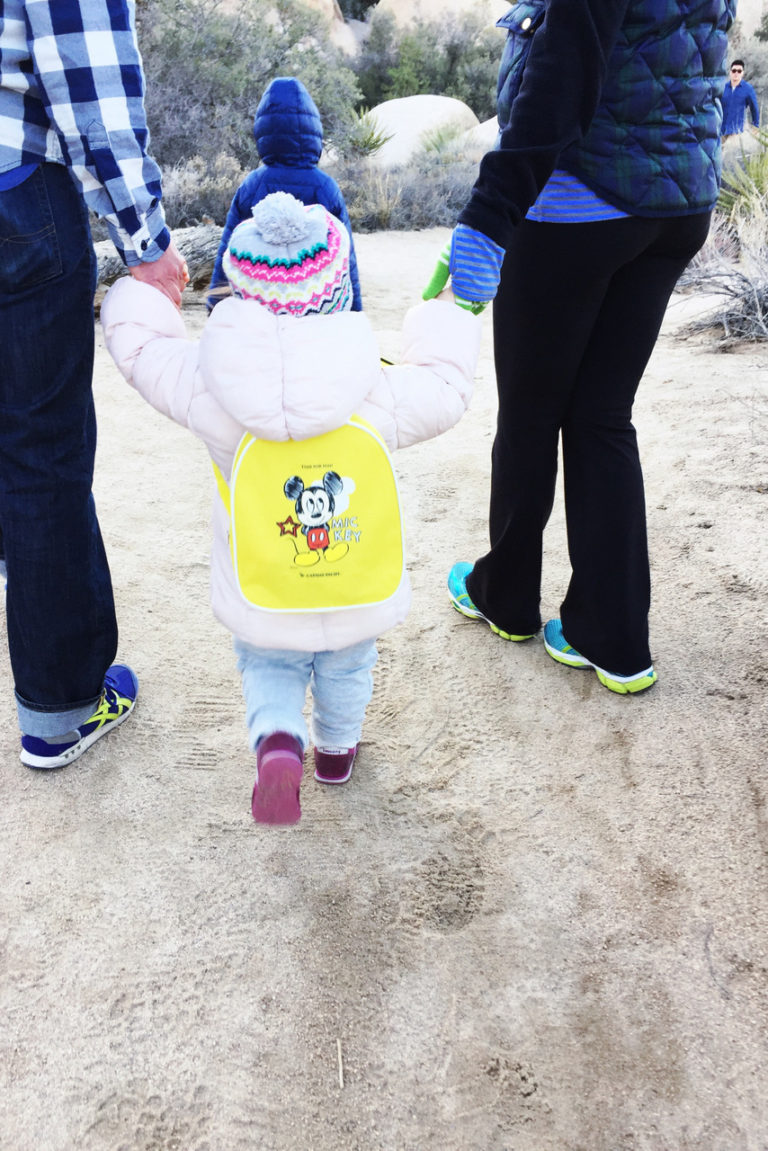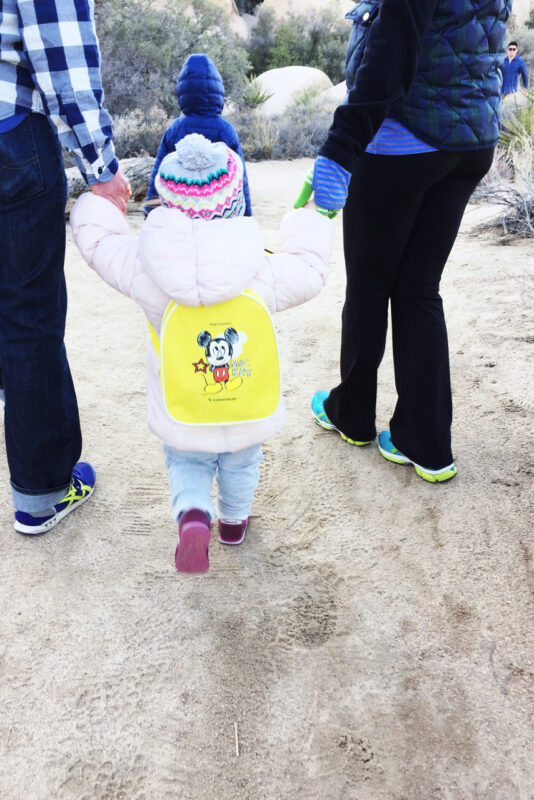 The sun was setting as we wrapped up our hike in Hidden Valley this year. Next time we visit Joshua Tree with kids, we'll bring a second picnic and warmer jackets to stay for some star gazing!
Check out this awesome list for more National Parks travel inspiration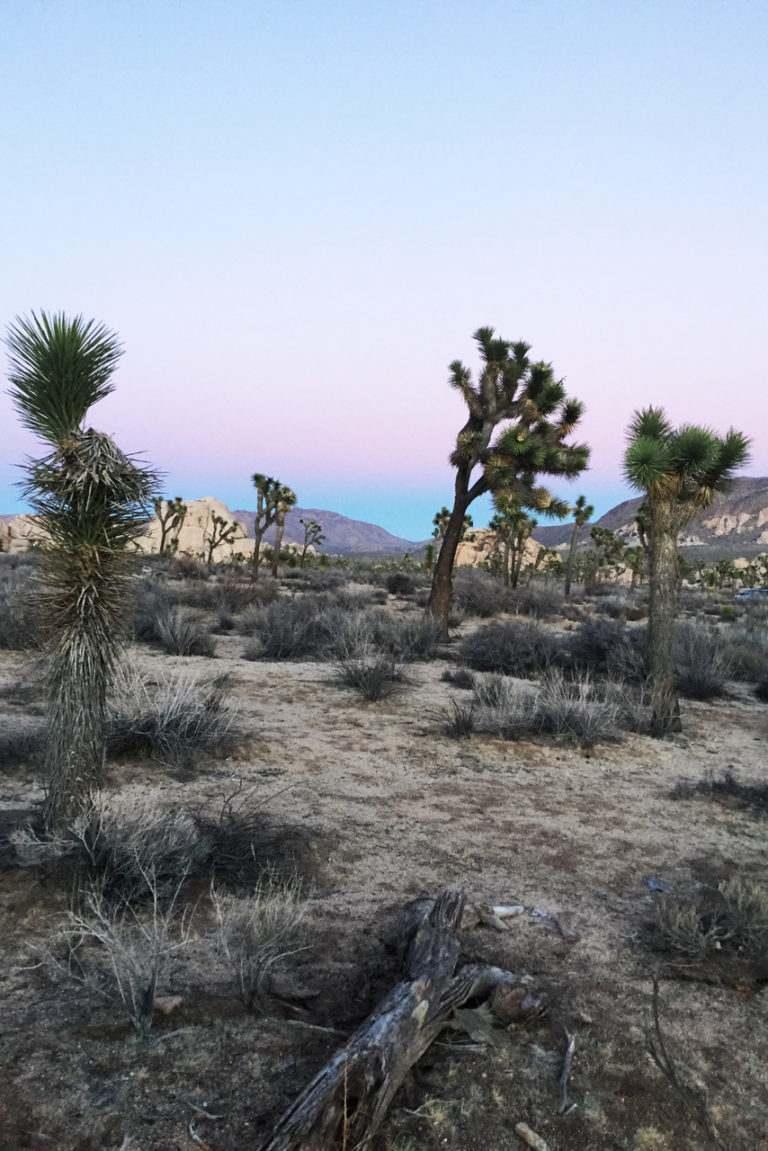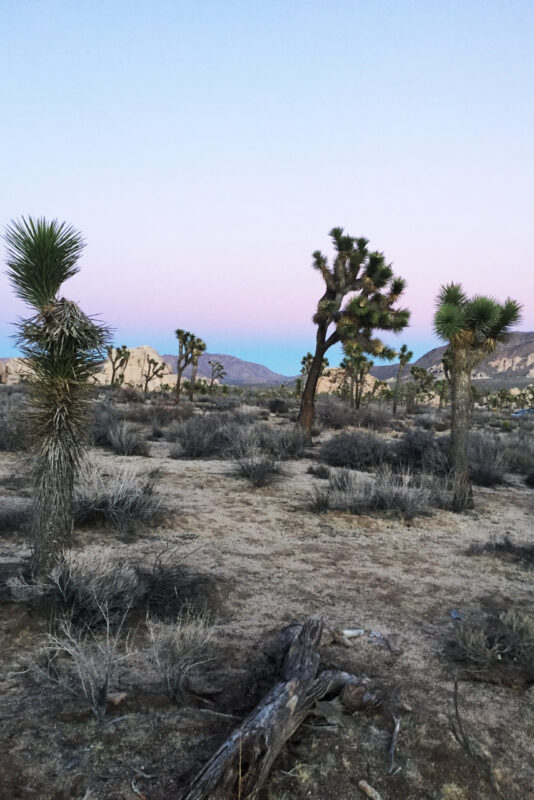 Bonus: Wildflowers!
If you're lucky enough to visit in the spring, the desert will be in full bloom. Check out the amazing colors we saw in May 2010. Until this year, that had been the wettest year in a decade. Now we're running 10% ahead and counting so you should see some show-stopping flowers.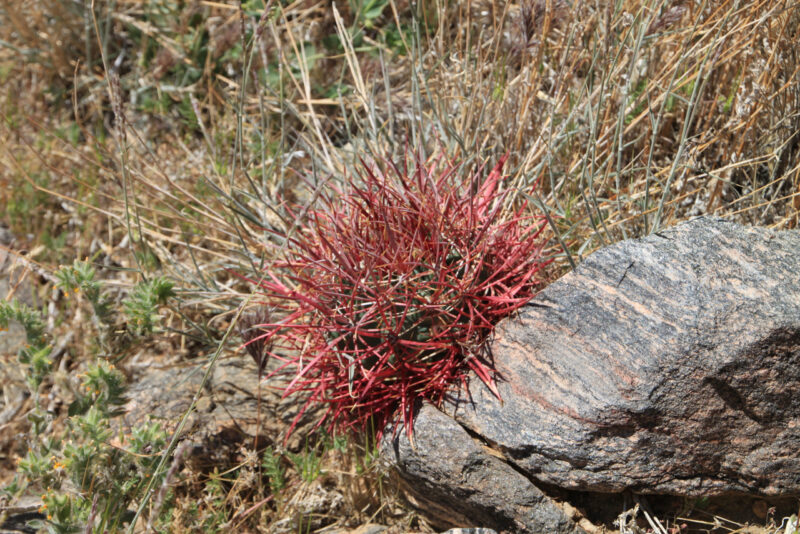 Where to go next
From Joshua Tree National Park, there are some great options for your nearby travels.
Links
Joshua Tree National Park official site
Junior Ranger booklet – fun to check out at home even if you can't make the trip!
What are your favorite National Parks and other outdoor adventure spots to visit with kids?