If you're planning a visit to Tucson, Arizona make sure to put Saguaro National Park at the top of your list! It's one of the densest saguaro cactus forest areas in the world, which makes it a unique and beautiful place to visit on your Arizona trip.
In this guide, you'll get all the information you need to visit Saguaro National Park: important facts, tips for visiting Saguaro National Park (like which side is best), what to bring to Saguaro National Park and of course things to do at Saguaro National Park.
Still planning? Pin this for later!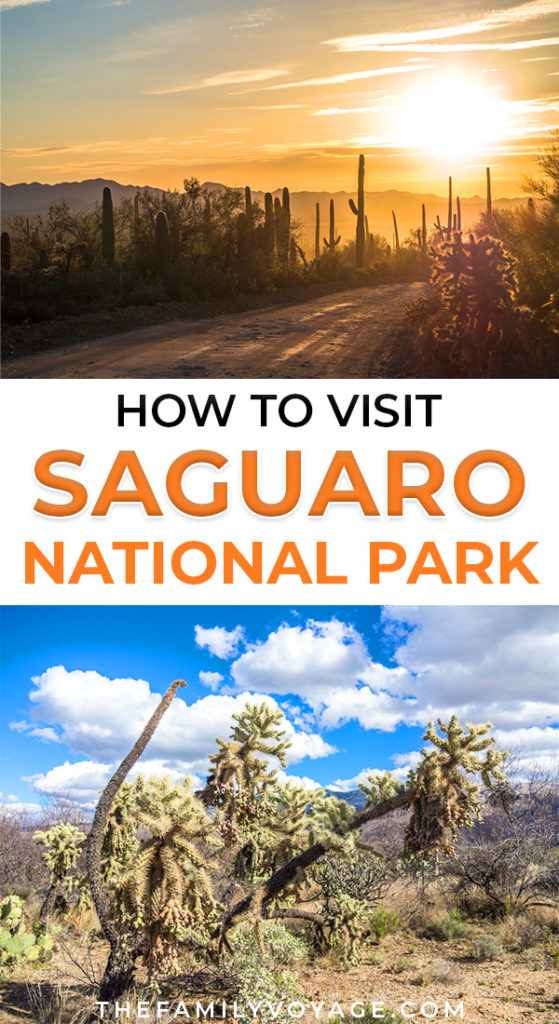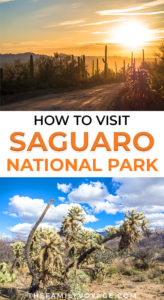 Saguaro National Park Facts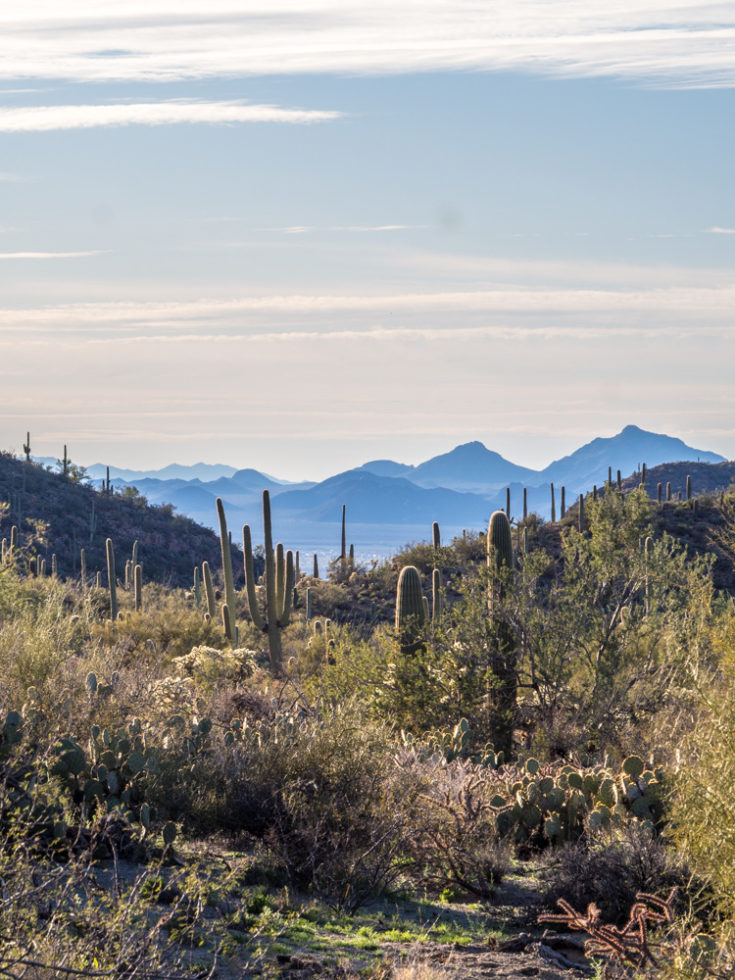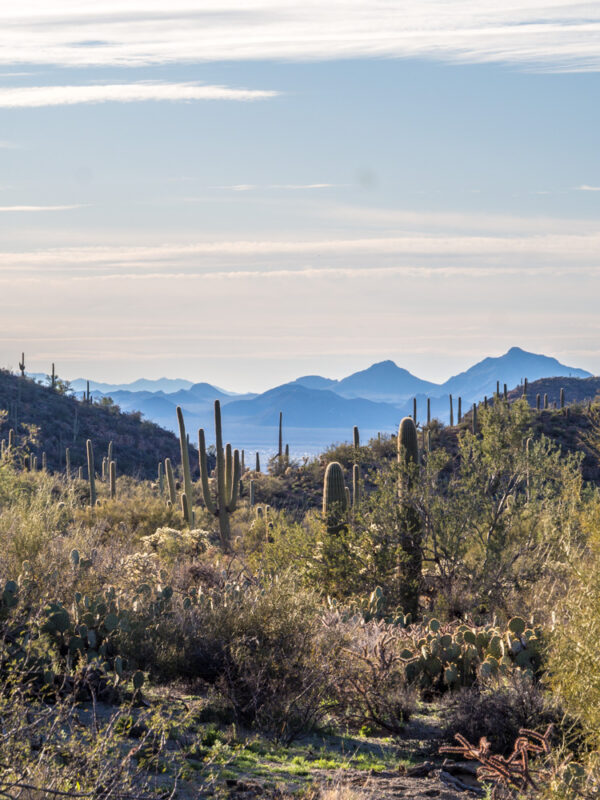 Saguaro National Park is named for the famous saguaro cacti that fill its borders
It's one of the "most urban" National Parks, located just 20 miles from the Tucson airport
Saguaro National Park covers 92,000 acres, making it a "mid-sized" park
It is separated into two units, usually referred to as Saguaro National Park East (Rincon Mountain Division) and Saguaro National Park West (Tucson Mountain Division) – the two units are about an hour apart, so don't try to visit them both in the same day
The most popular – and pleasant – time of year is November through March, when average daily high temperatures are in the 60s and 70s F
Admission is $25 per vehicle and provides access to both areas of the park for a week; it's also included with your America the Beautiful National Parks Annual Pass
Use the interactive map to find vacation rentals and hotels near Saguaro National Park
---
Tips for planning your visit to Saguaro National Park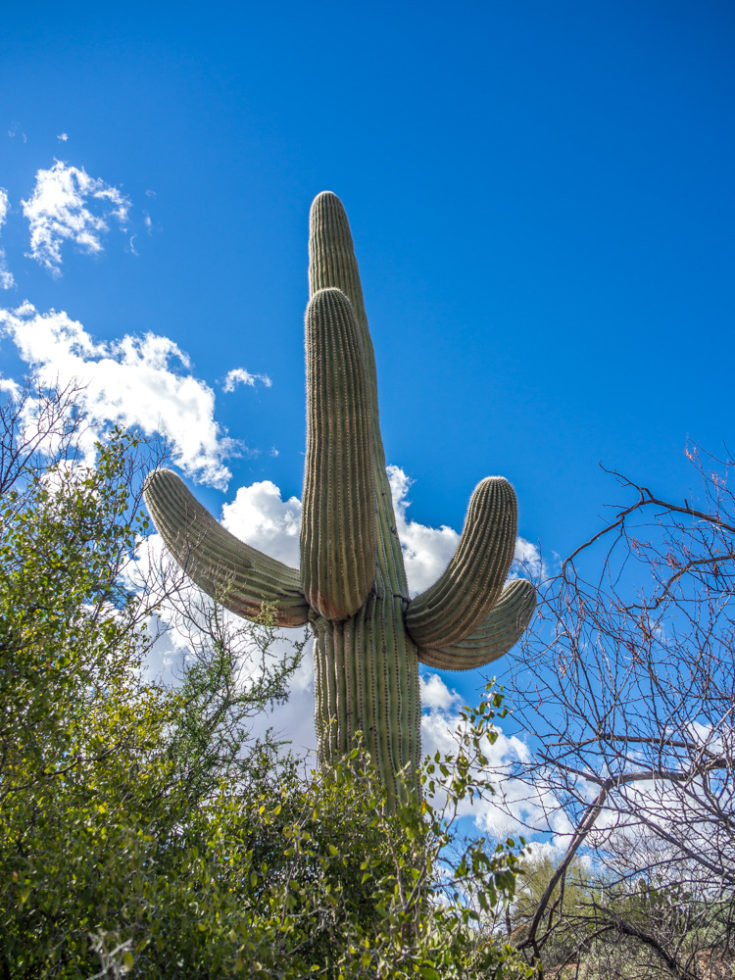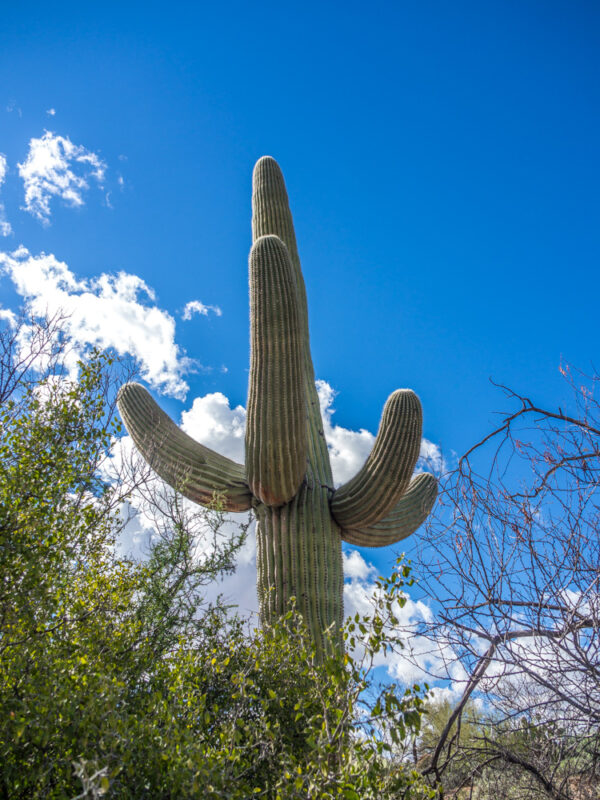 Is East or West Saguaro National Park better?
When deciding how to structure your time at Saguaro National Park, it's important to consider your overall time in the Tucson area. If you only have two or three days, you should probably choose only one of the two sides of the park to visit – and my vote would be for the West unit after having visited both.
Even though the East unit is larger, much of its area is wilderness and only accessible by lengthy backpacker trails meant for multi-day treks. Both units have beautiful loop drives that will show you some of the park's best scenery and provide access to most trailheads.
What's the best time of year to visit Saguaro National Park?
We visited Saguaro National Park in February, which is an ideal time of year. Any time November through March should be lovely, with moderate daytime temperatures that just require a light jacket. Intense rains can sometimes bring flash floods at any time of year, so keep an eye on the forecast.
If you'll be visiting Arizona in summer, it can get extremely hot. Bring tons of water with you and make sure to wear loose, light protective clothing in addition to sunscreen on any exposed part of your body. Plan your days carefully – you'll want to do any hiking either first thing in the morning or later in the afternoon (but even then it could be uncomfortably hot). Make sure to seek shelter either at the visitors center for a movie and a lecture or in your car on a scenic drive for the middle of the day.
How long does it take to visit Saguaro National Park?
Most visitors spend a half-day at Saguaro National Park. I think that's about right unless you want to stay overnight. With about four hours on the west side of the park, you can see the park movie, go on one or two short hikes and complete the scenic loop drive.
Pro tip: Make the most of your time driving around Arizona with the free RoadTrippers app. It helps you plan your route and shows you tons of unique stops along the way. Get $5 off RoadTrippers Plus with coupon BTR5QTP.
Hotels near Saguaro National Park
Saguaro National Park (west) is very close to downtown Tucson but they're separated by the mountainous, protected lands of Tucson Mountain Park. No matter which of these hotels you choose, you'll need to allow a little time to arrive at the main entrance. Here are some great options for hotels near Saguaro National Park to suit your budget and style:
For a truly unique experience, book a stay at White Stallion Ranch. This is at the top of my personal bucket list! White Stallion Ranch is a traditional dude ranch that offers high-quality lodging, delicious food, horseback riding and tons of other great activities. Check prices and availability here.
This full service resort offers a stunning location surrounded by mountains and desert. On site you'll find restaurants, a spa, lovely rooms, golf and even a pool and lazy river! If you're traveling with a larger family or multiple generations, the JW Marriott Starr Pass Resort even offers several different sizes of suites. Check prices and availability here.
If you prefer a more intimate setting and want to be as close to the park as possible, look into Casa Tierra Bed & Breakfast. It's a beautiful Mexican-style adobe house that offers the warmth of home hospitality in a lovely natural setting. They offer standard rooms for couples as well as generous suites for families. Check prices and availability here.
Things to bring to Saguaro National Park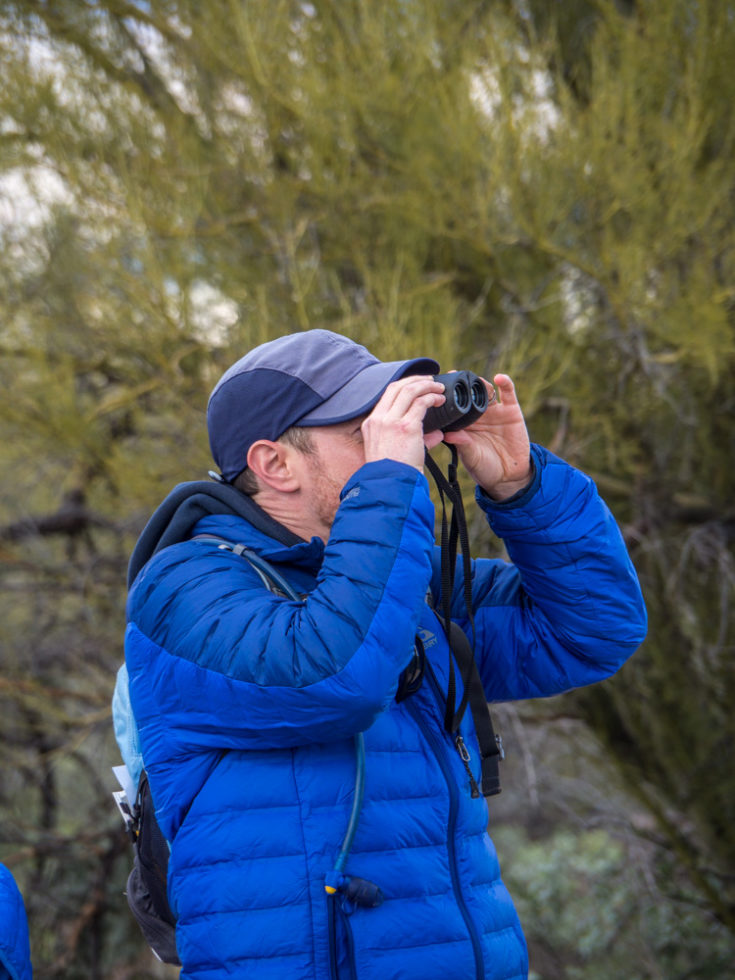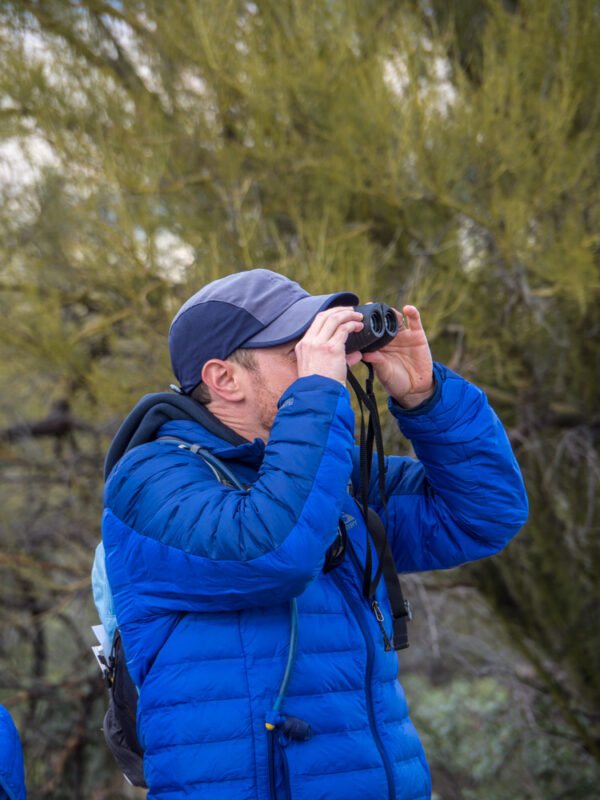 –America the Beautiful Pass
–Binoculars
–Camera with zoom lens
-Snacks/lunch
–Car charger and cables
–Sunscreen
–SPF lip balm
-Multiple layers – tank/short sleeve plus long sleeves for sun protection and warmth
-Hat – Sunday Afternoons has amazing options for the whole family
-Bandana or other neck protection (we love these!)
-Sunglasses
Read more: Your essential Arizona packing list
Things to do at Saguaro National Park
Saguaro National Park is mostly about one thing: cacti. And boy does it do cacti well! Check out these great activities as you plan what to do at Saguaro National Park on your visit.
Stop at the Saguaro National Park visitor center
Especially if you're visiting the west side of Saguaro National Park, make a point of stopping in at the visitors center. It's one of the nicest we've seen, and we've visited a lot of National Parks. In addition to a pretty building, the visitors center at Saguaro National Park offers a great movie to give you an orientation to the park.
There are also in-person educational ranger programs covering everything from wildlife to weather to local Native American history. Check the calendar to find programs for the dates you'll be visiting. Though the Saguaro National Park east visitors center doesn't show the park movie, it actually offers more ranger-led programs than the west side.
Take a scenic drive through Saguaro National Park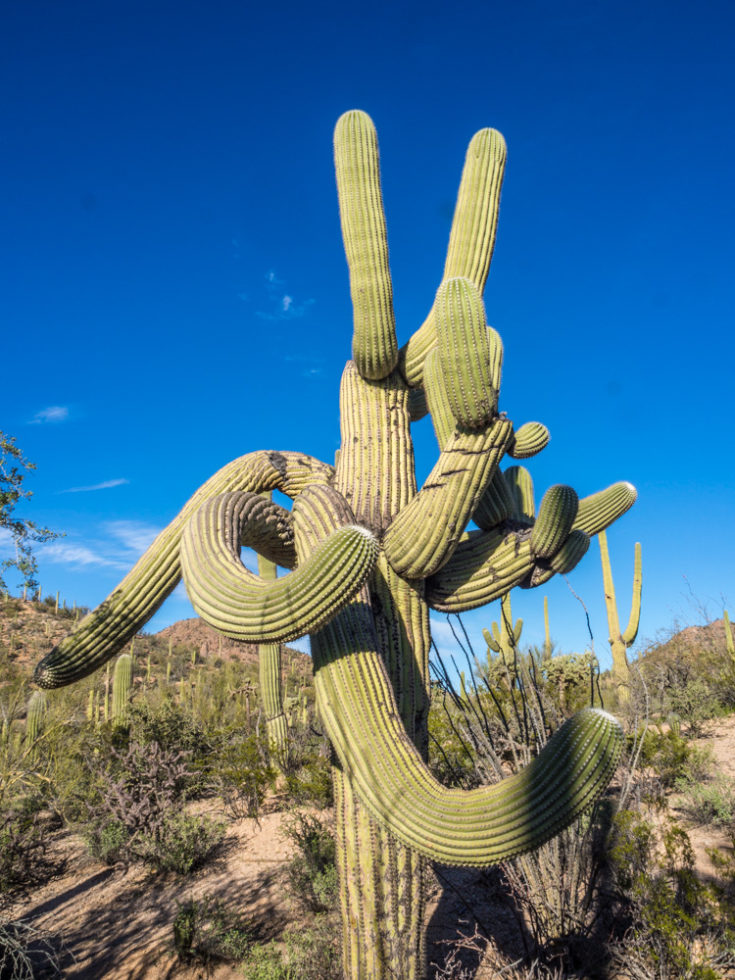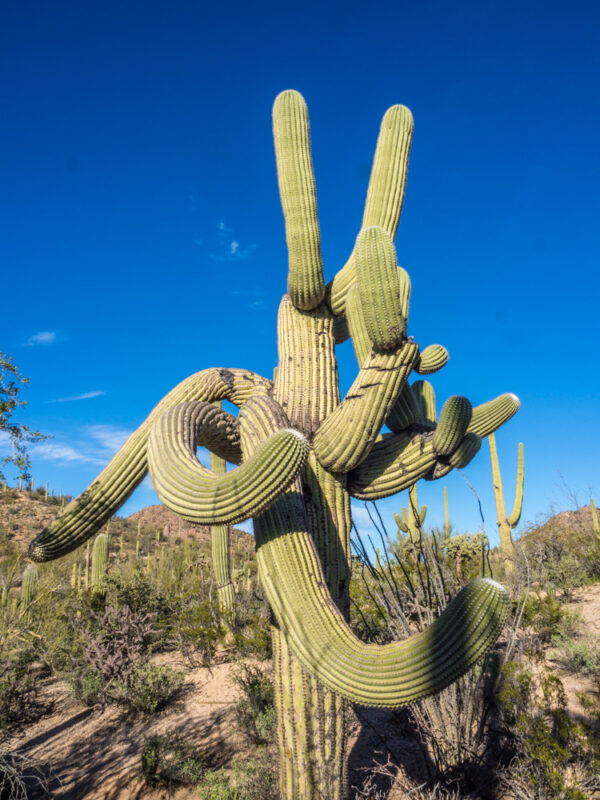 Both sides of the park offer scenic loop drives. These offer some of the best views in Saguaro National Park and also access to most of the day hikes.
The Bajada Scenic Loop Drive on the west side is 5 miles of hard-packed dirt road, while the Cactus Forest Loop Drive on the east side is 8 miles of paved road. Our trusty old CR-V had no trouble with either one, but oversize vehicles like RVs aren't technically allowed on them.
The scenic drives are really wonderful. Be sure to stop (safely) from time to time to watch how the scenery is changing around you and take pictures of some of the more unique saguaro cacti you'll find. If you're visiting Saguaro National Park with kids, make a game out of having them identify what some of the oddest cacti remind them of!
Hike in Saguaro National Park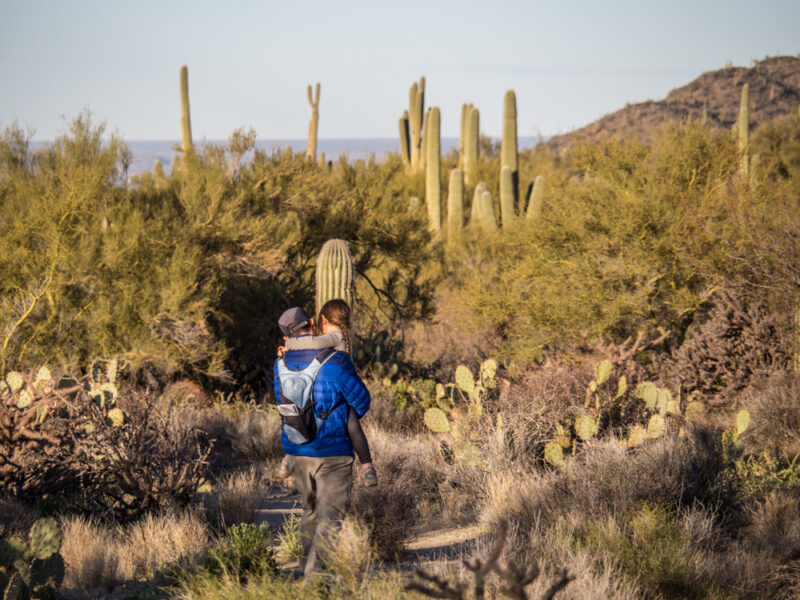 Saguaro National Park hikes come in a huge range of distances and difficulties, ranging from short paved nature trails to multi-day backcountry treks.
Saguaro National Park west hikes
Check out the Valley View Overlook Trail about one third of the way around the scenic loop drive. It's an easy, mostly flat walk with lovely views and lots of different shaped saguaros to investigate. The walk is only about a half mile each way.
If you have time, it's also worth stopping to see the petroglyphs at Signal Hill. It's a short walk up rock steps and it's a great introduction for first-time visitors to the Southwest!
The Cactus Garden Trail just outside the visitors center and the Desert Discovery Nature Trail are short and paved, so that those are ideal stops especially if you're visiting with a stroller or need an accessible path. The Nature Trail has plenty of signs to explain what you're seeing (and what you can't see!) in this remarkable desert ecosystem.
Saguaro National Park east hikes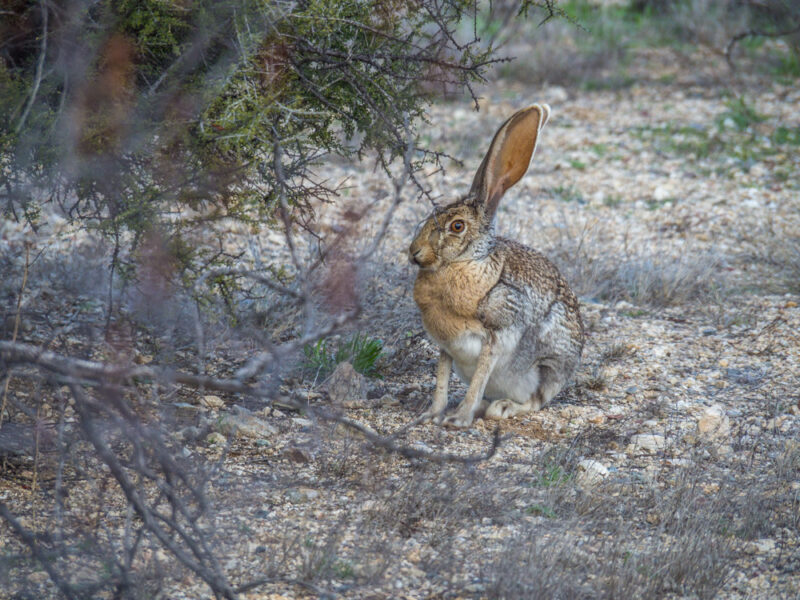 The Cactus Forest Trail cuts through the middle of the Cactus Forest Loop Drive. It's fairly flat and you can walk as far on it as you want and then turn back. Though it's probably the most popular trail on this side of the park, it's so much less crowded than the west side that you have a good chance of spotting wildlife if you're quiet. We were stunned to spot an enormous jackrabbit during our walk! It's also a great area for birdwatching, so we recommend bringing binoculars.
We also enjoyed the Desert Ecology Trail, which has lots of educational signs to help visitors learn about the ecosystem of the Sonoran Desert. The trail is paved, so it's a great option if you have a stroller or if someone in your group has reduced mobility. It shares a parking area with the Cactus Forest Trail on the north side of the loop drive and the trail heads are on opposite sides of the road.
Watch a sunset at Saguaro National Park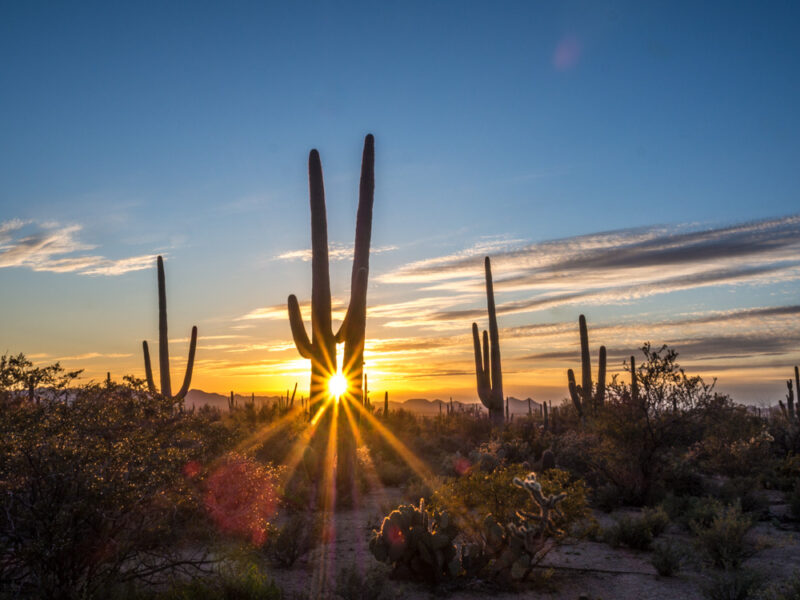 WOW! Is there anything better than sunset in the Southwest? I think not.
If you want to catch a Saguaro National Park sunset, there are some lovely options depending on what kind of view you want. If you're visiting the west side of the park in the afternoon, I recommend taking the scenic loop drive counter-clockwise, which will offer perfect sunset views and long shadows during golden hour. We also got great sunset views right near the visitors center. Gates Pass is also a nice spot outside of the park, but the parking lot closes right at sunset.
On the east side, the Javelina Rocks pull out is an easy place to catch the sunset along the loop drive. You can also try the Tanque Verde Ridge Trail – it's short, but make sure you either bring a flashlight or fully charged phone if you plan to watch the full sunset out on the trail.
Saguaro National Park Junior Ranger program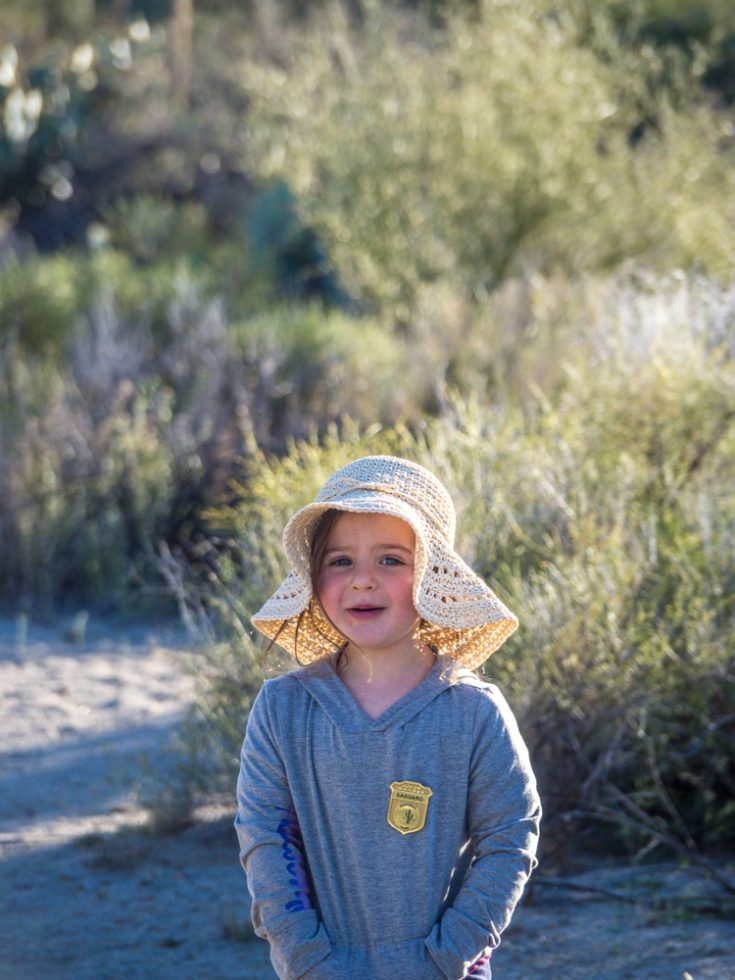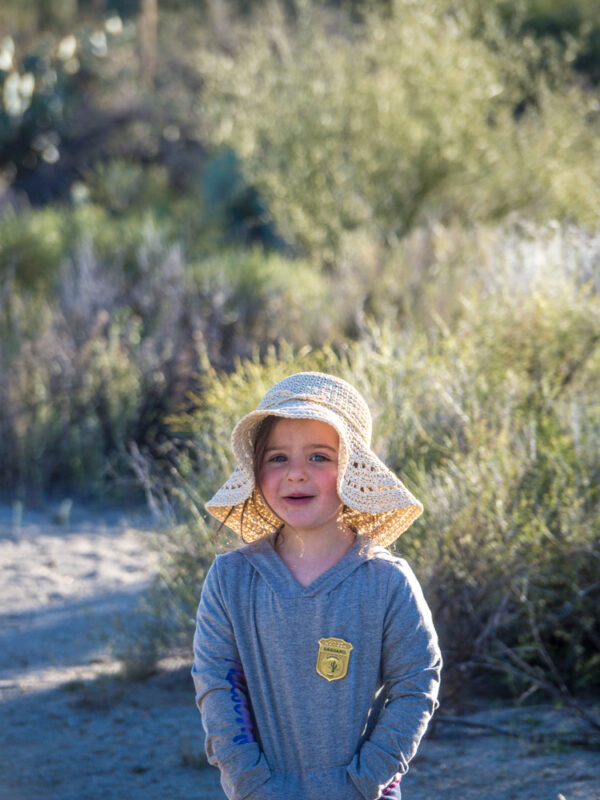 We always pick up the Junior Ranger activity books at the National Parks we visit. Even if we anticipate that our kids won't have time to finish them, they provide so much valuable information for visitors of all ages. The activities are fun too, and they keep kids engaged in and curious about the world around them.
Some Junior Ranger programs offer separate books for kids of different ages, while some just require younger kids to do fewer activities. The Saguaro National Park Junior Ranger book has activities for different age ranges so it should be manageable for kids 5 and up – check out the introduction here for instructions and then get a sneak peek at the activities here. The program does a great job of covering geology, plants, wildlife and cultural history.
Where to go next
From Tucson, there are some great options for your nearby travels.
Arizona:
New Mexico:
Utah:
California:
Texas:
Colorado:
Looking for inspiration without leaving home? Check out these great gifts for National Park lovers!
---
I hope this guide has been helpful as you plan your own visit to Saguaro National Park! If you have questions or suggestions, please feel free to drop them in the comments below.
Still planning? Pin this for later!