For families visiting Arizona with kids, Flagstaff should be on your must-visit list. It's a cool little mountain town, home to the sizable student population of Northern Arizona University as well as outdoor lovers of all ages. Whether you're spending a weekend in Flagstaff with kids or using it as a base for a longer visit, you'll find plenty to keep you busy! Flagstaff also makes a great stop on a longer visit to Arizona with kids – read about more bucket list stops here.
The town itself is worth wandering in the evenings. In warmer weather on weekends, you're likely to encounter musicians performing outdoors, family-friendly moving screenings and a lively atmosphere as you stroll among the restaurants and small shops surrounding Heritage Square.
Beyond the town itself, here are some of my favorite fun things to do near Flagstaff with kids:
Fun things to do in Flagstaff With Kids
Grand Canyon National Park with kids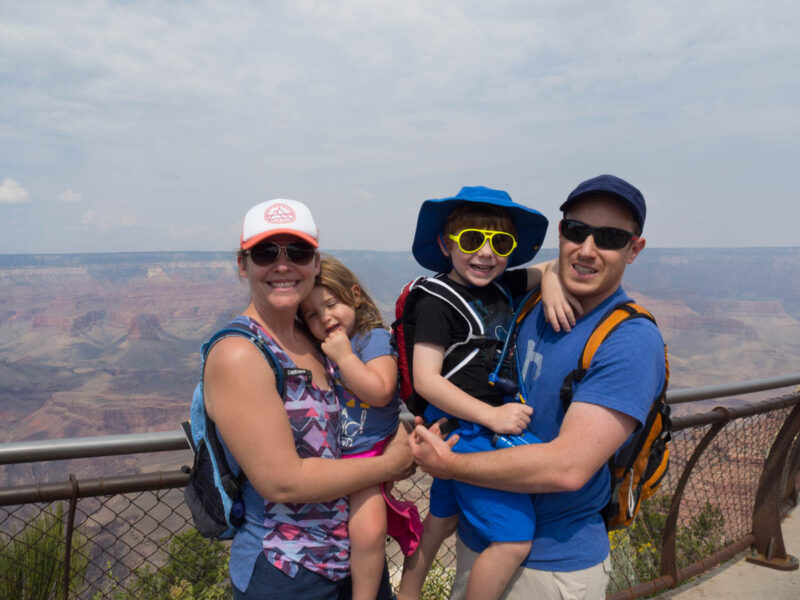 Most people visiting Flagstaff will spend at least one day at the Grand Canyon, as we did. It's just a 90 minute drive and your admission is valid for a full week, so you could actually go back a second time if you haven't gotten your fill!
Thanks to the car trouble we experienced on our way into Flagstaff, we only had about five hours at the Grand Canyon but if you can arrive earlier and stay later I recommend it! We saved ourselves some time and money by picking up made-to-order sandwiches and fresh fruit at the huge travel center at our hotel in Flagstaff; they made for a great picnic while we sat on the benches at Mather Point! (Read more about why we think it's the best place to stay in Flagstaff with kids)
Admission is currently $35 per vehicle. A better bet is to buy an America the Beautiful National Parks pass, which gets you into tons of sites all around the country. We've used ours at National Parks, National Historic Sites, National Seashores and more!
Per the recommendation of the awesome receptionist at our hotel, we took highway 180 rather than I-40. The drive times are the same, but 180 is quieter and more scenic. Score!
If you're visiting with kids of any age, be sure to make your first stop at the visitors center to pick up the Junior Ranger activity book. Activities are broken down by age group just like in the booklet at Joshua Tree National Park (check out our guide to Joshua Tree with kids), and upon completion your little adventurer can be sworn in as a real Grand Canyon Junior Ranger! (I'm writing this from Tulsa, Oklahoma and Jacob wore his badge all day today… and yesterday… and possibly the day before.)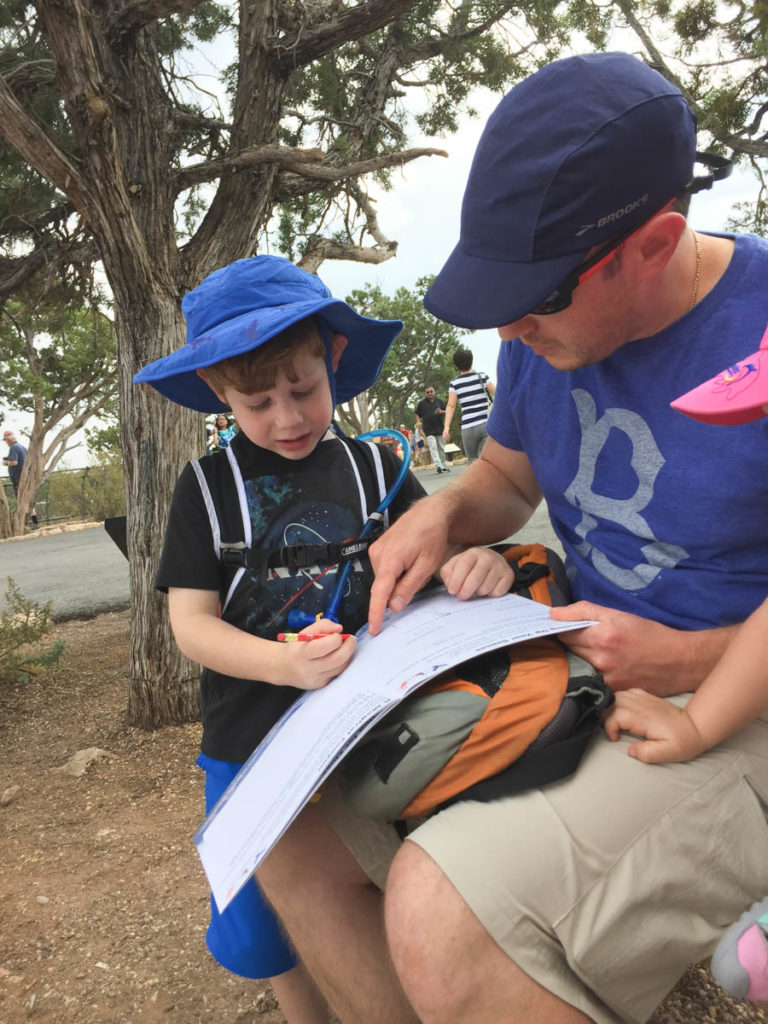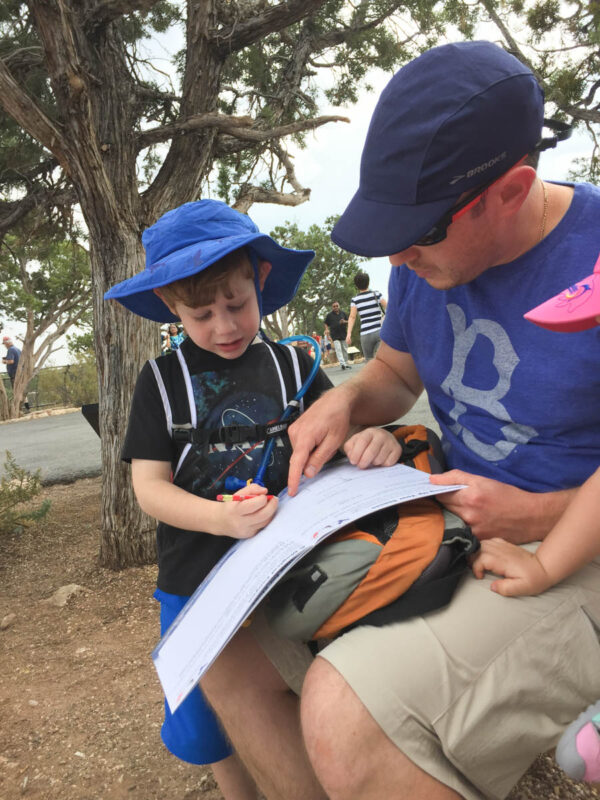 Looking for more outdoor inspiration? Check out these beautiful US National Parks!
If you're visiting with very young children, know that Mather Point and the brief trail that stretches west from there are paved and stroller-friendly. For more serious hiking, bring a good carrier like the Tula; if you do plan on serious hiking with baby in tow during the sunny months you could consider the Deuter Kid Comfort line, which offers kids a higher position to enjoy the view and a great sun shade (in addition to excellent comfort for mom and dad). Here's a quick guide to a day with kids at the Grand Canyon.
Looking for inspiration without leaving home? Check out these great gifts for National Park lovers!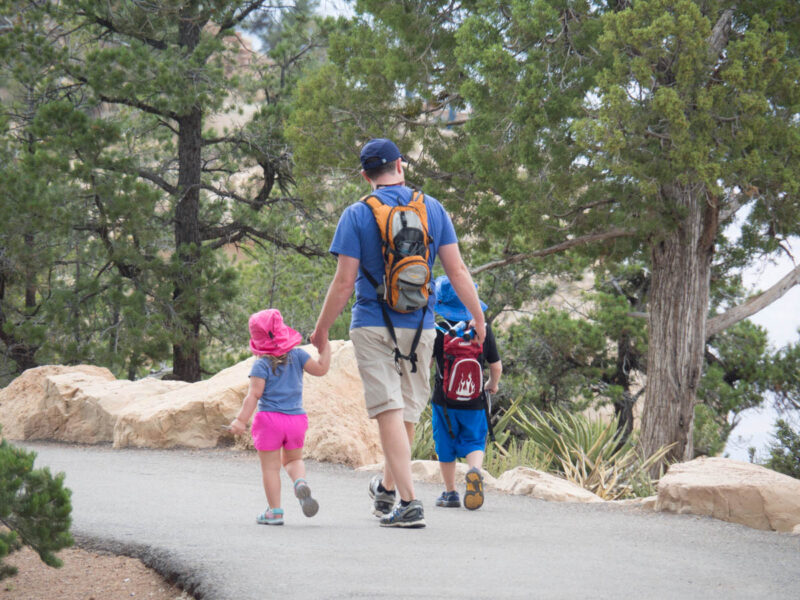 If you want a great off-the-beaten path experience at the Grand Canyon, head to Toroweap! For an in-depth experience on the Colorado Plateau, consider a few days of backpacking and roadtripping in the region.
You can find some more interesting information about visiting Grand Canyon National Park here.
---
Lowell Observatory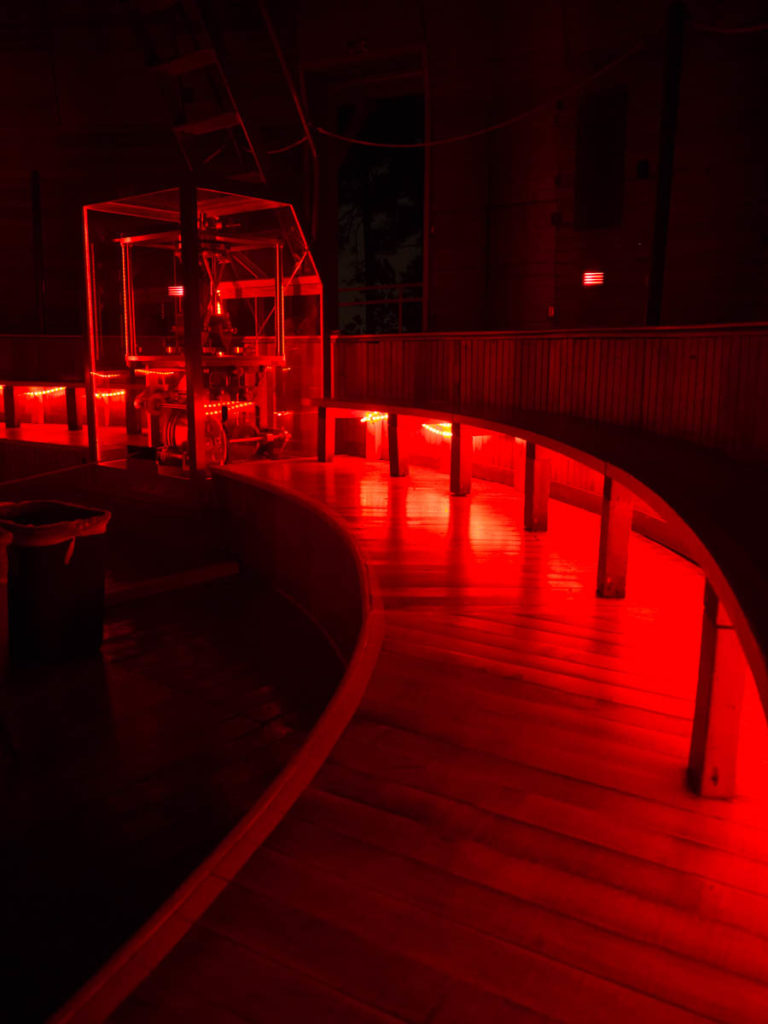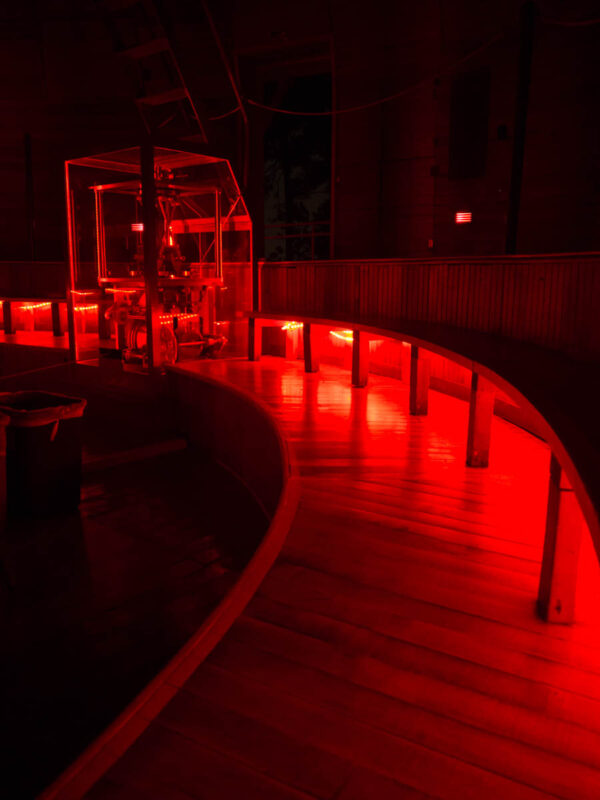 Whether you're visiting Flagstaff with kids or for an adults-only trip, make sure to include a late night stop at the Lowell Observatory! It was established in 1894, making it one of the oldest observatories in the world. Pluto was discovered there in 1930.
Amazingly, some of the original telescopes and domes are still in use and are available for YOU to check out during nightly observation sessions! Nearly every night they offer lectures, multimedia presentations, constellation "tours", viewing through small portable telescopes and a chance to look through the big telescopes housed in their original domes.
Fun fact: in my younger days, I was studying to be a planetary scientist. I actually visited Lowell for the first time on a college field trip. During both of my visits, I've been very impressed by the knowledgeable and approachable staff. They were happy to indulge our family's many questions and seem to love their jobs as educators. Even if you're not into space, the view from the top is lovely at night.
Pro tip: If you're a member of your local science museum, bring your membership card to receive free reciprocal admission!
Read more: Your essential Arizona packing list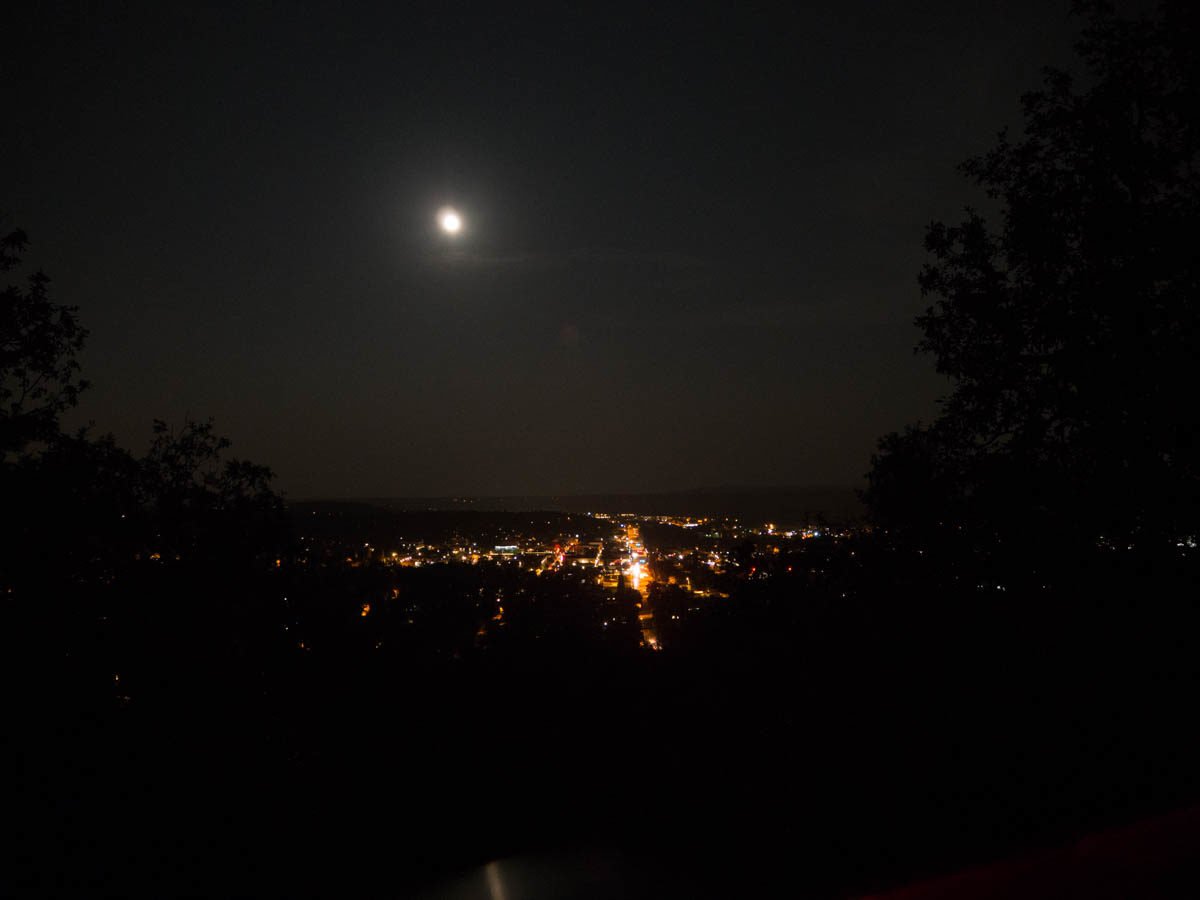 ---
Meteor Crater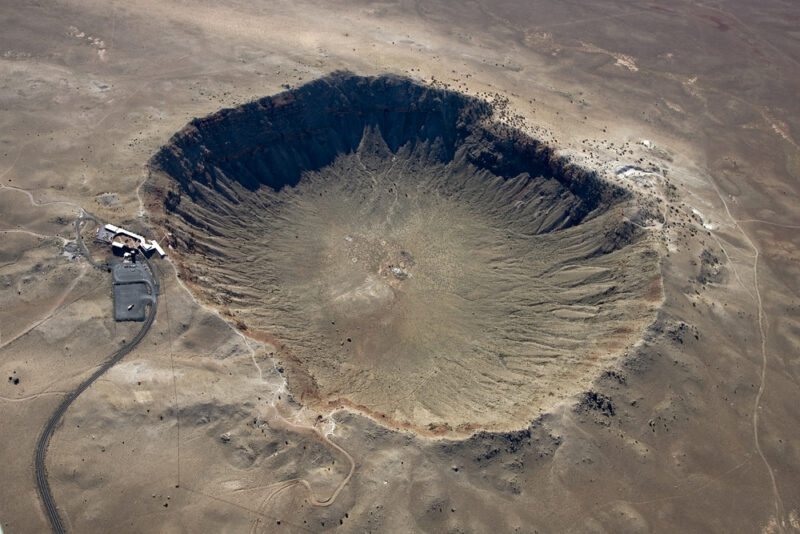 Haven't gotten enough of space yet? Spend part of your day at Meteor Crater in Winslow. It's an impressively large hold in the ground left behind by a meteorite impact 50,000 years ago. There are numerous viewpoints, an opportunity to take a guided tour along the rim and an indoor museum where you and your kids can learn more about the formation of Meteor Crater and about meteorite impacts in general. It's a subject near and dear to my heart since my earliest research project was on meteorites.
Admission is $11 for kids 6-12 and $20 for adults if you purchase online before your visit.
Pro tip: Make the most of your time driving around Arizona with the free RoadTrippers app. It helps you plan your route and shows you tons of unique stops along the way. Get $5 off RoadTrippers Plus with coupon BTR5QTP.
---
Petrified Forest National Park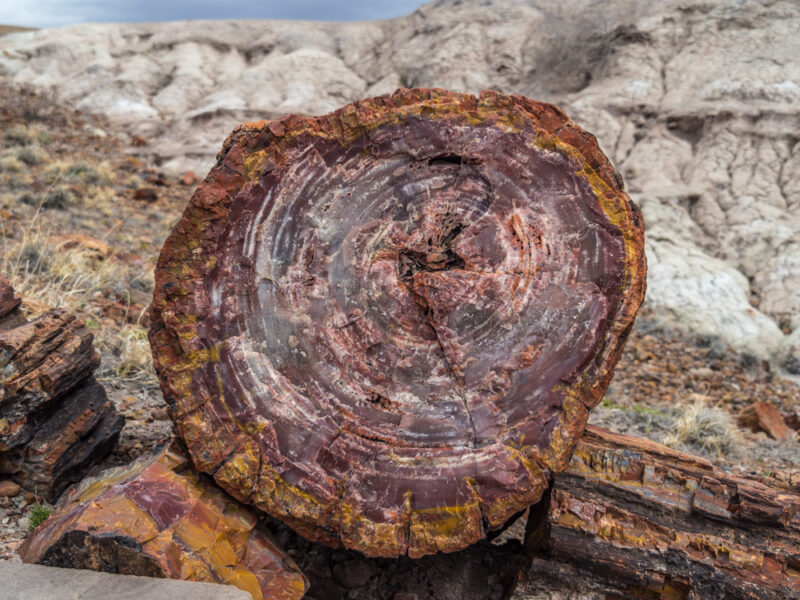 The Grand Canyon isn't the only National Park in northern Arizona! Just 90 minutes east of Flagstaff is Petrified Forest National Park, which boasts a unique collection of petrified trees that are over 200 million years old. The wood of the tree trunks has been replaced by many-hued minerals deposited by chemical reactions with ancient waters. It's a great park to visit for one day and I recommend the Junior Ranger program to add context to your visit.
One of the nice things about visiting Petrified Forest National Park with kids is that basically all of the trails are kid-friendly. There are many choices under 1 mile, and you won't find anything too steep or treacherous. If you're short on time, enter via the southern part of the park at the Rainbow Forest Visitors Center.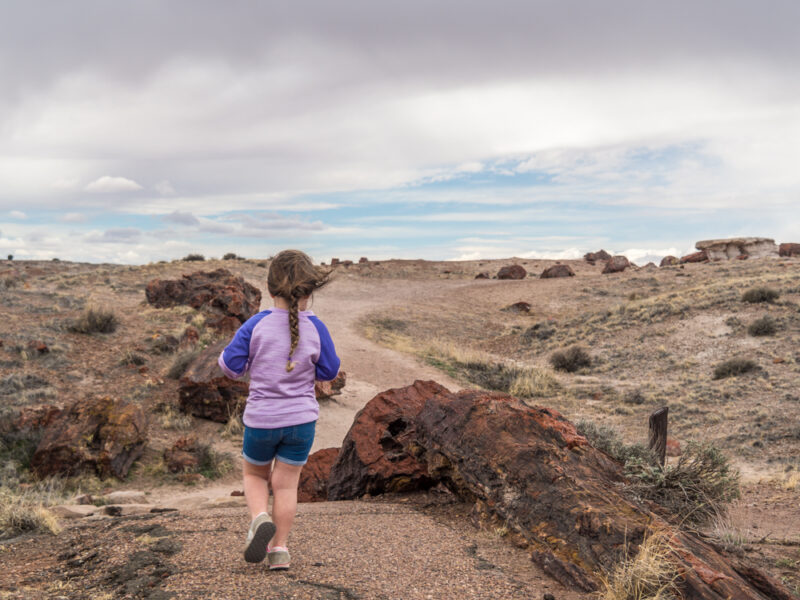 Our time visit was stymied by a sudden and strong rain storm, but with a whole day I recommend you focus your time on visiting the Rainbow Forest Museum for background and the park movie, then hiking Long Logs and Agate House (which combine for a 2.6 mile round trip). You should also be sure to stop at Newspaper Rock (bring your binoculars!), a massive collection of petroglyphs created by ancestral Puebloan people living and traveling through the area.
Admission is $25 per vehicle, so if you plan to visit the Grand Canyon during your family trip to Flagstaff you'll almost recoup the entire cost of an America the Beautiful National Parks pass within a few days.
---
Montezuma Castle National Monument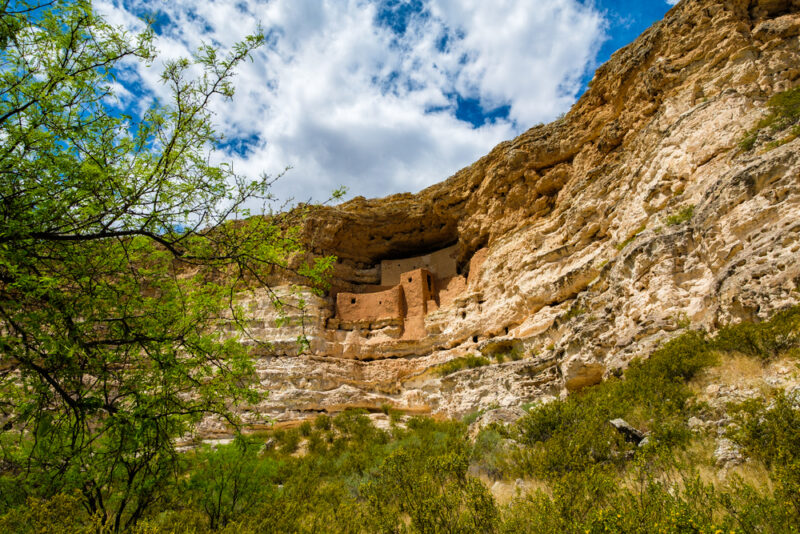 You shouldn't visit northern Arizona without making at least one stop to understand the history of the region's Indigenous communities. And nearby Montezuma Castle National Monument is the perfect place to do it. It showcases excellent examples of cliff dwellings inhabited by the Sinagua people a thousand years ago.
A visit to Montezuma Castle can last as little as an hour. There's an in-depth Junior Ranger program that will help kids engage more deeply with the site's history, and you can pick up the book at the entrance. I thoroughly enjoyed my visit as a teen, but it's appropriate for kids of all ages.
Admission is $10 per adult (free for kids) and included with your America the Beautiful National Parks pass.
Want to get a deeper look at local Native American history? Check out Tuzigoot National Monument or Wupatki National Monument, both nearby.
---
Hike in Sedona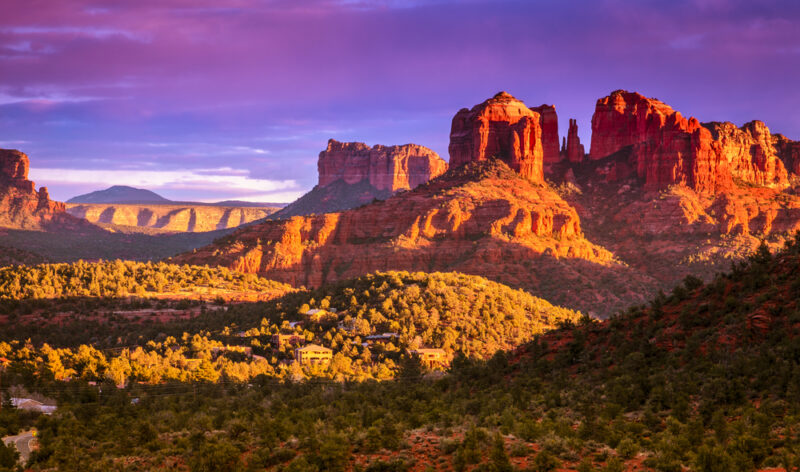 The stunning red rocks of Sedona are just 45 minutes from Flagstaff! At some point in your life, you have to go to see the amazing scenery first-hand. For a quick afternoon visit, take your kids to hike the Red Rock Crossing Trail (1 miles, great views and very popular) or Bell Rock Trail (~1.5 miles each way and harder toward the end). Be sure to stop at Sedona Airport Scenic Lookout for a lovely view at golden hour and sunset.
One of the most popular ways to explore Sedona with older kids is on a Jeep tour. They'll take you off the beaten path to explore the region, including tours of the unique red rocks or even excursions to Native American ruins. All tours include plenty of background information from their highly regarded local guides. Most tours are open to kids ages 2+, and Pink Jeep Tours will even supply car seats when you book kids in your party – definitely consult with them in advance to make sure they have an age-appropriate choice available, and if need be bring your own travel car seat.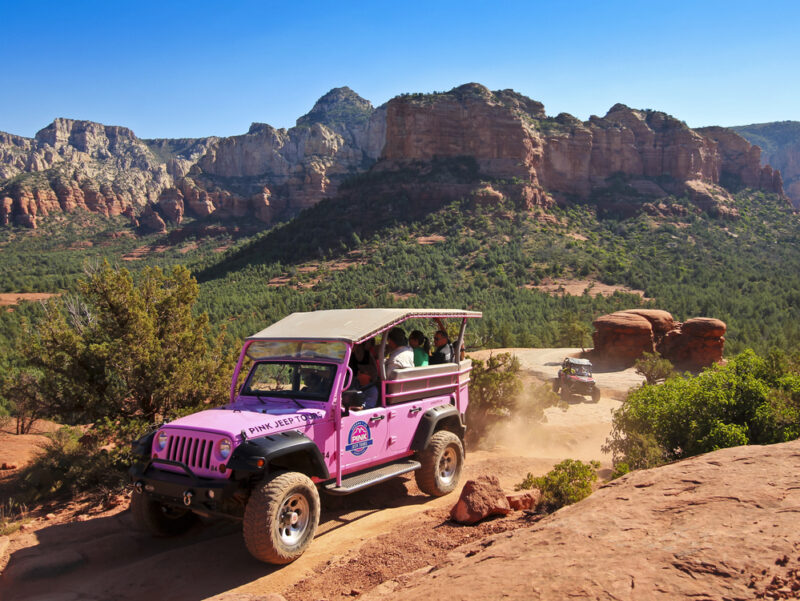 If you are visiting the area with older kids or teens, they might also appreciate some of the interesting independent galleries in town. There's even a Buddhist stupa to visit!
---
Bearizona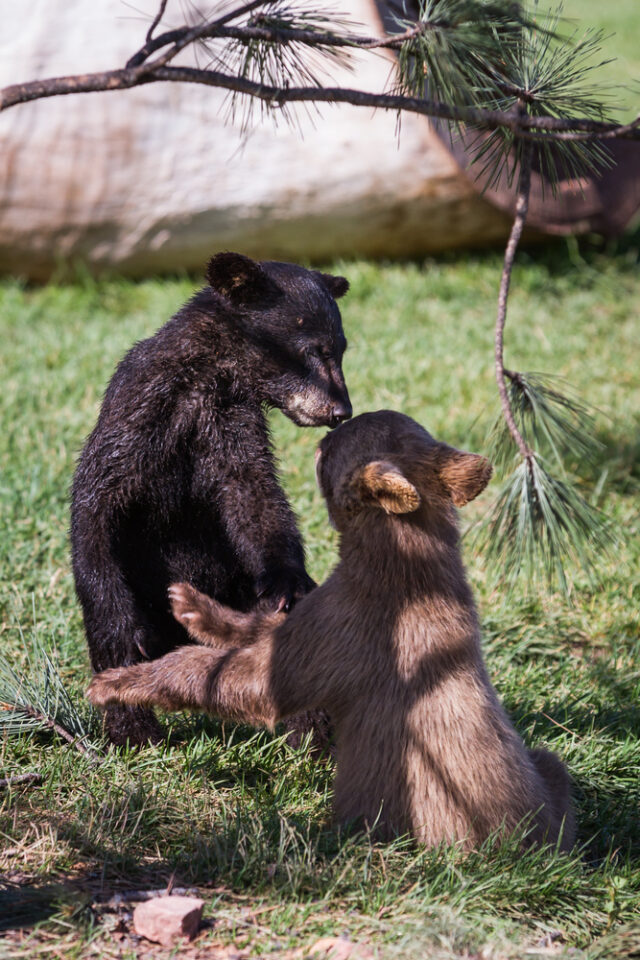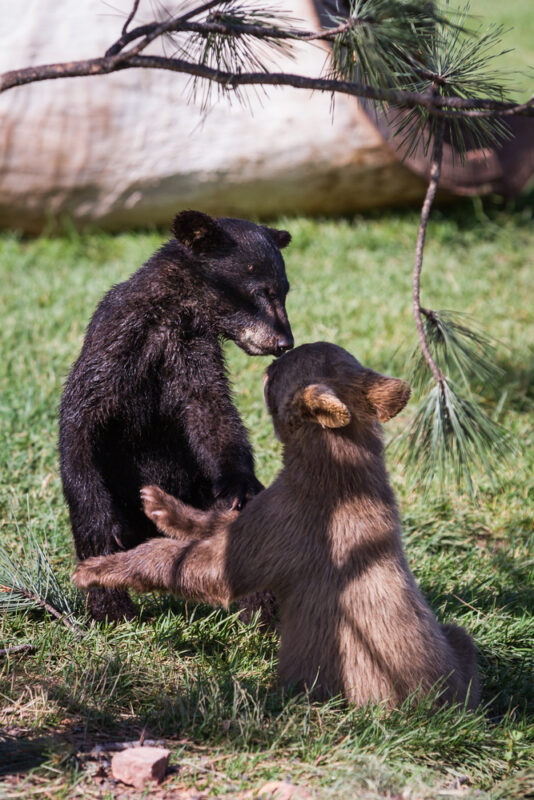 Are you visiting Arizona with young wildlife lovers? We haven't had an opportunity to visit yet, but Bearizona Wildlife Park is a popular choice among family activities in Flagstaff! It's a drive-thru "safari" experience highlighting North American animals. You'll stay in your own car, and any passenger car will suffice.
Admission is $25 per adult and $15 per child (kids under 4 are free) with a maximum fee of $120 per car. Bearizona is open 9am to 5:30pm (last admission at 4pm).
---
Where to Stay in Flagstaff with Kids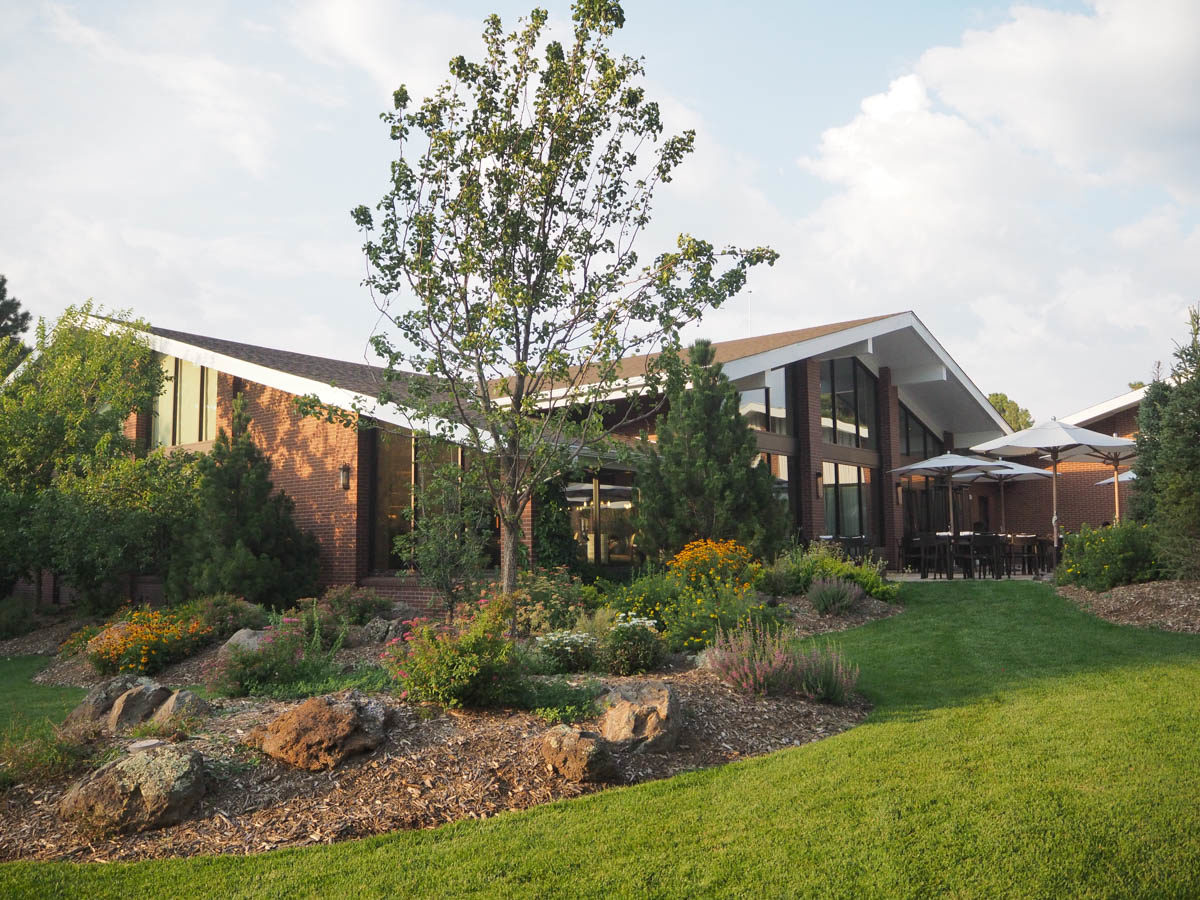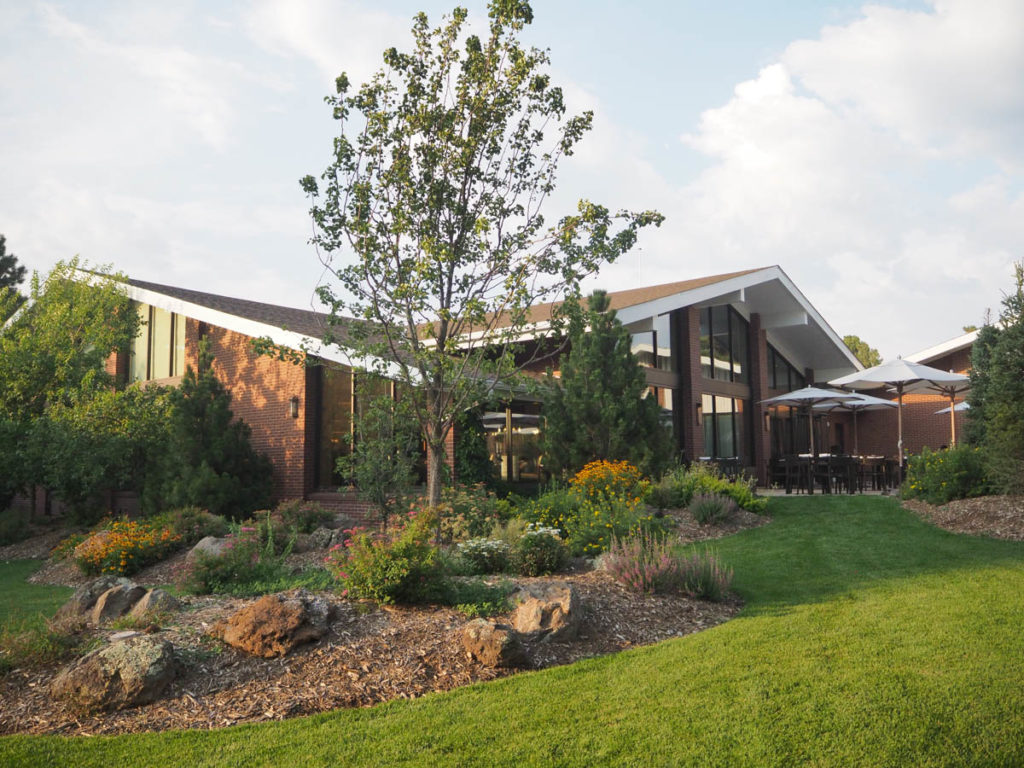 We had a fantastic stay at Little America Flagstaff, and we think you will too! You can read all about our visit here.
If you prefer a little more privacy and space, there are lots of really wonderful Flagstaff Airbnbs and vacation rentals for families. Here are a few special ones to check out:
Use the interactive map to find vacation rentals and hotels in Flagstaff
---
Planning your Flagstaff family trip
If you're interested in extending your family trip to Flagstaff into other Southwest destinations, consider these options:
Arizona:
New Mexico:
Utah:
California:
Texas:
Colorado:
Want to get more helpful travel tips like this? Sign up for our email list!
---
Still planning? Pin this for later!