New Mexico, the Land of Enchantment, offers so many wonderful experiences for families. They run the gamut from historical to cultural to outdoor exploration and beyond. We were fortunate to visit New Mexico three times as we criss-crossed America during our "gap years" and on our massive Southwest road trip.
Especially in these crazy times, it's a great place to do: there are so many amazing outdoor activities in New Mexico! Read on for some of my top picks for the best things to do in New Mexico with kids.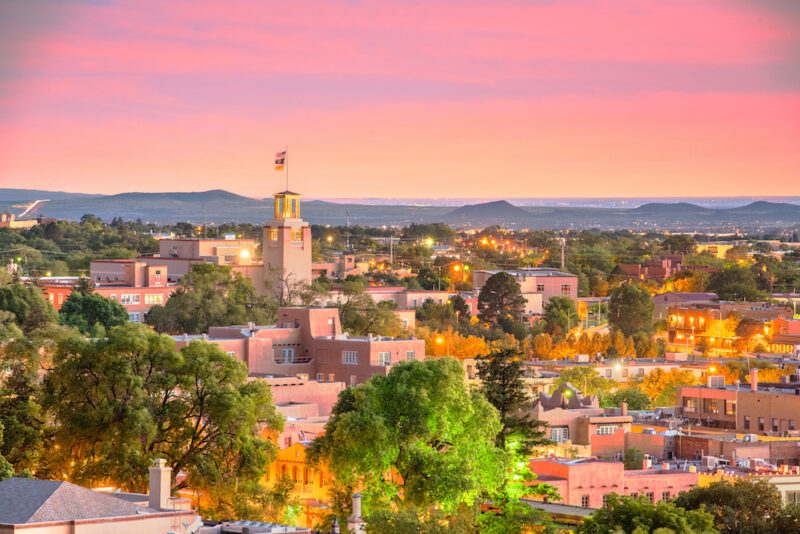 ---
Books To Read Before You Visit New Mexico With Kids
We always love to add relevant stories to our rotation before visiting a new place! It really anchors our kids and makes our explorations meaningful to (and fun for) them. Check out these kids books set in New Mexico before your trip:
---
Explore Santa Fe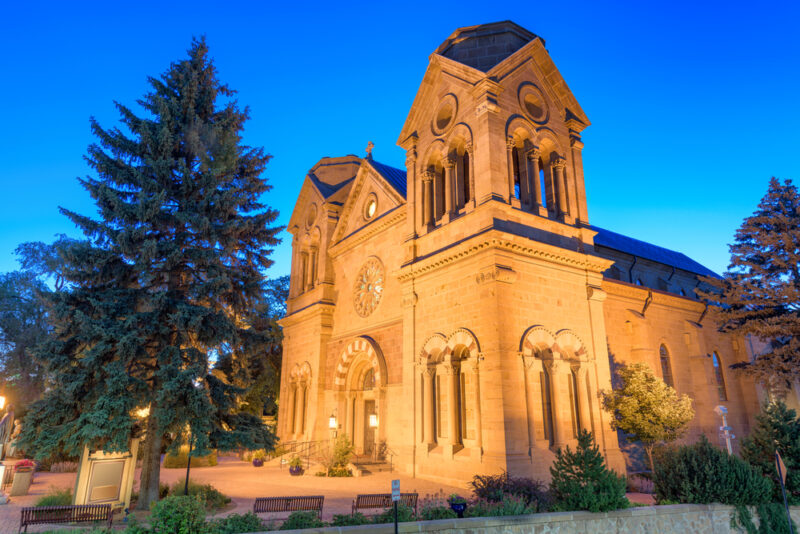 There's so much to love about a visit to Santa Fe. Even within the central Santa Fe Plaza (a UNESCO World Heritage Site) you'll get a taste of the unique blend that gives New Mexico its identity. Santa Fe is the oldest capital city in the United States, and the nation's second-oldest city after St. Augustine, Florida.
The region was originally inhabited by the Native communities of the Southwest, including the Puebloan peoples who had lived there for several thousand years. They were subsequently joined by Spanish Catholic missionaries in the late 16th century and just a few years later construction began on the Plaza we see today, following the common layout of the time with a church on one side of the Plaza and the seat of government on another.
Downtown Santa Fe's centerpiece for history and culture buffs is the Cathedral Basilica of St. Francis of Assisi (pictured above), though the church standing today is only about 150 years old and stands on the site of a church destroyed during the Pueblo revolt in the 17th century.
Our kids appreciated a brief visit inside the Cathedral to look around, but they really enjoyed strolling the Plaza itself. It remains the hub of Santa Fe, with tons of restaurants, boutiques, galleries and sweet shops. There are often cultural festivals and fairs on the Plaza (we stumbled into a wonderful one and got glimpses of amazing traditional clothing and dances). Stop in at one of the excellent New Mexican restaurants on the Plaza for lunch in the peaceful but lively atmosphere.
Pro tip: Make the most of your time driving around New Mexico with the free RoadTrippers app. It helps you plan your route and shows you tons of unique stops along the way. Get $5 off RoadTrippers Plus with coupon BTR5QTP.
Santa Fe is often recommended for adults due to it's artsy reputation. Our kids really enjoyed the Georgia O'Keeffe Museum, which is walkable from the Plaza. You can easily spend an hour or two exploring different periods of O'Keeffe's work, and our kids loved having their own watercolor supplies to emulate her style (this paint set and this book have come all over the world with us).
If you have more time in Santa Fe, consider a visit to El Rancho de las Golondrinas, a living history museum that showcases New Mexican life and culture in the early 18th century. Read more about it here.
For those seeking a more modern experience, Meow Wolf is a popular choice. It's hard to describe exactly, but the basic idea is an immersive modern art experience. There are lots of neon and black lights, loud music, mirrors, and maze-like corridors. It's not for everyone and my son (then 5.5) and I couldn't get out fast enough, but other people absolutely love it. YMMV but check it out here and decide if it's right for your family; kids who get over-stimulated may do better elsewhere. Children four and under are free, but strollers aren't permitted inside to make sure you bring a carrier if your little one can't walk the whole time. Tickets for adults are $25 each.
I recommend staying close to the Plaza to maximize convenience in Santa Fe. Check out the best places to stay in Santa Fe with kids. You'll find plenty of options for any budget!
Use the interactive map to find vacation rentals and hotels in Santa Fe, New Mexico
---
Want to get more helpful travel tips like this? Sign up for our email list!
---
Hike Petroglyph National Monument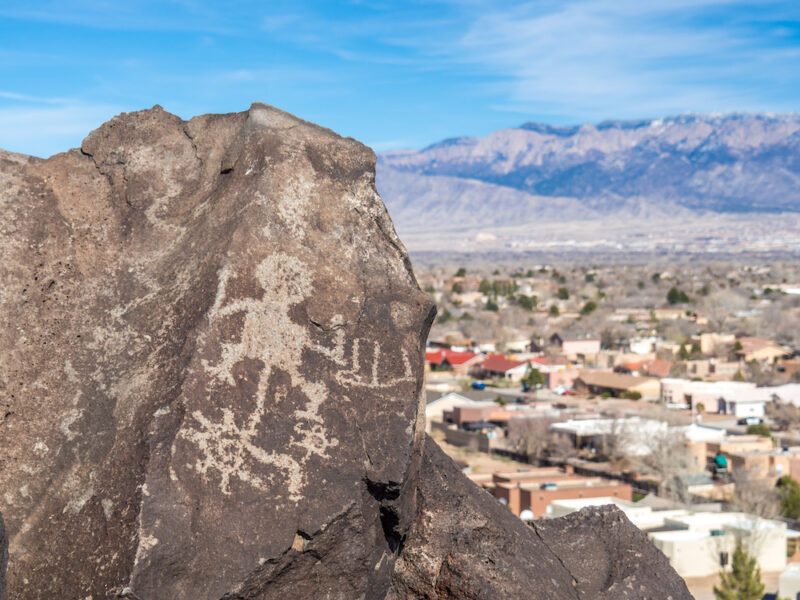 Right above the city of Albuquerque, you'll find a true national treasure: Petroglyph National Monument. It's one of the largest petroglyph sites on this continent despite its remarkably easy access.
Pop quiz: What is a petroglyph?
A petroglyph is a carving in the surface of a rock. By contrast, a pictograph is a painting on the surface of a rock.
Start your exploration of these centuries old works in the visitors center, where the park movie explains their origins and the process the local community went through to preserve the site in the face of development pressure. You can also pick up a junior ranger book to provide more context for your visit.
There are several trails of varying lengths and difficulties that you can explore, and all have really impressive petroglyphs. Even the hardest trails were manageable for our 4 year old and some of the easiest can be accessed with a jogging stroller. Admission to Petroglyph National Monument is free.
The good news is that Albuquerque offers plenty of affordable places to stay for families. Check out this amazing family-friendly vacation rental or these centrally-located hotels for all budgets:
Read more: Can't-Miss Things To Do In Albuquerque With Kids
---
Wonder at Hot Air Balloon Fiesta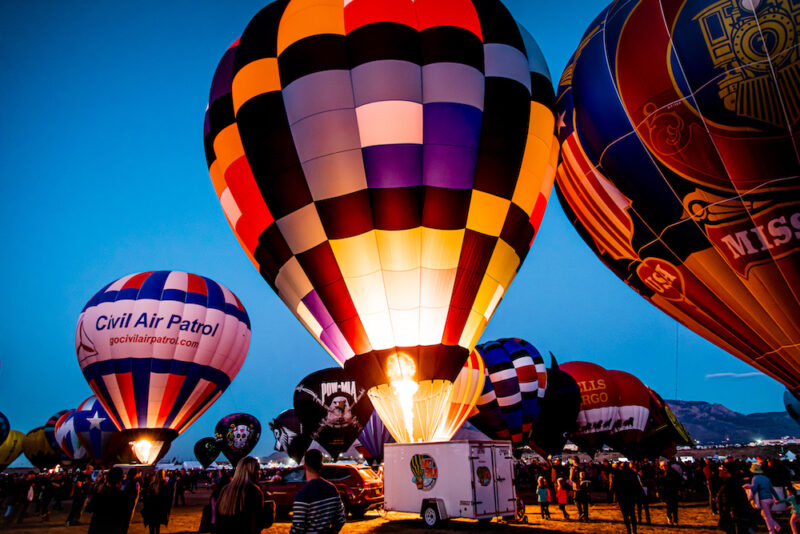 Thanks to Dalya of Sweet Little Journey
The Albuquerque International Balloon Fiesta is the largest hot air balloon festival in the world and is possibly the busiest time of year in Albuquerque. If you plan to come see this spectacle be sure to plan far ahead since accommodation gets booked out far in advance!
The fiesta lasts a full week and is packed with various events and activities for families and hot air balloon lovers. Each day includes a mass ascension, when all the balloons are launched up into the air at the same time while spectators walk through the football field taking in the beautiful sights. Throughout the day, visitors are able to take rides on various balloons, watch a chainsaw carving competition, spot skydivers, and walk around the field looking for fun shaped balloons.
Each evening the balloons get lit from within and glow like ornaments in the dark. The pilots of each hot air balloon fire their burners and put on a full spectacle, sometimes synchronizing their glow to music or to other balloons.
Finally, don't miss out on the Special Shapes Rodeo, which is arguably the most spectacular event of the whole week. This event showcases all the special shaped hot air balloons in the festival. Past year's shapes included Star Wars characters, various animals, famous cartoon characters and more.
Hotel prices usually shoot up during this week since this has become a famous international event. Make sure to book well in advance and consider local vacation rentals for your stay. The Hot Air Balloon Fiesta has its own dedicated park named after the event, so you'll want to find accommodation close to Balloon Fiesta Park in order to avoid long drive times and traffic jams.
---
Sled Through White Sands National Park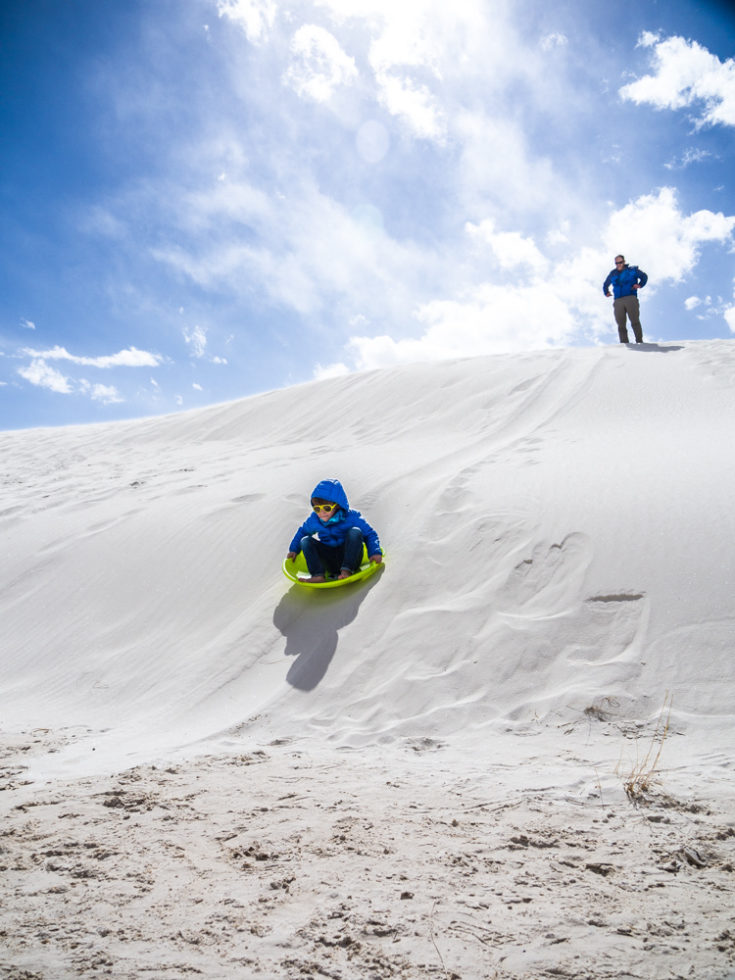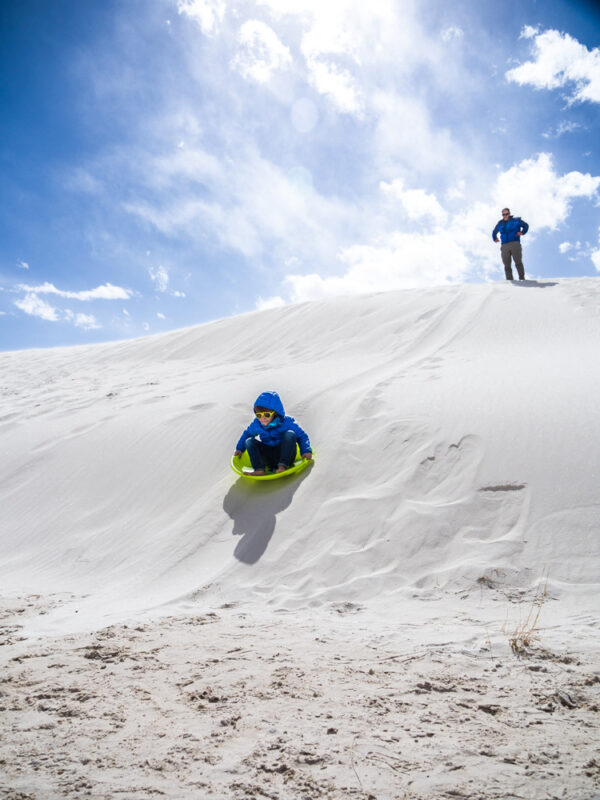 White Sands National Park is one of the most unique places in America, let alone New Mexico. It is the world's largest gypsum dune field and visiting is an incredible experience.
Unlike typical quartz dunes, the gypsum dunes in White Sands are cool (even cold) to the touch and often feel damp. The most fun way for kids to explore White Sands is by buying (or renting) a sled and wax and gliding down the dunes… over and over and over again.
There's also an excellent junior ranger program that helps kids understand the areas geological origins, wildlife and conservation needs. You can take a well-marked nature walk on a boardwalk to learn more about the park's ecosystem and catch the excellent park movie in the visitors center.
Pro tip: Pick up a National Parks annual pass as you explore the Southwest to save on admission fees
White Sands National Park is located in the southeast corner of New Mexico near the town of Alamogordo; the closest large city is Las Cruces. Check out these great places to stay in Las Cruces (which we chose for its road trip convenience and solid food options) and convenient places to stay in Alamogordo.
Read more: Planning your visit to White Sands National Park
---
Experience Historic Taos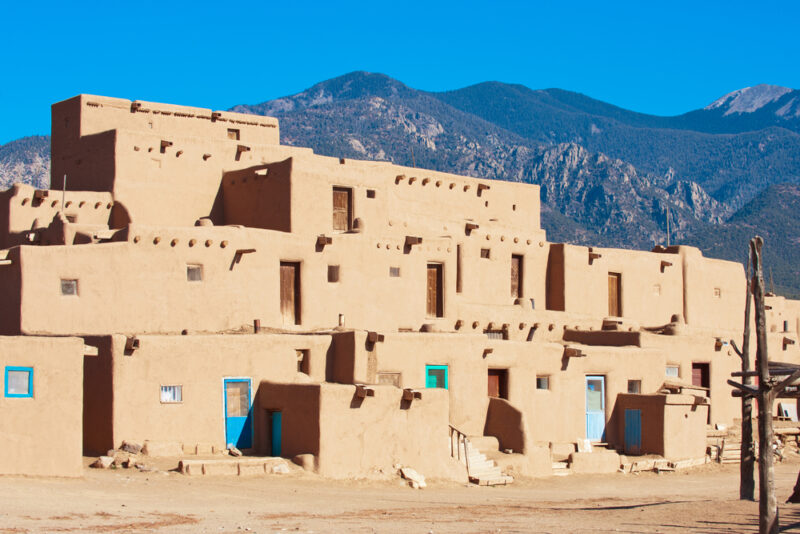 Thanks to Eileen of Families Go!
Taos is a worthwhile stop on any road trip through New Mexico for its authentic Native American and New Mexican culture, not to mention good local food.
Start your visit at the Taos Pueblo, a UNESCO world heritage site where some members of the area's pueblo tribes still live. A guided tour will fill you on how the pueblo homes are built, the tribe's history and their life and culture today.
Visit the Hacienda de los Martinez to learn about the life of a well-off Mexican trader in the 1800s. Kids like visiting the Hacienda because it tells the story of the family and hands-on activities include a room with dress-up clothes and period toys.
Make sure to visit the Rio Grande Gorge Bridge, with its dizzying heights and amazing views of the gorge and surrounding dessert. Further down the road you can take a peek at the bizarre and creative homes in the off-the-grid Earthship Biotecture community.
It's not hard to find good southwestern food in town, but there are two places you can't miss. For breakfast, head to Michael's Kitchen for chile-cheese croissants and cardamom doughnuts (along with more typical doughnuts and pastries for the kids). For dinner you can't beat Orlando's, a small restaurant filled with colorful Mexican knick-knacks. If the roomy outdoor patio is closed for bad weather be prepared to wait for a table; both locals and tourists flock here for inexpensive made-from scratch enchiladas, chiles rellenos, tamales and desserts.
If a pool is essential to your visit consider the upscale El Monte Sagrada hotel a few minutes outside of town. In town, opt for the Historic Taos Inn. Our room had a traditional kiva fireplace, two bathrooms and a side room with a pull-out couch for kids.
---
Enjoy New Mexican Food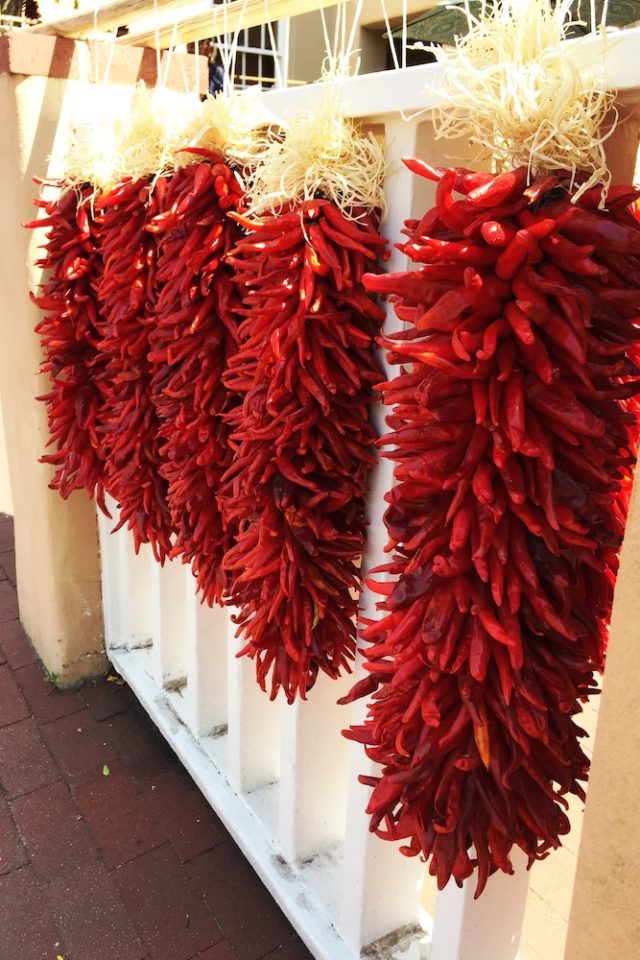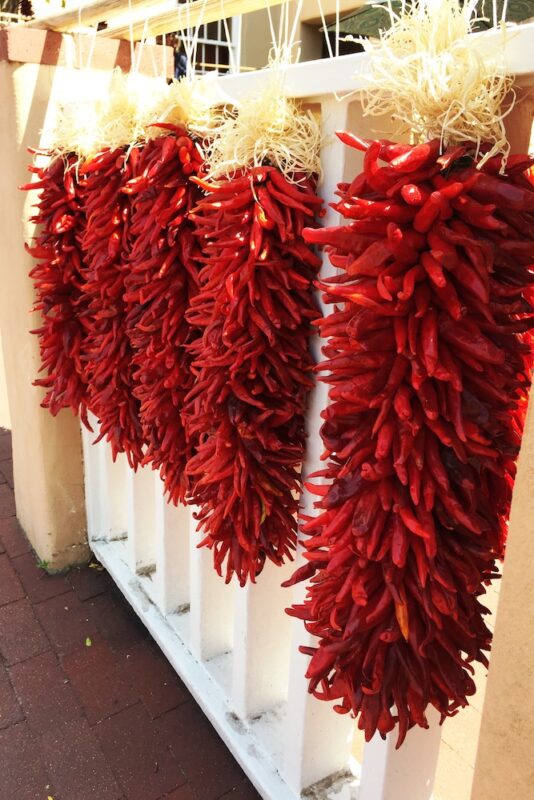 You can't go to New Mexico without eating up a storm. New Mexican food isn't for the faint of heart – think chiles, fried breads and tortillas, and lots of meat, cheese and eggs.
But New Mexican food isn't just about the food per se. It's also about the state's fascinating, and sometimes devastating, history that saw the melding of so many cultures. It is distinctive in the region, incorporating the agricultural traditions of New Mexico's Native communities and later Spanish influences.
If I could short-list a few items you need to eat on your visit, I'd start with these:
Something with green chile – I'd vote for enchiladas, but a burger or huevos rancheros will work too.
Sopapillas – I grew up eating these puffy fried pastries at our local New Mexican restaurant, and you'd better not eat them without honey.
Blue corn tortillas or chips – Blue corn hails from northern New Mexico and was an important part of the diet for Native communities long before the Spanish came along.
Calabacitas – This one's for the vegetarians out there! I love this chopped squash side dish, which you can sometimes get in tacos or enchiladas as well. Much like corn, squash is a uniquely North American food and Native communities in the region refined its cultivation over thousands of years.
I'm not a food photographer by any means, but this meal in Albuquerque was pretty much perfect in my book: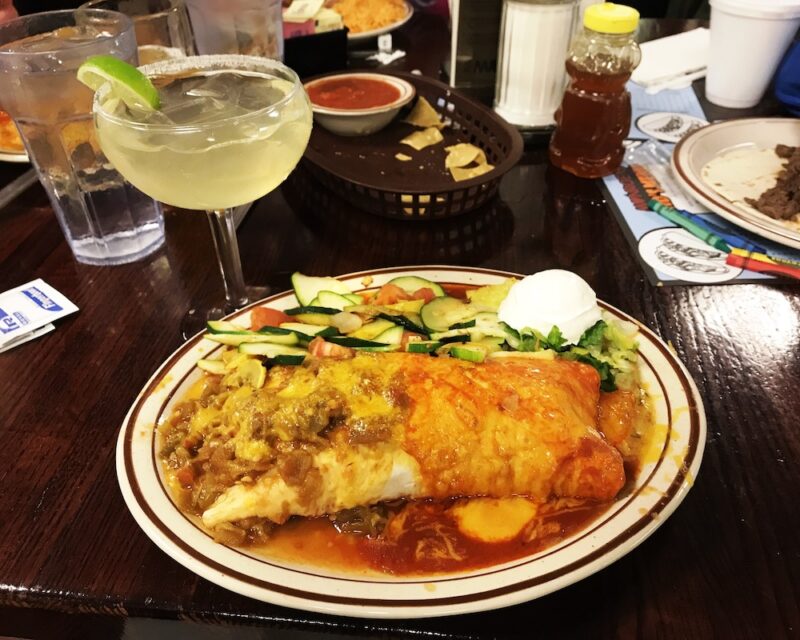 I definitely recommend reading this article before your trip for some important background about New Mexican food. And if it's got you salivating for some chiles rellenos, treat yourself to this cookbook for great recipes, fascinating history and drool-worthy photos.
---
Trek Through Carlsbad Caverns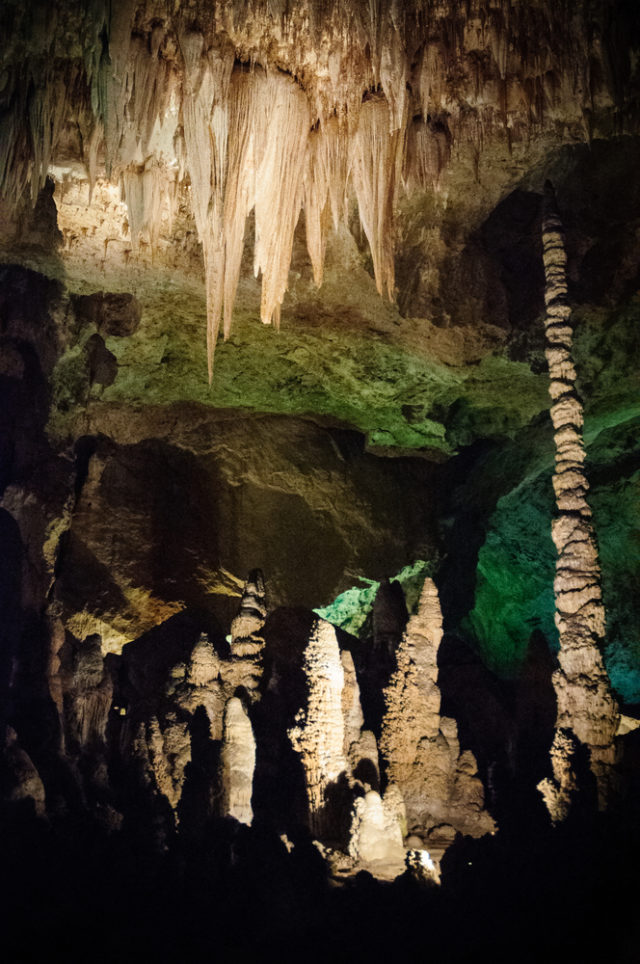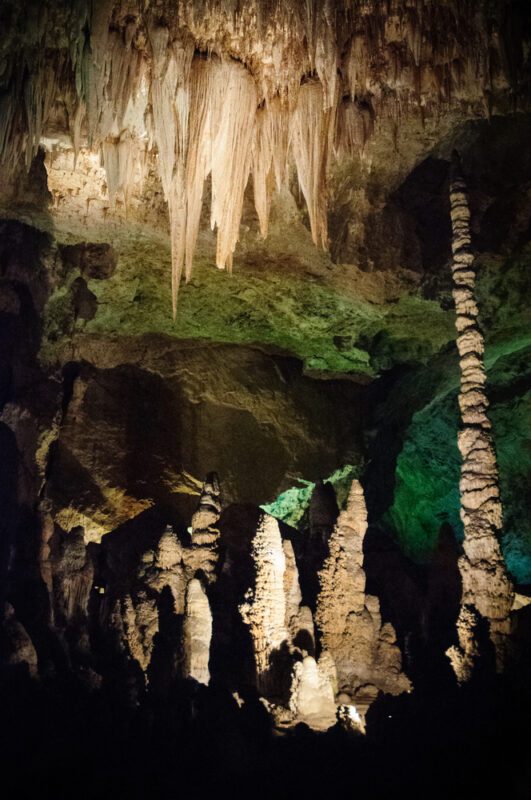 Thanks to Preethi of Local Passport Family
One of our favorite stops in New Mexico with kids is Carlsbad Caverns National Park. Whether you explore on your own or as part of a Ranger-guided program, there's plenty to explore at this New Mexico highlight.
To enter the caverns, be sure to reserve tickets in advance during busy times so that you can catch the elevator down. Admission is included with your National Parks annual pass.
I highly recommend arriving a couple hours before your entry time. That way, you'll have a chance to check out the visitors center and complete the Junior Ranger booklets with kids. Everyone will enjoy the experience so much more if you learn about some of the fascinating history and natural features beforehand!
While at Carlsbad, don't miss the Big Room chamber, which is the largest in North America. At about 1.25 miles (average time to walk it is 1.5 hours), it's perfect for even families with young children. (There's also a shortcut with a total distance of just over half a mile if you need a shorter route!) There's also the 1.25 mile Natural Entrance Trail, which is fun and also a workout. With just over 750 feet of elevation gain in a short period, it's the equivalent of climbing a 75-story building!
In addition to the caverns themselves, there are also above-ground hiking trails, incredible ranger-led bat programs, and night sky programs. There's something for every interest.
While visiting Carlsbad Caverns with kids, I recommend staying in either hotels in Carlsbad, about half an hour away, or hotels in El Paso, TX if you want a bigger city and don't mind a bit of a drive (about 2 hours).
Read more: Best gifts for National Park lovers
---
Climb Into Bandelier National Monument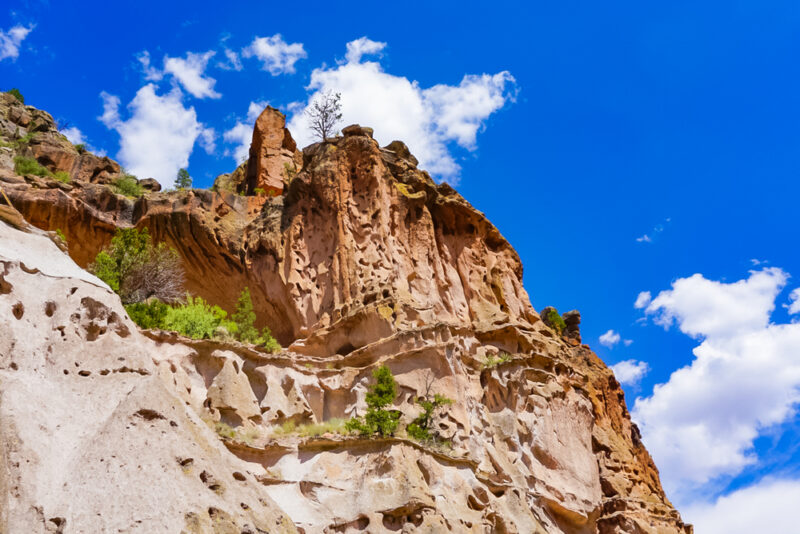 Thanks to Tavia of Big Brave Nomad
Bandolier National Monument is one of the most underrated National Monuments in my opinion. Bandolier National Monument is home to 33,000 acres of rugged but beautiful canyon and mesa country as well as evidence of a human presence here going back over 11,000 years. Petroglyphs, dwellings carved into the soft rock cliffs, and standing masonry walls pay tribute to the early days of a culture that still survives in the surrounding communities.
People of all ages will enjoy the first half of Pueblo Loop Trail that take visitors into actual Ancestral Pueblo cave dwellings – at the half way point you can choose to continue on to Alcove House or turn back to the visitor center. For families with older children or adults only, Alcove House is definitely worth the journey up 4 wooden ladders and into a home that once housed approximately 25 Ancestral Pueblo people.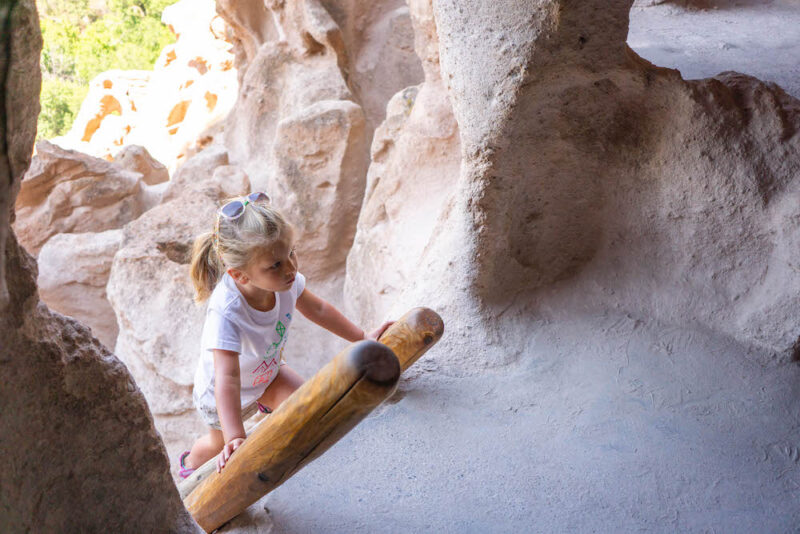 For your visit, bring a picnic and enjoy a meal at one of the many picnic benches. You can either print a park map in advance or you can purchase one for $2 at the visitor center. Bandolier National Monument offers a free shuttle bus from the White Rock visitor center in town or you can drive your own vehicle into the park. However, there is limited in-park parking. (The shuttle is closed due to COVID for the 2020 season).
We chose to stay at the RV Park at White Rock Visitor Center for the convenience of hopping on the shuttle and close proximity to the grocery story and coffee shop. However, the National Monument does offer 2 campgrounds inside the park and the towns of White Rock and Los Alamos have several hotel choices – click here to see the best options.
The park fee for Bandolier National Monument is $25 per day per vehicle or you can purchase an American the Beautiful Annual Pass for unlimited entry into National Park Sites across the United States.
---
Mapping the Best Things To Do In New Mexico With Kids
Use this map to help you build your family's New Mexico road trip itinerary:
If you're interested in extending your family trip to New Mexico into other Southwest destinations, consider these options:
New Mexico:
Texas:
Arizona:
Colorado:
Utah:
Want to get more helpful travel tips like this? Sign up for our email list!
Still planning? Pin this for later!