Big Bend National Park is one of my absolute favorite places in America. It's incredible. And one of the things that makes it so unique is that there's a huge range of really interesting Big Bend National Park hikes that are geared to all skill and fitness levels.
We visited Big Bend as a family of four – two adults in decent shape, one kid who's a pretty good hiker and one kid who is an "emerging hiker". We conquered some of the best Big Bend hikes during our time at the park and we're sharing all the real-life details in this guide.
Since the park is very spread out, you'll find this organized as something of a Big Bend itinerary that you can follow for your own visit. Feel free to change the order of the days. We'll also give you important tips on what to bring for Big Bend hiking and the best things to do in Big Bend National Park besides hiking.
Use the interactive map to find vacation rentals and hotels near Big Bend National Park
---
What to bring for hiking in Big Bend National Park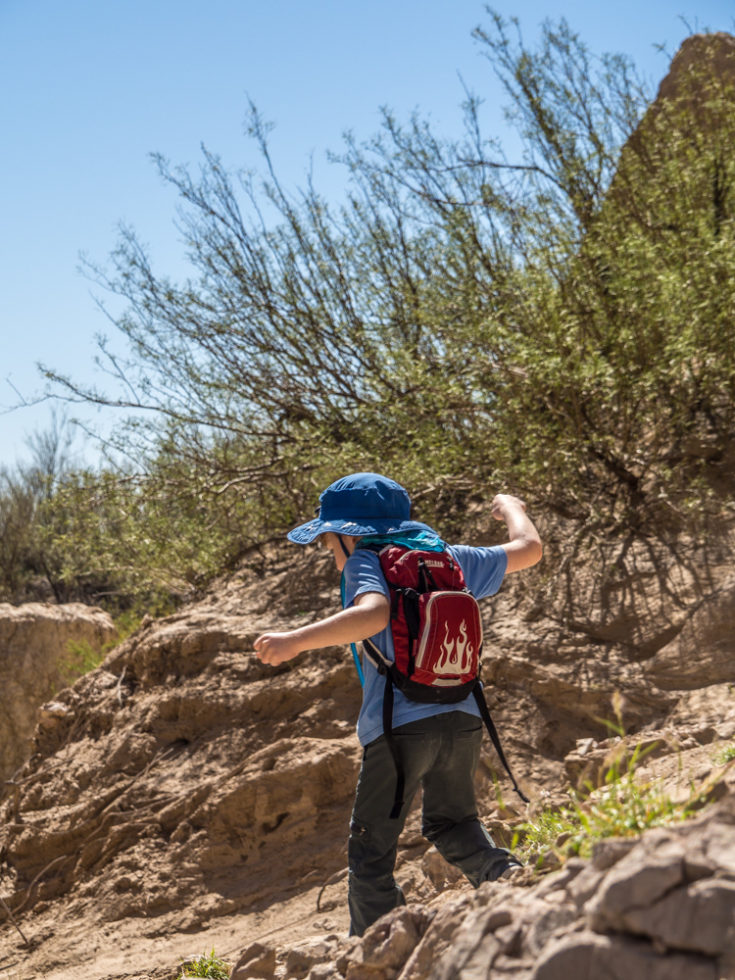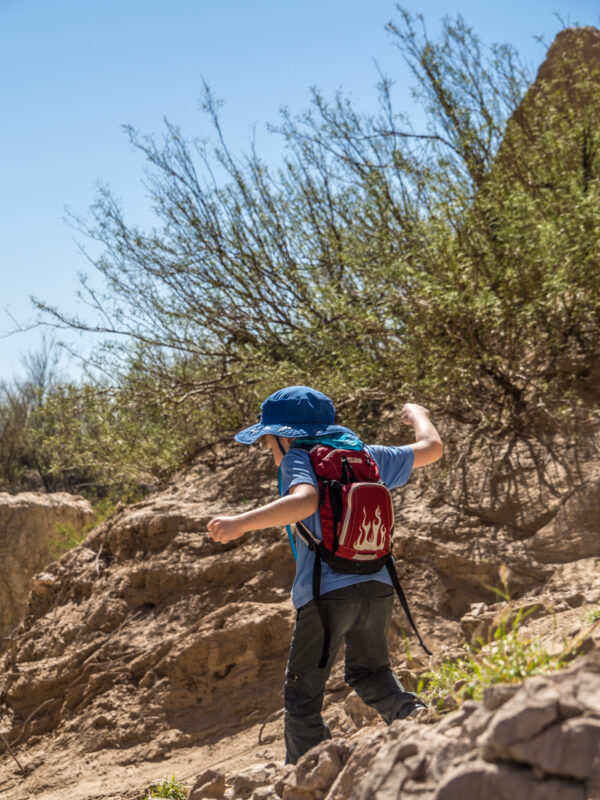 As with any hiking expedition, it's critical that you're prepared when you hit the trail.
Bring this gear with you for your day hikes:
-Hydration backpack ( his | hers | kids )
–Binoculars for bird watching
–Camera with zoom lens – you'll want a camera with a flexible range to capture everything from sweeping vistas to some of the park's 400+ resident bird species
-Snacks – check out these great travel snacks
–Sunscreen
–SPF lip balm
Recommended clothing for hiking in Big Bend:
-Lightweight hiking pants ( his | hers | kids)
-Multiple layers – tank/short sleeve plus long sleeves for sun protection and warmth
-Hat – Sunday Afternoons has amazing options for the whole family
-Bandana or other neck protection (we love these!)
-Packable rain jacket July – September ( his | hers | boy | girl )
-Hiking shoes – for most trails, running shoes or even trail runners will suffice (for a long trail like South Rim, proper boots are advisable)
Of course, don't forget to grab a National Parks pass to save on admission to hundreds of federal lands!
Check out these awesome gifts for National Parks lovers!
Books and maps to bring to Big Bend
Consider picking up one or two of these books before your visit to Big Bend to add more context to your experience:
Pro tip: Make the most of your time driving around Texas with the free RoadTrippers app. It helps you plan your route and shows you tons of unique stops along the way. Get $5 off RoadTrippers Plus with coupon BTR5QTP.
Great Easy And Moderate Big Bend Hikes
Big Bend National Park is very spread out. Even though the mileage isn't huge, the roads are slow and generally one-lane in each direction. I recommend planning to visit one major area of the park on each day of your stay. You can use these day-by-day plans as a rough Big Bend itinerary for your visit.
You'll want to pack a picnic lunch to bring in a cooler with ice packs each day so that you minimize driving and maximize your time enjoying the best things to do in Big Bend!
Read more: Planning your visit to Big Bend National Park
Big Bend Hikes In The Castalon Area
Castolon is on the west side of Big Bend National Park. Fortunately there's a lot to see on this side of the park and you can spend a full day exploring!
Your drive will take you down the lovely Ross Maxwell Scenic Drive. If you are staying in Chisos Basin, it will take you an hour to reach the Castalon Visitor Center. While it's tempting to stop at allllll the viewpoints, save them for the drive back. Just make a quick stop at Castalon visitor center for stamps then drive all the way to the end of the road.
Santa Elena Canyon Hike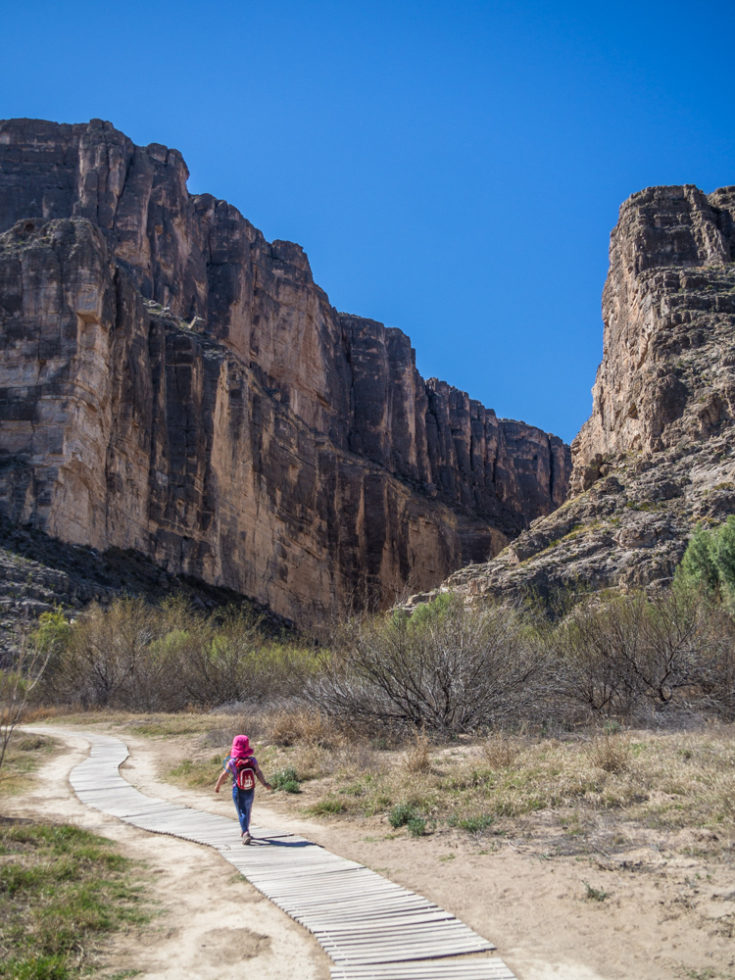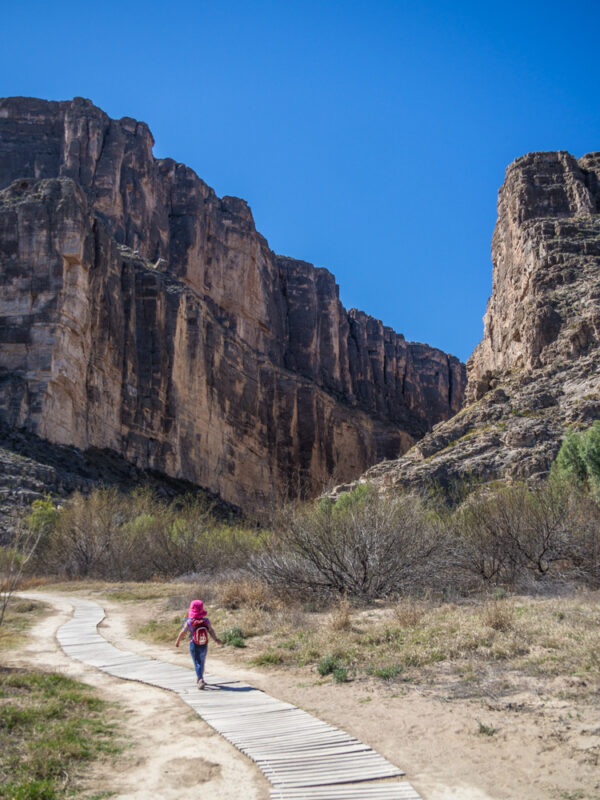 Your first hike of the day will be Santa Elena Canyon. It's an extremely popular trail and you'll want to get there early to avoid midday sun. The total distance is just 1.6 miles out and back. There are some steps, ramps and switchbacks at the beginning (photo below) – make sure kids stay close as there are no railings in some places.
Overall it's a pretty, easy trail. As the day progresses, you'll likely find that the outer half of the trail is sunny and inner half is shaded. Bring a lightweight long sleeve layer!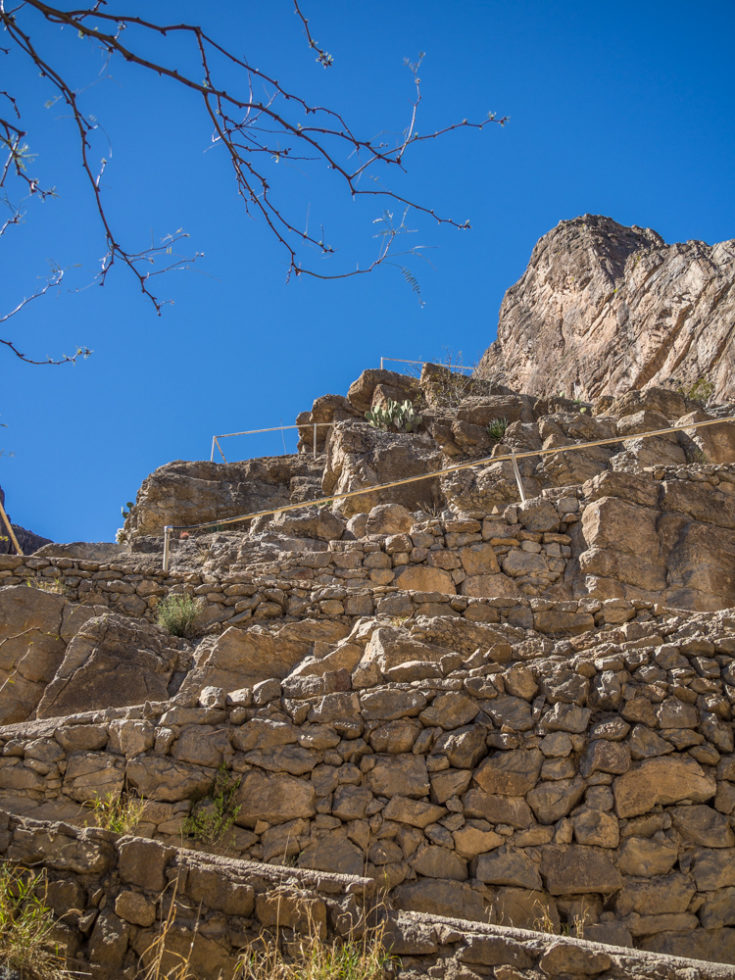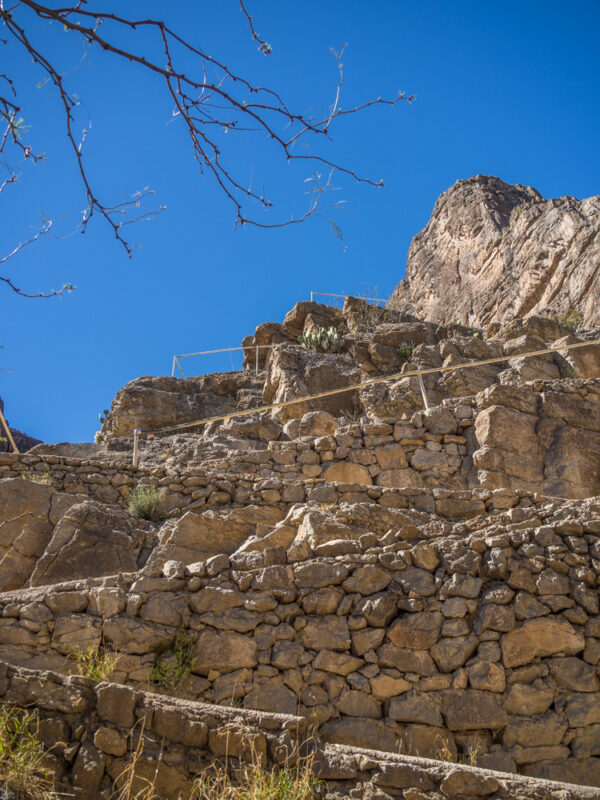 With two young kids and plenty of goofing around, the Santa Elena Canyon hike took us 2 hours. That includes a snack stop on the banks of the Rio Grande and plenty of photos stops and bird watching. The river is extremely shallow – perhaps ankle deep; if you wear Keens you can go in the water!
Ross Maxwell Scenic Drive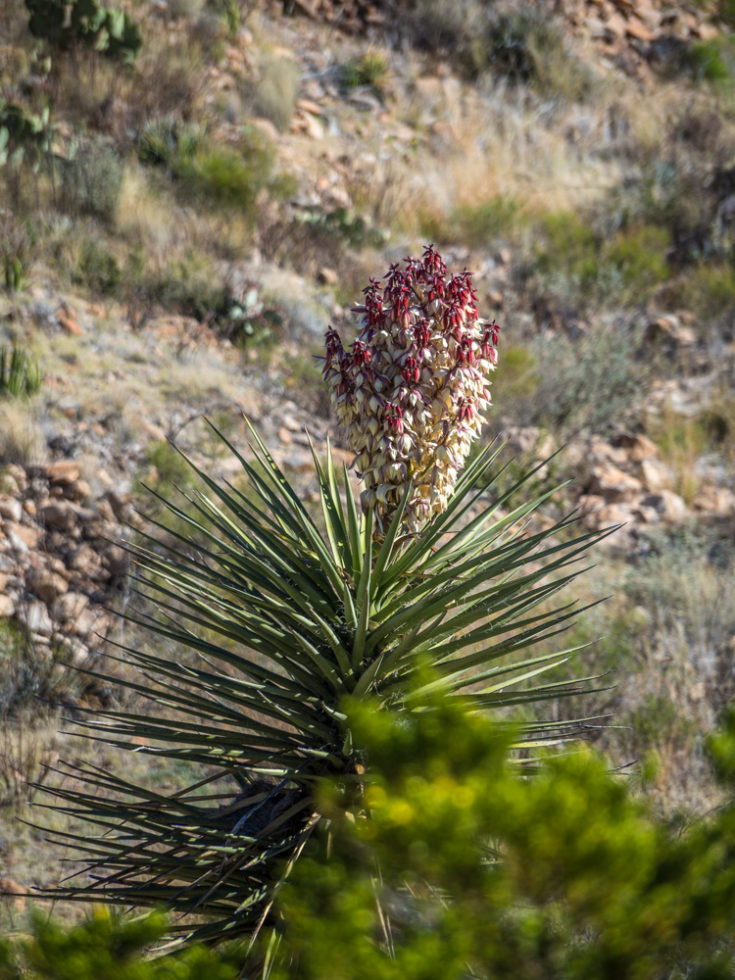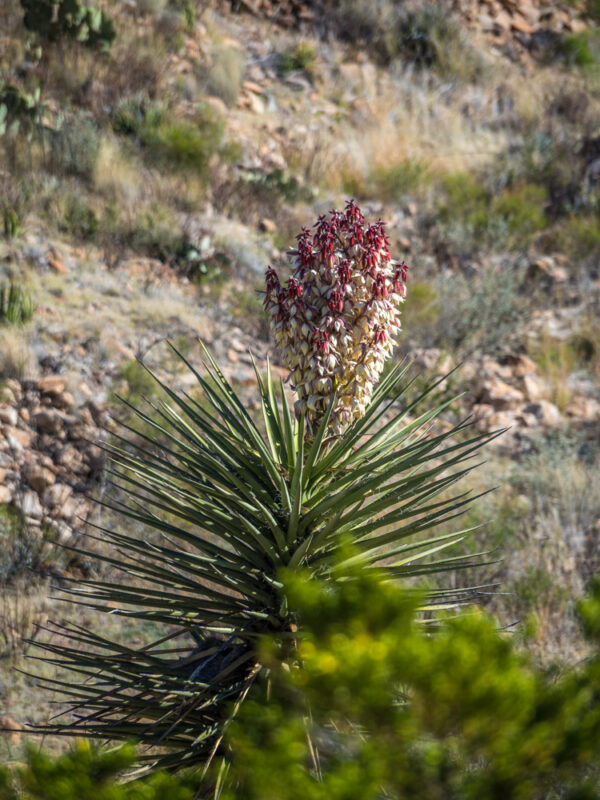 Stop at the nearby boat launch to enjoy your picnic lunch at the sheltered tables. On drive back to the center of the park, stop at scenic views and Sam Neil Ranch trail. If you have time or energy, you can also stop at Mule Ear Springs trail, which is a 3.8 mile roundrip and rated moderate. (If you're really committed to doing this hike, you may want to reverse the order and do it first thing in the morning since it's longer than Santa Elena and completely unshaded from the brutal desert sun.)
Sam Neil Ranch is very quick and a nice way to see how people could make a life in the harsh environment. Sam Neil Ranch is a supposed to be an especially great place to see birds at Big Bend National Park, though it wasn't where we had the most luck. It's an easy half-mile loop with lots of lovely vegetation around.
The afternoon is a good time to stop by Panther Junction for the last showing of the park movie (with the last showing at 4pm). You can also explore the Panther Path self-guided nature trail while you're there to try your hand at identifying some of the native plants of the region.
Want to get more helpful travel tips like this? Sign up for our email list!
Hikes In Big Bend Rio Grande Village Area
On the opposite end of the park, 45 minutes east of Chisos Basin, is the Rio Grande area of Big Bend National Park. There's plenty to do here in the river ecosystem, so give yourself time!
Boquillas Canyon Hike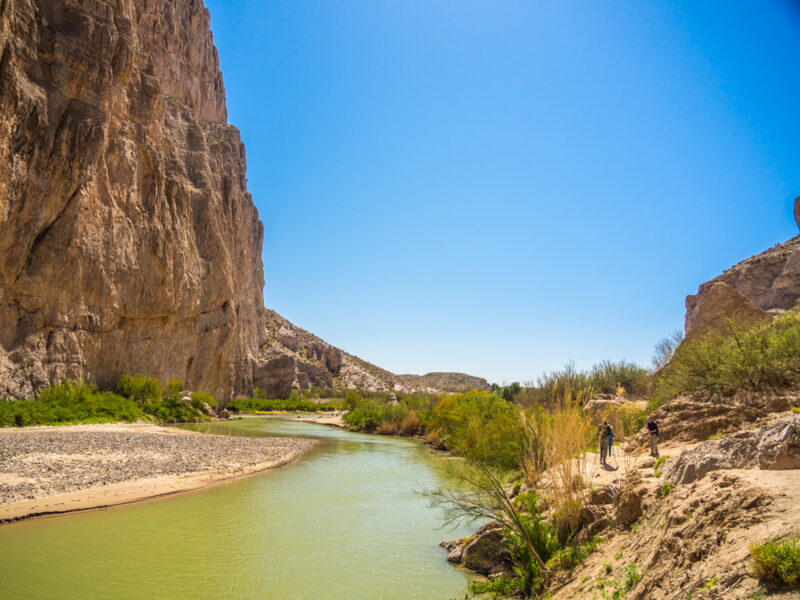 Start the day by heading to Boquillas Canyon for one of my favorite Big Bend hikes. To get to Boquillas Canyon, stay left at the possibly-unmarked fork after border crossing sign (the sign points to Ore Terminal and Marufo Vega). The right fork goes to the overlook, which is lovely but doesn't give you access to the hike.
The Boquillas Canyon hike is similar in difficulty and length (1.4 miles) to Santa Elena, but there's no shade. Did you hear me? Bring plenty of sun protection and drinking water. There are some steep and narrow parts at the top of the hike, but it's mostly flat and sandy the rest of the way.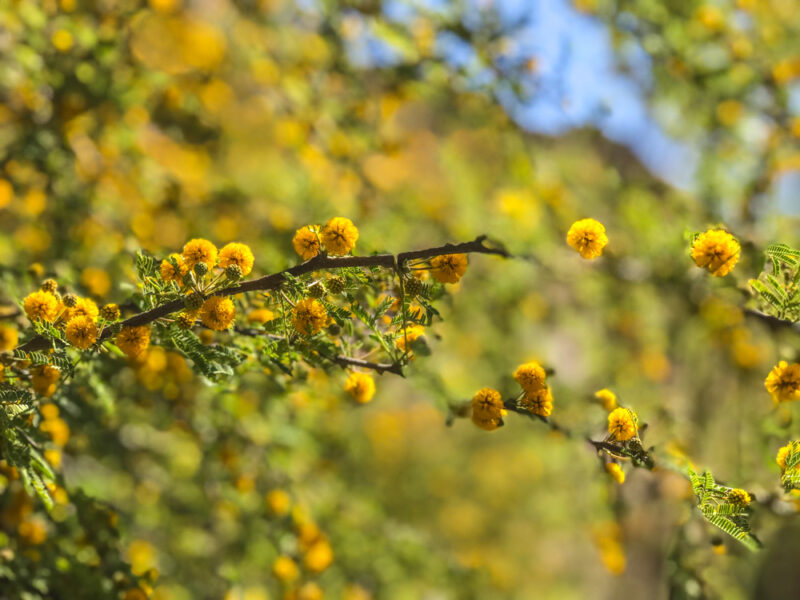 One spot right near the end is tricky – you'll choose either a steep, narrow path on the edge of the canyon wall or fairly easy scramble up and over the rocks. It's maybe 30ft from the end, so you can just stop if you don't feel comfortable proceeding. The view won't change much.
Why did I love Boquillas Canyon so much? For the downright magical views of the Rio Grande River and right into Mexico. We stayed for quite a while just soaking them up, watching turtles play in the river below, scoping for birds and enjoying the trees in bloom around us.
Rio Grande Village
The Rio Grande Village visitor center is very basic and only open until 4pm (closed for lunch too). But there's fresh drinking water for a refill, clean restrooms and you can stamp your National Parks passport while you're there.
Big Bend National Park Hot Springs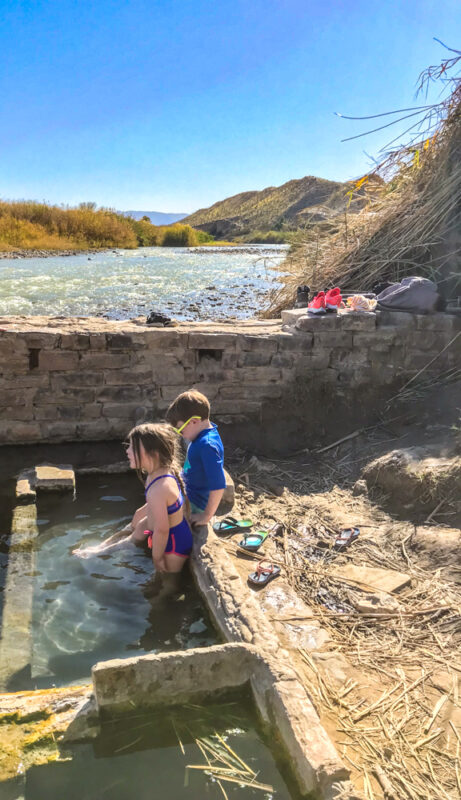 Just a short drive from the Rio Grande Village visitor center, you have a unique opportunity to visit the Big Bend National Park hot springs. The site used to include a hotel for guests coming to enjoy the restorative benefits of the natural spring, and one of the old "tubs" is still available for visitors to enjoy.
The unpaved road was fine in our CR-V but very rough, and quite narrow in places as you near the old hotel. If you're visiting with an RV or other large vehicle, you may not be able to drive the whole way safely.
Visiting the hot springs has to be one of the most unique things to do at Big Bend National Park. You can sit on the ledge and switch your feet back and forth between the ~105F hot spring and the cool Rio Grande if the river is high enough. You can also walk the steep little path next to the tub to access the river, but it can get slippery. Flip flops are fine for the short walk from parking to the spring. Be sure to wear your swimsuit and bring a towel.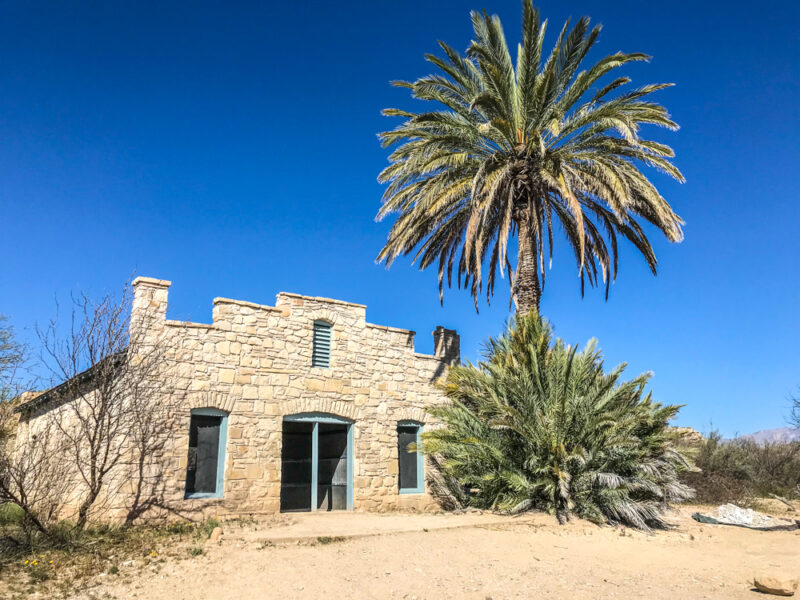 Take your time on the walk, as there are interesting pictographs along the way. You'll see signs to show you where they are and provide some historical context. You'll also walk by the original hotel/guest house and you can even peek inside!
This is one of the best places for birding in Big Bend National Park. There are lots of birds to see looking across the river to Mexico, so make sure to bring your binoculars on the trail. Just like Boquillas Canyon nearby, this is just a lovely, magical spot in Big Bend National Park.
Rio Grande Village Nature Trail
If you're still in the area around sunset, head back to Rio Grande Village for the short nature trail that begins at campsite 18. The loop is less than a mile and the beginning is even accessible. We didn't have an opportunity to do this one, but it's supposed to be one of the best places in Big Bend to watch the sunset – you'll see the golden light bathing the Rio Grande River and the surrounding mountain ranges.
If you're heading back to the Chisos Basin or Terlingua, be careful driving the road after dark!
Chisos Basin area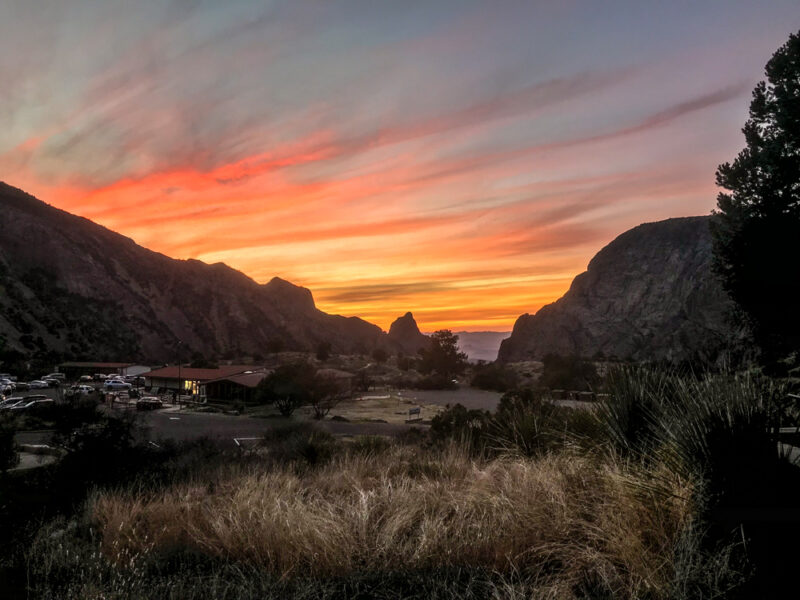 The Chisos Basin is by far the most developed area of Big Bend National Park, and I feel pretty confident saying that every visitor to the park comes through here at some point. What's in Chisos Basin? Chisos Mountain Lodge, the restaurant, the grocery/convenience store, a visitor center, a major campground, an amphitheater, and even a few trail heads. Yeah, it'd be hard to avoid the Chisos Basin!
If you're visiting Big Bend in the summer, the Chisos Mountain hikes will be much more pleasant than the desert or river hikes, where the heat can be oppressive (and dangerous). Even at other times of year, we recommend hitting at least one trail in the Chisos to show you the diversity of Big Bend ecosystems!
Lost Mine Trail

The most substantial trail we did in the Chisos Mountains is the Lost Mine trail. It's a 4.8mi roundtrip, with a pretty steady incline all the way up (though not especially steep). It's one of the shorter mountain trails in the park and offers sweeping views at the top.
If you want to hike the Lost Mine trail, get a jump on it first thing in the morning for two important reasons. First, the trail head (along Chisos Basin Road) has really limited parking and many hikers are eager to tackle it.
Second, the beginning of the trail offers plenty of shade, but the second half is almost completely exposed. Pretty much no matter what time you start, you'll spend a decent amount of time in the hot sun; depending on the time of year, it can be dangerously hot if you wait until later in the day.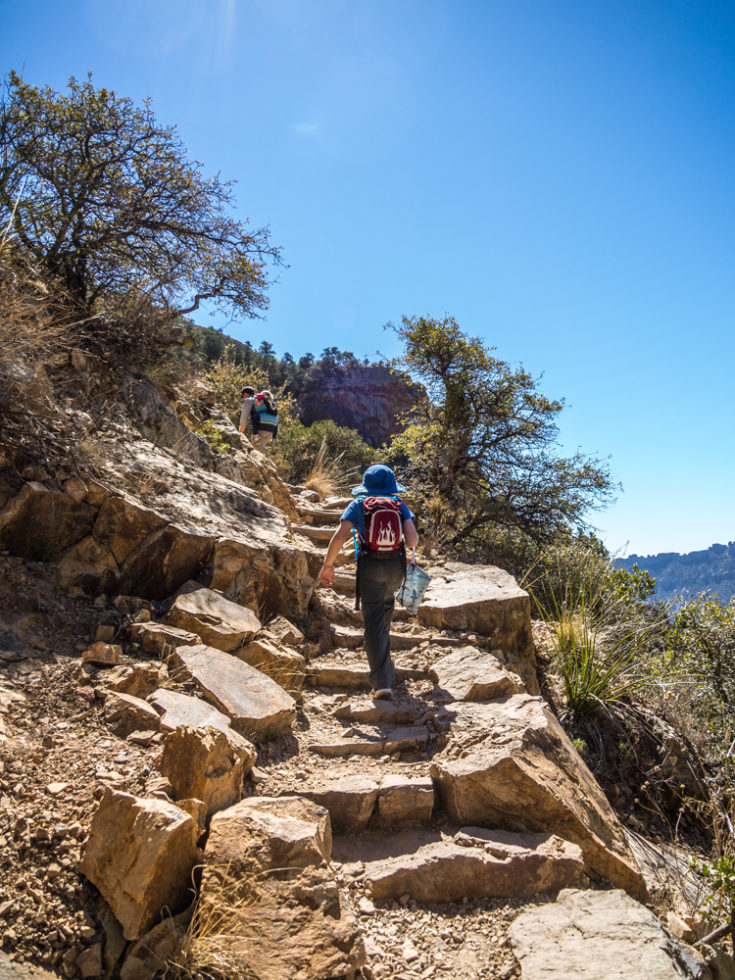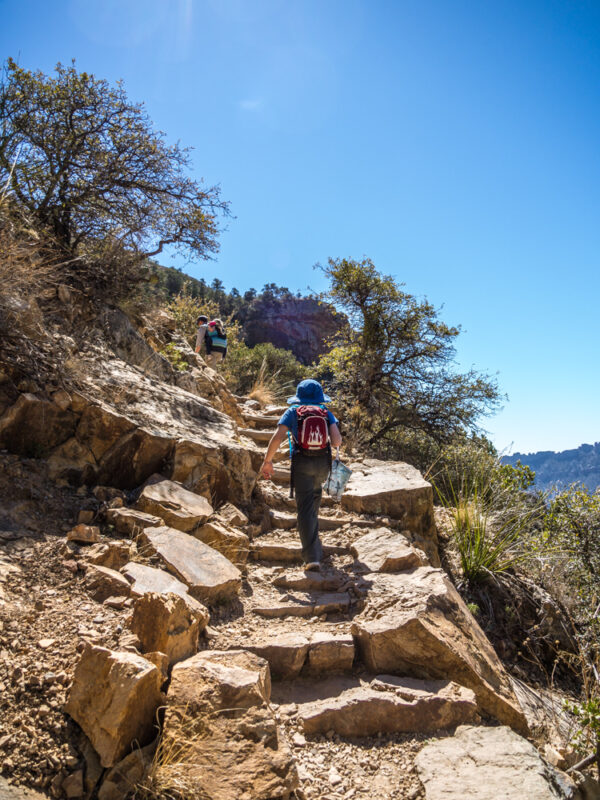 In total it took us 2.5hrs up (with about 30min total breaks along the way) and 1.5hrs down (with minimal stops). Our 7 year old was absolutely spent by the time we got back down and earned his massive ice cream sundae at dessert. Even if you don't make it all the way up (as was our original plan), the views are still stunning along the way.
You'll need lots of water for this hike. We went through 1L each but would have been happy to have more. If we'd had more carrying capacity, I would have brought 1.5-2L per adult and 1-1.5L per kid.
In addition to a hydration pack to carry all that water, trekking poles would be helpful on this hike since it's a lot of incline. We all brought lightweight long sleeve shirts, hats and bandanas as well, which helped with sun protection as we descended in the mid-day sun.
Chisos Basin Loop Trail
If you have any steam left after the Lost Mine trail (I don't blame you if you don't), you can consider heading to the Chisos Basin loop trail. The trailhead is at the far end of the developed area.
It's a 1.8 mile moderate loop trail, but well-shaded. It's also a great wildlife habitat, so bring your binoculars for birdwatching and keep your eyes peeled for mammal tracks on the trail.
Window View trail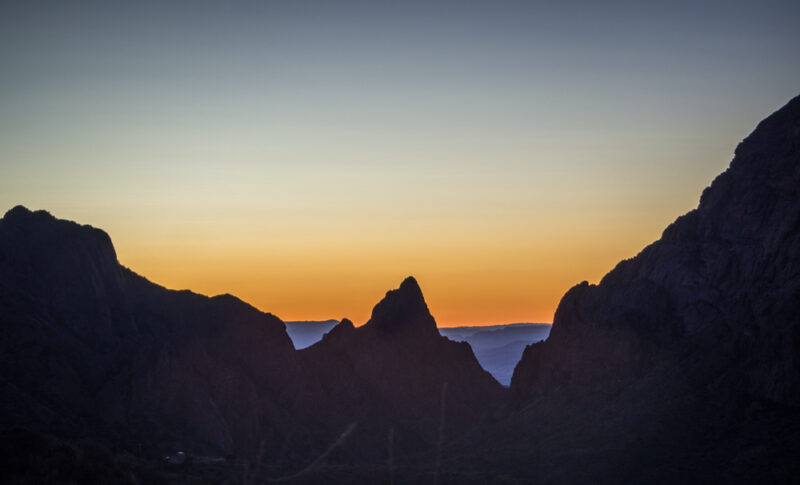 End your day with an easy walk out the flat, paved Window View trail around sunset. The trailhead is just to the left of the Basin Store and makes a nice pre-dinner stroll. Just make sure not to accidentally take the forks for the Window Trail (on the right) near sunset, as that's a very long walk to do in the dark!
Ranger programs at Big Bend National Park ranger stations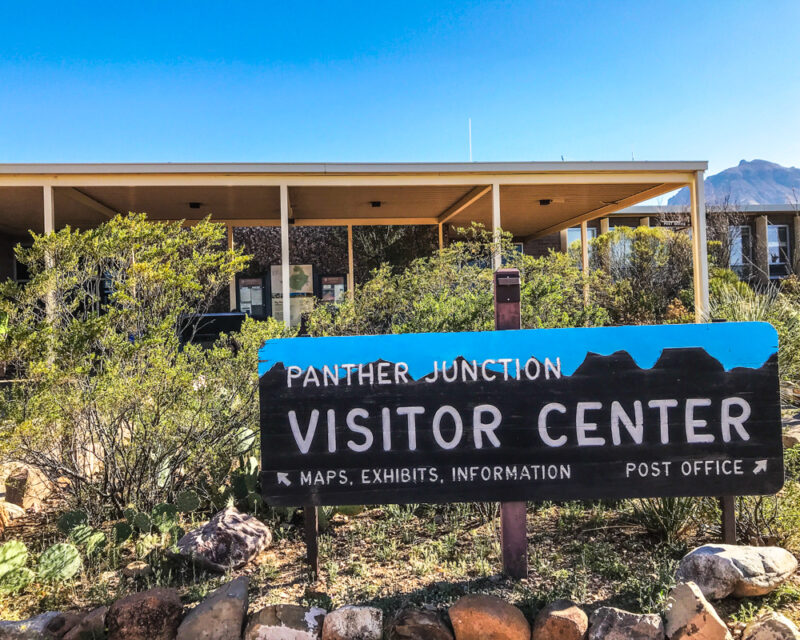 Big Bend National Park visitor centers
Big Bend has a whopping 5 visitors centers – you can read about them and check hours here. The main visitor center is Panther Junction and you'll probably end up there a few times during your trip to Big Bend. That's the only location where they show the park movie and it also has the biggest (nicest) bookstore. There's even a nature trail adjacent to the building!
Fortunately you can also get guidance from a ranger or volunteer at Persimmon Gap, Rio Grande Village, Castolon or Chisos Basin. If you're staying at the Chisos Mountain Lodge, the Chisos Basin visitor center is conveniently located in the same parking lot next to the store. It's a great place to get quick information before heading out for a hike and to refill your water for the day.
I recommend stopping at every visitor center you pass by to stamp your National Parks passport! Each one has a different stamp, and some have "special stamps" too. Grab your passport here to start tracking your National Parks journey. The visitor centers also have book sections with everything ranging from photography books to field guides.
Big Bend ranger programs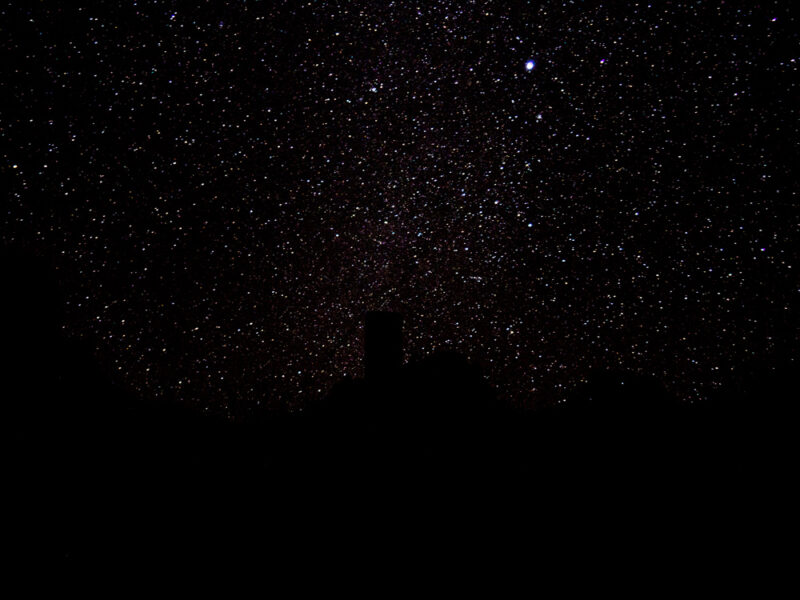 There are so many programs going on at Big Bend throughout the year! You can see the current schedule here. Especially if you're staying within the park and have easy access, we recommend that you attend a few programs during your stay.
We love the Ranger's guide to the galaxy program at Panther Junction. The ranger was excellent storyteller talked about humans relationship to astronomy and the cosmos, in addition to providing a constellation tour. She had plenty of telescopes set up for viewing and colleagues were on-hand to teach visitors about astrophotography with their own cameras. You may want to bring your own tripod if you have one. Bring a blanket to sit on and a jacket, as it does get very chilly in the desert once the sun goes down.
We also attended a night talk at the Chisos Basin campground ampitheater about nocturnal Big Bend National Park animals. Again, the ranger gave an excellent lecture with lots of interaction and opportunity for the kids to get involved. They even got to run around (in front of everybody) practicing their echolocation skills as bats!
One note of caution is that Big Bend has some of the darkest skies in America. It's great for stargazing and astrophotography, but not so great for driving late at night. We opted not to attend a night program at Rio Grande Village because we would have been driving almost an hour along the pitch black roads.
There are also programs most mornings (around 9:30, but it depends on the day and season) if you don't feel like hitting the trail early. Those range from guided walks to lectures about wildlife or the area's history. There's something for everyone and plenty of things to do in Big Bend National Park even if you don't hike!
Visit Boquillas del Carmen (crossing the border)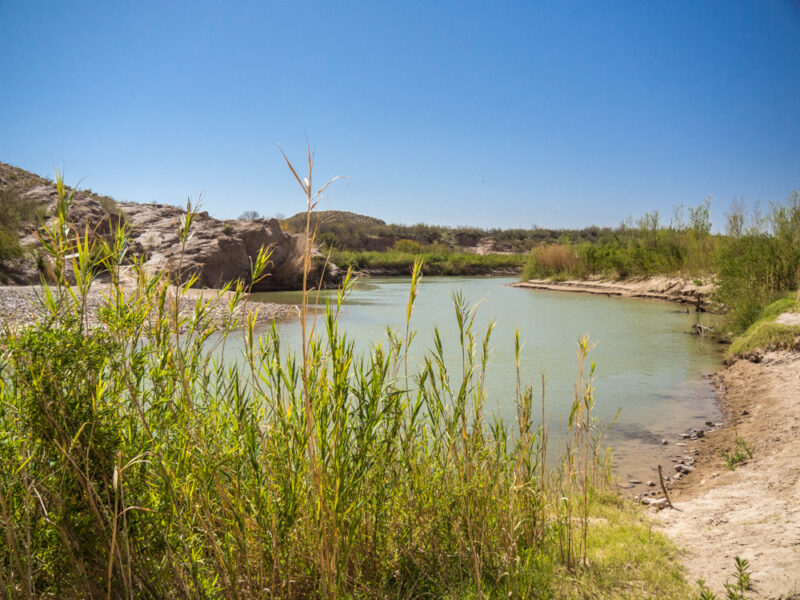 If you have an extra day and the schedule works, consider a visit to the Mexican village of Boquillas del Carmen, just across the Rio Grande River. Check the border crossing schedule, which is limited and varies by season. We weren't able to make the trip because the schedule didn't work with our last-minute plan, but if it's important to you to do the Big Bend border crossing then try to arrange for it to be your second or third day at the park.
The fee to take a rowboat across the river is $5, and you'll need plenty of small bills when you cross to catch a ride to the village (or you can walk the 0.5 miles, but just be mindful of the heat if visiting in the summer). Once you get to Boquillas, you can do some shopping with local vendors and enjoy an authentic lunch.
If you cross early in the morning or plan to spend the night, you can consider taking a tour outside the village with a local guide or even spending the night in Mexico. Just make sure you plan your return to coincide with the border crossing being available. If you cross on a Sunday in winter and try to return at 5:05pm, you won't make it back to Texas (legally) until Wednesday! Your car will also be locked behind the gate in the border crossing parking lot.
When you cross the border, you'll need to bring proper documentation. American and Canadian adults need a passport or passport card, while kids 16 and under can cross with a copy of their birth certificate.
How Long Should You Spend In Big Bend National Park?
As you can see from all of the great things to do in Big Bend National Park above, you could easily fill three or four days. There are even more Big Bend hikes to tackle if you're feeling more adventurous, or you can divide your exploration on foot with more Big Bend ranger programs or even just relaxing in one of the gorgeous scenic spots anywhere in the park.
Read more: Planning your visit to Big Bend National Park
Hopefully this guide will help you jump start your Big Bend planning! Feel free to drop any questions about Big Bend hiking or other things to do in Big Bend National Park below.
Where to go next
If you're interested in extending your trip to Big Bend into other Southwest destinations, consider these options:
New Mexico:
Texas:
Arizona:
Still planning? Pin this for later!