The whole state of Arizona is full of amazing family-friendly places to explore, and the Tucson area is no exception. You'll find great family activities in Tucson for outdoor lovers, history buffs, budding scientists and more. Read on for the best things with do with kids in Tucson – including options for all ages from toddlers to teens!
Where to stay in Tucson with kids
There are plenty of great options for family-friendly places to stay in Tucson. You can choose from Airbnbs and hotels in the center of town to unique places on the periphery.
Family-friendly Airbnbs in Tucson
Tucson has a nice selection of vacation rentals all over the city, including some beautifully restored historic buildings close to the Presidio and some more recent homes near University of Arizona. Be sure to cross-check house rules with your child's age, as some of the historic properties have age restrictions (at the time of this writing, none on the list prohibits children under 12 but a few aren't suitable for infants). Several have pools in the backyard, which can be great for big kids on a hot day but may not be secured enough for curious toddlers. Here are a few top picks:
Downtown Tucson pet-friendly house for 6 fully stocked with baby gear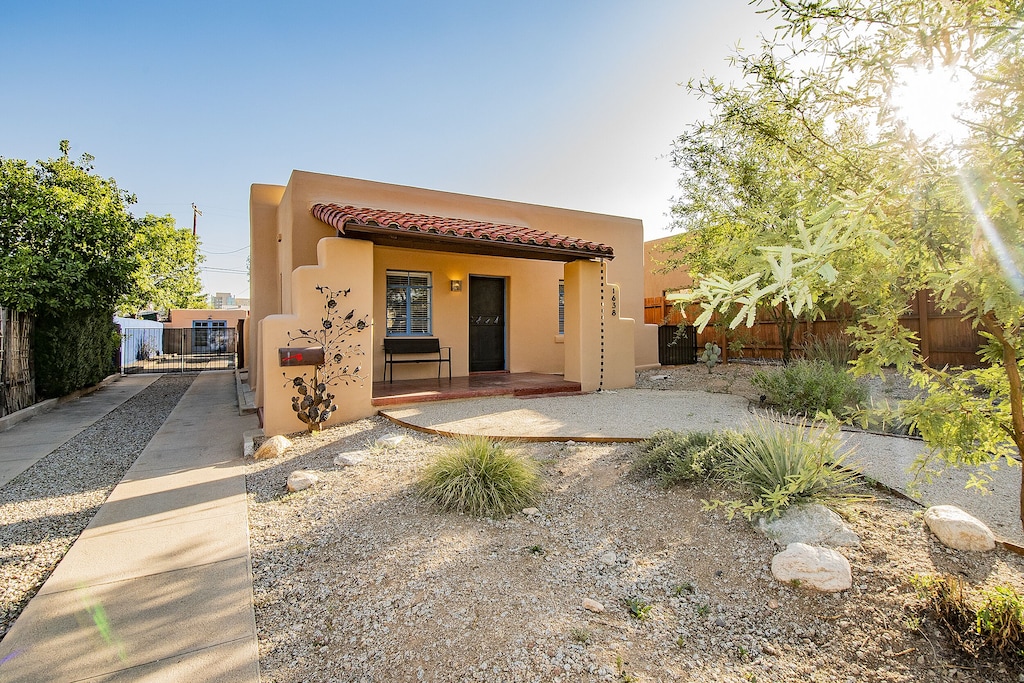 Outdoor living 2 bedroom/1 bath for 6 people (heated saltwater pool!)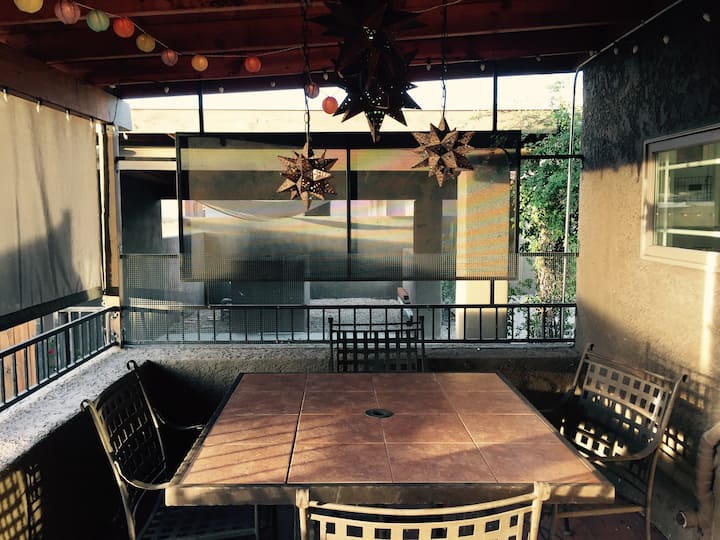 Reconditioned historic 3 bedroom/1 bathroom house for 6 in El Presidio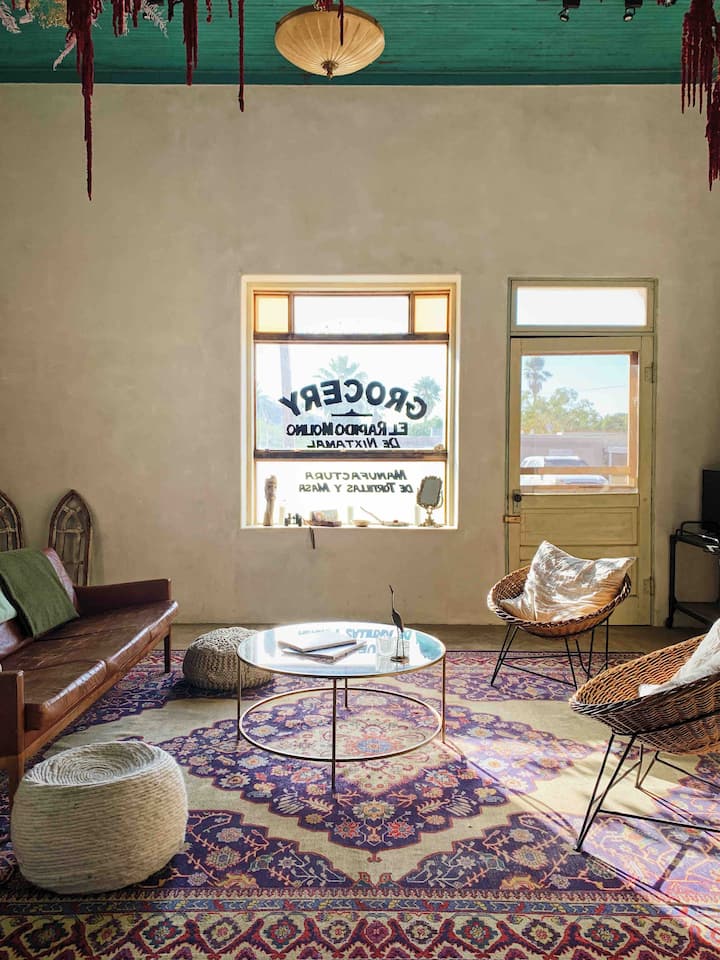 Best hotels with kids in Tucson's downtown
There are a million hotels to choose from in Tucson, largely thanks to the University, its Medical Center and the Convention Center. Here are just a few to consider that are great for families:
Lodge on the Desert – beautiful hotel with lots of desert feel despite its central location, including in the inviting courtyard centered on a four-sided fireplaces and the nearby pool; generous breakfast buffet included; rooms available with 2 queens
Hotel McCoy – funky and fun hipster hotel in the heart of downtown; includes continental breakfast; rooms available with 2 queens or 1 queen and 2 twin beds
Use the interactive map to find vacation rentals and hotels in Tucson downtown
---
Where to stay near Saguaro National Park with kids
Do you want to stay close to Saguaro National Park? Check out these options!
For a truly unique experience, book a stay at White Stallion Ranch. This is at the top of my personal bucket list! White Stallion Ranch is a traditional dude ranch that offers high-quality lodging, delicious food, horseback riding and tons of other great activities. Check prices and availability here.
This full service resort offers a stunning location surrounded by mountains and desert. On site you'll find restaurants, a spa, lovely rooms, golf and even a pool and lazy river! If you're traveling with a larger family or multiple generations, the JW Marriott Starr Pass Resort even offers several different sizes of suites. Check prices and availability here.
If you prefer a more intimate setting and want to be as close to the park as possible, look into Casa Tierra Bed & Breakfast. It's a beautiful Mexican-style adobe house that offers the warmth of home hospitality in a lovely natural setting. They offer generous suites for families. Check prices and availability here.
Use the interactive map to find vacation rentals and hotels near Saguaro National Park here
---
Getting around Tucson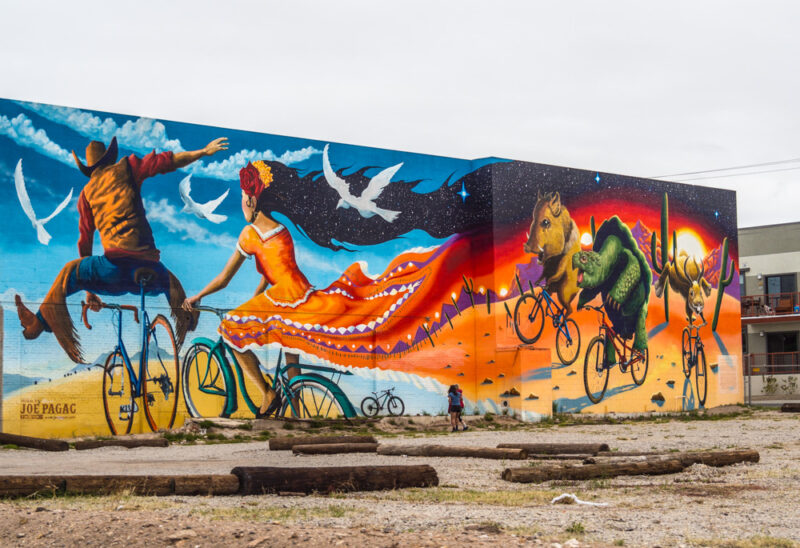 One of the most surprising things about Tucson for us was just how expansive the city is. It's not dense like Phoenix, but this is no small town. As a point of reference, to get from one unit of Saguaro National Park to the other takes about 45 minutes – more on that later.
Many of the best things to do with kids in Tucson are spread out so you'll absolutely want a rental car at your disposal. Click here to check prices for your dates.
Fortunately we found driving in the area to be pretty easy. We were also glad not to need to avail ourselves of local car repair services, unlike pretty much all of our other stops in Arizona and New Mexico during our year of roadtripping the USA.
Pro tip: Make the most of your time driving around Arizona with the free RoadTrippers app. It helps you plan your route and shows you tons of unique stops along the way. Get $5 off RoadTrippers Plus with coupon BTR5QTP.
---
Fun things to do in Tucson with kids
Don't miss these great Tucson kids activities:
Arizona Sonora Desert Museum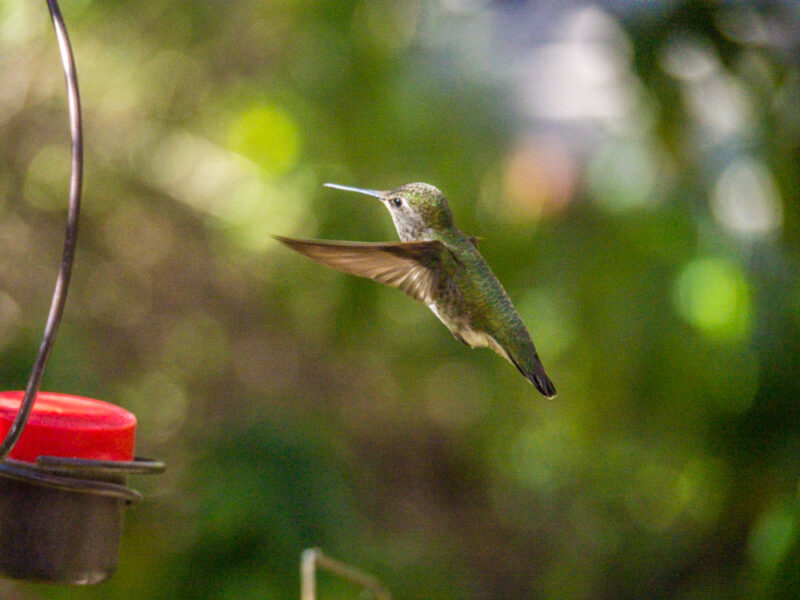 The Arizona Sonora Desert Museum is located right next to the western half of Saguaro National Park (Tucson Mountain Division) and it's the perfect place for kids of all ages to learn about the wonders of the Sonoran Desert! It includes interactive and hands-on exhibits covering the region's unique flora, fauna and geology.
Read more: Your essential Arizona packing list
The Sonoran Desert stretches from north of Phoenix all the way down to near the southern end of the Sea of Cortez, so even within the desert there's a huge range of diversity. At this "living museum" you can even get up close with stingrays, as my son did below!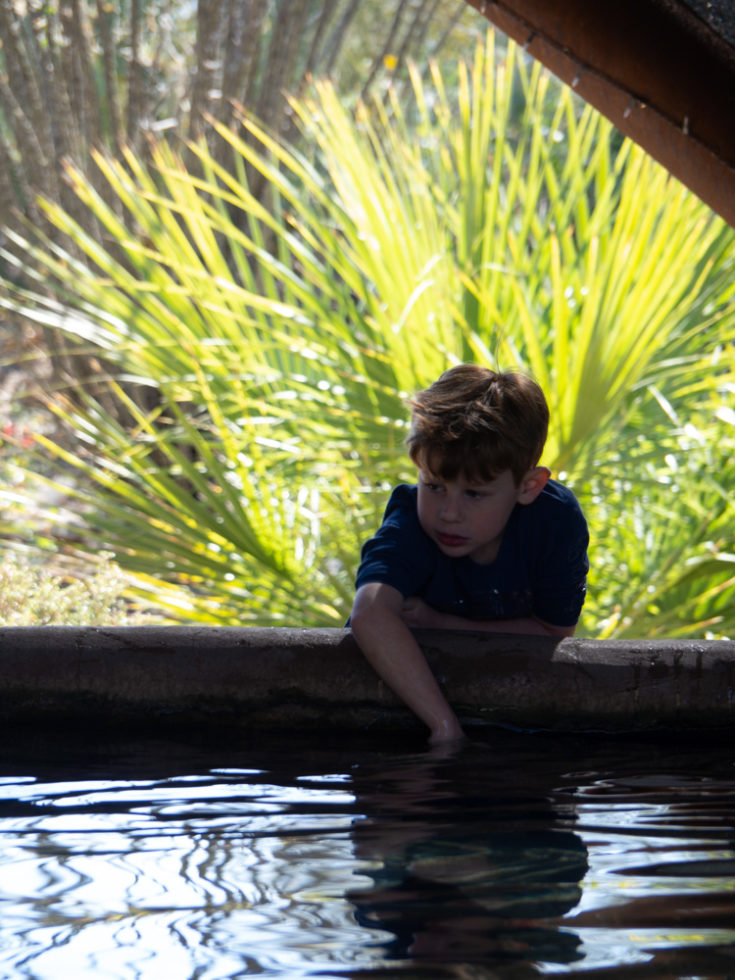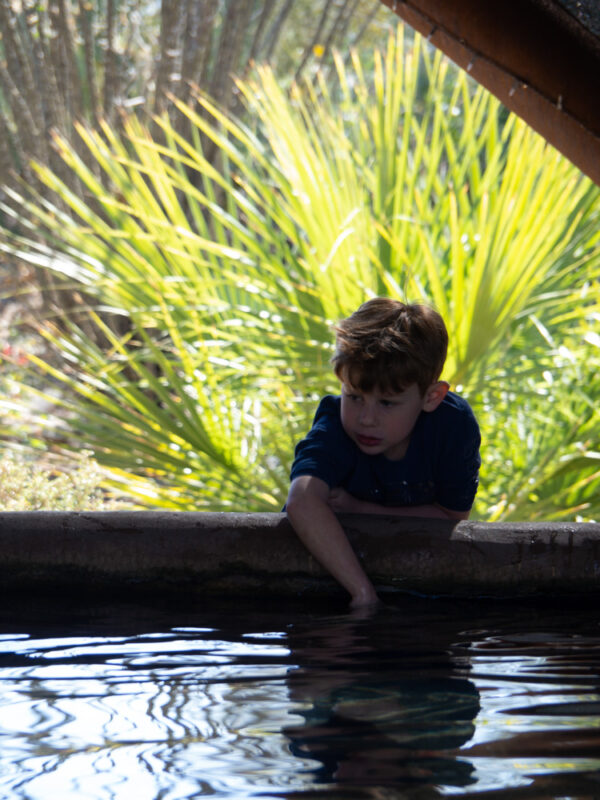 For the youngest visitors who need to blow off steam, the Packrat Playhouse offers a massive play structure with everything sized as if your kid was a pack rat (which rings so true in our family). It's one of the most fun and unique things to do with toddlers in Tucson!
You can easily spend many hours exploring the Arizona Sonora Desert Museum as long as everyone has the energy. Paths are very accessible for strollers. Be sure to bring plenty of water, hats and snacks. I recommend going early and spending the morning there, then continuing your afternoon (with a picnic lunch) at…
---
Saguaro National Park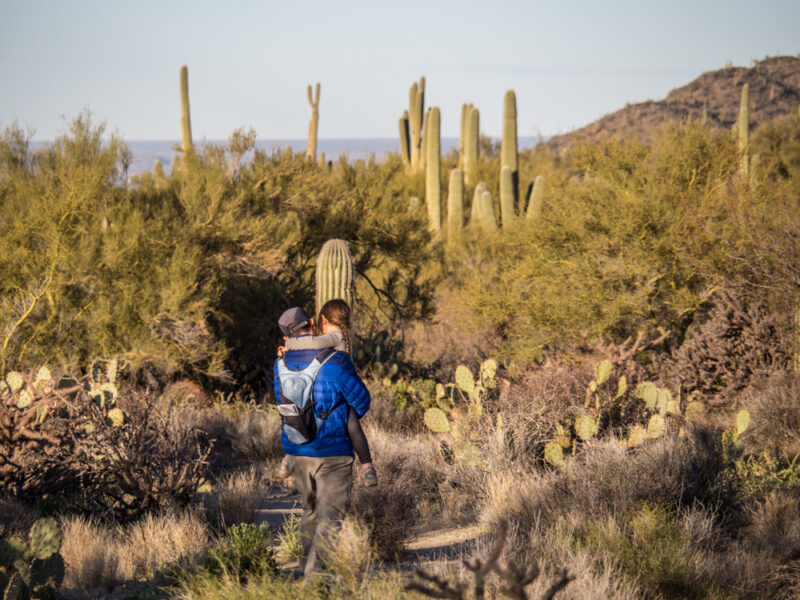 Saguaro National Park is really the crown jewel of Tucson Arizona attractions – you can read our in-depth guide to visiting Saguaro National Park to plan your time. The most important thing to know is that the park is split into two "units" on opposite sides of Tucson. You can visit both of them on the same day, but in doing so you'd probably have to rush through. If you're planning a two days in Tucson itinerary, I recommend visiting them on different days.
Saguaro has plenty of great opportunities for families. As with all National Parks, there's an excellent Junior Ranger program to give kids a more engaging experience – they learn about the areas ecology, geology and cultural history along with important conservation principles.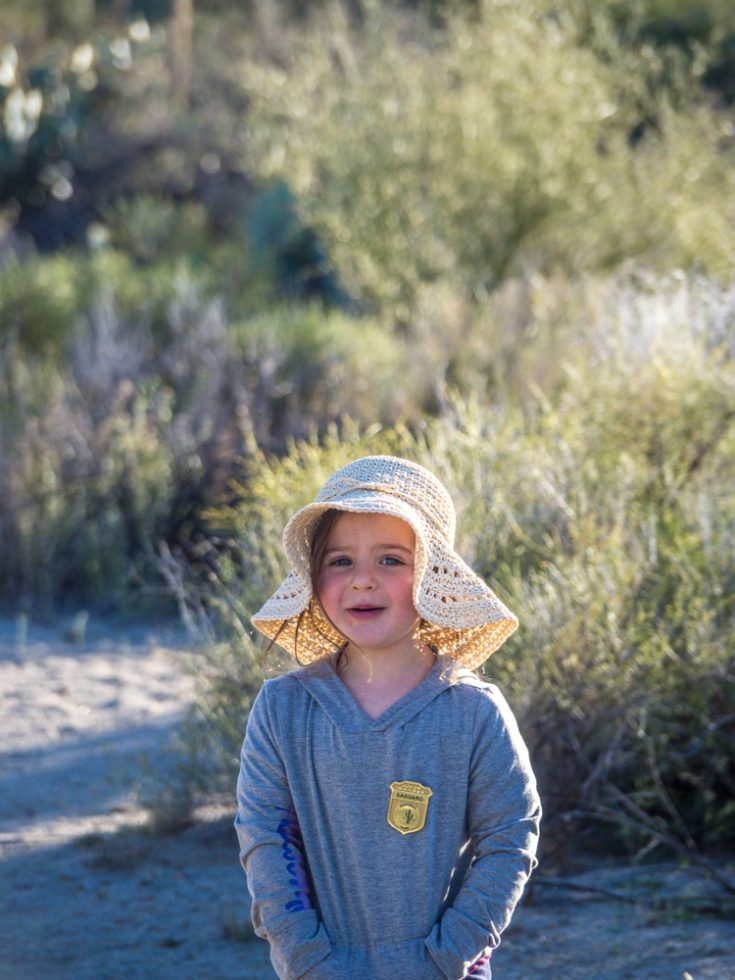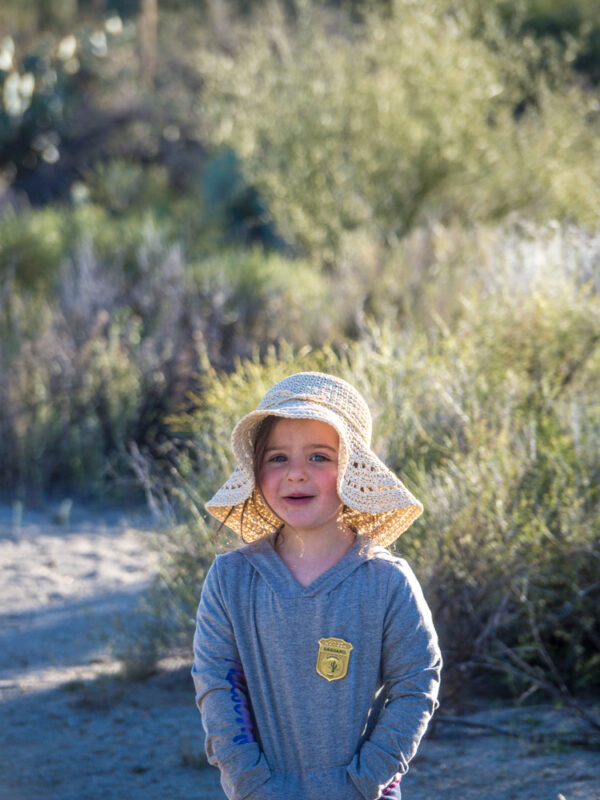 Saguaro National Park also offers beautiful scenic drives and family-friendly nature trails in both units. The nature trails have signs to explain to visitors of all ages what they see around them, and are especially helpful for understanding how local plants and animals interact with each other. Many of the other trails in the park are very flat, so it's easy to take kids of all ages on hikes (and some can be navigated with an all-terrain stroller even if they aren't officially designated as "accessible").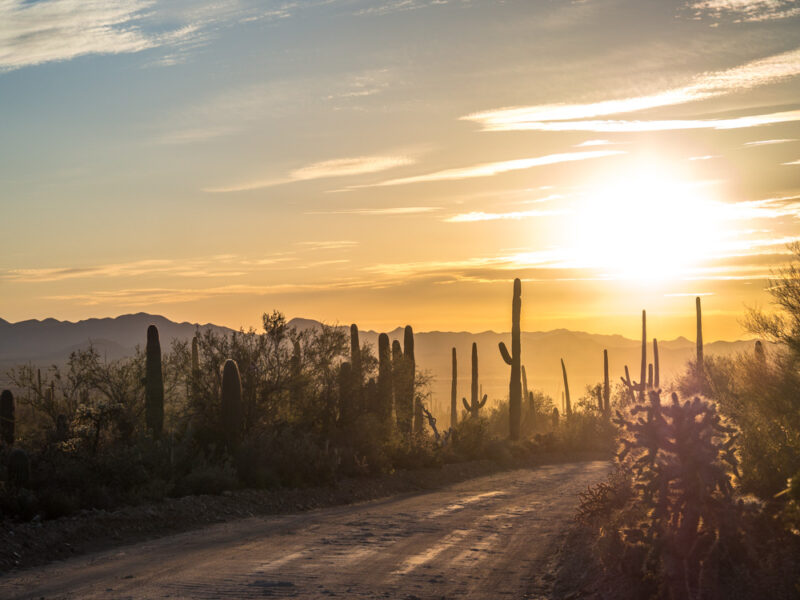 If at all possible, stay for an epic desert sunset. The photo above was taken along the scenic loop in the Tucson Mountain Division (west unit).
Read more: Complete guide to visiting Saguaro National Park
---
Biosphere 2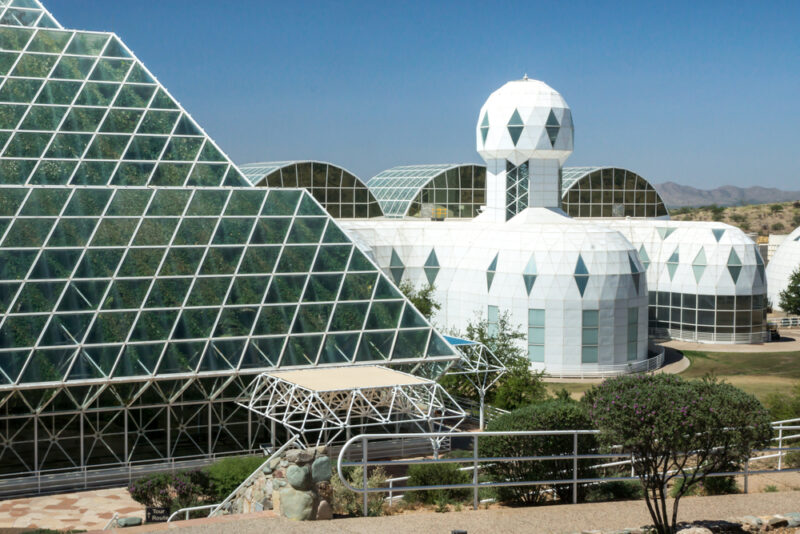 While I haven't taken my kids to Biosphere 2 in Oracle (about 45 minutes north of Tucson), I have gone myself. And it's wicked cool.
Biosphere 2 was built in the 1990s to allow well-controlled research in a wide variety of ecosystems. It is (loosely) depicted in the 1990's classic.
In "normal times" there are several different tour options available, including a dedicated Family Tour that's ideal for school-age kids. Currently there's just a single modified tour available, which mostly covers the exterior and only certain parts of the interior.
If you're bringing the whole family, consider picking up the Arizona Entertainment Book to save money on your admission.
Want to get more helpful travel tips like this? Sign up for our email list!
---
Pima Air & Space Museum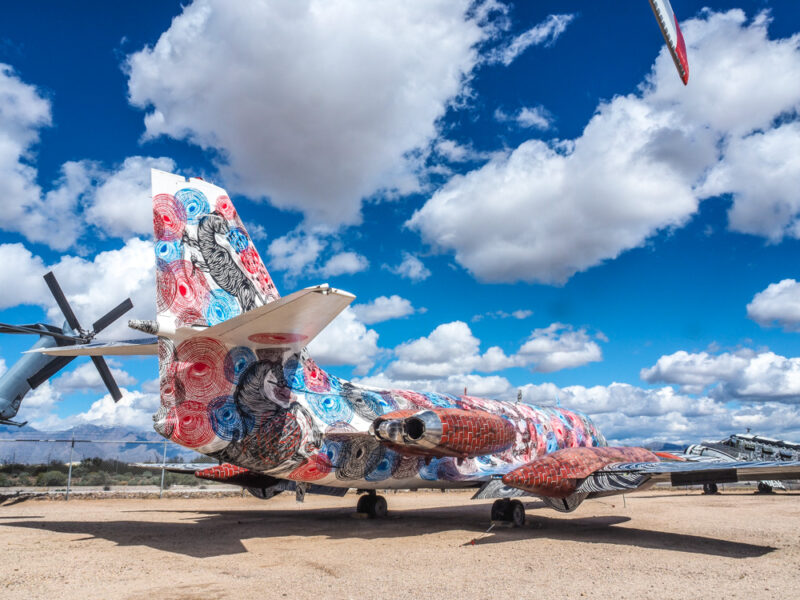 Simply put, the Pima Air & Space Museum is one of the world's largest private aviation museums. It's located about 15 minutes south of downtown Tucson, very close to the airport.
The Air & Space Museum is a great place for "social distancing" in Arizona because most of the planes are displayed outside and Tucson's mild weather makes it practical to explore all year long.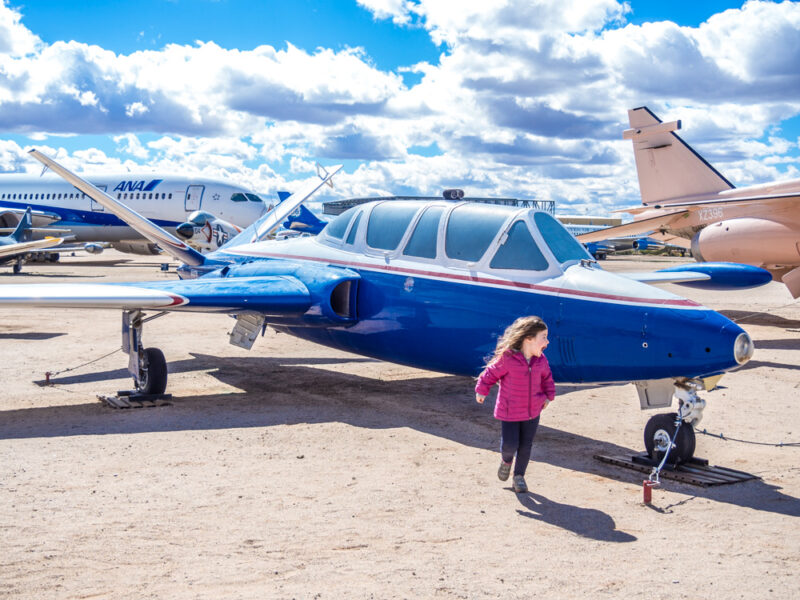 There are a few unique features of the Pima Air Museum. My favorite is the extensive exhibit (indoors) on women in flight. There's also a section outdoors of intricately decorated aircraft as you can see above. Our kids really enjoyed the Aerospace Gallery, which has plenty of interactive displays.
---
El Presidio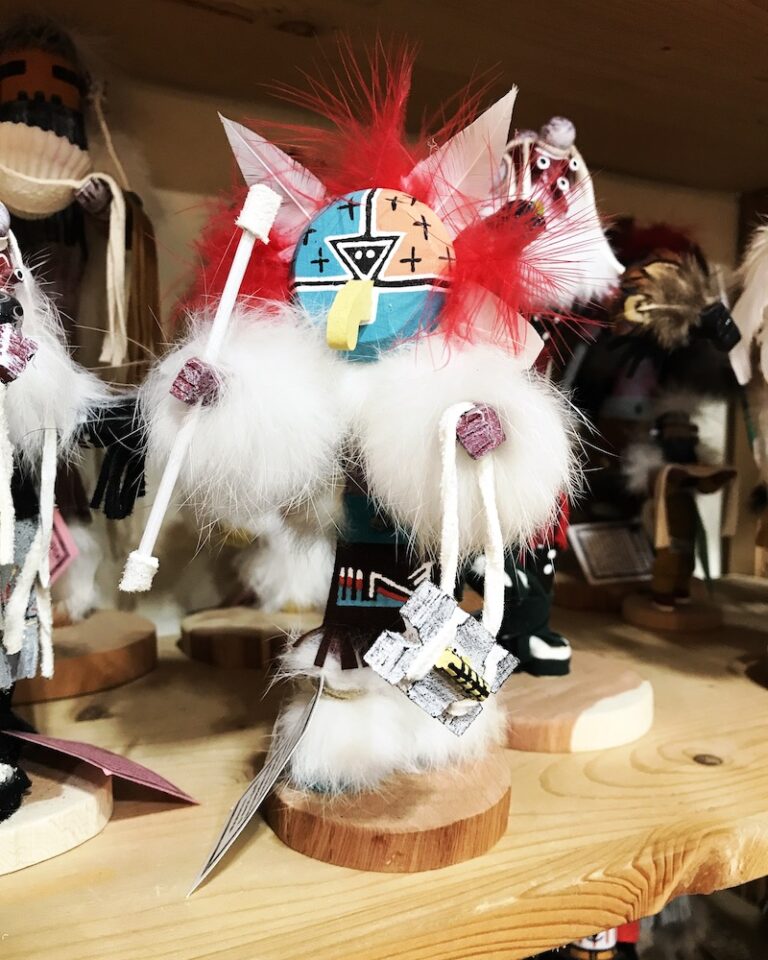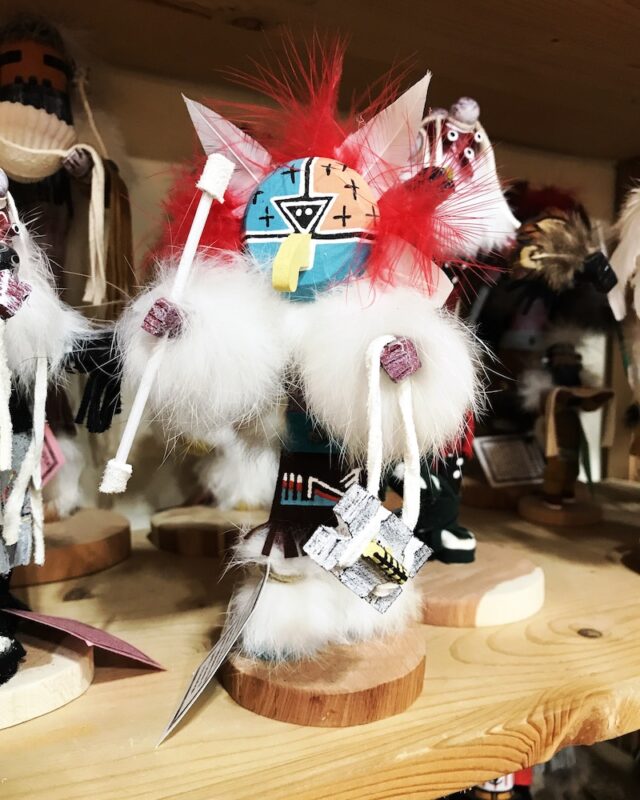 The Tucson Presidio District is the site of the original Spanish fortress in the city, constructed in 1775 – and situated atop a Native American community that had been present thousands of years earlier. The Presidio Museum offers a reconstruction of the fortress and guided tours to explain the city's history.
I confess that we caught some nasty weather and didn't have the opportunity to tour at the Museum. But across the street in some of Tucson's oldest building is Old Town Artisans – built atop the original Presidio wall. We enjoyed a rainy afternoon wandering the narrow passageways full of beautiful arts and crafts by local Native American artisans as well as book sellers specializing in Arizona, desert and Native American themed books.
---
Kartchner Caverns State Park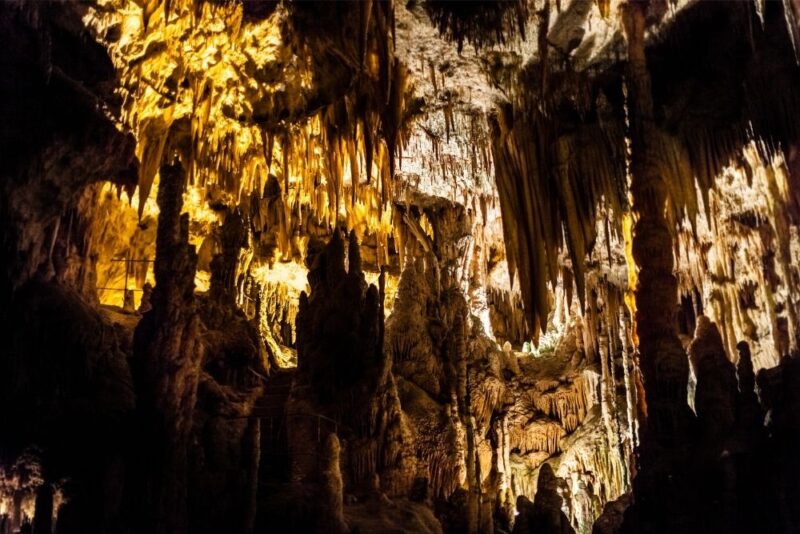 We didn't make it to Kartchner Caverns State Park, but I kind of wish we had stopped on our way to White Sands! It's nearly an hour east of downtown Tucson but it's on the way to both New Mexico and Tombstone so those on a longer Arizona family road trip may be able to fit it in pretty easily. (In part, we skipped it because we anticipated visiting Carlsbad Caverns National Park a few days later… which we had to cancel due to a wind storm.)
The history of Kartchner Caverns is fascinating. Cavers discovered it in 1974 but kept it a secret for almost 15 years until they solidified plans with the landowners and the state to preserve it and turn it into a tour site. The caverns didn't open as a tourist attraction until 1999 and it features high-tech systems to preserve its unique features.
I personally love a good cavern visit. My kids usually do ok with them now that they're a little older, but when they were toddlers they definitely got scared. Before you make plans, it's good to know that Kartchner Caverns does not permit strollers or back carriers; front carriers are allowed for infants. You aren't allowed to bring anything with you on the tour – not even your phone, water, purse etc.
Tours are 1.5-2 hours depending on which option you choose, and they do ask that you arrive 30 minutes in advance. Some tours have a minimum age of 7 or 10 and not every tour operates during all seasons. You can read about the different options here – you'll definitely want to do some advance planning for this one!
---
Mission San Xavier del Bac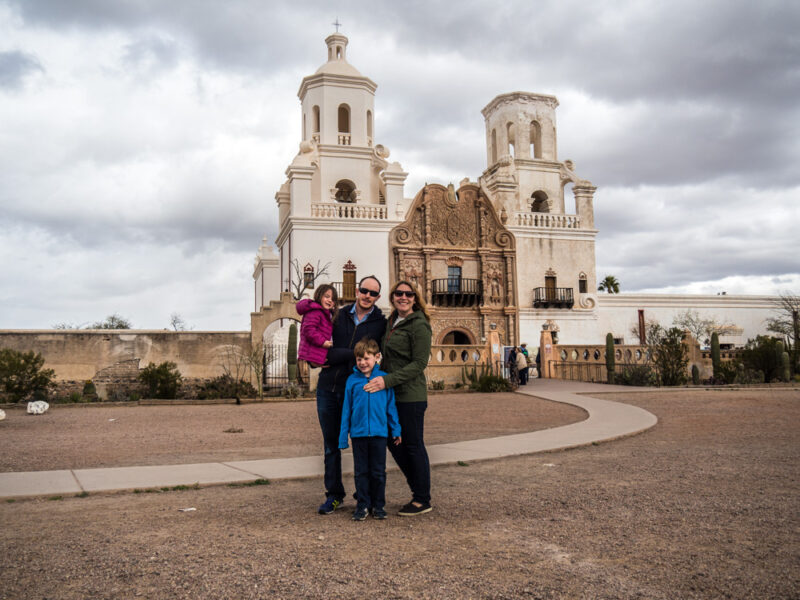 We visited Mission San Xavier del Bac on our family trip to Tucson and I liked it, but some kids – especially younger ones – may not be into it. This website is all about giving you the honest experience of traveling with kids, after all! The Mission is famous for its stunning architecture and also explains the important history of Spanish missionaries impacting the local Indigenous community.
There's a movie showcasing the history of the mission and free guided tours are available during non-pandemic times. Older kids, especially those growing up in California and the Southwest who learn about the missions in school, may find a visit interesting. My kids (ages 4.5 and 7 at the time) enjoyed walking around and looking at the building for a few minutes but then they were over it. On the other hand, I was enthralled by the preservation and restoration work that's been done inside the church.
What did they like? For starters, the fry bread! That'll be especially fun for your kids if they've read this book. Members of the Tohono O'odham Nation are frequently present in the parking lot and adjacent plaza cooking up traditional food right before your eyes. Our kids also loved exploring the shops in the plaza where local artists and artisans display and sell their works.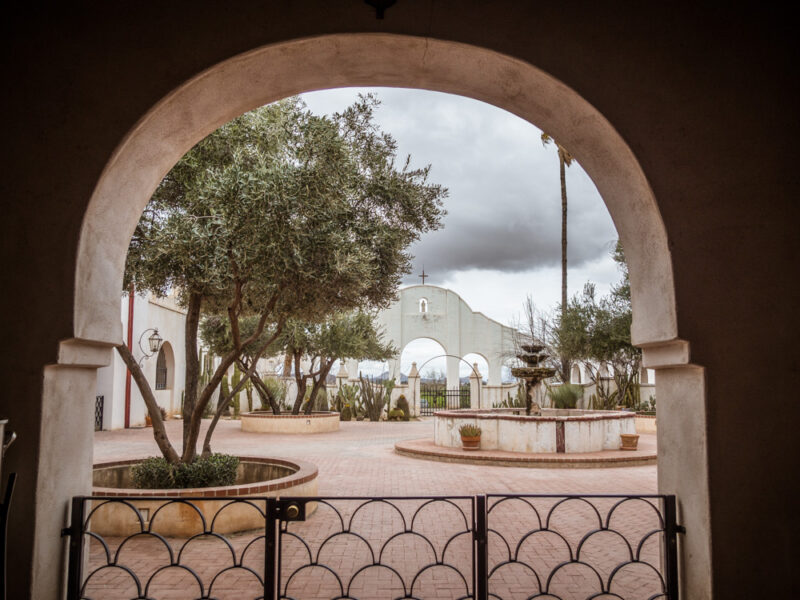 Mission San Xavier del Bac is located on the Tohono O'odham San Xavier Reservation. The Tohono O'odham is the second largest Nation in Arizona in terms of population and geographic size (when the Nation's four reservations are accounted for together). It's a historically and culturally significant community for southern Arizona and it's great for kids to understand this aspect of America. In particular, it's a unique opportunity for children to learn that Native Americans are part of today's American fabric and not to be relegated to the history books.
If the weather is nice when you visit, take a few minutes to trek up the hill next to the mission. It offers a lovely view of the surrounding area. The path is rocky, so the youngest kiddos will do best in a carrier.
---
Mapping your Tucson family vacation
Since Tucson is so spread out, it might be helpful to see everything laid out on a map to help you plan your family's Tucson itinerary.
---
Where to go next
If you're interested in extending your family trip to Tucson into other Southwest destinations, consider these options:
Arizona:
New Mexico:
Utah:
California:
Texas:
Colorado:
Still planning? Pin this for later!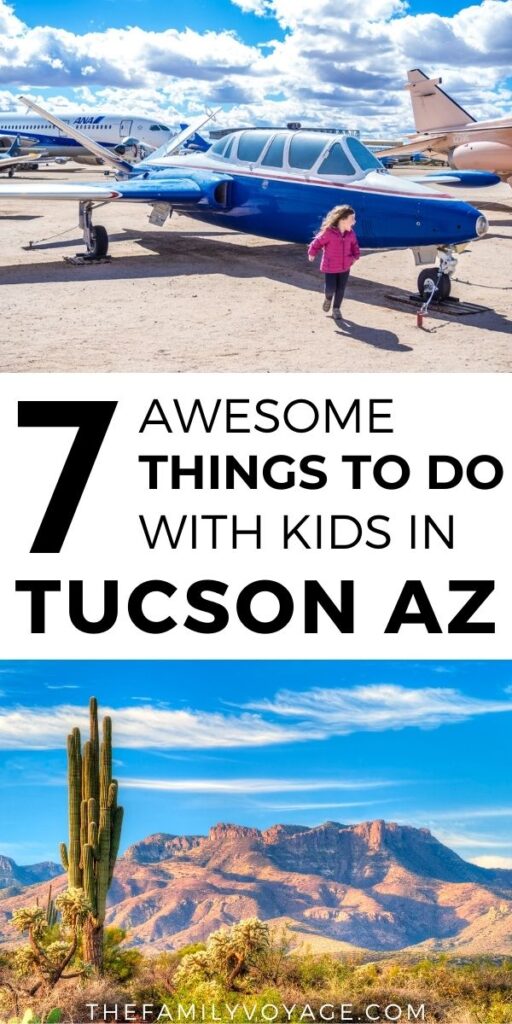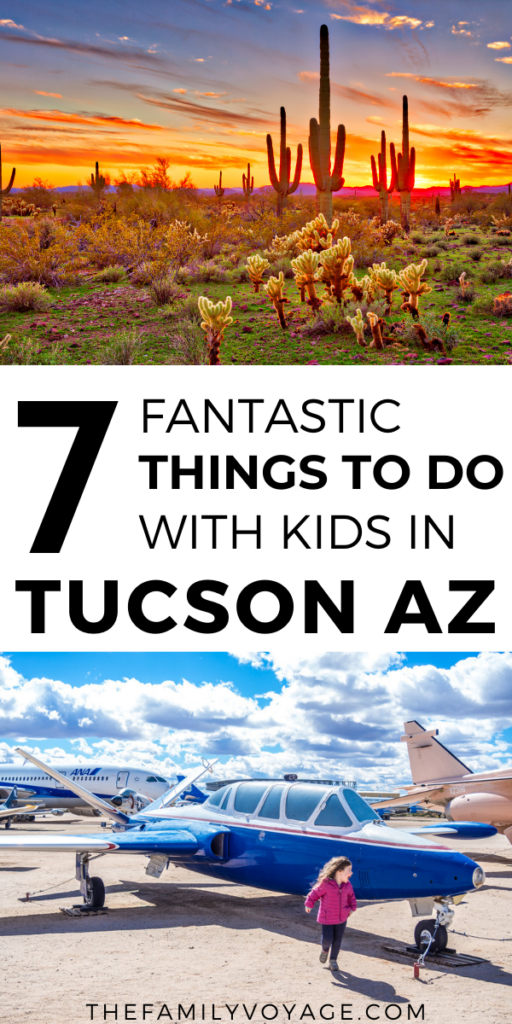 Want to get more helpful travel tips like this? Sign up for our email list!