A visit to Rocky Mountain National Park should be on every travel bucket list. It offers some of America's most stunning scenery representing and plenty to keep visitors busy for as long as they're able to stay.
We had an amazing experience visiting Rocky Mountain National Park with kids. It's an ideal national park to visit with kids thanks to the wide range of activities for the whole family to enjoy.
In this guide you'll find everything you need to prepare for a family trip to Rocky Mountain National Park – when to go, where to stay, what to do while you're there and more!
When's the best time to visit Rocky Mountain National Park?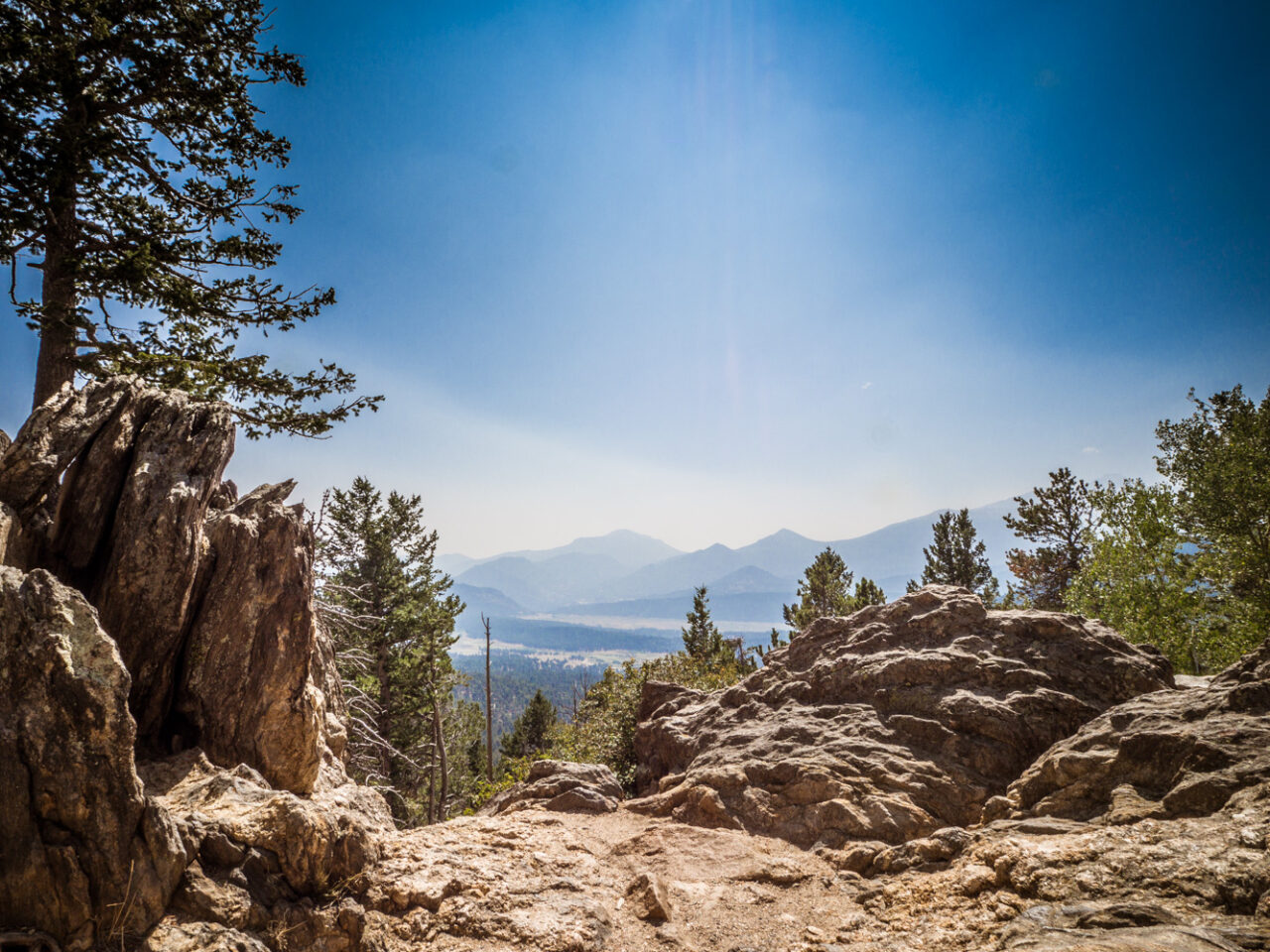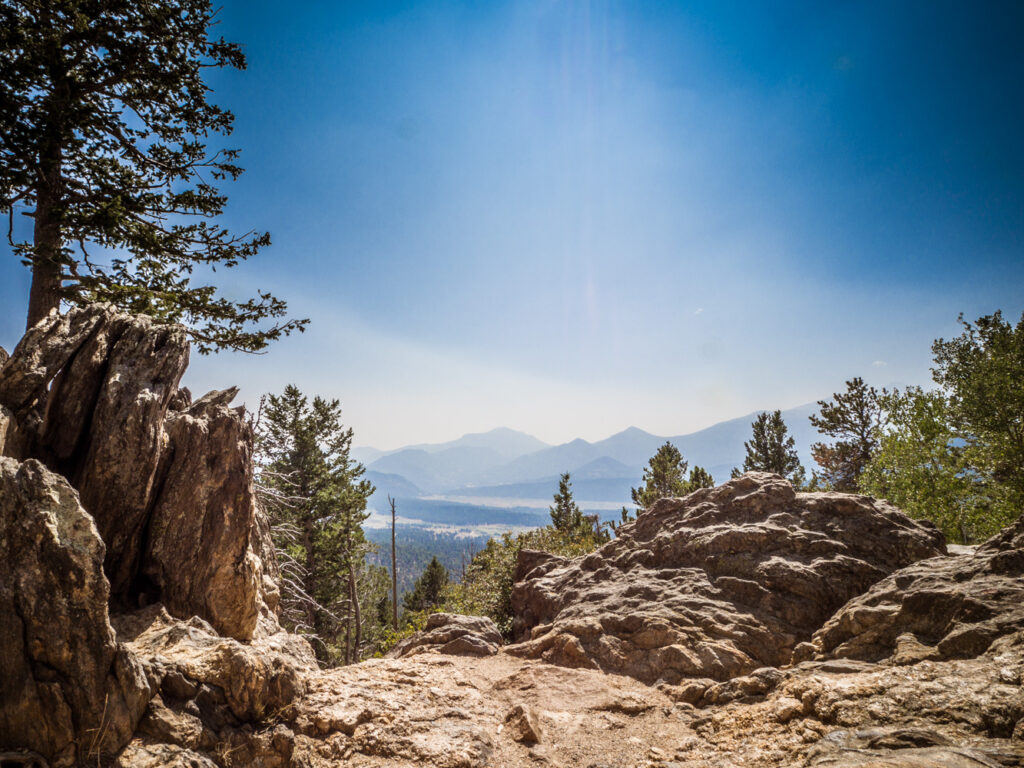 One of the best things to do in Rocky Mountain National Park is drive Trail Ridge Road. It connects the park's east and west sides, crossing over the mountains at a stunning 12,000 feet! For first-time visitors, driving Trail Ridge Road should be included in your Rocky Mountain National Park itinerary. However, Trail Ridge Road is only open in summer and fall – the exact dates depend on weather conditions.
Summer in Rocky Mountain National Park offers ideal weather conditions and the entire park is accessible. However, the crowds can be intense. Unless you're a very early riser it may be difficult to get to the popular Bear Lake area of the park until the end of the day. That said, summer offers plenty of daylight so you can pack in a lot of activities in the park.
If you don't have to fight with a school schedule, fall can be a great time to visit Rocky Mountain National Park. The crowds are thinner, especially on weekdays, and the foliage is stunning. Even during our family's visit in August we saw the beginnings of the aspens changing colors! Late September and early October are great times to visit Rocky Mountain National Park in fall, balancing thinner crowds and stunning foliage with weather that is usually still favorable.
---
How to get to Rocky Mountain National Park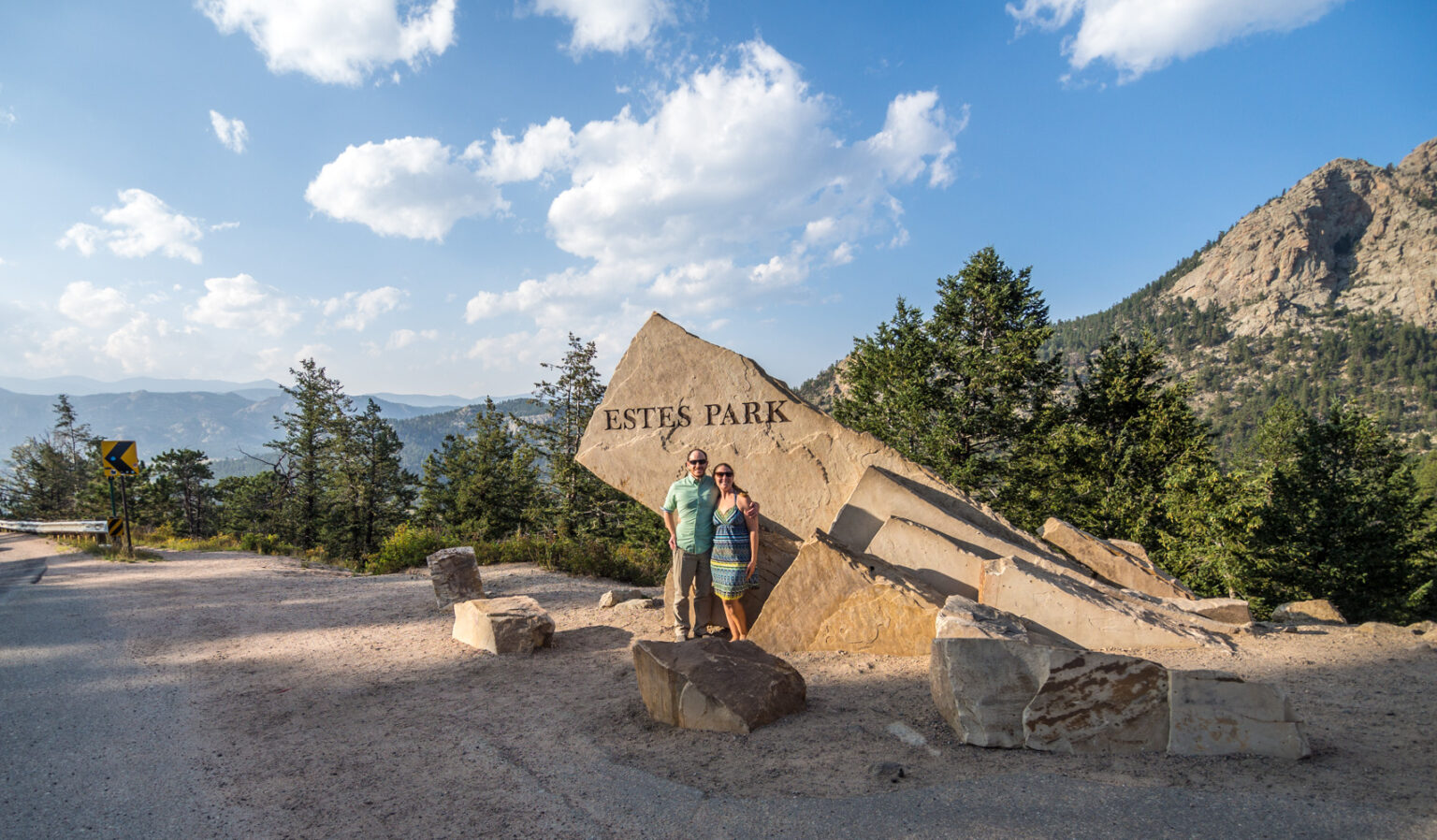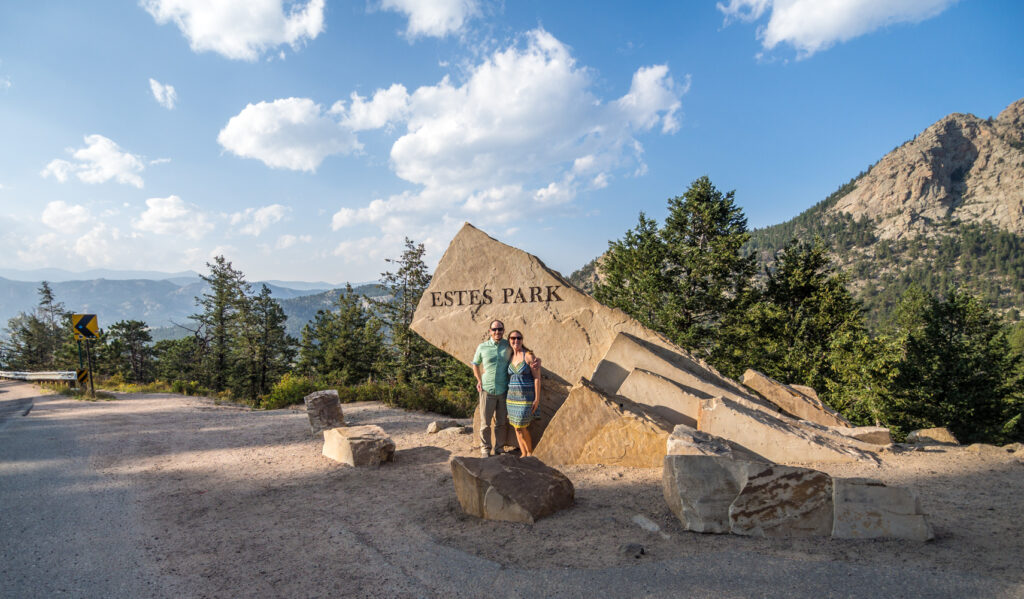 Unless you're visiting Colorado on a cross-country road trip, you'll likely want to fly into Denver International Airport. It's a major airport (and a hub for United) so there are often affordable flights including with some ultra-low cost carriers like Frontier, Allegiant and Spirit. Compare flight prices here.
Read more: 12 Fun things to do in Colorado with kids
The drive from Denver to Estes Park is about 90 minutes, but allow closer to 2 hours for traffic. You'll definitely want to rent a car to get around the area, as the one shuttle service is nearly $200 roundtrip per person. An affordable bus service from Denver's Union Station to Estes Park was piloted briefly in 2019, but its future it unclear. Check rental car prices for your trip.
If you're visiting Rocky Mountain National Park during the COVID-19 pandemic, you'll absolutely need to rent a car to get to the park. If you're planning far enough ahead, hopefully the free shuttle from Estes Park to Rocky Mountain National Park will be running again. It takes you Park & Ride within RNMP, from which you can hop on the other shuttles that operate within the park. Note that there are no shuttles that operate on the west side of Rocky Mountain National Park, and none that goes across Trail Ridge Road.
Pro tip: Make the most of your time driving around Colorado with the free RoadTrippers app. It helps you plan your route and shows you tons of unique stops along the way. Get $5 off RoadTrippers Plus with coupon BTR5QTP.
One advantage of the shuttle buses is that they avoid the insane lines at the entry stations. If you're driving in to Rocky Mountain National Park in summer, you could wait up to 20-30 minutes to get in to the park entrances on the east side. When we visited there was an "express line" for those who brought an America the Beautiful National Parks pass, which saved us a few minutes. Note that those riding the shuttle bus still need to pay for park admission or bring a pass.
We visited RMNP during one of our cross-country road trips, so naturally we had our own car with us. While we had to face the issue of limited parking availability, bringing our own wheels meant that we could pack in a cooler full of food and extra gallons of water. We love having the flexibility to stay in the park all day long even if it means throwing together an unexpected meal on the fly. For our family, taking the shuttle would have decreased our flexibility or massively increased how much we had to carry with us during the day.
Read more: How to survive a road trip with kids
---
Where to stay near Rocky Mountain National Park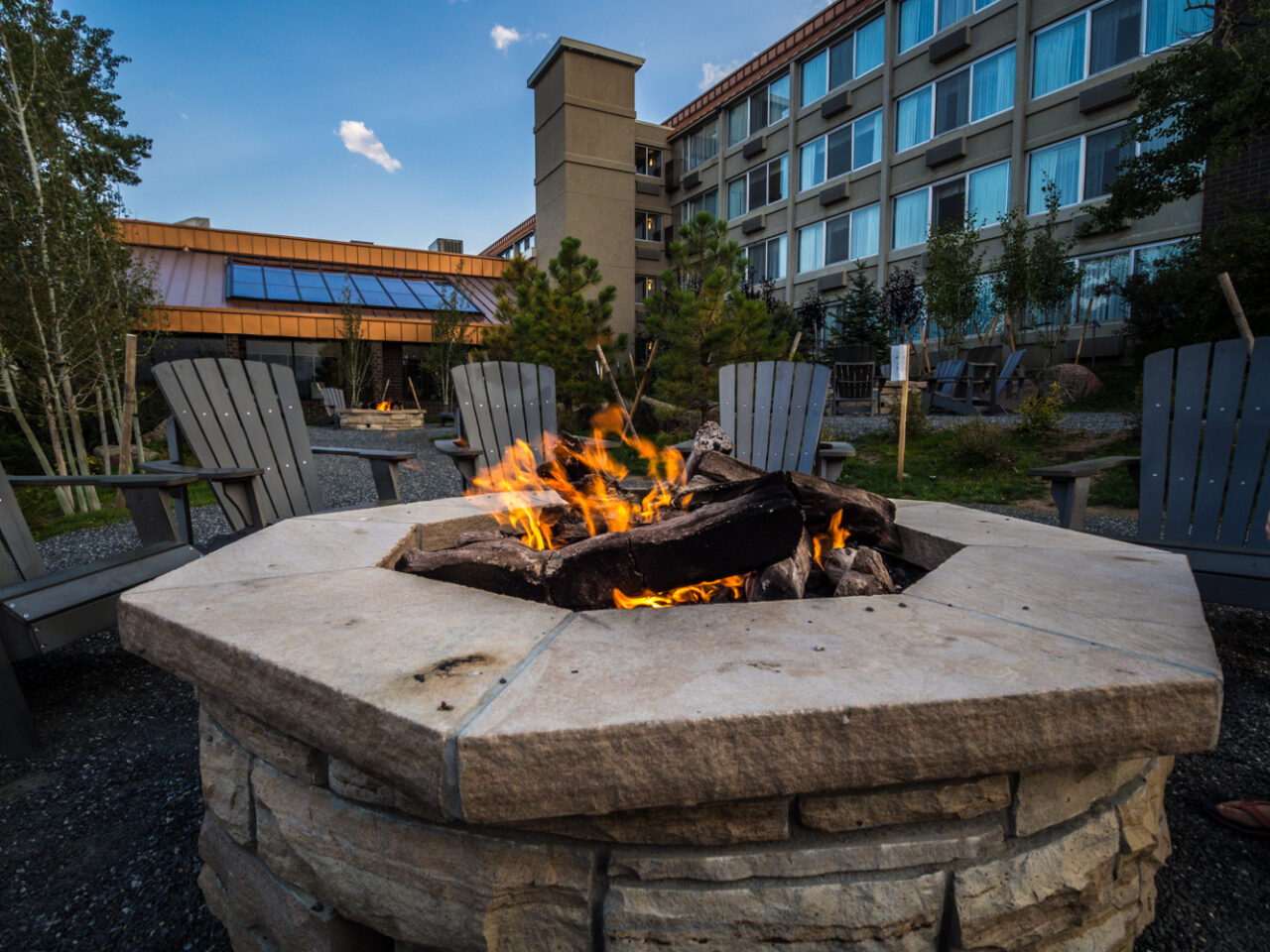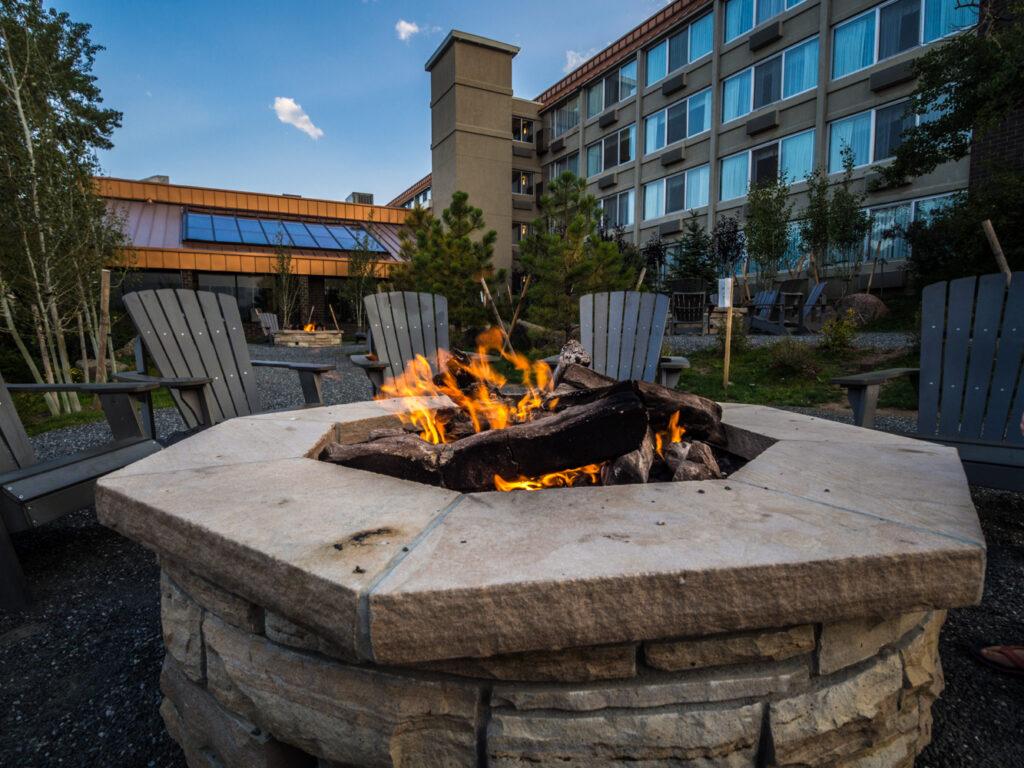 The most convenient place to stay near Rocky Mountain National Park is the lovely mountain town of Estes Park, Colorado. Estes Park offers plenty of wonderful accommodation options for families.
We had the most amazing stay at The Ridgeline Hotel in Estes Park. It's our kids' favorite hotel ever thanks to the massive indoor pool where movies are projected on the wall, the all-hours game room and the outdoor fire pits to match the s'mores kits we were given at check in. It's a total winner and walking distance to all of the restaurants and shops in town.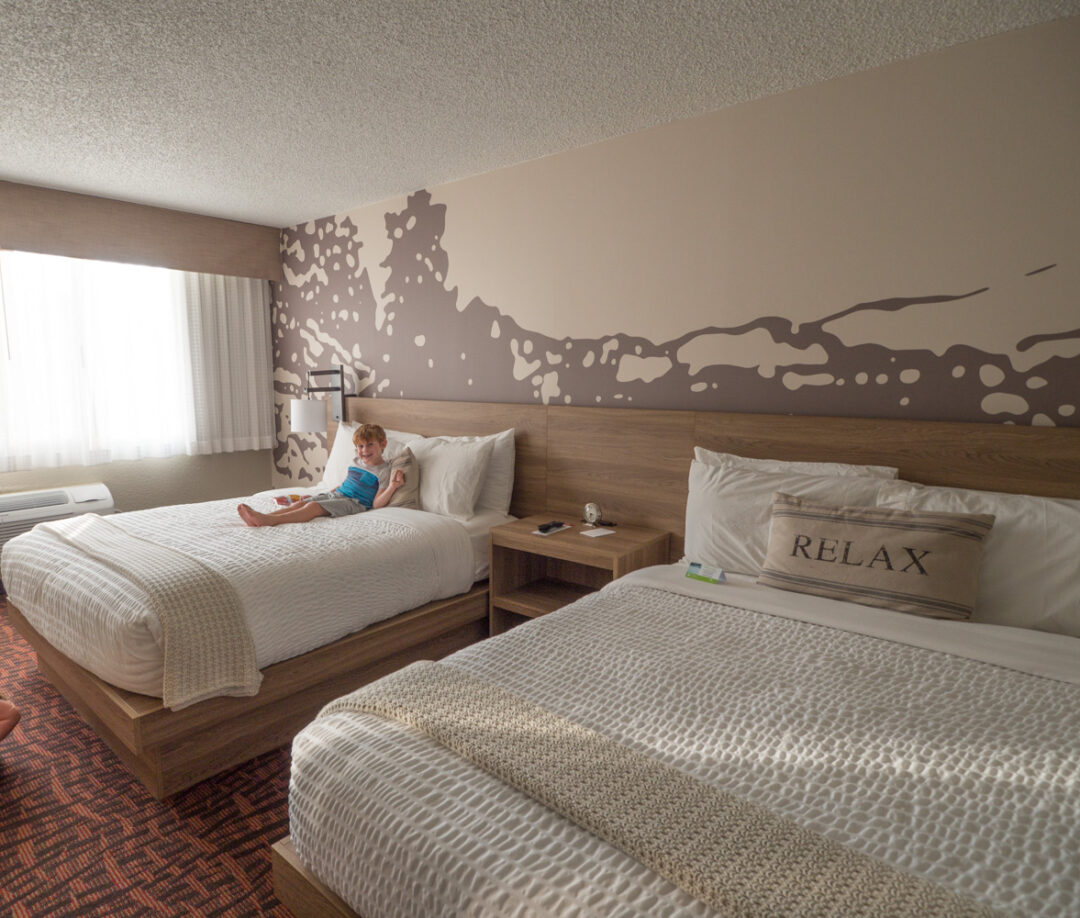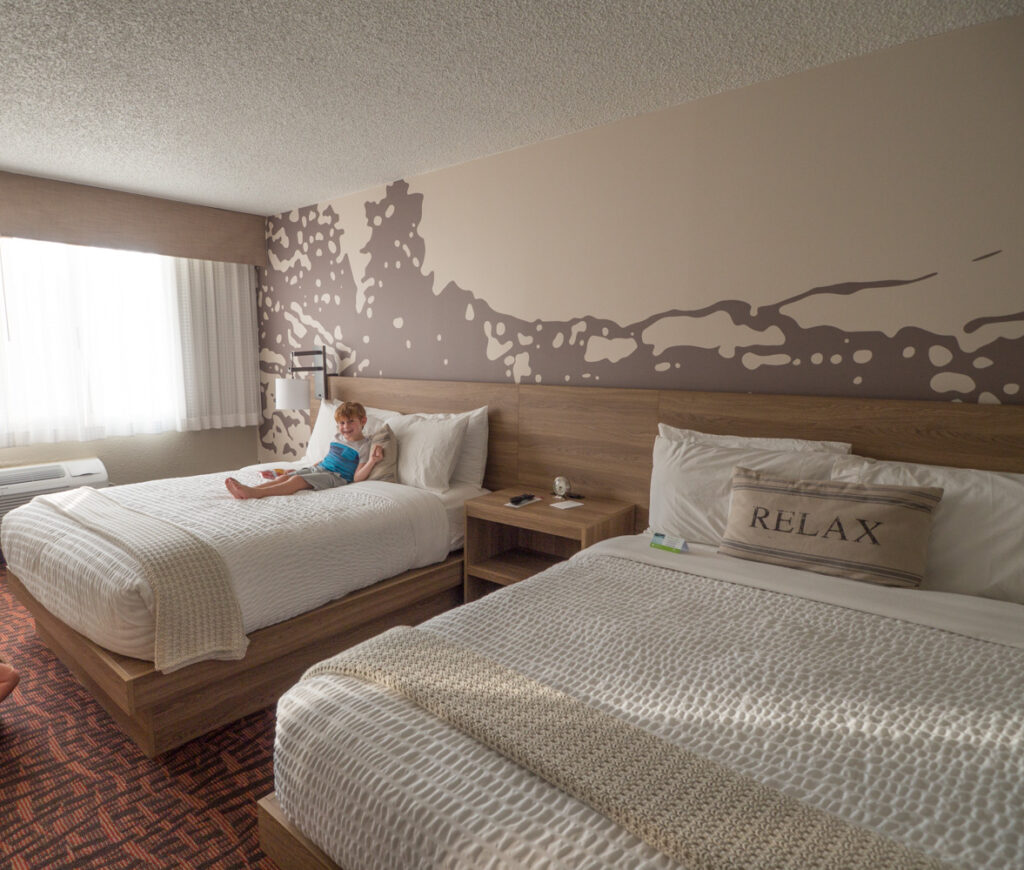 If you'd rather have more space and the flexibility to prepare some meals on your own, there are hundreds of family-friendly Airbnbs in Estes Park. They range from condos in the center of town that are walking-distance to all the amenities to riverside cabins in where you can watch animals flit by through your window. Check out some of the top options:
Use the interactive map to find vacation rentals and hotels near Rocky Mountain National Park
---
What to bring to Rocky Mountain National Park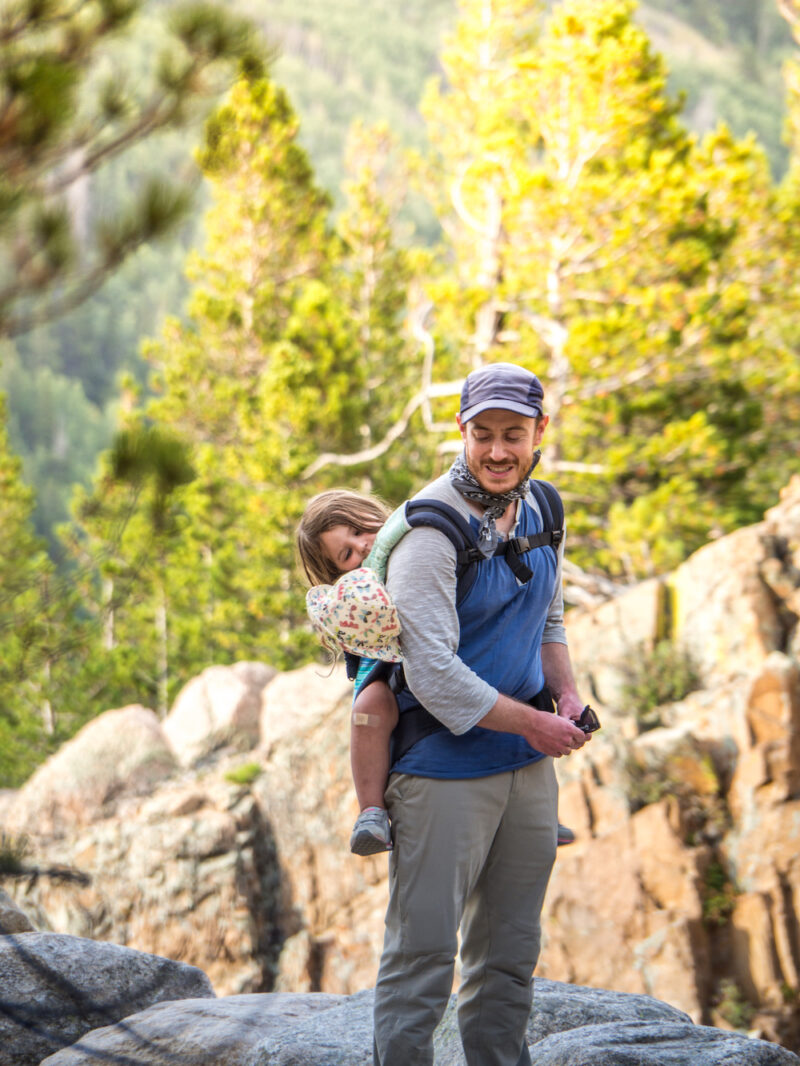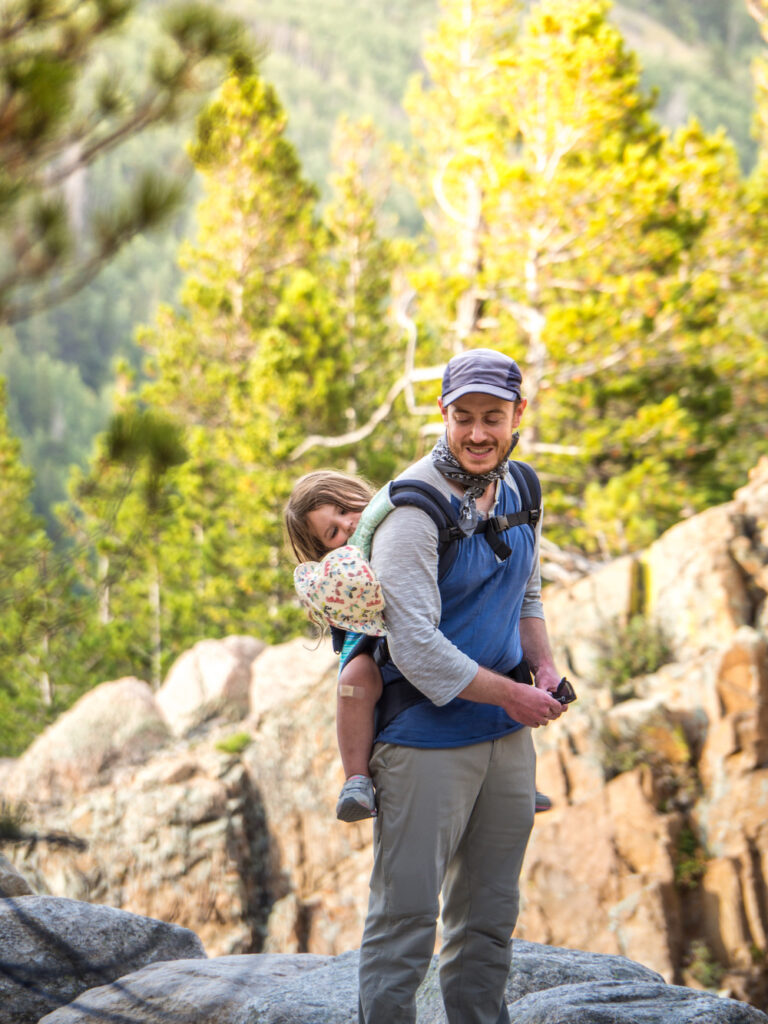 Rocky Mountain National Park is a place to take the "be prepared" mantra to heart. Depending on your plans for the day, you could experience everything from perfect warm weather to bitterly cold winds.
A full day in the park could start just after breakfast and go all the way until dinner time, so you'll need lots of food and water to keep your whole family happy and healthy. Really – make sure your bring a lot of water and that everyone is hydrating well. The extreme elevation makes everyone more subject to dehydration, and the last thing you want is for someone to develop altitude sickness.
Here are the most important things to bring to Rocky Mountain National Park (of course accounting for some seasonal variation):
Gear you'll need in Rocky Mountain National Park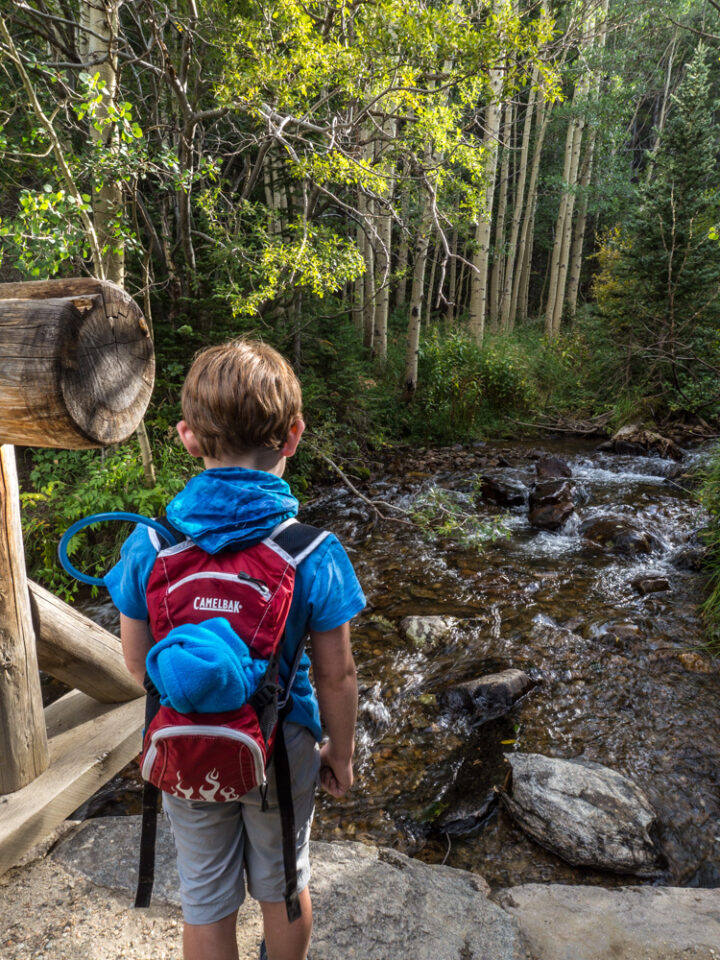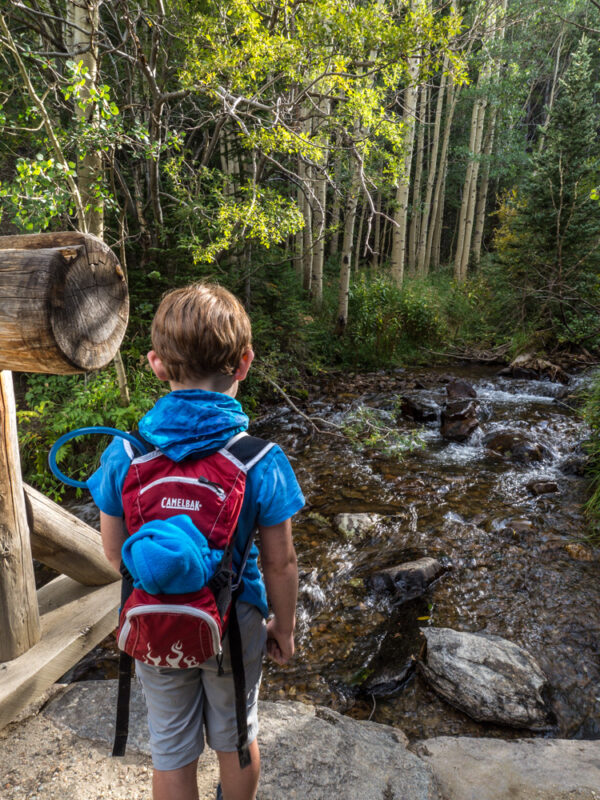 What to wear in Rocky Mountain National Park
Multiple layers – tank/short sleeve plus long sleeves for sun protection and warmth
Hat – Sunday Afternoons has amazing options for the whole family
Bandana or other neck protection (we love these!)
Sunglasses
Fleece or packable puffer jacket for high elevation ( his | hers | boy | girl ) – our kids are on their third season with these and still going strong!
Hiking shoes – for most trails, running shoes or even trail runners will suffice
Read more: The best gifts for National Park lovers
---
How many days should you spend at Rocky Mountain National Park?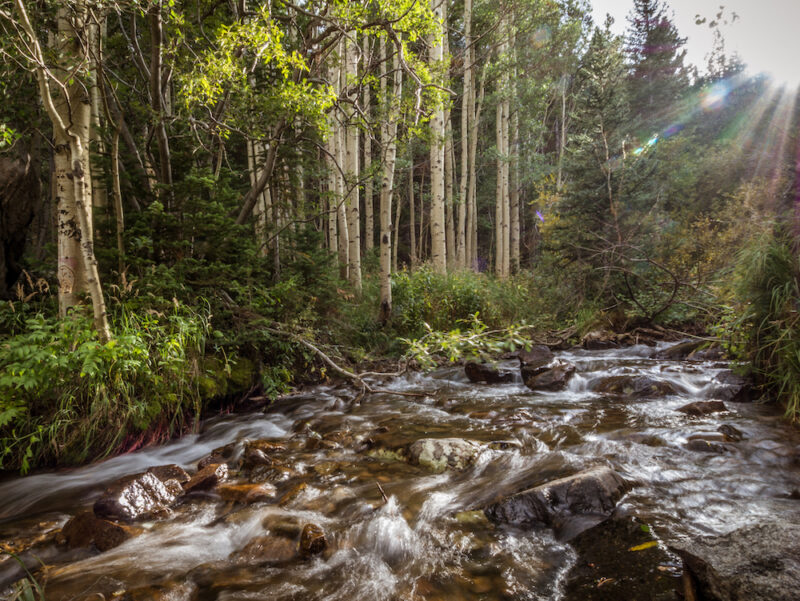 We spent two days in Rocky Mountain National Park and a third would have been wonderful. As you'll read about below, there are so many wonderful things to do on a Rocky Mountain National Park family trip! Especially if you're visiting in the summer when the park is most crowded, you need to give yourself ample opportunity to get to Bear Lake and you may need to build in extra time to use the park's shuttle bus system.
One thing's for sure: no matter how long you spend in Rocky Mountain, you'll never feel like it's too much!
---
Things to do in Rocky Mountain National Park with Kids
Stop at a Rocky Mountain National Park visitors center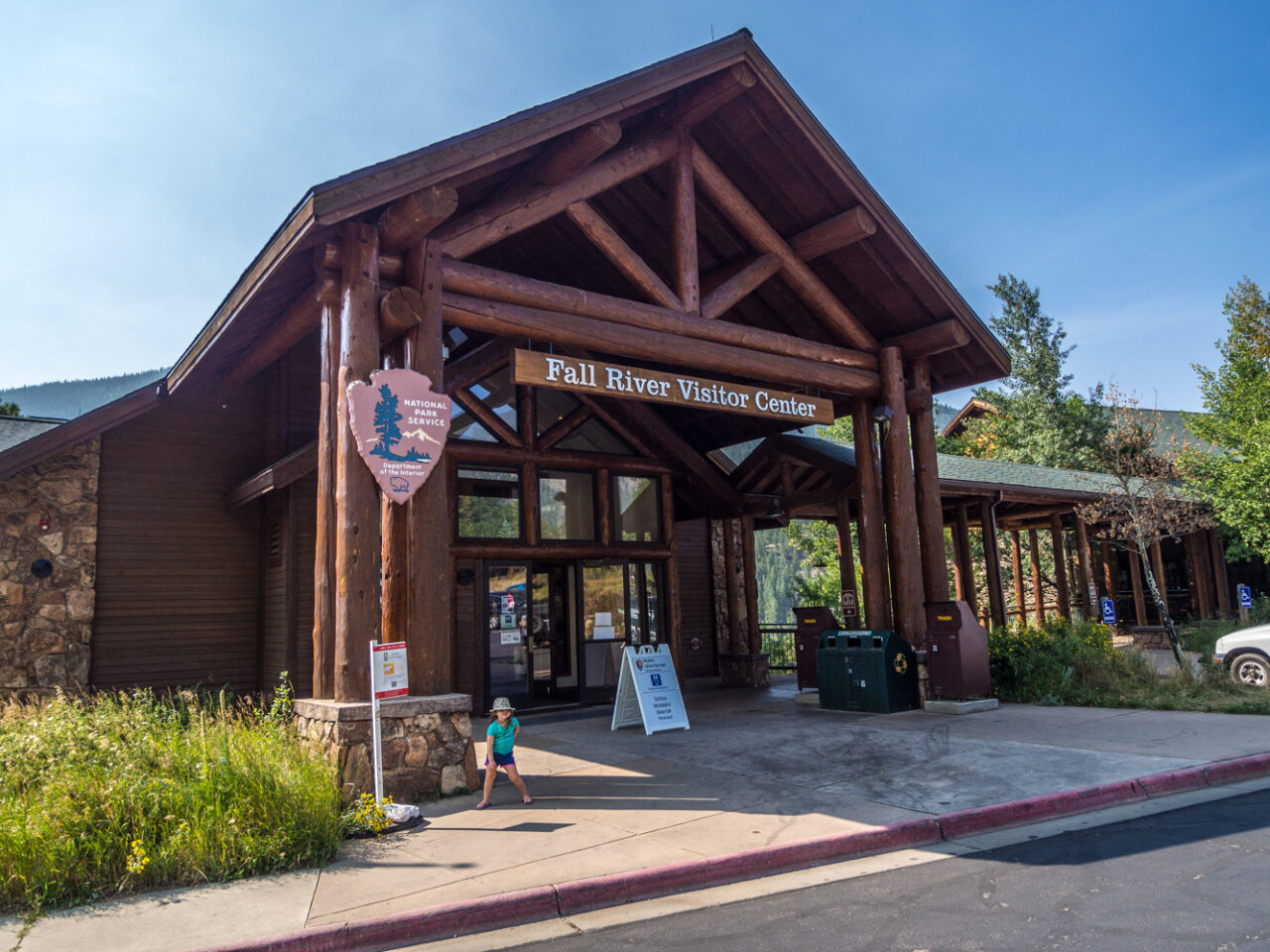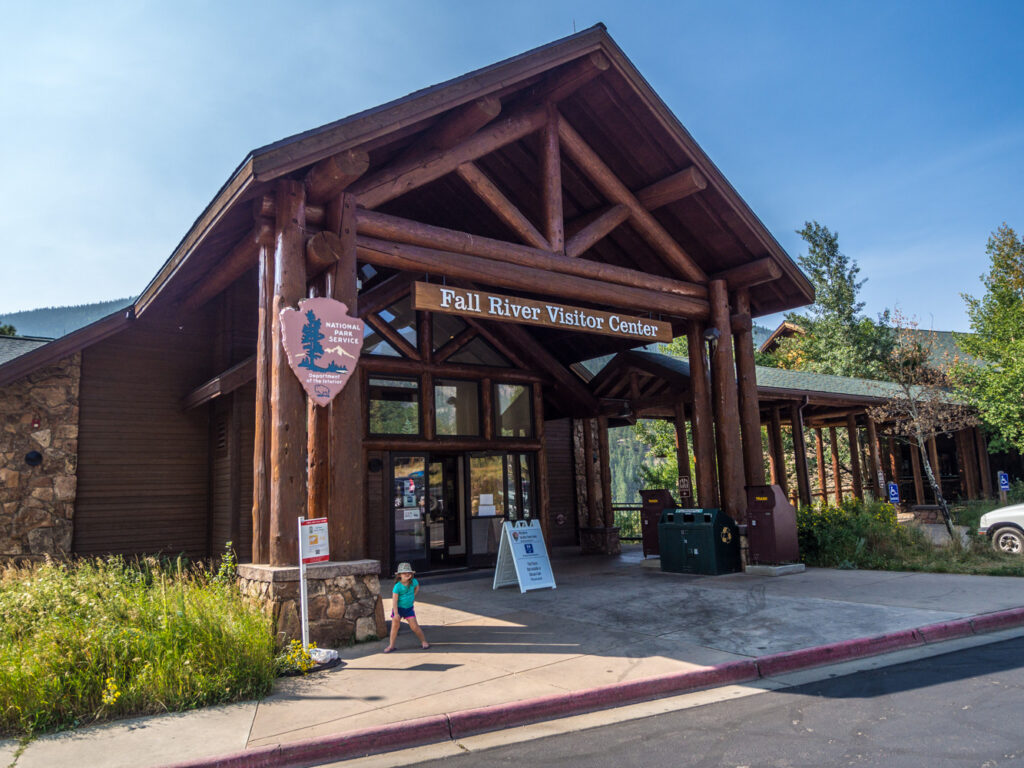 I always recommend starting your national park visit at the visitors center. Park rangers are wonderful, dedicated professionals who love to share their favorite spots and expert recommendations. They also have the latest information on trail closures, full parking lots and other wrinkles you need to know about. In particular, the wildfire in fall 2020 has resulted in some of the most popular areas of the park being closed so it's essential that you check in with rangers when you try to plan your visit.
On the brighter side, the visitors centers also have fun activities like viewing the park film (typically shown at Beaver Meadows, but may be temporarily unavailable due to COVID and fires). Check here for the latest information on which visitors centers are open and what their current restrictions are.
You'll also want to stop off to pick up Junior Ranger booklets.
Want to get more helpful travel tips like this? Sign up for our email list!
Drive Trail Ridge Road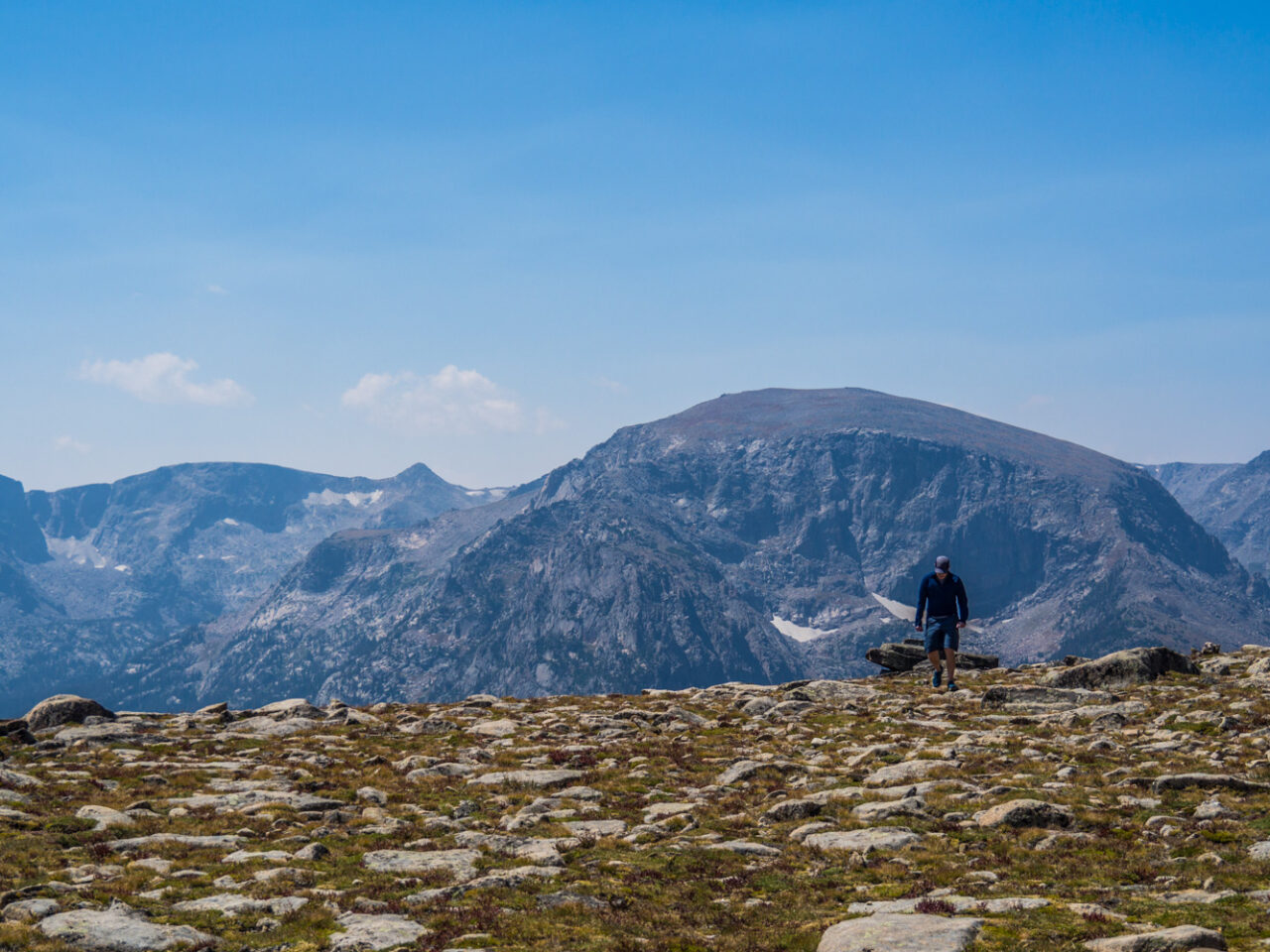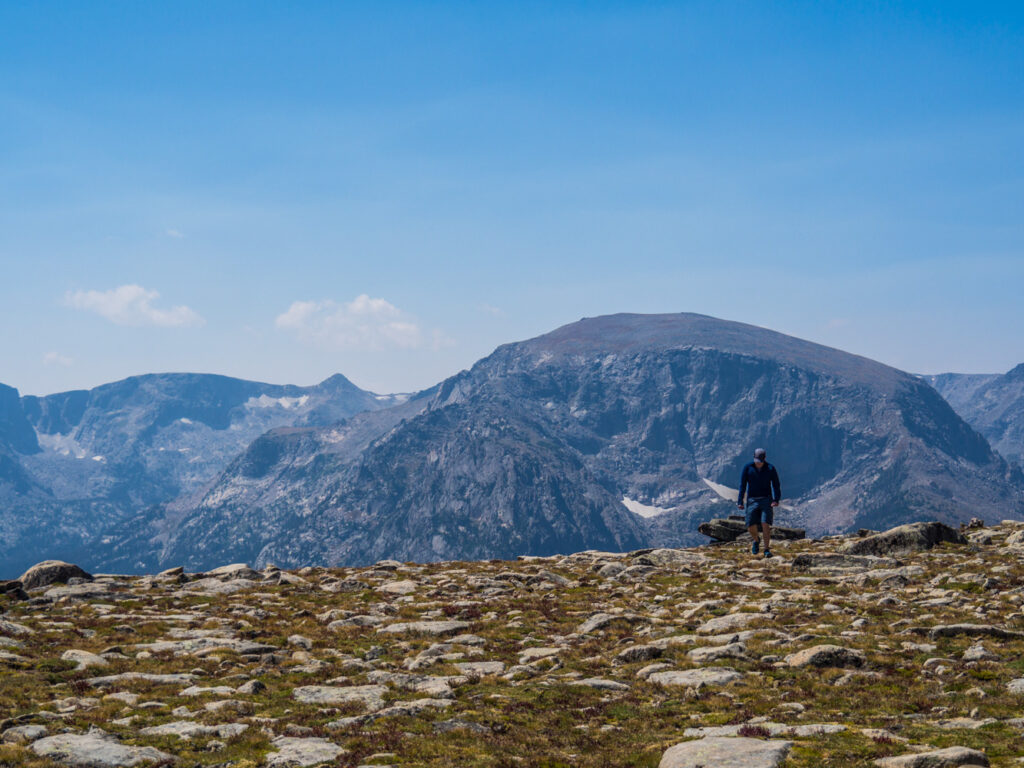 Trail Ridge Road is one of the most epic drives in America and it's a must-do for visitors to Rocky Mountain National Park. It runs almost 50 miles from (roughly) Estes Park on the east side to Grand Lake on the west side. In between, it hits an altitude of more than 12,000 feet in the park's treeless alpine zone.
How long does it take to drive Trail Ridge Road? Without stops, it would take you around 2 hours each way – but you'll definitely want to stop. I recommend allowing a full day for Trail Ridge Road.
The scenery itself is worth the drive, as you can spot lots of wonderful wildlife as you explore the park's different climate zones. Two stops definitely worth making are the Alpine Visitors Center and the continental divide. Though it was overcast on the east side of the mountains, we found clear blue skies and a stunning view at Milner Pass.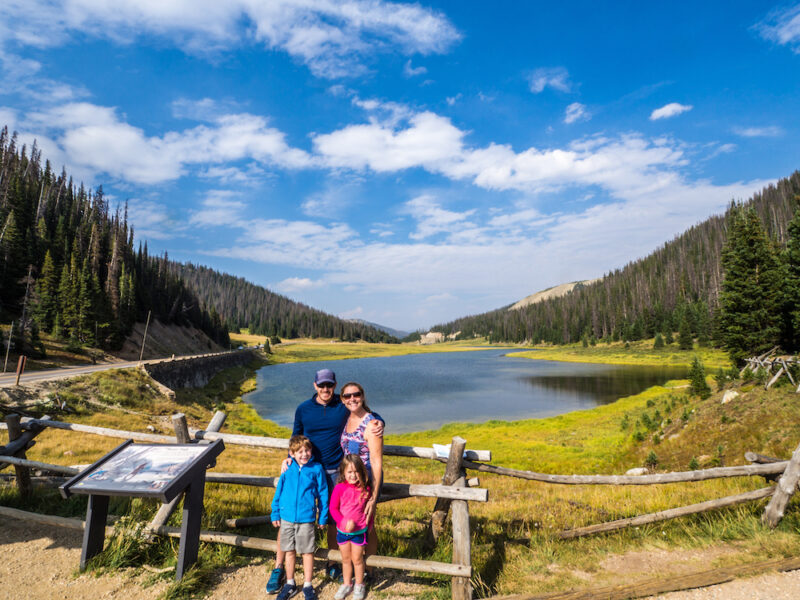 If you're spending at least two days in Rocky Mountain National Park, I recommend driving Trail Ridge Road on your first day. It's a nice introduction to the park and you won't be doing much hiking at elevation (except perhaps once walk – more on that below) while your bodies get acclimated.
Try one of these easy Rocky Mountain National Park hikes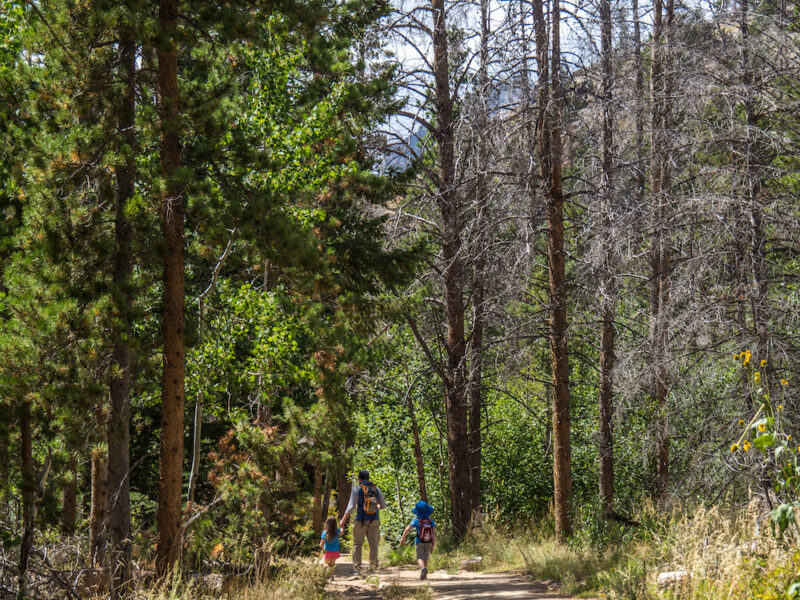 One of the joys of visiting Rocky Mountain with kids is that there are so many wonderful day hikes to choose from! Unfortunately some of the best easy hikes in Rocky Mountain National Park have been closed due to fire damage, but there are still plenty of great ones – and hopefully more will open back up in the coming year.
Alberta Falls hike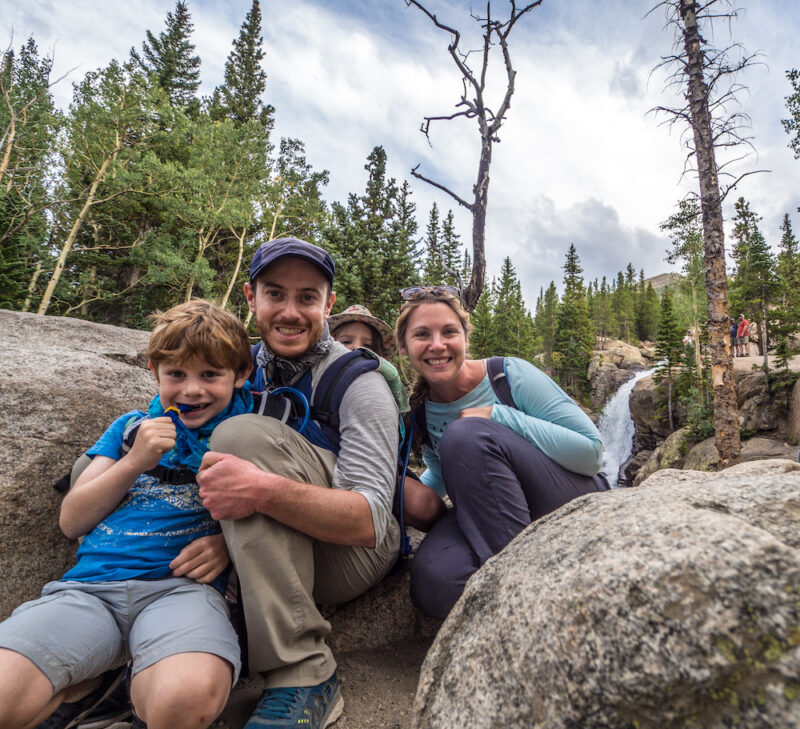 Alberta Falls is a wonderful family hike in Rocky Mountain National Park if you're visiting with kids who can tackle a little bit of steep terrain. It's just over a mile round trip but does have around 200 feet of elevation gain. Our almost-7 year old handled it just fine on his own, but we opted to put our 4 year old in this carrier since it was late in the day and there would have been a lot of griping otherwise. The trail can be a little busy, but it's beautiful nonetheless and worth exploring.
Bear Lake Trail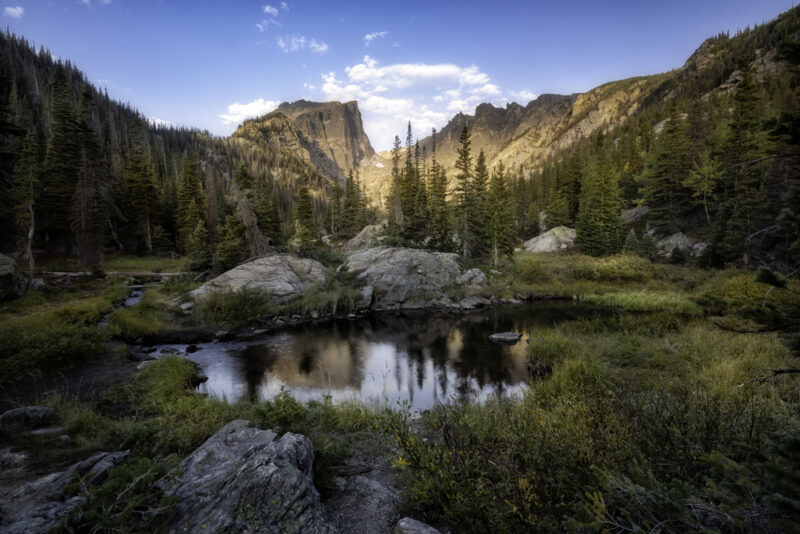 The classic kid-friendly hike in Rocky Mountain National Park starts at Bear Lake and continues 0.5 miles to Nymph Lake and then optionally another 0.6 miles to Dream Lake (pictured above). If you make it all the way to Dream Lake, you'll cover 2.2 miles round trip with a total elevation gain of 425 feet. If you need a toddler-friendly hike in Rocky Mountain National Park, you can always just walk the pretty loop around Bear Lake itself – it's under 1 mile and totally flat. If you're only able to plan one day in Rocky Mountain National Park, hiking in the Bear Lake area is a great way to spend it!
The biggest downside of the entire Bear Lake area is that it's so extraordinarily popular that it can be extremely difficult to access in the summer unless you arrive in the park very early. One day during our August visit, the Bear Lake parking was entirely full by 9:30 and there were so many people that the park shuttle wasn't even bringing people to the area. There are plenty of other great hikes for families in Rocky Mountain National Park, but if Bear Lake is at the top of your list be sure to arrive early!
Tundra Communities Trail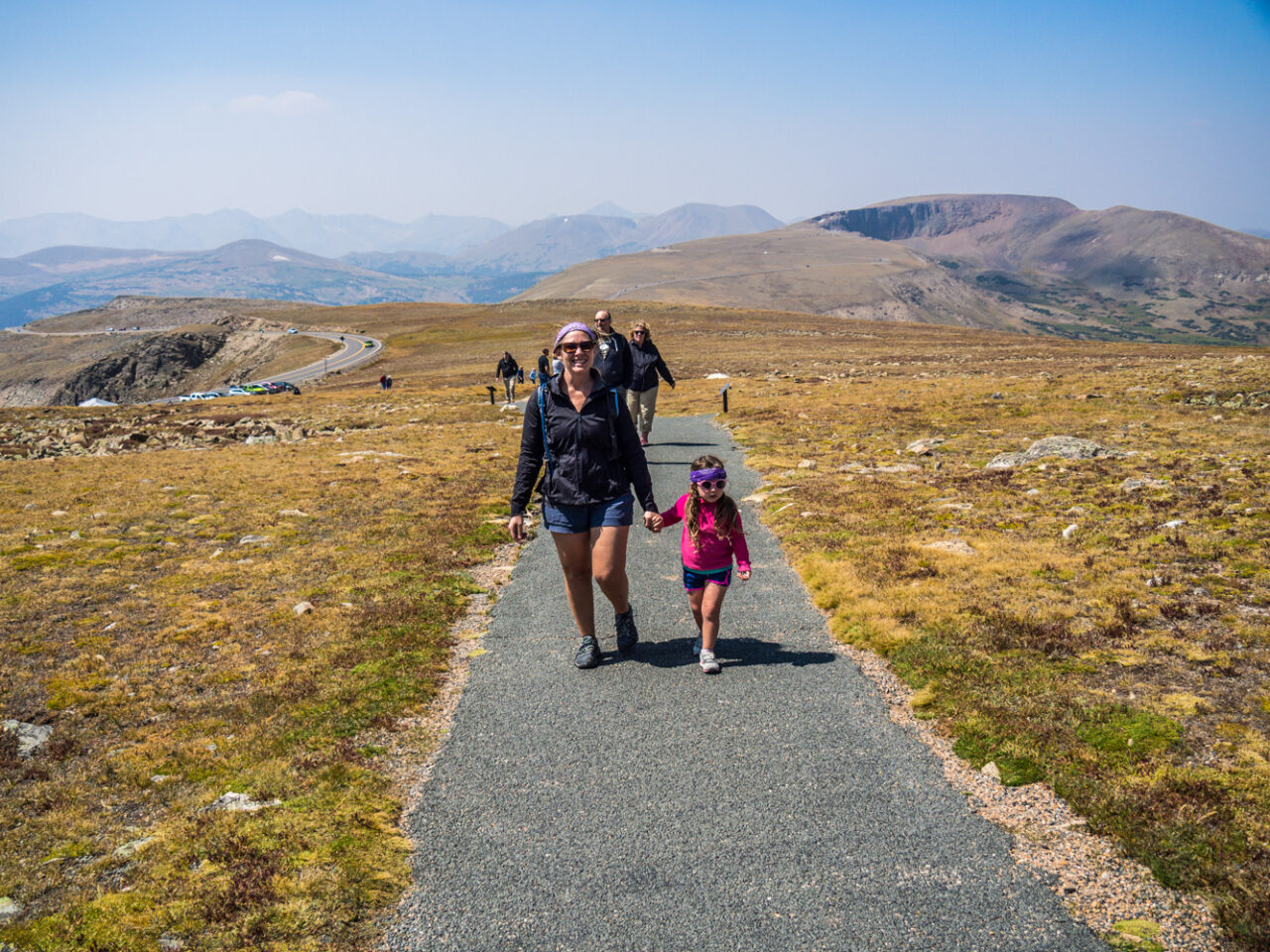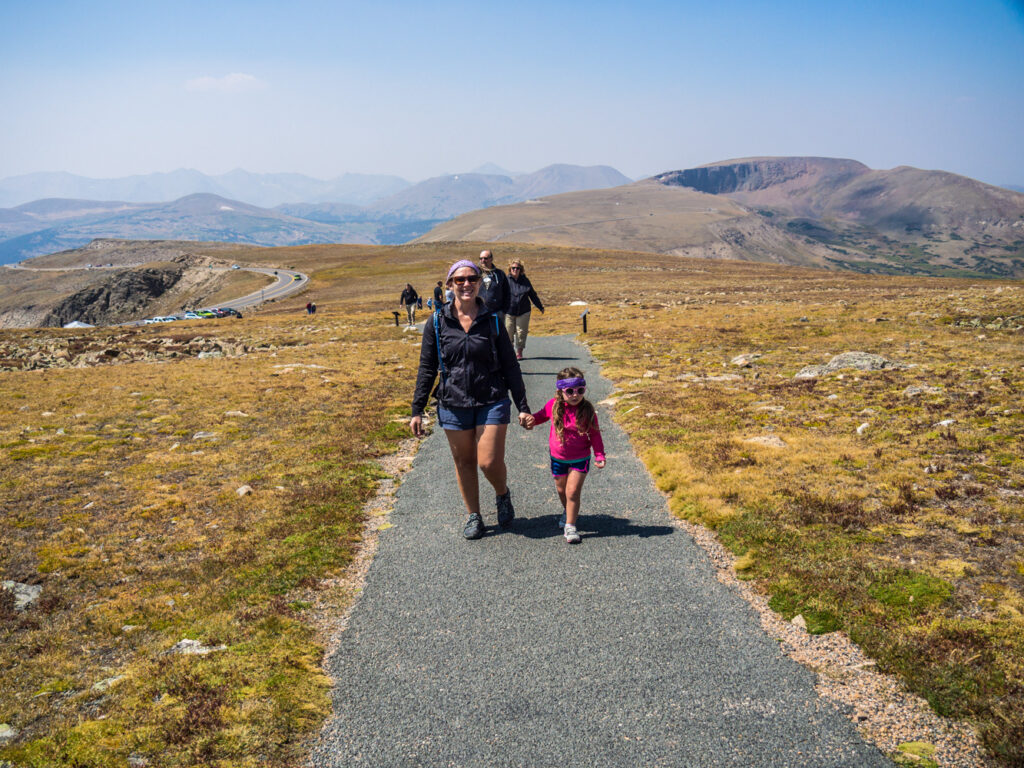 The Tundra Communities Trail is near the highest point on Trail Ridge Road. It offers a very different glimpse of the park: at 12,000 feet of elevation, it's above the tree line. You'll see fascinating rock formations atop the 1.1 mile roundtrip.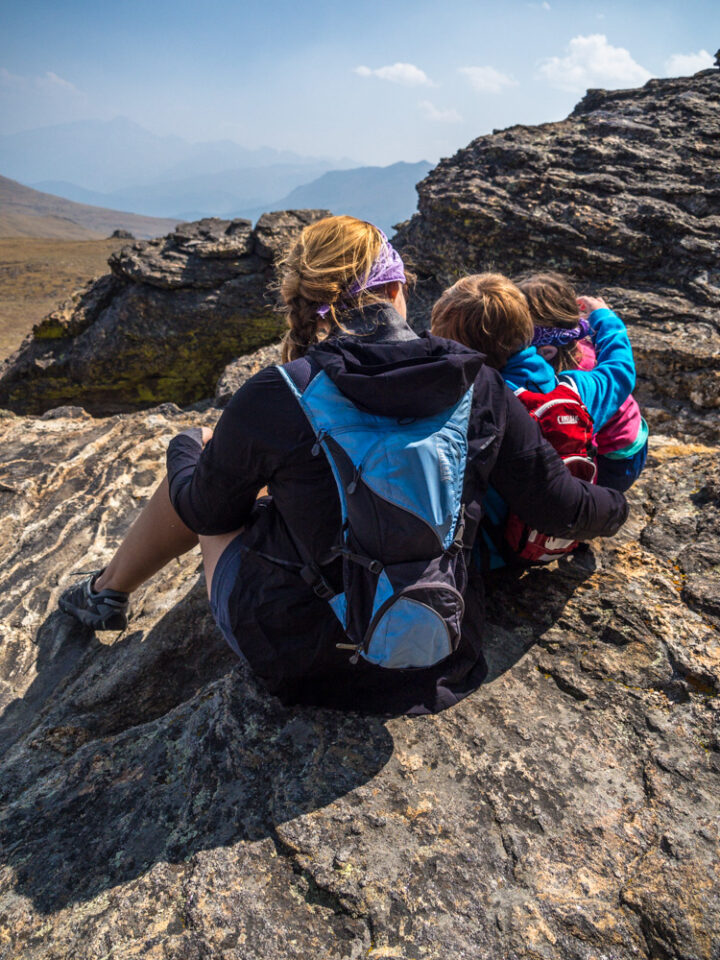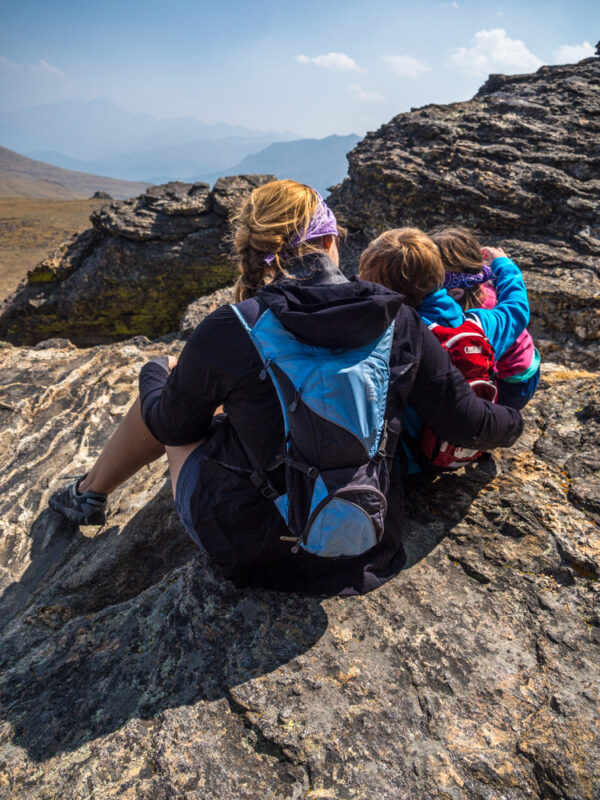 The trail itself isn't hard but the elevation makes it feel extremely intense. I won't lie – it was hard for both of our kids. If you choose to take your kids on this trail, be sure they are dressed warmly and well-hydrated. Go slowly and bring patience with you! Like the rest of Trail Ridge Road, this trail is only accessible in the summer.
Complete the Rocky Mountain National Park Junior Ranger program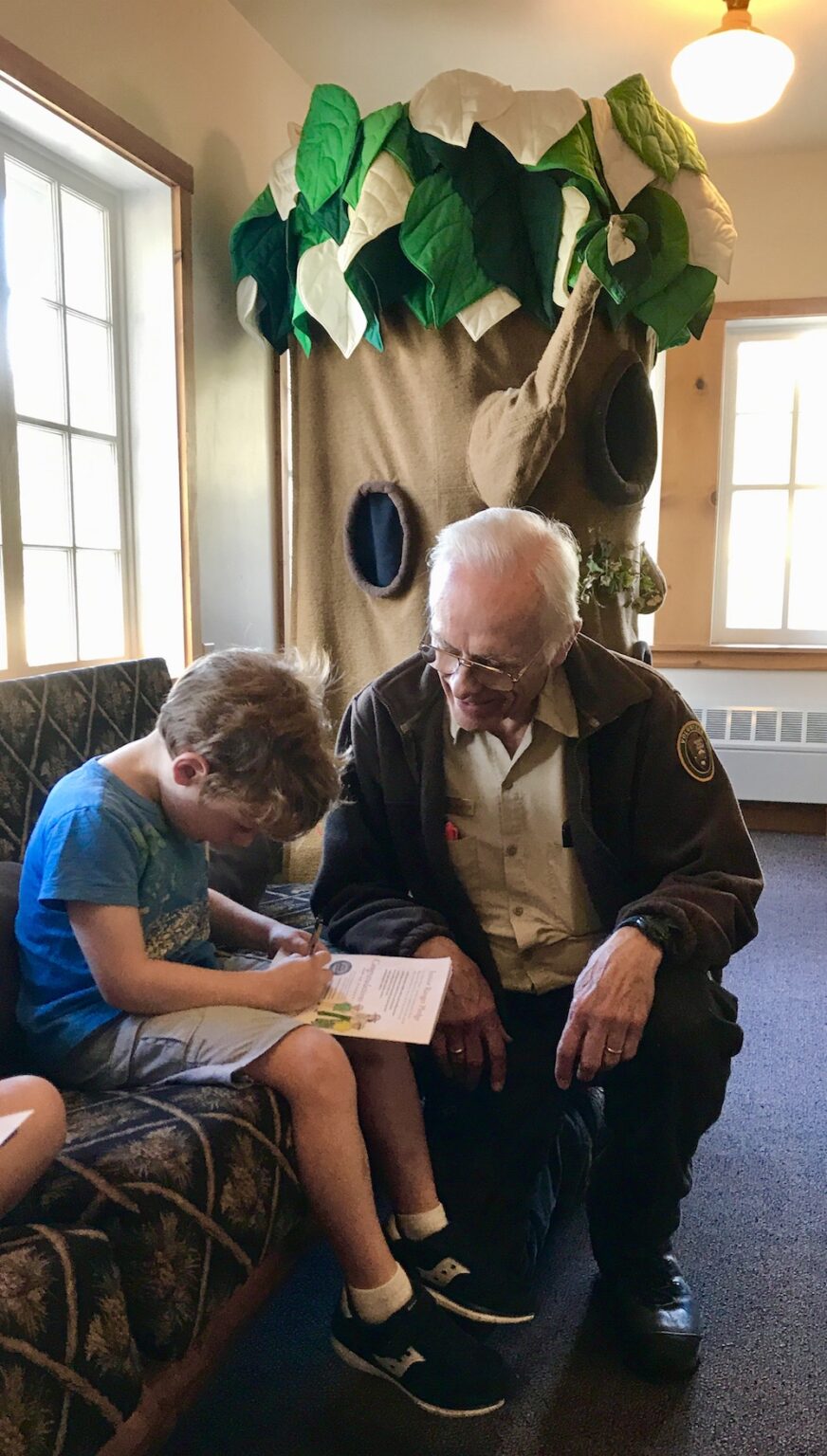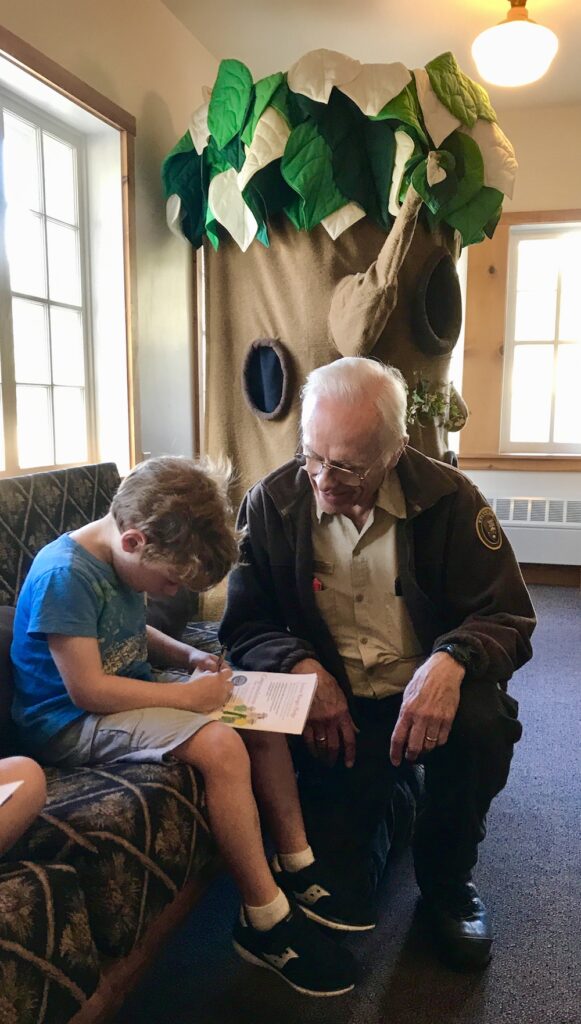 Like many of the large national parks in the US, the Rocky Mountain National Park Junior Ranger program has several age-specific options. There are separate books for kids 5 and under, kids 6-8 and kids 9 and up – meaning all the little explorers in your family will find activities to interest them.
The Junior Ranger activities do a great job of helping kids understand the park's diverse ecosystems, which is one of Rocky Mountain National Park's distinguishing features.
Go wildlife spotting
The wildlife in Rocky Mountain National Park is a real highlight for families! You'll see plenty of animals everywhere you go, just go slowly and keep your eyes peeled. Here are a few critters we saw during our visit: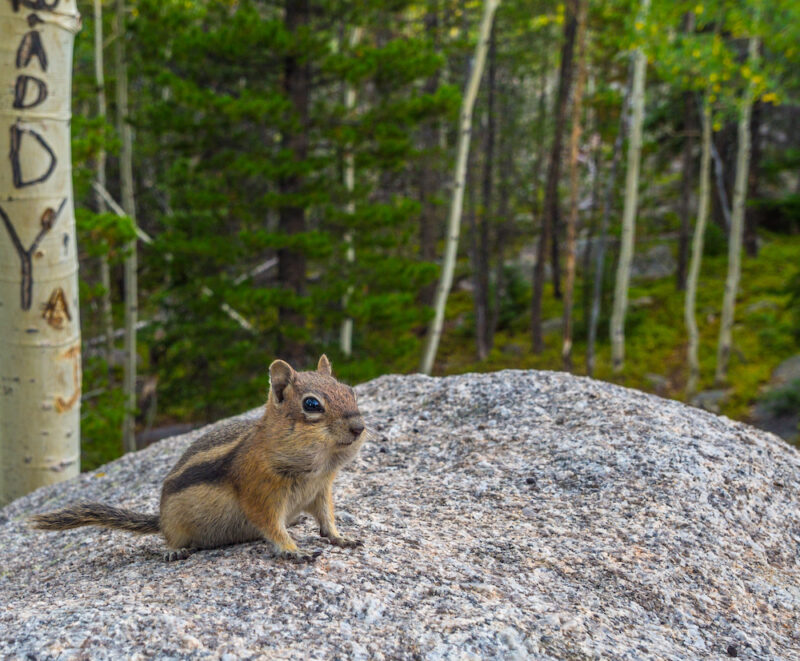 ---
Where to go next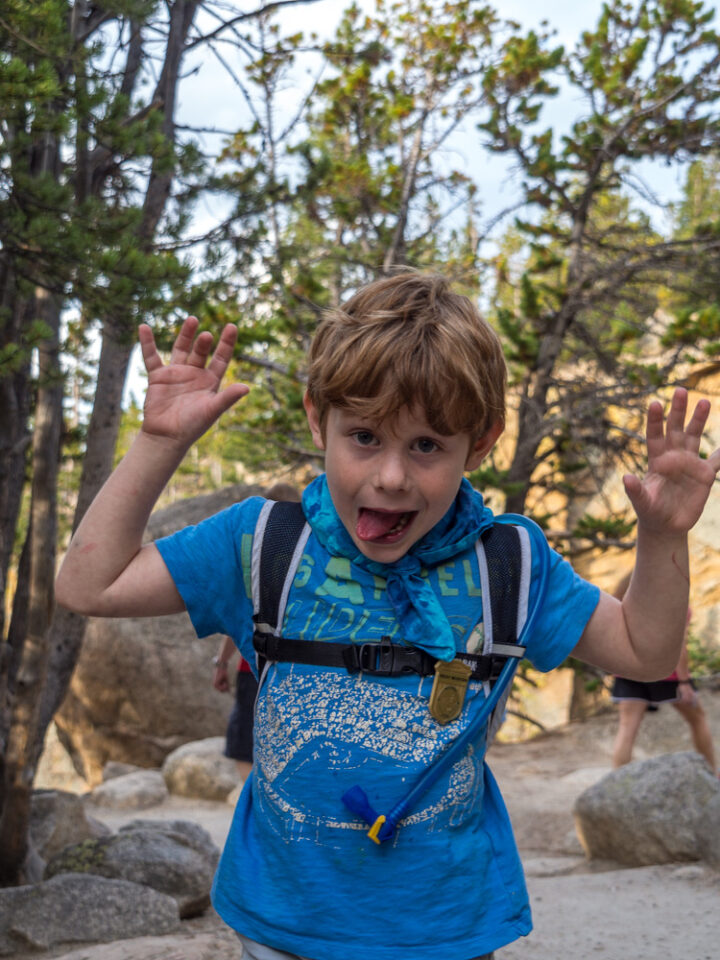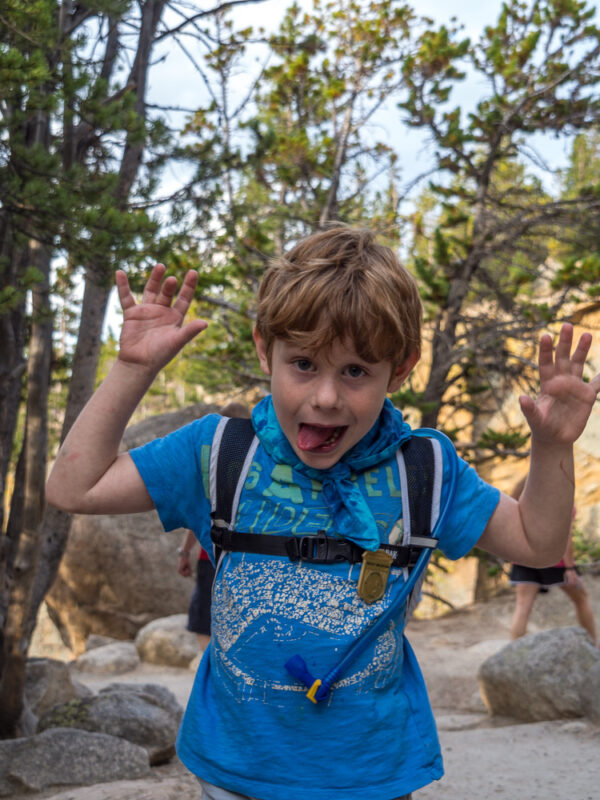 Want to continue your western adventure? Check out these destinations next:
Colorado:
Utah:
New Mexico:
Arizona:
Want to get more helpful travel tips like this? Sign up for our email list!
Still planning? Pin this for later!