In the two years after our family left Los Angeles to travel the world, we probably notched about 20,000 miles of road trips: across the US and back again, up the coast of Australia, the entire length of New Zealand and a massive loop through the southwest to Big Bend and beyond.
While we haven't always been perfect, we've learned a lot about tips for family road trips. In this article you'll find our best strategies for road trips with toddlers and kids so you'll all have a great time without going crazy!
Don't pack the car up to the roof
Learn from our mistake.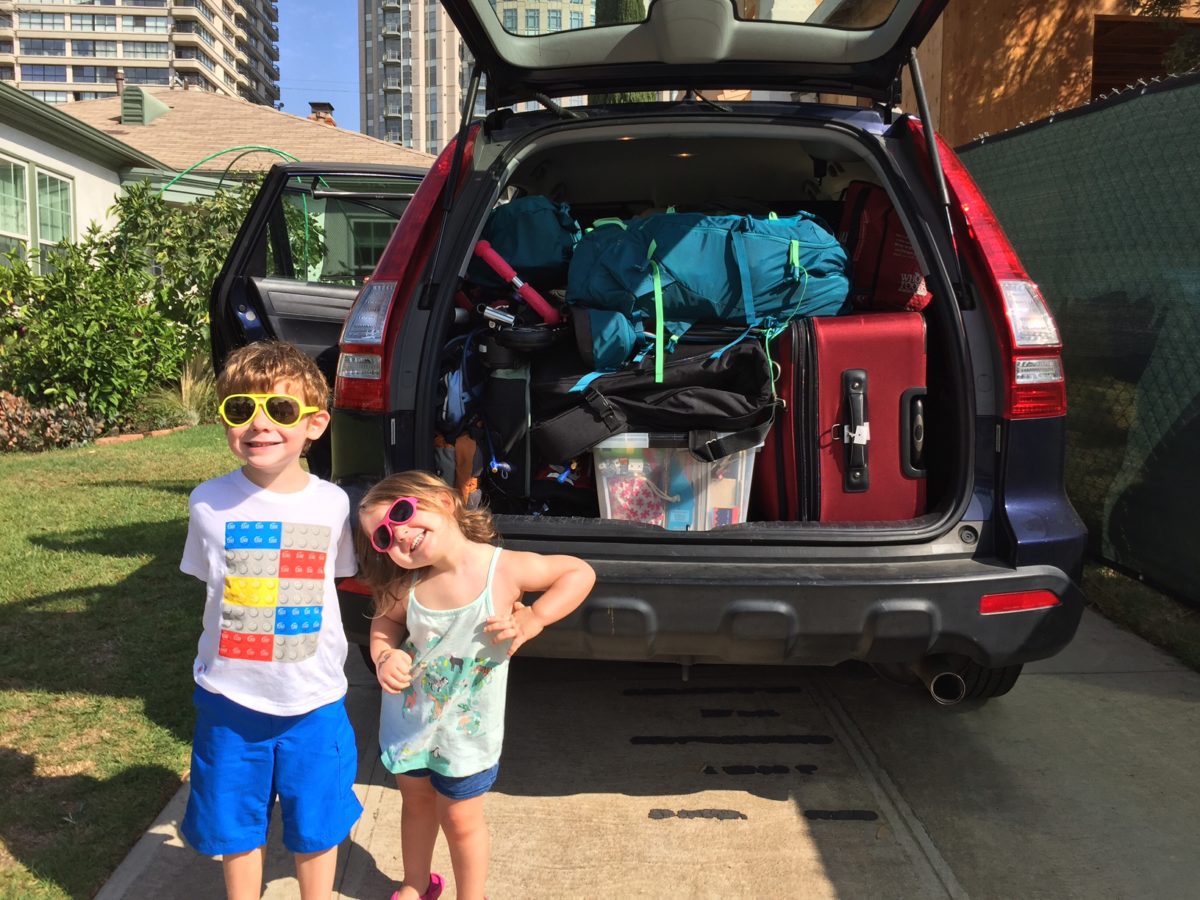 For as light as we travel when jetting around the world, we were a little more lax when packing our CR-V for five weeks on the road. If packing the car feels like a game of Tetris at the beginning of your journey, it will only go downhill from there. Promise.
When I initially wrote this article, we were three weeks into our first cross-country road trip and our car bore a striking resemblance to a nuclear waste site. (In our defense, we had just put 99% of our worldly possessions in storage and needed to bring provisions for a few weeks of travel, a few weeks of downtime at Nana's house and a year of backpacking around the world. Everything from suits and ties to trekking clothes on top of your usual road trip gear for kids!)
Make sure to bring these road trip essentials for toddlers or adults with you!
Make sure everyone is comfortable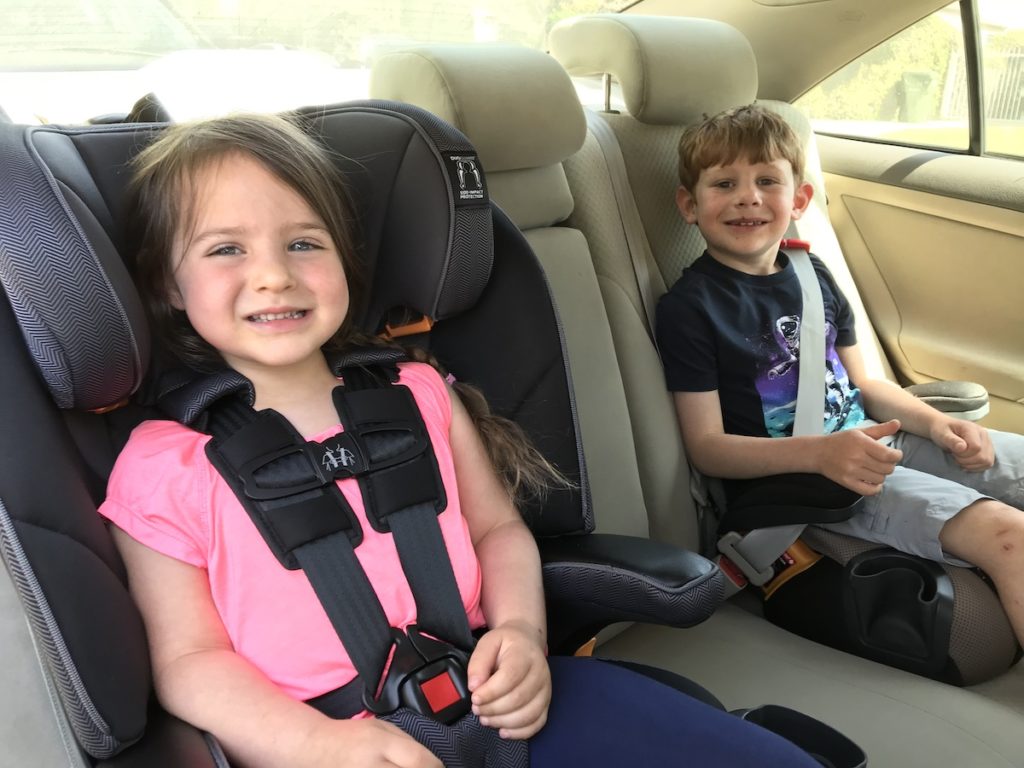 I'll admit that we goofed a little. We've focused so much on lightweight travel car seats that we didn't think enough about the kids being comfortable in the car. That led to our daughter getting a persistent sore spot on her back from a car seat that wasn't padded enough!
Chicco sent us their new MyFit combination seat to test our and the our girl loves it so much that she's requested another one for our other car – quite the vote of confidence. Check out these comfortable, road-trip-worthy booster seats and combination seats before your next long drive. If your child is still in a convertible car seat, here are some great comfortable options.
If you have a rear-facing toddler, a mirror securely mounted to the seat back will help them explore and interact more with the rest of the family – and let them make funny faces at themselves.
Have a clean-up plan
Even our cleanest of road trip snacks for kids unavoidably end up everywhere. The car is just always grimy when we're on a roadtrip! So make sure you keep it under control with a solid clean up plan. Even if you wouldn't normally do it, it's worth hanging a car trash can from the back of the seats to keep all the paper scraps and empty chip bags consolidated between stops. Empty it every day.
I'd also recommend bringing a small vacuum – this brilliant one plugs straight into the cigarette lighter! – with you and vacuuming at least the back seat and car seats (*cough* kids *cough*) every day or every other day.
Make a bathroom contingency plan
If you're taking a road trip with a toddler who is newly potty trained or you're generally trying to avoid public restrooms, it's a good idea to plan ahead. Lots of families like to bring their own folding potty – you can set it up in the back of your minivan or in a secluded spot outside.
Alternatively, you can teach your kids to squat in nature and cross your fingers! Either way, be sure to have wipes on hand… just in case.
One great tip from our Facebook group is to take an empty detergent jug like this one and refill it with a little hand soap and plenty of water. That way you have your own handwashing station wherever you go! Genius.
Mix up your accommodation options
Thanks to both circumstance and preference, we've stayed in a wide range of places over the last three weeks. It's worked out great! Visiting family and friends has given us the comforts of home and warm hospitality. Staying in our own vacation home through HomeExchange.com has given us the opportunity to spread out and let loose (laundry at midnight? No problem!) – when we left, our son suggested that we trade homes with the owner and stay there permanently! You can get all the details on home exchange here.
We don't often stay at hotels, but they've been a blessing now that the kids love to swim; they love a late-night stop at the hotel pool to beat the heat or to unwind after a long day in the car. We had an amazing stay at Little America Hotel in Flagstaff, where amenities include not only a pool, but also a playground and hiking trail.
Our favorite utilitarian hotels are the ones where the kids have a separate sleeping area (not just for our privacy, but it's easier for them to fall asleep). We usually book through booking.com (← get $25 off your first stay!) to find great deals, even on last-minute hotel stays if our itinerary is flexible.
Don't miss these 5 simple hacks to save money on booking.com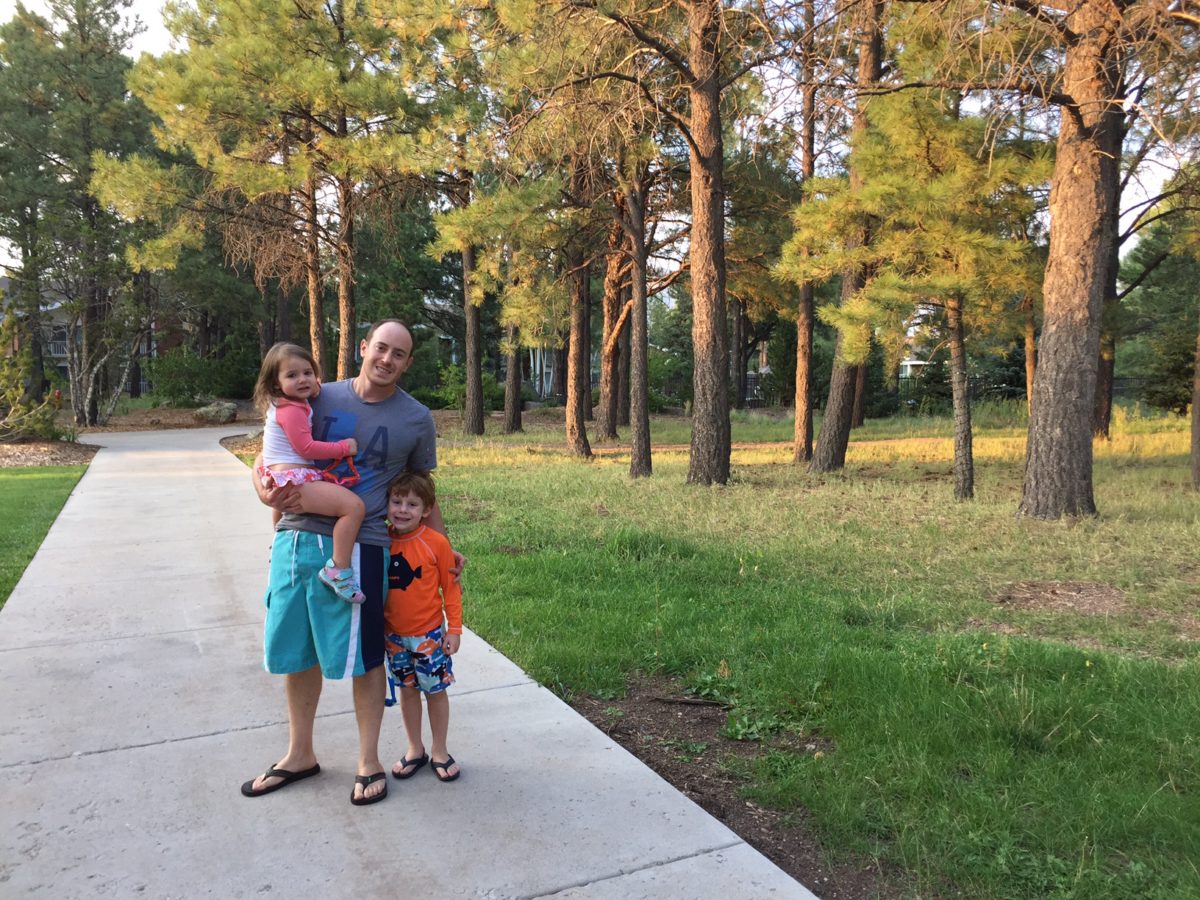 Split your long drives up as much as possible
Let me start by saying that the kids have been amazing in the car. Long car rides with toddlers aren't ideal, but we haven't heard a single complaint or bored "are we there yet?" I'm writing this article from our longest leg, from Chicago to Philadelphia. The total drive time is around 12 hours and we managed almost 7 of that in one day with only a 10 minute break. The kids were troopers, but crazed by the end!
At least for our family, 4-5 hours in a single day is a more manageable length; for a longer stretch, we'd need to start earlier in the day and take a substantial break in the middle.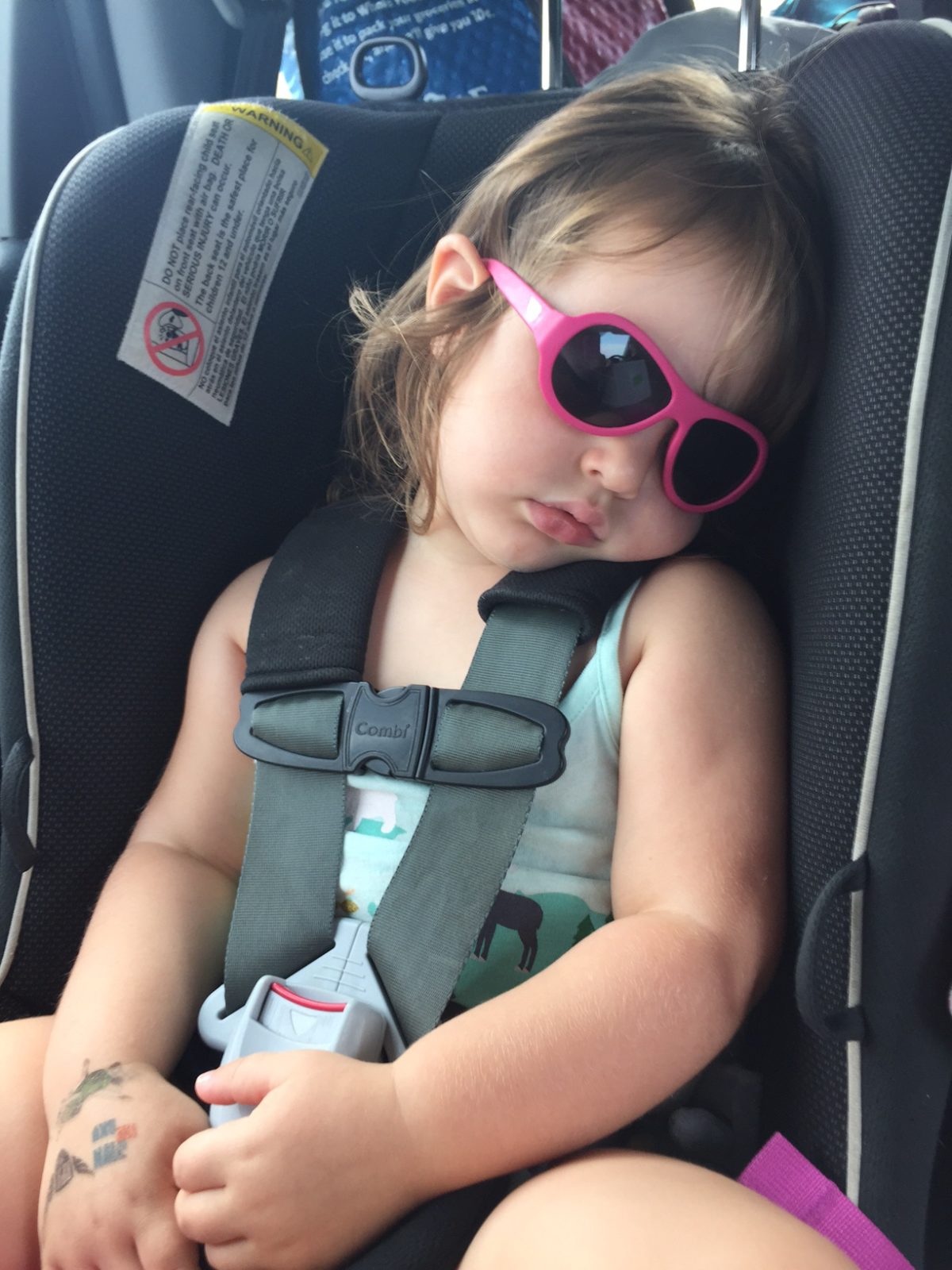 Use technology, but use it wisely
The kids sure love their Amazon Fire tablets! We almost never grant access to them back home, so they remain an extra special treat when we travel. On driving days we try to start without them for a few hours and only hand them out part-way through our drive. Some of other favorite road trip activities for kids are playing with finger puppets or working on a small LEGO set – here are some more great screen-free ideas.
If we're taking a long lunch break, the tablets go away when we get back in the car in the hopes of catching a post-lunch siesta. We try to mandate at least 30-60 minutes of reading time at the beginning of each driving leg.
If you don't have tablets for the kids yet, check out this great deal on a two-pack of the Fire Kids tablets! They're indispensable for traveling with toddlers in a car. Amazon includes a worry-free warranty and lots of great content through the Freetime Unlimited plan. If you already have Fire tablets, don't miss our list of the top free apps for toddlers and preschoolers.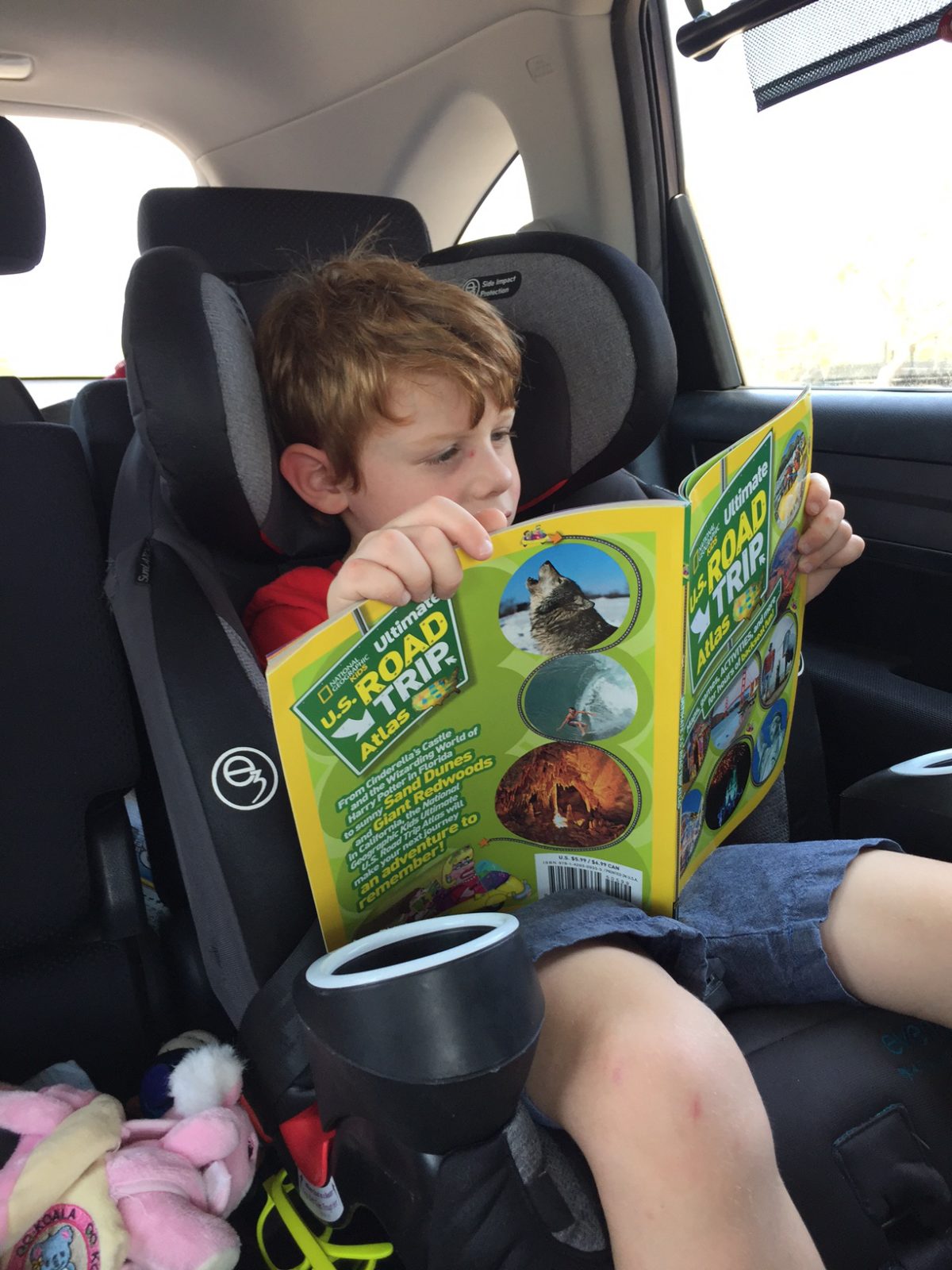 Stay engaged to keep kids entertained on the road
Sometimes on a long drive, I want to do nothing more than either fall asleep (#passengerlife) or zone out on my phone by reading, writing or catching up with friends. But since we expect the kids to put the movies away sometimes, it's only fair if we do the same!
We talk about favorite travel experiences (theirs and ours), make up stories and often I read aloud books related to the place we're visiting – The Odyssey was a favorite and kept the kids engages for a looooong time. Another option if you don't feel like reading for hours on end is to check out Audible to download audio books and pump them through the car stereo – grab a 30-day free trial before your next roadtrip. Here are some great audiobooks for family road trips.
Another fun way to pass the time is with good old fashioned road trip games. These could be classics like "I spy" or the license plate game, or you can let your kids make up their own games. Two of our favorites are the animal guessing game and – our daughter's invention – snack guessing game. That's an especially good one for young kids because they don't need to know lots of facts. For variety, you can play these kinds of games as either free-form guessing games or yes/no 20-questions style. Find lots of other unplugged travel activities for kids here.
Relax, stay flexible and have fun
With reasonable planning, your road trip can be great for everyone! Don't try to squeeze in too much, and if something gets in the way just find a solution and move on.
When our car's air conditioner died on the way into Flagstaff, I quickly whipped out my phone and found a local mechanic to squeeze us in the next morning and a car to rent for the day. Despite adding a small layer of complication to the day, we didn't let it cramp our style! It was just another part of the adventure and we got to take a sweet new ride up to the Grand Canyon for the day.
The experience even inspired us to spend the drive telling the kids vacation mishap stories from our own childhoods, which made it a memorable ride for us all.
Remember: flexibility and a sense of humor are among the top toddler road trip essentials!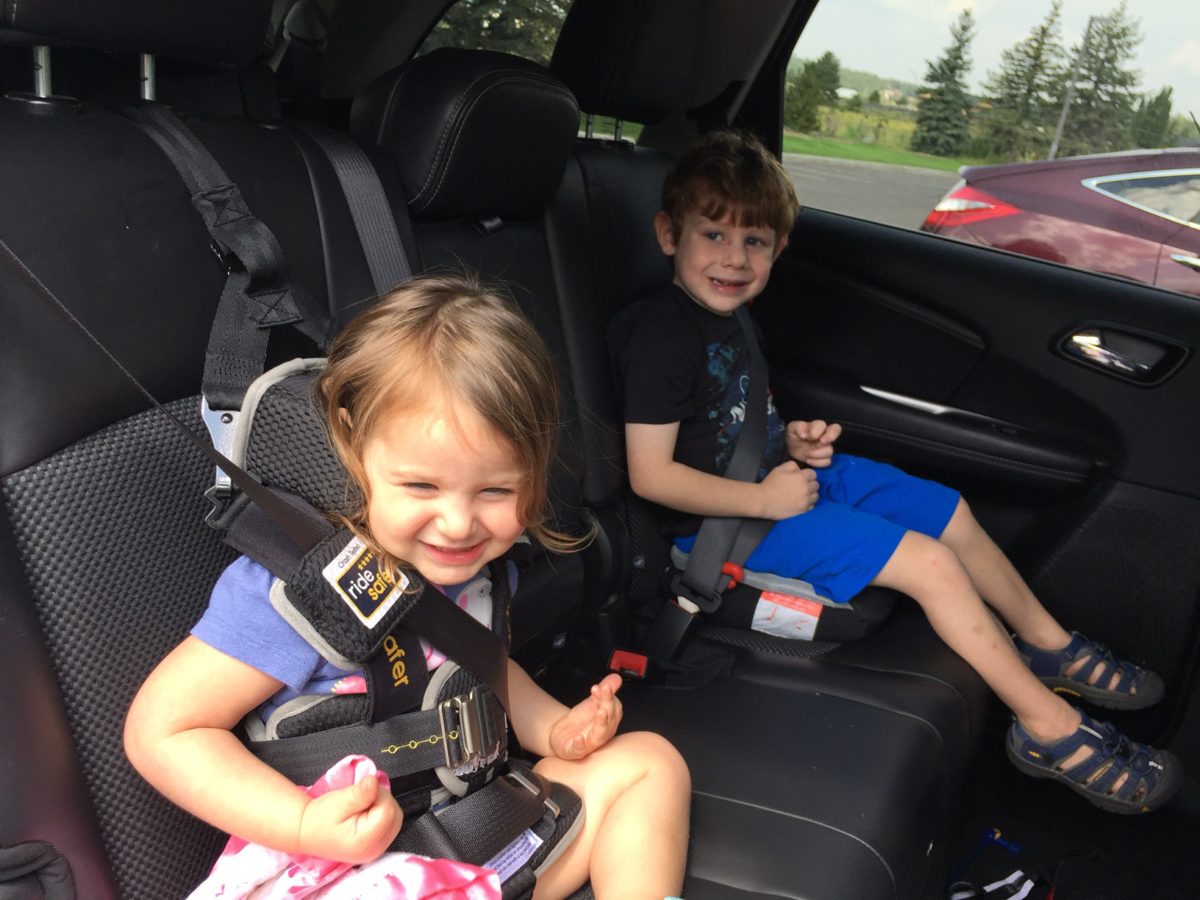 Want to get more helpful travel tips like this? Sign up for our email list!
Your family road trip checklist
Make sure to put these items on your road trip with toddler checklist:
–Snacks, lots and lots of snacks (our car currently feels like a showroom for the Annie's Organic line) – check out these healthy travel snacks
–Portable potty (we like to store ours in one of these)
–Amazon Fire kids tablets / headphones / headphone splitter (great for playing the kids' music on my phone while we listen to adults music on the car stereo, awesome screen-free kids car entertainment)
–Flip flops for easy on-and-off
–Kids road trip atlas to read up on cool landmarks
–Crayola Stow-and-Go art studio
Check out more suggestions for bargain travel-worthy kids' gear
These great apps will help streamline your road trip!
Road trip with toddlers and kids FAQs
What should I bring on a road trip with a toddler?
There are a few toddler road trip essentials to keep handy:
-First aid basics (bandages, antibiotic cream, anti-itch cream)
-Travel potty and toilet paper
-Baby wipes
-Change of clothes
-Easy-on shoes
-External battery pack + cables
What do you do with a toddler on a long car ride?
Break up the drive with road trip games like I Spy, audiobooks, family conversations and screen time.
How long can toddler stay in car seat? How often should you stop when driving with a toddler?
While a newborn should only be in the car for 2 hours at a time, a toddler can be in the car for longer – as long as you respect their need for bathroom breaks! We typically stop about once every three hours for at least a quick trip to the restroom, and some high-energy kids benefit from running around a park after a few hours.