Barcelona has always been a magical city for our family: the visual feast, the late nights, the warm hospitality and the unique regional culture are an intoxicating mixture for us. But one thing visitors should keep on their radar is the unique cuisine of Barcelona, which is distinct from traditional Spanish food.
To give us a taste of what to eat in Barcelona, Iberian Peninsula local Marco Santos gives us his take on the best typical food in Barcelona.
Read more: Must-Read Travel Tips for Spain
---
Must-Eat Barcelona Foods: What To Eat In Barcelona
Barcelona is in the province of Catalonia in Spain. Catalonia is notably different from the rest of the country and proud to be so. The region was separate from Spain up until the 1460s and still has its own language and traditions today – including plenty of traditional food in Barcelona waiting for you to sample.
While many traditional Spanish foods are a favorite in Barcelona, there are some unique dishes. Exploring culture through food is one of the most fun and exciting ways to get to understand a new country and culture.
Whether you're spending one night in Barcelona or are there for a week, your foodie experience will be a favorite memory! These are some of the top dishes to look out for on typical Barcelona food menus and are worth trying. Get your taste buds ready…
Pa amb tomàquet (Pan Con Tomate)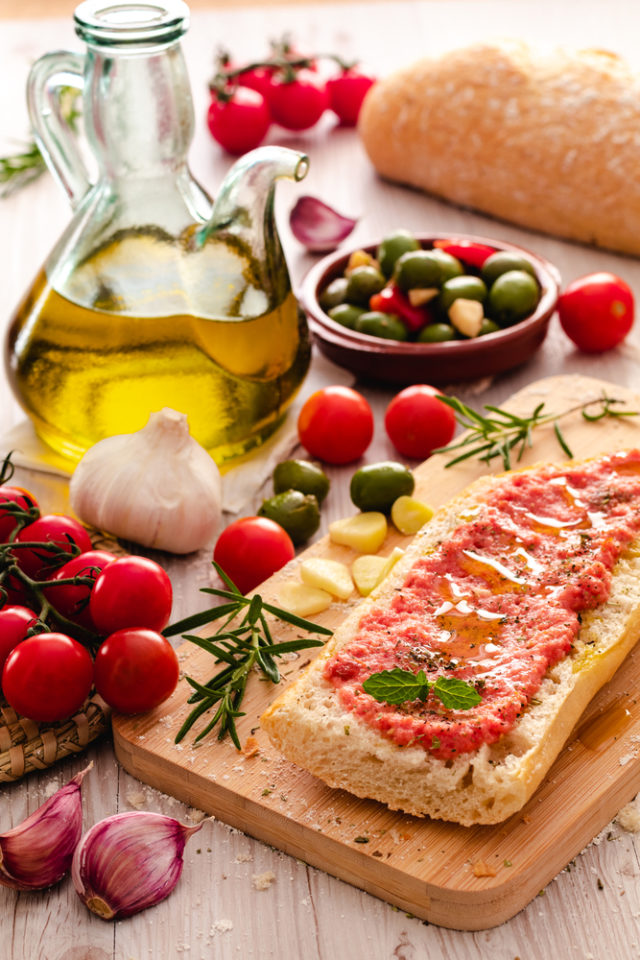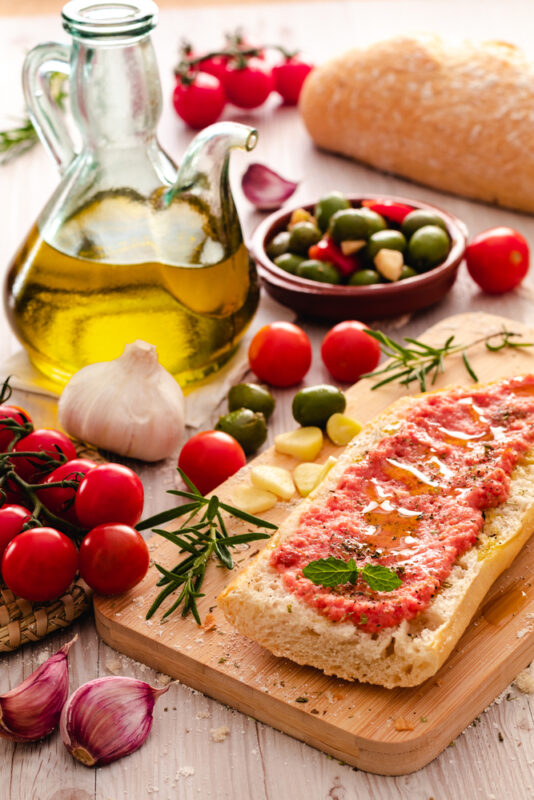 Pan con tomàquet translates to 'bread with tomato' but let me tell you this dish is far more delicious than its name may suggest. It is the perfect combination of salty, sweet, and acidic.
The slice of freshly baked baguette, often toasted, is the base of the dish. It is then rubbed with fresh, sweet tomato. The same thing is done with garlic and then the bread is drizzled with olive oil and sprinkled with salt. The dish is often served as tapas with drinks at bars.
Read more: Why you should visit Spain in winter and what to pack when you go
Pimientos de Padrón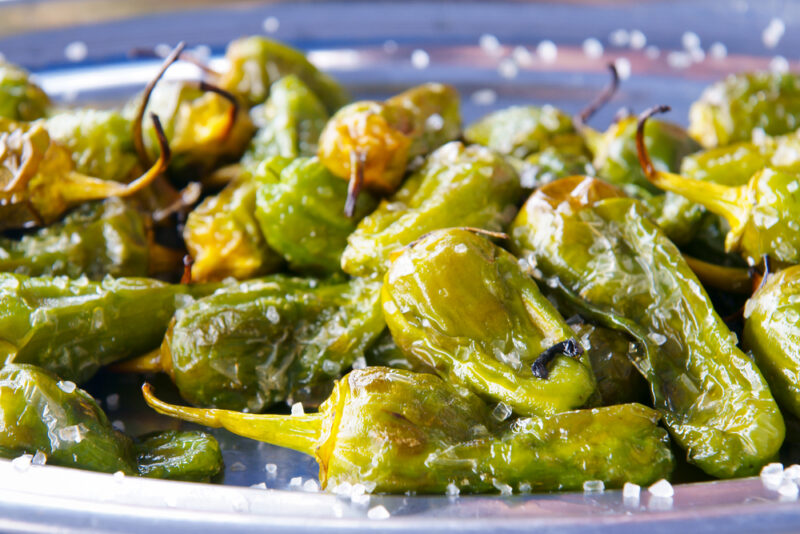 Blistered Padron Peppers are another tapas staple. Don't let the look of the peppers worry you. They don't have the heat of chilli, instead, they have the mild taste of a garden bell pepper.
The peppers are grilled until they are blistered and soft and served with coarse salt sprinkled on top. Grab them at the stem and eat the whole pepper in one mouthful.
Patatas Bravas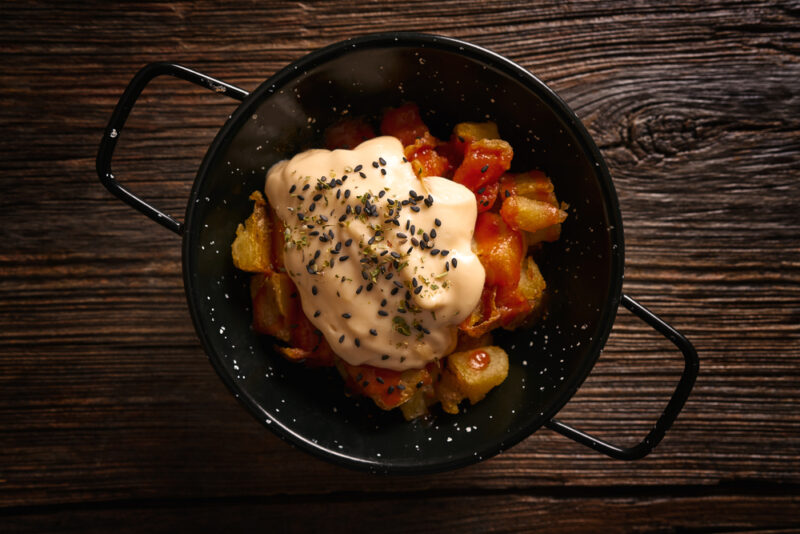 Ah, the loved and delicious patatas bravas is a dish found throughout Spain. It is a delicious side of fried cubed potato topped with sweet and spicy sauces.
The sauces often differ between establishments and can include secret and family recipes. Generally, the bravas sauce is red in color and has a spicy kick to it. There is also often a serving of aioli (garlic mayonnaise) included.
Crema Catalana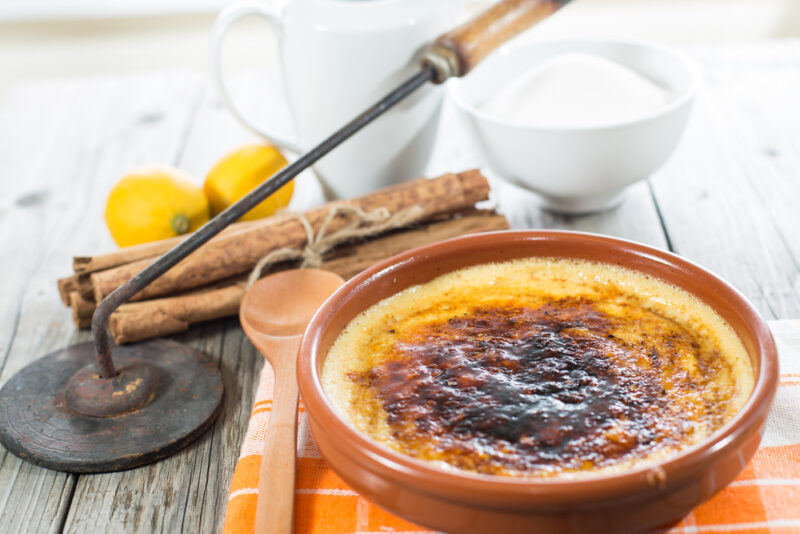 For those who have a sweet tooth, this creamy dessert is for you. It may appear to be a crème brûlée, but there are differences between the two. Crema Catalana is made using cornflour and milk, rather than heavy cream. One thing remains the same however, this dessert is so delicious I wouldn't judge if you ordered two.
Where To Eat In Barcelona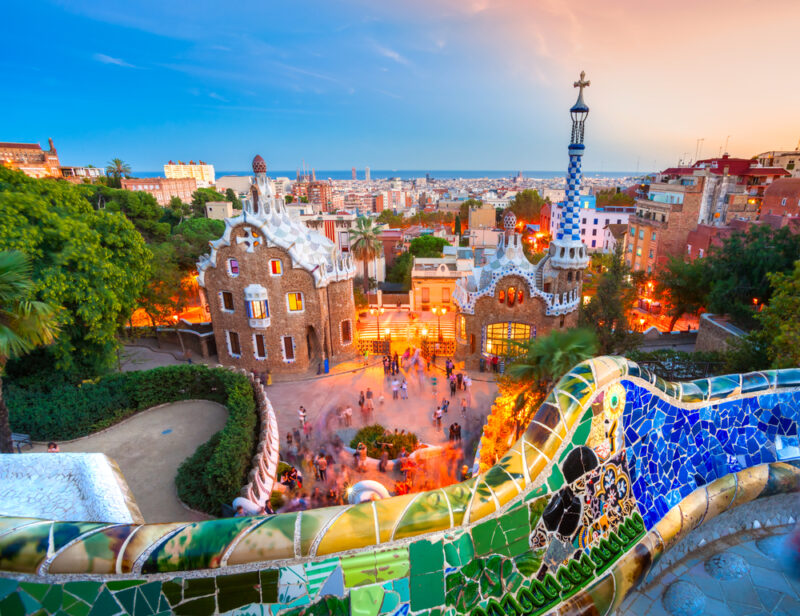 There are over ten thousand restaurants in Barcelona making it a food capital of the world. With so many foodie spots to pick from spanning every possible cuisine, the choice can be overwhelming. I've compiled a list of the best eateries to help narrow down your options of must-try food in Barcelona.
Best Restaurants In Barcelona
It's difficult to navigate the lengthy list of thousands of restaurants. A great way to categorize restaurants is by their cuisine. I have broken down the best restaurants into five different cuisine categories to make sure that there is something for everyone – this will be especially helpful if you're staying in Barcelona for a while and want to eat a wider variety of food than just Catalan specialities.
Michelin Star Restaurants In Barcelona
There are over 20 Michelin Star Restaurants in Barcelona. If elevated gastronomy experiences are something you love then Barcelona is a destination for you. Waiting lists for these restaurants can be long so make sure to book a table well in advance to avoid disappointment.
Top three Michelin Star Restaurants:
Best Vegan And Vegetarian Places To Eat In Barcelona
Spain has a big meat culture with a love for cured meats, like Jamón Ibérico de Bellota, and meaty kebabs, like Pinchos Morunos. However, there is a large number of spectacular vegan and vegetarian restaurants in Barcelona for non-meat eaters to choose from. These are some of the best in the city.
If you're looking for an upmarket, fine dining vegetarian and vegan food in Barcelona then The Green Spot is for you. The interior design is beautiful and the same attention to detail is found in the gorgeous creative food that is served.
Flax & Kale make healthy eating delicious and enticing. They have a strong ethos of keeping their produce fresh and organic.
On entry, customers are able to see straight into the kitchen with jars of locally sourced ingredients neatly placed on open shelving. The transparent fridges are packed with fresh fruits and vegetables. Fresh herbs are grown on-site in the rooftop veggie garden.
The menu has some classics as well as some experimental dishes. Flax & Kale are also known for their freshly pressed juices so make sure to grab one and get all that amazing nutritional goodness.
If you're after delicious takeaways then Vegan Bowls is a great option. Their colorful breakfast, buddha, and smoothie bowls are plant-based and plastic-free.
Markets And Foodie Places Of Interest To Visit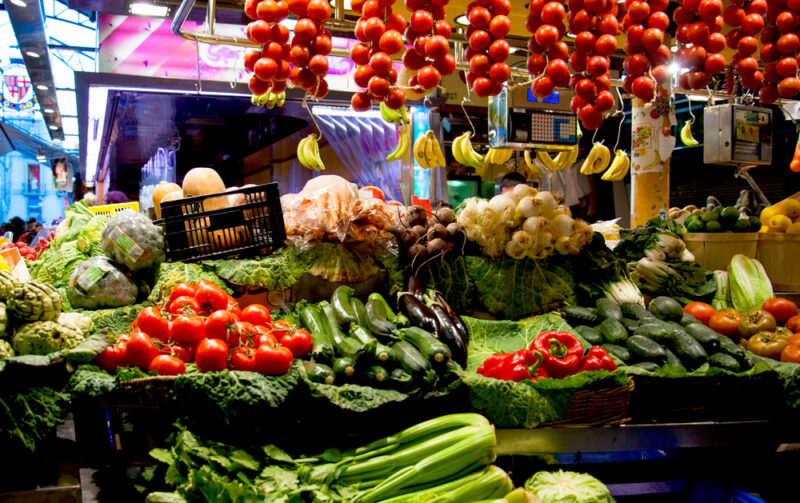 If you're a foodie in Barcelona you'll know that some of the best places to try delicious treats is at food markets. Street food is often surrounded by an electric atmosphere and there is something about tasting a variety of things that is exciting.
La Boqueria Market
The best known market in Barcelona is La Boqueria, just off of La Rambla. It's massive and almost always packed. For a more authentic visit, be sure to go to the fresh food stalls in the middle and the back, not just the tourist-friendly stalls in the front.
In addition to shopping for ingredients to make your own Catalan feast, you'll find some wonderful small restaurants to stop for a bite to eat and a glass of cava. Just pull up a stool and enjoy!
Palo Alto Market
Palo Alto is a sophisticated street market that takes place on the first weekend of every month. There are a number of small local vendors selling gorgeous things from jewellery to essential oils to clothing.
Foodies will want to take note of the small food trucks that are set up in winding strips with fairy lights leading your way. Food can be enjoyed with the accompaniment of live music and drinks from the wine, gin, and beer bars.
It is a truly magical experience that lasts into the evening. There are plenty of little paths to follow that lead to different sections of the market, so be sure to follow them all so you experience everything Palo Alto has to offer.
El Nacional
El Nacional is in the heart of the city and is a must for those after an elevated food market experience. The building is a renovated industrial complex that now houses different open restaurants under the same (very high) roof.
The restaurants are a celebration of Iberian Peninsula cuisine and include an oyster and cava bar, a fish restaurant, and a tapas eatery. The tapas eatery is such a fun experience. Waiters walk around the restaurant yelling the names of the dishes in hand, and patrons shoot their hands up if the dish tickles their fancy.
The hall is centered by a Catalonian wine and beer bar where customers can wait for seating at the restaurants that surround them. Lines can be fairly long but the food is worth the wait!
Barcelona Food Tours
Barcelona is a foodie paradise. There is so much to taste and experience that it may be difficult to know where to start. Tours are a fantastic way to make sure you're trying the best food Barcelona has to offer.
Taking part in a city walking tour allows you to learn about the history of Catalonia while eating like a local in Barcelona. You are able to experience the best food in Barcelona while gaining knowledge about the culture and traditions of the food.
Alternatively, you can learn about these cultures and traditions in a Spanish tapas cooking class. Imagine sipping on sangria while being taught to cook Catalan cuisine by a local chef – definitely a memorable experience!
About Marco
Born and raised in South Africa, Marco Santos and his partner moved to sunny Lisbon over 3 years ago. With an absolute love for Europe, he is on a mission to rediscover his own Portuguese heritage along the way. Marco has set out to blog and share his passion for traveling through and exploring Portugal, Spain and the rest of Europe on Travel-Boo. You can follow more of Marco's European adventures on Facebook and Instagram.
Plan your trip to Barcelona
Be sure to read these additional articles as you plan your visit to Barcelona:
Still planning? Pin this for later!