While your friends make their plans to join the masses on sandy beaches or charming-but-packed Northern European Christmas markets, imagine yourself strolling through sunny Sevilla surrounded by locals enjoying the quiet holidays or taking in Guernica in Madrid after just a few minutes' wait. Welcome to Spain in winter! Traveling to Spain in December was one of our favorite trips ever and it could be yours too.
If you're wondering about the weather in Spain in December, read on for just a few reasons why you should start planning to visit Spain in the winter and resources to help you plan your trip, including what to wear in winter in Spain and tips for visiting Spain with a toddler in tow.
Read more Spain articles or get Europe travel inspiration
Quick picks: where to go in Spain in winter
You can't go wrong when you pair two or three of these amazing cities to build your Spain winter itinerary! The secret is out and it's growing in popularity, so I suggest making your travel arrangements as early as possible.
Barcelona
Seville
Valencia
Malaga
Spain Weather in December
Is Spain cold in December?
Before planning any trip, it is important to know what kind of weather you can expect to experience at your destination. Spain December weather is not what you would traditionally see for Christmas, but that's why we love it!
What is the weather like in Spain in December? While much of Europe is blanketed by snow or suffering under gray skies, you'll find the Spain temperatures in December to be quite pleasant. When planning our winter trip, I was specifically looking for a destination with weather similar to what we could find in LA (or better!), and Spain winter weather definitely fit the bill.
Weather in Spain during December can vary from city to city. Places like Granada and Madrid in winter are cold (very cold by my standards – bring these if you'll be pushing a stroller!) but they are blessedly dry in the winter. Barcelona and Seville are both wonderful in the winter, with temperatures similar to LA!
No matter what cities you visit, Spanish winter weather is nothing like what most of Europe experiences. It's one of the best warm places in Europe in January and December alike!
Read more: What to wear in Spain in winter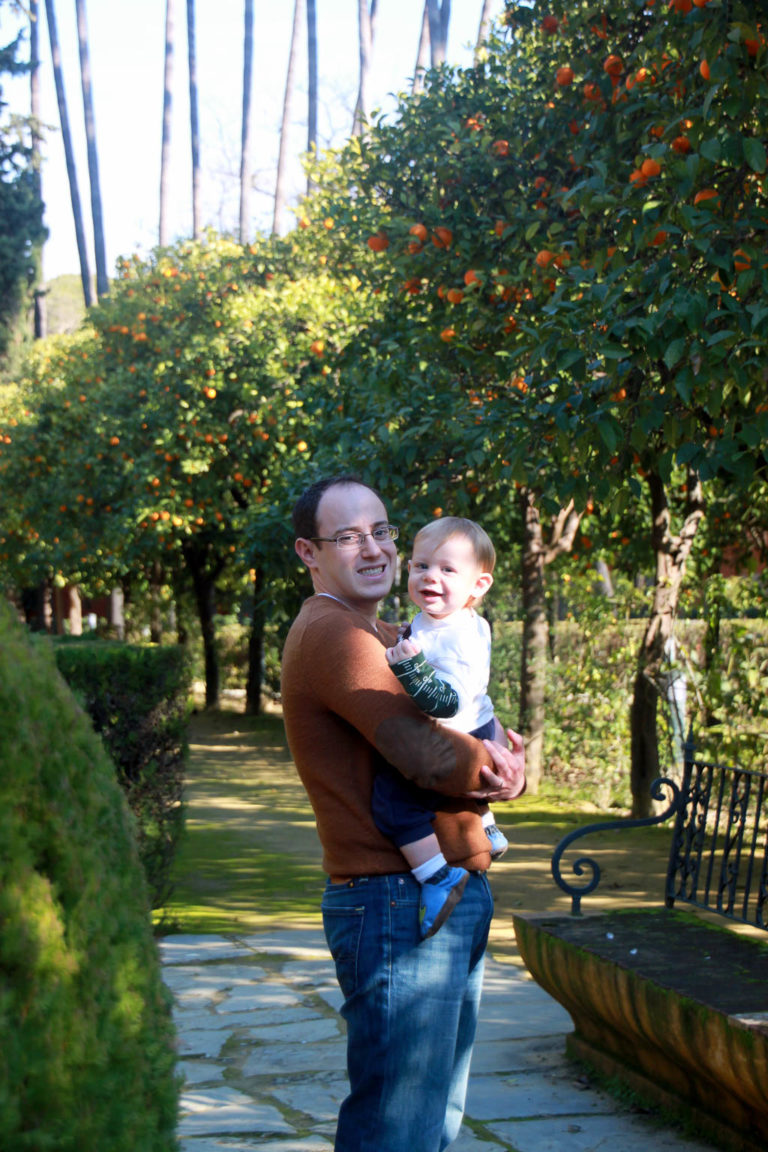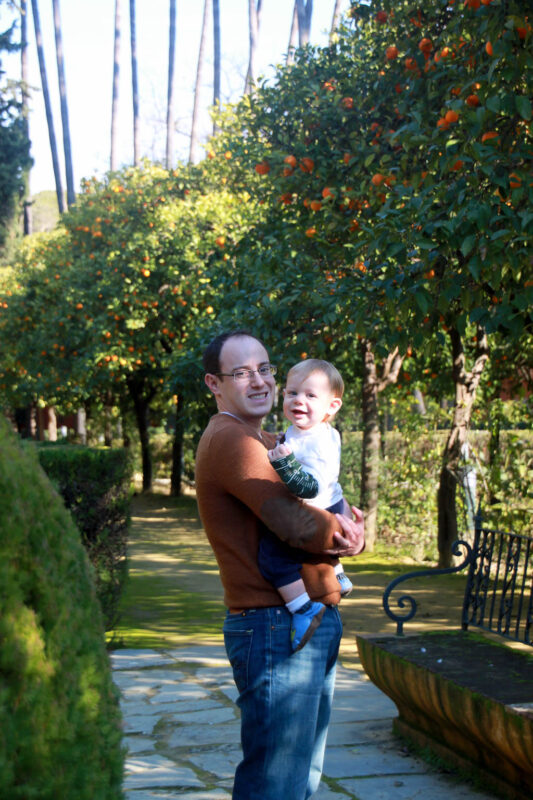 Why you should visit Spain in December and January
The crowds are extremely light
Crowds? What crowds? Winter holidays in Spain, and general Spain travel in December, strike the fine balance between being void of tourists and teeming with vivacious locals! We arrived in Barcelona between Christmas and New Years, which is the peak time for Spaniards to shop (sound familiar?). It was so fun to be out among so many people, but not to feel like we were just moving along with the herd of tourists (I'm looking at you, Florence).
At the same time, the tourist sites we visited were often virtually empty – for instance, when we arrived at the palace in Seville there was not a single other person in the courtyard! We got a good laugh out of Rick Steves' tip to pay for the additional upstairs ticket to escape the crowds. It was one of the best places to visit in Spain in December!
Visiting Spain in January is even quieter than the pre-holiday rush, particularly once Spaniards have returned to work and school the second week. Places like Ibiza that are often jammed with tourists take on a quieter charm in the winter.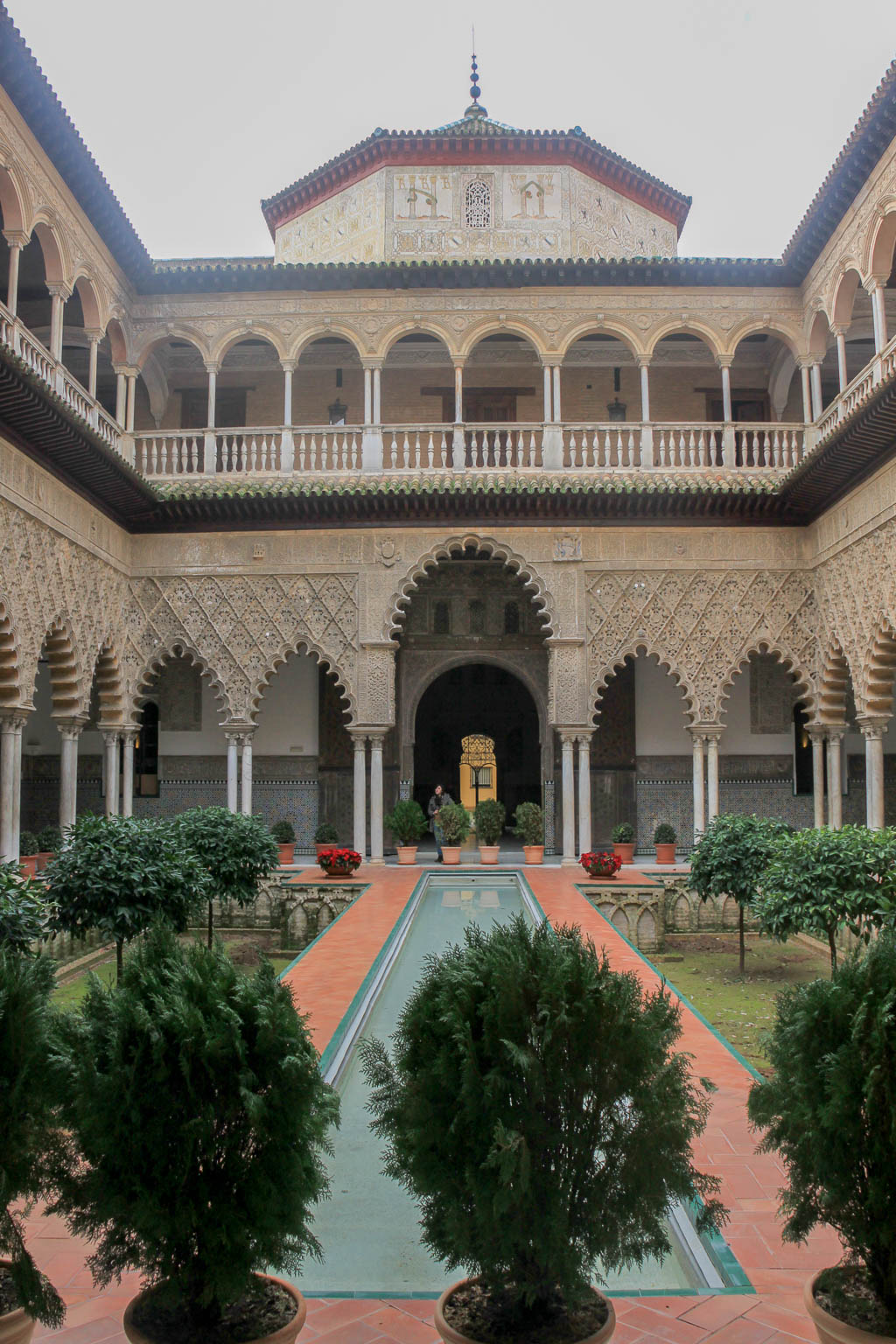 The hours are still plentiful
Most people know that Spain is a "late" country when it comes to meals and nightlife. Did you know that the hours extend to other spots too? While other countries in Europe were operating on reduced "winter hours" (*cough* France *cough*), Madrid rolled out the welcome mat for us by keeping its museums open extra-late.
In fact, both of our art museum visits were after dark. No need to set your alarm and wake up early, you can get in a very full day of activities in Spain and then sit down for drinks and tapas at 9pm. Perfect for a vacation schedule!
If you're someone who needs sunlight to feel good about your life, Spain will be a much better option for you than countries further north. On the shortest day of the year, London will have just under 8 hours of daylight; Seville, on the other hand, will have 9.5 hours of daylight! Let's not even talk about the 6 hours of daylight in Oslo… That can make a huge difference for many people in terms of their mood as well as how much exploring they get done.
Read more: Must-Read Travel Tips for Spain
Don't mind the cold? Explore Madrid for a few days!
The magic of the season is alive and well
Is December a good time to visit Spain? Heck yeah!
The most important reason you should book your winter vacation in Spain is that it's downright magical. Beginning December 1st and ending with Tres Reyes in January in Spain, every city, town and village in the whole country is lit beautifully to celebrate the season!
We saw displays modeled after presents in Barcelona and after toys in Toledo. Lights were strung across every tiny street and decorating trees and statues in the plazas. Looking for the most beautifully lit streets is one of the best things to do in Spain in December.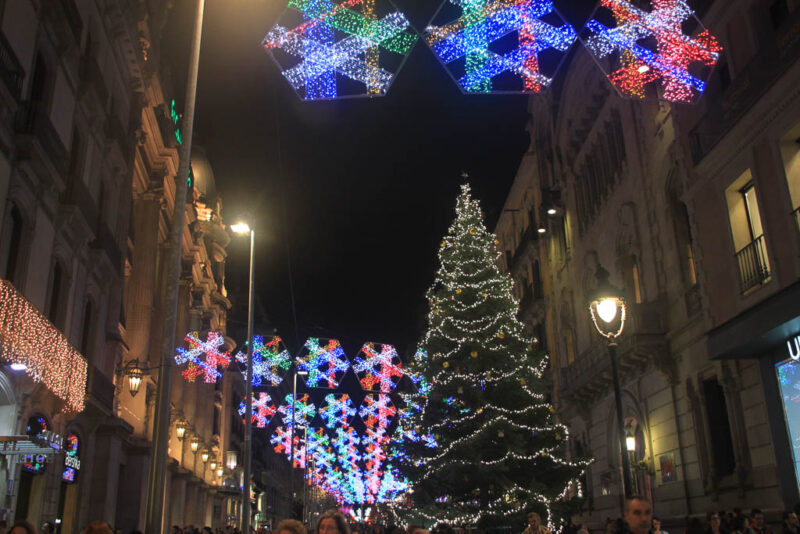 The whole country says a big "screw you" to winter darkness by competing to show off the biggest and best light display. It's a huge point of pride for localities! And on a chilly winter evening, there's no better way to get cozy than over a huge plate of sweet crispy churros accompanied by a mug of decadent piping hot chocolate for dipping. I promise, if I can handle the Spain weather in December, you can too.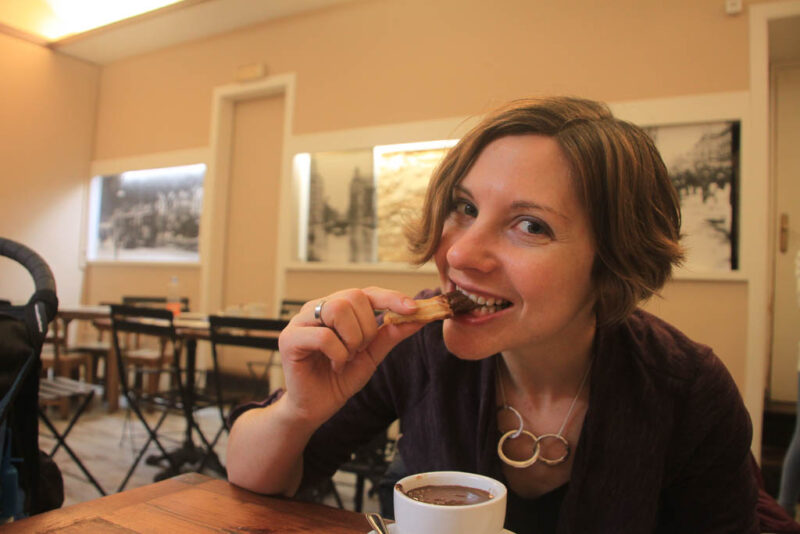 ---
Winter Holidays in Spain
Christmas traditions in Spain
You can expect Spain at Christmas time to be magical. Many Spaniards share their family's holiday meal on Christmas eve and then attend Midnight Mass. Spanish Christmas food is usually roasted turkey, often served with truffles.
In the Spanish-speaking majority of the country "Feliz Navidad" is the traditional greeting, while in Barcelona and other parts of Catalonia people wish each other "Bon Nadal" throughout December in Spain.
Hanukkah in Spain
Since the forced conversion and expulsion of Jews from Spain in 1492, there has been little active Jewish life. However, in recent years there has been renewed interest in celebrating Hanukkah in cities with rich Jewish histories like Toledo and Girona.
New Year's tradition in Spain
There are fun things to do in Spain in January too. While Americans are accustomed to watching the ball drop in Times Square, Spaniards have a much more intense New Year's Eve (nochevieja) in store. The most famous New Year's tradition in Spain is the cotillón – eating twelve tiny green grapes in twelve seconds as the clock strikes midnight, with each grape bringing a month of good luck in the coming year.
Confession: it's REALLY hard! Make sure you get the seedless variety, and pick up a bottle of cava to wash it town.
Three Kings Day in Spain
Spanish kids might actually look forward to Three Kings Day – also called Epiphany – even more than Christmas itself, as most Spanish Christmas gifts are aren't opened until then! We were lucky to attend Seville's Tres Reyes parade and our son had a great time watching the floats of the wise men on camels driving by, while participants showered bystanders with candy. Basically, it was every kid's dream.
---
Where to go in Spain in winter
Cities to visit in Spain in December
If you're considering visiting Spain in December or January, there aren't many bad choices. That said, the some cities are colder than others. When you're crafting your Spain winter itinerary, you'll probably want to stay fairly close to the coasts if you don't want to bring heavy outerwear with you.
You could either start in Barcelona and then take the train down to Valencia, or pick a city in southern Spain like Seville or Malaga to explore and use as a base for day trips. If you really yearn for sun, try the Canary Islands.
Here are a few choices for where to go in Spain in December if you're trying to avoid frigid temperatures but still want to explore the rich history and culture that Spain has to offer:
Barcelona in December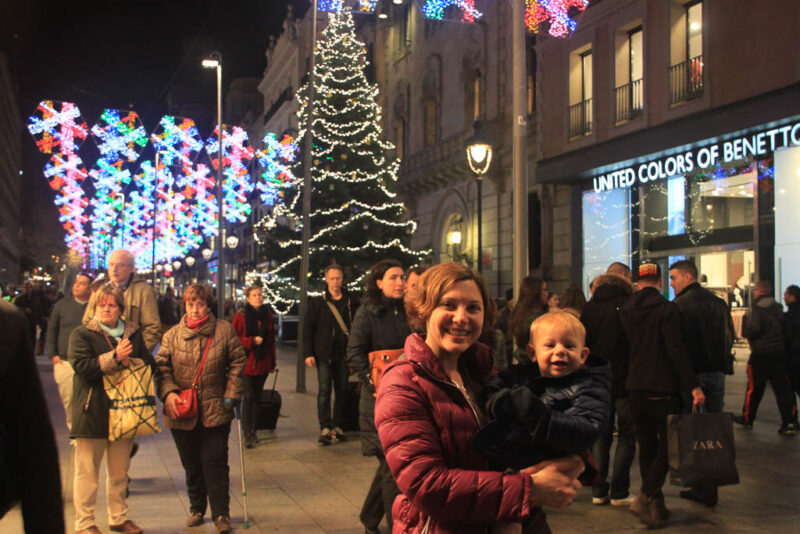 Are you seeking the attractions of a big city for your European winter holiday, but without the snowfall and frigid temperatures? Put Barcelona at the top of your list.
While the temperatures will be cooler than Seville (especially at night), Barcelona winter daytimes are still manageable with just a sweater or light jacket. The city has one of the more impressive light displays in the country, and Barcelona in January is bustling with local shoppers once the post-holiday sales begin.

Things to do in Barcelona
Read more: Things to do in Barcelona with kids
Though it's a major city with all of the usual high-density urban trappings, the ribbon of Gaudi's architecture weaves through Barcelona and gives it an unusual flavor with his modern, curved, almost lifelike stonework juxtaposed against the charming-but-otherwise-typical buildings of the area.
Architecture lovers can plan an entire city visit around seeing his works that span a range of projects: residences like Casa Mila and Casa Batllo, outdoor installations like Parc Guell and, of course, the masterpiece Segrada Familia. Each of these offers a distinct view of Gaudi's skill and the range of his talents.
Pro tip: Park Guell often sells out weeks in advance. Check availability for your dates below:
It's a very long uphill walk to Parc Guell; if you have a stroller with you, plan to take the bus. We didn't realize how far it was and walked the whole way, but no one was especially happy about it and it took so long that we had limited daylight available. Remember, winter = shorter days!
Check prices for the top places to stay in Barcelona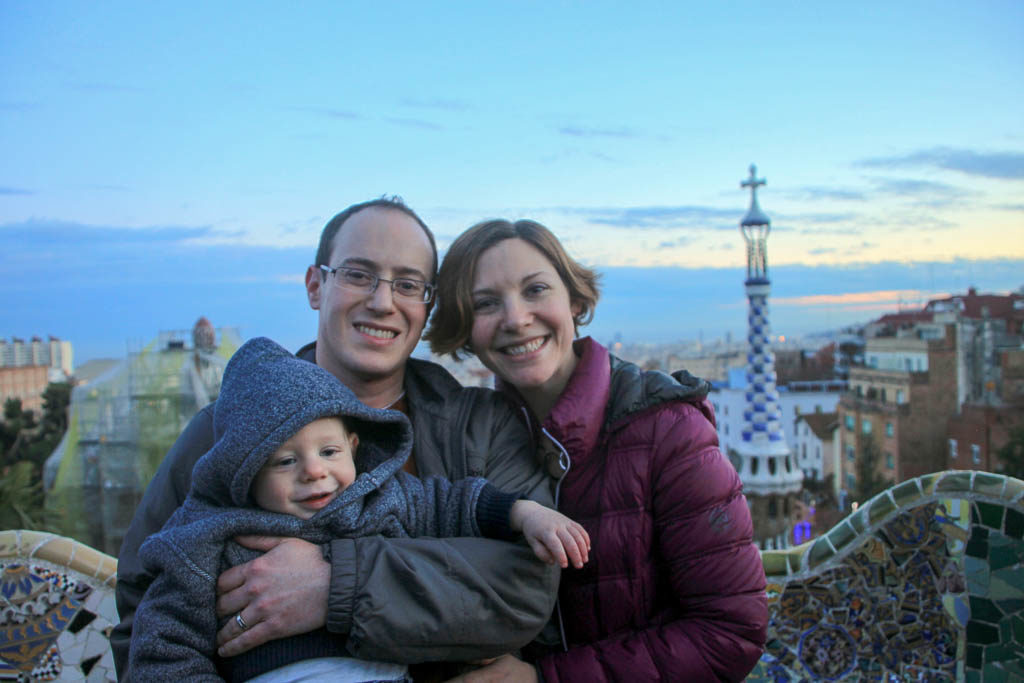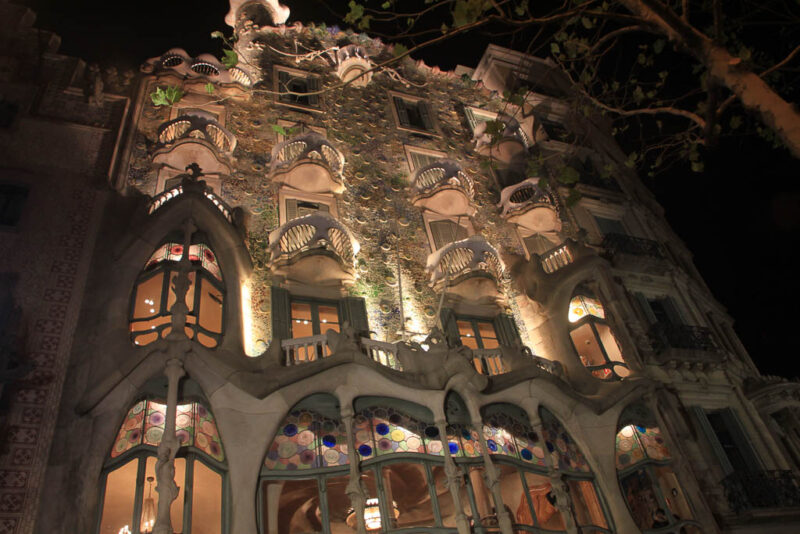 For a different take on Spanish art, don't miss the Picasso Museum in El Born district; make sure to allow yourself ample time to wander the back streets and stumble into a tapas bar!
While you're in the area, stop by the nearby Barri Gòtic to see the ornate cathedral, which is surrounded Catalan Christmas market in December. If you feel like you've seen enough of what Barcelona has to offer, there are many great day trips to take nearby, including this Dali-inspired one to Girona.
Start planning with this detailed Barcelona travel guide
Want a local's take? Check out this itinerary for four days in Barcelona! Make sure to book one of these great places to stay in Barcelona.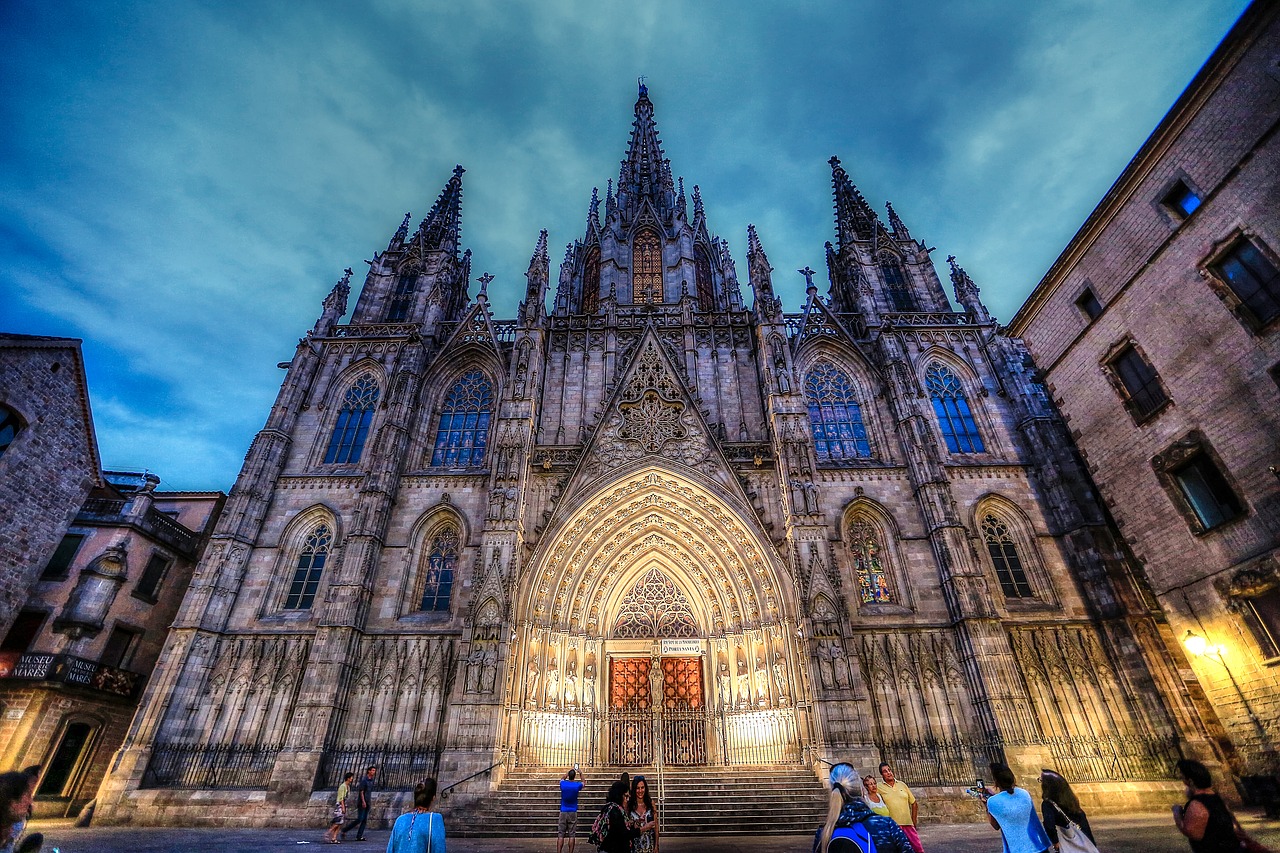 Don't miss these off-the-beaten-path things to do in Barcelona!
Traditional Barcelona food is also a treat for any foodie! Don't miss local favorites like paella and (my favorite as a mostly herbivore) pan con tomate. While you can find churros con chocolate in Barcelona, they are more prevalent in Madrid; instead we mostly scratched our dessert itch with turrón, a honey flavored nougat loaded with almond pieces.
Make sure to check out the classic Mercat de la Boqueria, which may be a bit touristy but is impressive nonetheless and a great source for produce, meat, cheese and wine to stock up your picnics or late-night snacks.
Use the interactive map to find vacation rentals and hotels in Barcelona, Spain
---
Seville in winter
My personal favorite city in Spain, Seville has it all: gorgeous architecture; fun Andalusian culture; and moderate temperatures even over the winter holidays!
With daytime temperatures hovering around 60F, it's plenty comfortable to stroll the city's lush gardens and quiet back streets. Even in places where we expected to fight major crowds, we were often the only tourists present.
At night the entire city is beautifully lit, with huge displays in Plaza Nueva and along the major thoroughfares, plus smaller scale displays on many other streets. Check out 2013's Seville Christmas lights from Sunshine and Sietas!
They even threw (us?) a parade on January 5th (our last night in the city, which happened to coincide with Tres Reyes). Check out this post for Seville travel inspiration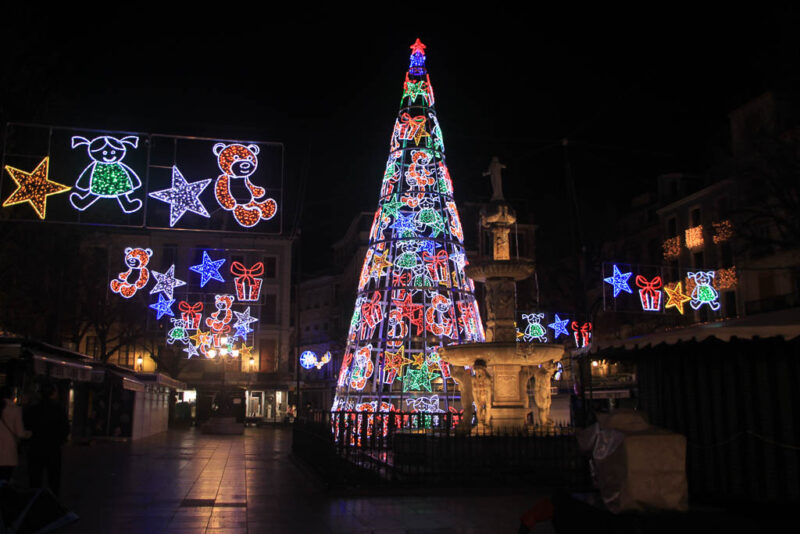 Things to do in Seville
In addition to generally taking in the Andalusian charm of the city, be sure to check out two major highlights, the Alcázar palace and Parque de Maria Luisa. The beginnings of the Alcázar we see today were constructed nearly a millennium ago and represent the unique fusion of Christian and Moorish architecture that is primarily seen in the region. For more context, hop on this excellent, affordable tour of Sevilla's top sites.
Parque de Maria Luisa is the city's largest green space and runs along the Guadalquivir River; in addition to its many walking paths and fountains, the park also houses the enormous Plaza de España exhibition hall constructed for the 1929 Ibero-American Exposition. If you have history buffs in your crew, add a visit to nearby Italica, the birthplace of two Roman emperors. Here are more great day trips from Seville.
Seville is still a great option if you're looking for the best places to visit in Europe in February, as the weather stays clear and comfortable. There are wonderful festivals to experience, including carnaval!
Check prices for the top places to stay in Seville
Use the interactive map to find vacation rentals and hotels in Seville, Spain here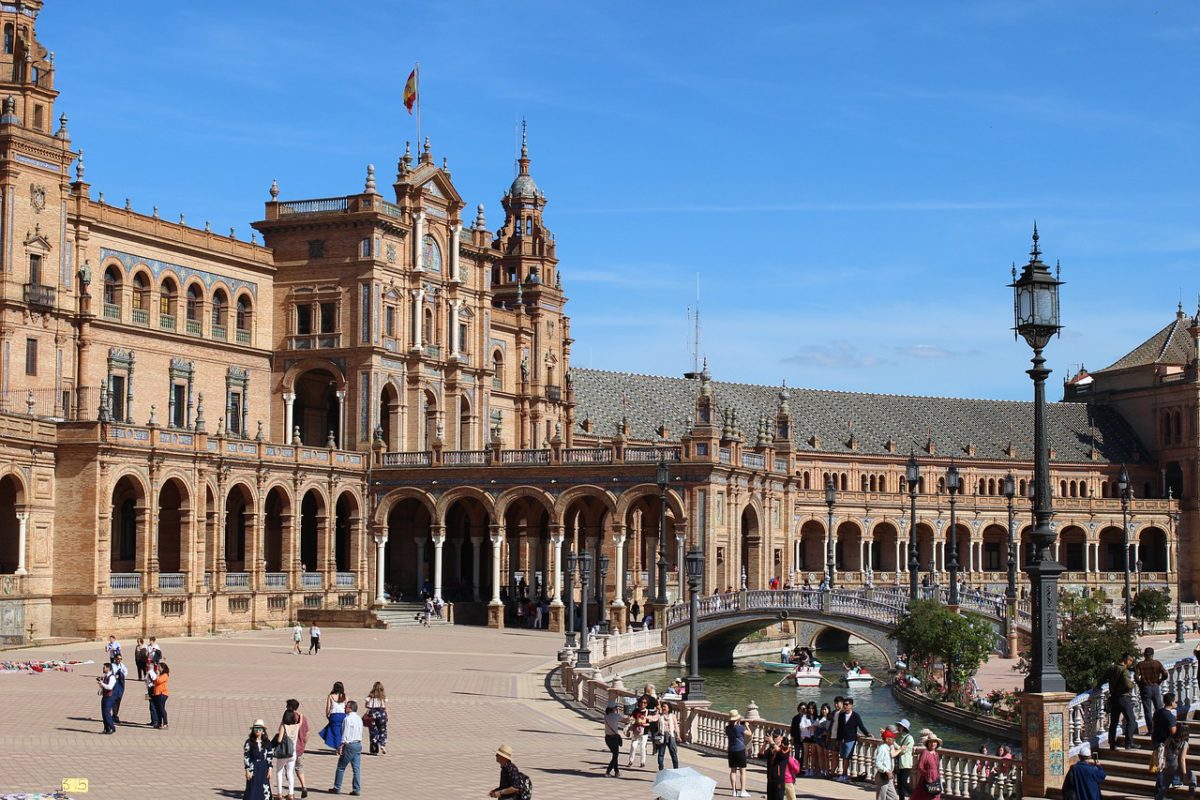 Are you interested in seeing a flamenco show in Seville with your kids? Most of the local dinner and dance shows don't permit young children (you'd be expected to leave at the slightest peep during the show).
We opted to visit the Museum of Flamenco and can't recommend it enough! We visited during the day – they were open even though much of the city was closed for a holiday – and loved seeing the costumes and learning about the origins of flamenco dancing in Spain. The knowledgeable staff even took the time to teach us basic flamenco rhythms.
When we returned for the evening performance, we were warmly greeted with our little one and reassured that he and the other children in the audience were welcome even if they started clapping along. Honestly I've never seen a quieter toddler; our son sat mesmerized for the entire show!
There's a 7pm show to appeal to the "younger" crowd, while those without kids may also be interested in the 8:45pm show. Prices are extremely reasonable: combined admission to the museum and show is €25 for adults, €18 for students and seniors, €15 for kids 6-12yo and free for younger ones. Check ticket prices and secure your spot here.
More activities to do with kids in Seville
Looking for more things to do in Andalucia?
Where to eat in Seville
One of the best pockets of restaurants (and also great for a late-night stroll) is Plaza Alameda de Hercules; it may be off the typical path for tourists, but it's worth the excursion. Our favorite of the Alameda de Hercules restaurants was Al Aljibe. The restaurant serves tapas, but you won't find any of the generic microwave variety there; all of the food is top-notch in quality, preparation and presentation.
The service was warm to an extreme: on our second visit, our waitress took our son around the restaurant with her so that we could enjoy a quiet meal! I'm sure they're too busy in the peak tourist season for that level of accommodation, but that's why you're visiting Spain in December or January… right? You can visit Al Aljibe for an al fresco lunch from 1-4pm, or for dinner beginning at 8pm. As always, we generally advise arriving right at opening if you plan to bring young kids to a more "adult" restaurant – it's usually better for all parties involved.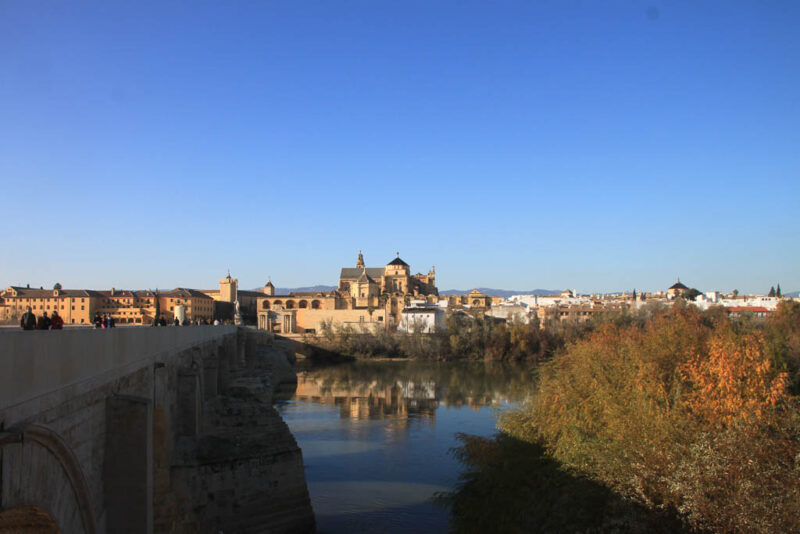 If you feel like you've had enough of Seville, take a quick train ride to nearby Córdoba. The city's history is fascinating and varied: it was settled during the Neanderthal period, and over time has been ruled by Romans, Visigoths, Moors and Catholics. The layers of legacy are most clearly seen at the Mezquita, where a Visigoth temple is topped by a Catholic basilica, which is in turn surrounded by a Moorish mosque.
Don't forget to visit the statue of Maimonides, the ground-breaking Jewish philosopher, down the street. If you're looking for fascinating context and easy logistics, you can easily book a one-day tour from Seville to Cordoba.
Check out this great guide to a day trip in Cordoba.
Want a warm island getaway in Spain? Visit Mallorca this winter!
---
Valencia in winter
(thanks to Rosalie of
Rosalie Goes
)
For those of us visiting from more northerly climates, southern Spain in December is a treat. Arriving in Valencia will feel like fast forwarding straight to springtime. Most days are still warm enough to comfortably sit outside, and you shouldn't need much more than a light jacket to keep warm. With the beaches just cool enough to deter most people, you'll be able to experience Valencia virtually tourist-free.
Valencia is a city known for its stunning architecture, ranging from ornate townhomes to modern masterpieces. Because of the cooler temperatures, you'll be able to explore the streets and neighbourhoods on foot without overheating. Museums and historical sites will have shorter opening hours, but you'll have the place to yourself while it is open.
Throughout December and early January, Valencia comes alive with seasonal festivities. Lacy fairy lights lining all of the main streets and poinsettias adorn every nook and corner.
Make sure you don't miss the annual christmas market inside Mercado Central, where you'll find everything from handcrafted gifts to red sea bream. Plaza de la Reina also hosts a life sized nativity scene, with more than three hundred statues surrounded by dozens of market stalls.
Perhaps the best part about visiting Valencia, however, is getting to try all of the delicious local specialties – and there really is no greater comfort food than seafood paella on a cool winter night! Prices for gastronomy tours and cooking classes are much lower than peak season, presenting a great opportunity to take full advantage of the delicious Valencian cuisine.
Here are some suggested itineraries for a few days in Valencia.
Check prices for the top places to stay in Valencia
Use the interactive map to find vacation rentals and hotels in Valencia, Spain here
Malaga in winter (thanks to Jennifer of Sidewalk Safari)
Málaga is one of those places in Spain often overlooked by tourists in favor of the beachy resorts on the nearby Costa del Sol. If you visit Malaga in winter, you'll be charmed by relaxing promenades, festive holiday lights and bustling fresh food markets – not to mention the pleasant weather in Spain in December.
Things to do in Malaga
Take a cool hike uphill in Málaga to Gilbralfaro Palace. Check out stunning views over the city anchored by the historic bullfighting ring. Hike back down to the Alcazaba fortress and see the Moorish influences in this part of Spain in the architectural details.
Picasso was born in Málaga and the Picasso Museum is definitely worth checking out. A large collection of Picasso's art is proudly hung on the walls of an impressive mansion in the center of the city. Don't miss the city's unique glass museum.
The modern promenade along the sea in Málaga is the perfect activity for a sunny winter's day. All that sea air will make you hungry for seafood.
Restaurante El Tintero is a 'must try' activity if you find yourself in Málaga. It takes about 30 minutes to get to El Tintero on the public bus but it's totally worth the effort. Take a seat and survey the scene as waiters come around offering seafood dishes in their best singing voices.
Warning: you may feel like you've been transported into an opera performance. When you see something you like, gesture to the waiter and they'll drop off your dish.
Check prices for the top places to stay in Malaga
Use the interactive map to find vacation rentals and hotels in Malaga, Spain here
Where to eat in Malaga
Málaga is especially precise when it comes to coffee. Cafe Central invented the ten-strengths convention for ordering coffee in Málaga and is a lovely spot to warm up with a late morning or early afternoon cup of java.
Mercado Central de Atarazanas is a covered food hall featuring a wealth of healthy and not-so-healthy things to eat. Here you'll encounter fruits you may not have seen before. Our curiosity was piqued when we saw chirimoyas and decided to try them for the first time. Chiramoyas feel like a hybrid between a banana (texture and taste) and a papaya (you eat it with a spoon).
Find a complete itinerary for Malaga in winter Sidewalk Safari.

Want to get more helpful travel tips like this? Sign up for our email list!
---
Winter break in Spain FAQs
Is it okay to travel to Spain in December?
Absolutely! December is a magical time to visit Spain, and many parts of the country have mild weather and thin crowds.
How cold is Spain in winter?
Spain has many different micro-climates, where weather is governed by topography, proximity to the water and many more factors. In the low-lying coastal areas of Spain, you can often wear just a sweater during the day and a light or mid-weight jacket at night. Higher elevation locations (like Granada) or those far from the coasts (like Madrid) can get much colder and require a warm jacket, hat and gloves. Cold night in Spain can be very cold in some places!
What is Spain like in December?
Like the rest of Europe, winter in Spain is a festive time!
---
What to wear in Spain in winter
Check out the full Spain in winter packing list
Like so many places around the world, the Spain winter weather can vary dramatically depending on exactly where you are. It has the most diverse climate of any country in Europe. The mountainous landscapes and long swaths of Mediterranean coastline combine to create a series of microclimates, so plan accordingly!
While temperatures will be more pleasant than in much of Europe, nights can still be cold throughout the country. Most visitors to Spain aren't doing serious trekking, so you'll probably just need "smart casual" clothing for city exploration. During our visits to Spain we have found that locals always look put-together and leather shoes (even practical ones like my preferred simple boots) are the norm.
I'm a big fan of the capsule wardrobe concept – bring a small selection of clothing that can all be interchanged, focusing on one or two neutrals and one or two accent colors. Check out this article for more information on building a capsule wardrobe.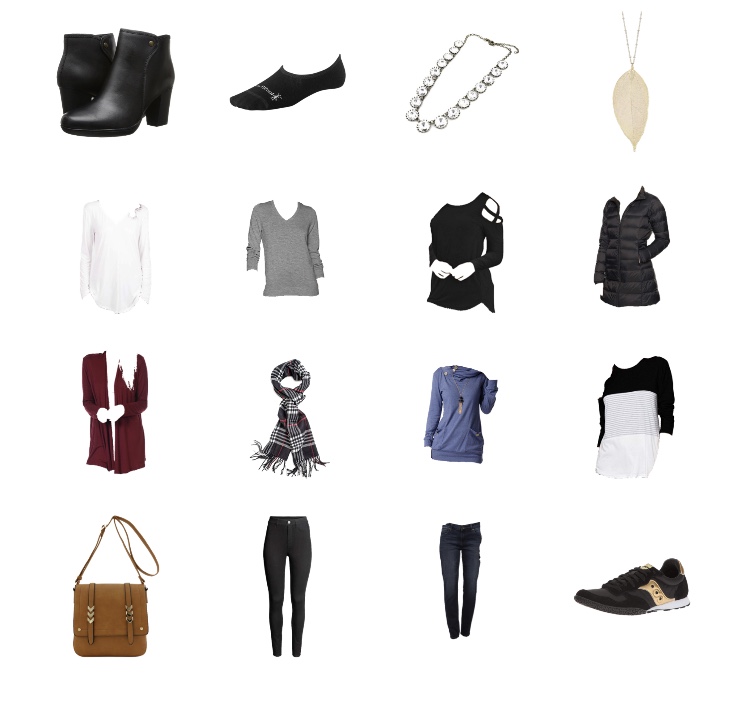 You'll want to pack the following:
-a mid-size purse to hold your essentials
-2-3 pairs of pants. Most Spanish homes do not have a dryer, so take that into consideration as you plan your wardrobe especially when it comes to jeans. If you're visiting for a week or two and bringing pants that dry faster than jeans, two pairs might be enough. But if you're like Brooke Shields in a Calvin Klein ad when it comes to jeans, do yourself a favor and bring three so that you'll be covered while your laundry air dries.
-1 cardigan that can be layered with all (or at least most) of your tops
-5 tops, a combination of long-sleeve shirts and light sweaters that you can layer if temperatures drop unexpectedly
-1 long, lightweight packable down jacket. During our winter trip to Spain I brought a similar jacket but shorter and I was mighty cold in places like Granada and Madrid, especially in December! If it's really cold, you can always layer the cardigan under your jacket as well.
-1 scarf
-1-2 necklaces (perhaps one long and one short, depending on the necklines of your tops and how much you like wearing your scarf)
-1-2 shoes/boots. I recommend bringing a comfortable pair of athleisure shoes (like these favorites – which pair perfectly with my preferred socks) for long days exploring the cities, and if you feel like you'll want something dressier then bring some comfortable, practical, low-heeled black leather boots. Don't forget cozy socks to go underneath just in case!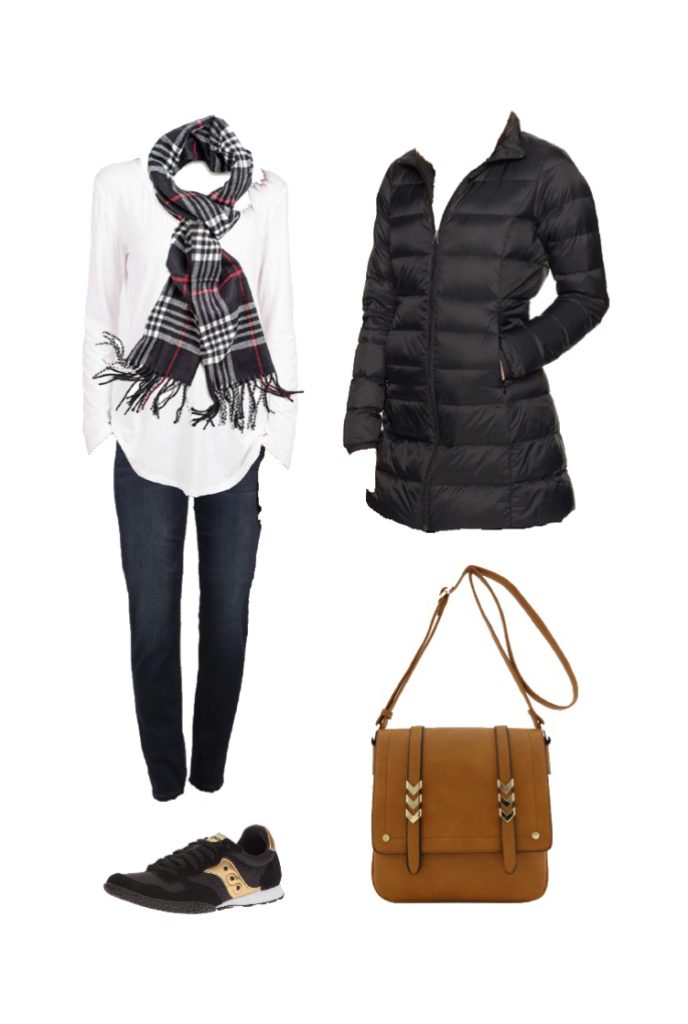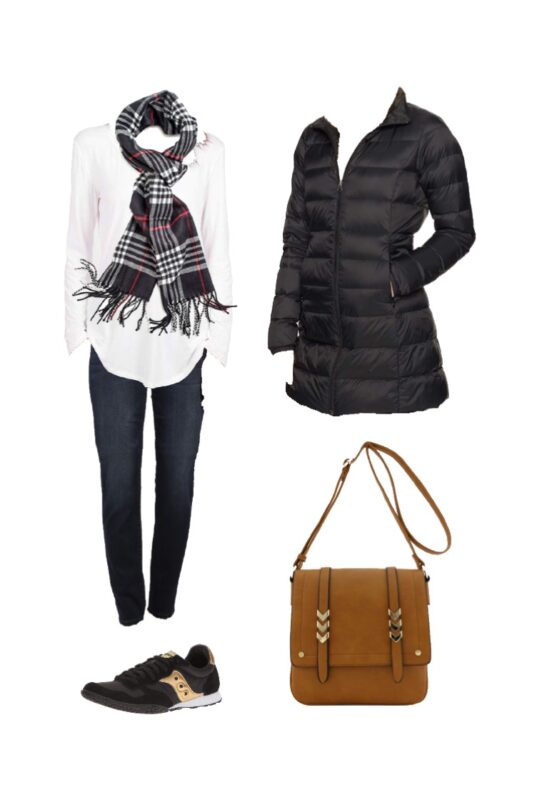 Don't forget these crucial travel accessories when traveling to Spain! Our favorite travel gadget of all time is this ultralight USB extension cord – it charges all of our devices at once and eases the pain of hotels with too few outlets (or worse, hidden behind furniture).
Pair it with just one international plug adaptor to minimize your electronics packing. One of our other favorite travel innovations is the eBags packing cube line – they keep our luggage organized and our clothes in good shape. Ours have lasted almost a decade and are still going strong.
Need a place to pack all that stuff? Check out the best women's travel backpacks here!
---
Tips for visiting Spain in Winter with a baby and Spain with toddler
We absolutely love visiting Spain in December (or anytime!) with kids – find out more about the best places in Spain for families.
Spainiards love children and don't mind seeing them everywhere and at all times! Don't be surprised to find families going for a stroll at 11pm with the little ones bundled up in the stroller.

If you plan to visit some of the chillier cities like Madrid, Granada and Rhonda come prepared to keep your little one warm. We piled on the blankets, but if we had known better we would have brought a foot muff to keep our baby cozy in his stroller. Alternatively, if you prefer to use a baby carrier you'll want a cozy cover to go on top.
Pack n Play portable baby cribs were ubiquitous at all of our holiday rentals in Spain, but if your lodging can't provide one be sure to check out the ultra-portable Guava Lotus. Looking for the best place to stay with kids in Spain?
Read more: Check out our top picks for travel baby gear
While cribs are easy to find, highchairs are not. Ronnie and I retain a running joke from our family trip to Spain, sometimes just looking at each other and saying "Tienes trona?" Sadly, the answer was usually no! And often if a highchair was available, it was a rickety wooden contraption with no center bar in front – the perfect amount of space for our 18mo to slide through mid-meal. If we had known that at the time, we would have brought this awesome inflatable booster seat that we now use. (Check out these other excellent travel high chairs)
We basically never saw a changing table anywhere. Bring a stroller that lays down flat and learn to be quick if you're going to one of the colder cities! Just wheel into a quiet spot if possible and do what you gotta do, parents.
El Corte Ingles is ubiquitous and has a surprisingly decent baby section. They carry a range of diaper brands and sizes, along with baby food pouches, in the grocery section. A word of caution: the pouches in Spain are viewed more as dessert and are flavored accordingly (I'm looking at you, naranjas y galletas). The department store section of El Corte Ingles often has a dedicated baby area where you'll find wonderful brands like Mustela. And they also have baby cologne. Can't comment on that one way or the other!
---
Planning your trip to Spain in winter
Be sure to read these additional articles as you plan your visit to Spain in winter:
Check out a man's take on packing for your trip to Spain! Or if you prefer a more classical winter destination, check out these festive hotels to celebrate Christmas at. Traveling a little later? Here are some great places to travel in January.
You might also like…