Of all the places we've traveled to as a family, Montreal holds a special place in our hearts. It's where we spent our honeymoon and we recently spent a family vacation there as well. If you're like us and can't get enough of this beautiful city, you might be looking for where to stay in Montreal with kids.
On our last visit, we stayed at an amazing vacation rental in the middle of Old Montreal and loved it! There are tons of great hotels and "apart-hotel" rentals across the entire city. I suggest staying central to all there is to do and spending at least some of your visit exploring on foot – walkability is one of the city's charms.
Below you can read about the best areas to stay in, as well as my picks for the best places to stay in Montreal with kids.
Where to Stay in Montreal with Kids by Neighborhood
Where's the best area to stay in Montreal with kids? As the largest city in the French province of Quebec and its capital of cool, where to stay in Montreal with kids really depends on what you want out of the city! We recommend staying in the heart of the city in one of these neighborhoods:
Old Montreal
Downtown Montreal
Plateau Mont-Royal
Read more about each neighborhood below so you pick the best launching point for your family's adventures in Montreal. To give you a sense of scale, from Old Montreal to Plateau Mount-Royal is only about 2 miles. The city is fairly easy to navigate by foot, car or public transportation so all of these neighborhoods will give you easy access to the best things to do in Montreal.
You can also use the map below to see options by neighborhood:
Old Montreal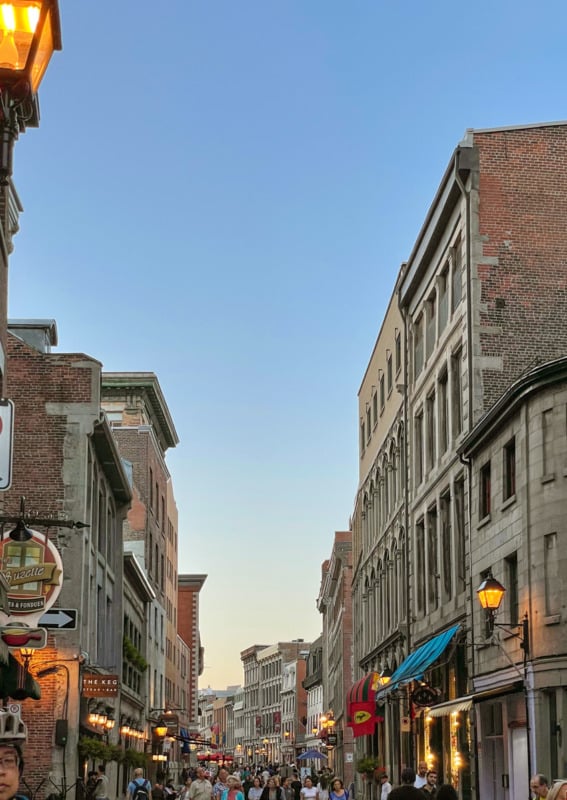 We like to stay around Old Montreal and the Old Port. The neighborhood is just south of downtown and reaches all the way to the St. Lawrence River. You can easily walk everywhere or use bike paths along the canal. There are beautiful old cobblestone streets and 19th-century buildings. The big draw in Old Montreal is all the historic buildings, but there are also great boutique stores and cafes to be discovered.
Downtown Montreal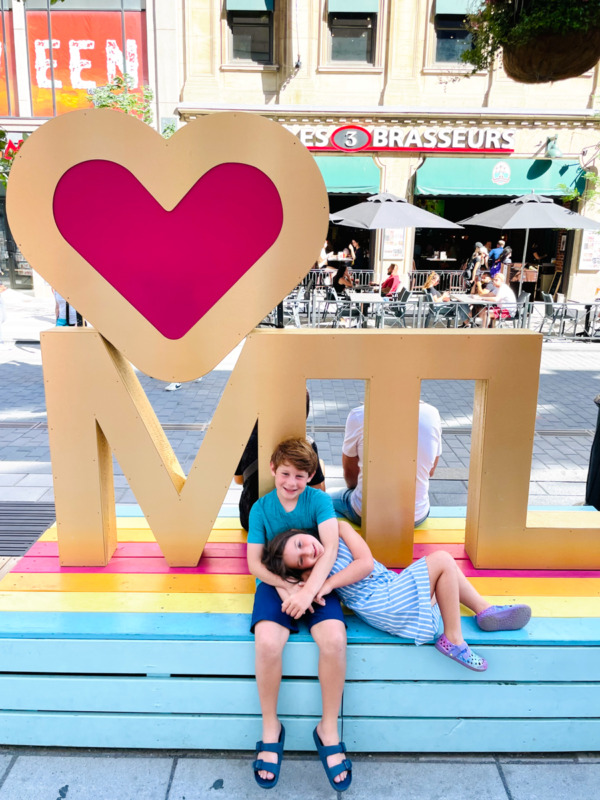 Downtown Montreal is more metropolitan but still has that classic French charm mixed with a lively urban atmosphere. It's bustling along the downtown section of Rue Sainte-Catherine, where you'll find all the big-name shops. This neighborhood also has museums and top-notch restaurants. Plus, it's a great central location if you plan on exploring out a little more, with both Chinatown and Mount Royal Park nearby.
Plateau Mont-Royal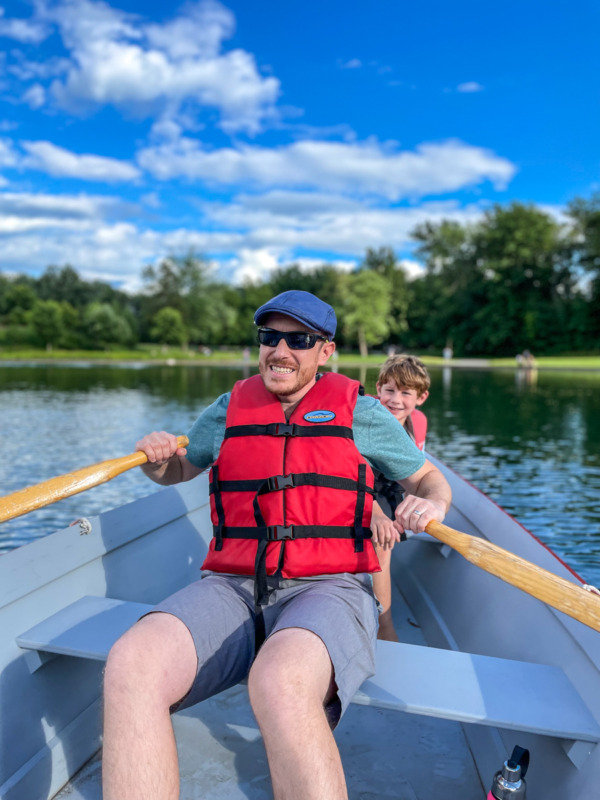 This is one of the top-rated neighborhoods if you're looking for family-friendly places to stay in Montreal. It's a residential area near the University of Quebec and the sprawling Mount Royal Park. Go with trendy Plateau Mont-Royal if you prefer the local experience in a convenient location near the subway and downtown! Take a stroll and you'll find a variety of quality restaurants, and playgrounds among colorful townhouses and gorgeous street art. We like strolling around and grabbing dinner here away from some of the tourist masses of Old Montreal.
Want to get more helpful travel tips like this? Sign up for our email list!
Amazing Montreal Family Hotels
In our own search for the best family hotels in Montreal, I pulled together plenty of helpful information about the available options. The good news is that there are so many Montreal hotels for families that you can definitely find one to meet your needs in terms of size, budget and amenities. Hopefully you'll love one of these Montreal family hotels!
Best Montreal Hotels for Families Near Old Montreal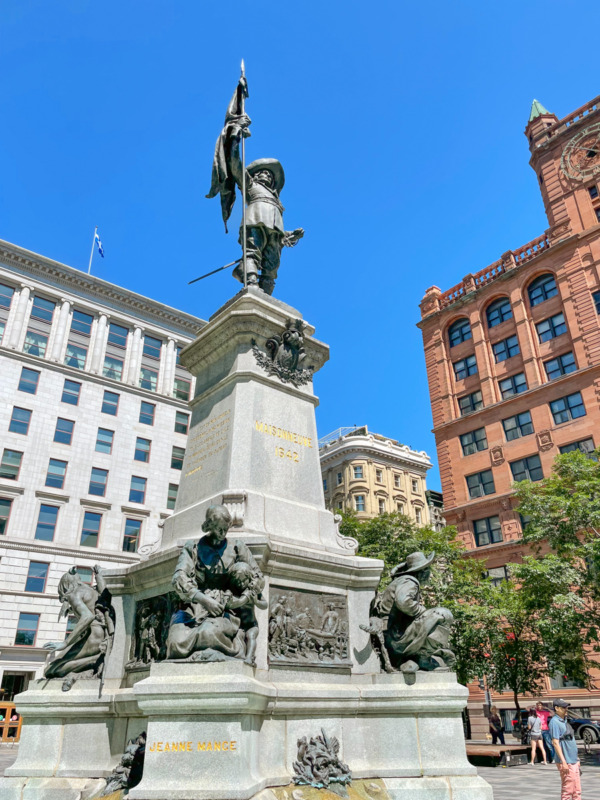 Hotel Place D'Armes
The luxurious Hotel Place D'Armes is located in the heart of Old Port, with its home in a historical 19th-century building. You're just a 2-minute walk to the 200-year-old Notre Dame Basilica, and nearby you can explore several blocks of waterfront restaurants. You can actually see its gorgeous architecture in the background of my photo above!
You can choose from a variety of spacious rooms and suites that use a combination of traditional and modern interior design with natural touches. And it's all about the details with room amenities like cotton robes, Bluetooth speakers, and backlit bathroom mirrors.
During your stay, book a massage at the Rainspa or relax in their urban hammam. You also have a 24/7 fitness center, free local car service, restaurant, café, and rooftop terrace bar. And if you book their Family Time deal, they include a gift bag for the kiddos.
Hotel Nelligan
For more places to stay in Montreal with kids, consider the Hotel Nelligan. You can find it on charming Saint-Paul Street which will remind you of Paris. Stay just steps away from the Prom. du Vieux-Port with its pedestrian and bicycle-friendly pathways.
Inside the old industrial building, you'll love the hotel's exposed brick, warm woods, and luxurious, moody fabrics. With rooms, suites, and penthouses (all with outstanding views) you can choose something that's easier on your wallet or go for the ultimate luxury family getaway!
After a day out with the family exploring the city, book an in-room massage. Work with the 24/7 concierge that will recommend babysitting services or help you plan family activities. Or use same-day laundry services, the family lifesaver!
And while you're surrounded by dozens of decadent places to eat right out the front door, the Hotel Nelligan is known for their top-rated French restaurant, Verses. There's also a café and wine bar for your pleasure, as well as room service.
SpringHill Suites by Marriott Old Montreal
If you prefer a budget-friendly chain hotel in Old Port that's great for families, you can't go wrong with SpringHill Suites by Marriott Old Montreal. Check out the shops at the regal Bonsecours Market shopping mall. And the kids will love Voiles en Voiles, a pirate-themed amusement park with ropes courses and child-sized thrill rides.
The rooms and suites are spacious with a contemporary style that feels airy. Suites come with kitchenettes, which come in handy with leftovers and bottles. Next to the lobby is the Avie Spa, where you can get a massage or schedule a blowout or pedicure. There's also an indoor swimming pool and a full-sized fitness center.
SpringHill Suites Old Montreal is home to Auberge St-Gabriel Restaurant, and of course, you can enjoy a complimentary buffet breakfast every morning during your stay. This is one of the most reliable family hotels in Montreal, as the SpringHill Suites product is consistent with the chain's offerings in the US as well.
Le Nomade MTL
Sometimes you need the space and privacy of a vacation rental. We stayed at this amazing "apart-hotel" condo building in the heart of Old Montreal during our family vacation. It's so much easier with kids because you have amenities you don't always have at a hotel, like a washer and a dryer and a full kitchen!
The building has different options like 1 bedroom apartment with a sleeper sofa or a 2-level, 3-bedroom penthouse with 360-views of Old Montreal. Inside, everything is bright and beautiful, featuring a modern design with rustic touches and contemporary art. Every unit has wooden floors, AC, and tons of space.
Le Nomade MTL is on St. Laurent Boulevard, a short walk from the Montreal Science Center (free with your local ASTC science museum membership card) and the St. Lawrence River.
Family Hotels in Montreal Downtown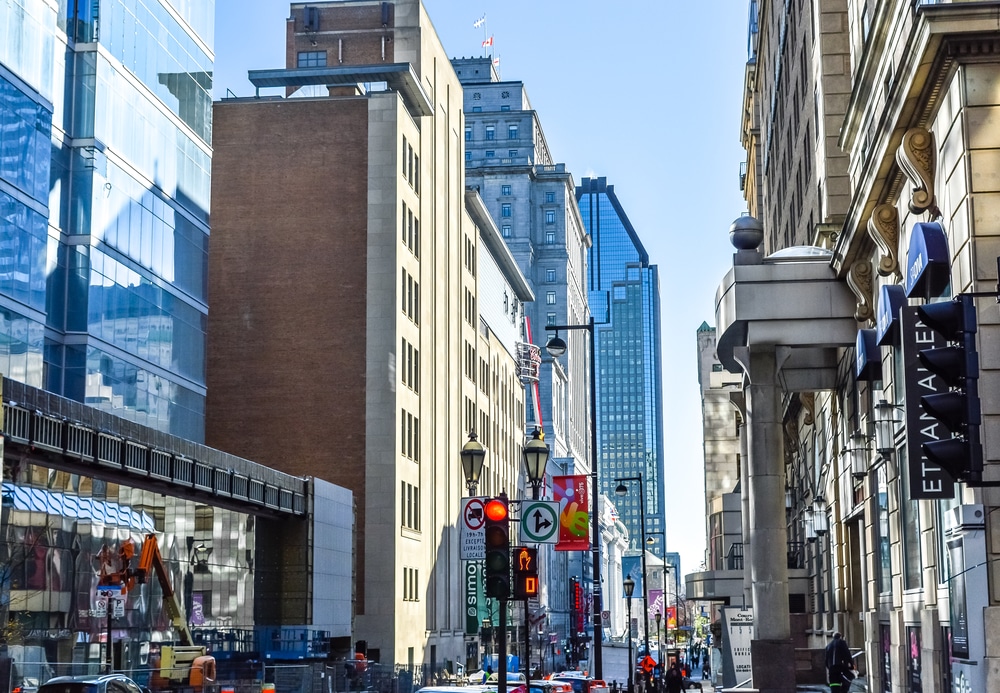 Le Square Phillips Hôtel & Suites
Nothing says "family-friendly hotel" more than having a preferred babysitting agency. You get that and much more when you stay at Le Square Phillips Hotel & Suites!
The downtown hotel is in the middle of the excitement, just steps away from the name-brand stores and restaurants lining St. Catherine Street. You're also a short walk to the Montreal Museum of Contemporary Art and Montreal's Chinatown.
Even if you book a studio, Le Square Phillips' smallest room, you can still enjoy defined spaces and a full kitchen! You can also choose from warm, modern suites or lofts that feel like a second home. Enjoy amenities like a laundromat, an indoor heated pool, lounges, and free continental breakfasts.
Hôtel Le Germain Montréal
Hôtel Le Germain Montréal is a high-end boutique hotel in the center of downtown Montreal with a seamless mix of modern and retro interior décor. Your family will have fun in rooms and suites with goose-down comforters, acrylic bubble chairs, wooden veneer walls, recessed lighting, and platform beds!
Parents will appreciate the free espresso bar. And while you're surrounded by so many international restaurants, fast food joints, and cafes, you have to enjoy at least 1 meal at the hotel's stunning Le Boulevardier Restaurant. It's a 60s-themed restaurant with fascinating architecture that serves up true Quebec fare.
When you stay at Hôtel Le Germain, you may never want to leave! If you decide to explore the city, you're just a 10-minute walk to the walking paths at Mount Royal Park. And you're only 3 minutes from the Metro, which will take you to the rest of the city.
Hotel Monville
A great halfway point between the urban Downtown area and the lovely Old Port is Hotel Monville. You're also next to two large train stations, the Montreal Convention Center, and three different indoor shopping malls.
This hotel is also a quality choice if you're looking for where to stay in Montreal with kids for a small family, as the largest rooms accommodate three people. Hotel Monville is a quality mid-range hotel with thoughtful family amenities, chic interiors, and spacious connected rooms. It's also one of a few pet-friendly hotels in Montreal!
Each morning you can savor gourmet breakfasts made from local ingredients, and all day there's a café and dining hall. One night, you should use their babysitting services and make dinner reservations at MONÈME, an elevated French restaurant and cocktail bar.
Les Terrasses Saint Urbain
Enjoy the rush of Downtown while also benefiting from the quiet of a residential area by staying at a vacation rental at Les Terrasses on Rue Saint-Urbain. Relax in your own space at this charming "apart-hotel" building across from the University of Quebec. And you're a just 15-minute walk from both Old Port and the shops of Downtown.
Each apartment has a different interior design, from eclectic or French-traditional to modern. There are 1- and 2-bedroom options, some with terraces or patios. You get your own washer and dryer, as well as a full kitchen with a dishwasher and a living room entertainment center.
Luxury vacation apartments in Montreal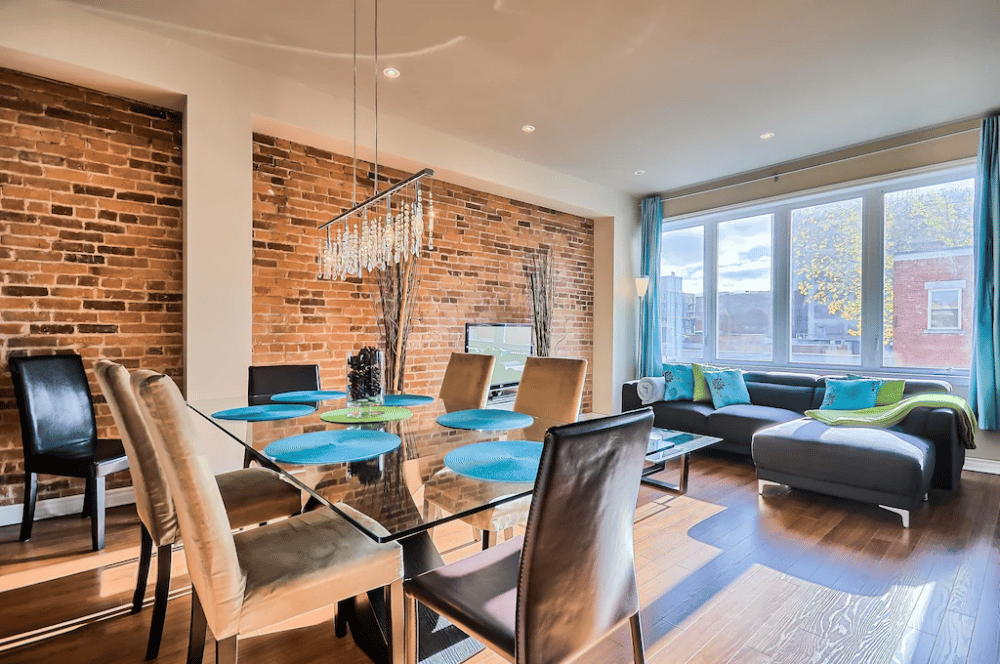 If you're looking for a a family-friendly vacation rental or Airbnb in Montreal, there are a few excellent options downtown! These two properties are legally permitted and managed by a father-son team with several options to suit different family sizes. These Montreal Airbnbs for families are right near Rue St.-Catherine and have excellent Metro access to explore some of the city's attractions outside of downtown. The best part? The nightly rates are so budget-friendly!
The primary difference between these units is the bedding offered as you can see below, but they both have two bedrooms and one bathroom so there's tons of space for the whole family! In terms of amenities, there's a rooftop terrace, each unit has a washer/dryer and you have the option to add parking – which is critical if you're planning to drive in Montreal. These units are on the second and third floors of a triplex, so keep that in mind.
Kid-Friendly Hotels in Montreal Near Mount Royal Park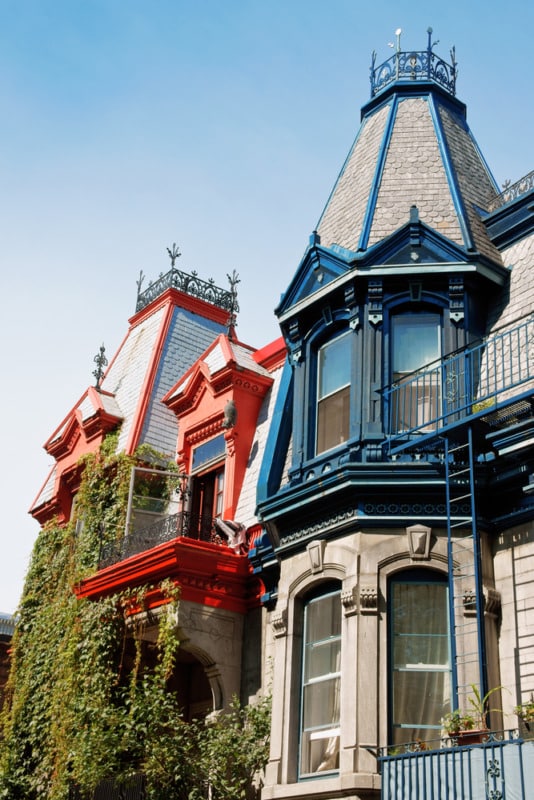 Sonder Le Guerin
Sonder Le Geurin is a spacious "apart-hotel" in the heart of Plateau Mont-Royal. You can enjoy the feel of a hotel stay, including 24/7 concierge service. At the same time, you can enjoy a contactless check-in and the privacy of a rental! It's the best of both worlds. Plus, Sonder Le Guerin is just stunning.
It's the perfect stay if you have a big family or just want a little more space. You can choose from studios or 1- to 3-bedroom condos. Right across the street is a playground with a splash pad. You're also close to the metro and the bus, while Mount Royal Park is just a 15-minute walk away.
If everyone's up for it, you can choose to join the action at the intersection Mount-Royal Avenue and St. Denis Street. There, you'll find all kinds of restaurants, coffee shops, bookstores, clothing stores, gift shops, and more.
Auberge du Carre St-Louis
Finally, there's Auberge du Carre St-Louis, located just off the Square Saint-Louis in Plateau Mont-Royal. It's the ideal place for the family who loves the full hotel experience and is looking for family-friendly places to stay in Montreal. This is also the best place to stay in Montreal for a large family, as the family loft has two queen beds and a sofa bed.
This surprisingly affordable hotel serves up a luxury experience with crisp, clean, bright rooms and lofts with simple, contemporary designs. Superior rooms include private terraces and kitchenettes, while lofts have full kitchens. You also have a bar and restaurant, which offers free breakfast daily.
The Auberge du Carre St-Louise is 2-minutes from the metro. Enjoy the quiet of the Square Saint-Louis or take a stroll down St. Laurent Boulevard to see entire blocks covered in painted murals and art installations made by local artists from the annual Montreal Mural Festival.
Want to get more helpful travel tips like this? Sign up for our email list!
Must-Do Activities in Montreal With Kids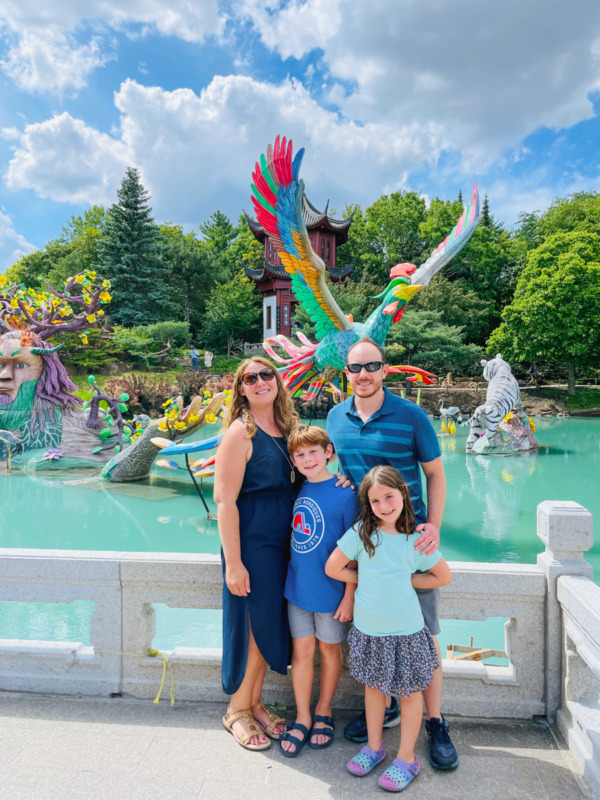 While you're thinking about where to stay in Montreal with kids, here are some of my family's favorite things to do central to downtown and Old Port Montreal:
Check out Espace Pour la Vie, including the Biodome, Insectarium and Botanical Gardens (pictured above)
Take a historical walking tour of the 350-year-old neighborhood of Old Montreal and get an up-close and personal look at some of the oldest buildings in Montreal
Explore the massive Montreal Underground City with 20 miles of passageways connecting stores and museums in the city
Spend a day hiking, picnicking, and paddling in Mount Royal Park
Go shopping on St. Catherine Street where you'll find all the luxury and household name-brands you love
Visit the Montreal Science Center with interactive exhibits that are fun for the entire family
Check out even more of the best things to do in Montreal!
Stay at a Family-friendly Hotel in Montreal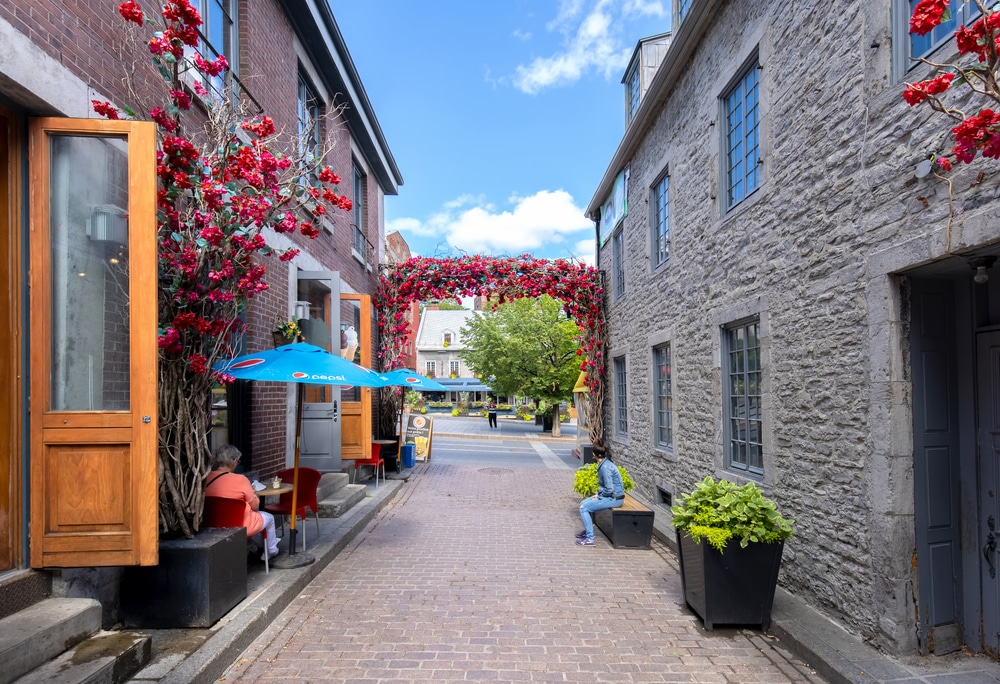 A family visit to Montreal can be rewarding and memory-making. After traveling with my family to Montreal, I can tell you that it's a very family-friendly city, especially Old Montreal and Old Port. I've given you my picks for where to stay in Montreal with kids so you're close to this area. There are so many different hotel and vacation rental options to choose from that I'm sure you'll find the perfect Montreal stay for your family!
Want to extend your trip further? Check out these wonderful Canadian destinations within driving or train distance:
Still planning? Pin it for later!