As you plan your visit to Quebec City, there's one day trip you should be sure to include: Quebec whale watching in the Saguenay-St. Lawrence Marine Park. It's one of the best places in the world for whale watching!
Read on to find out everything you need to know about whale watching in Quebec with our partners at Croisiès AML.
Why you should go whale watching in Quebec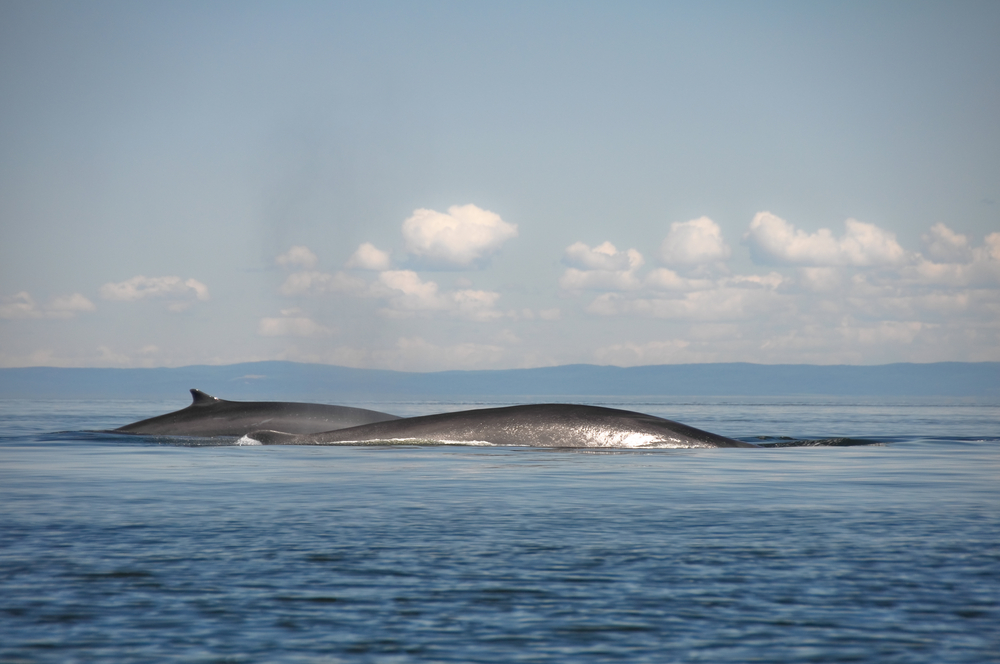 You might see a huge range of whales
We've gone on some amazing whale watching excursions around the world, seeing orcas in Vancouver, humpbacks in Maui and Alaska, right whales in Argentina and more. But typically there's just a single type of whale migrating through an area at once.
The St. Lawrence River is an incredibly unique place for whale watching because you can potentially see up to a dozen different whale species! They love feeding in the salty waters at the mouth of the Saguenay Fjord near Tadoussac and Baie-Sainte-Catherine. Depending on the exact timing of your trip and the luck of the draw that day, you might see humpbacks, blue whales, fin whales, minke whales, belugas and more! You're also likely to see seals and even porpoises.
During our afternoon tour with Croisières AML we saw two humpbacks, a pod of belugas, quite a few minke whales and several seals. It was quite a diverse group!
There are plenty of months for good whale watching in Quebec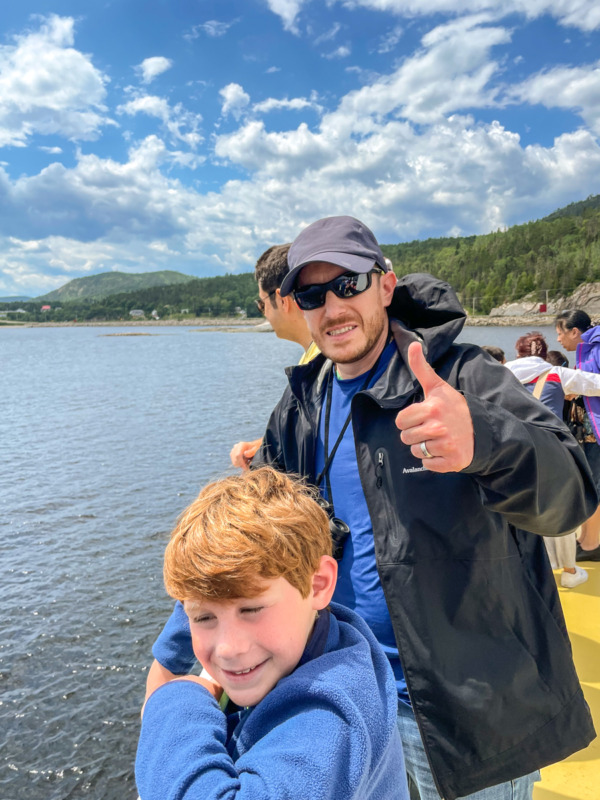 Whale watching tours in Quebec run from mid-May to late October, and even at the tail end of the whale watching season you can still see humpbacks, fin whales and belugas (who live in the St. Lawrence River year-round). Fortunately this period also coincides with the loveliest weather in the region too.
The best time of year for whale watching in Quebec is July, which is the peak season for most whale species to feed in the St. Lawrence River.
You'll learn a ton about whales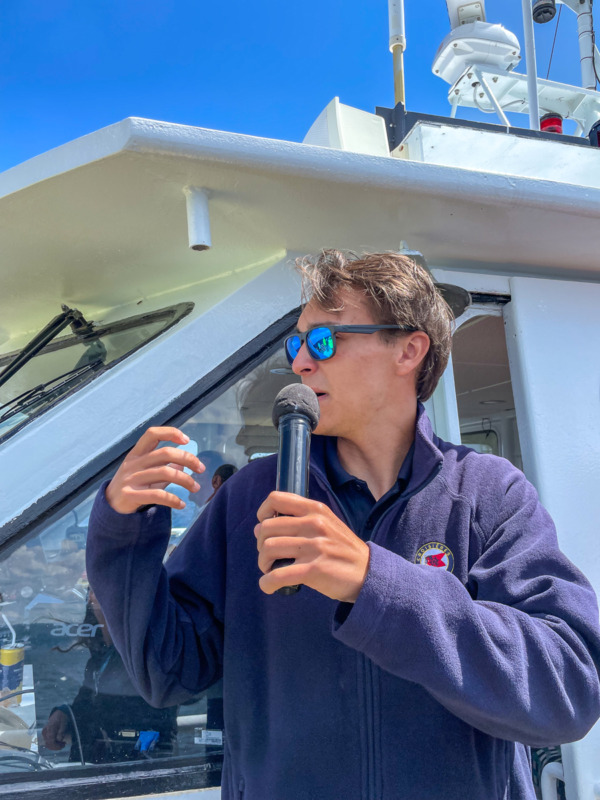 All of AML's whale watching boat tours have a naturalist in board – separate from the captain – so there's always an opportunity to listen and learn about the beautiful creatures you're there to see. Our boat's naturalist covered everything from the ecology of the St. Lawrence River to whale identification and behavior.
I was particularly impressed by how deftly he handled bilingual narration. As a speaker of both English and French, I can confirm that he conveyed the same information – with essentially the same detail and depth – for everyone. When the wind was favorable, he joined the rest of us ardent whale watchers on the front observation deck, but even when he was forced inside we could generally hear his narration over the boat's speakers. Because it's possible to see so many different types of whales, his discussions were truly tailored to our observations.
It's a rewarding day trip from Quebec City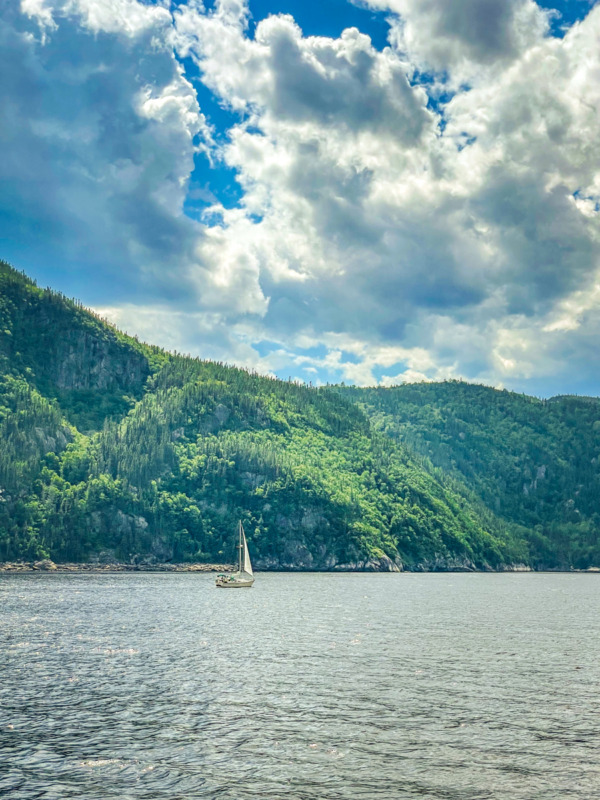 While many visitors to Quebec City never leave the charming historic part of town, the province of Quebec covers about 600,000 square miles – about 15% of Canada's enormous landmass! Taking a day trip to Charlevoix for whale watching shows you a completely different side of Quebec, and in many ways is more representative of what you'll find throughout the province.
In addition to Quebec whale watching, the Charlevoix region boasts quaint towns, lovely gardens and untouched forests. The distance from Quebec City to Baie-Sainte-Catherine is about 200km and can be driven in 2.5 hours without stops… but you'll definitely want to stop!
---
Tips for your Quebec whale watching experience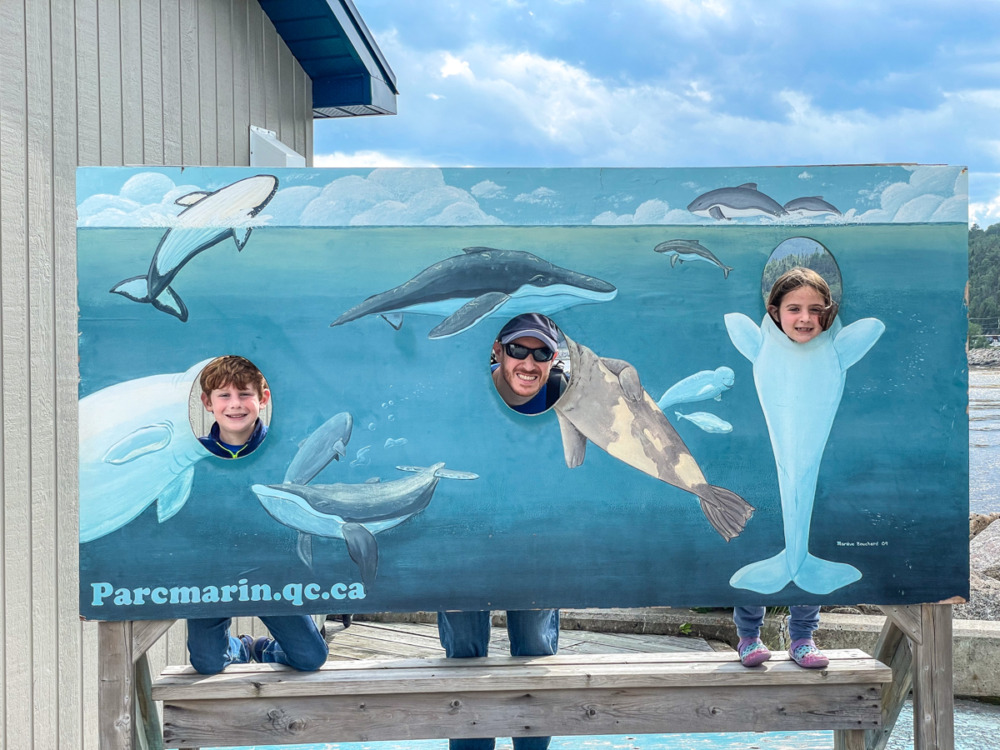 Opt to embark in Baie-Sainte-Catherine instead of Tadoussac
If you're taking a whale watching day trip from Quebec City, I recommend choosing to embark in Baie-Sainte-Catherine rather than Tadoussac. While the boat boards in Tadoussac first, we had no challenge getting some good "railing real estate" when we boarded at the second stop. While the two towns face each other at the mouth of the Saguenay Fjord, they are connected by a ferry that can add 30 minutes of extra time to your trip. Obviously if you're staying further north in Charlevoix or even the maritime regions of Quebec, Tadoussac may be more convenient.
Want to get more helpful travel tips like this? Sign up for our email list!
Allow plenty of time for parking and embarkation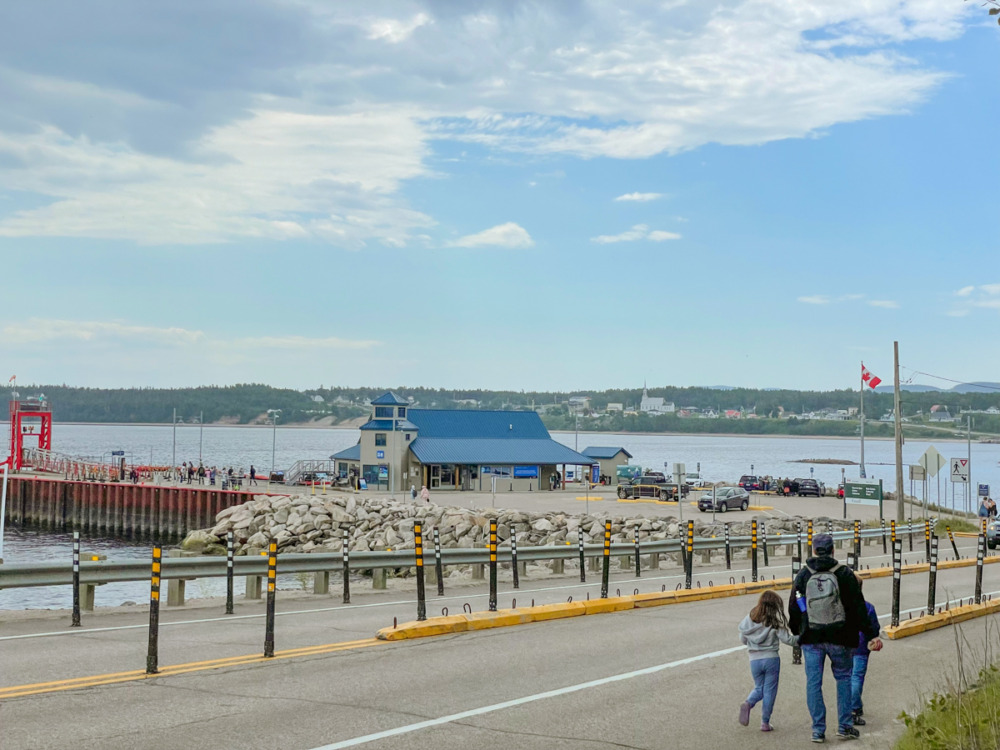 At least in Baie-Sainte-Catherine, the parking is across the highway a little ways from the dock. Between waiting in line to pay for parking, getting into the lot, distributing everyone's extra layers and then walking back to check in we needed about 15 minutes extra. Though there are restrooms on board, it's a good idea to use the ones on land before you board. You definitely don't want to miss the boat, so allow extra time!
Dress appropriately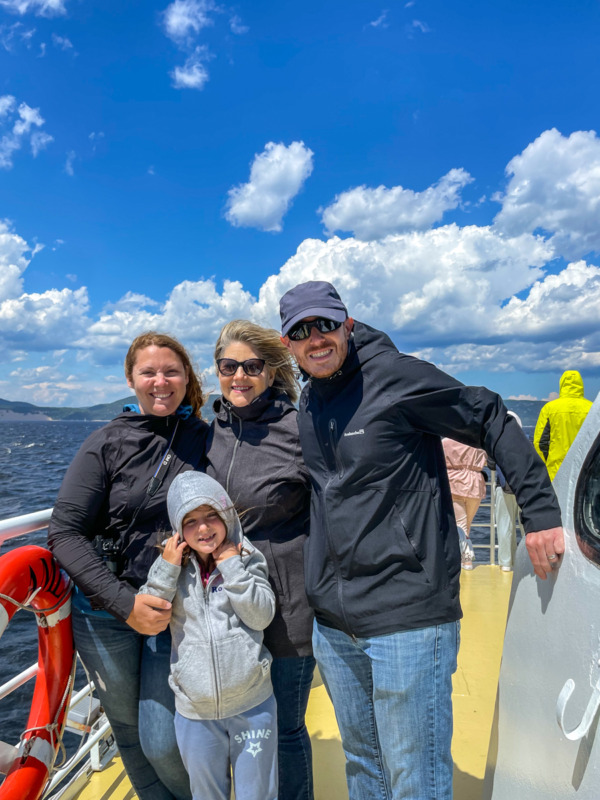 Many people ask what to wear for whale watching, and the one commonality regardless of where you go is that it's almost always going to feel very windy. Our experience whale watching on the St. Lawrence River was no exception! The temperature was at least a little cooler than on the nearby land, but even in July we were all happy to have long sleeved shirts and lightweight jackets.
One essential that many people forget in the cooler sea temperatures is sunscreen. You'll want to put sunscreen on your entire face and your lips. The sun's rays reflect off the river surface and can give you a nasty burn if you aren't careful.
While your exact footwear isn't critical, I recommend wearing shoes with some traction for whale watching. The deck can be slick in places and there were a few moments when our boat hit some waves.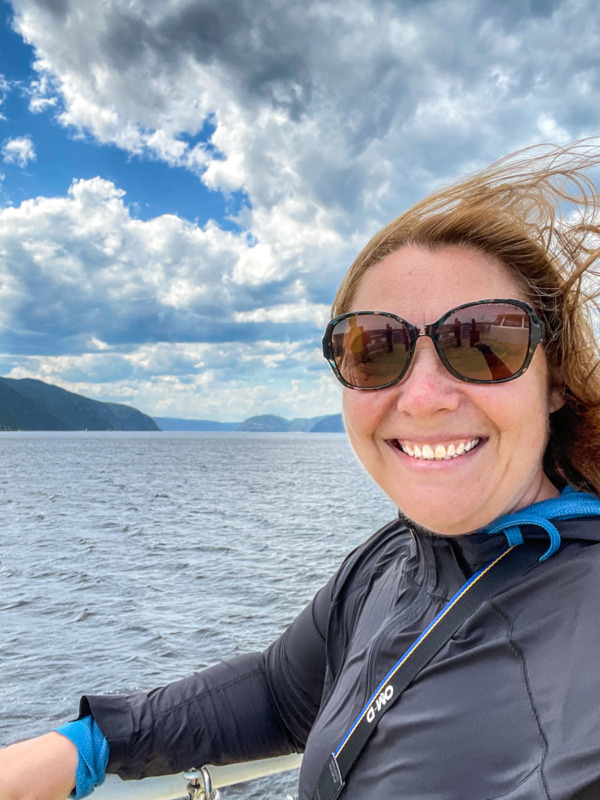 A helpful addition to your whale watching outfit is a pair of UV-protective polarized sunglasses. Not only will they prevent sun damage to your eyes, but they'll also cut the glare from the water's surface and make it easier for you to spot whales.
If you have long hair, be sure to bring a way to tie it back so that it doesn't get in your face and obstruct your view. It's really windy out there on the river!
Bring your own binoculars
While we've been on a few small whale watching vessels that provide binoculars for participants, larger ones like the whale watching boats in Quebec don't generally provide them. We always bring two pairs of binoculars, plus my camera has a beefy zoom lens on it. We love these binoculars and use them often, plus they're extremely compact for travel.
Understand the different Quebec whale watching options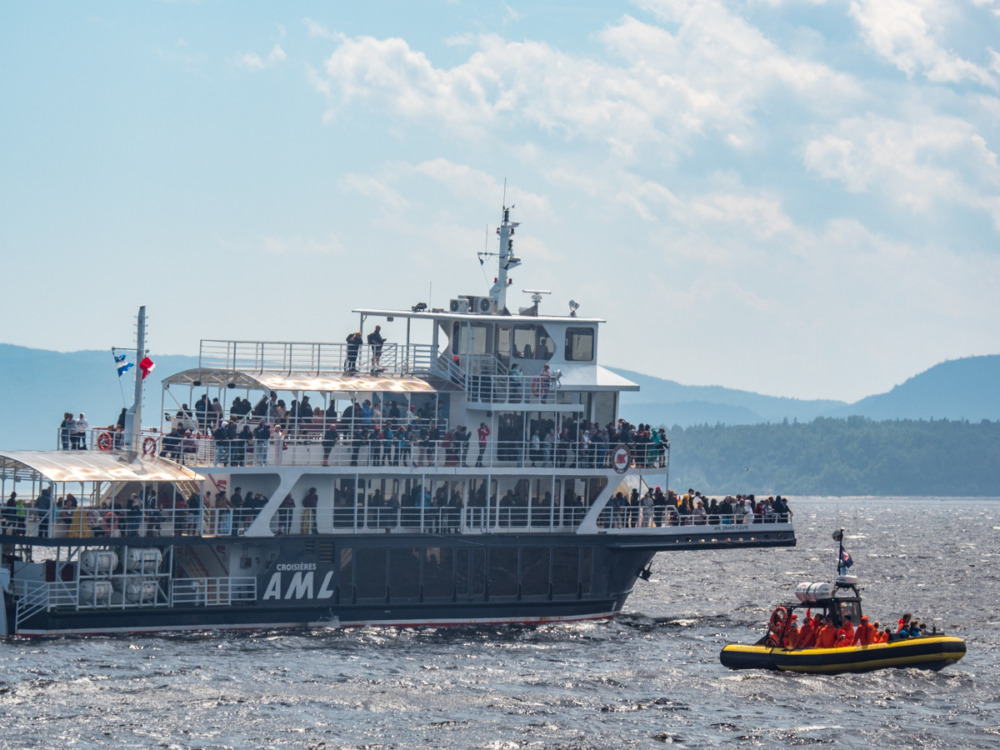 There are basically three ways to see Quebec whales from the water: a medium sized whale watching boat, an inflatable zodiac or a kayak. I'll give you a brief run down of the advantages of each.
Whale watching boat: We rode on the AML Zéphyr, which is an extremely stable boat designed for whale watching. It has plenty of outdoor observation space, but also a partially enclosed space with massive windows for those who need a break from standing in the wind. All of the "big boats" have restrooms and snacks on board, which is important since you're often out on the water for several hours at a time. Since these trips are fairly long and the boat can move at a good clip, you'll cover plenty of territory to maximize your chances of seeing whales in Quebec. This option is suitable for all ages and ability levels and can accommodate 200+ people at a time.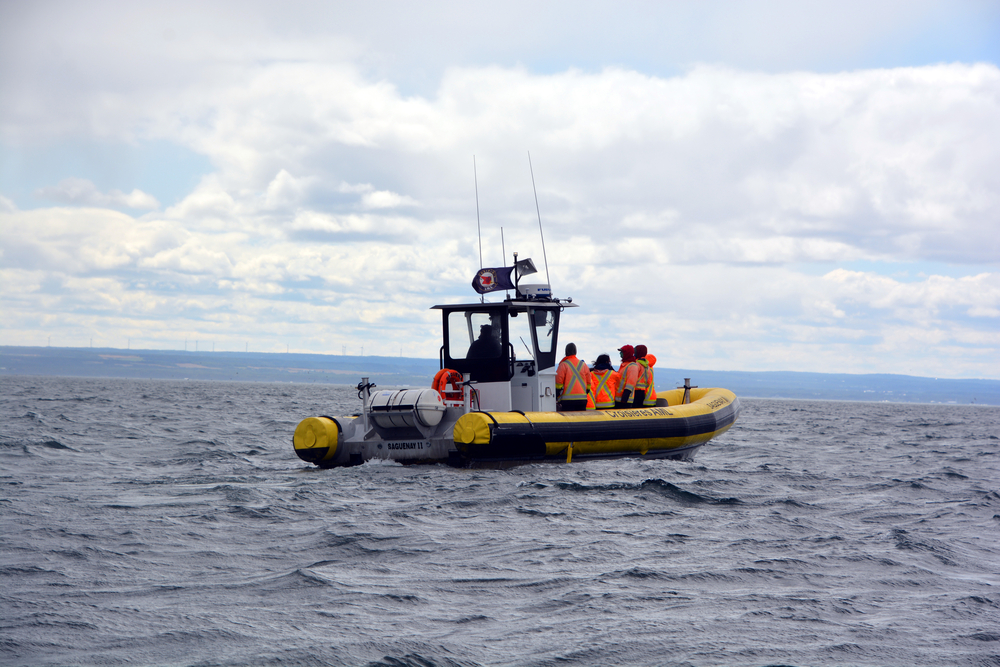 Whale watching zodiac: Do you have a sense of adventure? Hop aboard a 24- or 60-person motorized inflatable boat to get right at eye-level with the whales! It's a much more intimate experience than what you'll find on the larger boats, but it's not right for everyone. First, kids must be over 6 years old to participate and everyone needs to be basically able-bodied. Second, you will almost certainly get wet. You're given a water/windproof suit but expect plenty of water to be everywhere – and remember that it gets chilly out there. These trips last 2-2.5 hours and the zodiacs don't travel as fast, so they won't cover as much area.
Kayaking: If you want to combine sightseeing with a workout, kayaking may be for you and you might see some whales while you're at it. This option isn't as wildlife focused but kayaking is a great way to enjoy scenery. Most of the kayaking trips from Baie-Sainte-Catherine and Tadoussac focus on the calmer waters of the Fjord, which doesn't have nearly as many whales as the more open waters of the River. A better option for kayaking with whales in Quebec is Les Bergeronnes, but that's a 3.5 hour drive so it's pushing the bounds of a day trip from Quebec City.
No car? No problem!
While I recommend renting a car to road trip around the Quebec province, that may not make sense for every trip. Fortunately you can book a cruise with bus transportation included. The bus boards at 8:30am in front of Le Frontenac and returns there around 8pm. If you plan to use the bus transportation, consider staying in this Quebec City hotel where we stayed – it's just a 3 minute walk, but located on a beautiful quiet street with an unbelievable view.
Thanks to our partners at Crosières AML for hosting us. All opinions are my own.
---
Where to stay for Quebec whale watching
If you want to extend your stay in Charlevoix and beyond, consider these great places to stay near Baie-Sainte-Catherine:
Where to go next
It's easy to extend your trip to Quebec City with these great options nearby!
Want to get more helpful travel tips like this? Sign up for our email list!
Still planning? Pin this for later!