With 19 waterfalls set among stunning cliffs, Watkins Glen State Park has earned its popularity. But you'll want to read these Watkins Glen hiking tips before you go, especially if you're traveling the Finger Lakes with kids:
General Watkins Glen gorge hiking tips
Don't be afraid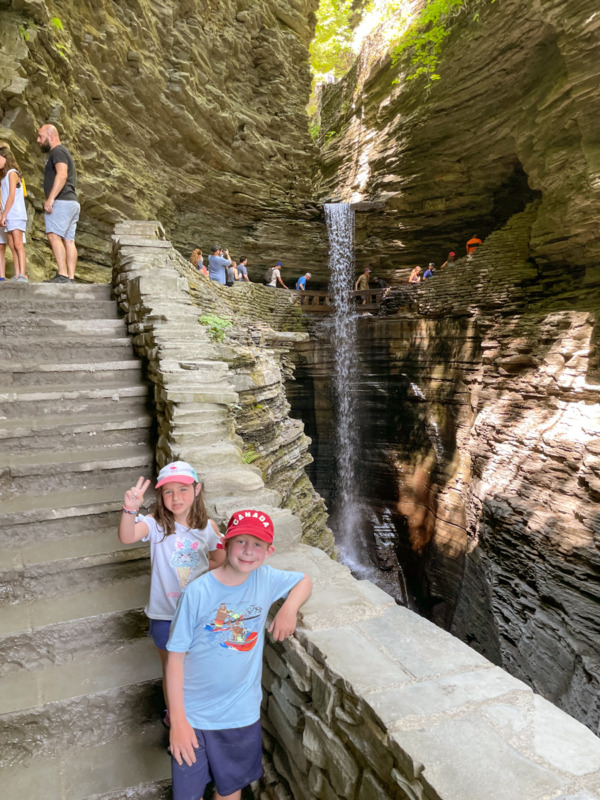 If you do any hiking at home, this won't be too hard… except for the final ascent up Jacob's Ladder. But even that has a few landings to stop and catch your breath, and the section right before is almost completely flat for a half mile. The photo above gives you an idea of what most of the first mile looks like in terms of difficulty.
But how steep is Jacob's Ladder? Check out the first of two segments in the photo below or in the video here: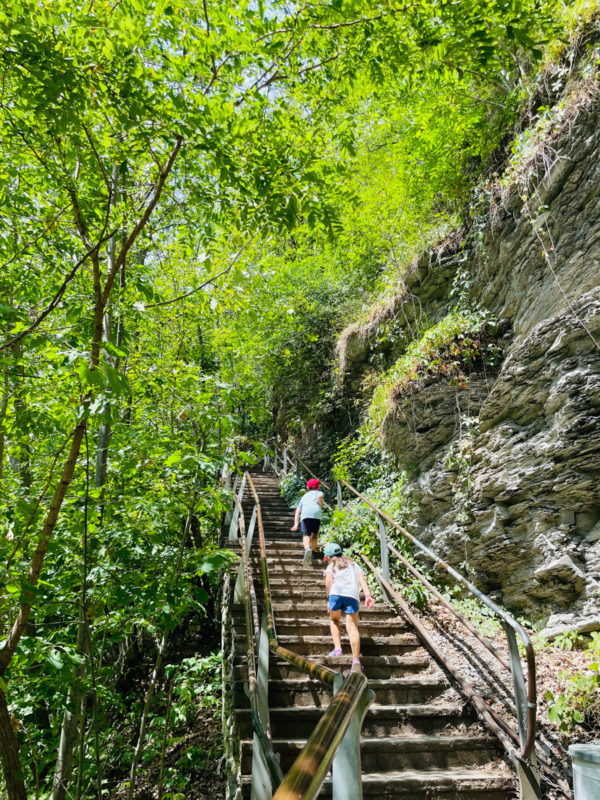 If at all possible, start at the Watkins Glen main entrance and ascend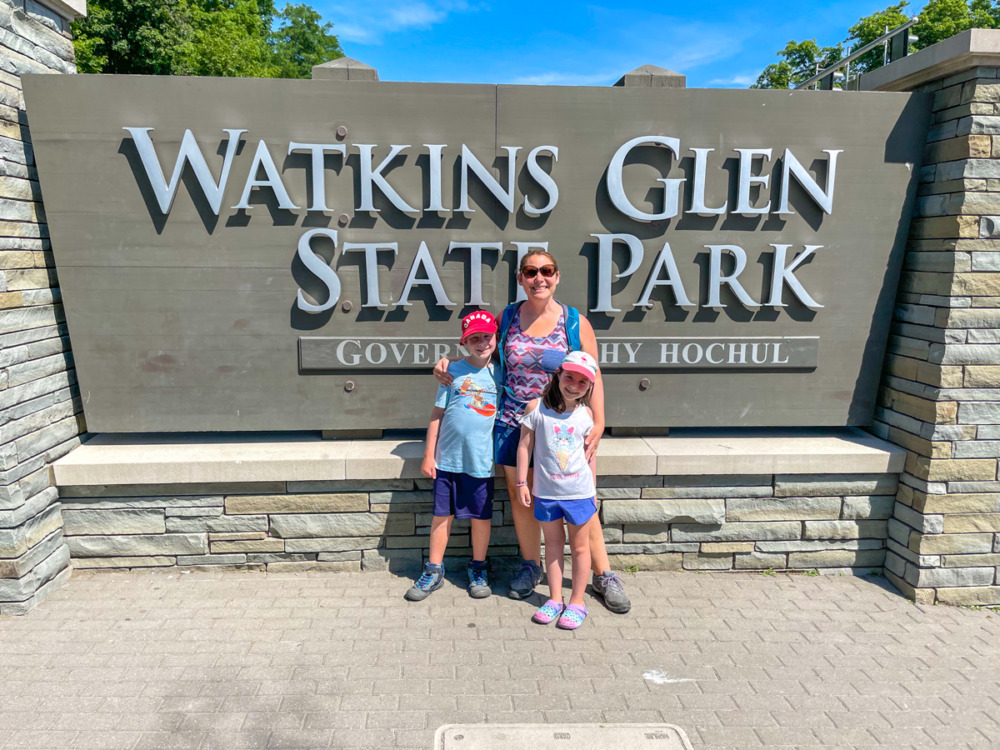 We had planned to start at the top and walk down because we'd heard it was really steep (832 stairs in all) but for those in decent shape it's not necessary. The views really are MUCH better going up through the gorge with all the waterfalls in front of you. If you hike in reverse, as some suggest, you'll have to stop and look backwards to see the waterfalls.
Descending through the gorge also puts you against the flow of traffic, which can be challenging on very crowded days.
Plan your route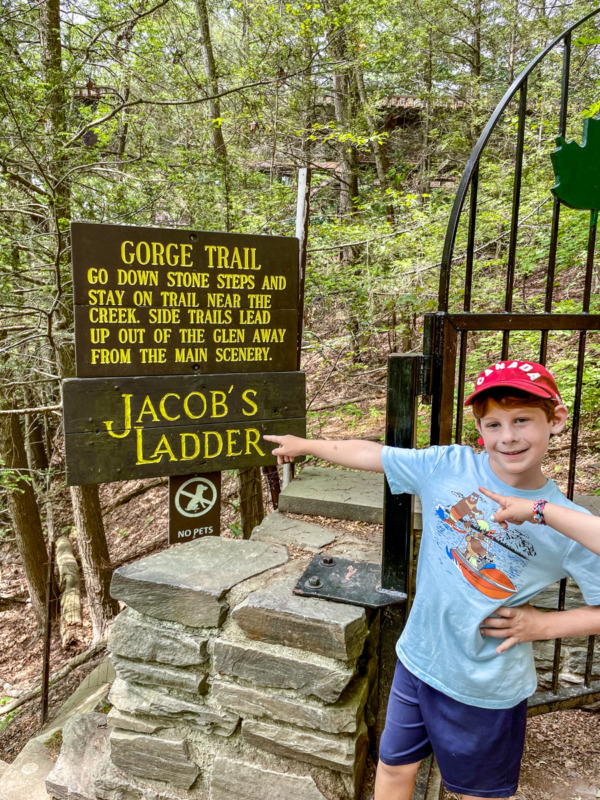 We parked in the main lot, hiked all the way up and then caught the Watkins Glen shuttle service back down, but you can also park at the top (which was empty), shuttle down and then hike up to your waiting car. The fare is $6 per adult and my kids were free! There can be a bit of a wait for the shuttle.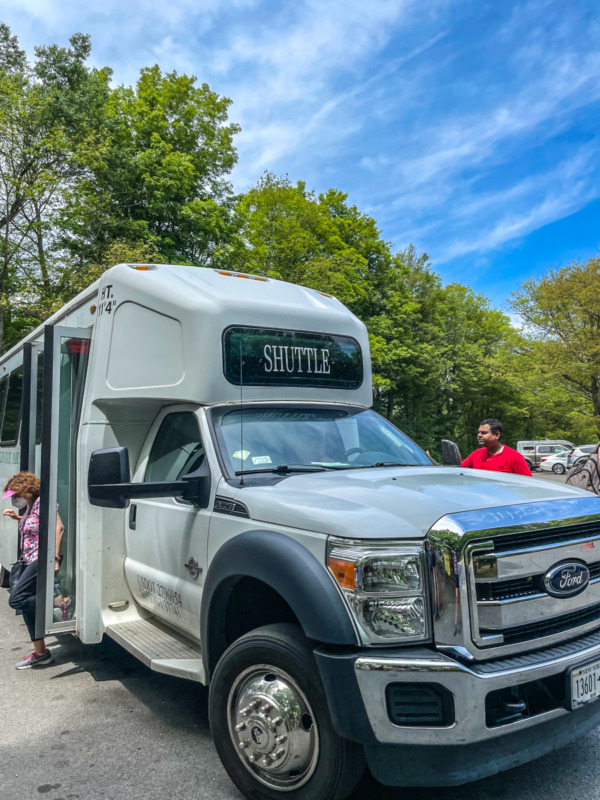 One great option – which I'll do next time – is to start at the main entrance and hike to Mile Point bridge (so named because it's one mile into the trail) and then turn left to return along the South Rim Trail. You'll get different views and avoid the throngs of ascending crowds on the return hike, while also skipping the butt-busting stairs of Jacob's Ladder right at the end. The last 0.5 mile between the bridge and Jacob's Ladder is flat and pretty, but it lacks the stunning cliffs and impressive waterfalls of the first mile.
Obviously you can hike the full trail both ways but you won't see anything new and there are so many other activities to check out in the area that it may not be the best use of your time given the other choices.
Want to get more helpful travel tips like this? Sign up for our email list!
Dress appropriately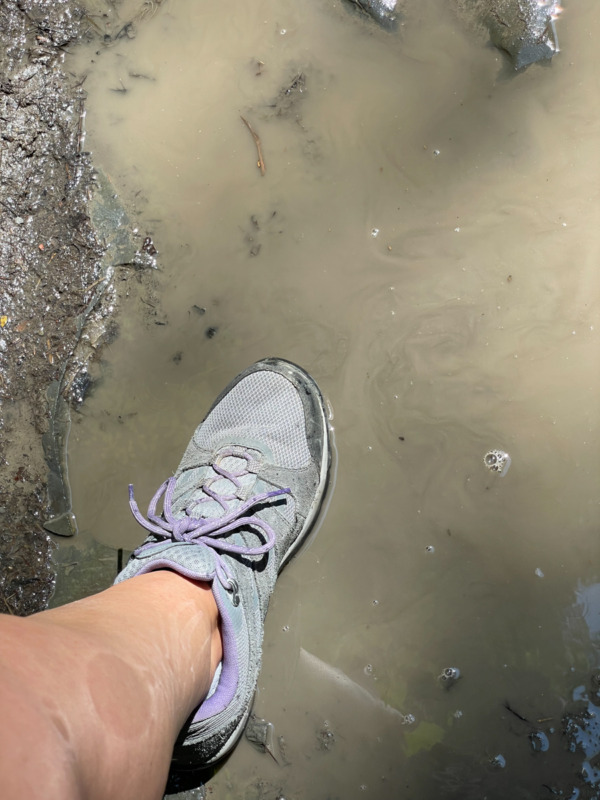 Don't wear your cute white shoes or your flip flops. Yes, the stairs are in pretty good shape. But there are a lot of slick, wet or muddy spots. In a few places we had to walk straight through 1" of standing water – and we visited during one of the driest times of year.
I wore waterproof hiking shoes, one kid wore these Keens and the other wore EVA water shoes with some tread in them. All three options worked out well.
Bring enough water
The earlier you go the more shade you'll have from the high gorge walls, but the kids and I went through about 50+ ounces with a mid-morning start. There are no official filling stations along the trail, though if I brought this I would have felt completely comfortable refilling from the "fountain" after Mile Point bridge.
The facilities are great
There are bathrooms and snack bars at both the upper and lower entrances. In addition, the south parking lot has a swimming pool and camping. Parking is $10 wherever you go. In theory we should have gotten in free with our Every Kid In a Park pass, but there was no attendant nearby to show it to.
There's a handy Watkins Glen trail map at each end of the park, so I suggest taking a picture to keep handy on your phone while you hike in case you want to consult it.
Summer is nice, but probably not the best season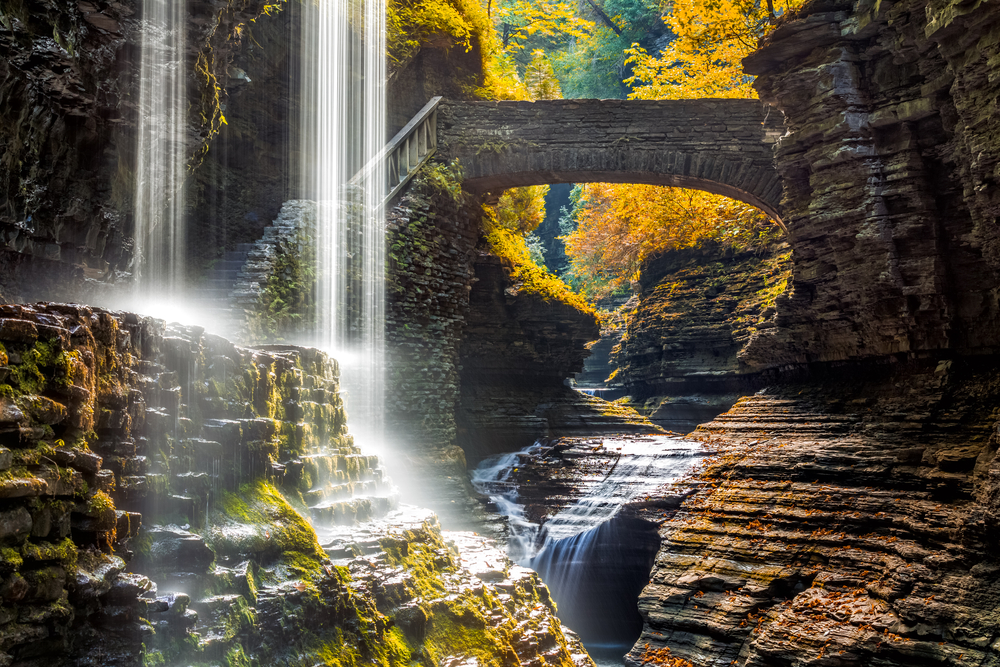 Watkins Glen was lovely in summer, so if that's when you'll be visiting the Finger Lakes be sure to hike it. But if you have a choice, when should you try to experience Watkins Glen State Park? The best time to visit is autumn, when the Finger Lakes fall foliage is on full display. The next best option is to visit around mid-May when the Gorge Trail re-opens, as you're more likely to see impressive flow in the waterfalls.
When is the Watkins Glen open? While the park is open year-round, the blockbuster Gorge Trail is closed in the winter due to impassable or dangerous conditions and through much of spring for repairs and maintenance. As a point of reference, in 2022 the Gorge Trail re-opened on May 20th.
---
Watkins Glen with kids tips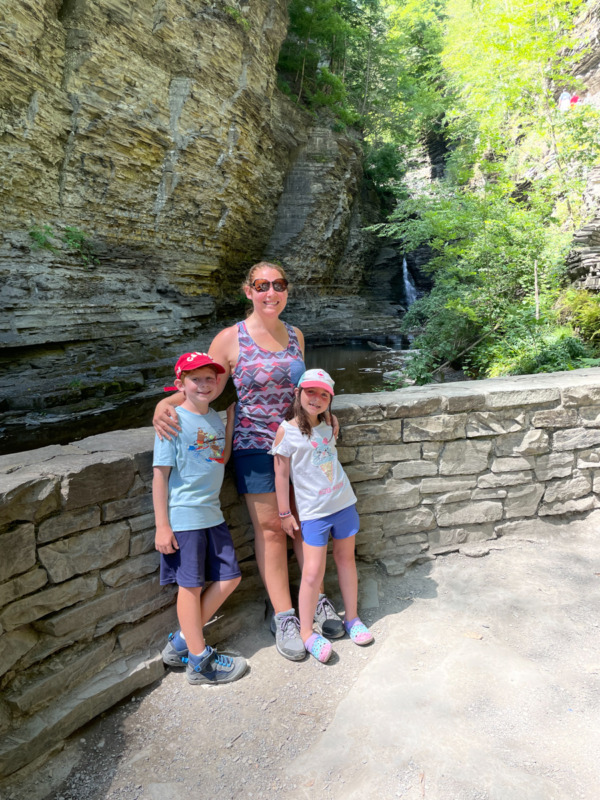 If you're thinking of hiking Watkins Glen with kids, you'll want to read these tips before you go to ensure success for the whole family!
You can use a baby carrier at Watkins Glen
While my kids are old enough to conquer 10 miles on their own, we spent many years hiking with them strapped to our fronts and backs. I consider Watkins Glen to be a babywearing-friendly hike in the Finger Lakes assuming you're in decent shape. You'll be lugging an extra 15-30 pounds up all those steps, so prepare for it.
But there was nothing so treacherous that babywearing poses an extra hazard. As always, take your time and wear shoes with appropriate traction.
Kids ride the shuttle for free (maybe?)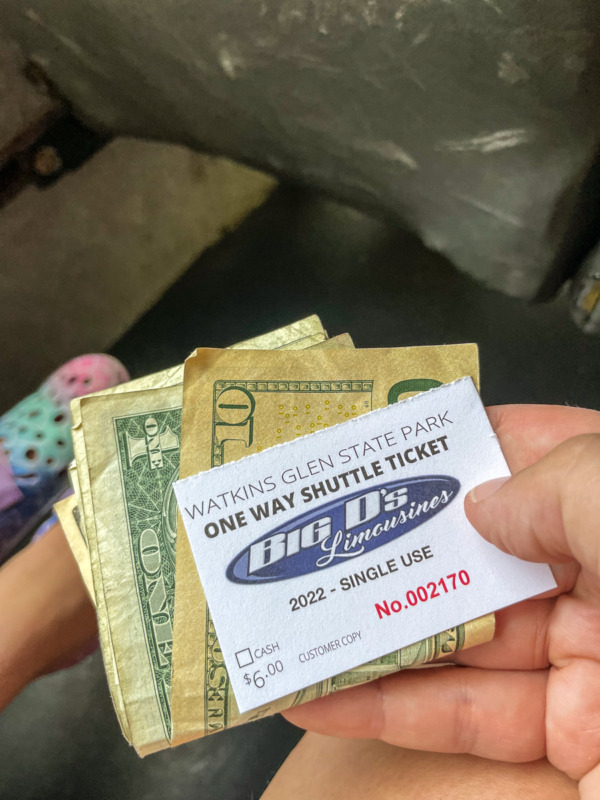 The Watkins Glen shuttle cost $6 per person – cash only – as of summer 2022. However, I was pleasantly surprised not to be charged for the kids! I can't tell you whether or not their free far is the official policy, but that was our experience.
As a heads up, the shuttle route is primarily but not exclusively within the park. It's a minibus equipped with lap belts. In theory you can secure a harnessed car seat using that seat belt.
Some toddlers may be tough
Let's be real for a moment and acknowledge that some toddlers go through a period when they're too big to comfortably carry (or a parent's own physical abilities may prevent it) or resistant to being worn, but they aren't big physically or emotionally able to tackle the topography of Watkins Glen. That's ok.
If Watkins Glen doesn't sound like the right fit for your family, there are tons of easily accessible waterfalls in the Finger Lakes. Some don't even require getting out of the car! You can read all about them – along with plenty of other family-friendly activities – in my guide to visiting the Finger Lakes with kids.
Want to get more helpful travel tips like this? Sign up for our email list!
---
Where to stay near Watkins Glen
Watkins Glen Harbor Hotel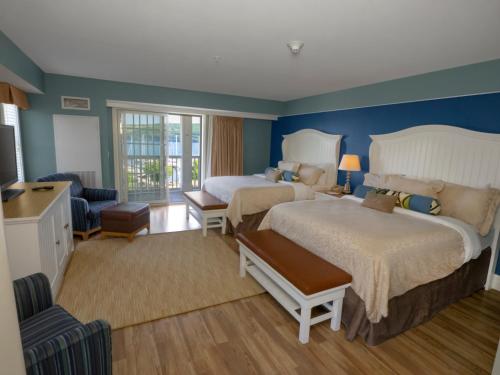 Are you looking for the best place to stay in Watkins Glen? It's hard to beat the Watkins Glen Harbor Hotel! As the name belies, it's right on the harbor but also just a 10 minute walk from Watkins Glen State Park. Since it's in the heart of downtown Watkins Glen, you can easily walk to plenty of delicious restaurants and locally-owned shops. The rooms are charming and many have a view directly on to Seneca Lake! It only opened in 2008, so everything is still fairly new.
Check out these great places to stay near Watkins Glen State Park:
Still planning? Pin this for later!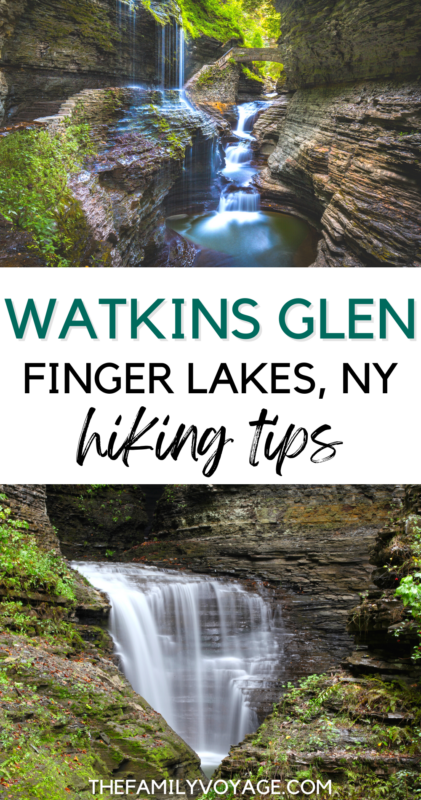 Planning Your Western New York Trip
Don't miss these helpful resources as you plan your Western New York travel: