What do you do when you're looking for a taste of Europe but don't want to commit the money or time to crossing an ocean? The obvious answer is that you plan a trip to Quebec City! But as you plan you start to realize that the city and its surrounding region are so much more than "Europe light". Even though our recent visit to Quebec City wasn't our first time (it was actually my third), it taught me to love and appreciate this unique gem in a whole new way.
In this 3 day Quebec City itinerary, I hope to show you what makes it so magical. At times you'll feel like you've stepped into a fairytale! I hope it will help you prioritize what to see in Quebec City in 3 days. You'll learn about Quebec City's contentious history, soak up its charm and even explore the area's natural beauty with a day trip from Quebec (or two).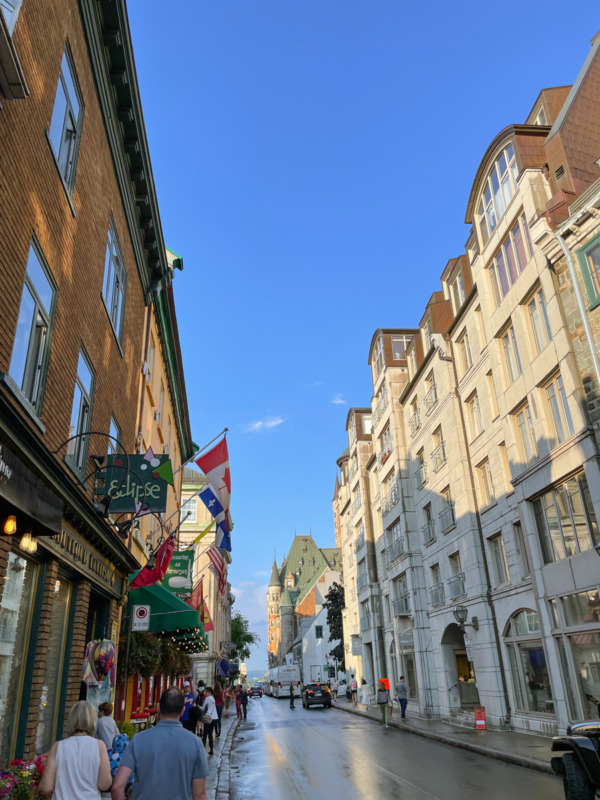 If you have more time available, I've also provided an optional extension for a 4 day Quebec City itinerary; alternatively, you can use it as a substitute for one of the day trips if you aren't interested in leaving the city. Along the way I'll also highlight some of the best photo spots in Quebec City and great Quebec City restaurants you'll want to try. At the end you'll also find some helpful Quebec City travel tips.
Allons y!
Quebec City 3 day itinerary summary
If you're short on time but don't want to miss the big picture, here's a quick summary of what to do in Quebec City in 3 days, plus an option extension for 4 days in Quebec City. Be sure to book your Quebec City accommodations and Quebec City tours in advance if you're visiting in summer!
Where to stay
Day 1:
Day 2:
Day 3:
Day 4 (optional extention or substitute for day 3):
Lunch in Lower Town
Ferry to Lévis
Dinner at L'Intimiste
Views from Terrasse du Chevalier-de-Lévis
---
Where to stay in Quebec City
Where to stay in Quebec City is always a big question, and in part it depends on what kind of experience you want. For historic charm, you'll want to look at places to stay in Old Quebec (properly called Vieux Quebec); on the other hand, if you prefer more contemporary amenities you'll likely need to look at hotels in the more modern part of the city. If it's your first time in Quebec City, I recommend staying in Old Quebec – especially if you won't have a car.
It's important to understand that Old Quebec City has two areas, Upper Town and Lower Town. The whole area is quite hilly, and near the waterfront (which is one of the areas most dense in Quebec City tourist attractions) Upper and Lower Towns are connected by either a steep staircase or a funicular.
For a first time visitor look for the best place to stay in Quebec City, I recommend Upper Town. All of the places to stay in Haute-Ville Quebec City are convenient for Quebec City activities and restaurants. That said, next time we visit we'll stay in Basse-Ville Quebec City; after two stays in Upper Town, we'll be happy to enjoy the relative quiet of Lower Town along with its fancy galleries and more sophisticated food offerings.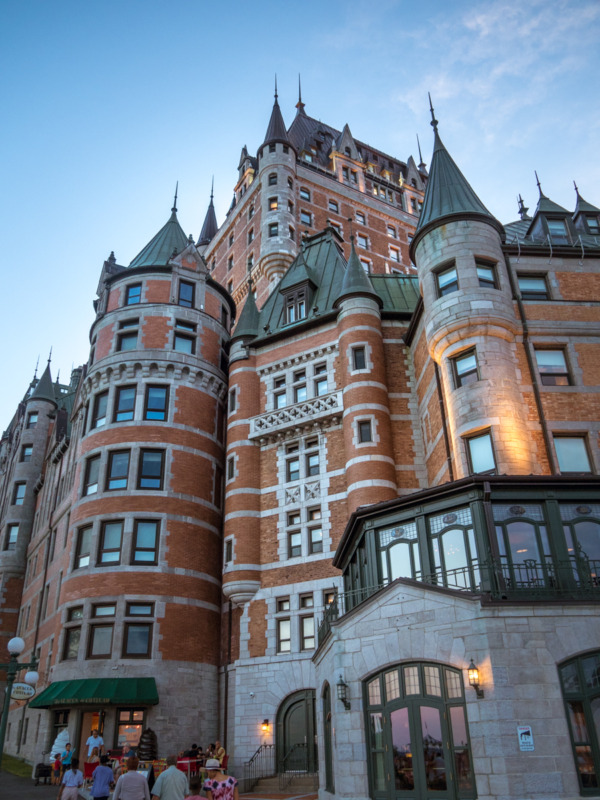 The most classic place to stay in Quebec City's Upper Town is obviously Fairmont Le Château Frontenac. It beautifully dominates the Quebec City skyline and is a true treat inside. Every room in the hotel is unique! Guests can enjoy a pool and fitness center in addition to being charmed by the more traditional spaces and filling their bellies at the on-site restaurants. If you're looking to splurge on a Quebec City hotel, this is the one to pick.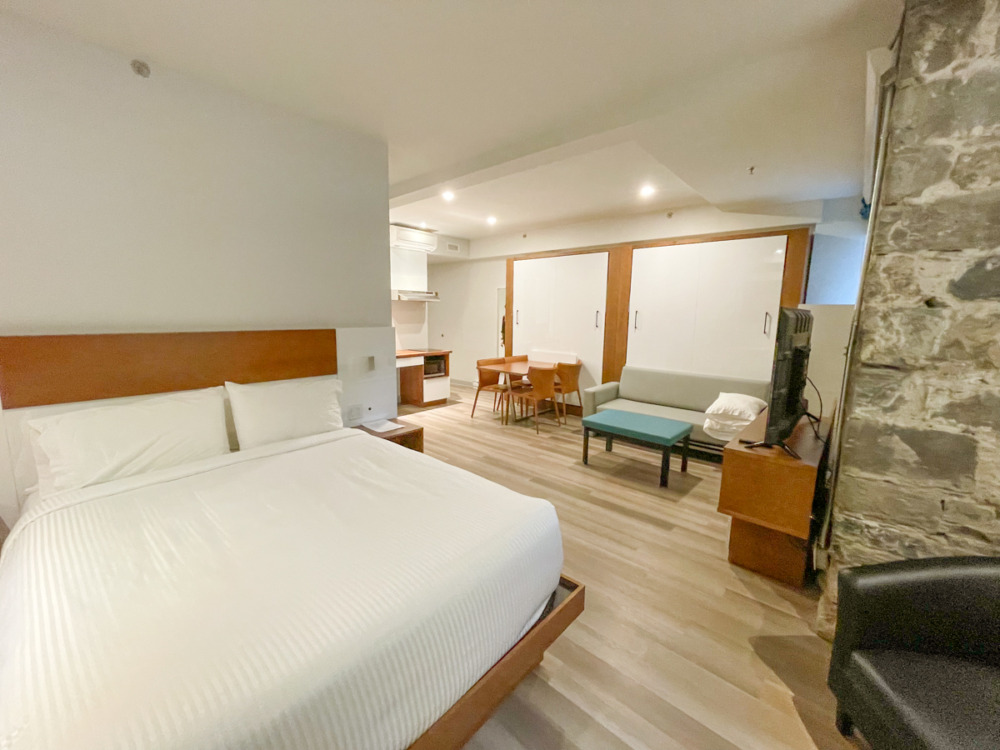 If Le Frontenac isn't a fit for your budget or space needs, fear not! We had an excellent stay just steps away at Hôtel Manoir Vieux-Québec. This half-modern/half-traditional building is just across the park – we could see Le Frontenac from our window.
Through strategic use of Murphy beds (they look like big white closets in the photo above), they're able to offer rooms accommodating up to 6 people which is what we chose. Our apartment even had a full kitchen, dining area and living room when the Murphy beds were put away. It was the perfect place to stay in Quebec City with kids! On-site amenities include a gym and hot tub, and in "normal times" breakfast is offered (the fancy cappuccino machine in the lobby at least gave me a little boost).
There's an external set of stairs to access the main entrance (as is the case with most boutique Quebec City hotels) but once inside there's an elevator to whisk you to your room.
What feels like a lifetime ago, we stayed at the nearby Hôtel Maison du Fort for our honeymoon. It's a wonderful, cozy choice for a couples trip to Quebec City. It's a sweet little bed & breakfast in Quebec City that's tucked on a side street between the Frontenac and the Citadelle, so it's extremely walkable. One thing to keep in mind is that the main floor only has "standard" rooms with a double bed and all other rooms (including family suites) require at least one internal flight of stairs. In fact, the family suite is a 4th floor walkup, so if you need that much space (and have a commensurate amount of luggage) I'd point you to Hôtel Manoir Vieux-Québec instead.
If none of these meets your needs, check out this helpful map to find high-quality, centrally location hotels in Quebec City:
---
Getting around Quebec City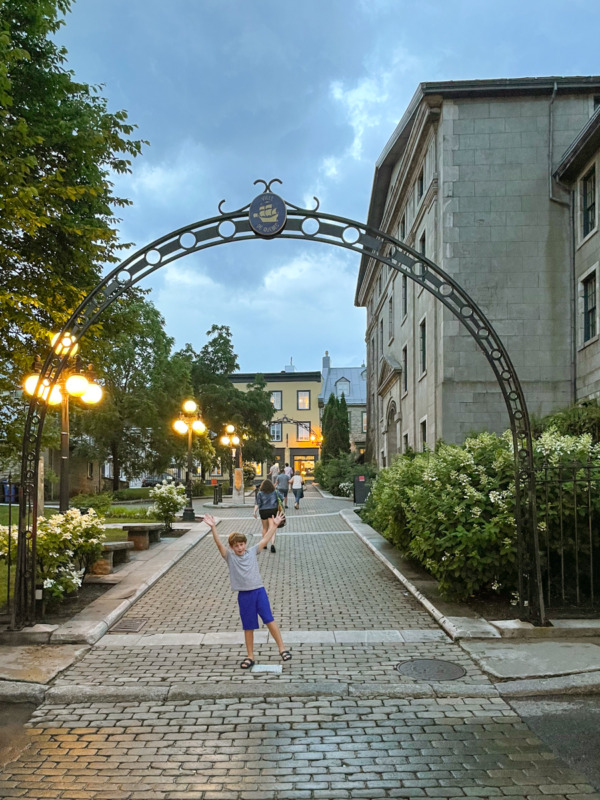 I'll offer a quick note on Quebec City transportation here. In general, exploring the Old City just requires a good pair of walking shoes. That said, keep in mind that it was built on a steep hill for defensive purposes. You will walk, you will walk a lot, and you will sometimes be walking on cobblestone hills. The steepest place in the city you'll need to conquer is the 200 foot climb from Petit-Champlain to the Dufferin Terrace, and thankfully with appropriate Canadian cash the funicular can take you up.
Our recent visit was actually a multi-generational trip to Quebec City and included my youthful but 70-something mom. A few times she accused us of trying to gain early access to her estate by walking her too much, and one time she even needed to take a (brief) taxi ride within the Old City. That's ok, and thankfully taxis are relatively inexpensive and easy to come by within the city.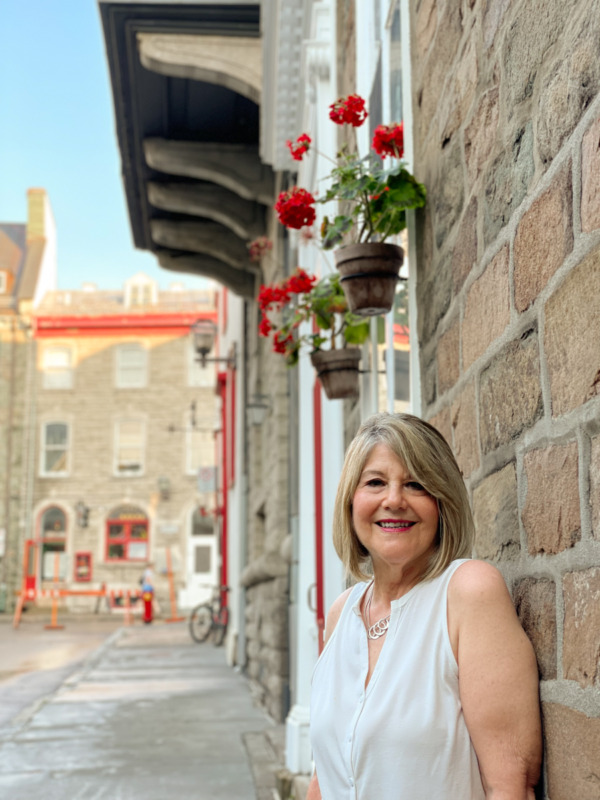 We did have a car with us since we were on a lengthy road trip in Canada and New York, and the car was very helpful for exploring beautiful, unique places in the province of Quebec. If you're interested in seeing what's beyond the city walls, check rental car prices here for your dates.
Prefer to stay local and just explore the city? That's ok! You can easily grab a taxi or Uber from the airport and then either stick to Quebec City or use some of the transportation-included tours I've recommended in the itinerary below.
---
Quebec City itinerary day 1: Exploring Old Quebec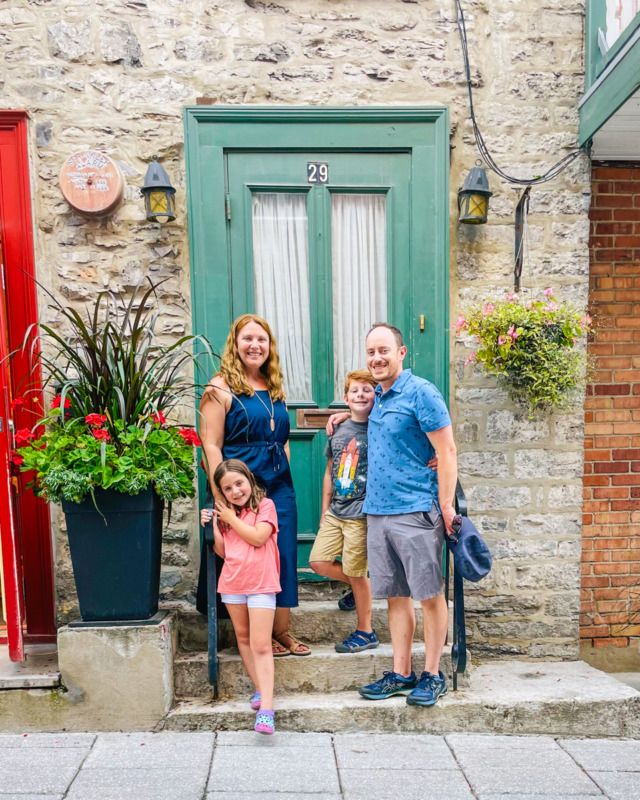 Morning
You'll kick off your 3 days in Quebec City with a few hours in its most famous building: Le Château Frontenac. It was built by the Canadian Pacific Railway in 1892 and modeled after the chateaus of France's Loire Valley. It's been expanded and renovated numerous times over the last century but still retains its iconic appearance and charm.
Fortunately, the lower two floors are open to the public. You truly don't need to feel sheepish about just walking in to enjoy the shops, restaurants and elegant interior design! In fact, Le Frontenac is one of the UNESCO World Heritage Sites in Quebec City.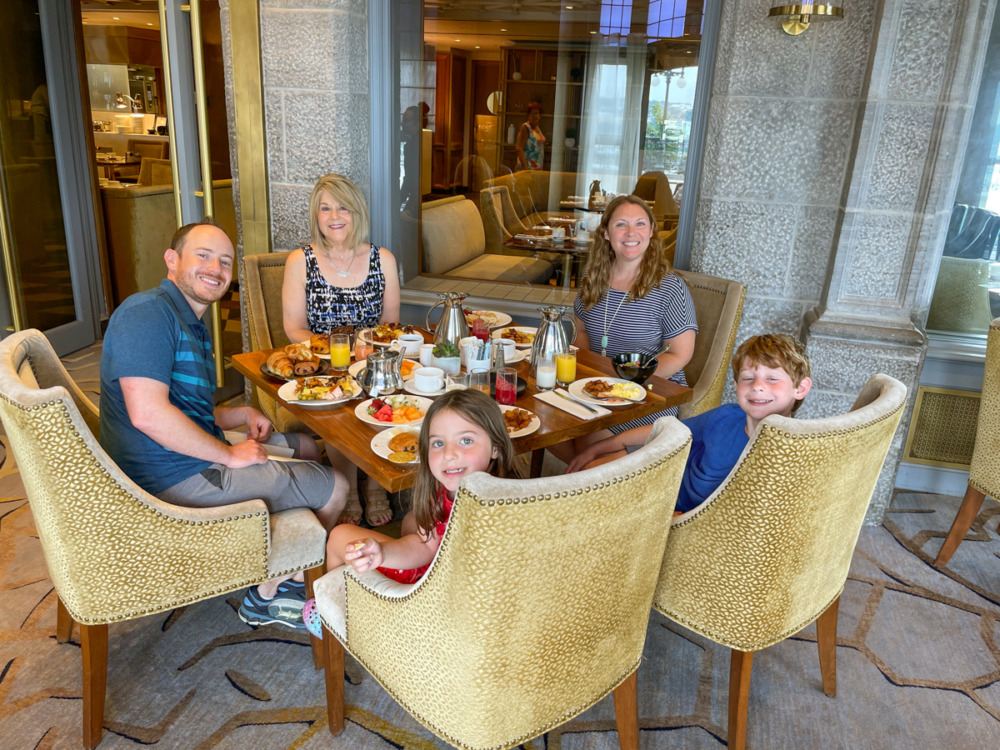 Fill your belly with the exquisite brunch at Place Dufferin. They serve a full hot buffet until 11am on weekdays and 11:30 on weekends. They have everything from custom omelets to a spread of local cheeses and pastries and much more. But can I share a little secret? This is probably the best value you'll find at a Quebec City restaurant, especially if you're looking for places to eat in Quebec City with kids. As of our 2022 visit, the price was just $38 CAD for adults and $19 CAD for kids 6-12 – with the exchange rate that put our cost at $30 per adult and $15 per kid for an unbelievable quantity, quality and variety of food.
If you're looking for a relaxed start to your day, I'd recommend going for brunch around 10:30 on weekends. That'll give you plenty of time to eat and explore, but you'll also probably be full enough to get away with a light snack at mid-day rather than sitting for a huge meal. When you're done gorging eating, head back up to the main level of Le Frontenac. Explore the hotel lobby, shops and rotating history exhibit – don't feel sheepish! Be sure to check out the elevators near the check in desk.
Are you more of the "see and do it all type"? Instead start your breakfast around 9am so that you can make it outside at 10am for a guided tour of Le Chateau Frontenac with a costumed historical character. The tour lasts about an hour and includes both the inside and outside of the famed hotel, giving you a much deeper understanding of the history of the building as well as its significance to the world. We did a different tour with a same company and it was a highlight of our long weekend in Quebec City, so next time we visit we'll definitely add this tour to our Quebec City itinerary!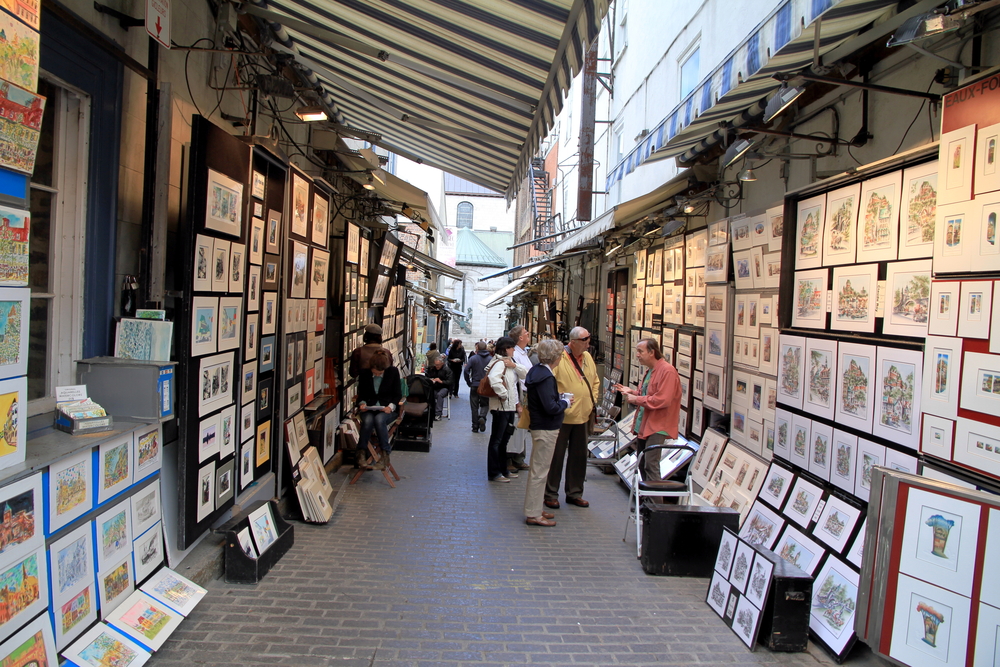 Once you've finished your time at the Frontenac, head outside to stroll the nearby Rue du Trésor. For decades, this has been a charming place to buy locally-made arts and home decorations; I should know, because my childhood home was adorned with sconces my parents purchased here in the 1980s! Even if you don't have the budget to buy, on a nice day this is a wonderful place to stroll around and soak in the city's ambiance.
If you aren't still full to the brim from your morning meal at Le Frontenac, this is the perfect time to grab a coffee and croissant to refill your belly. If you're feeling even more peckish, there are tons of small bistros and restaurants in Old Quebec City that won't require walking more than a few minutes.
Afternoon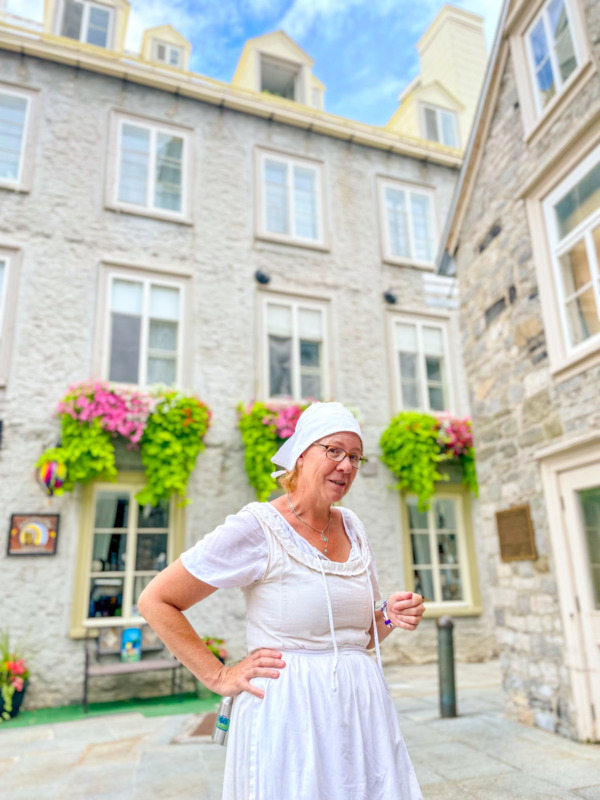 At 2pm, be sure you're back in the Place d'Armes – the picturesque square at the heart of Old Quebec. On the side opposite Le Frontenac, you'll see a hotel with signs for tourist information – they're legitimate signs, and the front of the hotel is the meeting place for your 2pm Quebec City history walking tour with Cicerone.
This tour was a real highlight and one of the best things to do in Quebec City. We learned so much about the city's history and important context for understanding Quebec City over time. Our excellent guide, Sandrine, was also extremely entertaining and did a wonderful job of staying in her "role" as a young French girl who was pushed to emigrate to this distant outpost beaver trading outpost to put down roots.
The walking tour lasts two hours, so bring your comfortable shoes. It'll take you all around both Upper Town and Lower Town as you learn several hundred years of history and encounter one beautiful view after another.
The tour leaves you in Lower Town around 4pm. When it wraps up, you may want to double back for more strolling through the charming Lower Town. Stop in at Bistro Sous le Fort to put your name down for a table later – more on this Lower Town Quebec City restaurant below.
There are plenty of unique galleries and interesting restaurants along Rue St-Pierre and Rue du Sault-Au-Matelot, or you can spend some additional time admiring the lovely square in front of the 250 year old Notre-Dame-des-Victoires church.
Be sure to spend part of your afternoon wandering Rue Petit Champlain, the adorable street at the heart of the historic Petit-Champlain neighborhood. You'll find tons of Quebec-made items from housewares to sweet treats. Many of the buildings in the neighborhood date back nearly 400 years and they're nearly all designed as they would have been in France, making this one of the most European places in North America – and definitely one of the most Instagrammable spots in Quebec City.
You'll also want to make a quick stop by the Quebec City waterfront and its Royal Battery and ancient city walls that protected the city from British advances. It's located at the bottom of Rue Sous-le-Fort.
Evening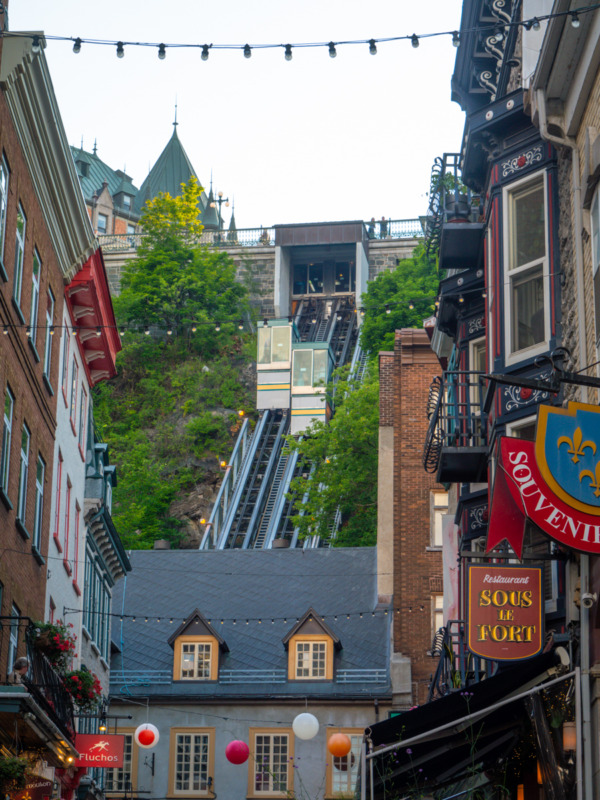 We had an excellent dinner at Bistro Sous le Fort including everything from duck to fish to steak. Our own dietary preferences avoiding pork and shellfish made it tricky to find good restaurants in Quebec City, but this one really was excellent. There are even a handful of vegetarian options on the menu.
After your dining and wandering have wrapped up, take the Quebec City funicular back to Upper Town. You don't have to buy your ticket in advance, but you do need to pay with Canadian dollars – $4 per adult, kids up to 46″ are free. They'll also generally let you pay with US dollars, but without an exchange rate even if the USD is stronger than the CAD. There is an ATM nearby if you need it. Your other option is to walk up "breakneck stairs" nearby, which the gentlemen in our family did and reported that the stairs weren't too bad.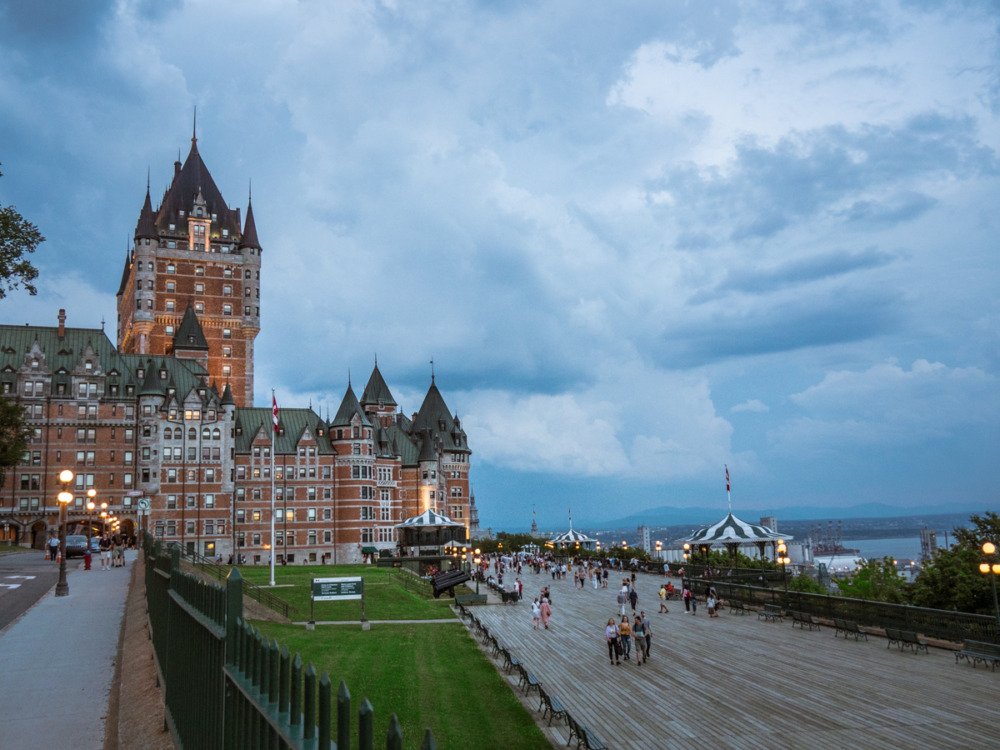 Enjoy an evening stroll on the Dufferin Terrace, where the beautifully illuminated Chateau Frontenac dominates the view.
Want to get more helpful travel tips like this? Sign up for our email list!
---
Quebec City itinerary day 2: Citadelle and activities in Quebec area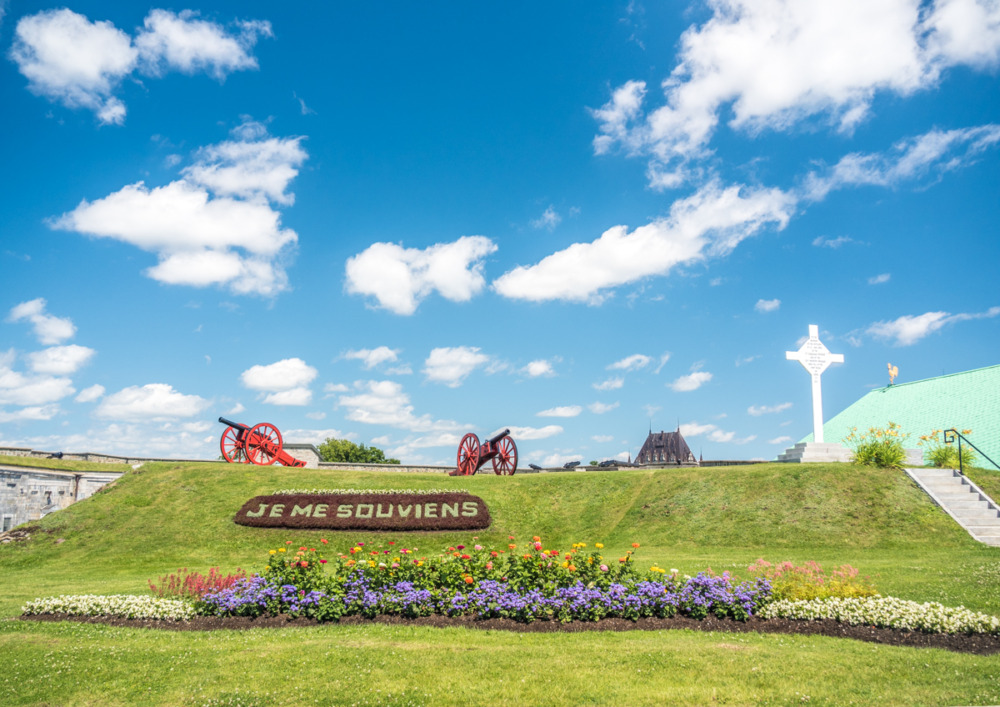 Morning
Start your morning with a quick breakfast stop at Au 1884, the cafe on Dufferin Terrace just outside of Le Chateau Frontenac. They carry fresh croissants and offer a selection of muffins, in addition to serving up a cup of hot coffee to start the day off right. If you have a little time to spare, feel free to walk around – be sure to look down into the windows embedded in the Terrace to glimpse the remains of the Château Saint-Louis. It was the seat of government for the fledgling outpost of Quebec beginning in 1620!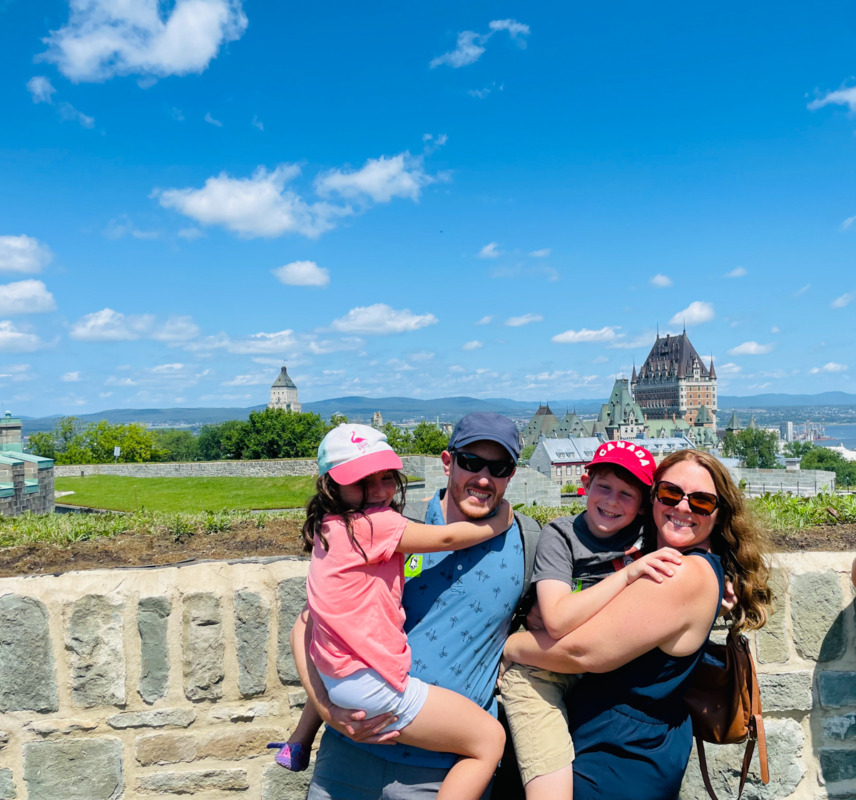 Your morning activity is a tour of the imposing Citadelle, built beginning in 1820 to defend against a subsequent American attack that never came. That one sentence may sound reductive, but in reality the site (Cap Diamant) as well as the fort itself have a fascinating place in history from the earliest fortifications built in 1690 to hosting planning meetings for D-Day during World War II. Our guide did an excellent job engaging visitors of all ages and explaining Quebec's complicated history through its military lens. In addition to the fascinating history you'll learn, the Citadelle has some of the best views in Quebec City since it's strategically perched far above everything else.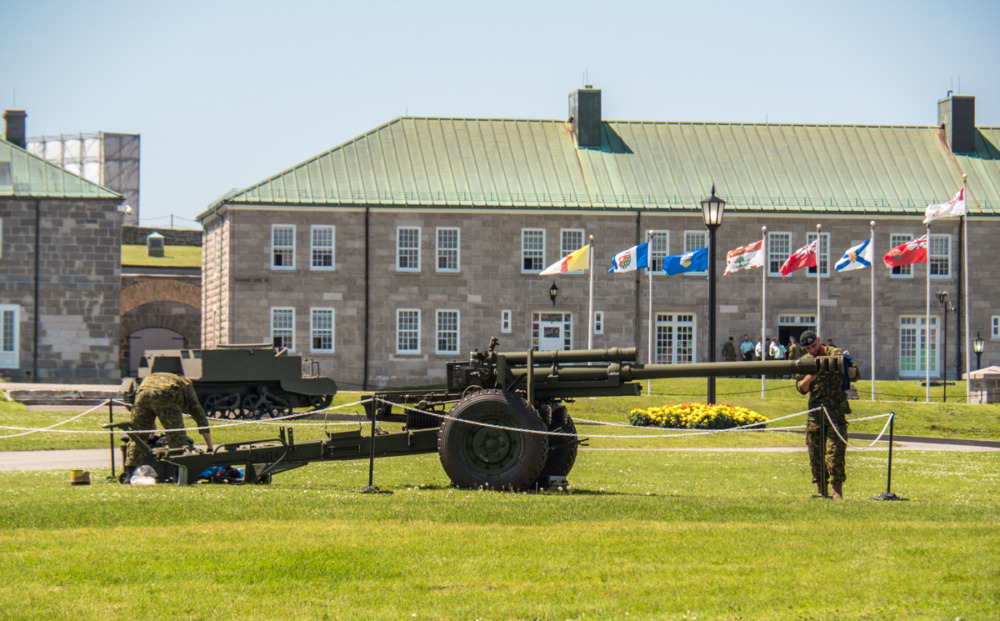 English tours are generally available every thirty minutes and we were able to book same-day, but it's better to plan in advance! There are three "events" each day that you may want to keep in mind as you choose your time slot. First, the changing of the guard occurs at the top of every odd hour – 9, 11, 1, etc. Second, Batisse the regimental goat (yes that is a thing) makes an appearance daily between 10 and 11. Third, the cannon is fired daily at noon. We were on the 11:30 tour and arrived at the last minute since it was a last-minute plan, so we only caught the cannon blast. If you're planning more diligently, I'd consider the 10:30 tour to catch Batisse and the cannon (you can explore the museum 11:30-11:55) or do the 11:30 but arrive early to witness the changing of the guard.
Be prepared that it's a pretty steep walk to get up to the Citadelle entrance, and during the tour you'll be walking around inside the large fort.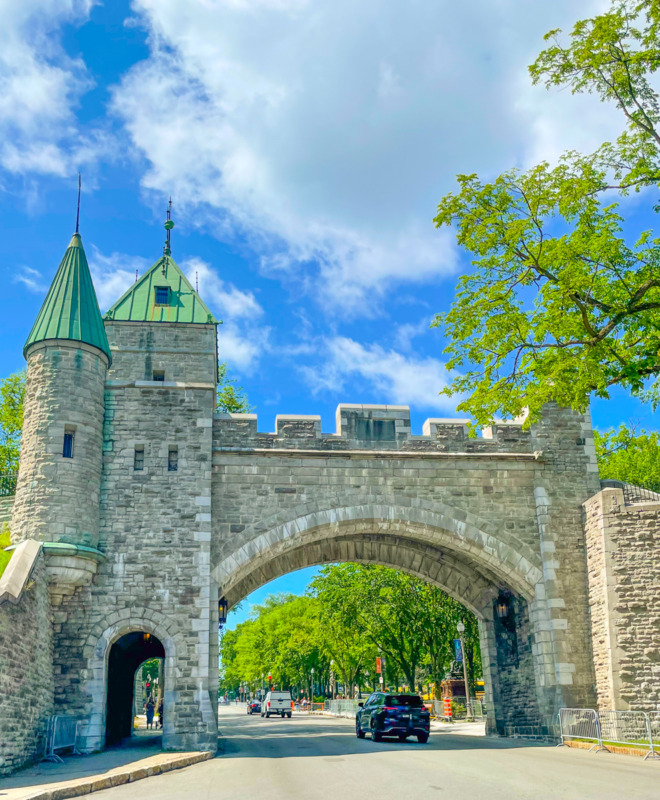 After your tour and optional museum visit are complete, head back down to St. Louis Gate (another great Instagram spot in Quebec City). While you're there you can swing through the pretty Parliament Gardens and visit the Fontaine de Tourney. Find an appealing lunch spot along Rue Saint-Lous, like Restaurant La Buche (if you like pork) or Polina Pizza (where we had a nice meal on our first night in town).
Afternoon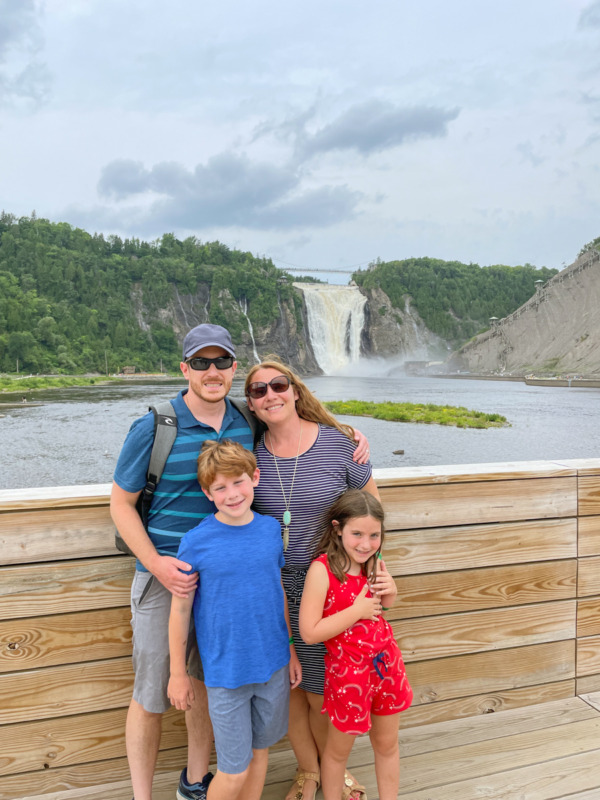 This afternoon you'll get your first taste of what lays beyond Quebec's ancient city walls as we head north out of the urban area. The province of Quebec is full of beautiful, serene spaces and you don't have to go far to find them! The flow of the afternoon will depend in part on whether or not you are driving in Quebec City. The first plan assumes you have a car, but after that I'll provide some car-free alternatives.
Day trip from Quebec City with a car
First up is La Chute Montmorency, in English known as Montmorency Falls. This impressive waterfall is actually about 1/3 taller than Niagara Falls! You can easily enjoy an hour here walking along the boardwalk at the bottom and riding the cable car up to the top where you can walk right over the falls. Check it out:
Be sure to buy your tickets online ahead of time – we had no issue purchasing a few hours in advance, but if you're able to plan in advance that's a good idea. It's a 15-20 minute drive from Quebec City or about 1 hour by public bus.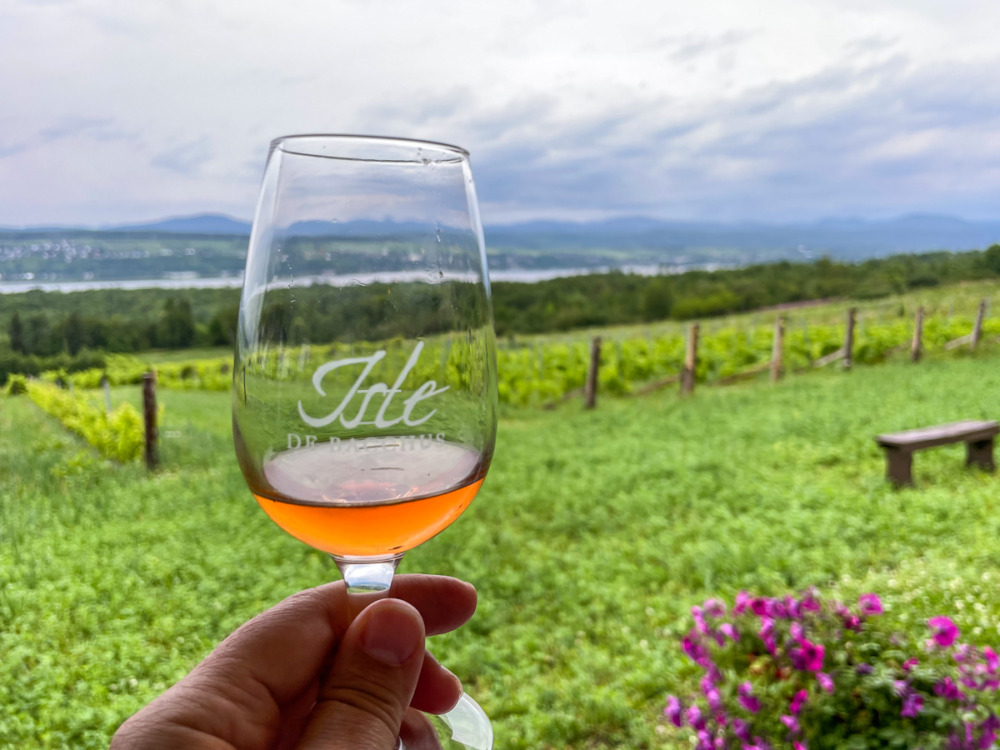 The second stop on your Quebec area itinerary for the afternoon is Île d'Orléans, the huge island that splits the St. Lawrence. The bridge is right across from Parc de la Chute-Montmorency and in 15 minutes you'll feel like you're half a world away among the rolling hills and vineyards of France. In fact, this was one of the first settlements of New France and Jacques Cartier spotted tons of wild grapes growing when he arrived almost 500 years ago.
Today Île d'Orléans is the perfect place to go taste every indulgent local product: wine, cider, beer, maple candy, nougat, chocolate soft serve, pie and more. Be sure to arrive hungry and thirsty! Unless there's something specific you're longing for, you may just want to drive along road that goes up the island's west coast (turn left at the end of the bridge) and see what you come across.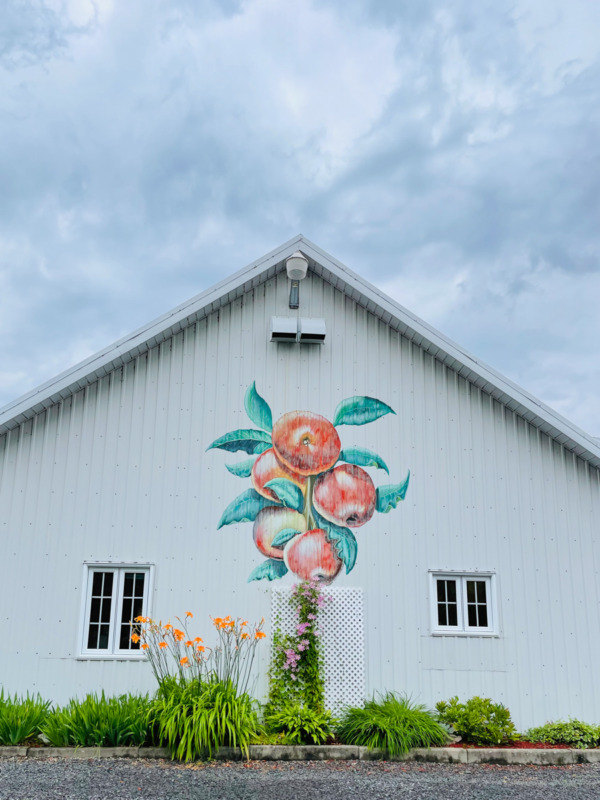 A few notably excellent stops on our visit included:
Car-free day trip from Quebec City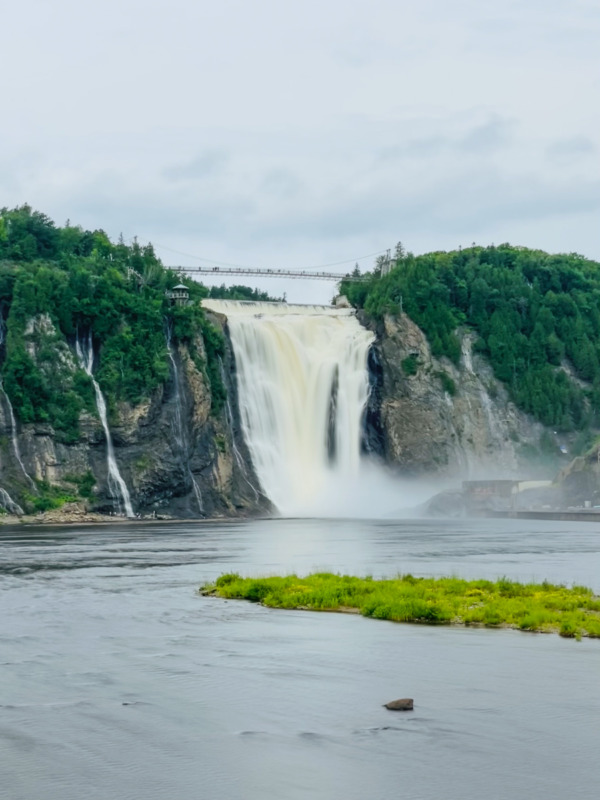 There are a few ways to explore outside of Quebec City this afternoon without a car.
If you'd like to visit Montmorency Falls without a car and then plan to spend the rest of the afternoon in the city, this shuttle is a very convenient option. You can take the 1:30pm bus from Place d'Armes and return on the 3:30pm bus. That will allow you a little over an hour at the falls to explore as you please. You can then spend the rest of the afternoon enjoying the shops and galleries of Quebec.
Prefer wine tasting on Île d'Orleans? This 2pm tour will take you to three wineries including Isle de Bacchus. Your guide will share some island history and information about its wine industry, plus you'll get a lovely view of Montmorency Falls as you ride back (and if the sun has gone down already, look for the falls to be lit up). You'll return to Quebec City around 6pm.
If you're looking for an afternoon Quebec City tour that will give you a little taste of everything, this tour includes stops at Montmorency Falls, Basilica of Sainte-Anne-de-Beaupré, a copper art studio and a chocolate shop on Île d'Orleans. The tour departs at 1pm and returns you to Quebec City around 6pm.
Evening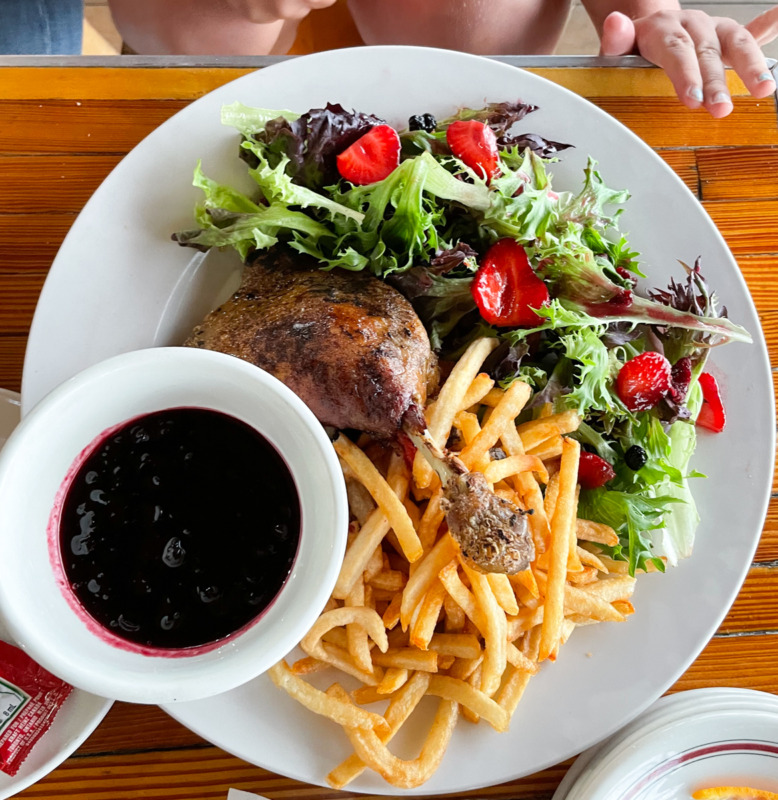 If you drove yourself to Île d'Orleans, I recommend staying there to enjoy dinner at Cassis Monna & Filles. This was one of our favorite places to eat in the Quebec area and has such a fun, relaxed environment compared to many of the staid restaurants in town. The food was excellent, and the duck confit poutine gave me a new appreciation for this uniquely Quebecois dish. While we were able to walk right in during a torrential rain storm, in general I'd recommend calling a few days in advance for a reservation.
Back in the city, some great dinner options await those who are visiting Quebec car-free. For a special splurge, consider dinner at the classic Quebec Old City restaurant Aux Anciens Canadiens. Every visitor walks by it at least a few times, as this beautiful white 350 year old home is right in the heart of Upper Town. You will definitely need to call for a reservation for this special experience!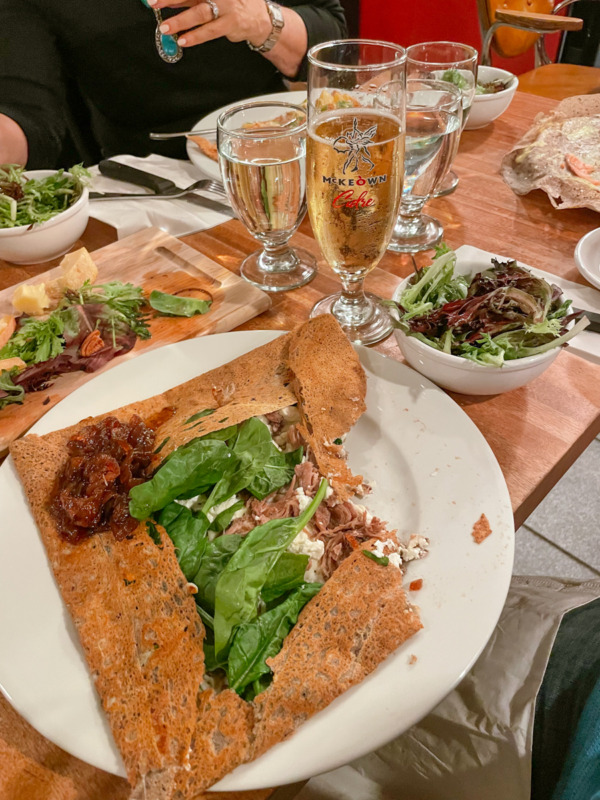 For something fun and laid back, walk beyond the ancient city walls along Rue Saint-Jean to Le Billig, a fantastic crêperie in the "new town" of Quebec. It's a cozy spot with awesome food and friendly service plus reasonable prices to boot (hard to find in Quebec City). When you're done you can stroll around with young and lively Quebecois.
Alternatively, you can go a little further to the trendy Saint-Roche neighborhood – it's the home of all things trendy and foodie in Quebec City!
---
Quebec City itinerary day 3: Day trip from Quebec to Charlevoix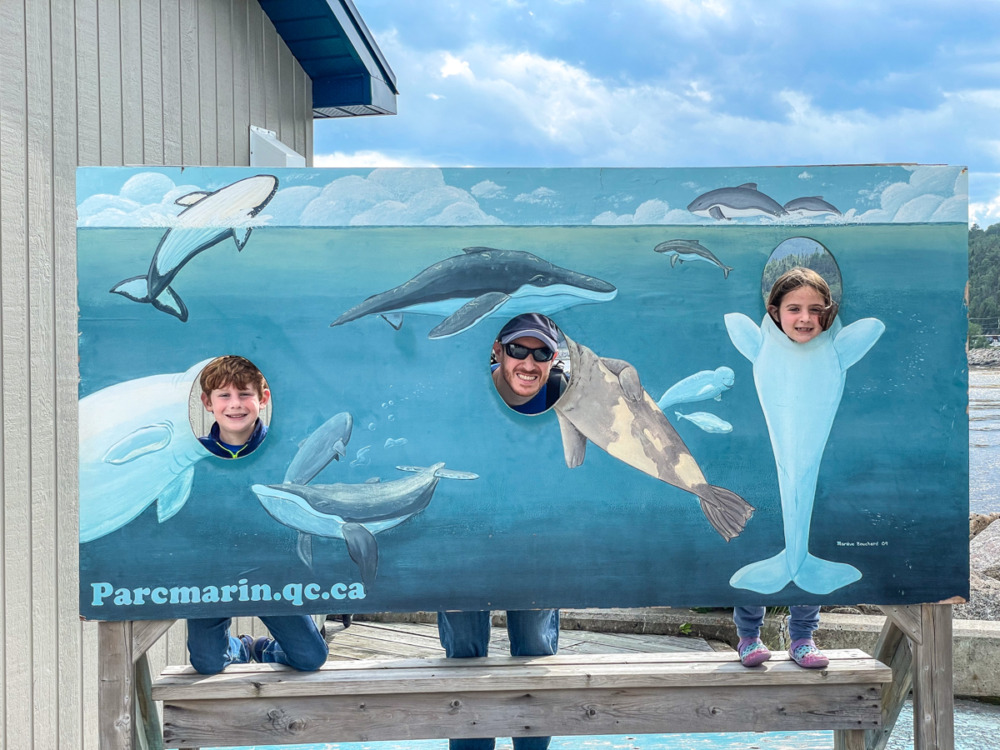 Today's plan for your Quebec 3 day itinerary takes you even further from Quebec City to the magical region of Charlevoix (and all the way to its border). I promise it's worth the trek, but if you'd prefer to stay closer you can scroll down to the Quebec City 4 day itinerary option below.
Now for my adventurers: today you'll see wild whales, sneak through a secret garden and enjoy beautiful secluded scenery. It's all in a day's work in Quebec!
Morning
The centerpiece of your experience today is a whale watching cruise in Saguenay-St-Lawrence Marine Park. This part of the St. Lawrence River provides optimal conditions for whales (and smaller cousin species) to feed, so you can potentially see a dozen different species here!
Note that if you don't have your own car, you can book the same whale watching tour with bus transportation! The downside is that the bus doesn't make any sightseeing stops along the way. It picks up at 9am and drops you back at Place d'Armes around 8pm. Look for the bus with the big whale on it.
You'll depart from Baie-Sainte-Catherine, which is 2.5 hours from Quebec City. Hit the road early; I suggest 4 hours before your whale watching tour is scheduled to allow for a food stop and stress-free arrival. Scheduled departures vary throughout the year but I recommend shooting for one as close to mid-day as possible unless you are a true early bird (and if you are, my admiration goes out to you). Alternatively, during the peak of summer you can book a late afternoon whale watching tour that incorporates sunset in Saguenay Fjord and that may be a great option for some travelers!
Stop at Les Bonyeuses in Baie-Saint-Paul for a delicious hearty breakfast surrounded by locals. They even had live music on the terrace outside at 10am on Sunday morning when we stopped. To economize your time during the day, consider picking up sandwiches to go for lunch.
Afternoon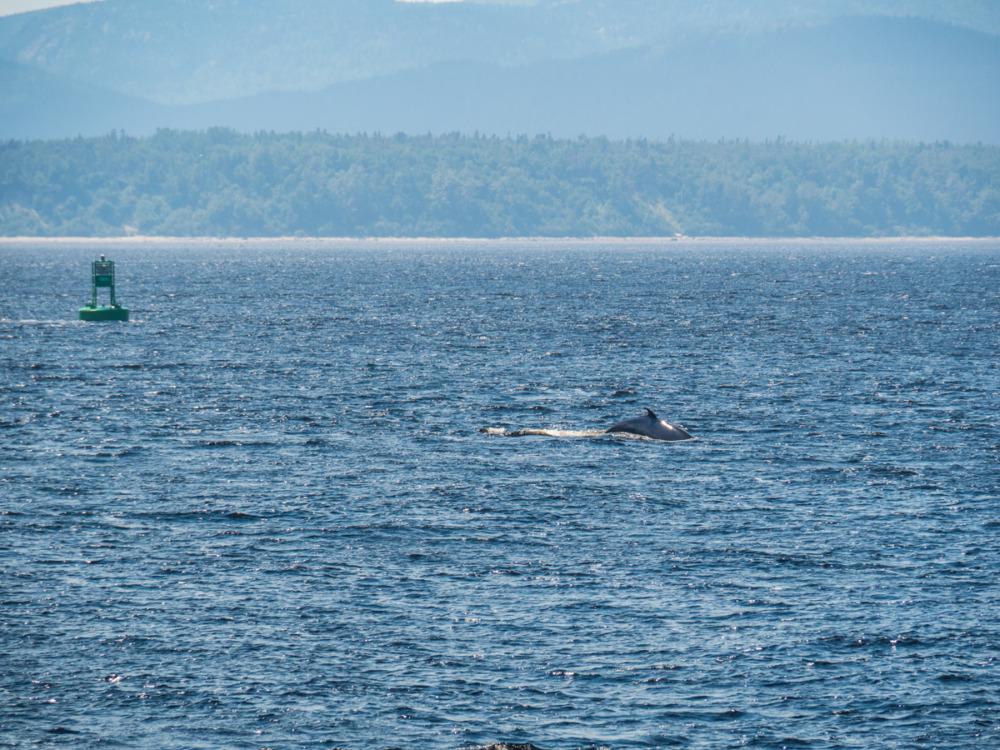 Plan to arrive in Baie-Sainte-Catherine 30 minutes before boarding; as I mentioned above, the schedule varies throughout the year. We boarded at 12:15 and disembarked at 3:15 – you can read all about our experience whale watching in Quebec. It we were doing it again in the summer, when there are many times available, I would have opted for a later whale watching tour.
The whale watching tour is simultaneously relaxing and exhilarating! While enjoying the beautiful scenery of the St. Lawrence River, you never know what wildlife you'll see. During our voyage we spotted, minke, beluga and even humpback whales.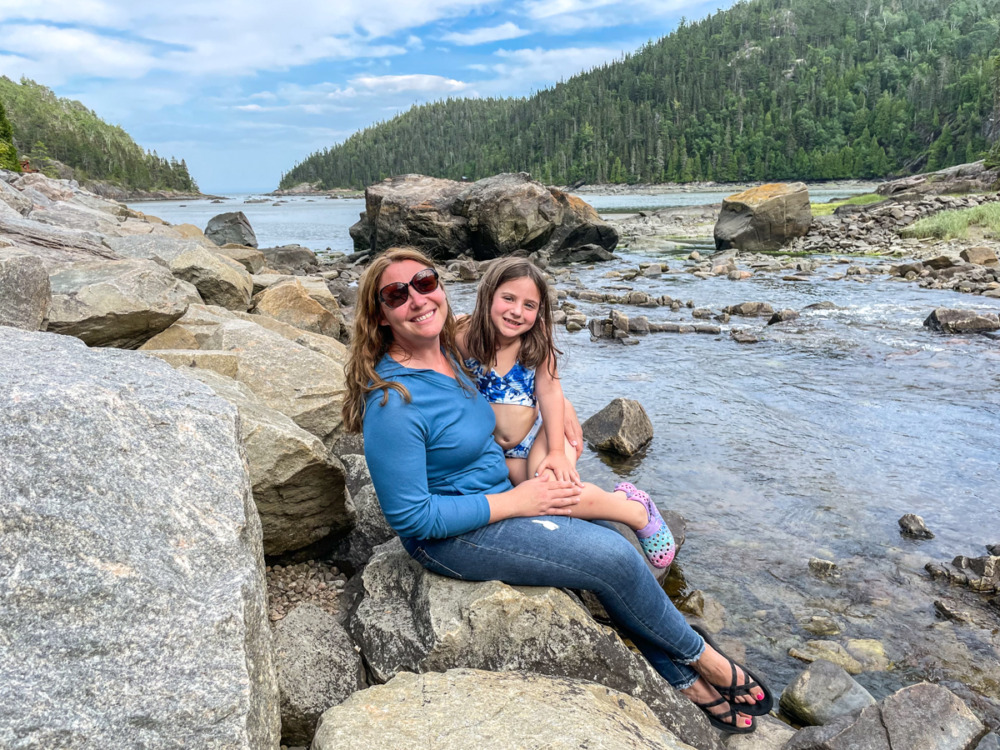 There are several lovely stops to make on the way back as you road trip through Charlevoix. You can also visit them on the way up if you opt for a sunset tour. Just 20 minutes south of Baie-Sainte-Catherine, pull off at Parc Municipal de Baie-des-Rochers. You can do a small hike if you park in one of the parking spots along the access road, or if you're interested in scenery without the effort drive until the road dead ends at a larger parking lot along the waterfront. It's the perfect place for a picnic snack or late lunch as you enjoy the small waterfall and lovely views. This might be the most magical part of your three days in Quebec City!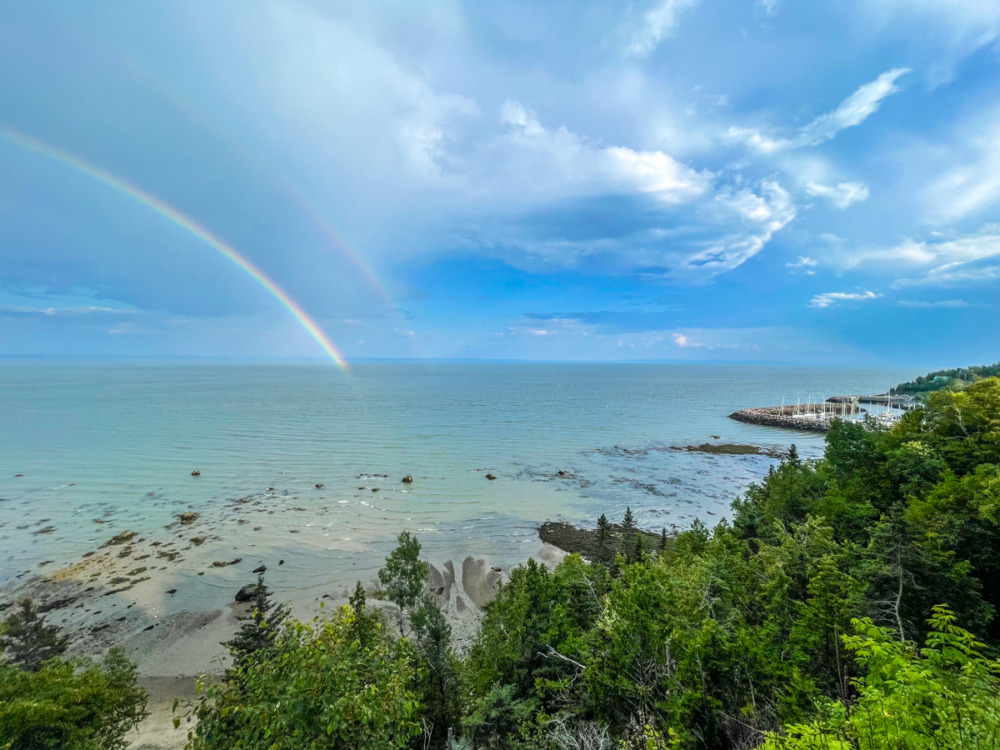 Another great place to visit on the drive from Quebec City to Baie-Sainte-Catherine is La Malbaie. Don't miss the extremely unique Jardins du Cap-à-l'Aigle, tucked away in a tiny village. It offers babbling brooks, waterfalls, a lovely observation deck, fun sculptures and flowers everywhere. It's an easy walk but has a few steep spots with loose gravel so I recommend closed-toed shoes (not sandals like I wore!).
Evening
Your evening plans will depend in part on how long you spend exploring in Charlevoix. Consider stopping at one of the lovely restaurants in the village La Malbaie or the larger town of Baie-Saint-Paul. If you want to do some post-dinner strolling, Baie-Saint-Paul has more going on and it's also 40 minutes closer to Quebec City.
If you gunned it straight back from Baie-Sainte-Catherine to Quebec City, try out one of the other dinner options I recommended above for Day 2 of this Quebec City itinerary.
Want to get more helpful travel tips like this? Sign up for our email list!
---
Optional Quebec City itinerary day 4: Exploring Quebec history (car-free)
Wait, is this a 3 day Quebec City itinerary or a 4 day Quebec City itinerary?
This day's activities are a great option if you're planning to spend 4 days in Quebec City or you want to swap out all/part of one of the other days for an option that doesn't need a car. By mixing and matching, you can have a few different options for Quebec City itineraries, or you can even fill up a Quebec City 5 day itinerary. We didn't have an opportunity to do all of these activities yet but they're on our radar for our next Quebec City trip!
Morning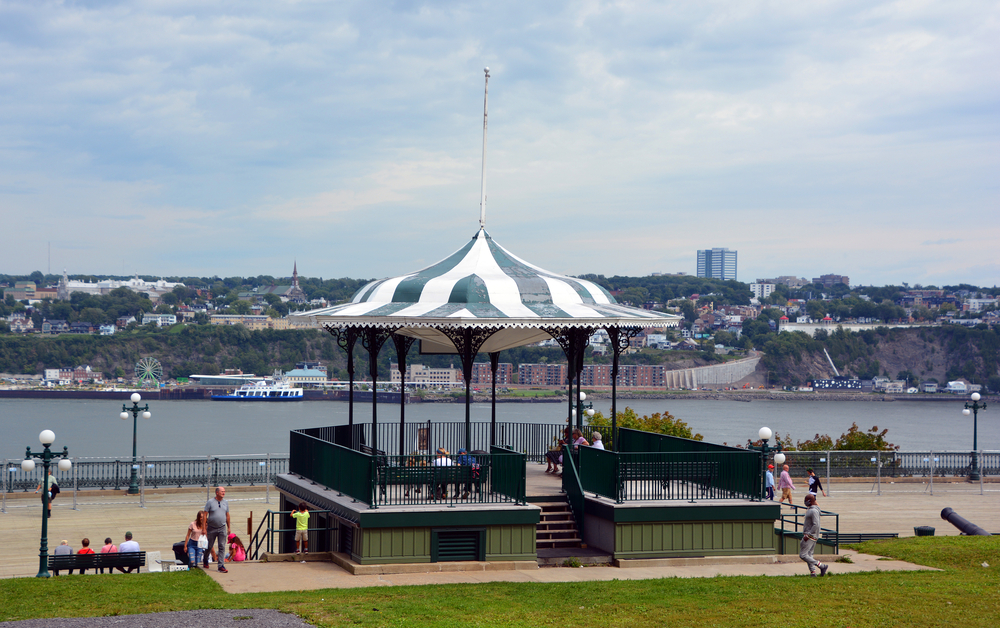 As you strolled along the Dufferin Terrace a few days ago you probably looked down and noticed the historic castle ruins below. This morning you'll have the opportunity to visit Saint-Louis Forts and Châteaux National Historic Site, which includes extensive archeological finds and was the site of critical aspects of Quebec history (particularly relations between the First Nations and leadership of New France). In "normal times" you will be able to take a 45 minute tour with a Parks Canada guide.
A very interactive alternative if you're visiting Quebec City with kids ages 6-12 is this unique tour of the city fortifications (aka the Quebec City walls). You can sign up at the same kiosk at Dufferin Terrace and it runs about 45 minutes. Unfortunately it was not offered in 2022 but hopefully it will return in the future!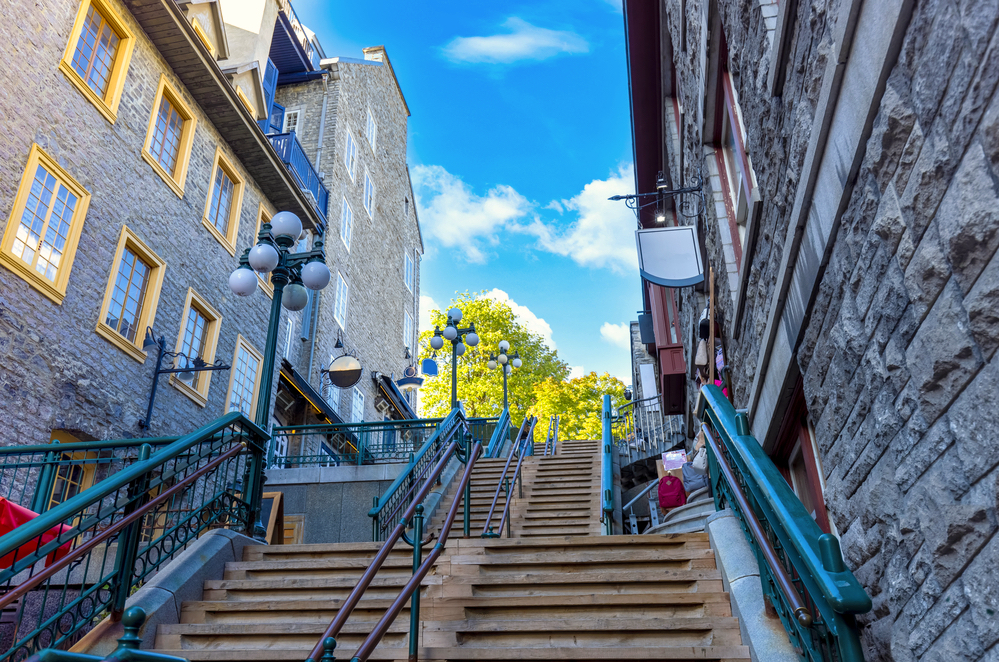 Head down the "breakneck steps" or the funicular to grab lunch in Lower Town. You'll find several restaurant options in the quaint Place Royale (which looks like it could be out of "Beauty and the Beast"), or you can find something that looks appealing along Rue Saint-Pierre or one of the nearby streets.
Afternoon
Spend the afternoon exploring Quebec's unique Musée de la Civilisation. It showcases both world civilizations and the history of people in Quebec including a permanent exhibit that was curated in partnership with the 11 First Nations of the province.
Adults will also enjoy the diverse temporary exhibits – summer 2022 included one on poop and another on Pompeii, while there are several spaces specifically geared toward kids with interactive experiences.
Ronnie visited the museum on his own Quebec itinerary while the rest of us were en route from New York state and felt that he got a great taste of the offerings in about three hours. The museum is open until 5pm daily (closed on Mondays outside of summer).
When you leave the museum, exit to the right from the main doors and walk to the right for about 5 minutes (past the cannons of the Royal Battery) until you reach Gare Fluviale de Québec – the Quebec ferry terminal.
Evening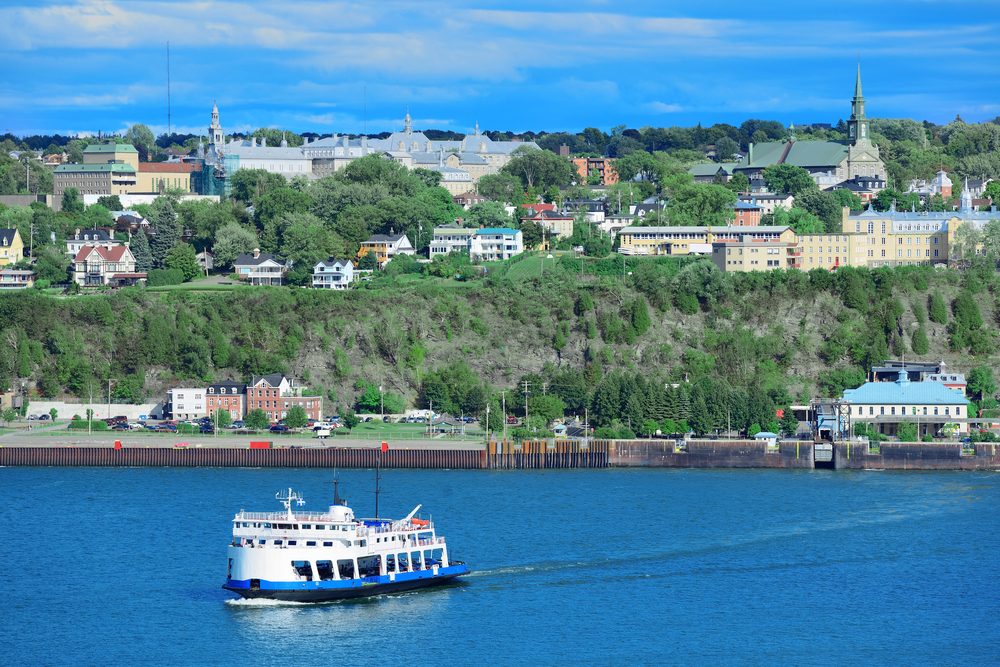 We haven't done this, but I've already planned out one evening in Quebec City for our next visit!
Take the quick, inexpensive ferry to Lévis, just across the St. Lawrence River from Quebec City. You'll enjoy some of the best views of Old Quebec from the boat and have the opportunity to see a quieter part of greater Quebec City. The ferry schedule varies by time of day – during peak commuting hours it's every 20 minutes, while late at night it's only once per hour. Roundtrip fare is around $8 CAD per adult and $5 per child 6-15 (free for younger ones).
Enjoy a sophisticated dinner at L'Intimiste. To get there you'll have to walk up steep hill or take an inexpensive taxi, but by all accounts it's worthwhile. Wrap up your culinary experience with a chocolate-dipped soft serve for dessert at Chocolat Favoris next door.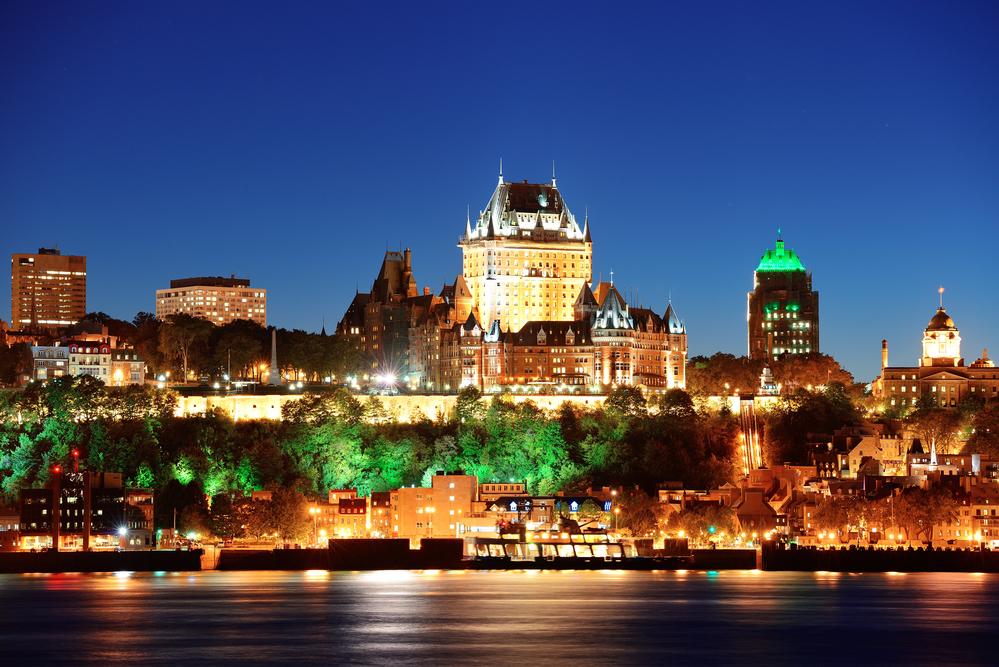 Stroll to nearby Terrasse du Chevalier-de-Lévis for wonderful views of Old Quebec. If you're there at 10pm on a Thursday in summer, you can catch the fireworks with the Chateau Frontenac in the background!
Whether you've used this option day as part of your 3 day itinerary for Quebec City or chosen to extend your visit to a Quebec City 4 day itinerary, it's the perfect way to wrap up your time in this magical city!
---
Quebec City travel tips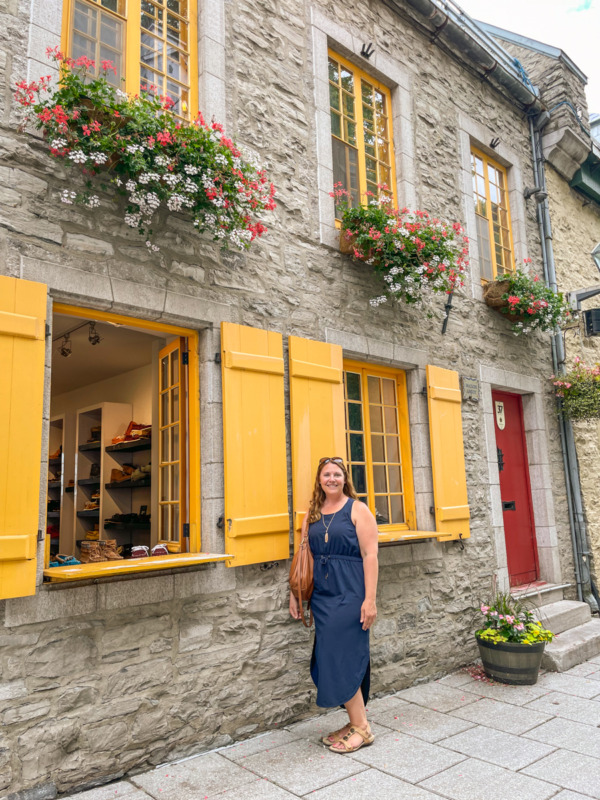 A working knowledge of French is helpful
Let's address l'elephant dans le chambre. French is the primary language of the province of Québec, and les Québecois are fiercely proud of their distinctive language, culture and history. No one expects fluency and those working in tourism are generally accepting of English, but understand that English takes a back seat here. Your efforts to speak French, even if meager, will be appreciated.
Quebec City can get expensive
Thankfully the exchange rate worked in our favor during our visit to Quebec, but in general the city can get quite expensive. We found the prices of restaurant meals to be the most surprising, though we also went at a time when food inflation across North America was at an all-time high. Keep that in mind as you budget for your Quebec trip itinerary!
Bring comfortable shoes
You'll do a ton of walking during a 3 day trip to Quebec City, so choose function of form when it comes to your footwear. You don't want to sabotage your trip! I wore these sandals basically everywhere and they were extremely comfortable.
3 Day Quebec City Itinerary Summary
Day 1: Exploring Old Quebec
Day 2: Citadelle and activities near Quebec City
Day 3: Day trip from Quebec to Charlevoix
Day 4 (optional): Exploring Quebec history (car-free)
Where to go next
It's easy to extend your trip to Quebec City with these great options nearby!