Time truly flew by on our Canada road trip, but we made the strategic decision to spend a very short time in Toronto. It's nothing against the city, but it's surprisingly close to our home base in Columbus so we know it'll be easier to get back to for a quick visit than the other places we visited in Canada.
The good news is that even with an incredibly short time, we squeezed in some of Toronto's coolest experiences with our partners at CityPASS! We were able to efficiently hit many highlights of Toronto in one day, and even for just a day trip to Toronto it has the potential to be a big money-saver.
So how'd we squeeze in that much fun in Toronto in 24 hours? In this post you'll get the Toronto travel tips you need to make the most of your time plus a suggested 1 day Toronto itinerary.
Where to stay in Toronto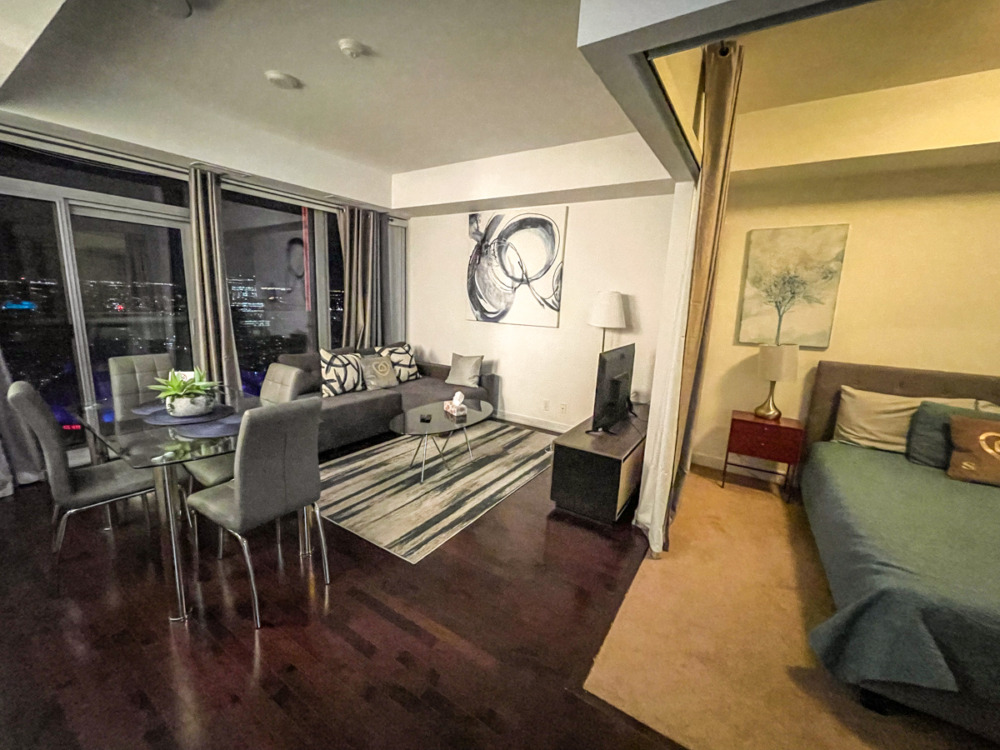 To make the most of your 24 hours in Toronto, you'll want to stay somewhere in the city. We had an excellent 2 night stay in Toronto at this apartment building. With a fully enclosed bedroom and a sleep sofa in the living room, there was ample space for our family of four. There's a convenient parking garage below and ample security in the expansive lobby.
More importantly, it had an absolutely incredible view thanks to the location right next to the CN Tower. Seriously, how great is this view: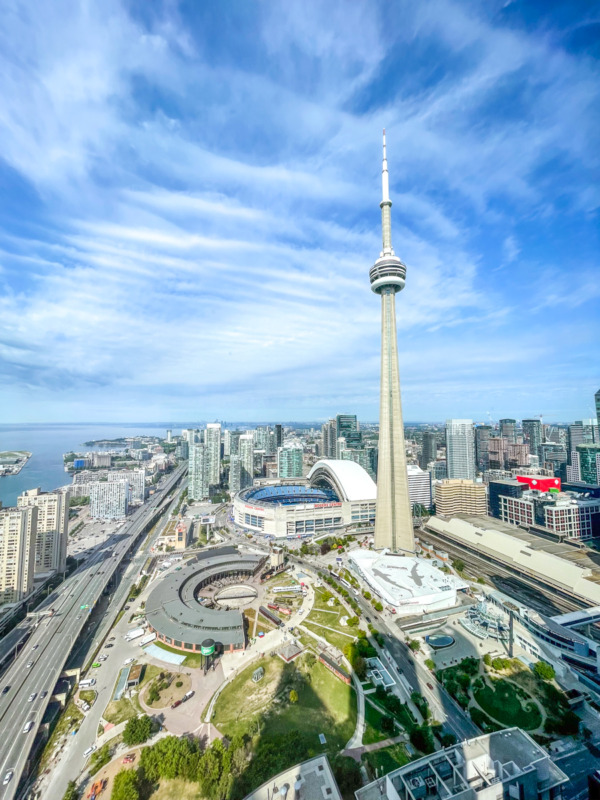 Exactly. None of the rentals or hotels in the Toronto Entertainment District are cheap, so just prepare yourself for the sticker shock. You may want to check prices on multiple websites to get the best deal:
If you'd rather stay in a traditional full-service hotel, there are some amazing options in the area:
Delta by Marriott – One of the more reasonably priced options in an otherwise extremely expensive neighborhood
Fairmont Royal York – Canadian luxury at its finest!
Chelsea Hotel – Potentially the best place to stay in Toronto with kids thanks to its family pool with waterslide, kid and teen lounges and wide range of room sizes
One day in Toronto itinerary
After having been there, I can say with great confidence that we did not plan our day in Toronto efficiently. It was one of our last and shortest stops on a lengthy road trip, so we didn't strategize much. Instead of sharing the order in which we explored the top Toronto attractions, I'll give you the better version of our Toronto itinerary.
Yes, this is a jam-packed itinerary for Toronto. If something doesn't interest you or it feels like too much running around, feel free to drop an activity and enjoy a slower pace! But the only one of these activities that we didn't do in a single day is the first one, which we did the following day. Had we gotten an earlier start and planned better, it would have been easily achievable.
The great news is that you can choose whether you want to follow this itinerary using a car or TTC (Toronto Transit Commission – the city's public transit system). Metro is definitely the more economical option! Adults pay $3.25 per ride with a 2-hour transfer window, and kids through age 12 ride for free. It's also very straightforward and doesn't require any transfers for the itinerary below. On the other hand, driving around would likely cost you $15-20 for parking at each location unless you find an hourly lot and may not save much time due to traffic.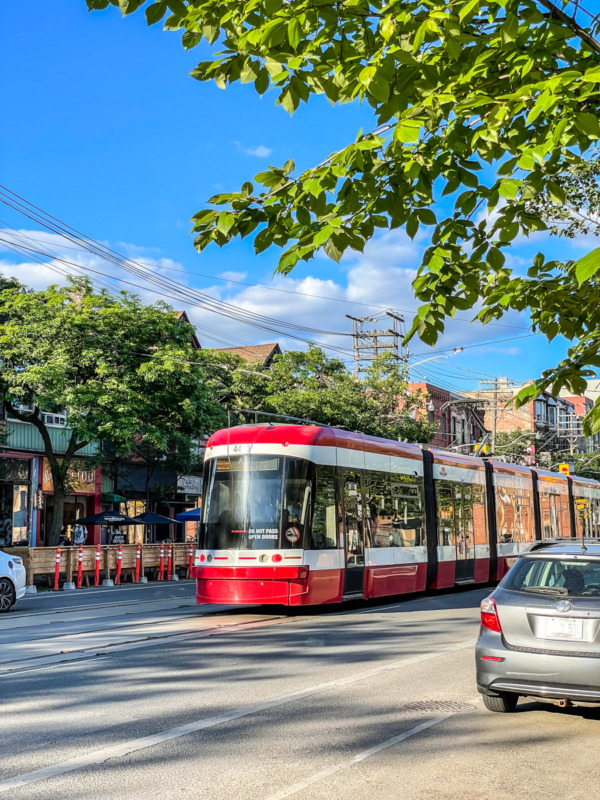 Start your day by hopping on the Line 1 of Toronto's Metro from Union Station – this is the train you'll be taking all day! It's yellow on TTC maps and runs every 2-5 minutes depending on the time of day. You'll board going toward the Vaughan station (though you aren't going all the way there) and ride for about 20 minutes.
Exit at the Dupont station and head across the street to Belle's Bakery for a quick breakfast. Belle's opens at 9am daily, and I recommend trying to get there around that time. They offer excellent coffee and pastries to start you on the right foot! They even offer filling fare like delicious quiches and empanadas, and I recommend eating well since lunch will be on the later side. You can much as you make the 10 minute walk (up hill) to the day's first attraction: Casa Loma.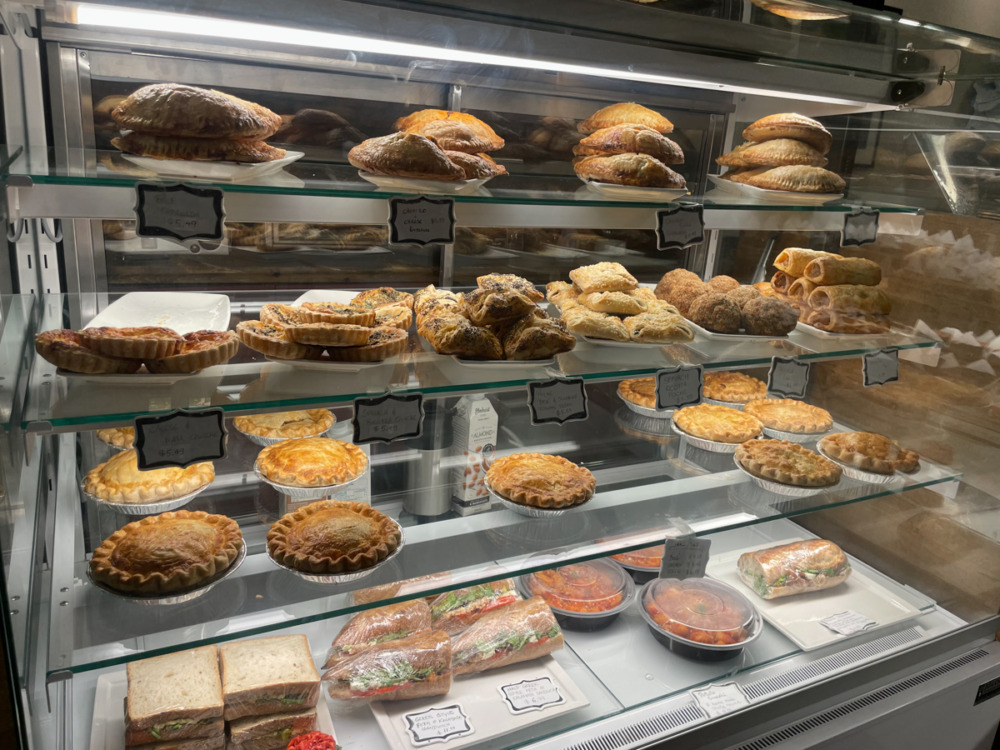 Casa Loma is a gorgeous century-old mansion built to look like a castle – complete with huge towers you can only access via spiral staircases. The house itself is grand, though stylistically very different from similar properties in places like the 1000 Islands.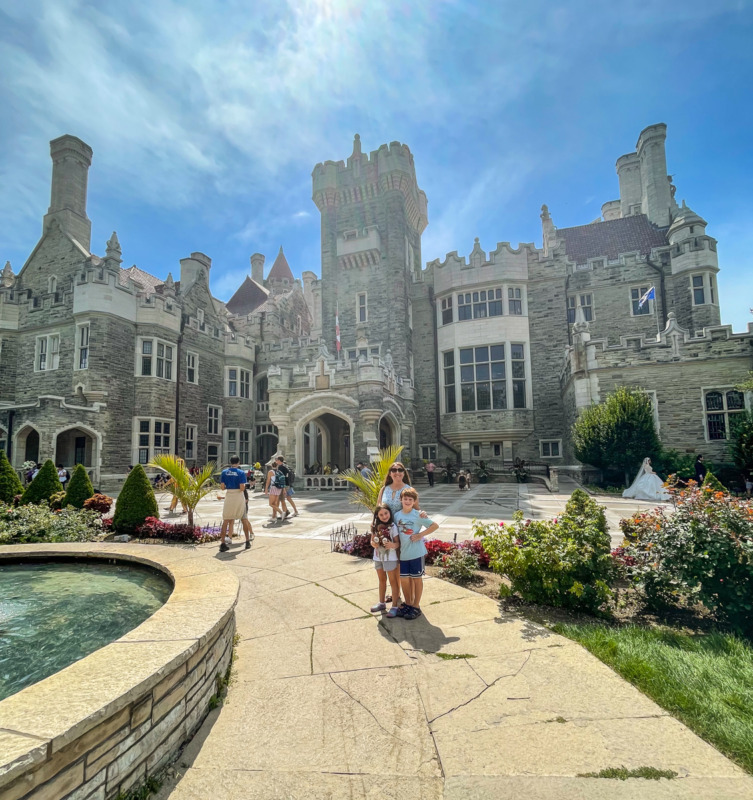 There's plenty to enjoy at Casa Loma! In addition to touring the house's rooms and marveling at the expansive views from the towers, the gardens behind the house are wonderful. Casa Loma is definitely one of the most Instagrammable spots in Toronto. When you've finished with the main house, car buffs will want to walk the underground tunnel to the property's extension to see pristine antique cars from the early 1900s. We blazed through in an hour due to scheduling constraints, but you're better off allowing at least 90 minutes.
A quick note on those towers… they're very cool. They also involve several flights of high-traffic spiral staircases. We're used to walking a lot, but we were definitely still feeling Casa Loma in our quads for several days afterward! There is no accessible route to the tops of the towers. Some brave souls carried young children in their arms but personally I don't recommend it. If you follow my suggestion to arrive early and you start your visit with the towers, you should have fairly clear access to the stairs. As the morning wore on during our visit, there was a line/queue/line up of so many people that an employee started controlling access.
You can reserve your tickets here or use CityPass to get in if you've purchased it. If you opt to drive in Toronto, parking at Casa Loma as $15.
If you arrived at Casa Loma for their 9:30 opening, you'll be wrapping up your visit around 11am. Walk back down to Dupont to grab the Metro in the other direction, toward Union Station and Finch. You'll exit at Museum and walk up Queen's Park to the Royal Ontario Museum.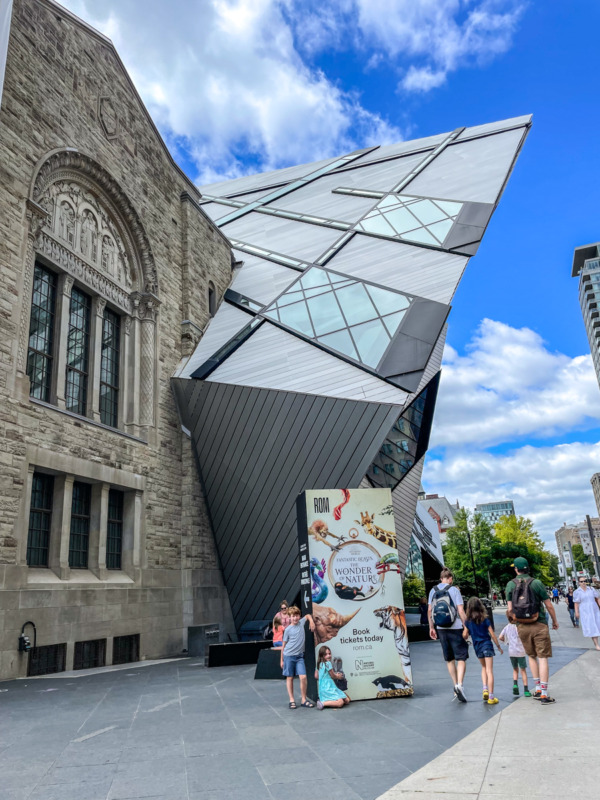 The ROM is one of the largest museums in North America and Canada's most popular. You can say everything from ancient fossils to items from cultures around the world. It has a can't-miss gallery dedicated to the First Nations of Canada, a wonderful natural history section and much more.
The show-stopper for us was the Fantastic Beasts exhibit that's running until January. It artfully weaves amazing creatures found in nature, fascinating mythology and Fantastic Beasts/Harry Potter movie tie-ins – including tons of items used in filming. Note that special exhibits like Fantastic Beasts (and the epic T-Rex exhibit that will follow it in 2023) do require a charge beyond the basic admission – you can buy a comprehensive ticket that includes them.
The building's architecture on the inside is also wonderful. There are enormous totem poles mounted in the stairwells showcasing First Nations traditions, while the rotunda dome is a stunning mosaic of world cultures. The ROM is not to be missed!
How much time should you plan to spend at the ROM? We felt like 1.5-2 hours was enough to appreciate the exhibits without feeling overwhelmed.
Afternoon
By the time you leave ROM, I'm sure your tummy will be rumbling! Thankfully the Toronto food scene has plenty to offer, including so many restaurants that reflect the city's deep multiculturalism. Hop back on the Metro (still yellow, still #1) to the Osgoode station to visit Assembly Chef's Hall. This modern food hall concept has some fantastic options to suit every palate and plenty of seating both inside and out. I suggest grabbing lunch at Ramen Isshin, which we savored at one of their other outposts in the city.
When you've finished eating pop across the street to Nathan Phillips Square. This famous landmark is home to the big TORONTO sign and is also bordered by the beautiful Old City Hall building (and the less impressive current City Hall). You may find a concert or craft fair going on in the Square, or even just Torontonians strolling around on a sunny afternoon.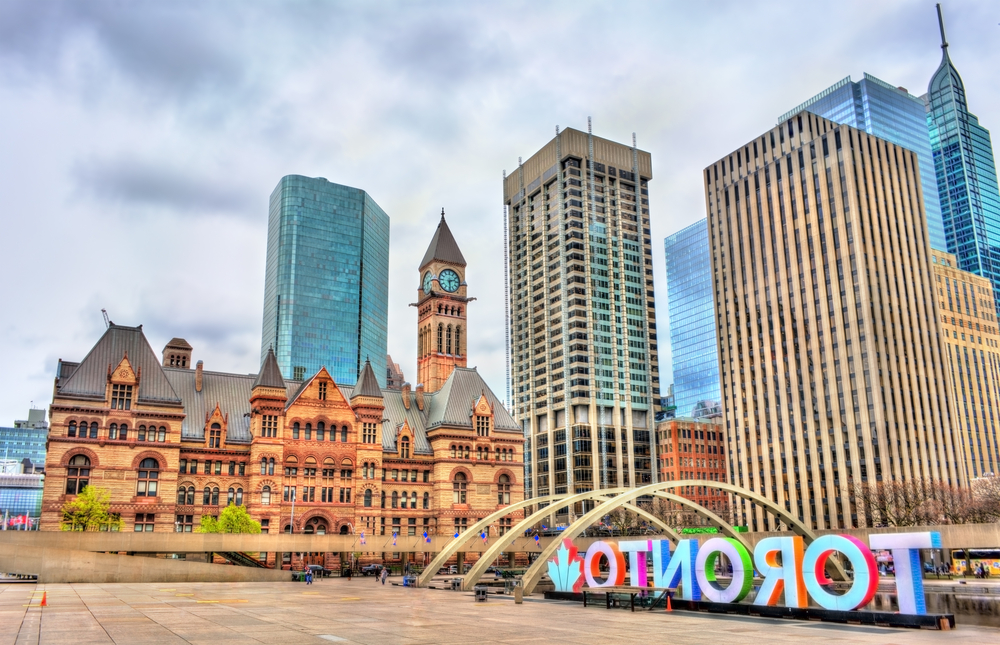 Make your way down Bay Street for what may be the most Canadian of all experiences: a visit to the Hockey Hall of Fame! It can be a little tricky to find, but it's in the basement of the Brookfield Place office complex (enjoy the building's beautiful architecture!).
Even if you're just a casual observer of the sport, they do a great job of humanizing hockey. There are player profiles, uniforms from all eras and plenty of real estate given to both women's hockey and the international scene. Kids will love the interactive zone, where they can try their hand at hockey skills challenges, broadcasting and more.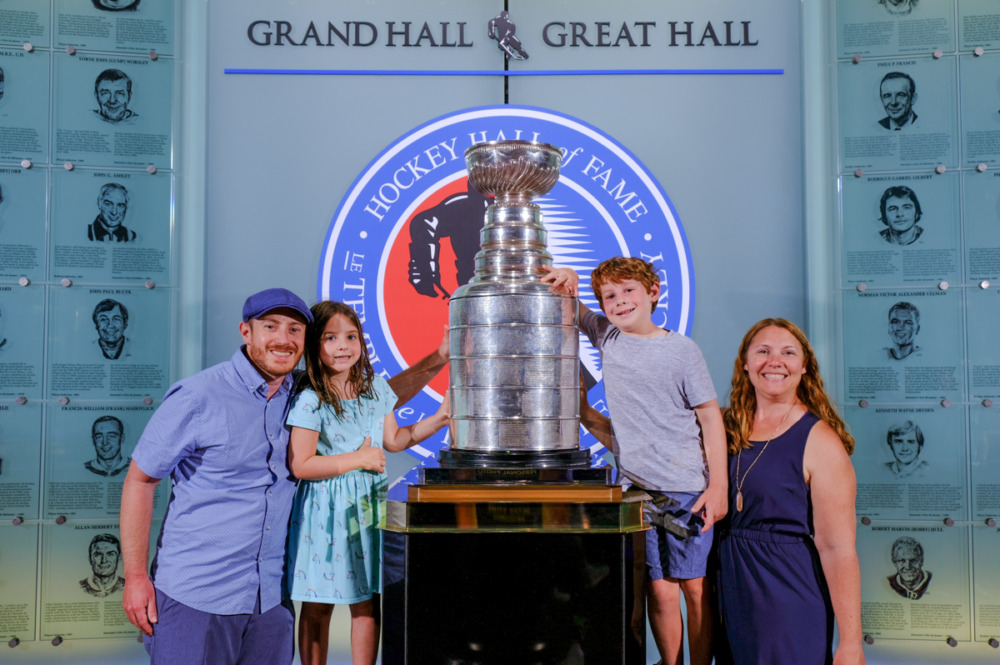 The centerpiece, of course, is Lord Stanley. There's an entire gallery housed in the stunning 1885 Bank of Montreal building where you can see Stanley Cups, championship rings and more. No visit is complete without taking a photo with the Stanley Cup! Fun fact: Our daughter was born the day the Kings won the Stanley Cup, just 1 mile from where the game was occurring!
If you need a little pick-me-up to get through your very busy day in Toronto, Time Hortons is right next to the exit and open until 6pm on weekdays and 5pm on weekends. There's also an adjacent Roots store to treat yourself to the coziest sweats ever.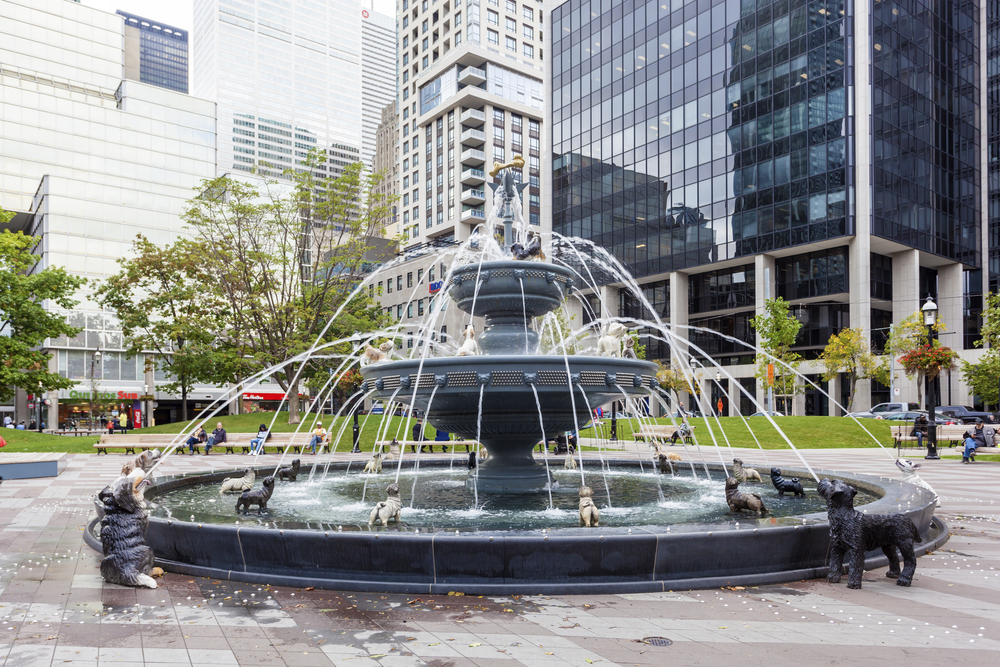 Take your time and enjoy the slow stroll back toward the CN Tower. You can swing by nearby Berczy Park (just one block from the Hockey Hall of Fame) to enjoy the cheeky Dog Fountain.
Ultimately you'll want to make your way to Roundhouse Park, home of the Toronto Railway Museum. Depending on your time and interest, you can at least check out the numerous trains from the last century as you walk by. But if you want a deeper experience (especially if you're visiting Toronto with kids!) you might want to check out the simulator and the mini train.
There are a few dinner options at the Roundhouse depending on timing and how hungry you are. For a fun time you can head to the Steam Whistle Biergärten. They have a range of both meat and vegetarian options and you can book a table in advance (as long as the Blue Jays aren't playing). If you're after a lower priced option with an extensive menu, check out THREE10, which draws inspiration from Canada's three territories ten provinces to serve up everything from Quebec's poutine to British Columbia's seafood. If you have time to spare, grab a TAG and play some games over in The Rec Room! They have everything from video games to shuffleboard to keep you entertained.
Evening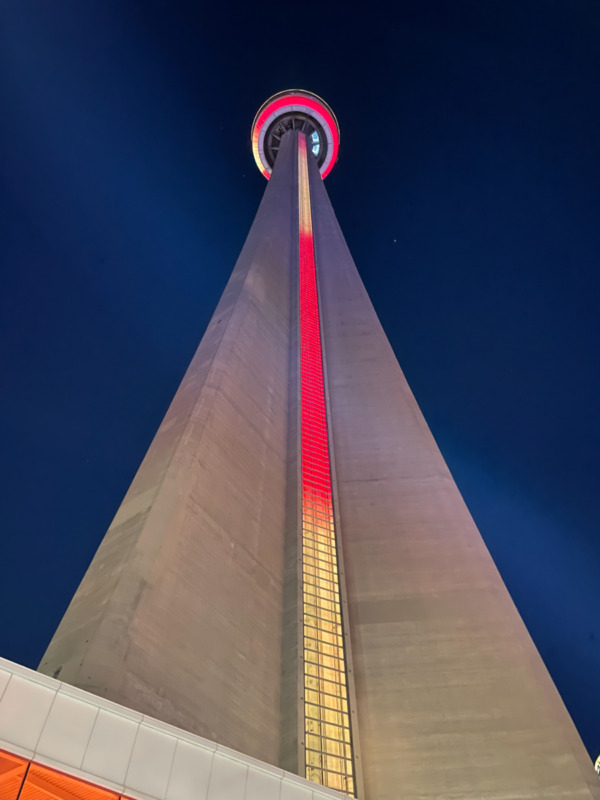 You've already seen a nice representation of the city by day, but now it's time to hit two of the top Toronto attractions by night!
After you finish eating, walk back across Roundhouse Park toward the CN Tower. It's hard to miss the Tower, which dominates the city skyline from so many perspectives and is perhaps the most notable Toronto landmark. From 1975 to 2007 it was the world's tallest free-standing structure, so its fame is justified! While the original intention was to improve broadcast signals that had been disrupted by the construction of skyscrapers in downtown, its twin purpose as a tourist attraction was cemented during the design phase.
I'd try to arrive at CN Tower not later than 7:30pm, but earlier if you're visiting during a season with less daylight – that way you can enjoy both day and night views of Toronto. We reserved our time slot through CityPASS online in advance, which was very easy.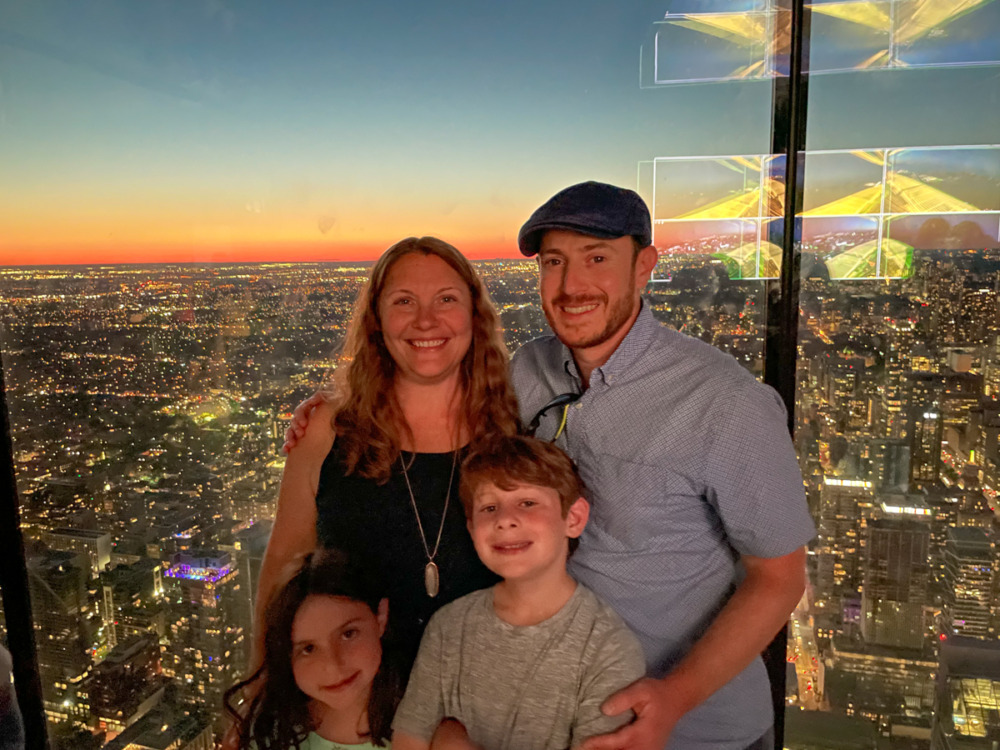 I'll admit that we goofed this a bit. Even with timed tickets, expect a wait/queue/lineup of at least 30 minutes before getting into the building followed by a slooooow procession to the elevator. In total it took about 45 minutes from our initial arrival to the observation deck.
But once on the observation deck, the view is hard to beat! You're more than 1,000 feet off the ground and can see all over the city as you walk around. It does get crowded up there so you will need to be patient if there are specific views you want to photograph. If you're taking photos when it's dark outside, be sure your flash is off and try to position yourself to avoid lights reflecting from illuminated screens that are annoyingly positioned opposite the windows.
Once you've had your fill of CN Tower, hop back in the elevator and try to dodge the hordes of visitors as you exit through the gift shop. Fortunately it's much faster than getting in! You'll see lots of people lining up for photos with the cool CN Tower sign, but skip it for now – you'll be back later.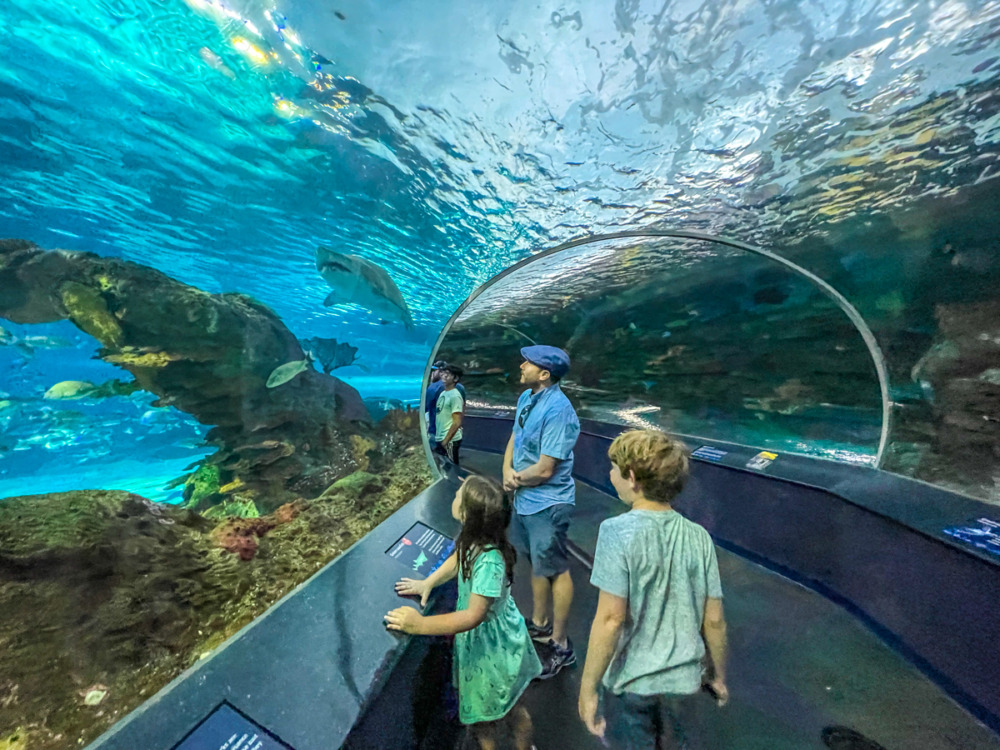 You're going to wrap up your night with a visit to Ripley's Aquarium of Canada. Visiting at night is so clutch to making the most of your day in Toronto while also avoiding unpleasant crowds. During the day this amazing aquarium is teeming with visitors (including tons of small ones running around). But many travelers don't realize that it's actually open until 11pm daily in the summer (though winter hours are shorter). The Aquarium is included in CityPass but it's also free or for members of their local Association of Zoos and Aquariums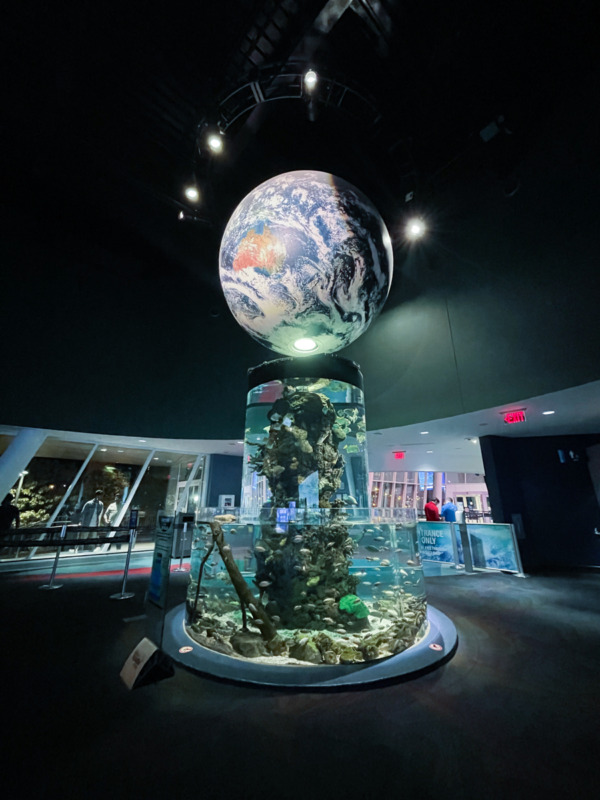 We walked right in at 9:45 and basically had the place to ourselves. I do recommend arriving a little earlier – closer to 9 – to go through at a more relaxed pace, but we really didn't feel too rushed since we were able to get up close to every exhibit without waiting behind lots of other people. Even if you aren't visiting Toronto with kids, the aquarium really is wonderful and worth visiting. There are so many sharks everywhere!
Only after you've finished touring the aquarium, head back over to CN Tower to take photos with the sign. There won't be many people waiting and you won't have wasted precious time when you could have been visiting timed attractions.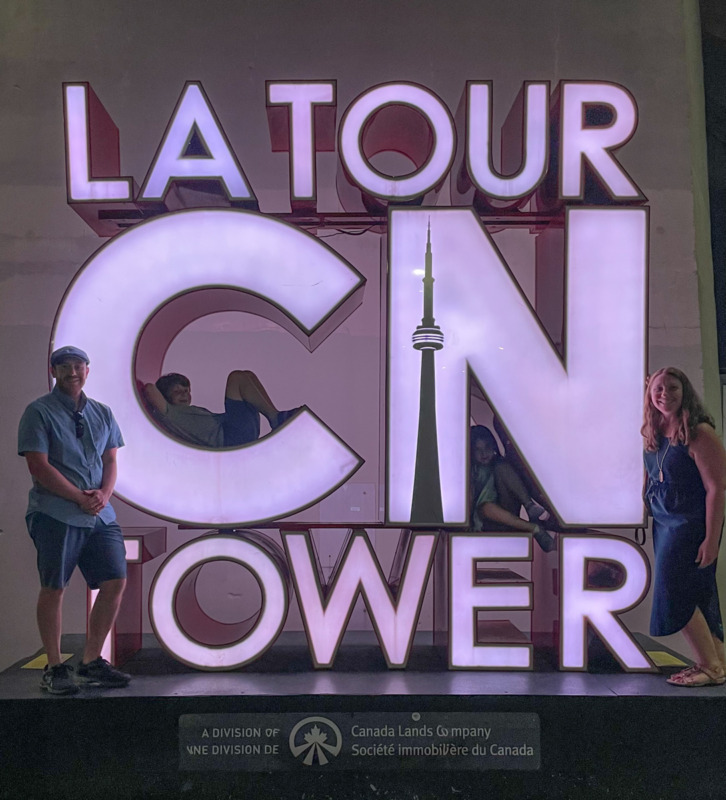 One Day Toronto Itinerary Summary
8:30am Head out for the day
9am Breakfast at Belle's Bakery
9:30-11am Casa Loma
11:30-1:15pm ROM
1:30-2:30pm Lunch at Ramen Isshin (Assembly Chef's Hall)
2:45-3:30pm Nathan Phillip's Square
3:45-5pm Hockey Hall of Fame
5-7pm "Green spaces" (Berczy Park, Roundhouse Park) + dinner/games at The Rec Room
7-8:30pm CN Tower
8:30-10pm Ripley's Aquarium of Canada
More Things to Do In Toronto, Canada and Nearby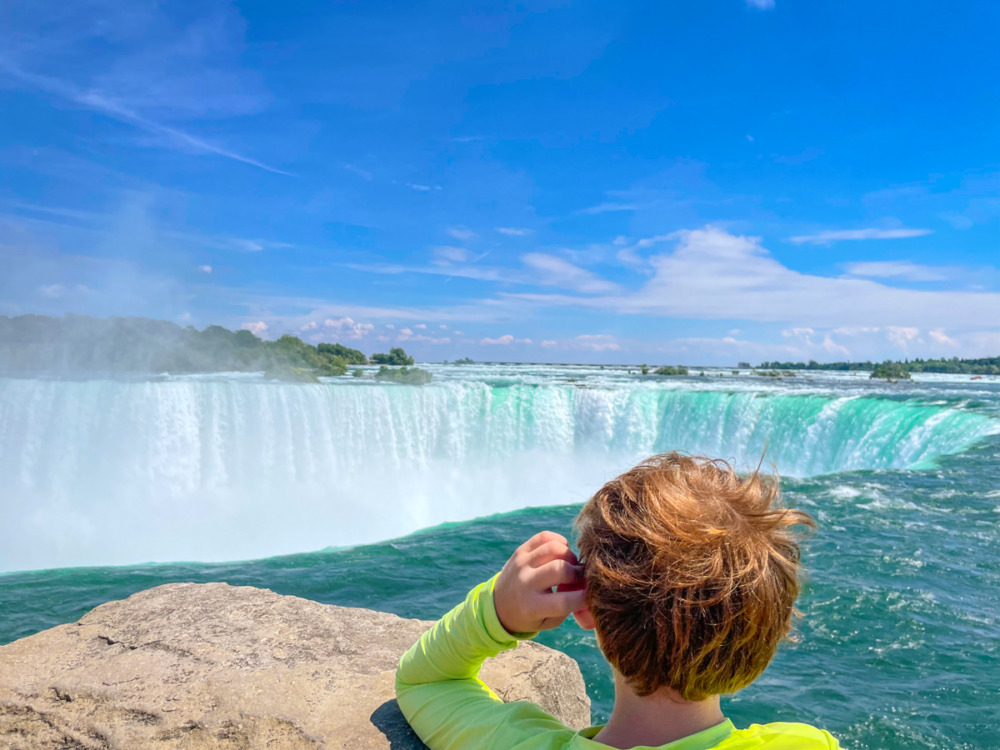 If you're building out a two day Toronto itinerary, of course there's plenty more to do! We'll definitely need a return visit to experience more. Here are just a few ideas for two days in Toronto.
Take a day trip to Niagara Falls, which is about two hours away by car. I recommend staying overnight, but even if that's not in the card you can still get a taste in a few hours.
If you're visiting Toronto with kids you won't want to miss the Ontario Science Center, which is part of the reciprocal ASTC Passport program and also included with CityPASS. The diversity of exhibits makes this Science Center so unique – there's an actual rain forest inside, a hands-on space for experimentation but also exhibits that approach the social sciences in a kid-friendly way.
Looking for things to do in Toronto in summer? Next time we'll take the short ferry ride to Hanlan's Point to enjoy the lovely beach. Yes, you can go to the beach in Toronto!
It may be cold in Toronto in winter, but there's still plenty to do. Lace up your skates at Nathan Phillips Square to enjoy the classic city scenery while you ice skate. Of course all of the excellent Toronto museums like the Art Gallery of Ontario are still open, and there are wonderful night time light displays at places like Casa Loma and the Toronto Zoo.
Planning your trip to Toronto
Use this handy map to understand how your 24 hour Toronto trip will come together:
Want to extend your travels in the region? Check out these ideas!
Still planning? Pin this for later!