As a fairly new Ohioan, I'm going to say it loud and say it proud: there are so many fun things to do in Columbus, Ohio with kids. Whether you love the outdoors or you're looking for more urban family activities in Columbus, Ohio you'll find plenty of options. Since we live here in Columbus, I'll have plenty of great options to add as we continue exploring and more options open up!
Read on for some of our family's favorite things to do in Columbus with kids! I'll also share insider tips on where to stay in Columbus with kids, how to get around, best places to eat in Columbus with kids and more.
Getting around Columbus with kids
Columbus isn't a great city for public transportation with kids unfortunately. With a car you can reach most family-friendly Columbus attractions within 10-20 minutes. Relying on the bus will add 20-40 minutes to nearly every trip, and that's if you're staying in Downtown to maximize your transit connections (which isn't necessarily a bad idea anyway, as it's centrally located and has a fun vibe).
That said, if you're doing a quick family weekend getaway to Columbus there may be enough in and around Downtown to keep you busy! You could visit the best museums in Columbus, enjoy some gardens, relax in urban green space, take in a sporting even and never get in a car.
Most visitors find that renting a car is the best way to explore Columbus with kids, especially if they want to enjoy some of the experiences a little further out from the city or are staying longer than just a weekend. Renting a car at the airport is extremely easy, as you just take the escalator up to the rental car desks without the need for a shuttle. Check rental car prices for your trip here.
If you do rent a car, I recommend downloading the ParkMobile app in advance and then adding your rental car once you pick it up. Thankfully parking is free in most places, but it's always good to be prepared if you need to park on the street (and ParkMobile is used in lots of cities from Washington DC to Los Angeles so it'll come in handy in the future).
---
Where to stay in Columbus with kids
While I usually start travel guides with "where to stay" and then proceed to "getting around", in this case the choice of where to stay in Columbus with kids will depend on whether or not you're renting a car.
Best places to stay in Columbus with kids using public transportation
If you want to use public transportation (the bus, since Columbus has no rail passenger service of any type), you'll want to stay in Downtown. Check out these vacation rentals and family-friendly hotels in Downtown Columbus:
Where to stay in Columbus with kids using a rental car
If you'll be renting a car (or bringing your own), you're really spoiled for choice on where to stay with kids in Columbus. Instead of staying in the busy downtown area, consider these beautiful, close-in, family-friendly neighborhoods:
---
Fun things to do in Columbus with kids
Dive in to hands-on learning at COSI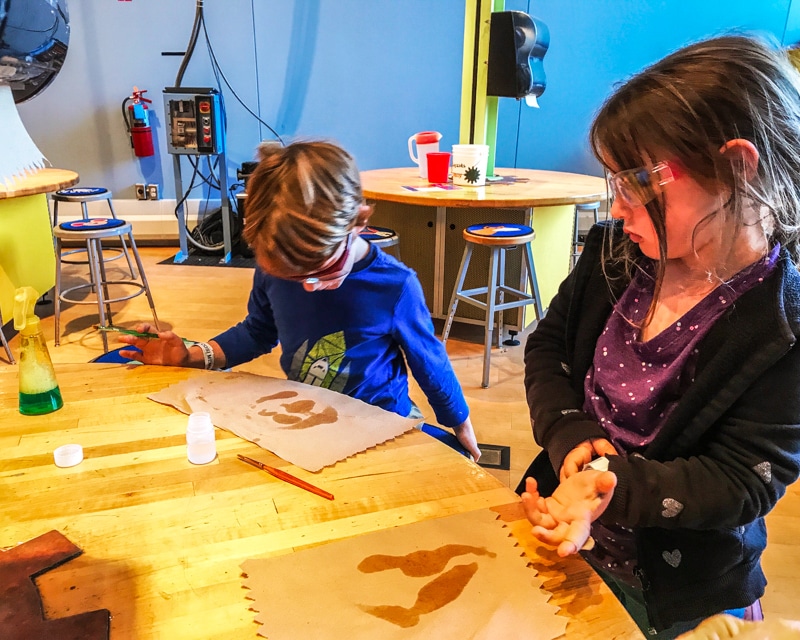 COSI, short for the Center of Science and Industry, is a world-class hands-on science museum for families. It's a big, bright modern space with exhibits ranging from energy conservation to space exploration to paleontology. There are awesome daily IMAX shows an frequent special exhibits throughout the year (at least in "normal times"). COSI offers so many exhibits that even after a dozen visits we still haven't seen everything.
We love Gadgets Cafe, where you can explore a "menu" of science experiments. There are options for kids ranging from preschool on up. In the photo above, you can see my two chemists making designs with the invisible ink they had just created.
The top floor of COSI is the perfect place to let kids of all ages blow off some steam – especially if it's a cold or rainy day. This is definitely one of the most popular Columbus kids activities for winter. It's a fully interactive space where kids rule! Think of it as an entire children's museum within the broader museum. My kids' favorites are the water play area (I recommend a change of clothes, just in case), art studio and dedicated "tween lounge". This last area is especially unique, as it offers high-level STEAM projects, motion-operated video games, LEGO and more; even if your kids span a wide age range, no one will be complaining!
Once you're done inside, there's also a lovely, modern playground right in front of the museum. In summer the fountains are turned on and local kids love to splash around – come prepared!
Alternatively, head to the Scioto Mile to enjoy some of Columbus's finest urban green space. From the back side of COSI you can hop directly on to the "lower Scioto Greenway" for a quick walk.
If you have more time and energy, cross one of the bridges at either end of COSI to the other side of the Scioto River. The Main Street Bridge and Rich Street Bridge to the south will take you to Bicentennial Park, which includes the popular Scioto Mile Fountain. Walking north (or crossing from COSI at the Discovery Bridge) will take you to Battelle Riverfront Park and the adjacent Alexander AEP Park.
Admission: $25 for adults, $20 for kids, free for 2 and under; FREE with reciprocal ASTC membership and half price with reciprocal ACM membership
Parking: $12 in the garage under the museum (FREE with membership when you get validated at the ticket desk)
---
Cultivate natural wonder at Franklin Park Conservatory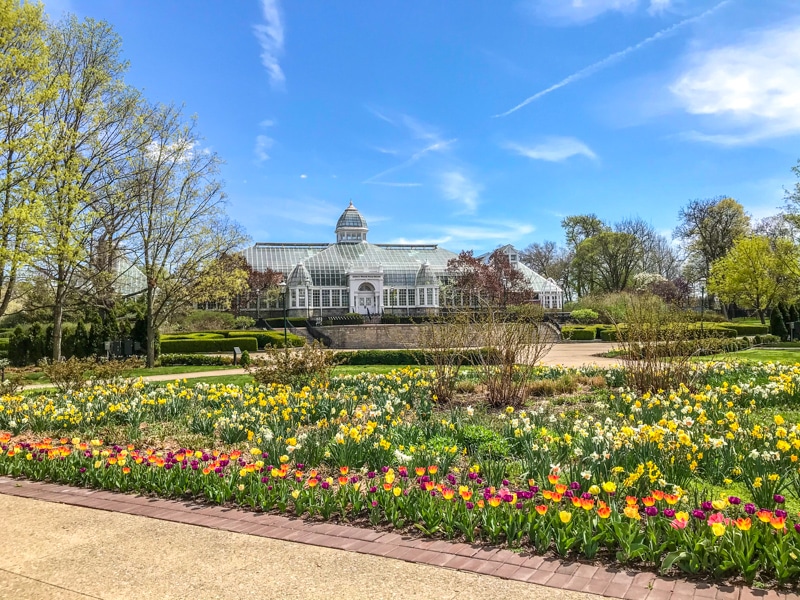 If I had to identify the place our family has visited the most since moving to Columbus, it's absolutely the Franklin Park Conservatory. We love everything about it!
For kids, the Children's Garden is a place of pure wonder. The incredible play space is integrated beautifully into the landscaping and offers everything from a huge net for jumping to a maze of balance beams. In the summer, kids can splash in the babbling brook. There's even an area where kids can build their own play structures from their imaginations while parents relax under blooming trees. Don't miss the ever-changing horticultural kaleidoscope and spray area as you enter!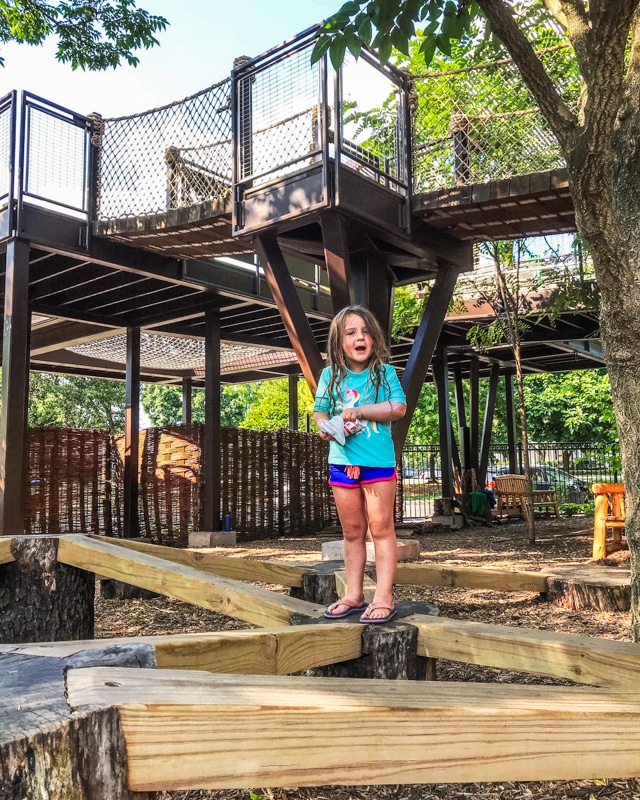 Beyond the Children's Garden, you'll find stunning landscaping that leads you to the Paul Busse railway garden – a wonderful installation that mixes story telling, horticultural design and model trains. Indoors the Conservatory shows off its massive collection of glass art by Dale Chihuly; there's something unique in every room!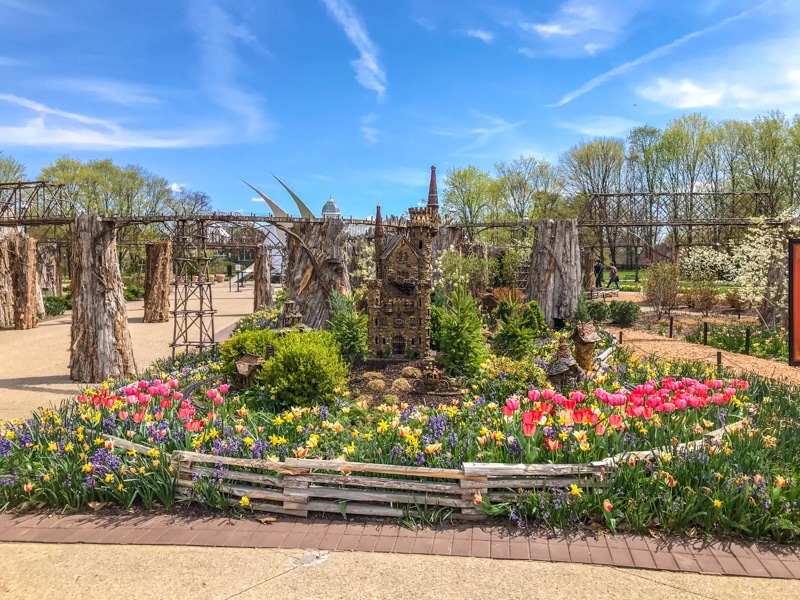 Depending on when you visit, the Conservatory has plenty of special seasonal programs. Unless you have a higher level membership, you'll have to pay separately for evening programs like Pumpkins Aglow, Conservatory Aglow (pictured below and oh-so-magical) and Chihuly Nights. Daytime floral installations like Harvest Blooms in autumn and Columbus Blooms in spring are included with your regular admission ticket.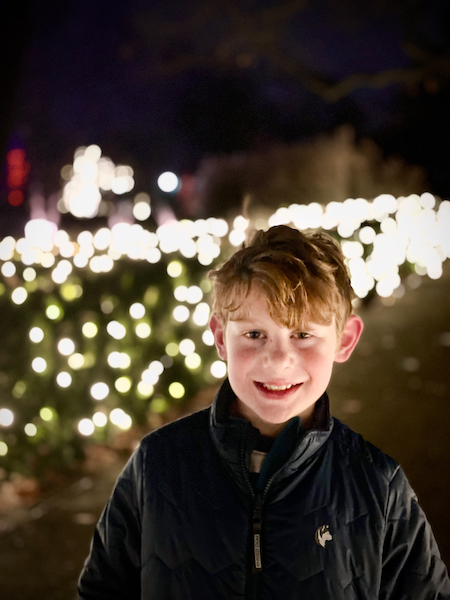 Read more: Things to do in Columbus to avoid the winter blues
The best time of year for a daytime visit to the Franklin Park Conservatory is late March to mid-November. There will always be something in bloom!
Admission: $19 for adults, $16 for seniors, $12 for kids, free for 3 and under; FREE with reciprocal AHS membership
Parking: free on-site
---
Go wild at the Columbus Zoo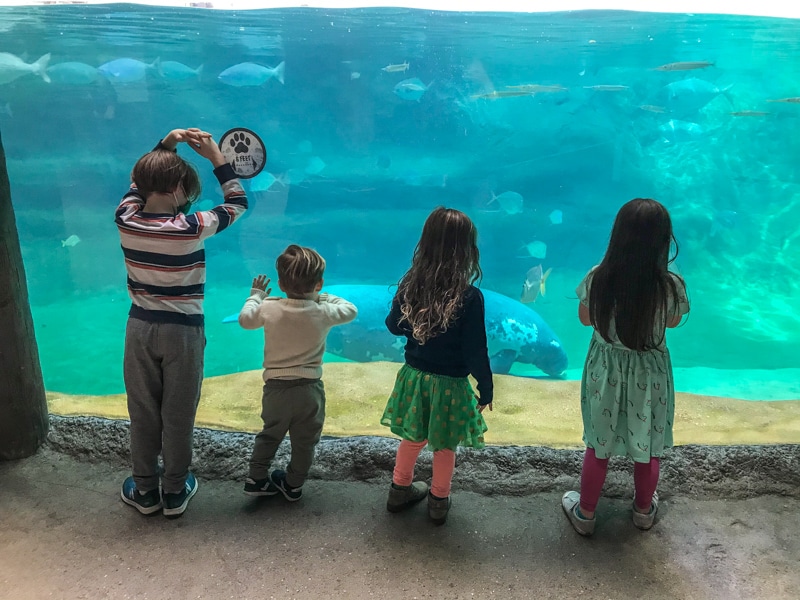 The Columbus Zoo and Aquarium makes for a great day out for the family! Bring your good stroller, because it's a pretty big zoo. Fortunately the layout is mostly flat but you'll still get your steps in for the day.
Since you won't be able to see everything the zoo has to offer, I recommend making sure you have two of its most unique residents on your list: polar bears and manatees. The Zoo is involved in conservation efforts for both species and has new babies from time to time. While you're checking out the Polar Frontier, be sure to visit the Arctic foxes, which my kids swear are the Zoo's cutest residents.
If you're visiting during the sweltering summer months, you may want to tack on a view hours at Zoombezi Bay. It's the water park owned by the Zoo and is right next door, sharing the same parking lot.
Admission: $22 for adults, $17 for seniors and kids, free under 3; $5 per ticket discount for Franklin County residents; half price with reciprocal AZA membership
Parking: $10 per car; FREE for members
---
Get creative at the Columbus Museum of Art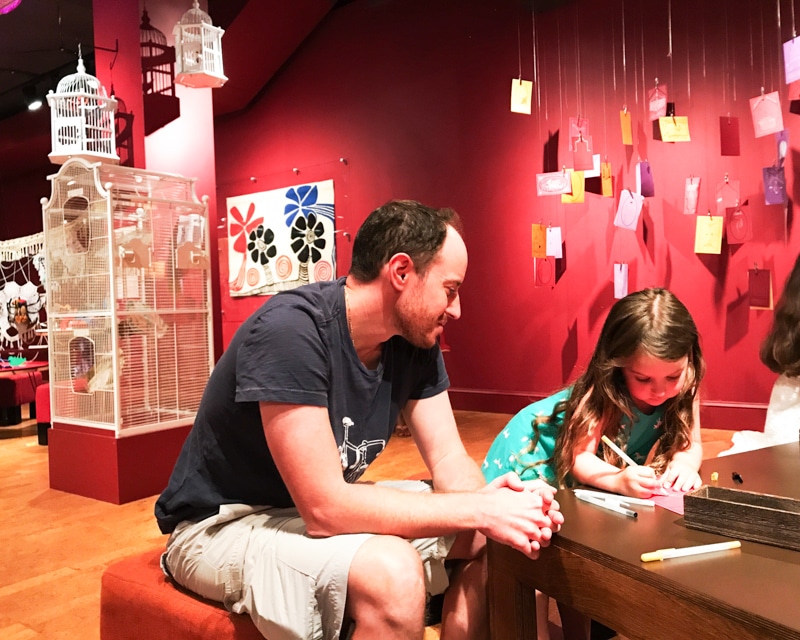 The Columbus Museum of Art is a serious art museum, but it's one that never seems to take itself too seriously. It makes a visit to experience art fun – even with kids.
There's always a wide range of hands-on activities to get kids' creative juices flowing, whether in the Center for Creativity or through other family-friendly offerings. We've seen a huge range of exhibits at the museum that engage us and our kids, from LEGO art to 1970s protest signs.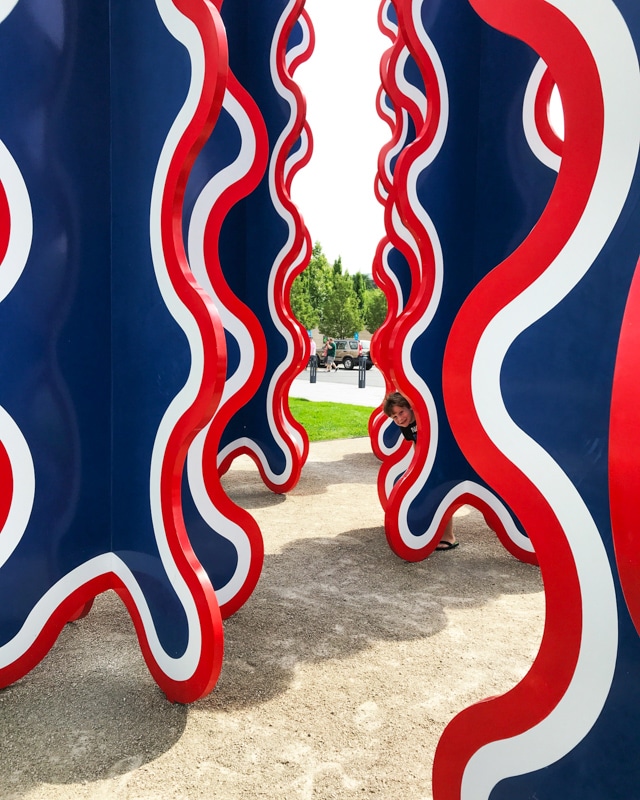 If your little ones get hungry but you're still busy enjoying your day at the museum, the on-site Schokko Cafe has excellent fare that you can enjoy in the sunny sculpture garden courtyard. On your way out, be sure to leave time for the kids to play some hide and seek through the Ohio flag-themed sculpture outside (I won't tell anyone if you join them).
Admission: $18 adults, $9 seniors and kids, free for 3 and under; FREE on Sundays
Parking: $5 on-site; FREE for members and Cafe patrons
Want to get more helpful travel tips like this? Sign up for our email list!
---
Find your adventure at Columbus Metro Parks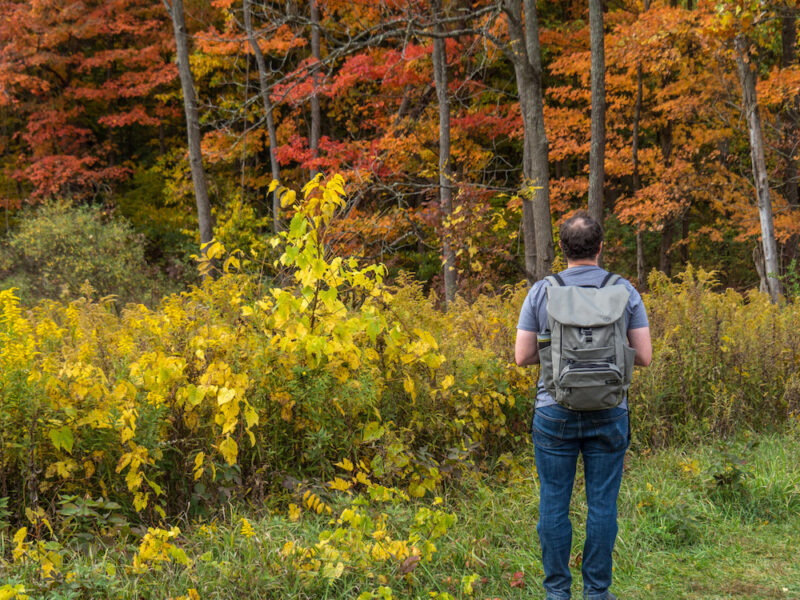 The Columbus and Franklin County Metro Parks have become one of our go-to family activities in Columbus Ohio, in part out of necessity but in large part out of our sheer love for them. I'm constantly amazed by the commitment to preserving green space in Columbus, whether you're out in farm country or smack in the middle of the city.
There are 20 Metro Parks scattered around Franklin County (and a few that stretch into neighboring countries). Each one has something special and unique to offer! We've visited almost all of them, often several times. Here are a few of our highlights for families visiting Columbus (and those living here too):
Hiking at Highbanks Metro Park
Riding scooters at Three Creeks Metro Park (from the Confluence Trails Area)
Watching bison roam and visiting the amazing Nature Center at Battelle Darby Creek Metro Park
Bird watching in wetlands areas
Climbing walls at Scioto Audubon Metro Park
Enjoying spring flowers at Inniswoods Metro Gardens
Trying the kid and adult obstacle courses at Glacier Ridge Metro Park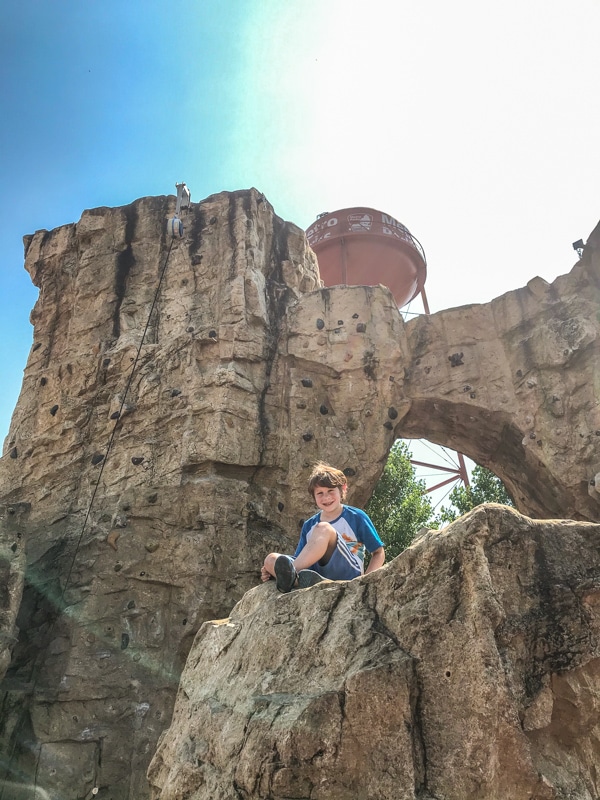 Pro tip: Many of the Metro Parks are so large that they have multiple entrances. Study the map *before* you go so find the right one.
Admission: FREE
Parking: FREE
---
Experience Ohio farm life at Slate Run Farm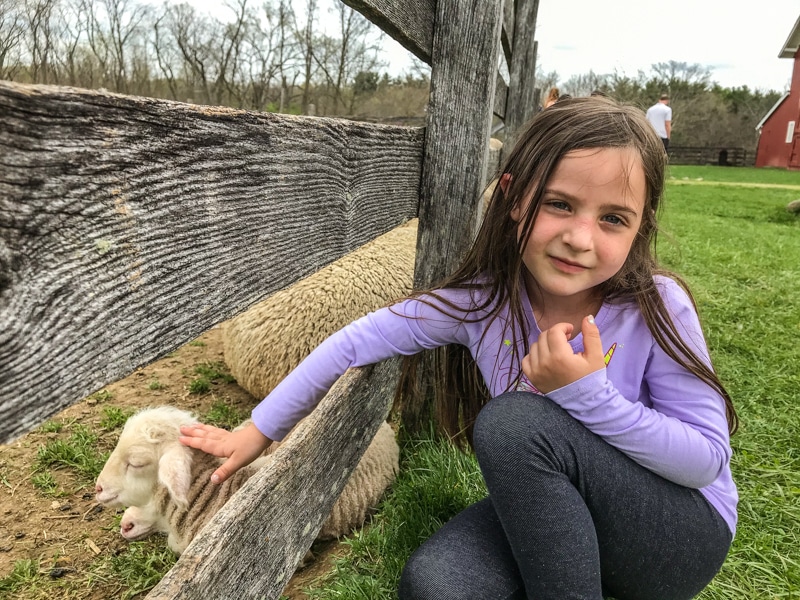 This technically could fall under the Metro Parks listed above, but it's unique enough and warrants enough time that it deserves its own entry. Nestled within Slate Run Metro Park is a working farm, Slate Run Living Historical Farm. It's an engaging glimpse into 19th century Ohio farm life.
Families can watch and engage as costumed interpreters go about their daily lives and chores. At certain times you're also able to go into the 1856 farmhouse and tour many of the rooms. There's also a large variety of livestock in and behind the barn. During our visit we even got to enjoy the farm's one week old lambs!
We've visited similar "living" historic properties in our travels around the country and Slate Run Farm offers one important distinguishing feature: it's completely free. That's right. Since it's part of the Metro Parks system, there's no charge for parking, admission or anything else. So don't feel bad if you decide to go for a nature walk (Kokomo and Covered Bridge are great for families with little kids) and then just pop by to see the animals for a few minutes.
Admission: FREE
Parking: FREE
---
Slow down and explore German Village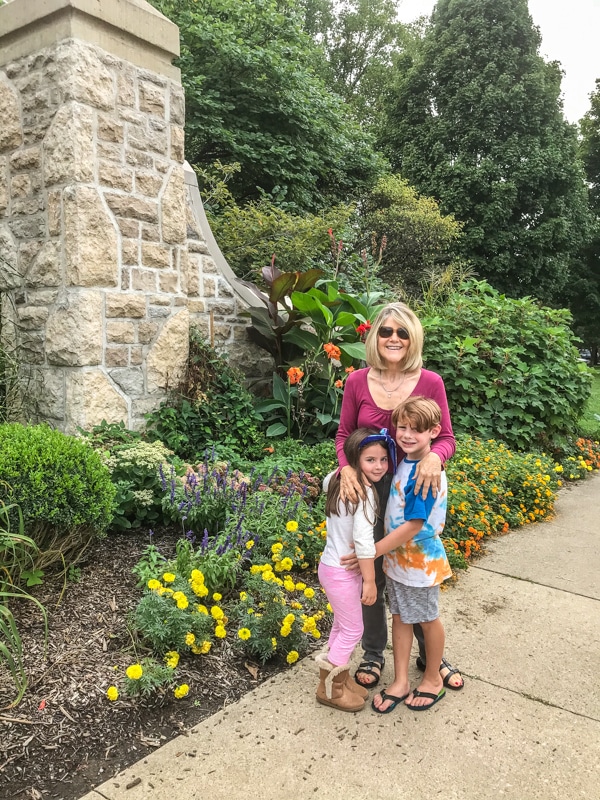 We spend plenty of weekend days tooling around Columbus's hip German Village neighborhood. There are some many great things to do in German Village with kids that our kids ask to go back all the time!
I recommend starting your visit on 3rd street near Pistacia Vera. Stop in for some sophisticated sweet treats the whole family will love. Then walk two short blocks to The Book Loft, a Columbus landmark. It's a labyrinthine book store with dozens of "rooms" (we'll cut them some slack on the definition of a "room" because we like them so much) and nearly the entire semi-underground level is dedicated to kids! The Book Loft carries nearly any book you can image and they receive tons of publisher overstocks, which they routinely sell at 50% off. So don't feel bad if your kids come to you with an armful of books, you're probably getting a great deal and supporting an awesome local business.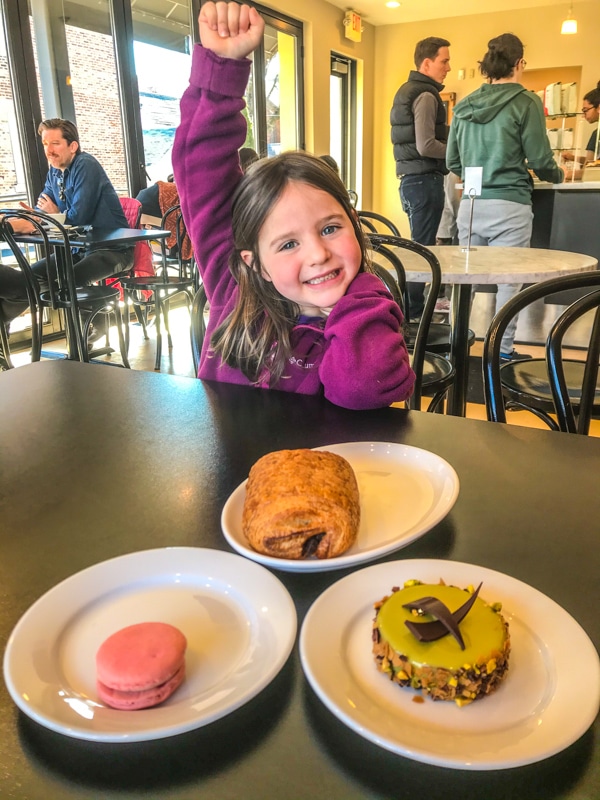 After The Book Loft you have an important choice to make: coffee now, coffee later or both? If you opt for "now" (and I don't blame you), hit the Stauf's outpost right next door. If you aren't in such a rush and want more sweets, skip Stauf's and walk about 10 minutes south on 3rd Street. Don't worry, you were going to go that way anyway.
That'll land you at the doorstep of Winan's, local purveyor of fine chocolates and coffee. Pop in for some of the best buckeyes in Columbus (or whatever other sweets strike your fancy) and you can grab your coffee from Winan's if you didn't already fuel up at Stauf's.
Take your snacks to go and head across the street into Schiller Park, the centerpiece of German Village. While many parks in Columbus are wooded expanses of green, Schiller Park is more reminiscent of a manicured European garden. There's a charming pond, a flowered walkway leading to an enormous statue of German poet Friedrich Schiller and an amphitheater where you can catch a Shakespeare production in the summer.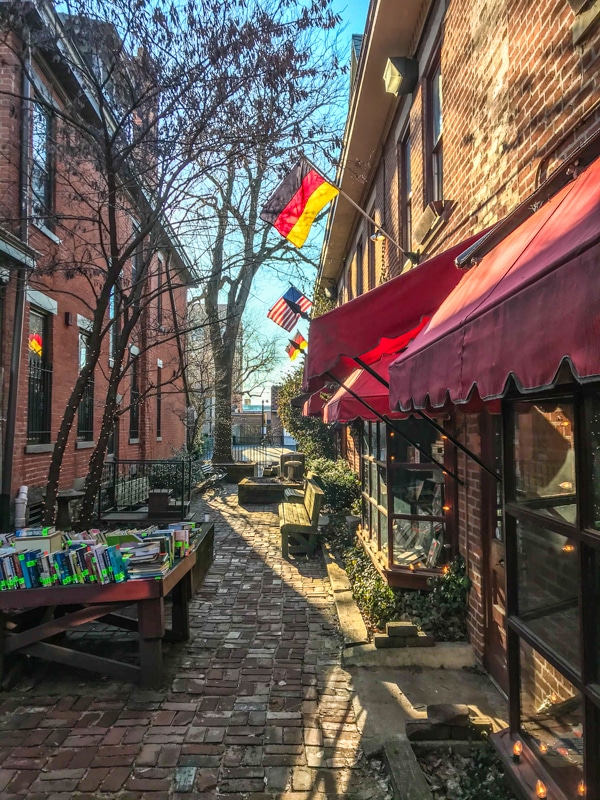 What's more, in 2019 a set of three dozen suspended sculptures by Polish artist Jerzy Jotka Kedziora were installed for a temporary exhibition. They've now become permanent fixtures of the landscape. Surprise! They're lovely and fun and whimsical and kids adore them. Since they're suspended, many of them rotate or sway in the wind seemingly coming to life. I've lost count of how many afternoons we lazily passed a Schiller Park, tossing a ball around and playing with the hundreds of passing dogs.
Admission: Depends on your budget for books and coffee
Parking: Street parking, sometimes free and sometimes very cheap with the ParkMobile app. If you can't find parking on 3rd Street, try one of the side streets or even City Park Avenue.
---
Get a taste of urban life in the Short North and Downtown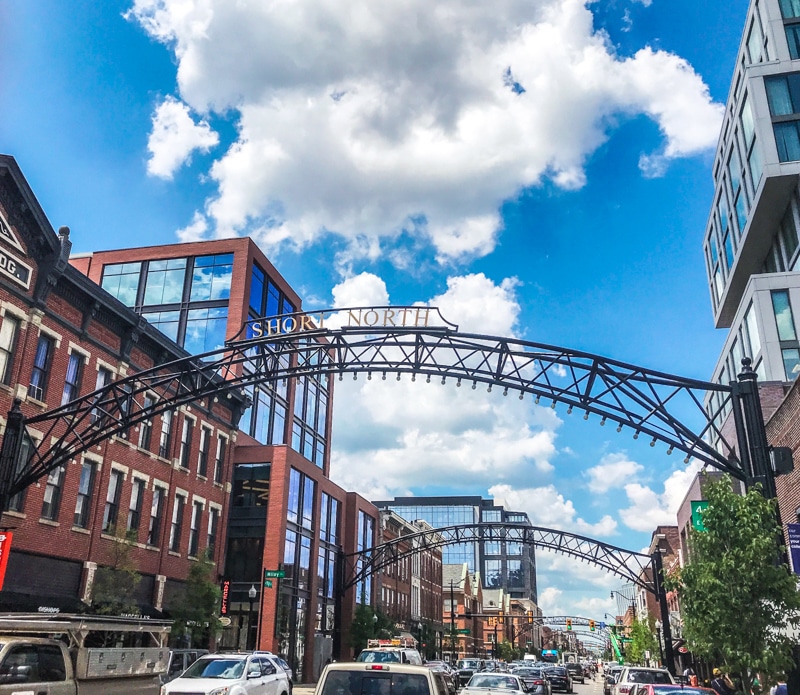 Another (but totally different) Columbus neighborhood to check out is the Short North, a small enclave adjacent to Columbus's traditional downtown. It's an area built for strolling without a specific destination, but definitely worth a visit to see cool street art and the livelier side of the city.
One can't-miss store in Short North for kids is Big Fun Columbus. It has tons of cool toys – vintage to current – to browse and buy. My kids love looking at the "ancient" LEGO sets (and I love pointing out which ones I had as a kid). There are plenty of small delights to buy if you want to treat your kids, and even if not they'll still enjoy taking a look around.
There are so many great places to eat in Short North with kids that it's hard to narrow them all down. Some of our favorites are The Lox bagel shop, Brassica (fast casual gourmet Lebanese food), Northstar Cafe (upscale American cuisine with a great patio), Jeni's Splendid Ice Creams (it started down the street at North Market) and North Market. While Columbus purists might not consider North Market to be in Short North, this food hall is just steps away and offers dozens of unique eateries that are some of the tastiest in town.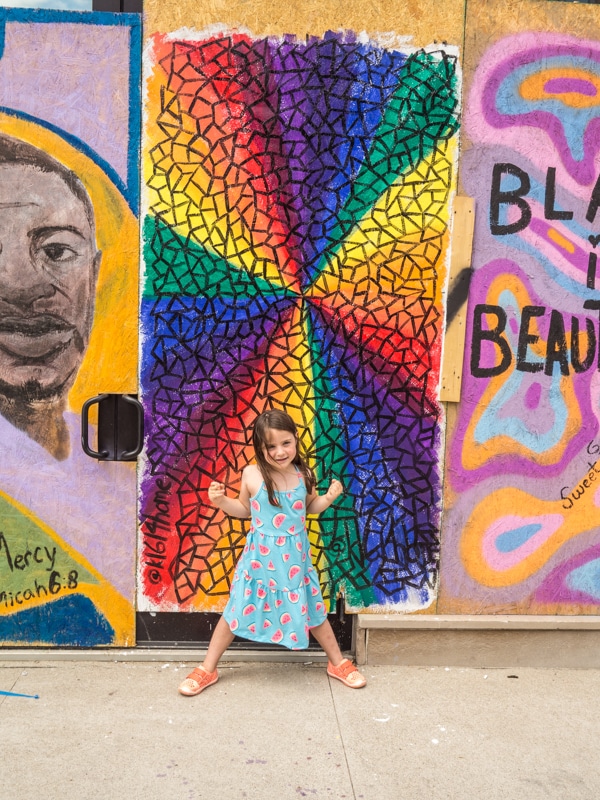 Coffee lovers will be spoiled for choice as you stroll the neighborhood. My favorite for hot coffee is Roaming Goat Coffee (take a bag or two to go and your luggage will smell amazing), which also offers delicious hot cocoa for the kids. If you're exploring the Short North on a brutal summer day, there's no better stop than at One Line Coffee for an ultra-smooth cold brew.
We typically take our coffees to go and walk over to Goodale Park, the former-Union-Army-staging-area-turned-oldest-park-in-Columbus that is technically in the adjacent Victorian Village neighborhood. It's an ideal spot to let your kids run free while you appreciate the gorgeous cherry trees or watch water fowl paddle around the pond.
Admission: The price of food and whatever toys your kids con you into buying
Parking: Street parking, sometimes free and sometimes very cheap with the ParkMobile app. You can usually find a spot along Park Street near Goodale Park.
---
Cheer at a Columbus sporting event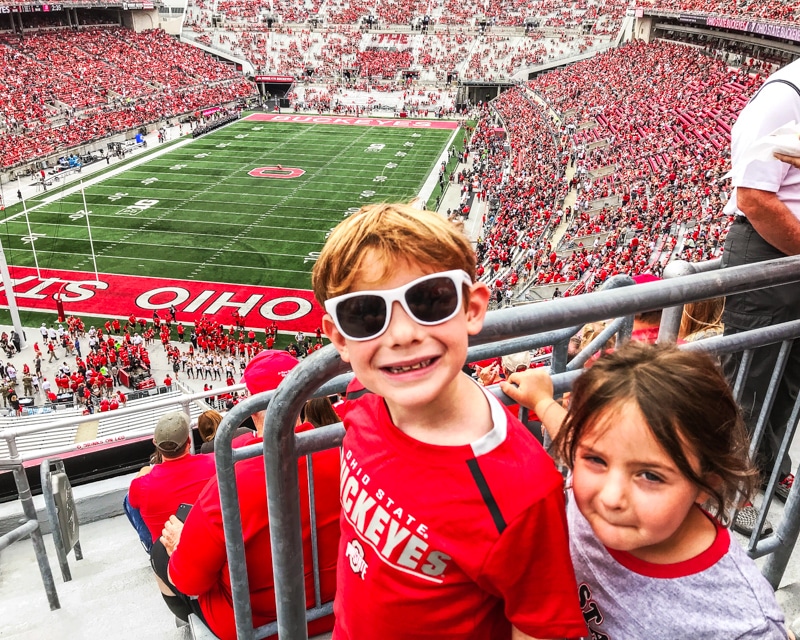 Columbus is in a weird situation when it comes to major sporting events. Despite the metro area being nearly identical in size to those of Cleveland and Cincinnati, we don't have professional basketball, football or baseball.
But Columbus is a sports-crazy town nonetheless! And the good news is that without those enormous, high-budget leagues around all of the other opportunities are much more affordable (and enjoyable) for families. Whether you're most interested in the MLS Cup champions Columbus Crew (aka "Columbus FC", which I doubt anyone will ever call them) or the AAA baseball Columbus Clippers, you'll find plenty of opportunities to satisfy the sports lovers in your family. Check out the team schedules below to see when games are:
Huntington Park (home of the Clippers) was completed in 2009 and Nationwide Arena (home of the Blue Jackets) was built in 2000, while New Crew Stadium just opened recently. They'll all offer modern, vibrant game day experiences with family-friendly amenities.
OSU football, on the other hand, is played in the legendary Ohio Stadium – most commonly referred to as "the Shoe". It may not be new or fancy, but in "normal times" it accommodates a whopping 102,000 people for plenty of cheering and spelling the state's name. Even if it's not something I'd want to do every weekend, it's a great experience for older kids and teens!
---
Take a day trip from Columbus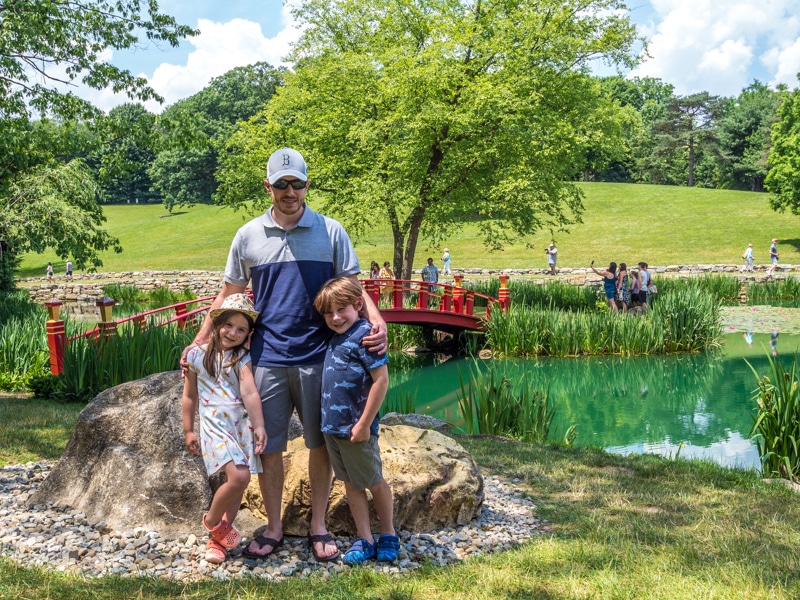 If you feel like you've taken in all of the top Columbus attractions for families, the good news is that we're located smack in the middle of Ohio. There are plenty of Columbus day trip options within just an hour or two. You can hike through ancient rocks, pick your own fruit, explore Cincinnati, visit stunning gardens and much more.
If you're looking to extend your trip to explore more of the Ohio River Valley – take a look at these articles: