Horses, hiking, history… and bourbon. Whether you're looking for a quick weekend getaway or planning a longer visit to Kentucky with kids, Lexington and the surrounding area of central KY is a unique destination you should have on your radar. We've put together an easy-to-follow Lexington with kids itinerary that'll show you the best of the Horse Capital of the World even if you're short on time.
Read in to find out where to stay in Lexington with kids (our opinion may surprise you!), the best things to do with kids in Lexington KY, where to eat and more. You can also see a few highlights here!
---
Where to stay in Lexington with kids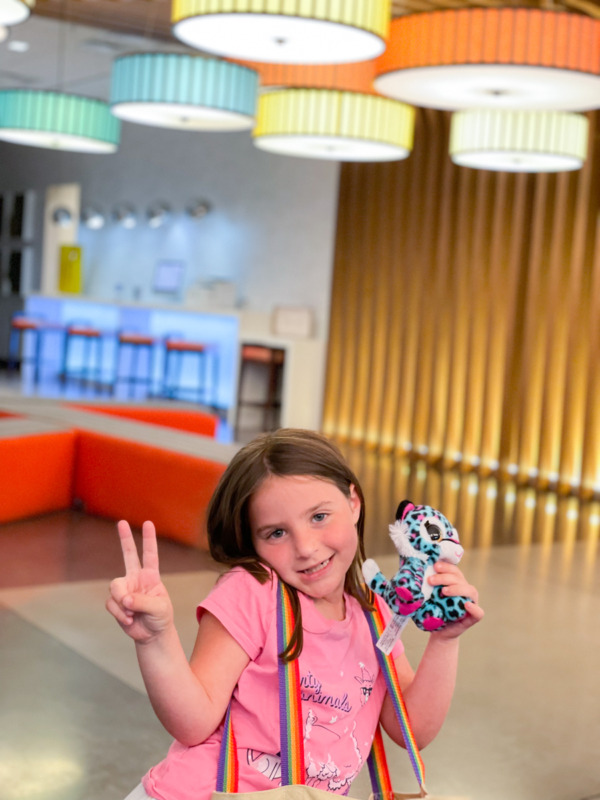 Often when we travel, we prefer to stay right in the city center. It minimizes driving and we just enjoy the vibe of strolling cities, especially at night. Our visit to nearby Louisville with kids was a great example of our affection for staying in city centers.
Our instinct was to stay outside of downtown Lexington, and in retrospect we feel very good about that choice for a few reasons. Downtown Lexington has some wonderful attractions, but it's not really what draws visitors. Most of the region's main attractions are outside of the city. We stayed just 10 minutes from downtown, but were able to get a faster start every morning thanks to our location.
We opted to stay at the Best Western GLO Lexington, which is just 10 minutes from Kentucky Horse Park. It's a fun, modern take on the Best Western brand (which we already like very much for families). Our room was comfortable and spacious, the kids loved breakfast and the pool stayed open nice and late. I found the cheapest price on Expedia, and was later able to price match with Best Western when rates dropped.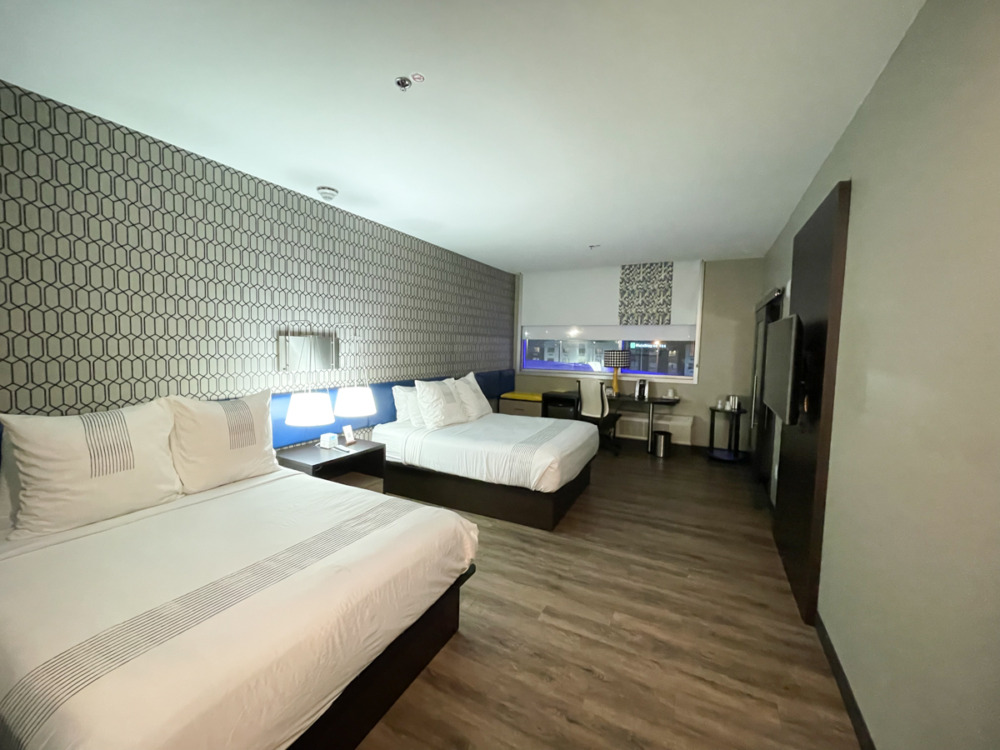 The biggest downside is that the location lacks the charm of staying either downtown or out in the countryside. That wasn't a deal-breaker for us, as we rarely go back to hotels during the day unless it's a really special hotel.
Speaking of special hotels, if you like the location of Best Western GLO but want more luxury in your life the Lexington Griffin Gate Marriott down the street might be just the ticket! It offers a lovely outdoor pool, golf, a spa and more. Breakfast is not included so keep that in mind for budgeting both your money and your time!
If your heart calls you to downtown Lexington, a fun option is the 21C Museum Hotel. This small chain is popping up around the region and each location is different; this one is in a former bank, making it one of the most unique places to stay in Lexington. The location is ideal if you want to spend lots of time soaking up the city vibes. It's not particularly kid-oriented but features striking modern art and a cool vibe. You'll be on your own for breakfast and parking so keep that in mind.
---
Day 1: Exploring the best things to do in Lexington with kids
Today's itinerary will show your family some of the best things to do with kids in Lexington and the immediate vicinity.
Morning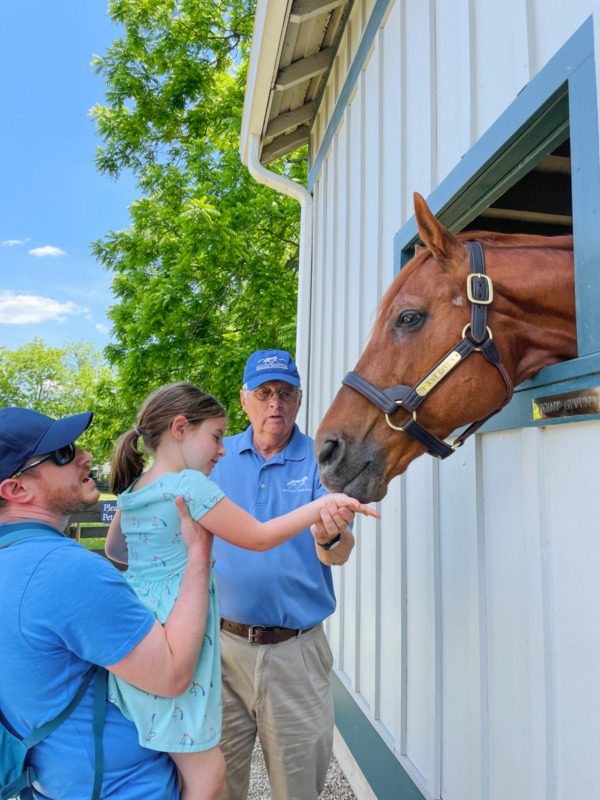 Start your day with a hearty hotel breakfast. You'll have a busy day so it's important to fuel up the whole family!
Your first stop is the Kentucky Horse Park, the perfect place for horse-lovers of all ages though even our kid who doesn't love horses as much had an amazing time. There's a reason it's one of the top things to do in Lexington KY for kids who are visiting!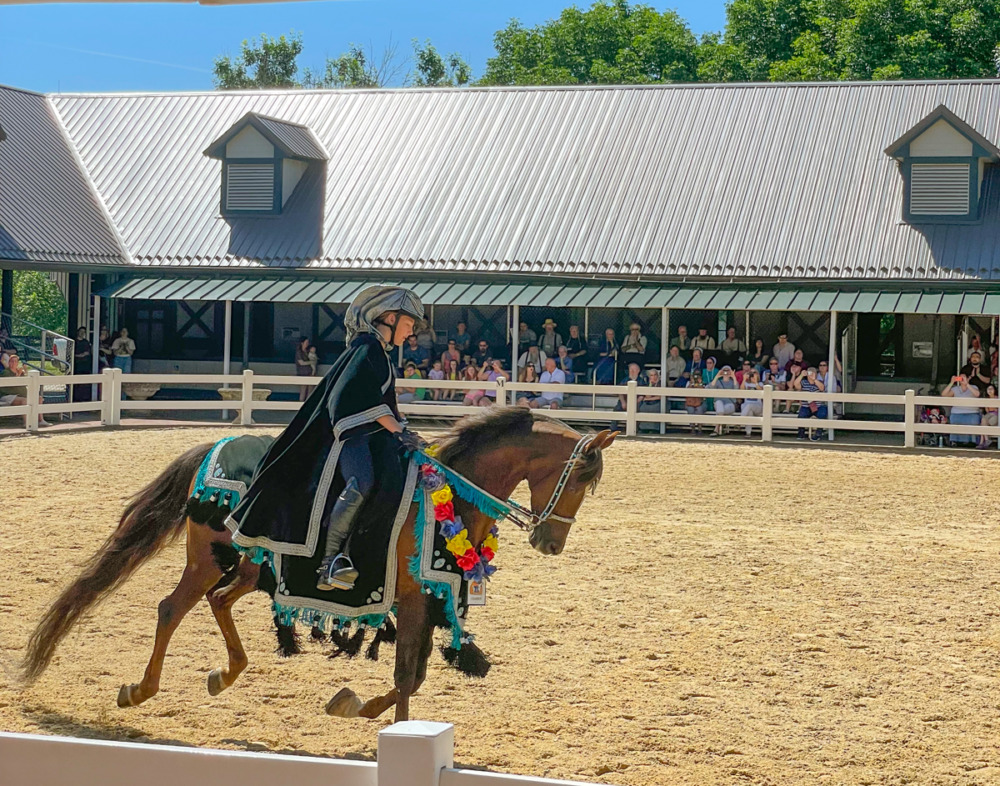 The main events are the live shows, including the fantastic Parade of Breeds show and Hall of Champions show. Each show lasts about 30 minutes, but if you hang around after the shows are over you'll have tons of time to get one-on-one with your favorite steeds – we even got to spend about 20 minutes relaxing with Kentucky Derby winner Funny Cide while he munched on a favorite patch of grass (and treats from our son).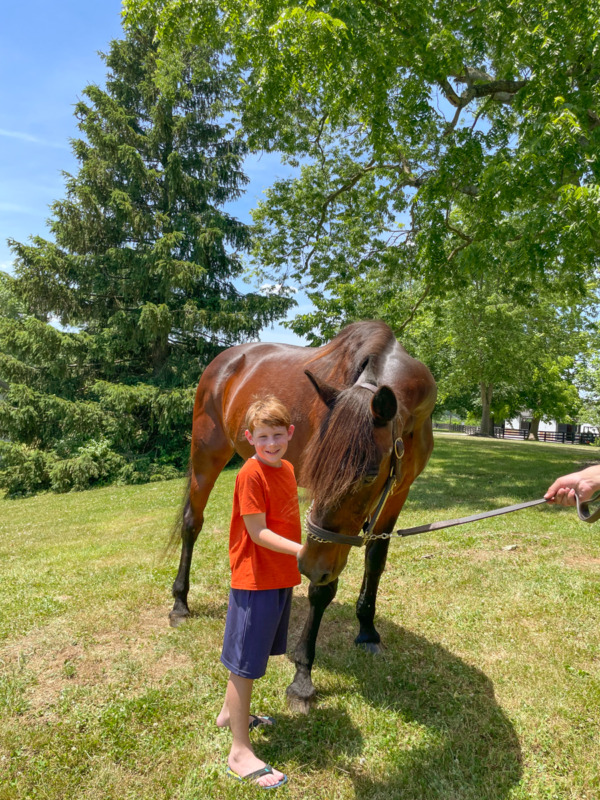 Some of the most remarkable horses are the "big horses". You probably won't ever see anything like them! Don't miss the Draught Horse presentation to learn about them, and then later in the day hop on the trolley as they pull you around the park.
Depending on their ages, visitors can either take a short pony ride around the pen or a trail ride (age 7+) around the park perimeter. More mature visitors will also love the International Museum of the Horse which has some really amazing historical exhibits – and air conditioning in case it's a hot day.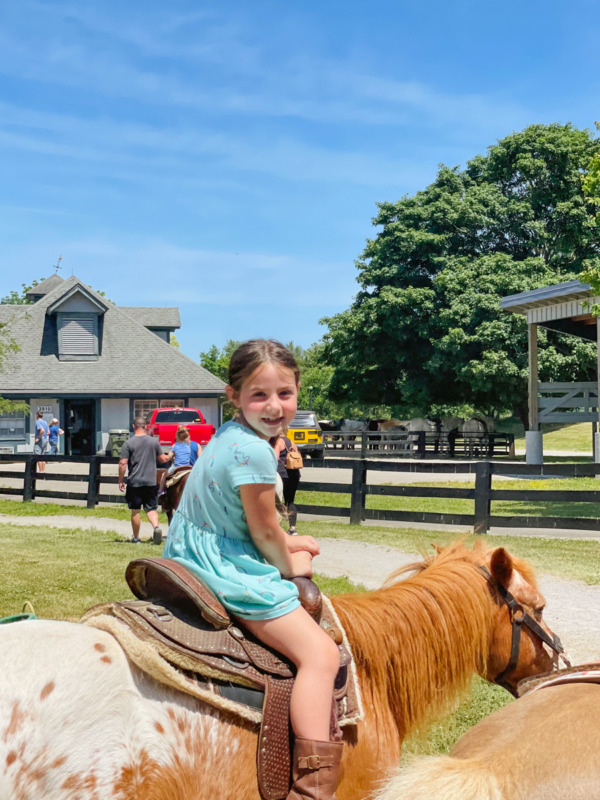 One question I couldn't find answered adequately before our family's visit was how long to spend at Kentucky Horse Park. I can report that our visit was about five hours and we felt like we saw pretty much everything, though we adults could have done with more time in the Museum.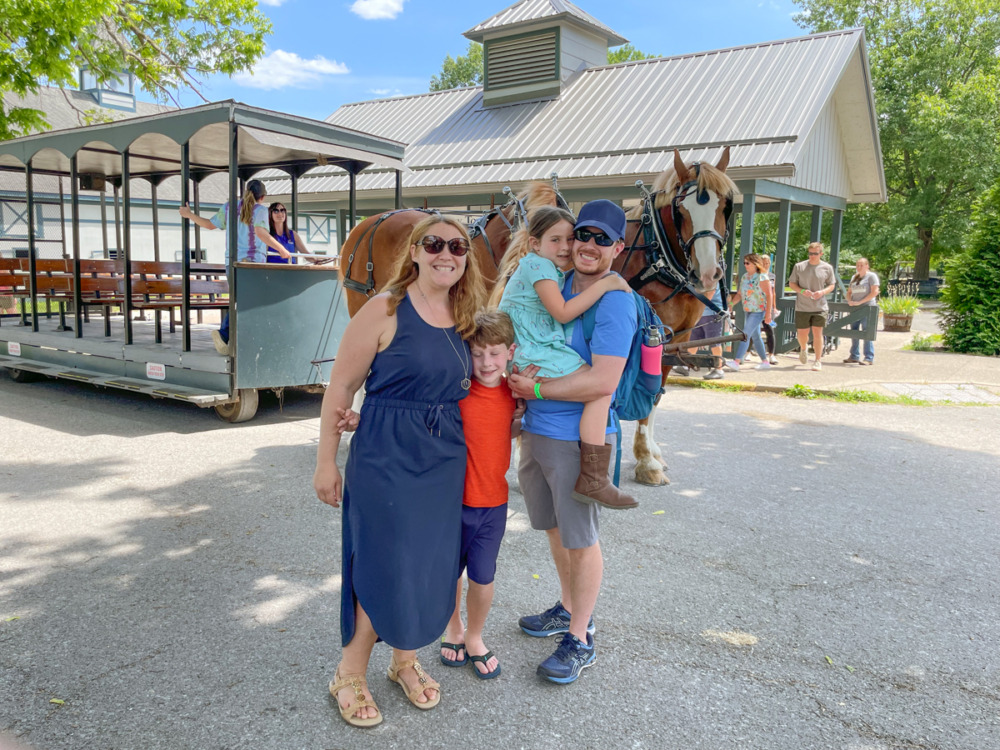 If you arrive on the property around 9:40 for a summer visit, you could be done around 1pm and then head elsewhere for lunch. If you arrive around 10:30 as we did, plan to get lunch at the on-site cafeteria or bring a picnic (I'd vote for a picnic) and then you'll finish around 3-3:30pm.
Afternoon & Evening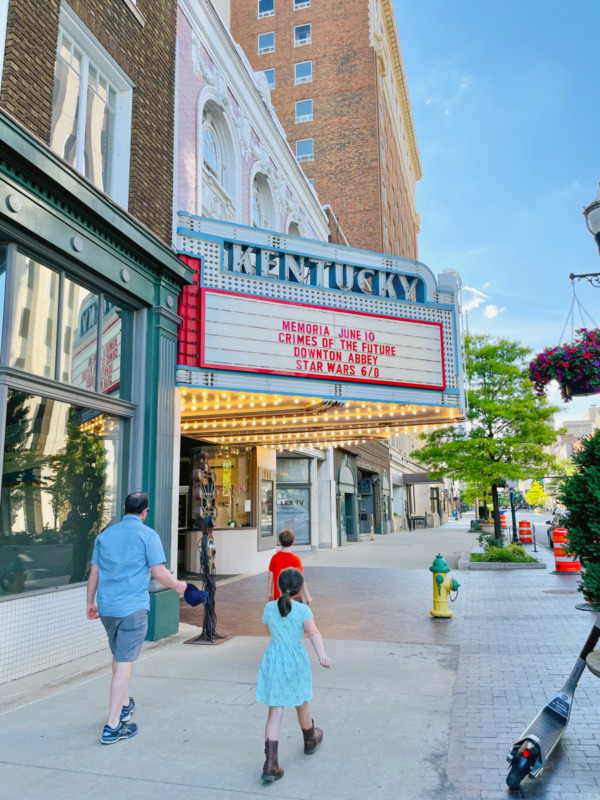 When you finish at KHP, it's time to head to downtown Lexington. How your time there starts out depends on your schedule. The good news is that downtown isn't far!
If it's still early/mid-afternoon, consider heading to Ashland, the historic estate of famous statesman Henry Clay. They offer a one-hour guided tour at 2:30pm and 4pm that covers an overview of his life and the home. Alternatively, if you're visiting Lexington with teens there's a 1pm tour focused on an earnest exploration of human enslavement at Ashland. Ashland offers a solid cafe with an extensive menu, so if you haven't eaten by the time you leave KHP you can head there and then take a tour.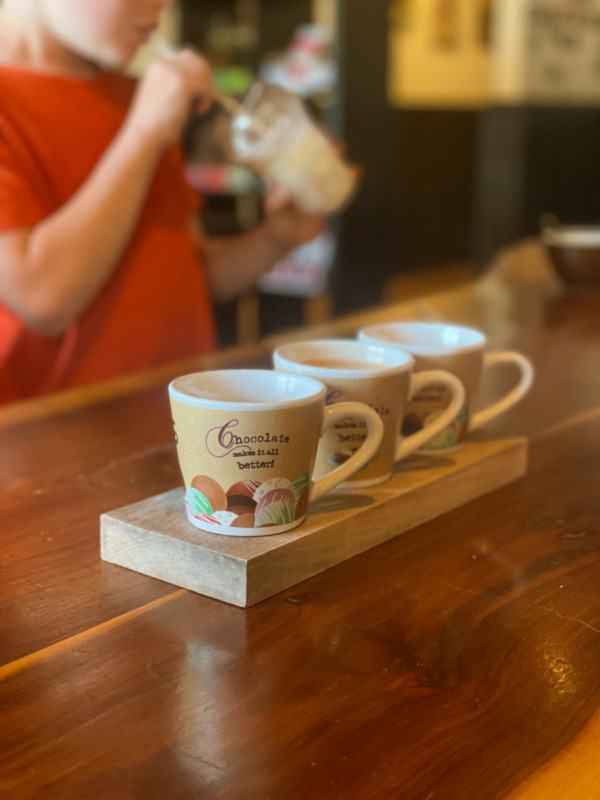 Your next stop is just a few minutes from Ashland at Chocolate Holler for a treat. If it's a hot day in Lexington with kids, they may want some ice cream to cool off. But as adults you can't miss their flights of rich, varied drinking chocolate.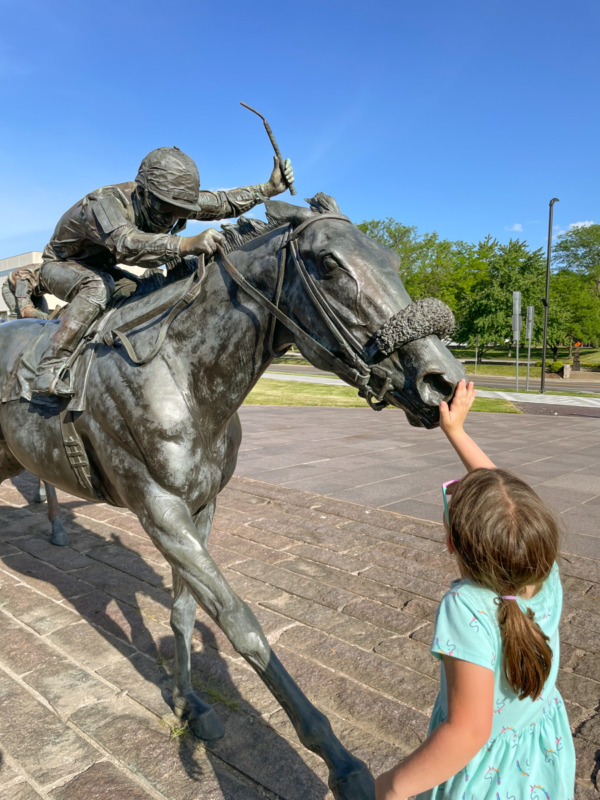 Once you've refueled, walk across the street to Thoroughbred Park to enjoy the oh-so-Kentucky horse sculptures. We were all delighted at the life-like details! You can also take a minute to check in at Carson's Food & Drink, where you'll be having dinner; I strongly recommend getting a reservation in advance, but as you move closer to dinner time they may be able to accommodate a slightly early or later seating.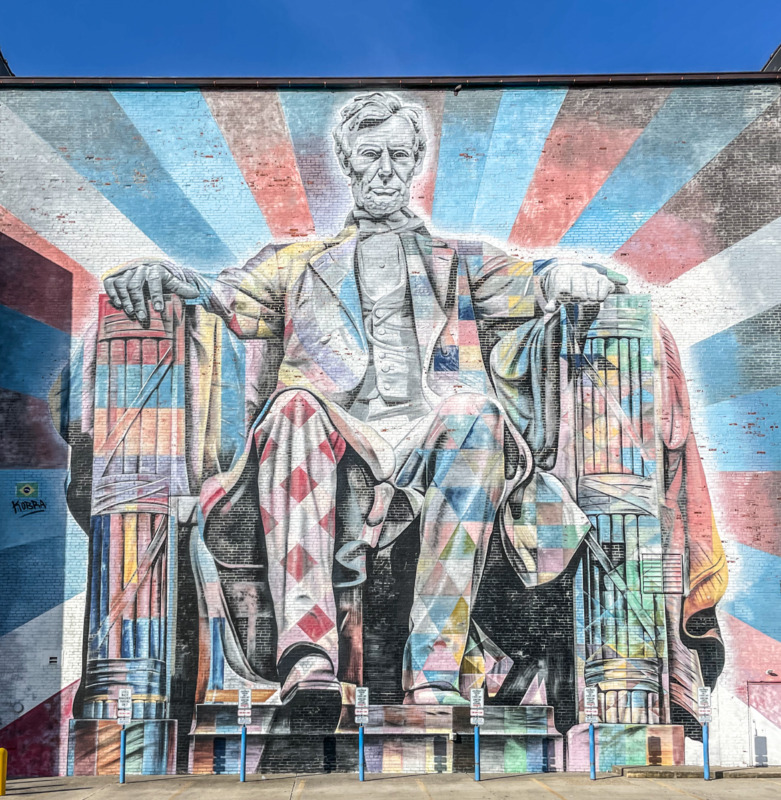 Enjoy some time strolling on Lexington's Main Street. Don't miss the classic façade of The Kentucky Theatre, nor the famous Abraham Lincoln mural on the backside. If you have steam, head all the way to Triangle Park (just under a mile from Thoroughbred Park) before heading back to Carson's for dinner.
One thing's for sure: you'll have walked enough today to earn whatever you eat and drink at Carson's!
---
Day 2: Getting outside in Red River Gorge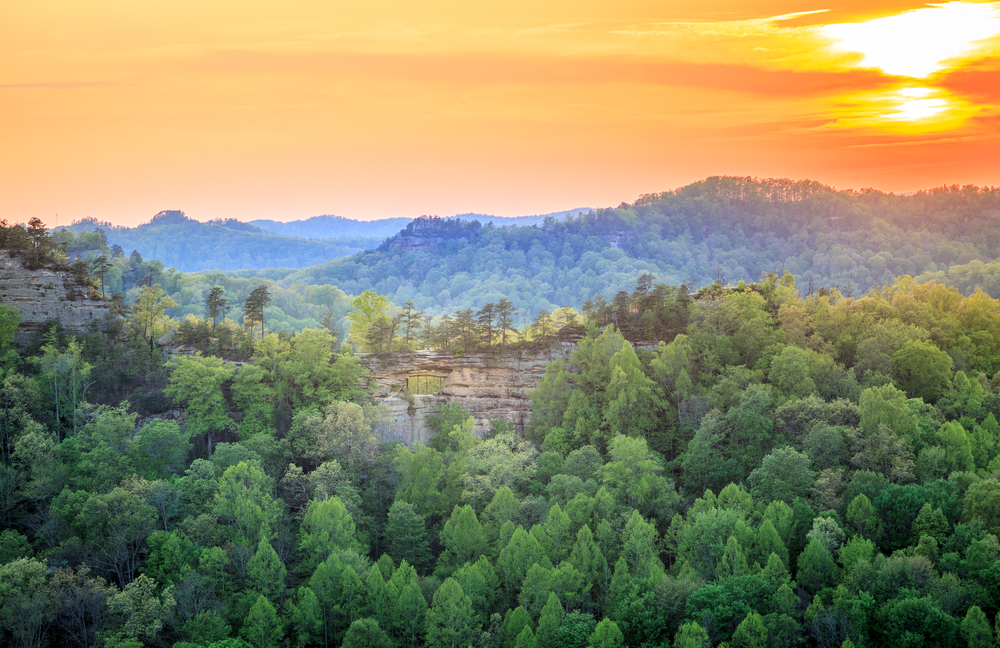 Today you're heading east to explore one of the most beautiful places in Kentucky, Red River Gorge. There's enough to see and do here that our family is already planning a return visit! I can't recommend it enough – it was one of our favorite things to do with kids in the Lexington area!
Morning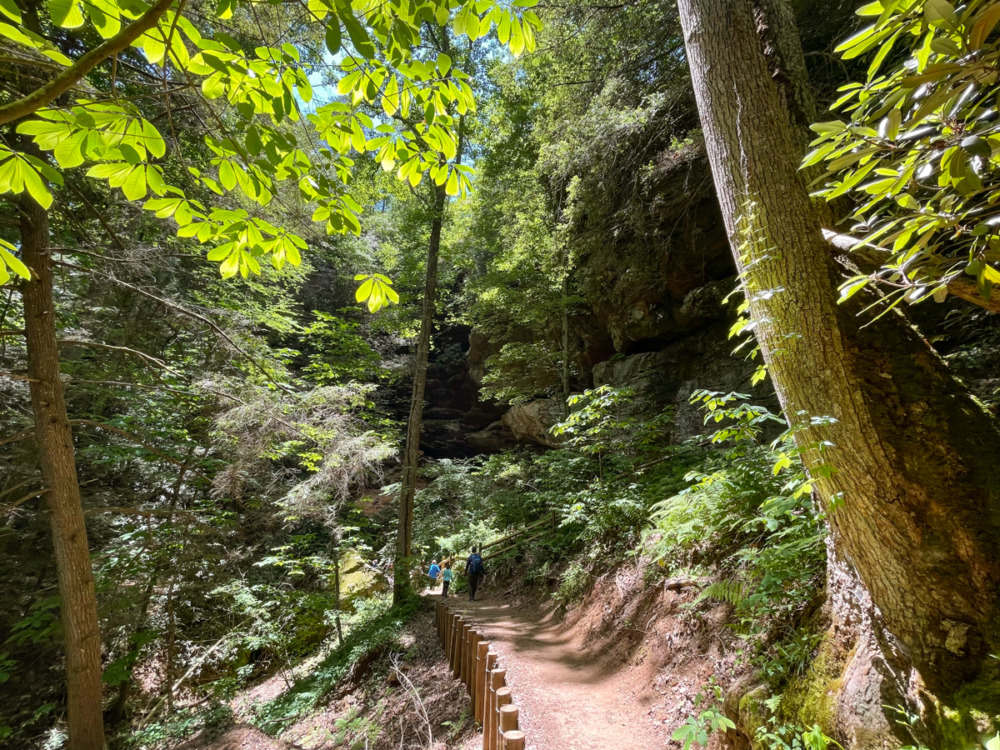 The Red is an easy one hour drive east from Lexington. Ideally you'll leave around 9:30 for a good start out on the trail. Most of them are located in Daniel Boone National Forest.
Choose a hike that matches your interests and abilities. There are plenty of easy hikes in Red River Gorge (and moderate ones too) that include majestic waterfalls, lovely woods and awe-inspiring rock formations – there are truly dozens of Red River Gorge trails including many that are kid-friendly.
At the top of my list for our next visit is the Rock Bridge loop, which covers about 1.5 miles and includes both arches and waterfalls. We had planned to hike to Whittleton Arch, which is about 2.5 miles and includes a lovely waterfall and arch… but unfortunately the directions we had to the trailhead left a lot to be desired and there is basically no cell phone service.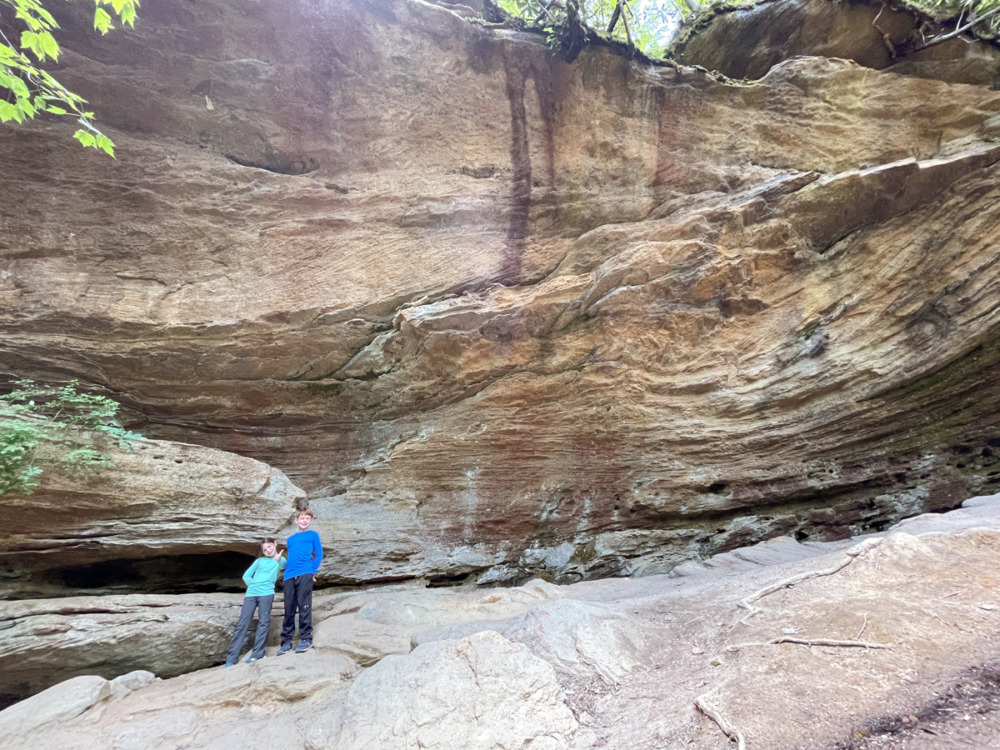 We couldn't find our intended trail but instead wound up at Grey's Arch. It was an impressive hike, though it definitely skews more toward moderate than easy. The roundtrip distance is almost 4 miles and there are 300 ft of elevation mostly in a short segment near the farthest point, when you go down into the holler and climb directly under the arch. Getting under the arch involves some scrambling that young kids may find extremely challenging. For the return, you'll have to climb the same ~100 stairs back out of the holler! For a better view, check out my IG reel.
You have three main lunch options to consider: pack a picnic, probably in a cooler with high-quality ice packs; stop at Subway for a quick affordable meal or sit down for a bite at Sky Bridge Station, known for their quality burgers and dogs.
Afternoon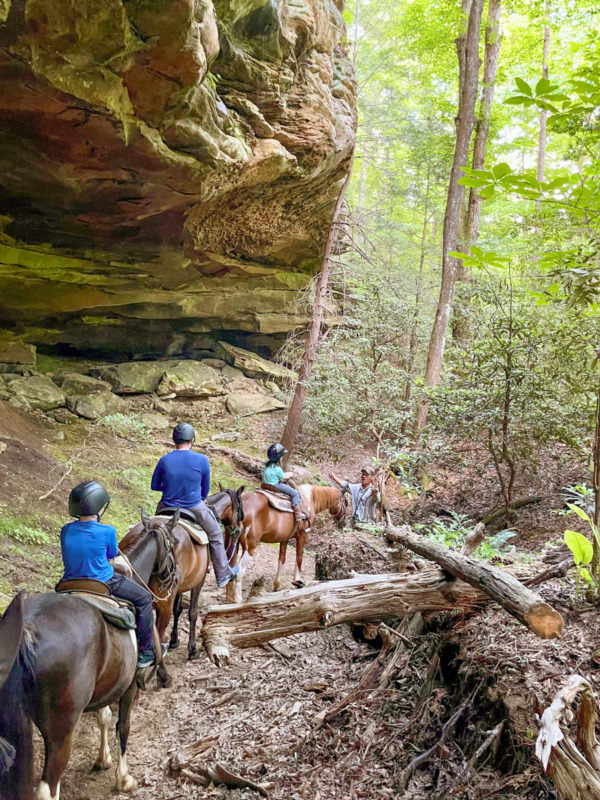 There are tons of activities in Red River Gorge to interest any family.
Since this trip was focused on our horse-loving birthday girl, we opted for a trail ride with Whisper Valley Trails. This is no controlled ride around a pen! Owner Troy takes safety very seriously (as he should) and guides the horses of kids under 10 since the trail is narrow, windy and steep in places.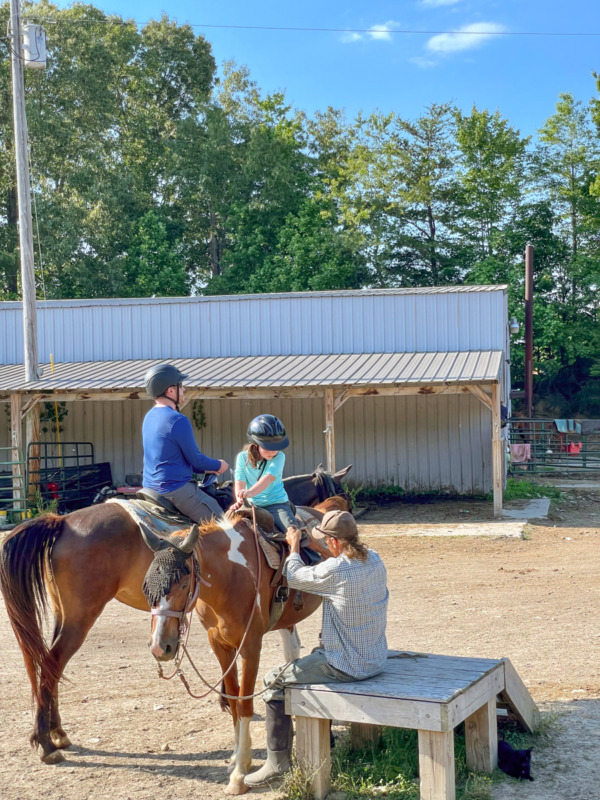 Our experience started with a helpful lesson in horsemanship, and we all learned a lot even though we've ridden before. We then took off for a peaceful but adventurous two hour ride deep in the Kentucky woods – down the side of a gorge, through a creek and to an old rock shelter that had been used by the local Native community for centuries.
If horses aren't your thing, there are still tons of things to do in Red River Gorge with kids! Families with kids over 70lbs should check out Red River Gorge Ziplines for a thrilling ride.
Kids as young as 3 can join their families for a "behind the scenes" look at the Gorge from the limestone caves underneath at The Gorge Underground. Kids 5+ have the option to join their parents on a kayak tour for an even more unique experience.
If you want to have fun but think your kids might not be up for too much exertion in a single day, consider taking a scenic ride up the Natural Bridge Sky Lift. It's much like a ski lift and takes you to the top of a beautiful plateau where you can enjoy the views and do a little "nature walk" as well.
Evening
The best way to end a day in Red River Gorge is with a generous slice at Miguel's Pizza. It appeals to both campers and day trippers thanks to the good food, reasonable prices and chill atmosphere.
There's even a basketball court and balls so the whole family can run around while dinner gets made. So kick back and enjoy a much-deserved break! If your kids are anything like ours, the day's activities and the late night will have them passed out in the car before you know it.
---
Day 3: Bourbon Trail with kids + departure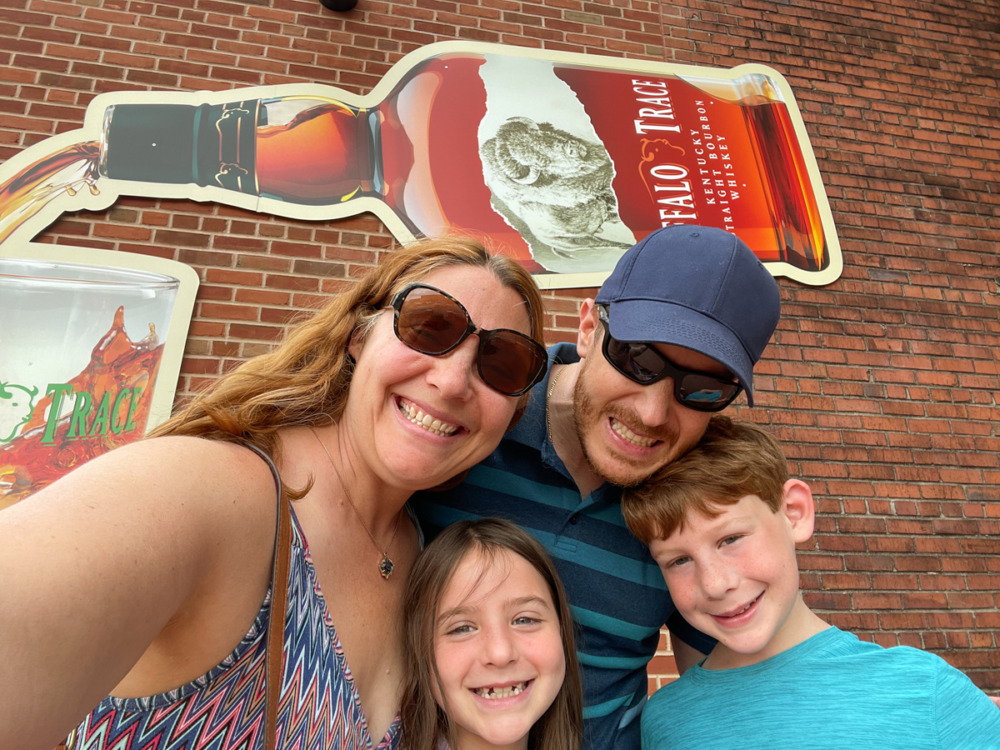 If you have an extra half-day to spend in Lexington, whether you're arriving on a Friday afternoon or extending your Lexington family trip to mid-day Monday, this is for you!
While YMMV depending on your kids' ages and dispositions, we didn't want to skip Kentucky's famous bourbon distilleries on our visit. I know that bourbon tasting doesn't top most families' lists of kids activities in Lexington KY but that doesn't mean you should count it out. Yes, it's entirely possible to visit the bourbon trail with kids. By and large the distilleries are west and south of Lexington.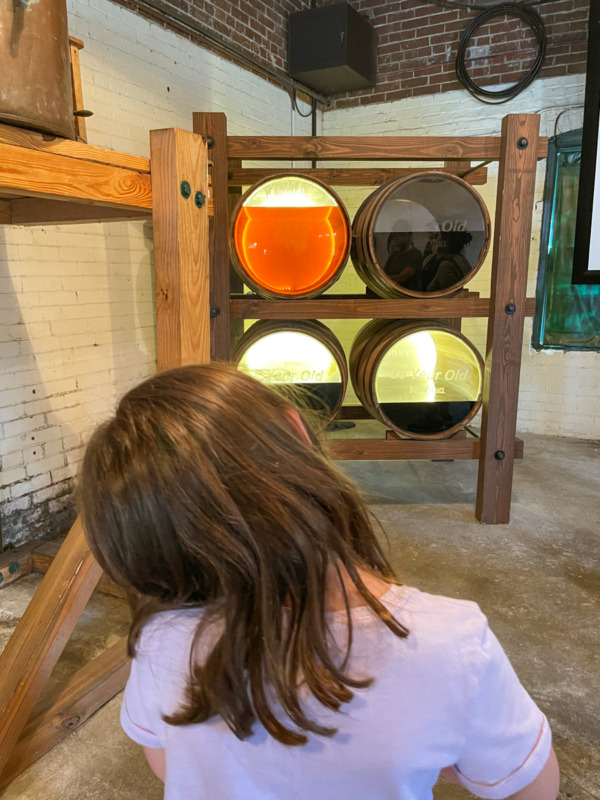 We opted to visit Buffalo Trace with kids thanks to their openness to young visitors and it being one of the closest distilleries to Lexington. The Trace Tour is open to all ages, it's stroller-friendly and it's free. The only catch is that they do fill up fast; the full month's calendar is released at the beginning of the prior month. The first tour is at 10am and the last tour at 3:30pm (except Sundays, which start at noon).
The tour is full of history, science and logistics and our guide did a great job engaging the kids. In fact, they rated it the best thing to do in Lexington with kids (much to my surprise). Truly they were treated with warmth and welcome rather than as a nuisance. In fact, they each received a small very unique souvenir along the way and a house-made root beer and chocolate tasting table was set up in the back of our tasting room! I do recommend trying to get into the tasting room before other visitors to snag one of the back corner tables near the kids.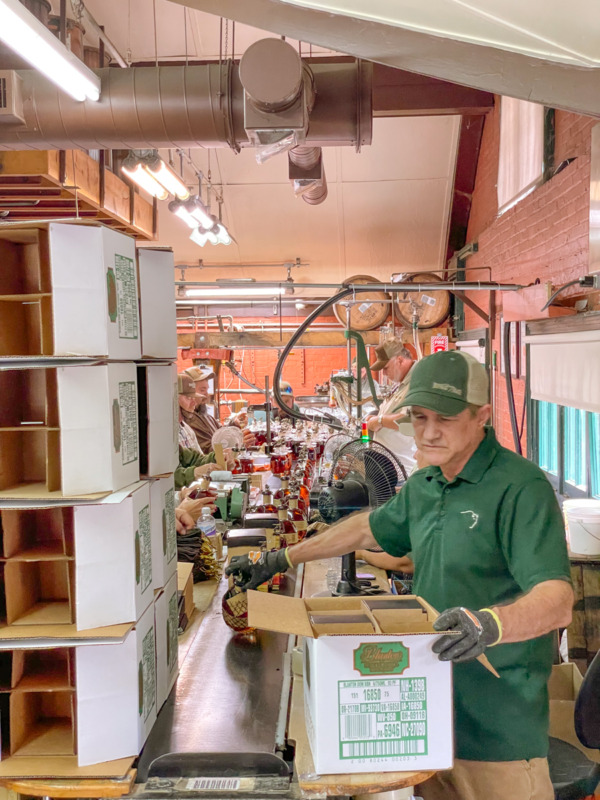 If you have more time flexibility or will depart to the south, the other distillery we spoke with before our visit was Limestone Branch. It's a much smaller operation so the tours are very intimate. If your kids aren't interested in the tour, they're sure to love the resident dogs as they relax on the porch!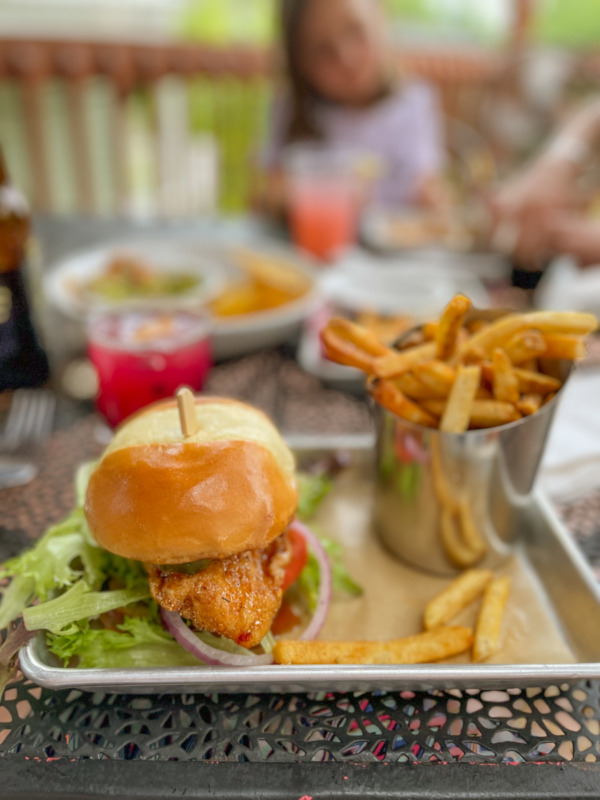 After you've finished your kid-friendly bourbon distillery tour, head to lunch (or dinner if this is your first afternoon in central KY) in downtown Frankfort at Bourbon on Main. It has a fantastic bourbon selection for the connoisseurs, tasty hand-crafted mixed drinks, good food and a fun patio by the River. It's the perfect way to cap your central KY and Lexington weekend itinerary!
Planning your family trip to Lexington
Check out this handy map to see how your Lexington weekend itinerary will fit together:
If you're looking to extend your trip to explore more of Kentucky with kids – and beyond into the Ohio River Valley – take a look at these articles: