Most people who are thinking about the best things to do in Dayton, Ohio can come up with one or maybe two top attractions. But as recent Ohio transplants, we've been so excited to find great new options in the Miami Valley every time we visit! We have visited all of the Dayton attractions listed in this article since 2019 and look forward to adding more as we return.
At just an hour from Columbus and even closer to Cincinnati, it makes an easy day trip or a fun overnight (we've done both, and I also visited family in the area many times as a kid). Hopefully this article will inspire you to explore more fun things to do in Dayton, Ohio!
Best things to do in Dayton, Ohio
If you're trying to figure out what to do in Dayton, Ohio start with these great options. There's a wide range of attractions Dayton, Ohio, particularly for those interested in aviation, history and nature. Realistically there's no way you can visit all of these wonderful things to do in Dayton OH in just a weekend, so pick your favorites and plan accordingly!
National Museum of the US Air Force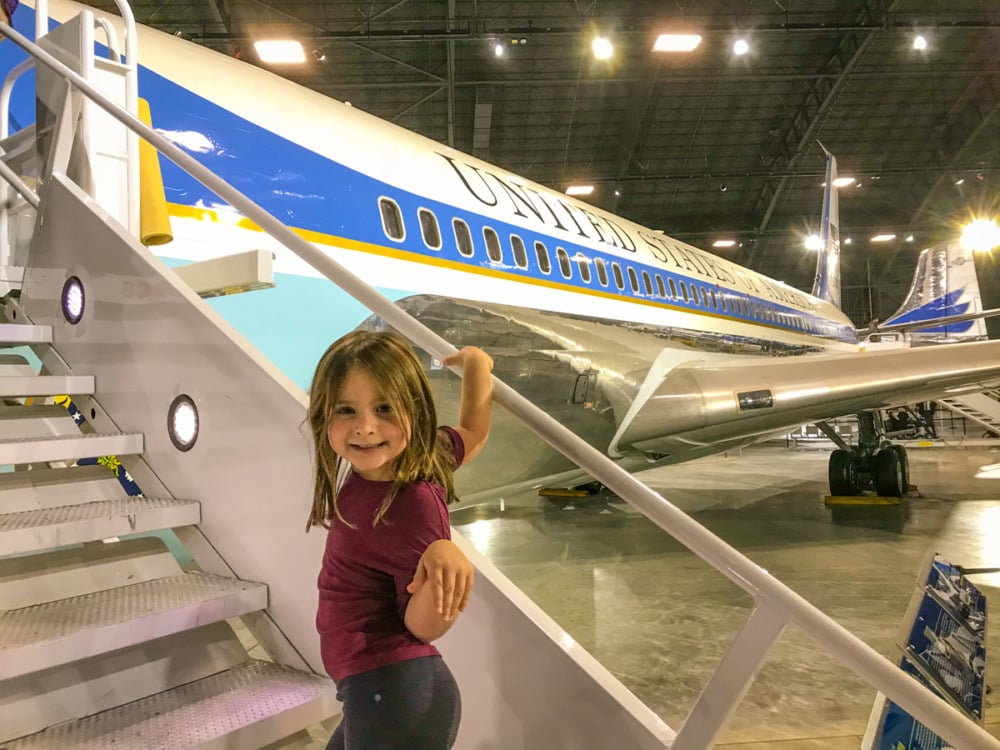 Every list of the top things to do in Dayton starts with the National Museum of the US Air Force, often simply called the Air Force Museum. It's the largest military aviation museum in the world. One of my earliest memories from my toddler years is acquiring a red inflatable airplane flown by Snoopy and Woodstock in the Museum gift shop!
More than three decades later, I realize that the museum has plenty to offer beyond the store. We've been to several aviation museums around the country, and nothing beats this one. You can easily spend 4 hours at the museum without seeing everything, so allow plenty of time.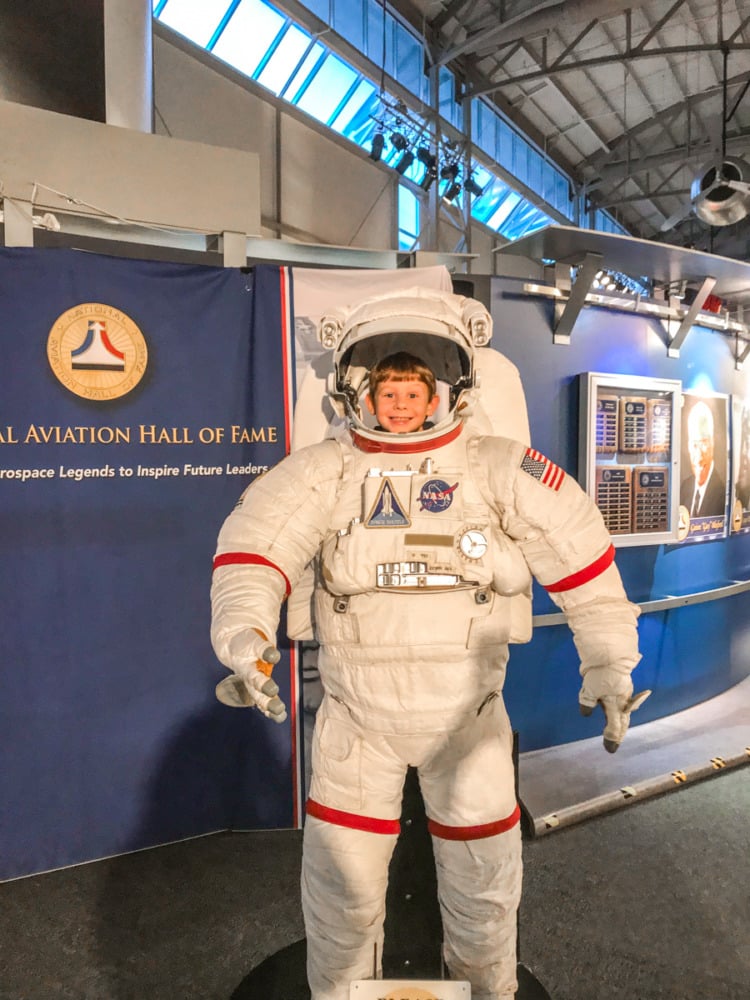 Some of the coolest highlights include the collection of Air Force One planes that you can walk through and the newer space-focused installations that have interactive stations. Don't miss the National Aviation Hall of Fame, which is full of world-class items thanks to Ohio's prominent role in flight, both close to Earth and in space.
Perhaps the best part is that museum entry is totally free! Add-on experiences like the IMAX theater charge an additional fee, but overall this is by far the best free thing to do in Dayton.
If you're very interested in military aviation history, be sure to visit the Glenn Curtiss Museum in the Finger Lakes
Carillon Historical Park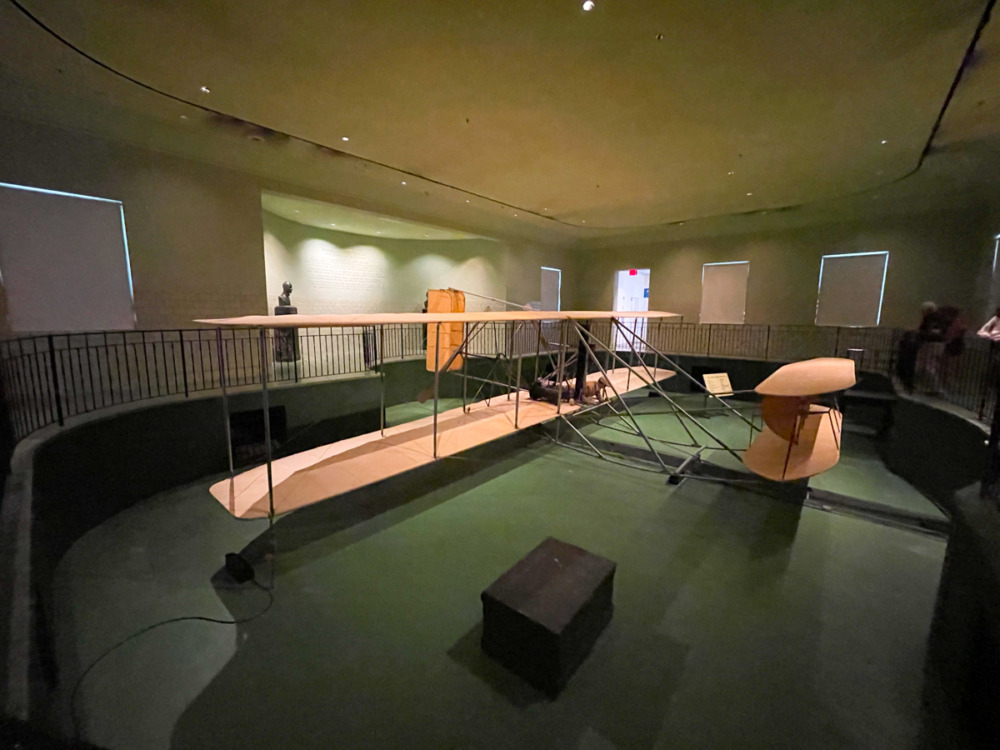 Carillon Historical Park is part Dayton museum, part living history center and part Ohio aviation museum. Taken together, it can make for a fun outing!
The Carillon Historical Park open air museum covers about 225 years of Dayton history on its 65 acre campus. It's located south of central Dayton along the Great Miami River.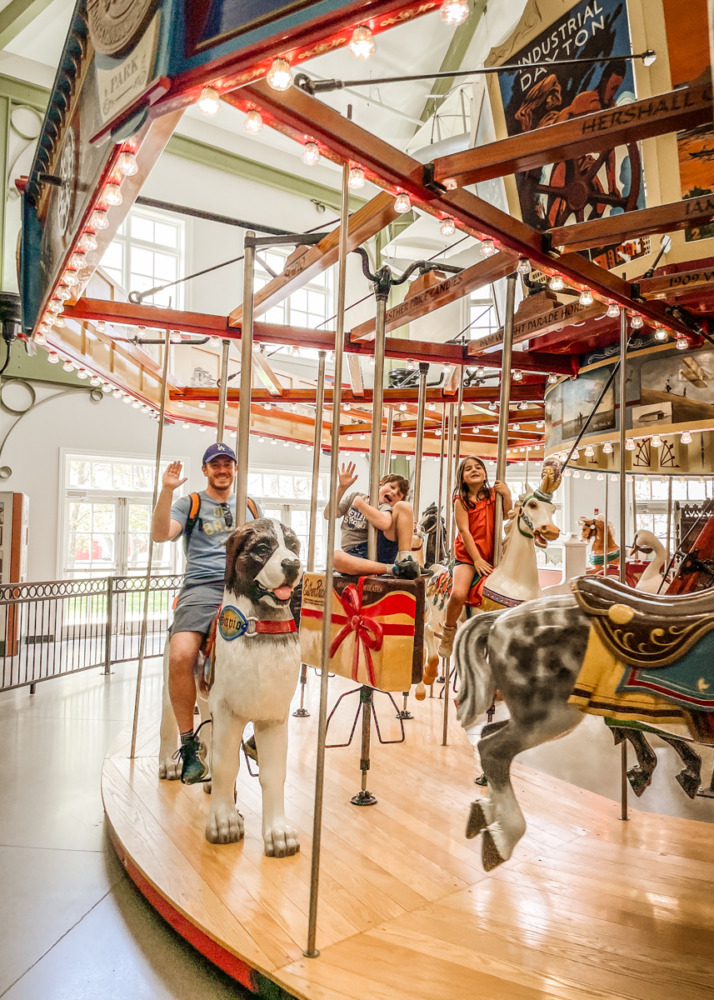 The largest building is the Kettering Family Education Center. Highlights for us include the massive indoor Dayton-themed carousel, displays of hundreds of beautiful cash registers made by National Cash Register Company and a selection of locally-made antique toys (apparently there's an entire book about the industry!).
Aviation buffs will want to spend time in the Wright Brothers National Museum. There's a re-creation of the Wright Cycle Co that includes talking status who tell some Wilbur and Orville Wright stories while visitors check out the old workshop. The museum's centerpiece is the 1905 Wright Flyer III, which was a critical step toward modern aircraft.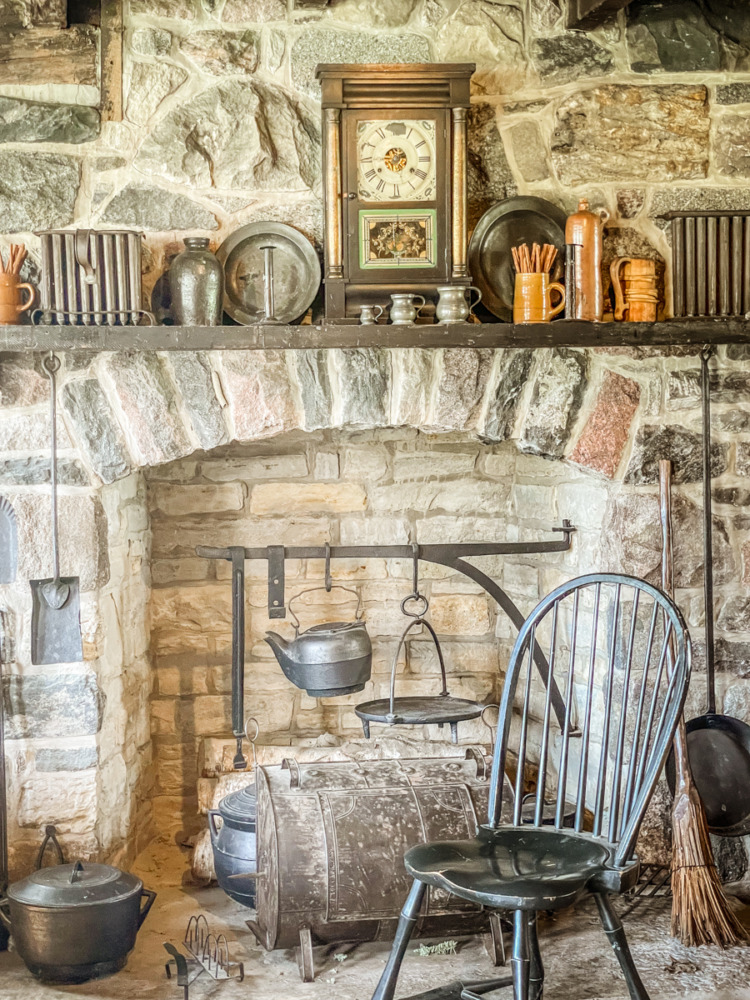 Some of the most unique fixtures of Carillon Park are historic buildings from greater Dayton that have been moved to the site. They date back to the Newcom Tavern of 1796, which was fascinating to sit in and learn about! Perhaps the most interesting (in my opinion) is the WAVES cabin that was home to a team of women doing classified code-breaking during World War II. It's so cool to learn about and honor this very important piece of Dayton history! At some times of the year (at least in "normal times") you may even find costumed interpreters in the buildings to introduce you to Dayton live in a bygone era!
Pro tip: If you're planning to visit many of the aviation-related things to do in Dayton Ohio, be sure to pick up the "Wilbear" Wright Aviation Trail Passport!
Dayton Aviation Heritage National Historical Park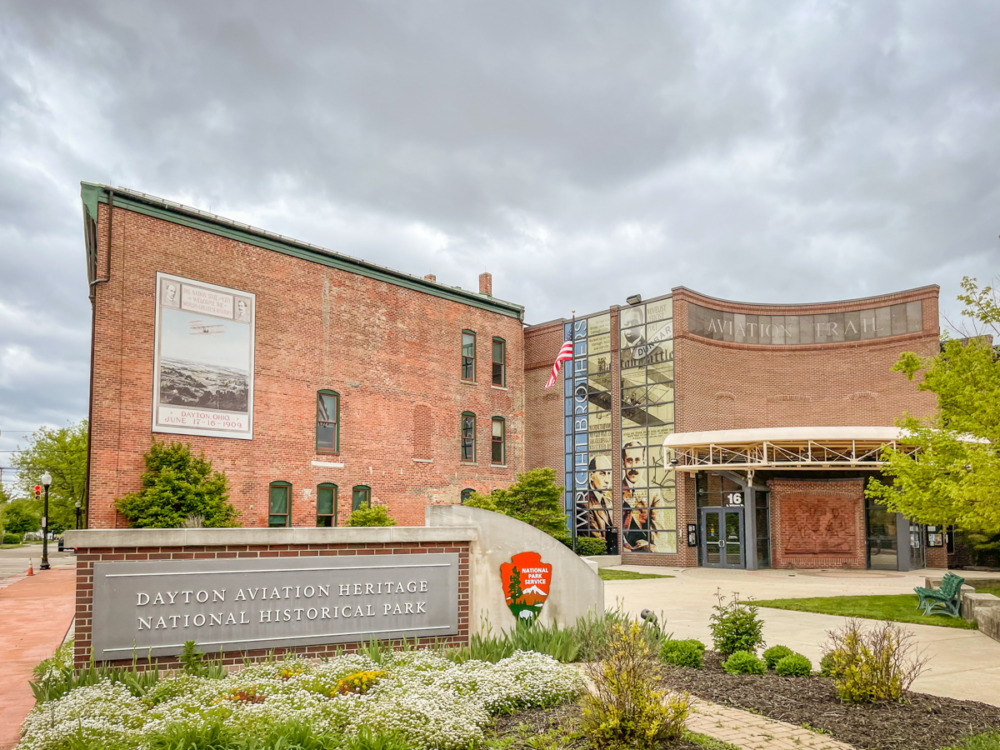 The Dayton Aviation Heritage National Historic Park has a huge name to go along with its hugely important sites: it encompasses the excellent Wright-Dunbar Interpretive Center in downtown Dayton, the adjacent Wright Cycle Shop, Huffman Prairie flying field and visitors center, the Paul Laurence Dunbar house and Carillon Park discussed above.
Whew, that's a lot! And would you believe that these are (almost) all free things to do in Dayton?
These important Dayton historical sites and are spread around the city, so it doesn't necessarily make sense to visit them all together. We have explored most of them and the Wright-Dunbar Interpretive Center is a particular favorite. You can check out the park film that recounts the Wright brothers' history and involvement in aviation, visit a replica Dayton dry good store with talking mannequins conversing about issues of the day, see a full-scale replica of the 1902 Wright flyer and then head next door to check out the historical and interactive exhibits at the Wright Cycle Shop.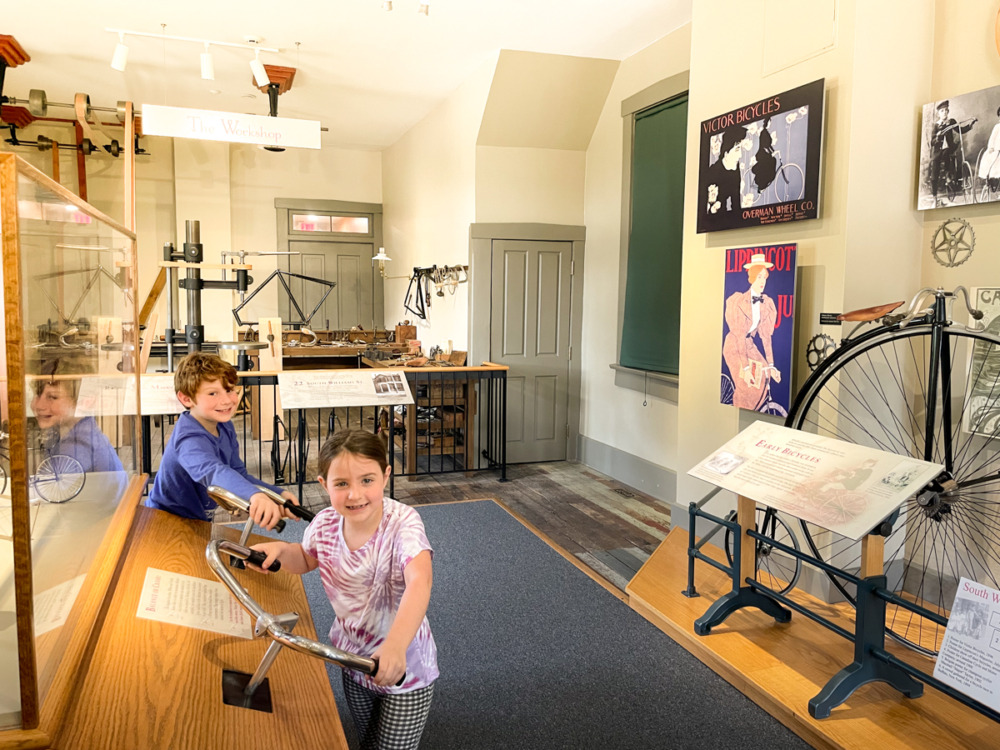 Note that the Wright Brothers National Museum is part of the Dayton Aviation Heritage NHP, but there's no way to visit without paying admission at Carillon Park.
If you're interested in exploring Huffman Prairie, which also has an Interpretive Center, I recommend that you stop by there before going to the Dayton Air Force Museum – they're just 10 minutes apart, both northeast of downtown Dayton. Paul Laurence Dunbar House, a National Historic Landmark, is right near downtown and just a 10 minute drive from the Boonshoft, SunWatch and Carillon Park.
SunWatch Indian Village/Archeological Park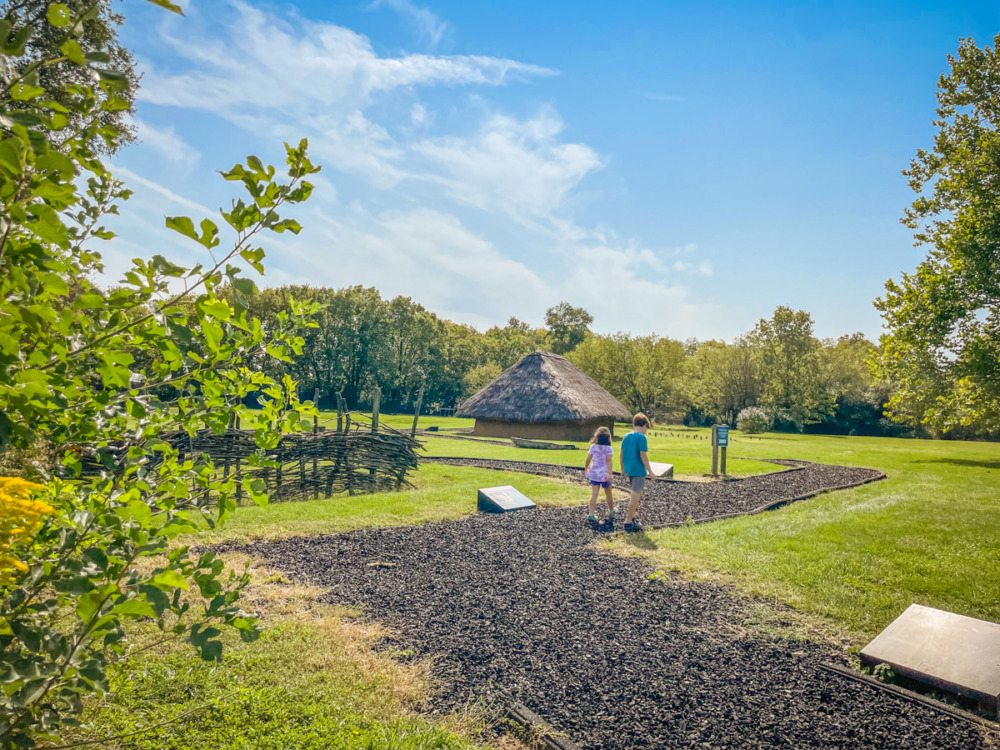 Our most recent sojourn brought us to SunWatch Indian Village and Archeological Park. I'm going to be honest and say that I'm absolutely shocked that most Ohioans don't know that this National Historic Landmark is here 10 minutes from downtown Dayton. If you haven't visited, put this Ohio hidden gem on your list ASAP.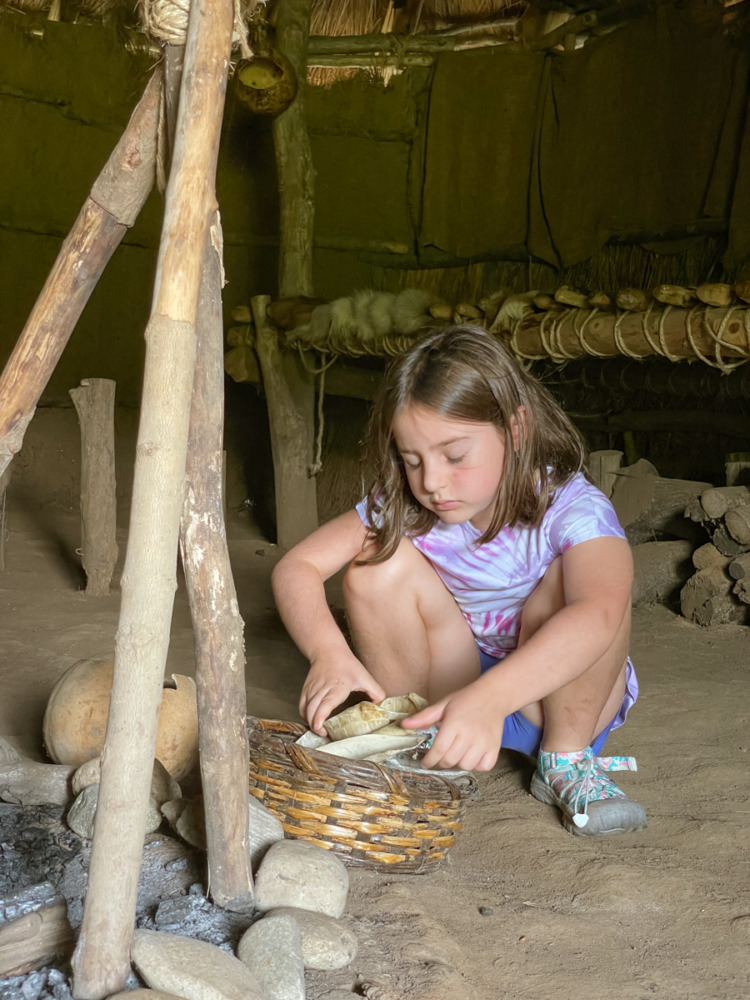 SunWatch is part archeological excavations site and part reconstruction of the village inhabited by the Fort Ancient people 800 years ago. You'll be able to see recreations of both family dwellings and the communal "Big House" that was important to both daily village operations as well as annual ceremonies. This reconstructed Native American village is located along the Great Miami River south of central Dayton OH.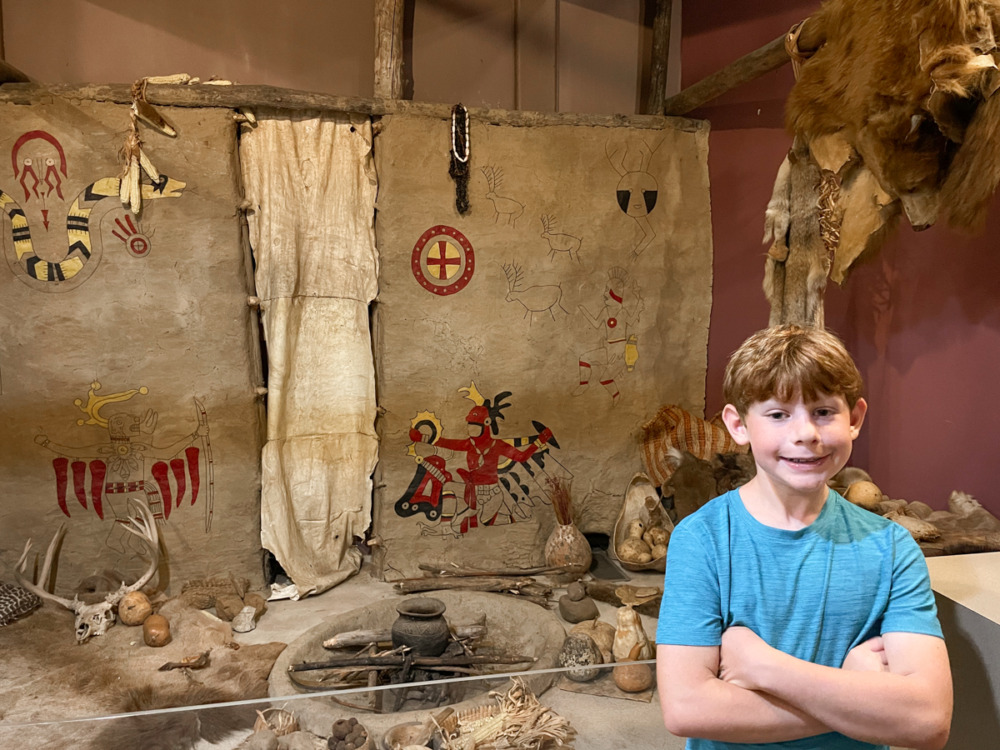 There is also an excellent museum on site that contextualizes the site within the history of Ohio's native peoples and teaches visitors some of the important nuts and bolts of how the archeological research is done. A wonderful display showcases cultural elements of the Fort Ancient people.
Most visitors will stay at SunWatch for about an hour. It's so close to downtown that it's easy to combine with other top Dayton attractions like Carillon Park and Cox Arboretum.
Aullwood Garden MetroPark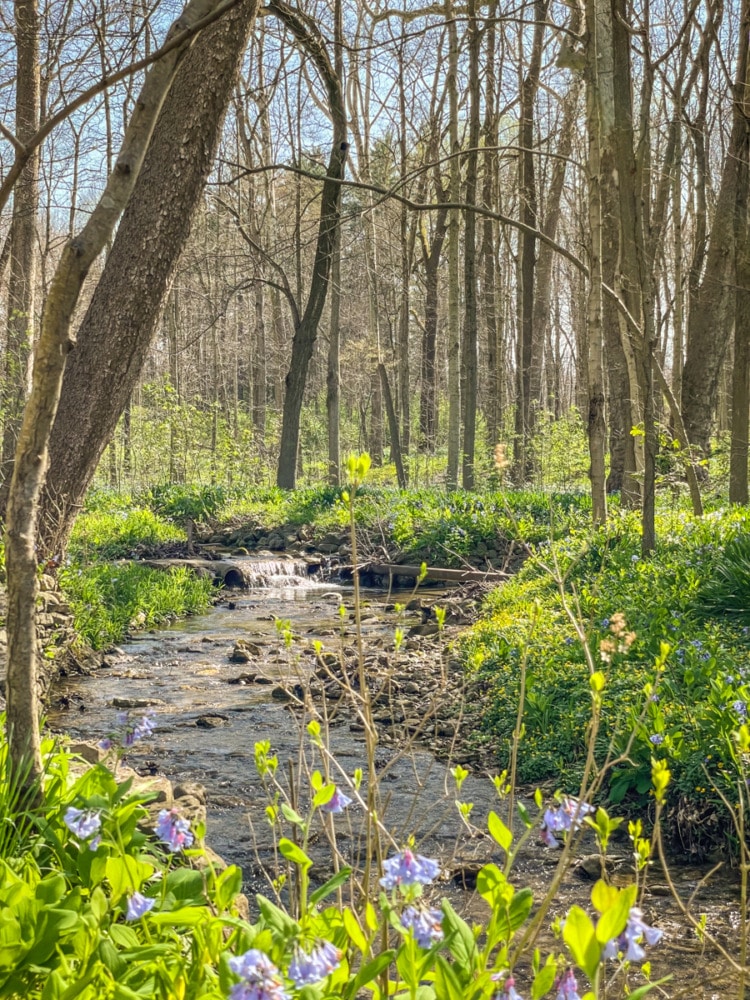 Aullwood Garden MetroPark in Englewood is something of a hidden gem, and it's absolutely lovely. Most visitors start in the parking lot and walk the flat, packed dirt path to get to the park's centerpiece: the 1920 Arts & Crafts style home of Mary and John Aull.
While you can't typically enter the home to tour it, the surrounding gardens are incredible in the spring! This is one of the best free things to do in Dayton OH for visitors of all ages. The one mile nature trail is a very easy walks but undeniably charming, with a babbling brook flowing over a small waterfall, blooming flower and towering trees.
Be sure to pack a picnic to enjoy before or after your visit, as there are several nice tables in the parking lot adjacent to the creek.
Aullwood Audubon Center and Farm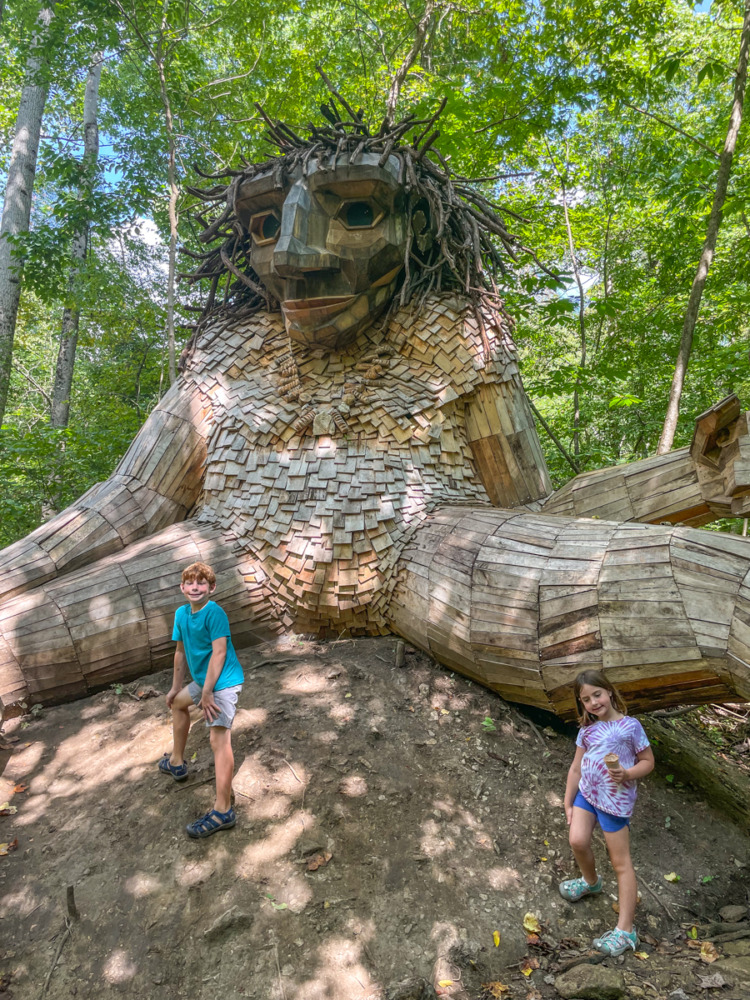 Not to be confused with Aullwood Garden MetroPark next door, Aullwood Audubon Center and Farm is a private garden that does require an admission fee. It's still a lovely place to visit! There are frequent programs and educational opportunities, and the opportunity to get up-close with farm animals is a hit with young kids.
The biggest draw to Aullwood Audubon right now is the presence of three massive troll statues built by Danish sculptor Thomas Dambo, part of his global collection using repurposed materials. You'll meet and learn about Bo, Bodil and Bibbi and their nest as you explore the beautiful forested trails.
Boonshoft Museum of Discovery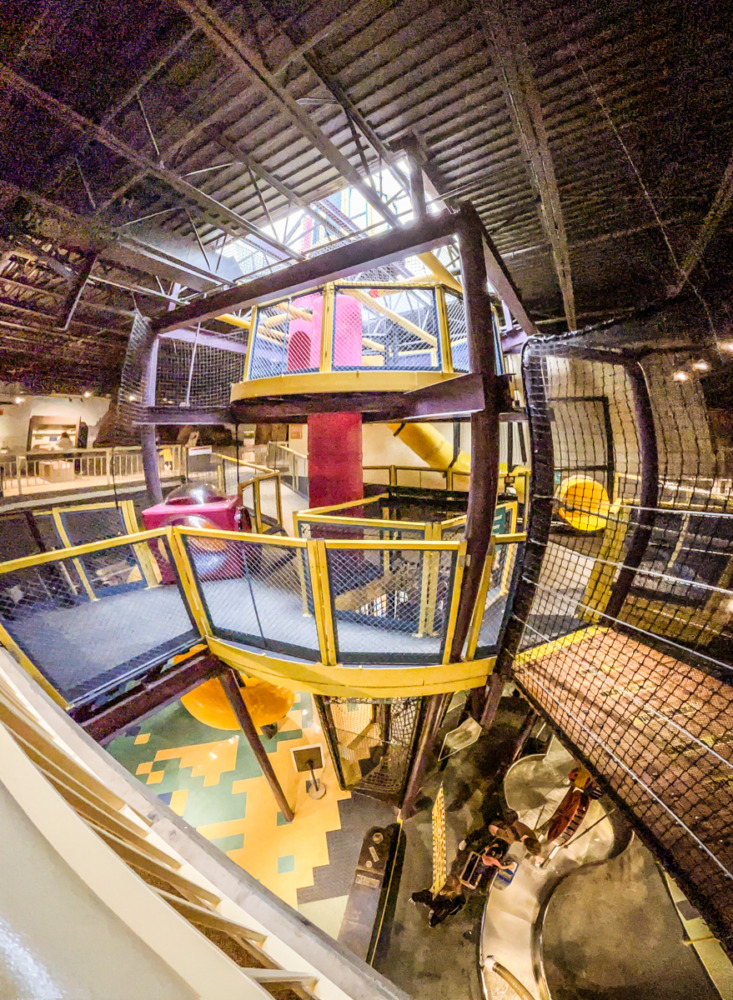 The Boonshoft Museum of Discovery is a sweet little children's museum in the heart of Dayton. It's geared mostly to preschool through age 8, with plenty of hands-on interactive exhibits to keep them engaged. There are LEGO tables, imaginative play spaces and light-based sensory activities.
One of the highlights of the Boonshoft is the massive multi-story climbing structure in the middle of the museum. Kids can scramble and slide to their hearts content, which is why this is one of the best things to do in Dayton when it rains. Older kids will appreciate the planetarium shows and "science on a sphere" presentations.
Pro tip: The Boonshoft is a member of ASTC, AZA and ACM so most families can get at least a 50% discount on their admission. They extend that discount to members of COSI and the Cincinnati Museum Center despite being within 90 miles.
---
Where to stay in Dayton, Ohio
When we've stayed in Dayton, we have camped at several of the city's excellent MetroParks – they offer wonderful sites at reasonable prices! But not everyone is a camper and Dayton has a few nice places to stay.
Fully-loaded 5 bedroom vacation rental
Ok, this might just be the best place to stay in Dayton, Ohio – especially for big groups. This vacation rental has basically everything you need for a fun Dayton getaway. There are 5 bedrooms, each with a queen bed and one with a crib to boot, and 2 bathrooms.
This property was actually converted from an office building, so it has plenty of space available. There's a dedicated theater (with popcorn machine!), game room and an open kitchen/dining room layout to keep your whole group entertained after you come back from a day of sightseeing.
It's located north of downtown Dayton, very close to the Boonshoft Museum of Discovery, Aullwood Gardens and Aullwood Audubon. The Wright Cycle Company complex is just a hair further.
Drury Inn & Suites Dayton North
If you like the idea of staying north of central Dayton but prefer the amenities of a hotel, check out the Drury Inn & Suites Dayton North. It's a great family-friendly place to stay in Dayton thanks to the extensive free breakfast and afternoon reception and both indoor and outdoor pools.
Some suites are available with two queen beds in the bedroom and then a separate living room with a sofa bed. Cribs are also available free of charge! You could feed your kids an early dinner from the managers reception and put them to bed while the grown ups enjoy DoorDash and a movie or take turns going to the fitness center.
Fairfield Inn & Suites by Marriott Dayton
Looking for a place to stay in downtown Dayton? Check out the Fairfield Inn & Suites by Marriott Dayton. It's adjacent to RiverScape MetroPark and across the street from Day Air Park (formerly Fifth Third Field), home of the minor league baseball Dayton Dragons. You can also walk to 2nd Street Market and the bars and restaurants of the historic Oregon District.
The Fairfield Inn is a pretty simple Dayton hotel, but it's new, clean, well-located for some of the best things to do in Dayton Ohio downtown and includes both breakfast and parking in the rate.
---
Of course we aren't done exploring yet! There are plenty more things to do in Dayton Ohio as we plan our return visits. We look forward to visiting the Dayton Art Institute, Huffman Prairie (location of many Wright brothers test flights), more of the gorgeous Dayton MetroParks Gardens, eating our way through the 2nd Street Market, horseback riding at Carriage Hill MetroPark, Cox Arboretum and the funky historic Oregon District.
You'll also want to take a quick day trip to Yellow Springs, Ohio for beautiful hiking! If you can't get enough of the outdoors, there are tons of great activities at Kiser Lake in Johnson Township, just 45 minutes north of Dayton.
Planning your trip to Dayton OH
Want to extend your visit to Dayton and explore more? Check out these articles to find more things to do in the region: