Are you planning to visit Columbus in winter? Or maybe you're a local looking forward a few ideas to keep you busy during the coldest months? Check out these fun things to do in Columbus in winter to brighten your spirits and keep you exploring!
Enjoy the holiday lights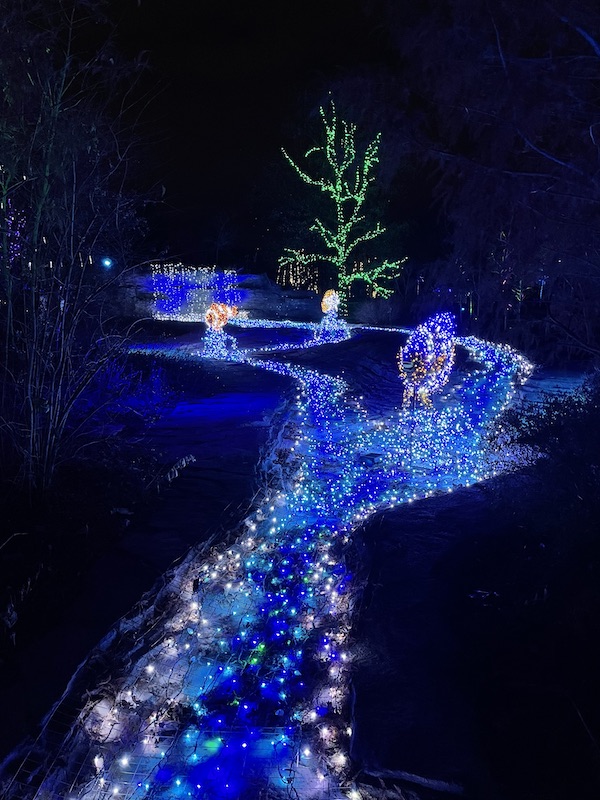 Without a doubt, one of the best things to do in Columbus in December is explore the city's many festive light displays. With sunset as early as 5pm, there's plenty of opportunity to be dazzled by Columbus in winter. Here are the main light displays to check out:
Conservatory Aglow at Franklin Park Conservatory
The holiday lights at Franklin Park Conservatory (pictured above) are among the best in Columbus! You won't want to miss this event. We go every year (sometimes more than once) and enjoy new delights every time. The Children's Garden is full of beautiful displays, and the "water" flowing through the creek is a personal favorite. While you're there, check out the Holiday Blooms exhibit inside to warm up! Full details here.
Wildlights at Columbus Zoo
For a fun, full day in Columbus with kids in winter, nothing beats a trip to the Columbus Zoo. You can spend the afternoon visiting animals all through the zoo and then watch as the thousands upon thousands of lights turn on at 5pm. The sound and light show at the watering hole in the middle of the Zoo is mesmerizing. Don't miss the Polar Bear Express train ride through the North America area. The Columbus Zoo has some great cold-weather animals who you should be able to visit even on the chilliest nights, including polar bears and arctic foxes. Full details here.
Creekside Park in Gahanna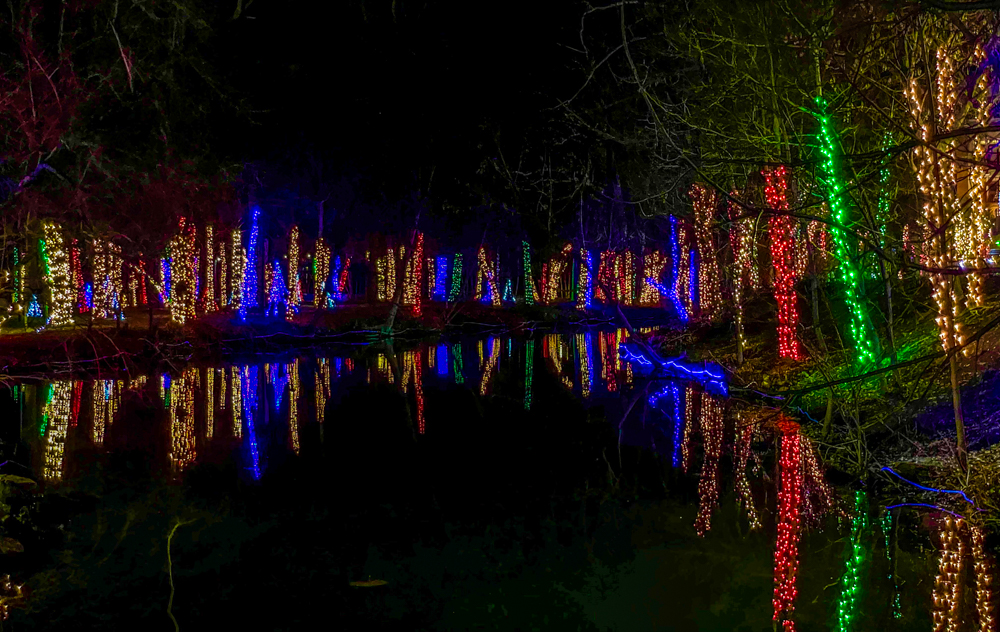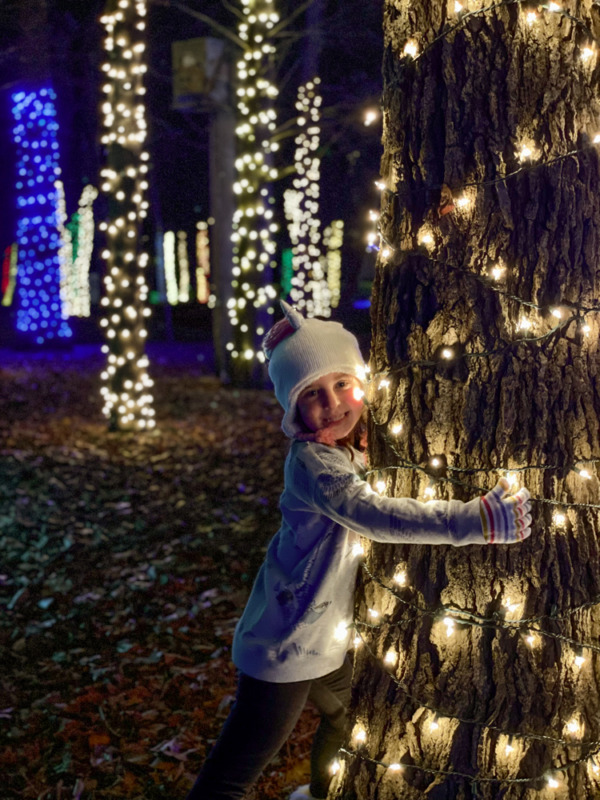 Do you want a convenient, free way to see unique holiday lights in Columbus? Head to Creekside Park in Gahanna. We enjoy the walking path even without the entertainment, but from late November through mid-February it's illuminated with colored lights all around.
Through the first week of January, the lights in the main courtyard even put on a show synchronized to holiday music. In February they transition to a Valentines-themed display. Overall it's an easy, magical spot for a winter walk! With so many restaurants near Gahanna's Mill Street, there are plenty of options for dinner beforehand too – try Lola & Giuseppi's for Italian or El Arepazo for Latin American.
Inniswood Metro Gardens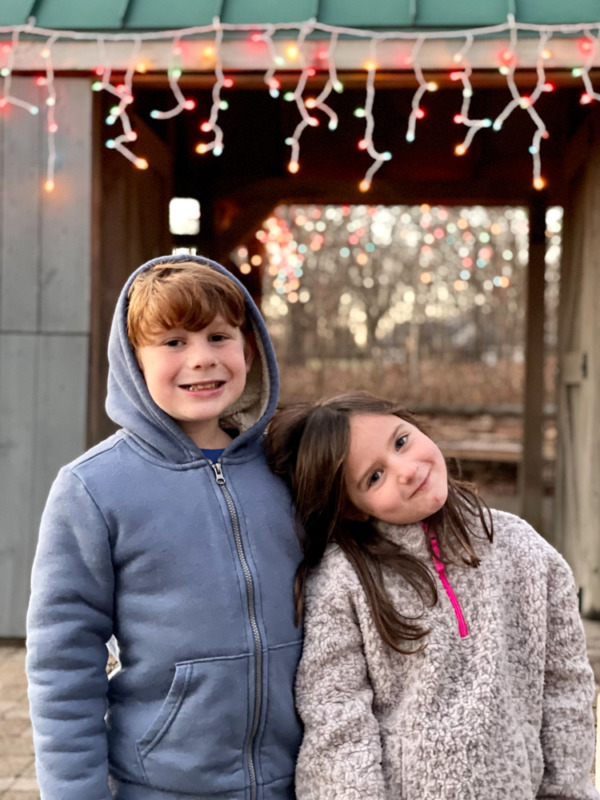 Another lovely free place to see holiday lights in Columbus is to visit Inniswood Metro Gardens in Westerville. Lights are illuminated 5-8pm nightly through New Years, so you can go around 4:30 to enjoy the garden with a little daylight and then stay for the evening. The focus here is more about illuminating the natural surroundings than it is about adding dazzling elements, but it's an easy, uncrowded option especially for those on the north side of the city.
Holiday Lights at Columbus Commons
For a fun evening in downtown Columbus, grab dinner and then head to Columbus Commons for their festive holiday lights. This is a great choice for those who can't walk long distances, as it's a fairly compact space with smooth walking paths. On the first three Fridays in December, you can also enjoy free hot cocoa, carousel rides and live music! Full details here.
---
Get out in the snow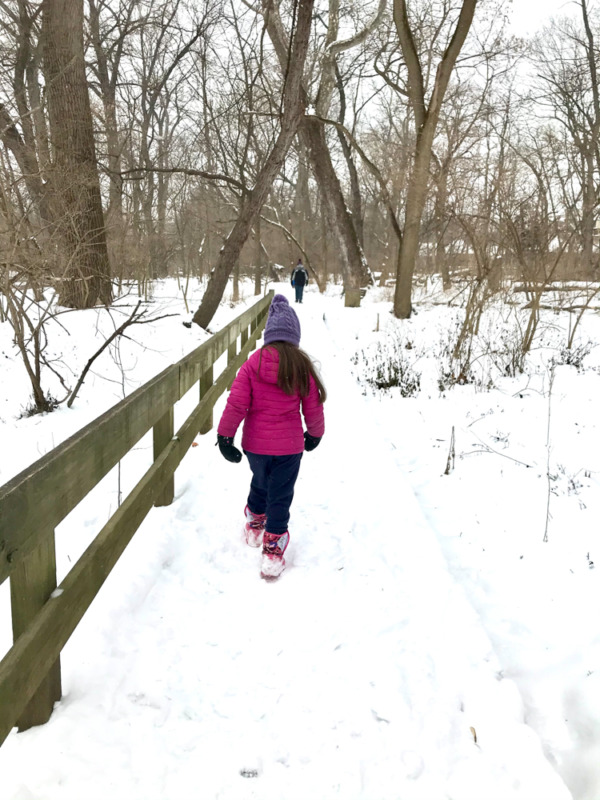 A thick blanket of fresh snow is the perfect reason to get outside and there are so many ways to do it!
One of my favorite snow activities in Columbus is a magical winter hike in one of our many local parks. On the east side, Jeffrey Park in Bexley provides a nice easy trail to start you off. For a longer walk, visit the Tall Pines area at Walnut Woods Metro Park (one of our favorite spots in any season!).
If you're up for a workout, grab some cross-country skis and head to any Metro Park (except Inniswood Metro Gardens). All of the hiking trails are available for skiers! Some are even specifically marked for cross-country at Battelle Darby Creek, Blendon Woods, Highbanks and Prairie Oaks. Even some of the city parks like Franklin Park have well-defined tracks after a good snowfall.
Be sure to check the Facebook stories of Metro Parks Outdoor Adventures if there's been at least a few inches of fresh snow. They sometimes offer last-minute "try it" activities like snow shoeing when the conditions are right.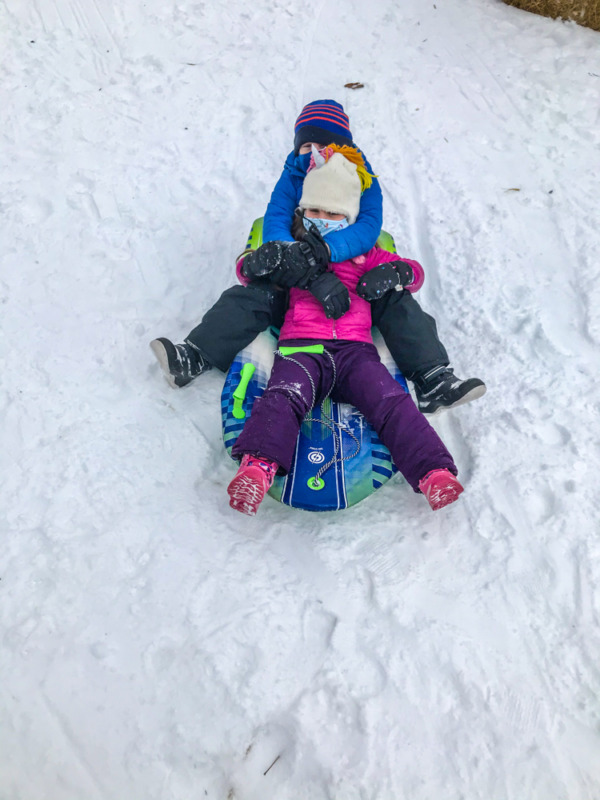 For some old-fashioned fun there's nothing like a sledding hill – especially if you're in Columbus with kids. Options abound! Some of the top local options include Sharon Woods Metro Park, Schiller Park, Scioto Audubon Metro Park and the Walnut Woods Buckeye Area (try to get the kids to take a walk at Tall Pines first and use sledding as an incentive!).
Be sure to dress appropriately to stay warm and dry – the general rule is base layer, insulating layer like high-quality fleece, then a waterproof outer layer. Don't forget snow pants on bottom. And to keep feet comfortable, I recommend a good pair of wool socks under snow boots. If you have to drive to your snowy adventure, be sure to read these tips for how to dress everyone (including adults) safely in the car.
If you really want to up your game, pack some insulated travel mugs with hot cocoa to enjoy once you're done playing!
---
Chase (frozen) waterfalls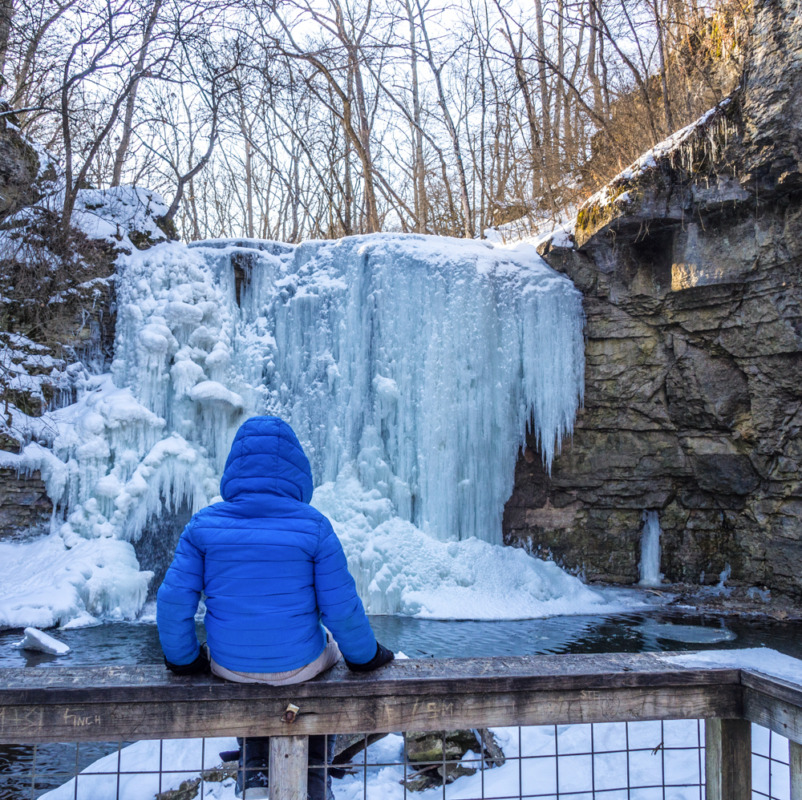 Unlike some of our neighbor cities to the north, the weather in Columbus in winter rarely gets that cold. But now and then we get to experience something really special: frozen waterfalls in Columbus!
Don't expect to see this all the time, of course. For a waterfall to freeze, the temperatures have to be in the teens (or lower) for a few days in a row. During the coldest weather in Columbus sometimes it happens!
If it's been so bitterly cold, head to Hayden Falls in Dublin. Be sure to wear good shoes or slip on spikes, as it's a steep walk down the stairs and they can get icy. But I promise it'll be worth the trek for such a unique phenomenon!
---
Take a winter road trip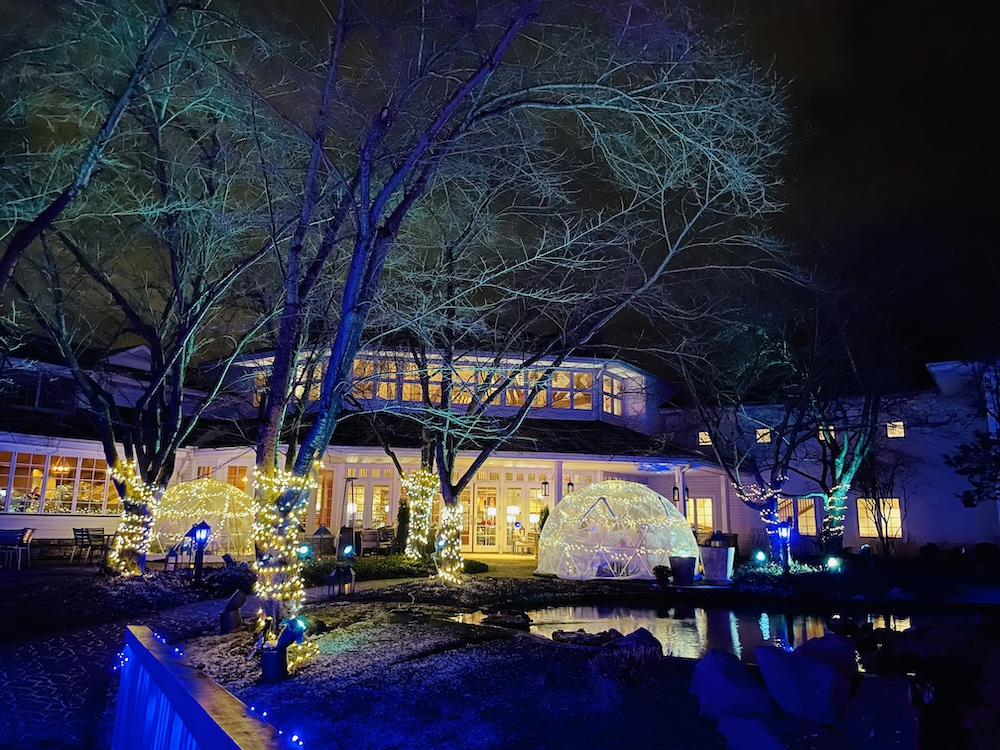 There are plenty of great weekend road trip opportunities from Columbus that you can enjoy in winter!
Our new favorite? The Cherry Valley Hotel in Newark, just 35 minutes from downtown Columbus. The spacious newly renovated rooms surround a beautifully lit courtyard, where you can enjoy igloo dining from early January to mid-March.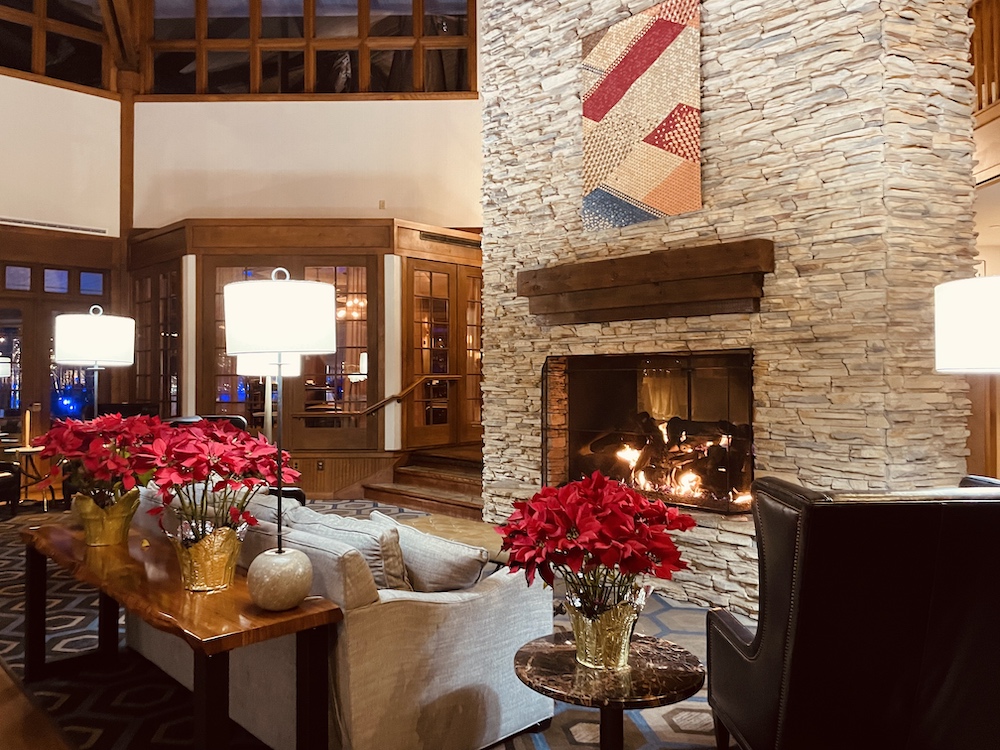 After dinner you can take a dip in the well-heated pool while you peek at the courtyard lights, or follow our lead and cozy up at the massive fireplace in the lobby. It was such a fun getaway that our kids have asked to make it an annual tradition!
While you're in Newark, be sure to visit The Works if you have kids with you. It's full of hands-on, interactive experiences and surprisingly uncrowded. Bring your COSI card to get in at half price! Whether you opt to stay overnight in the area or just take a day trip from Columbus, it's a great way to stay entertained in the winter.
When you're hungry, pop over to Elliot's Wood Fired Tap & Kitchen for excellent pizza and good drinks. If it's not to cold, you can walk around Newark's charming downtown as well.
Where else can you head for a winter weekend roadtrip from Columbus? We have our eyes on Richmond, Indiana for the Meltdown Winter Ice Festival. For a closer option check out the Mohican Winterfest.
---
Cozy up for game night (or day)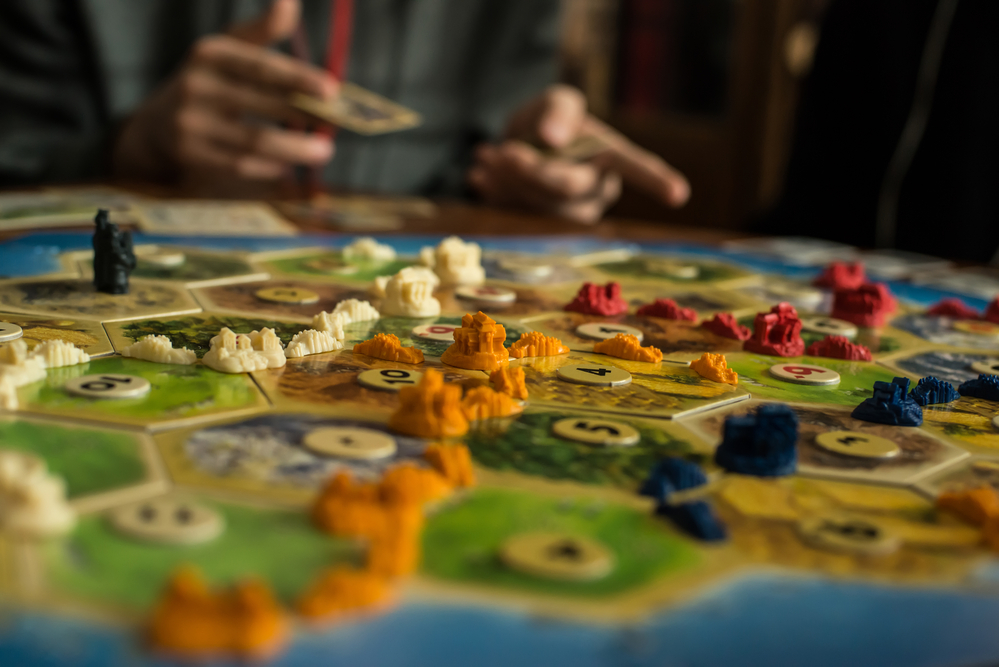 While we love enjoying all of the Columbus outdoor activities, sometimes it's just too miserable to be outside. If the forecast is dominated by freezing rain or you can count the temperature on one hand, there's no shame in cozying up inside for the afternoon.
Head to Tabletop Game Cafe in Clintonville, where you can grab a cocoa, latte or even a full meal while you test out the latest and greatest board game! The cover charge (which gives you a table and game access) is just $5 per person but goes down by $1 for every food item you buy. This is definitely the best thing to do in Columbus, Ohio in winter if you're terrified of the cold!
---
Get lost in a good book (with other people)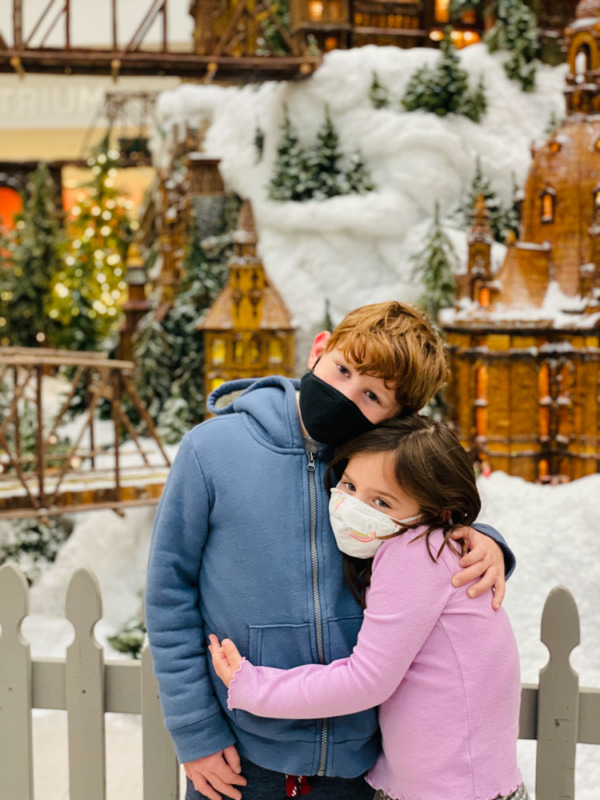 For avid readers, there's no better place to pass a chilly afternoon than at the Main Library in downtown Columbus. There's never a shortage of activity. When you visit the Columbus Main Library in winter, you'll get a chance to explore the Huntington Holiday Train (on display from before Thanksgiving to after New Year's). On weekdays, grab a peppermint mocha from Carnegie's Cafe in the soaring atrium.
No matter what time of year you visit, the Main Library is a fantastic place. There are books covering every subject including a dedicated space for kids. You'll find everything from author talks to crafts and coloring. As a bonus if you're stopping by with kids, there's a free snack time every day at 3:15.
---
Cheer on the Blue Jackets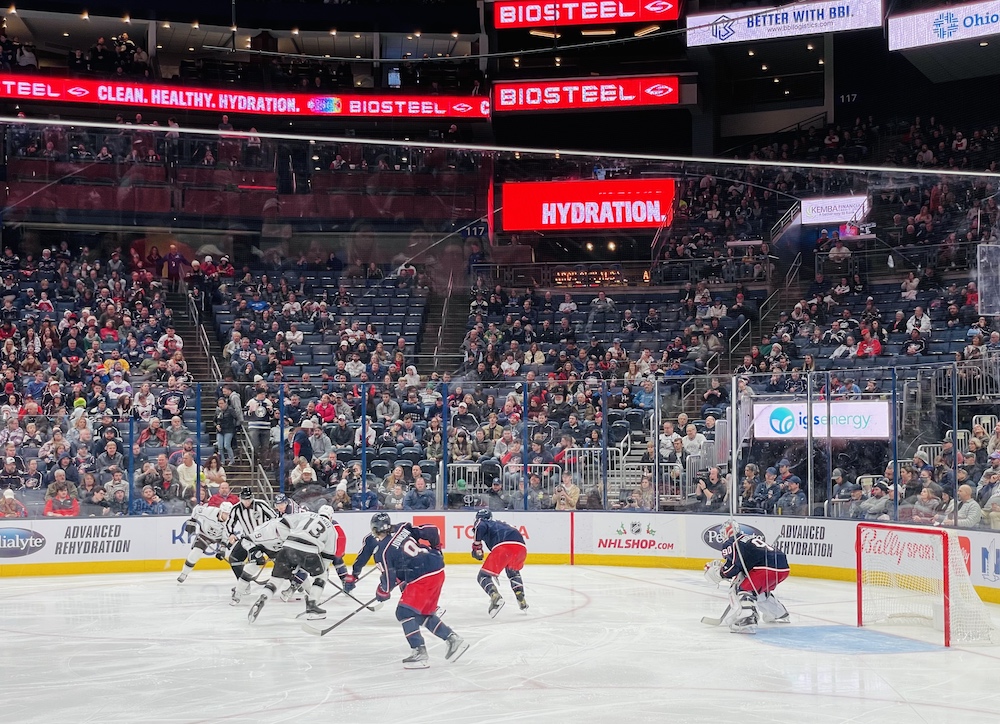 One of Columbus's premier sports teams is the NHL's Blue Jackets. From their home at downtown's Nationwide Arena, they've been entertaining die-hard local fans from November to April (and sometimes May) for two decades. We had a great time attending in 2022 and found the whole experience to be stress-free compared to sporting events in other cities or even attending some games here in Columbus.
The Arena District is fairly new and offers some nice dining options beyond typical stadium food. Be sure to arrive plenty early (at least 30 minutes) so that you can head to the ice level to watch warm-ups. If it's your first game, stop by by the visitors desk to pick up a personalized puck to commemorate the occasion!
---
I hope this guide has helped you beat the winter blues and find new cold-weather adventures in Columbus! Got more ideas? Share them in the comments.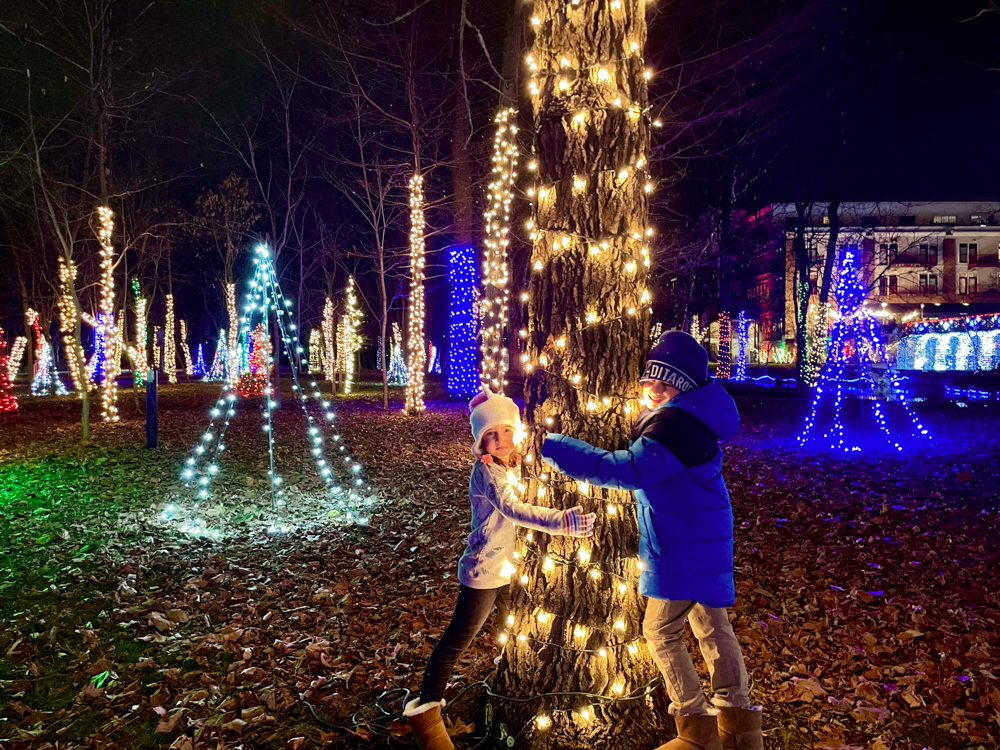 Where to go next