Races horses, baseball, history, hiking and more… there are awesome things to do with kids in Louisville no matter what your family loves. It's a unique place with a culture all its own and more kid-friendly attractions than you can shake a stick at. We recently had the opportunity to explore Louisville with kids thanks to our partners at Go To Louisville, and we're happy to report back on why you should check it out too.
In this article we'll share why we think Louisville is the perfect family weekend getaway (especially for all those long weekends in fall), where to stay in Louisville with kids and the best things to do in Louisville with kids. Read on to find out more!
4 Reasons You'll Love Visiting Louisville with Kids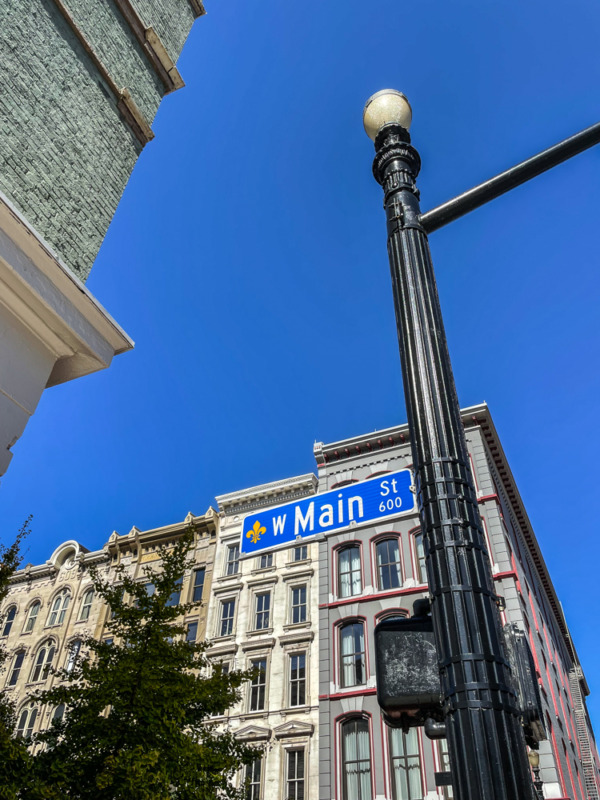 1. There are Louisville attractions for families of all interests
Whether your family is interested in sports, animals, history, nature or hands-on kid-friendly activities Louisville has something for you. I know that's said of many cities around America but it definitely didn't feel like lip-service during our family trip to Louisville! As you'll read in our itinerary below, we had a huge variety of experiences during our visit.
2. You won't run out of things to do in Louisville KY with kids
Your family will easily be able to spend a weekend in Louisville, though three or four days would be even better. We were there for a total of 2.5 days and didn't get to everything we had hoped. That just means we have even more of a reason to go back!
I'll even make what might sound like a crazy proposal… you could give yourself almost a week staying in Louisville and add in two day trips: one to Mammoth Cave National Park and another to nearby Lexington for (more) horses and bourbon.
3. Visiting Louisville with kids is easy
Louisville hits the sweet spot between a city that's packed with things to do but not logistically overwhelming. If you stay in this awesome downtown hotel, you're a quick walk to most of the top things to do in Louisville with kids. Even if you do need to drive to some farther activities, that's easy too.
(Pro tip: If you want easy and un-crowded for your first trip to Louisville with kids, skip out on Derby weekend at the beginning of May.)
4. Chances are good that you live close to Louisville
As of 2011, 40% of Americans lived within 500 miles of Louisville KY. That's a day's drive or a one hour flight, making it perfect for a long (or extra-long) weekend trip. From our home base in Columbus, the drive was around 3.5 hours. Here are some more drive times to Louisville for reference:
Chicago to Louisville: 4 hours 45 min
Indianapolis to Louisville: 2 hours
St. Louis to Louisville: 4 hours
Nashville to Louisville: 3 hours
Detroit to Louisville: 5 hours 30 minutes
If you'd rather not drive, Louisville is served by most major airlines. It's a great opportunity to use your Southwest companion pass or Frontier discount den for a long weekend like Fall break!
Where to Stay in Louisville KY With Kids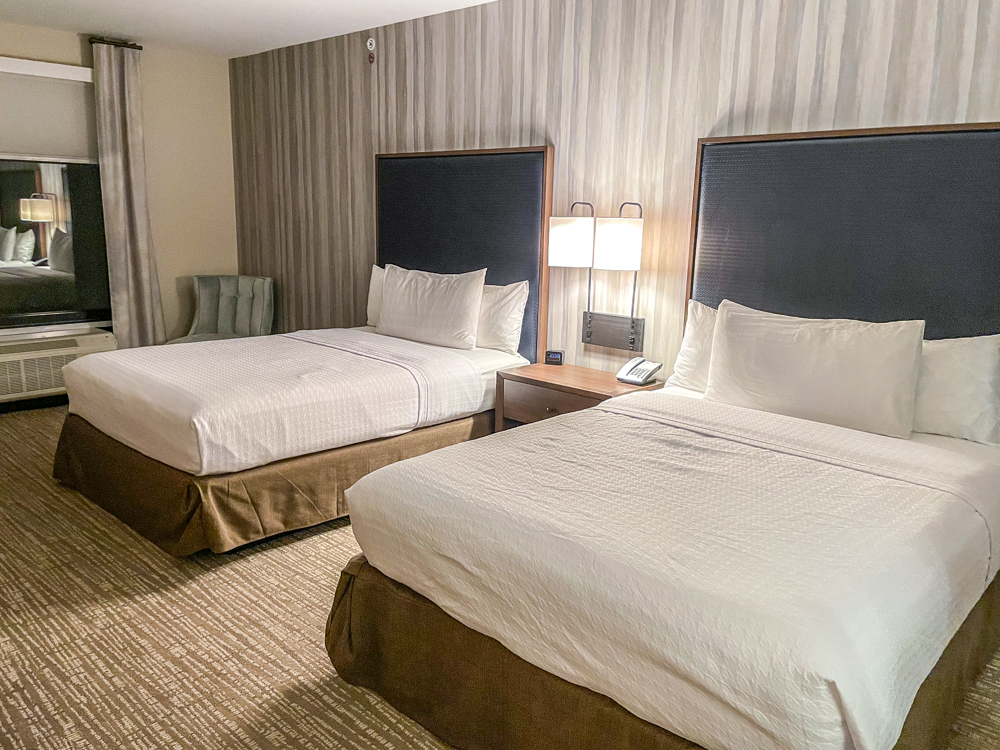 The best place to stay in Louisville with kids is right in the heart of downtown. You'll be an easy walk from some of the best things to do in Louisville with kids as well as plenty of restaurant options. I can't say enough great things about the Homewood Suites by Hilton in Downtown Louisville.
For starters, the rooms are big enough for a family to truly be comfortable. We had two queen beds in our bedroom, a living room with a sofa bed and even a small (but fully-equipped) kitchen. It's an ideal set up for families, especially those visiting with young kids who need an early bedtime or some home-cooked food.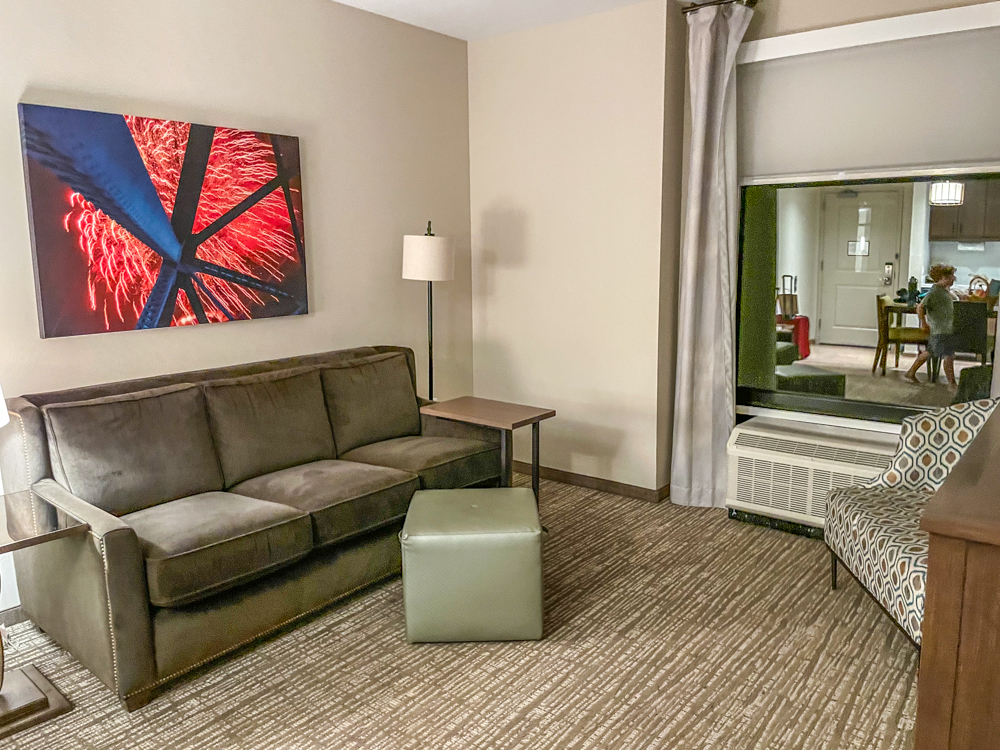 Our big kids were thrilled by everything at the Homewood Suites and declared it "the best hotel ever!" There's a full hot breakfast buffet every morning and video games and a pool table to keep them busy while you get a little quiet time for a cup of coffee. The sweet front desk staff even let us have an extra late checkout to use the hotel pool on our last morning there. All in all, I can't recommend it enough
---
Before your family trip to Louisville…
Before your family trip to Louisville KY, it's a great idea to grab some books (or a movie) you can all enjoy as a family. They'll add context to your visit and help your kids stay engaged!
Kids books about Louisville
Kids books about Lewis and Clark
Kids books about Muhammad Ali
I also highly recommend watching Secretariat if you're planning to visit Louisville with tweens or school-age kids. It's an inspiring true story and will really set the stage for your visit to Churchill Downs and the Kentucky Derby Museum! Our kids loved it (though we had to pause a few times to explain some nuances).
---
Things to do With Kids in Louisville: Weekend Itinerary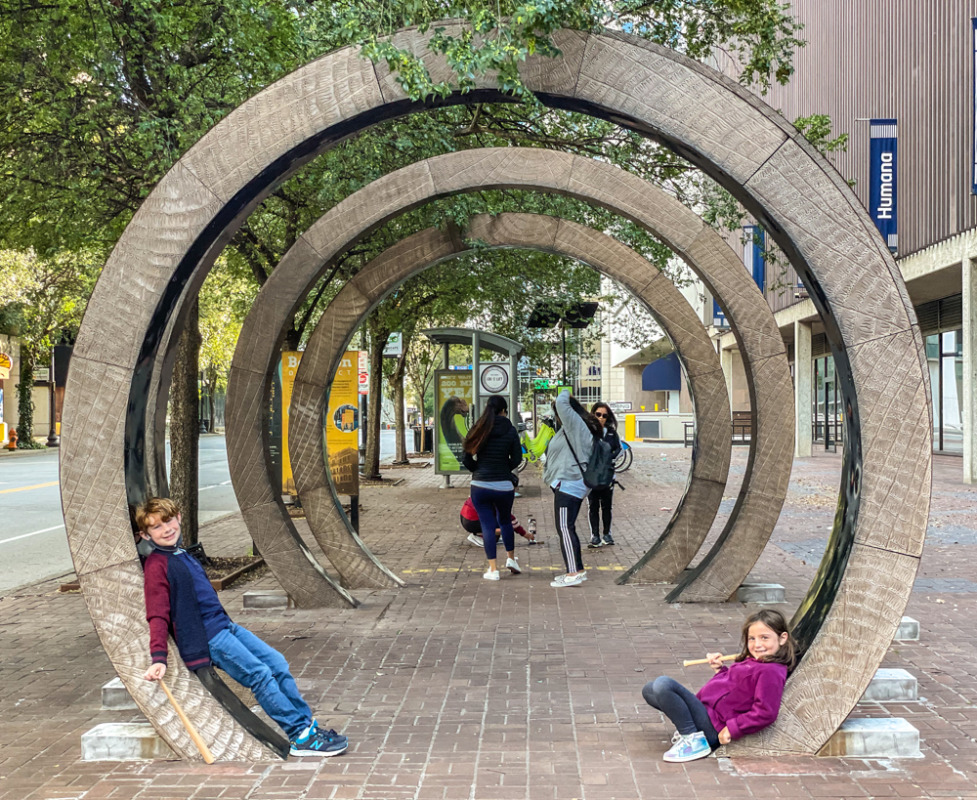 It's easy to feel overloaded by all the awesome things to do with family in Louisville KY! If you just have a weekend, you'll have to prioritize what you really want to experience in Louisville and be flexible if you can't get to some activities.
The good news is that many of the best attractions in Louisville are very close to each other. They're also very close to the best Louisville hotel for families so it's easy to organize your time. To avoid "museum overload" you might want to visit one museum right after breakfast each morning, go do another activity and then come back for another museum.
Louisville 2 day itinerary at a glance
Saturday
9am – Hotel breakfast
10am – Frazier History Museum
11am – Art Eatables
12pm – Hermitage Farm lunch + tour
3:30pm – Muhammad Ali Center
5:30pm – Dinner
8pm – Belle of Louisville

Sunday
9am – Hotel breakfast
10am – Louisville Slugger factory tour
11am – Kentucky Science Center
1pm – Lunch at The Eagle
2pm – Cherokee Park
3:30pm – Kentucky Derby Museum & Churchill Downs
5pm – Dinner at Union Game Yard
7:30pm – Old Louisville Ghost Tour
Saturday in Louisville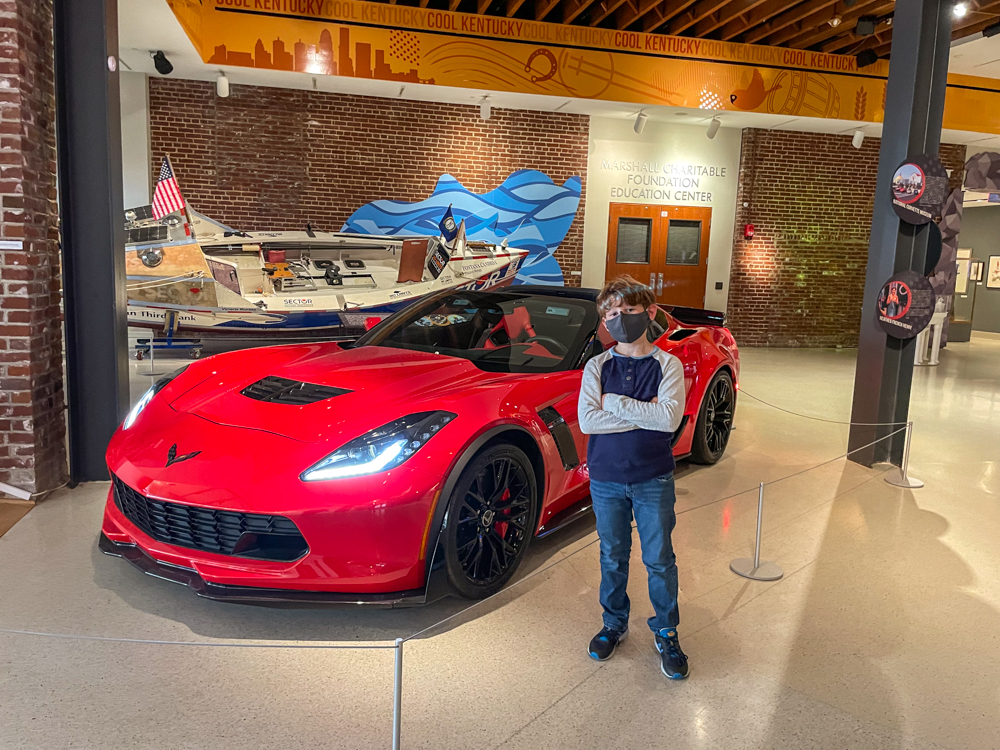 After indulging in hotel breakfast, start your Louisville exploration by walking over to the Frazier History Museum. This isn't your typical history museum: it's a hands-on, interactive exploration of what makes Kentucky unique. How you allocate your time there will depend in part on the ages of your kids. We spent most of our visit in The Spirit of Kentucky (which ties Kentucky's history and geography to bourbon production) and The Lewis & Clark Experience (a fascinating kid-oriented journey along the route of the famous explorers).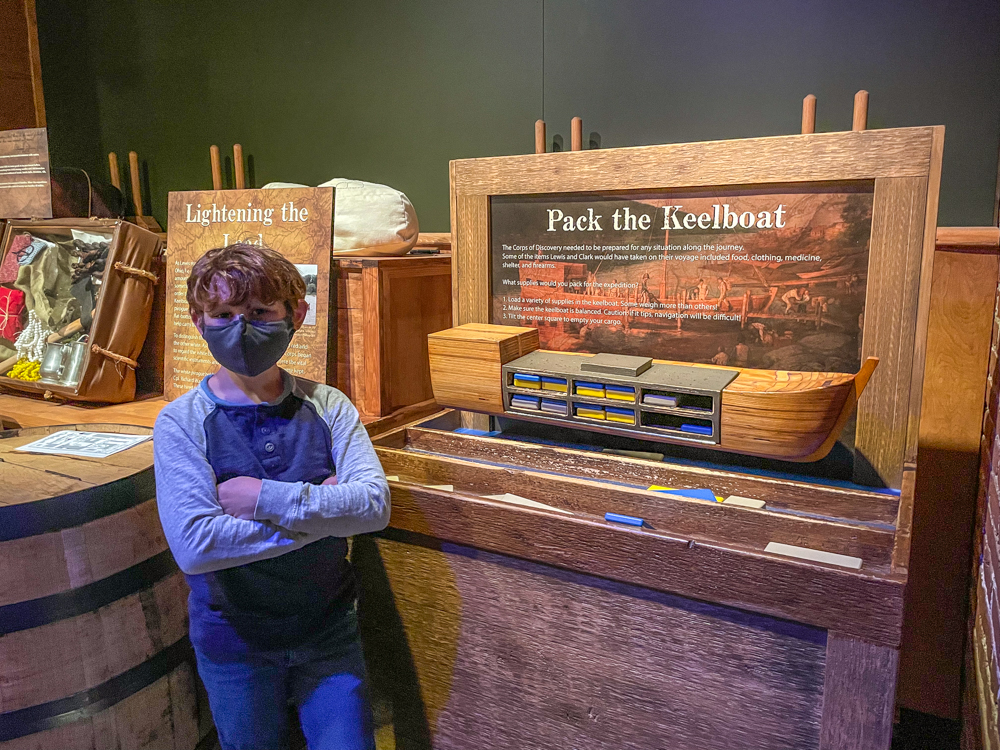 We spent just over an hour in those two exhibits. With more time, check out Cool Kentucky (all sorts of interesting Kentucky stories told through historic objects from the last two centuries). Even if you just spend a few minutes, everyone will find something to love!
When you exit the museum, don't go too far: your next stop is immediately to the left at Art Eatables. It's not for nothing that this has been named the best candy shop in Kentucky. Art Eatables specializes in bourbon-infused truffles (of course they do) and true enthusiasts can select their preferred bourbon in either milk or dark chocolate. They also have a range of bourbon-infused gifts like candles if you're looking for a Louisville souvenir to bring home.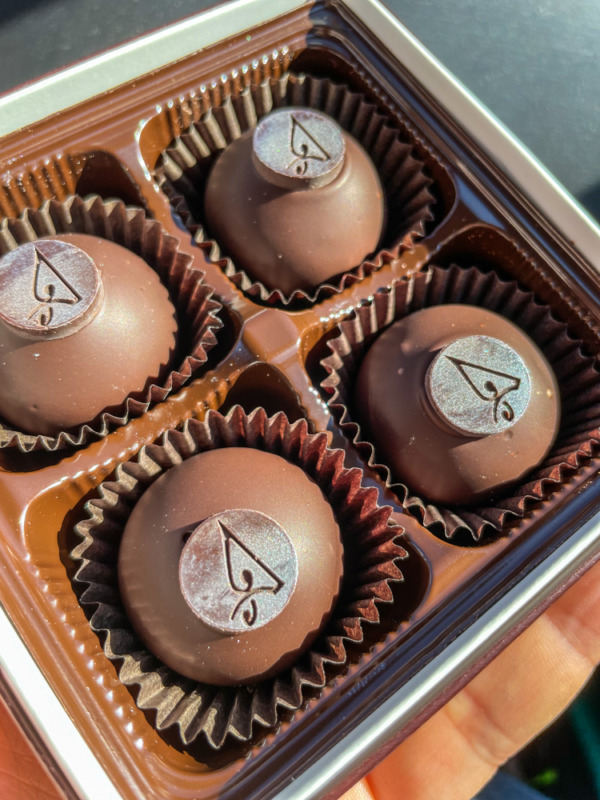 Of course there are plenty of sweets and treats for the young ones. Importantly, this is a nut-free candy shop in Louisville; allergy parents rejoice! Our kids were taken with the oversized Super Mario rice krispies treats along with the horse-themed chocolates. I won't judge you if you buy a few extra treats for the rest of the weekend.
Head back to your car for one of our favorite Louisville activities for kids: Hermitage Farm. It's just a 30 minute drive from downtown Louisville but a world away; this is the closest Kentucky horse farm experience you can have and it's great for kids of all ages.
When you arrive you'll head down to Barn 8, the on-site farm-to-table restaurant. Food is prepared with a combination of produce that's grown at Hermitage and meat that's raised at the owners' farm next door. You'll enjoy a picnic lunch in the beautifully restored barn – some visitors even sit in the stalls themselves!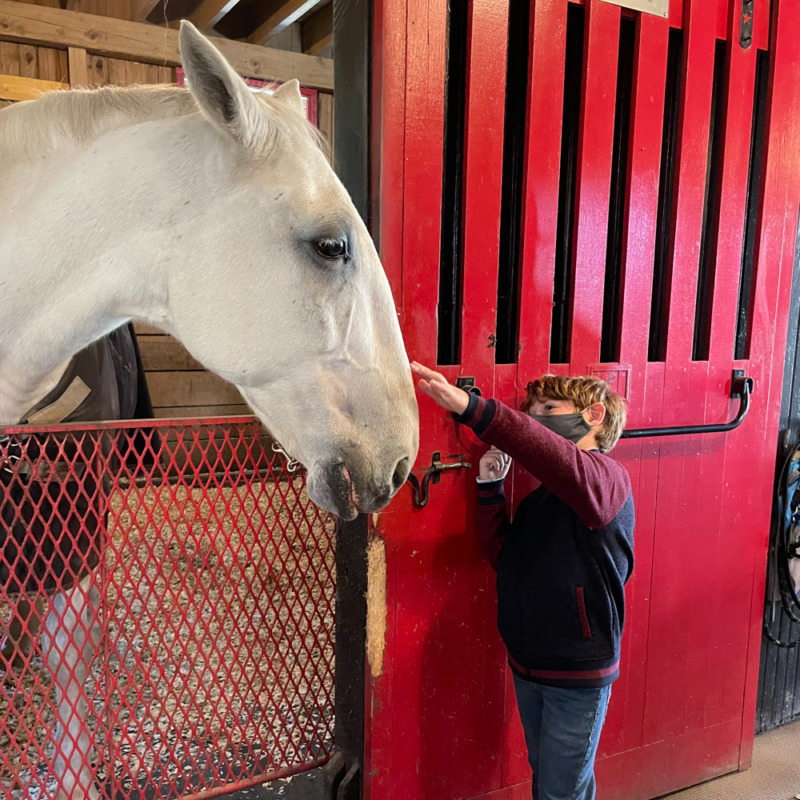 At 1pm, you'll join up with your tour guide to explore Hermitage Farm. You'll stroll through their kitchen garden (and sample along the way) and then move on to the rolling pastures and horse "nursery". While much of Kentucky's open space has been overtaken by 21st century development, the owners of Hermitage have established it as an agriculture conservation easement. It will forevermore be used exclusively for agricultural purposes. There are also no new buildings to be constructed on the land, so the farm staff has been creatively repurposing and renovating the century-old structures.
The highlight, of course, is seeing the horses. You won't find current race horses here: Hermitage Farms is focused on breeding Thoroughbred horses, caring for pregnant mares and nurturing foals through their first year of life. You'll learn all about what it takes to care for horses during this critical time in life and see the horses roaming freely in the pasture.
Most importantly for every horse lover, there's plenty of time to spend with some of the "retired studs".
Head back to downtown Louisville and park your car back at the hotel, then walk just a few blocks to the Muhammad Ali Center. The world-famous boxer called Louisville home, and the Center is dedicated to teaching visitors about his inspirational life and his humanitarian legacy. For kids who may not be familiar with Ali, definitely start with the introductory movie on the top floor. It'll be helpful if they've read this book before you go.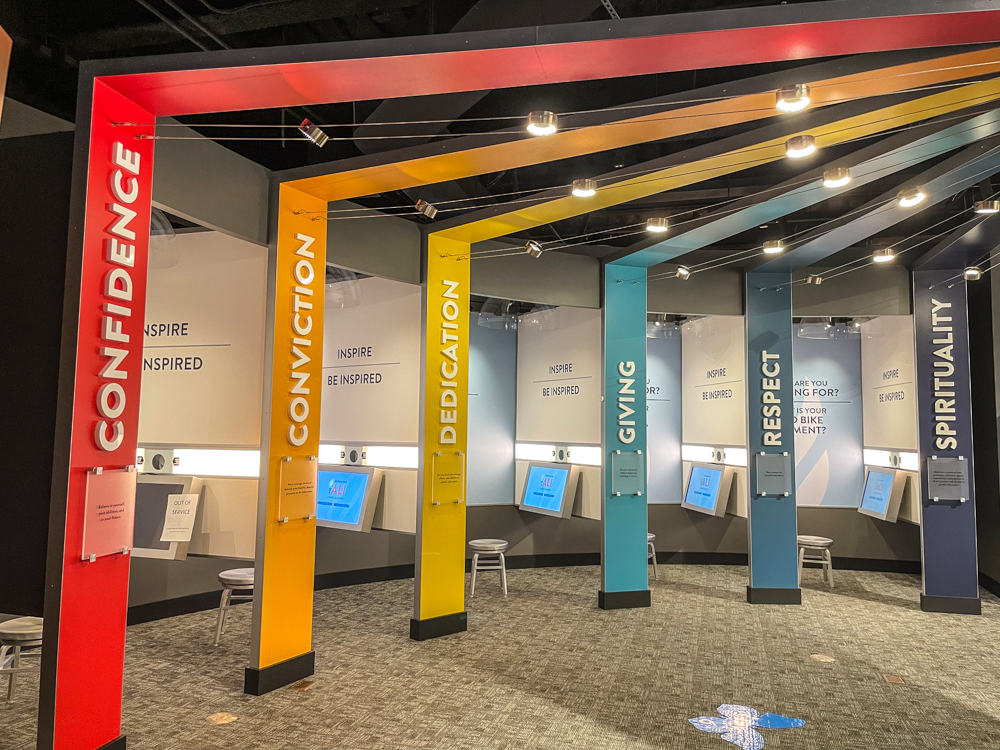 The upper floor is where most kids will want to spend their time. It uses a great mix of artifacts and audio-visual materials to teach Ali's life story. Of course, there's also a section where kids can try out some of Ali's best boxing techniques! They can shadowbox, try the speed (if they're tall enough), feel the force of a punch and even box each other in the ring.
When you head downstairs, you'll have an opportunity to kick back and watch some of Muhammad Ali's most famous fights. More importantly, this is a great place to take a few minutes as a family to discuss the core principals that drove "The Greatest": confidence, conviction, dedication, respect, giving and spirituality. Those principals are highlighted in the exhibit upstairs, but it can be easier to reflect in the quieter space.
Visitors of all ages can then record a video about what that principal means to them or how they want to make it a part of their lives. You can also learn about some of the winners of the Muhammad Ali Humanitarian Awards and be inspired by their work – an important reminder for kids that they can make a difference in the world around them. During our visit there was also an excellent temporary exhibition highlighting some of the protest signs that were found across Louisville after the tragic killing of Breonna Taylor. One floor further down there's a great variety of art about and inspired by Muhammad Ali's life.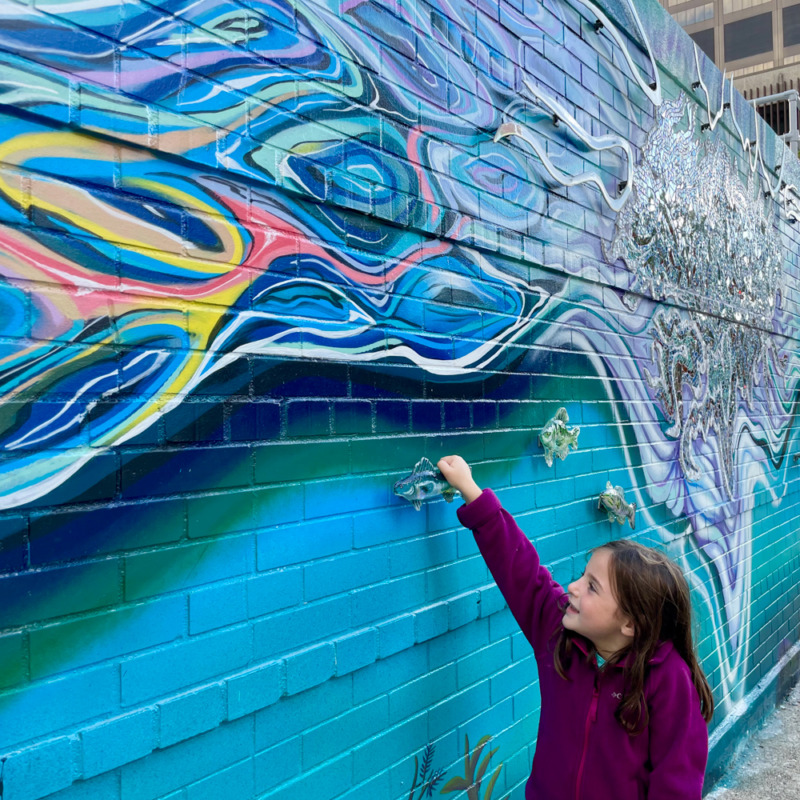 If you're anything like our family, you'll probably wind up staying at the Ali Center until closing at 5pm. From there it's time to head back out to Main Street and walk toward Louisville's historic Whiskey Row. This was once the home of numerous bourbon distillers and today it offers plenty of great stops for dinner – including plenty of bourbon-themed options. We chose Sidebar at Whiskey Row and it didn't disappoint! They offer excellent burgers (including veggie options) and indulgent milkshakes that can be ordered either with or without alcohol.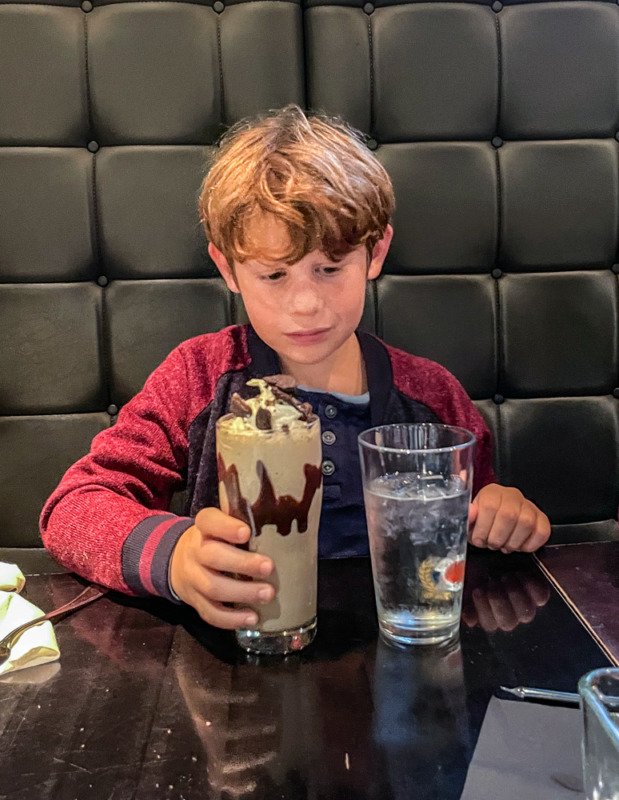 Got a parliament of little night owls? Enjoy a stroll after dinner and then head to the waterfront for an evening aboard the Belle of Louisville steamship. Steam technology played a crucial role in Louisville's rise to prominence because they allowed boats to come back after their trip down the Mississippi River. You can experience a piece of the action, complete with live music, snacks and an up-close tour of the ship's engine on this century-old boat. If you're visiting during the summer, you'll enjoy a beautiful sunset. During our post-trip family debrief, my own offspring recommended the Belle of Louisville as one of their favorite things to do in Louisville with kids. That's high praise!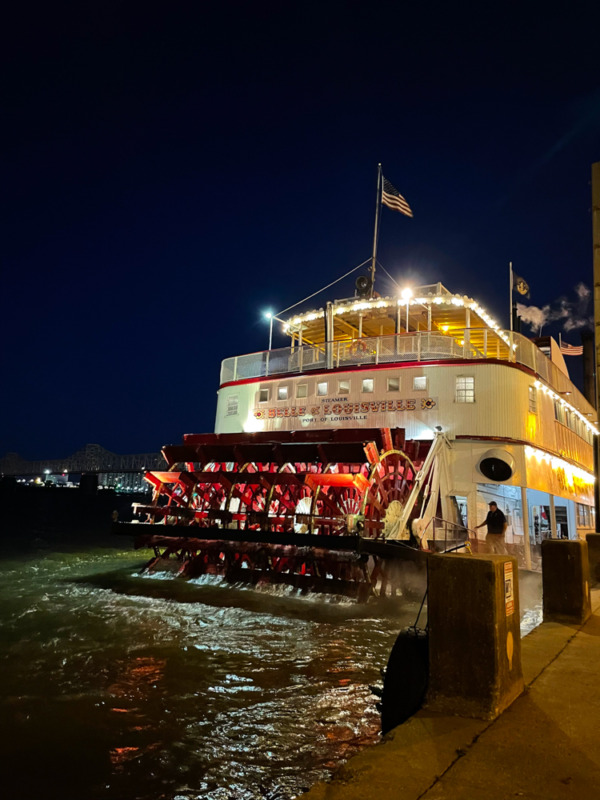 Now go back to the hotel and get a good night's sleep, you've earned it!
Sunday in Louisville
Today you'll be visiting two of the most famous Louisville attractions for families, the Louisville Slugger factory and Churchill Downs. It's going to be a great day!
Pro tip: Your precise schedule will depend a little bit on how you want to experience Churchill Downs and the attached Kentucky Derby Museum. You can do the standard visit any time during "business hours" or you can opt for one of the specialty tours (some of which have a minimum age of 8). I'll explain more about that a little further down, but just know that you may need to shuffle some things around if you choose a specialty tour. The itinerary presented here reflects the standard visit.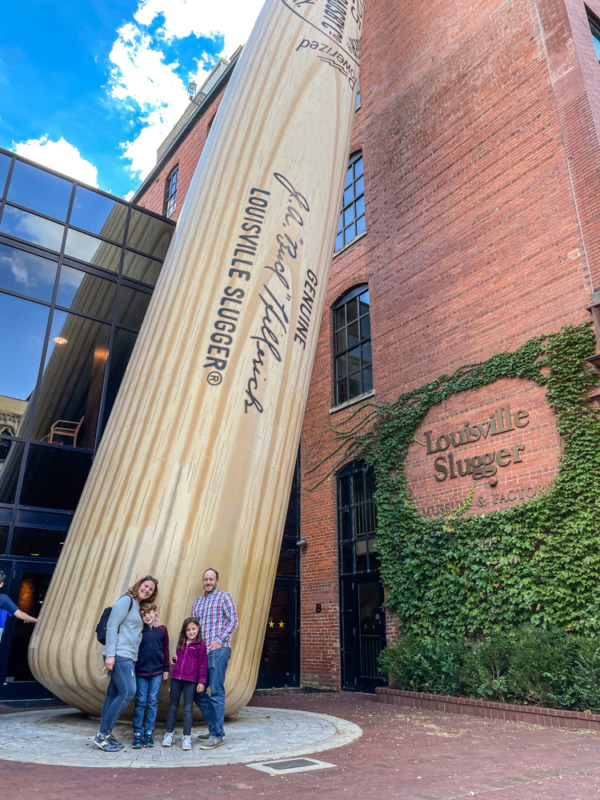 Get a quick start to the morning with a hearty hotel breakfast and then walk over to the Louisville Slugger factory and museum in the heart of downtown Louisville. Louisville Slugger's parent company, Hillerich & Bradsby Co, has been making baseball bats in this neighborhood for over a century and their current location offers a fascinating look at both baseball nostalgia and the detailed production process.
You do need to purchase tickets in advance for the timed tour you want – I suggest 10:15. During your visit you'll spend 30 minutes touring the factory to learn about the steps in baseball bat production and even the different processes used for different calibers of bats. Tours like these are always great for kids because they can get a sense for just how much technology and innovation go into producing the things they use every day.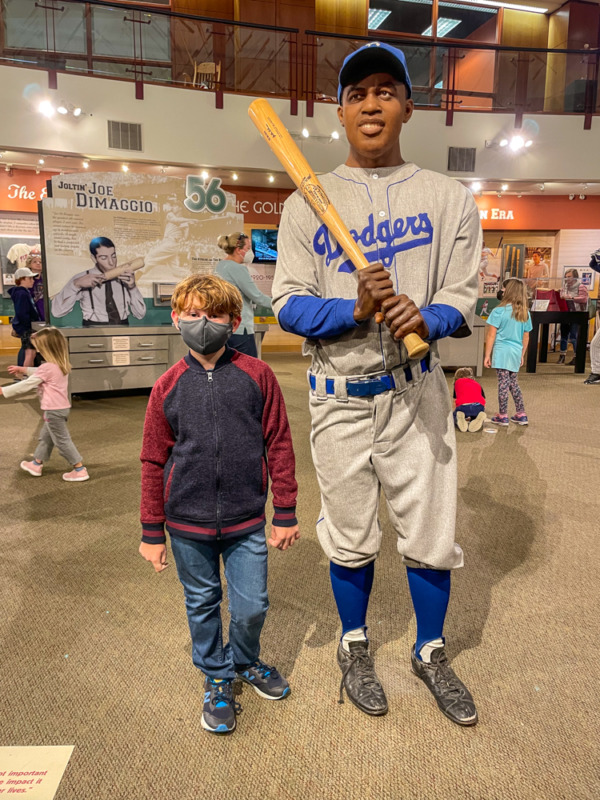 After the tour, your family can spend another 30 minutes or so exploring the museum. Strike a pose with your favorite baseball hero, hold a real game bat and even check out LEGO replicas of the region's professional baseball stadiums.
Around 11am, head across the street to the Kentucky Science Center. We were initially a little ambivalent about including a kids' science museum on our itinerary because we have a nice one back home in Columbus and we try to focus our getaways on experiences that are uniquely local. I'm so glad we went!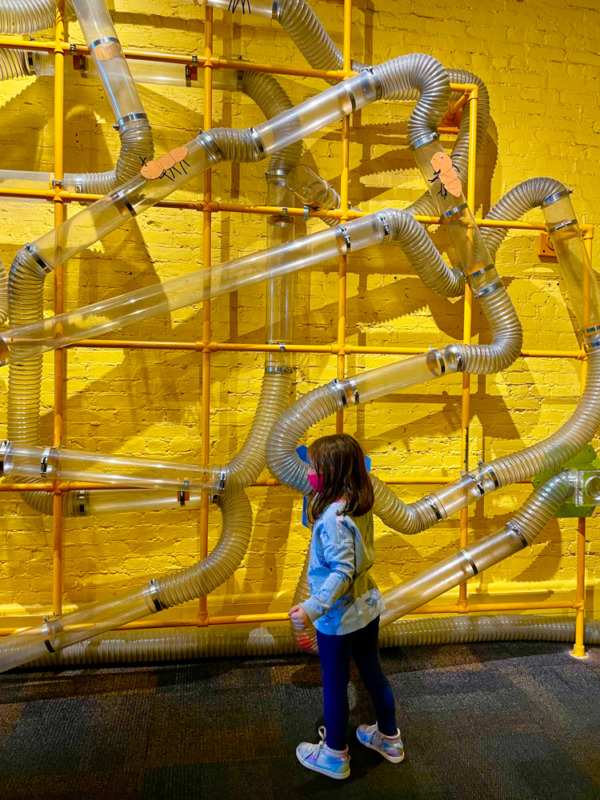 Our kids had an amazing time at the Kentucky Science Center. It's wonderfully hands-on, and during our Sunday morning visit it was mostly empty. The ground floor has a huge area for play-based physics explorations, while upstairs does have some great exhibits that are Kentucky-centric like The World Around Is (weather, geology and ecology of Kentucky) and One World by Air Cargo (the "how" of UPS's enormous international shipping hub in Louisville). We also had an great time in the Maker Space, which offers a rotating selection of interesting projects. Be sure to drop by the Kentucky Science Center for an hour or two, and bring your local ASTC-affiliated membership card for free admission under the ASTC Travel Passport program.
If your kids are anything like mine, the only way you'll be able to drag them out of the Kentucky Science Center is with the promise of a really good lunch. You'll find that at The Eagle, just a 10 minute drive from your hotel parking lot and right next to Cherokee Park. The Eagle pays homage to Louisville's status as "the northernmost Southern city and the southernmost Northern city" with its fantastic menu of fried chicken, hush puppies, spoon bread and more. I tell you, this is some amazing fried chicken.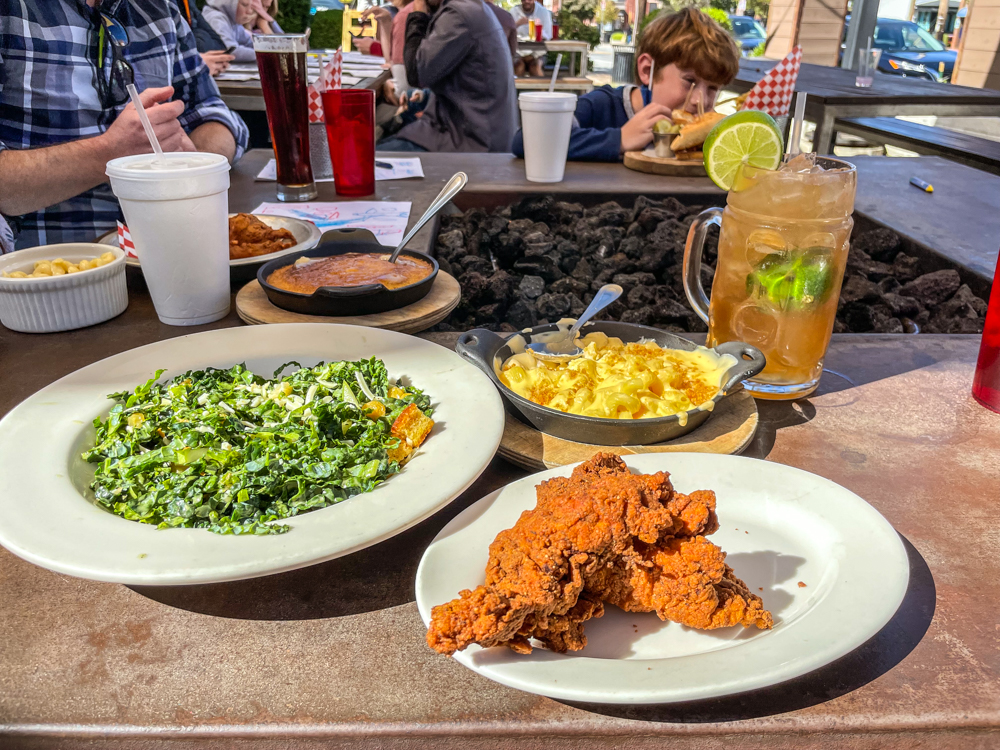 There's even a kids menu at The Eagle, which includes a $2 order of fried chicken, $3 grilled cheese and a few other reasonably priced items. The outdoor seating is partially shaded and extremely pleasant. Be warned that if you order a mule (which is available "Kentucky style") it will be the largest cocktail you've ever been served.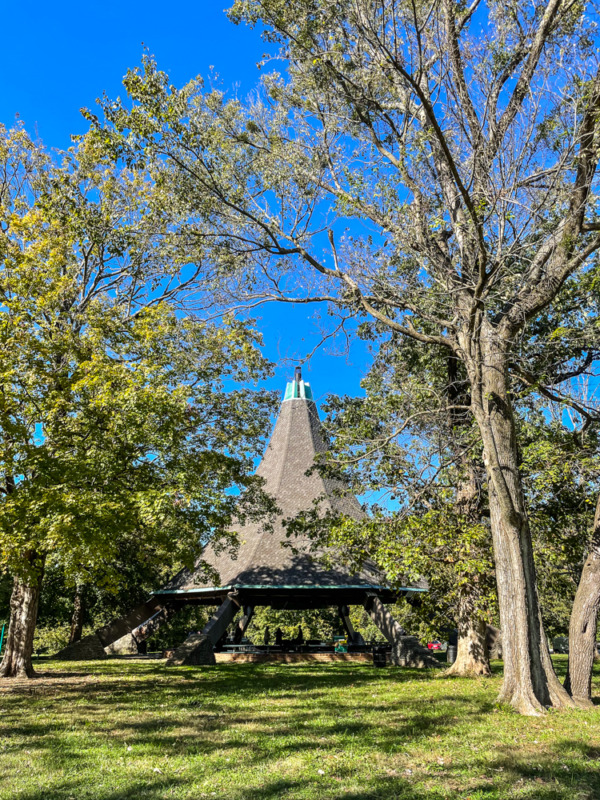 After lunch you'll drive over to Cherokee Park, designed by Frederick Law Olmsted several decades after he famously designed Central Park in New York City. Cherokee Park is beloved by Louisvillians as a place to enjoy the fresh air and commune with nature without leaving the city. There are plenty of ways to enjoy it! You can park and let your kids run free through the fields and climb on the playground. You can drive or walk the 2.5 miles scenic loop around the park's perimeter to see the fountains, pond and more. If you have time, you can even lace up your sneakers and explore one of the hiking trails in the park's interior.
Your next stop is one of the classic Louisville top attractions for kids and adults alike: Churchill Downs, home of the Kentucky Derby. There are a few different ways to experience this Louisville landmark and they're all great choices depending on your family.
The typical visit will last about 90 minutes and include both the Kentucky Derby Museum and a walking tour of Churchill Downs itself. I recommend watching this before your visit, and then starting with the Museum (which is not at all how we did it, but would have been better). One of the highlights of the Museum is the 18 minute 360 degree movie, "The Greatest Race", which takes you through the life of a foal as well as the excitement of Derby Day.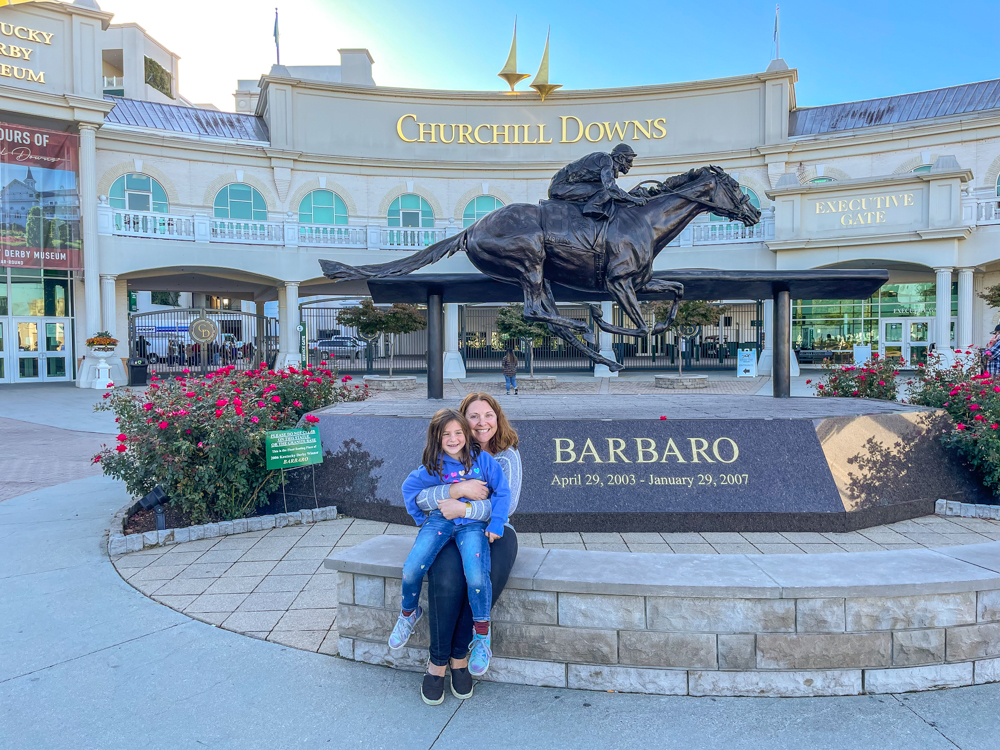 The movie is a wonderful introduction to the world of thoroughbred racing and will put everyone in the mood to discover more! The rest of the museum has a great mix of information and interactive activities – there's even a section that showcases Hermitage Farm's and their maternity program. As you can see below, our family got into the competitive spirit.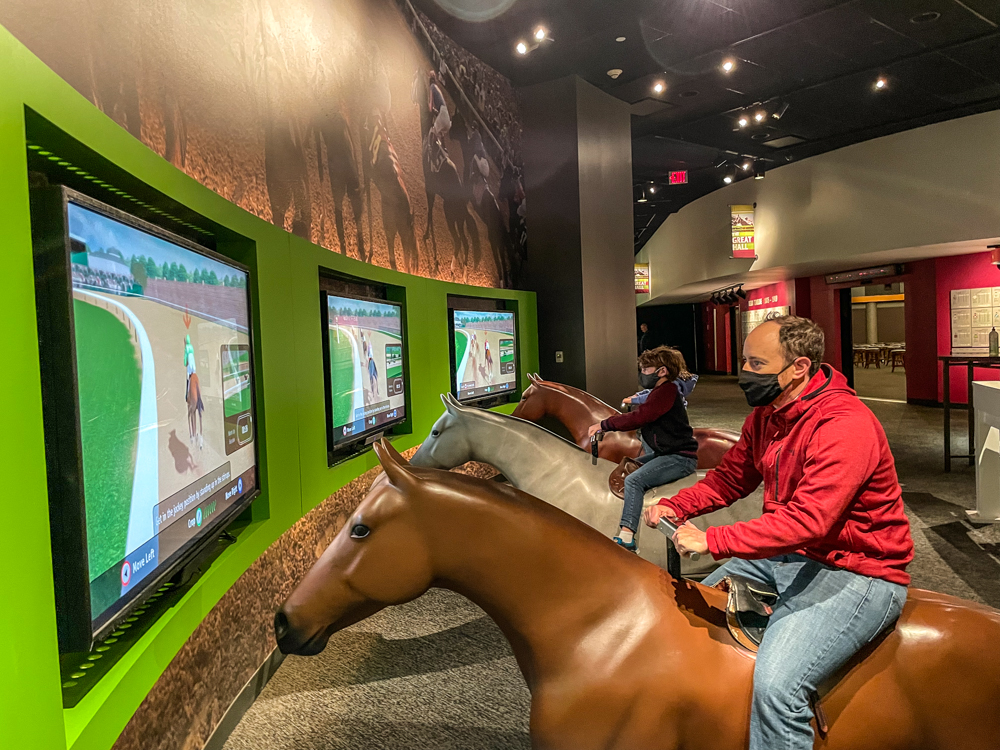 After your visit to the Kentucky Derby Museum, join in the 4:30pm Historic Walking Tour of Churchill Downs. Your guide will take you out to the track and tell you all about Derby history and traditions, the track, thoroughbred training and more. We loved having such a knowledgeable guide to answer all of our questions.
This is where I'll offer a caveat about scheduling. There are several specialty tours of Churchill Downs available, and you may want to shuffle your activities for the day (or weekend) to go on one. Note: all specialty tours include museum admission.
Our family spend a long weekend in Louisville, so we got up extremely early on Monday morning to attend the thrilling Thoroughbred Workout Tour. We loved watching the horses show off their speed and we even got to pet some of them during their breaks. I highly recommend this experience!
This tour starts at 7:15am and flips the order, with the track visit before the museum. If you're doing this, you'll definitely want to prep your kids so that they understand what a big deal it is to get a private show from these horses. We went in October and it was very chilly in the morning – check the forecast in advance and come prepared. This tour doesn't run on Sundays, so if you're just spending a weekend in Louisville you could do it Saturday morning.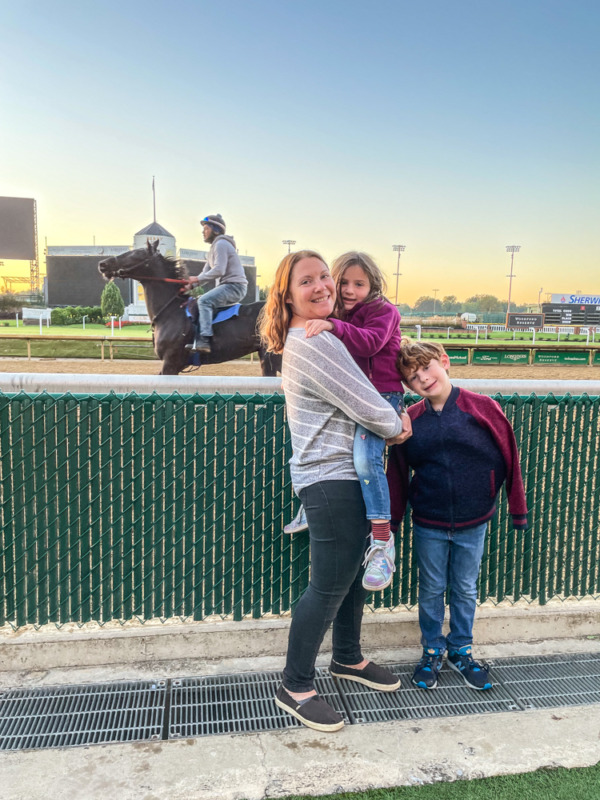 If you're visiting Louisville with tweens (ages 10+ only) there's an additional morning option, the Backstretch Breakfast Tour. It similarly includes watching the thoroughbreds work out, but this time from the infield. After the workout you head to the elusive "Backside" that's usually only open to the horses and those working with them. You'll see where the horses are stabled and cared for and even enjoy breakfast at Post Time Kitchen – typically only open to those working on the Backside.
For families with kids 8+, a great option is the Barn and Backside Tour. It's similar to the Backstretch Breakfast Tour but without the breakfast. It's offered several times throughout the day including at 3:30pm daily, though if you opt for the morning tour you'll also see the morning workout. In many ways I think this tour is the sweet spot and I would have been happy to attend the 8:30am tour (which includes the workout) but our youngest traveler was only 7 when we visited. Kentucky car seat law would require kids her age to ride in a booster seat in the tour van and the Museum prefers not to offer that option at this time.
When your time at Churchill Downs and the Kentucky Derby Museum winds down around 5pm, head north across the Ohio River to… Indiana! That's right, one of Louisville's suburbs is the quaint hamlet of Jeffersonville, Indiana (or "Jeff" to locals). Your family will have a great time at Union Gameyard, where you can enjoy games like Jenga, Connect 4, ping pong, cornhole before, during and after your meal of tasty crowd-pleasing food. It's a unique concept and a fun way to wrap up your activities…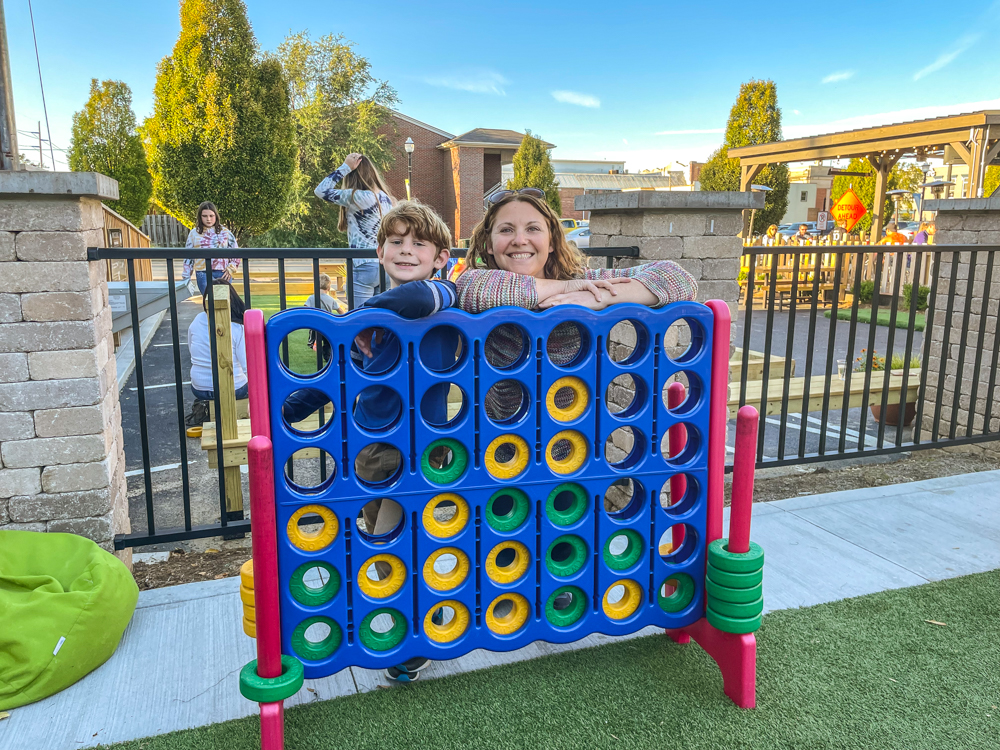 … unless, of course, you want to find out more about Louisville's spookier side.
Louisville's stately Belgravia neighborhood is the city's most haunted area, and perhaps even America's most haunted neighborhood. Stories abound from the last two centuries of history in Derby City. Spend the evening with local expert David Dominé on his famous Old Louisville Ghost Tour. It's open to all ages but does require 100 minutes without a restroom break; not all of that time is walking but you'll want to wear comfortable shoes.
We were initially on the fence about our kids' ability to handle the ghost tour as they tend to frighten easily. The special walk we attended (shortly before Halloween) featured costumed actors telling the stories, so we feared it would be too intense. As it turns out, they loved it! There were a few scary moments for our 7 year old but overall it was a highlight of our trip to Louisville and both kids highly recommended it.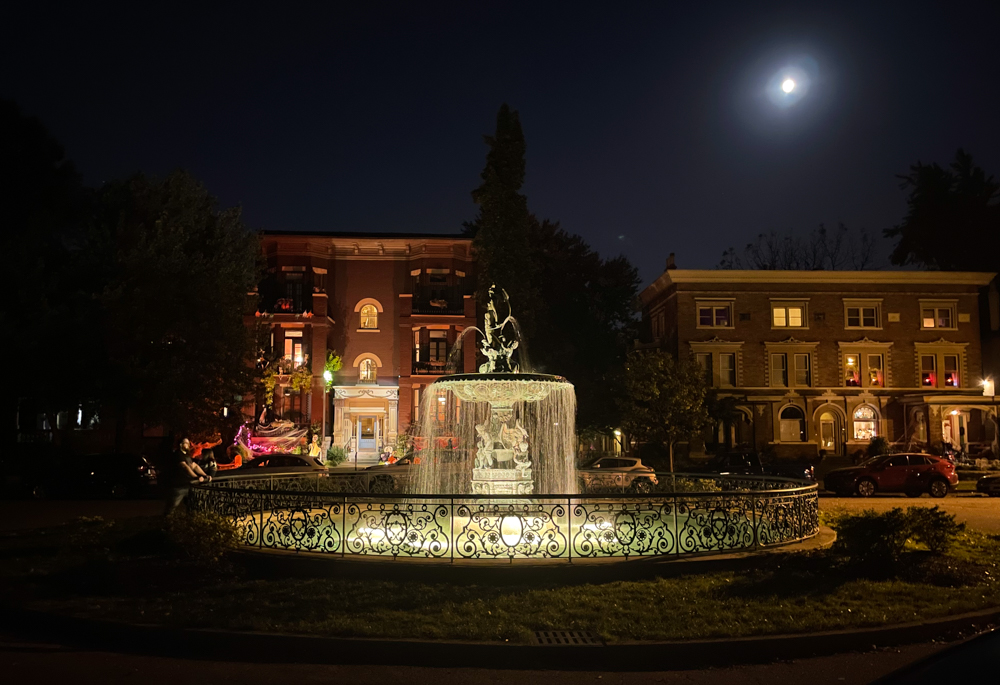 Best Things to do in Louisville with Kids if You Have More Time
All good things must come to an end and unfortunately we just had a long weekend in Louisville. I'm certain we'll be back in the future (especially since I've already mapped out at Kentucky with kids itinerary for next summer!) and there are a few more places we'll be excited to visit when we do:
Where to go next
Are you excited to explore more of the Ohio River Valley region? Check out these nearby options to extend your trip: