We've taken our American kids all over the world – they've been to six continents and dozens of countries. Yet ever since they learned the term "bucket list", the only thing on it was a visit to New York City. Just about every kid has heard of NYC or seen it in a movie and can tell you something about it – whether that it's full of tall buildings, home to the Statue of Liberty or the best place in the world to get a slice of pizza. There are so many amazing NYC attractions for kids that it'll rival any playground for wearing them out and keeping a smile plastered on their faces (and yours).
So what should you put on your family's NYC bucket list? We've rounded up our favorite things to do with kids in New York City – including a few you probably haven't heard of! Take a read through and let us know in the comments what your top pick is.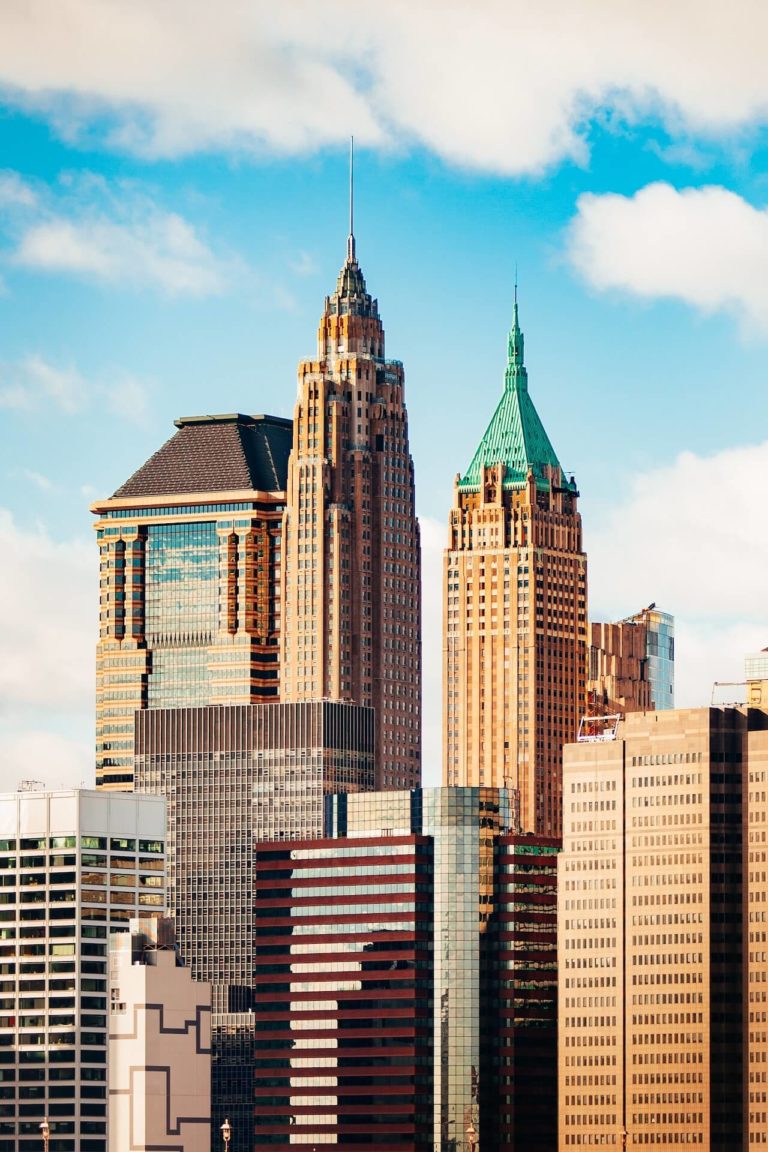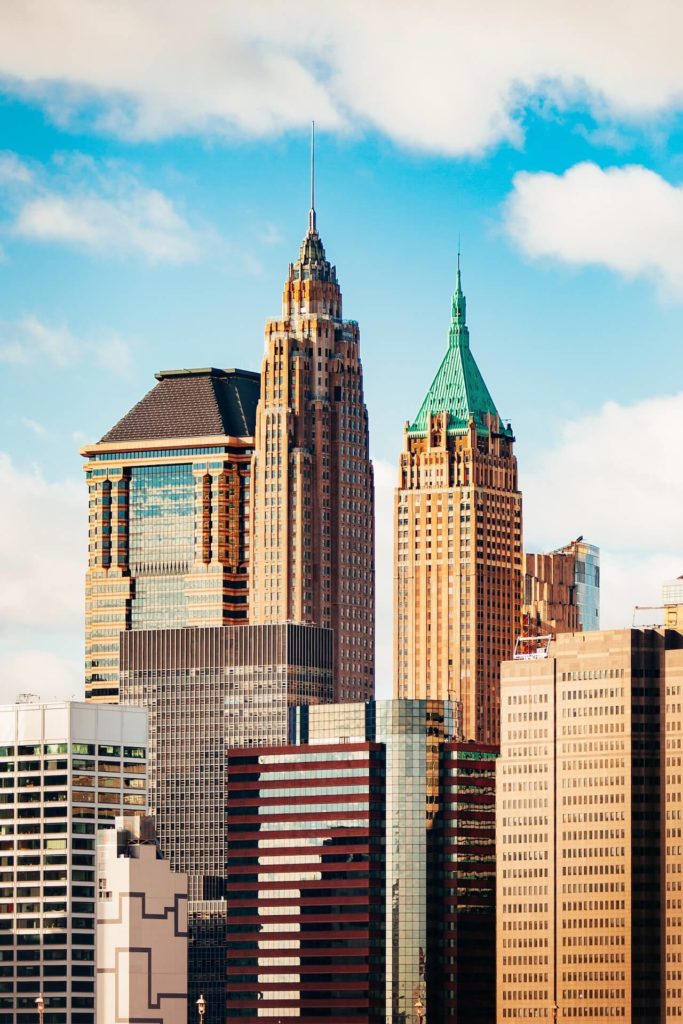 Best Museums for Kids in NYC
Whether it is too cold or hot outside, a great escape in New York are its fabulous kid-friendly museums. These aren't your generic, stuffy museums that'll have kids begging to leave after a few minutes… these are places you'll be dragging them from after a few hours!
Consider purchasing a New York Explorer Pass to get into most of the top museums for a fraction of the cost. Just pick which attractions you want to add to your pass and watch the savings add up (more details on how it works down below).
Pro Tip: Make sure to plan your day geographically around the museums you visit, as suggested in this excellent New York itinerary. Chances are there are other great attractions and restaurants nearby. By planning your day in this fashion you will limit the amount of time spent on transportation and getting around.
American Museum of Natural History
If your kids love science then the American Museum of Natural History is the place to visit. The museum has gone through many recent renovations and now offers a variety of interactive exhibits about planets and the galaxies, geology, dinosaurs and biodiversity. Perhaps the most impressive is the famous marine life hall, where a giant whale hangs from the two-story ceiling!
There are different tiers of tickets and entrance fees will vary depending on what you select. Basic admission will cost you $23 per adult, $12 per child (3-12) and $18 per senior/student. However, if you pay in person (which requires waiting in line when you arrive) you can pay what you want.
The best way to get to the American Museum of Natural History from other parts of the city is by subway. Some brilliant city planner even made a direct entrance from the subway stop! Whether you're visiting in the dead of winter or the heat of summer, you don't even need to go outside to access the museum.
The Metropolitan Museum of Art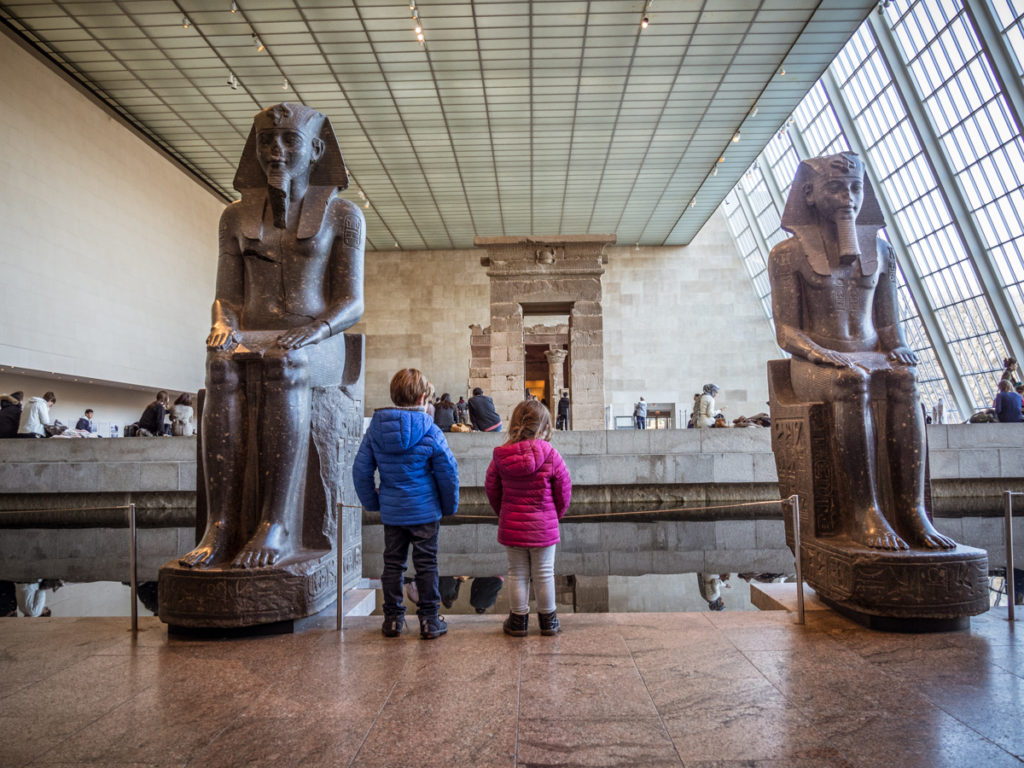 Families that enjoy experiencing art should plan a visit to The Metropolitan Museum of Art. The Met is vast, expansive and intimidating. To be honest, you are not going to be able to conquer the whole museum in one day. Our advice is to pick two or three sections of the museum and immerse yourself in those spaces. Our kids really enjoyed exploring the Egyptian section and learning about the mummies. Here's a great list of "must sees" at The Met.
Admission will cost $25 per adult, children 12 and under are free, senior adults will cost $17 and students will cost $12.
Side note: we do our very best to avoid museum gift shops and their inevitable "gimme's", but the gift shop at The Met is a must. It's cavernous and has a great selection of unique items for everyone in the family, including plenty of thematically-appropriate options for kids. There are New York puzzles, art kits, books and projects related to specific artists, castle-themed toys that reference the world-famous Arms and Armor exhibit and more William the Hippo Statue swag than you ever thought possible.
Read before you go:
The Tenement Museum
There are very few museums that bring history to life better than The Tenement Museum. Part of what makes New York well…. New York is that it was the first stop for many immigrants that came to America for a new start. Penniless new citizens settled on the Lower East Side in cramped apartments called tenements, often with seven people in just 325 square feet! It was not an easy existence but The Tenement Museum does a phenomenal job bringing it to life today.
The Victoria Confino tour is the only one open to young children, with a minimum age of 4. The tour is certainly eye-opening. You get to sit in an actual tenement apartment room and interact with a historical re-enactor playing 14 year old Victoria Confino from Greece. The tour is best suited to kids who are calm and can engage well with storytelling.
Children 6 and up are permitted on most of the other tours. Prices vary depending on the tour and the experience. Check the website out for the most up to date schedule and availability.
Read before you go:
SPYSCAPE (A Great Museum Option in New York with Tweens)
If you are looking for something to do in New York with tweens then SPYSCAPE is a wonderful option. There is no other museum that can transform your whole family into a well trained crew of 007s. A highly interactive museum that allows you to learn some classic spy techniques, learn about the history of spying and receive a complete assessment of your spy type. It is not cheap at $39 per adult and $32 per child but definitely a lot of fun. Snag a discount on your admission using the New York Explorer Pass.
We tried to do everything during our week in NYC with kids, but there's always more to see (and more reasons to return). Check out these other top museums in NYC for kids.
Intrepid, Sea, Air and Space Museum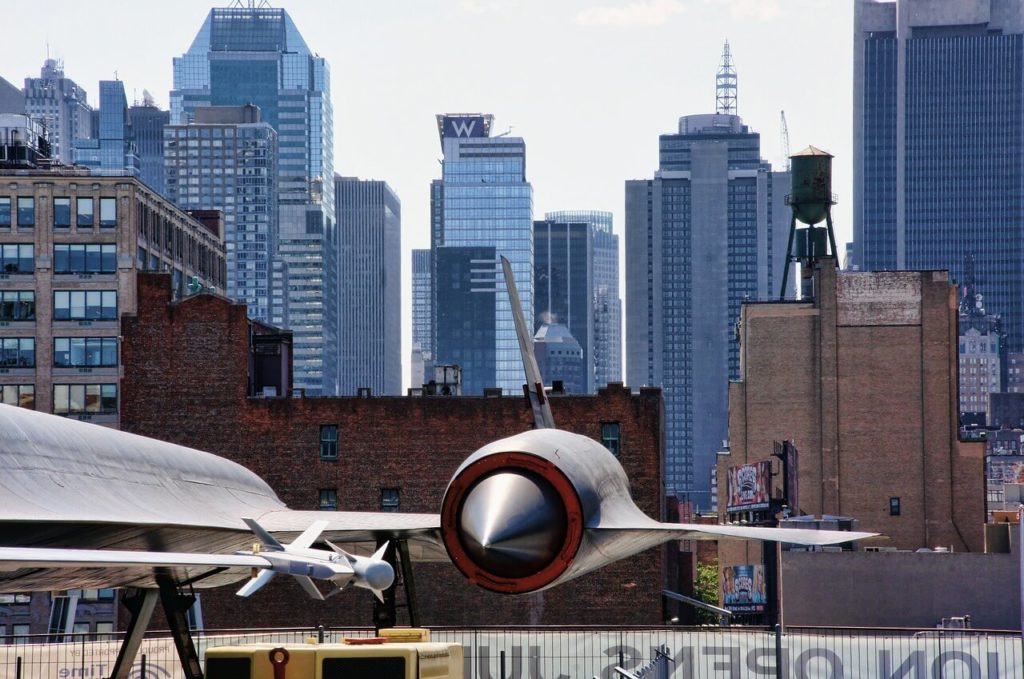 What kid doesn't like spaceships, planes and all things that fly? Head to the Intrepid, Sea, Air and Space Museum where you can spend hours checking out their extensive collection of planes and space artifacts. This is high on our list for our next stop in the Big Apple. Note that several of the key exhibits are outside, so choose a day with good weather (those were in short supply during our trip to NYC in winter, which is why we missed this gem). It is also expensive at $33 per adult, $24 per child (5 -12) and children under 4 are free.
National Museum of Mathematics
I know, what kid will want to visit a math museum on vacation? We've heard amazing things about the National Museum of Mathematics (MoMath, for the in-crowd). This place is for all ages and offers wonder-filled, interactive activities that make a *cough* stale *cough* subject come to life. Want to know how to ride a square-wheeled tricycle? You'll have to check it out, along with all of the other cool exhibits at MoMath.
Even better, MoMath is a relative bargain compared with other museums in NYC. Adult tickets are just $17, while kids 2-14 are $14.
New York Transit Museum
Are your kids as jazzed about riding the subway as ours? Seriously, they're cheap dates.
But you can take their interest a step further at the New York Transit Museum in Brooklyn. Things that are cool about the Transit Museum:
1) It's in an old subway station
2) You can wander around subway cars from before the World War… the first one, that is
3) Admission is free for ASTC members!
Even without an ASTC membership (which you should have!) admission is just $10 per adult and $5 per child.
Other Unique Things to Do In New York
Marvel at Times Square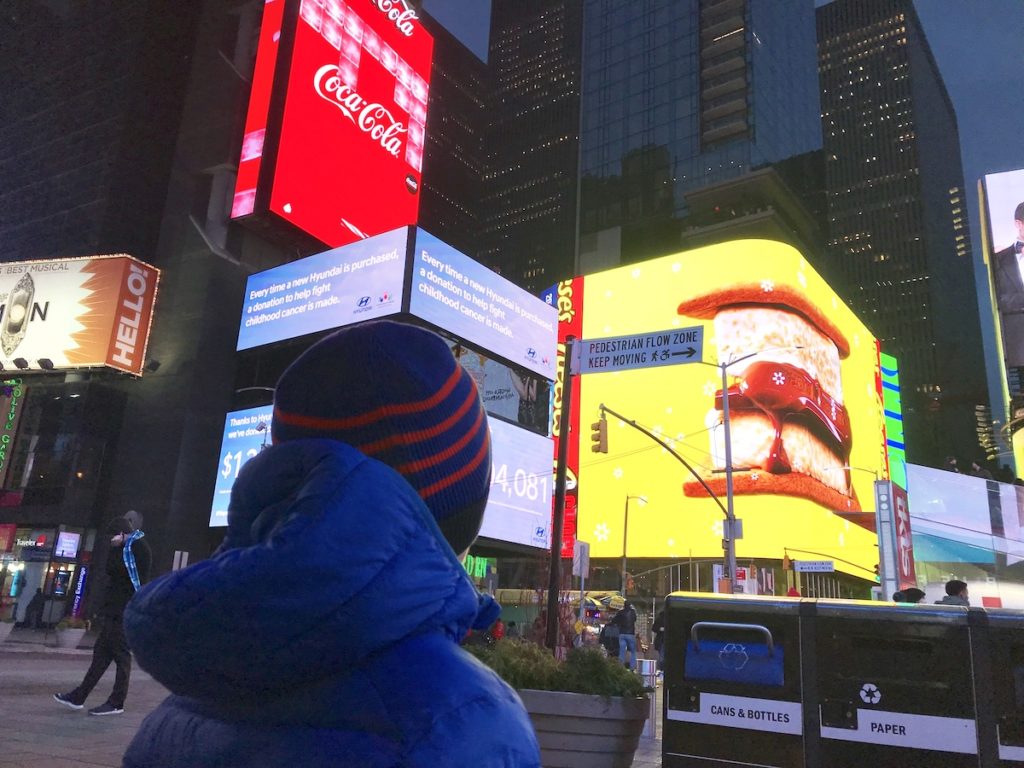 Times Square might be one big tourist attraction, but it's also one big tourist attraction. If it's your family's first trip to New York, let everyone have a few minutes to soak in the atmosphere and enjoy the hustle and bustle. The best part? It's totally free and easy to find!
Catch the view from the Empire State Building or Top of the Rock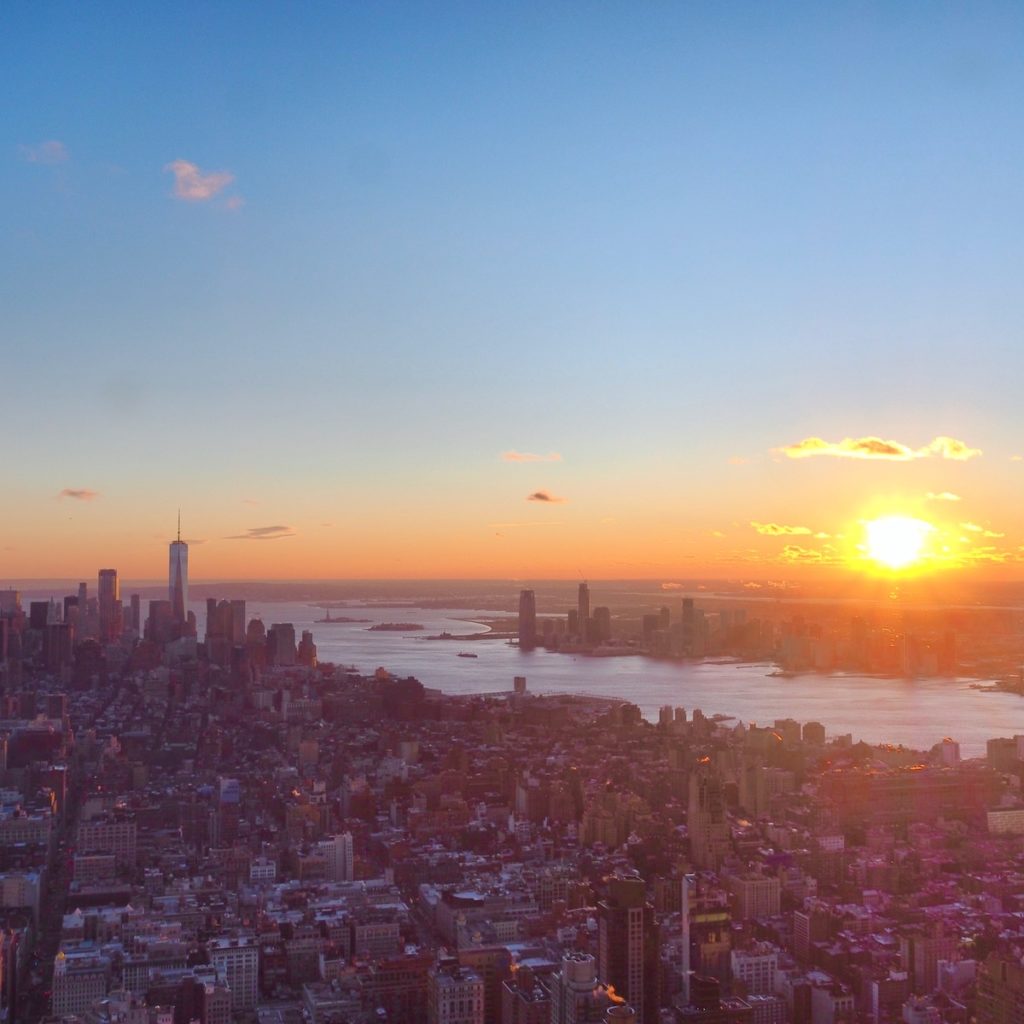 The great debate… Empire State Building or The Top of the Rock (aka The Rockefeller Center), which provides the best view of the city? On our last visit we opted to visit the Empire State Building. The view from the observation deck is fantastic. It is a 360 degree view of New York that is incredibly breathtaking. Be careful as the wind can roar very might up on certain sides of the observation deck. Keep you little ones close by.
Our kids loved taking the multiple elevators to the top. On the way up we had the opportunity talk about the history of the building with our kids and discuss the difficult work it took to build this iconic New York building. To visit the Empire State Building it will cost $40 per adult, $32 per child (6 -12) and children under 6 are free.
One way to avoid the loooong lines is to go very early in the morning – a perfect activity to start the day if you're coming to New York from Europe and the kids are up early! Check out more great ideas for things to do in NYC when you have jet lag.
Read before you go:
We did not have a chance to visit The Top of the Rock during our last visit. We have heard that the advantage to going to the Top of the Rock is that you can include The Empire State Building, Central Park and World Trade Center in your must have picture of the city. To visit the Top of the Rock you should know that prices will vary depending on what time of day you are going. Sunset is priced at a premium. It will cost you in the range of $40 – $50 per adult, $32 – 38 per child (6 -12) and children under 6 are free.

Having trouble deciding which one to visit? Check out this great comparison!
Stroll through Central Park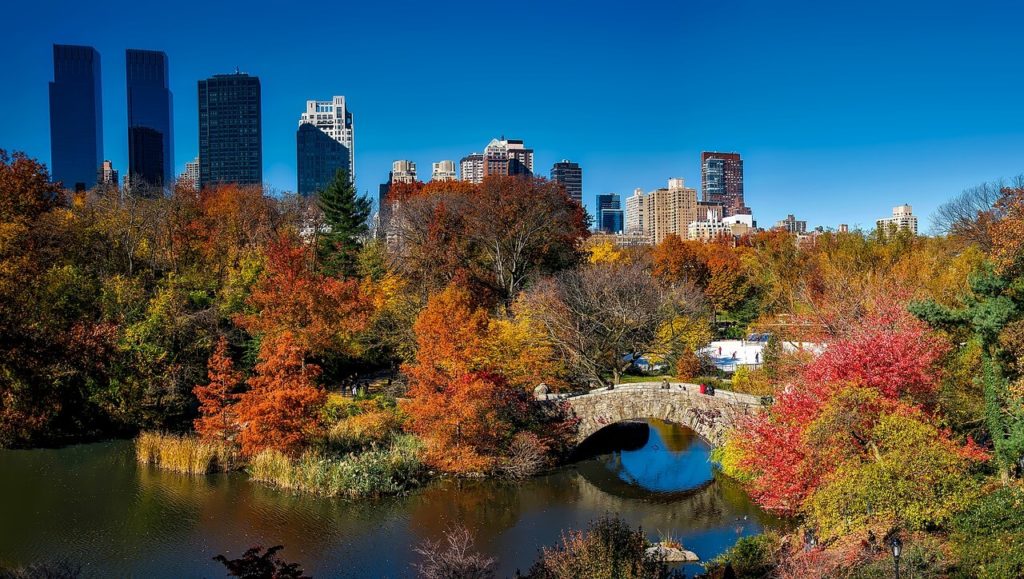 Central Park is the one area of zen amidst the loud and in your face vibe that is New York City. Take an afternoon stroll down Poets Walk and enjoy the serenity of trees and people strolling by walking their dogs.
Time travel with your kids and take a ride on the Central Park Carousel from the late 19th century. If you want to chill with some penguins and other cool animals then The Central Park Zoo is just for your family. Tickets will cost you $20 (per adult), $15 per child (2 -12) and children under 2 are free. Before visiting the zoo, be sure to read And Tango Makes Three, the heart-warming true story about two male penguins from The Central Park Zoo who end up being dads together.
If the weather is really nice out then head over to The Loeb Boathouse and rent a four person boat at $15 per hour. You can also walk around the boathouse area, or take in the view of people rowing while chilling out on one of the bridges overlooking the water. When the weather gets warm enough, consider getting some provisions from a local grocery store or eatery and picnic in the park.
Check out all the great things to do in Central Park with kids!
Take a Brooklyn Pizza Tour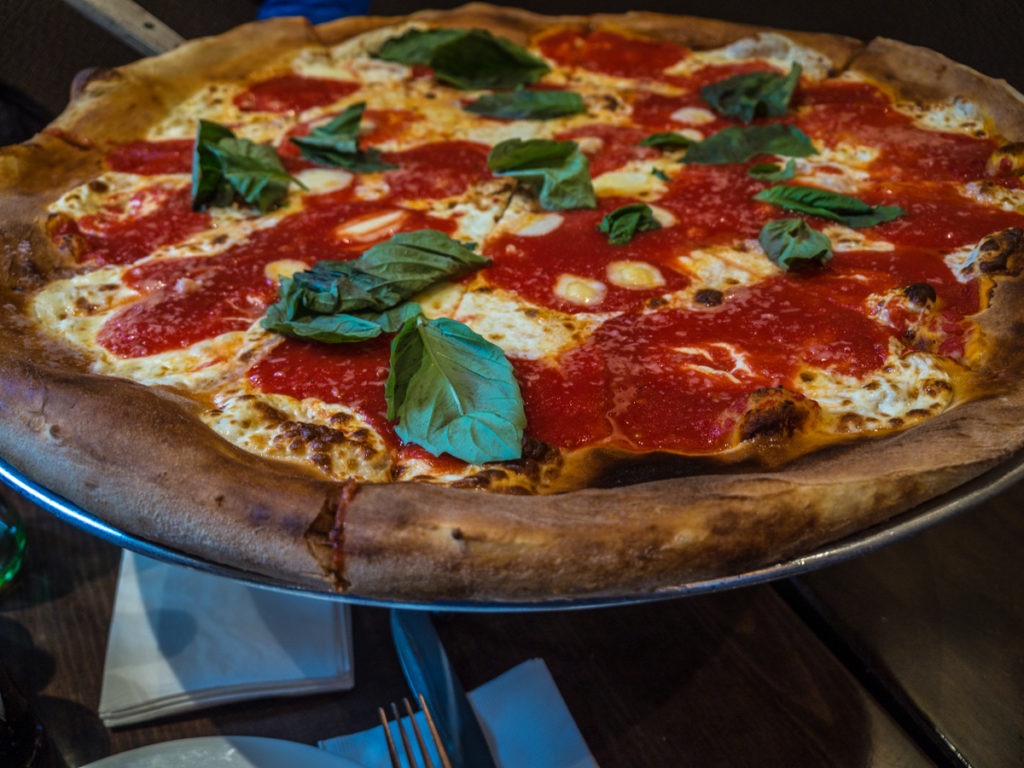 Want to get a true taste of New York while you (and your kids) enjoy a dose of humor and some seriously full bellies? A Slice of Brooklyn will take you on a tour through Brooklyn's most iconic areas, but it's so much more than you might expect on the surface.
Our tour guide, Marc ("with a 'c'"), is a Brooklynite-turned-standup-comedian. You'll feel like you're spending the day in an episode of The Marvelous Mrs. Maisel as he hilariously tells you about the enormous borough's history, from Dutch settlers to mafia bosses to Saturday Night Fever. Our kids were engaged the whole time and even converted to being fans of pizza margherita (with the fresh basil).
Though most visitors to New York City never leave Manhattan, there's a whole city out there to explore away from the skyscrapers, and a Brooklyn pizza tour is a truly unique way to see another part! One thing's for sure: it'll make you curious to plan more time for the other boroughs on your next trip!
Read before you go:
Visit The Statue of Liberty
Inscribed on the base of The Statue of Liberty are the powerful words of Emma Lazarus, "Give me your tired, your poor, Your huddled masses yearning to be free…" from her famous poem The New Colossus. The Statue of Liberty is one of those sites that is a must see when visiting New York. For an entire generation of immigrants it was that beacon of hope and that first image that came into site when they arrived on the shores of America. It was the only thing that our kids demanded to see when we last visited New York.
If you simply want a view of The Statue of Liberty then head down to Battery Park and walk along the waterfront (which is what we did). If you have a high powered lens you can capture Lady Liberty from afar. Given the freezing temperatures and biting winds we experienced on Manhattan for most of our visit, the kids were content with the view from a distance and didn't want to take the ferry out to the islands. Next time!
To get an up-close view you will want to purchase your boat and admission tickets in advance. Statue Cruises is the official operator of all boats heading to The Statue of Liberty. Make sure you DO NOT purchase tickets from any of the many aggressive vendors in the area. They will try to rip you off and may even sell you false tickets.
To visit The Statue of Liberty it will cost you $18.50 per adult, $9 per child (4-12) and children under 4 are free. Note that there are several ticket options: Reserve, Reserve with Pedestal Access and Reserve with Crown Access. Reserve and Pedestal Access tickets are both $18.50, so there's no reason you shouldn't spring to go inside. Crown Access tickets are a little more expensive at $21.50 each but children must be 4′ tall and able to walk the 162 interior steps on their own.
Your ticket will also include a ferry ride and access to The Ellis Island Immigration Museum. You could easily spend hours exploring Ellis Island, looking at the archives and the numerous fascinating exhibits that tell the story about the challenging reality faced by so many immigrants to America at the turn of the 20th Century.
Make sure to allow yourself sufficient amount of time to enjoy both The Statue of Liberty and Ellis Island. You'll want to check in at Castle-Clinton in Battery Park with plenty of time to go through the airport-grade security lines.
Read before you go:
Seaglass Carousel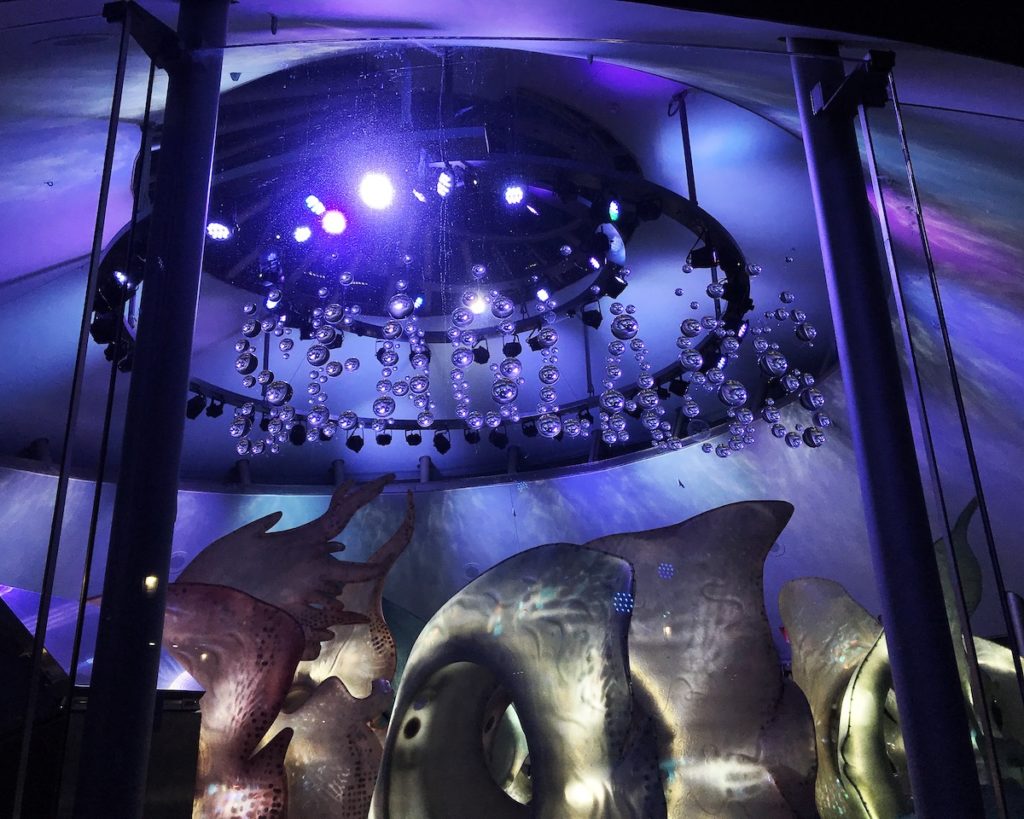 If you are already heading down to lower Manhattan to visit the Statue of Liberty then you must visit the Seaglass Carousel. Our kids thought this was the most incredible carousel they had ever visited (and they have visited too many to count). You are basically riding on what amounts to a magical seahorse as you listen to some awesome psychedelic music from the 1960s. At $5 per person you won't get a better entertainment bargain in New York city.
Walk the High Line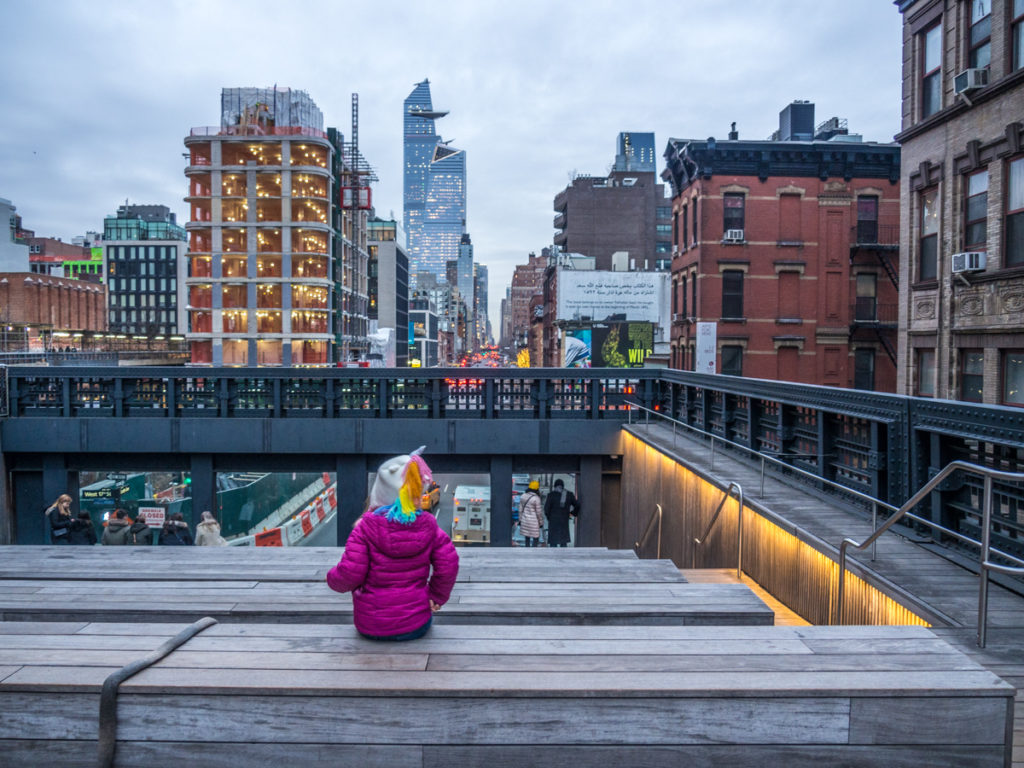 New York has a surprising number of parks and public green spaces, but the lower easy side was lacking something. The answer was to build an elevated, 1.5mi landscaped trail through Chelsea and the meatpacking district. It's a great place to take the kids to let loose after a day of sightseeing inside!
When you're done, take the stairs down at the south end to hit Chelsea market's food hall-concept eateries. There are great options ranging from Mexican to Japanese to Israeli.
Food and Entertainment in NYC
Ellen's Stardust Diner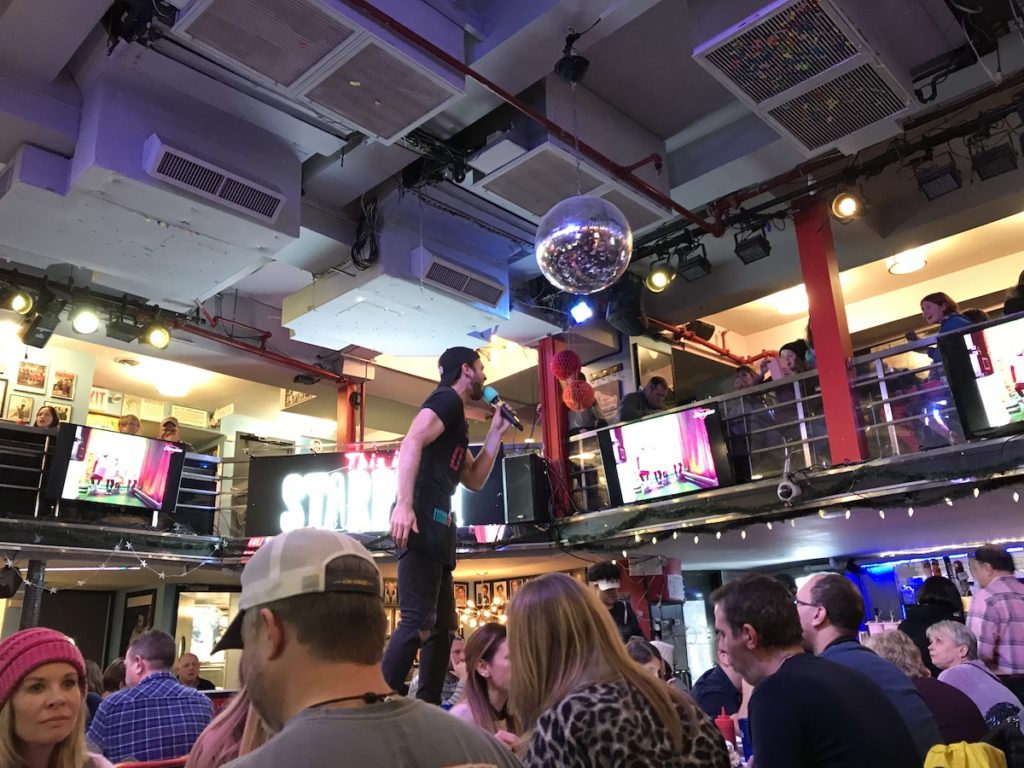 Food and entertainment are a fantastic combination in New York. If you are hungry and are looking things to do in Times Square with kids then make sure to stop at Ellen's Stardust Diner. It's the only place in New York where aspiring Broadway actors/actresses perform and serve you food at the same time. Our kids got a kick out of watching the waiter/waitresses perform and putting small tips (frequently) in the bucket that was passed around – bring lots of singles!
For young kids who may not have the attention span for a full Broadway show (or parents who may not have the budget), Ellen's is a fantastic alternative. However, note that the kids menu is… not the most economical option. You'll find some of the same items on the adult menu at a better value if you can work out sharing within your party. Portion sizes are more than any reasonable person can finish in a single sitting.
If you're there during peak tourism times, there can be a wait. Our best advice if you're there during a busy season is to try to go at an off-peak time. We visited in winter and walked right in at noon, but we've heard stories of hour-long waits for lunch in summer. Once you're in, you can stay as long as you like. We enjoyed plenty of stellar performances while Melissa sipped her way through several cups of coffee (free refills!).
Jazz Standard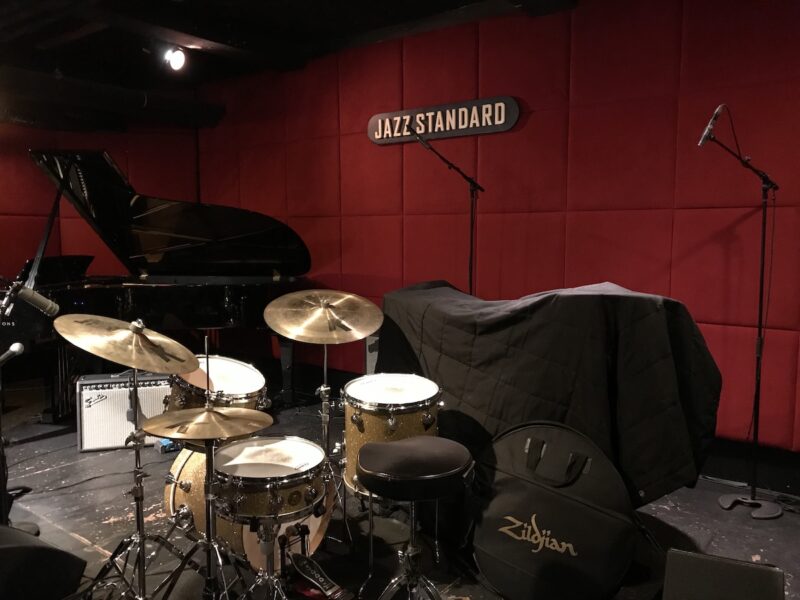 If you enjoy Jazz and want to expose your kids to the original American music form then venture over to Jazz Standard for one of their FREE Jazz for Kids shows. Every Sunday during the school year you can watch The Jazz Standard Youth Orchestra perform.
While you take in the show, you can order some delicious BBQ from its sister restaurant Blue Smoke upstairs. The food was excellent and they offer a nice selection on the kids menu – even the kids' portion was generous enough that ours shared the dry rubbed smoked chicken and fries.
The performers did a great job and the audience was a mix of all ages, from toddlers to teens. Doors open at 1pm and the show starts at 2pm and lasts for one hour.
Family Friendly Broadway Shows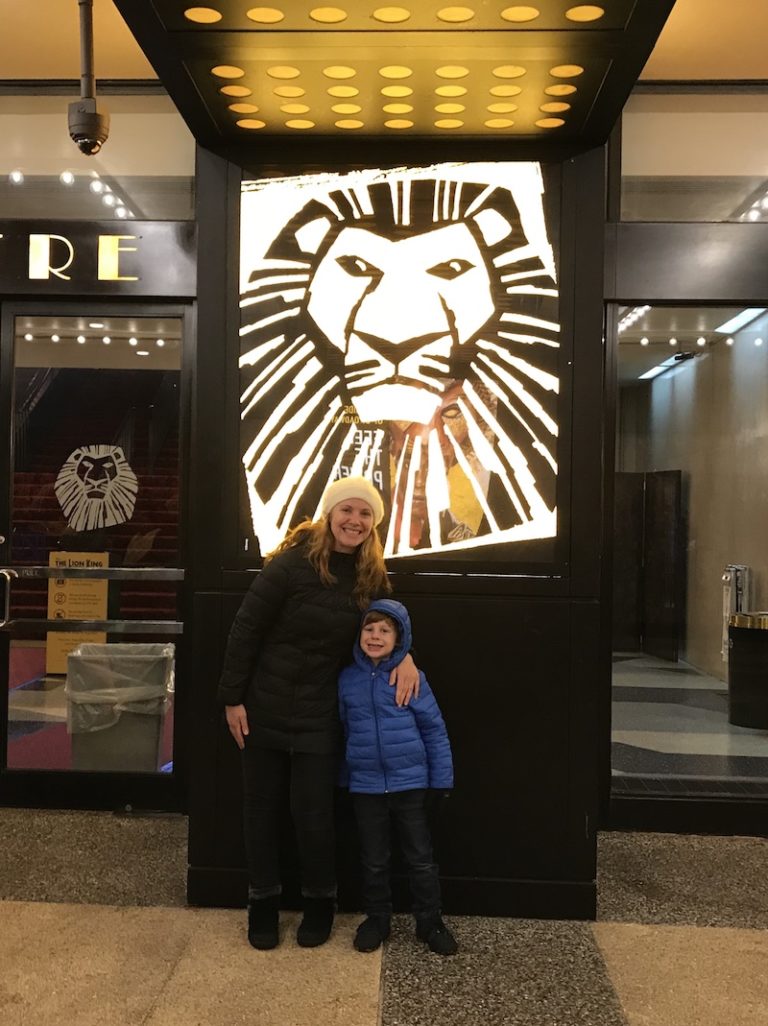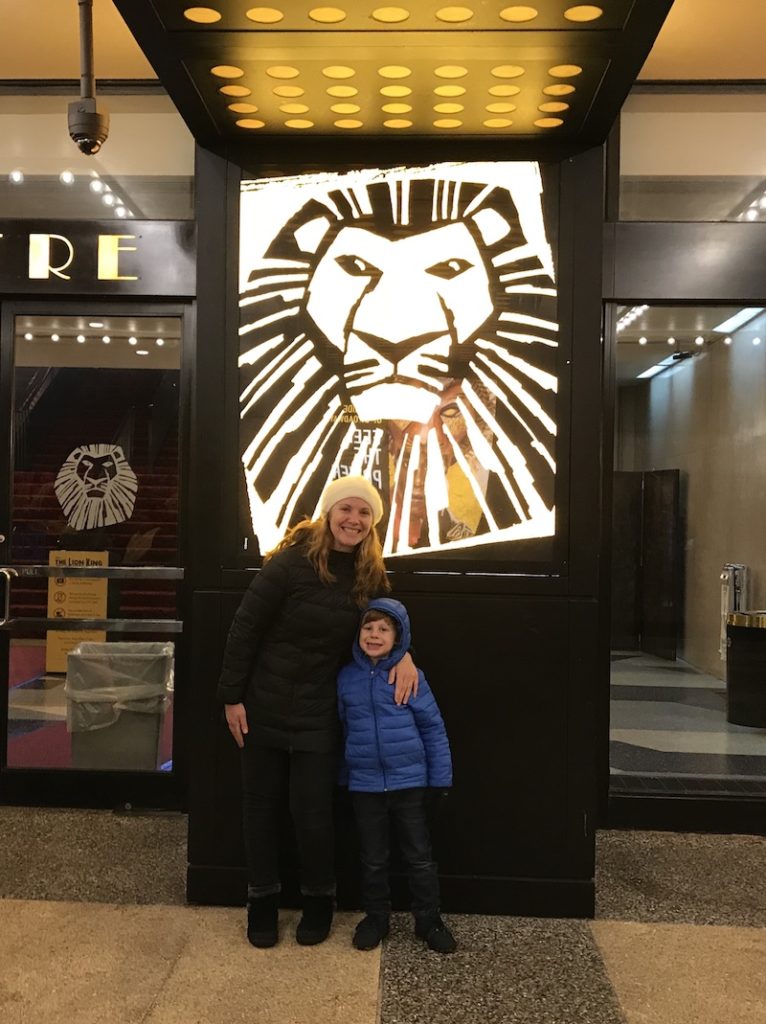 Broadway musicals are a must if you are visiting New York with your kids. There are always a couple of kid friendly Broadway shows running year round. The challenge with Broadway is that tickets are extremely expensive. With some planning and a little bit of luck, going to a Broadway show doesn't have to break the bank. Consider entering a lottery to win excellent cheap tickets.
You can enter either Broadway Direct Lottery for Aladdin or Lion King, or enter Lucky Seat Lottery for Frozen and have the opportunity attend either show for the low low price of $30 per person. For Broadway Direct you can enter the lottery for the following days show starting at 7:00 pm the night before all the way to 8:30 am the day of the show. For Lucky Seat Lottery you can enter the lottery for multiple dates at once. If you win the lottery you are awarded two tickets. We were lucky enough to win the Lion King lottery.
Read before you go:
Looking for more ideas? Check out this great 7 day itinerary for NYC with kids.
Eating in New York with kids
Food, glorious food, New York is one place where you do not need to worry about satisfying your little picky eaters. Around every corner you will find incredible cheap eats that your kids will actually enjoy. The cool thing about New York and food is that it is delicious and tells the history of the city.
NYC pizza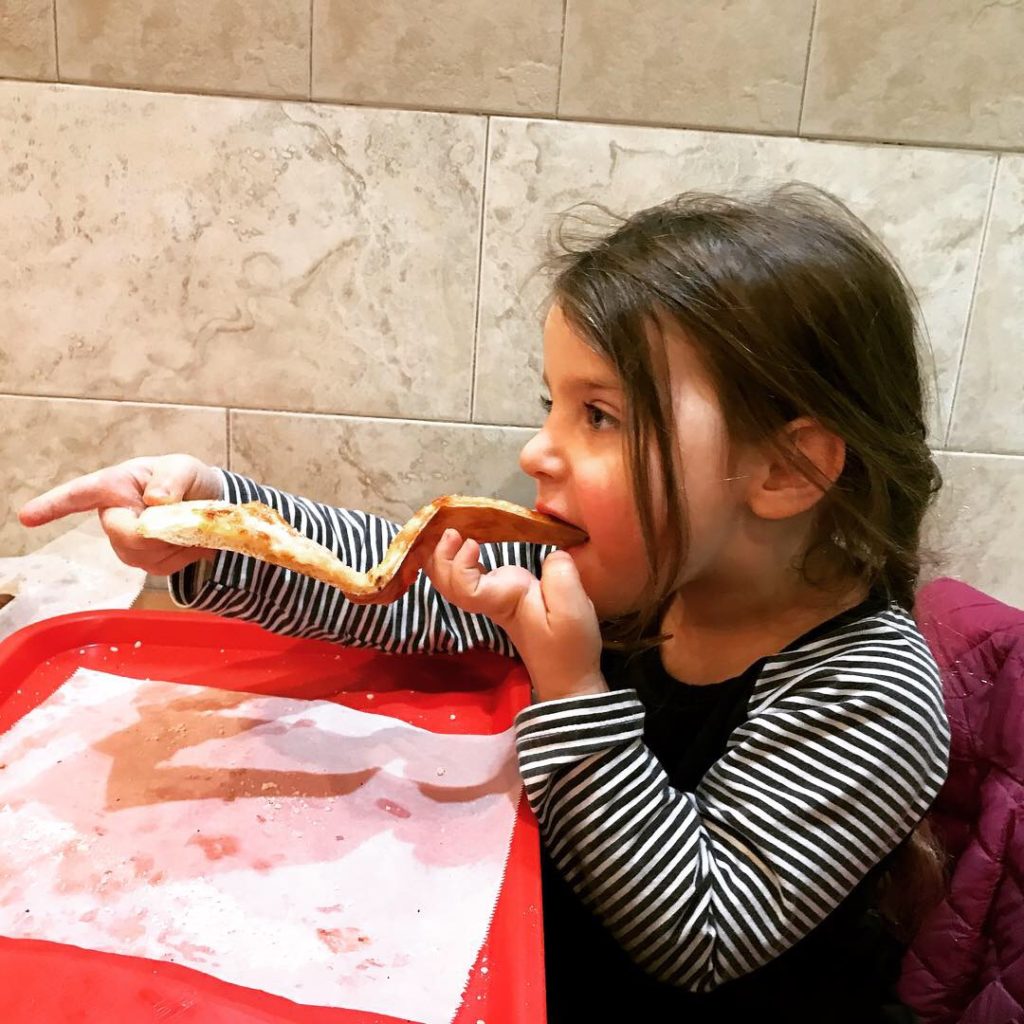 Pizza is the first thing people think of when they think of the New York food scene. For $2 you can walk into any hole-in-the-wall pizza joint and get a cheese slice the size of your head. For the real deal pizza, you have to venture off the typical tourist path and head to Brooklyn.
The greater Manhattan area is filled with hole-in-the-wall pizza by the slice joints and fine dining pizza establishments. It is really really hard to find a bad slice in New York. Don't be afraid to ask a New Yorker if they have a spot they recommend. Chances are they do.
The Lower East Side food scene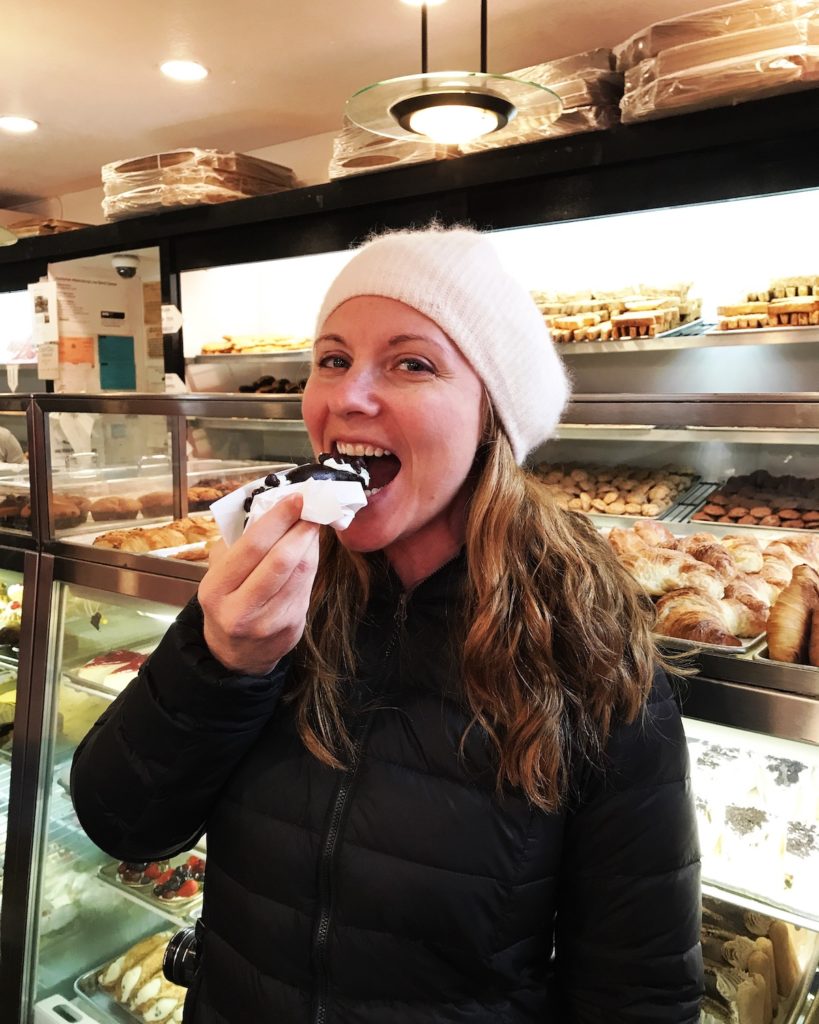 Venture to the Lower East Side and get a taste of the immigrant experience. Immigrants from Central and Eastern Europe, Italy, China and Ireland arrived on the shores of New York at the turn of the 20th Century hoping for a brighter future and they settled on the Lower East Side of Manhattan. Our favorite first stop is LIttle Italy for some tasty Cannolis at La Bella Ferrara where you can get either half or full size ones in different flavors.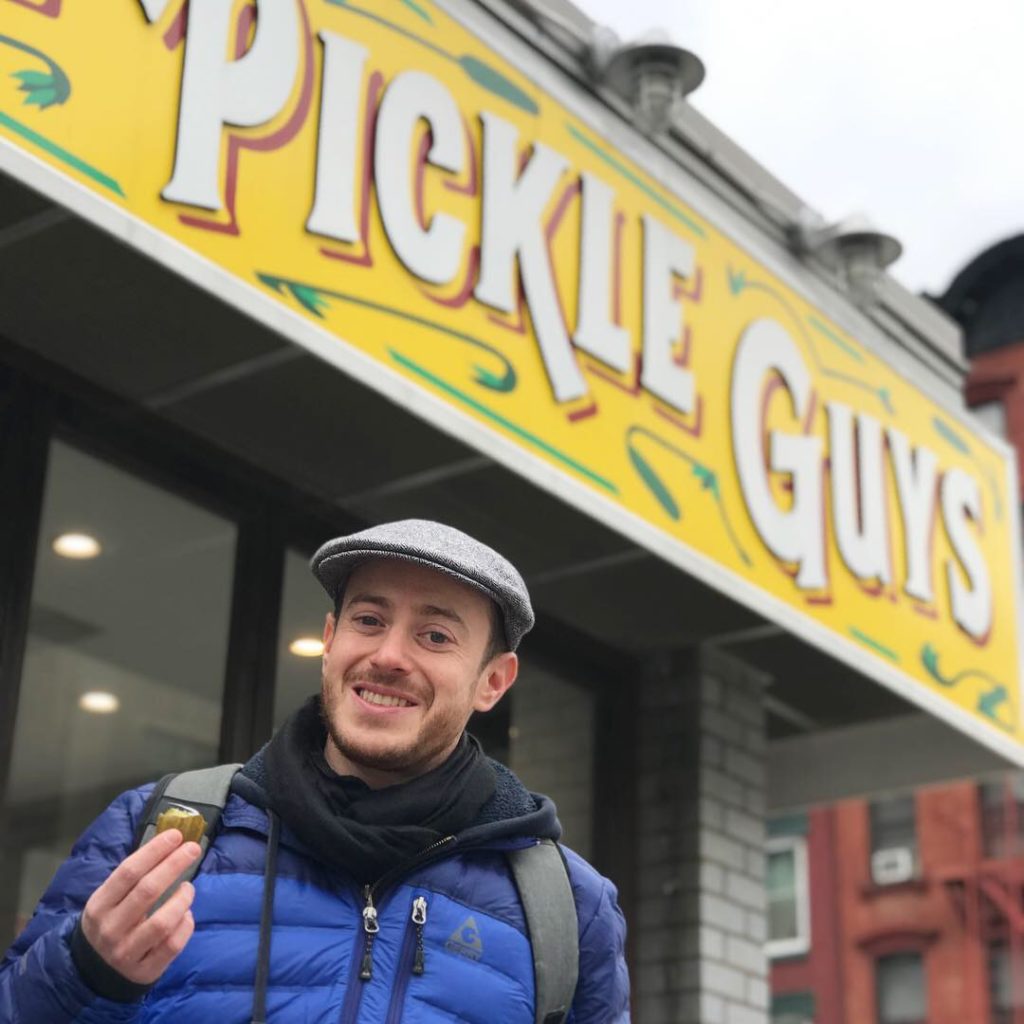 Skip over to The Pickle Guys for a blast from the past. Eastern European Jewish immigrants introduced these salty crunchy treats to New York. It's fun picking out a couple of ½ Sours and their inventive Hot Sours (adults only) out of huge barrels.
If you are looking for something a bit more substantive to eat then find your way to one of the many delicious Chinese restaurants in Chinatown. We loved the vegetarian-friendly The Original Budda Bodai which offers Dim Sum and standard Chinese options. If you want some Peking duck that will change your life, go to Peking Duck House but be fair warned that it can be a rather expensive outing.
Don't miss these awesome NYC dining recs from New Yorker and food blogger extraordinaire Deb @ Smitten Kitchen!
Chelsea Market
A great choice if you have a family that can't agree on one option is Chelsea Market. This fancy food hall has plenty of options to satisfy everyone, including some extremely budget-friendly options like Los Tacos No. 1 (under $30 for our family of four). You can either pick up food from different kiosks and eat together in a common area or pick one of the delicious-looking sit-down options if you can all agree.
Don't miss the lower level, which has a lovely produce market, an Italian market, a butcher and more. It might be worth booking a hotel near Chelsea Market just to give your family easy access to so many reasonably priced restaurant options!
Best cookies in NYC – we promise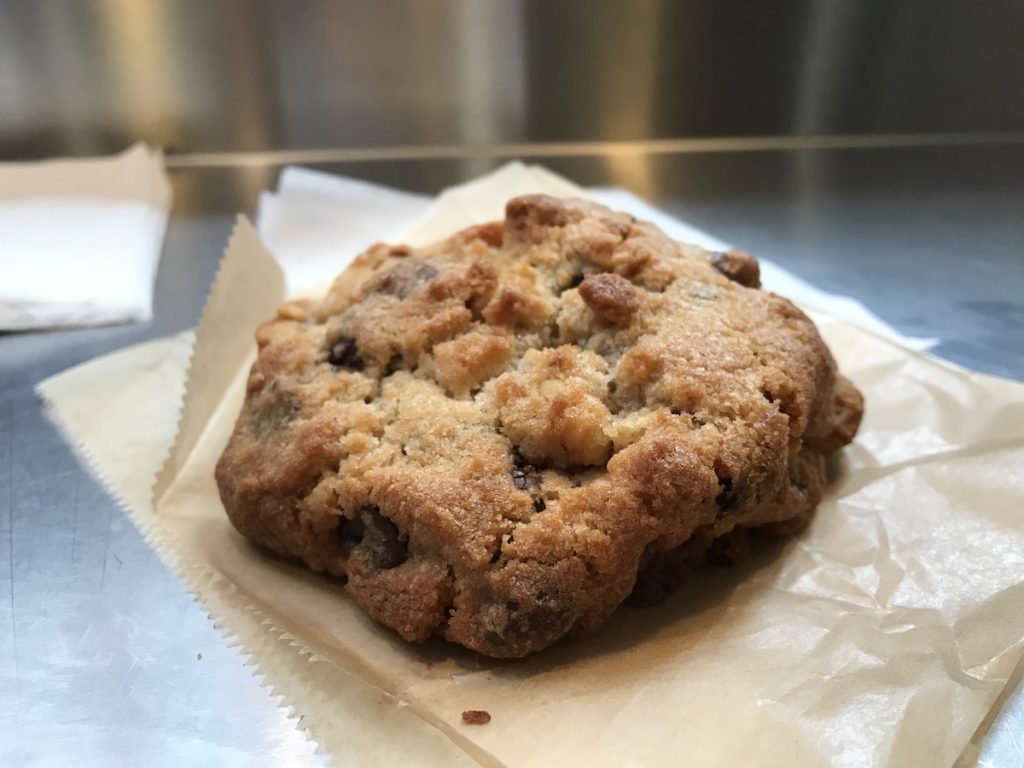 Our family has a sweet tooth that is as vast and expansive as the Empire State Building. The absolute best and favorite desserts comes in the form of a heavenly enormous cookie from Levain Bakery. We are huge fans of the double chocolate chip and the chocolate peanut butter (writing about these makes me want one right now). It is worth the adventure up to the Upper West Side to have one, two or maybe even three.
Looking for more kid-friendly restaurants in NYC? Check out this great list!
Where to stay when visiting New York with kids
There are an overwhelming number of places to stay when visiting New York. For our family of four we prefer to have the space and comfort of staying at an apartment. It provides us with the space to spread out, for us adults to hang out after the kids go to sleep, and to save money on dining by preparing meals in your kitchen.
Home Exchange in NYC
When we stayed in New York last time we enjoyed staying at our Home Exchange apartment on the Upper West Side. HomeExchange is the world's largest home exchange networks. You can either have a traditional reciprocal exchange where you swap houses. Alternatively, you can use their points system to find a house (find out more about how the program works here). We love the personal aspect of getting to connect with a local host who's also an avid traveler!
Best family-friendly hotels in NYC
You can find a vast range of hotels from luxury spots to more modest accommodations. We prefer to use booking.com since it provides an easy-to-use platform, generous cancellation policies and often you can find some last minute deals on hotels during shoulder seasons. Check out these simple hacks to save money on every hotel booking.
We polled our Tiny Globetrotters group members for their favorite places to stay when visiting NYC with kids. They came up with some amazing suggestions suitable for every budget and area!
Family-friendly hotels in Manhattan
NobleDEN
TRYP Times Square South – can sleep up to 8 per room!
Gardens Suites Hotel
Fifty Hotel & Suites
Shelburne
The Marmara Manhattan
Family-friendly hotels in Brooklyn
Family-friendly hotels in Queens
Hyatt Place in Long Island City, Queens
The Local Hostel NYC
Use the interactive map to find vacation rentals and hotels in New York
---
Traveling to New York
Flying to New York
With three major airports (JFK, Laguardia and Newark), there is no shortage of flights to New York. To help navigate the different deals and available flights, we like to use Skyscanner. You can find great deals throughout the year.
Your best option of getting from any of the airports depends on where you are staying in the city. The most expensive option will be a taxi and your most economical option will be a combination of commuter train connecting with local train or bus. It is as much of an economical choice as it is one of convenience due to the unpredictable traffic getting in and out of Manhattan.
If we are traveling light, then we prefer to take the commuter train or metro option. If you have lots of luggage or small kids with car seats, taking a taxi might just make you a little less crazy. Check out these sanity-saving tips for traveling with your car seat.

Taking the Bus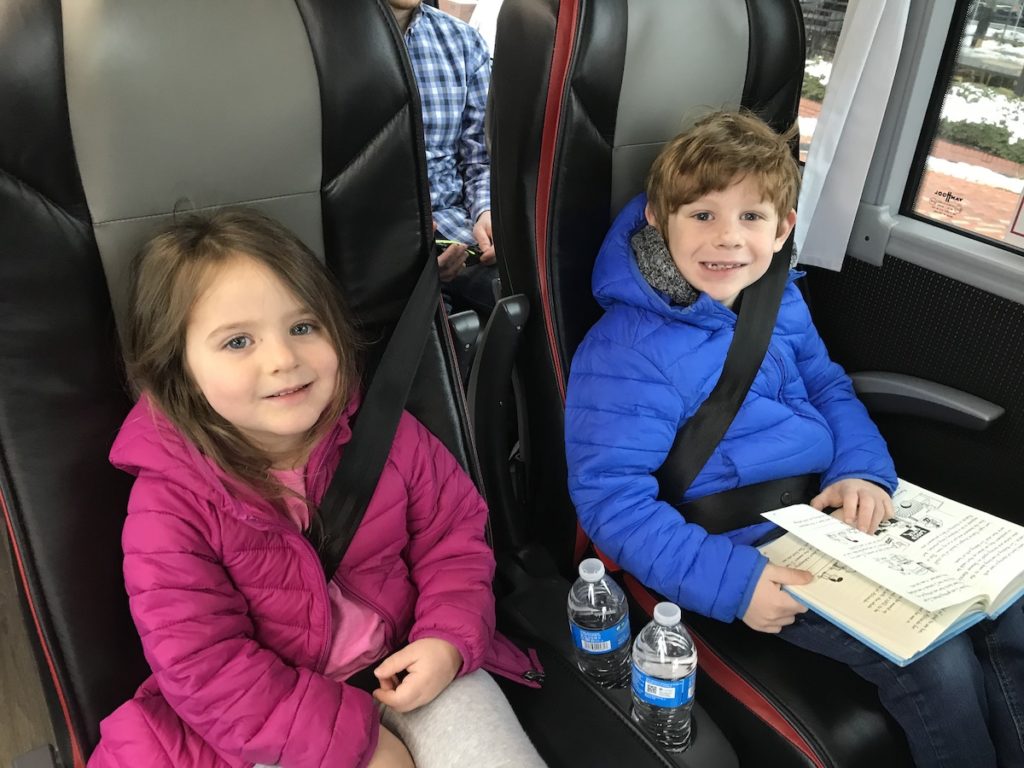 We happened to be staying with family in the Washington DC area when we last visited New York and opted to take a bus instead of flying. TripperBus service generously hosted our family for a roundtrip. Can you say WiFi, movies, comfy seats, stellar service, and convenient drop-off in the heart of Manhattan?
Cheapest way to get around NYC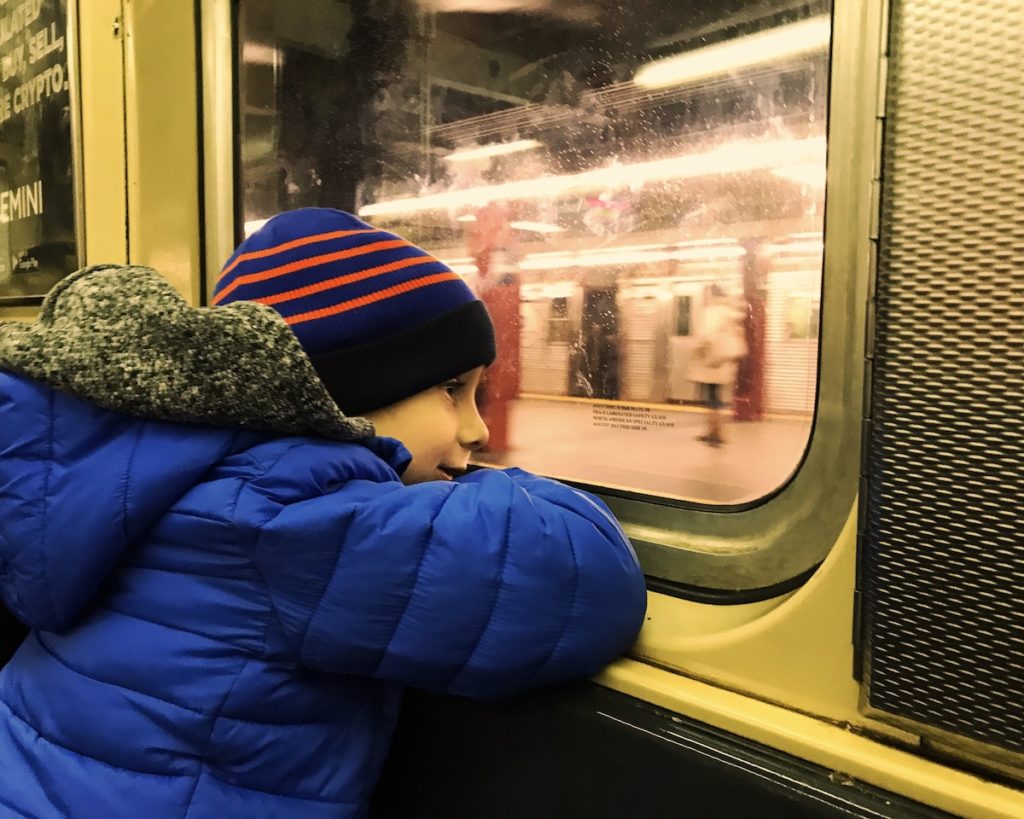 New York subway with kids
Traveling on the bus and subway system in New York is by far the least expensive and most accessible way to get around the city. The subway and bus systems in New York are comprehensive and easy to use.
But we have a confession to make: we made a rookie mistake when we got to NYC. We bought single-ride metro cards! At $2.75 each, they add up fast.
If you're planning on being in New York for 3 days or more then consider purchasing an unlimited 7 day pass for $32 and save on your transportation throughout New York. You can get it at the same kiosk that sells single-ride tickets.
Families with young kids, rejoice! If your child is 44″ or less, they can ride with you for free on subways and local buses. For express buses, kids 2 and under are free if they ride on your lap.
Pro Tip: If you are traveling with around New York with a little little one and plan on taking the subway, consider using a comfortable carrier like this one instead of a stroller. New York is in general a stroller friendly city except for some of the subway lines. You might find yourself having to use stairs because often elevators are under repair.
Taxis and Ridesharing in New York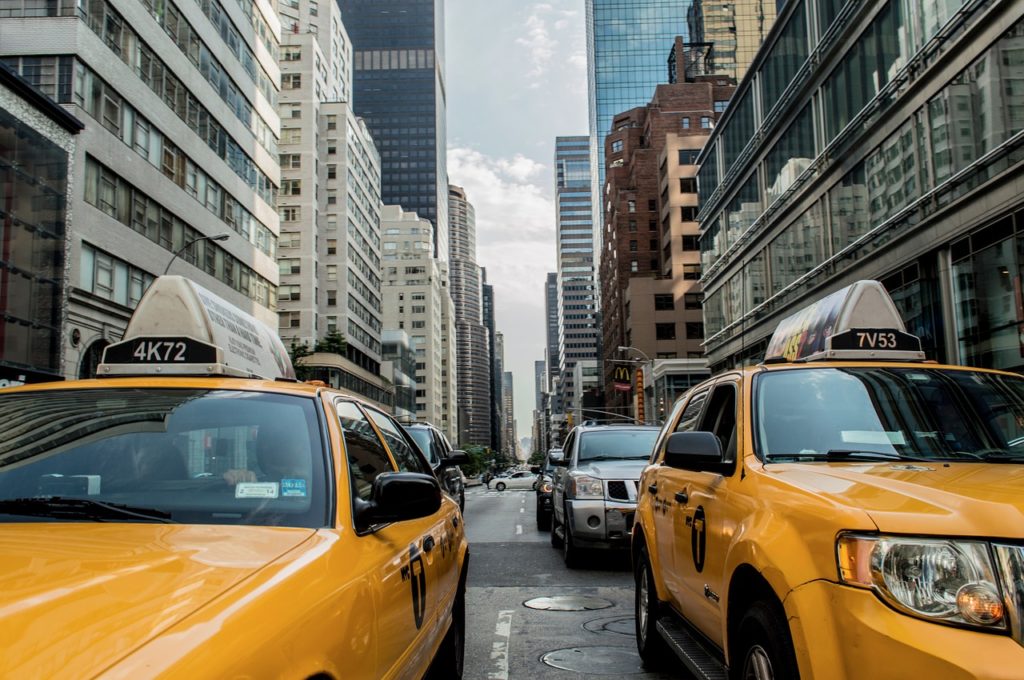 We did not use taxis, Uber or LYFT at all during our last visit to New York. These services are easy and convenient to use if you are in a pinch and need to get somewhere relatively fast (New York does get bad traffic during certain peek times of the day, morning and early evening). If you plan to only use car services during your stay in New York then the bill will definitely add up fast.
If you plan to take a taxi with a young child, make sure they're safe on the road! Remember, the laws of physics don't change in a taxi. Bring your regular car seat with you or consider our favorite on-the-go solutions:
-Ride Safer Delight travel vest (3yo/30lbs+) – buy here or read our full review
-Bubblebum (4yo/40lbs+) – buy here or read our full review

If neither of those will work for you, check out our comprehensive guide to traveling with car seats.
Walking in New York
Beyond taking the subway and bus system, the cheapest way to get around NYC is by walking. New York is a walking city. Assuming you are not facing torrential downpours or biting cold, plan a little extra time in your schedule and walk to attractions that are closer to where you are staying. The best part about walking is that you get to see the city come to life and maybe pop in for the occasional snack or coffee at some places you would never visit otherwise.
NYC money-saving tips
The biggest challenge when traveling to New York is figuring out how to make your dollar go further. There is no question that New York is an expensive destination and your credit card bill can add up in a hurry. We have a couple of tips that can help you make the most of your visit and save some money in the meantime.
Click here for more tips on saving money in NYC
Purchase New York Explorer Pass
Visiting all of New York's top attractions can be hard on the wallet. One way to save on your New York sightseeing is with the New York Explorer Pass, specifically "build your own" option. The concept is simple: the more tickets you buy through the pass, the more you save.
If you opt for two activities through the New York Explorer Pass, you'll save 10% on both; for three or more activities, you'll save 20% on everything! The website even applies kids pricing (or free admission) where applicable. One detail to note: if you include the Statue of Liberty, your discount caps out at 10%. Don't ask me why, but that's the rule.
As an example, if you purchased the Explorer Pass to visit the Empire State Building, the Met, The Intrepid and a Circle Line Cruise you'd save a total of $28 per adult and $17 per child (kids are free at the Met, so that's accounted for). Just remember not to include the American Museum of Natural History, since that's pay-what-you-want.
Check out all the New York Explorer options here!
Blue Star Museums in New York City
If you or an immediate family member is an active duty member of the military (including National Guard and Reserves), you can save tons of money on your summer trip to NYC! The Blue Star Museums program gets you and up to five family members free admission to some of the best museums in New York City. The program runs from Memorial Day to Labor Day, and you can find the latest list of participating museums here in early May. This list is from a few years ago but can give you a sense of which institutions you might be able to access for free.
Visit New York in the dead of winter
No, really.
It's cold, but you'll spend a good chunk of time inside anyway at museums, attractions and restaurants. The advantages of visiting New York in winter are two-fold: first, the crowds will be much thinner; second, there are some great deals available!
The city's mid-January Restaurant Week has grown into an all-things-discounted extravaganza that now includes Must-See Week and Broadway Week, giving you 2-for-1 tickets on nearly everything in the city! Dates vary by year, but should run late January into early February (the program lasted three weeks in 2019).
Yes, it'll be freezing cold. But so what? It's New York! Just come prepared using our packing list and you'll be all set.
Kids books about New York City
What better way to get your kids psyched about their upcoming visit to New York City than with some great books? There are more fantastic choices than we ever could have imagined! Hopefully they'll get your whole family in the mood to visit the Big Apple.
Roundup: best tips for your New York family vacation
-Start planning early!
-Check out these budget-friendly tips for NYC
-If you can stomach the cold weather, visit in January or February (check out NYC in winter packing list for your essentials)
-Check Skyscanner for flights
-Buy travel insurance as soon as you make your first booking
-Get your booking.com reservation at a discount
-Price out the New York Explorer Pass build-your-own option to see if it will save you money
Big thanks to our partners at HomeExchange, Smart Destinations, TripperBus, the Tenement Museum and Slice of New York; all opinions are my own.
Still planning? Pin this for later!