Whether you're new to blogging or have been at it for years, no one complains about earning more money from their sleepless nights and hard work. The easiest way to monetize your blog with affiliate marketing with Skimlinks . It can be a little complicated to understand, but it's dead easy to implement! Read on to find out the nuts and bolts of how Skimlinks works, how to use it on your website and the pros and cons to be aware of. Sign up here to follow along in your own account.

What is Skimlinks?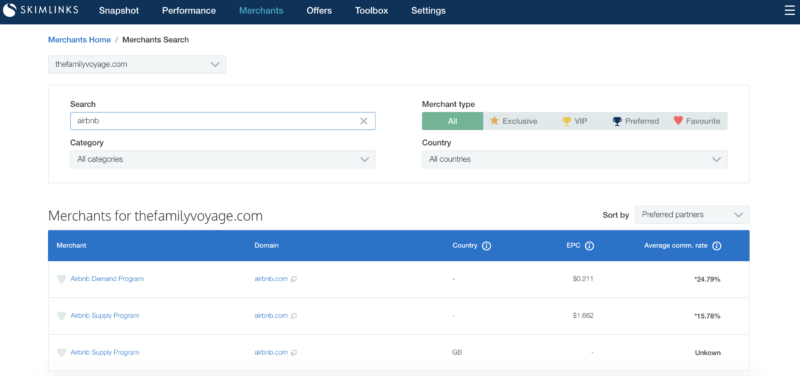 I'll start with what Skimlinks isn't. It is not a typical affiliate network like CJ or ShareaSale. It's also not a direct affiliate program like Amazon or Booking. Skimlinks sits on top of those programs to give its members a one-stop-shop for all of their affiliate marketing needs.

Skimlinks is a simple way to give your readers product recommendations from a huge range of merchants and earn commissions – there are nearly 50,000 merchants to choose from! Here's a small sampling of the Skimlinks merchant list:
How does Skimlinks work?
Many bloggers maintain relationships and track payments with a half dozen affiliate networks (CJ, ShareASale, AWIN, Avantlink, ShopStyle, FlexOffers and more) and another half dozen direct programs (Amazon, Booking, RentalCars and lots of one-off programs).

Skimlinks does exactly the same thing!

They have accounts with tons of affiliate networks and direct programs. When you use Skimlinks to send your readers to recommended product pages, the Skimlinks link redirects to the appropriate affiliate program and then to the merchant. It may sound complicated, but from your perspective as a content creator it's no more involved than using other affiliate programs – and in many ways it's much simpler.

Unlike other major affiliate networks, as soon as you sign up you have access to every single merchant with whom Skimlinks has a relationship. That's so refreshing compared with applying for every merchant (and often getting automatic rejections with no explanation).

How to use Skimlinks on your blog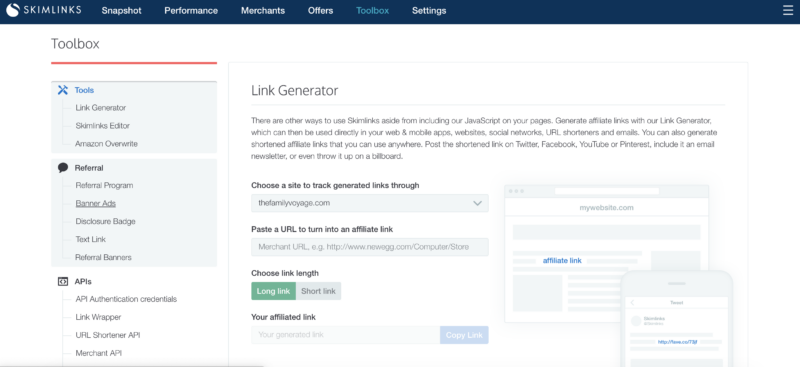 There are two different options for implementing Skimlinks, each with its own advantages and disadvantages. It's worth considering both and then deciding for yourself how to proceed.

Skimlinks script
The absolute easiest way to jumpstart your affiliate marketing efforts is to sign up for Skimlinks and then install their script on your website. This is where the name comes from – the script "skims" your content and turns your regular non-affiliate links into affiliate links.

I know several bloggers who started making hundreds of dollars every month as soon as they installed the Skimlinks script because it found old non-affiliate links and redirected them! If you have a big backlog of content in which you placed non-affiliate links, the script is a great option.

In theory, the script is supposed to ignore links that already have an affiliate code attached to them. I found that the script diverted my Booking direct affiliate links.

The other challenge of using the script is that it adds many redirects to your blog. If you already struggle with site speed, the script may hurt you further. With recent Google algorithm updates, page speed has never been more important! I wouldn't rule out the script initially for just this reason, but it's worth doing some testing after you try it out to make an educated decision.

Create links manually using the toolbox
If you decide not to use the script, the other easy way to use Skimlinks is by manually creating the links you want in the Toolbox section. It's too easier than using six different networks because you don't need to first figure out where to find the relevant merchant or apply for their program.

Skimlinks offers both long and short link options. These links are great because you can also use them on social media (with appropriate disclosure, of course).

There's no impact to website speed because you're just placing regular links.
The downside of this method is that if you miss any links, you won't get commissions. After I joined Skimlinks and changed all the links I could track down, I'd check my outgoing clicks in Jetpack once every week or two to see if my readers were clicking on any links I hadn't switched over yet.
There's also an Editor Toolbar now available that allows you to create deep links with the click of a button. I haven't tried it, but it looks like a promising option!
Use the Skimlinks Chrome extension
Skimlinks also offers an easy-to-use Chrome extension. Once installed, it'll pop up on any page for which Skimlinks has a merchant relationship. It's the fastest way to create deep links!
Unlike the Chrome extensions for Amazon Associates, ShareASale and Avantlink it doesn't offer the option to embed affiliate-linked images. Hopefully that'll be improved soon!
When does Skimlinks pay?
Let's set realistic expectations here. You will not get paid tomorrow.
In fact, it will definitely be a few months before you get paid but it could be more. So what's the deal? With pretty much all affiliate platforms, there's a delay between then the transaction occurs and when the affiliate gets paid.
Amazon is a simple example to use. Once a customer buys an item, it shows up in the affiliates "orders" list. After shipping it moves to "earnings". But Amazon offers a generous return window and needs to protect itself, so it doesn't pay affiliates those earnings until two months after they're earned.
Another example that's worth considering for Skimlinks affiliates (since we are travel bloggers, after all) is Booking. Let's say a customer books a hotel in January through your Skimlinks affiliate link. A few days later you'd see that transaction pop up in Skimlinks (remember, Skimlinks isn't running the program – they have to rely on the actual affiliate platform and then reconcile their member accounts with the reporting from the other side).
Then you wait. And then you go on blogging Facebook groups and ask why Skimlinks isn't paying. And then a few other people say that Skimlinks hasn't paid them, and others (like me) say that they get paid by Skimlinks every month. What gives?
Most accommodation affiliates (and lots of other travel affiliates like tours) don't pay until the travel occurs. There are some pay-per-lead options (like the TripAdvisor affiliate program) that are structured differently, but if you're getting paid per sale you generally have to wait until the end user has taken the trip and paid in full. After all, cancellation rates can be high for some websites!
Only after the trip has occurred will Booking's affiliate program process commissions, but there could be a delay in that too. I know that their direct program (which I use) doesn't review and approve/reject until the end of the month in which the stay concluded – but sometimes longer. If you're going through Skimlinks, there's an additional delay while the merchant or affiliate network reports to Skimlinks and then Skimlinks does their own reconciliation.
But back to that original booking… one challenge of Skimlinks is that we don't even know the travel dates! In theory that booking could be a year in the future. On Booking.com direct I regularly see reservations that are 6-12 months out. I'n not sure who books hotels that far out, but I envy them! I don't expect to receive payment for those for 8-14 month. Patience, grasshopper.
Also make sure that you've added your payment information to your Skimlinks account. This should go without saying, but they can't pay you if they don't know where to send the money!
Looking for more awesome blogging resources? Read all about my favorites!
Should you join Skimlinks? Pros and cons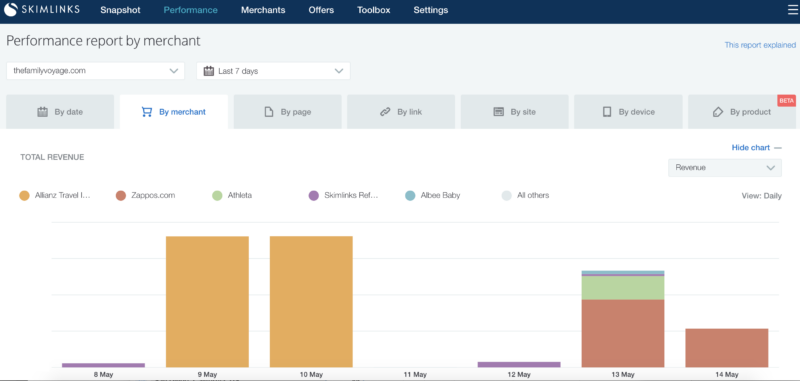 Yes, you should definitely join Skimlinks! It's free, and you can just ignore it if you end up never finding the right use case. But I'm confident you will. Check out these pros and cons:

Advantages of Skimlinks
-You have instant access to every merchant. For a long time I wasn't able to access Zappos or the Athleta affiliate programs elsewhere for different reasons and those all earn me money. I'm still waiting on approval with other networks for merchants that fit my content and my readers, which is extremely frustrating.

-You don't have to wait to hit multiple payment thresholds as you would with affiliate links split across multiple networks and direct programs. Perfect if you have that one item you want to promote from a certain merchant.

-The reporting is easy to use. It shows you what merchants are converting, which pages are converting and more. It's also extremely easy to create custom links to use on your website or social media channels.

-If you use the script, it couldn't be easier to make money! Truly. Install the script, set up your payment information, and then just watch the month roll in.

-In some cases, Skimlinks has exclusive commissions negotiated that are higher than you'll find elsewhere. I was shocked to find that one merchant I used through CJ at 10% was offering 20% through Skimlinks!

Disadvantages of Skimlinks
-Skimlinks takes a 25% cut of your commissions. That can make a huge difference in overall earnings, so where possible I use direct programs (like Amazon, Booking or RentalCars).

-The script can slow down your website, which is looked upon unfavorably by Google. YMMV but it's worth watching.

-The information listed on each merchant page is a bit… lacking. For some it lists an average commission (if there's enough data) rather than just stating the rate explicitly. There's also no cookie data whatsoever, which is a gaping hole in my opinion. Deep in the help section it says that most merchants have a 30 day cookie, but some don't. Thanks, guys.

If you're a member of other networks it's pretty easy to check; partners like Booking still don't offer a cookie, even if you connect through Skimlinks.

-The reporting is easy to use but it doesn't offer the same level of detail as a direct program. For example, you may know that you generated $30 in commissions from Walmart… but what did your readers buy? You'll know what page they came from but that's about it. Likewise you may see an Booking commission, but without knowing the booking dates you won't know when to expect payment.

Skimlinks vs Viglink
Another blogger recently asked me how Skimlinks compares to Viglink. They offer similar tools for automating affiliate links with a script installed on your site. The downside of Viglink is that many desirable merchants require that you apply for approval – just like on the traditional affiliate marketing networks. In my opinion, that eliminates on of the biggest advantages of using an outside platforms.
Another blogger also pointed out that Viglink installed malicious code on her website and that untangling it has been a real challenge. Yikes! In the Skimlinks vs Viglink throwdown, we choose Skimlinks every day.
The final verdict: yay or nay on Skimlinks?
There's room for many different pieces in an affiliate marketing game plan. In my opinion, Skimlinks should play a role for most bloggers. The program's wide range of merchants and flexible implementation options make it a no-brainer. Sign up today to start growing your earnings!
Want to share this Skimlinks review with others? Pin it!