Planning a trip to New York on a budget sort of feels like going to the top of the Empire State Building… by scaling the side of the building. Impossibly tall, plenty of opportunities to slip and fall (and have your wallet spill cash all over that busy sidewalk). We spent a week visiting NYC on a budget as a family of four and we're bringing you some of our best tips for how to explore the the Big Apple without going broke. Be sure to share your best budget NYC tips below in the comments!
The cheapest way to get to New York
Obviously there are many different ways to get to NYC, and the cheapest one will depend on where you live. The choices for travel to New York are plane, train, bus and even boat.
Flights to NYC
Fortunately, New York city has three major airports that are served by dozens of airlines. Airfares to the New York are getting more competitive every week! Check out some of the best deals for your dates on Skyscanner, which we like because it's one of the most comprehensive search engines on the web and it offers huge flexibility for origin, destination and travel dates.
Is it worth using frequent flyer miles for a domestic flight to New York? Probably not. But there are a few tricks to using credit card miles to fly to New York.
If you have a small business, run don't walk to apply for the Chase Ink Business Preferred credit card. It offers some of the most flexible rewards around, including two great ways to redeem your points for a discount flight to NYC. We use both the Ink Business Preferred and the personal Chase Sapphire Reserve, but the business card has two advantages: the annual fee is just $95 compared with $450 on the Sapphire Reserve and the sign up bonus now is 80,000 points on the business card compared with 50,000 on the personal card. Both cards earn 3 points per dollar spent on travel expenses. Check out the details here.
But the best strategy is to get both cards if you can. Why? Because the Sapphire Reserve also gives you 3 points for every dollar you spend on restaurants – great for frequent travelers – and if you redeem those points through Chase's excellent booking portal each one is worth 1.5 cents with the personal card versus 1.25 cents with the business card. Chase allows you to pool all your points across your cards and even across family members, so having both cards in your wallet lets you redeem all your points at the higher value!
Once you rack up all those points, what does that mean for you, the would-be New York traveler? You have two great options to use those points to get a New York plane ticket for less: transfer to an airline partner or redeem through the portal.
Redeeming points through the portal is extremely easy. Log in, search for the flights you want, purchase. If the flight costs $100 one-way, you'll be charged just 6,667 points if you have the Sapphire Reserve or 8,000 points if you have the Ink Business Preferred. You can fly any airline that's listed and you'll even earn frequent flyer miles as if you're a revenue passenger.
It may be a better value to take advantage of the distance-based award chart offered by British Airways if you're flying from nearby – their partnership with American Airlines offers access to plenty of domestic flights. Even if you're American, you can make a frequent flyer account with British Airways and instantly transfer points to it. Then redeem just 7,500 of those points for any flight within the US that's under 1,150 miles! Whether you're flying from Chicago or Charlotte, you're covered. Slightly longer flights like Dallas clock in at 10,000 miles each way.
If there isn't a route available using Avios, check out Ultimate Rewards redemptions through United airlines. They aren't quite as lucrative, but flights under 700 miles can be purchased for 10,000 miles and longer domestic flights are 12,500 for saver awards.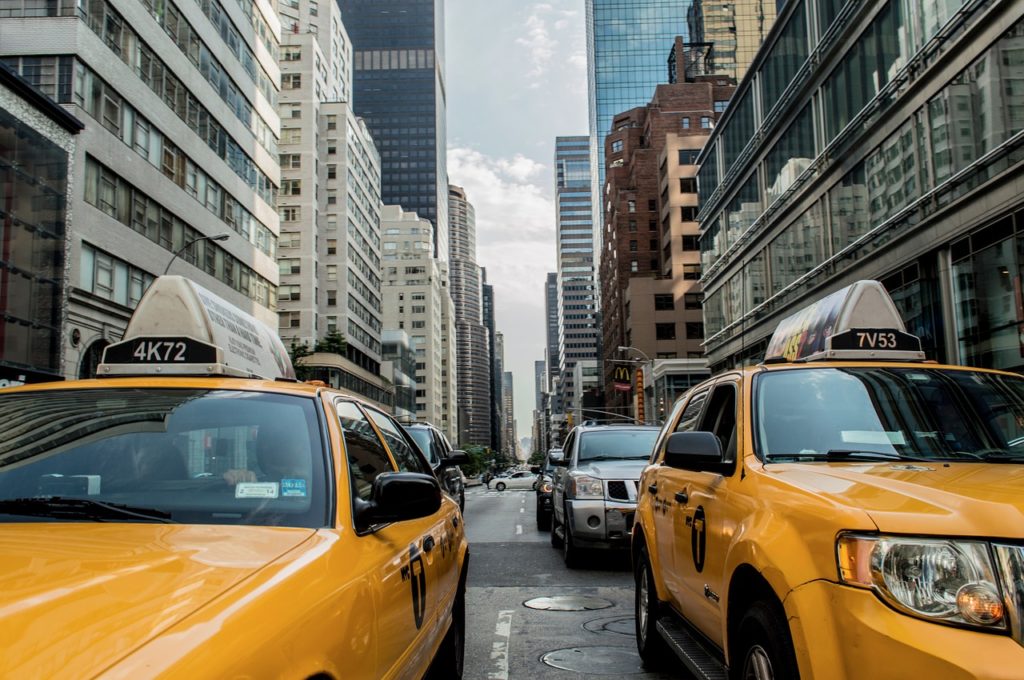 What's the most convenient airport in New York city?
That's a common question for visitors to New York City, and in part it depends on where you want to go. Most travelers prefer JFK or Newark for their more extensive routes and public transportation options, while Laguardia is technically the closest.
If you plan to take a taxi or Uber from the airport to Manhattan, Laguardia will be the least expensive option and Newark the most expensive option. Which will be fastest depends a lot on where in the city you want to go and what time of day you'll arrive. If you prefer public transit, JFK is the most convenient since its Airtrain links up with the subway, but Newark is a close second with train service to Penn Station. Be sure to factor your ground travel time and costs in along with the flight schedules and costs.
Flying into JFK? Check out the best ways to get to Manhattan from JFK.
Here are the best ways to get from Newark to Manhattan
Taking the train to New York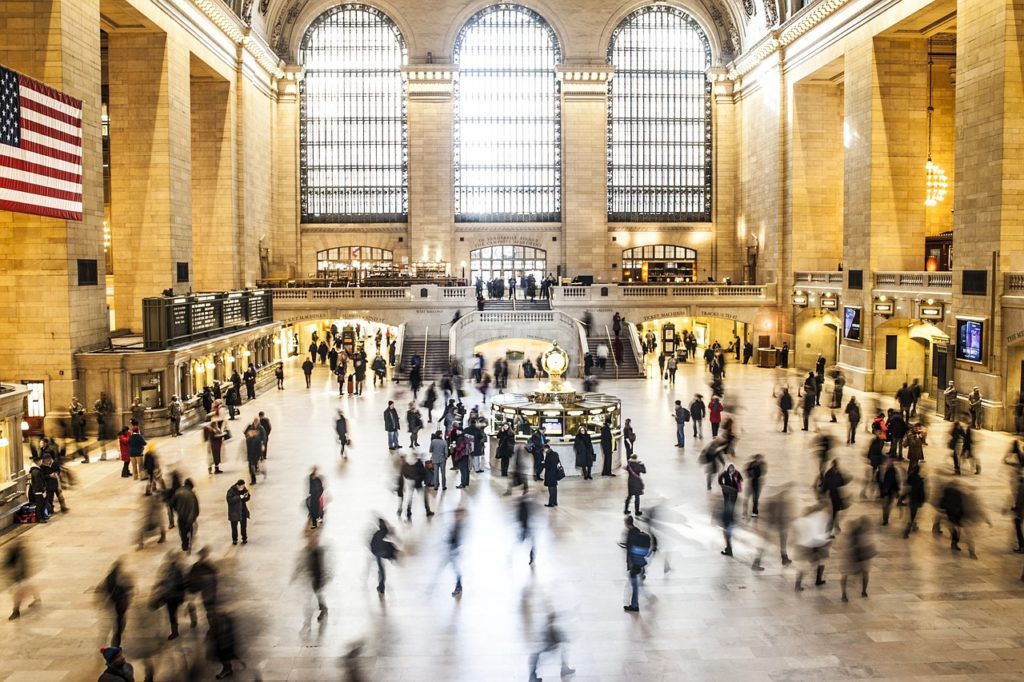 If you're on the east coast along one of Amtrak's routes, the train can be a great way to get to New York City! You'll find convenient schedules throughout the region. For traveler's coming to New York City from Washington DC on up to Portland, Maine you're likely to find that train travel is at least as fast as air travel when you factor in getting to your local airport, security lines, flight time, and then ground transportation in NYC.
The best way to save on Amtrak is to book early – sometimes very early. Some of the cheapest train tickets sell out months in advance, while others may be available but require at least a 21 day advance purchase. Be sure to check Amtrak's deals page for available discounts, including some great savings for families.
Bus to NYC
If you'd told me two years ago that bus would be one of my favorite ways to travel, I would have laughed in your face. But in the last few years, there's been a global proliferation of nice buses that go to desirable places – not just sketchy Greyhound stations adjacent to halfway houses or Chinatown buses with rickety seats. Traveling by bus is the cheapest way to get to New York City.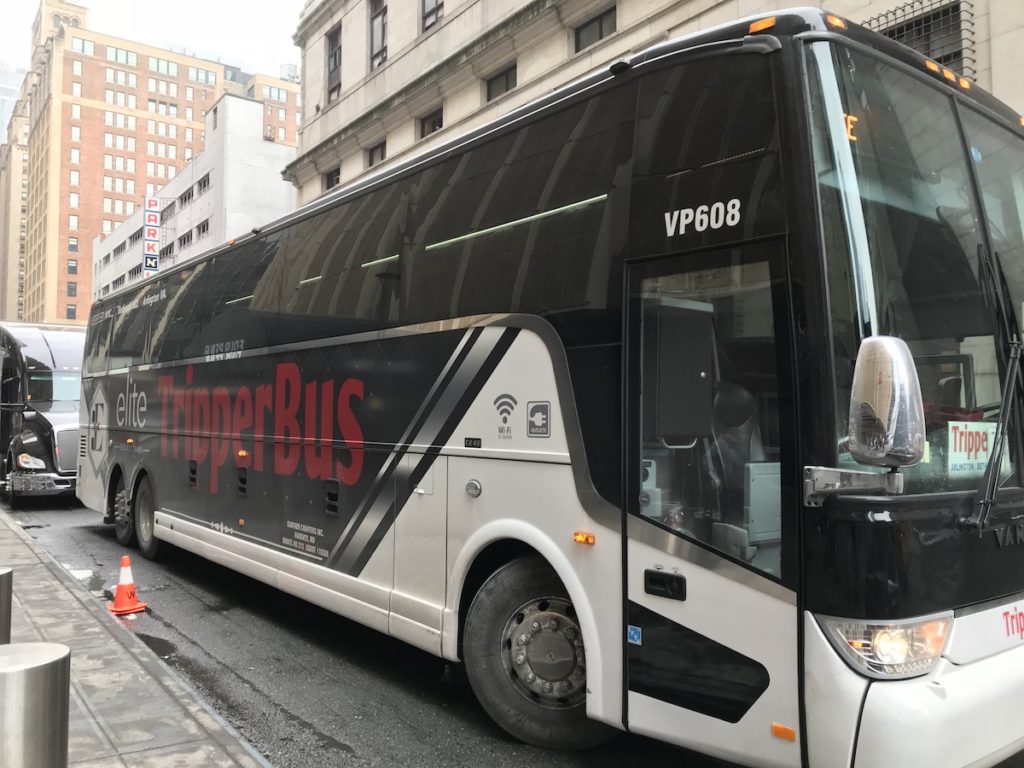 We rolled up to NYC on TripperBus, which has regularly been rated as the best bus from Washington DC to NYC. Technically, their pickups aren't in DC – they offer one in Arlington and another in Bethesda, both easily accessible by Metro or Uber. For $27 each way, you get a comfortable seat, free WiFi, movies, a power outlet and more.
Our travel time each way was just a shade over 4 hours, and with NYC drop-off at Penn Station we didn't have to allocate any time or money for ground transportation! The driver was friendly and professional, even starting the ride by helping us with our luggage, bringing around water for everyone, and giving our kids a huge basket of candy. We were impressed that the bus even offers lap-shoulder seat belts to keep passengers safe (though bus travel is already statistically much safer than car travel).
If you have a little more room in your budget, Tripper offers their new Elite service for $50 each way. It's the equivalent of an airplane's first-class seat, but without having to strip down and unpack your entire bag at security. As you can see from our photos, this definitely felt like luxury travel! I'd pick Tripper any day over flying between Washington DC and New York.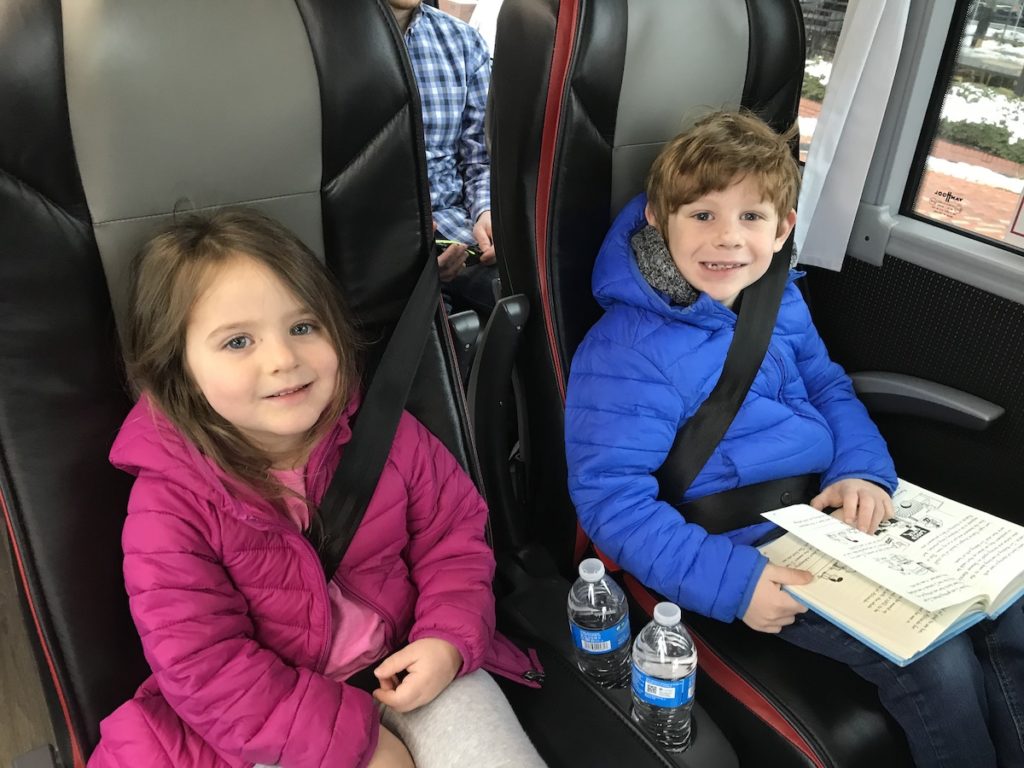 Traveling from elsewhere on the east coast? Check out BusBud to find the cheapest bus options from each company.
Cruises to New York
Have some time to spare and want a unique way to get to New York? Check out transatlantic repositioning cruises from Europe to New York! A quick search on CruiseDirect shows options from both Germany and Denmark for as little as $121 per night – including two nights to explore Reykjavik without paying the exorbitant lodging costs there. A cruise may not be the cheapest way to get to New York, but may be a solid value if you want to combine your visit with a completely different travel experience.
Best places to stay in New York on a budget
Once you've gotten to New York City, it's likely that your biggest budget item will be accommodation. What are the best places to stay in New York on a budget? There are so many choices! Hopefully one of the options below will meet your needs.
The best things in life are free
What the cheapest place to stay in NYC? The free one.
When a friend found out we were interested in visiting New York, he reached out and offered us his guest room in Queens. We couldn't pass that up! Everything in New York City is expensive, so if you can save money by staying with a friend, by all means do it!
What if you don't have a generous friend living in NYC who'll put you up for a few days? Then make one through HomeExchange! We spent our first three nights at a spacious HomeExchange apartment right near Central Park on the Upper West Side while the owners were out of town for a family reunion. You can read all about how HomeExchange works, but the best and most important thing to know about the program is that you and your host do not have to match for dates and locations. The non-reciprocal option gives you the opportunity to trade points for a stay at someone's home when they won't be using it – no matter where they'll be. Your only out-of-pocket expense is $15 per night to cover insurance and customer service. Read about it here or sign up now.
Best budget hotels in NYC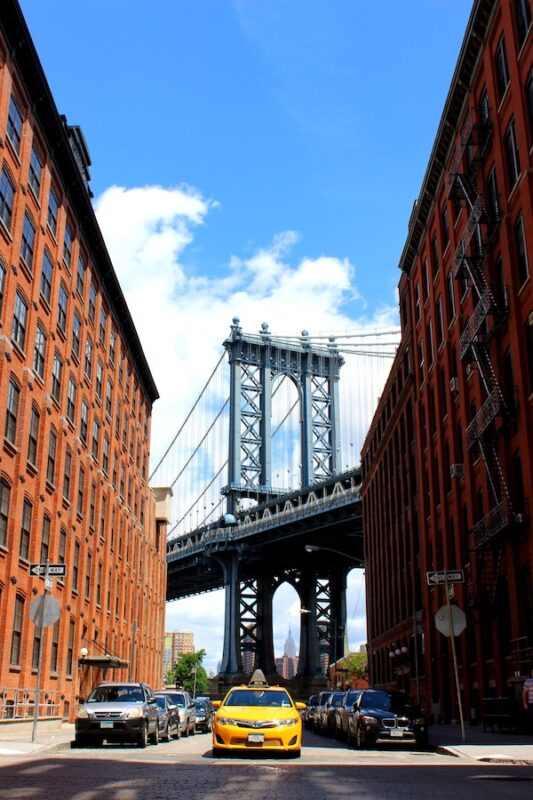 Cheap accommodation in New York City is tough to come by, full stop. We polled our Tiny Globetrotters Facebook group for their favorite choices and got some great options. Pssssst… make sure you go read our 5 simple hacks for saving money on booking.com before you reserve!
Pod Brooklyn is a great option if you don't need tons of space – rooms start at round $70 for the dates I searched! Those prices are for a room suitable for two people. If you're traveling to New York on a budget with a family, you might consider getting two bargain-priced rooms and splitting everyone up. Pod Brooklyn came recommended by our group member thanks to its efficient use of space and convenient location just one stop from Manhattan. Check prices for your dates.
Looking for a hotel in NYC with a pool? You'll find it at Aloft in Brooklyn! It's sparkly and new, has a great location in downtown Brooklyn ("DoBro") and is convenient to the subway, putting you just a few stops from Manhattan. Rates can go as low as $170 per night, but it's popular so you'll want to book as soon as you know your dates to get the best price locked in.
Another Tiny Globetrotters member suggested Hyatt Place in Long Island City, Queens. LIC is one of the most convenient places to stay outside of Manhattan! The whole neighborhood has been built up over the last few years and we've heard great things about it from our local friends. The Hyatt Place looks beautiful and has some rooms for two around $100 for some dates and even spacious rooms for four come in around $150. They even offer reasonably priced breakfast rates that work out to just a few extra dollars extra – more than the cost of a bowl of cereal, but without the hassle of doing it on your own. Check prices here.
Another Long Island City hotel recommendation is The Local Hostel NYC, where you can snag a private room for two with its own bathroom for under $100. Unfortunately they don't have family rooms, but for a smaller party it looks like a great option. We've really enjoyed our experiences staying in hostels – even with the kids – because it's a chance to interact with other travelers from around the world. Check prices here.
If you have a little extra budget and want to stay in Manhattan, check out NobleDEN. One of our group members recommended it for its convenience to the good (often affordable) eats in Chinatown and Little Italy, and a quick check on prices shows that it can be very reasonable if you go off-peak. Definitely worth checking prices for your specific dates, especially if you've worked your way to Booking.com genius status (get more info about that here). Check prices here.
Are you traveling to NYC with lots of kids? TRYP Times Square South is an awesome option for you! They have family rooms (king + bunk bed) and premium family rooms (2 queens + bunk bed) and the prices aren't crazy – around $250 per night for dates I checked. That may not sound "budget" but for large families who would need two rooms in another hotel it would be a great pick! Check prices here.
One chain that we'd never heard of before is Affinia, which specializes in suites and larger rooms. Their Gardens Suites Hotel on the Upper East Side (64th and 3rd) offers great access to Central Park, the Met and more but gives you a perfect, comfortable home base to return to – including a full kitchen to save money on meals out! If you're a family with young children who need a fixed bedtime, their suites are the perfect solution because you can close off the bedroom and still enjoy the living room and kitchen.
If you don't need a separate bedroom, you can save money by booking a room at Fifty Hotel & Suites in the same chain – lots of their rooms have a kitchenette (including a small range, fridge and microwave) and the Junior Suite is extremely spacious.
Similarly, Affinia's Shelburne offers a kitchenette in their studios and suites and a great location near Lexington and 37th. Check for Secret Deals that bring the price down to what you'd expect in Manhattan, Kansas rather than Manhattan, New York.
Another option with a full kitchen that comes recommended is The Marmara Manhattan. They're extremely spacious, with suites going up to 800 square feet – unheard of in Manhattan! Prices depend on the number of guests, but some dates are as little as $150 for two people and $215 for four people. If you aren't interested in eating all your meals out, The Marmara could wind up being a big money savings in that department and may benefit your sanity for a longer stay with the extra room to spread out. Check prices for your dates.
Not picky about exactly where you'll stay? Make sure to check Hotwire's Hot Rates! We've gotten luxury hotels in great locations for a fraction of the price (including in NYC). In New York City it's worth being selective about which neighborhood you'll book in and how many stars the hotel should have, but you won't go wrong with a 4-star in Midtown or another central area.
If you're committed to keeping up your fitness regimen even on vacation, be sure to check out these hotels near Penn Station NY since they're right near Peloton Studios NY!
Use the interactive map to find vacation rentals and hotels in New York
---
How to get around NYC
The cheapest way to get around NYC is, of course, to walk. It's the ultimate walking city! But distances can be much longer than they seem and you'll want to save some time and energy for sightseeing. What are the best ways to get around NYC without spending tons of money?
NYC subway tips & tricks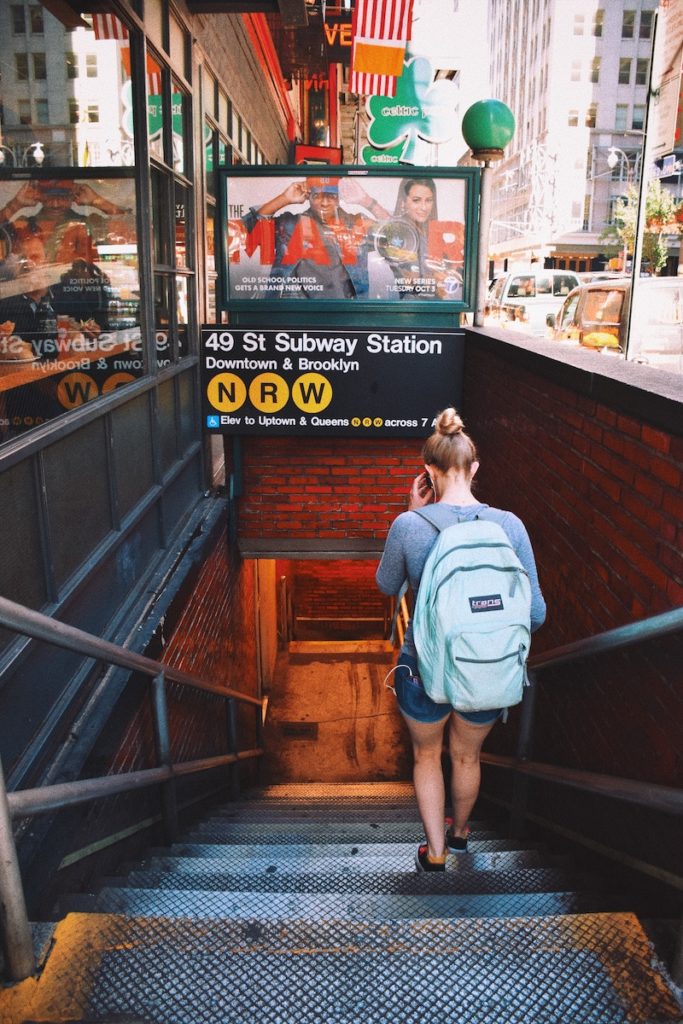 For most people visiting New York, the subway is a great way to get around. Don't be intimidated! Once you figure out which lines are most convenient for your accommodation and where the big transfer points are, you'll be good as gold. We use the Google Maps app for navigating the NYC subway and it works just fine.
Here are a few tips you need to know about NYC MetroCards:
-You can buy a fare card from the kiosk in any subway stations.
-A MetroCard costs $1, so refill it rather than getting a new one each time.
-Each subway (or local bus) ride costs $3 if you purchase a single-ride ticket or $2.75 if you pay by loading money on a MetroCard.
-When you refill your card, you'll get a 5% bonus each time.
-A 7-day unlimited-ride MetroCard is just $32, equivalent to about 12 rides.
During our week in NYC we found that we averaged three subway rides per day (but sometimes took up to 5). If you're staying for a weekend the pay-per-ride MetroCard is probably your best choice, but once you get to a visit of 4 days or longer you'll save money with a 7-day unlimited MetroCard. That also saves you the time and hassle of constantly refilling your card (which you'll always need to do when you're just about to make a train that you can hear pulling into the station).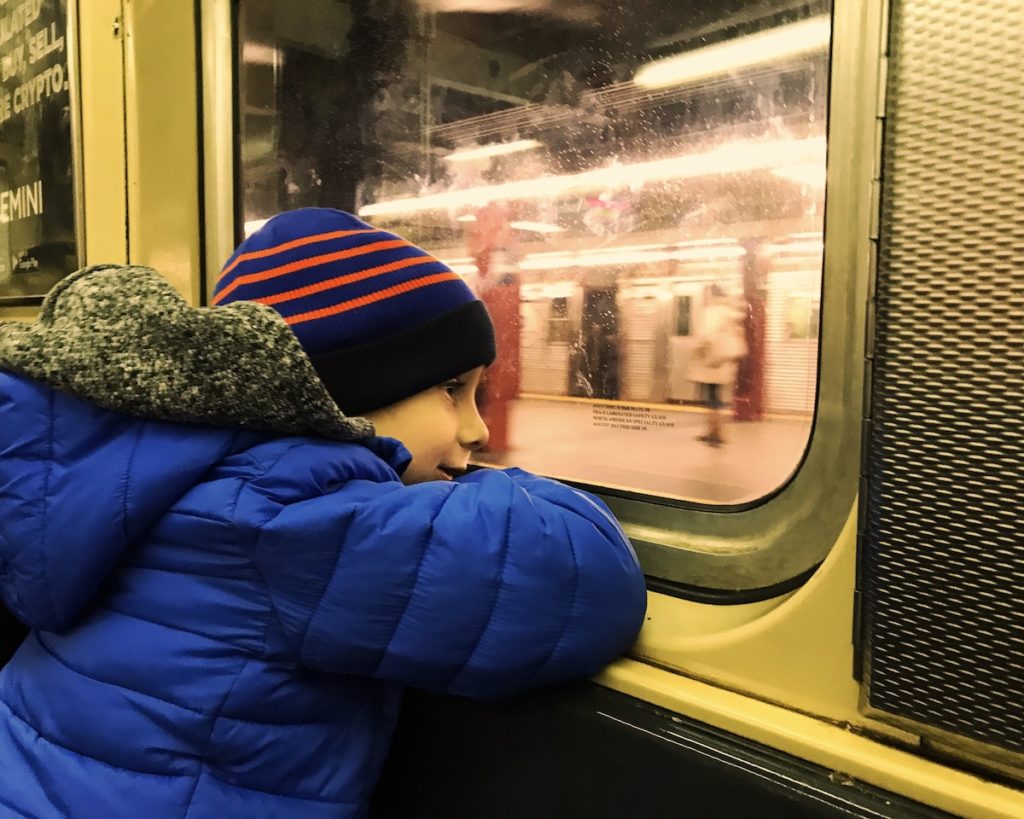 If it's your first time visiting New York City, you may be stunned by the amount of walking not only up on the sidewalks but also down in the subway stations. Be prepared. Some transfers we made required a full ten minutes of walking from one train to the other. Sadly 80% of subways don't have elevators for those with mobility impairments or strollers.
Still and all, if you're able to take the subway you'll find it to be an efficient and affordable way to get to nearly every corner of New York City.
The local buses are also part of the MTA and can be paid with your MetroCard. So why don't I have them listed here in their own section? Buses have an important role for some routes and sometimes you just have to take them. But we avoid them at all costs for two reasons. First, traffic above ground can really crawl and buses are just as susceptible to it as regular cars. Second, some bus routes (probably the ones you'd want to take) are really important and popular for locals… and that means full. I've never managed to get on an NYC bus because the ones I wanted were always so overloaded that they drove right on by.
Ride share services
There are two popular ride share services in New York City these days, Uber and Via. Why would you take a ride share rather than the subway? The term "penny wise, pound foolish" comes to mind. Rides on Via can be as cheap as $10 and Uber is just a little bit more.
If you're a crew of four and you're traveling at an off-peak time, Via can be cheaper and faster than the subway! Especially if you're trying to get back to your hotel in NYC after a Broadway show or late-night outing, some subway service is limited. Unlike Uber, Via will direct you to a nearby designated pick up spot on a corner but never more than a few minutes' walk. Get $10 off your first Via ride or a $5 discount off your first Uber ride.
If you plan on riding in a car with your kids, make sure you bring an age-appropriate car seat to keep them safe. Taxis and Ubers aren't immune from car accidents! You'll find all the info you need here:
–How to travel with car seats
–The best convertible car seats for travel
–Ride Safer Delight travel vest review
–Bubblebum review
Cheap eats in NYC
Thankfully, your New York travel budget might get a little relief in the dining department! They may not be the healthiest options, but there are plenty of cheap eats in NYC and you can find the everywhere.
Pizza by the slice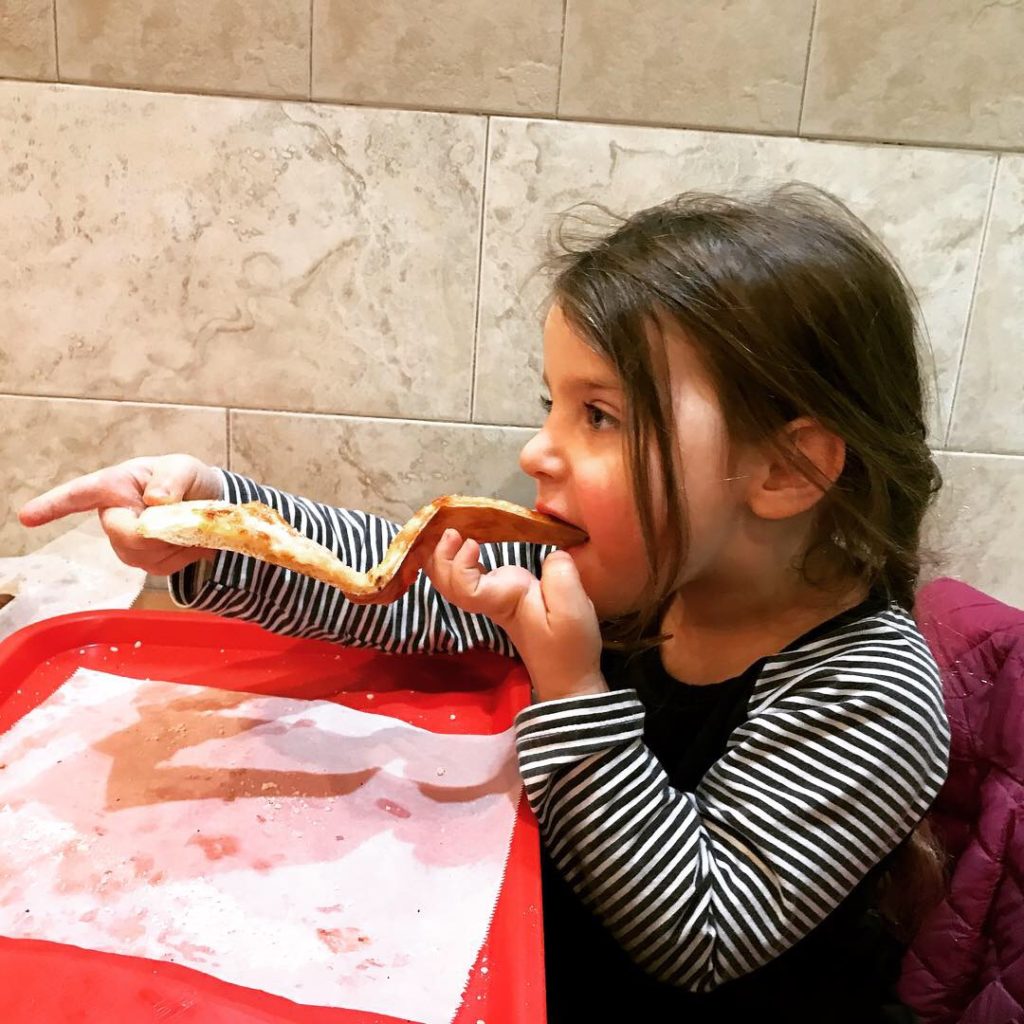 It seems like every block in New York City has a place to grab pizza by the slice. Many of these don't offer any seating, but in nice weather you can walk over to any of the city's lovely parks to enjoy your meal. Prices usually range from $2 to $4 for a plain cheese pizza slice.
Bagels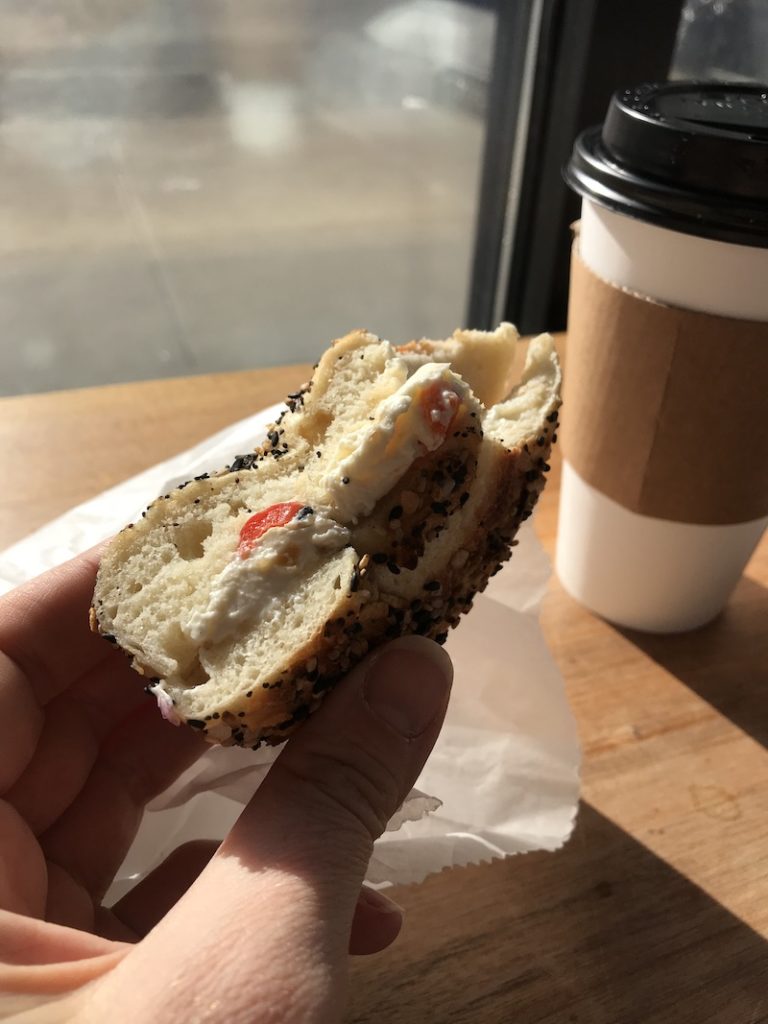 You shouldn't visit New York without have at least one good bagel. They may have been invented in Poland, but New York made them famous. Plus you can get a top-quality one with cream cheese for just a few dollars.
Of course, one of the great debates of all-time is where to find the best bagel in New York City. That's certainly up for debate, and in part it depends on just how far you're willing to go. Here are a few excellent spots we've vetted and can recommend:
Ess-a-Bagel – A solid choice, and everyone's heard of it. Convenient location for most tourists.
Absolute Bagels – Extremely popular with locals in Morningside Heights (on the far Upper West Side), we're talking lines out the door in freezing rain on a Sunday morning.
BO's Bagels – Locates just into Harlem, Bo's Bagels serves the best bagels we've ever had. And as the child of two Jews from New York, I've eaten lots of bagels. Bo's everything bagels were so good that we each got one to start and then went back for another. It even has a palatial amount of seating for a NY bagel shop and solid coffee.
Chelsea Market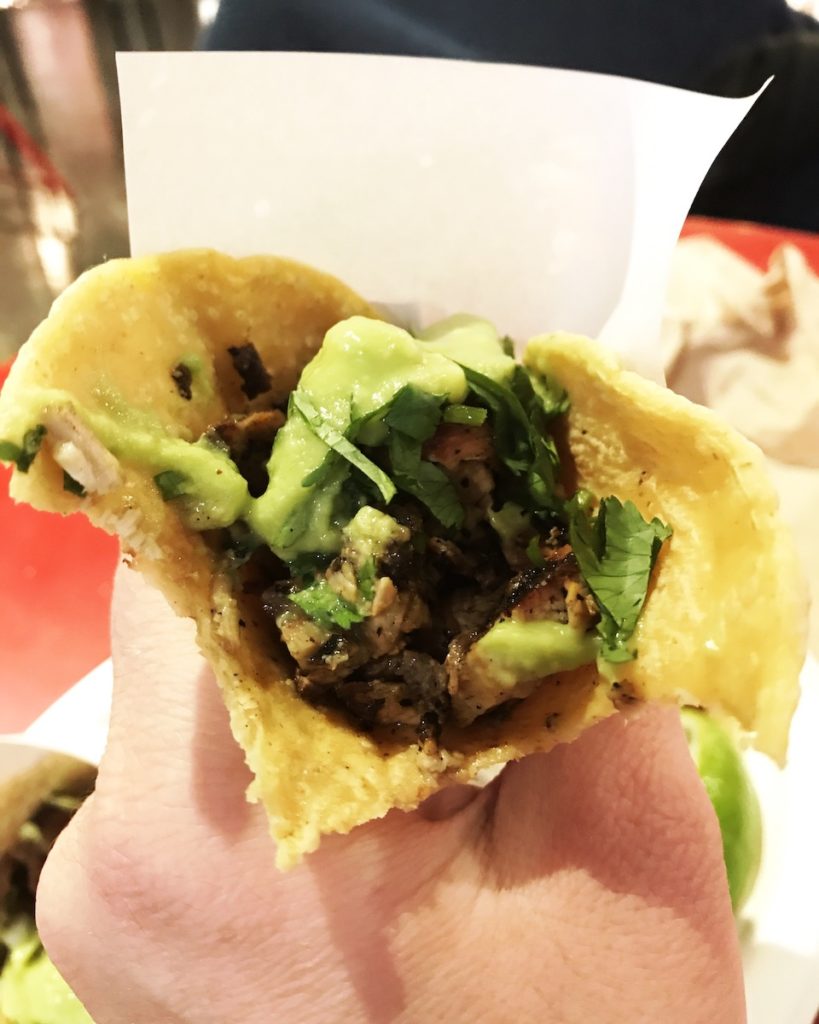 Want a deviation from your typical cheap New York street food like pizza and hot dogs? Get fancy at Chelsea Market (perfect after a walk on the Highline). It's basically heaven for foodies on a budget! This food hall offers all types of cuisine at a range of prices on the main level plus specialty food shops downstairs (produce, Italian, meat, and more).
For a real budget meal, check out Los Tacos No. 1. As Californians we felt right at home with their California/Baja menu, and each taco comes in under $4! Choose which type of meat you prefer and what toppings you want to make it your own.
How to save money on sightseeing in New York City
Ok, so now the crux of why you're coming to New York City… to see all the things! But how can you do that without going broke? You'll have to be strategic, but there are some great ways to save money.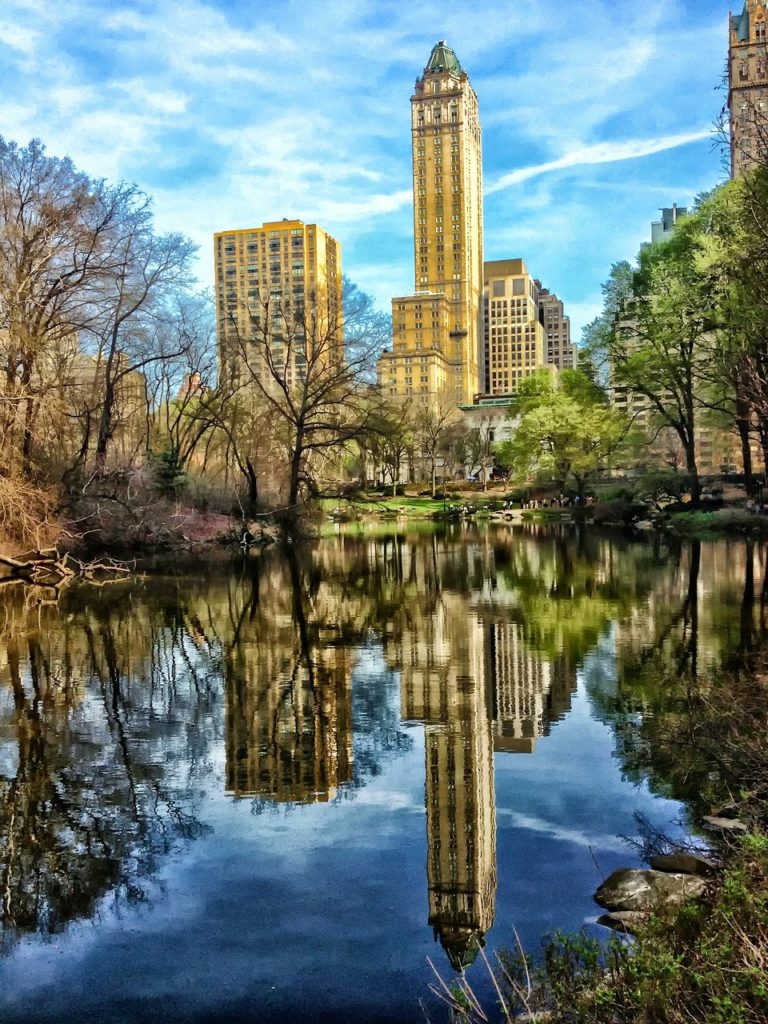 Look for free things to do in NYC (and a few cheap ones too)
Some of the best things in life (and New York City) are free. One of the best things to do in NYC is just walk around to take in the sites and the sounds. A stroll through Central Park and down through midtown costs you nothing but is probably the best way to feel the city. Check out these other great free and cheap things to do in New York City.
The American Museum of Natural History officially has an suggested admission price of $23 per adult and $13 per child, but they offer a "pay what you want" program if you buy your admission ticket at the desk. The Met offers a similar program for adults who can prove they live in New York, New Jersey or Connecticut, and kids under 12 are always free.
Save money on top attractions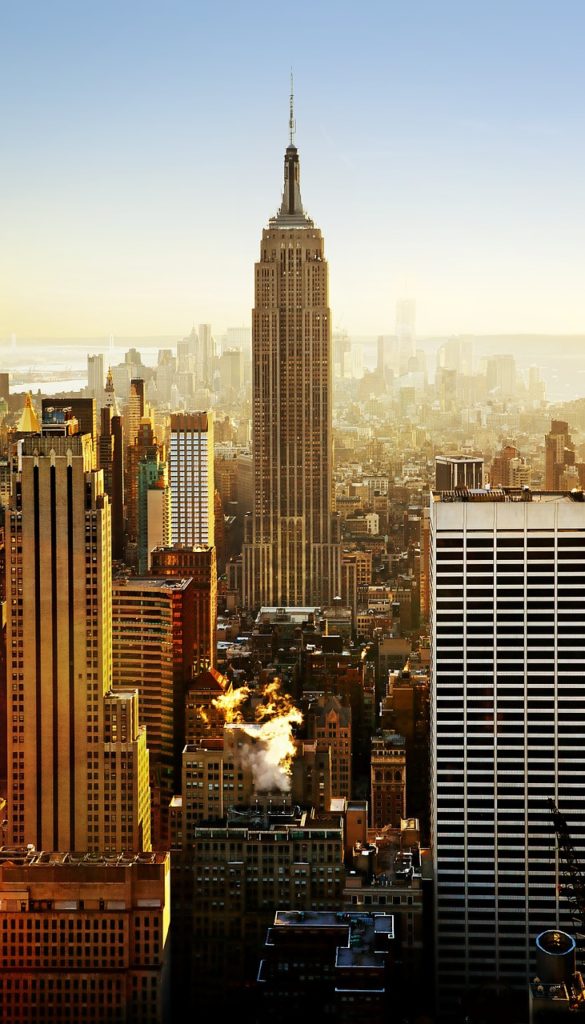 But how can you save money on the expensive top attractions in New York City? One option is to pick up the New York City Explorer Pass. The concept is simple: choose how many discounted attractions you want to visit within a one month period and then buy a pass to match. Choosing more places to visit gives you a better value – and you'll often seasonal promotions on the website.
Of course you'll reap the most reward from your New York City Explorer Pass by using it for expensive activities. Our overall New York City Explorer Pass is favorable: it's extremely easy to use and can save money on New York City travel! If you plan to be in town for more than three or four days, we recommend grabbing the 5 attraction pass for $129 per adult (but often discounted from that price) as that works out to about $26 per activity. If you're visiting with kids, you may choose to buy passes with fewer activities for them since they get in for free or at a substantial discount at some attractions.
You'll definitely want to use your Explorer Pass to visit either the Empire State Building or Top of the Rock to get those classic New York skyline views. For families, Intrepid Sea Air & Space Museum, usually $33 per adult, is a great spot to use the Explorer Pass. In summer you can jump on a Central Park bike tour or the iconic Circle Line sightseeing cruise. One of the more unique offerings that we enjoyed was Spyscape, which puts visitors through spy training challenges to determine your optimal role in the clandestine services.
Another great option if you're just spending a weekend in New York City is to build your own pass to snag a discount on a few key attractions. Check out the full details here. We've used this program in other cities and it's great! Even if you just got tickets to the Empire State Building and the Met, you'd be saving $6 per adult. If you pay for admission to any two attractions, you'll get a 10% discount; three attractions earn you a 15% discount and four or more will get you 20% off the whole thing.
If you're visiting in January (and even into early February), check out NYC Must-See Week – you'll get 2-for-1 admission on nearly all of the top NYC attractions like the Empire State Building, the Guggenheim, the Intrepid and more.
How to get discount Broadway tickets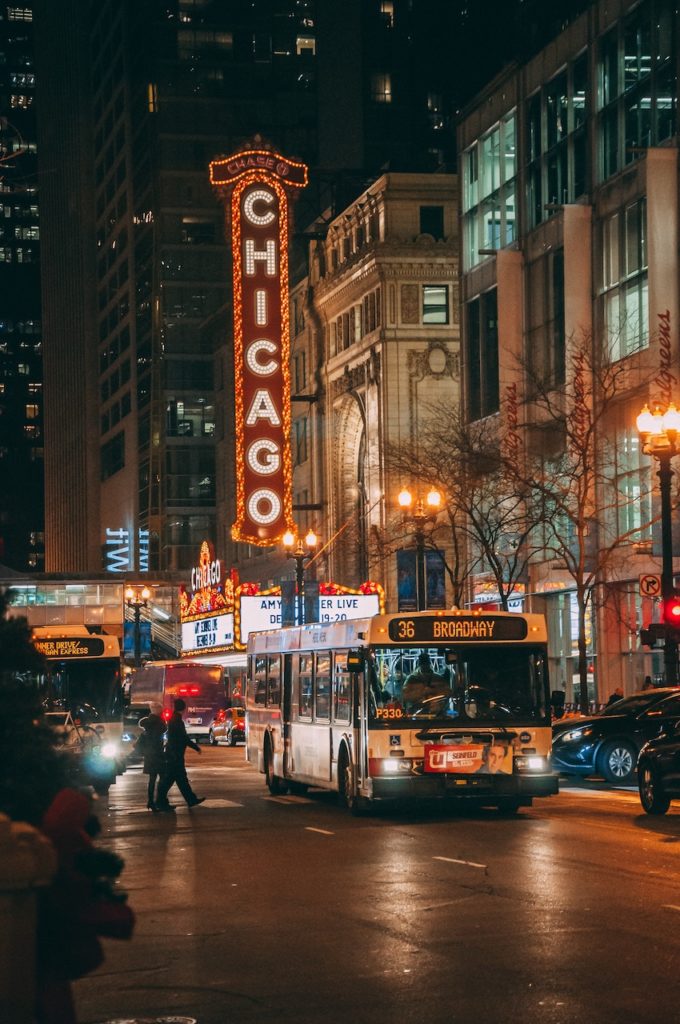 Of course one of the best things to do in New York City is hit up a Broadway show. I still remember the first one I went to and that was over thirty years ago! What's the best way to get discounted Broadway tickets? Fortunately you have a few options.
First, many people know that you can visit the TKTS booths in person the day you want to go to a show to see what's available. There are actually three booths around the city, so check here to see which one offers tickets to the shows you want to see. These tickets are "up to 50% off" but some of that is a bit of marketing fluff thanks to the dynamic pricing models that theaters use now (just like airlines). It's definitely worth comparing with the theater's website, or even with in-person pricing if you're near the theater.
Another popular option if you aren't committed to seeing a show is to enter the lottery for Broadway tickets. Each show runs its own lottery, and the prize is the right to buy tickets at a substantial discount. Some lotteries are for same day tickets, and others are for the day before. We lucked out and scored two tickets to The Lion King for just $60 each on our way into town! But for the rest of our week in town we tried to get lottery tickets to either of the other Disney shows and failed (and that was with two of us entering each time for mid-week shows in the dead of winter). The odds do vary a lot by show. Check out all the Broadway lottery options.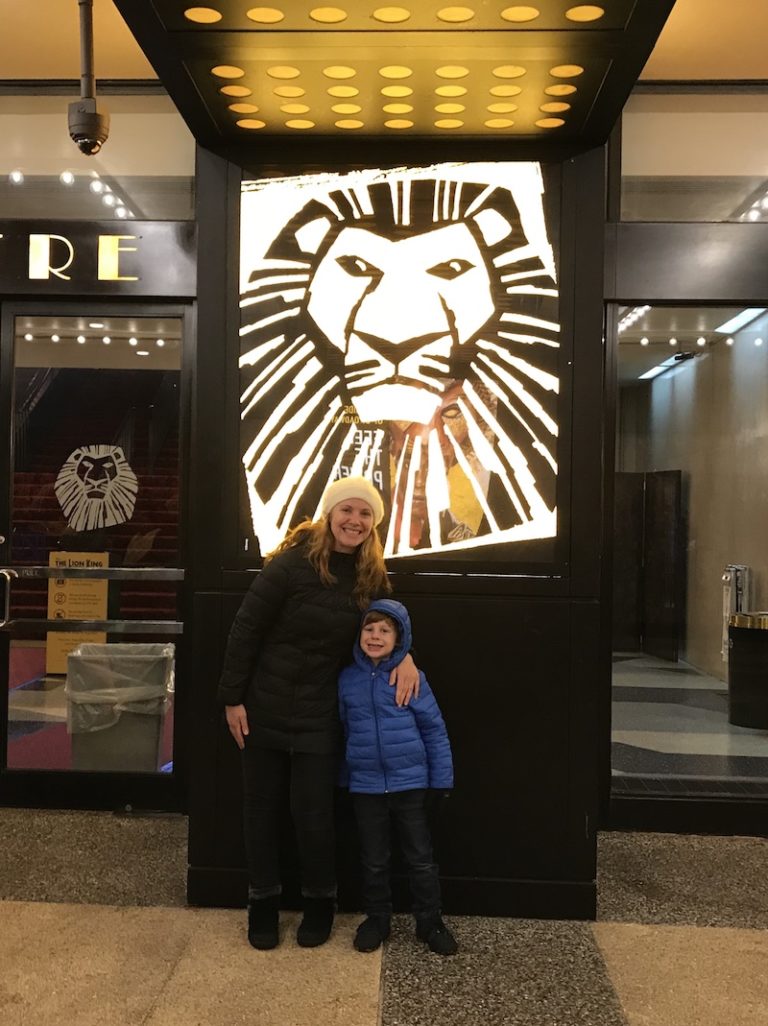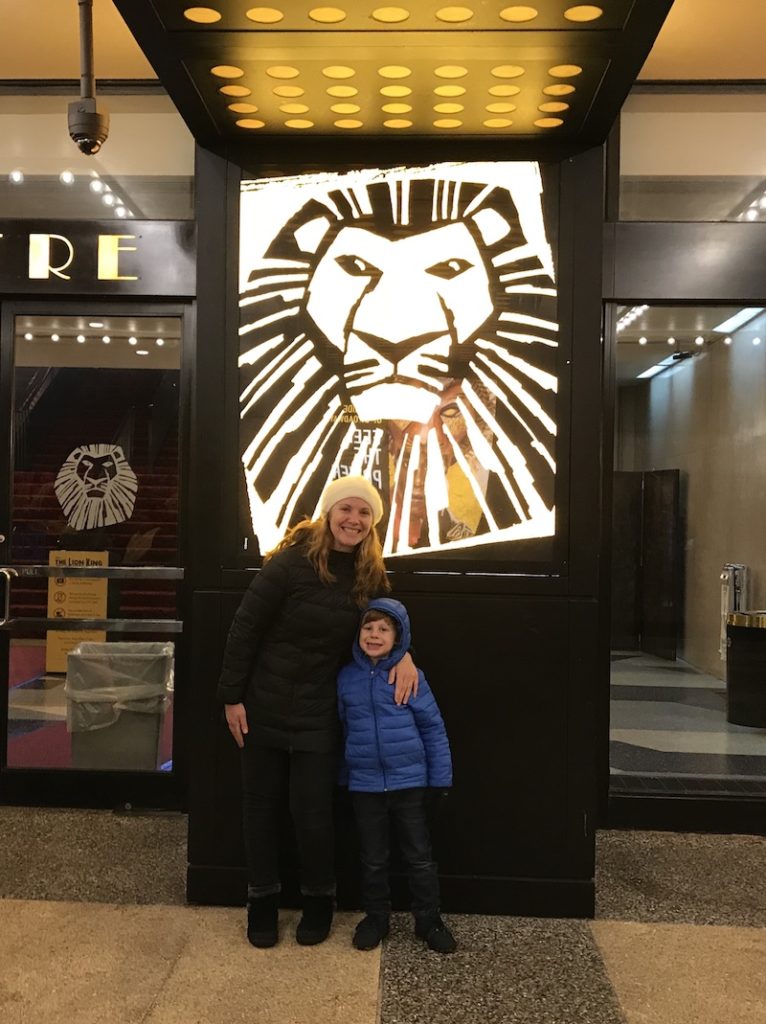 If you're planning ahead to be in New York City in January or February, check out Broadway Week sponsored by the tourism office. In 2019, lots of shows were offering a limited number of cheap Broadway tickets – 2-for-1 pricing for the nosebleed seats, with the option to pay $20 more per ticket for better seats. But get these seats early, as we tried to buy them just a few days before and we were out of luck. Click to see the full Broadway Week offerings.
What if you can't score discount Broadway tickets but still want some entertainment during your stay? Certainly one great option is to go to one of the many excellent off-Broadway shows! The main difference is that off-Broadway theaters are smaller, but there are still some big-name shows available like Avenue Q.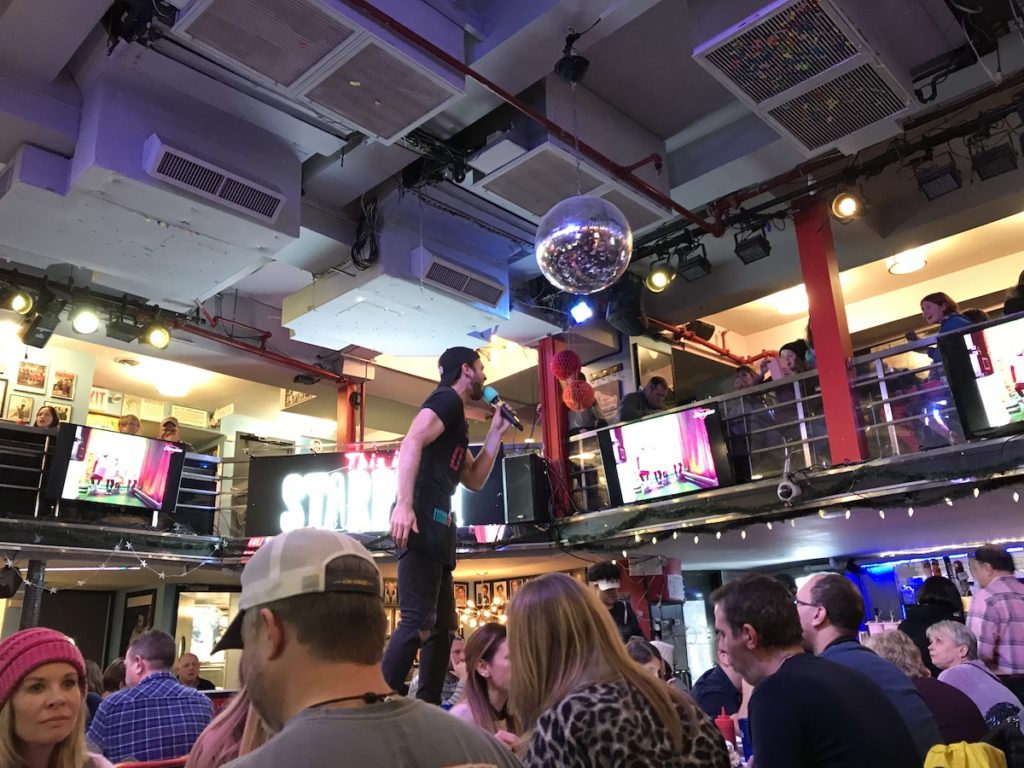 If off-Broadway is out of your budget as well (and I don't blame you), do what every good tourist does: hop over to Times Square and park yourself with a million cups of coffee at Ellen's Stardust Diner. Ellen's is simultaneously an institution, a tourist trap, and a hell of a lot of fun. For us it was the ideal solution to giving our youngest traveler (age 4) a taste of the Broadway magic. There is some serious talent in that room and the performances are nearly continuous. The kids' menu is overpriced, but our kids easily shared from the adult menu (we adults did to). For a total bill that came in under $50 (plus a few rounds of tips for "Phillip" the tip bucket), we got a decent lunch and two hours of performances – for four people. It's hard to beat that kind of value in New York City!
Pro tip: You'll get the best experience sitting in the center section, even if you have to ask the hostess repeatedly to put you there. If you see an open table in the center, insist on it. Try to go when it's not a traditional meal time (or in the dead of winter) to avoid long lines.
Roundup: best tips for planning a trip to New York on a budget
-Start planning early!
-If you can stomach the cold weather, visit in January or February (check out NYC in winter packing list for your essentials)
-If you're visiting with kids, check out these top family-friendly attractions in NYC (including a few you probably haven't heard of!)
-Check Skyscanner for flights or use your Chase Ink Business Preferred to book award tickets if you're coming from far, check bus prices if you're on the east coast
-Buy travel insurance as soon as you make your first booking
-Get your booking.com reservation at a discount
-Try to take advantage of Broadway Week and Must-See Week if visiting in winter; otherwise, enter the Broadway ticket lotteries and look into the New York Explorer Pass
-Plan to carb-load on bagels and pizza!
Big thanks to our partners at HomeExchange, Smart Destinations and TripperBus; all opinions are my own.
Still planning? Pin this for later!