As many travelers can attest, booking.com sets the standard for hotel booking websites. The interface is easy to use, the inventory is seemingly endless, the cancellation policies are generally liberal and the prices are consistently some of the best you'll find on the internet. All of these awesome features make it our favorite place to book hotels.
You'll find info below on sign up bonuses, booking.com Genius levels and behind the scenes tricks. Check out these simple booking.com hacks to score killer deals every time.
Get cash back on every single reservation
Want an easy way to get cold hard cash every time you book a hotel room? Sign up for Rakuten today. I've earned thousands of dollars in cash back over my years as a customer.
How does it work? First off, you'll get a $30 bonus just for making your first purchase. Once you set up your account, just go to Rakuten any time you want to book a hotel (or do almost any other online shopping) and click through. You'll get a minimum of 2% back for booking.com purchases, but there are often cash back bonuses that bring it up to 4% or even 6%.
Want to make sure you never miss a cash back opportunity? Install the Rakuten button for your web browser. It'll notify you any time a site you're on offers a rebate!
You can also earn bonuses by referring your friends to Rakuten (hi, friend!). Right now the bonus is $30, but sometimes it goes as high as $40 per friend who signs up.
Rakuten will send you a check or PayPal payment once per quarter as long as your balance is at least $5. That's it!
>>> Sign up for Rakuten today to start saving.
(Rakuten may not be a household name just yet, but it used to be called ebates. I still call it that and I probably always will!)
Be a booking Genius
Updated January 2022 to reflect the new Booking Genius Level 3!
A few years ago, booking.com revealed their Genius program and we love it. Unlike so many hotel loyalty programs that can get very complicated or require serious loyalty, the booking Genius program is simple: make two bookings in two years, and you're in for life!
No tracking points or watching the average value of your previous bookings – the Genius program is the best way to save on hotels in our opinion. Even if your first few reservations are $12 hostel beds or family-friendly apartments, they still count toward achieving booking.com Genius status.
Once you reach Genius status, every time you go to book you'll see the little yellow Genius icon next to participating properties (and there are tons of them) and get an automatic 10-20% off those hotels! We rarely find a cheaper deal on hotels these days, and some Genius properties offer extra perks like early check-in, late check-out and even free drinks or breakfast.
How many Genius levels are on Booking today? There are currently three Booking Genius levels. The basic benefit of Booking Genius level 1 is 10% off at select hotels (they need to have a minimum user rating of 7.5 to participate, so you're only getting the good stuff). Once you get to Booking Genius level 2 by completing five stays in two years, those hotels can offer you up to 15% off and sometimes free breakfast. Now in 2022 frequent guests like us who stay 15 times in two years are rewarded with Booking.com Genius level 3; it includes the potential for savings of up to 20%, free breakfast room upgrades and priority support.
As with the level 1 status, all of the Genius levels on Booking are for the life of your account. I'm hoping that eventually they'll introduce Booking Genius level 4 for frequent travelers like us! What Booking.com Genius level 4 benefits would you hope to see? For me it could include bonuses like free parking or waived resort fees since these would be for only the most loyal customers.
We have saved so much money over the years with the Booking.com Genius program benefits and I know we'll save even more in the future. Here's a quick summary:
Booking Genius level 1

Stay 2 times
Get up to 10% off future stays

Booking Genius level 2

Stay 5 times
Get up to 15% off future stays
Free breakfast at some hotels
Free upgrades at some hotels

Booking Genius level 3

Stay 15 times
Get up to 20% off future stays

Free breakfast at some hotels
Free upgrades at some hotels
Priority support line
Booking Genius vs Hotels.com Rewards
The Hotels.com Rewards program does things a little differently than the Booking Genius program. As soon as you join, you're eligible for "Secret Prices" up to 15% off the regular rate. For every 10 nights you stay through Hotels.com, you'll earn one free night up to the average value of those nights (also known as "Hotels.com Stamps").
However, it's important to know that your stamps will expire if it's been a year singe your last earning or redemption through the program. By contrast, once you achieve a particular Booking.com Genius status you'll retain it for life.
If you stay more than 10 nights in a single member, you'll get upgraded to Hotels.com Rewards Silver (and eventually Hotels.com Rewards Gold at 30+ stamps).
How do Booking.com Genius prices compare with Hotels.com Secret Prices? As a representative, I looked up the wonderful hotel we stayed in for fall break in Louisville. When I compared Booking.com with Hotels.com for the same dates, room, number or travelers and cancellation policy I found that Booking was almost 10% less. Note that both of those were (surprisingly) substantially cheaper than the same booking on Hilton's own website.
Which one works best for you depends in part on your travel patterns. If you really do stay in hotels for many nights per year, the slightly higher pricing on Hotels.com might be worth it for you to get the free night. But if you stay at hotels less frequently (or sometimes book directly with the hotel) it may take too long to rack up those 10 stamps and then redeem them for a free night on your next trip.
Check your dates and the number of nights
If you're flexible in your travel plans, check prices for surrounding dates and even for a different number of nights for the best hotel deals. While we usually think of hotels as having a set rate per night (sometimes more on weekends), we've found through booking.com that sometimes the extra cost to add a night or two brings down the nightly rate.
As an example, we were looking at a one-night stay in Jerusalem that would have cost $100; when we priced out a two-night stay, it was just $50 more!
And it makes complete sense. While most hotels send in the cleaning crew to tidy up daily, a full cleaning between guests is much more involved. They have to change all the linens, restock the toiletries and minibar, look for straggler items and more. Hotels would much rather have their guests stay for a few nights at a time and they price their rooms accordingly.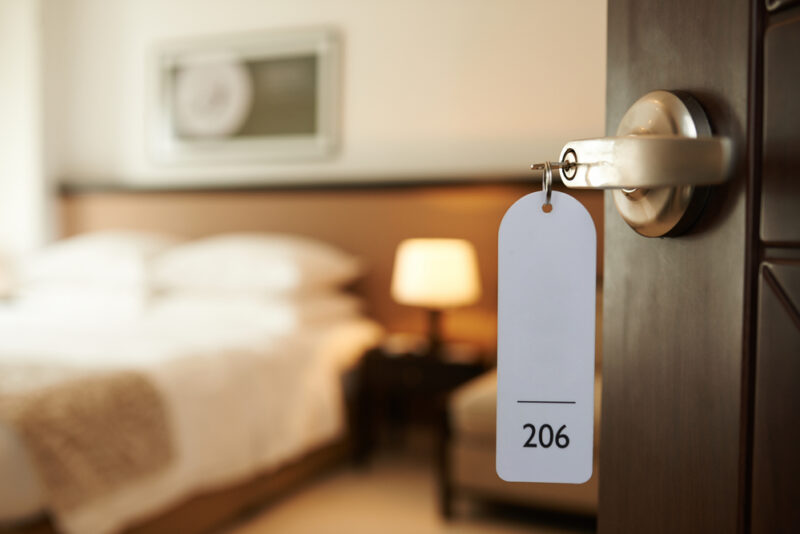 Book early, check often
One of the best features of booking.com is that most properties offer free cancellation as long as you do it a day or two before your intended arrival. What does that mean for you?
Go ahead and book the room even if you aren't positive about your dates! If you'll be traveling to a popular destination over a school holiday, make sure to lock in your hotel before everything is booked up. Sometimes those early booking get the best deals…
… but sometimes they don't. We've found prices slashed up to 50% for bookings within a day or two of travel on occasion. Of course this high-level procrastination works best if you're road-tripping or otherwise extremely flexible.
But you can always make a cancellable reservation several months in advance through booking.com and then change it without penalty a day or two before if you find a better rate – especially if you've achieved Genius status in the interim!
Score a sign up bonus
Unfortunately Booking is no longer offering sign up bonuses. Hopefully they'll bring it back soon!
If you're new to booking.com, welcome to the savings! You have the easiest form of savings right at your fingertips: click here to make an account and start with $25 off your first reservation. No strings attached! You can use it for an apartment, a hotel or any other kind of reservation available on the website.
>>> Join the savings at booking.com today!
Booking.com 4-step saving plan overview
Too much to read? Follow this simple plan to save money on hotels at booking.com: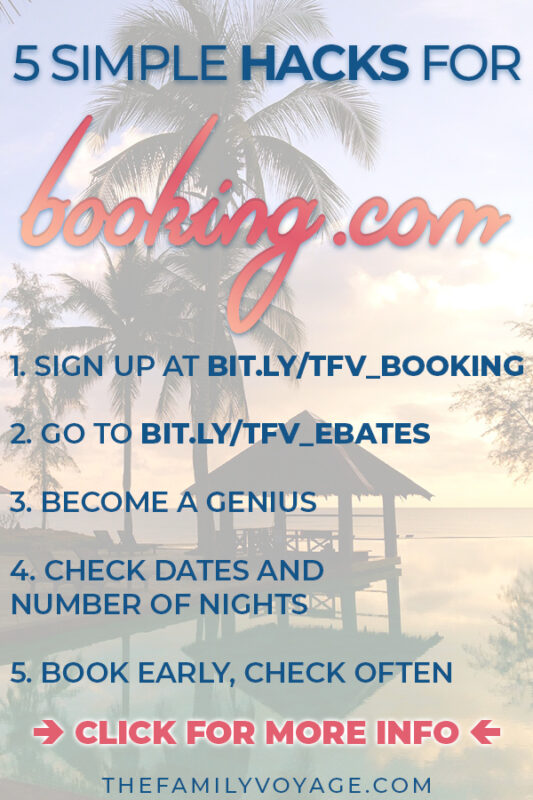 That's it! Get started at booking.com and Rakuten today. Not ready yet? Pin this article for later and share it with your friends.
Booking.com FAQs
How many Genius levels are there in Booking?
At present, there are three levels in Booking.com's Genius program.
Is there a Genius level 3 on Booking?
Yes! Booking.com level 3 began in late 2021 and offers up to 20% discounts.
What are Booking.com Genius perks?
The biggest benefit is the booking.com Genius discount, which is up to 20% for participating properties. In addition, some locations offer free breakfast or room upgrades.
You might also like…