Usually when families think of kid-friendly vacations, theme parks and all-inclusive resorts are the first options that come to mind. Those trips with kids have their place, but if your heart sings at the thought of exploring Europe with kids, I have one piece of advice to offer: DO IT.
We've gone on many successful Europe trips with little kids and our recent visit to Paris was no exception. While the City of Lights may require a little more forethought (this timeline should help) than some other destinations, it really is a kid-friendly and there are so many things to do in Paris with kids. There's so much to do that you'll be sure to find the right muse for every member of the family. Read on for our top tips in this Paris trip planner for families to have a successful trip to Paris with children!
Read more France articles or get Europe travel inspiration
Pro tip: The easiest way to get from the airport into the city with all that luggage after a long flight is by taxi. You'll want to either bring your own travel car seat or book a car service that comes with a car seat included.
Where to stay in Paris with kids
We've stayed in several different areas of Paris over the years. After a huge range of experiences, we strongly prefer to stay in the more central areas of the city. We like the walkability, especially when staying out late for activities like seeing the Eiffel Tower at night. On our last visit staying in a less central area of the city, we found that closures and construction on le metro left us going hither and yon to get to our destinations so we wouldn't opt for that again.
Here are some great, centrally-located apartments suitable for families:
Use the interactive map to find vacation rentals and hotels in Paris, France
---
Get your kids excited about visiting Paris
And there's so much to get excited about in Paris for families! Older kids may want to read guidebooks or explore the Discover series to help plan activities. For our little kids, we loved reading Crepes by Suzette to get them excited about the food while developing a familiarity with the sites and ambiance of Paris. We even got a book on the Shapes of Paris to help our 3 year old identify some of the landmarks.
The Eiffel Tower for kids in Paris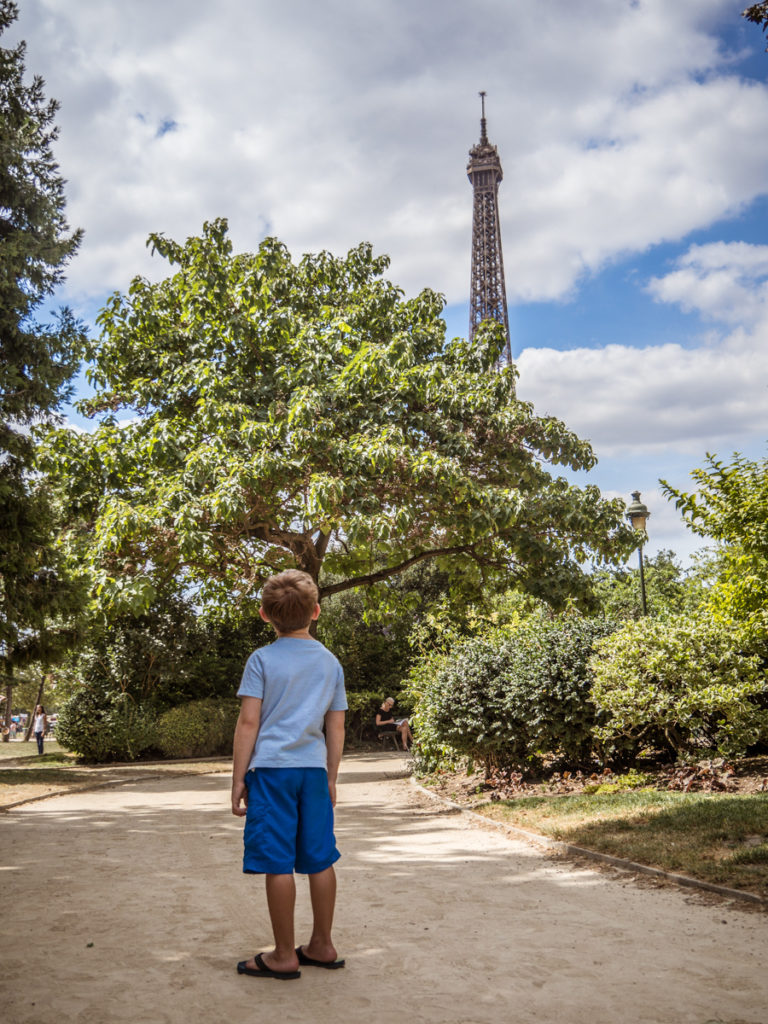 What could be more iconic? Without any prompting from us, our kids made the Eiffel Tower a focus for their time in Paris and we decided to roll with it. Your family may experience the same excitement when traveling to Paris with kids! Don't just go up the Eiffel Tower and call it a day, though.
During your entire family trip to Paris, make a game of spotting the top from different vantage points around the city – and let your kids practice photographing it. For engineering-minded kids, talk about its design and construction. For artistic kids, take a picnic and some supplies to the Champ de Mars and give them time to record their impressions (and run around chasing pigeons).
How to visit the Eiffel Tower with kids
Should you buy a ticket for the Eiffel Tower in advance?
Definitely.
Buy timed Eiffel Tower tickets in advance to avoid the ticket queue if you know when you want to visit. When we visited in mid-June we strolled in around mid-afternoon and the line was enormous.
When is the best time to visit the Eiffel Tower if you haven't purchased a ticket in advance?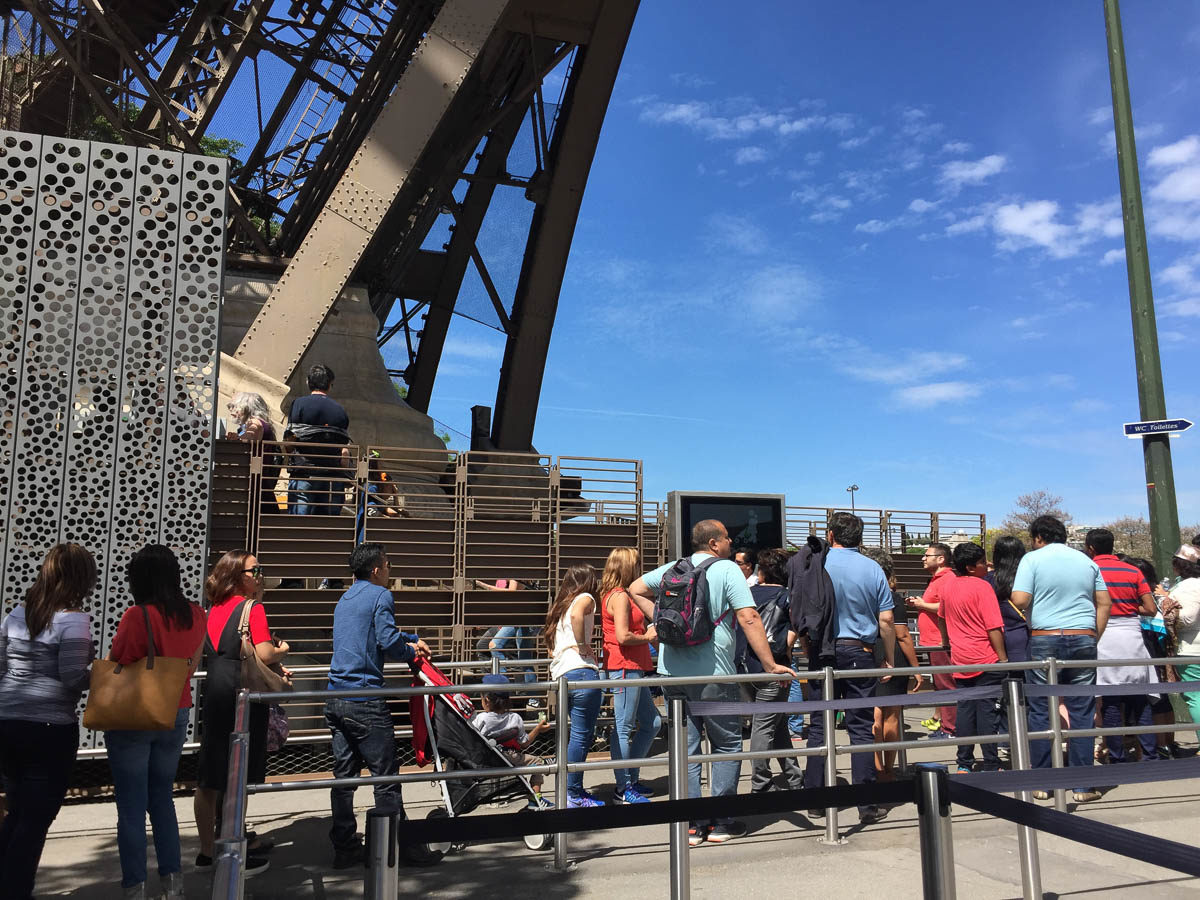 On the other hand, a year before we went on a weekday in the early afternoon in May and the ticket queue was completely empty. The elevator queue took only about 10 minutes! YMMV.
What should you bring to the Eiffel Tower when you visit with kids?
As little as possible. Really. We goofed on this one and brought our full day's worth of gear in the stroller basket. You must collapse your stroller to go up the elevator of the Eiffel Tower. So can you bring a stroller up the Eiffel Tower? Yes, but be prepared to take all of your stuff and your children out! We were happy to have snacks, water, sunscreen, sunglasses, and cameras on hand for our visit. Something like this is perfect to have on hand *just in case*.
How high up the Eiffel Tower can you go with children?
In theory, all the way up. However, both times we've visited the top has been closed due to high wind! We've been happy with the view from level 2 and think that our young kids wouldn't do well at the very top. Note that the better viewing area on level 2 requires going up a short flight of stairs. This is another situation where it's better not to have a stroller at the Eiffel Tower.
When does the Eiffel Tower light show start in the summer?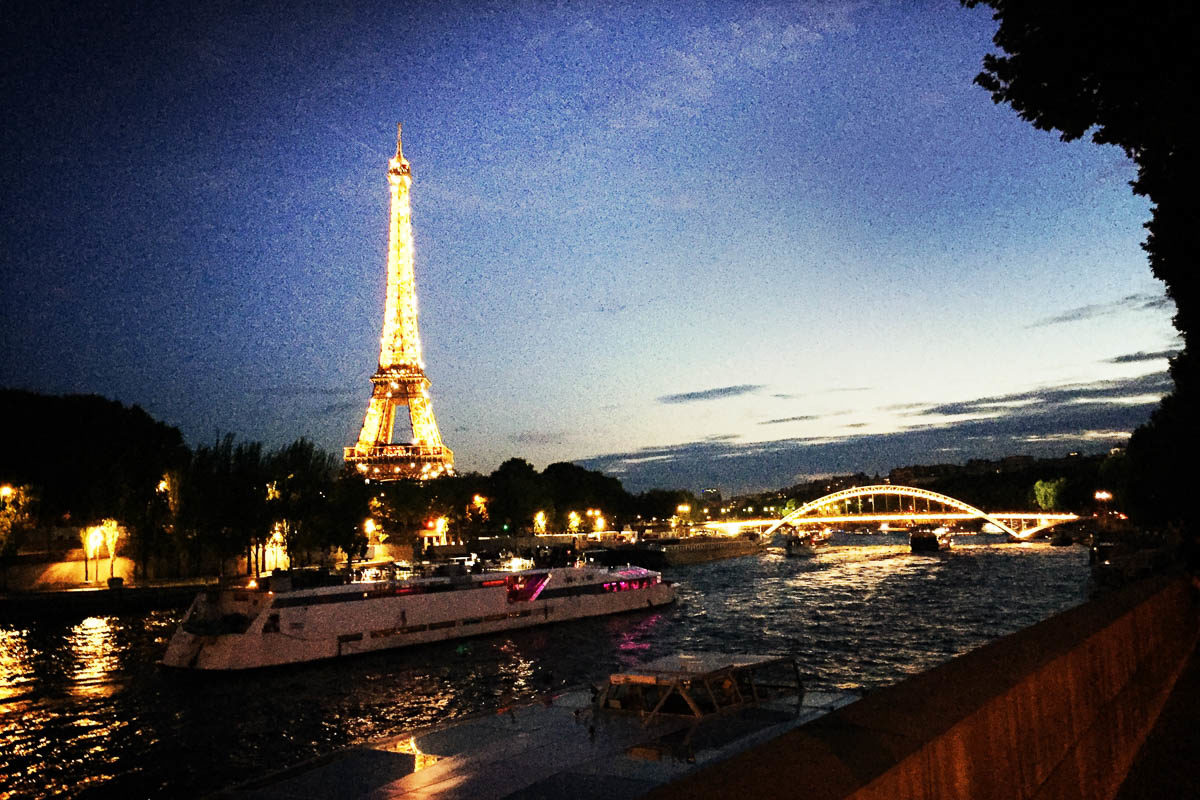 Late. Sorry! We visited in mid-May and it began at 10pm. We had hoped it would begin at 9pm, but we were wrong. Since the walk or metro back to our apartment would take a half hour, we debated whether or not to stay the extra hour. In the end, our 5 year old was the voice of reason: his little sister was already sleeping in the stroller, he was fine staying up late and how could we come all the way to Paris and not see the Eiffel Tower light show??? So we grabbed a table with a beautiful view at Chez Francais (nevermind the stereotypically snooty service) and waited – us adults with a beverage, our son with his watercolors, and our daughter with her cozy stroller. Let's just say that our son made the right call. (The Eiffel Tower light show schedule begins after sundown and runs until 1-2am, for five minutes at the top of every hour.)
Read more:
What to pack for Paris in fall
What to pack for Paris in spring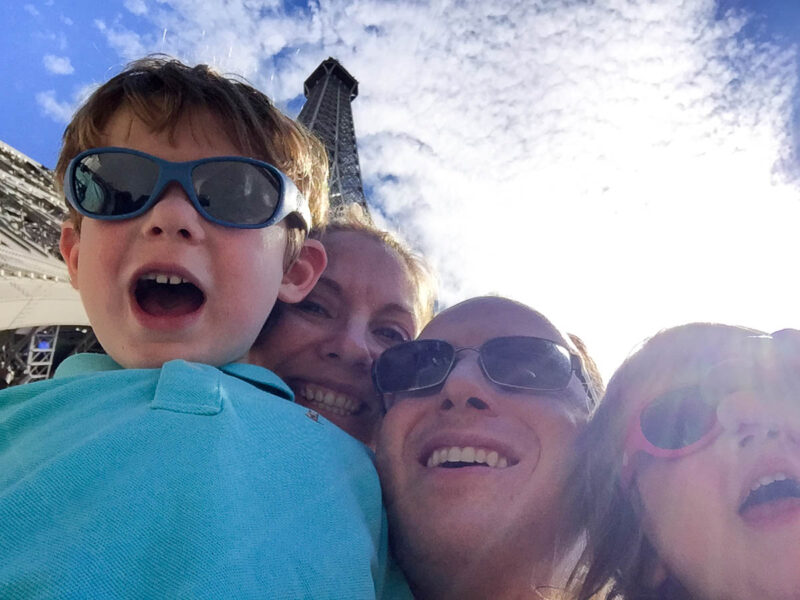 Consider what to do in Paris with kids – choose wisely!
When we travel, we set one or two important-to-us priorities for each day. On this trip, we inadvertently ended up with theme days: church day, museum day, and monument day. We visit two "major" sites each day, and in between we snacked, strolled and soaked up all the charms of the city. Read below to find our favorite things to do in Paris with kids.
That's a personal question and it depends on your style and speed of travel. If you and your kids want to see everything and move pretty quickly, the Paris Pass can offer a great value and save you the hassle of lines. If you will be visiting sites more slowly, as we did, you might opt to buy non-dates tickets online for various sites; while it's less convenient than a single card for everything, you have more choices for pacing your trip. Of the six sites we visited in three days, one was free, four were included in the Paris Museum Pass and the pass also offers a discount on the advance purchase of timed Eiffel Tower tickets. Ronnie was organized enough to buy a combined ticket for Musee d'Orsay and L'Orangerie and tickets for Les Invalides and Saint Chappelle online in advance. The total price was the same as the two-day Paris Museum Pass but we spread our site-seeing over three days. Find out more about the Paris Museum Pass here.
Should you visit the Louvre with kids?
Obviously this is a matter of opinion, but it depends entirely on your family. I'm not sure we all would have survived a visit to the Louvre in one piece! Ronnie and I went on our last trip to Paris and, while an impressive art collection, it is jam-packed with visitors. I recall the crowd at the Mona Lisa being about 20-deep with everyone just holding up phones and cameras to snap her picture – and that was almost a decade ago! I can only imagine what it's like now.
We felt confident that visiting the Louvre would make the kids unhappy and us stressed, so we skipped it and we stand by that choice. Instead, we opted for the more intimate art museums just down the street. L'Orangerie shows kids how immersive art can be, with its purpose-built space covered in Monet's wall-sized murals of water lilies arching through the day's cycle of lighting. The Musee d'Orsay houses a huge range of art to appeal to any interest, but we made a bee-line for the impressionist and post-impressionist collections on the top floor. Not only did Jacob love the art he saw, but he was excited to learn about pointillism and incorporate it into his own art!
Buy a combo ticket for both museums to save money and skip the line!
Note that we had no problem wearing our little on in a carrier on our backs at Musee d'Orsay but we've heard that guards at the Louvre can be sticklers about it. We've encountered many art museums in Europe that don't permit back carries, so YMMV. If you do opt to visit Musee d'Orsay with kids, be sure to book this awesome scavenger hunt. Several members of our Facebook group have done it and reported that it was a great way to engage kids!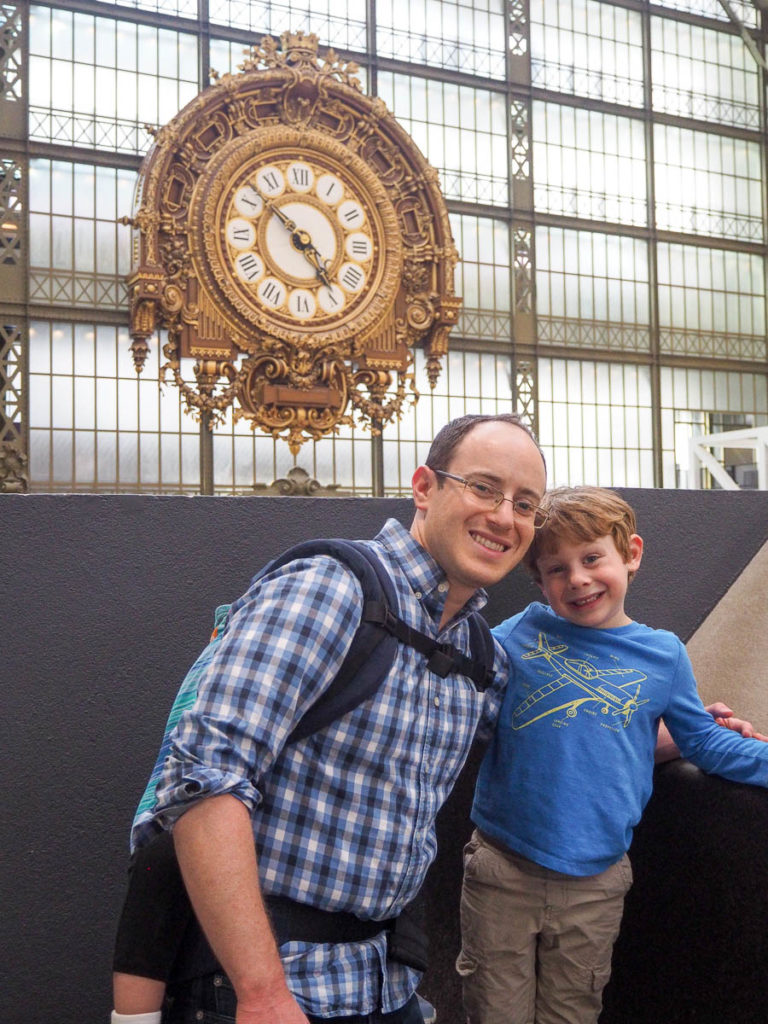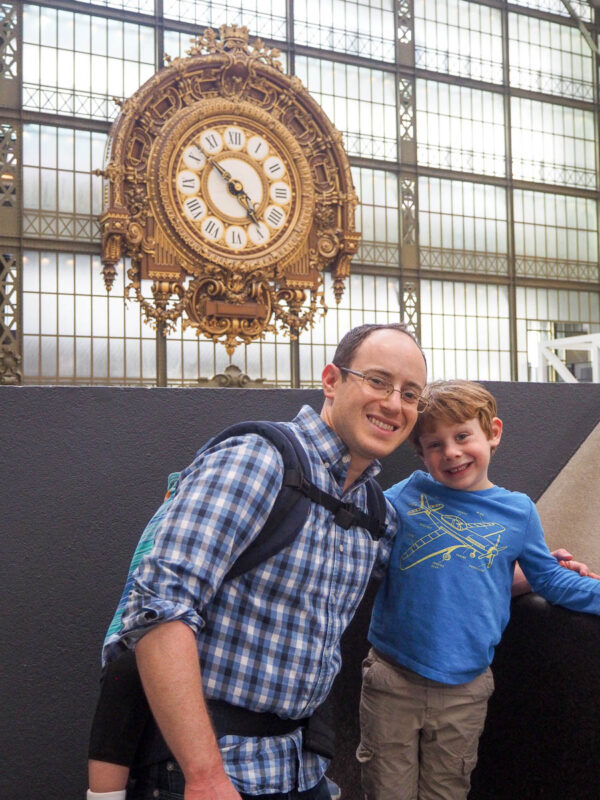 New to Paris? Check out this awesome travel planner for your first time in Paris from World in Paris!
Check out these great ideas for visiting art museums with kids.
Keep the kids happy with all of the sweets and treats Paris has to offer
It's true, we are very liberal about junk food when we travel and I feel a-ok about that. There are two reasons we let our kids enjoy extra treats on vacation: first, it makes for happier travelers; and second, it's their vacation too. We may think it's so exciting going off to an exotic locale, but young kids often take much more pleasure in the simple things in life like a drippy ice cream cone on a hot day.
We often "pre-game" visits to less kid-friendly places with a strategically offered snack. And Paris has so many wonderful snacks and desserts available, many of which are not as common here in the US (so the kids get at least a little dose of local food culture, hold the fois gras). Our favorite kid-friendly treats in Paris were croissants (both regular and pain au chocolat), macarons and of course crêpes (preferably Nutella-filled).
Traveling beyond Paris? Check our our top 10 things to do with kids in France!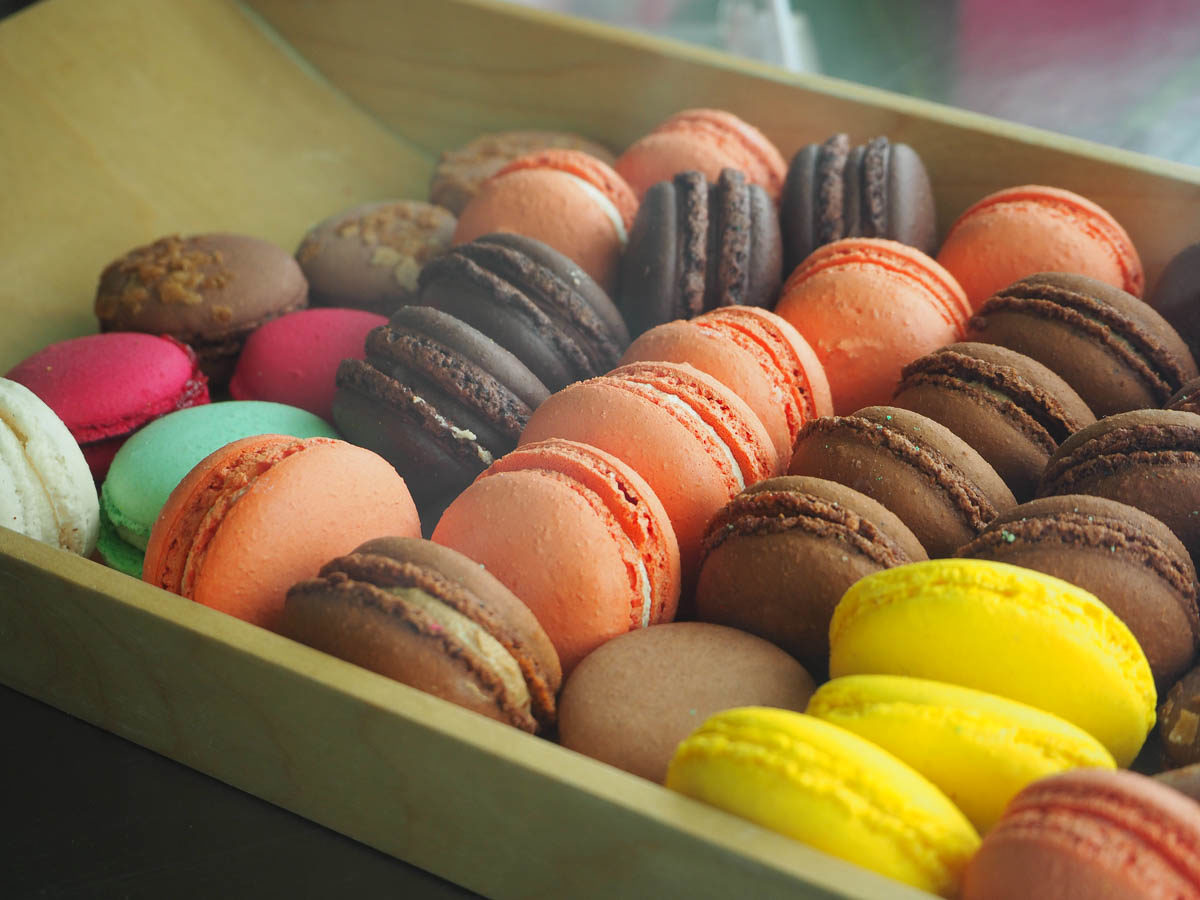 How can you keep kids engaged on a family trip to Paris?
While little ones may be happy to sit in the stroller staring at the leafy trees and impressive monuments, older kids might need more options to keep them interested in such an "adult" city. Fortunately Paris has plenty to appeal to the senses.
I mentioned the delicious treats above, but why not take it a step further and learn to make crêpes by watching beside one of the many carts or at your local creperie? It turned out to be one of our favorite family travel experiences! If your kids are old enough, definitely look for family cooking classes – there are some specialty ones in Paris for kids.
Instead of walking by the many street artists, stop and make time for your child to watch the process, ask questions, and even make a new friend as Jacob did. We often find that it's easier to make personal connections when we travel with kids – they're so naturally inquisitive, and most people love to answer their questions about who they are and what they do!
Since Jacob loves art so much, I brought a watercolor field set and proper watercolor notebook for him. He loved documenting Paris through his own eyes, and having the right tools meant everything was dry before we moved to our next site.
The kids were also excited to try their hands at photography, so we encouraged and guided them (Shoshana with the iPhone and Jacob with our fancy but lightweight mirrorless system camera – always with the strap on his neck!). They're getting pretty good!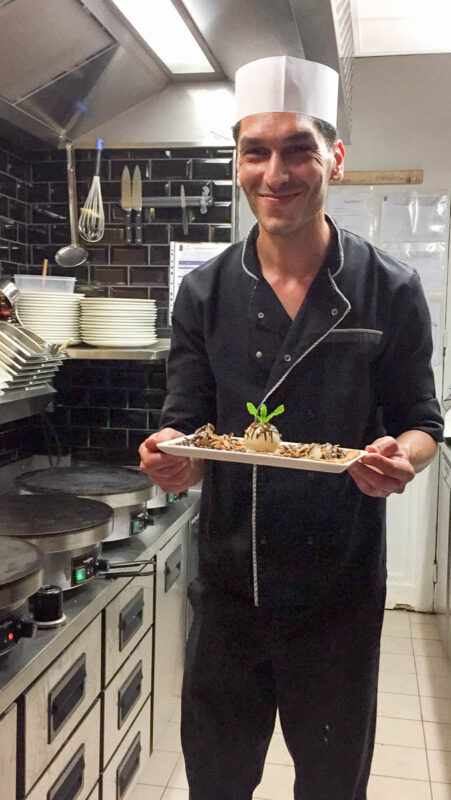 The sounds of Paris are different than anywhere else, so take time to appreciate them. We heard accordions playing La Vie en Rose, traditional jazz bands and more. You can find live music in Paris on nearly every corner. Take a listen for yourself!
When visiting Paris with kids, the carousels of Paris are an important tourist attraction. They span the range of artistic and architectural styles and you can find them all over the city. It's a quick, cheap thrill for the whole family and, in my opinion, there's no limit on the number of rides you should take in a single day. My personal favorite is in front of the Ville de Maire, just before the entrance to Le Marais.
Looking for more things to do in Paris with children? Check out a Paris family weekend itinerary from Christine at Tapped Out Travellers!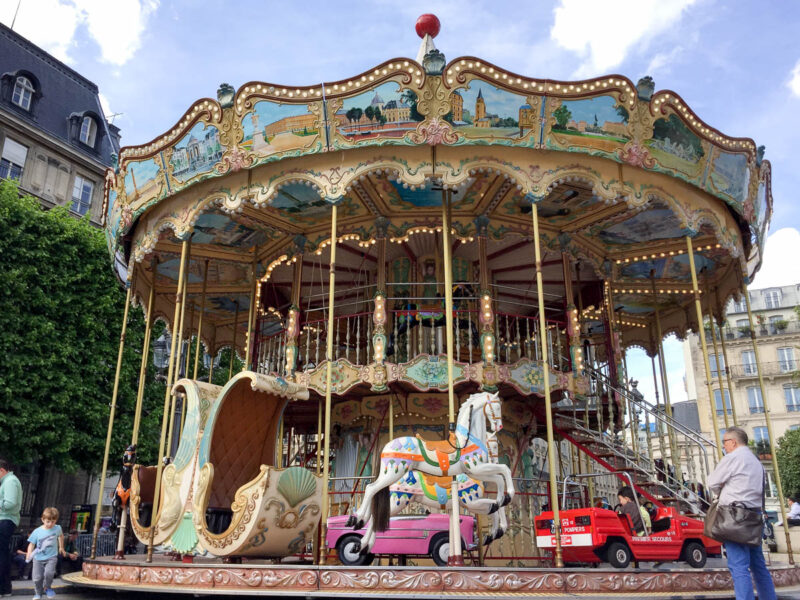 Think about what stroller to bring to Paris for children
There's no clear-cut answer to this question. Bringing a stroller gives your kids a comfortable vantage point for taking in the city while you rack up your thousands of steps. It's all a great place to store everything you need for a full day and evening out, so you won't need to waste time going back to your Airbnb. On the other hand, many smaller Metro stations have no elevator and plenty of small restaurants will give you the side eye (or just refuse entry) if you try to walk in with your massive double jogger. Don't forget that you'll have to empty and fold your stroller to go up the Eiffel Tower!
My advice? Bring the smallest stroller that can possibly meet your family's needs and supplement it with a high-quality travel friendly baby carrier like the Tula Baby (which comes in both standard and toddler sizes). Which tool to use will depend on the day's activities, how you're feeling and even the weather.
Our solution for visiting Paris with a toddler and a preschooler was to bring a big, easy-folding single stroller with a footwell that can serve as a seat in a pinch and a toddler size carrier to use when we only want one rider in the stroller. We've used this plan before and it works great – sometimes both kids are in the stroller, sometimes one is walking, and sometimes one is riding on our backs in the carrier. We can still manage to get down the Metro stairs (no kid in the stroller) and restaurants are generally willing to let us squeeze the single stroller next to our table or tuck it on the side. (Our "big single" is the now-discontinued Baby Jogger Versa. Check out its new and improved replacement, the Baby Jogger City Premier!)
If you plan to bring a baby carrier to Paris – and you should if your child is three or under – check out these great tips on babywearing at the airport.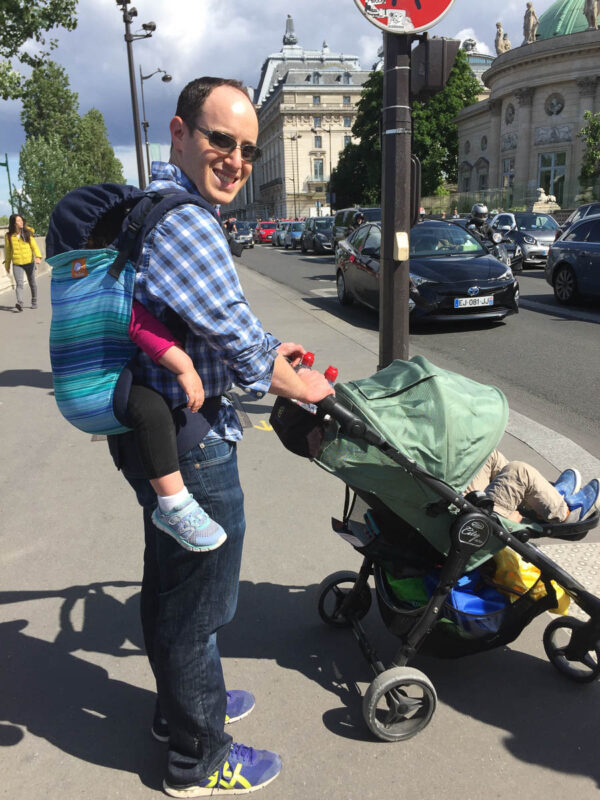 Make sure to check our this guide to the best neighborhoods in Paris for your vacation.
You can also save money by staying in a hostel in Paris – there are even some family-friendly choices!
Best things to do in Paris with kids
The key to choosing what to do in Paris with kids is remembering that they have a difference sense of "iconic" than we do! It's equally important to give yourself permission not to do everything while you're there.
Visit an art museum in Paris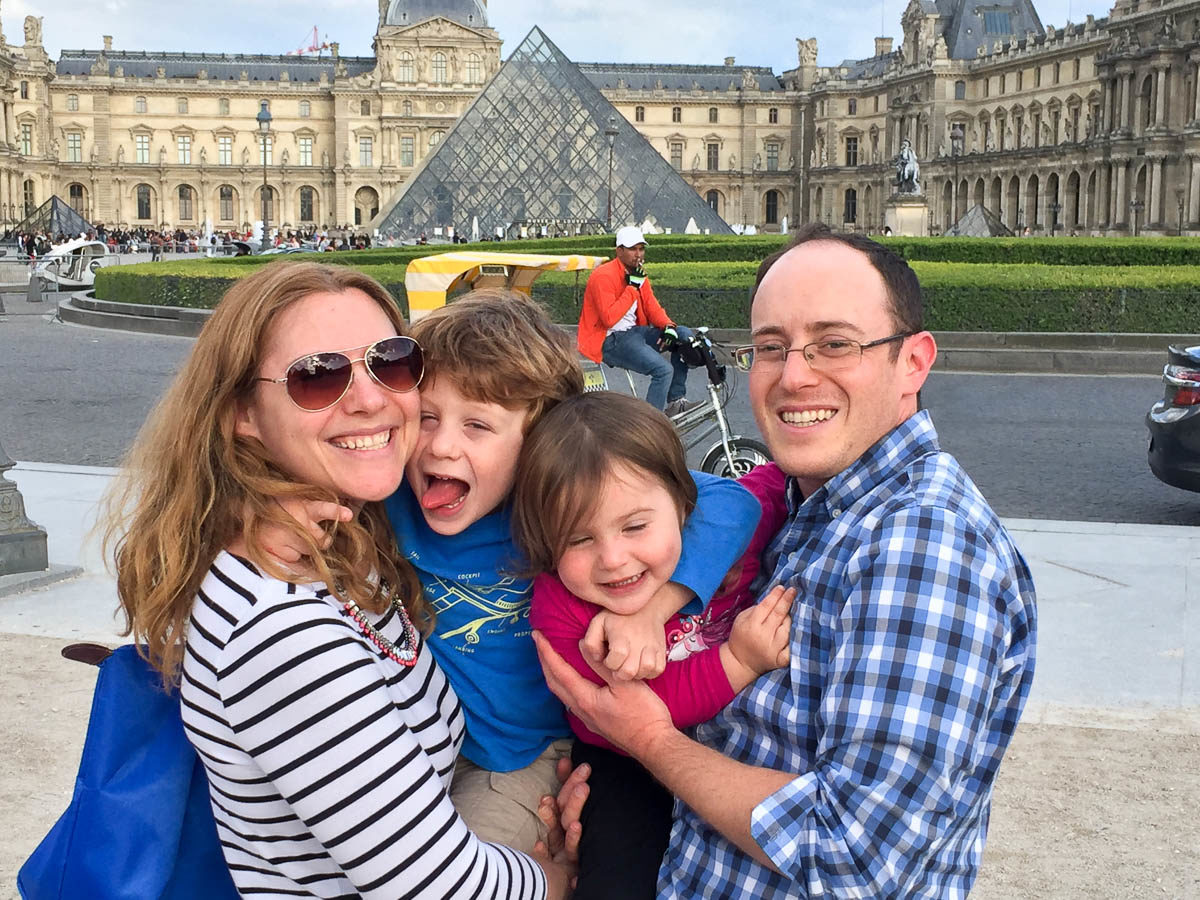 There are so many amazing art museums in Paris that you have to visit at least one… but don't feel pressure to visit more than one! Take your kid's temperature (so to speak) and see if they'll be game for a few. We prefer smaller museums with our children so Musee d'Orsay is a good pick. Other options are the Louvre (of course), l'Orangerie and Musee Rodin.
Go to a church in Paris
Just like with museums, YMMV depending on your kids! We've taken our children to Notre Dame, Saint Chappelle and Sacre Coeur and they liked them all. We've found that it's most important with church visits not to walk around and visit every chapel around the perimeter, and if possible to let them slow down and engage with the space on their own terms. They enjoyed sitting and painting Notre Dame, photographing the stained glass of Saint Chappelle and just staring up in wonder at Sacre Coeur in the late afternoon (trust me on this). Surprisingly, this is one of my favorite things to do in Paris with children!
Play like a Parisian kid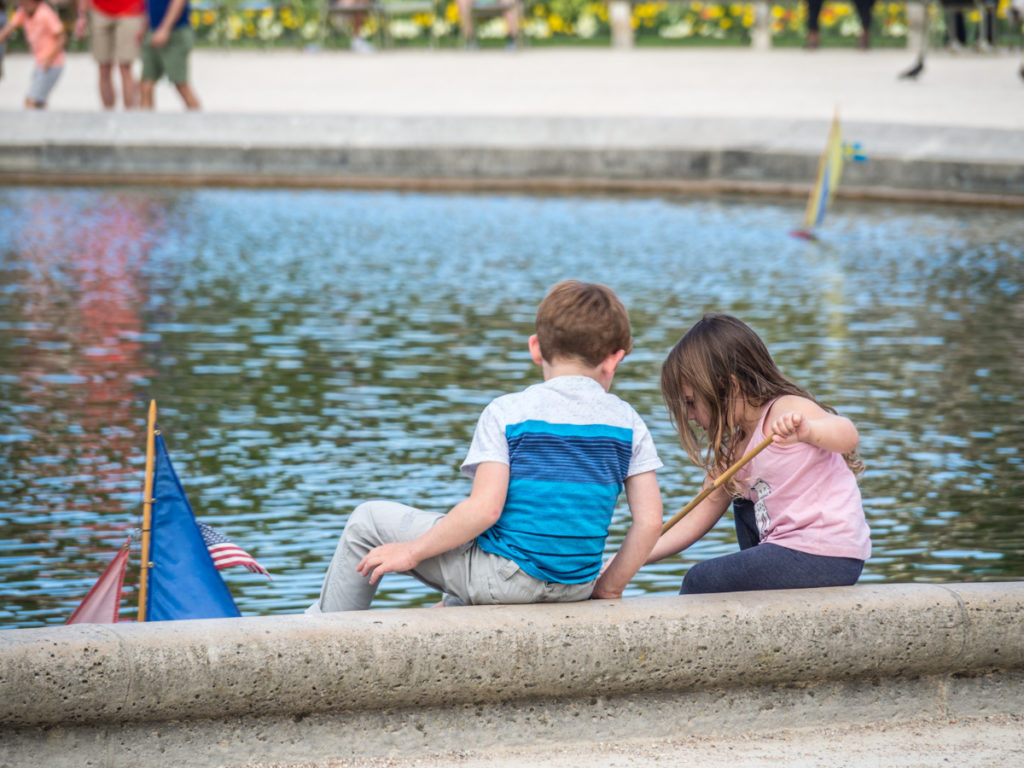 Though Paris isn't often thought of as a child-friendly city, there's plenty to keep kids happy! There are carousels wherever you turn and, even better, they can appreciate the simple pleasures in places like Jardin Luxembourg – it's one of the best things to do in Paris with toddlers in my book. Bring a few Euros and your child can rent a small wooden boat to push around the fountain with a long stick… just like their French peers. It sounds simple and it is, but the simple activity brought our kids so much joy. Bonus: there are plenty of chairs for mom or dad to sit an enjoy a coffee.
Explore a new Parisian neighborhood
Want to get a less touristy – but no less interesting – experience Paris? Take your children to the charming and interesting Belleville neighborhood. You can enjoy the neighborhood's many diverse dining spots, a delightful stop at Tatanka toy shop and sweeping city views from the top of Parc de Belleville. Find more information about this fascinating neighborhood here.
Eat your way through Paris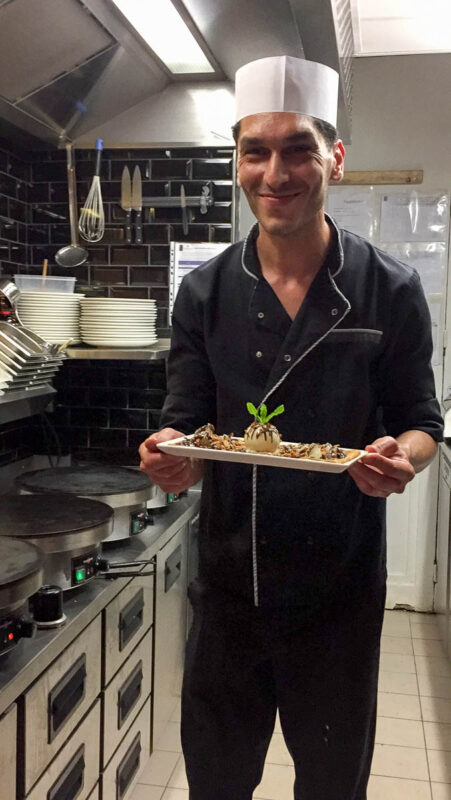 Take your kids on a self-guided food tour through the culinary delights of Paris. The beautiful thing about Paris is that you can find anything you want to eat practically anywhere! Stop in a cheese shop and let them select a few French cheeses to sample, stop in a bakery to pick a few breads, a patisserie for some sweets. Bring your treasures to the banks of the Seine for a lunchtime picnic they'll never forget.
If you still have room after a stroll, head to the Marais for a snack at L'As du Falafel. Enjoy some time in the neighborhood's small shops (or even a brief visit to the carousel at the Hotel de Ville) and then venture to La Droguerie du Marais for savory crepes and sweet ones. There are plenty of kid-friendly places to eat in Paris, and these types of casual restaurants top the list.
Wondering who the guy is in the photo above? Get the full story here!
Appreciate the Eiffel Tower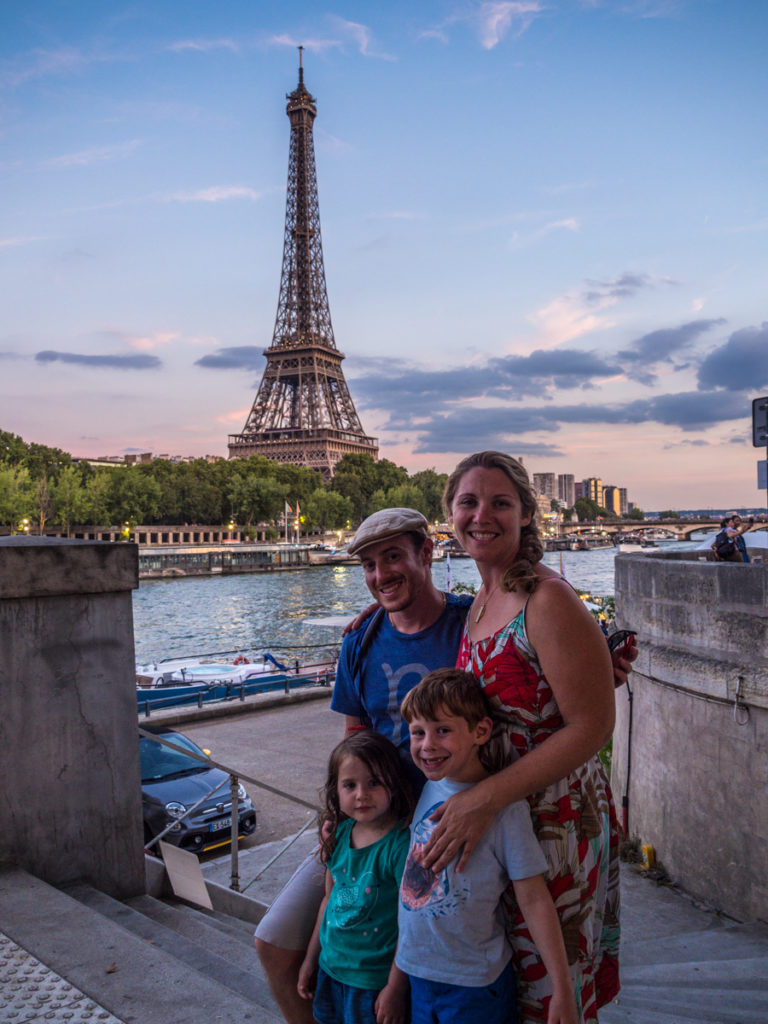 There are so many ways to enjoy the Eiffel Tower! Play "spot it" around the city as the tower comes in and out of view behind buildings, climb to the observation deck, or head to the other side of the city to appreciate the best view of the Eiffel Tower from the Montparnasse Tower.
Our first trip to Paris as a family was definitely one for the memory books and we hope yours is too! Drop us any questions below and we'll try to help you plan an amazing visit to Paris with kids.
You might also like…