As we hurtled toward our departure for our family gap year trip around the world, we thought about many things… where to go, how to manage the kids, how we'd pack a year's worth of stuff for our family into just a few big backpacks and so many other things I can't even remember. One consideration that got completely lost in the shuffle of big-picture planning was a small but critical detail: when we got to all of these amazing places and took our children out to see them, what would we use to carry around our junk for the day? That's right, for all the lists and spreadsheets we didn't give one iota of thought to the best travel daypacks for our needs. With that in mind, here are all the great small daypacks for women that I'm currently coveting and would have brought if I had remembered to.
(If you're looking for a full-size travel backpack for women, don't miss my hands-on review of all the top models!)
Best urban daypack for women
We've spent a decent amount of our family gap year in major cities, where an urban daypack worn on the front is de rigueur. A sophisticated black backpack purse would fit right in and works with most wardrobe options. I've looked at the Marc Jacobs backpack for a long time, and just recently saw the similar Tumi option. Any of these would also make a great "mom backpack" for those of us resigned to carrying water, books, snacks and jackets for a party of four.
Marc Jacobs Biker Backpack
I love that the nylon material makes this such a lightweight backpack, but the front zipper details give it plenty of interest AND functionality. It also comes in an array of other subtle but fun colors, including an oxblood that would be perfect for fall.
Tumi Voyageur Halle Backpack
If you're looking for a women's small backpack purse, the Tumi Voyageur Halle might fit the bill. It's a bit smaller than the Marc Jacobs and perfect for petite women. It also has two exterior zipper pockets, one very small and the other more generous, and inside is a padded sleeve that's perfect for a small laptop or a large tablet. This would have been perfect for me to take on flights with all of my electronics gear! I would personally stick with black to avoid extra attention in theft-prone areas, but if you're visiting places where that's less of a concern you can have your pick of a few cute colors (and the color version are sometimes less expensive than the black – check prices here).
Tortuga Setout Packable Daypack
The only daypack we actually brought with us when we left on our gap year was a really basic (and not in that Urban Dictionary kind of way) packable daypack we got on Amazon on a lark. As it turned out, I hated every minute that I used it. So when Tortuga reached out and asked me to review their new Setout packable daypack I was a wee bit skeptical that it could be *that* much better than the other one.
Boy was I wrong.
We've been using that thing a ton since our return to the US – for days out in Washington DC, exploring the front range in Colorado and strolling around back in LA. It blends in everywhere and looks sleek and chic. The Tortuga Setout makes a great urban daypack for women or men and it's very comfortable (even when loaded with dozens of books) thanks to the padded shoulder straps and back. I love that it's just a little more structured than the cheap packable backpacks, but it still folds down to a nice small size. Get your own Tortuga here!
Convertible backpack for women
When you are packing for a gap year trip, flexibility is key. Every item should do double or triple duty! These Sherpani convertible backpacks for women look perfect for just that: backpack straps for when they're totally loaded and you need the extra support, or use them in a tote bag configuration for big city wandering.
Sherpani Amelia travel backpack for women
I'm a sucker for all things gray, and I love the unique look of the Sherpani Amelia – it's wool! They do also offer a canvas backpack for women in the same style, which has lovely leather accents. There are two small exterior pockets, an interior pocket and an included wristlet, so all of your small things can stay organized. The main compartment zips and then folds over, so it's less likely to be targeted by the casual opportunist pickpockets of the world.
Sherpani Tempest convertible backpack for women
The Sherpani Tempest probably works better as a tote than a backpack, but it's got great style and huge capacity!
Camera backpack for women
There are two problems with most camera bags and backpacks. First, they're fugly. And second, they scream "STEAL ME!!!" with their fancy branding and technical, indestructible styling. Neither of these characteristics is idea for a female traveler, and I've really struggled on this trip with how to transport my camera equipment. As of this writing, I'm traveling the world with a Olympus mirrorless camera and three lenses (this, this and I just got this one in New Zealand), plus accessories like a tiny tripod, extra battery and a spare SD card. Sadly I don't currently own a case that can hold the camera with either of my two preferred (but larger) lenses mounted, so I usually just toss it in whatever makeshift bag we're using for the day totally unprotected. Not a good move, but I'm thin on options at the moment. Pray with me that nothing bad happens!
Jo Totes Bellbrook backpack
If I had to pick just one daypack for myself, it might just be the Jo Totes Bellbrook backpack. The folks at Jo Totes are experts at making high quality camera bags for women and are extremely well respected! The Bellbrook has attractive styling, side access that's just the right size for my mirrorless camera, a sleeve for my laptop and even some room to spare for other items I need to carry on for flights (like medication and my backup hard drive). If I come across it in Australia, well…
See why my friend Brittaney loves her Jo Totes camera bag for women here
CADeN Camera backpack for women
I love how inconspicuous this camera backpack for women is, but it doesn't seem to miss a beat in functionality! The bottom houses a slide-out padded camera insert with multiple sections (perfect for my multi-lens setup) while the top half can hold the rest of our family's gear for a day out. No more rummaging through 18 snacks and four rain jackets to get to my gear! This backpack even comes with a rain cover and can fit a MacBook Pro along with the camera gear. I might try to pick one of these up along the way if I can find it.
AmazonBasics Hiker Camera backpack
I admit that this is by far the least stylish option on the whole list, but hear me out. On our family gap year trip, we spent a bunch of time on full-day treks. For those long hikes, I really could have used something with enough capacity to carry everyone's clothing, lunch and water AND with a separate compartment for my photo gear for quick access and safe transportation. The hip belt and trekking pole slots make this a great choice for female hikers who love photography too. This one is probably better for women who are average or tall, rather than petites. But for those on a budget, it's probably the best camera backpack for hiking.
Best women's hiking backpack for day hikes
Osprey women's daypack: Tempest 30L backpack for women
I swear, every time I see this Osprey day pack in the airport or on the trail, I'm so jealous. The Osprey Tempest 30L backpack has an awesome harness system, top-notch quality and enough capacity to hold our family's gear for a day of hiking – there's a reason many people think it's the best 30L backpack for hiking! In the black color, it's not so gender-specific that Ronnie would be unwilling to carry it for a bit. For most of our multi-hour hikes I end up taking my regular travel backpack, the Thule Versant 60L, without its top lid and just cinching it down. That works fine and got us through Patagonia, but that sucker is heavy and much more space than I need. If I see a Tempest at the right price during our journey, I might have to pick it up.
REI daypack: Trail 25
If you're looking to save some cash and still want a great women's day hiking backpack, definitely check out the REI Co-Op Trail 25! I actually tried the 40L version when I was looking for my main backpack and absolutely loved it. The quality is very high, it includes lots of nice features, and the the fit is perfect for even petite women. This REI daypack looks like a big winner, and you can even expand the capacity a little by adding on their REI Trail 2 Waistpack instead of the standard belt.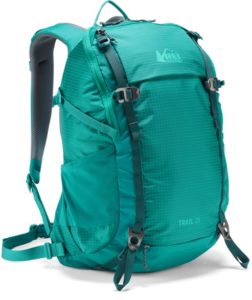 CamelBak Sundowner
I'll come right out and say that I think the new CamelBak sundowner looks awesome. I've owned and loved their packs for over a decade, but this one is specifically built for women who hike! It'll haul 3L of water and 22L of gear. There's a pocket for everything and the exterior has slots for trekking poles. The mesh back should also make it less sweaty for warm-blooded hikers like me. Just take my money now, please. Check prices here.
Want to get more helpful travel tips like this? Sign up for our email list!
What's your best daypack for travel? Tell me your recommendations in the comments for my next shopping trip!