When you visit a place like Patagonia, so much of the conversation between travelers sounds like a brag book of code names as you all go around the same well-trodden circuit of tourist destinations. It's just the reality of a trip to Patagonia: given that many areas are too remote to have services like hostels and buses, everyone hits the same spots. And so we arrived in El Chaltén hearing everyone discussion W versus O, mini-trekking and Fitz Roy. But our little family of quasi-adventurers is not out to complete a checklist or push ourselves into a daunting situation to impress others. Rather, our goal in El Chalten travel was to see amazing scenery with as little hassle (and kid whining) as possible. Mission: accomplished. El Chalten trekking is truly accessible even if you aren't an award-winning mountaineer, and with our El Chalten day hikes list you'll never have to wonder what to do in El Chalten.
We were looking for the best easy hikes that our family could conquer that would still be rewarding – and thankfully trekking El Chalten doesn't have to be hard. That means that 6yo Jacob could walk them on his own (at his own pace and with breaks as needed) and Ronnie could manage them with 3yo Shoshana on his back in a carrier. Our family has an average level of fitness and we do hike at least once per month. We each rented trekking poles from a local shop (around $7 per day per pair) for the harder hikes on the first two days.
Usually when we talk about hiking difficulty we consider the length of the trail and any technical challenges. Hiking El Chalten adds a new wrinkle: the wind. The wind in Patagonia is fierce. Some of the cross-winds in town nearly blew me from the sidewalk into oncoming traffic and absolutely terrified Shoshana (after all, a stiff wind could literally knock her down!). We learned from locals that the best source for weather in El Chalten is windguru.com. Our visit in the springtime brought mostly dry conditions, but the wind on some trails was enough to make their difficulty much higher than either the distance or technical challenges would have led us to believe! For the trails below, we've noted how exposed or protected they are, so when you arrive in town check the wind forecast for the upcoming days and plan your hikes accordingly. (There are several short, fairly easy trails that depart from the Ranger Station, but those are all exposed to the wind so we chose not to do them in the El Chalten weather conditions we experienced.)
And even if you aren't a hiker, feel free to scroll on through and enjoy the stunning scenery. El Chalten is easily one of the most picturesque locations in Patagonia!
The best easy El Chalten hiking options
El Chaltén Laguna Capri hike
Distance: 4km each way
Elevation gain: 350m
Wind exposure: Some parts exposed, especially in the first half. In that area, the wind is STRONG – I recommend sunglasses for everyone, and consider bandanas to cover mouths.
Time: We were on the trail for approximately 5 hours, including about an hour of stoppage total
Trail notes: Somewhat steep in the first km, then inclined for another 1.5km.
We did the Laguna Capri hike on our first full day in El Chaltén, figuring we'd conquer the hardest one and could then tell Jacob that the rest would be easier. While Shoshana rode comfortably in the backpack the whole way, we saw another kid her age taking on the trail (and crying about it) and a 4.5yo happily strolling along. At 6yo, Jacob complained but managed fine. Apart from the wind, which was dangerously strong at both the first lookout and the lake itself, there were no real technical challenges. However, the wind can be extremely drying and we ran through our 72oz of water by the time we got to the lake. Whoops! Fortunately the trail head is equipped with a tap that provides amazingly good water straight from the mountain springs. I wish I had brought my 3 liter Camelbak bladder to use in my backpack!
The views at Laguna Capri were spectacular, and along the way we even saw a red fox, several interesting birds and numerous butterflies (though I can't imagine how they weather the ferocious winds!).
Want to keep the kids pumped during long treks? Try these great family hiking songs.
El Chaltén Mirador del Cerro Torre hike
Distance: 3km each way
Elevation gain: map says 250m elevation but ranger confirmed that it's more like 350m (same ridge has Laguna Capri)
Wind exposure: Fairly protected from the wind so felt easier than some other hikes
Time: We were on the trail for approximately 5 hours, including about an hour of stoppage total
Trail notes: Inclined most of the way. Lots of scrambles, more technically challenging than Laguna Capri.
This was our favorite easy hike in El Chaltén! Though the constant incline requires a decent amount of endurance, the views at the top are absolutely stunning. We lucked out and did this hike on a day that was chilly but clear. The trails location affords nice protection from the wind, so it wasn't as exhausting as some other trails. After the 3km trek to the viewpoint, you could continue all the way down to Laguna Torre, but other hikers told us that it's quite challenging and that the winds at the lake were strong enough to make it much less enjoyable, and of course much longer distance. We were happy with our choice to only go as far as Mirador del Torre. From what other (more "serious") trekkers told us, this is one of the best hikes in Patagonia.
El Chaltén Chorillo de Saltado
Distance: 3km each way
Elevation gain: almost completely flat if you take the road on the right rather than the official trailhead. There's about a 50m incline if you take the path to the left, but it drops back and rejoins the road pretty quickly so we didn't bother with it on the return leg.
Wind exposure: Somewhat protected from the wind, but it's basically below the first very windy stretch of the Laguna Capri trail. After around 1-1.5km there's a sign for the path on the right and it takes you through the pretty woods. The deviation is not strictly necessary, but it offers protection from the wind and a prettier, less dusty experience.
Time: We were on the trail for approximately 5 hours, including about an hour of stoppage total
Trail notes: By far the easiest hike we did! Appropriate for kids of all ages in terms of difficulty and technical challenges, but young ones may tire if they aren't used to trails of that length.
The very pretty Chorillo del Saltado waterfall can be easily accessed by foot or by car, so in some sense it feels less adventurous than other El Chalten day hikes. However, it's still a fun little outing and the big rocks in front of the waterfall are perfect for scrambling around after your picnic. There's a parking area 500m from the waterfall and a primitive "bathroom" nearby. Much of the trail is along a gravel road, so be prepared for lots of dust to be kicked up by passing cars – it's not a busy road, but we saw several dozen cars during our hours walking around.
Easy (but nameless) walk next to Rio de las Vueltas
Distance: walk as long as you want, we probably went 2km each way
Elevation gain: mostly flat
Wind exposure: It can get extremely windy going over the bridge, but not as bad once you're on the trail
Time: You choose!
Trail notes: Cross the river on Trevisan and turn right. Just don't get blown away on the bridge!
This little trail was recommended to us by the friendly folks at Patagonia Hikes when we went to rent our trekking poles. We actually did this hike/nature walk on our first afternoon in town just to get us pumped up for the next days' big adventure. It's very easy, mostly flat and a perfect "starter" hike for kids. Despite its ease, it offers absolutely gorgeous views of town and Fitz Roy!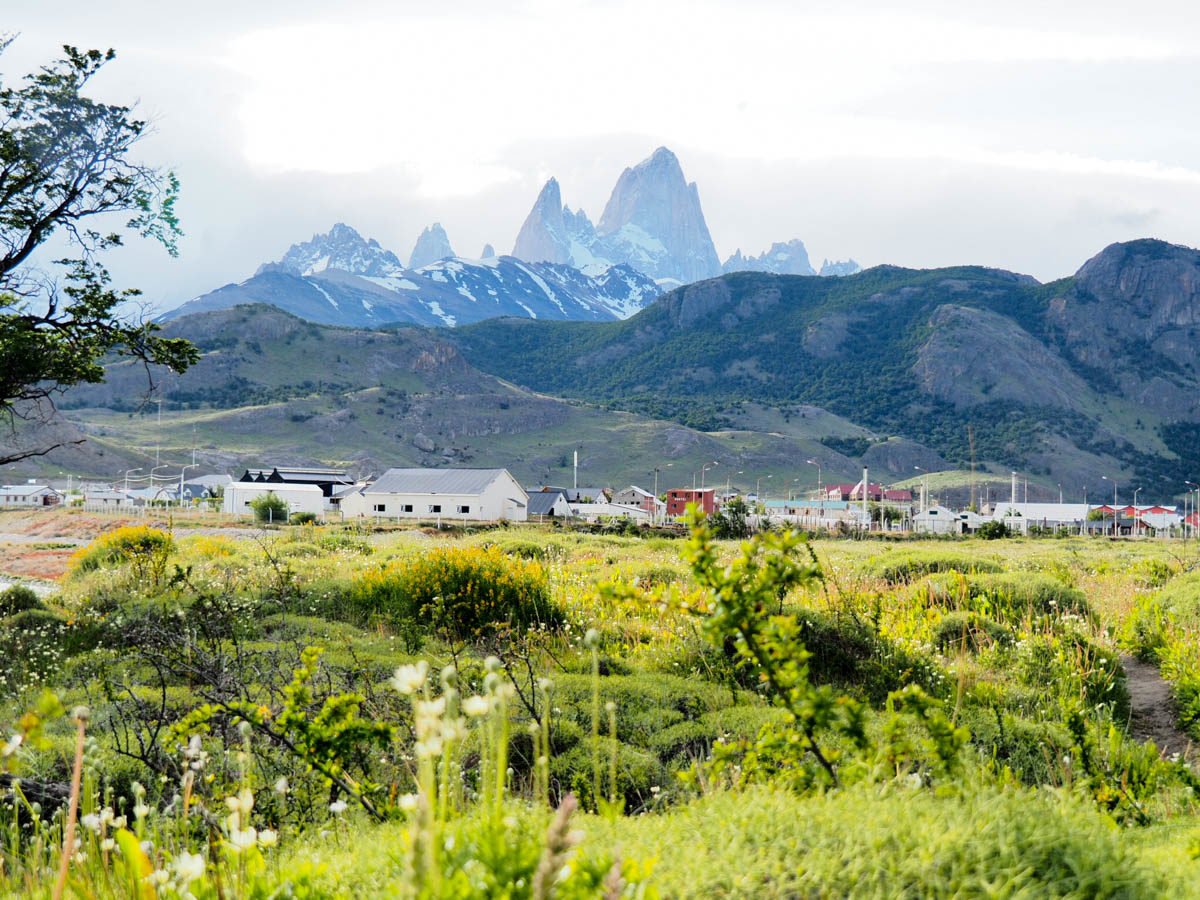 Visiting El Chaltén
One of the joys of visiting El Chalten, Patagonia is that you'll spend three or four days without setting foot in a car, as all of the trail heads, restaurants and shops are within an easy walk. All of the trails around El Chaltén are extremely well-marked – far beyond anything we've seen in the United States! In that sense, hiking in Argentina is very easy. There are only three main trail heads in town: Fitz Roy/Capri/Los Tres/Chorillo del Saltado; Torre; and the ranger station. There's also a great community vibe since everyone who lives in or descends on this tiny village shares a love for the outdoors and an independent spirit.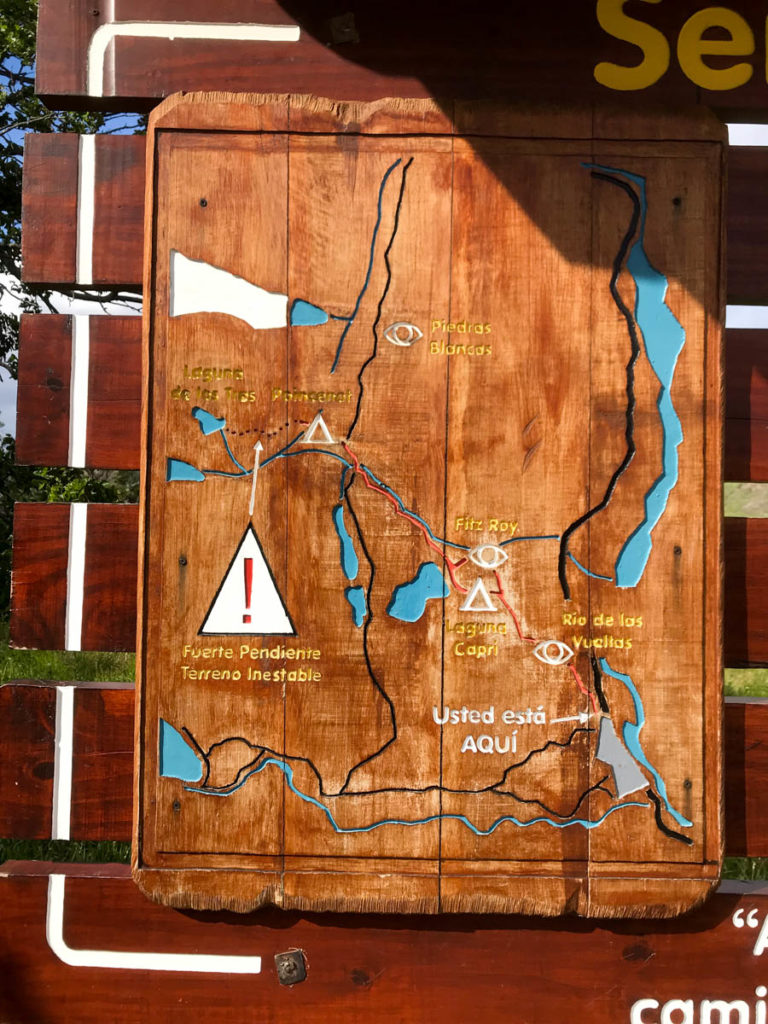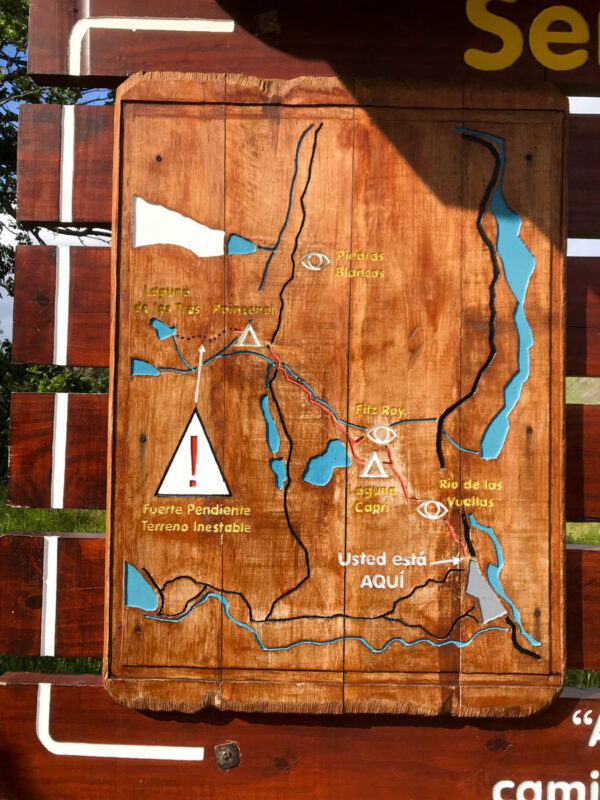 Getting to El Chaltén by bus
Almost no one rents a car in this part of Patagonia and it really isn't necessary. The closest airport is located in El Calafate and you can easily take the bus from El Calafate to El Chaltén. The main provider is Chalten Travel and their buses are clean, comfortable and affodable. The ride takes around three hours and there's a brief stop in the middle at a small cafe for restrooms and a snack (Ronnie and Shoshana recommend the marble cake, though it isn't as good as mine). Be warned that the wind at this stop is unreal in its strength – you'll want sunglasses to protect your eyes even for the brief walk to get inside! Our bus from El Calafate to El Chalten had two levels and the view from the front seat of the upper deck was incredible!
Since everyone is coming to El Chaltén for trekking, they smartly make a stop at the ranger station on the way into town for a brief orientation. This stop was extremely helpful and they even gave separate presentations for English and Spanish speakers. Though the entire town is located in Los Glaciares National Park, we were pleasantly surprised that we weren't charged an admission fee (unlike our day trip to Perito Moreno Glacier). Overall the whole experience was easy and well-organized.
The bus ride back to El Calafate was a little more confusing, as it was a much smaller bus and was full by the time we boarded ten minutes before departure. There was another (larger, nicer looking) bus departing a few minutes later and some folks switched to that one, but it wasn't clear to me if it was also run by Chaltén Travel or if that even mattered. Either way, make sure you're early for your bus and have purchased a ticket in advance. Just as the bus into town smartly stopped at the ranger station, the bus returning to El Calafate makes a very popular stop at the airport since most people will be continuing on to other destinations by air.
Cash/ATM issues
We absolutely loved our time in Patagonia. But our biggest challenge of traveling in Patagonia wasn't the trekking, it was the really poor ATM and credit card infrastructure. BE PREPARED. As in, come to El Chaltén with fistfuls of cash. The town itself has no cell phone coverage, but the hotels, homes and even many restaurants have WiFi; however, many don't have credit card payment set up and there's no reliable ATM in town (supposedly there's an ATM, but there's no guarantee that it works or is stocked with effectivo at the moment when you need some). We had to pay cash for our wonderful apartment/bed and breakfast (even though we booked it through booking.com). Many restaurants only accept cash. Ironically some of the grocery stores have official looking signs outside indicating that they have to take cash, but handwritten ones inside showing otherwise. So consider yourself warned. Adding to the challenge, the slightly bigger towns in Patagonia also don't have great ATM access – some are refilled just once per week and may run out in between, some limit each card to 5000 pesos per day, and still others wouldn't accept our very standard US ATM cards that we've used everywhere else. Ronnie had to visit half a dozen banks in Puerto Madryn and El Calafate each and we didn't have much buffer at the end.
Do you need to buy a SIM card for your visit to South America? Find out how!
Where to stay in El Chalten
Since basically everyone you'll encounter in El Chaltén is either a tourist or working in the tourism industry in some manner, this adorable mountain town is brimming with places to stay from budget all the way to luxury. There are loads of El Chaltén accommodation options and we didn't meet anyone who was dissatisfied with their choice. As family travelers, of course our needs a little different than others, and we knew we wanted an El Chaltén apartment for our time there. We settled on El Chaltén Aparts and couldn't have been happier with the choice for our four night stay!
El Chaltén aparts is located on the west side of town, very close to the trailhead for the Cerro Torre hike. The building feels very new and modern, which is a little surprising when you look around town! Each unit is essentially a small apartment – ours had a kitchenette with a small breakfast table, a full bathroom with nice modern fixtures (and features both shampoo and conditioner), a downstairs sleeping area with a large comfortable bed and TV and an upstairs loft featuring two twin beds. We didn't feel that the loft was a good choice for our young children thanks to the relatively steep stairs and the mostly open railing on the side of the loft, so we gave the kids the primo spot downstairs and enjoyed our 1950s style sleeping arrangement. At least no one stole my blanket at night.
Our room/apartment/suite also included a lovely breakfast. The kids were happy to see dulche de leche served every morning, while we were happy with the yogurt and other selections. But owner Gustavo really stole the show for our family. Gustavo was a mountain guide in El Chalten for many years and gives guests the lowdown on the best trails in town; he also has trekking poles and adult bicycles available for your use, free of charge.
Most importantly… during our hasty early-morning departure, an overtired and cranky Shoshana dropped her beloved "Baby Violet" in the stairwell leading to our room. Normally we wouldn't fret too much about a little beanie baby she won at a carnival a few years ago, but when you're traveling the world for a year and each kid only has one little cuddle friend… well, these things are a big deal. As soon as we had cell service on the bus, I shot Gustavo a message on WhatsApp to explain the situation. We were flying from El Calafate to San Carlos de Bariloche, the northern end of Argentine Patagonia, but we'd only be there for a few days and then a brief overnight in Buenos Aires before leaving South America. Apparently (and unsurprisingly) the postal service in Argentina isn't extremely reliable, and it's even worse in Patagonia. Before we had even reached the airport in El Calafate, Gustavo had Baby Violet securely packaged and deposited on the Taqsa bus heading for Bariloche! I'll say that she is now one well-traveled hippo, having spent 24 hours on a Patagonia bus as a solo female traveler. Fortunately, a happy reunion occurred before we had to leave Bariloche. All's well that ends well, and we're ever-grateful to Gustavo at El Chalten Aparts for bring peace to the rest of our family gap year. Check prices now for El Chalten Aparts.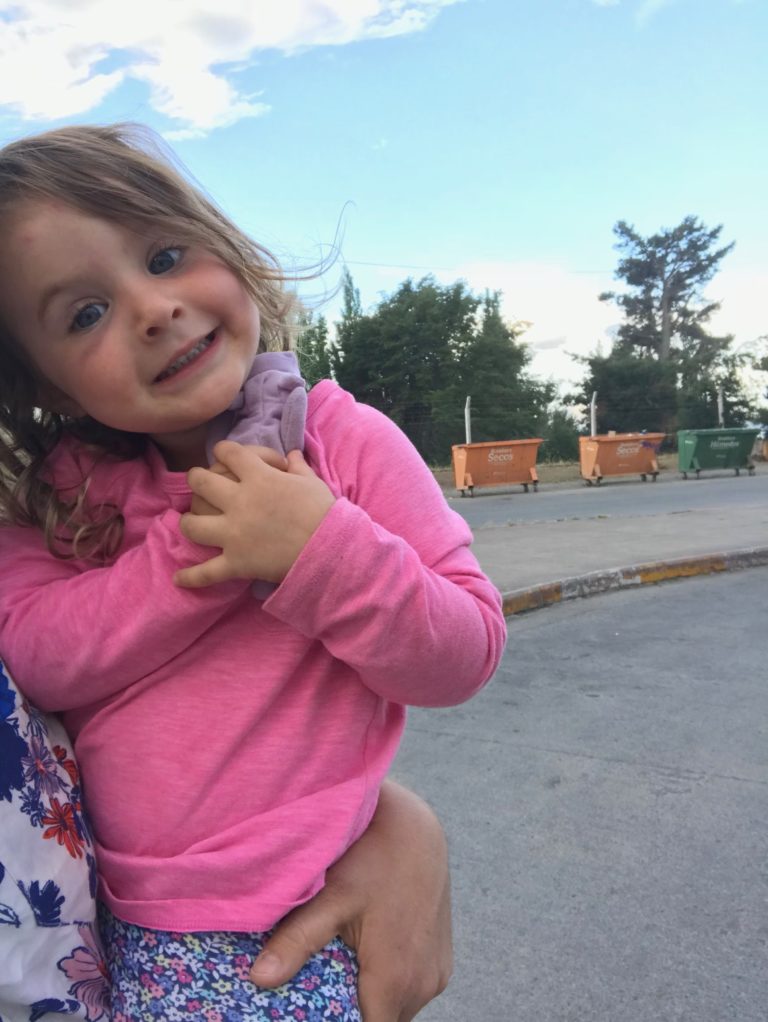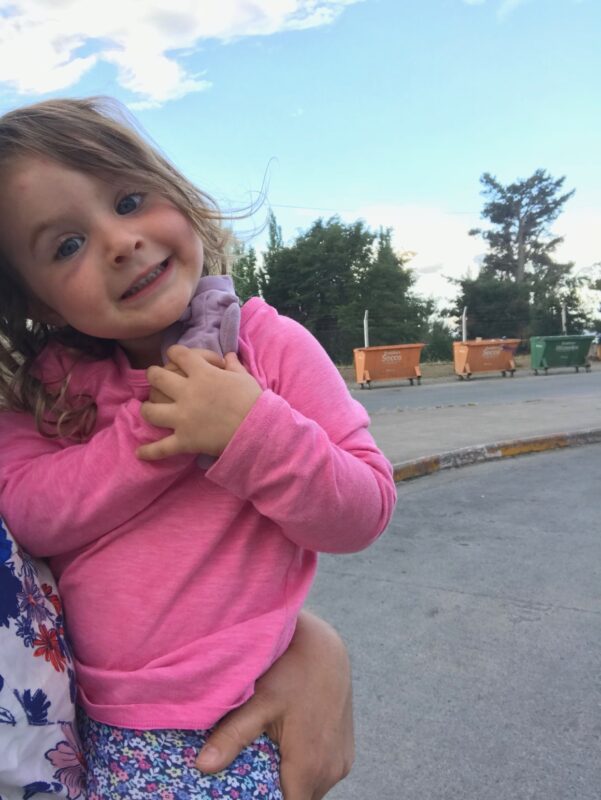 Use the interactive map to find vacation rentals and hotels in El Chalten, Patagonia
---
Where to eat in El Chalten
El Chalten is surprisingly rich in dining options. Check out our complete El Chalten restaurant guide for our favorites.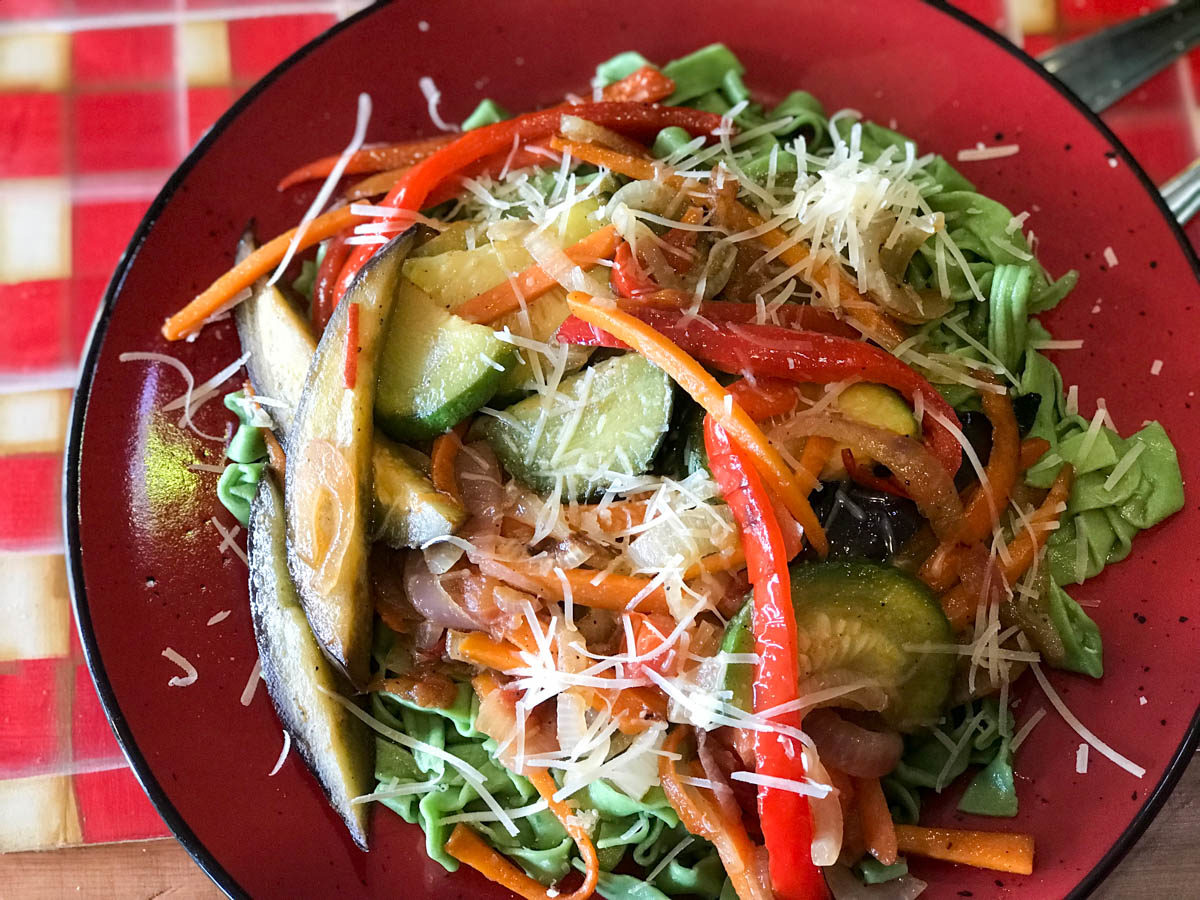 What to bring for El Chalten hiking
Lots of water. Our

Hydaway bottles

worked great for the day hikes!

Sunscreen!!! So much sunscreen. Our favorite even comes in a

travel-friendly stick version

now, though we travel with

3oz tubes

.

Lots of snacks

Layers of clothing, including

packable rain jackets

just in case. We did not need down jackets or even soft shells in late November. In fact, there were times when I hiked in just a long sleeve t-shirt! Obviously if you're going in the colder seasons you'll need more warm layers, and even in summer you should be prepared to layer up. Lots of hikers swear by merino base layers, and I love the feel of

this material from Smart Wool

(and

almost

bought it during one of my 73 trips to REI).

Check out these other great options for packable rain jackets.
Stay organized by packing all those layers in a medium packing cube. Check out this comparison.

Hats that stay on securely (

I love this new beanie I picked up for our trip, and the whole family keeps trying to steal it!)

A solid daypack like the

Osprey Tempest

, the budget-friendly

REI Trail 25

or the hydration-ready

CamelBak Sundowner

that holds a just-right 22L of gear. Don't laugh, but I actually ended up using my

Thule Versant 60

travel backpack. Why? We stupidly didn't bring a proper day pack with a hip belt, and when you're sherpa-ing multiple layers, lunch, water and snacks for four people PLUS camera gear and between one and three sets of trekking poles… well, you gotta have space and comfort. Fortunately, it's not a tall pack and doesn't appear nearly as large when it's only half full. In retrospect, I should have pilfered the

3L water bladder

from Ronnie's CamelBak to throw in there for hikes. I'll remember that for next time we

travel around the world

, or I'll bring

one of these awesome women's daypacks

.

Curious how I decided on the Thule? Check out my hands-on reviews of the best travel backpacks for women.
Trekking poles

, which can be rented locally if you don't want to bring your own

Sturdy shoes – I wore trail runners for our hikes, but if you plan to pursue some of the tougher trails you might consider hiking boots
If you're bringing a baby or young toddler with you, check out this excellent hiking carrier