We had an amazing time trekking El Chalten during our family trip to Patagonia, but the long days on the trail left us with little energy for our usual money-saving plan to cook dinner at "home". Fortunately, the El Chalten restaurant scene is alive and well! Despite the remote location, they were some of the best Patagonia restaurant offerings we encountered through the numerous towns we visited. Read on for some of our favorite restaurants in El Chalten. Note: As with everything in Patagonia, bring cash. Some places accept credit cards, but it's not at all universal and ATM access in El Chalten is limited/non-existent.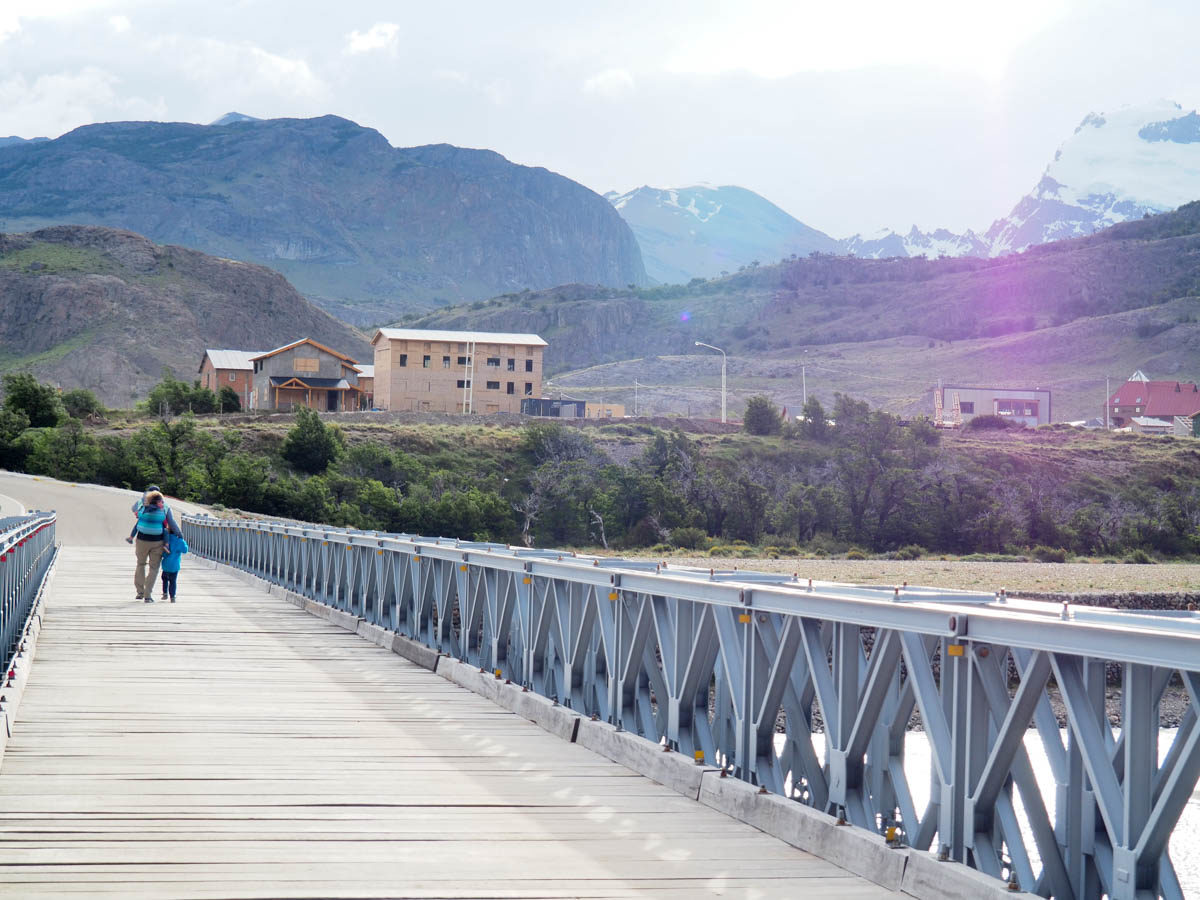 Use the interactive map to find vacation rentals and hotels in El Chalten, Patagonia
---
El Chalten restaurant guide
La Waflería
We spent what some might consider an embarrassing or inappropriate amount of time at La Wafleria. But when you keep your young kids (and yourselves) out on cold, windy, steep trails for five hours every day, one the best things to do in El Chalten is cap it off with a cup of cocoa and possibly an enormous ice cream smothered waffle at La Wafleria. Its location just this side of the main trailhead on San Martin makes it that much more tempting. They have a huge menu of hot chocolate options, including amarula and mint. The kids would tell you not to miss the "Chocolate Explosion". The main room dominated by a long family-style table and there's also a back room with a few booths. Service is extremely friendly and there's even a small selection of kids books in Spanish, including The Lion King! Pro tip: Do you have extra Chilean Pesos hanging around from your time on the other side of the mountains? Spend them here for extra decadent delights!
Restaurant Ruca Mahide
The friendly folks at Restaurant Ruca Mahide serve up delicious pizzas in a cozy dining room, perfect after a long day on the trail. Our family downed one and a half pizzas and a delicious brownie con helados, and the little ones loved running on the huge front lawn with another kid they met (the son of a local mountain guide whose family seems to eat there frequently… so if you're visiting El Chalten with kids, keep an eye out for new friends). Ruca Mahide is located off of San Martin (the main street) just past the imposing Don Los Cerros Hotel.
B&B Burger Joint
Ronnie says B&B Burger Joint in El Chalten is the best burger he's ever had. That's a huge vote if I've ever heard one. Since I don't eat beef, I went with the chicken nuggets which were fine (they also offer both chicken and vegetarian sandwiches). The fries are out of this world and the beer selection is extensive, as you'd imagine for a place called "Burger & Beer" on the sign out front. There's no kids menu but the burgers are sizable and ours shared one. Note: The burgers are apparently so good that Jacob sat down on the sidewalk in front the following evening for twenty minutes in an act of non-violent resistance. A vigil, if you will. Seriously. While his sister and I were getting blown into the street by wind gusts. Who ever said family travel was all rainbows and unicorns?
B&B is extremely popular. There's happy hour every evening and it gets quite busy – there's only seating for around 25 inside (some of it at semi-communal tables), but you can also sit outside in the less windy seasons. It's located right in the heart of San Martin street and has huge lit up letters in front so there's no way you'll miss it.
Maffia Trattoria
Located down near the bottom of San Martin, Maffia Trattoria shows off the deep Italian influence in Argentina. It's exactly what you'd expect, and that's a good thing. The décor is cozy and fun, using old wine bottles and other relevant repurposed materials where possible. And the food? HELLO. It's all home made and that shows.
They'll start you off with wonderful bread and a plate of olives, sundried tomatoes, eggplant and cheese. The pastas are absolutely delicious – choose from their specialties or DIY it from their numerous pasta and sauce options. Ronnie ordered spinach fettuccine with sautéed vegetables and I got tagliatelle with asparagus cream; we both could have gone for seconds. There's no kids menu but the kitchen was happy to make spaghetti with olive oil and parmesan for the little ones. The check for the four of us, including wine for us adults, was a fraction of what you'd pay for a similar meal in Los Angeles. A must-eat El Chalten restaurant.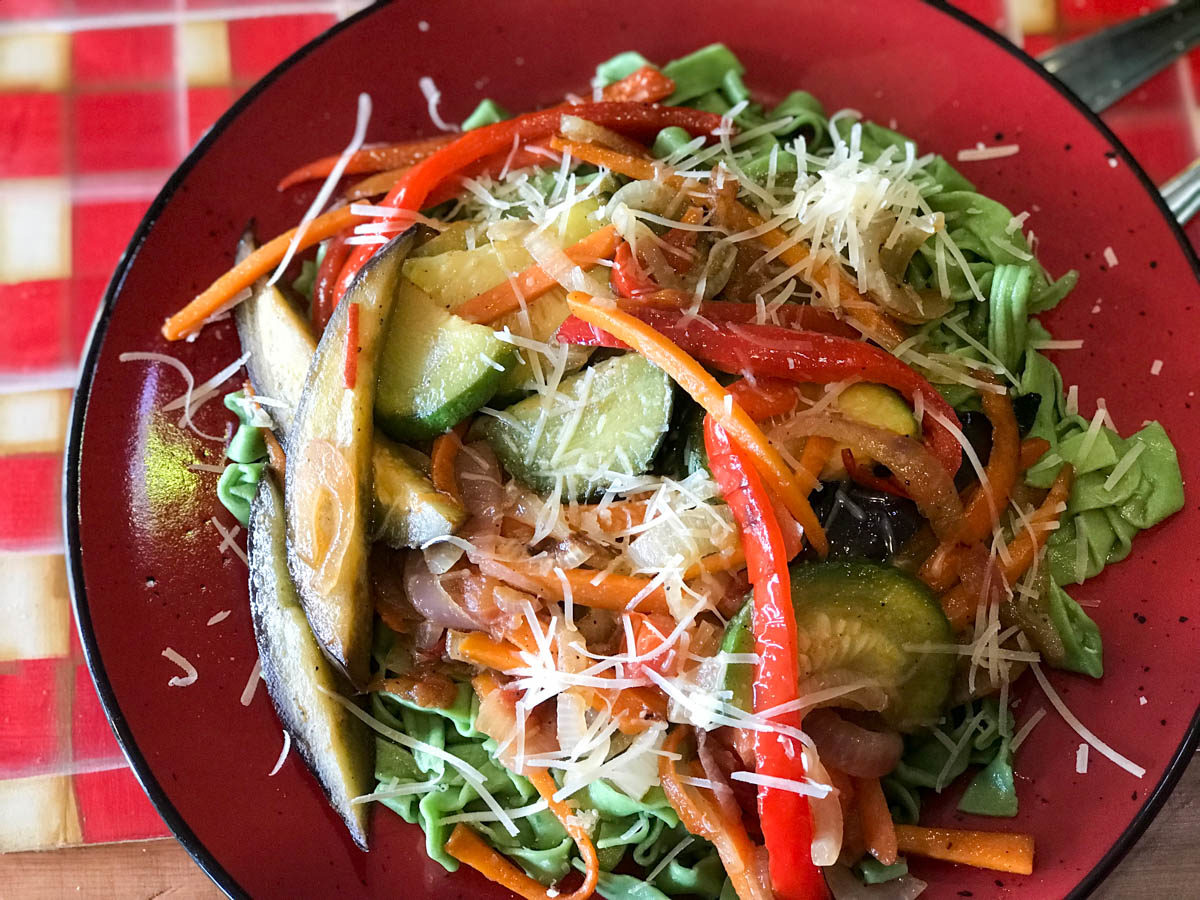 Techado Negro
Techado Negro is on the "other side of town", so it's about a five minute walk from the main drag. The burger is the biggest I've ever seen – and that's from the kids menu, but not as good as B&B. Pumpkin is a very common food in Argentina and the preparation at Techado Negro was excellent. Ronnie loved his lamb and we all agreed that the brownie was great. The wine selection was also solid. Unfortunately their house desert was odd and not very good. Overall we enjoyed our meal but it was quite pricey and not our favorite in El Chalten despite its lofty position in the Trip Advisor standings.
Almacen Don Manolo
If you're traveling Patagonia on a budget but want to eat better than ramen, be sure to stop by Almacen Don Manolo for their fantastic deli meat selection. We do not eat pork and found virtually no trail-worthy lunch options at the regular grocery store, but Don Manolo pulled through with some excellent turkey breast. They also have a huge range of other deli meats and cheeses, nuts, chips, jams and snack foods. It's a great spot to stock up on lunch provisions so that you can avoid the overpriced box lunches sold throughout town.
About the grocery stores… man, are they disappointing (except for the bread, which Ronnie absolutely loved). Unless you want ramen and questionable deli sliced pork, I wish you Godspeed. They do have a decent selection of yogurts, most of which are laden with artificial sweetener, and some basic produce. But we were sorely disappointed by the choices. Oh, and at least one of them displays a sign in the window indicating that they are required to accept credit cards, which is then paired with a hand-written sign on cardboard inside that they only accept cash. Thanks. We didn't get a chance to go, but heard that Almazen in town carries peanut butter and other "health foods".
Have you visited Patagonia? What are your favorite restaurants in El Chalten?