Prior to arriving in Chile we heard that Chileans are known to be friendly and welcoming. During our hosted visit to MontGras Winery in Chile's Colchagua Valley our family was shown firsthand Chilean hospitality (and wine) at its finest. Gonzalo, our host, took us on a comprehensive tour of MontGras' expansive property. As Californians and frequent wine tourists, we've gone on more than our share of winery tours, but I can say with complete honesty that Gonzalo's tour was one of the most informative we've ever taken.
Looking for more Chile travel ideas? Check out our other Chile posts!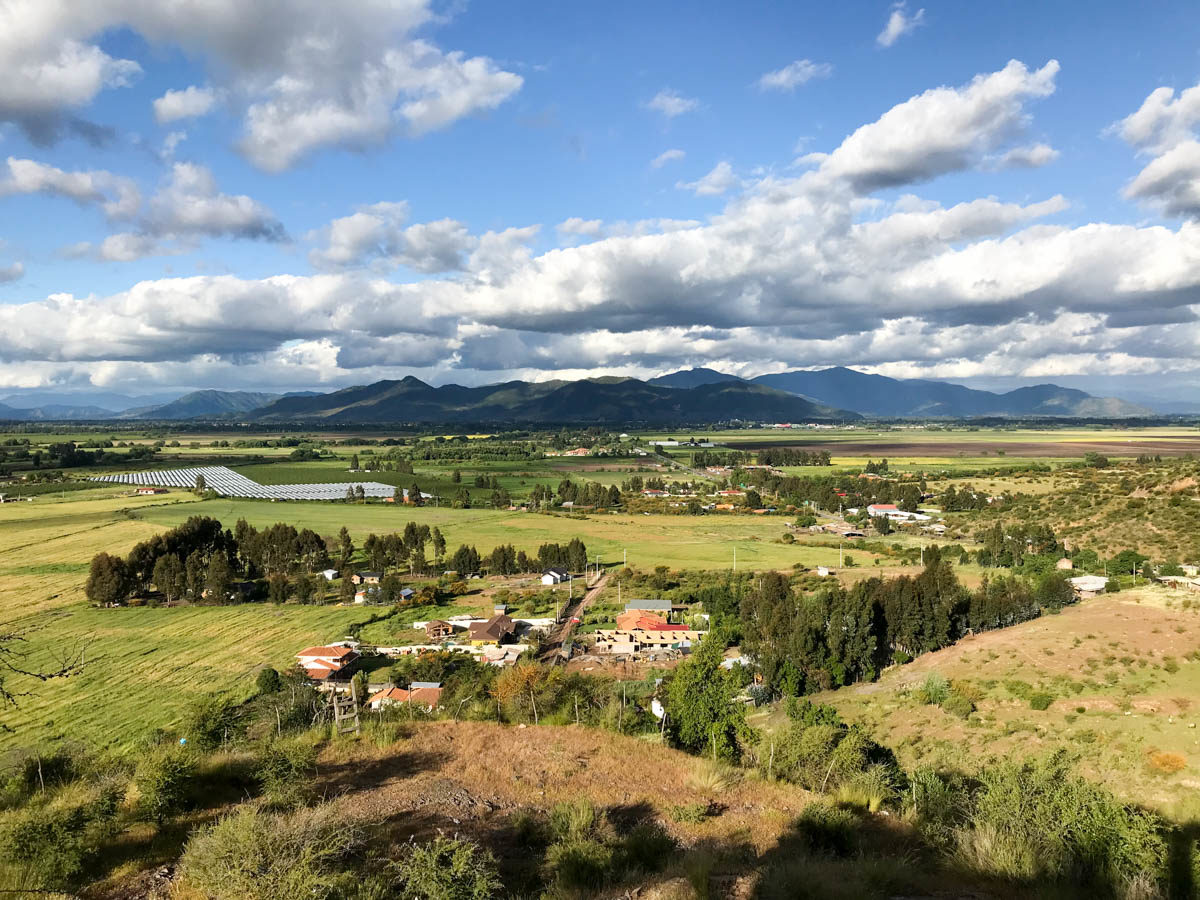 With over 14 different varietals of grapes grown in four different regions, MontGras is one of the larger wineries in Chile. Their home base is situated in the bucolic Colchagua Valley, known as Chile's wine country. With mountains on all sides and an abundance of sun, the Colchagua Valley is an ideal climate for producing high quality red wine. Gonzalo showed us how they use innovative techniques like drip irrigation (to limit water intake and strain the roots) and low cut and pruned vines (for maximum sun exposure) to produce high quality grapes. He also explained some of the visual differences between the Colchagua valley wine varietals, like leaf shape and cluster size, and how those impact the eventual flavor of the grapes.
After visiting the vineyards, we also had an opportunity to check out MontGras' winemaking facilities – and even taste straight from the fermentation tanks! That was a welcome first for us.
Use the interactive map to find vacation rentals and hotels in Colchagua Valley
---
A brief history of the carménère grape and Colchagua Valley wine
One of the grapes that was highlighted on our tour was carménère. Chile is one of the only places in the world where it grows, so carménère is often considered the "national grape". Carménère is a cousin of Merlot and was brought over to Chile in the 19th Century by European settlers. Unfortunately, a plague decimated the grape crop in the late 1800s and it was feared gone from Chile forever.
Fast forward to 1994 and the Carmen Vineyard in the Maipu Region (just south of Santiago). A team of scientists did genetic testing on what they believed were Merlot grapes, but they turned out to be the long lost Carmenere. Now, Carmenere is abundant and thriving in Chile. An interesting fact: Carmenere takes three more months to grow than its cousin Merlot, and it tastes closer to bell peppers than grapes when it comes off the vine. The Carmenere from MontGras is bold and delicious. It can be drunk young or laid to rest.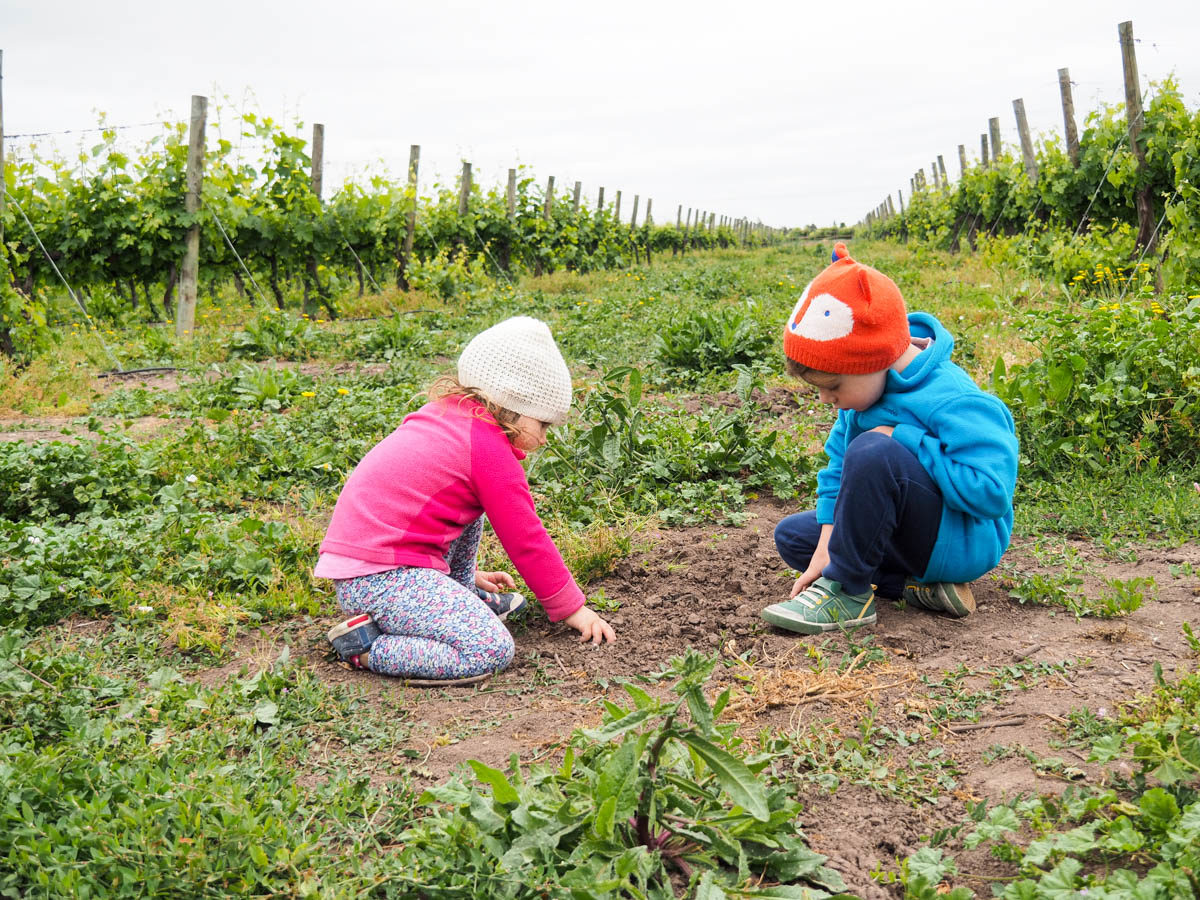 Becoming winemakers for the day, family style
Tour participants who opted for the regular tasting were set up in the lovely courtyard for a family-style tasting. At the end of our tour we were taken downstairs to their private tasting room for our featured activity: winemaking with our awesome host Carlos. In previous posts (here and here) we have discussed the challenges of finding wineries that are family friendly. MontGras winery is hands-down the most family friendly vineyard we have ever visited. They had juice, cheese, crackers, and cookies waiting for the kids. The kids received their own keepsakes, child sized MontGras aprons, which they wore throughout our activity.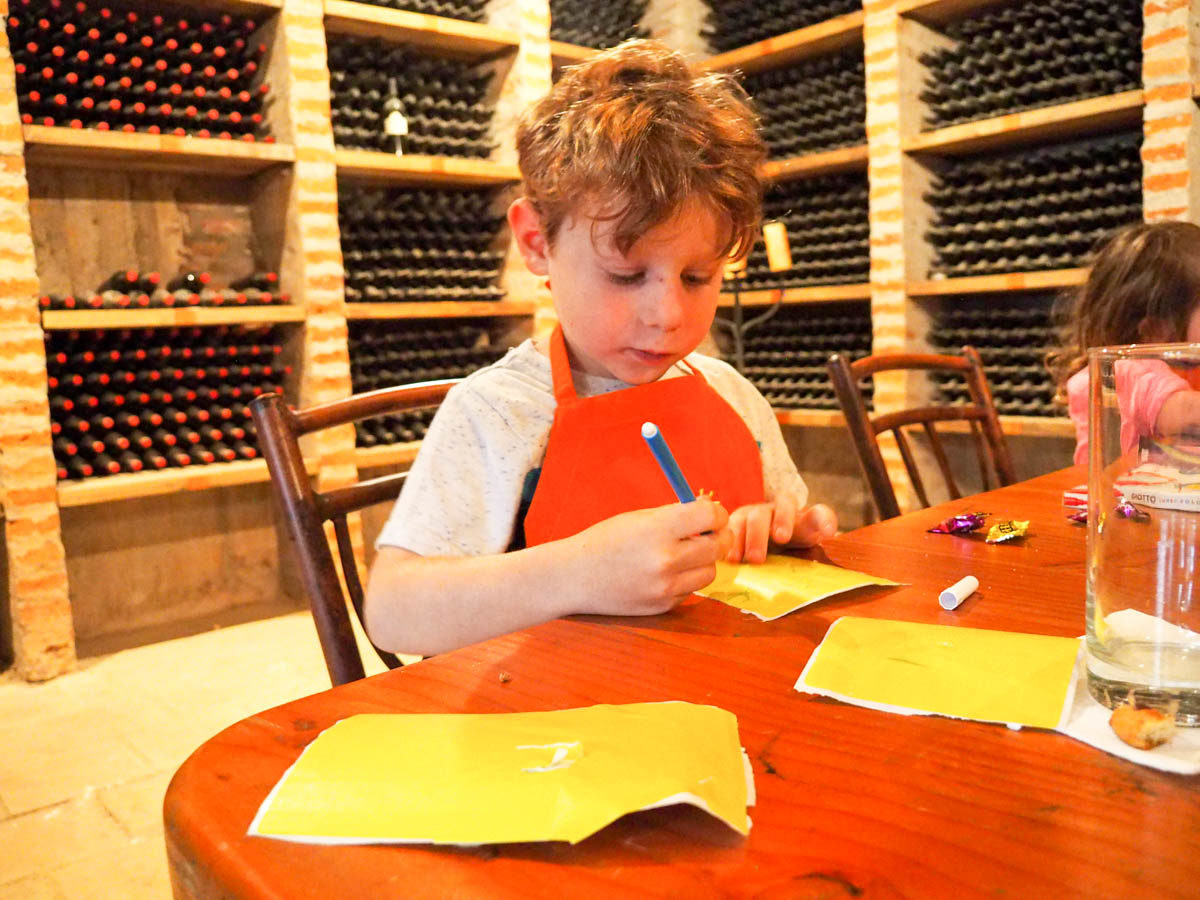 While the kids were designing the wine labels with the provided art supplies, we got to taste and blend three different grapes (Cabernet Sauvignon, Merlot and Carménère) in beakers. There was a process of trial and error to find out which combinations fit our pallets the best. Our kids really enjoyed joining us for the blending process and naming our wines. Once our blends were selected we got to pour, bottle and cork our two bottles, to be taken home and enjoyed later. We concluded our visit with a tasting two additional varietals of MontGras' delicious wine in the boutique upstairs – and a little light shopping using our 30% discount!
The tour, wine tasting and winemaking experience at MontGras takes roughly 3 hours and is the perfect activity for kids 3 years and older – though there were other groups doing this great activity without kids too. If you decide to make Chile your next travel destination be sure to visit MontGras Vineyard in the Colchagua Valley. Check out MontGras' website for all the details on their "Make your own wine" activity and so many other different ways to experience their delicious wines and welcoming winery.
The cost for the tour, wine tasting and winemaking experience:
Adults:
May – October $30,000 Pesos per person

November – April $33,000 Pesos per person
Children: $17,000 Pesos per
Prices include 30% off all wines in their shop (we were thrilled to discover that the discount even applies to sale bottles, some of which were marked down by 50% already!)
A wonderful hotel in Santa Cruz, Chile
When planning your Colchagua Valley wine tour, make sure to book a room at the absolutely lovely Hotel Boutique Bellavista de Colchagua. We can't express how much we absolutely loved our time there and how great the hotel is for families. It's the kind of hotel that makes you wish you were staying a few extra nights just to relax more and enjoy the property.
Our apartment included a king bedroom, a twin bedroom, a full bathroom and a small foyer connecting them all. We had a prime location right off of the hotel's great room – the main building was originally house. The living room is centered around a beautiful fireplace, where we spent each cozy evening reading and working on the kids' school activities while enjoying a warm cup of tea. When we had better weather, we also loved sitting on the comfortable chairs along the colonnade outside adjacent to the spacious grassy lawn. Breakfast each morning included a selection of drinks, yogurts, cereals, cold cuts, breads and eggs made to order. It's served in spacious dining room, but I'm sure that in the summer many guests enjoy it outside as well!
The favorite part for the kids? The resident pups! The kids even named them (Lola and Love Pup), and looked for them to play every time we returned. We visited during Chile's early spring and the weather still fluctuated, but the friendly staff (who are almost all members of the owner's family) were prepping it to be re-opened the following week. At the time of our visit in November 2017, there was some construction toward the back of the property. We never heard any sounds at an hour that was disruptive to our family's late-rising ways, but it's nice to see that the hotel is growing and will be able to accommodate even more guests in the future.
Check prices and book your room at Hotel Boutique Bellavista de Colchagua today!
Use the interactive map to find vacation rentals and hotels in Santa Cruz, Chile here
Many thanks to MontGras for hosting our family for this wonderful activity! All opinions are our own.