Gritty. That was the most common word people used to "warn" us about Valparaiso and its reputation for petty crime, dirty streets and abundance of stray dogs (of which there really are a disturbing number). Those things may not be entirely wrong, but in just one day Valparaiso, Chile won our hearts with its vibrancy. The street art in Valparaiso is simply unlike anything we've ever seen and gives the city a striking appearance that also speaks to its character as a place that is teeming with people and life and sets it apart from its larger, cleaner, perhaps more livable neighbor, Santiago.
Heading further south? Check out our favorite place in Chile.
A phenomenal free walking tour of Valparaiso
Though we had only one day in Valparaiso, we understand now why some young friends we met chose to make it their home base for a month. Whether you only have a few hours or you're just getting settled in for a long stay, the best way to get oriented is to jump into one of the many free walking tours in Valparaiso offered by Tours4Tips. The concept is simple: you go on the tour with no obligation to pay anything, but at the end you can decide what you think it was worth to you. Most people offer around $20. I can say with confidence that our excellent guide Andrea earned that and more. Since this was a free tour, we weren't hosted or compensated in any way – it was just a wonderful experience that we want to share with our readers!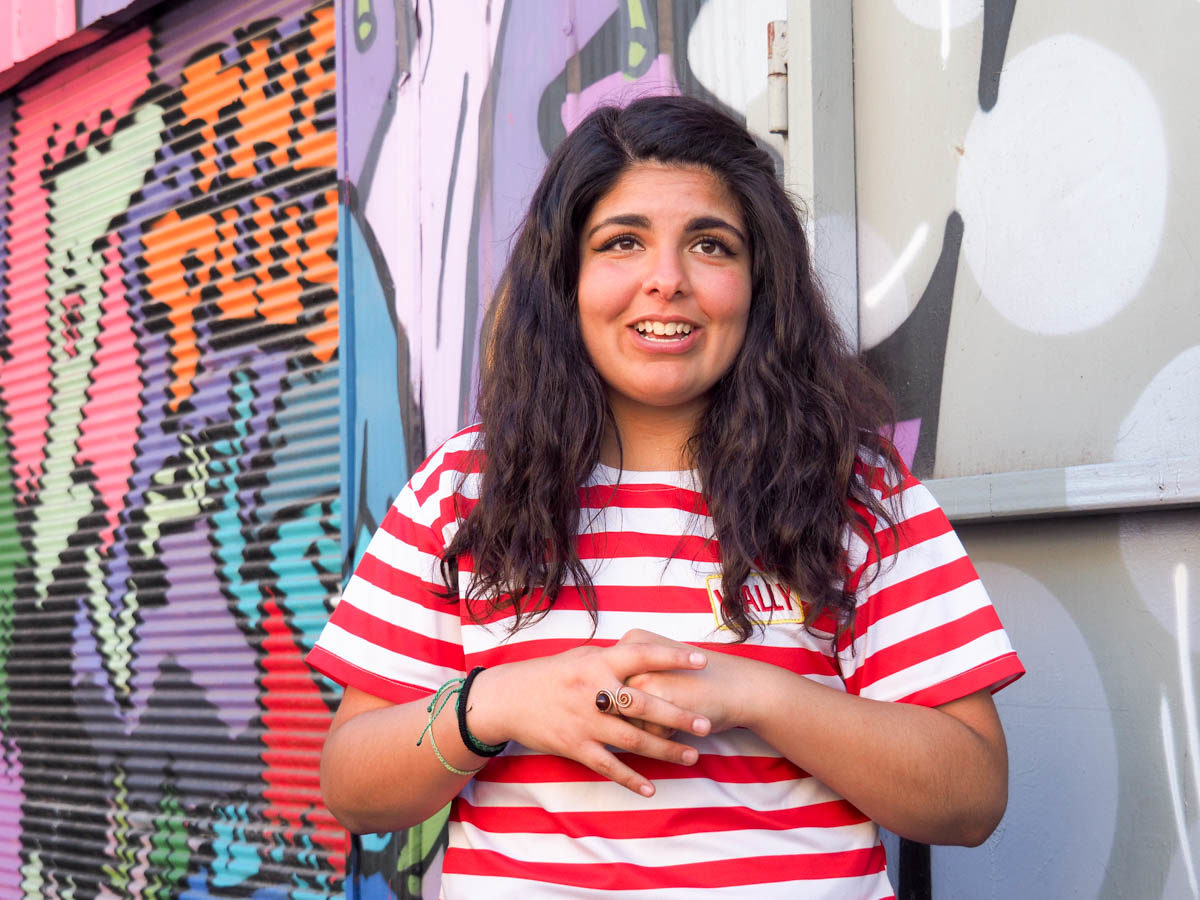 Tours4Tips Valparaiso offers two different free walking tours: a morning tour that covers a small part of the city but carries an emphasis on the daily life of porteños and offbeat spots, and the afternoon tour we did that covers a sizable chunk of the city though in less depth. Since we were driving from Santiago for the day, we chose the afternoon tour. A word of warning: you will walk A LOT and on many hills. Wear sneakers, and bring yourself a bottle of water. Kids are welcome on Tours4Tips and our kids loved it, but bring a baby carrier rather than a stroller for young ones. The bright colors and varied subjects of the art (including a Ninja Turtle!) kept the kids enthusiastic, and there's even a sweet stop to fuel them up part way through. And did I mention slides and a funicular? If you're wondering what to do in Valparaiso, Chile with kids, this is it!
Our tour began in Valparaiso's main plaza, Plaza Sotomayor. We had reserved our places in advance through TripAdvisor to make sure we had spots with an English-speaking guide. Indeed, there were about 75 people there at the appointed time! But ever-prepared, Tours4Tips had three guides there all dressed like Waldo in their red and white stripes shirts (they also use #Wally on Instagram). They first split the group into Spanish and English speakers, and then split the English speakers into two more groups of around 25 people each. We consider ourselves very lucky to have landed with Andrea! She speaks English extremely well and, as a porteña herself she has a deep connection to the city. There are some wonderful surprises along the tour that tie in Valparaiso's culture, but you'll have to go see them for yourself.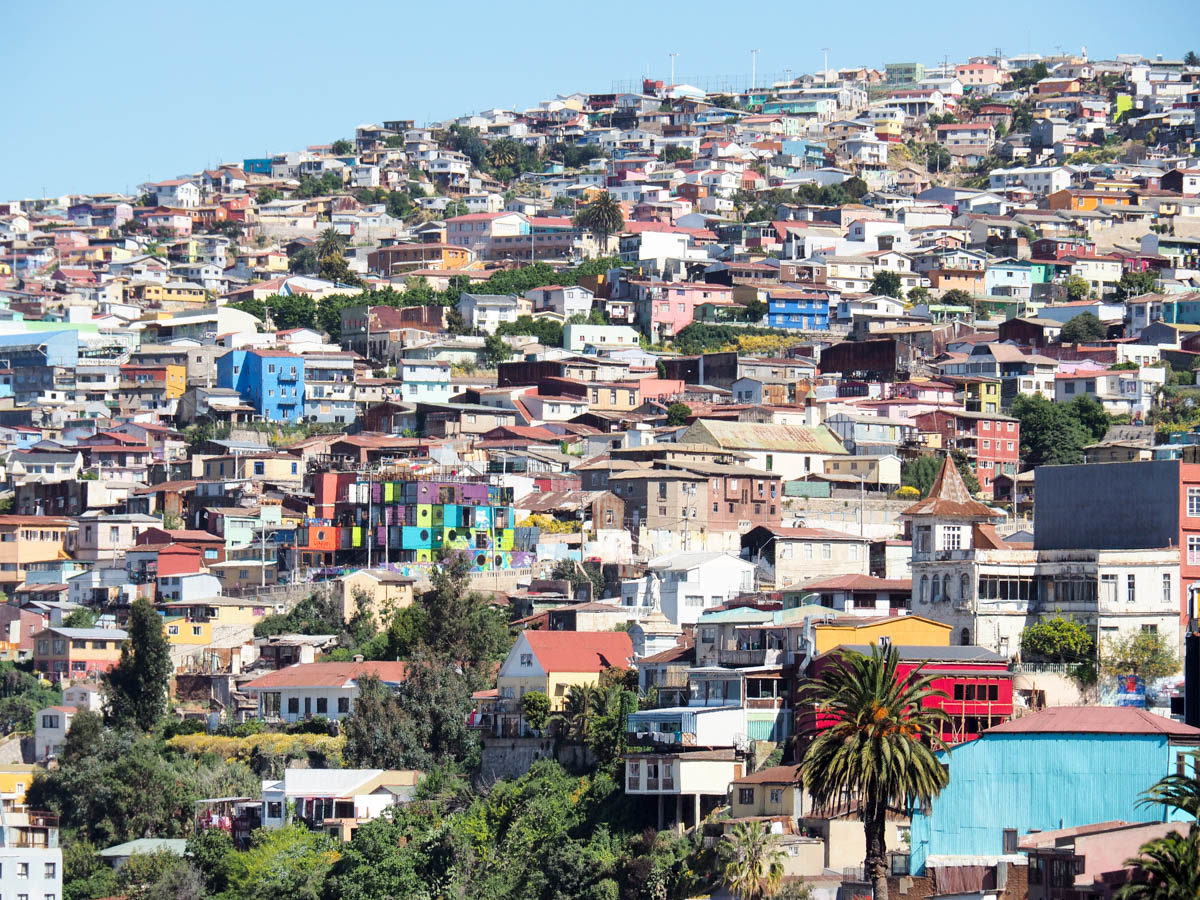 We hope you enjoy our favorite street art of Valparaiso, Chile. If you're feeling inspired, maybe you can catch a deal on a flight to go explore for yourself!
If you're planning your travel on a budget, make sure to check these resources to save money on travel.
Our favorite Valparaiso street art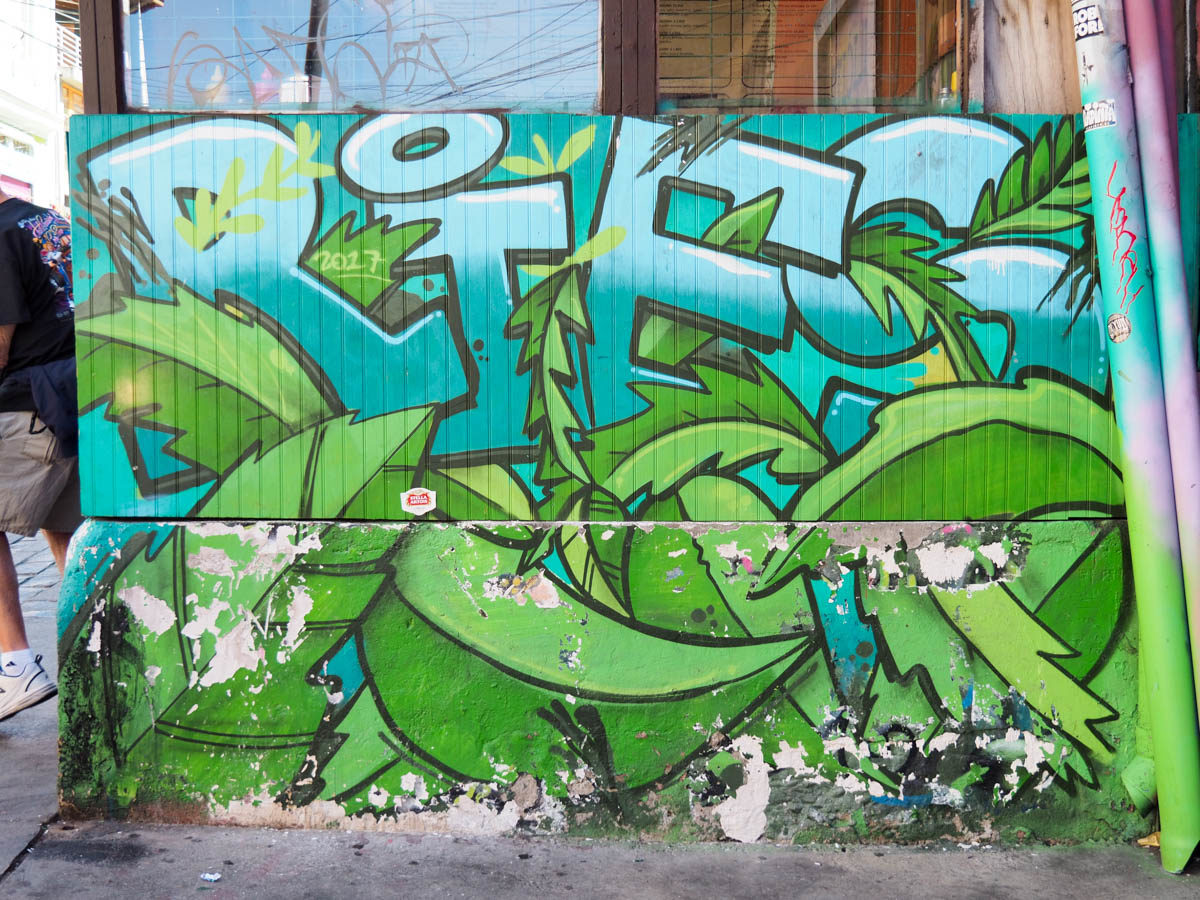 Where we stayed
As I mentioned above, we stayed in Santiago for several days and visited Valparaiso as a day trip. Since we were traveling to Chile with kids, Santiago was a great place to stay – there are so many activities to do with kids! We scored an apartment in the tony Los Condes neighborhood through HomeExchange. It worked out great for our family – two bedrooms (including one full of toys), a kitchen for preparing meals to save money, a washing machine in the bathroom so we could pack light and an amazing playground right outside our door! Check out that view:
We're having a great experience staying in Guest to Guest apartments so far. We love having the comforts of home and staying more like a local, especially for long term travel like our family gap year. If you aren't familiar with Home Exchange, you can read more in our post here, or go sign up and start staying for free on your vacations.
While you're in the area, make sure to check out some of the amazing wines near Valparaiso! This DIY guide to budget wine tasting near Valparaiso is a great place to start.
Check out these awesome free walking tours around the world
Use the interactive map to find vacation rentals and hotels in Valparaiso
---
Have you visited any great street art locations? Tell us about them in the comments!