The magic of Termas Geometricas
Imagine strolling through a narrow, dimly-lit forest ravine… walking along bright red, angular footbridges surrounded by greenery-filled rocks tricking with water and steaming rock pools around every corner. A visit to Termas Geometricas is truly that straight-from-a-fairytale travel experience that so many of us dream of. This is just a special place. Visiting on a cold, drizzly, foggy day only made the experience that much more spectacular, though we were lucky to also see the pools later in the day under perfect azure skies.
Each of the 17 pools at aguas calientes Termas Geométricas offers a different experience in temperature, size and overall feel. Some are as big as a swimming pool, while others present a more intimate experience for just a few people. We found temperatures between 36 and 42C (97 to 111 F) – the kids preferred to stick to 38C, while I enjoyed the 40 and 41C pools for some real r&r. For the truly brave, you can take a dip in the waterfall pool – a whopping 6C (43F) or enjoy a chilly but refreshing shower near the entrance.
My suggestion for planning your time at Termas Geometricas is start by walking all the way to the pretty waterfall at the end of the property – while you're dry – and then "pool hop" your way back to your locker near the cafe at the entrance. Why? First, the paths can be a bit slippery once your feet are wet. Second, if you're visiting on a cool or cold day you'll find it a long, wet walk from the waterfall back to the lockers. Third, you might find the back pools less crowded early in the day, while the front pools will almost always be busy. If possible, I recommend arriving as close to their 11am opening time as possible to avoid the masses that arrive later on tour buses.
Looking for more adventures in Chile? Check these out!
Talk is cheap, so let these photos of Termas Geometricas inspire you to visit: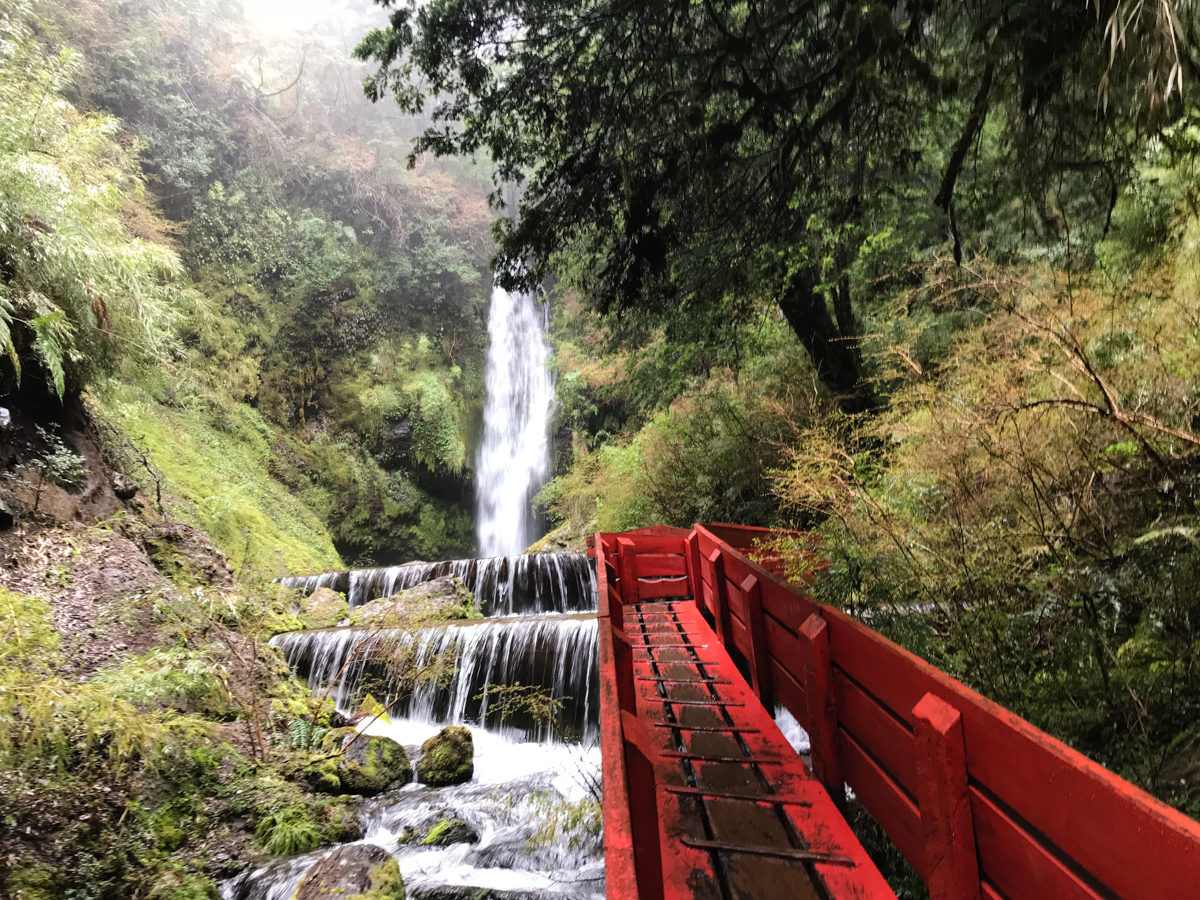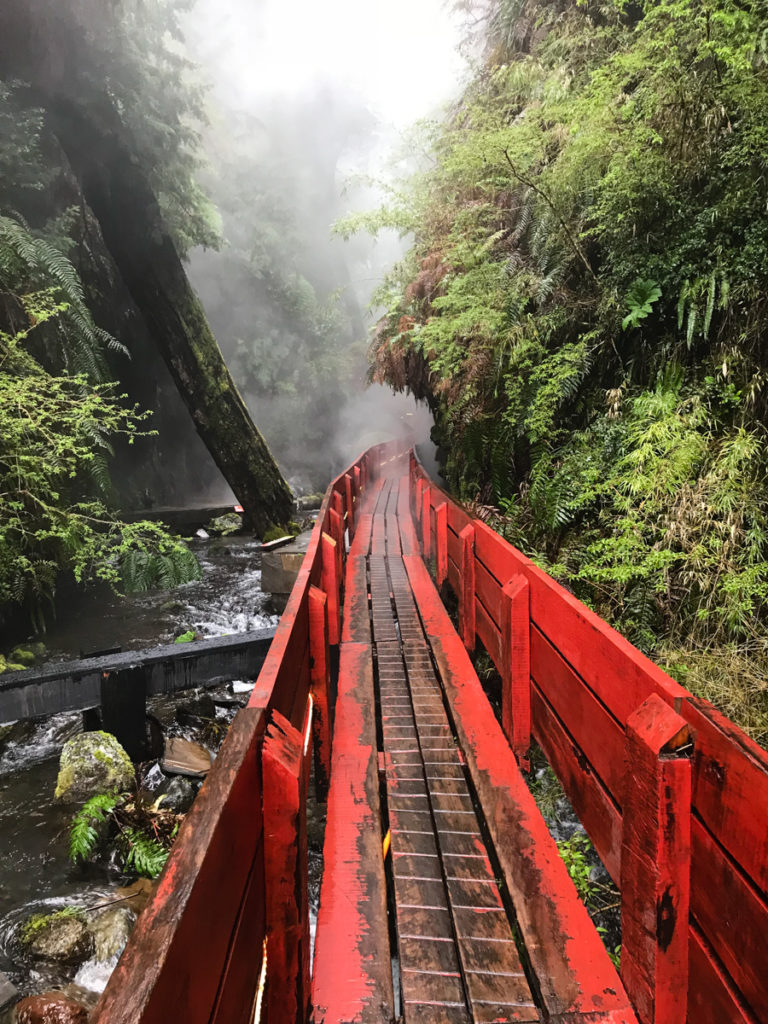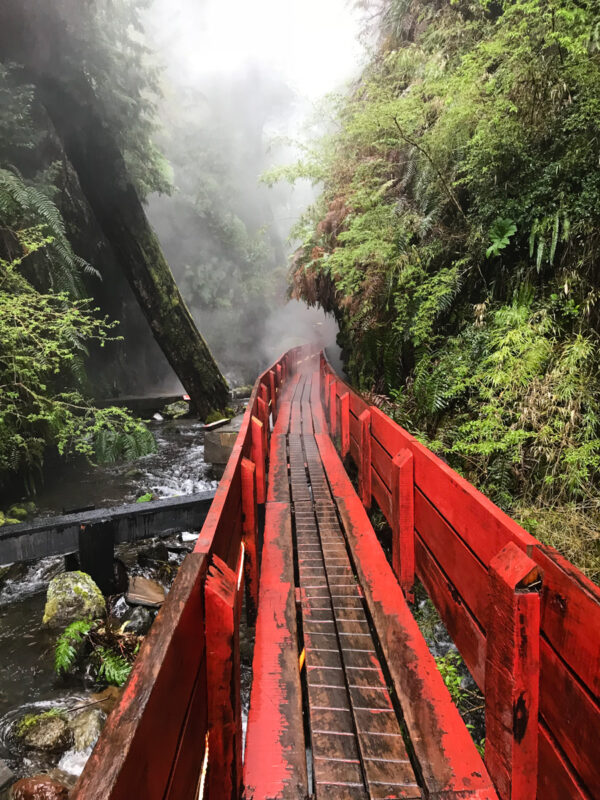 Facilities at Termas Geométricas
Even the bathrooms and locker rooms at Termas Geometricas are unique. Upon paying your admission fee, you'll be given a big fluffy towel and a lock with key for each person (we found that we only needed two lockers for our family, and so returned the spares). The locker rooms and bathrooms are open-air but do have lockable doors. In the bathrooms, be prepared for chilly water in the sink – it's flowing all the time and comes straight from the source! It's just another touch to remind you that you're in a special place.
After you've had your fill of the glorious hot water and changed back into street clothes, I strongly recommend that you enjoy some of the delicious pizzas and soups and then top it off with cake and hot cocoa. You've earned it!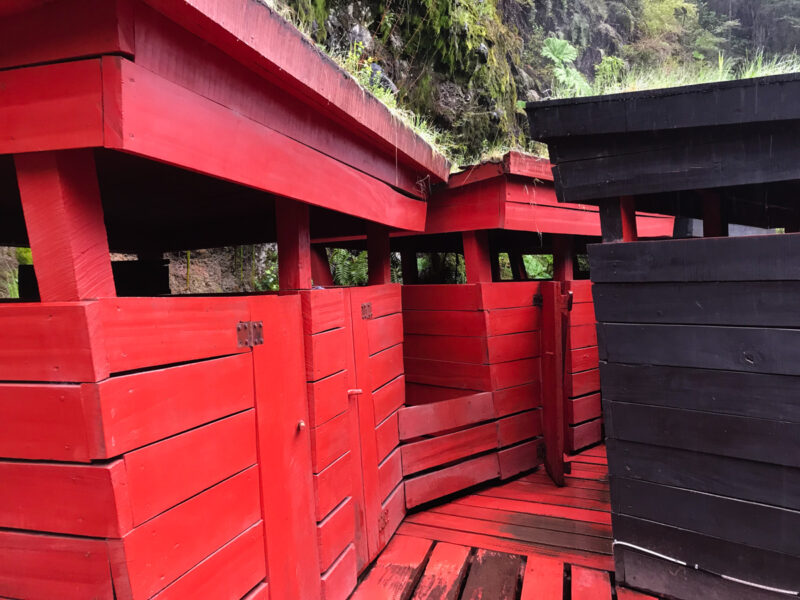 Termas Geometricas prices
I've read some complaints that Termas Geometricas is expensive, but we felt it was well worth the price. Children pay 12,000 CLP ($20) all day, while adults prices vary from 21,000 to 25,000 CLP ($35-41) depending on the time of day. Given that towel and locker rentals are included and there are so many pools to experience, we think it's reasonable and would gladly return. We all still talk about what a magical experience that day was, and you can't put a price on that.
Getting to Termas Geometricas
Termas Geometricas is located 16km from Conaripe on the side of a volcano in Villarica National Park – find out more about hiking Volcan Villarica itself here. The drive from Pucon takes approximately 1.5 hours, and a little less from Villarica. While most of the drive is on fairly smooth highway, toward the end there is some time on gravel roads. We had actually attempted to visit thermal pools in Boquete, Panama but turned around after an hour of driving because the road was just so terrible (check out all the other fun things to do in Boquete instead) – so naturally, we were a little nervous going into this expedition. Older blog posts we'd read about the road to Termas Geometricas didn't allay our concerns, but we went for it anyway. Much to Ronnie's glee (since he's the driver), the road to Termas Geometricas was absolutely fine as of November 2017. It does look like there have been some recent improvements, and our regular old Peugeot 208 front wheel drive hatchback did just fine.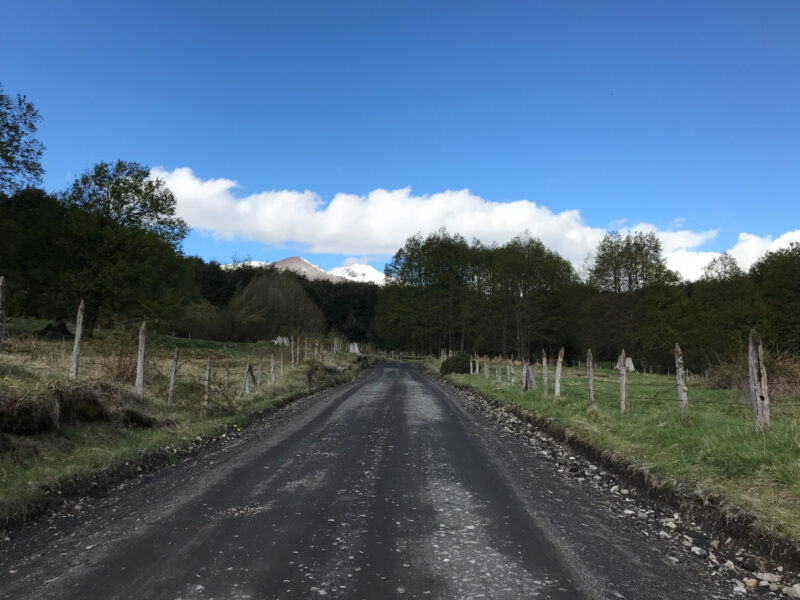 If you don't have your own car, the other easy way to get to Termas Geometricas is on an organized tour. There are SO SO MANY tour operators in Pucon and Villarica who will take you there, but of course there's a price for everything. Click here to check prices and availability here for transportation and tickets to Termas Geométricas.
If you prefer to go to Termas Geometricas by bus, you will travel from Pucon to Villarica (or start in Villarica if that's your base) and then transfer to another bus down to Conaripe. The bus journey by bus from Pucon takes approximately 2hrs (just over an hour from Villarica) but only costs a few dollars per person. From Conaripe, you can find a taxi or shuttle to take you the last stretch. If you choose this route, please remember that cell phone service at Termas Geometricas is extremely limited so make arrangements with your taxi or shuttle driver to pick you up at a set time. Otherwise you'll be hitchhiking down the volcano and reliant on the kindness of your fellow thermal bath dwellers. Of course there are worse things to do when traveling, but make sure you have your arrangements set or that you're comfortable with the alternative.
What (not) to bring to aguas calientes Termas Geometricas
Fortunately, you don't need much to visit Termas Geometricas! Ideally you will bring a swimsuit, but you can actually purchase one at check-in if necessary. We thought flip flops would be good to bring around, but we didn't end up using them much and they were a nuisance to carry from pool to pool. So scratch those! We also brought our excellent travel towels, but didn't end up caring to dry off between pools. Since the fluffy white towels provided by Termas Geometricas are so much nicer than anything else we've used while traveling, we could have easily left behind the travel towels.
The only thing I wished we'd had was some sort of waterproof camera to bring around with us. Fortunately our new iPhone 7's are (at least?) water resistant, so we used them above water and they remained functional. The absolute best thing we brought was a wet bag to hold our wet swimsuits (we use these ALL THE TIME).

Visit the Termas Geometricas website for hours and more information
Where to stay when visiting Termas Geometricas
We used Pucon as our base for exploring the Lake District of Chile, as it's a pretty town with many activities nearby. We love it's charming apres ski vibe and we were glad to be there in late spring before the town was swamped with vacationing Chilenos. We landed a wonderful apartment on HomeExchange just a few blocks from the center of town (and a great playground!). Visiting the Lake District of Chile can be pricey, so we were thrilled to get our accommodation for free. We also saved money by preparing many of our meals in the apartment since we stayed in the town for so long. Click here to see how you can stay for free with Home Exchange on your next vacation.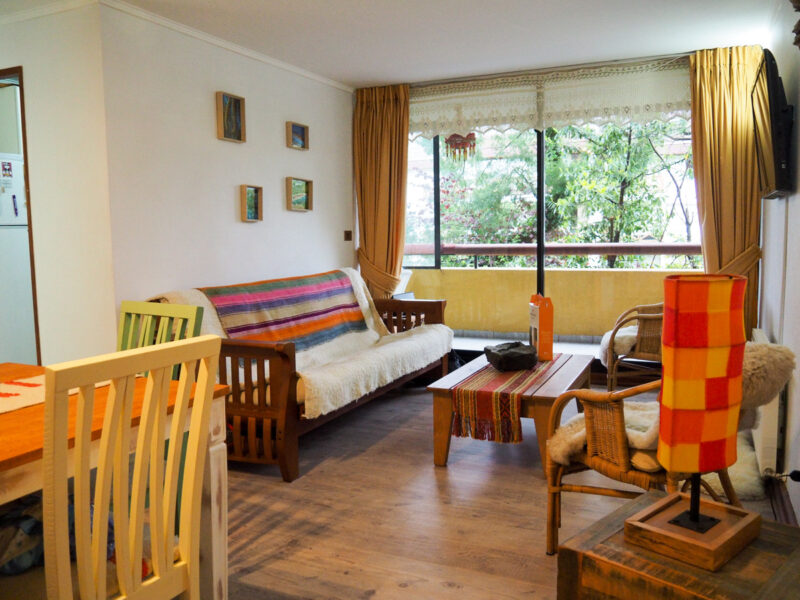 Of course, the food scene is another way to enjoy Pucon! We didn't explore many places, but we did discover a tiny amazing family-run empanada shop, Puras Pavadas. If you go to Pucón and don't stop there for a snack or a meal, that's a huge loss for you! They were some of the best empanadas in Argentina during our trip. For some really amazing coffee, hot chocolate, alfajores, cakes and truffles, make sure you visit Cafe de la P. It's right there in the middle Pucon's main street, and you won't miss it since you'll be sure to find yourself ogling their chocolate spread through the window as you stroll by. We had a nice dinner at Cassis as we roamed around town one evening. While the food was fine, the dessert was stellar! They were also extremely gracious when the kids made an ungodly mess, so there's that.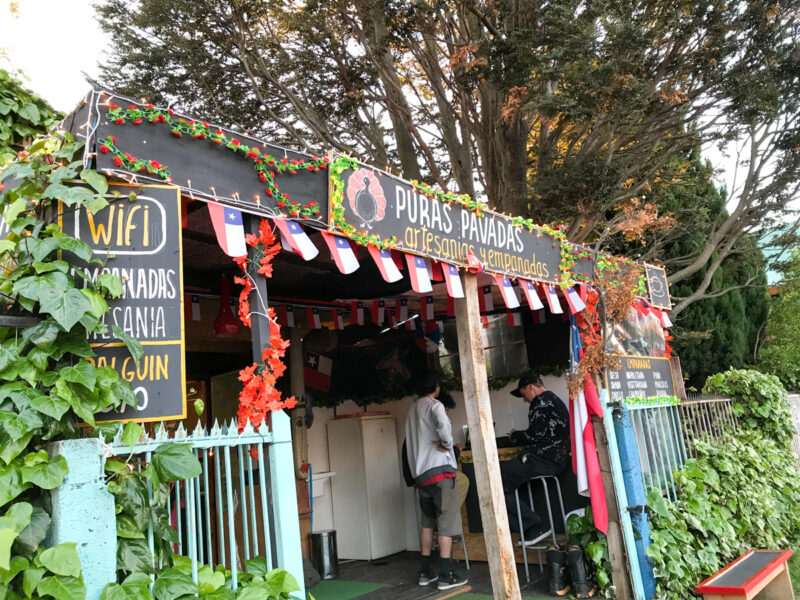 Use the interactive map to find vacation rentals and hotels near Termas Geometricas in Pucón, Chile
---
Want to save it for later? Pin this article below!