The smell of sautéed onions, bell peppers and garlic filled the kitchen. Our children 6 and 3 years old were laughing wearing their chef's hats and aprons as Norma guided them gently through the process of forming and filling their own homemade empanadas. As a parent, it was a pleasure watching their little hands form the creases along the edges of the empanadas. The three hours we spent learning traditional Argentinian dishes in our family cooking class with Norma from Argentine Cooking Classes was one of the highlights of our time in the city. Norma's designed-for-you Buenos Aires cooking class is one of the most fun things to do in Buenos Aires.
Planning your family trip to Argentina? Check out our other favorite things to do in Argentina with kids!
The best way to introduce your children to a new culture is through food. Every dish has a story and every spice is a distinct insight into the flavors that bring people together. A challenge that we face when traveling to a new country is figuring out what our children will eat. No matter how hard we try our kids often resist trying new foods. If it isn't chicken nuggets or pizza then forget about it. Cooking is a a great medium to encourage children to try new foods. The process of cutting, mixing and cooking ingredients together with their own hands makes the dish their own.
Norma greeted us upon arrival at her apartment in the Belgrano neighborhood of Buenos Aires. Her apartment has stunning glass windows surrounding all sides providing an incredible view of the Buenos Aires skyline. Norma is a practicing psychologist who always had a passion for cooking. She offers approachable but gourmet cooking classes as a way to share with adults and children her love for Argentinian cuisine. We were grateful to be hosted for her "mini-chef" family cooking class.

Her children's cooking classes are a truly hands-on and interactive experience for children as young as three years old – but it's not just a watered down "toddler cooking class", these are real recipes that your family will want to prepare at home. Norma provides an introduction to the dishes that will be prepared and a complete recipe packet to be taken home (digital copies can be emailed afterwards as well). Once the children put on their aprons and chefs hats it was time to get our hands messy. Remember that time they wore aprons and helped us make our own wine in Chile?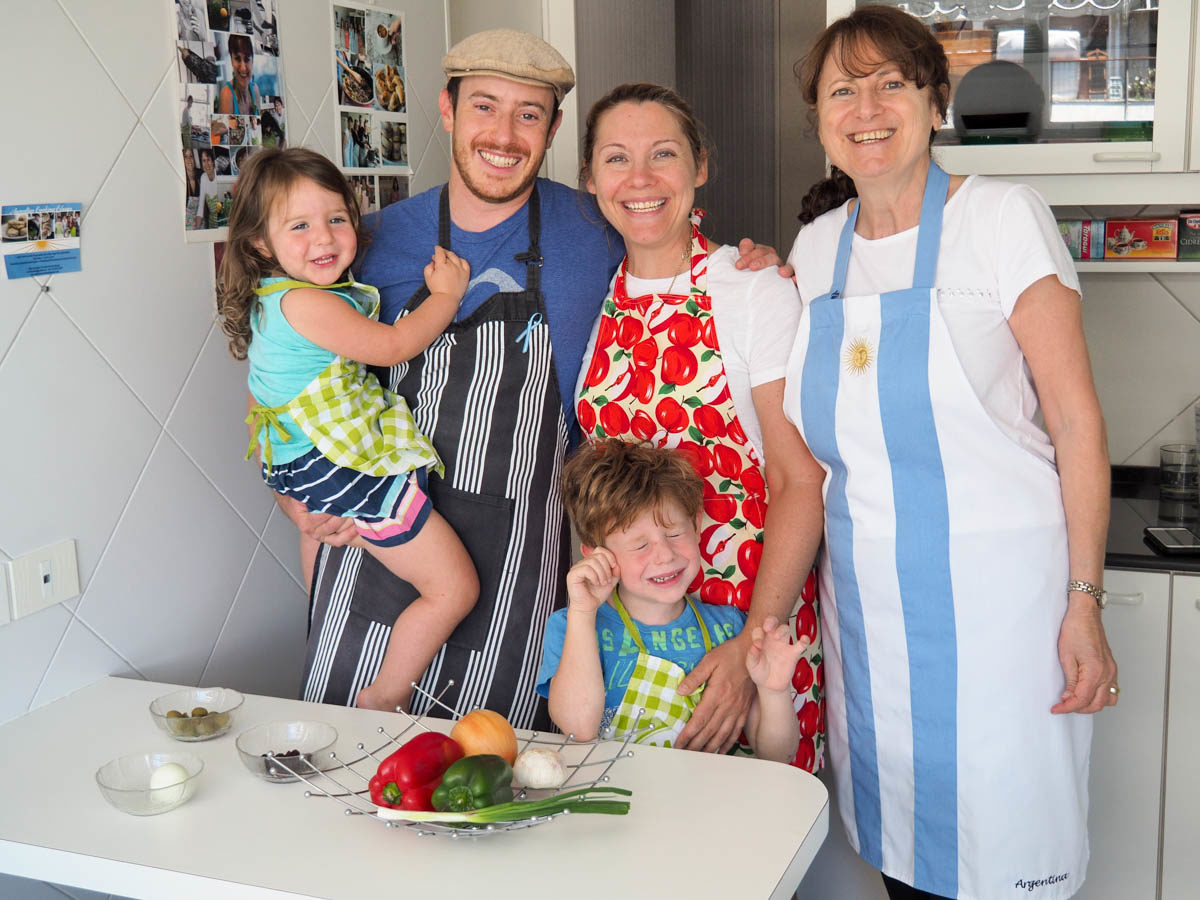 Our little chefs learned how to make empanadas and alfajores. Empanadas are an Argentinian street food that is made from dough stuffed with a filling, and either baked or fried depending on the region of Argentina. The dish originated in Portugal and the first recipes of empanadas were found at the start of the 16th century. Today, Argentinians eat empanadas as appetizers at asados (social barbecue gatherings) or as meals unto themselves. They are delicious and come in multiple types, including beef, chicken, cheese or a variety of vegetable mixes. Of course, you can't eat something savory without something sweet too! The alfajor originated in Iberia or southern Spain during the time of the Moors. It is now one of the most popular deserts in Argentina, Chile and Peru. The Argentinian alfajores consist of two small sugar cookies sandwiched together with the ever-present dulce de leche (translates to 'sweet milk', a type of caramel created by heating milk and sugar slowly together), with coconut shavings on the outside. (Side note: In a huge supermarket in Bariloche, Argentina we could not find a single jar of peanut butter. There were, however, at least twenty varieties of dulche de leche. No joke.)
Want to check out another facet of local culture? Learn all about Latin dance!
Norma guided our children through each step of the cooking process. Set up in the kitchen is a table that is the perfect height for younger children. All of the ingredients were laid out on the table. The fun began right away when our children used kid-friendly knives to cut all of the ingredients for the empanadas. After the adults sautéed the ingredients the children were ready to assemble the empanadas. First they put the right amount of filling inside. Then they worked together with Norma to learn the proper method for sealing the empanadas. Finally, for the best part, our little chefs painted the egg batter on the outside of the dough to provide a nice golden crisp when they finished baking. The experience was totally immersive for the kids from start to finish, and Norma really let them work through the most important parts of the cooking process! Of course, we adults got to join in the fun – both helping the kids and learning to make empanadas ourselves!
Once the empanadas were ready to bake the kids started working with Norma on making the alfajores. The first step involved rolling out the dough and then using circular cutters to create the small cookies. Once the cookies were baked the kids filled the inside with dulce de leche and then rolled them in sprinkles.
After the empanadas were complete we sat down to eat in Norma's living room. It was a nice cozy environment. The kids enjoyed their creations (as did the adults). Norma served the kids juice and the adults a nicely paired traditional Argentinian Malbec. It was special getting to sit and talk with Norma. She shared with us about Argentinian history and food. At the end of the afternoon our children had a greater appreciation of Argentina and a love for empanadas and alfajores.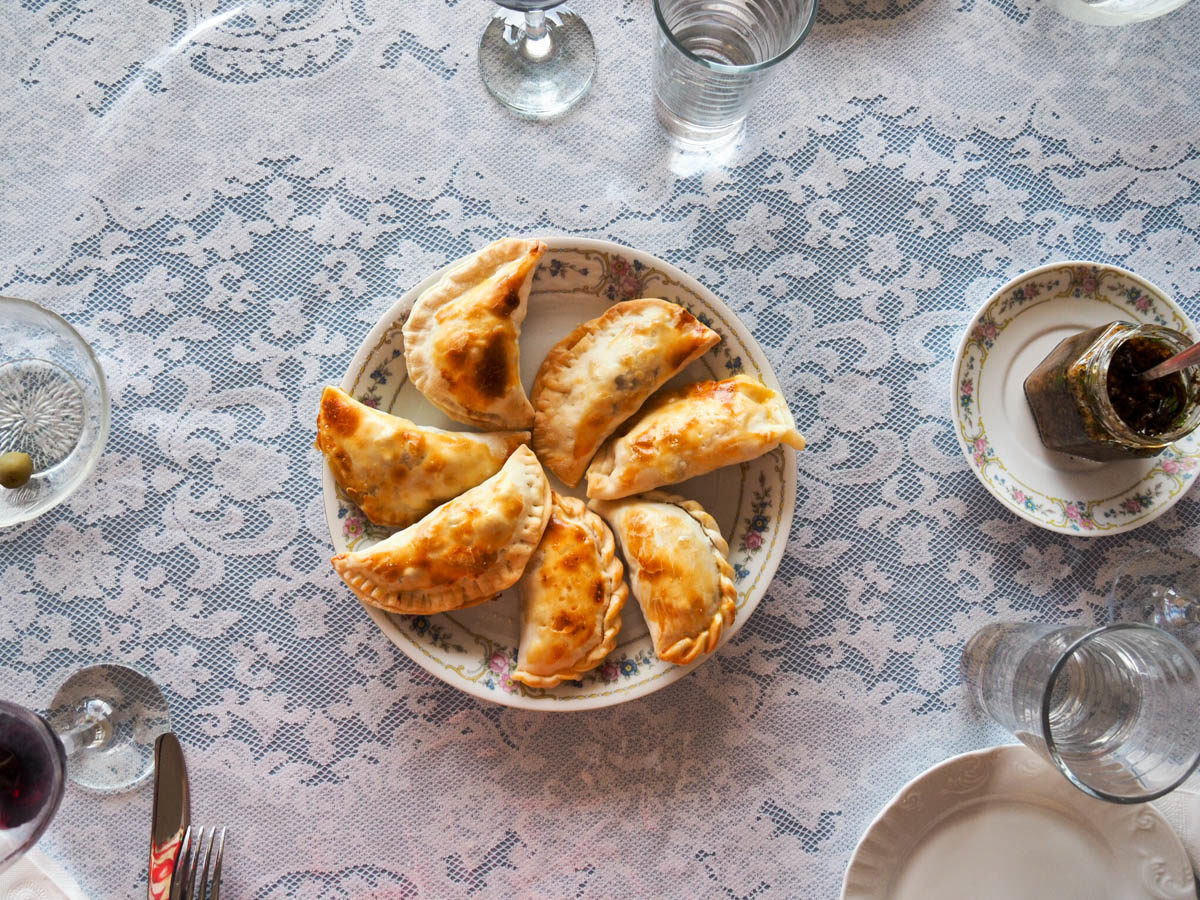 We were grateful for our time spent with Norma. If you are looking for fun things to do in Buenos Aires, do not hesitate to spend an afternoon with Argentine Cooking Classes – her classes can be tailored to your needs and range from a family cooking class to gourmet cooking classes for groups of adults (and we know some who have done it!). You will walk away with a greater appreciation of Argentine history, food and culture. Thank you Norma for a fantastic experience. One that our children will never forget.
Ready to book your family cooking class in Buenos Aires?
Are you ready to book your Buenos Aires cooking class with Norma? Visit her website here to let her know what you're seeking and to arrange a date for your gourmet family cooking classes.
Want to stay in Buenos Aires for free? We found a great apartment in Alto Palermo on HomeExchange. Learn more about how the program works here.
Use the interactive map to find vacation rentals and hotels in Buenos Aires, Argentina
---
Thanks to Argentine Cooking Classes for hosting us for this experience; all opinions are our own.