There is something magical about getting up close and personal with animals in their own habitats. When we started planning our family gap year trip, we knew that wildlife spotting would be a big draw for our little kids but we didn't realize just how amazing and accessible parts of Argentine Patagonia could be.
Many travelers we met during our month in Argentina thought they had to go all the way to Ushuaia to see penguins and didn't realize how much amazing Argentina wildlife viewing was available further north near Puerto Madryn – and the wide range of Patagonia animals is unlike anything we can find back in Los Angeles. Once we dug a little deeper, we knew that Puerto Madryn absolutely had to be on our itinerary and that Argentina Vision was the right guide for our exploration. As you'll find out, they offer some of the best encounters with Argentina native animals.
Looking for more ideas of fun things to do in Argentina with kids? You can also see our full Patagonia with kids itinerary.
Argentina Vision: An epic tour of Patagonia animals
Puerto Madryn is the gateway to Patagonia along the Atlantic coast, though I'll admit that it doesn't feel like you're necessarily in the Patagonia of the movies (or our later travels). It has a bit of the feeling of a small, windy seaside town in New England, but more remote – once you head out of town, you won't encounter another city for an hour and there's no cell phone service in the vast expanses. The best area for spotting Argentina animals is the rugged Peninsula Valdés, north of Puerto Madryn, and Argentina Vision helped us see the very best Patagonia wildlife in one jam-packed day.
Peninsula Valdés, Argentina is a bit far from Puerto Madryn and the day is full, so the comfortable tour van picks up the day's adventurers from their hotels and apartments in town around 7:30am. The kids were exhausted after several early mornings in a row, but we promised them it would be worth getting up early. Note that the day involves several very long drives, so get comfortable in the van! We brought Shoshana's favorite lovey and she got a few solid naps in during the day.
As soon as the van was loaded, we drove north and the quality of our guide was immediately apparent – unlike some other guides we had, Fernanda spent almost the whole ride telling us all about the interesting wildlife we'd see during our tour (in English). She went far beyond listing the animals, and even dove into their evolution of and relationships to the local ecosystem. Once we arrived at the entrance to the peninsula we stopped at the ranger station to pay admission to the peninsula and visit a small but excellent museum anoint the whales of the region. The coolest part? Getting up close and personal with baleen from a Southern Right Whale!
Fun fact: Did you know that orca are actually dolphins? They have teeth instead of baleen and only one blowhole instead of two. During some times of the year, the tour visits the northern side of the peninsula to spot Orcas from shore, but they had already migrated away by the time of our visit. Prime orca viewing is September to early November and February to April. You can read more fun facts about Argentina before you go!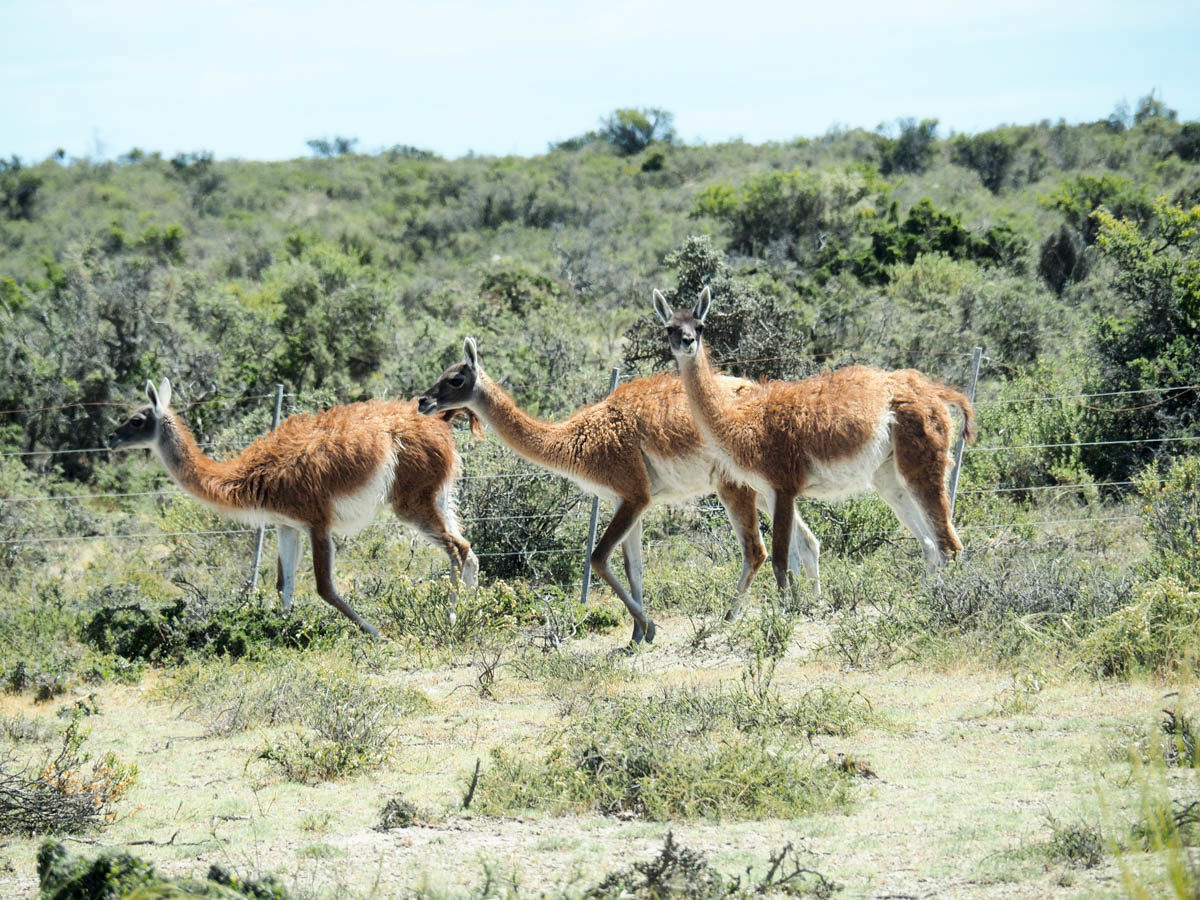 Golfo Nuevo: The Southern Right Whale's Nursery
Our first wildlife encounter was in Golfo Nuevo, on the south side of the peninsula. We boarded an affiliated company's boat in Puerto Pyramide and went off in search of Southern Right Whales. They are the second largest whales and split their year between Brazil, where nutrients are abundant, and the other half of the year in Golfo Nuevo. The calm, shallow waters provide in ideal habitat for birthing and nursing baby calves. When a calf wants milk, it bumps a glad on the mother's underside and the milk comes shooting out and mixes with water – and here in Golfo Nuevo, the young calves have a better chance of actually getting enough of that mixture to grow into independent whales that can survive the annual family trek to Brazil.
We visited in late November, which is the very end of whale watching season in the area as some mothers and calves had already left the area. We did get to watch one pair swimming and breaching for part of our boat tour. We appreciated that everyone was fitted with an appropriately sized life preserver, including tiny ones for the kids. The boat itself was fine, though unremarkable and more crowded than we wished it had been (and than many other boat rides we've taken). As seems to be typical of excursions in Argentina, a professional photographer was on board and his photos were available for purchase back at the dock. It was quite chilly on the boat, so we recommend bringing a decent jacket (and a hat if you really tend to get cold). You might also consider binoculars to get a better view.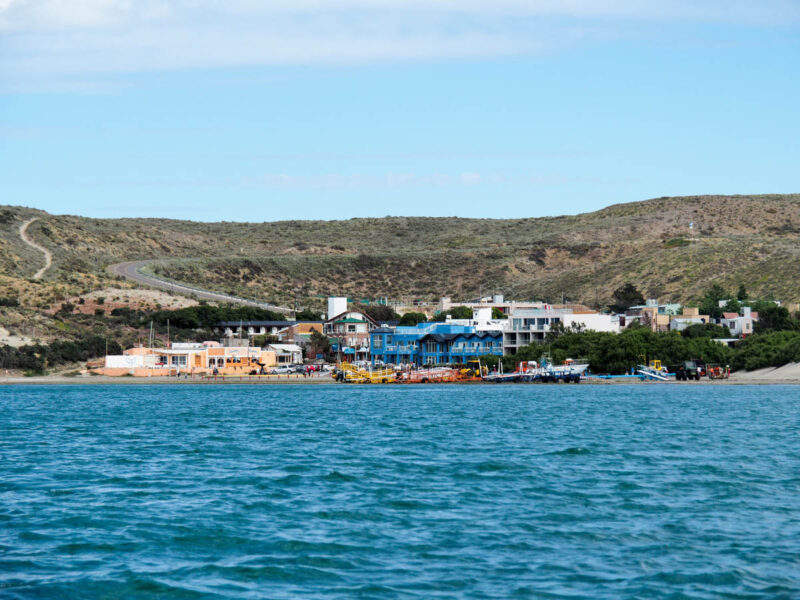 Estancia San Lorenzo: The best place to see Patagonia penguins
The highlight of Argentina Vision's tour on Peninsula Valdés is a visit to UNESCO World Heritage Site Estancia San Lorenzo, which is under the same ownership as the tour company. As far as we know, only Argentina Vision can take tour groups there, and that is reason enough to book this tour. Seriously, Estancia San Lorenzo is where dreams come true for the whole family!
The sequencing of our visit to the Estancia was based on when the staff told Fernanda lunch would be ready. The price of lunch is not included, but we found it very reasonable – and, more importantly, delicious. When you walk into the Estancia dining room the first thing you'll notice is a huge asado oven going in the corner, where the day's lamb is cooking at an open flame. The dining room itself is huge; while our small group was initially the only one there, we were joined by a larger one as we finished up and they could have easily accommodated several large tour buses. We started off with some very nice cheese empanadas. Ronnie and Jacob shared the lamb sandwich and declared it delicious; there's also an option to order a larger plate that include even more lamb and some sides but we weren't initially sure what the kids would think of it. Shoshana and I enjoyed the moist, tender chicken as well. They offer a nice selection of some fresh vegetables and cheeses, so even vegetarians will find some options available. After lunch the kids enjoyed wreaking havoc on the cute little shop that mostly displays penguin paraphernalia.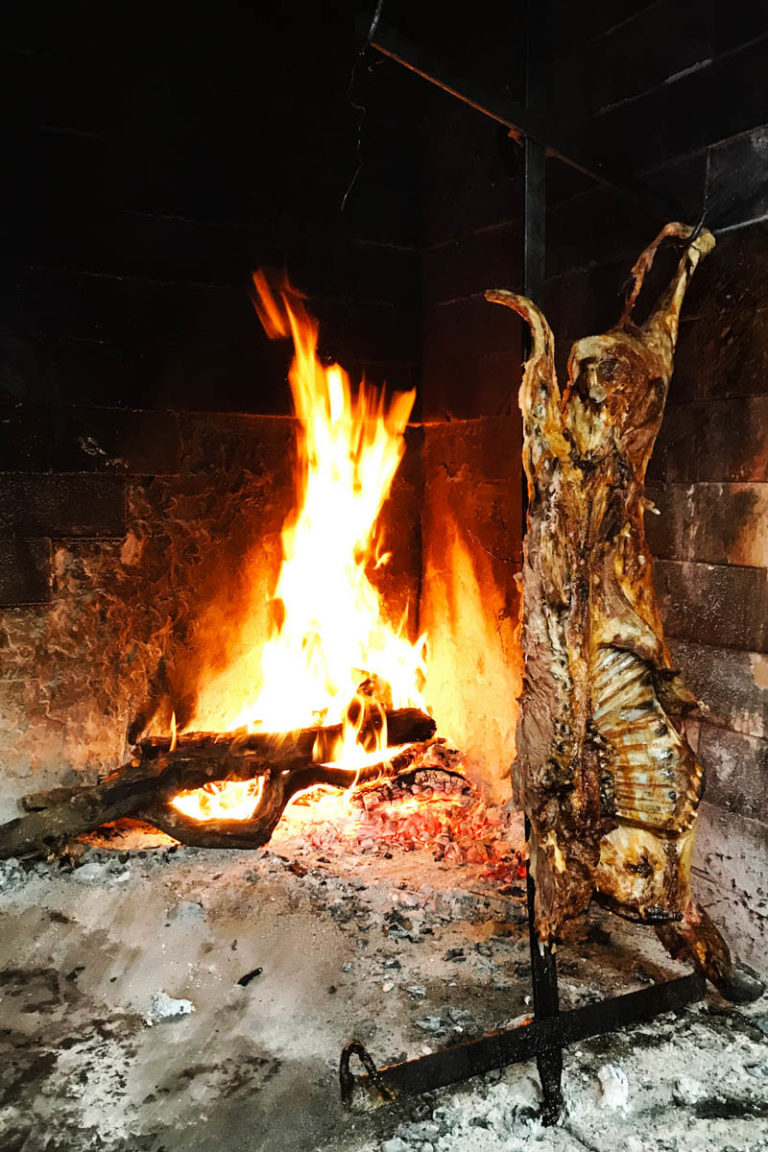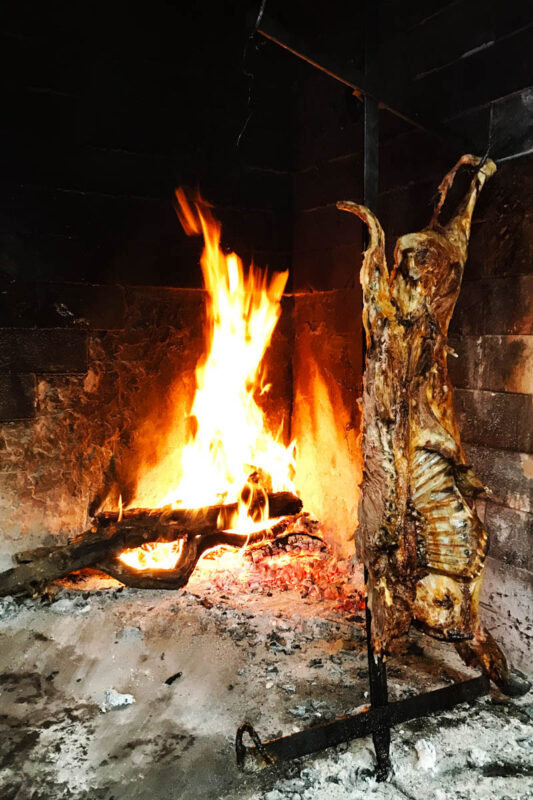 Why all the penguins? The Estancia's extensive property includes a private, secluded beach that serves as a huge nesting area for half a million of the region's Magellanic penguins! We visited in November and by dumb luck our timing coincided with the three week hatching period. The experience is hard to put into words. Unlike Punta Tombo, Argentina (which we also visited) where you go on a long walk mostly on raised boardwalks surrounded by throngs of other tourists, at Estancia San Lorenzo your tour van drives you right up to the area where the penguins live and your small group is likely to have the whole place to yourselves or will perhaps be joined by one other group from Argentina Vision. In terms of a tourism experience, we thought it beat the more common Punta Tombo tour penguin encounter hands-down.
There were penguins waddling every which way, and the main sounds we heard were males honking to mark their territory mixed in with the tiny squeaks of day-old baby penguin chicks testing their new voices while asking their very protective parents for food. Watch your step, as there are burrows underfoot everywhere including on the marked path. Basically any time you see one of the little scrubby bushes that dominate the area, you can expect that there's a penguin burrow beneath.
If you love up-close wildlife encounters, don't miss this Panama day trip to monkey island.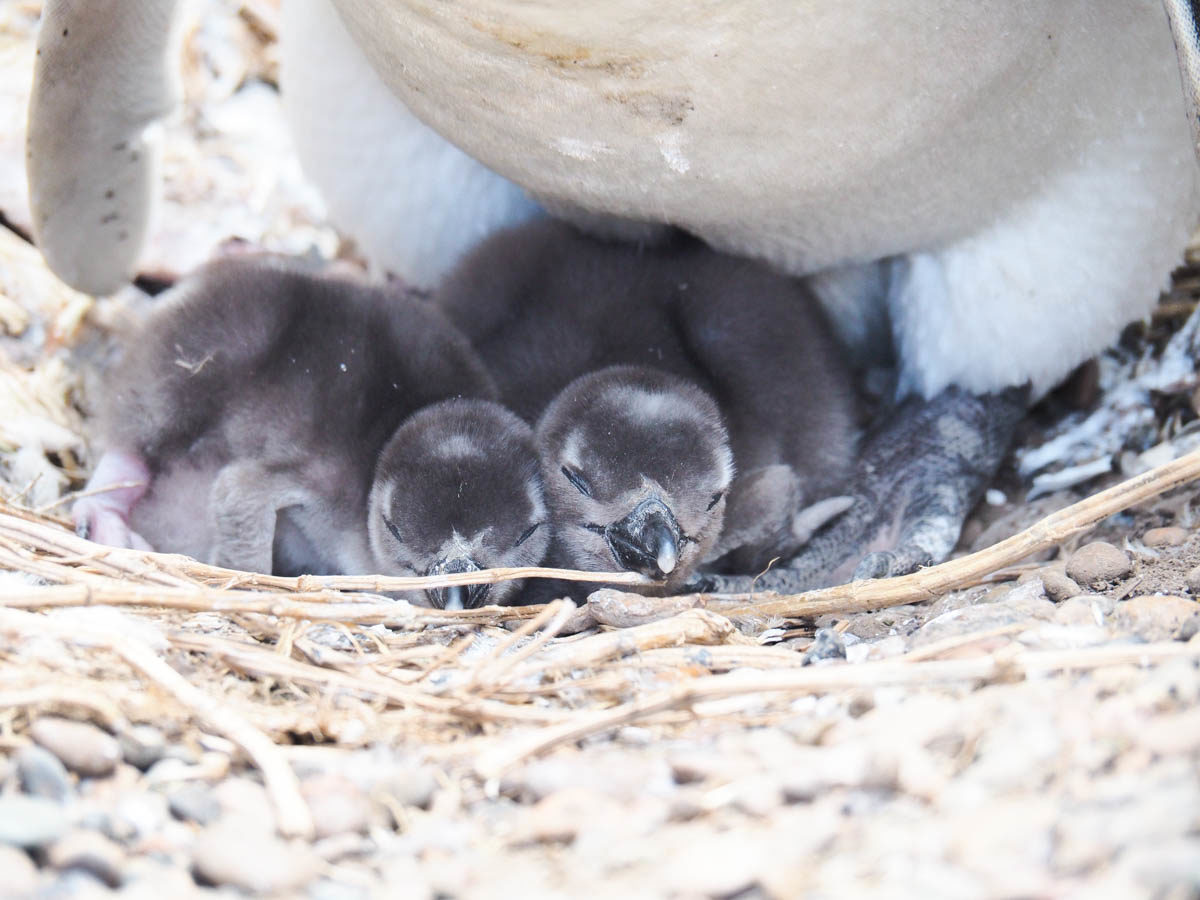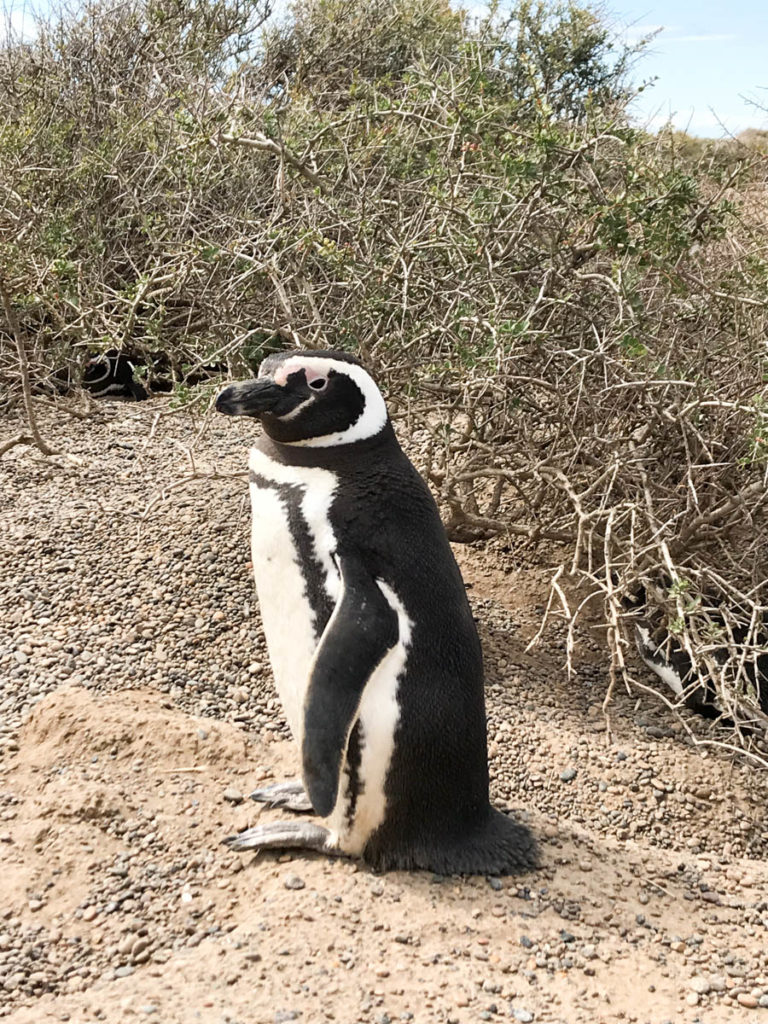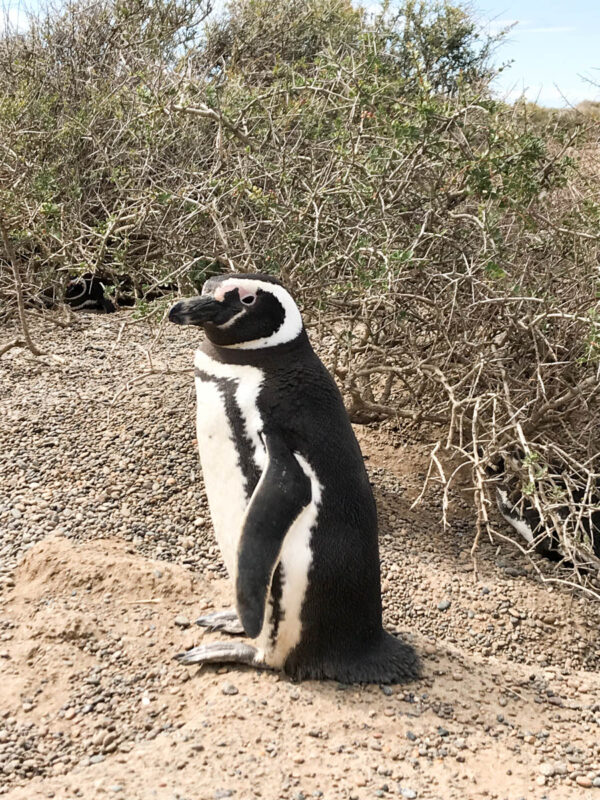 Final stop: sunbathing elephant seals
Our final stop was to visit the local colony of elephant seals at Punta Norte, which can be viewed from a platform above as they sunbathe on a secluded beach. Unfortunately we didn't see all that many during our visit and they weren't especially close. But Fernanda's explanation of the life of an elephant seal gave us a true appreciation for the truly wild nature of the region's ecology.
Elephant seals are enormous creatures, with males weighing in at 8,800 lbs each. They live on land in Peninsula Valdés from August to April for mating season, but then move on to Antarctica as soon as possible to live underwater and find food. The male elephant seal breeds with up to 50 females in a single season, staying on land to protect his territory. The females, on the other hand, are pregnant for 11 months, nurse for 26 days, and then get pregnant again. Apparently the elephant seals fast the whole time they are living on land! If that's not rough enough, as soon as the newly-born pups enter the water they're at risk of becoming an orca snack. It's not an easy being an elephant seal.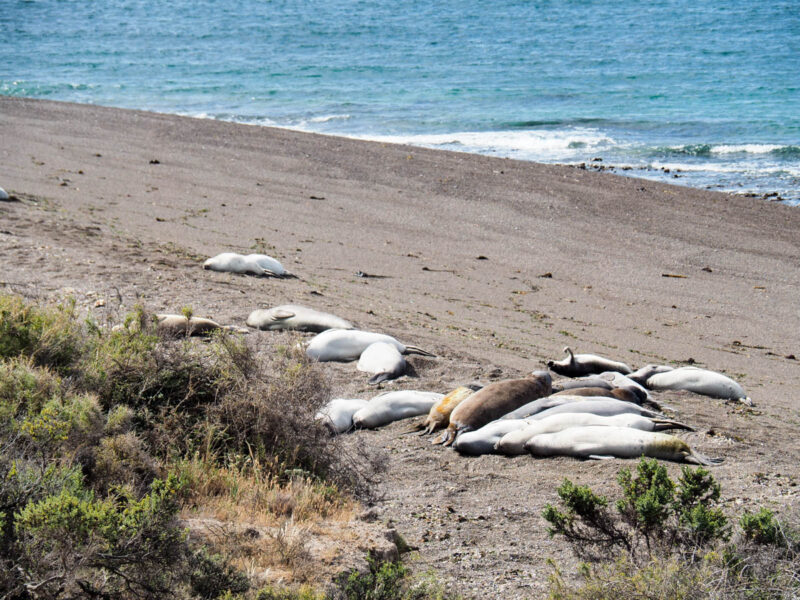 Book the Argentina Vision Peninsula Valdes North tour today!
Logistics for visiting Puerto Madryn
How to get to Puerto Madryn
The easiest way to get to Puerto Madryn is to fly to Trelew, a short non-stop from Buenos Aires. Check flight prices here. From Trelew, you can rent a car if you drive manual transmission or you can take a shared-ride van to Puerto Madryn. We are aware of one automatic transmission car available for rent from the Trelew airport, and it's several hundred dollars per day. Having a car gives you the flexibility to visit a few places like the interesting (but almost exclusively Spanish) paleontology museum in Trelew or the more accessible penguin colony at Punta Tombo.
You won't need a car in the town itself and if you plan to do excursions, as many people do, the tour companies will pick you up at your hotel or apartment. The shared ride van cost was much higher for us at the airport than when our return trip was booked by our awesome apartment hosts, so if you plan to take one of the vans it's best to ask your hotel or apartment for help with pricing. (I'm still not sure if it was more expensive because we booked it at the airport or if we paid el precio gringo.)
Getting around in Puerto Madryn
The town of Puerto Madryn is fairly small and walkable. Taxis are available for trips across town, though we didn't need to use them. We walked everywhere, often bringing our stroller, and discovered that the centerpiece waterfront promenade is lovely and does and great job connecting much of the tourist area of town, but the sidewalks on smaller streets are generally abysmal. Do yourself a favor and take the scenic route near the harbor even if it's a little longer!
Do yourself a favor and bring cash. A lot of cash. Like so many towns in Patagonia, many businesses only accept or strongly prefer cash. You definitely need bills to go on tours, eat at smaller restaurants and to stay at many apartments. Adding to the challenge of carrying thousands of pesos at any given time, there are only a few ATMs clustered in the center of town and poor Ronnie had to run to no fewer than five of them during our three day visit: they were broken, they were empty, they had low per-card daily limits on withdrawals, they didn't accept our card (which has worked flawlessly in every other country we've visited). Honestly the cash payment/crappy ATM situation was our biggest frustration in Patagonia. Yes, the region is a beautifully untamed frontier; however, its also a place in which tourism, primarily international, is the biggest economic driver.
Traveling on a budget? Check out our favorite money-saving resources.
Where to stay in Puerto Madryn
When you're traveling for a whole year, there are bound to be some things that go wrong… but if you're lucky like we are, they all work out for the better. And so it was that we had a mid-level freak out when our intended apartment host in Puerto Madryn messaged us an hour before our flight that he (incorrectly) thought he had cancelled our reservation months earlier and could not accommodate us. For real. It's not a big town and late November is basically peak season so there were essentially no hotels available in town that could accommodate our family's needs. There were approximately four apartments available between Airbnb and booking.com, and the Airbnb "instant book" we initially tried rejected us because he couldn't get the apartment ready in only a few hours.
Booking.com has been our hotel standby for years – the pricing is generally good and it shows a huge range of properties including chain hotels, small inns and rental homes. We found that Bahia Delfines apartments had one unit left and booked it minutes before take-off (literally… the jerk next to me was chastising me for being on my phone even though we weren't even taxiing yet). And we're so glad we did!
Bahia Delfines is run by young couple Xenia and Santiago and is located on the southern edge of town. There are six rental apartments in the building and they live on the top floor, with their foyer set up as the apart-hotel office. Our apartment was a two bedroom, 1.5 bathroom townhouse just right for a family. There's even a driveway in case you rent a car and a small patio with its own grill. The bedrooms are configured for a family, with two twin beds in one of the rooms and a large bed in the other, and both have great closet space. Overall, it's a wonderful apart hotel in Puerto Madryn, Argentina!
Even beyond the facilities, Bahia Delfines really shines in the hosting category. Simply put, Xenia and Santiago are made for working with guests. Even after dropping everything to ready our apartment on short notice, they welcomed our whole family into their home to chat, play with their pets and generally disrupt their entire evening. Over the next few days they went so far above and beyond what we would ever expect from "hosts" (spending hours on the phone making our excursion arrangements, driving Ronnie to every ATM in town at midnight, sharing meals together and more) that they moved squarely into the category of "friends" and they remain there to this day. If you'll be visiting Puerto Madryn, I can't recommend a stay at Bahia Delfines strongly enough. Check for room availability here.
Check prices now for Bahia Delfines Departmentos in Puerto Madryn!
Use the interactive map to find vacation rentals and hotels in Puerto Madryn
---
Where to eat in Puerto Madryn
El Almendro
On our first night in Puerto Madryn we had a lovely dinner at El Almendro, located in the center of town but away from much of the tourist infrastructure. We were warmly greeted at the front door by Estella, who poured us a complementary glass of wine to get us situation. An excellent start to the evening! The Mediterranean food was delicious and there is a kids menu. The restaurant has something of a fine dining vibe, but as we left at 10pm there were several Argentine families with young children arriving. El Almendro accepts credit cards, and they're honest too – due to a miscommunication, they accidentally ran our card twice. But they found us through a photograph of Estella we tagged in our Instagram story and brought us the reimbursement (in much-coveted cash) at our apartment the next night. Yay for honesty!
La Milonga
On our walk (over terrible sidewalks) to El Almendre, we walked by La Milonga pizza and decided it would be a good backup option. Little did we know that our apartment hosts, Xenia and Santiago, think it's the best pizza in Puerto Madryn! The pizzas a rich and generous in size, with a wide range of toppings available. Note that they only accept cash or cards carrying the Maestro label.
Thank you to Argentina Vision for hosting us on their Peninsula Valdes North excursion; all opinions are our own.