"La douleur m'a brisée, la fraternité m'a relevée, de ma blessure a jailli un fleuve de liberté"
"Pain broke me, brotherhood uplifted me, from my wounds sprang a river of liberty"
-Paul Doret
When we saw that our France road trip would take us all the way to the Atlantic coast, there was no question we would visit Normandy to learn of the events, both tragic and heroic, that occurred there and to pay tribute to those who fought valiantly to beat back the fist of tyranny. We are Americans, and we are Jews. We have family members who fought, and family members who suffered and even perished in the evil of the Shoa. We needed to visit the D-Day landing sites in Normandy.
We also travel with two young, and sometimes sensitive, children. As we've travelled the world together we haven't shied away from the hard conversations. They've learned about maltreatment of indigenous communities, military juntas, anthropogenic climate change and much more. We've even gradually introduced discussion of the World Wars as context for some of the places we've visited and things we've experienced, and we've tried to do it in a way that's serious but age-appropriate. This is a part of their story as Americans and as Jews and they need to understand it, at least a little bit at a time.
Read more France articles or get Europe travel inspiration
How to visit the D-Day sites in Normandy with kids
And so we knew that we needed to be thoughtful and deliberate about our visit to D-Day sites with kids. Our aim was to provide them with meaningful context, show them some important sites and impress upon them the great bravery and heroism of the Allied soldiers who saved the world.
Many people choose to visit this region with a guide and that may not be a bad choice for your family. In our case, we felt that we could do a better job of thoughtfully shepherding our children through this weighty day, as we know what context they already have and where their particular sensitivities lay. We are also already somewhat knowledgeable about the causes and events of the war and have experience talking to our kids about in a way that is comprehensible to them but still candid.
Ronnie volunteered to be our personal tour guide for the day and did an excellent job crafting a meaningful but kid-appropriate day visiting several D-Day related sites in Normandy, and in the process filled some of his own knowledge gaps to prepare for the day. What follows below is our itinerary for the day, some thoughts on what to see/skip and different themes we discussed with our 4 and 6.5yo children.
Use the interactive map to find vacation rentals and hotels in Normandy, France
---
---
Giving context: visiting the Caen Memorial Museum with kids
"In your family, you may have heard stories of the war. You may have seen pictures or even objects. Each family has a story of war to tell, more or less sad, more or less simple, more or less distant. This is called 'memory'. What is true for a family is also true for a country. The work of historians is to understand this memory so that it can tell the story as it really happened." (Courtesy of the Caen-Normandy Memorial Museum)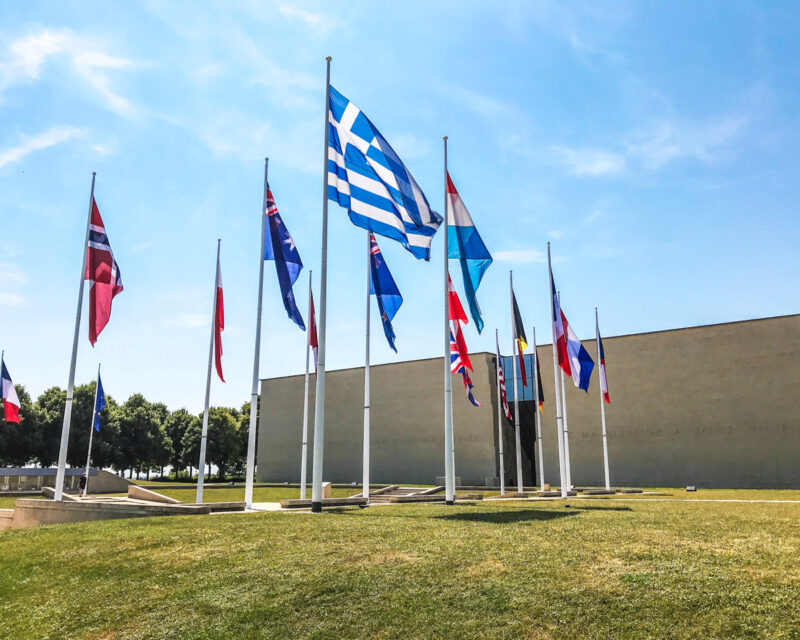 We felt it was important for our kids understand not just what happened on D-Day and the ensuing battle of Normandy, but also why it happened and how massive it was. The perfect place to start your visit to D-Day sites is at the Caen Memorial Museum. The museum begins with World War I and continues all the way through the Cold War, of course with the biggest area dedicated to World War II and the Normandy landings. All displays have captions in French, English and German and movies have French narration with large English subtitles.
The two areas of the museum we recommend visiting are the "Avant 1945" ("Before 1945") exhibit and the ensuing video showing archival footage of the Allied invasion. The exhibit does an excellent job of taking visitors through the lead-up and development of the war, with many artifacts, photos, and maps; there's an understandable emphasis on war-time France.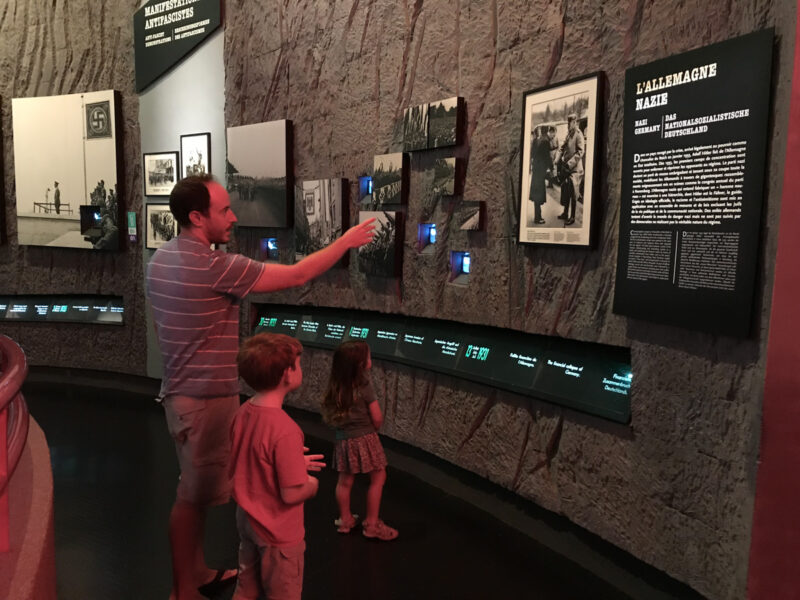 Mid-way through the exhibit (around 1943) there is a room dedicated to the Nazis' wartime atrocities against Jews, Roma, homosexuals and other groups, and it contains some photos we felt were too graphic for our kids. We knew it was coming and paused beforehand to explain to them the discrimination and imprisonment that Jews (including some in our families) faced under Nazi rule. Thankfully the museum has made it easy to bypass this room by continuing immediately to the left if you feel that's the appropriate choice for your family.
There are a few other images in the exhibit that could be upsetting to young children (including several depicting hangings) but as long as you're paying attention when you enter the room, it's fairly easy to navigate kids away from these and toward less disturbing displays that still afford the opportunity to show and explain the complicated history that led to the rise of fascism in Europe.
After the general overview exhibit, the museum focused down specifically on the events of D-Day. There are some interesting photos and artifacts we'd never seen – a homemade radio hidden in a can of beans and used by a member of the French resistance, a British "Rupert" dummy of the type dropped behind Nazi lines as a paratrooper decoy and a uniform worn by an Allied soldier as he trudged through chest-high water during the landing.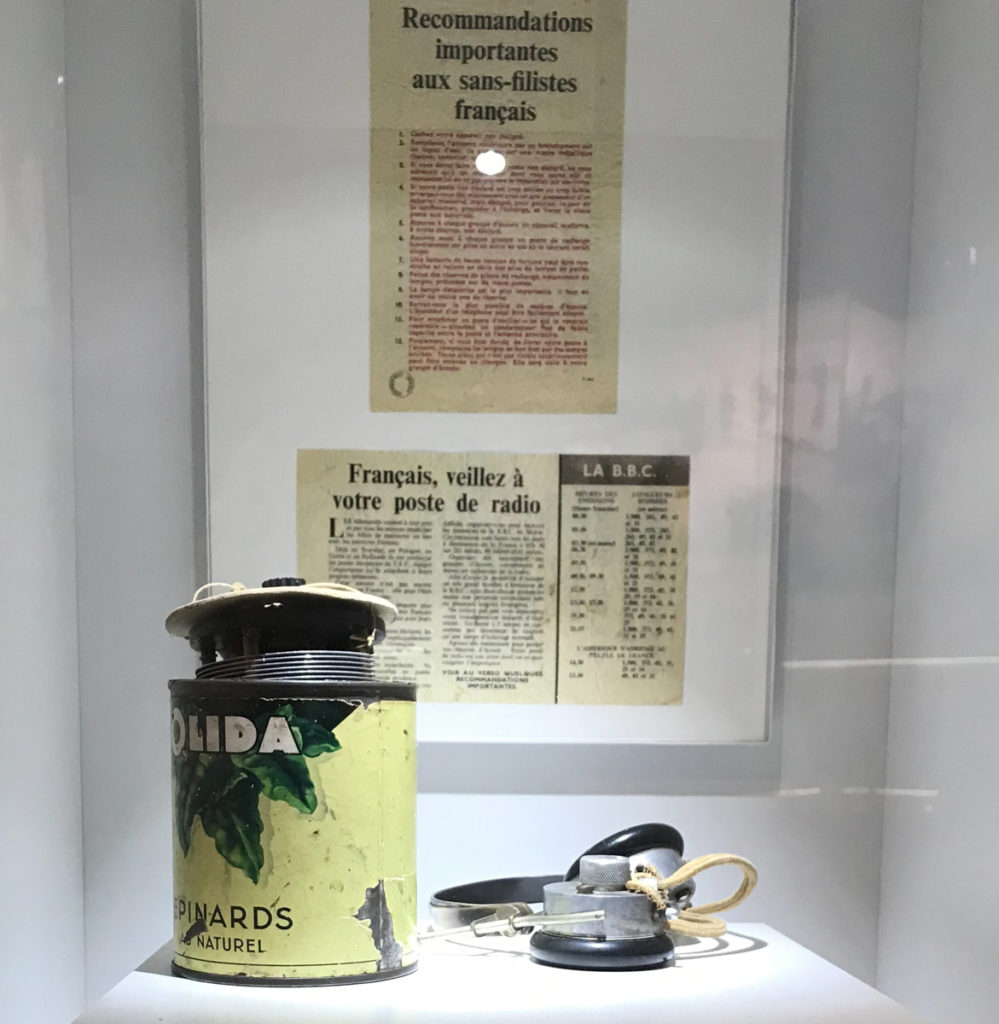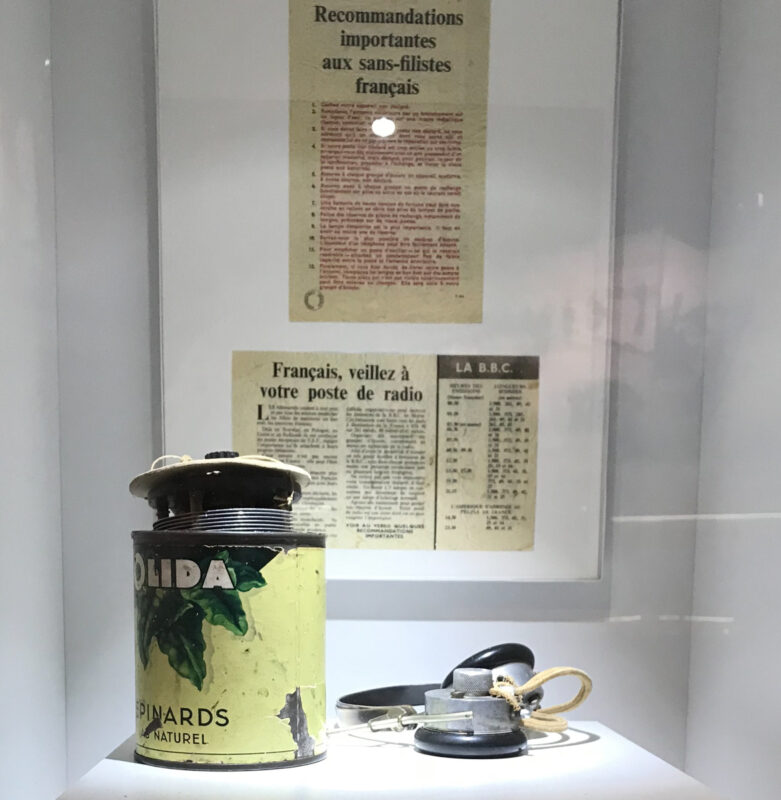 Immediately following this room there is an excellent movie with archival footage of both the initial invasion and the subsequent push to recapture all of France from Nazi rule. While we had previously seen brief clips of the invasion, much of the footage was new and informative. The narration is in French with English subtitles, so it was up to us to explain to the kids in whispered voices – we've done it many times before and it generally works well enough. Jacob, at 6.5yo, is often our more sensitive child but he had no issue with the movie; Shoshana (4 years old) watched it all, but covered her ears as some parts can be loud.
If you have the time, there's an exhibit on post-War Europe that may be worth visiting, along with rotating special exhibits. We covered the main exhibit and the film in around two hours, and that was moving pretty quickly through the exhibit but taking time for discussion when appropriate. Adult admission is 19.60€, and children under 18 are admitted free.
---
Stories of heroism: visiting Pointe du Hoc with kids
"For these men are lately drawn from the ways of peace. They fight not for the lust of conquest, they fight to end conquest. They fight to liberate. They yearn but for the end of battle, for their return to the haven of home."
-President Franklin D. Roosevelt, 6 June 1944
Sitting on the point between Utah and Omaha beaches, the Nazis held an extremely fortified position atop the 30m high limestone cliffs of Pointe du Hoc. The location was important as a look-out to keep watch against potential Allied attacks but also as a launch point for Nazi artillery against the Allies. Of the 169 Army Rangers who attempted the near-impossible feat of scaling the cliffs under endless Nazi artillery, only 90 survived. When we visited on this sparklingly clear July afternoon, it's hard to imagine the terror and confusion as the rangers tried to make their way through the thick clouds, crashing waves and hail of bullets.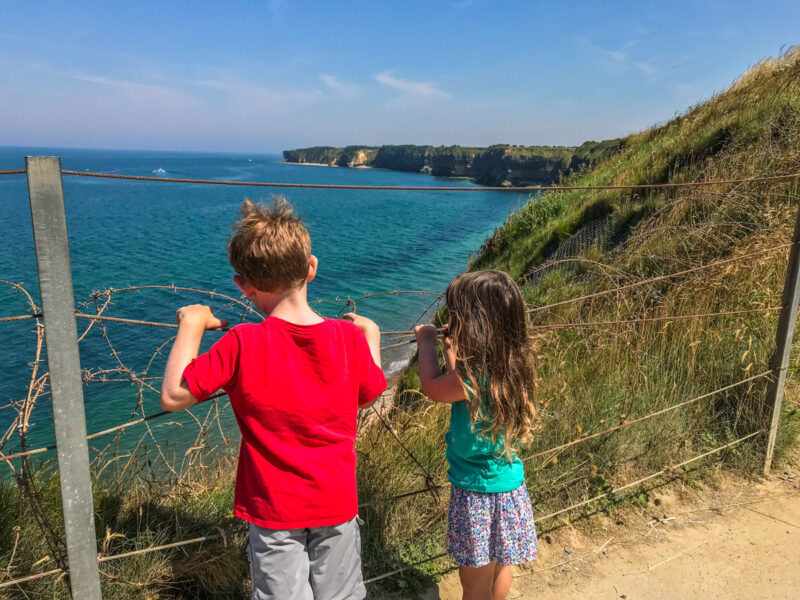 For today's visitor, Pointe du Hoc provides the best-preserved site for understanding the gravity of the D-Day invasion. This site is a great opportunity to discuss bravery and heroism, and the pathway leading to the point showcases photos and stories of several leaders of the effort.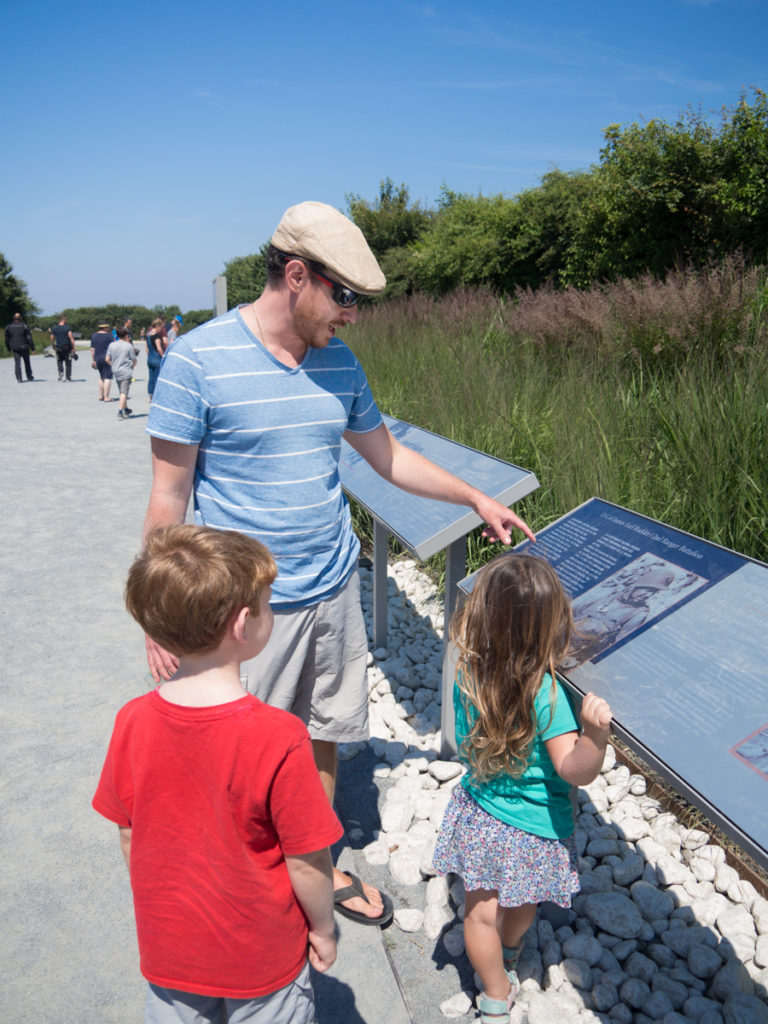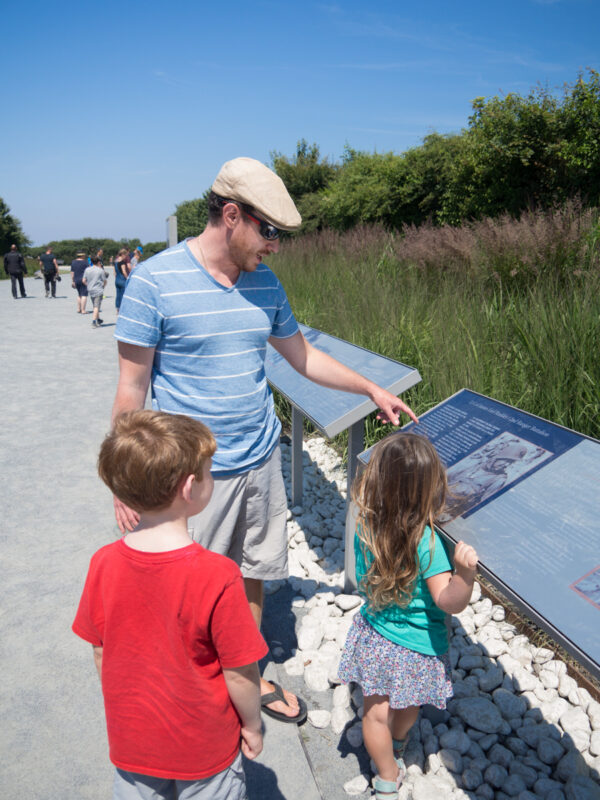 While Omaha Beach is now a haven for sunbathers, atop Pointe du Hoc you'll find massive craters – some perhaps 6m deep – left by explosions during the attack. The entire landscape is pockmarked by them much as it would have been in the days following the initial invasion. There are also several Nazi bunkers available to visit, though be advised that the first one you'll encounter has no lighting and may feel claustrophobic. The larger one at the Point itself has natural light and is an opportunity to experience the Nazi perspective.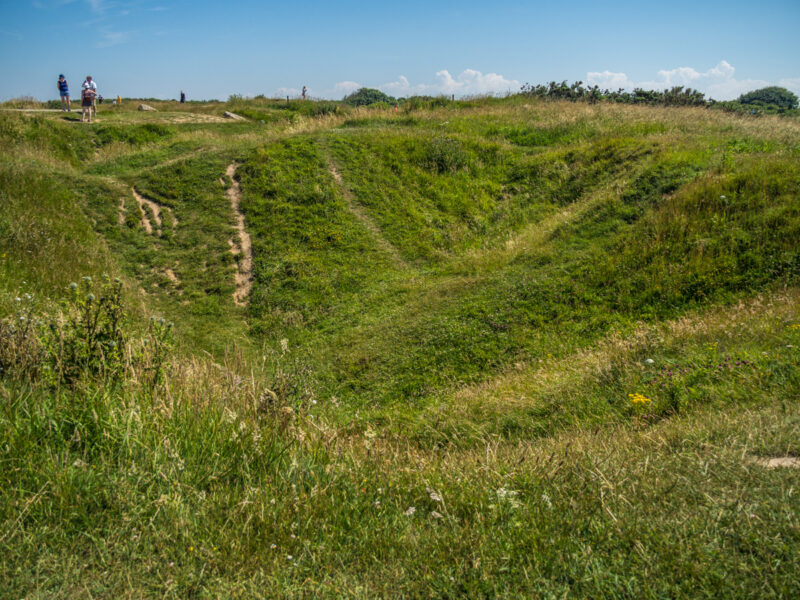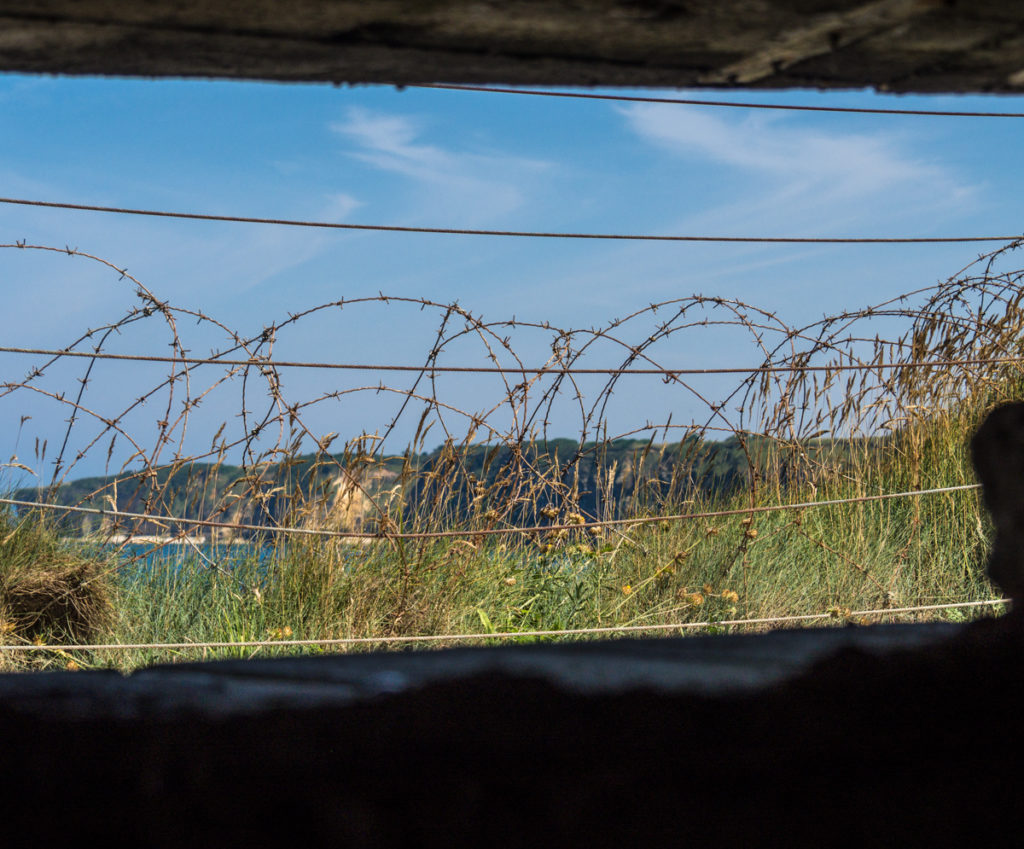 This site was the least somber for our kids, though they were very inspired by the heroes whose stories we read to them. The place itself is beautiful, if a bit haunting. Per the warning signs at the entry, there can be unstable ground and it's advised to stay along the marked, or at least well-worn, paths and stay away from the cliffs and barbed wire. All common sense guidance, but if your kids are runners or on the wild side I recommend keeping them close and making sure they are aware of the rules in advance.
Though there's plenty of open space, we were clear with our children that this was a place for solemn reflection rather than horsing around. We saw one family with a stroller, but much of the path is loose gravel so we'd recommend a good baby carrier if your child still isn't walking age. The drive from the Caen-Normandy Memorial Museum to Pointe du Hoc is approximately 40 minutes, and we spent just over an hour at the site.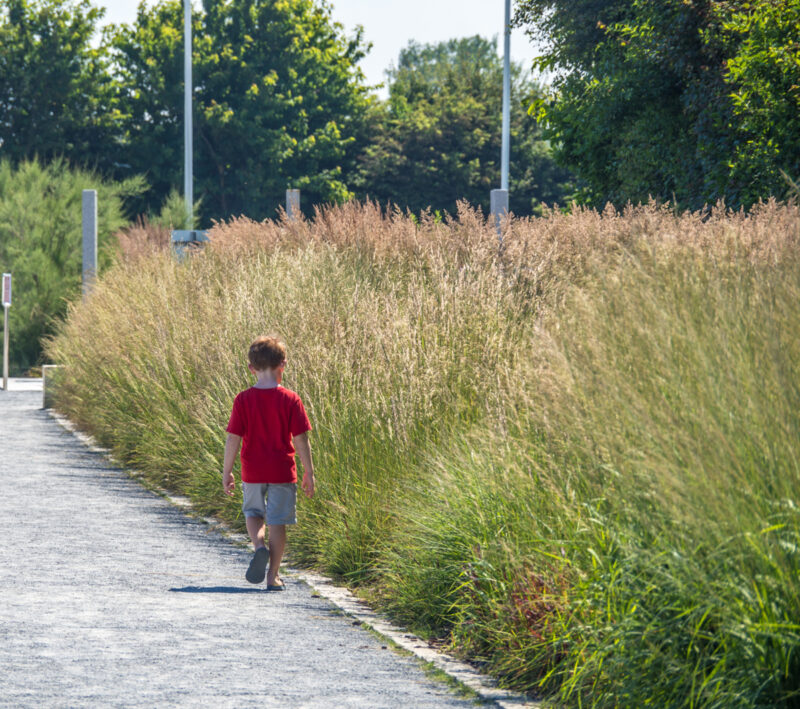 ---
May their memories be a blessing: visiting the American cemetery at Omaha Beach with kids
"This embattled shore, portal of freedom, is forever hallowed by the ideals, the valor and the sacrifices of our fellow countrymen."
Our final stop of the day, and the most meaningful for us all, was at the American cemetery at Omaha Beach. Nearly 21,000 American soldiers who fought in Operation Overlord gave their lives on French soil. This cemetery – a beautiful, serene place overlooking the beach where so many young men died, is the final resting place for almost 10,000 souls.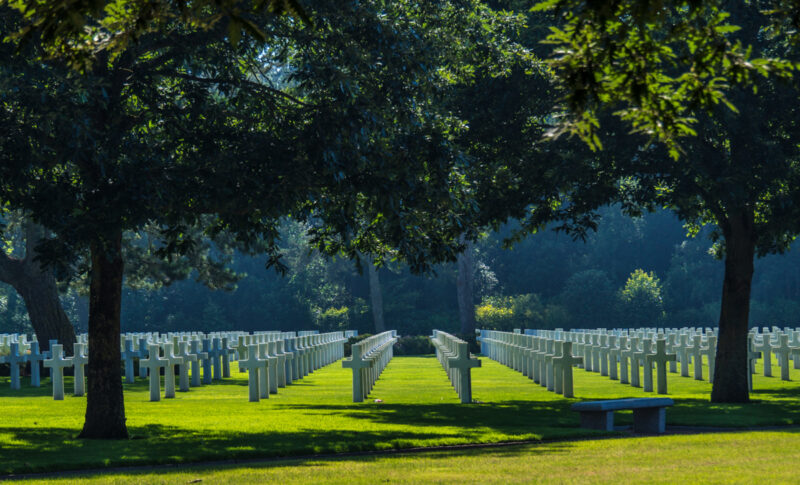 The rows and rows of crosses and stars can overwhelm. From some vantage points, they form a solid wall of white and can give some sense for just how many people died in this part the war effort.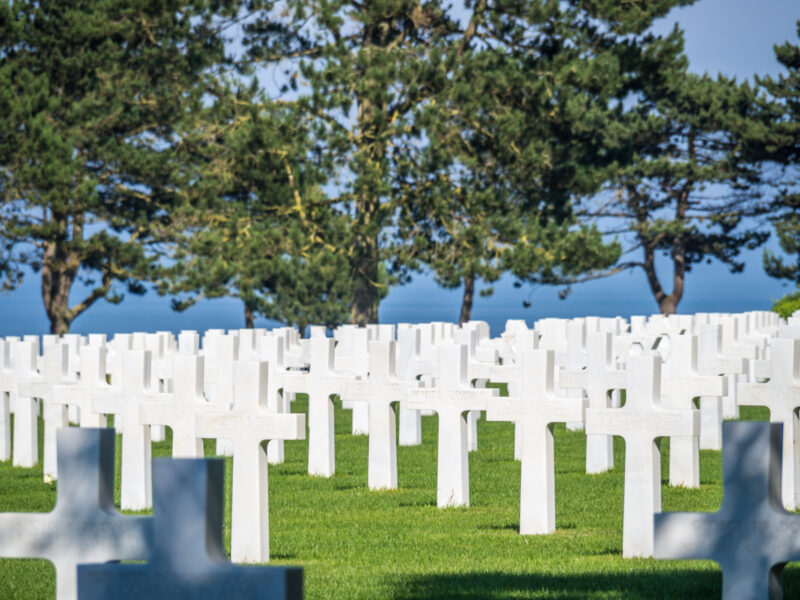 I'm a writer by nature, but I struggle to find the words to express the experience of visiting this cemetery. It's powerful, it's inspiring, it's sometimes just too much. And at the same time, I felt like there was no amount of time that would be enough to pay homage to those who gave their lives to save the world.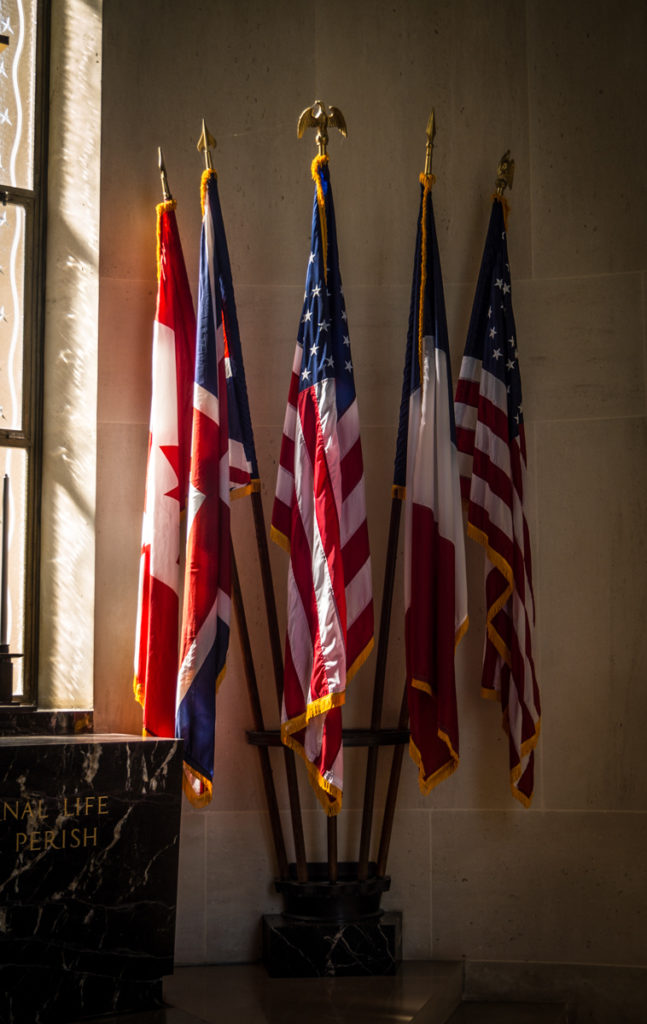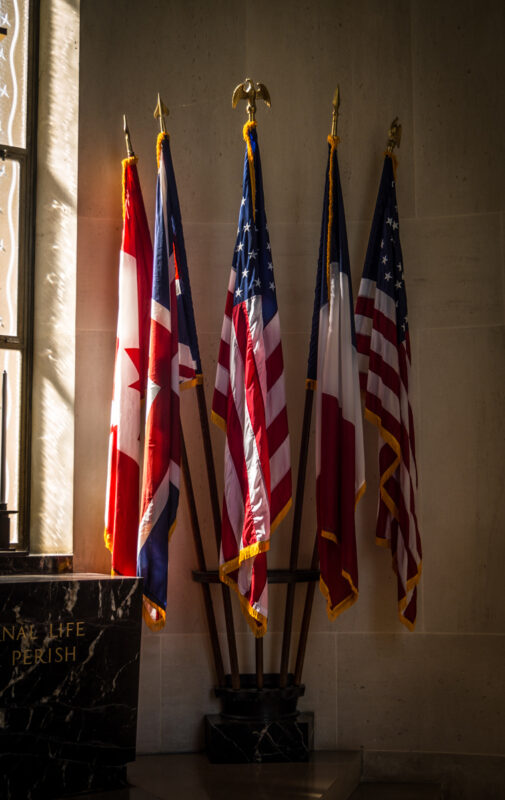 The kids felt it too – as we went from one marker to another, they spoke the names aloud and gently touched the grooves of the letters forever etched in the world's collective memory. Following Jewish tradition we placed small stones – an indelible, undying marker – at the graves of the Jewish soldiers. We said kaddish, the prayer for the sanctification of life, and we talked about the selflessness of these young men who gave their lives so that we, our families, and the whole world could be free.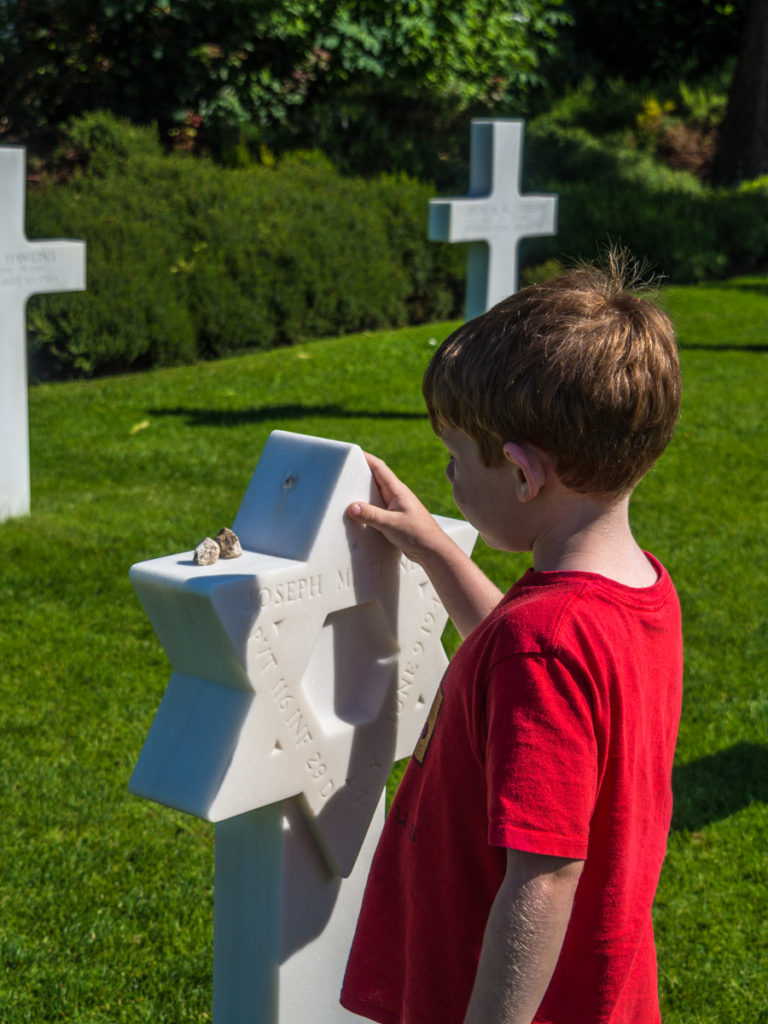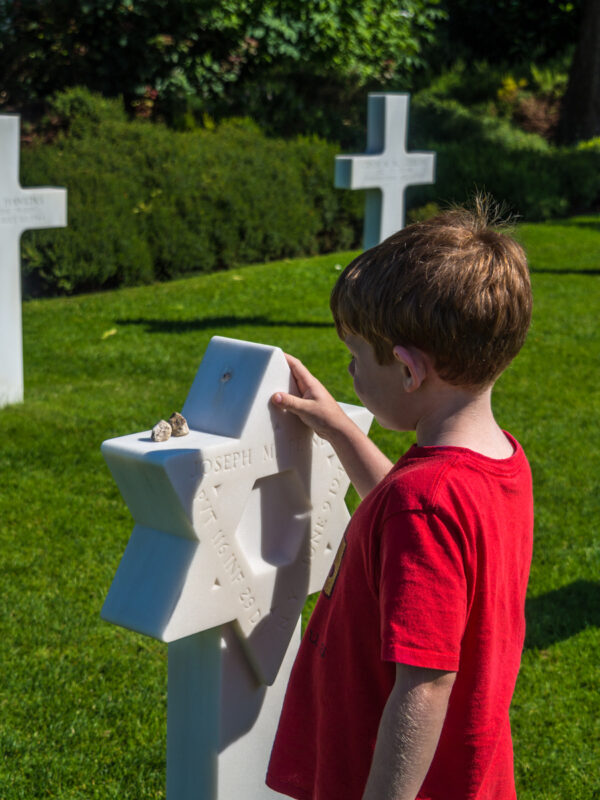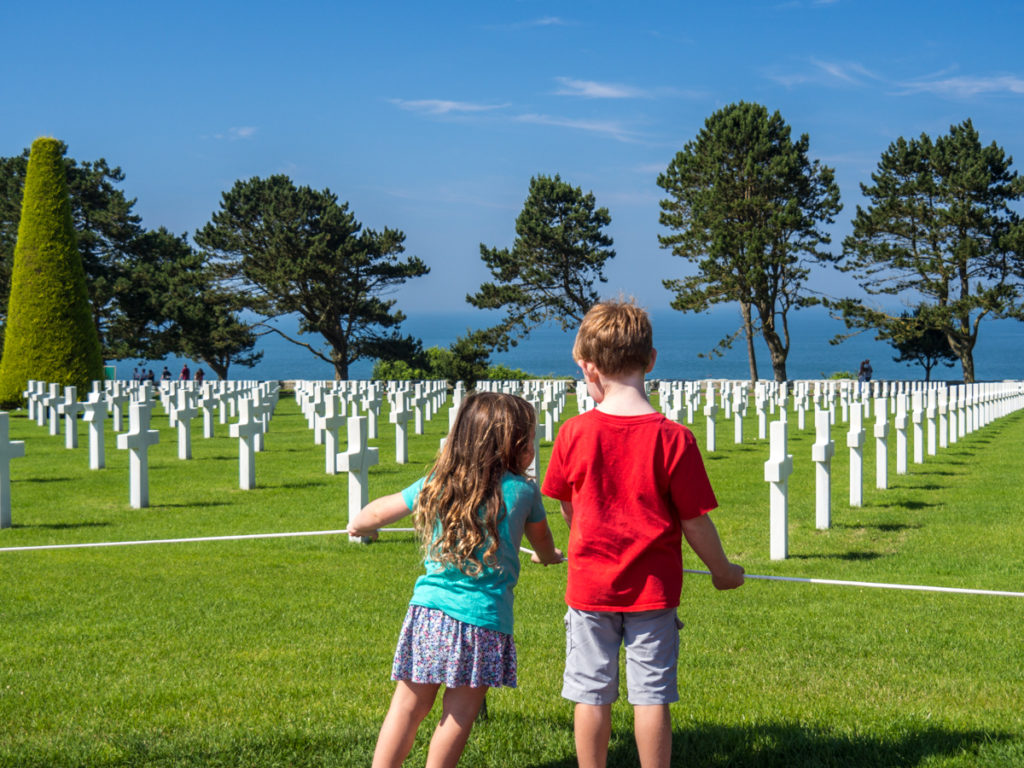 In addition to visiting the cemetery itself, there is a visitors center you can explore free of charge. We stopped there before going to the cemetery and were extremely moved by the video profiling three soldiers who lost their lives in France during that fateful summer and who now rest at the American cemetery – it's downstairs at the entry to the small museum and plays continuously in English with French subtitles.
There are many panels as well discussing the Allied invasion of Normandy, but we opted to skip that section since we had already visited the larger museum in Caen. If you arrive shortly before 5pm, head out to the beginning of the cemetery for the very moving flag lowering ceremony. In total our visit to the cemetery, including the movie, was one hour.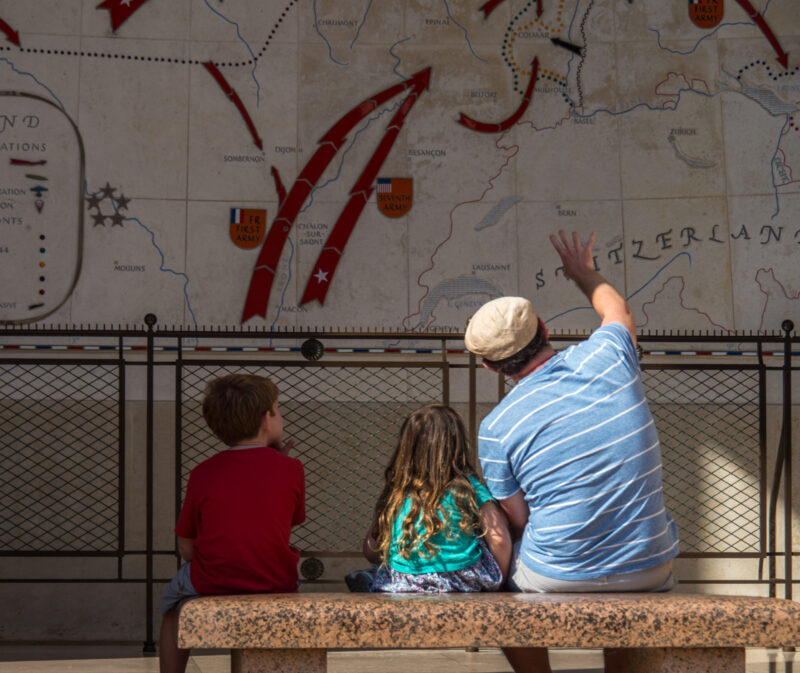 ---
So how'd it go visiting D-Day sites with kids?
Our plan for the day worked out well. We were all physically and emotionally exhausted after six hours at the three sites above, but the kids held themselves together with maturity and respect, and even had some meaningful reflections to share at the cemetery. During the car rides between sites we discussed what it must have felt like being a soldier during the period of Operation Overlord, and before exiting the car each time we reminded them of the seriousness of the topic and gave them a sense of what to expect. We always find that having to explain the tough stuff to our kids helps us to crystallize our own thoughts and feelings, so I'm glad to have shared the experience as a family. But most importantly, they got it.
In short, if you feel that your kids are mature enough to handle the intensity of the subject at hand, I highly recommend that you spend a reflective day together exploring the D-Day sites around Normandy. I guarantee it's an experience you'll never forget.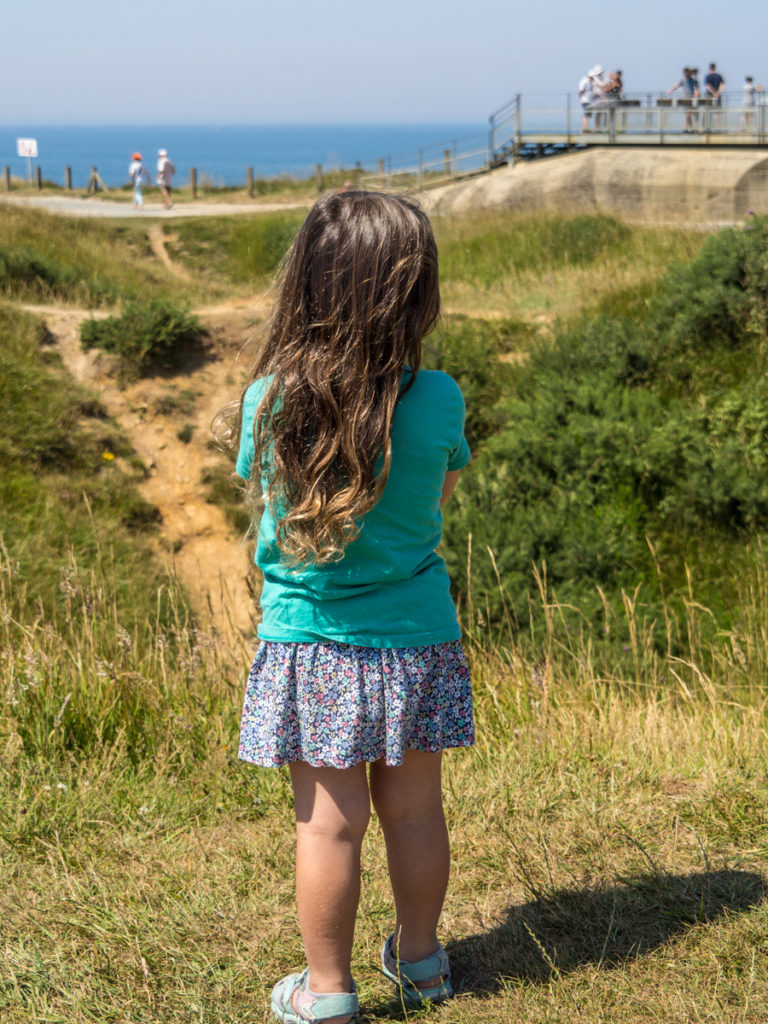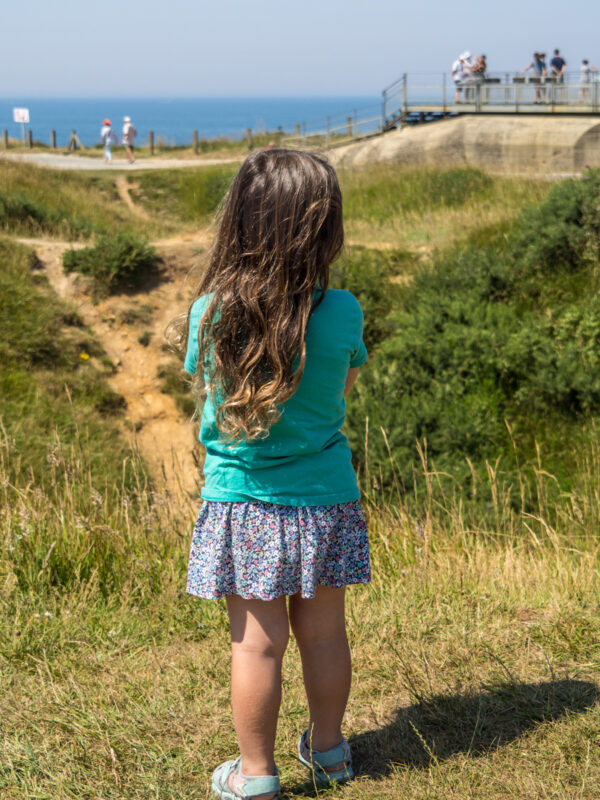 ---
Resources for planning your visit to D-Day landing sites
Check out the official Normandy Tourism website dedicated to D-Day sites here. We visited the following sites:
Caen Memorial Museum
Pointe du Hoc Ranger Monument
Normandy American Cemetery and Memorial
Many Canadian visitors opt to visit the Juno Beach Centre, which provides more information on Canadian involvement in D-Day and the broader war effort.
Books about D-Day for kids
Exposing kids to the horrors of war is always a challenge, and parents should decide when their own children are ready for it. If you feel that your elementary schooler is ready to learn about D-Day, here are some age-appropriate books worth exploring:
Books and videos about D-Day for adults
If you want to learn about D-Day – either in preparation for your own visit or to help your kids understand, check out these highly-recommended resources:
Before you go..
Planning to travel around France? Check out these helpful resources to plan your trip to France:
–Renting a Car in France: 18 Tips You Need To Know
–10 fantastic things to do in France with kids
–Paris with kids: 5 tips for an amazing family trip to Paris
–What to wear in Paris in May
–What to wear in Paris in October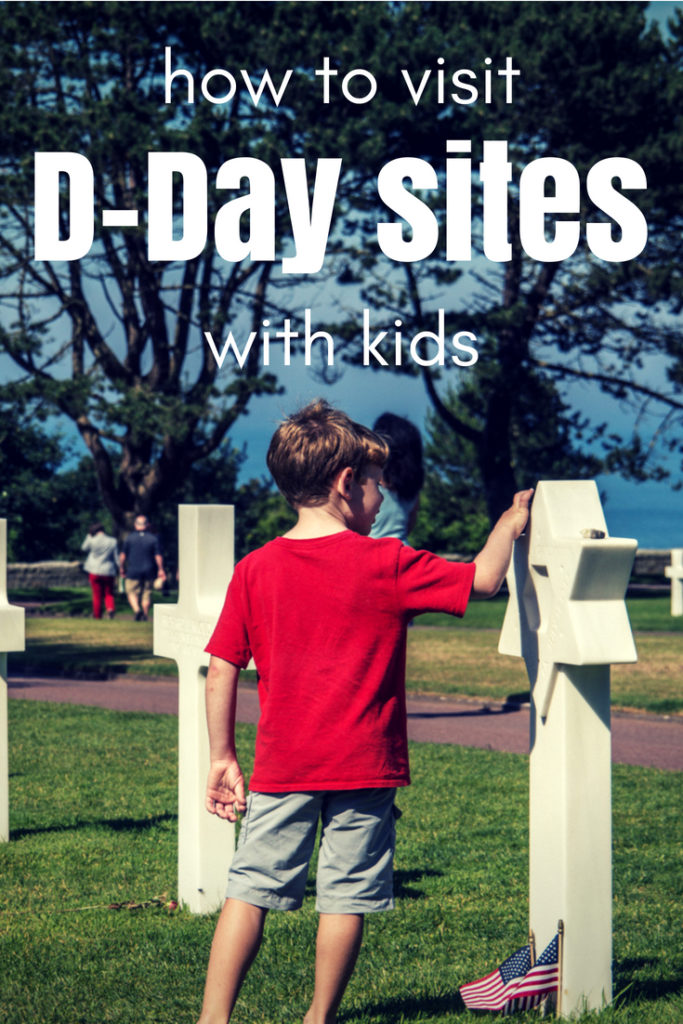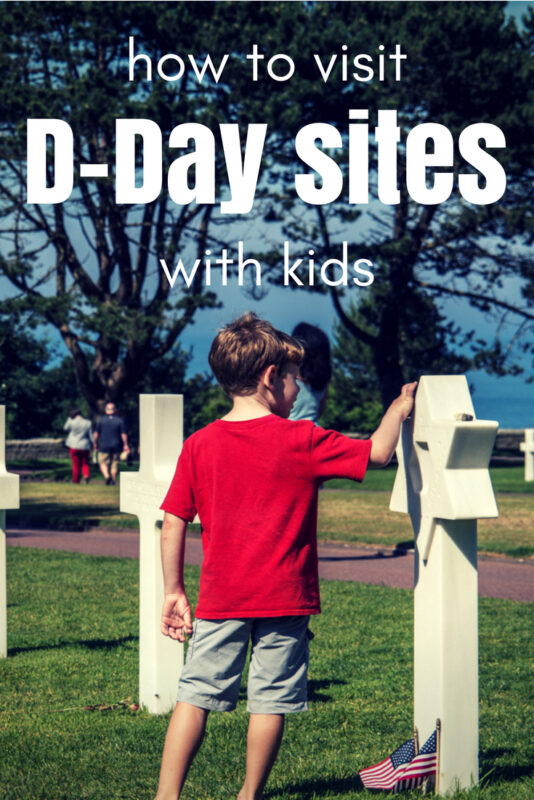 Read more:
What to pack for Paris in fall
What to pack for Paris in spring