Israel is an incredible country for tourism. There's something new and exciting around every corner – mountains, seas and deserts; ancient history mixed with gritty, satirical street art; people and food from dozens of countries around the world. In this article we'll take you through what we think are the most essential sites and experiences for an Israel itinerary of 10 days. Of course if you plan to stay longer, we'd love to recommend more fun things to do in Israel!
Why should you trust us? We haven't lived in Israel, but we've seen it through the lens of tourism many times and at different stages of life: organized group tours, solo travel, couple travel and now, of course, family travel. I've visited Israel five times, Ronnie's been seven times, and the kids have even notched two trips – most recently for an incredible six-week adventure. We also have a huge network of family and friends in Israel who have given us all the intel for our own visits, and now we want to pass that along to you!
We've done nearly every activity on this list (many of them several times), and we promise to only send you to the best places in Israel. Ready to dive in? Check out our top picks for your 10 day Israel itinerary.
2 days in Tel Aviv
Tel Aviv is a bustling, modern city with an outdoor-oriented lifestyle, amazing food on every block, great beaches and tons of cultural institutions. We spent a month in Tel Aviv sightseeing during our most recent visit and still didn't go everywhere! But if it's your first trip and you only have 10 days in Israel to see the whole country, you'll want to be speedy here and see just the most distinctive elements. We recommend that you grab a car from Welcome Pickups to get your to the city – after an excruciating flight you won't want to rent a car, and you won't need it for your first few days anyway.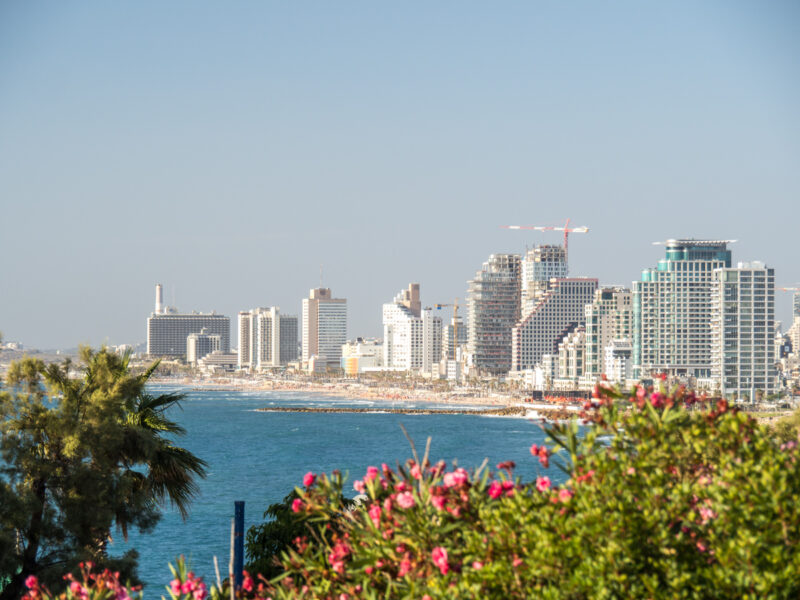 Day 1 – A city of neighborhoods
Start strong with a traditional Israeli breakfast at one of Tel Aviv's many trendy cafes. Beat your jet lag by spending morning strolling south along the tayelet to neighboring Yafo – enjoy stunning coastal views from atop the Sultan's Garden, get lost in the narrow alleyways and poke into the many boutique art and craft galleries – don't miss our favorite, Adina Plastelina, where they use a special type of polymer clay to mimic traditional Italian millefiore style. Stop in for an incredible modern Turkish lunch at Onza – it's some of the best food we've eaten in Israel – then continue exploring the Yafo flea market.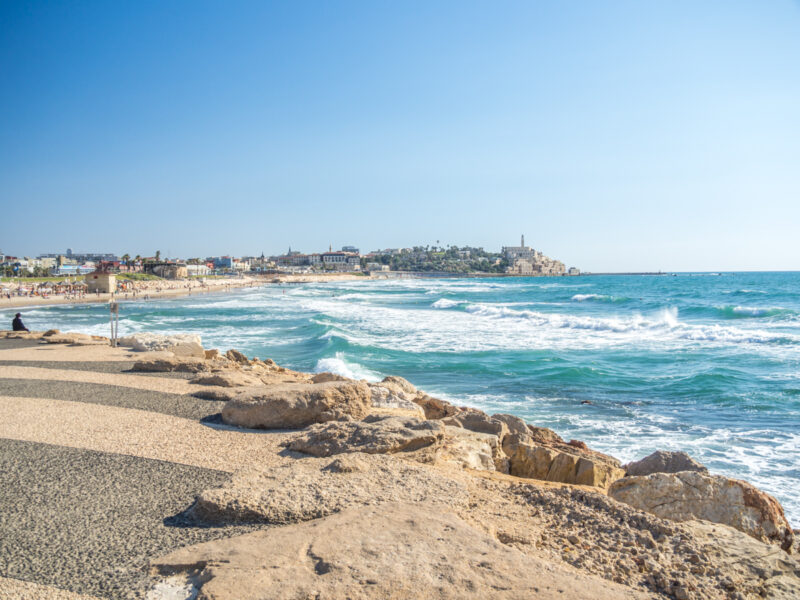 When you're ready to move on, head back north – but not too far. Your next stop is in the charming neighborhood of Neve Tzedek, a former artist colony established in 1887 (predating the city itself by more than two decades). Wander the small streets, grab a coffee or an ice cream and make your way to the nearby original train station, where you can play on century-old train tracks and peruse the galleries and boutiques. Another worthwhile stop in the area is Shuk HaCarmel, where locals have been buying their groceries for more than a century – Ronnie's great grandmother even had a bakery here in the 1920s! You'll also find vendors selling almost anything you can imagine, from kitchen supplies to toys to Thai elephant pants and Judaica items.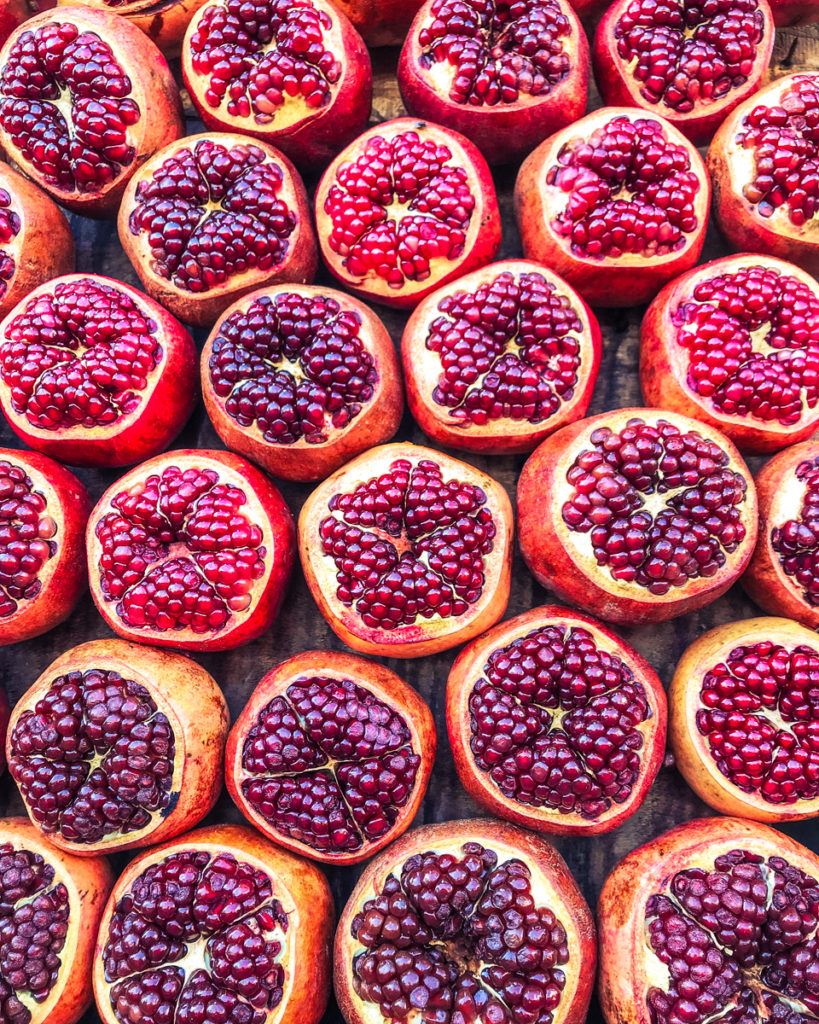 Stop by the beach to sit on the steps with hundreds of Tel Avivians watching the always-spectacular sunset before making your way out for dinner. Tel Aviv offers an amazing selection of restaurants ranging from traditional Israeli food to Asian specialties. It's hard to go wrong, but walk a little away from the major tourist thoroughfares for better food and more reasonable prices.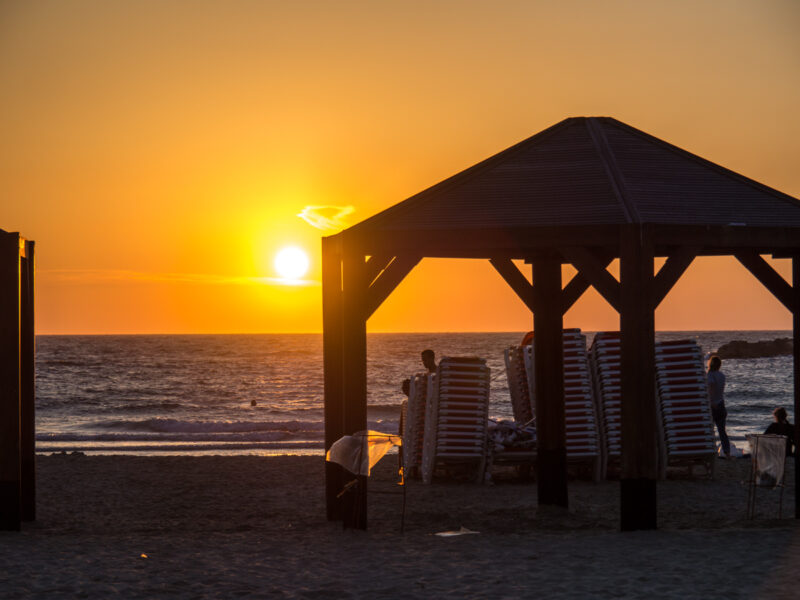 Day 2 – Fun, foundations and foodies
Grab a quick breakfast (including local favorite iced coffee) at Aroma Cafe on your way to one of the city's amazing beaches. The sand is heavenly soft and the water is pleasant (though beware of the hoards of jellyfish that invade in late summer). The city has invested huge sums of money in bringing life to the beach – you'll find a great mix of locals and tourists enjoying cheap chair and umbrella rentals, playing spirited games of matkot, reading from mobile library carts and sharing sand toys from the communal boxes.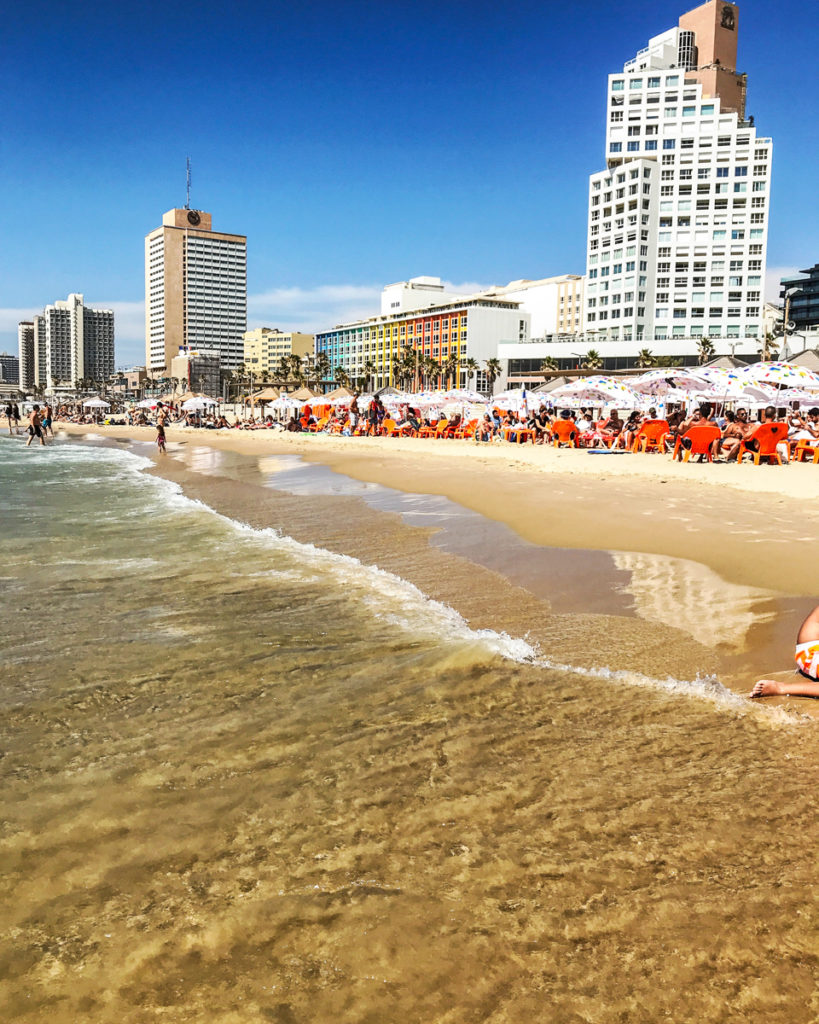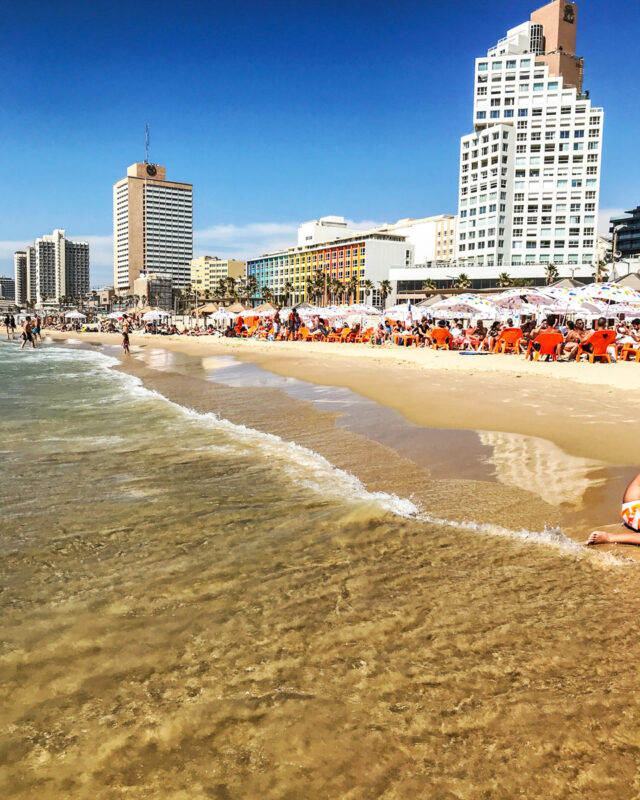 Next up head inland toward Rothschild Boulevard, Tel Aviv's first official neighborhood back in 1909 and still one of its hottest addresses. If it's a Tuesday or Friday, be sure to walk there by way of the Nahlat Binyamin craft fair, a favorite for tourists and locals alike. Even if the craft fair isn't going, this is a great area for checking out some of the best street art in Tel Aviv. Pop into a falafel or sabich stand along the way for a cheap, filling lunch. Once you hit Rothschild, it's a great opportunity for some people watching, either in the wide, park-like median (complete with pocket playgrounds for the kids) or over a drink at one of the many sidewalk cafes.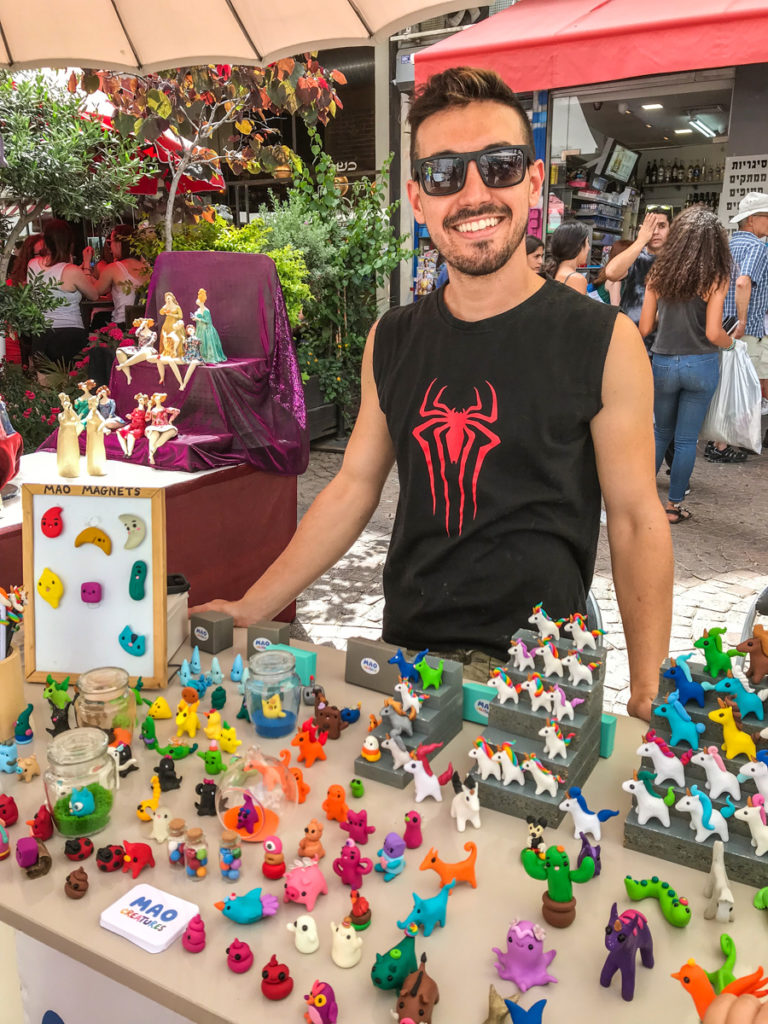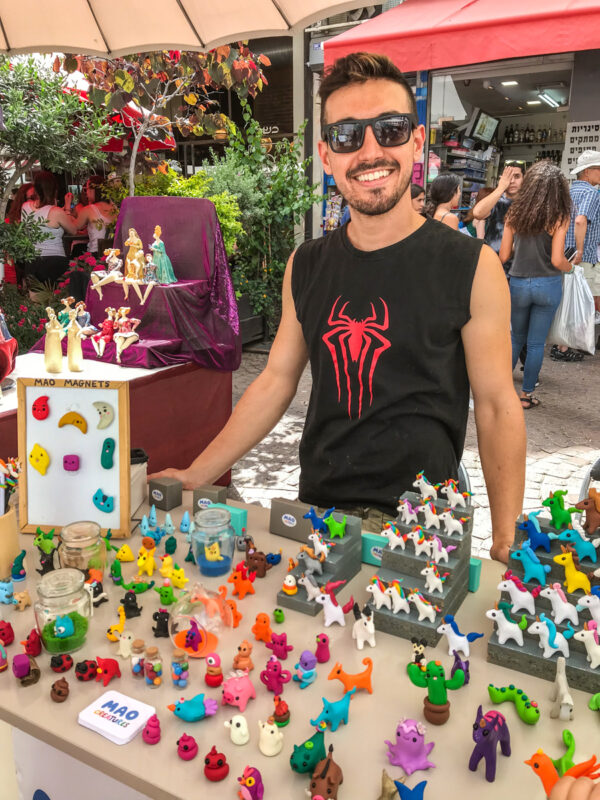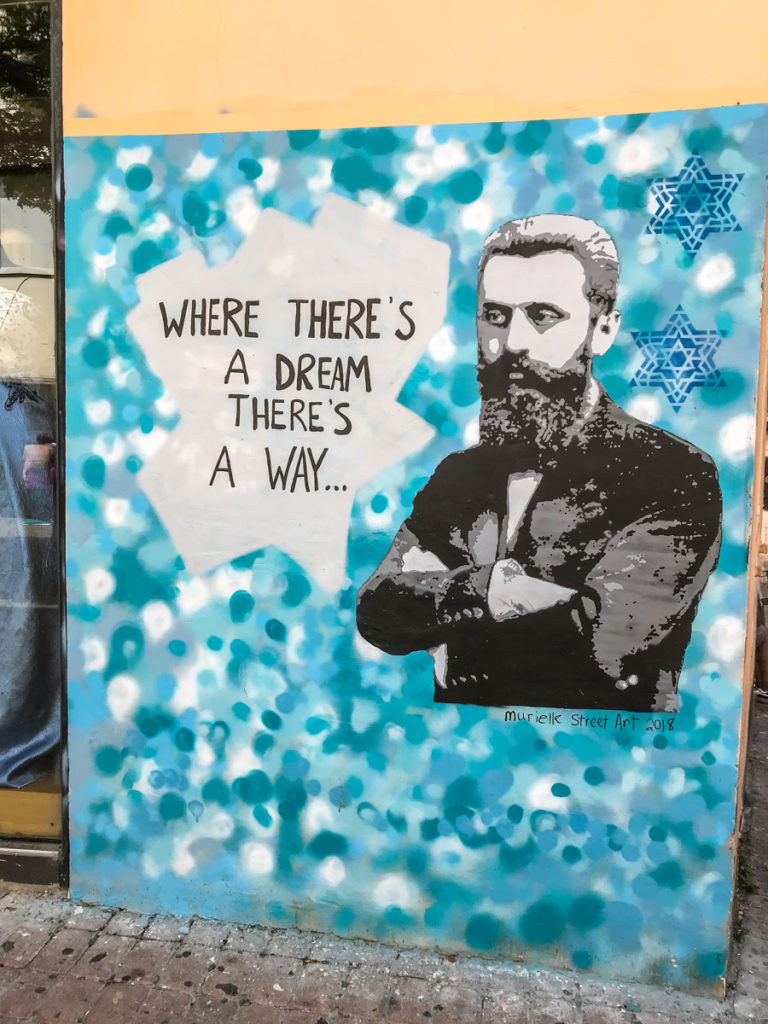 Located at number 16 you'll find Israel's Independence Hall, where you can truly be "in the room where it happened". Call ahead for the day's schedule or just show up and wait for a guided tour in your language. Both times that I've been, the guide has done an excellent job of explaining the context leading to the formation of the state, the challenges of declaring independence and the aftermath. I had the same guide on both visits, more than a decade apart, and she does an excellent job of bringing this moving story to life.
Cap off the day by strolling over to one of Tel Aviv's newer hot spots, the Sarona Market. This foodie-haven has everything you could possibly want – top-notch ramen, a whisky bar with hundreds of varieties to choose from and the best cookies we've had anywhere in the world (trust me, when you travel for a year with two young kids, you try a lot of cookies). You'll even find some small shops with unique kitchen wares from around the world. It's an especially great place to visit if you're traveling with people whose taste vary, as there's plenty of communal seating you can use regardless of where you bought your dinner.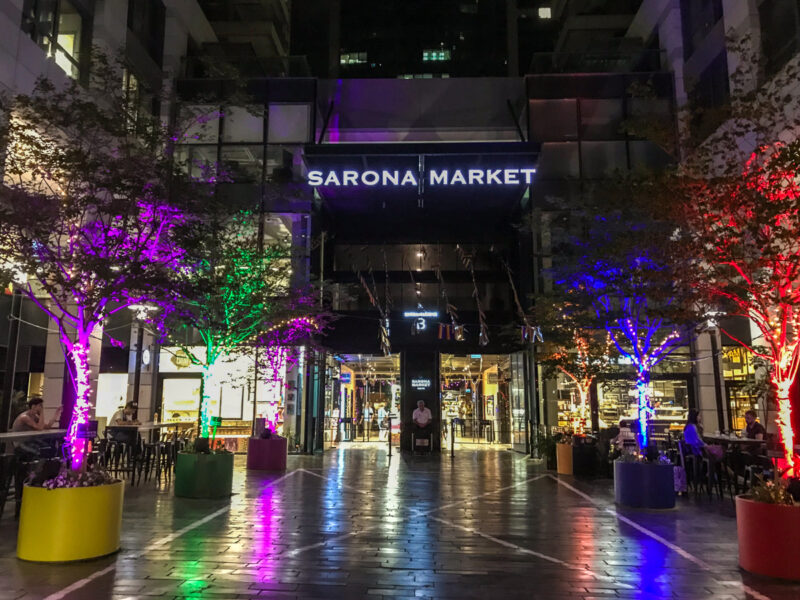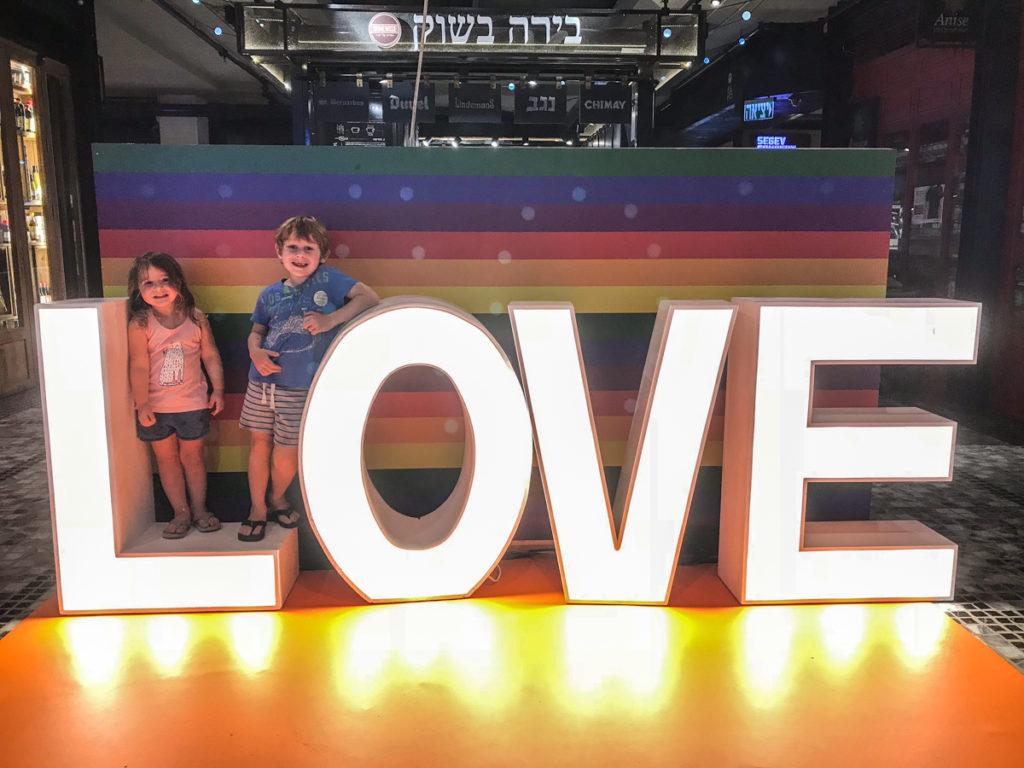 Sarona is somewhat far from most of the city's hotels and rental apartments, so hop on a bus or an Uber to take you back across town for the night. If you still have a little energy, head back to the tayelet to listen to street musicians with waves crashing behind them, sit at a beachside lounge with your toes in the sand while you enjoy a drink, or even head out to one of Tel Aviv's legendary clubs.
Use the interactive map to find vacation rentals and hotels in Tel Aviv
---
2 day Carmel roadtrip
Hope you're rested! You'll want to grab a quick bureka and coffee before you pick up your rental car this morning and begin your epic road trip to discover northern Israel's coastline. The great news is that Israel is a fairly compact country, so your drive times will be short. If you'd rather not drive, you can also follow this route using the excellent train and bus routes along the coast (though we think it works better as an Israel roadtrip itinerary to give you more flexibility). Note that this itinerary does involve a little bit of backtracking due to the scheduling of tours at the Baha'i Gardens. Fortunately the distances involved are fairly short.
Your first stop is in Haifa to visit the famous Baha'i Gardens, one of the most scenic spots on your Israel 10 day itinerary. Though there isn't a large group of the Baha'i faith members living in Israel, their world headquarters here are an important pilgrimage site and members often spend a year or more living there (often between 500 and 1000 people at a time). Go straight to the top of the garden for a spectacular view and then take a tour for an even closer look at both the landscaping and the religion.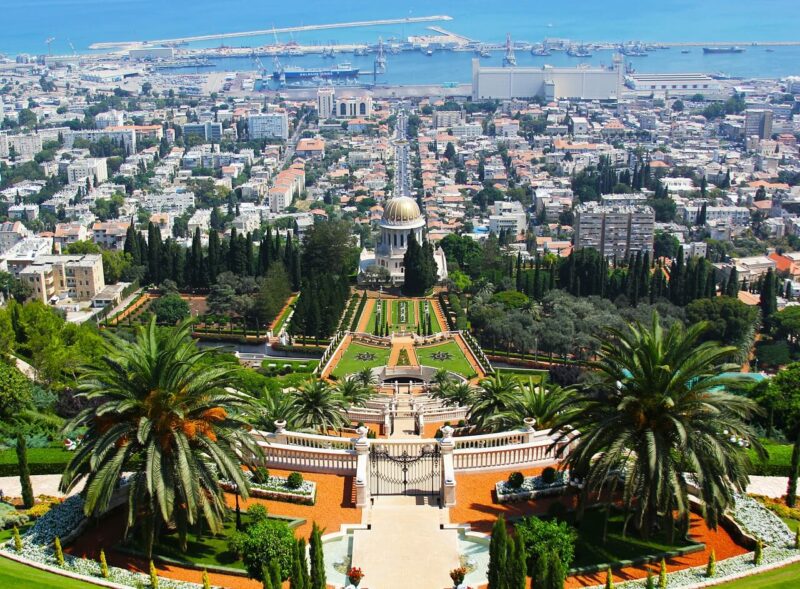 You'll want to arrive in Haifa for the first tour of the Ba'hai Gardens that's available in your best language – and if you're reading this website that's probably English. The tour schedule varies each month, but often slots English at 10am and noon during the week with an additional afternoon option on Shabbat; there are no tours on Wednesdays. Check the latest schedules here before you make your plans. If you prefer, tours are also available in Hebrew, Arabic and Russian. Ideally you'll make it onto the 10am tour that begins at the top of the garden, which will wrap up just before 11am at the bottom of the garden. Pro tip: The dress code for both men and women requires that shoulders and knees are covered. You'll be turned away if you aren't dressed appropriately.
Since the entire city of Haifa is built on a hill, take advantage of being at the bottom to hit one of the city's popular restaurants on Ben Gurion Street. If you're feeling up to it, you can climb the steps back up to the top of the gardens to retrieve your car; otherwise, hop on bus #136 or #23 to get back up without the workout.
Next, you'll head back south to the ancient Roman settlement at Caesarea National Park. It was established as a port for the newly-expanded empire around 25 BCE and used as such for over 1500 years. The city is still remarkably well preserved and includes residential buildings, a commercial area, an amphitheater and a chariot racing arena. The site is very large, so plan to spend about three hours exploring (though I could easily spend more).
You'll also find a fun, short movie showing the history of Caesarea Maritima, an art gallery and several restaurants. We've enjoyed a number of nice lunches at Crusaders Restaurant, which serves solid (if pricey) food with a side of stunning sea views; this is a great choice if you didn't already eat lunch in Haifa.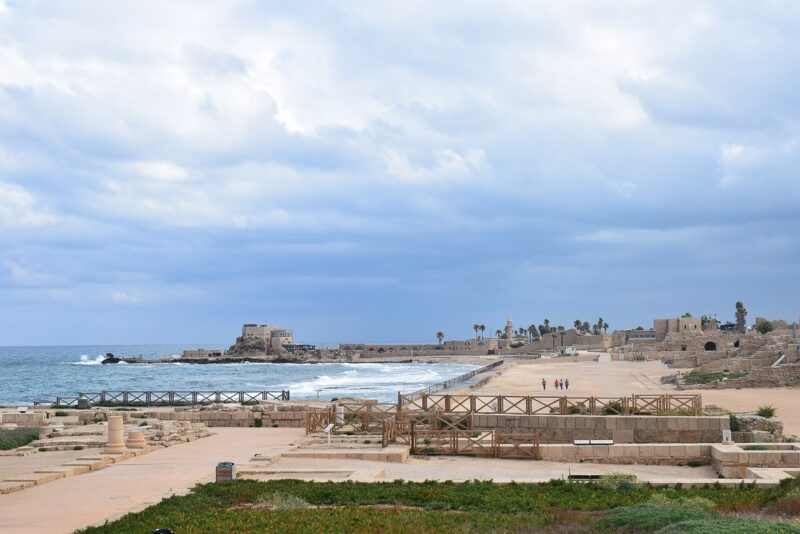 Pro tip: If you plan to follow this complete itinerary, purchase a 3-park discount pass at the ticket booth. It will also get you into Ein Gedi Nature Reserve and Masada National Park. Passes are valid for two weeks from first use, though there's usually some latitude on the dates. They also offer a 6-park option, which offers more savings and is ideally suited to those on a two- or three-week trip to Israel. Children under 5 are admitted free and do not need their own pass, while admission is discounted for children over 5. You may need to do a little math to determine what makes sense for your kids over 5, but you can always buy passes for the adults in your group and pay the discounted admission at each park for your kids.
Check into the David Tower Hotel (part of the Sofitel family) right on the beach in Netanya, where you'll enjoy amazing coastal views and an optional top-notch traditional Israeli breakfast. Find the latest prices for your dates here.
The next stop is one of our favorite places to visit in Israel – in fact, we've been there three times! The stunning grottos at Rosh Hanikra demarcate the border between Israel and Lebanon along the Mediterranean. Enjoy the incredible views from the top of the sea cliffs and then take the cable car down to the grottoes below and enjoy an easy stroll through the massive cave system. Make sure to wear shoes with good traction, as the stones can be slippery. There's a short movie that discusses the site's history, from its days as a British empire railway connection point to the present day as a tourism site supported by the Jewish National Fund (not that it is not part of the Israel National Parks Authority).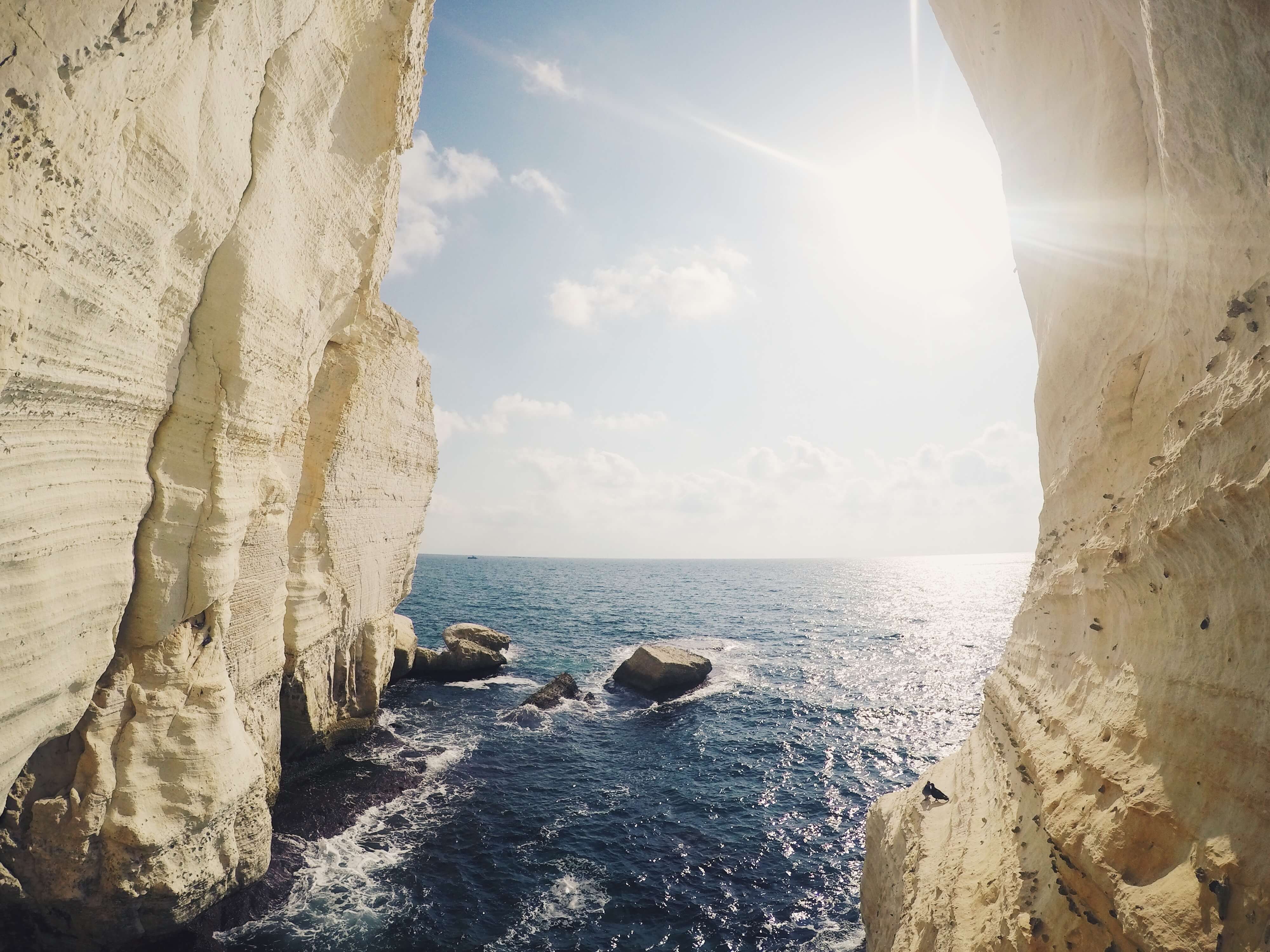 Make a lunch stop in the northern city of Akko, and spend a few hours wandering the ruins of the Old City. Akko (also called Acre) is one of Israel's most diverse and has nearly five thousand years of history. Start your drive to Jerusalem in the mid-afternoon – the good news is that you'll be there in time for dinner!
Use the interactive map to find vacation rentals and hotels in Carmel, Israel here
4 days in Jerusalem
Visiting Jerusalem is, in many ways, the most important part of your Israel trip itinerary. For as much as Israel offers modern city life and stunning outdoor escapes, Jerusalem remains the country's beating heart and its raison d'être. How many days in Jerusalem depends on your priorities and interests, but for most first-time visitors 4 days in Jerusalem offers enough time to get a taste of what makes the city so special to millions around the world.
Whether or not you return your rental car immediately depends on your exact schedule – a car can be more of a liability than an asset in Jerusalem in general, unless you're there on Shabbat. Buses don't run on Shabbat (from Friday evening to Saturday evening) and most activities within the city are closed as well. Non-religious Jerusalemites often leave the city on Shabbat, and it's easy to get around by car since the roads are completely empty. You may need to adjust the sequence of the schedule below based on Shabbat and other Jewish holidays – even institutions that are open on Saturdays often close early on Friday afternoons, so have a look at their websites before heading over. Sunday-Thursday are the best days to visit the Old City to avoid the Muslim and Jewish holy days which come with denser crowds and store/restaurant/activity closures. Check out my favorite Jewish holiday calendar here.
There are a few great areas to stay in Jerusalem depending on what type of setting you prefer. Looking to be in the middle of the action? We had a wonderful stay at Check In Jerusalem, right above Kikkar Tzion. It even offers a washing machine in the nicely sized one-bedroom apartment. If you prefer a quieter area (as we do) we recommend staying in the German Colony, right near the original train station. We stayed there in a wonderful GuesttoGuest apartment for two weeks. There are two other new options in the neighborhood worth a look: the stunning Orient Hotel, and its adjacent sister "aparthotel" property next door.
Ready to book? Read our neighborhood-by-neighborhood guide to where to stay in Jerusalem
Day 1 – Jerusalem's holy sites
When most tourists think of visiting Israel, at the forefront of their minds is an iconic view of Jerusalem's Old City. Sorry it took us so long to get you there! You'll want to start your day with a hearty breakfast and wear comfortable shoes like these because you'll be walking A LOT today. Also make sure to wear clothing that covers your knees and shoulders (a scarf or sarong will do) though a skirt isn't required. Before heading out into the Old City for the day, pack your bag with these essentials:
Get more info on what to wear in Jerusalem (and other Israel packing tips)
To get oriented and learn some critical history, join a group tour of the Old City. We took the kids on Sandeman's excellent 2 hour free tour and that was a great choice to get them a basic overview of Jerusalem's four quarters, but if you're traveling without young children and would like a more in-depth visit we recommend taking this reasonably priced 3 hour tour. You'll get a guided look at the Church of the Holy Sepulchre, the Dome of the Rock, King David's Tomb and more – Ronnie and I have done similar guided tours on prior trips and will do one with our kids when they're older. Click here to reserve your spot.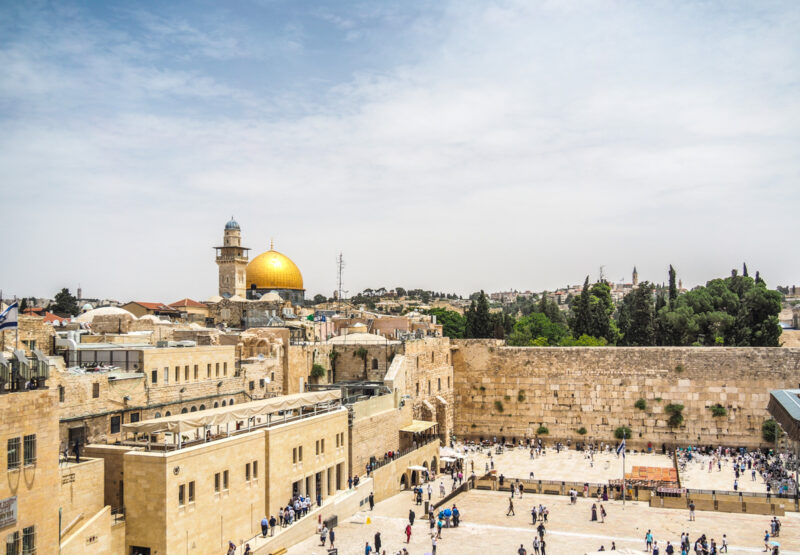 If you're doing the 2 hour free tour, you'll almost certainly have a few more activities to do in the Old City. We recommend refueling with a delicious lunch at Tala Hummus bar – it happens to be Sandeman's HQ, so you'll get 10% off with your ticket (even if it's for the free tour!). Where you go after lunch will depend on your own preferences, as the Old City is overflowing with important religious and historical sites.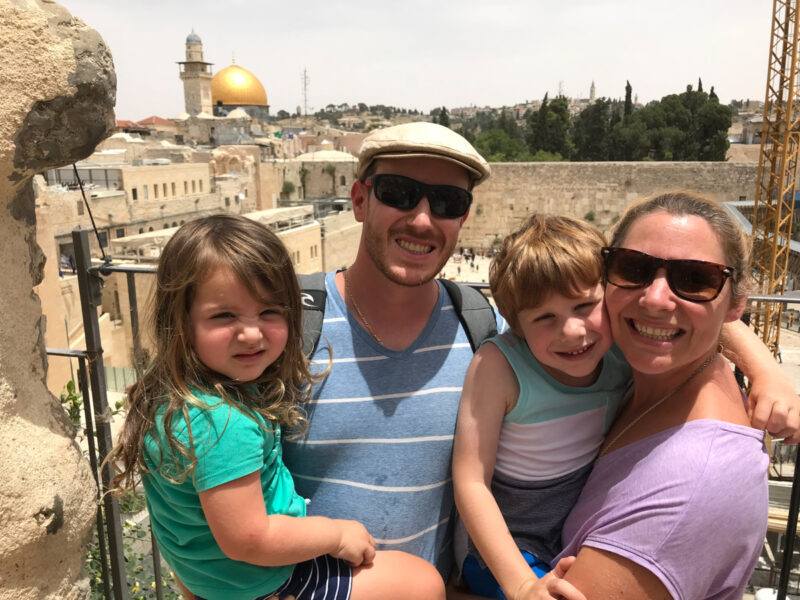 There are, of course, the kotel and the adjoining Kotel Tunnels – well worth a tour if you will already be there! You can actually get underneath the Western Wall to see layers of history that are continuously being excavated further. Just outside Dung Gate you can also check out the extensive archeological site. If you are more interested in Christian sites in Jerusalem, you could spend hours just visiting the many different areas of the Church of the Holy Sepulchre and the nearby tomb of King David where the Last Supper is believed to have occurred. If you are interested in seeing the Dome of the Rock and Al Aqsa mosque up close make sure to check opening hours, as times may depend on the season, holiday schedules and security needs. Note that non-Muslims may not bring any books or religious objects up to the Temple Mount and only Muslims can enter the mosques.
Beware falling victim to Jerusalem syndrome!
Pro tip: When you're ready to exit the Old City, head back out through Jaffa Gate unless you're a glutton for punishment. If you exit via Dung Gate (next to the Kotel), you'll have a long walk up hill followed by a walk downhill. Might as well save yourself the trouble!
Exhausted yet? Me too! You're probably ready to sit down somewhere and refuel. The most convenient (and most expensive) options near the Old City are located inside the luxury Mamilla Mall. It's a pleasant place to visit whether or not you eat there thanks to the dozens of sculptures places along the main thoroughfare. If you're looking for a more budget-friendly meal, check out the excellent pizza at Bardak across from Yemin Moshe.
Your final stop is back inside Jaffa Gate for the night time light projection at the Tower of David. They now offer two different shows, Night Spectacular and the KING DAVID show. Check here for the updated schedule and to buy your tickets.
If you aren't feeling up to the late-night show, you can always go for a stroll along Jaffa Street and enjoy the street performers, especially if you're staying in the area. It's a great place to see the cross-section of Jerusalem's populace: religious couples out for a date, off-duty soldiers with their guns slung casually over their shoulders out of obligation, secular families pushing strollers and more.
Day 2 – Strolling and shopping in Jerusalem
After yesterday's high-impact itinerary, it's time to slow down and relax a little – and do some shopping while you're at it. Grab a relaxed breakfast at Jo at the corner of King David with Jabotinsky and Keren HaYesod, the stroll across the street to visit the iconic Montefiore windmill, enjoy the sculptures of the Blumfield Garden and explore the terraced, flowered, pedestrian-only streets of Yemin Moshe, the first neighborhood built outside of the Old City walls. The area was initially built as overflow housing – in a dangerous area susceptible to attack by local nomads – at a time when disease was running rampant through the densely packed ancient alleyways of Jerusalem but it's now a pricey and peaceful enclave surrounded by the major developments of the modern city.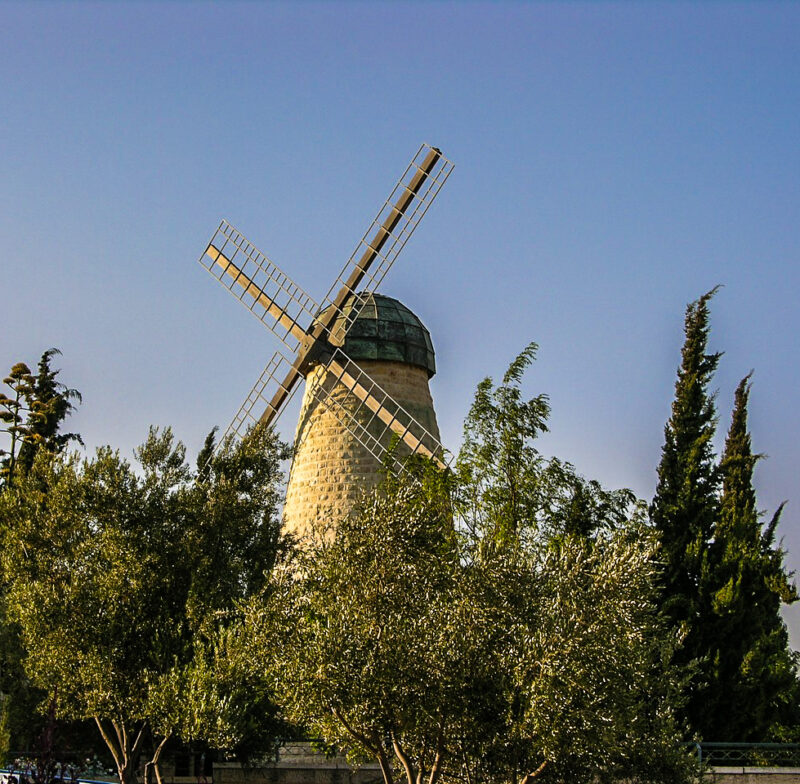 If you have interest in more ancient archeological sites, head to Ir David (City of David) just downhill from Dung Gate (where the kotel entrance is located). What is Ir David? Simply put, it's the original Jerusalem, with the earliest archeological evidence dating back a whopping six thousand years. The name today comes from King David's capture of the city as recounted in the bible, estimated to have occurred about three thousand years ago. Today's visitors can see some of these layers of history peeled back and even explore the ancient tunnel used to protect the city's water supply against Assyrian siege.
Whether or not you chose to visit Ir David, your next stop is right in the middle of Jaffa Street, beginning at Kikkar Tziyon. The square itself is tiny and nothing to see but it's the start of Ben Yehuda Street, one of the most popular souvenirs shopping streets in Israel. Most of the souvenirs here aren't knickknacks and cheesy slogan t-shirts; rather, you'll find shop after shop filled with Judaica items to satisfy every style and budget. Take your pick of menorahs, Seder plates, blessings for the home, hamsas, jewelry, kippot and more. There's no Jewish ritual object you won't find here, and also plenty of options that are great souvenirs from Israel even for non-Jews.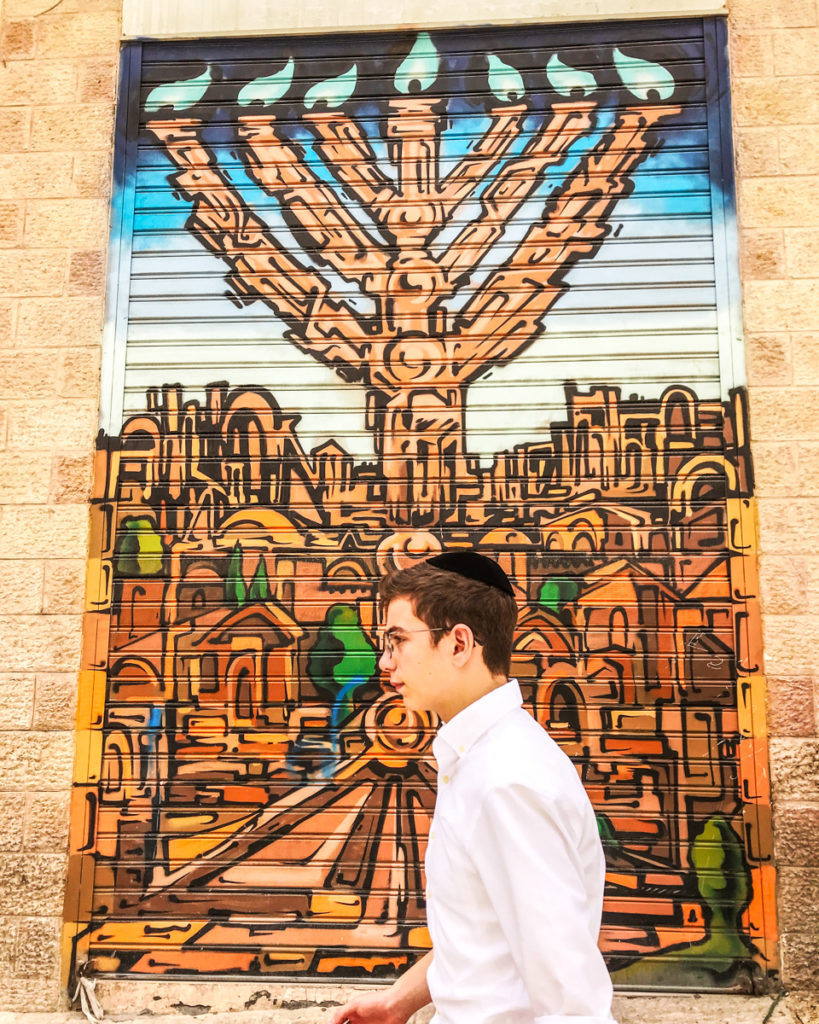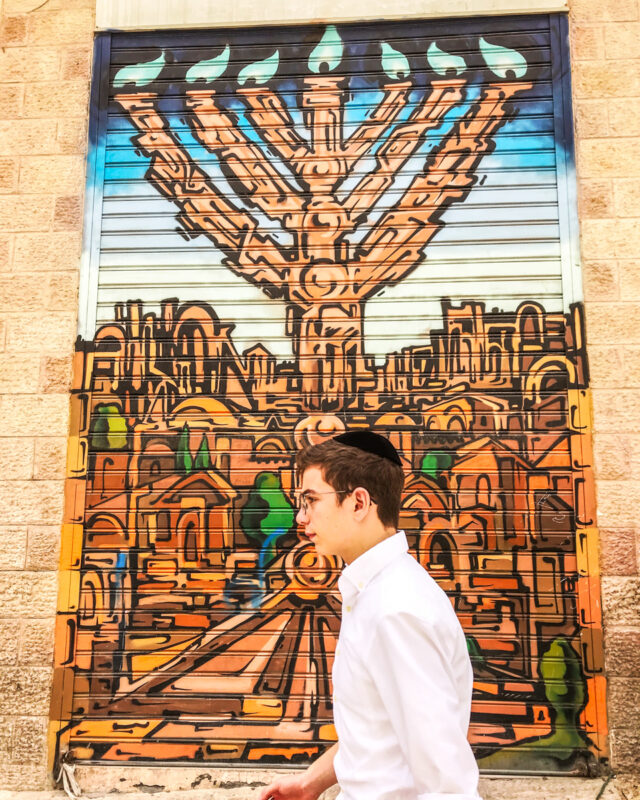 Sadly, my two favorite shops in the area have closed down in recent years (one of them after nearly a century serving the community) but most of the Judaica shops on Ben Yehuda Street have similar offerings. If you're looking for stores with a more traditional selection catering to the Orthodox community, venture deeper into some of the side streets. My suggestion is to find one that has a wide selection you like and then negotiate for a deal on multiple items – their list prices are already better than what you'll find in the US, but we've always been able to come away with a nice package price to boot.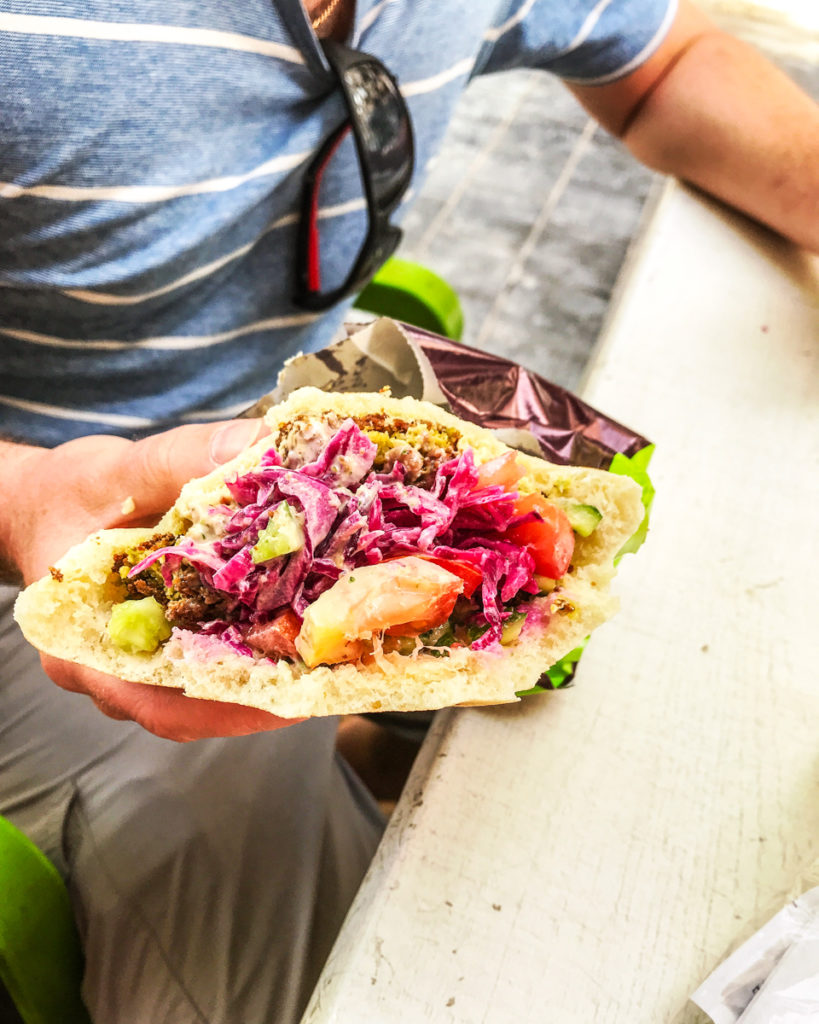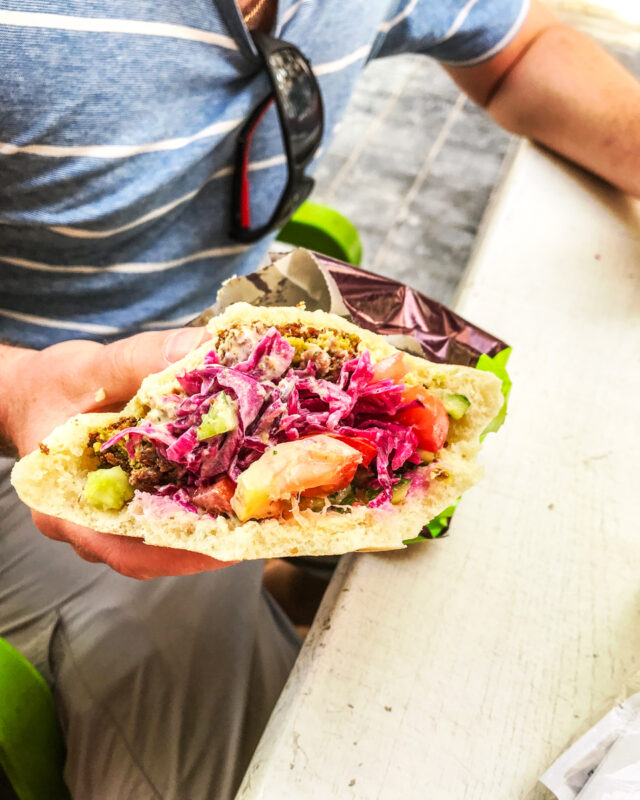 Stick with traditional Israeli street food for lunch with a quick stop at Moshiko. Despite its location in such a touristy area, it's actually a pretty solid falafel! Once you've finished lunch stroll on over to Machne Yehuda, also just known locally as "the shuk". Your first stop is to pick up some hard-fought dessert at Marzipan, which arguably serves up the world's best rugelach – a sticky, gooey, chocolate-filled rolled cookie. They have other stuff, but the rugelach is where it's at. Do yourself a favor and just buy a whole box. It'll keep for a day or two, though it may not last that long!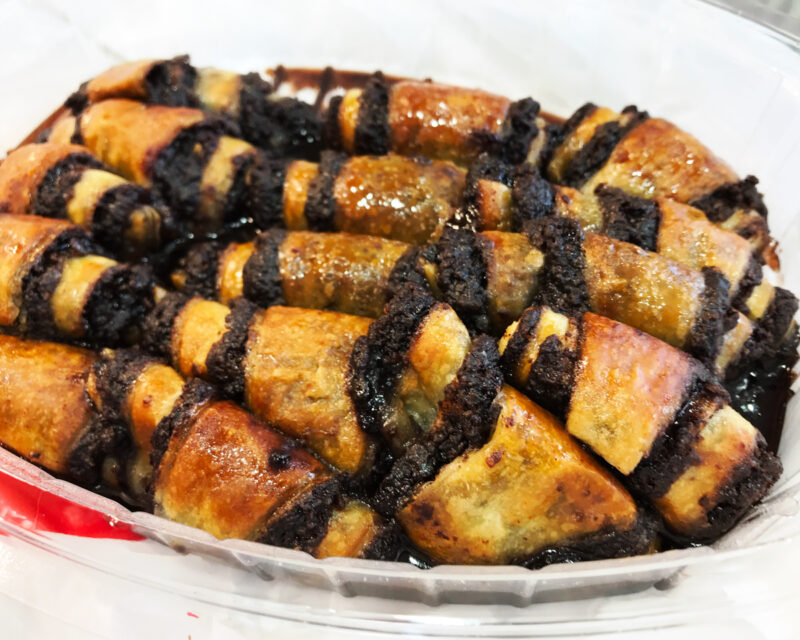 Moving into the shuk, it's time to browse to your heart's content! Spices, olives, fruits, vegetables, meat, toys, souvenirs… you'll find it all, along with a reasonable selection of solid restaurants to choose from. Some areas are covered, while others are open-air. Take your time shopping amongst the mixed crowd of locals and tourists, then find a place in the area to relax with a coffee or a beer.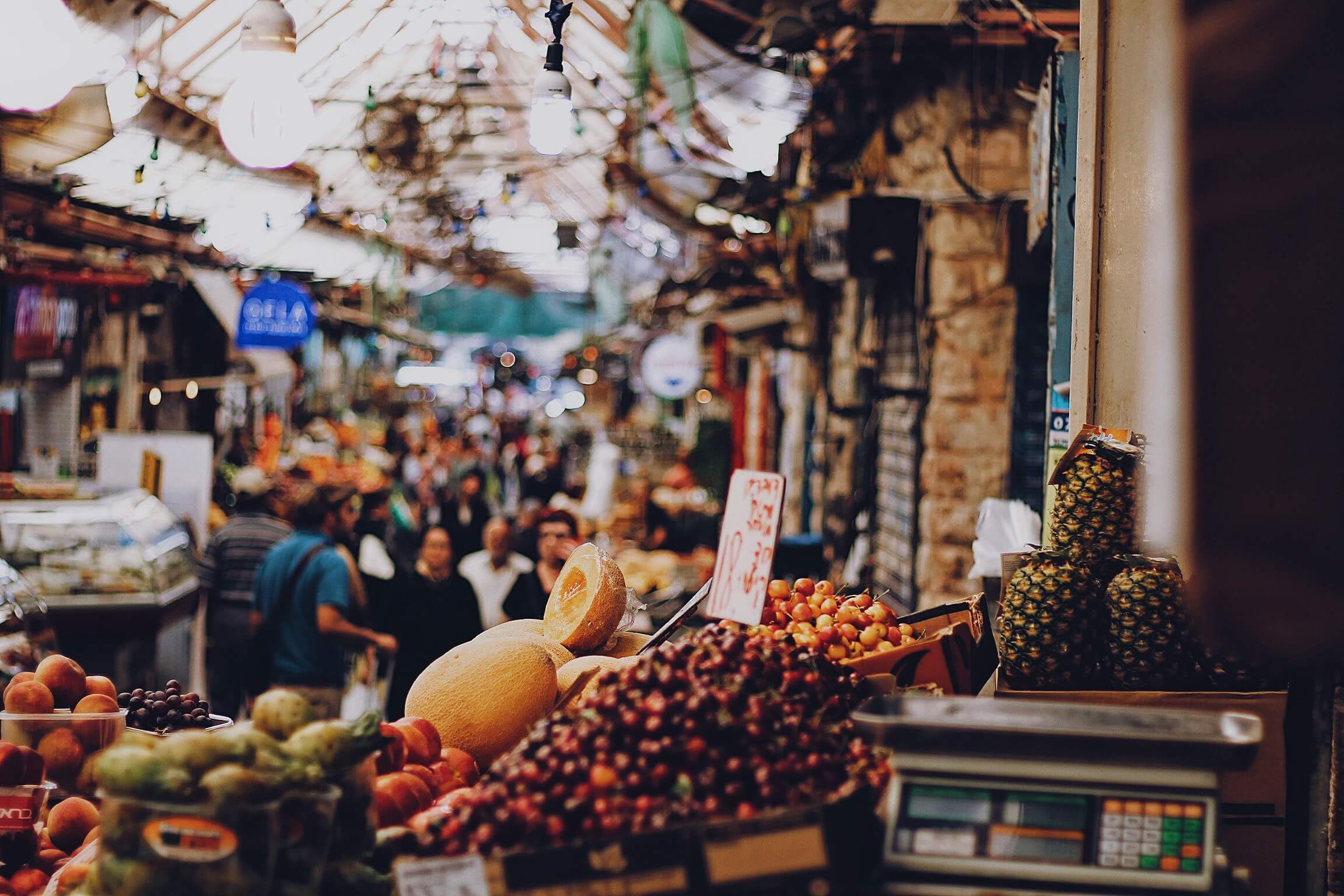 Once the sun is getting lower, you'll had back to the shuk to see a completely different side of life in Jerusalem! In the last decade Machne Yehuda has become a hub for Israeli nightlife. Once the vendors close their stalls around 5pm on weekdays (some are open as late as 7pm), the lights strung overhead are illuminated and dozens of restaurants, bars and clubs spring open. Many of these restaurants are extremely popular, so if you have a specific one in mind it's worth calling at least a few days in advance for a reservation. The shuk closes at 3pm on Fridays and is closed all day Saturday.
Day 3 – Israel Museum and the tachana
You can't visit Jerusalem without getting to the Israel Museum! The collection is vast and showcases so much that is unique to Israel, while also housing an amazing collection from Jewish life abroad that will speak to visitors of many faiths. We spent four hours there on our last visit but didn't see everything.
On even the quickest visit you need to stop in to see the Dead Sea Scrolls, copies of religious writings that were made in an outpost near the Dead Sea nearly two millennia ago and were hidden in clay pots in a network of caves until the modern era. Some are merely damaged fragments, while others are pristine and show entire chapters of text written in Hebrew that looks just like today's style. The scrolls are housed in the Shrine of the Book (designed to fee like you're inside one of those clay pots) – photography is strictly prohibited, so don't bother trying. Make sure to start off with the informative movie before entering to give context to your visit.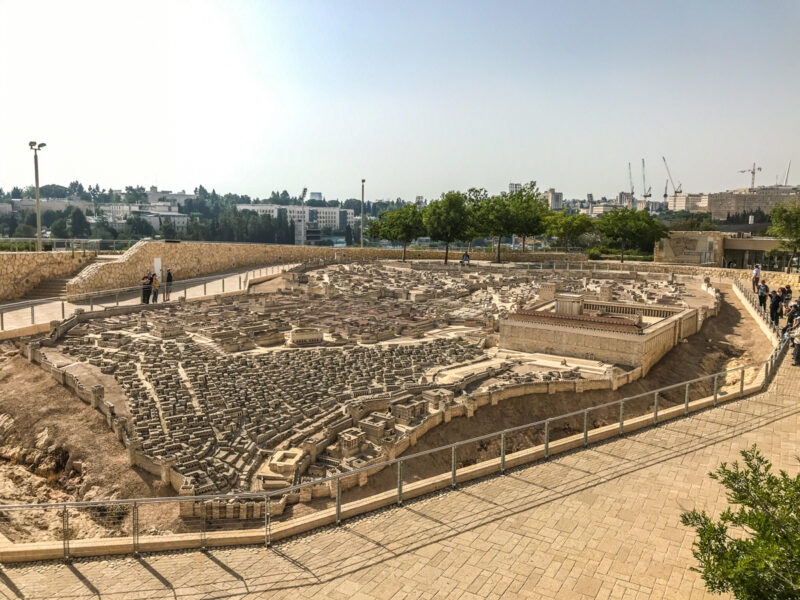 While you're outside, make sure to stop and see the scale-model of ancient Jerusalem, including Solomon's Temple. It's fascinating to see how similar the city's layout is to today. You can walk all the way around and even down to the same level as the city. If you proceed another two minutes beyond this area, you'll find Israel's famous AHAVA (love) sculpture, which is definitely one of the most Instagrammable places in Israel (if that's your thing).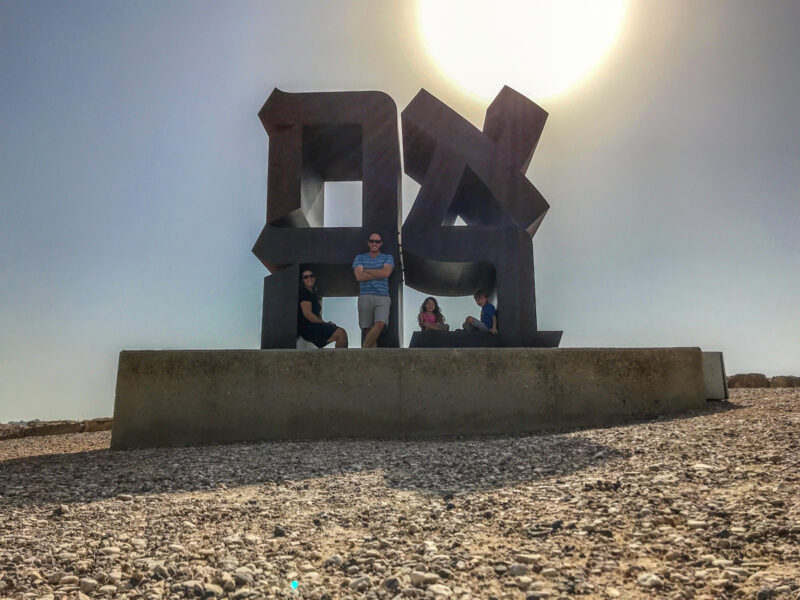 Back inside (which I actually recommend seeing first if you've allowed yourself enough time to visit most of the museum), there are two permanent exhibits worth your time: archeology and Jewish life. The archeology exhibit traces local archeological finds through the ages and provides excellent context for the groups that loved in the area and their movements. You'll see artifacts dating back hundreds of thousands of years.
The other large permanent exhibit is entitled Jewish Art & Life and it's one of our favorite places in the museum. There are Jewish ritual objects from all over the world through many periods of time, everything from ornate Moroccan Jewish wedding gowns to a hand-painted German sukkah (temporary booth for the annual fall festival of Sukkot) that was smuggled out of Europe disguised as building materials after the Nazi rise to power. Don't miss "synagogue alley", where the interiors of four historic synagogues from around the world – Italy, Germany, India and Suriname – have been transported, rebuilt, and preserved for posterity.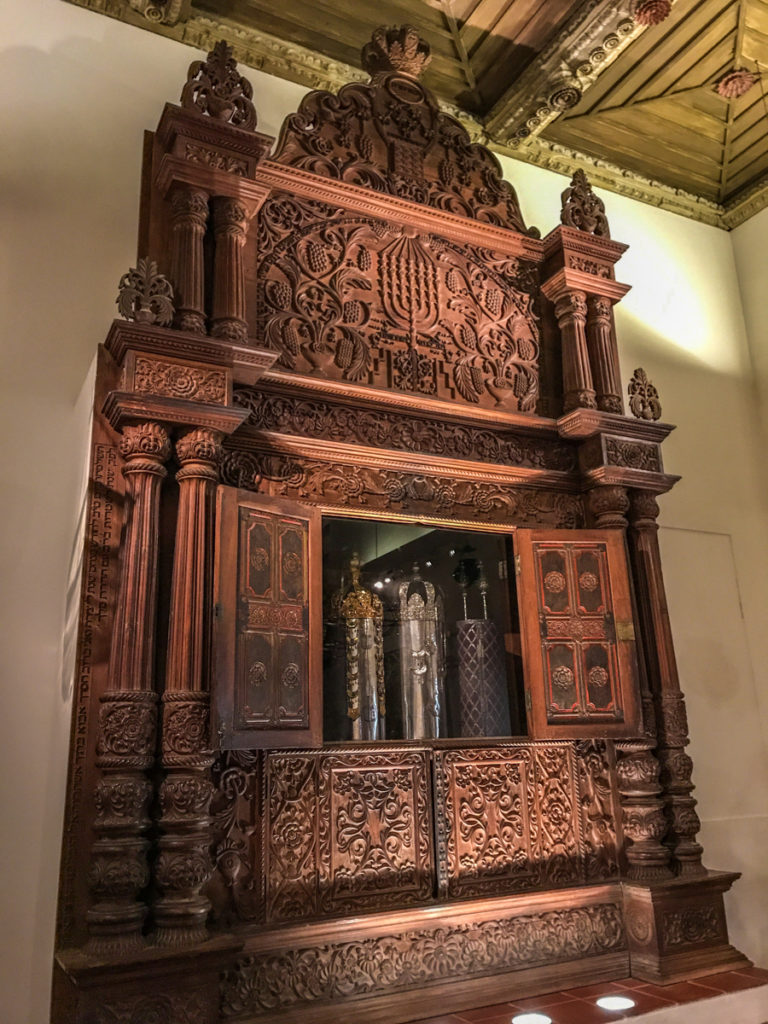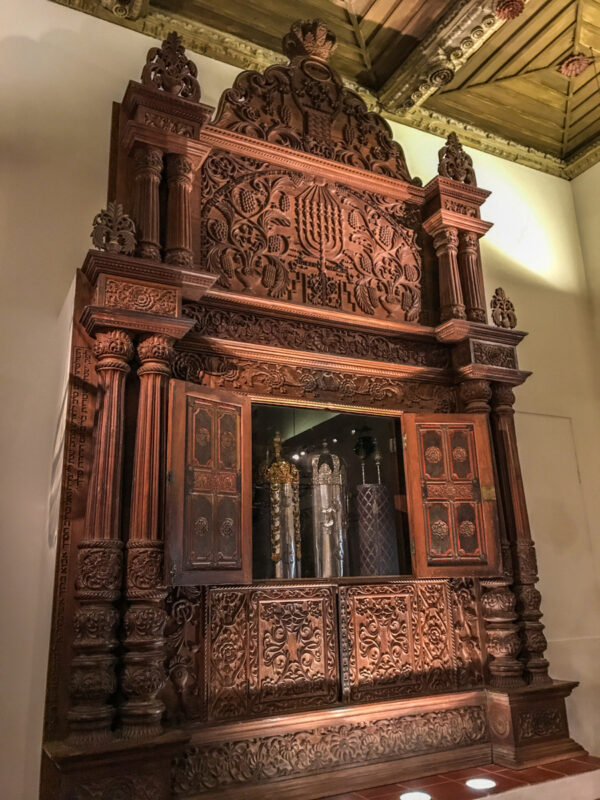 The Mansfeld café offers a nice range of sandwiches and salads and makes for a convenient stop without interrupting your day. The museum is on the west side of Jerusalem and is easy to access via car or bus. Admission to the Israel Museum is 54 NIS ($15) and it's worth it to see the diverse, rich collection. The museum is open daily, including on Saturdays from 10am to 5pm (note that Tuesday's hours are only 4pm-9pm). Plan to spend at least half a day there, but potentially much more; in fact, there's so much to see that they offer discounted admission if you return within three month.
Museum days can be exhausting, so wind down your day like a local at one of Jerusalem's great evening spots, the old train station (also referred to as the First Station in English or the tachana in Hebrew). This is one of our new favorite hang outs and it's a decidedly local spot, with the crowd a real mix of young people and families and both immigrants (olim, mostly English speaking) and native Israelis.
During my first trip to Israel more than a decade ago (then as a solo female traveler!), I remember walking by the tachana almost every night and being absolutely creeped out. It was essentially a ghost town, with graffiti all over the walls and weeds growing through the old train tracks. I never felt unsafe walking in Israel at night except there.
Fast forward a few years, and an infusion of redevelopment money has transformed this abandoned station into a community hub. There are restaurants for every palate (both kosher and non-kosher), a friendly bar, vendor carts selling jewelry, toys and more, and a few stores (including our favorite The Art of the Game, which also has a location off of Ben Yehuda Street). For kids (and Kids at heart) there's a miniature train, carousel, bumper cars, air hockey and arcade games.
The station also regularly hosts community events – check the calendar here. If you're spending Shabbat in Jerusalem and don't have a host home to visit for dinner, you can enjoy an all-comers Kabbalat Shabbat service-in-song at the tachana and then grab dinner at one of the restaurants. During our two-week stay in the neighborhood, the train station hosted an enormous book festival, a car rally, Shabbat celebrations, a weekly children's dance party, learning sessions for the Shavuot festival and World Cup soccer screenings. Regardless of when you visit, it's a fun and lively place.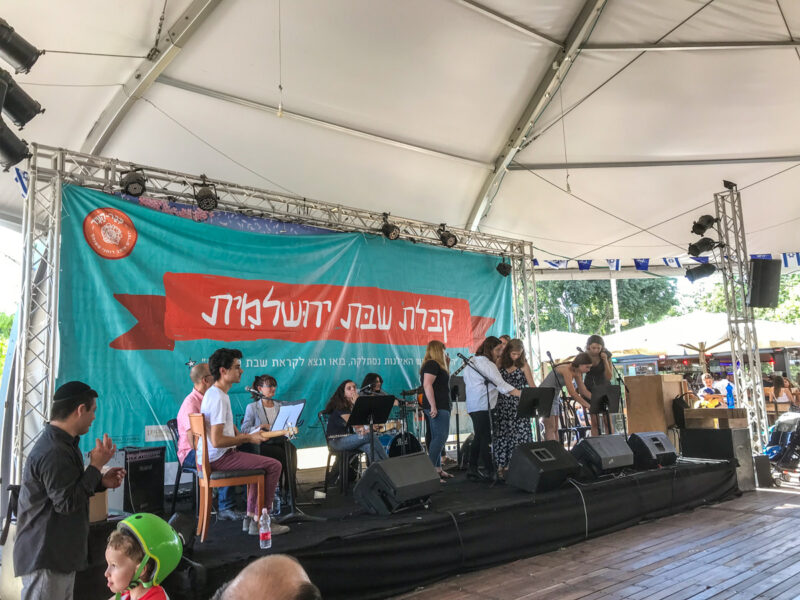 The station is open every day, though many restaurants close early on Friday (even if they re-open during the day on Saturday). Some restaurants are closed on Saturday as well – a topic for much local debate, as the city's religious, secular and in-between cohorts all vie for their vision of the Jerusalem of the future.
Day 4 – Explore Jerusalem
your
way
You've already seen much of what the city of Jerusalem as to offer, but the region offers so much more. One of the best things about traveling in Israel is that the distances are so short (though intense traffic – even by Los Angeles standards -can sometimes be exasperating). So for your final day in Jerusalem, we have a few great options for you depending on your interests. If you get an early start, you can probably hit two or even three of them.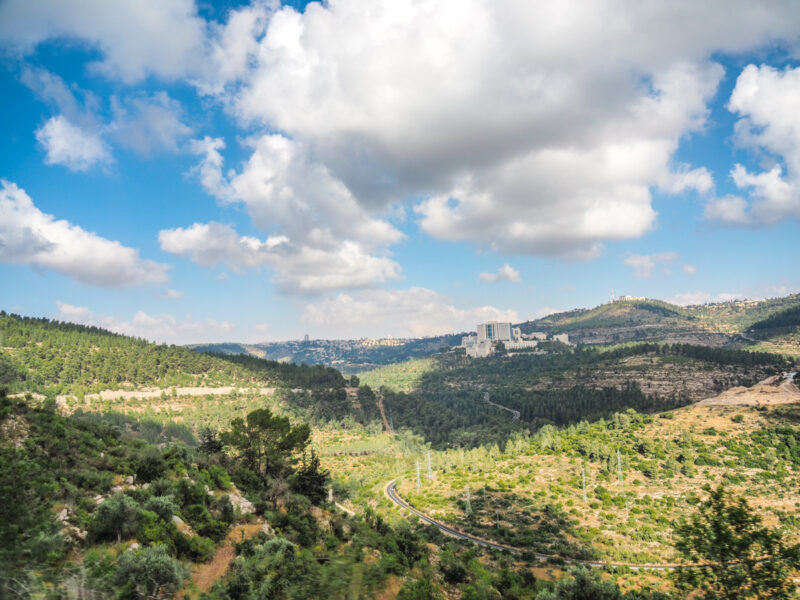 If you've never been to Israel before, you may want to consider a visit to Yad Vashem, Israel's Holocaust Memorial Museum. It's not a fun, easy place to visit and not one we've chosen to visit multiple times, but it's worth visiting at least once (though we won't judge you if you choose not to go, whether it's because you only want fun things to do in Israel or because you don't feel emotionally equipped to visit). While today's Israelis don't dwell on the unspeakable horrors of the past, those events are still ever-present in the country's collective consciousness and important for understanding both the state's foundation and its path forward through the challenging waters of regional geopolitics. It's also important to bear witness to them for the sake of humanity and not repeating the evils of history.
In my opinion, the main museum provides a bit of information overload (particularly since I'm all-too aware of the history) though it will be extremely beneficial for those who have not studied the Holocaust extensively. For Ronnie and I both (having visited separately) the most moving areas of the museum are the Children's Memorial and the Avenue of the Righteous Among the Nations. Part of the reason I most appreciate these two parts is that they capture the opposite parts of the spectrum of Holocaust stories: one the one hand, the absolute basest depravity of which man can ever conceive, and on the other some of the most inspired examples of selflessness the world has ever known. A typical visit to Yad Vashem lasts several hours, but give yourself a some time afterward to sit, digest and reflect before you move; no visitor leaves untouched by what they've seen.
The Jerusalem Hills, just west of the city, offer plenty of less weighty diversions as well and your waning time in the area is a great time to explore them. If you wonder at nature, check out the stunning stalactite cave, alternately called Soreq and Avshalom, run by Israel's National Parks Authority. Visiting the cave requires going down (and then up) hundreds of stairs, so it may not be the best thing to do in Jerusalem if you have limited mobility. Once you've made it down to the bottom, buy a ticket for a guided tour – the guide on our recent visit showed the brief film in Hebrew with English subtitles (since there was a large Hebrew-only family there at the same one) and provided all verbal explanations in both languages. The inside of the cave is fairly well-lit and you'll see examples of many stunning formations.
Get more details on these great day trips from Jerusalem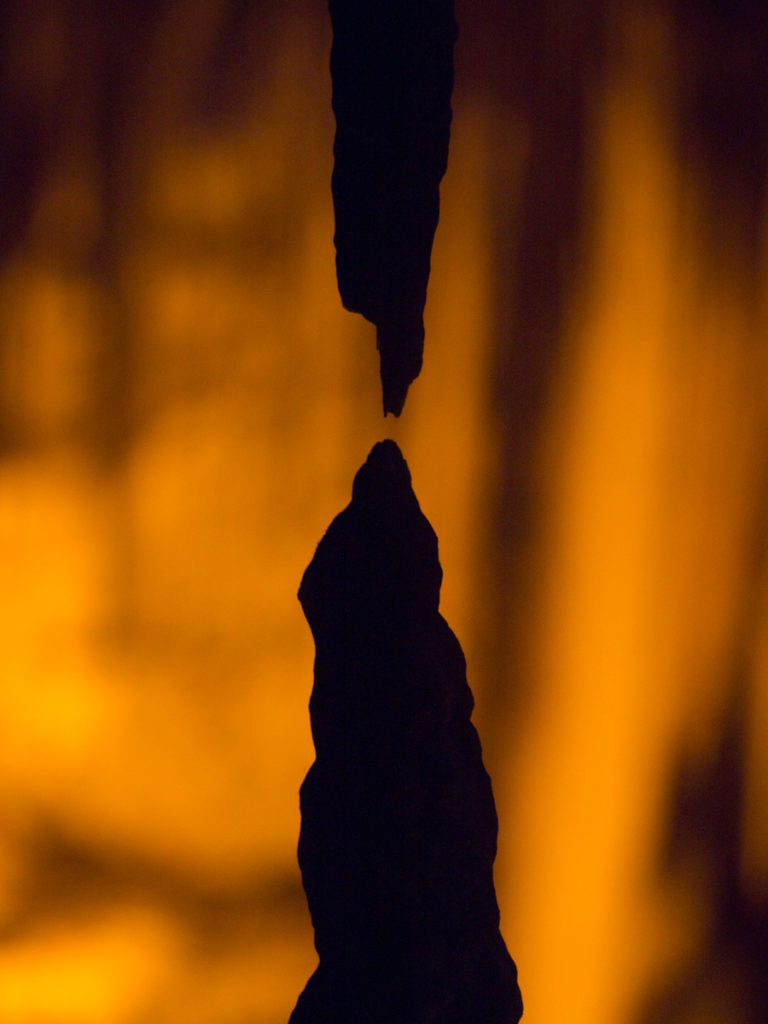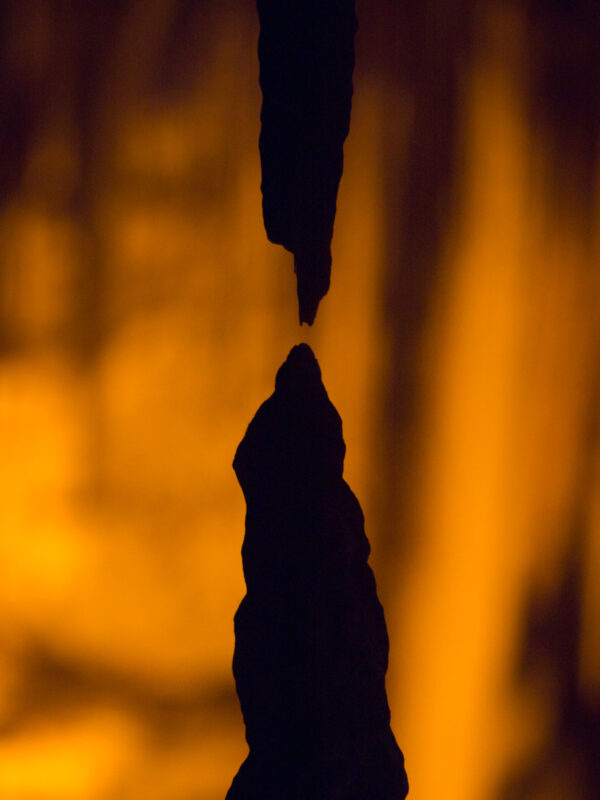 If you're a wine-lover, you've come to the right place. The Jerusalem Hills offer some of the most enjoyable wines we've tasted around the world – and we've visited so many wineries. Be advised that most wineries require a reservation, so call a few days ahead to book a time (especially if you need an English-speaking host). Our favorite winery in Israel is Tzora, located on Kibbutz Tzora near Beit Shemesh. Every wine we tasted there was excellent, so it's no wonder they are often named among Israel's top wineries. Winemaker Eran Pick is even among the select few in the world to have completed a Master of Wine degree.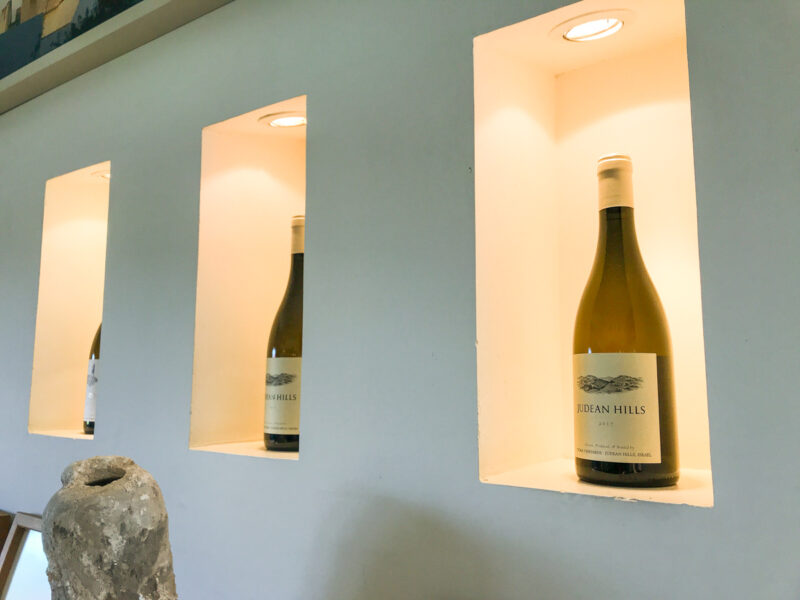 If you're more of a foodie or an animal-lover, check out Shai Seltzer's goat farm in the Sattaf forest. It's only open to visitors on weekends, but when it's open you can go in the afternoon to see the goats come in from the pasture for their afternoon milking. It's a popular spot for Jerusalemites – with kids and without – to visit on Saturdays. Feel free to bring a picnic or some wine with you, and then visit the cheese counter in the cave to try all of the farm's homemade specialties on your customized cheese bird. Our personal favorites are the drinkable yogurt, labaneh (spreadable soft cheese), Bulgarit (feta), thomme and ash cheese. You can also add wine, pita and olives to complete your spread.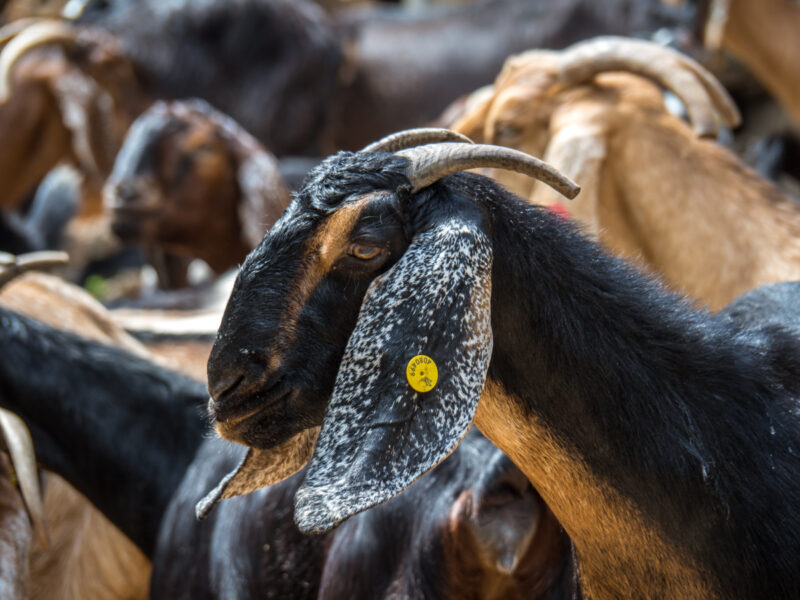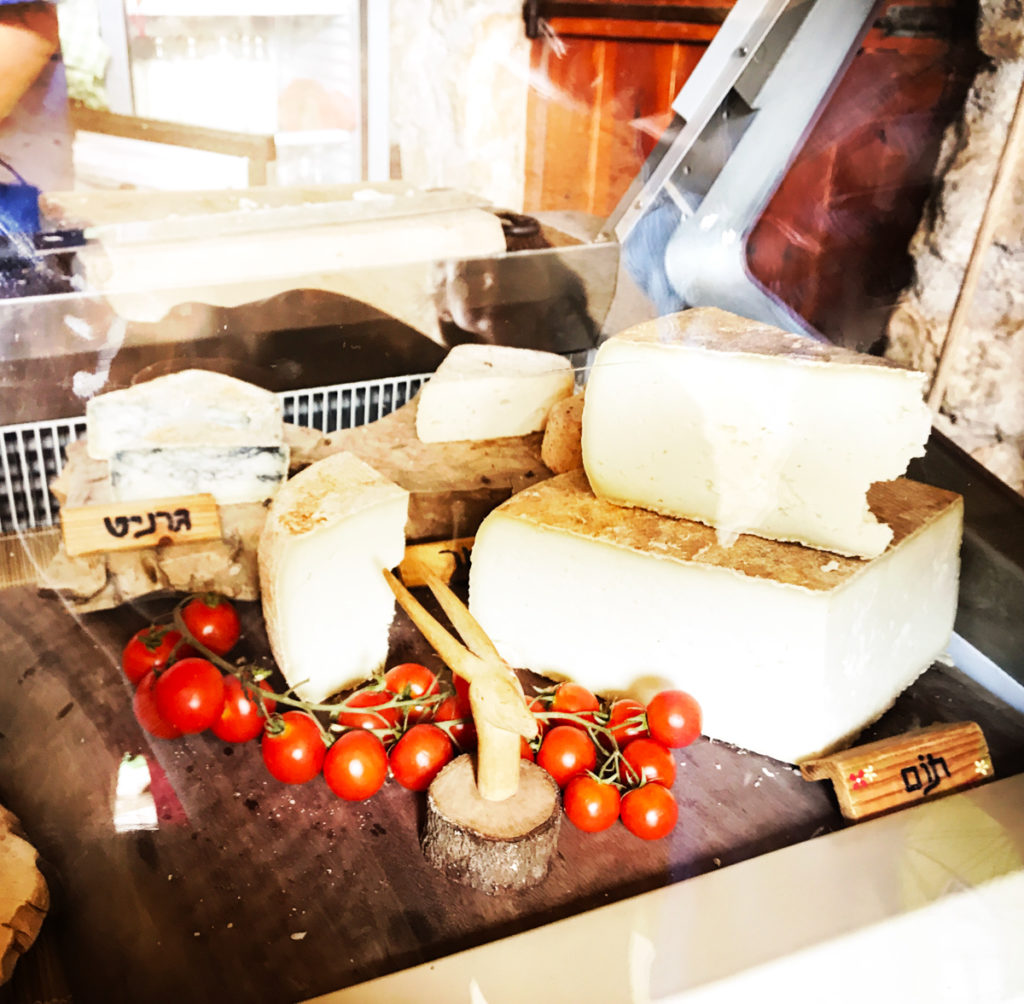 Your final stop on the way back into Jerusalem is in the small town of Abu Gosh. This Arab village has always maintained friendly relations with its Jewish neighbors and has prospered because of it. The town is most famous for its excellent food; many Israelis say it's the best place in the country to get hummus, falafel and an order of kanafeh for dessert. Try it for yourself to find out! If you're there during the day, you can also enjoy a pleasant free stop at the garden attached to the Benedictine Abbey. As you head back into the city in late evening, take a moment to enjoy the sight of the City of Gold bathed in the light of sunset. Head back to your hotel and get packed up, but keep your swimsuit and your outdoor gear handy!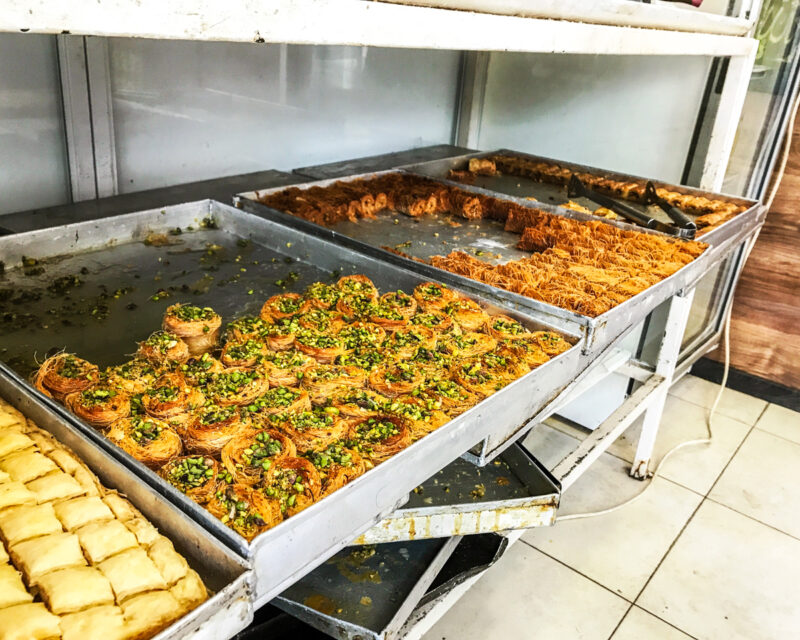 For Christian tourists or those interested in seeing some of the most important churches in Israel, this is also a good opportunity to visit the Mount of Olives. Check out this complete guide to plan your visit.
2 day Dead Sea roadtrip
The final quadrant of your 10 day Israel itinerary is a brief stop in the south. Ideally, on a longer itinerary, you'll have a few more days to spend exploring the 4700 sq miles of the Negev desert. But when you're trying to prioritize what to see in Israel 10 days, it's worth heading south to see some world-famous highlights.
This itinerary will have you approaching the Dead Sea area via Route 90. This road looks like it cuts through the West Bank, but it is considered part of Israel's territory and does not require any border crossings or checkpoints. Our recent trip was the first time we had driven that route and we were pleasantly surprised at how straight-forward it was, not to mention how close to Jerusalem.
The most important thing to remember when visiting the Negev is that it is dry. Really dry. It's also usually hot, though temperatures in winter can hover in the 50s F during the day. Regardless of temperature, staying hydrated is crucial to enjoying this leg of your trip. On nearly every tour bus there's at least one person who forgets to drink enough water and winds up feeling ill – even in winter, when the cooler temperatures can deceive you into underestimating the importance of hydration. So bring a good water bottle at a minimum – we love these collapsible silicone ones – or, even better, bring a CamelBak. I usually bring one to Israel and feel that it's the perfect daypack since you can comfortably carry a huge volume of water and it stays cool in the insulated sleeve. This new high-capacity women's model is an ideal choice since it can easily hold snacks and a camping towel as well, but if your budget is tighter or you want something smaller check out this one.
Day 1 – An oasis in the desert
Now that you've been warned about hydration… Your first stop leaving Jerusalem will be at Ein Gedi, one of the most beautiful places in Israel! This oasis in the desert was discovered long ago and is even home to an ancient synagogue. The famous caves of Qumran, where the Dead Sea Scrolls were found, are nearby and you can add on a visit to them if you're a history and archeology buff.
The National Park at Ein Gedi has a wonderful, easy walking path that offers spectacular Dead Sea views and is punctuated by waterfalls that flow into pools inviting you to jump in for a swim. The steps of the path can be steep at times, but it's easy enough for our 4yo to manage (on our most recent visit we went to the next-to-last pool, as the one at the top was temporarily closed to swimmers. Keep your eyes open for wildlife; we've seen several rock hyrax and different bird species. You might also see an ibex if you're lucky!
I suggest wearing your bathing suit under shorts and a quick-dry top, and either wear water-friendly trail running shoes like these that I have or something like Jacob's hiking sandals (I sort of wish I had brought these cute, versitile women's sport sandals for myself). You can go in the water barefoot as well, but the bottoms of the pools can be rocky and sometimes slippery. We also brought our microfiber travel towels and a wet bag to store our gear – we have this one and it's perfect for a waterfall hike, but we also love this more compact option that we brought for our gap year trip.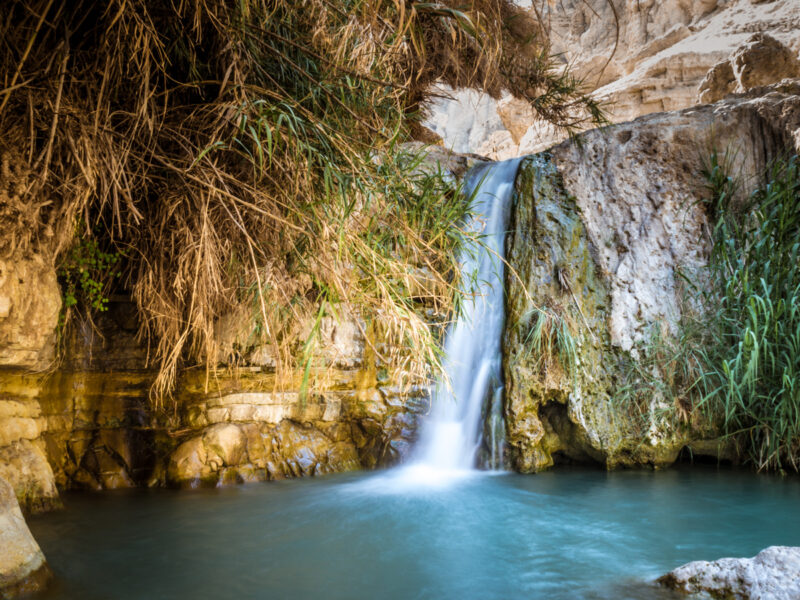 You might consider bringing a picnic from Jerusalem, which you an enjoy either during your hike for a rest or at the tables next to the park entrance. There's also a small shop selling souvenirs, snacks and ice cream – I recommend the Magnum bars!
After a leisurely visit to Ein Gedi, make your way to your hotel on the shores of the Dead Sea. Either check in early or leave your luggage in your car (if driving) or at the front desk (if traveling by bus) and then head right outside to the shores of the sea! I'll admit that I haven't visited in a long time, but I've seen from the lookouts above just how much the Dead Sea is shrinking – to the tune of 1 meter per year. As such, prepare to walk a while to get from your hotel to the water. It can be rocky or pebbly, so I'd advise some sort of water sandals like these (perfect for Ein Gedi as well).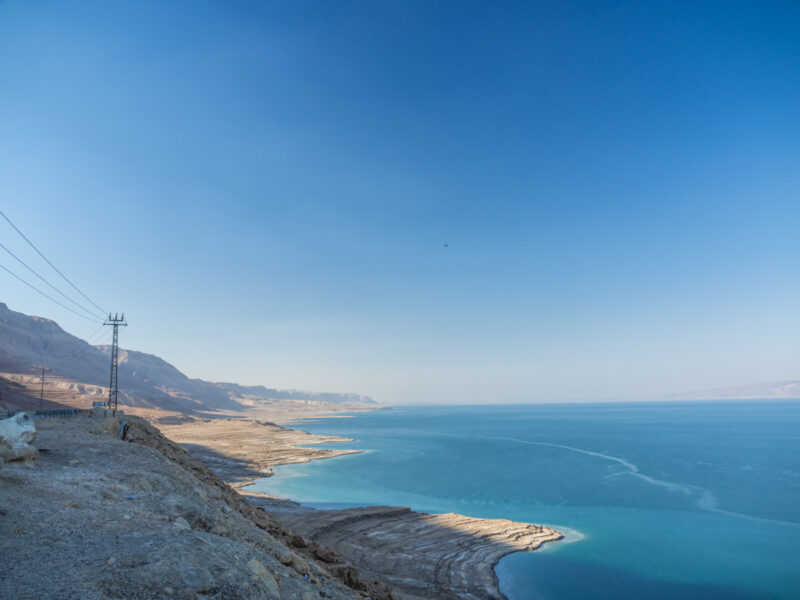 Once you're ready slather on some mud, go for a float and do all the other stuff that tourists do at the Dead Sea! It's absolutely one of the most unique places in the world and a place you have to experience once in your life, so get there before it's gone. After you're cleaned up, enjoy dinner and a relaxing evening in the town of Ein Bokek. But don't stay out too late – you have an early morning ahead of you.
Day 2 – Remembering Masada
Life for Jews (and everyone else) in Israel under Roman rule wasn't easy. The practice of Judaism was forbidden, as Roman rules felt that adherence to the religion subverted their authority. The local Jewish population revolted and according to 1st century historian Josephus, a small splinter group took refuge atop the mesa at Masada where a Roman garrison had previously been stationed.
A visit to Masada today has many layers. First and foremost, it's a place to remember and try to understand the tragic story of a committed group of people in the face of life-threatening adversity. Whether or not the details of the Masada martyrdom story are true (and according to archeological evidence, they may not be), it can still be a place to remember the very real acts of heroism and defiance by Jews under Roman rule. It's also a place to appreciate the stark beauty of Israel's desert landscape, with alternating mountains and valleys carved by millions of years of ongoing geological activity. Finally, if you want, it can be a place to challenge yourself physically. If you arrive early enough, you can climb the "snake path" that the Jewish rebels built by hand to wind their way up that fateful mountain.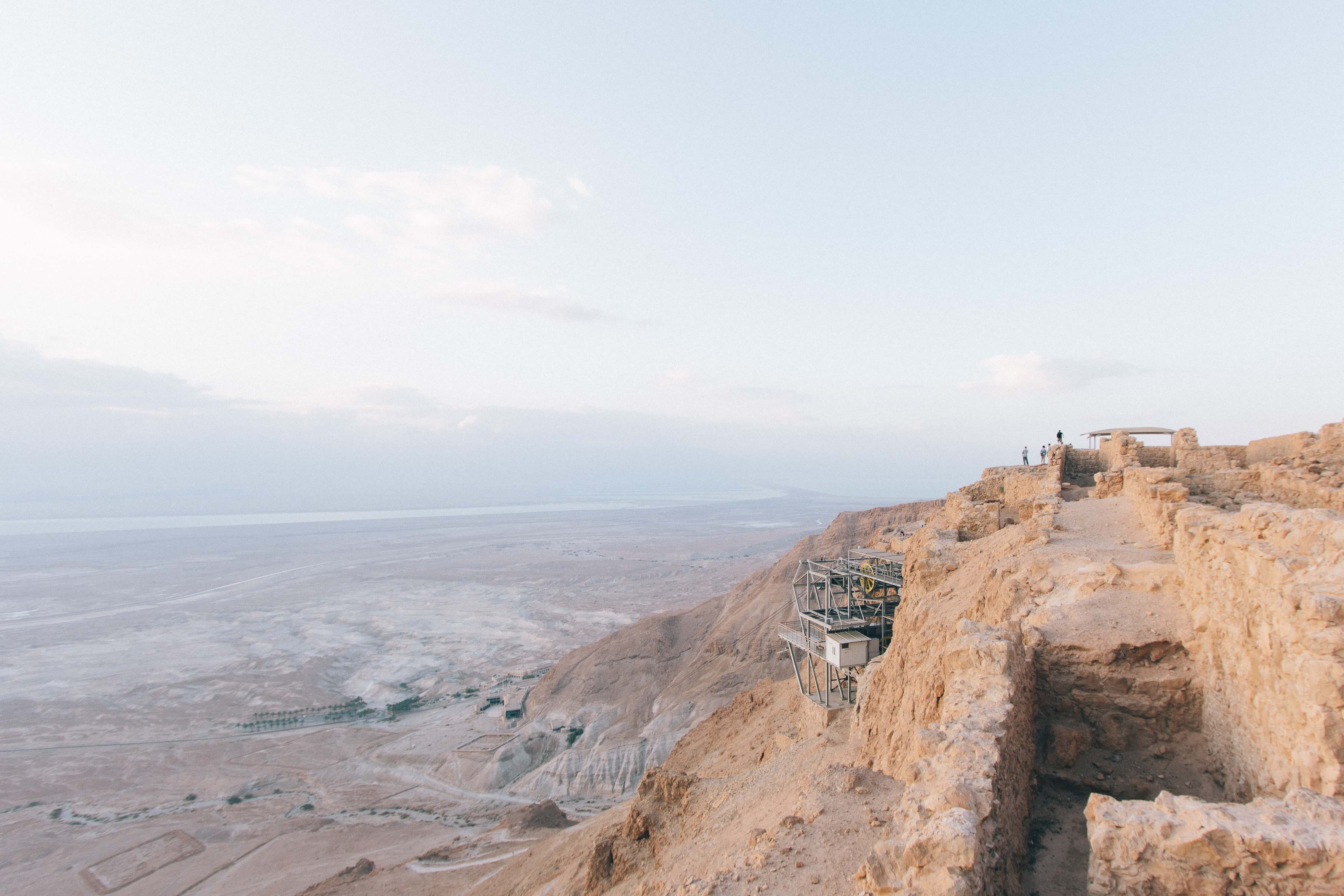 From your hotel in Ein Bokek, plan on 20 minutes by car to get to the base of Masada. Many tourists choose to arrive at the base before sunrise so that they can witness sunrise from the top. There are several ways to access the top of Masada. As I mentioned above, those in exceptional condition can hike to the top via the snake path; the snake path is only open until early morning in the summer due to concerns about heat stroke, so check the official schedule here.
Looking for an easier option or a limited-mobility option to visit Masada National Park? The cable car is the way to go! You'll wizz to the tip regardless of the time of day and can spend your time diving into the ruins and their history. If you want to walk down the snake path, there's generally no restriction on that though I say from experience that it can be a little hard on the knees. There is an additional charge for the cable car beyond your admission price for the national park.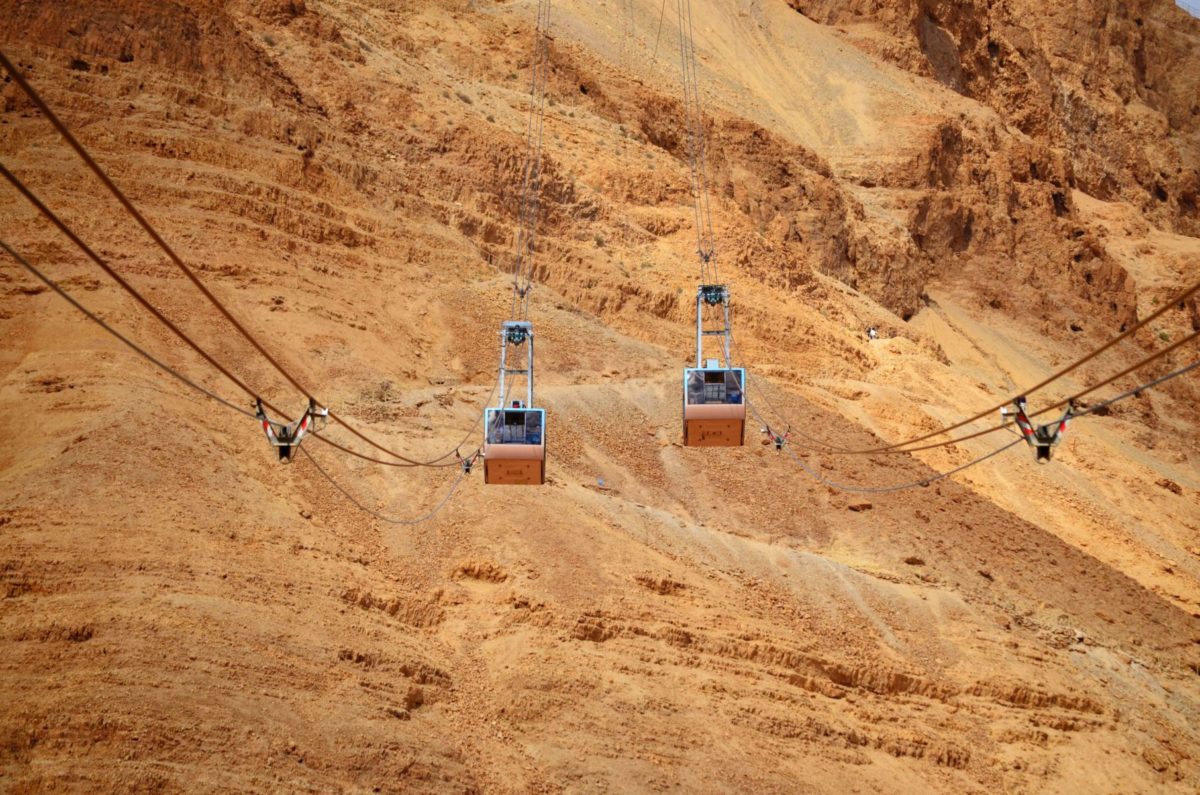 Regardless of which route you take, bring plenty of water, snacks and sunscreen. You can either pack a picnic lunch or buy food at the fast food restaurants in the visitors center. Visiting Masada is an experience you won't forget, and it makes for a great final experience in Israel. If you have an overnight flight (as many do) you can make the two hour drive straight to the airport. Depending on your schedule, you may have time for a quick stop in the desert capital Be'er Sheva – visit the Air Force Museum, the Science Center or the Children's Museum.
If your flight isn't until the following morning, it's worth driving back to Tel Aviv for the evening. You can sneak in one more sunset in the soft sand, one more amazing meal and one more restful sleep after your whirlwind tour of this amazing country.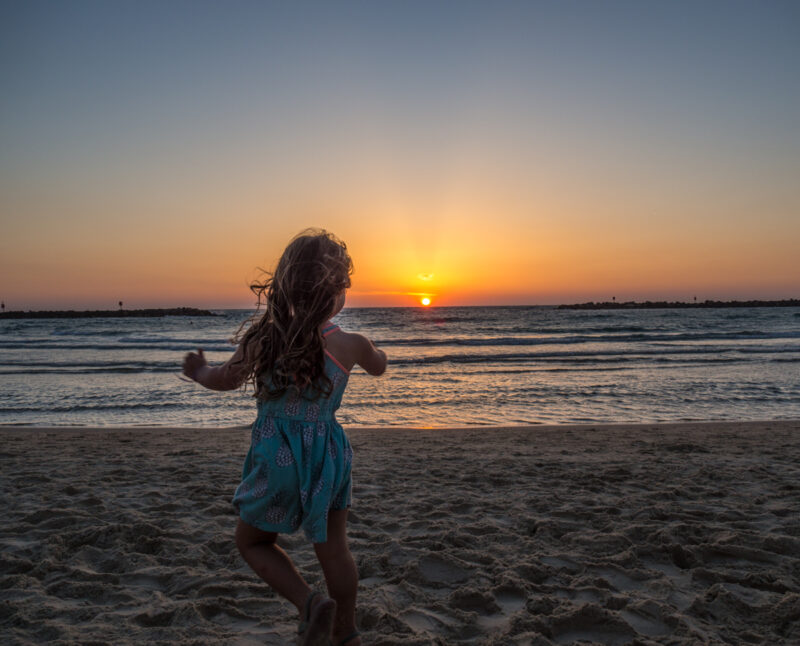 Staying a little longer? A two-week Israel itinerary
You can see a lot of Israel in 10 days since the country is so compact, but a few more days will be even better! If you'll have a longer trip to Israel, we'd recommend adding more time outside if Israel's main cities.
Add three nights in northern Israel at the wonderful Lavender Inn (the best place we've stayed in the region!). It's location in Ramot Naftali makes it an ideal jumping off point for exploring both the Golan and Galilee regions. If you choose this option, make sure to buy the 6-park pass! There are some stunning parks to visit in the area. Enjoy stunning waterfalls coming off of Hermon Stream at Banias, walk the flat shady paths and wade in the pool at Tel Dan, or catch millions of migratory birds in October and February at Hula Nature Reserve. The Golan is also home to more good wineries than you can imagine and a great food scene. Don't miss Assaf and Pelter wineries and the kid-approved chocolate-making workshop at De Karina.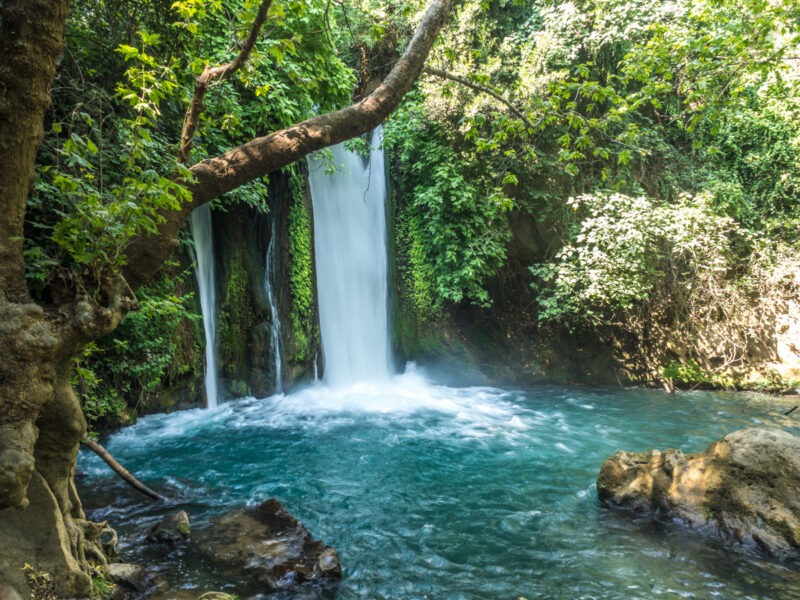 Add your remaining night to your southern Israel excursion. After Masada, continue driving south to Mitzpe Ramon to see the stunning Ramon Crater. If you're traveling with kids and have an hour to spare, stop at the Alpaca Farm just outside of town to feed the alpacas, ride a llama and marvel at the beautiful horses. When it's sunset, head for Camel Mountain (Har Gamal) for a wonderful view; bring a jacket, because it gets chilly and windy up there! You'll park at the base and then walk up a few dozen steps to enjoy the observation tower. The head to InnSense for a wonderful, cozy dinner.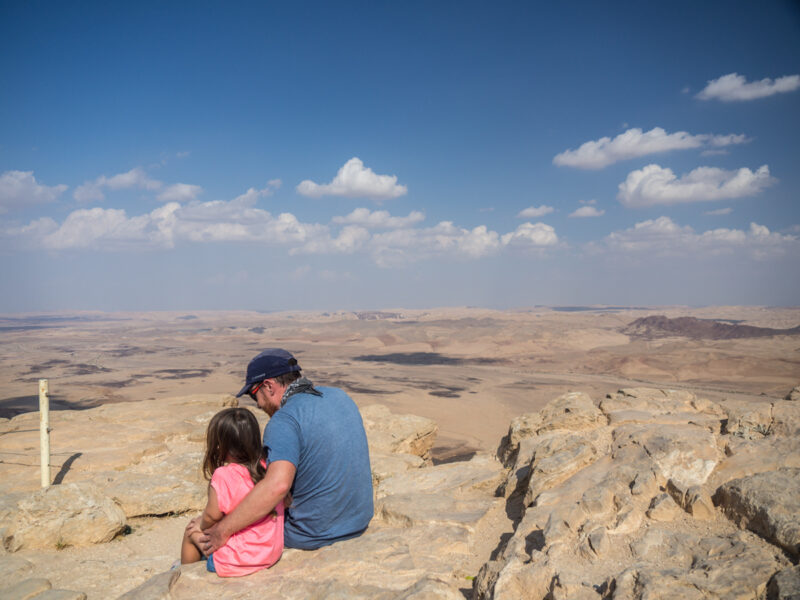 In the morning you can drive down and walk around in several areas – the Carpentry Shop in Ramon Crater is easy to get to and offers great views, plus you can fill an empty plastic bottle with unique colored sands in the area (just follow the signs). When the afternoon heats up, use another stamp on your National Parks pass to visit the excellent Ilan Ramon center. The quasi-museum features two distinct sections and follows a particular sequence, though it is basically self-guided.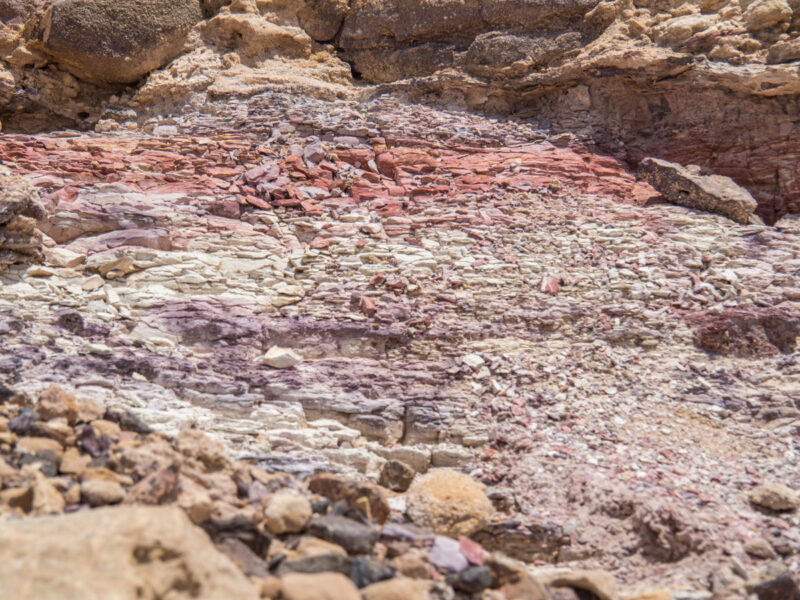 The first portion educates visitors about the life, the passion and the untimely death of Israel's first astronaut, Ilan Ramon. It was constructed in the wake of his tragic death along with the rest of space shuttle Columbia's crew upon reentry. The second area of the visitors center is all about the crater (technically a maktesh) itself: how it formed and what wildlife live there. The exhibit is extremely useful for context, and would be helpful to visit before going into the crater itself if it's not too hot (only a relatively short portion of the year, which is why we generally recommend visiting the crater first).
Don't love the outdoors? You could forgo extra time in the north and south of Israel for a few extra days in Tel Aviv! Enjoy time at the beach, visit the Yitzhak Rabin Center for peace and stop at the port (Namal) for dinner and an evening stroll.
Another option is to head to neighboring Jordan for a few days. Check out these awesome places to visit in Jordan with kids.
Short on time? An itinerary for 7 days in Israel (or less)
With just 7 days in Israel, you'll want to use Tel Aviv and Jerusalem as your only bases to avoid moving around too much. Since the country is fairly compact, you'll still get to see plenty during your brief visit.
Spend the first three days exactly as we've outlined above, with two days in Tel Aviv and then picking up a car on the third day to drive north to Haifa and Caesarea. That third day may be a bit of a long one – after you finish exploring Caesarea National Park, you'll hop back in your car and drive to Jerusalem. (If you don't want to rent a car, check out this awesome full-day excursion that will take you through the highlights of the Carmel region, beginning and ending in Tel Aviv.)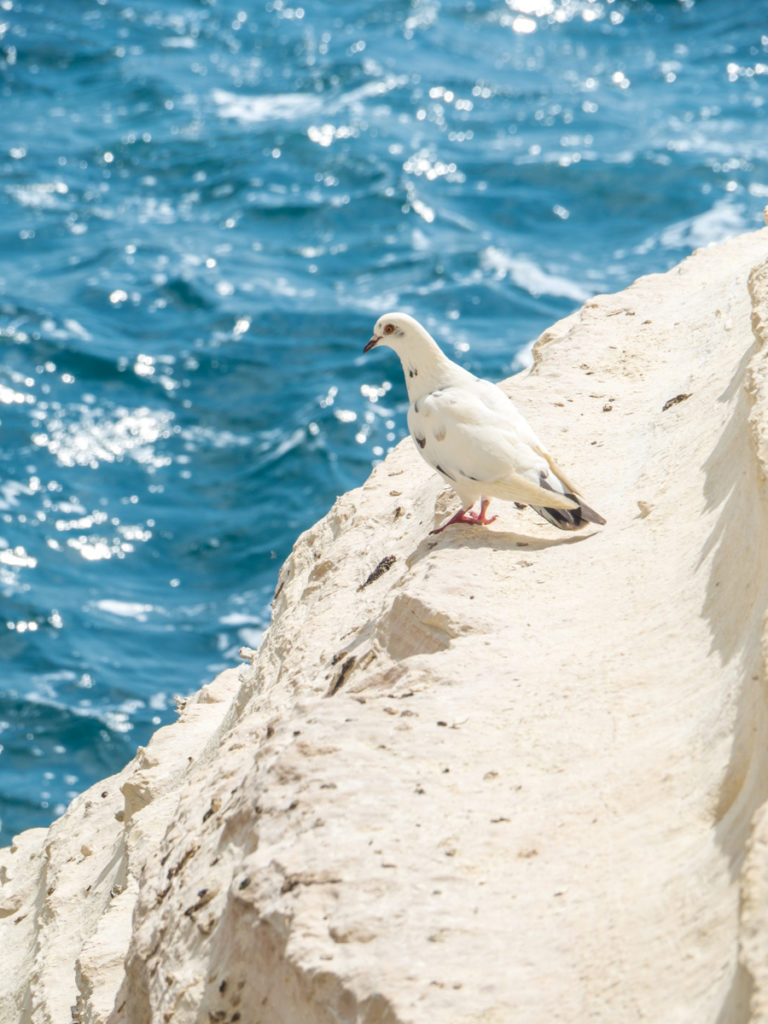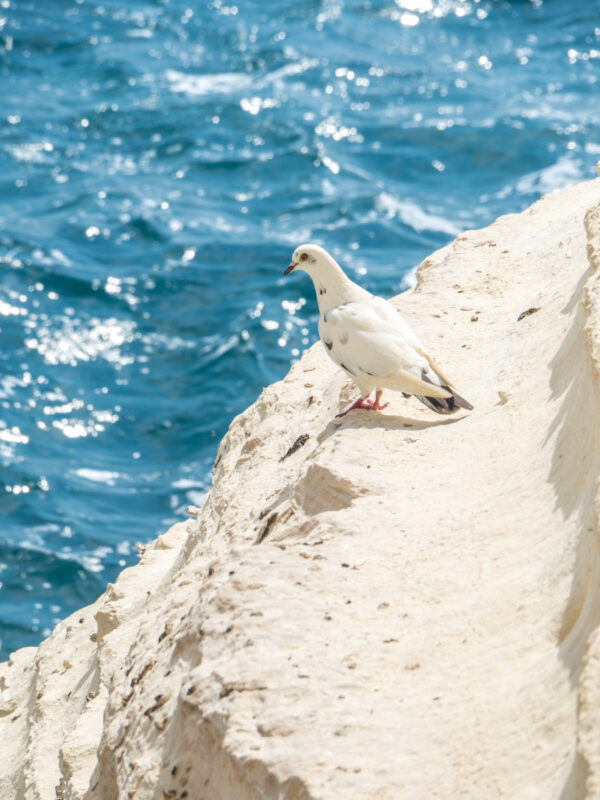 You'll spend the rest of your time staying in Jerusalem and following roughly the itinerary outlined above for the first three days. Explore the Old City, stroll the streets and the shuk, experience the city's revitalized nightlife, see the phenomenal Dead Sea Scrolls.
But on your fourth day (you can certainly mix up the order in any way that makes sense to you), you'll head toward the Dead Sea for a day trip – easiest to do if you still have the rental car you picked up when you left from Tel Aviv. Alternatively, you can hop on a great, affordable guided tour to avoid renting a car and dealing with the logistics. The drive from Jerusalem to Masada takes under two hours but you'll feel as if you've been transported to an entirely different place and time.
Your schedule for the day really depends on your priorities – many people want to see the sunrise from the top of Masada, but that requires arriving an hour in advance; in summer, you'd have to leave Jerusalem at approximately 3am to make the drive and then hike the 45 minute Snake Path in order to arrive before 6am. If you don't plan anything that extreme, a better plan would be to head out around 7am. That will allow you to arrive around 9am (even with a little traffic); whether you choose to hike up (assuming the weather is favorable) or zip along the cable car, a few hours will be enough to explore and you'll probably be done in time for lunch.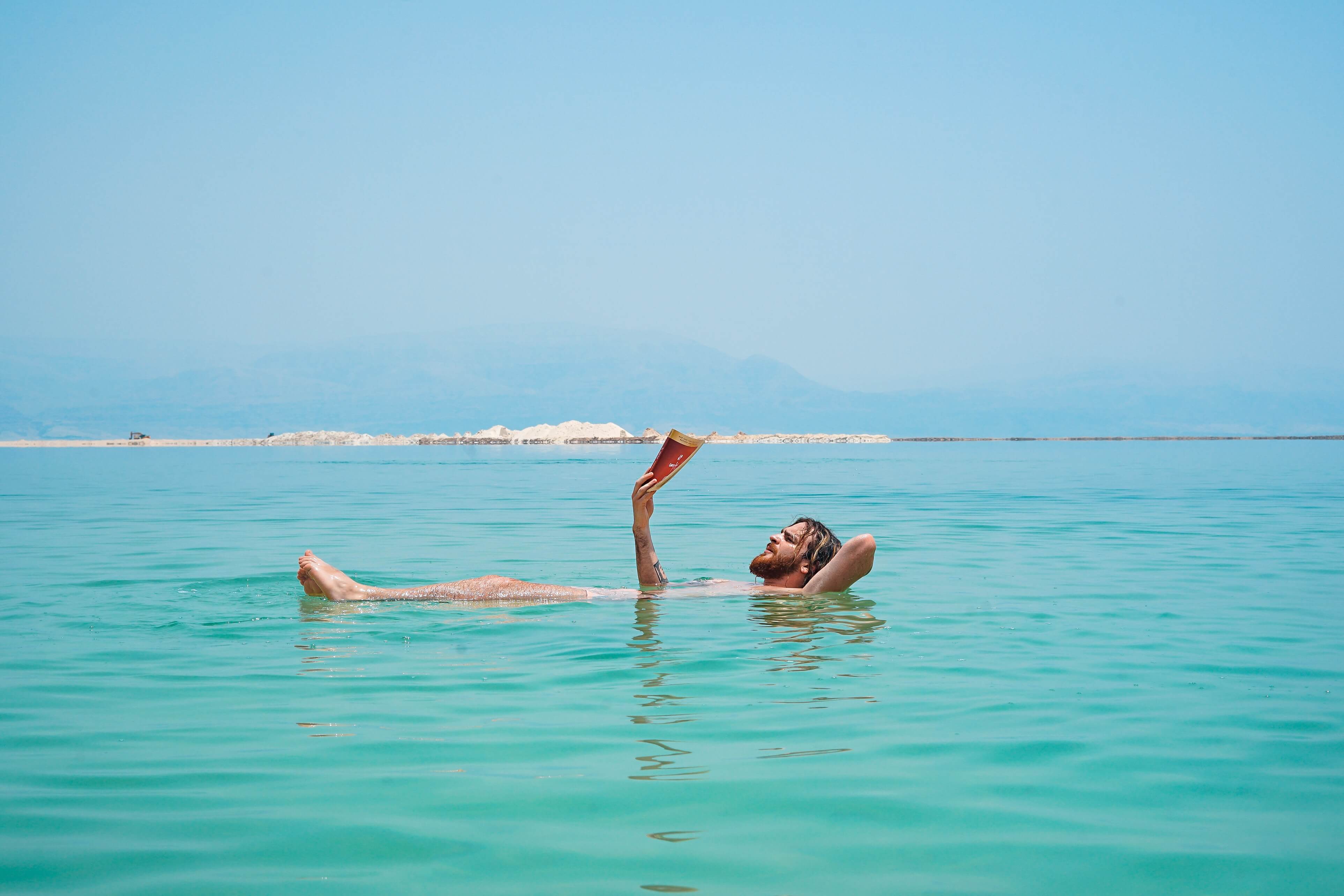 You can grab lunch at the visitors' center or at a restaurant nearby. Afterward pop into your car for a quick drive back north to one of my favorite spots, Ein Gedi. The desert oasis is the perfect spot to cool off and enjoy amazing views of the Dead Sea as you alternate hiking the steep dusty paths with swimming through waterfalls to cool off. Finally, drop by Kalia Beach at the north end of the Dead Sea for that quintessential experience of floating weightless in the oily, salty water. Shower up, head back to Jerusalem and enjoy a much-deserved rest before you hop back on the plane!
Read more: What to pack for Israel in every season
Suggested modifications for those planning an Israel family itinerary
There is

so

much to see in Israel with kids and it's easy to feel rushed. Depending on the age and stamina of your child, you can consider cutting out a few of the activities above in favor of either a nap at your hotel or a low-key kid-friendly activity.

Yafo – Skip the flea market, instead visit the playground just north of the train station (at the coastal side of Neve Tzedek).

Haifa – Enjoy the view of the Baha'i Gardens from the top, but don't take the full tour and walk down. Alternatively, take the garden tour but push Rosh Hanikra to your second day in the region and skip Akko.

Jerusalem – After your Old City tour and lunch, pick

one

more religious site to visit and then head to nearby Teddy Kollek Park where the splash pad turns on at 1pm, 3pm and 5pm daily. You may want to skip the Tower of David light show (as we did) if you're visiting Israel in summer because it doesn't

start

until around 10pm.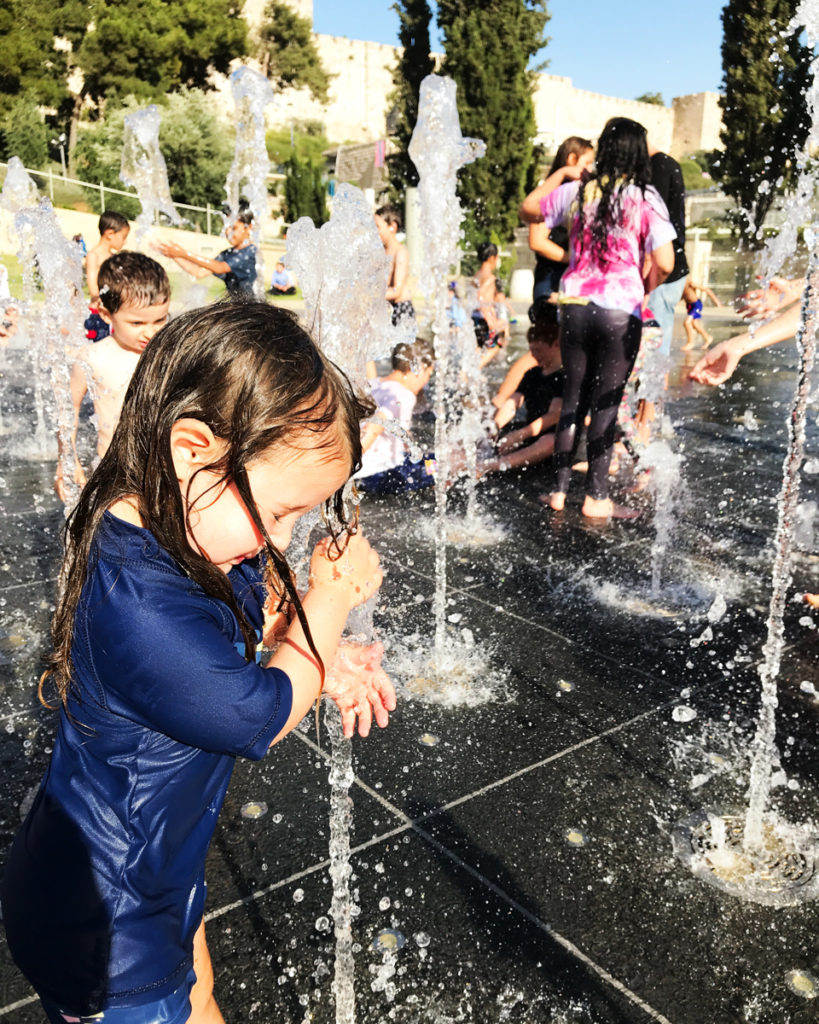 Skip Ir David if visiting with very young children. The coolest part for most people is Hezekia's Tunnel, for which the minimum age is 5yo. You can take younger ones in a front carrier. The rest involves lots of walking outside with limited shade – save their energy for the Old City.

At the Israel Museum, time your visit to the Dead Sea Scrolls to coincide with the animated kid-friendly movie about the scrolls and their discovery and then spend sometime wandering around the scale model of the ancient Old City. If it's open, allow time to visit the children's art pavilion.

Bring a ton of money to the old train station, because you'll need it! It may be worth buying the maximum number of tickets for rides and activities, as the discount on a bulk purchase is substantial. Tickets (on a reloadable card) are valid for carousel, bumper cars and the huge indoor play gym. The play gym is not air conditioned but it has huge fans, so it's comfortable enough to spend a hot afternoon there (especially if other options are closed because of Shabbat).
Read more:
-Ultimate guide to visiting Israel with kids
-Ultimate guide to visiting Tel Aviv with kids
-Ultimate guide to visiting Jerusalem with kids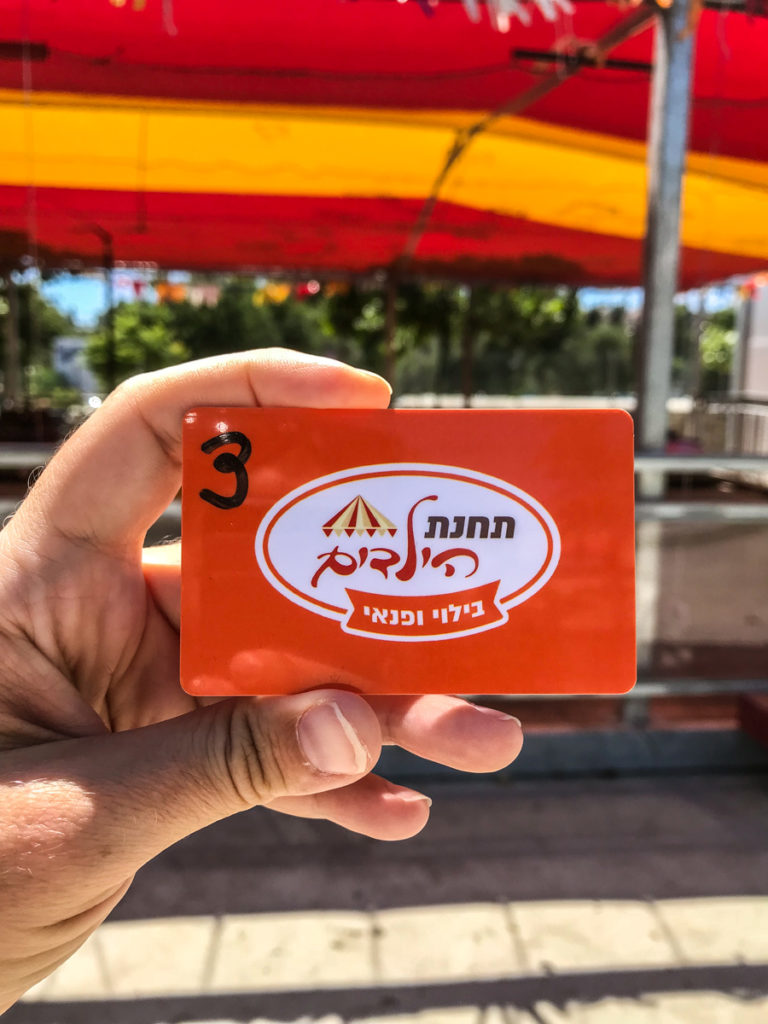 Plan your trip to Israel
Money-saving travel resources:
–Find the cheapest flights on Skyscanner
–Book your discounted rental car on RentalCars.com
–Compare travel insurance options
–4 simple hacks to save more money on booking.com

Check out these helpful articles to plan your upcoming trip to Israel:
–The perfect 10 day Israel itinerary
–3 days in Jerusalem itinerary
–2 days in Tel Aviv itinerary
–Where to stay in Israel
–50 things to know before you visit Israel
–What to pack for Israel in each season
–When is the best time of year to go to Israel?
–10+ must-read tips for renting a car in Israel
–20 foods you have to try in Israel
–25+ best books about Israel
–Where to stay in Jerusalem
–What to do in Jerusalem on Shabbat
–Israel with kids: the complete guide
–Visiting Jerusalem with kids
–Visiting Tel Aviv with kids
–Best day trips from Tel Aviv
–Best day trips from Jerusalem
–Your Israel itinerary for (more or less) 10 days
We hope this itinerary helps to inspire your upcoming trip to Israel! It's a small country, but it offers tourists just about every experience from city life to beautiful nature to history and culture and more. Have you visited Israel before? Drop us a line in the comments below to let us know your favorites!
Still planning? Pin it for later!