One year ago today we loaded the car in Los Angeles and drove off into the sunset (or at least the traffic near Sunset Blvd). It truly seems like we've lived a lifetime in the 365 intervening days, and it will be hard to ever fully document our experience.
But what can I say about the last year? It's been amazing, challenging, wonderful, exhausting and rejuvenating. It's been (basically) what we hoped for but sometime unexpected. And it's still going, as it turns out.
My apologies that I haven't provided more frequent updates here in real-time. Running a website as a small business (rather than an online journal) is an extremely time-consuming process. Some destinations and travel experiences we've had (like Israel and Naxos) also lend themselves better to writing about than others – in part because people love to read about them, and in part because they haven't been rehashed by thousands of other websites. As such, some of the chronology here on The Family Voyage is waaaaay off. Fortunately Jacob is the only one who seems really bothered by the discrepancy!
Roadtripping Europe
So where have we been since our last update? It turns out we've don't quite a lot of traveling in the last 10 weeks – and I'm honestly shocked it's only been that long.
We left the comfort and familiarity of Israel – and after six weeks of great HomeExchange apartments, extended family dinners and play dates with friends, I do mean those words – for a new and exciting destination: Switzerland! Switzerland hadn't been on our initial radar for a variety of reasons, but were so glad we went.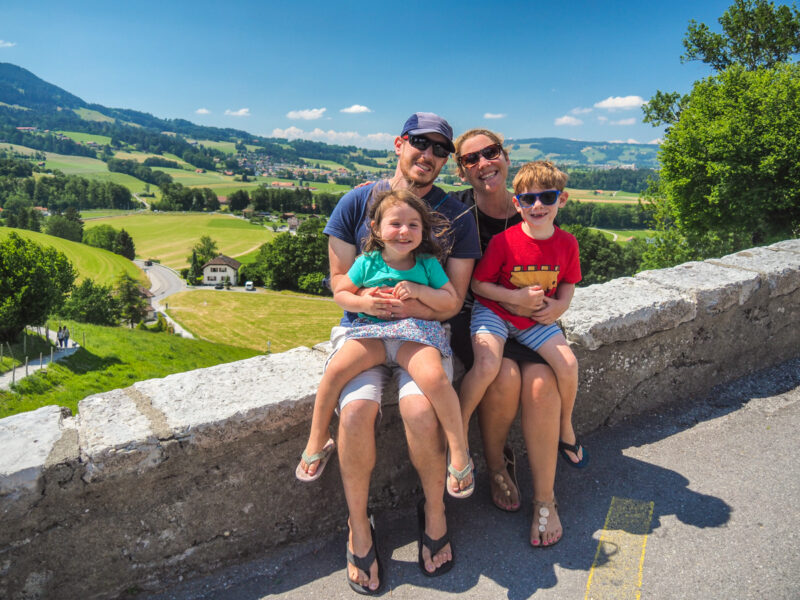 Our visit there was just over a week, but we made it count. We stayed in this gorgeous house on Lac Neuchâtel and used it as a base to bike, hike and take daytrips throughout the region. We even snuck in a stunning overnight visit to Interlaken.
The only thing we wish we'd done differently in Switzerland was staying longer – if we'd had more time, we would have stayed for several weeks! It's beautiful, it's charming, and it's full of cheese. We've definitely had to work at expanding the kids palates this year, but they both fell totally in love with Gruyères cheese and we're thrilled to visit it's birthplace. I know this may sound like a silly thing to some people, but the simple joy of being able to share fancy cheese and crackers as a family was a welcome change for us.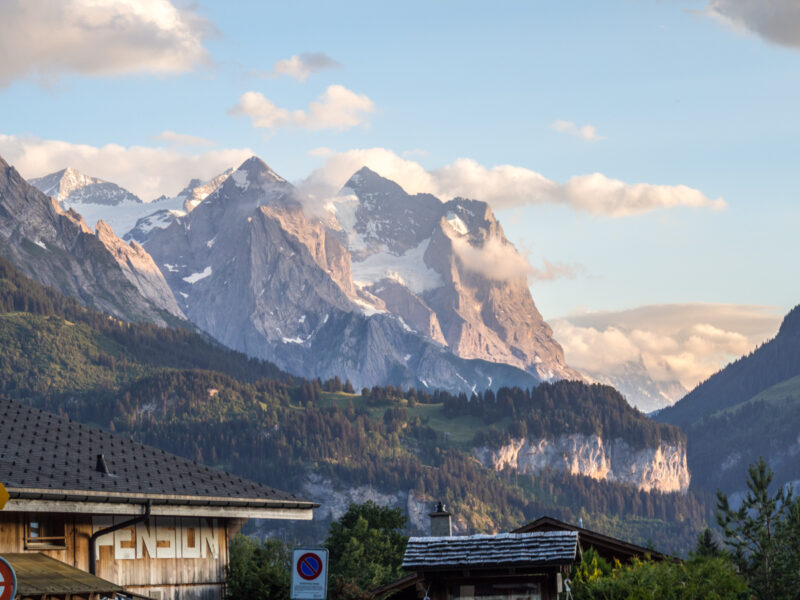 Isn't it gorgeous in the summer? Most people visit Switzerland in the winter for that snow-covered wonderland feeling. If that's more your speed, check out these action-packed destinations.
Why so little time in Switzerland? Isn't the point of traveling flexible that you can stay wherever you want for however long you want? Well, sort of. But there will always be competing priorities as with any lifestyle.
We left Switzerland for good reason: to drive across France to visit our good friends who we met in New Zealand and subsequently traveled with in Australia and Thailand! They were on a family gap year as well and we bonded instantly, so it was a natural choice to pay them a visit at home when we realized we'd be in the region.
We ate (French) cheese, we drank wine, we hid from monstrous rain, we reminisced and we shared travel stories from the months we'd been apart. It was truly special to share so many ups, downs and hilarious experiences with another family and it was great to reconnect.
Since we were already in France, we figured c'est la vie, we might as well explore longer! We spent a few wonderful days in Normandy, though we could have visited for much longer as it's an absolutely lovely region with so much fascinating history and culture. Our two main activities were a sobering day spent remembering the fallen heroes of Operation Overlord and the D-Day invasion, and a much more light-hearted and magical day visiting Mont St. Michel.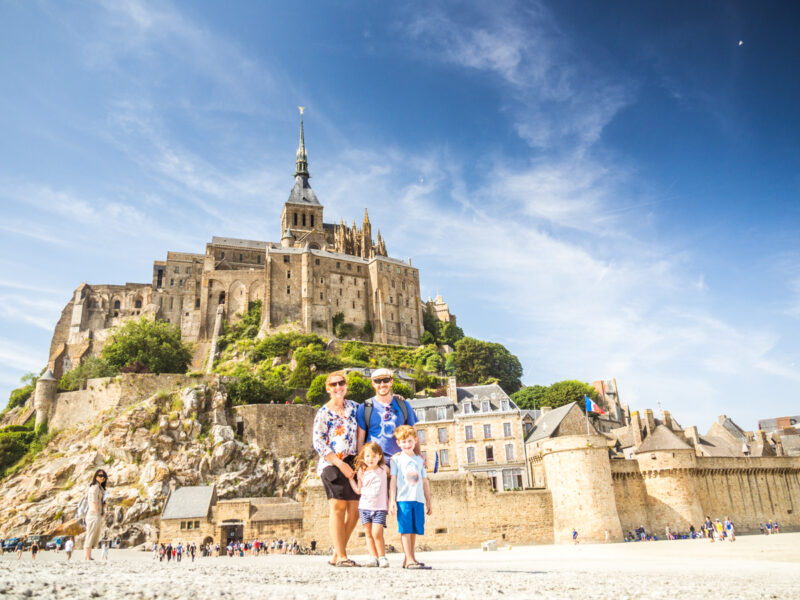 From there we headed back up to Paris – and didn't do a whole lot! We'd just been last spring and the kids had exactly two items on their agenda: eat crêpes and revisit the Eiffel Tower. Done. Except this time, with thicker summer crowds and no advance plans, we ended up waiting in line for an hour just to take the stairs up. I'll admit that I was extremely nervous about this plan, but the kids were amazing and climbed all the way to the second level like it was no big deal. Oh how far we've come from the days (like, back in May) when Shoshana would throw a tantrum if asked to walk on her own without a stroller a full block! Check out our best tips for visiting Paris with kids.
Our final destination was Alsace. This was a bit of a wildcard, but ended up being a nice – if quiet – place to close out our travels. We checked out the adorable towns of Colmar and Strasbourg, visited the world's largest car museum, spent a night (too little!) in Germany's Black Forest and Ronnie and Jacob got to test out the French health care system one night (nothing life-threatening thankfully).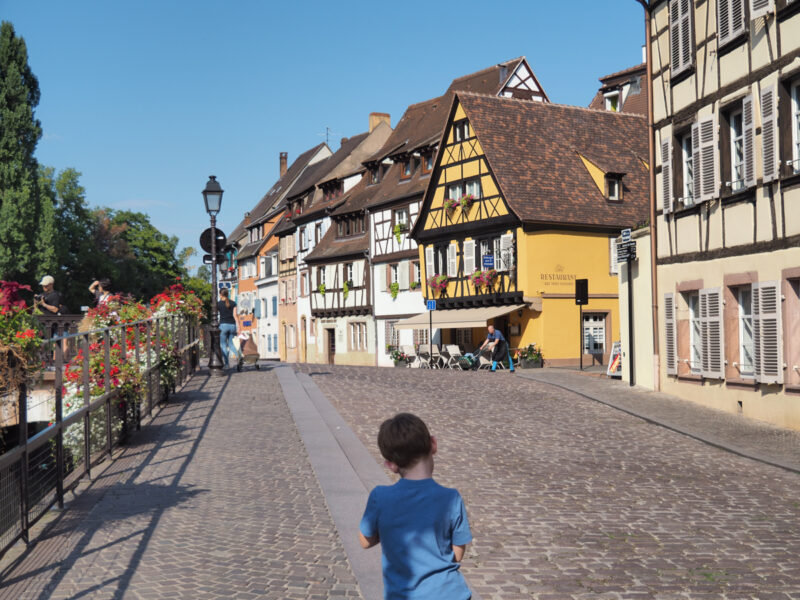 Our total time in Europe (this time) was exactly a month. But in case you've forgotten or missed some of our previous family gap year updates, it was actually our third time hopping through Europe on this trip! We visited Spain, Italy, Greece, Switzerland, France and Germany for a total of two months – exactly the amount of time we had allotted for Europe, but not at all the timing or countries we had expected! Discount airlines have truly revolutionized travel within Europe and we were pleasantly surprised at how affordable we could travel on basically zero notice. Huzzah!
Re-entry
We said goodbye to wine, cheese and charming cobbled cities for in late July to finally head back to the US. The kids were beyond ready to visit family and friends, and they made sure we knew it every day for weeks. Thankfully they were pleasant about it since the home stretch was in sight!
I'm not going to lie, it felt strange being back in the quiet life of suburban America for three weeks after a year of capital-A-Adventure. The transition was that much stranger thanks to horrendous weather and Ronnie having to head back, solo, to LA for a few days about five minutes (it felt like) after we stepped off the plane in DC. But odd transitions aside, it was great to spend some low-key time with my family and even sneak in a little sightseeing when Zeus wasn't throwing down lightning bolts.
The great American road trip
You may recall that we drove across America from LA to DC last summer before leaving America. That was an awesome road trip that took us to some great places we'd never properly visited before – indeed, I have thousands of words already drafted about that trip that haven't yet seen the light of day.
The thread holding that drive together was a list of friends and family we wanted to see across the country. We considered heading along much the same path this year, but instead opted to tick an item off of our bucket list: a road trip through some of America's spectacular national parks.
Of course we had to drive two thirds of the way across the country before getting to the West, but we were happy to do it. We made a brief stop in Pittsburgh – just enough to make us want to go back in the future, visited the world's largest children's museum in Indianapolis, enjoyed quality time with family in St. Louis, and ate fantastic barbecue and saw some really cool rocks in Kansas. And all that was just in the first week! Check out some of America's best road trips – and find out why you should do at least one.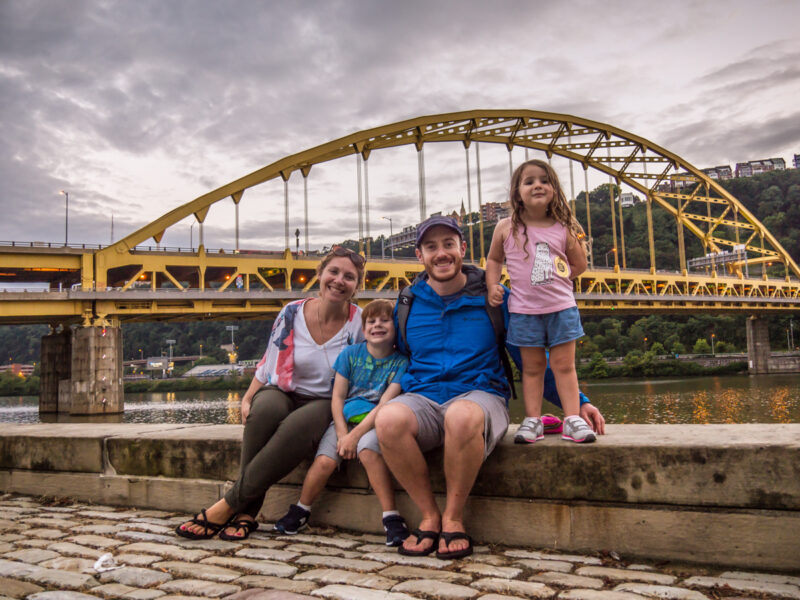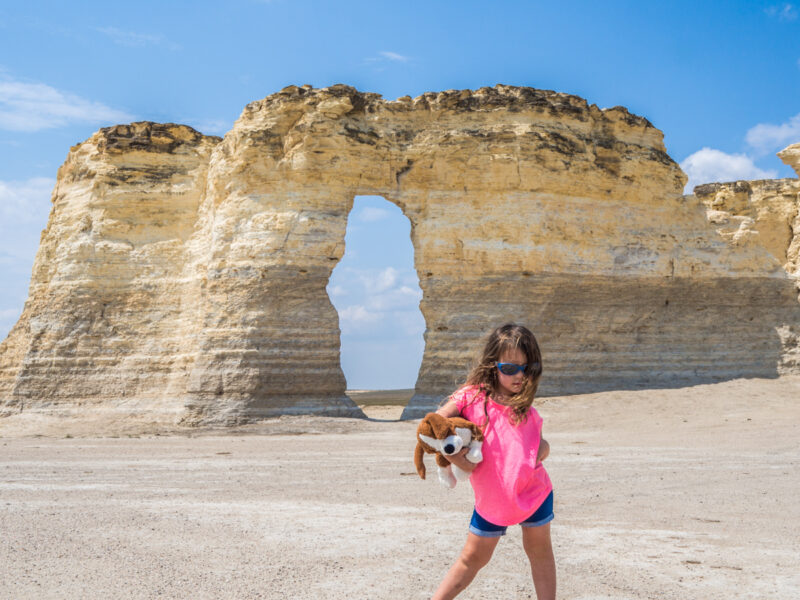 Next stop: Colorado. I now completely understand why Colorado is one of America's fastest growing states. It's incredible! In so many places we visited during our 9 days, we saw the laid-back vibe for which California is so famous combined with midwestern down-to-earth attitudes, all with stunning mountain scenery as the backdrop.
Our first destination was Denver, where we stayed in this absolutely gorgeous Victorian apartment through HomeExchange – and Ronnie happily fell back into his cooking groove. Our hostess kindly left passes to the Denver Art Museum and we can't recommend it enough! We had to pry the kids away after four hours.
The whole family enjoyed exploring the Lariat Loop scenic byway, including dinosaur exploration at Dinosaur Ridge in Morrison and the old-town feel of Golden. Sadly some of our exploration was stymied by a flat tire in Denver, but were confident that it won't be our last time in the Front Range.
From there we headed up to Estes Park to visit Rocky Mountain National Park. First, we had a great time in the park. Second, it wasn't without challenges ranging from the heavy crowds to the haze from California wildfires. But as you can see, we still got some spectacular blue skies and had a blast exploring some of the park. We spent our first day driving Trail Ridge Road all the way across to the park's west entrance and our second day hiking in the area closer to the eastern entrances, both at Fern Lake and Bear Lake. We even considered staying on for another day of more hiking, but we'll save that for a return trip that isn't during peak season for both crowds and fires.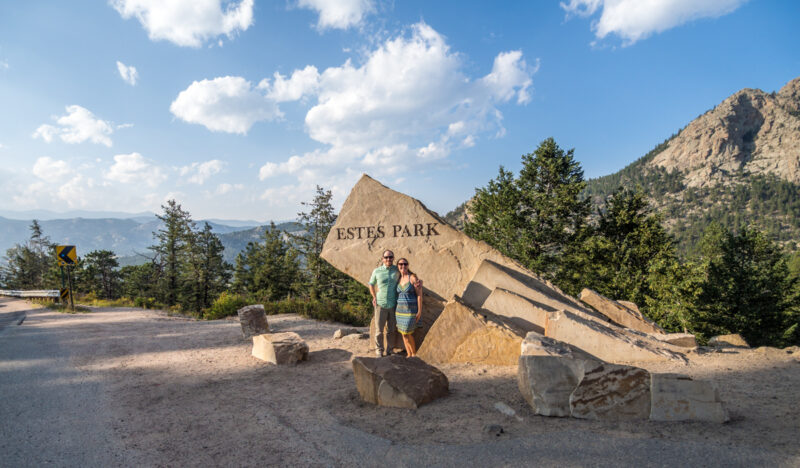 It's honestly debatable whether we had more fun exploring the park or exploring our hotel in the evenings. The kids were in heaven at The Ridgeline Hotel – game room, pool and hot tub with movies playing and fire pits with s'mores supplies. That's my kind of glamping. Even the walk from The Ridgeline into town for dinner was gorgeous. Like I said, we debated staying another night because we were just enjoying the our time in Estes Park so much.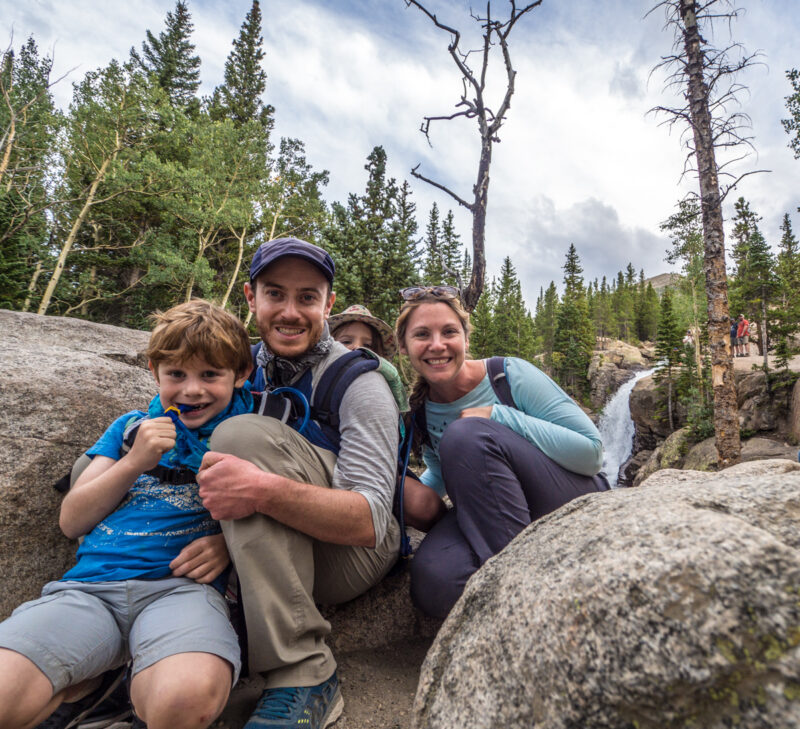 But alas… we left behind the forested peaks of Rocky Mountain and headed west straight for the epic Colorado Plateau with a two-night stop in Grand Junction. A ranger in Rocky had tipped us off to a real gem in the area: Colorado National Monument.
Folks, I can't recommend a visit enough if you happen to be in the region. It's empty compared to so many other parks and I actually said "wow" as we turned every corner. It's also small dense that you can get a real flavor in just an afternoon, or you can stay for days and hike the trails. Either way, make sure to pay a visit! Show your National Parks annual pass (aptly named "America the Beautiful") for free admission – at just $80, it's more than paid for itself after just a few uses.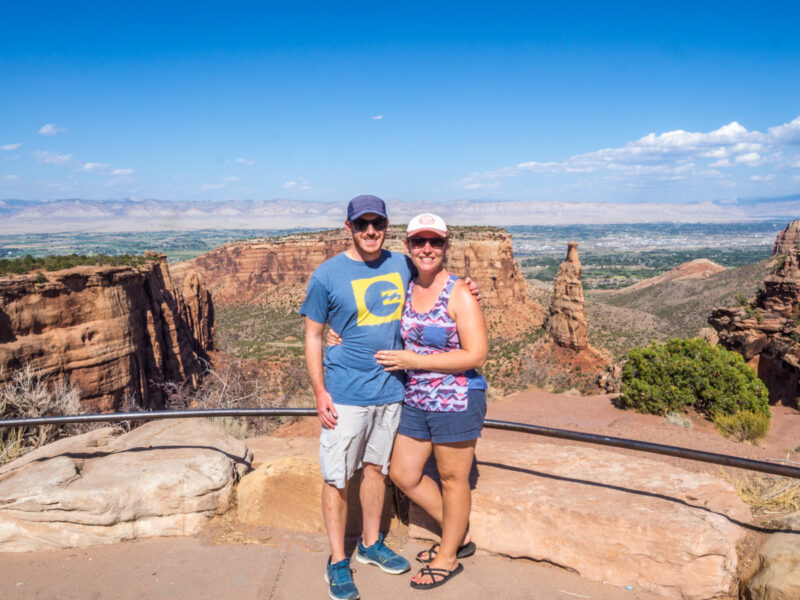 Speaking of paying, we got a great deal on our room at the Clarion Inn. We're fairly new to the Choice Hotels brand but used them several times on this road trip and found them to be a solid choice across the board – clean rooms, pools, diverse breakfast offerings and generally budget-friendly pricing.
Keeping ourselves flexible proved to be an advantage – we made a last minute decision to divert to Arches National Park in Moab, Utah. We had visited a few years ago with friends when Jacob was a baby, but coming back again was so worthwhile! The scenery is some of the most unique and iconic among the National Parks. Jacob did some rather terrifyingly overzealous climbing in Double Arch – as all parents of 6yo kids will understand. Beyond that we enjoyed a few hikes and some spectacular views, especially since the family was willing to humor and stay for sunset. Thanks guys!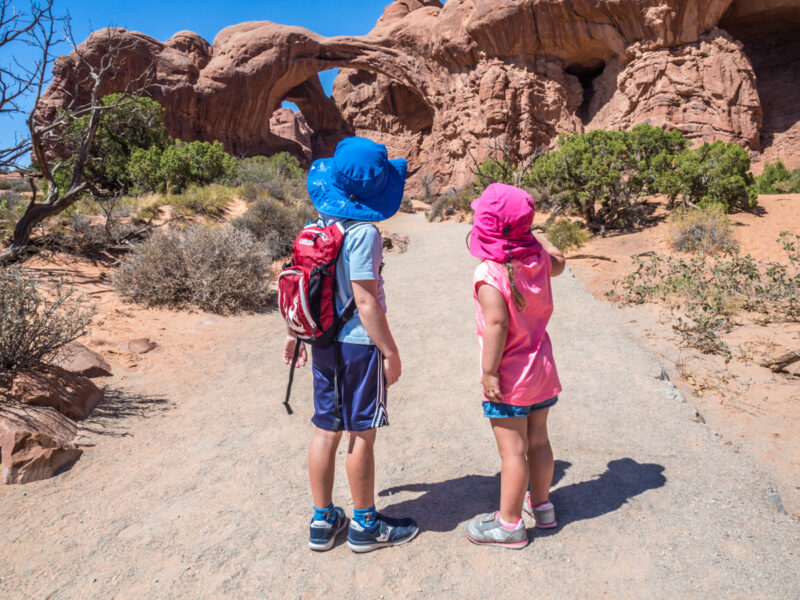 Perhaps our favorite region on this road trip has been Southern Utah. From our base in the hamlet of Boulder, we visited both Capitol Reef and Bryce National Parks.
It's often overlooked, but Capitol Reef is great for kids. There are a variety of short hikes interspersed with the interesting history of both the indigenous and later pioneer farming societies that spring up on the banks of the stream. That balance rounds out with a great Junior Ranger program and an old house where you can buy fresh pie and ice cream. What's not to love?
Bryce Canyon, though… words can't describe how amazing that place is! It might just be our favorite National Park so far. The landscape is absolutely incredible and, though we were far from alone, the crowds were manageable. We tackled one massive hike and it was incredibly rewarding. The Queens Garden takes you all the way down into the canyon to hike amongst the hoodoos – those strange red stone pillars (more info on them here), along the pine tree-studded Navajo Trail and then up the towering Wall Street switchbacks.
That last bit, which involves a quick 600 ft ascent, would have seemed extremely daunting for all of us but for a stroke of luck – we bumped into one of my old college friends and her two kids on the trail! The boys hit it off like old friends and egged each other on through the tough trail. It was great to reconnect with an old friend – and become travel friends too.
Our final stop in Boulder was a bit of a hidden gem, the Anasazi State Museum. We've been trying throughout our time in the west to teach the kids what we can about the history and culture of America's First Nations but it was only this week that the lessons became more tangible thanks to visits to the local sites. This museum has an indoor exhibit with artifacts found on-site and around the region, an excavated pueblo and pithouse from almost a millennium ago and a reconstructed above-ground home as well. There's so much packed into this little space and it was only 5 minutes from our house, a welcome respite after two days of long drives and longer hikes.
What else did we do in Boulder? Some important family firsts! We played our first real game of Monopoly together and held our first real and true movie night (popcorn, m&m's and Moana). Sometimes you just need decompression time even when your life seems like a vacation.
Looking for more inspiration to get your out and traveling? These wonderful poems should help you get in a traveling mindset!
Next stop: Phoenix
Wait, isn't that supposed to be "next stop: Zion"?
Haha fooled you! We had planned on visiting Zion National Park for a few days before rolling back into LA, but this morning (yes, this morning) we changed course. The prospect of dealing with Labor Day weekend crowds and shuttles just wasn't getting us excited. Planning to actually go to Zion? Check out this guide to visiting with kids!
What did get us excited was the idea of spending some quality time with my uncle in Phoenix, as we did on the first leg of our journey exactly a year ago. Yep, we'll be sleeping in the very same beds we slept in 365 days ago – even if they aren't exactly our own! We're looking forward to a few quiet days together in the pool, eating ice cream and revisiting some of our favorite kid-friendly spots in Scottsdale and Phoenix before we continue our drive west to LA.
Check out these other great US family vacation ideas
The next chapter?
After that we'll have a month in LA with family and friends while we celebrate the Jewish new year. We're continuing to explore what and where the next chapter will be. While we're still somewhat transient, we'll continue homeschooling for the kids since it's been going so well anyway.
Since we don't exactly have a place to stay long-term in Los Angeles, we'll continue our travels (at least short term) while we figure out what's next.
Stay tuned, because our next stop will be amazing.