During first eight months of this journey around the world, we visited 11 countries on 6 continents and slept in more places than I think I can ever possibly remember. While I won't call it a break-neck pace – we are, after all, traveling with two young children – I'll admit to waking up a few times during the night without the faintest clue of where I was. I'm sure it happens to everyone during extended travels, and I mostly never felt like we rushed through places unnecessarily. But to everything there is a season, and after so many moons of constant unpacking and repacking we were ready to try a different style of travel.
Soaking it all up in Israel
When we arrived in Israel in mid-May, we intended to stay for about two and a half weeks in a HomeExchange apartment just down the street from one of our favorite beaches. We both have family and friends spread throughout the country, so 18 days is just enough time to see everyone and throw in a little sightseeing. We would use Tel Aviv as our base and then spend a few nights at a time in other parts of the country, just like always.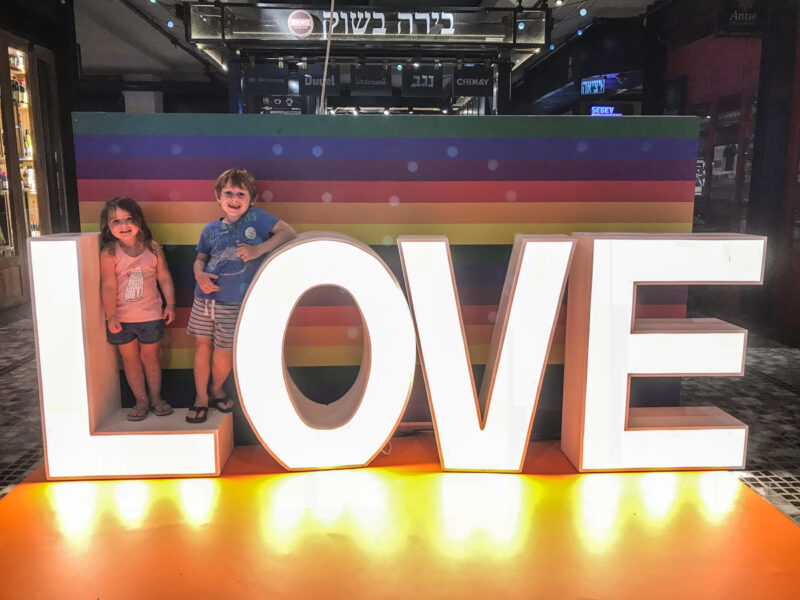 But of all the places in the world outside of the US, this is where we feel the happiest, the most comfortable and the most at ease. Plus, Israel is a phenomenal tourism destination even without all of the personal connections. The country is small enough that you can explore most of its corners one weekend (or cheap midweek) trip at a time. It's well-served by discount airlines going to Europe, so purchasing an outbound plane ticket in advance wasn't necessarily advantageous. Basically, travel in Israel is fun and easy – in four hours you can get from the Dead Sea to lush waterfall-studded forests that look more like a tropical island than the Middle East.
And so, we lingered. Our sweet HomeExchange hostess in Tel Aviv was happy to let us stay until her return in early June, and then we found another wonderful HomeExchange apartment in our favorite neighborhood of Jerusalem for two more weeks.
In total, we've wound up in Israel for six weeks! And it's been phenomenal. We explored all of our old favorites and found so many new places to see. We didn't just have one big dinner to see the whole family, we took the time to deepen those bonds that stretch halfway across the world. We casually went for froyo and beer and playdates with friends and enjoyed the hell out of everything. It's just different when you slow down and dig in.
Whether you plan to visit Israel on a 10-day whirlwind (pssssst… here's your complete itinerary) or a multi-month adventure, we have tons of recommendations coming you way just as soon as we have time to sit down and write them all out. In the meantime, check out some of our favorites in photos below and read these tips as you plan your trip.
Our favorite things to do in Tel Aviv with kids
Read all about visiting Tel Aviv with kids!
Our favorite things to do in Jerusalem with kids
Read all about visiting Jerusalem with kids!
Our favorite things to do in northern Israel with kids
Our favorite things to do in southern Israel with kids
Moving on
The most frequent question we've received over the last few weeks is "are you actually leaving?" Often followed by "maybe you should just have them ship your storage container here". It is always hard for us to leave Israel no matter how long the visit. This time is no different, and perhaps it's even harder in some ways because we've been here long enough to start toeing the fine line between exploring like a tourist and settling in like a local. But at this moment, we don't feel that staying in Israel indefinitely is the right choice for our family. I absolutely reserve the right to feel differently when I start ugly crying on the plane. Do not judge me. And so with great thanks to EasyJet for their low-cost last-minute tickets to Europe, we'll be ending our international travels with a bang. The weather is heating up and I'm anxious for some beautiful mountain scenery, so we're heading for Switzerland! Check out some awesome options for your own Switzerland itinerary.
Having pushed so far into summer, we were mortified at ticket prices to get us back to the east coast branch of the family any time in July (our intended return). We're sitting on a heap of Chase Ultimate Rewards Points thanks to our awesome credit card and really wanted to use those to defray the cost of flying four people back to America. With some solid research and creativity, we managed to find a fantastic award travel flight that will get us back to DC around the time we want to return and it allows us to (sort of) minimize our rental car expense. And no more extra flights!!!! (As one of only two packers in the family, I'm stoked about that.)
The catch? We'll fly into Switzerland in mid-June, and leave from Switzerland in mid-July! Basically, it'll be a big loop. We have a beautiful HomeExchange lake house booked for our first week, and then we're excited to hop over to France. Beyond that we're still mapping out the details and may keep things flexible as we go. We plan to make the cross-France trek to visit our NZ/Australia/Thailand travel buddies and then hop up to Paris to visit our awesome partners at HomeExchange. There might even be a few days of "magic" near Paris in store for the kids, but don't tell them. If you have any favorites in France or Switzerland that we just can't miss, please let us know in the comments! After that, it's back to see our families in America and then on to the next chapter… whatever or wherever that may be.